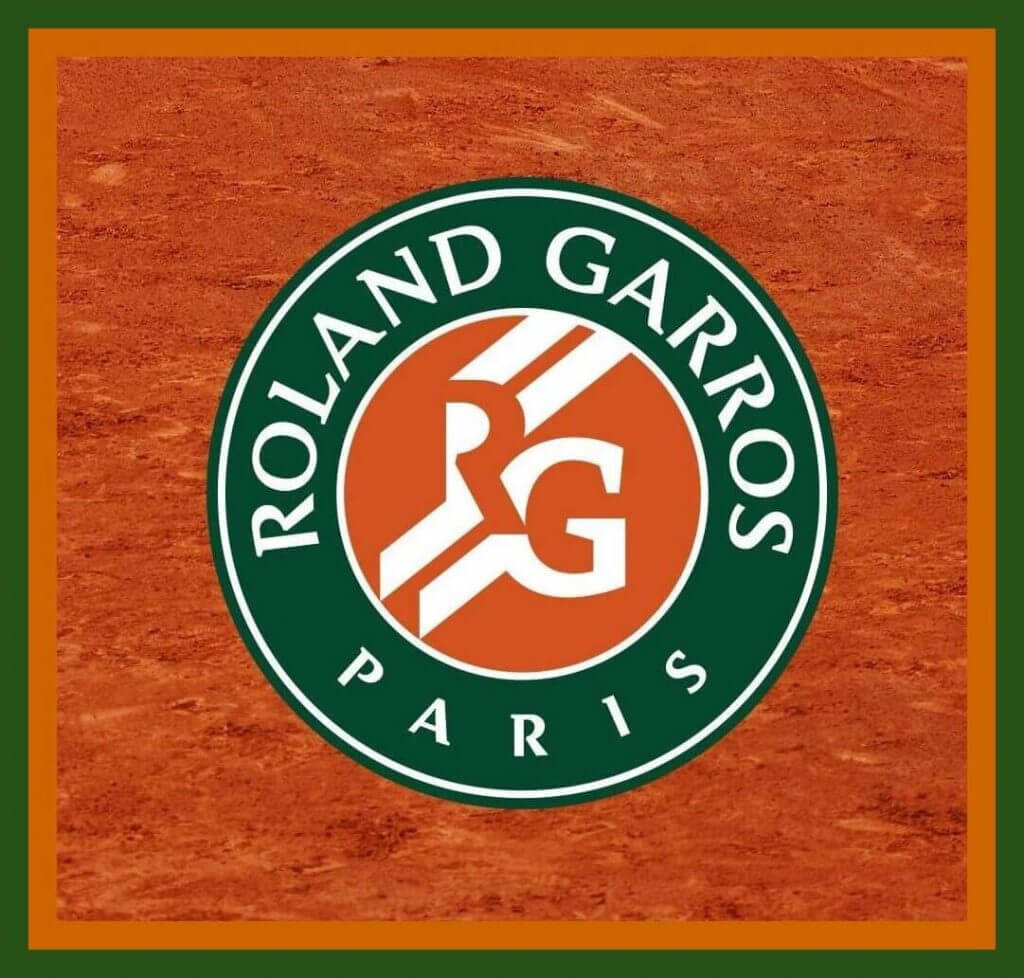 [Editor's Note: Today we have a guest post from our own Brinke Guthrie — aka my doubles partner — who is going to bring you a look at all the tennis gear for this year's 2021 French Open, which begins today. Enjoy! — PH]
2021 French Open Preview
by Brinke Guthrie
Bonjour messieurs and mesdames, and welcome to our annual French Open tennis gear preview. The world's premier clay court event begins today. We've got the biggest names and brands right here, so off we go. I'm also joined today by sportswriter Tim Newcomb, who is an keen observer of these things, and we'll get his expert take:
Uniqlo: Their Japanese website has the Roger Federer and Kei Nishikori looks here; Fed will be sporting a rather understated salmon/red or French blue shirt paired with white or blue shorts; the Fed look doesn't vary a great deal; he's usually in solids, no stripes or patterns.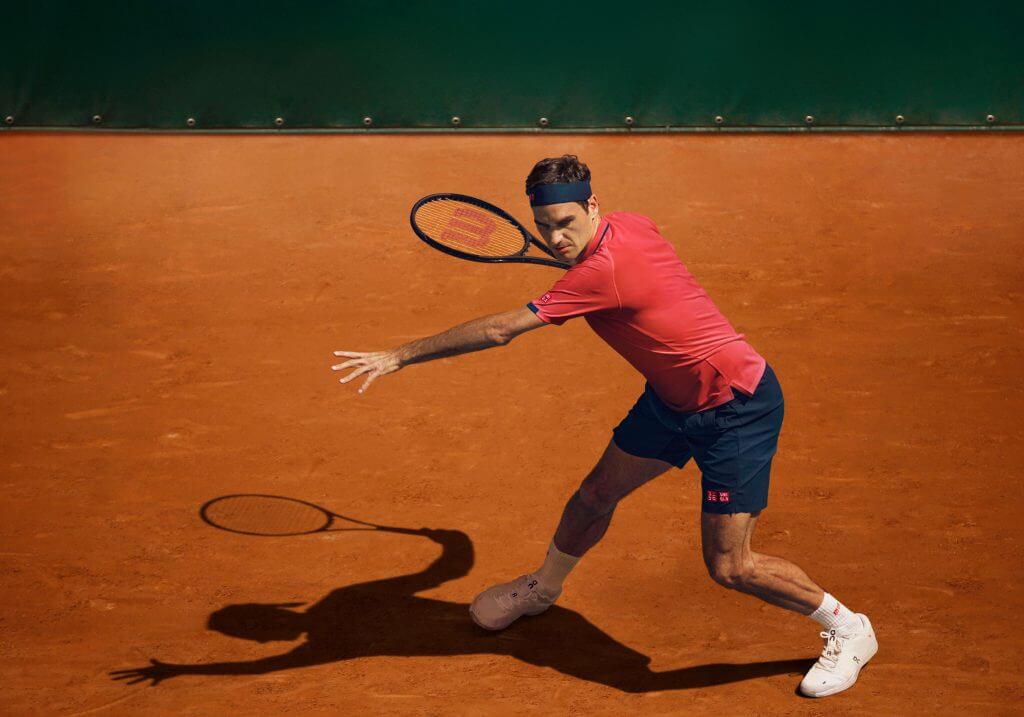 "The Uniqlo design team and I have been working on this outfit for over a year now, and we are happy to finally show you at my return to tennis later this month. We hope you agree the colors go so well with the red clay and beautiful Paris in spring. I want to thank the team for their hard work, and I look forward to seeing everyone again very soon." -RF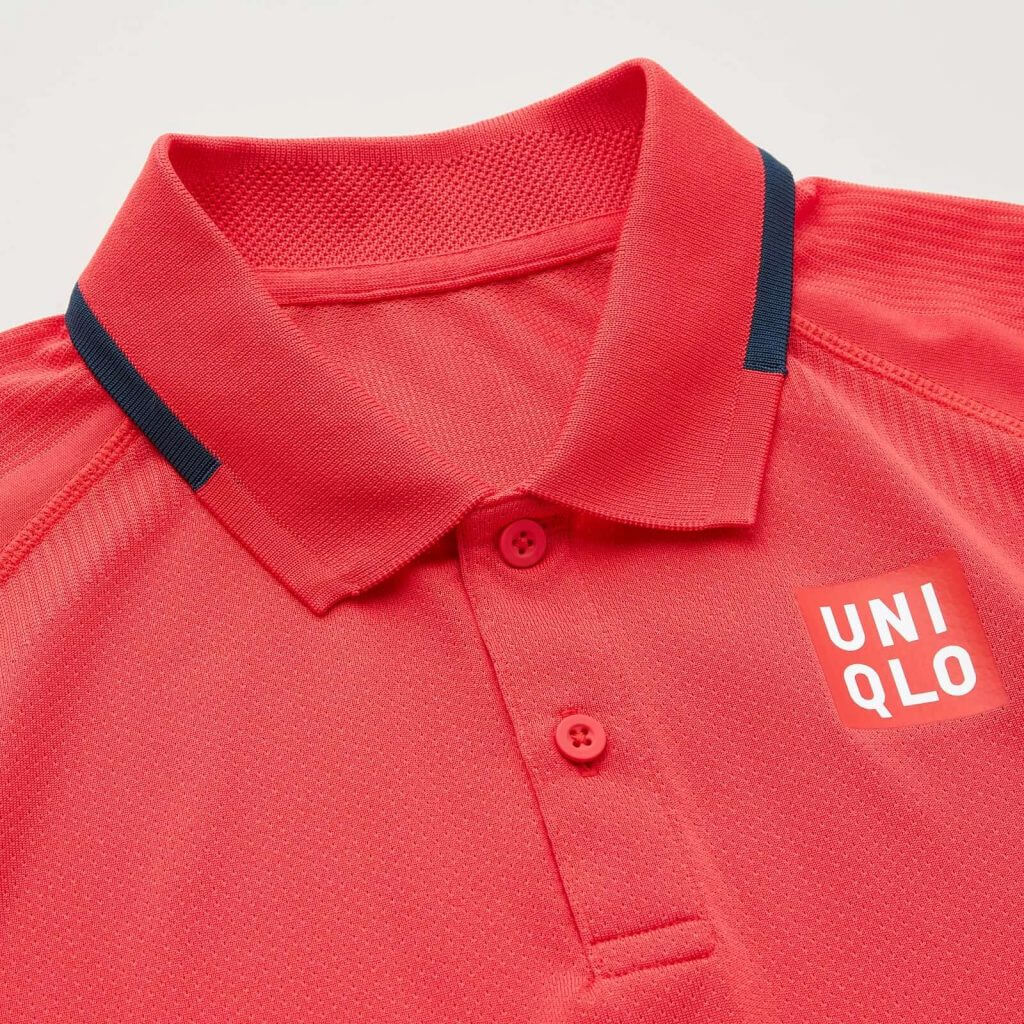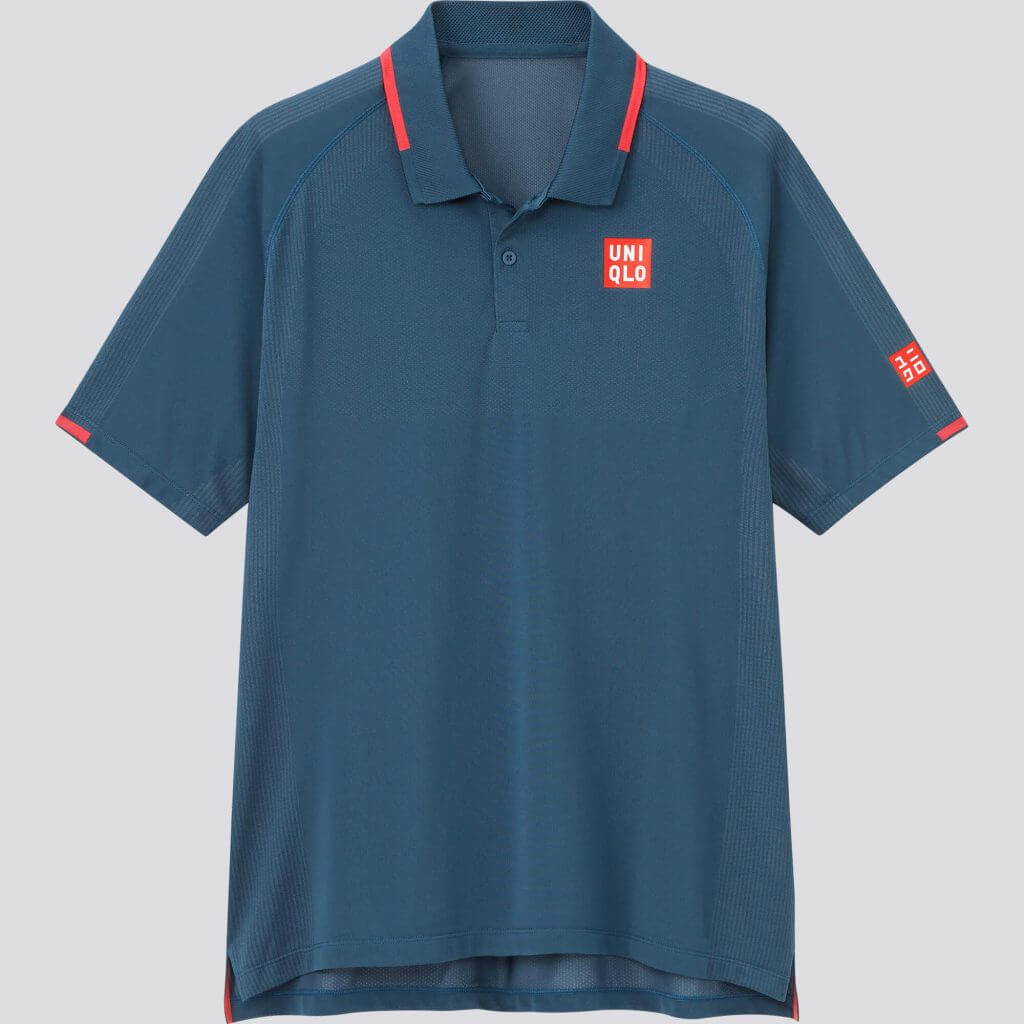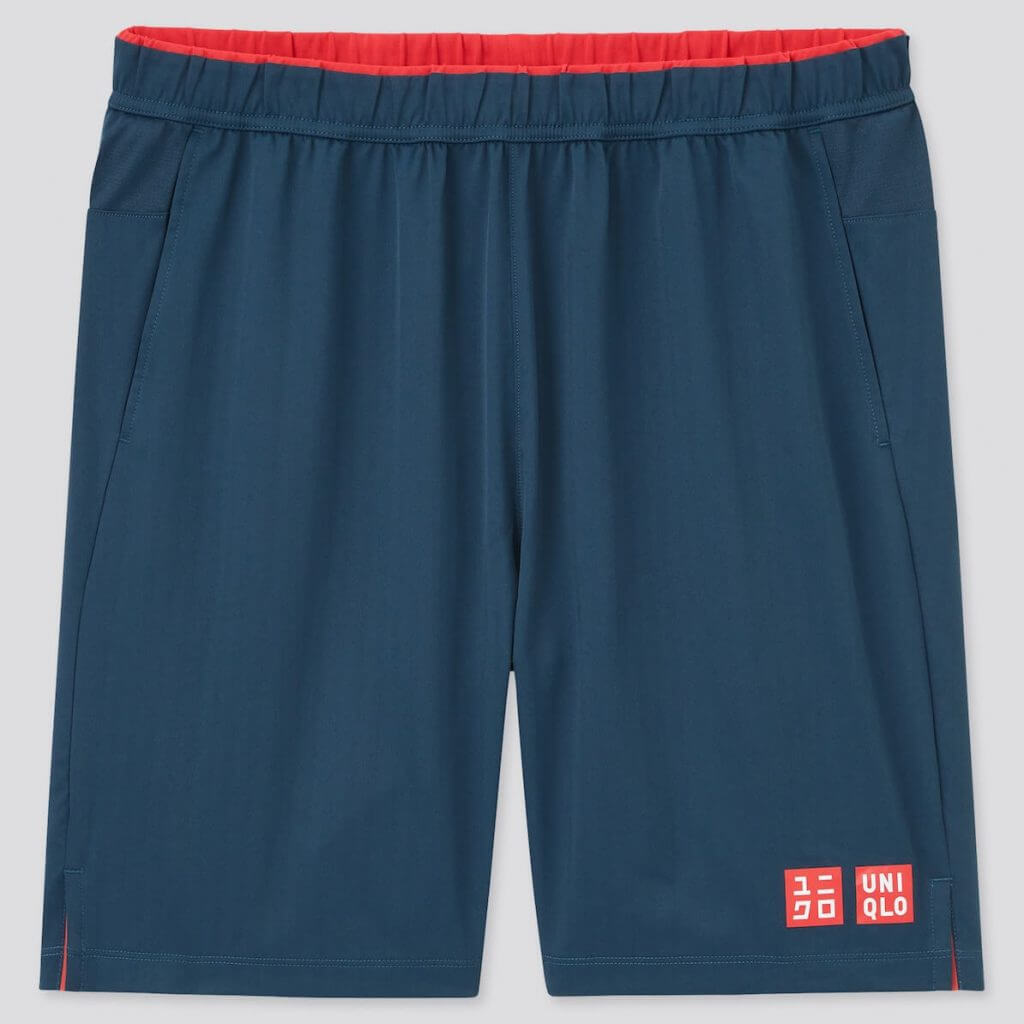 The logos on these "replicas" as Uniqlo calls them, are heat-pressed; the player versions are embroidered, at least Fed's are. Federer has regained his popular "RF" logo, but it's not surfaced on his Uniqlo clothing or On sneakers yet, just for this new Uniqlo cap. The On sneakers have a separate minimalist "R." Details on that logo here; hit your browser's "translate" button if you don't speak German. More on, er, On in a sec.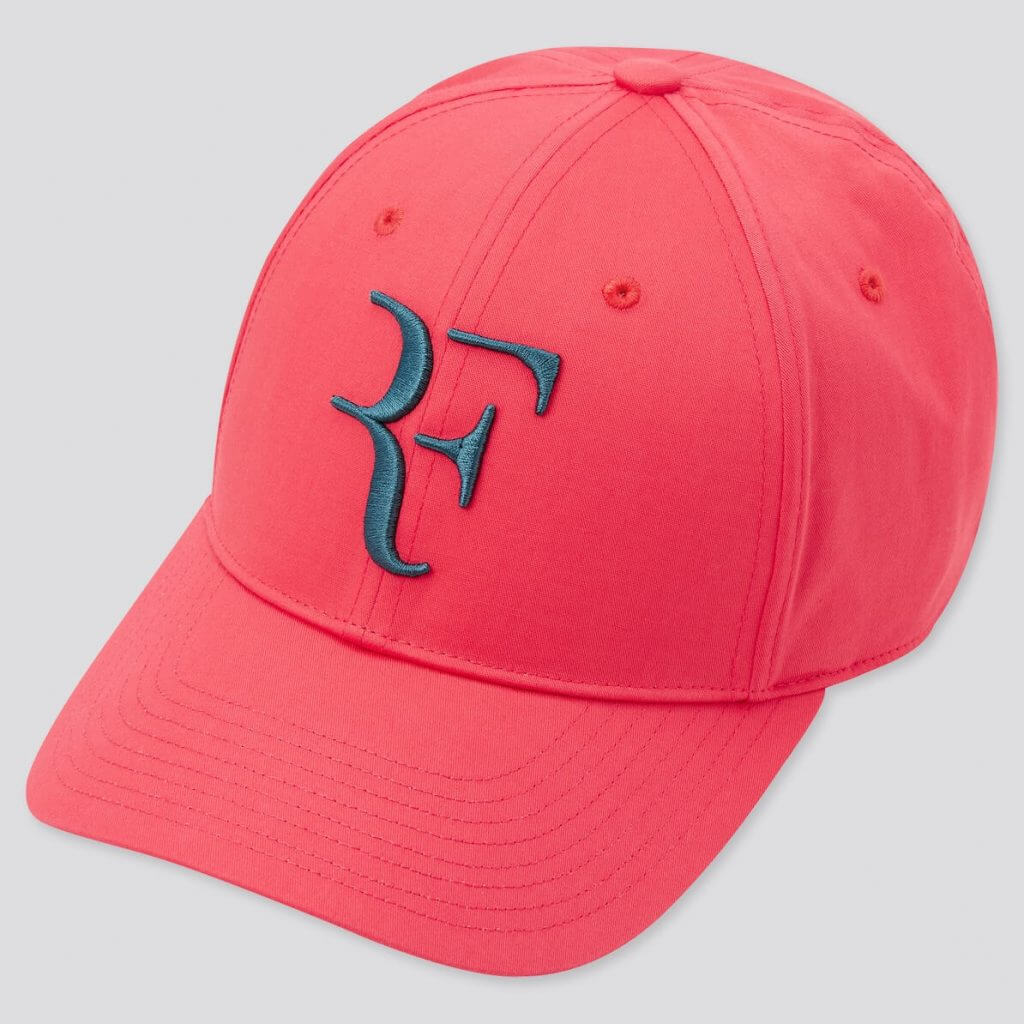 Come July, Federer will be at the three year point of his long-term (10 years, $300 million) deal with Uniqlo. Yet the brand still hasn't leveraged the global Federer appeal as it should- outside of a small release around the Slams, his gear otherwise isn't anywhere to be seen on the website, or at retail, which is puzzling. Tim agrees:
"Uniqlo signing Roger Federer in 2018 was a major shift for the casual-wear brand. Not only did they throw loads of cash at the Swiss star—amounts athletic brands weren't willing to part with—but it also came with more interest than any of its previous deals. Fans of Roger Federer were more in tune with his products than that of other Uniqlo athletes, such as Japanese tennis star Kei Nishikori and Australian golfer Adam Scott (or even Novak Djokovic for the five years he was with Uniqlo). So while surprising Uniqlo didn't ramp up for Roger gear right away in 2018, it was somewhat understandable that the company needed time to create Roger-specific gear.
But nearly three years later and Uniqlo still missing on the retail side of Roger is baffling, both from the standpoint that they spend an obscene amount of money for his sponsorship and that they are a global brand accustomed to kicking out apparel at a dizzying pace. While Uniqlo has increased its Roger-specific gear, not having his on-court kit, his RF-logo hat, RF accessories and a bevy of T-shirts and other casual wear that he trains in readily available at retail, both in-person and online, is shocking. "
For Nishikori, expect this bold color scheme of blue and green with a bit of yellow.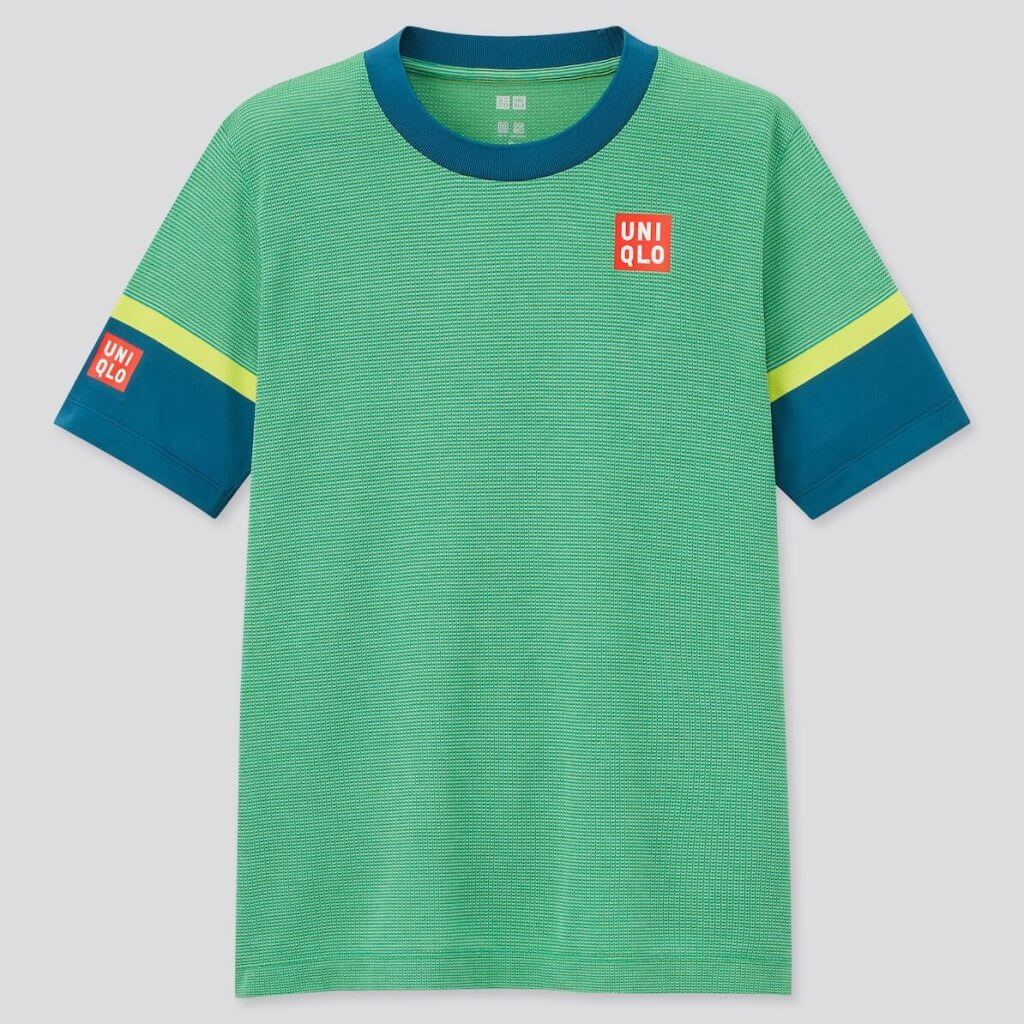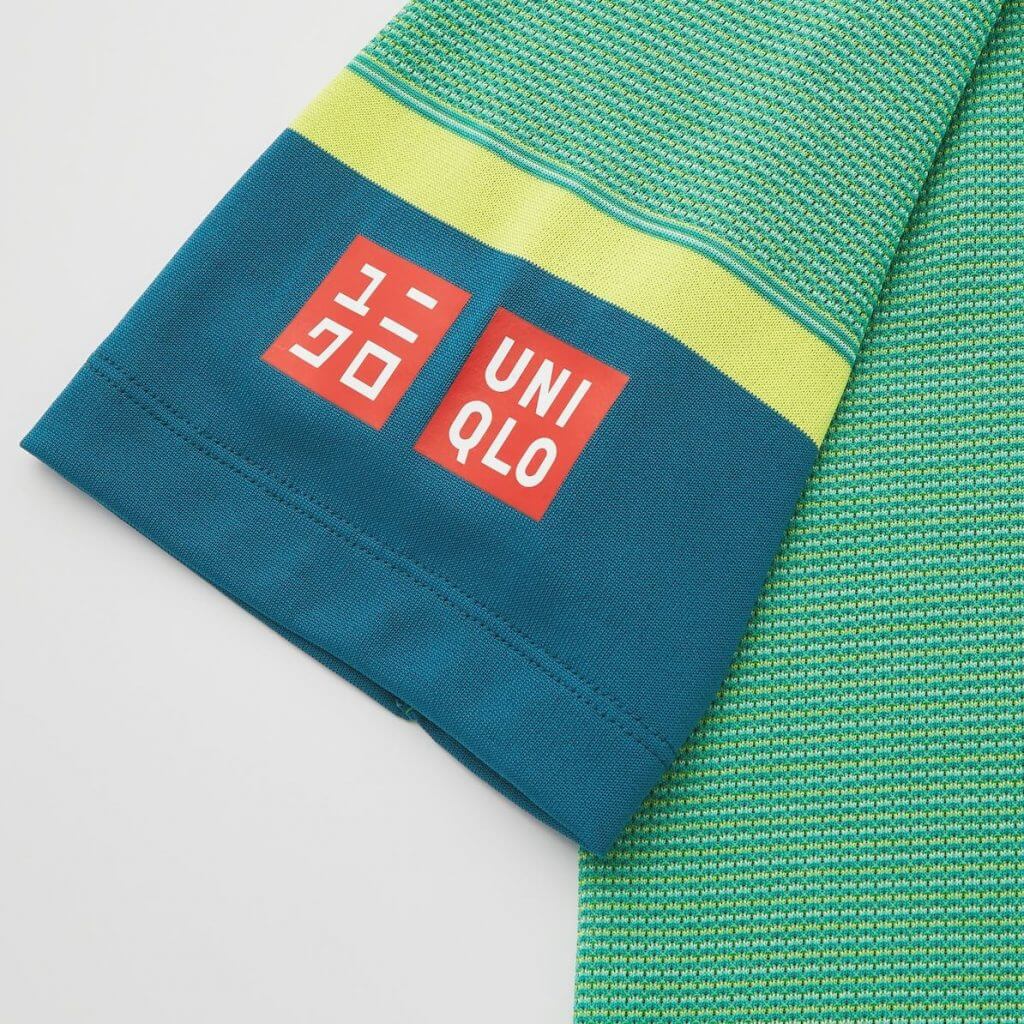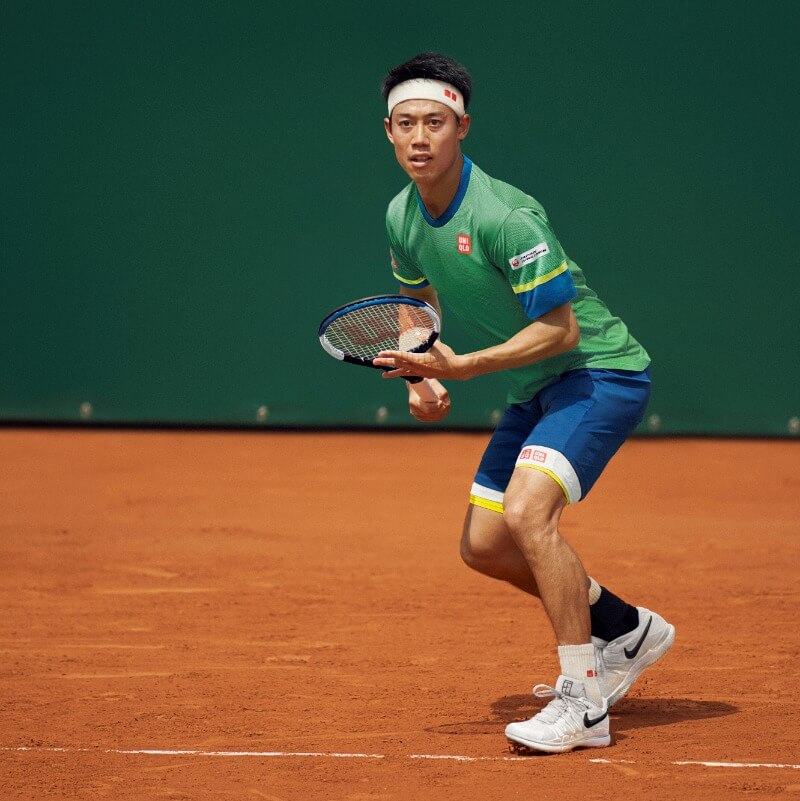 On: Federer is an investor in On, the Swiss running shoe company. Back in March, On revealed their on-court Federer shoe, the "Federer Pro." This was their first competition-level tennis effort.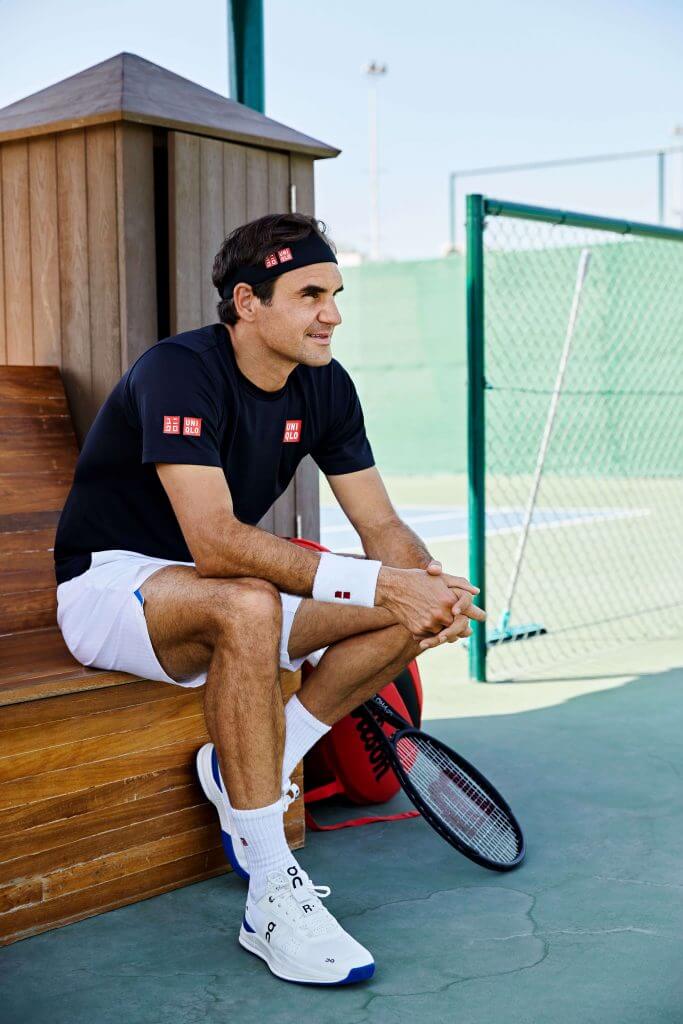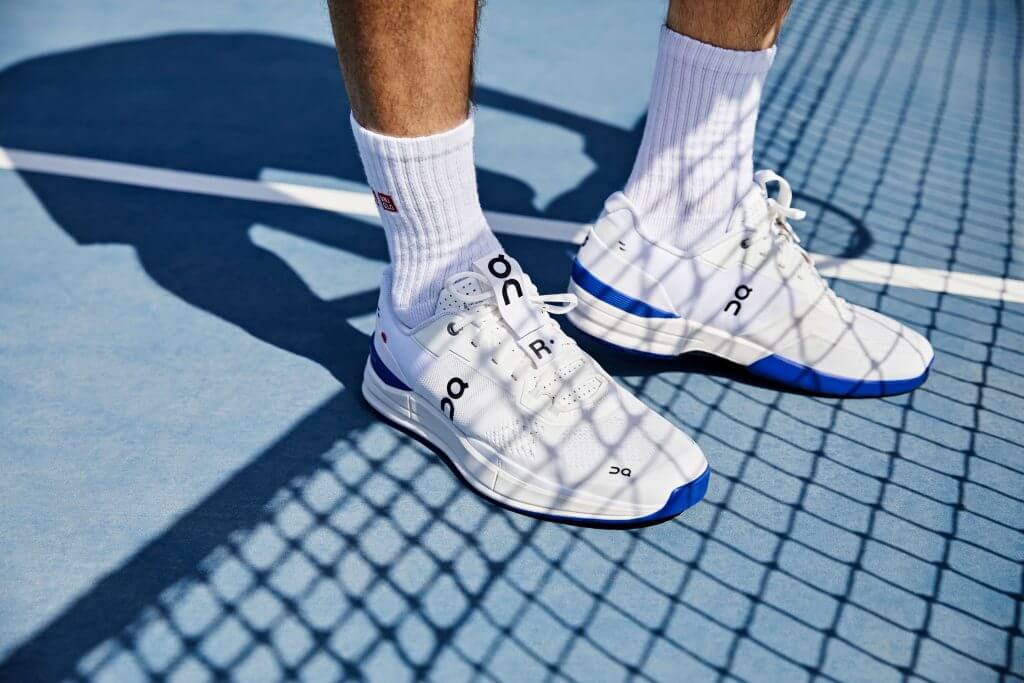 On's co-founder Olivier Bernhard said "After so many years at the top of world sport, Roger has his sense of what performance should feel like completely dialed in."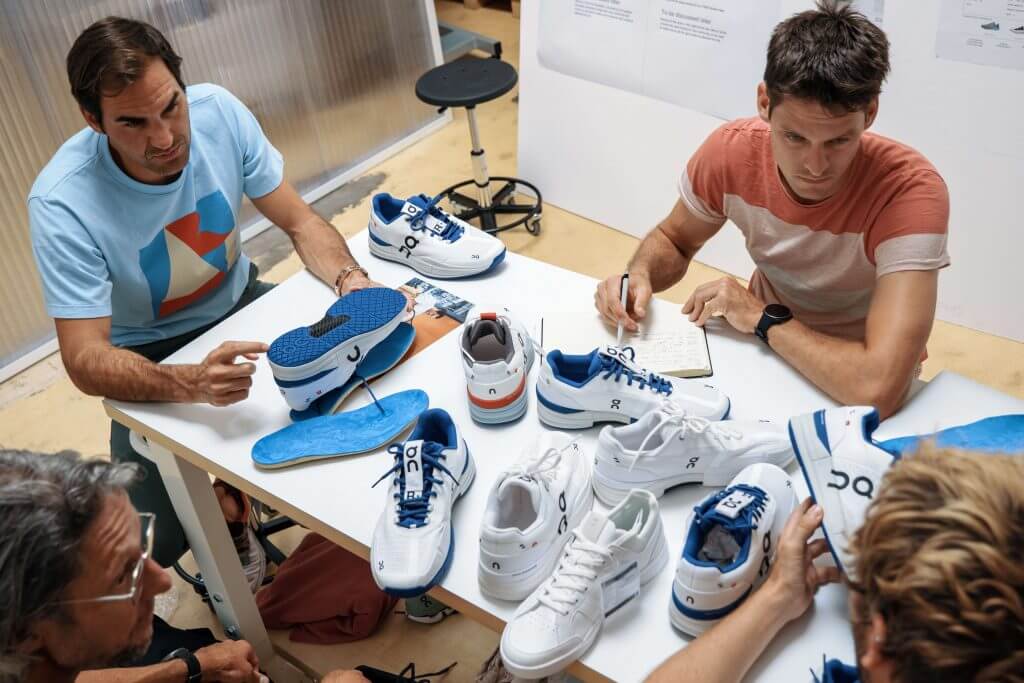 "He can sense every small adjustment. This insight guided the whole project."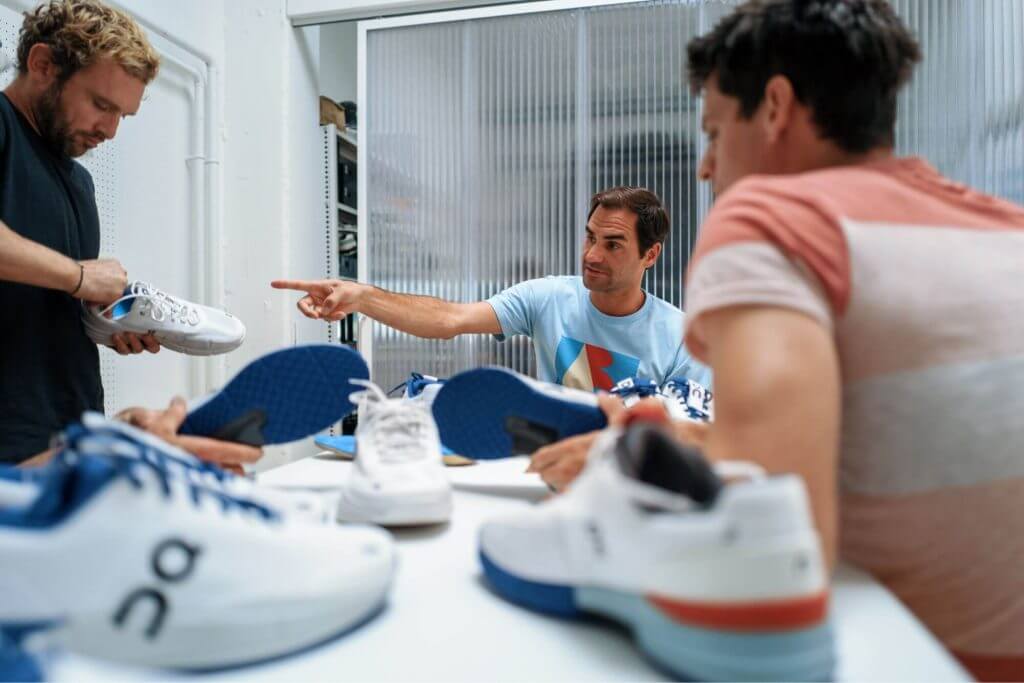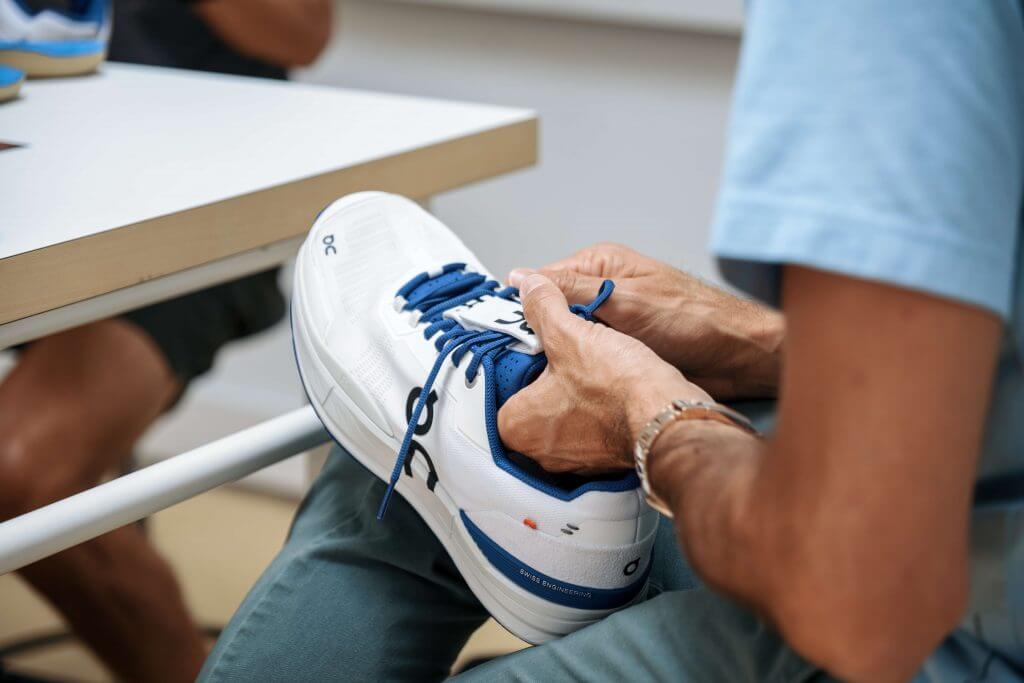 This is a Federer Pro prototype: personally, I prefer the full size logo!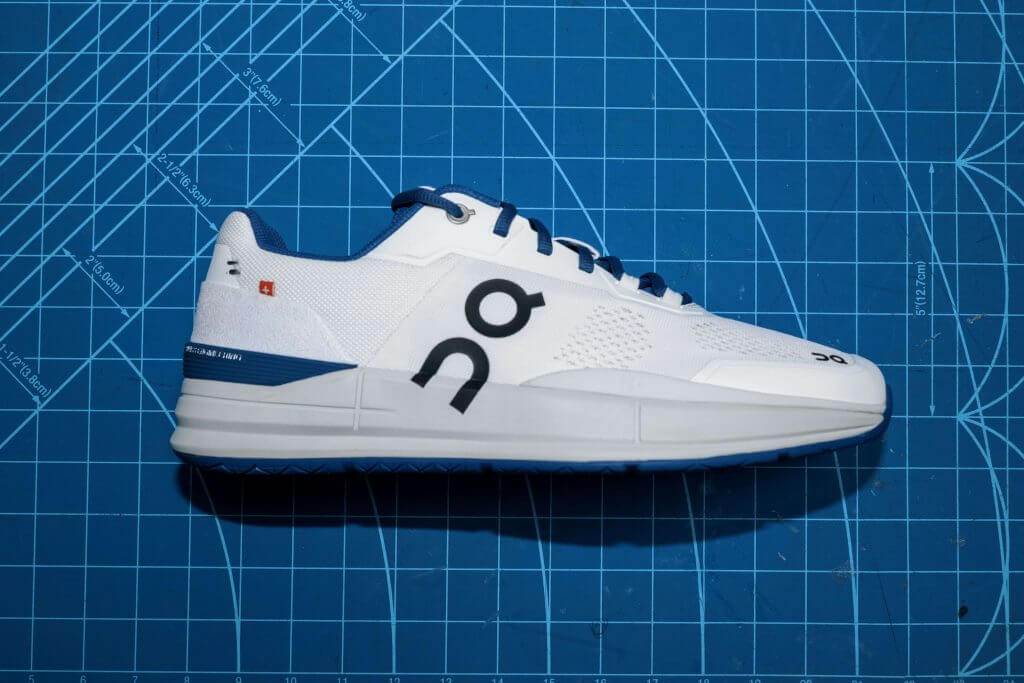 So far, the Federer Pro is a PE, a "Player's Exclusive" model- it's not for sale. Yet. (These casual "lifestyle" models are.) Here's a clay court version we'll likely see in Paris;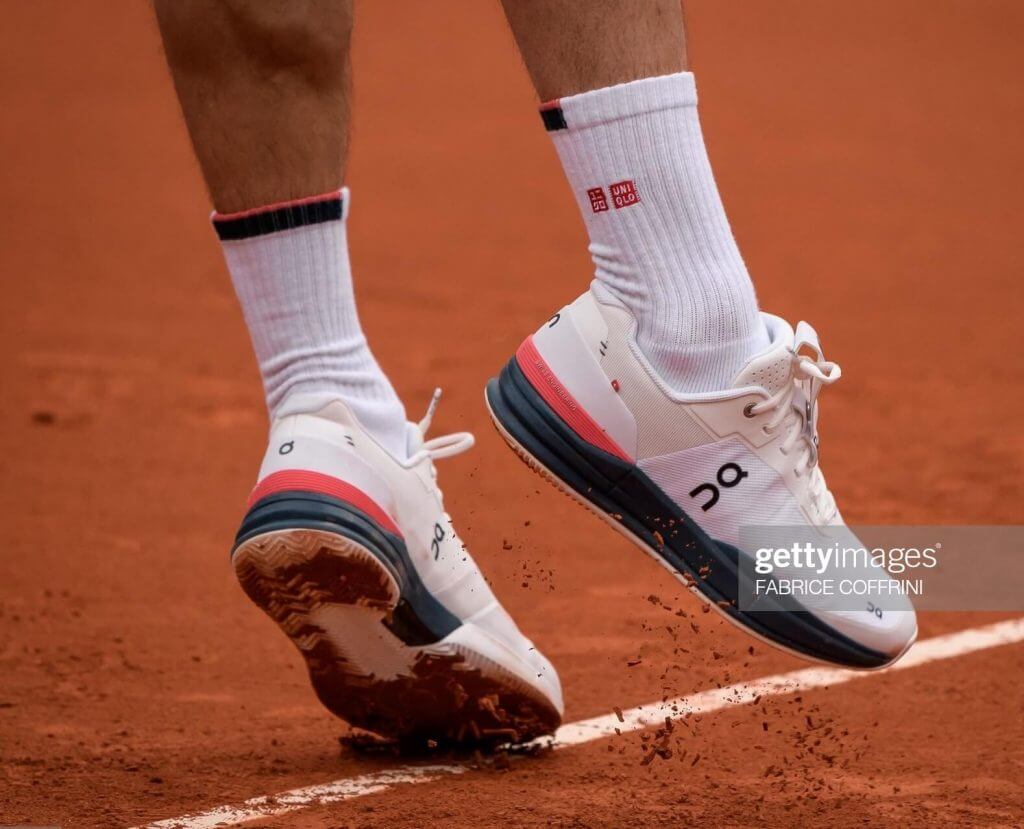 Fila: Did you know: the Fila brand has been around for 110 years? True! (The Fila brothers started out in the underwear business; Fila hit its stride in the 1970s with Bjorn Borg and Guillermo Vilas, who, uh, did pretty well.) Some Fila women players including World #1 Ash Barty will wear the Celestia Point collection;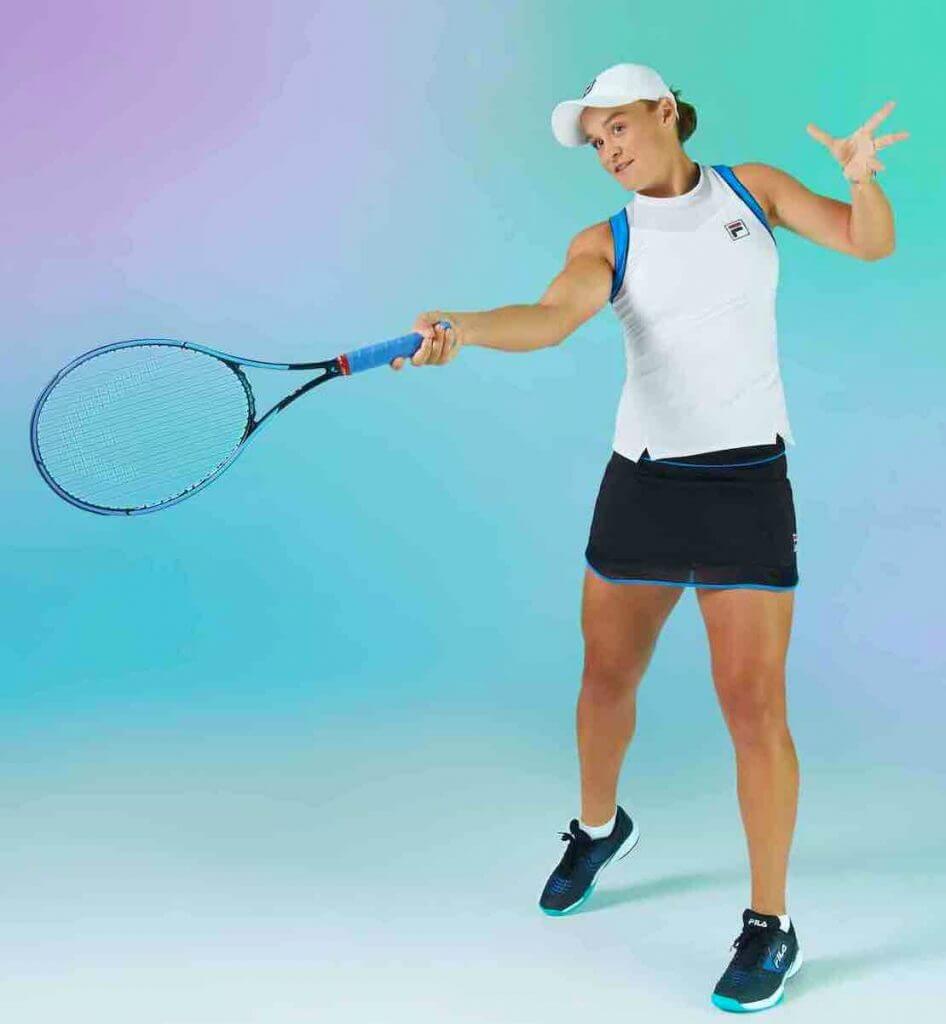 Barty, the 2019 Paris winner, will debut the "Celestia Point" line in "Celestial Blue"-Turquoise-Black-White.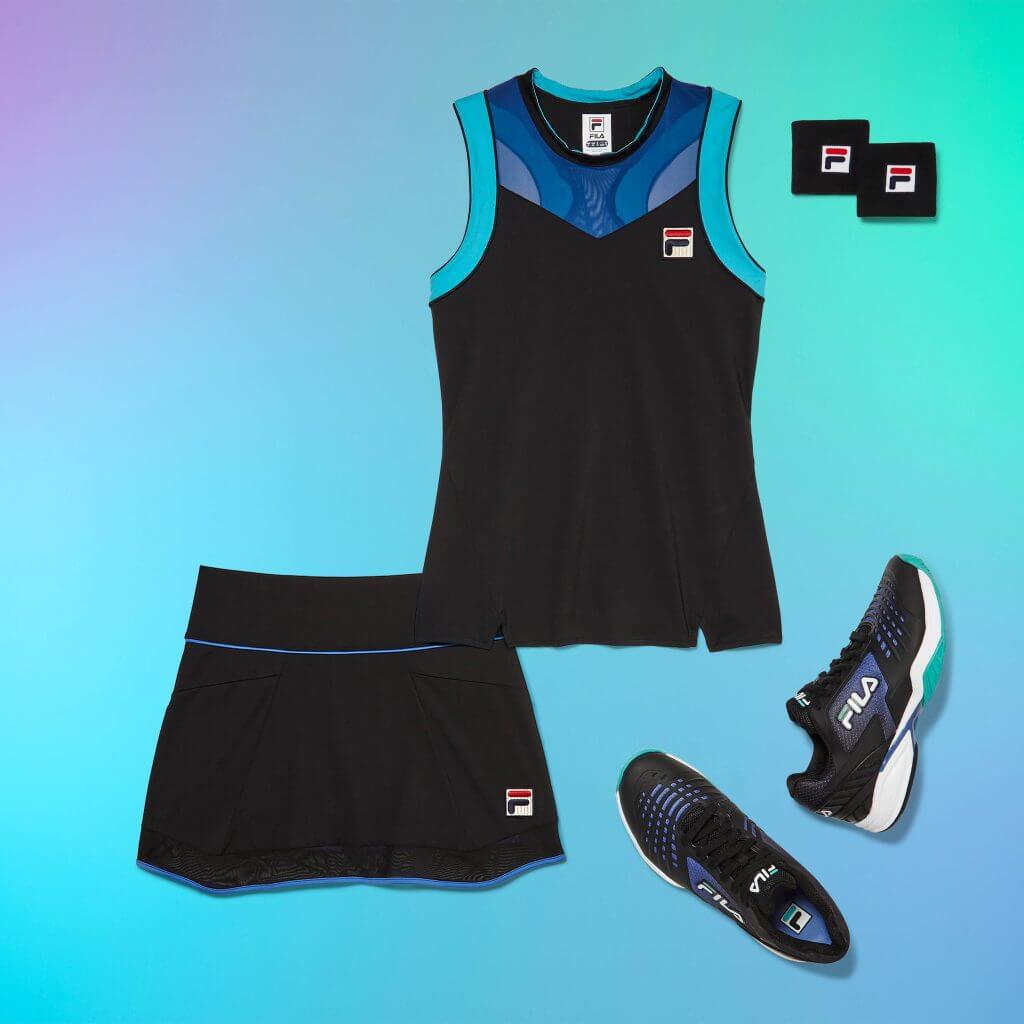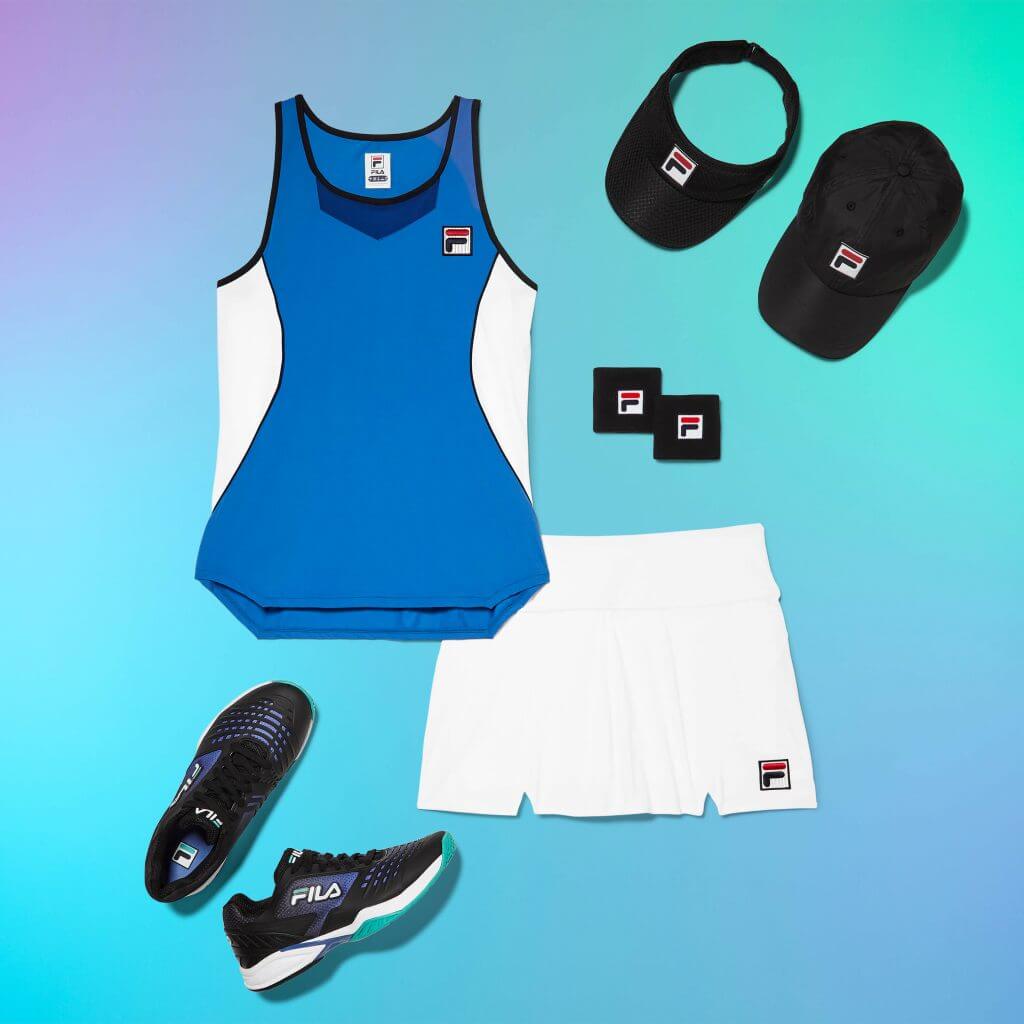 The men will wear the Adrenaline collection, worn by John Isner and Sam Querry. Pretty straight forward.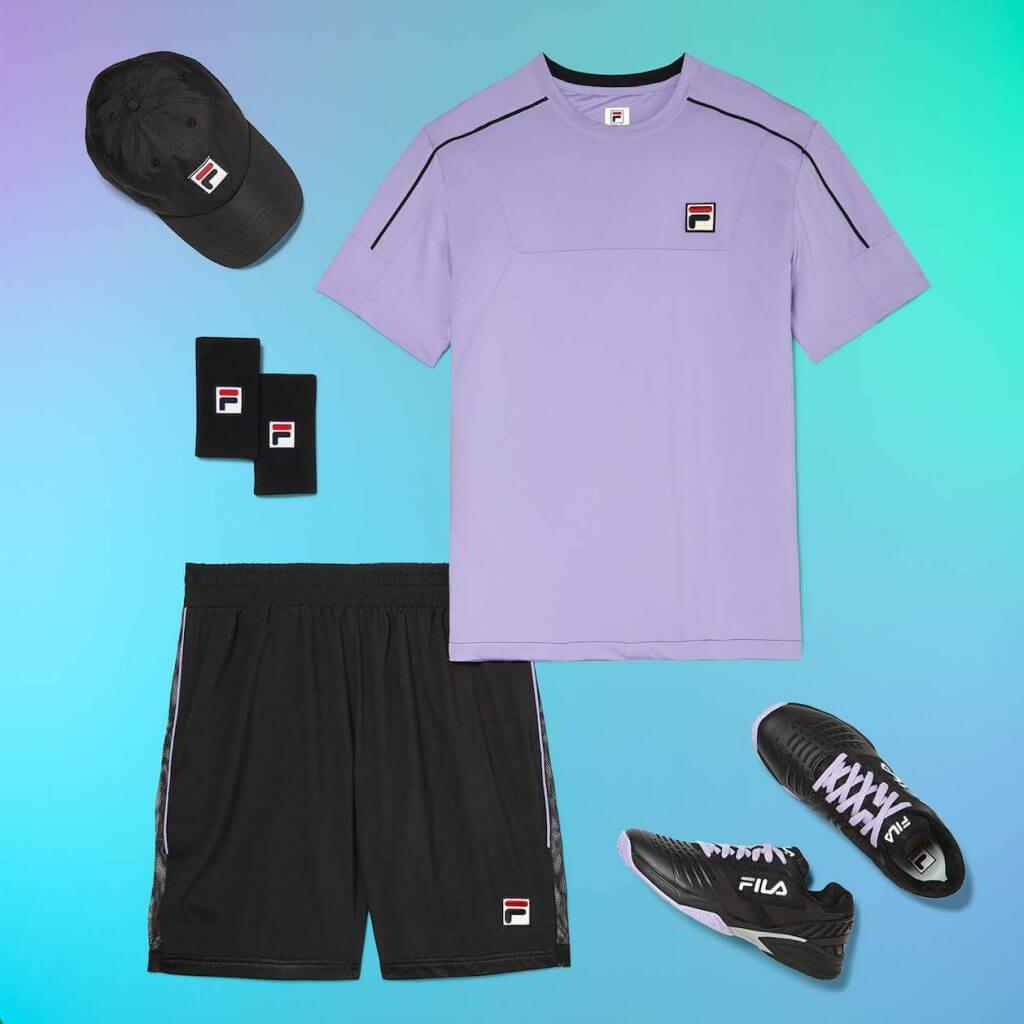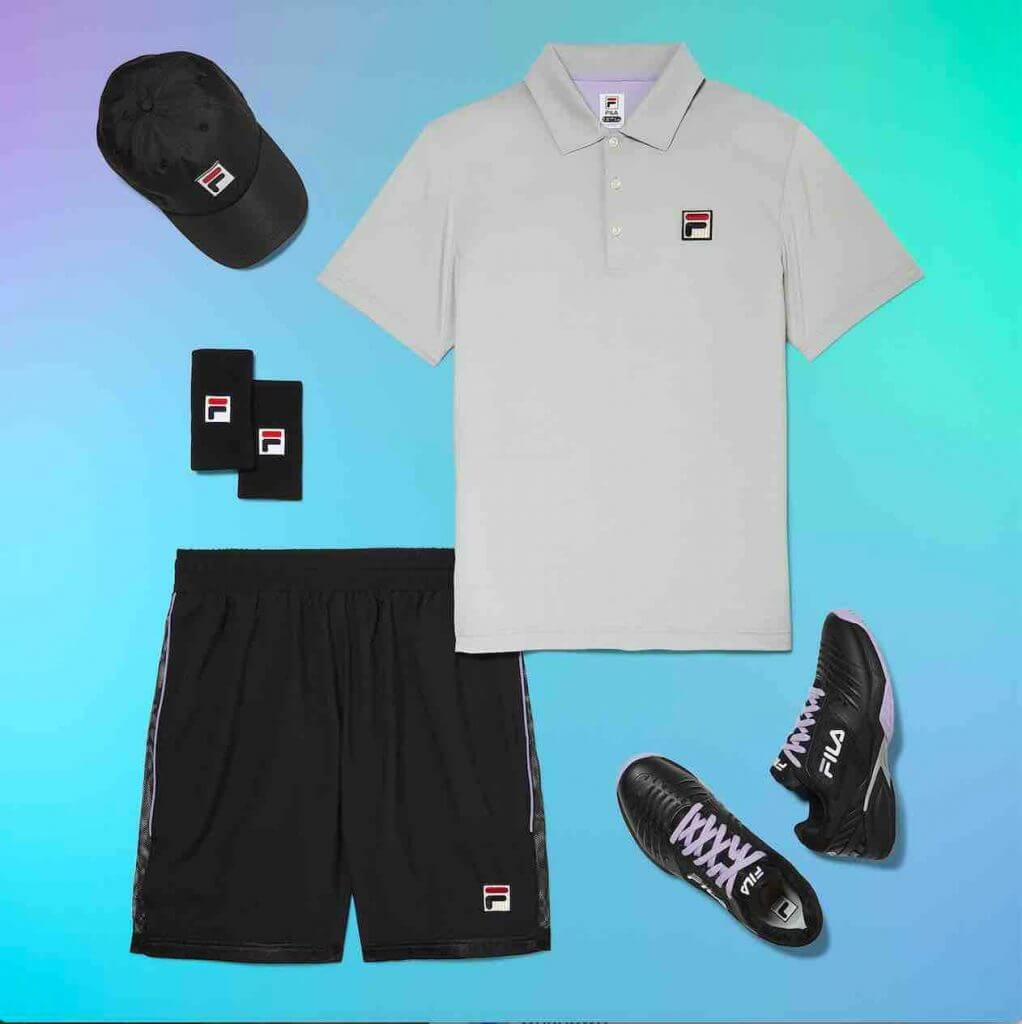 Tim: "It is always interesting to see what Fila is doing for each Grand Slam, with three of the top-10 women's players in the world, including world No. 1 Ash Barty and top American Sofia Kenin. Fila continues to sign new athletes, both men and women, so expect their push in tennis to continue."
Speaking of Kenin, she along with fellow Fila pros Karolina Pliskova, Reilly Opelka, and Diego Schwartzman will wear a special capsule collection in conjunction with Milan-based luxury brand MSGM;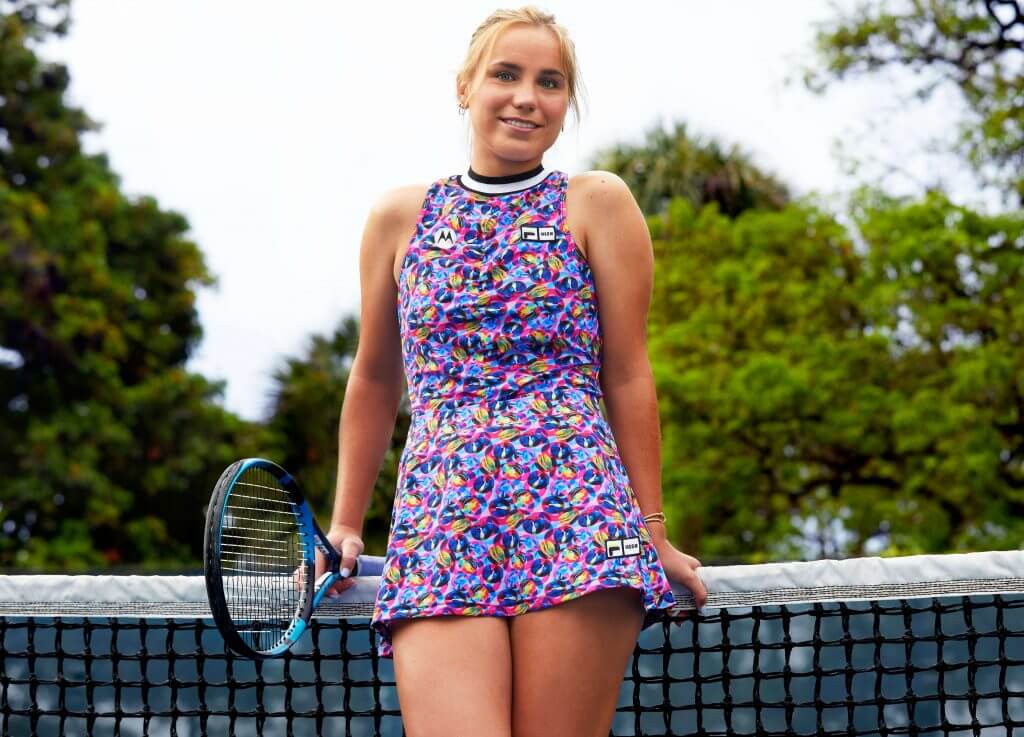 Nike: The Swoosh is still the dominant brand on both tennis tours; and make no mistake; the future of Nike Tennis is named "Naomi."
"Nike is a place where I can just go and explore. Sometimes I feel like it's like a playground for designers. What's fun is our conversations start with just an idea, and lead to really fun, creative designs that reflect who I am as an athlete and woman." -Naomi Osaka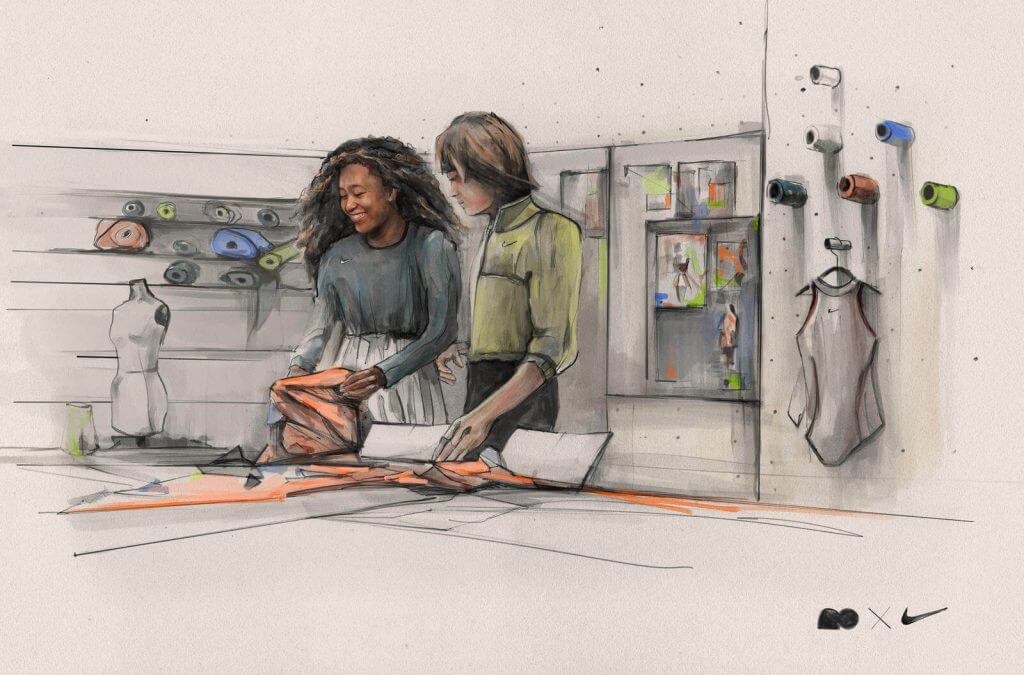 Tim: "We see Nike growing its relationship with Naomi Osaka ahead of Roland-Garros. Not only did Naomi and Nike just debut their second capsule collection with lifestyle designs, but the on-court dress Naomi will wear during the French Open will be the first Osaka-specific dress available at retail."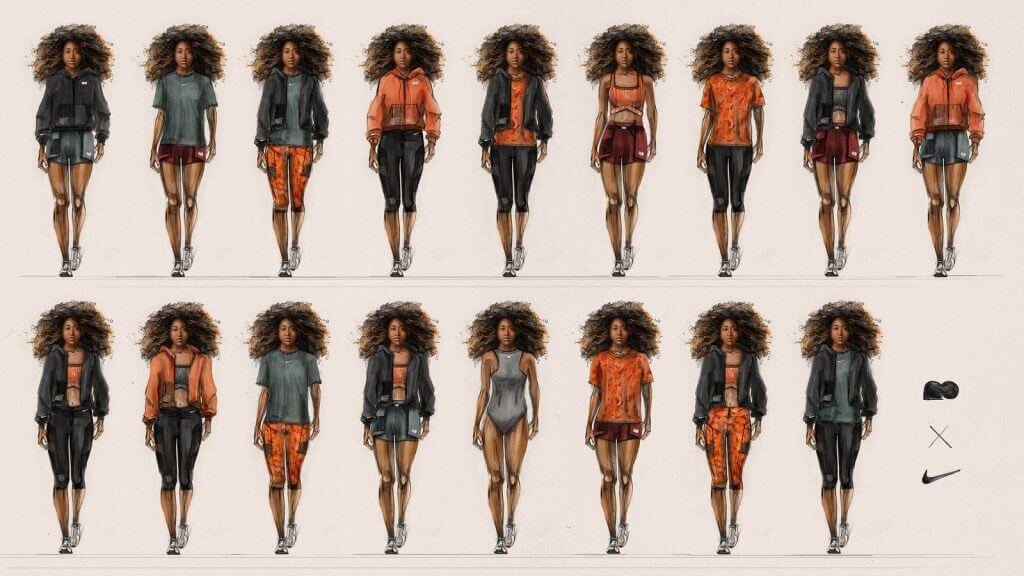 "Her on-court sneakers, as in the past, will also be available to purchase."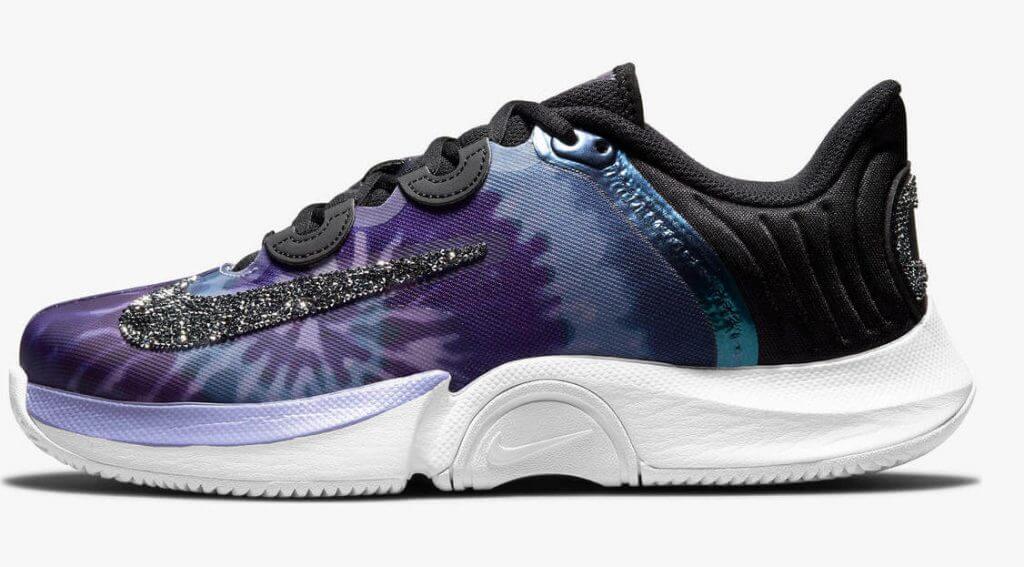 "Even with a collection of Serena Williams T-shirts and a range of performance gear adorned with Rafael Nadal's logo, the Nike-Naomi projects have pushed the NikeCourt tennis projects into the next level of collaboration." Osaka Nike release dates: the French Open tennis dress ($100) + Swarovski footwear ($175): May 31 marketplace (Globally). Apparel Collection: June 17.
New Balance: There's another up and comer on the ladies side to watch for in Paris, and her name is Coco Gauff. Gauff's the got clay momentum, having won in singles and doubles at the recent Emilia-Romagna Open in Parma, Italy.
Tim says "The signing of Gauff in 2018 has paid off for the brand and forced it to speed up plans for the young star. Having her seeded for this French Open, her first Grand Slam as a seed, will again allow the brand to showcase its apparel and footwear collections to a young demographic."
An Osaka-Gauff rivalry would be great for tennis.
Lacoste: Novak Djokovic continues to be the flagship athlete for the Croc; a nice tasteful style here. Lacoste is the classic name in tennis- they invented the retro, old school vibe. (Although they've also rolled out some rather bold looks for Djoker during the run of his current deal.) Tim: "On the men's side, Lacoste has a strong hold on No. 1 and No. 2 with apparel deals for both Novak Djokovic and Daniil Medvedev.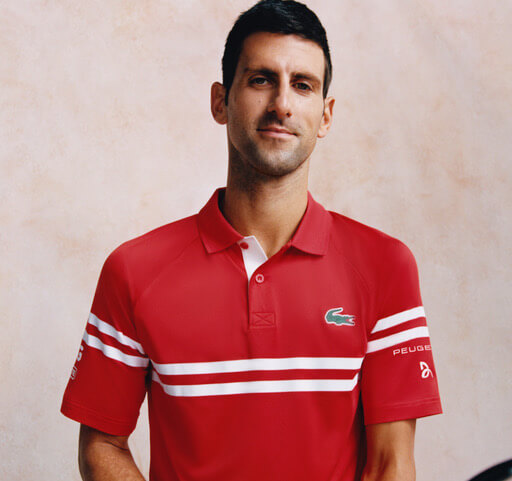 "While Novak has a signature shoe deal with Asics…
…Lacoste has reentered the performance tennis footwear space with Medvedev wearing their new on-court model;"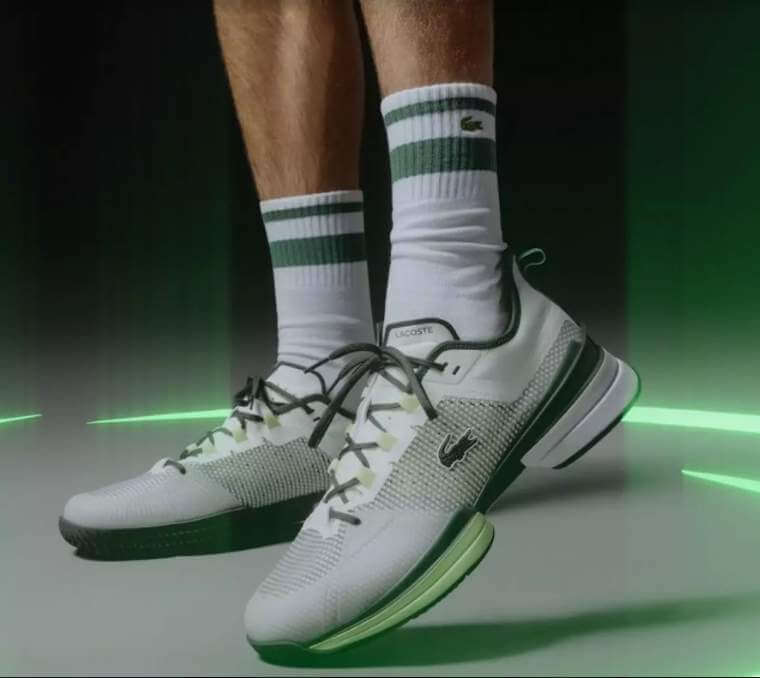 That's it for today- thanks again Tim, and watch this space in late June; Wimbledon is on deck.
• • • • •
Thanks, Brinke (and Tim)! Great rundown guys — OK, tennis fans (and even non-fans), what do you think of this years French Open gear?


Jimmer Vilk's Wiffleball 5 & 1

Earlier this week, when Jim and I were e-mailing (yeah, we're old school), we both bemoaned the state of baseball (not just unis, although those were discussed, but how stats like BABIP, launch angle, 7-inning double headers, starting a runner on second in extra innings, etc.) and how these things are sucking the joy out of a game that for many of us (like me) is our first love, a game we both played and watched, and how it's sometimes just not fun anymore watching MLB. In fact, Jim says he hasn't watched a MLB game since the 2019 World Series, but has found a new love where players still use "bats" and balls, but everything else about it is, at least to Jimmer, better than MLB.
Semi-jokingly, Jim suggested he'd love to write a piece on Wiffleball "uniforms" and then showed me some video clips and stills of some of the t-shirts worn by various Wiffleball teams. While not "uniforms" in the classic sense, teams still wear matching shirts, and Jimmer's going to tell you probably more than you ever wanted to know. Here's Jimmer:
• • • • •
Wiffle 5 & 1
by Jim Vilk
For the past decade, I have been searching…yearning for some entertaining alternative sports viewing. The mega-major American sports leagues have been on and off my "lawn" (to use an old-dad term) lately. Five years ago, I began to embrace cricket. While watching highlights from various leagues around the world I came across two Australian lads who put together a pretty impressive backyard cricket video.
I was reminded of that this month when I stumbled across a YouTube video from an entity called Major League Wiffleball.
<
You can browse their website to get the full history, but basically this is a group of kids in Michigan who started playing together about ten years ago. As they've grown from tweens to college-age lads they've put together a beyond-impressive organization, with eight teams and a big BIG following on YouTube and social media. Are they professionals? I don't know if players get paid and it's not my business. What I do know is that their videos are major-league quality, and to paraphrase Phil, they're a major league…they have uniforms shirseys and everything.
That's what I'm here for today: the shirseys. For a sport like wiffleball, that's all you need. No caps*, no buttoned jerseys with disrespected plackets, no stirrups, no bad umps, no unwritten rules, et cetera et cetera. This is a bat-and-ball sport that is all about what matters: fun.
(*Yeah, if my ill-fated attempt at a wiffleball league ever took off I would've had caps, but I wouldn't have made them mandatory)
So, using my familiar 5&1 format, I'm going to rank the shirts. That means two of the eight teams will receive Honorable Mention status, including: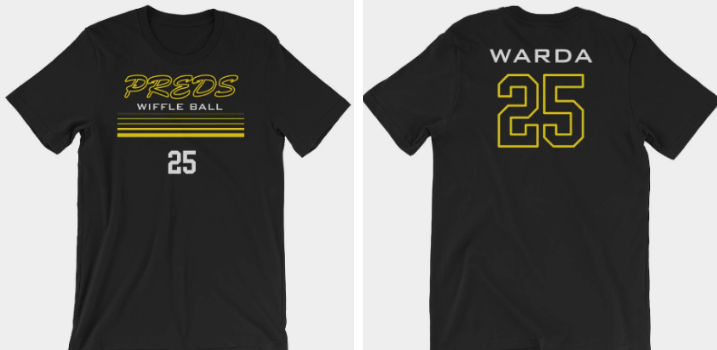 The Pacific Predators

I almost took out the word "honorable," given my dislike of ghosted numbers. The yellow outline is thick enough to make them somewhat visible on the videos, so there's that. And the front is nice. I like the striping in particular.
_____
Honorable Mention: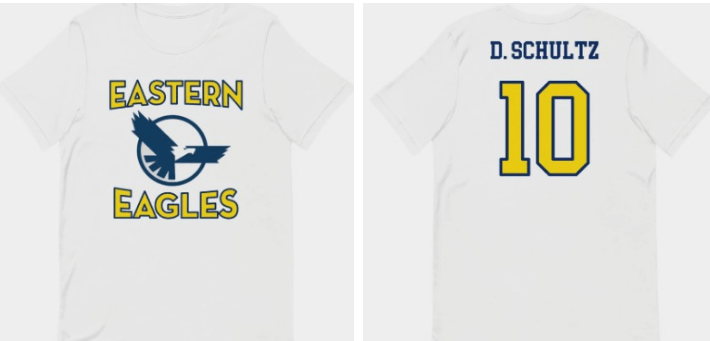 The Eastern Eagles

This gives me more of a hockey jersey vibe. To be specific, it gives me a street hockey vibe (reminds me…if you have any broken wiffleballs, don't throw them out. You can repurpose them as street hockey pucks). I like the colors and the logo.
_____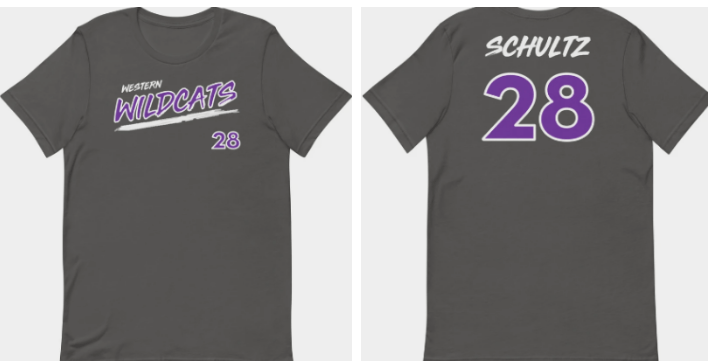 5. The Western Wildcats

Love the fonts. I will say this here, and it applies for all eight teams: the numbers could be bigger on both sides. Otherwise, I'd wear that.
_____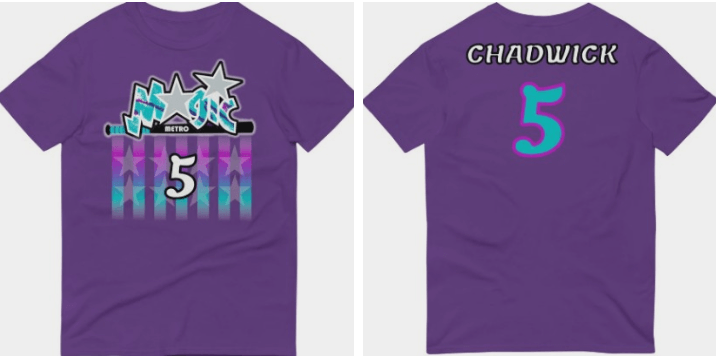 4. The Metro Magic

Yes, this is a blatant lift of Orlando's NBA logo. I would've bumped them up a spot or two if they corrected one of my many pet peeves: a star can be an a or the dot on an i. It can't be both at the same time. Still, I love the colors, the splashiness of the front and the playful number font. If I knew about this team on Purple Amnesty Day I might have ordered a membership card with this look.
_____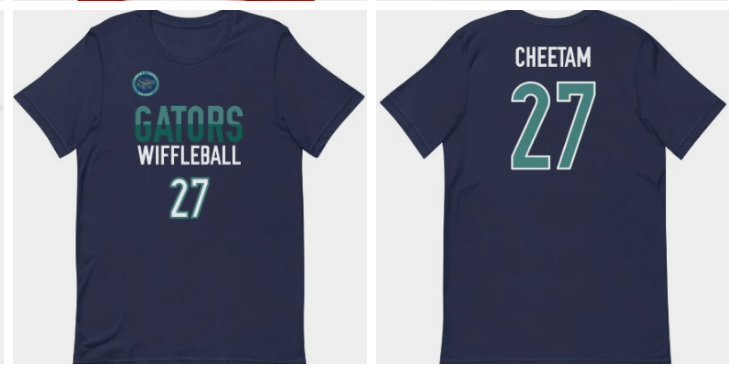 3. The Great Lakes Gators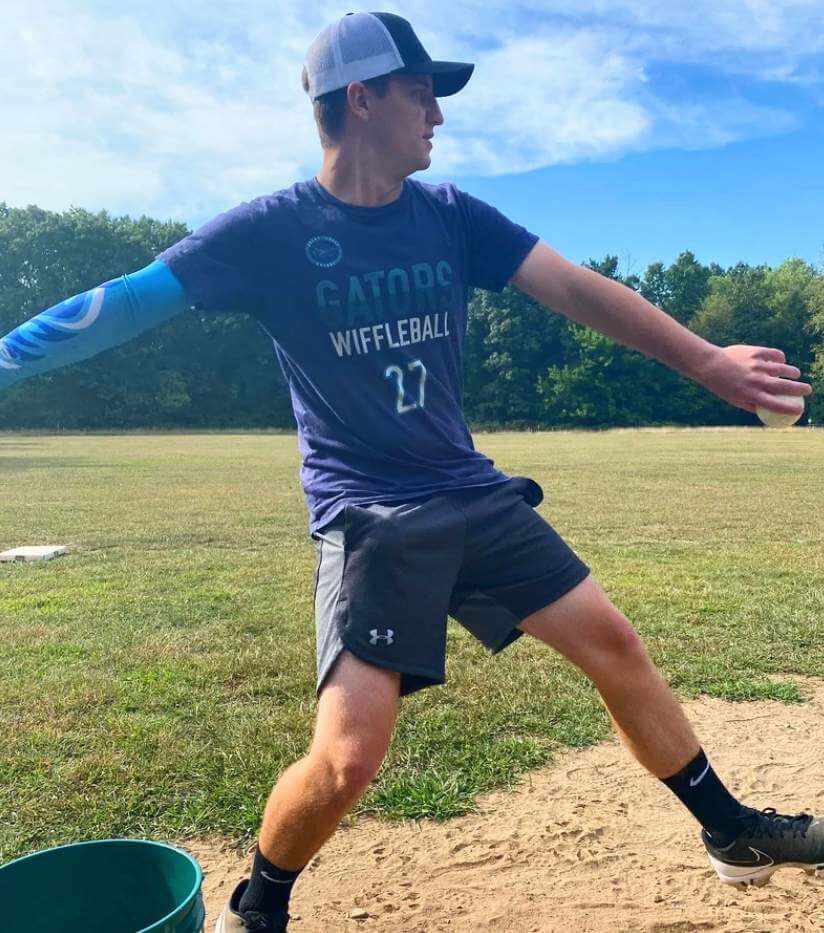 All eight shirts fall within the "I'd wear that" category. As we count down from three to one, these shirts have reached the next level: "I'd buy that." Great colors, but as you can see from the action photo there might need to be a bit more contrast.
_____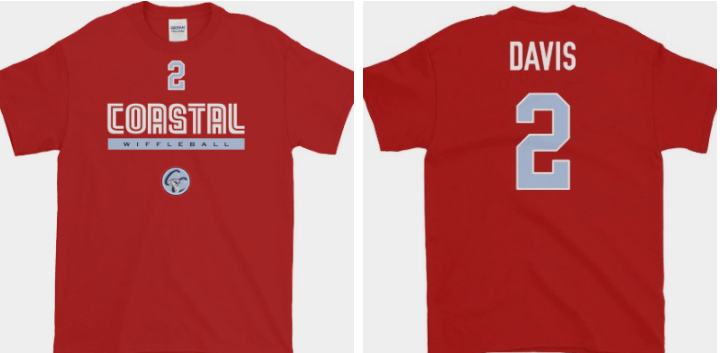 2. The Coastal Cobras

If you haven't noticed yet, there is abundant alliteration with the team names. Alliteration almost always annoys me, but for some strange reason I am unbelievably unaffected by it here. Anyway, I love the colors and the lettering.
_____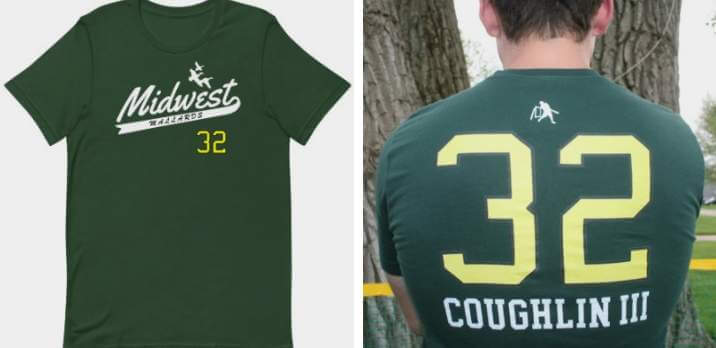 1. The Midwest Mallards

Oh. My.
This ticks so many of my boxes. It ticks one of Paul's as well: great colors! As for me, script lettering, big adequately-sized rear numbers, KC Kings-style NUN (Name Under Number), and LLOB (League Logo On Back). I may have to buy this *and* order a UW membership card in this style.
_____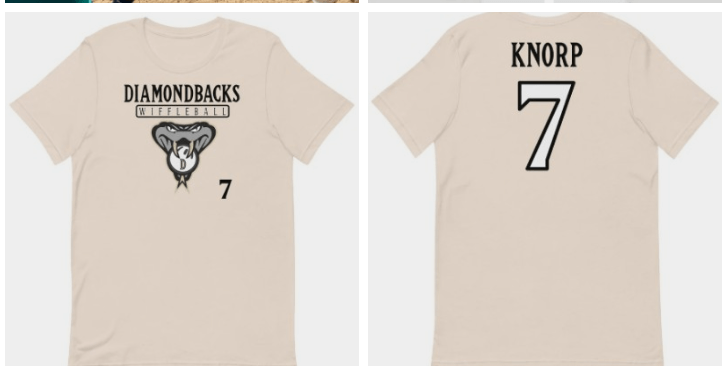 &1…The Downtown Diamondbacks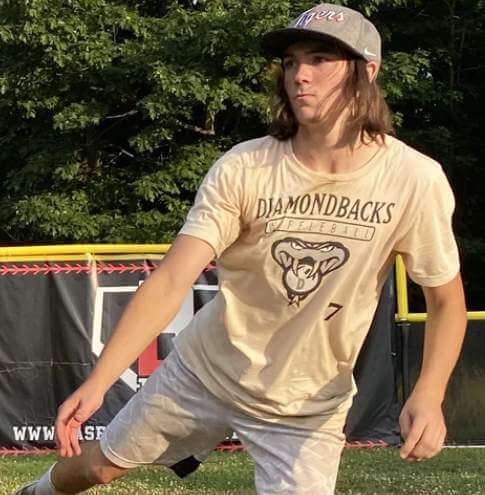 I like logos that have the ball and/or the sport featured on them. But…white numbers on a cream/off-white shirt? Hard to see in photos and even harder to see on the videos.
According to founder and CEO Kyle Schultz:
We've come so far already but that doesn't mean we are satisfied. We have very high hopes for MLW — way higher than you think — and we want you right there with us along for the ride.
I plan on being there, and if you don't mind I have two pieces of advice. 1) No matter how big you get, keep it fun. Never ever lose the fun. 2) Arena Wiffleball. Think about it.
Hope you enjoyed this dive into MLW as much as I've enjoyed bringing it to you.
• • • • •
Thanks, Jimmer! Fun look at a sport that gets basically zero coverage (other than from you) on UW. I don't think I've played wiffle since College — although I distinctly remember "playing" with curling brooms for bats more recently at my curling club (we share our (arena) ice with hockey clubs, and the entire complex includes indoor batting ranges and soccer fields, which is where we played a pickup wiffle game. Good stuff!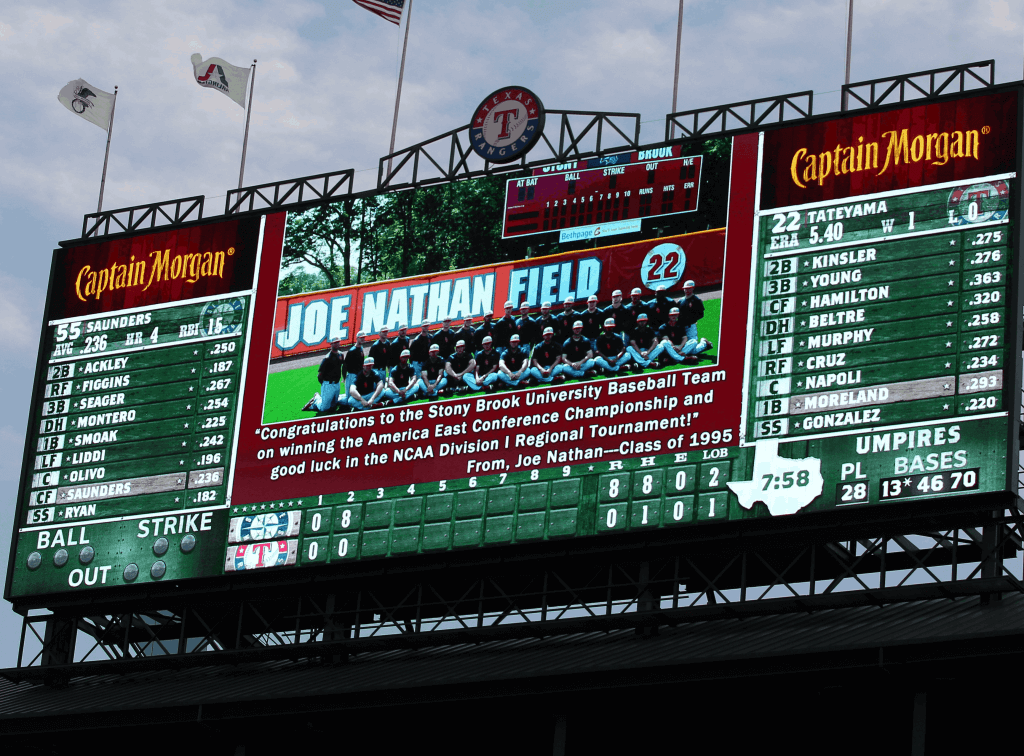 Guess The Game…
from the scoreboard
Today's scoreboard comes from Lacy Lennon.
The premise of the game (GTGFTS) is simple: I'll post a scoreboard and you guys simply identify the game depicted. In the past, I don't know if I've ever completely stumped you (some are easier than others).
Here's the Scoreboard. In the comments below, try to identify the game (date & location, as well as final score). If anything noteworthy occurred during the game, please add that in (and if you were AT the game, well bonus points for you!):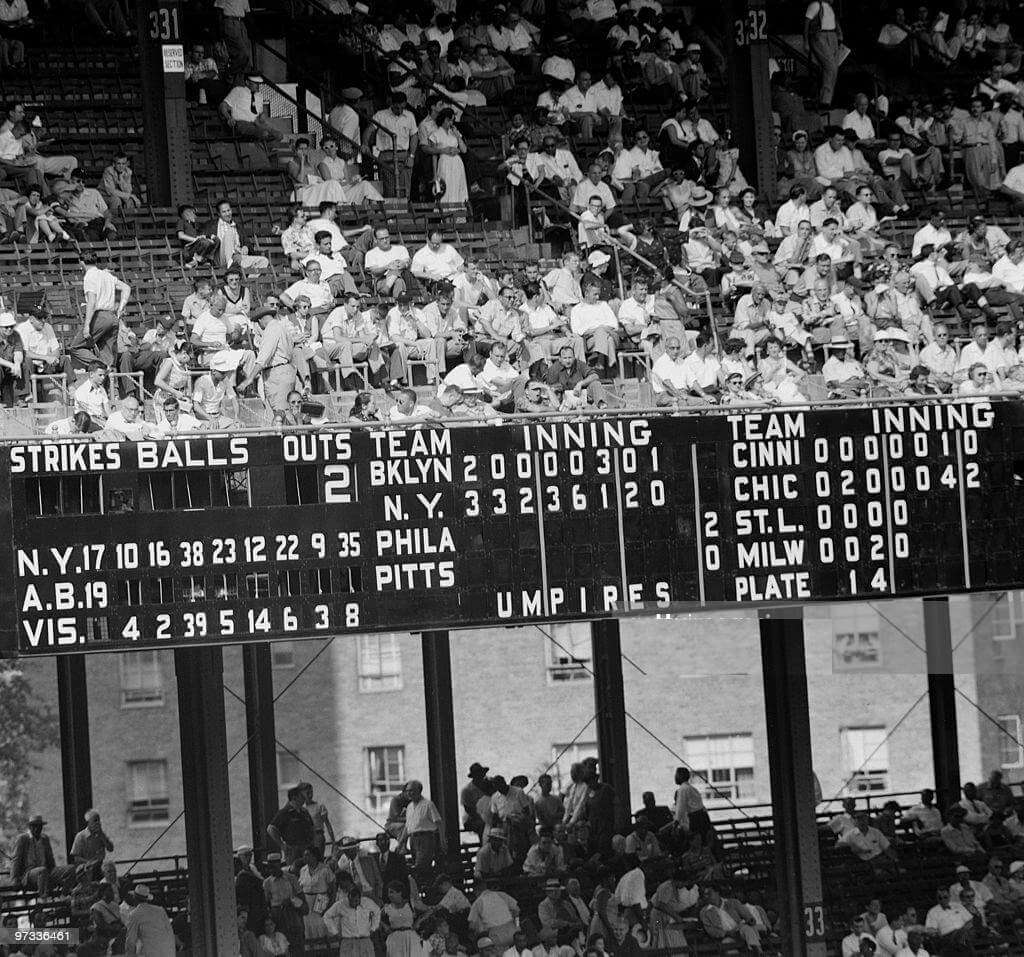 Please continue sending these in! You're welcome to send me any scoreboard photos (with answers please), and I'll keep running them.


Click to enlarge
And now a few words from Paul: Hi there. In case you missed it on Friday, Teespring is running one of their site-wide sales. That means you get save 10% off of anything in the Uni Watch, Uni Rock, and Naming Wrongs shops by using the checkout code SUMMER21. You'll save 10% and Uni Watch will still get its full cut of the profits — a win-win!
This sale is in effect now through midnight Eastern on Monday. My thanks, as always, for your consideration of our products.


Too Good For The Ticker!
Got an e-mail yesterday from Glenn Riley, and it's just TGFTT…
He writes:
Greetings, here's a comprehensive uniform option guide of the 1970's Pittsburgh Pirates that I recently drew. Bonus Fun fact, my mother was Dave Parker's kindergarten teacher in the 1950's in Cincinnati.

-Glenn Riley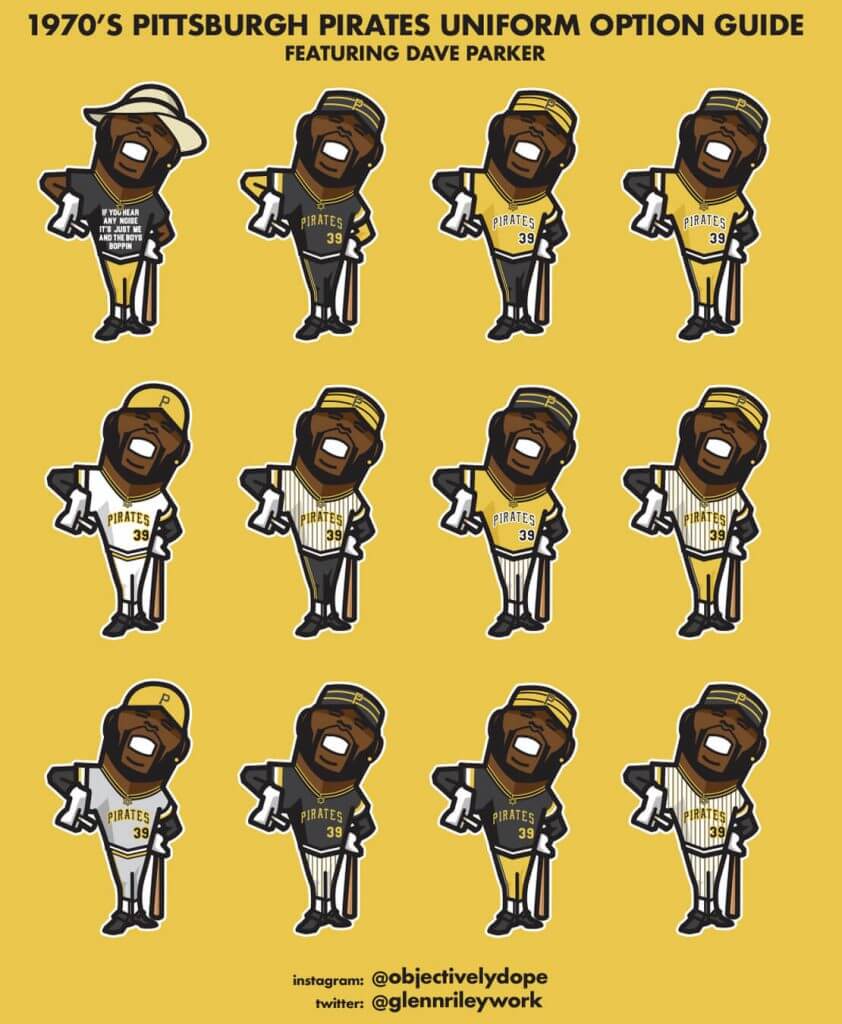 How great is this? Thanks Glenn!
OK, now…on to the ticker…


Uni Watch News Ticker
By Phil

Baseball News: "Just rewatched Fast Times at Ridgemont High for the 15th or 16th time," says Lane Foard. "Late in the movie, Brad (Judge Reinhold) gives his sister Stacy a ride to/from the free clinic for her abortion. He's wearing a vintage Indians jersey." Ooohhh, it's a zipperfront too! … The Carolina Disco Turkeys, fresh off of unveiling their groovy new threads, have also announced the winning entry for the contest to name their peacock mascot (from Kary Klismet). … Check out these rainbow bacon caps for the Lehigh Valley Iron Pigs (from Minor League Promos). … WHOA! Check out this vintage 1970s Oakland A's luggage (from Tony). … Check out these Minot Mallards throwback jerseys the SV SabreDogs wore last night (from Minor League Promos). … Check out this awesome real color footage of the Baker Bowl in Philly (from Bruce Menard)! … The Louisiana Tech catering staff wore their own version of the Bulldogs' powder blue jerseys at this week's Conference USA baseball tournament (from Chris Mycoskie). … The Charleston Riverdogs finally broke out the all navy home domes for the first time this year. Have been wearing the BP and Holy City alternates (from Chitty²Bang²). … On Friday night, the Gwinnet Stripers wore specially designed jerseys honoring about 700 local frontline workers who helped the community through the COVID-19 pandemic. One of those jerseys is now headed to the Hall of Fame Good! It would have been nice to see MLB honor frontline workers with jersey tributes instead of the camopander "Armed Forces Weekend" crap we got a couple weeks ago. … Energy provider Mirabito signed an agreement for naming rights to Binghamton stadium, home of the Rumble Ponies, the Mets Double A affiliates (from Timmy Donahue). … Tweeter Ted is a fan of Ervin Santana's commitment to a jersey colored glove.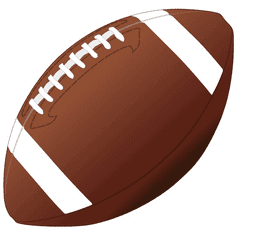 Football News: ICYMI earlier this month, Iowa State unveiled rings to commemorate the team's Fiesta Bowl championship (from Kary Klismet). … Also from Kary, USA Today's Georgia Bulldogs blog has ranked the SEC teams' helmets from worst to first (and managed to choose someone other than UGA for the top spot). … It's not quite a ranking, but here's a look as some of the Kansas Jayhawks' uniforms of recent vintage. … A Michigan Wolverines website has taken it upon itself to rank the B1G helmets from worst to first. … The LA Rams' Cam Akers has changed to jersey number 3. Here's why. … Can someone please explain to me how Tim Tebow leads the league in jersey sales? I mean, the odds are he's not even going to make the team, much less have an impact in the NFL this year. Why do people drop cash like this? … "While I couldn't find a better copy online, I did learn that 'all-mythical' was a common phrase for 'all-star' teams that existed just on paper," writes James Gilbert "Here, he puts that phrase on end."

Hockey News: There are two new expansion teams joining the Junior B Vancouver Island Junior Hockey League for 2021-22 (with names and team logos). Please welcome the Port Alberni Bombers. Also please welcome the Lake Cowichan Kraken (from Wade Heidt). … ICYMI, the Tampa Bay Lightning were not permitting fans to wear jerseys from other teams in their building. They have now reversed that policy). Here's a bit more on that.


NBA/College Hoops/Basketball News: Deadspin's Jesse Spector probably sounds like a lot of Uni Watchers when he bemoans the NBA uniform matchups in this year's playoffs (also sent in by K.C. Kless). I watched the Nets/Celts game Friday — and with Boston (at home) in black, against the Nets in white, I was just left aghast. When I watch a game in Bahstin, I want to see the Celtics in white (or at least green). Black? Against a team whose signature uni is black? C'mon man. … Got a spare $3.7 million laying around? Well, someone did, because Kobe Bryant's rookie jersey recently sold for a record $3.69 million. … No photo, but CJ Doon observes, "Dame Lillard (0), Carmelo Anthony (00), JaMychal Green (0) and Markus Howard (00) on the floor in Blazers-Nuggets. Has there ever been a 0 and 00 on opposing sides in an NBA game?"

Soccer News: "One of the most bizarre uni-related streaks is over," says our own Jamie Rathjen: The various English clubs that usually wear red and white stripes and black shorts combined to never win an English Football League playoff until Brentford did yesterday. This was the 34th playoff appearance for one of those clubs and the 17th final. … Manchester United have announced release dates for their new 2021-22 home and away jerseys.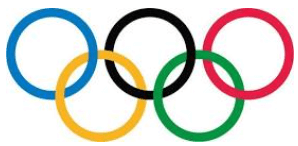 Olympics News: Usually our Olympics news is limited to the uniforms teams will wear either at the opening/closing ceremonies, or during the games themselves, but here's an interesting story on why Olympic divers shower in between their dives (from Kary Klismet). … We've seen the Aussies' Olympic unis, but do viewers think they're bland or chic?

Grab Bag: The following three items are all from Kary Klismet: McNeil High School in Austin, Texas, has unveiled a new logo. They'd previously been, ahem, "borrowing" the Denver Broncos' logo. … Huntsville, Ala., has unveiled renderings of its planned renovations of Joe Davis Stadium, the former home of the now-defunct Huntsville Stars minor league baseball team, as a multi-use community stadium for soccer, high school football, field hockey, and other sports. … Destin High School in Florida, whose teams are known as the Sharks, has unveiled a new mascot sculpture in front of the school, featuring the likeness of the world-record largest shortfin mako ever caught (thanks for those, Kary!). … So which club has the best uniform in Chicago? The voters have their say.


Uni Tweet of the Day
I remember these. Pretty sure I had a few with my Whopper meal back in the day…
1980 Burger King/Topps Baseball Cards – Great players, classic uniforms! #MLB #NationalHamburgerDay pic.twitter.com/LVAW89XfMw

— Baseball by BSmile (@BSmile) May 28, 2021


And finally… that's all for today. Big thanks to Brinke for his French Open gear preview, and Jimmer Vilk for that Wiffleball 5 & 1! Enjoy the basketball & hockey playoffs, as well as the French Open & Indy 500 today.
Hope everyone is staying safe and well (and thanks to the couple of you who had kind words on my COVID vaccination). Monday is, of course, Memorial Day — a solemn day in which we honor those who fought and died for our nation. Thankfully, MLB finally changed course after years of trotting out "patriotic" and camopander crap, and began sporting a staid poppy patch on the jerseys, and a circular cap patch, which is much more befitting the somber day of remembrance that is Memorial Day. Kudos to them for finally getting something right, uni-wise. All teams will wear the poppy patch & cap logo tomorrow.
Everyone have a good Sunday & Memorial Day, and I'll catch you back here next Saturday.
Peace,
PH