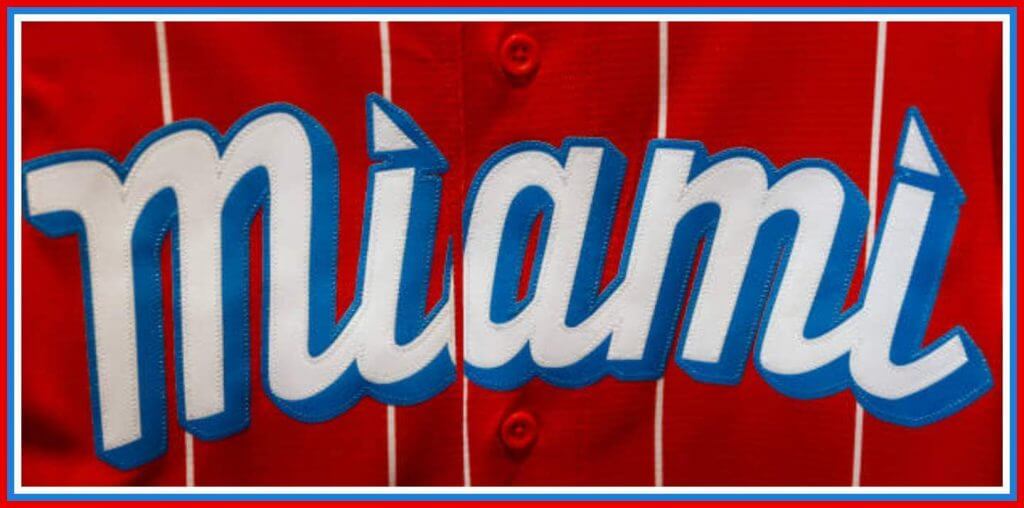 By Phil Hecken
Follow @PhilHecken

As expected — and for the first of many times (including the next two days) — the Miami Marlins last evening wore their "Havana Sugar Kings" fauxback uniforms. As you can see from the splash photo, the jersey is mighty red. If you're not aware of the story behind these uniforms, Paul did a nice job describing them back on Tuesday, and our pal Chris Creamer did a nice history of the team Miami is saluting. There's also a good video history of that club here:
I put together this piece on the Sugar Kings https://t.co/Str3jvP6pv

— Cuba Dugout: Phil Selig (@CubaDugout) May 22, 2021
When I first saw the unis unveiled, and read Paul's piece on Tuesday, I actually found myself disagreeing with his assessment. My first hope would actually have been for the Marlins to do what we'll call the "Miami Vice" treatment — pink and aqua, with lots of flash — similar to the designs worn by the Miami Heat. Instead, they went with a very loose interpretation of a short-lived, Cuban-based, minor league affiliate of the Reds. Not exactly a city connection, other than the fact that Miami has a large Cuban population to this day. I totally get where they're going, but the city connection seems tenuous at best. I would have preferred they celebrated the vibrant colors of their famed nightlife than a recreation of a MiLB uni for another team.
Paul also feels this is a "natural fit" for the team, and avoids Nike's clichéd "tourism-bureau thing," but I actually think this goes to the other extreme. I don't think it's such a natural fit, and instead bends over backwards to fit a round peg into a square hole. That's not to say he's wrong; this is just my own opinion. Perhaps a neon fuchsia and aqua uni would also be clichéd, but wouldn't that be a better city connection?
Anyway, when I first saw the unis — or rather, the jersey and cap (since Nike seems intent upon making the City Connect "uniforms" a very saleable cap and jersey, to be coupled with a pair of white pants) — I didn't love them. While not exactly a copy of what they did for Boston, both teams were given a powder blue cap (the Marlins cap does have a red bill, while Boston's was solid), with a contrasting color jersey, white pants, and powder blue socks. Some colors pair well with powder blue, but in my opinion, red isn't one of them (I may be in the minority here). Also, the red jersey contains white stripes, but not classic ones: these STOP at the shoulder and don't extend to the arms. To me, it's just not a particularly good looking base for a jersey.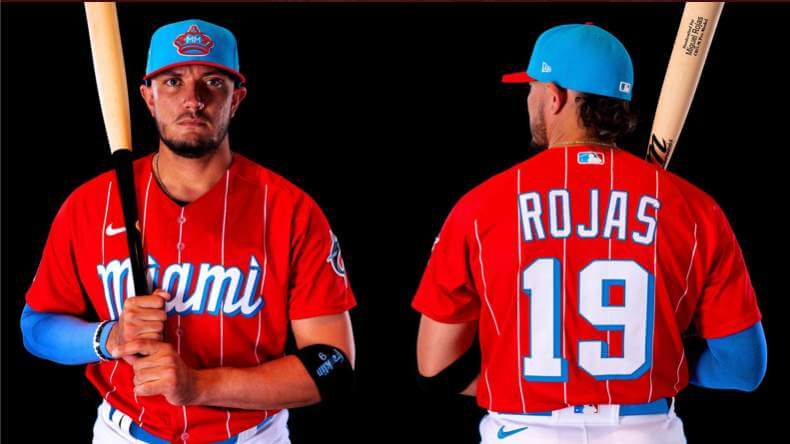 While the stripes are fairly faint, this caused the designers to need to add some extra weight in the form of block shadow to both the front "Miami" wordmark as well as to the rear uni numbers. I don't hate the look, but I wish at the very least the "Miami" could have been solid white (or simply outlined in blue). I do love the sleeve patch which mimics the original Sugar Kings: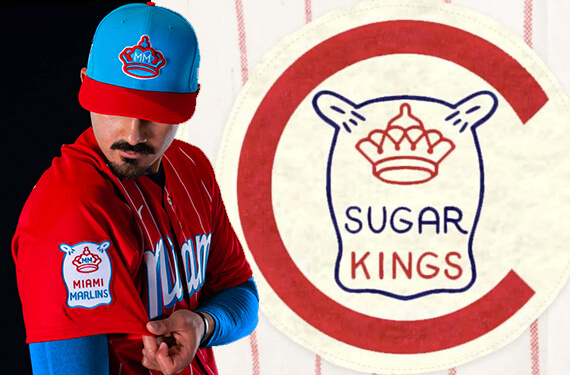 Those were my complaints. But I wanted to see how the unis looked on the field before passing final judgment, and I have to say, they do look better than I had feared (and yes, I watched all 12 excruciating innings last night). But not all that much. I would have greatly preferred a matching pair of red pants (c'mon, it's a uniform, not a merch-grab softball jersey). Still, it does work with the white pants. We saw the mockups/photos showing players with powder blue sleeves, and I wondered if every player who wore sleeves would play along. As it turns out there were at least three different colored sleeves I saw (powder, black, white).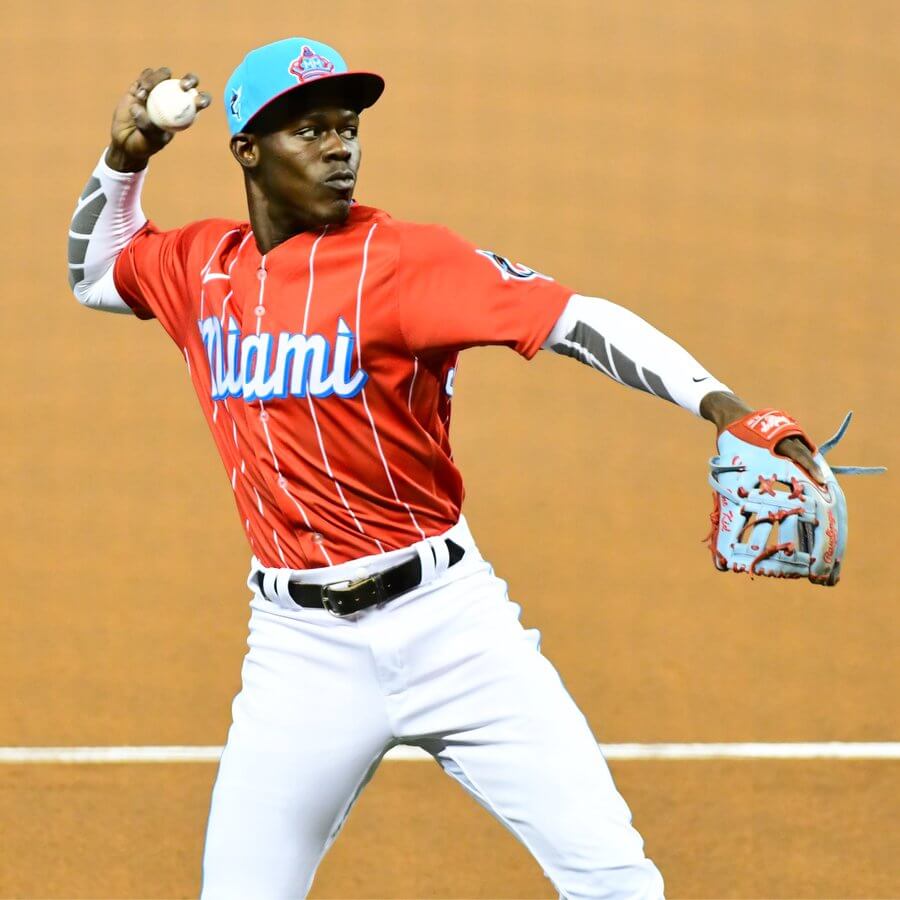 In addition we had at least one player wearing a red compression sleeve. I didn't necessarily mind the different looks, but it made the whole thing appear much less "uniform."
As you can see above, some players (and coaches) went high-cuffed, and I thought the custom socks worked well, even if they seemed a slightly different shade of light blue than the other elements. Likewise, I was hoping to see light blue belts (as were shown in the press photos), but I only saw black, which introduced yet another color into the palette.
One thing I did like was how the team went the extra mile on the helmets and catchers' gear. Custom powder blue helmets with some neat red striping was nice, and at least that added to the continuity of color.
As I said above, after seeing them on the field, I liked them more than I previously did, but they're certainly not as special as they could have been. Had the Sugar Kings been somehow more directly tied to Miami (yes, I know they couldn't have been a minor league affiliate of the Marlins, who didn't exist in the 1950's-60), I definitely would have felt a much stronger "city connect(ion)." I also would have preferred the neon pink/blue as to me, that's a greater representation of Miami. I also think I'm in the minority on this one, as I did a quick Twitter poll (if the results don't show, just click your preference and you'll see the tallies), and obviously I must not be the greatest judge of taste in uniforms.
Quick Poll — Marlins "City Connect" (Havana Sugar Kings fauxback) unis

— Phil Hecken (@PhilHecken) May 22, 2021
I hope I'm wrong, but I get the feeling now that every "City Connect" uniform is going to be a very marketable cap and jersey, paired with white pants. This isn't always a bad look, but it also feels like Nike only wants to work on the parts of the uni that will sell. In the past, the Marlins have had some nice MiLB throwbacks, so I would have preferred they go this route, but it is what it is.
We'll soon see what's in store for a bunch more teams in rapid succession, as the next "City Connect" jerseys/caps will be worn by the White Sox (starting June 5), the Cubs (June 12), and Diamondbacks (June 18), followed by the Giants (July 9) and finally the Dodgers (sometime in August).
What did you guys think of Miami's uniforms jerseys and caps?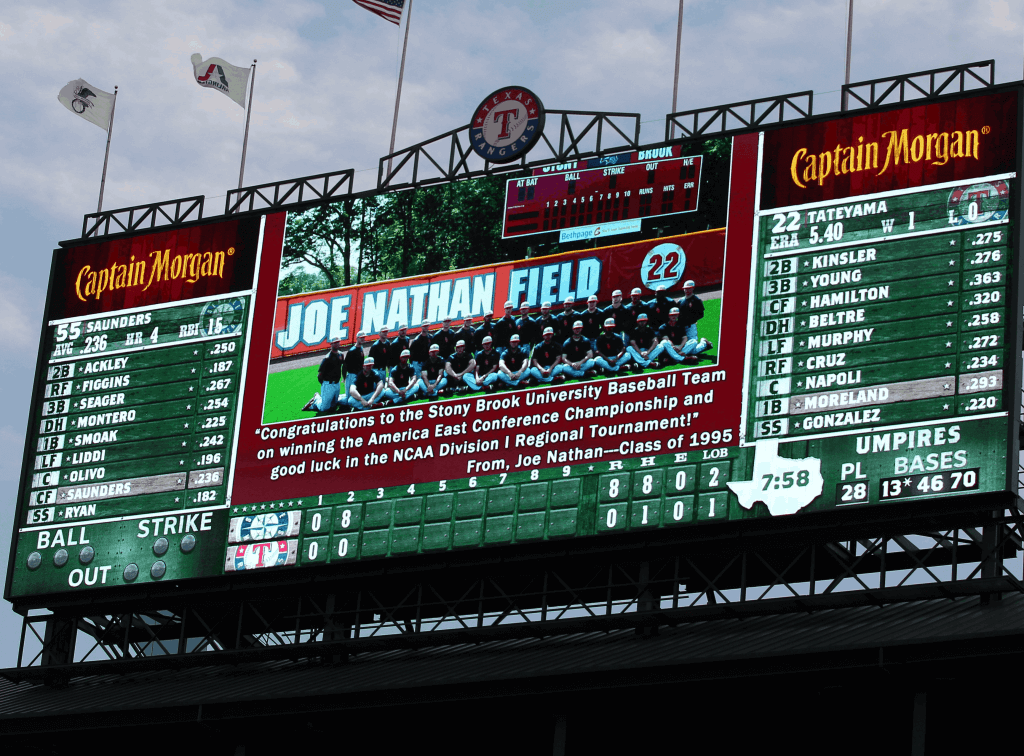 Guess The Game…
from the scoreboard
Today's scoreboard comes from SABR Bio Project.
The premise of the game (GTGFTS) is simple: I'll post a scoreboard and you guys simply identify the game depicted. In the past, I don't know if I've ever completely stumped you (some are easier than others).
Here's the Scoreboard. In the comments below, try to identify the game (date & location, as well as final score). If anything noteworthy occurred during the game, please add that in (and if you were AT the game, well bonus points for you!):
Please continue sending these in! You're welcome to send me any scoreboard photos (with answers please), and I'll keep running them.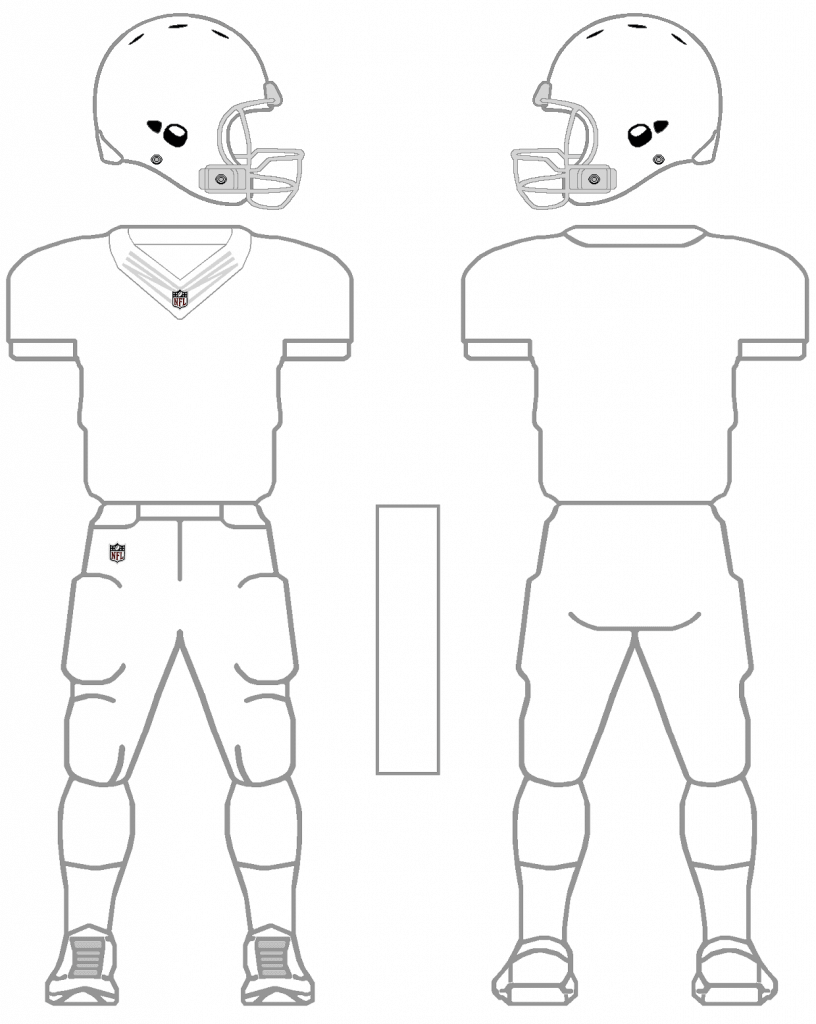 Uni Concepts & Tweaks
Time for more Uni Tweaks from the UW readership.
I hope you guys like this feature and will want to continue to submit your concepts and tweaks to me. If you do, Shoot me an E-mail (Phil (dot) Hecken (at) gmail (dot) com).
• • •
Today's concept comes from Dan Bodurtha:
The following were originally sent to Paul, but since I'm the "concepts" guy, he forwarded them to me as well. He writes…
Hello,

I'm adding to my Minnesota pride! Let's bring back the Duluth Eskimos Inuits throwbacks. Although the NFL probably wouldn't use this name in it's marketing, it's still fun to see these great uniforms come back to life! While only in the NFL for a single year (previously the Duluth Kelleys), "they were one of the first NFL teams to use a logo". So, the Duluth Eskimos were the logo pioneers of the NFL! Once the NFL eases up on the one shell rule, it would be fun to see the Vikes rock these on the gridiron.

Thanks,
Dan Bodurtha
And here is his concept:
CLICK HERE TO VIEW CONCEPT
• • • • •
OK readers (and concepters). If you have some tweaks or concepts, shoot 'em my way with a brief description of your creation and I'll run 'em here.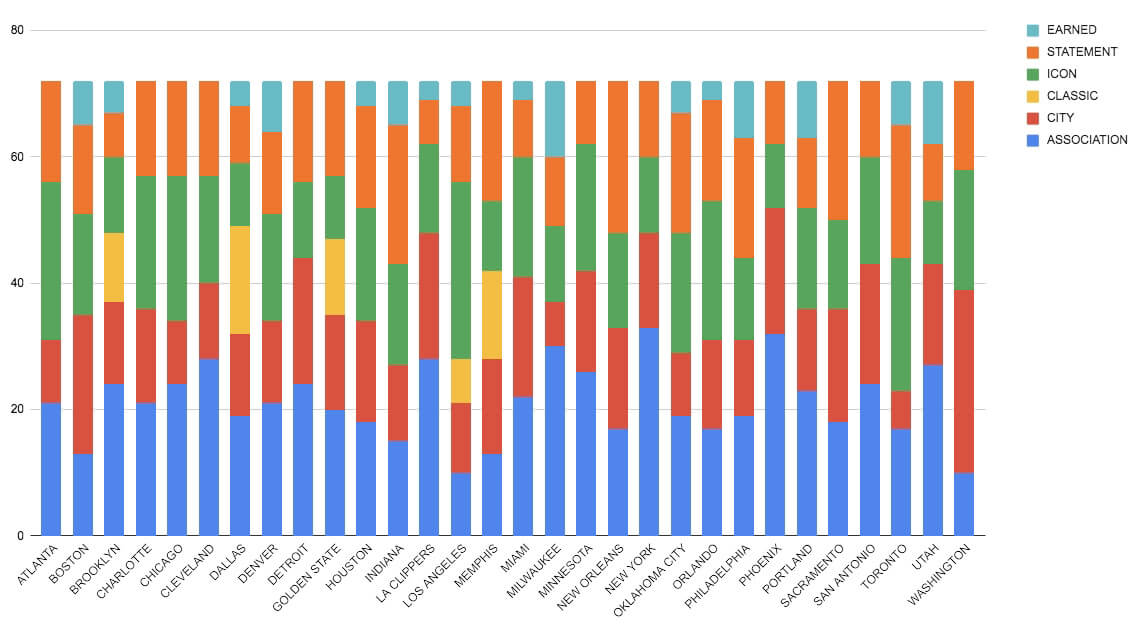 Click to enlarge
NBA Power Rankings reminder: Paul here. In case you missed it on Friday, the bar graph above shows how often each NBA team wore each of its uniforms during the 2020-21 regular season (all data from LockerVision). I used that breakdown as the basis for a new set of NBA uni rankings. Instead of ranking each team's full uni set, I decided to do rankings based on the most-worn uni for each team, which brought some interesting trends and info to light. You can check it out here.
Now back to Phil with the rest of today's content!


The Ticker
By Anthony Emerson


Baseball News: It appears Brewers IF Kolten Wong was wearing University of Michigan batting gloves last night. They can't be holdovers from his college days, as he went to Hawai'i (from Kyle Baker). … The San Francisco Chronicle's A's podcast had an interview with longtime A's clubhouse manager Steve Vucinich. It's a fun interview altogether, but the uni-centric stuff comes in at the 16 minute mark (from Terry Mark). … Uni Watch got a shoutout in the most recent Sports Illustrated For Kids, in a blurb about about the MLB logo (from Nicklaus Wallmeyer). … The Greenville Drive, High A affiliates of the Red Sox, are celebrating their 15th anniversary with a sleeve patch (from Christopher Keese). … The Bradenton Marauders, Low A affiliates of the Pirates, wore their Copa de la Diversión design, rebranding themselves as the Bradenton Barbanegras (from Wayne Koehler). … ESPN has an article about how MLB umpires are stepping up their shoe game (from Mike Styczen and our own Brinke Guthrie).

Pro Football News: Panthers wideout DJ Moore will switch from No. 12 to No. 2 (from James Gilbert and our own Brinke Guthrie). … Here's a color-vs-color matchup in football I think Paul could get behind. Those are the IFL's Green Bay Blizzard in green and Tucson Sugar Skulls in yellow (from Adam Lucas).

Hockey News: The Rangers are polling fans about adding an ad patch to one of their sleeves.
.
.


NBA/College Hoops News: The Bucks have a new uniform advertiser (from multiple readers). … Louisiana Tech is letting fans vote on their new court design (from James Poisso).

Soccer News: Barça's new home and third kits have leaked (from Kary Klismet). … Also from Kary: Inter Milan's away kits have also leaked. … The following are all from Ed Żelaski: Everton have a really nice new away kit (also from Germán Cabrejo). … Borussia Dortmund have unveiled their new home kit. … Wolverhampton Wanderers are moving to Castore from Adidas, becoming the first Premier League side to be outfitted by the six-year-old English company (from). … Ligue 1 side Olympique Lyonnais have unveiled their new home kit (also from Ben Hagen). … New Sounders DF Abdoulaye Cissoko will wear No. 92, as a nod to the postal code of his native Les Ulis, France (from @mightyfarley).

Grab Bag: University of Richmond athletics is moving from Nike to Adidas (from Tom Turner). … Also from Tom: Paul van Doren, the man behind iconic Vans skateboarding shoes, has died at 90 (NYT link). … New indigenous design for the AFL's Melbourne FC (thanks, Jamie). … Staying in Australia, Port Adelaide FC has responded to the controversy surrounding the plagiarized design of their indigenous guernsey. They acknowledged the design came from artist Elle Campbell, who has given her permission for the design to be worn (from J.R. Rogers). … Here's a brief article about how driver apparel in motorsport has evolved over the years (from Kary Klismet). … During an episode of Anderson Cooper: Full Circle, actor John Stamos corrected Cooper after the latter called sports uniforms "sports costumes" (thanks, Phil).


Uni Tweet of the Day
He's 100% right.
Still the only Nets uniform that I am willing to fucking recognize as legitimate. pic.twitter.com/XWccgQTtXj

— Super 70s Sports (@Super70sSports) May 19, 2021


And finally… that's it for today. Hope everyone is staying well and healthy, and that you all had a good week. I'll be back tomorrow with what should be a very special column (from a well-known personality) on a uni mystery solved, so be sure to check back then. You guys have a good Saturday and I'll see ya tomorrow.
Peace,
PH