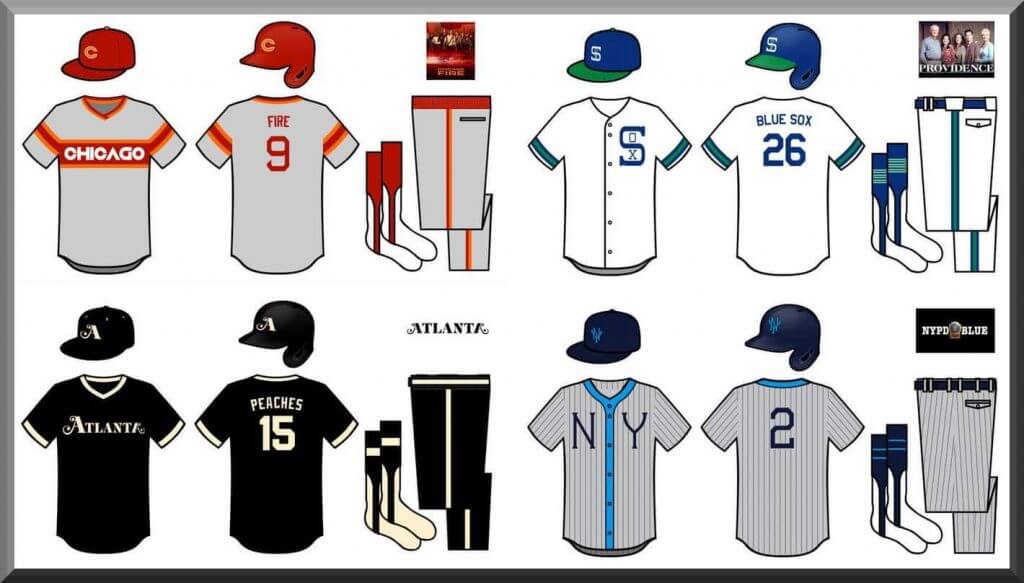 By Phil Hecken
Follow @PhilHecken

Greetings and good Saturday morning, Uni Watch readers. I hope everyone has had a good week and you're all staying safe and sound.
As you may be aware, during the early stages of the pandemic, when there was almost no uniform news to report, I had many readers send me uniform concepts. I believe I ran all that were sent to me directly, but a few weeks ago, Gregory Kohn contacted me with this message: "Hi Phil, I had sent this in over the summer when I was first quarantining and had a lot of free time…" and attached was an e-mail he'd sent to the Uniwatching e-mail last year, which read:
Dear Paul, Phil, or to whom it may concern:

I've been a reader for probably 10 years now. Because of quarantine, I had some free time to work on a uniform project I had in mind for a while. I grew up in South Florida, and when the Heat came out with their Miami Vice jerseys, I always wanted to see them on a baseball uniform. Then, I thought, what if the entire MLB was named after TV shows that had cities or states in their names?

So, that's what's attached to this email: home and away uniforms for an entire bizarro MLB. Hope you enjoy and thanks for keeping this blog going!

-Greg
Now, most things that get sent to that address which are of the uni tweak/concept variety get forwarded to me, but in this instance, this must have slipped through the cracks. So, what I have for today's main post will be a look at his "bizarro" concepts (some of which I think are really quite good looking uniforms) — I like a bunch of the designs, with many of them evoking an 'old school' or what is now "retro" feel and in some cases, I really love the color combinations.
After Paul spent an incredible week doing some deep diving, I had actually hoped to run a potential "uni mystery solved" piece today, but it didn't quite come to fruition in time — and if all works out, I think you'll really enjoy it — but that will have to wait for next week. So, without further ado, I now present to you Greg's pandemic uni creations. Delayed, but not forgotten. Enjoy!
• • • • •
Bizarro Baseball Concepts
by Gregory Kohn
Atlanta Peaches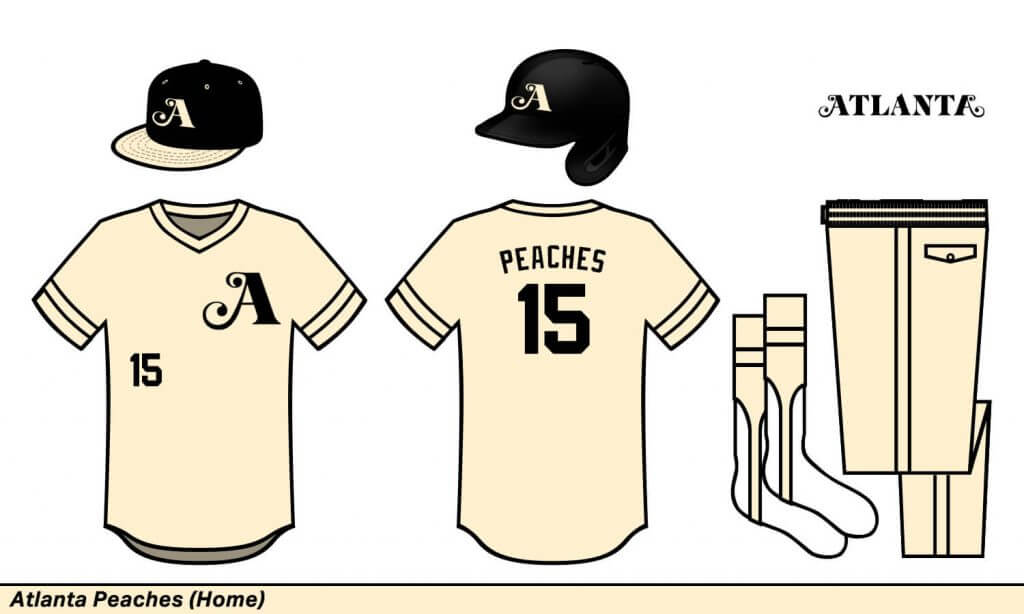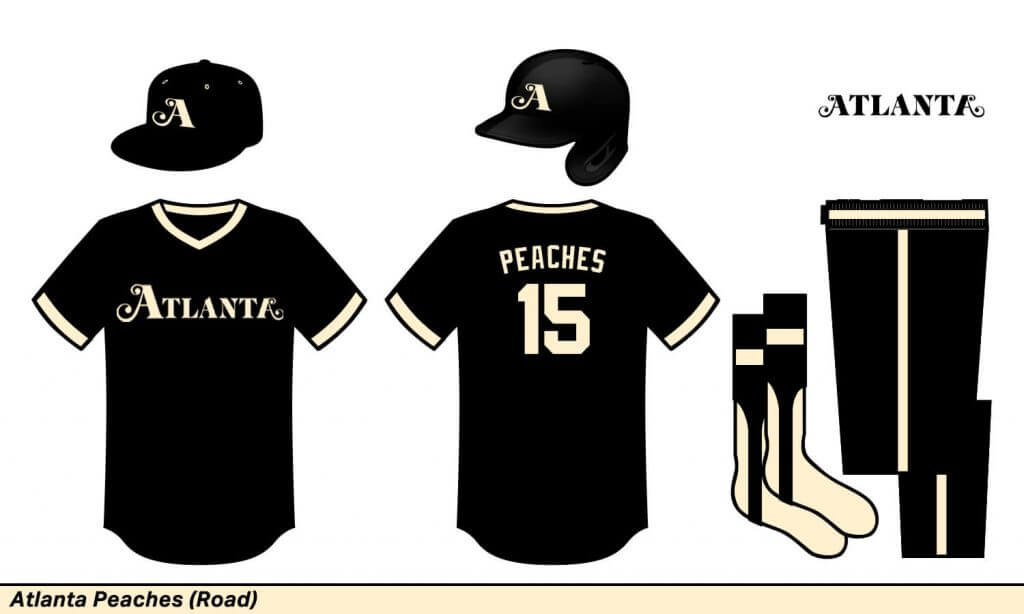 Atlanta Peaches
The Peaches nickname is pretty self-explanatory for a fake Atlanta team. I went all cream for the designs because, well… peaches and cream.
_____
Austin Citizens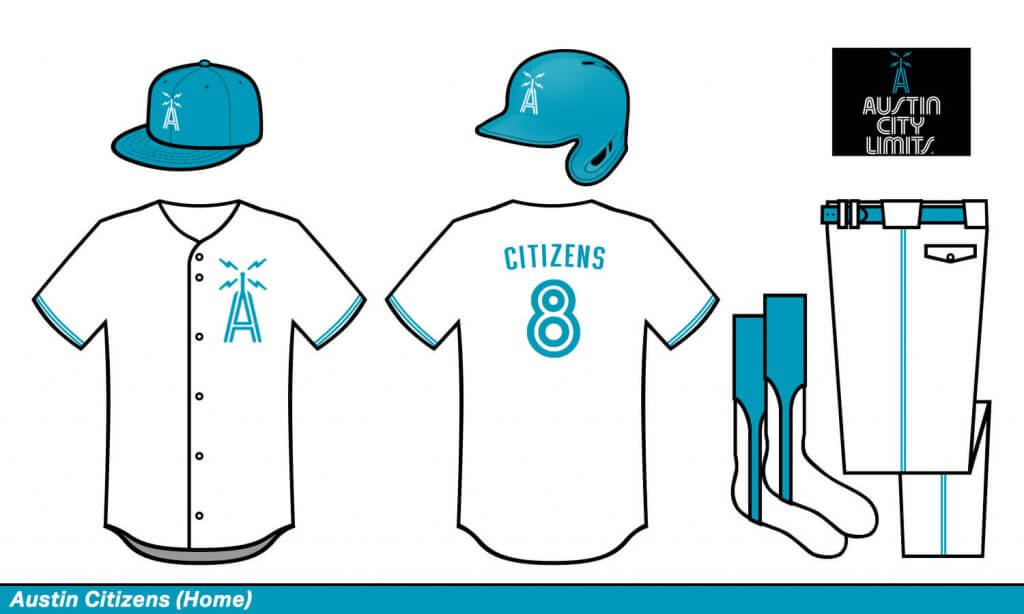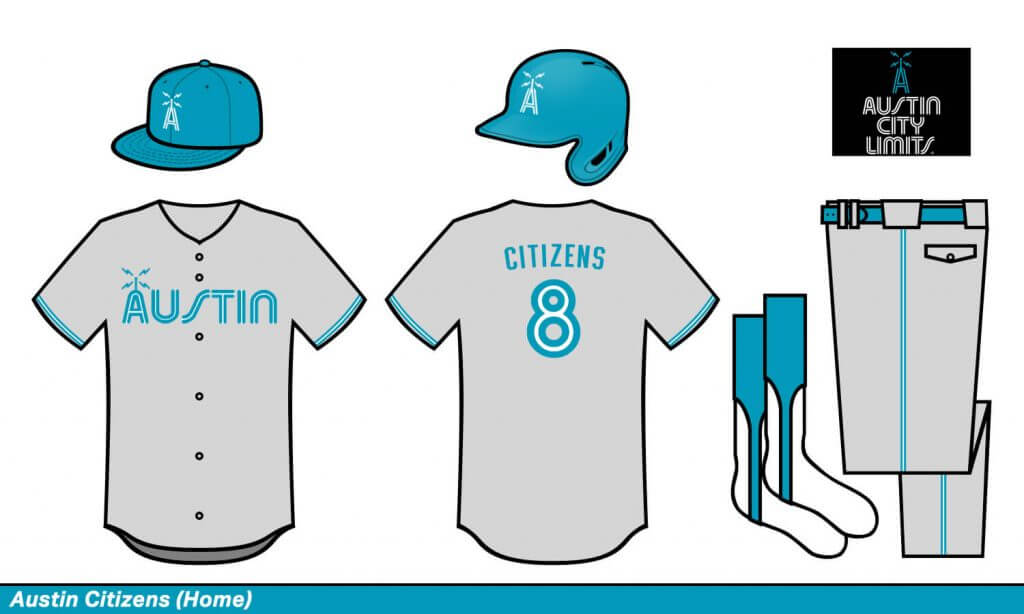 Austin Citizens
The show's logo, color, and title font are all incredible. It matched up perfectly with the Blue Jays' numbering.
_____
Beverly Hills Zips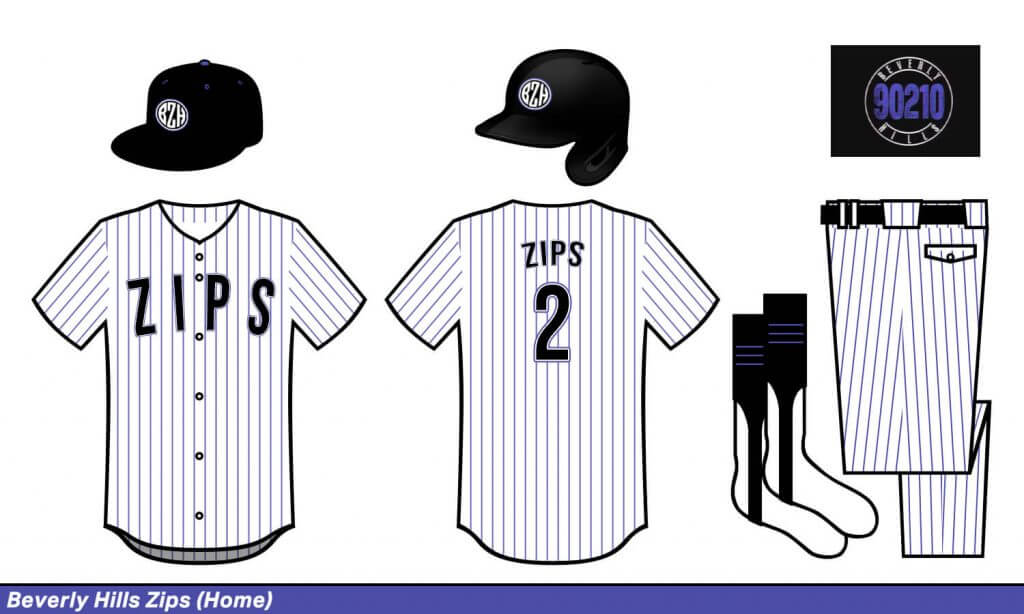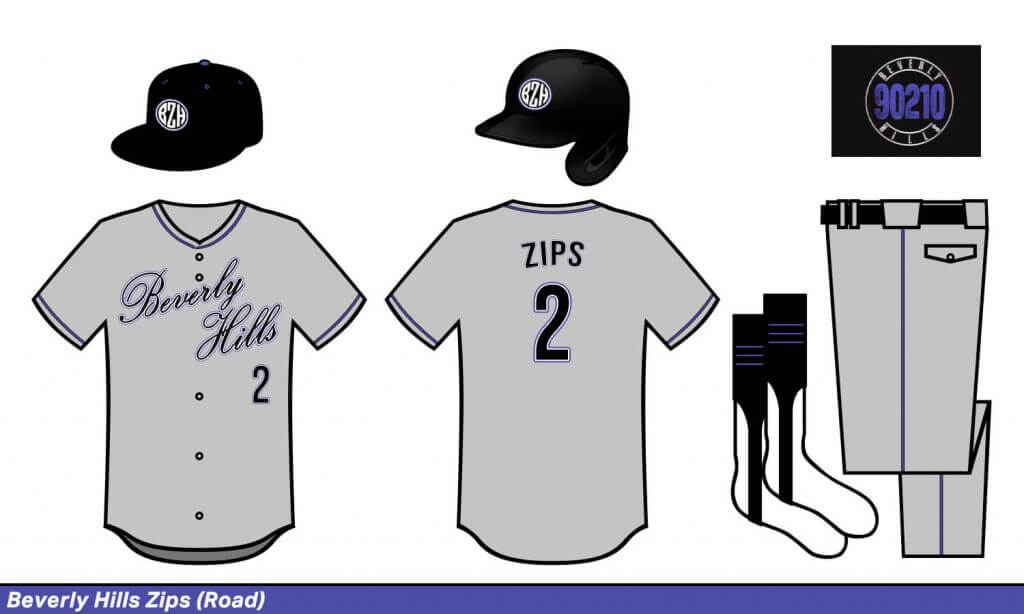 Beverly Hills Zips
The show's visual theme is very 90s but also surprisingly bland. That kinda matched perfectly with a Rockies feel.
_____
Boston Schoolers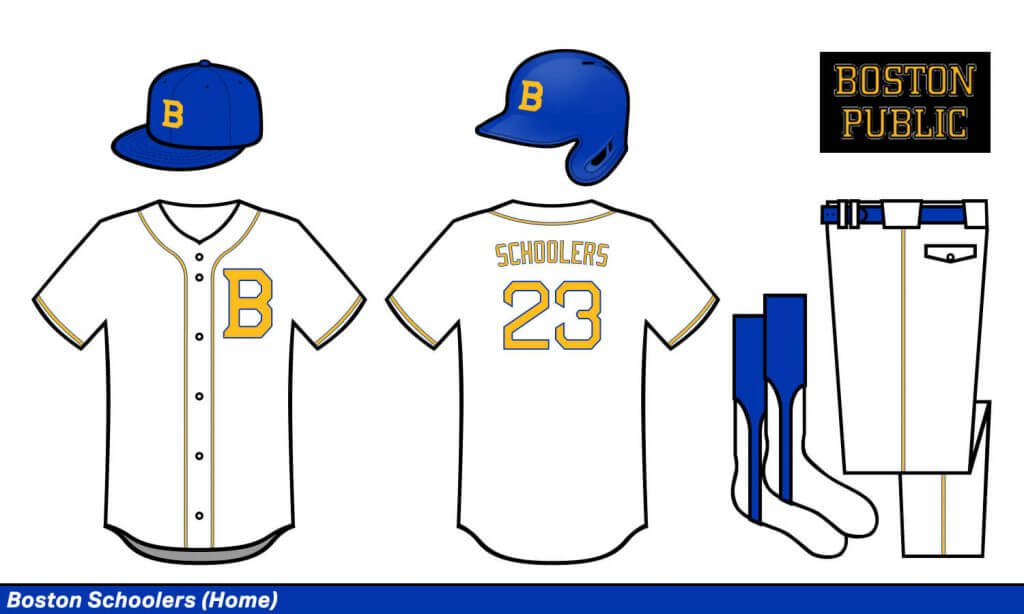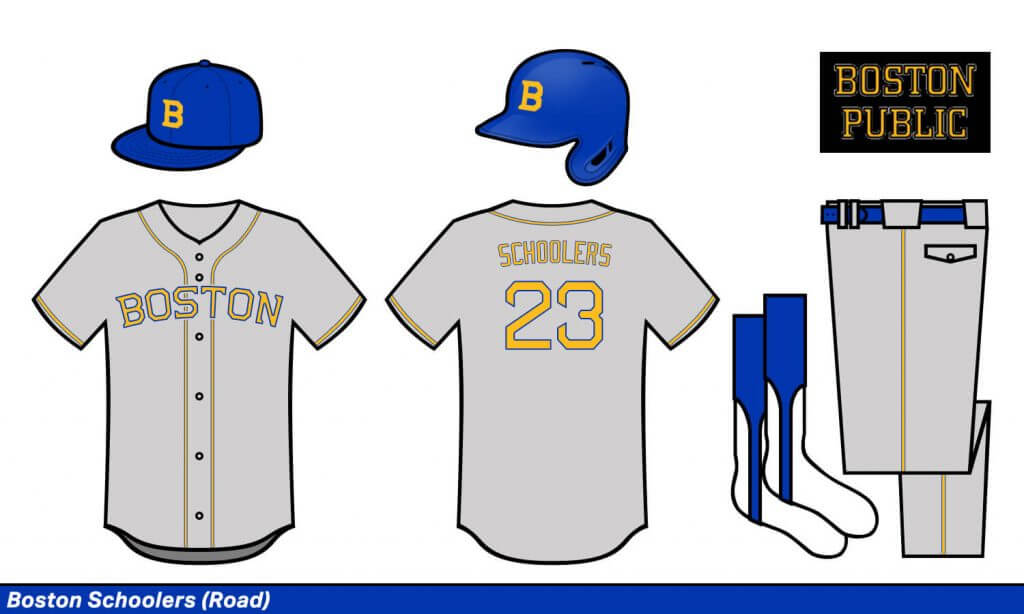 Boston Schoolers
A Boston baseball team has to look old-school. They also aren't a Boston team without that number font.
_____
Brooklyn Niners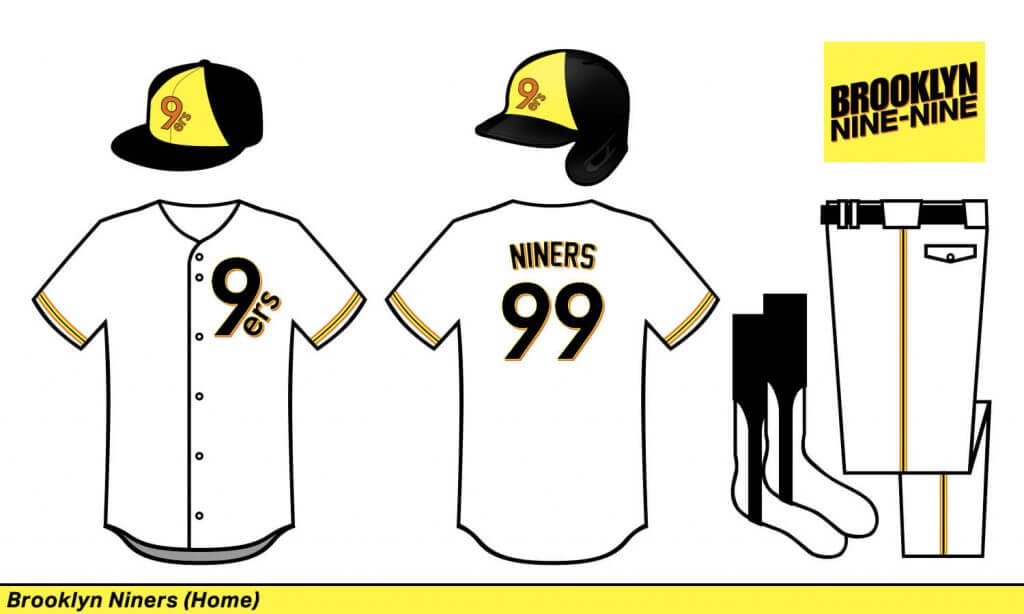 Brooklyn Niners
There was something faux-back 1970s to me about the show's title, so I leaned into that a la the Rays.
_____
California Patrol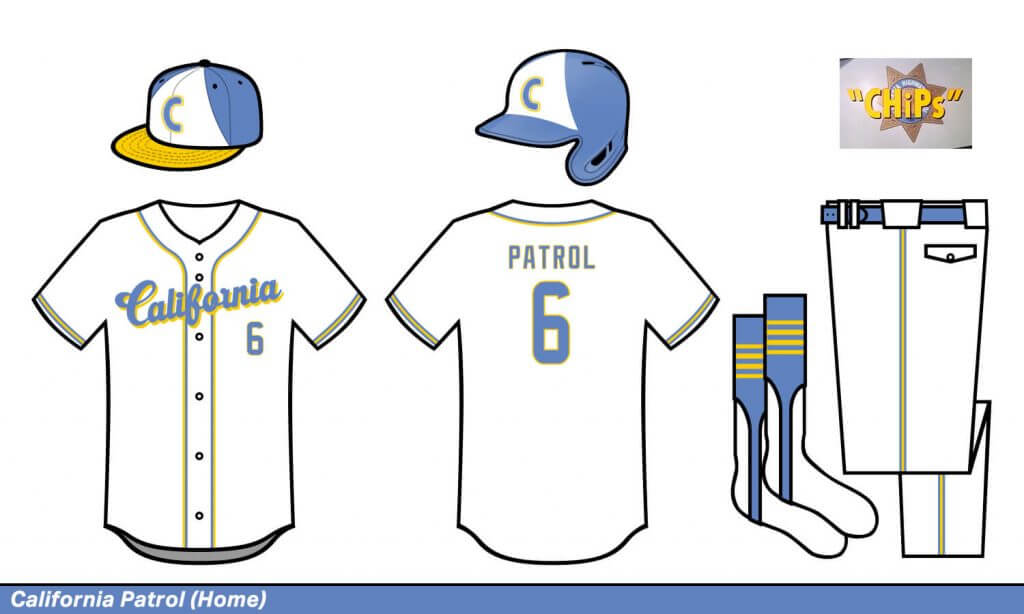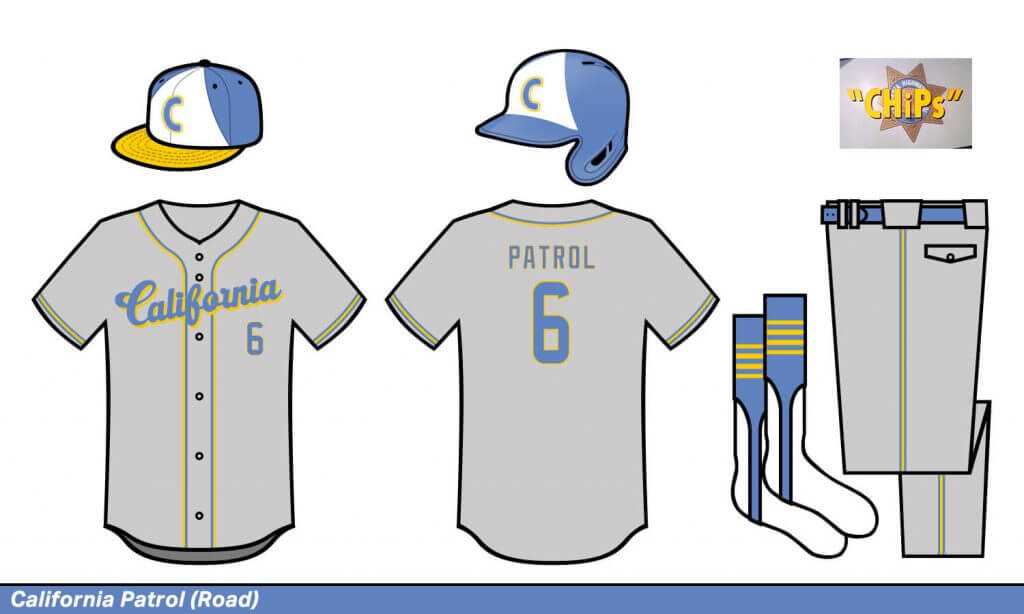 California Patrol
Probably the most obvious design I made. I kept the colors and tried to make the hat look like the old California Highway Patrol helmet.
_____
Chicago Fire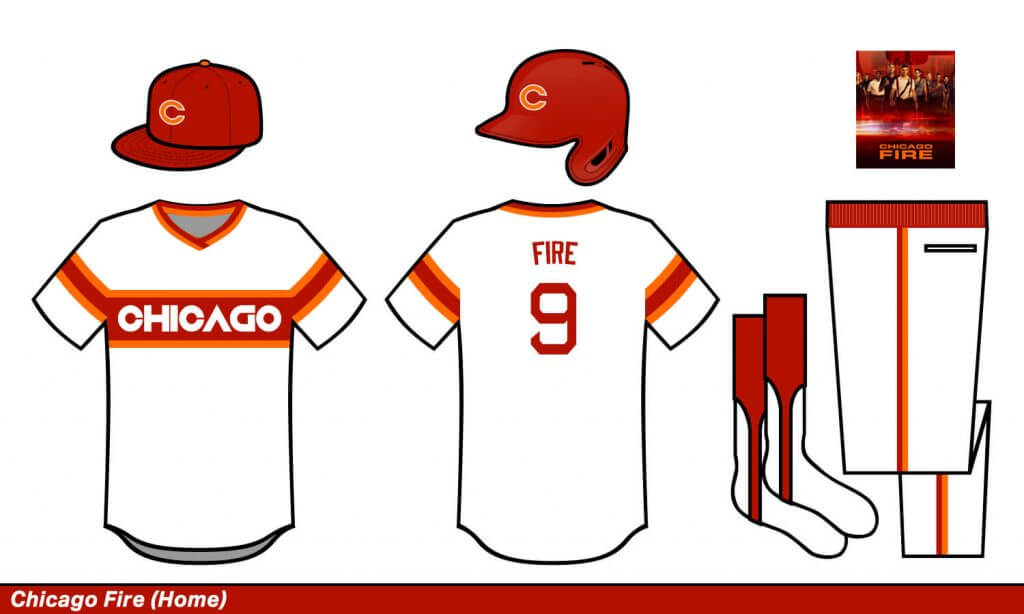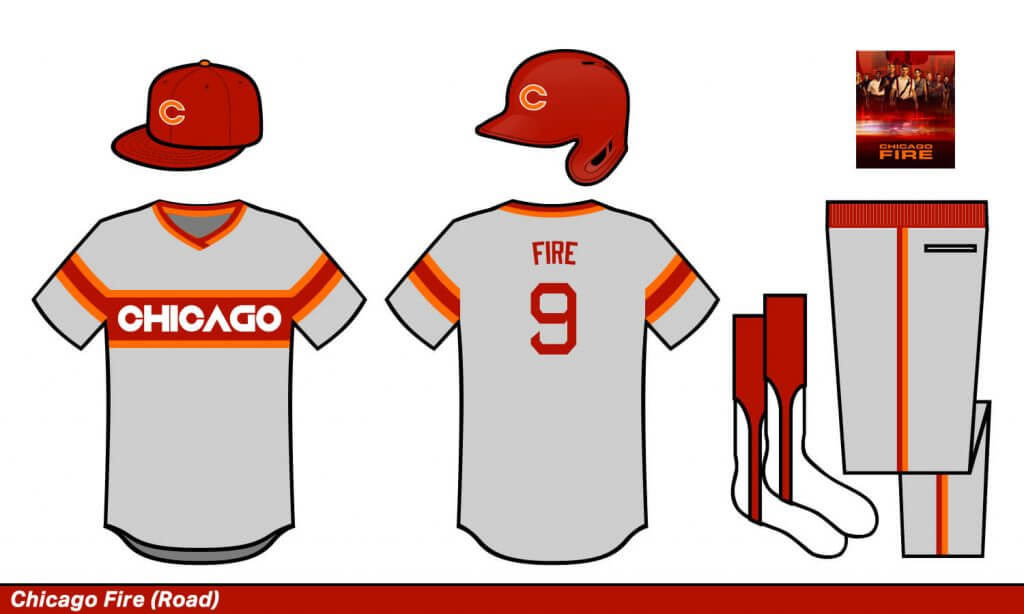 Chicago Fire
I went crazy with a Cubs, White Sox, Flames mash up here.
_____
Chicago Hope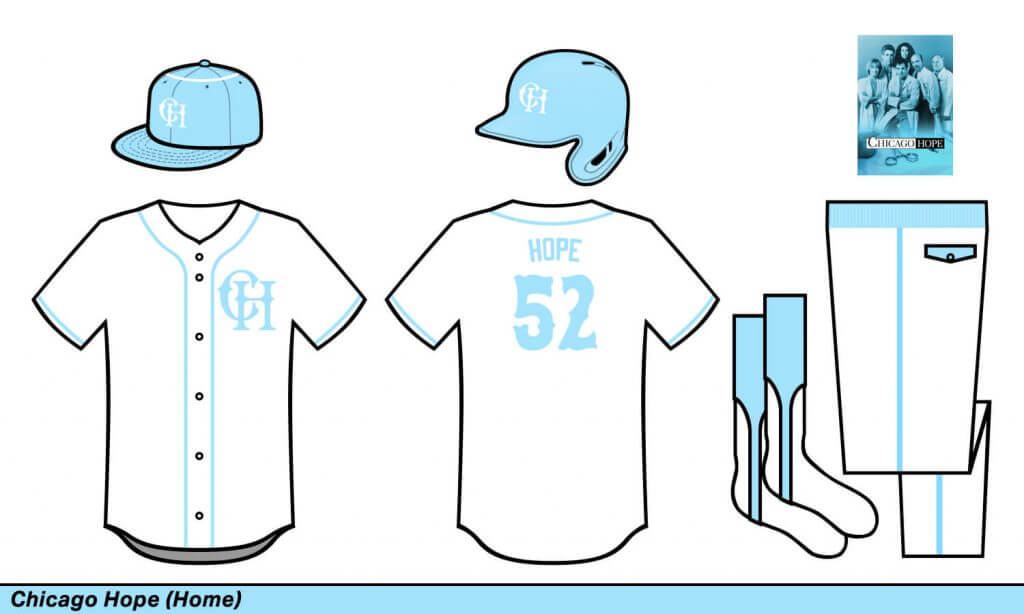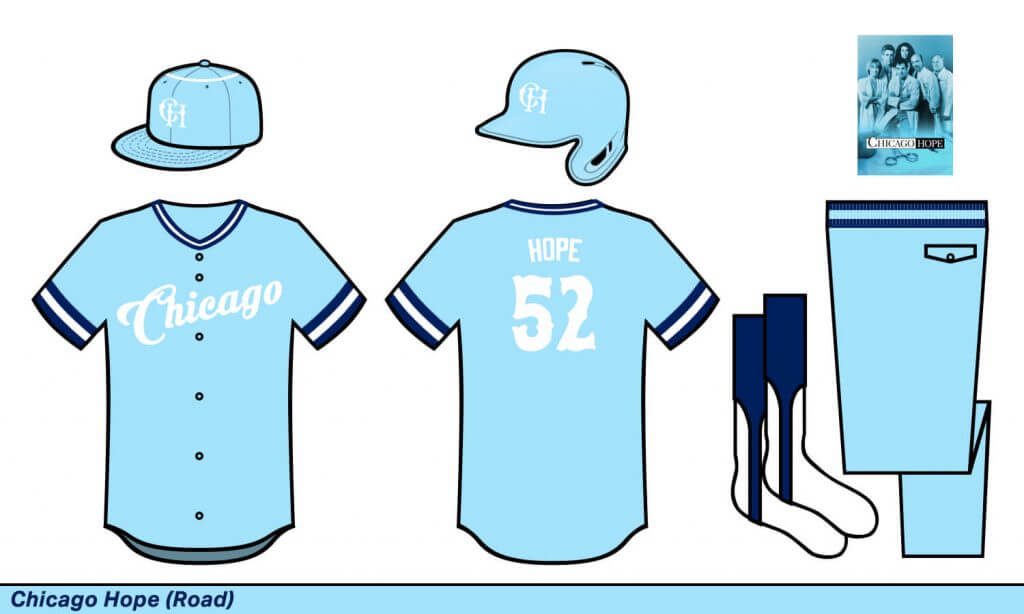 Chicago Hope
Another mash-up; I mixed the show's UNC blue and the old Angels halo cap.
_____
Cincinnati Waves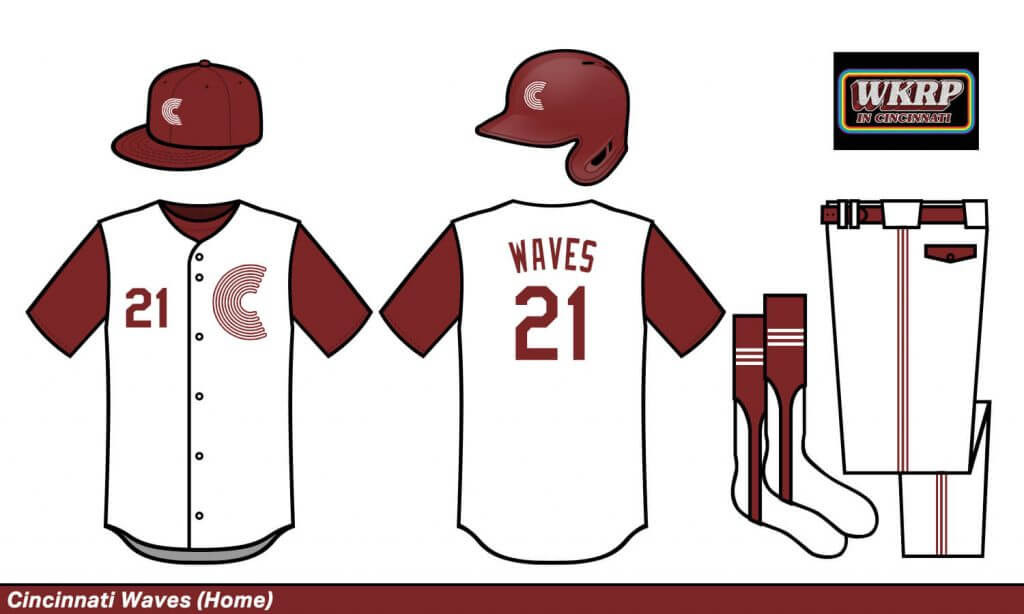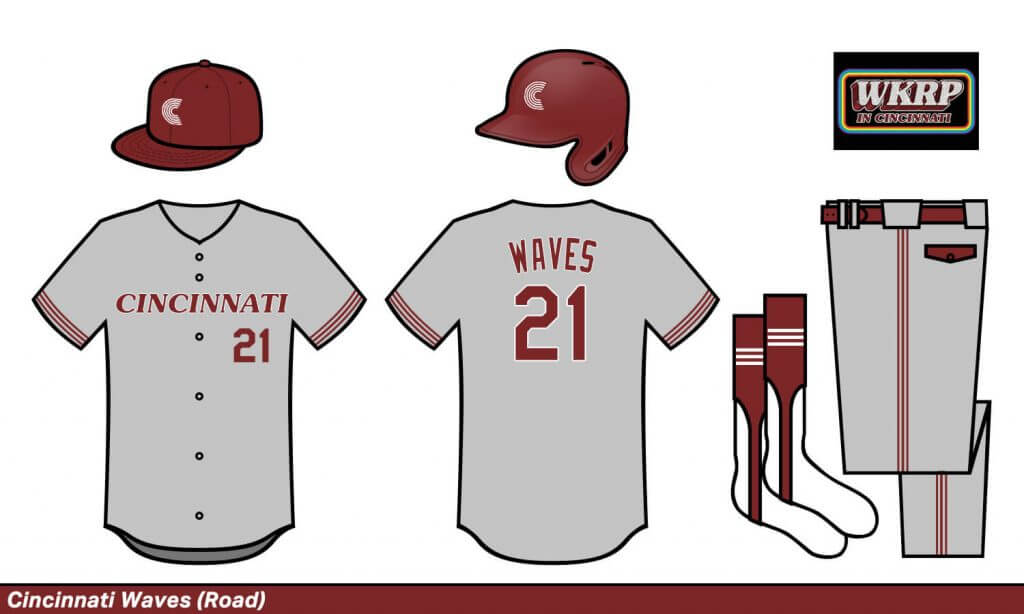 Cincinnati Waves
The show's logo and font matched perfectly with the vibe of the Big Red Machine era.
_____
Cleveland Heaters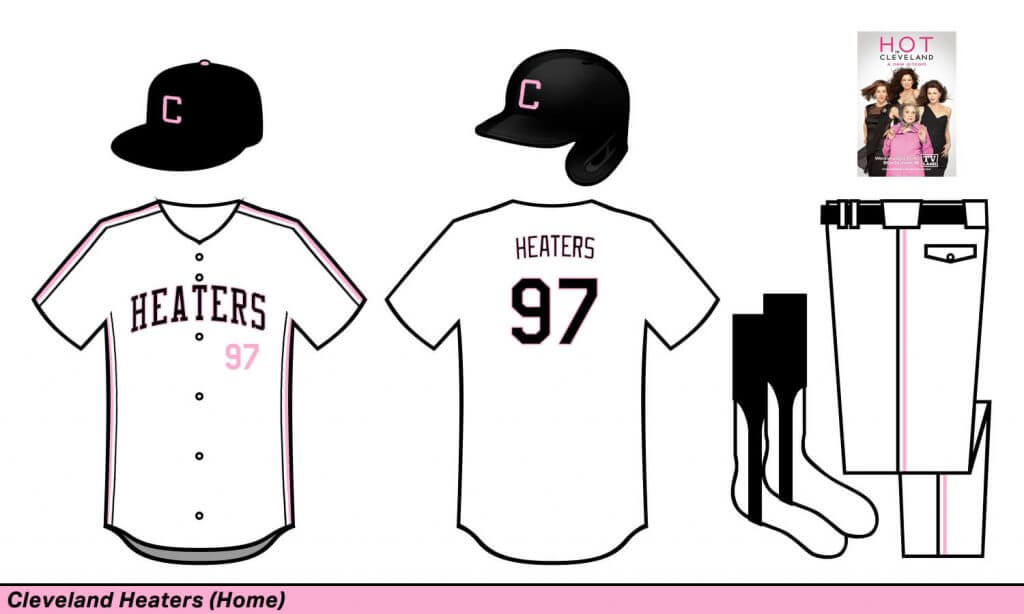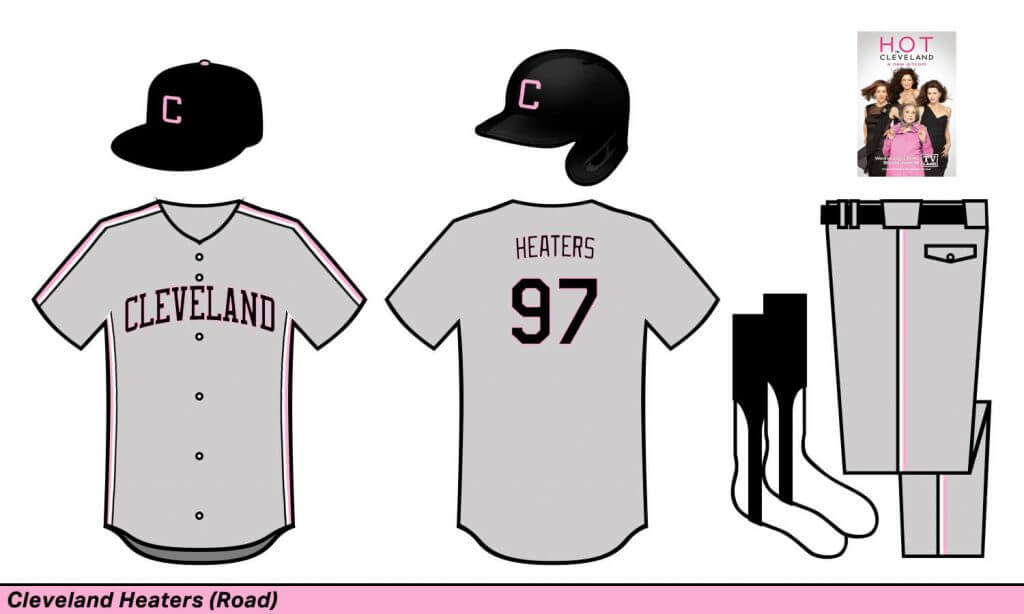 Cleveland Heaters
As a native South Floridian and soccer fan, more pink in sports uniforms please! This look worked really well with the "Major League"-era uni for the Cleveland Baseball Team. Also, the Heaters is another movie shout-out to "The Sandlot."
_____
Dallas Oilers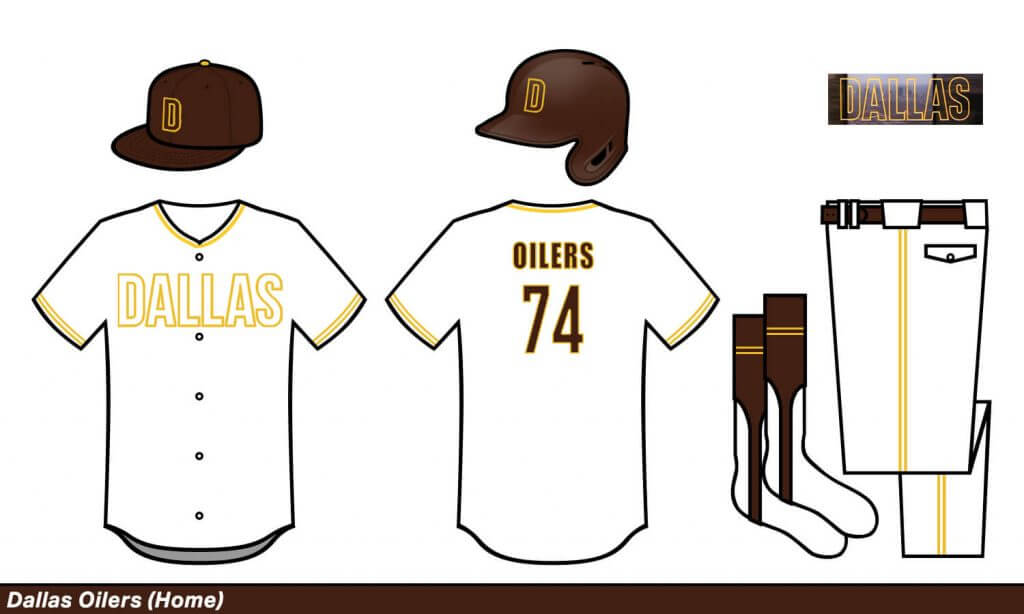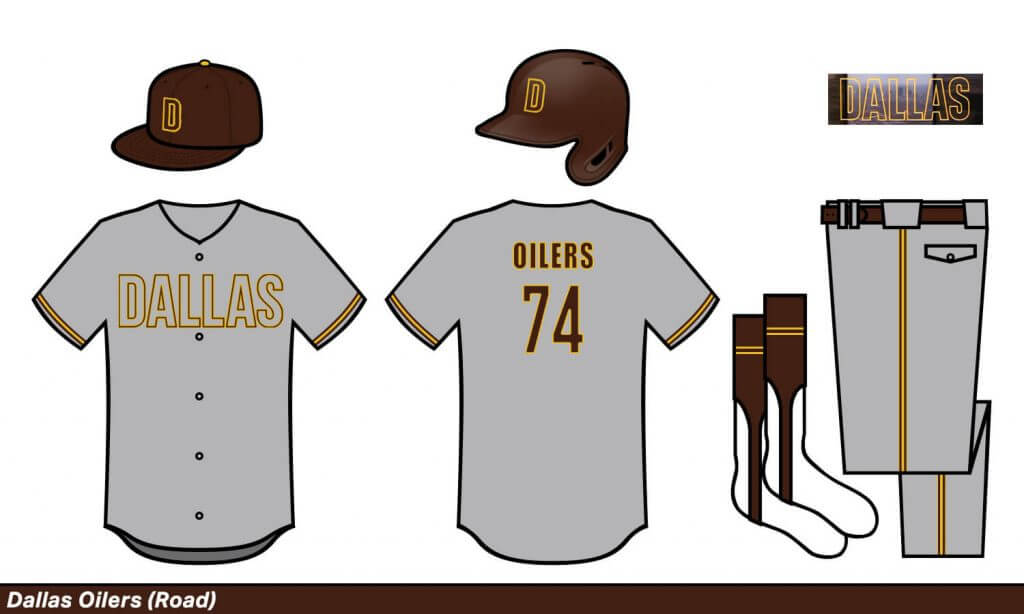 Dallas Oilers
I love the concept of an outline-only wordmark.
_____
Denver Dinos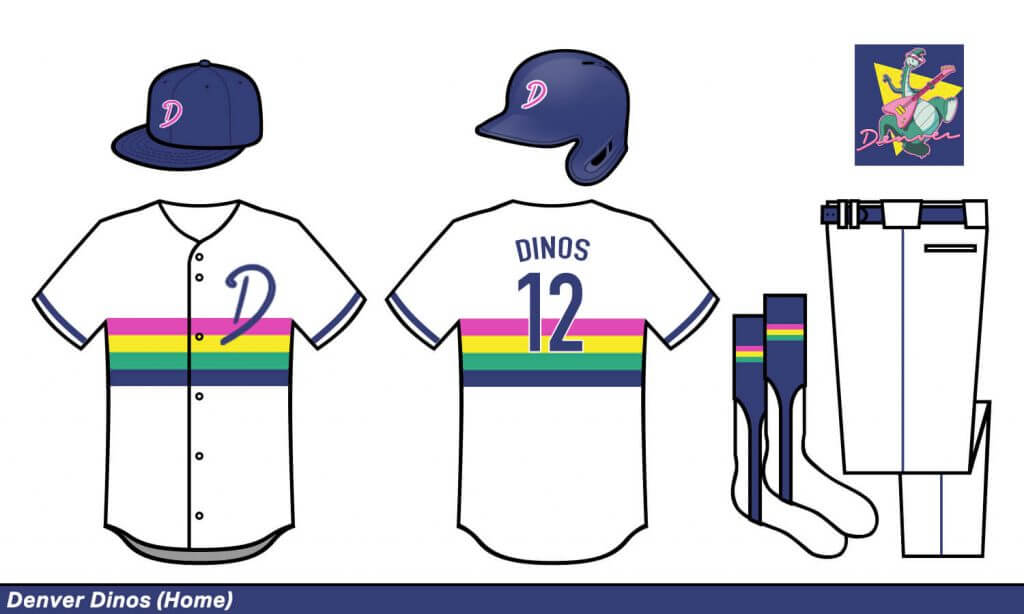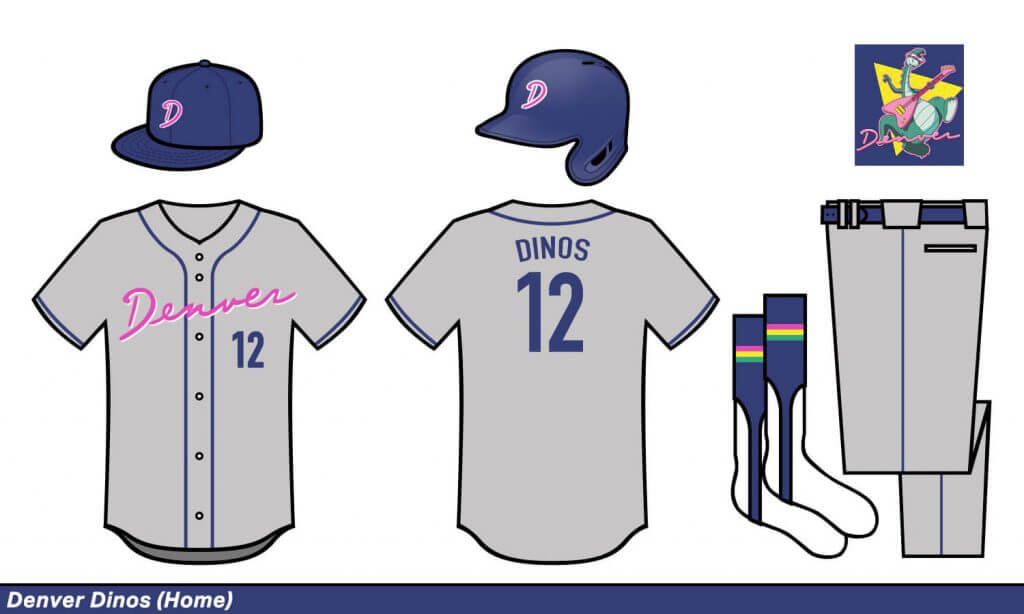 Denver Dinos
This had to be the Denver team for alliterative purposes. But then it all worked so well as an homage to the Nuggets' rainbow unis with a bit of tequila sunrise mixed in.
_____
Detroit 187s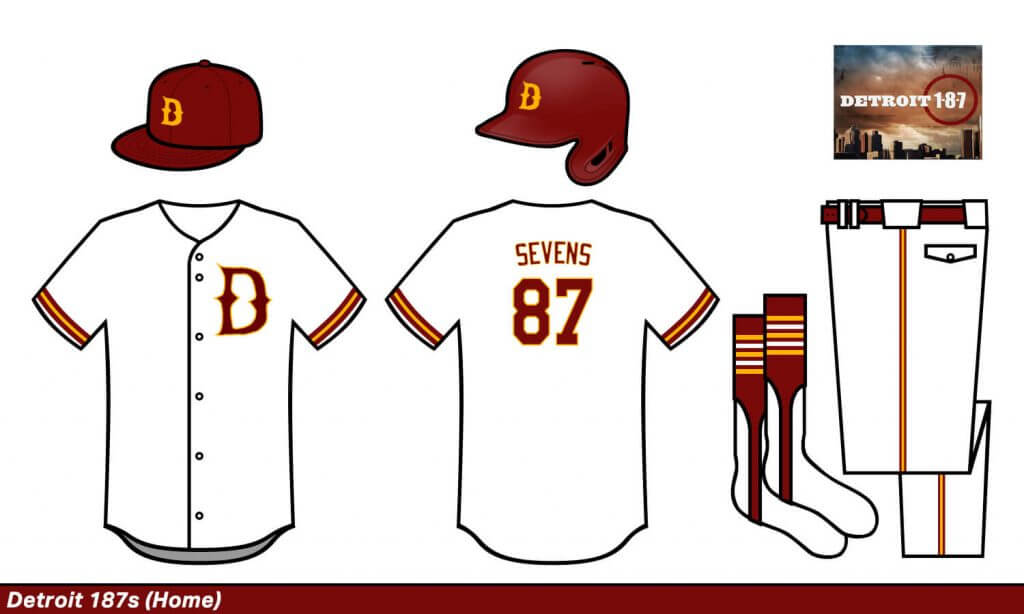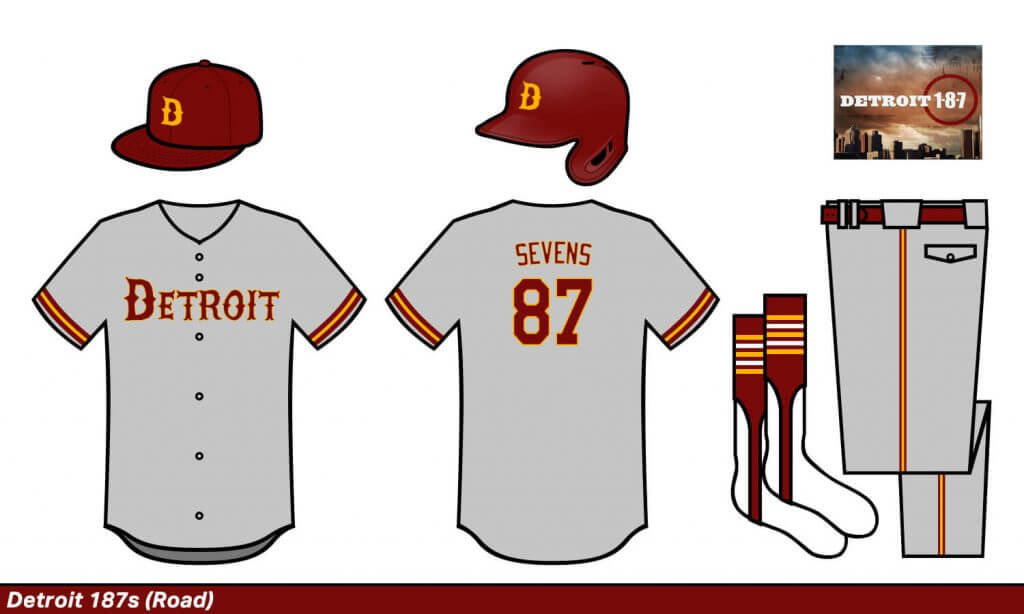 Detroit 187s
This was such a short-lived show that I pretty much just made this one up entirely. I do love the USC colors.
_____
Hawaii Five-Os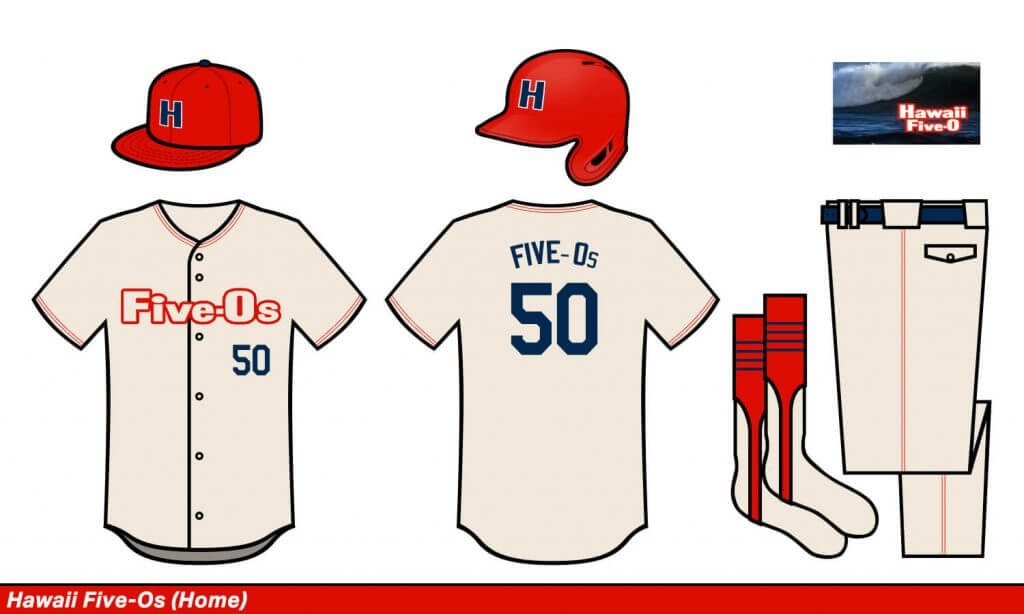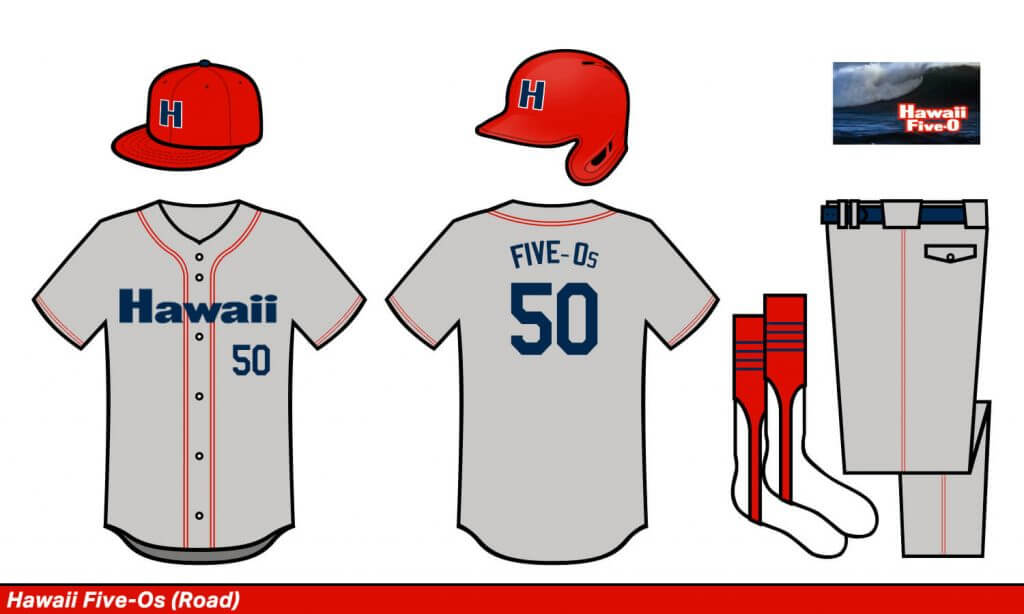 Hawaii Five-Os
A simple copy of the show's title screen to a baseball uniform.
_____
LA Lawyers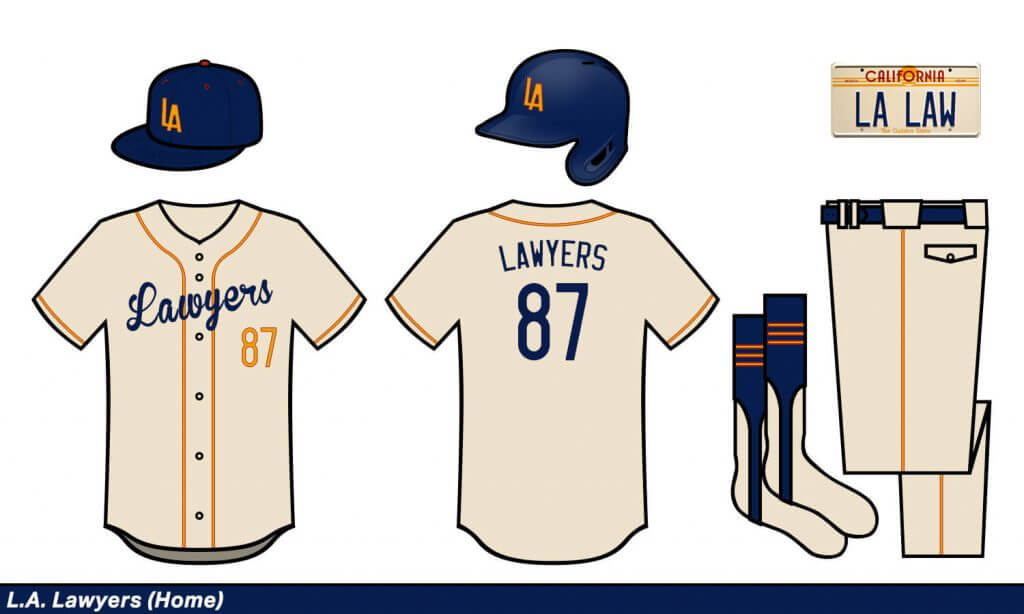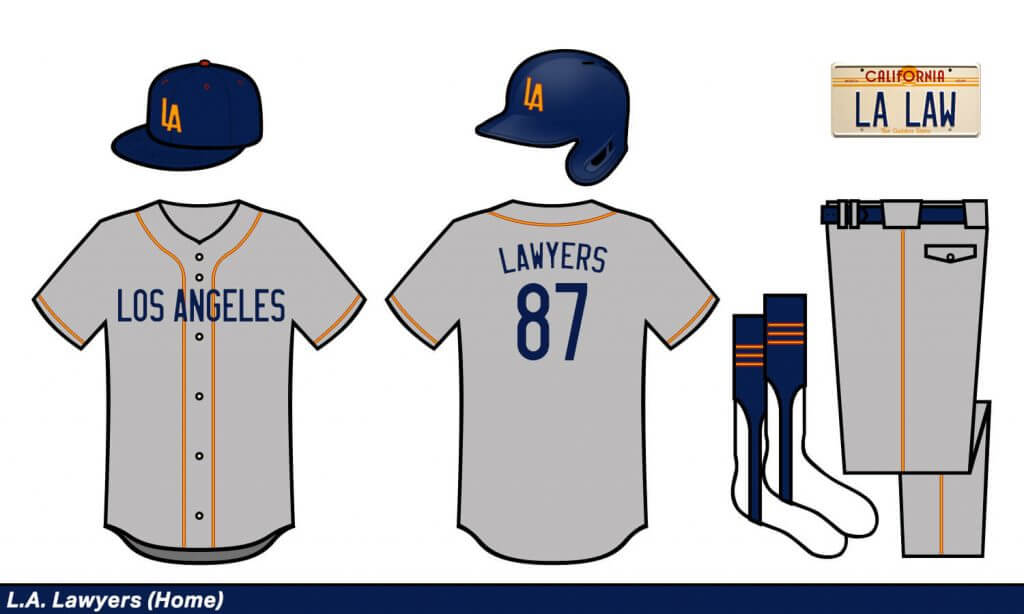 LA Lawyers
I love this show's logo! I just went with the 1980s California license plate theme and it worked great.
_____
Memphis Beat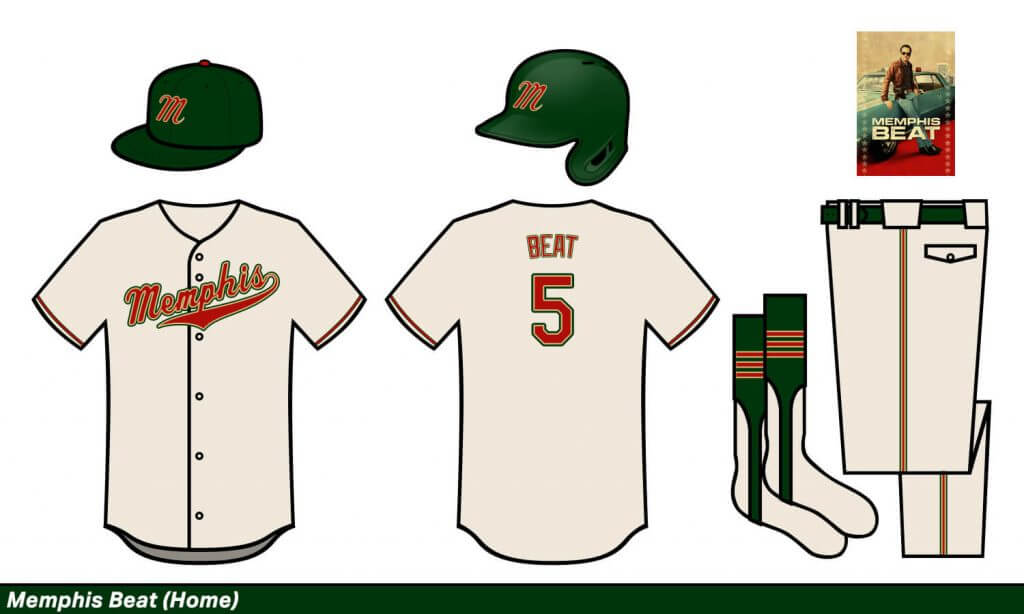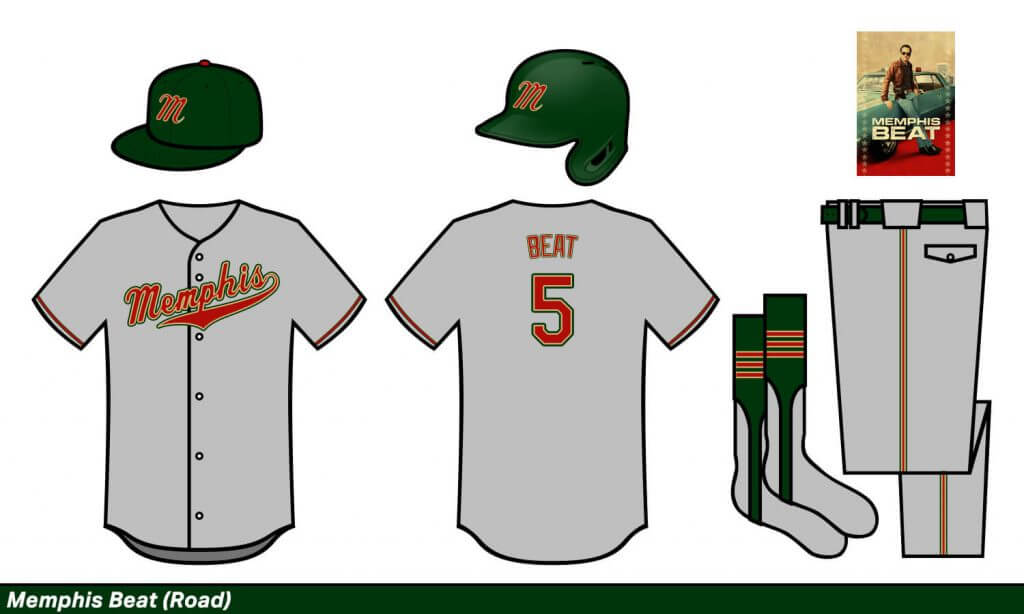 Memphis Beat
I didn't even know this show existed, so I just used the color scheme on the poster and went from there. There's definitely a Minnesota Wild thing happening here.
_____
Miami Vices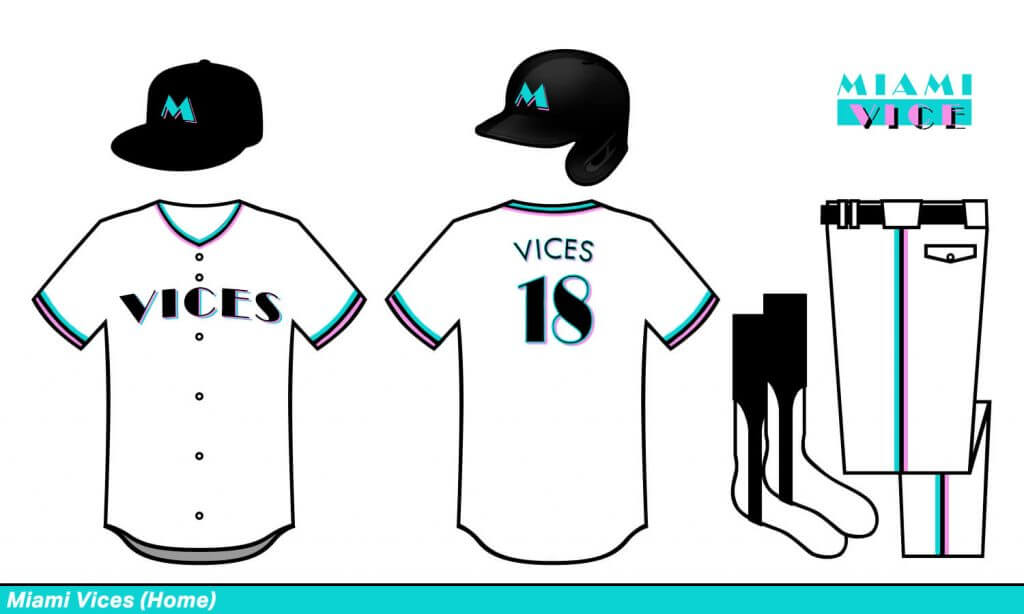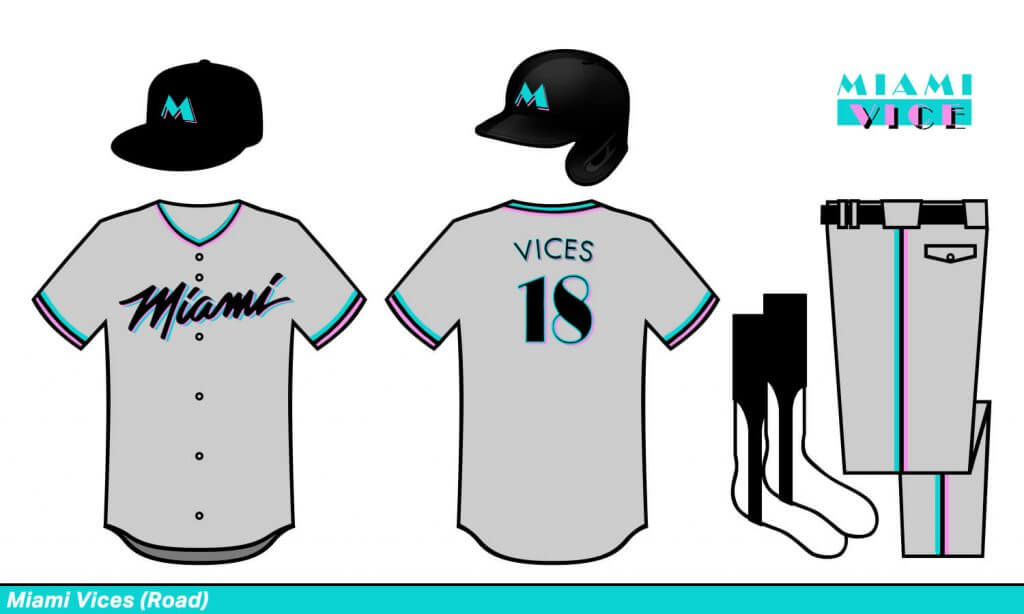 Miami Vices
Do I even need to explain this one?
_____
Nashville Opries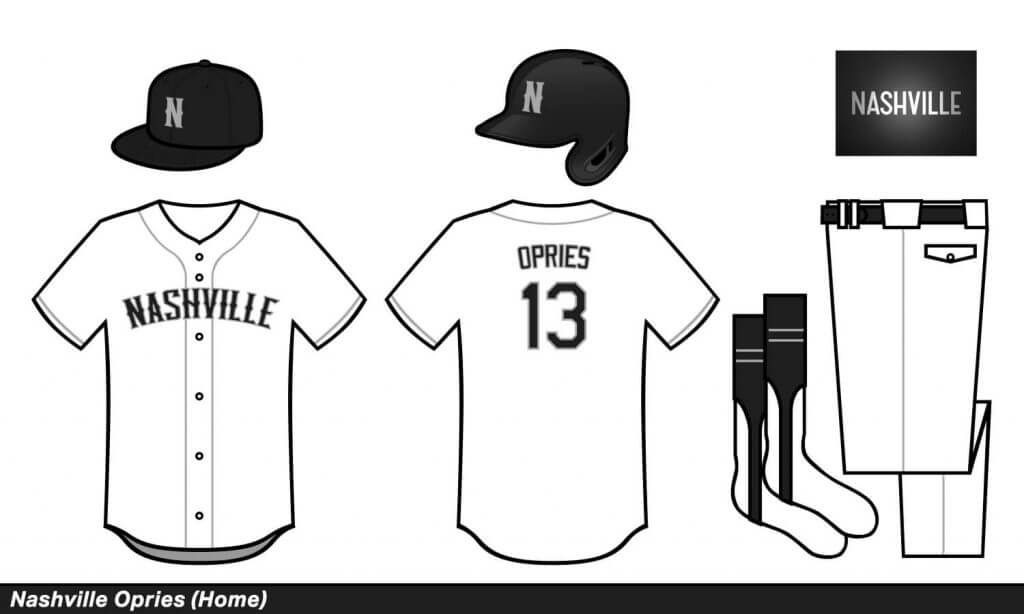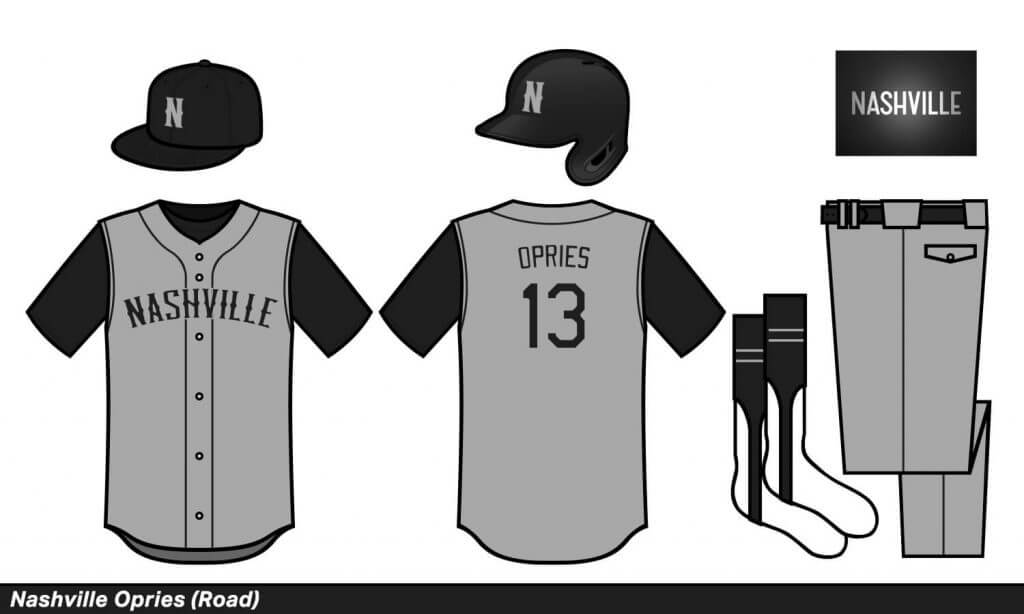 Nashville Opries
Simplicity was the thing here. Why don't more sports teams use silver and black?
_____
New York Blues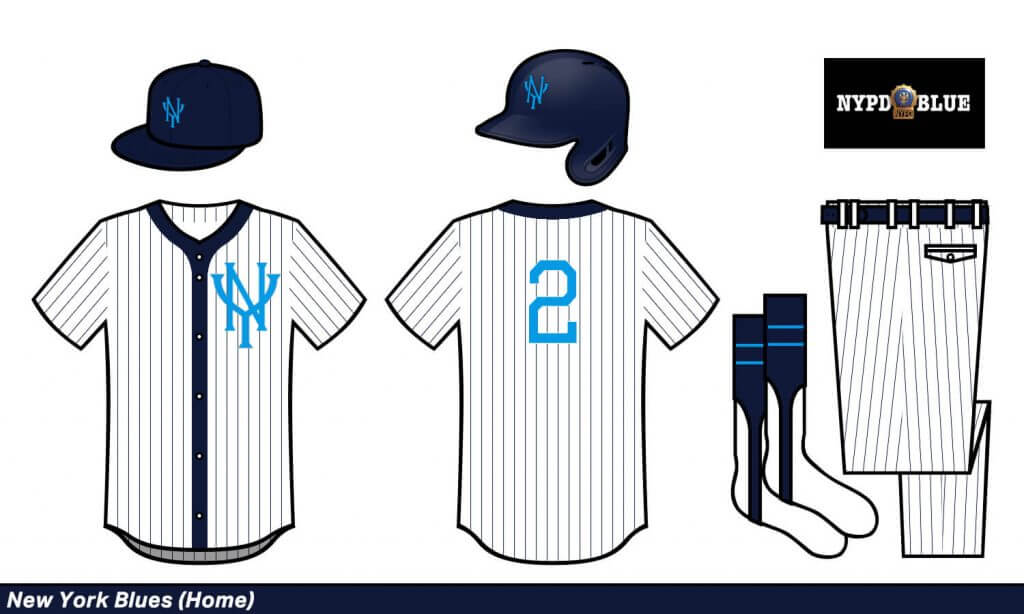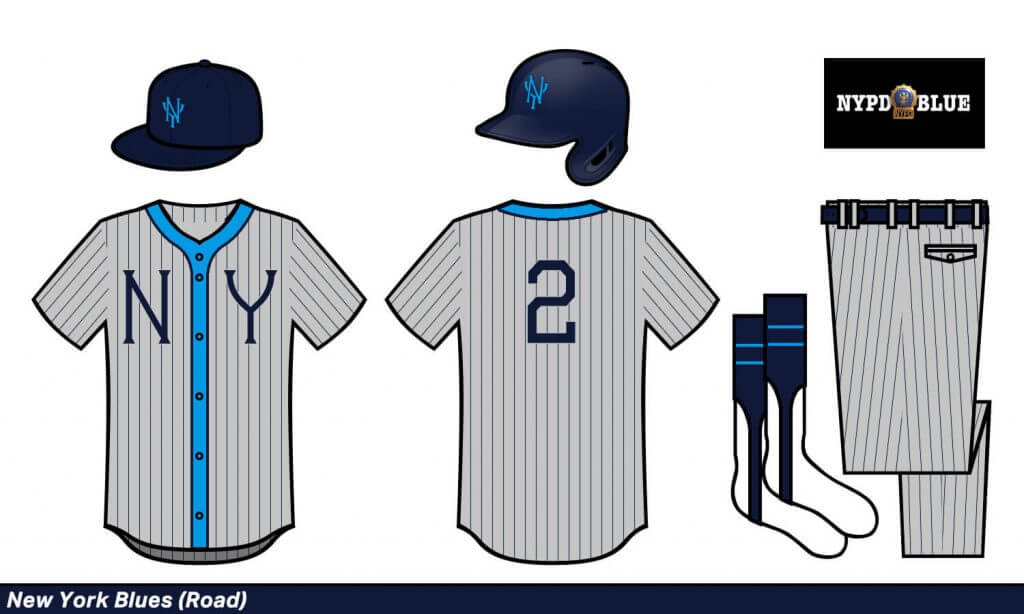 New York Blues
A fake New York team has to at least kind of look like the Yankees. I can't bear the show's title font, so I just went with a 19th-century vibe.
_____
OC Tycoons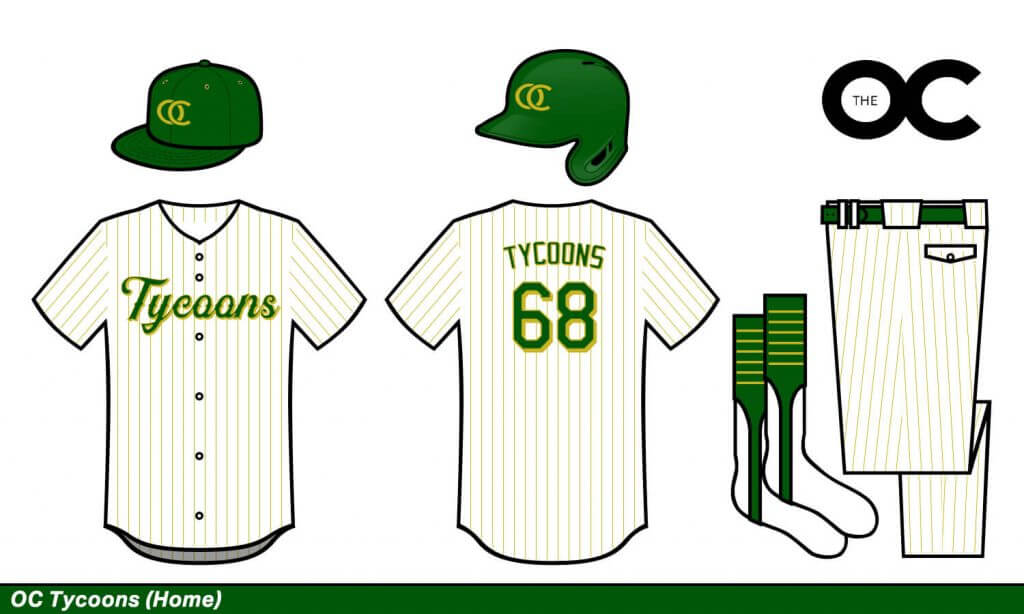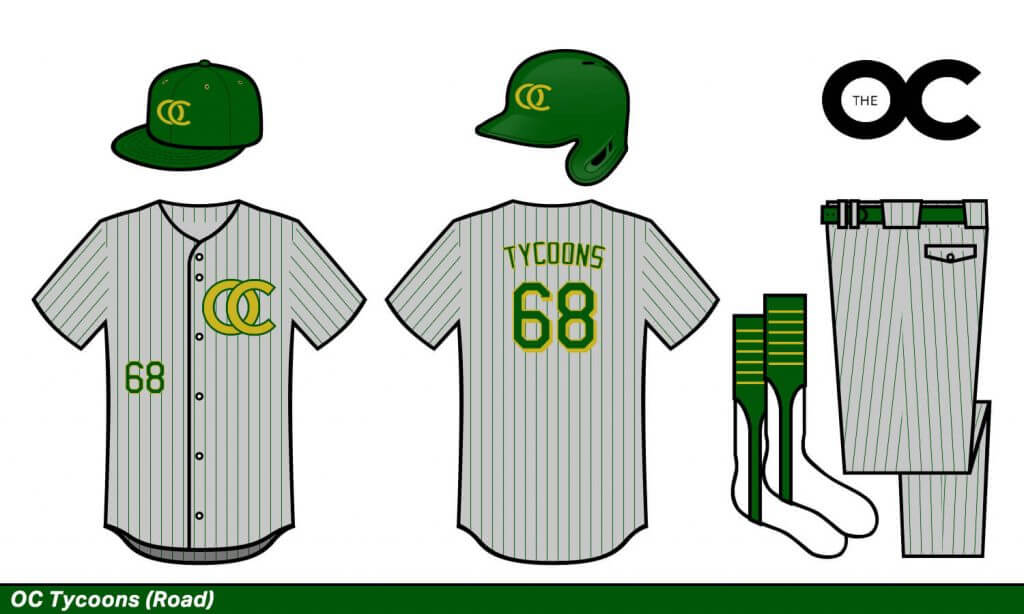 OC Tycoons
Green like money and gold like gold. These are the rich villains of my fake TV-show-baseball league.
_____
Philadelphia Sunnies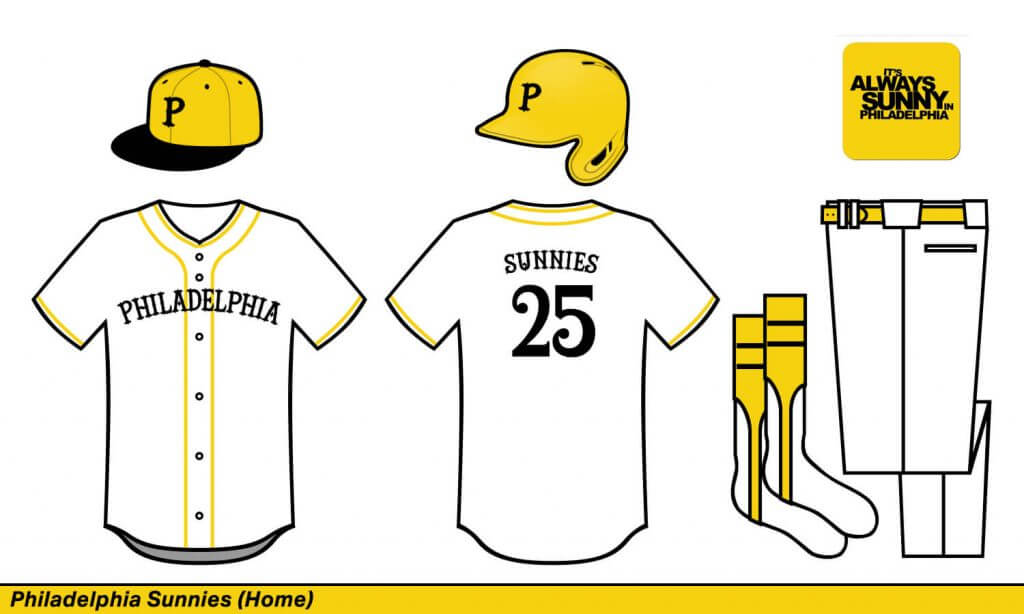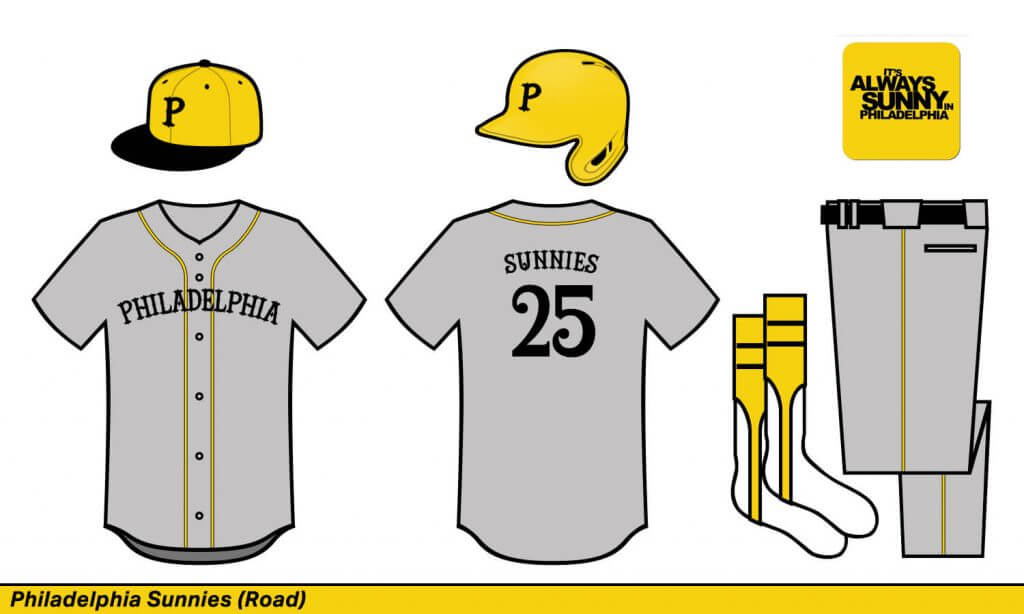 Philadelphia Sunnies
I liked giving the Philly team the color scheme of Pittsburgh. A yellow primary seemed obvious given the team nickname.
_____
Portland Birds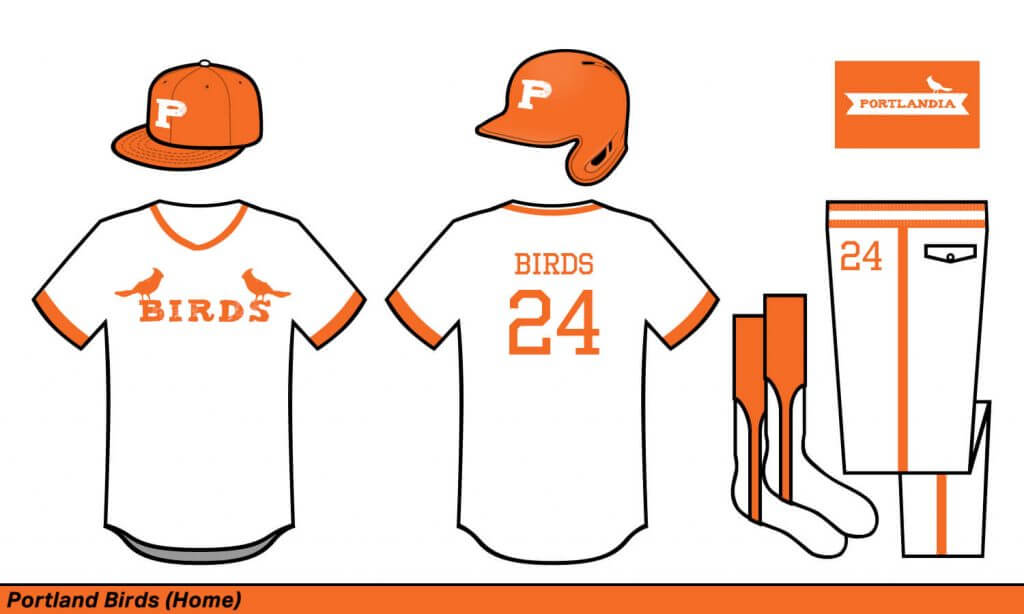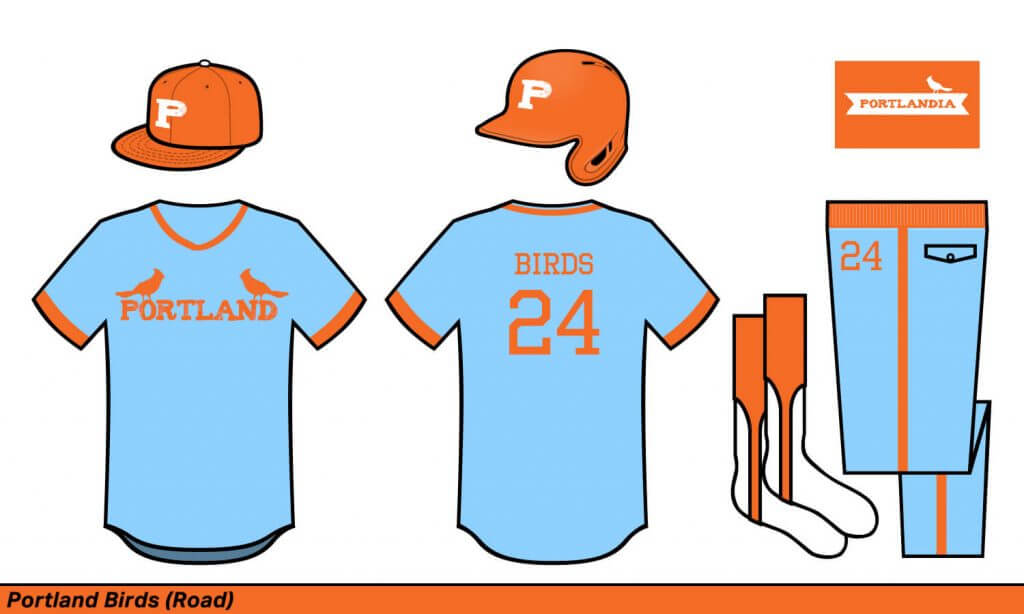 Portland Birds
Probably my favorite design of the bunch. In this case, I put two birds on it to mimic the Cardinals' iconic chest logo. More importantly, can we bring back elastic waist bands? What about powder blue away unis? Pant numbering? What is happening to society?
_____
Providence Blue Sox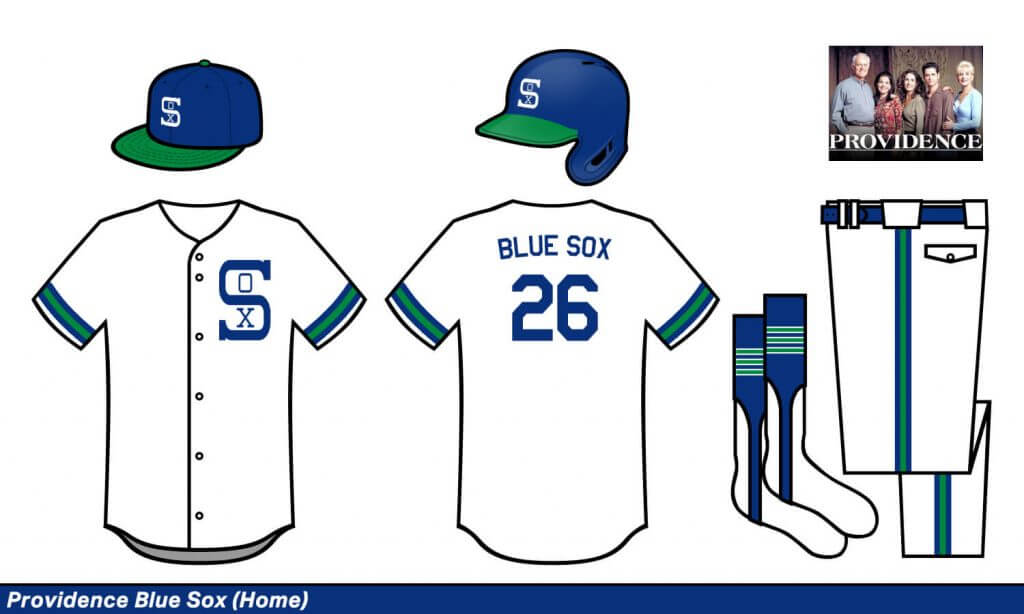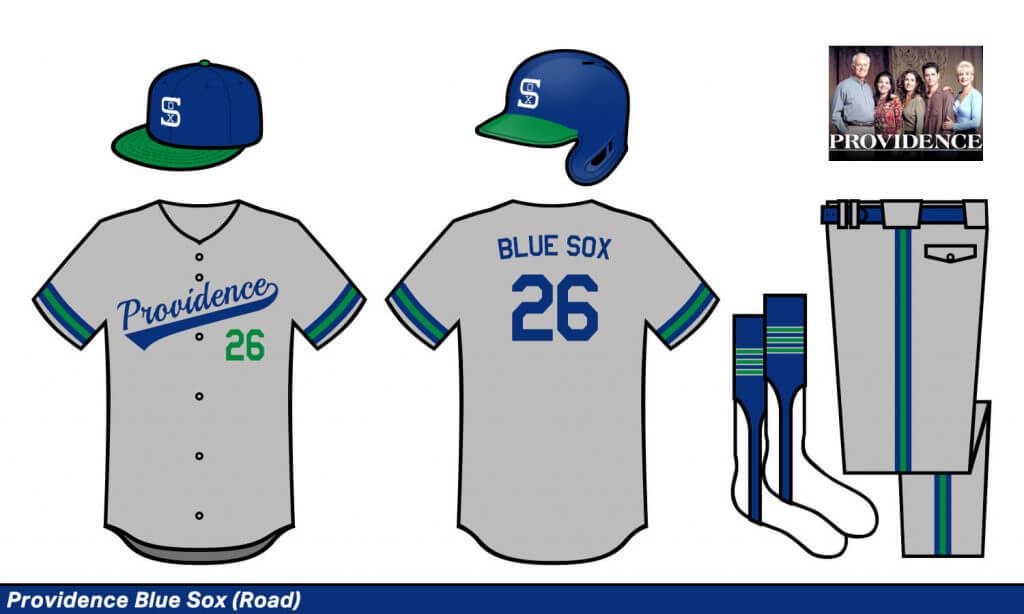 Providence Blue Sox
Another show without an identifying visual theme, so I invented one. I went very New England, mixing the Red Sox and the Whalers. An amazing color combo that is sadly missing from pro sports.
_____
Queens Kings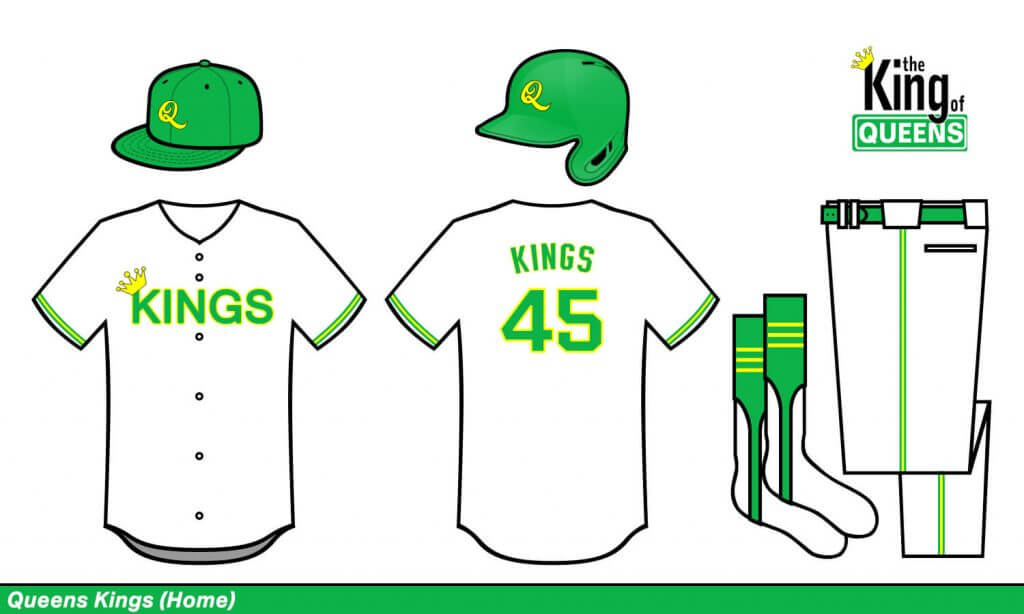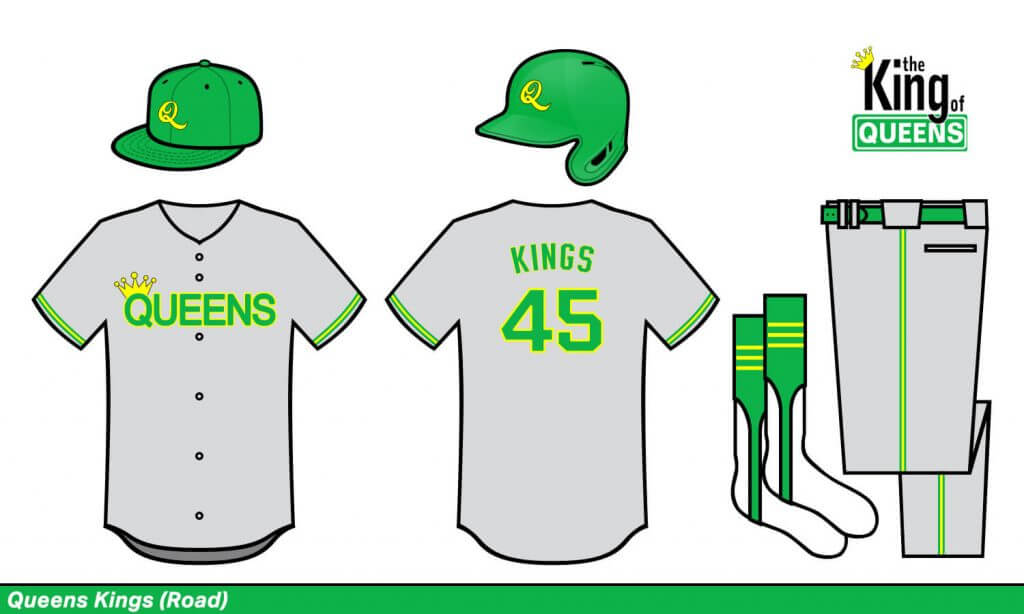 Queens Kings
My favorite nickname by far! I don't even care about this jersey design, I just want the Mets to rebrand.
_____
Reno Deputies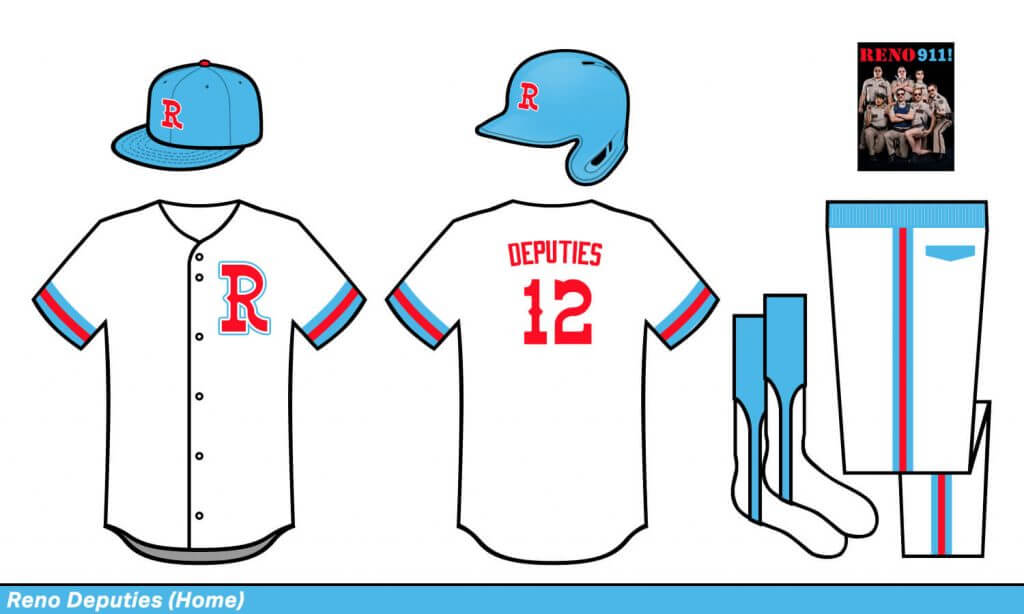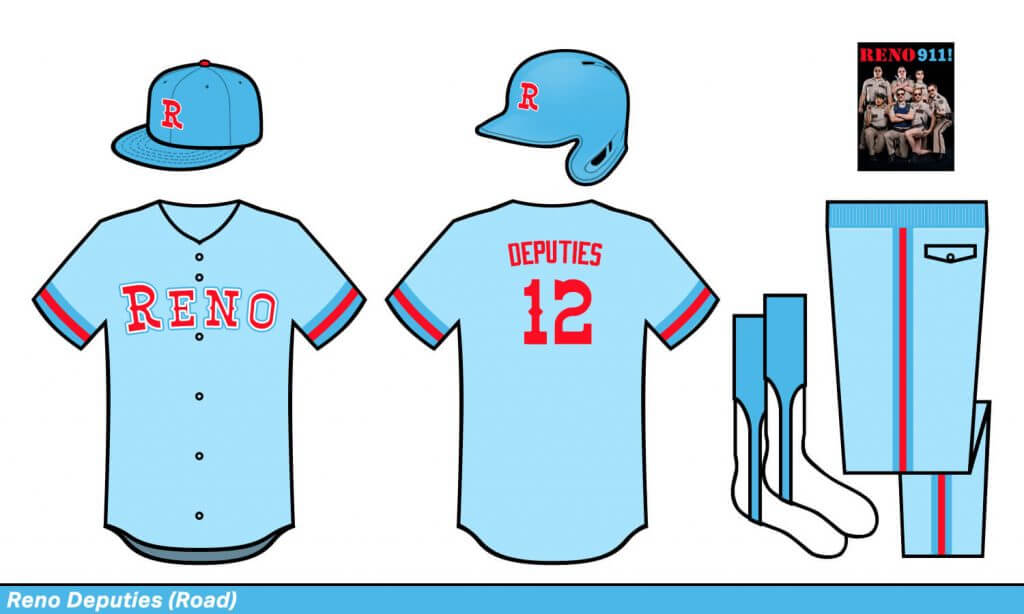 Reno Deputies
Man, I miss the old Houston Oilers colors. It'd look great on a baseball field too.
_____
San Francisco Streets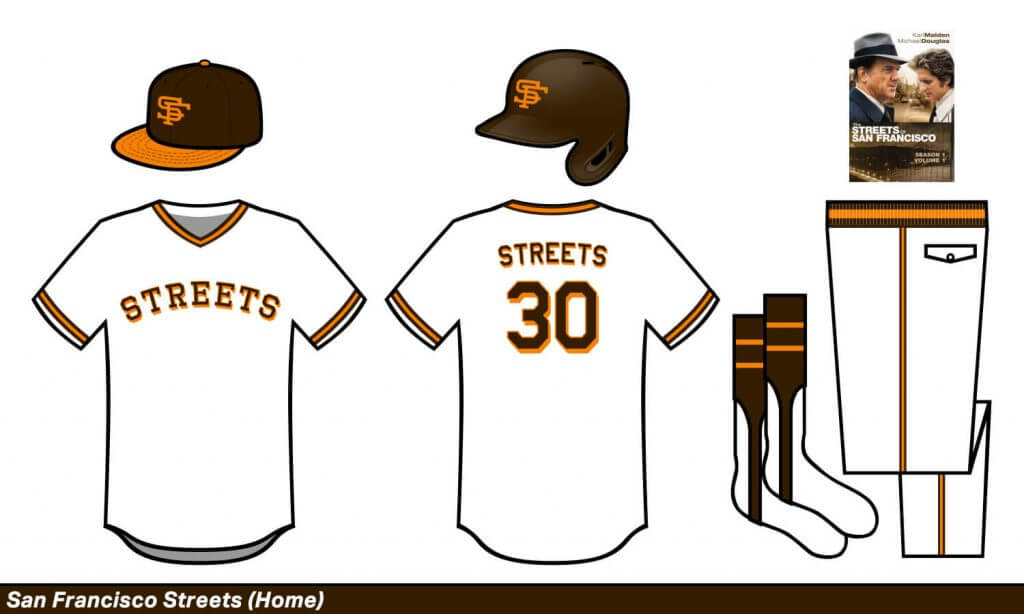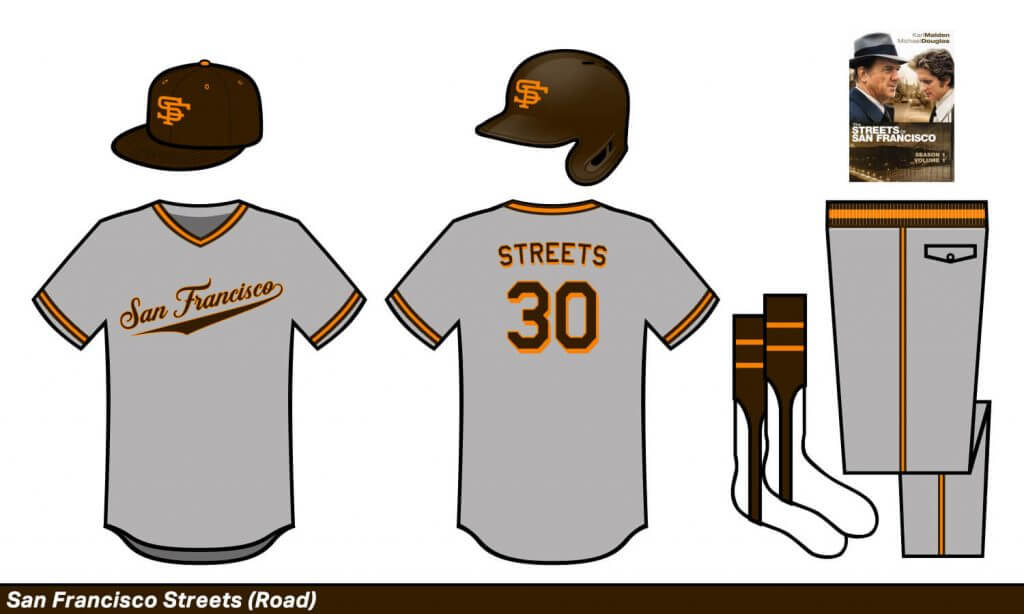 San Francisco Streets
Another fave. It's basically a bizarro Giants uniform, but I gotta say, I think brown and orange beats black and orange. I also love the NY Rangers block-shadow number font on a baseball jersey.
_____
Silicon Valley Devs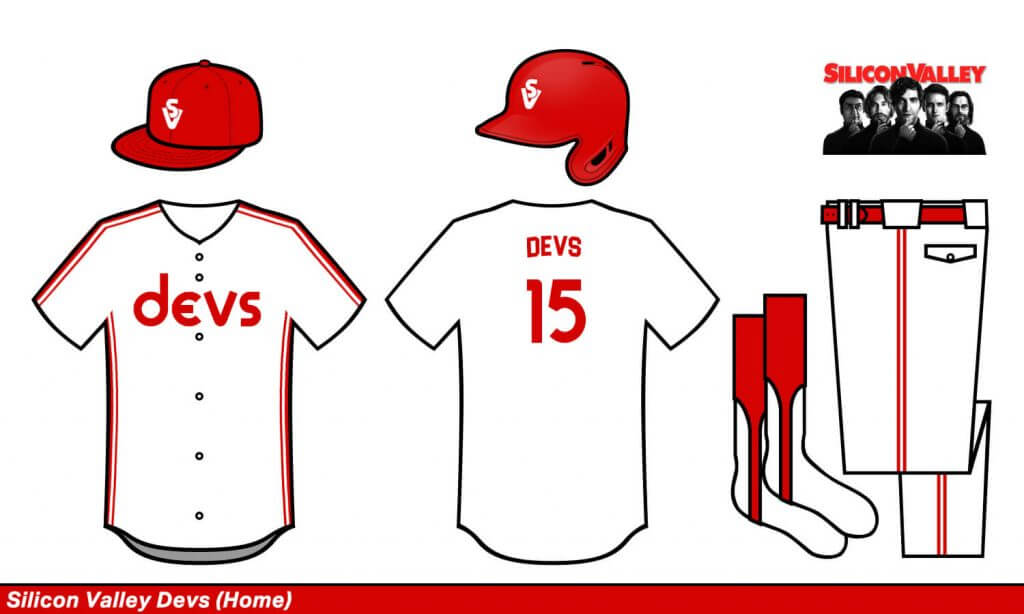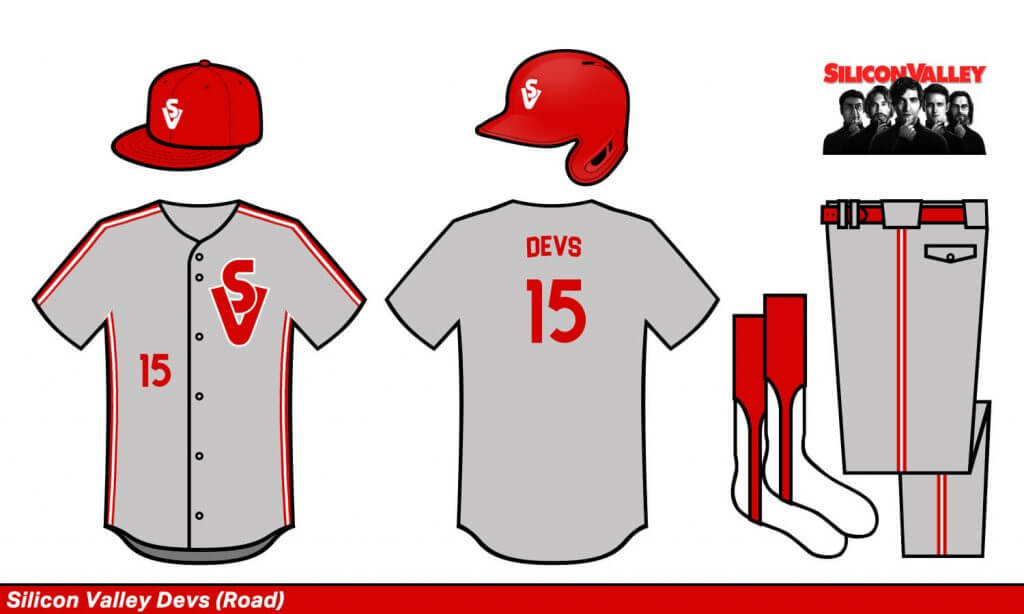 Silicon Valley Devs
I tried to make this feel late-70s/early-80s modern, because to Silicon Valley, the world didn't exist before then.
_____
Tacoma Bravest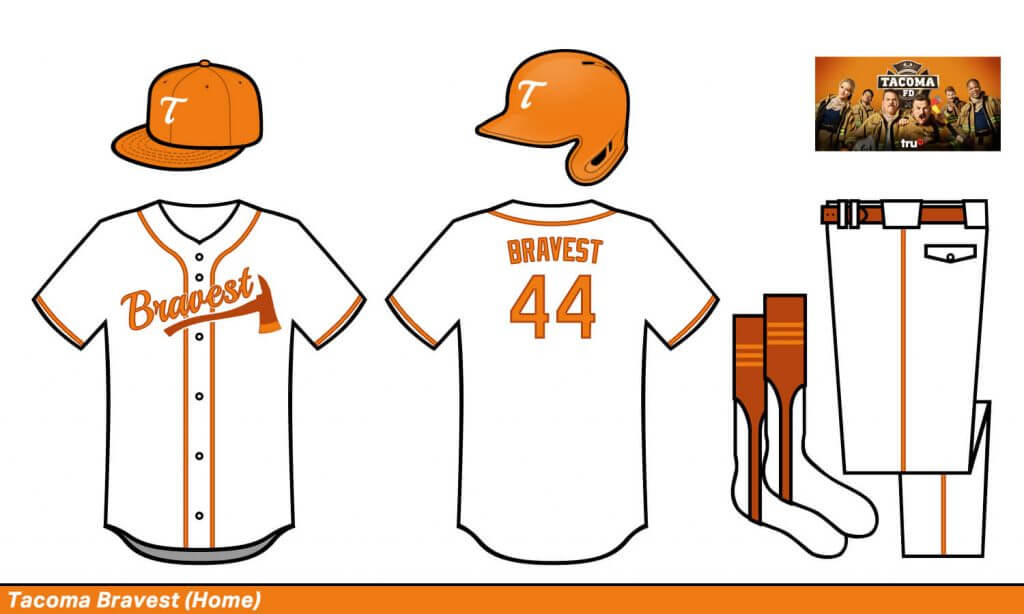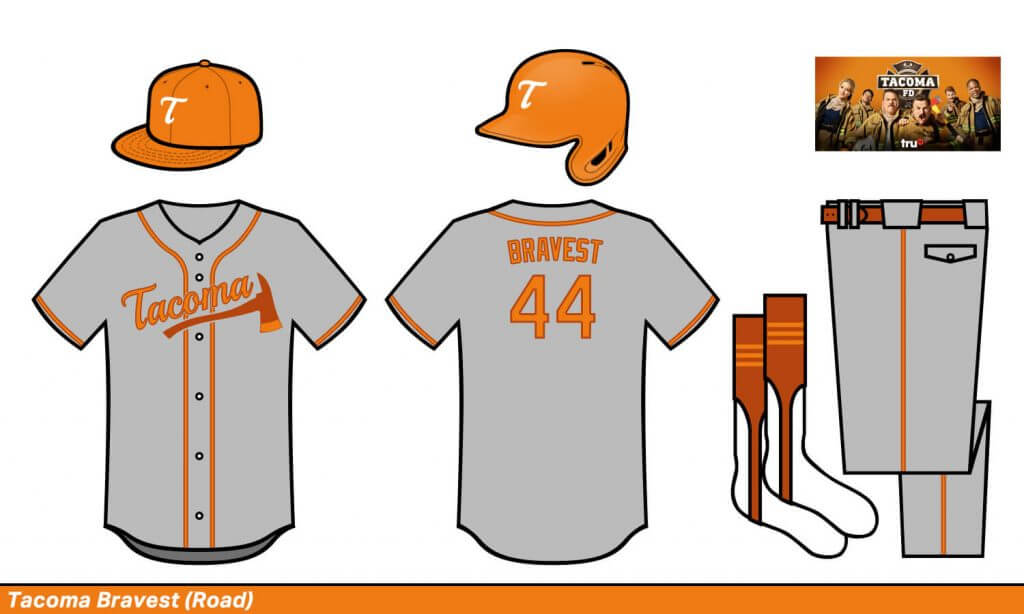 Tacoma Bravest
The Braves meet the Bucs' creamsicles. I'm not sure it works though.
_____
Texas Wheelers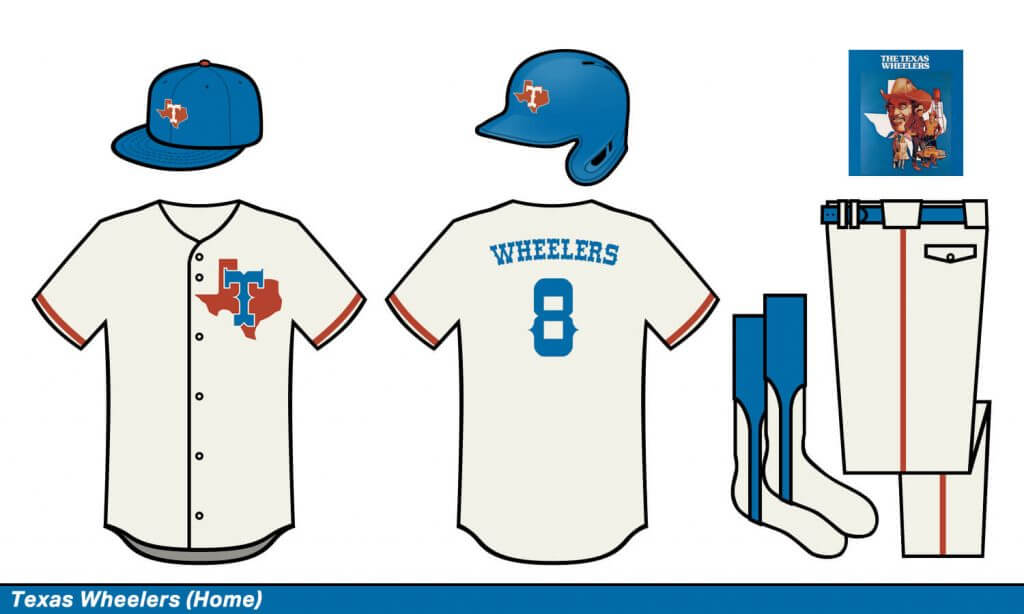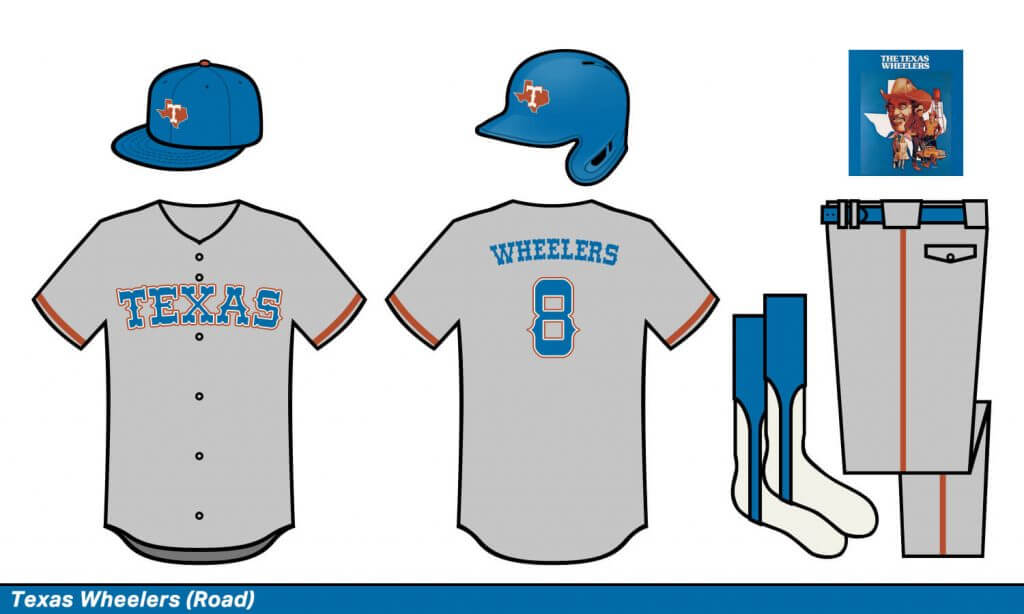 Texas Wheelers
I kept this similar to the current Rangers set cause that just feels so Texas
• • • • •
Thanks, Greg! Fun stuff (and great TV Show names!). OK, readers — what did you think? Any designs/color schemes/names stand out to you? Do the names "work" with the teams? Love to hear your thoughts.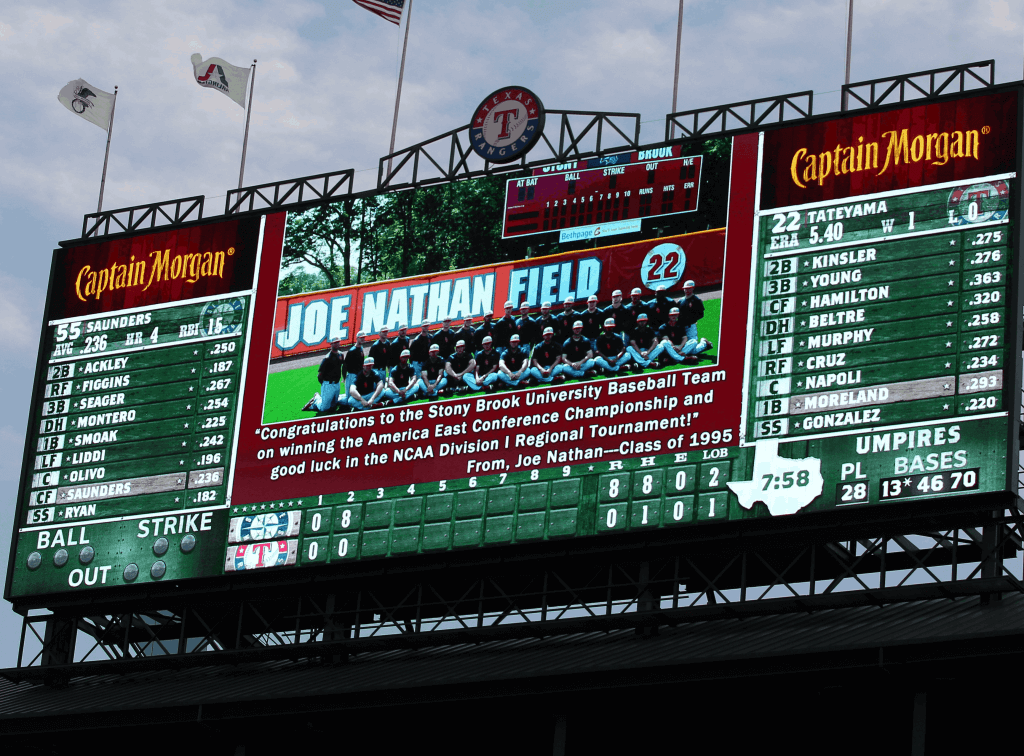 Guess The Game…
from the scoreboard
Today's scoreboard comes from Satacoy Steele.
The premise of the game (GTGFTS) is simple: I'll post a scoreboard and you guys simply identify the game depicted. In the past, I don't know if I've ever completely stumped you (some are easier than others).
Here's the Scoreboard. In the comments below, try to identify the game (date & location, as well as final score). If anything noteworthy occurred during the game, please add that in (and if you were AT the game, well bonus points for you!):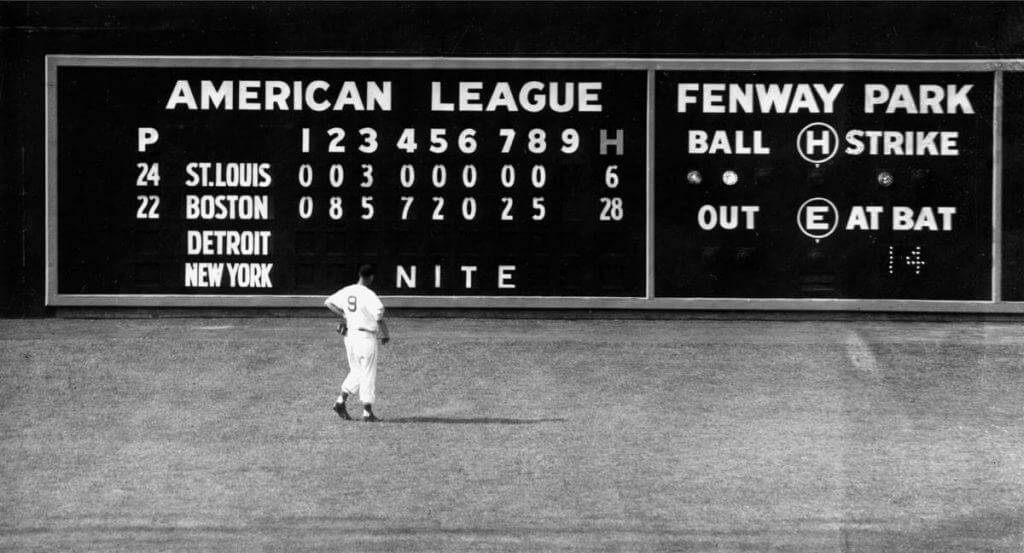 Please continue sending these in! You're welcome to send me any scoreboard photos (with answers please), and I'll keep running them.


The "BEST OF" Kreindler's Korner
Hey guys & gals. You've enjoyed Kreindler's Korner for several years now, mostly on the weekends, on Uni Watch, but with the recent coronavirus outbreak, Graig's time is just too precious and he needs to tend to other things besides coming up with a new writeup each weekend.
So, going forward, for as long as the COVID-19 situation is bad in New York, I'm going to run a few "Best of's" until Graig returns.
Here's today's offering:
• • •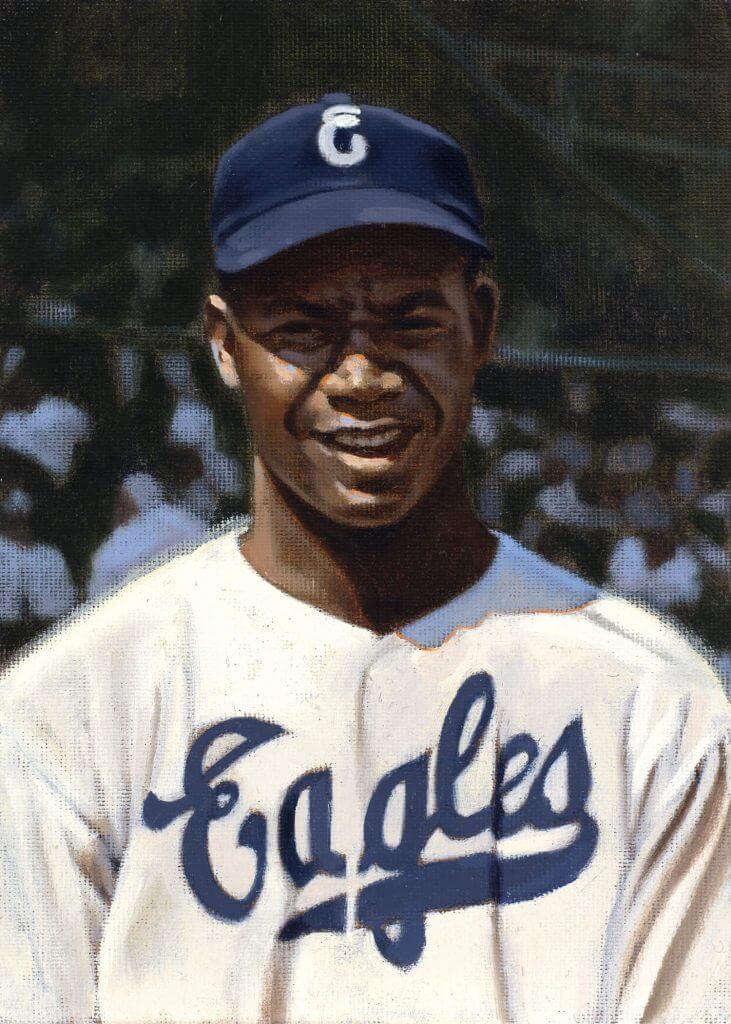 Title: "Larry Doby, 1946" (color study)
Subject: Larry Doby, 1946
Medium: Oil on linen mounted to board
Size: 5" x 7"

Larry Doby was born to a prosperous family in Camden, SC in 1923. He and his mother moved up to Paterson, NJ four years after his dad drowned in a fishing accident when the boy was eight. Considered rather quiet and introspective as a result of a lack of a father and his mother's devotion to church, Doby would letter in baseball at Paterson Eastside High School, along with three other sports. Though he had thoughts of becoming a coach or a physical education teacher, by the time he was on the tail-end of his high school tenure, he was already playing second base under an assumed name for the Newark Eagles. Between being a senior and starting college, the club offered him $300 for his services.

World War II interrupted his stint in the Negro Leagues, as Doby spent the mid-1940s at Various naval bases on the west coast, keeping fit at each one by playing both baseball and basketball, as well as being a physical education instructor. Larry was stationed on the atoll of Ulithi when he heard about the signing of Jackie Robinson (with the Montreal Royals) over the Armed Forces Radio – he would later note that that was the first time he had truly felt there was a future to be had as an African-American in baseball.

Discharged in 1946, Doby returned to the Eagles to bat .360, lead the NNL in triples, and make the All-Star team. More importantly, he joined a club featuring Biz Mackey, Monte Irvin and Johnny Davis that would go on to win the Negro World Series against Satchel Paige and the Monarchs. During the series, he hit .272, with one homer, five RBIs and three stolen bases.

Having his eyes on integration ever since 1942, Cleveland Indians owner and team president Bill Veeck took an interest in Doby. He ended up formulating a plan, adding him to the Indians' roster after the All-Star break in '47. Larry, who would play with Newark for the first half of the campaign, was bought for $15,000 – $10,000 for the rights from the club, and the other amount after Doby had spent 30 days with the Indians. Eagles owner Effa Manley is reported to have told Veeck: "If Larry Doby were white and a free agent, you'd give him $100,000 to sign as a bonus."

Here's Larry with the Newark Eagles in 1946. This is one of 200+ such paintings of mine that were on display at the Negro Leagues Baseball Museum in the spring of 2020.
• • •
Thanks, Graig! You can (and should!) follow Graig on Twitter.


The Ticker
By Anthony Emerson


Baseball News: Kurt Rozek noticed that a backstop advertisement at New Tigers Stadium uses the British spelling of "judgment", spelling it as "judgement". … The Durham Bulls, Triple-A affiliates of the Rays, will celebrate Bull Durham Night later this month, wearing jerseys designed to look like the satin jackets worn in the film. … The Arkansas Travelers, Double-A affiliates of the Mariners, wore tequila sunrise unis that included the number "501" on the front, a nod to the 501 area code that covers central Arkansas. … The Pioneer League has unveiled new logos (from Kary Klismet). … Also from Kary, the American Association's Winnipeg Goldeyes will play in Jackson, Tenn., for the foreseeable future due to the ongoing closure of the US/Canada border during the pandemic. … NIU have gone and done their own version of the tequila sunrise unis (from Chuck O'Connor). … The wind was so bad in South Bend during the Notre Dame/Florida State game that FSU pitcher Parker Messick had his cap blown clear off his head (from James Gilbert). … University of Hartford softball players have blacked out the school's name on their uniforms in protest of the school's decision to move from Division I athletics to Division III athletics by 2025. And yes, they played the game that way (from @willchitty4 and Ben Whitehead).

Pro Football News: The Packers have revealed their rookie uniform numbers (from Andrew W. Greenwood). … The Dolphins have also revealed a whole bunch of new uniform numbers, for rookies and free agent signings (from Preston Feiler). … The Browns have little two-bar helmet logos of some of their 2021 opponents on their website, matching their 75th anniversary patch. Unfortunately the helmets have modern logos instead of throwbacks (from Joseph A. Bailey). … The Berlin Thunder of the soon-to-launch European League of Football have unveiled their logo (from Wade Heidt). … Absolutely BRUTAL striping/nameplate combo for the Sea Lions of The Spring league. "Reminds me more of a runners bib than a nameplate," says Rocky De La Rosa.

Hockey News: The Blackhawks have revealed some pretty nice warmup sweaters for this Sunday's One Community Night (from Seth Hagen). … The QMJHL's Quebec Remparts have introduced a 25th anniversary logo (from Wade Heidt). … Also from Wade, the OJHL's Whitby Fury are relocating to Minden, On., this summer, and will be called the Haliburton County Huskies.

Soccer News: At the 1982 World Cup, Argentina assigned their kit numbers alphabetically by last name, so midfielder Osvaldo Ardiles got No. 1, instead of a keeper. The only exception was Diego Maradona, who asked for and received No. 10 (from Ursus Maije). … The USL Championship's New Mexico United has a new shirt ad, for New Mexico's tourism advertising campaign (from Ty Ortega). … USL League One side FC Tucson have unveiled some pretty sharp new home kits (thanks, Phil). … Forest Green Rovers of England's League Two have drawn headlines for being among the UK's most environmentally and politically conscious clubs. Their latest effort is a public call for the ban of gambling ads, something which the British government is currently reviewing (from Shawn Hairston). … Ahead of the recent special election for the UK Parliament constituency of Hartlepool, Prime Minister Boris Johnson paid a visit in support of the Conservative Party's candidate Jill Mortimer. They, along with mayor Ben Houchen, visited the local football club, Hartlepool United, and each received a jersey. Mortimer and Houchen got their last names, but Johnson's was first name on back (from Mark Britten). … Serie A team Spezia Calcio wore a special badge on the right side of their jersey to commemorate their victory in the unofficial 1943-44 Upper Italian championship. The badge is different from the "scudetto" badge worn by the winner of the Serie A title (from Graham Clayton).

Grab Bag: Antarctica didn't have a flag until a journalist created one, hoping to bring attention to the impact of climate change on the continent (from Wolfie Browender). … South High School in Bakersfield, Ca., has changed their mascot from Rebels to Spartans. They had previously used a "Johnny Reb" mascot (from Derek May). … Windows 10 still has some Windows 95-era icons deep in there, but those will be gone come the latest update (thanks, Brinke). … The UMaine College Republicans have a new logo that's so bad one local reporter wondered if the College Democrats had designed it for them.


Uni Tweet of the Day
THE FISHERMAN!
Uni reveals sure have come a long way since the 1990s, eh?
'I like the Islanders' new uniforms' me and you both pal. pic.twitter.com/9FxEMMxtQv

— Slapshot Vintage 🏒 (@slapshotvintage) May 4, 2021


And finally… that will do it for today — big thanks to Greg for sharing his "Bizarro" uniform concepts. Hope you enjoyed them as much as I did.
You guys have a great Saturday and I'll catch you back here tomorrow for Mother's Day.
Peace,
PH