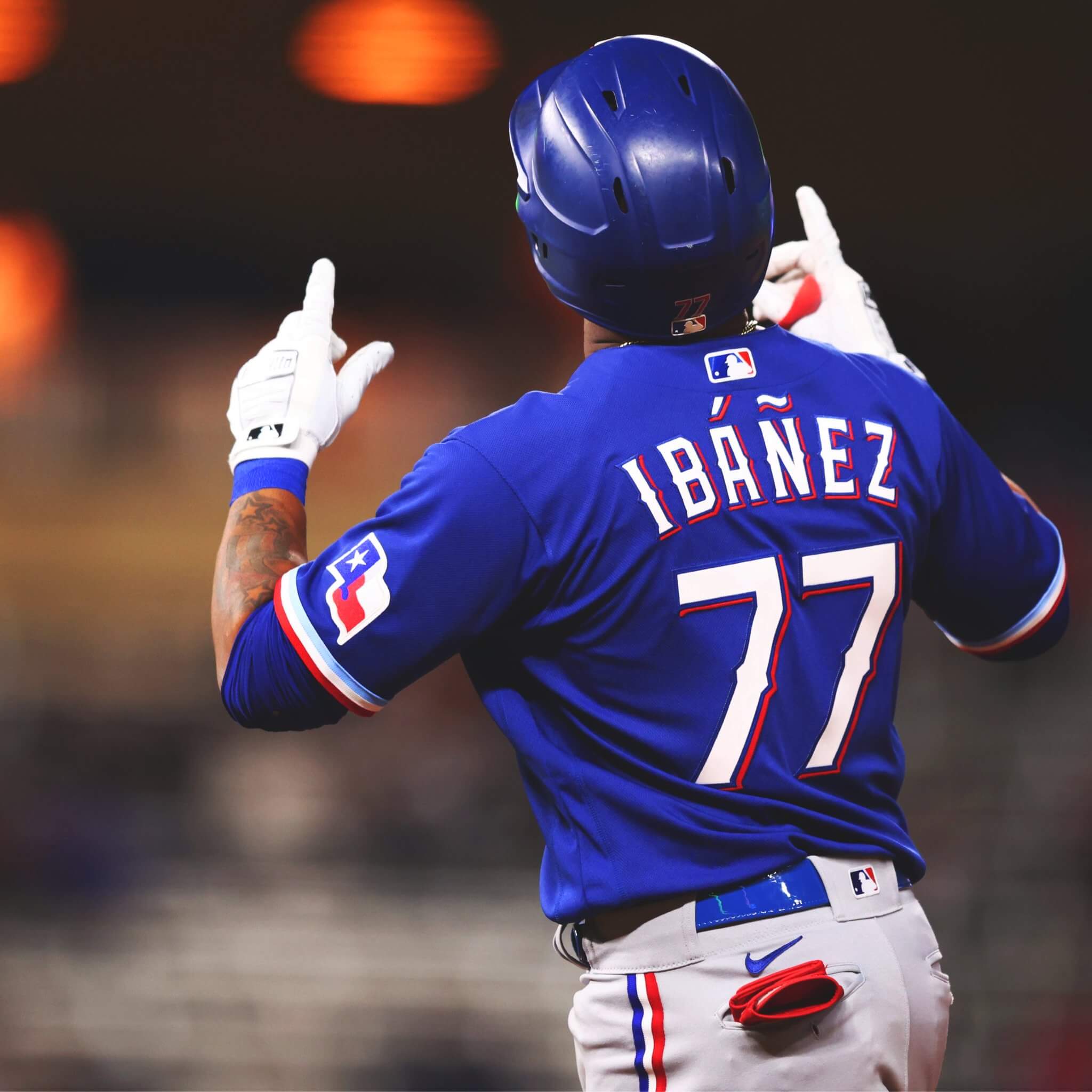 For all photos, click to enlarge
Rangers infielder Andy Ibáñez made his big league debut on Tuesday night. He's a bit of an MLB uni-corn, because his NOB has two diacritical marks — an accent over the A and a tilde over the N.
To my knowledge, Ibáñez's is only the second MLB player ever to have two diacriticals as part of his NOB. We'll get to the other player in a few minutes, for now let's stick with Ibáñez, because his NOB has undergone an interesting evolution over the years. Let's look at the progression:
1 When Ibáñez played for Cuba in the 2013 World Baseball Classic, he had the tilde but not the accent: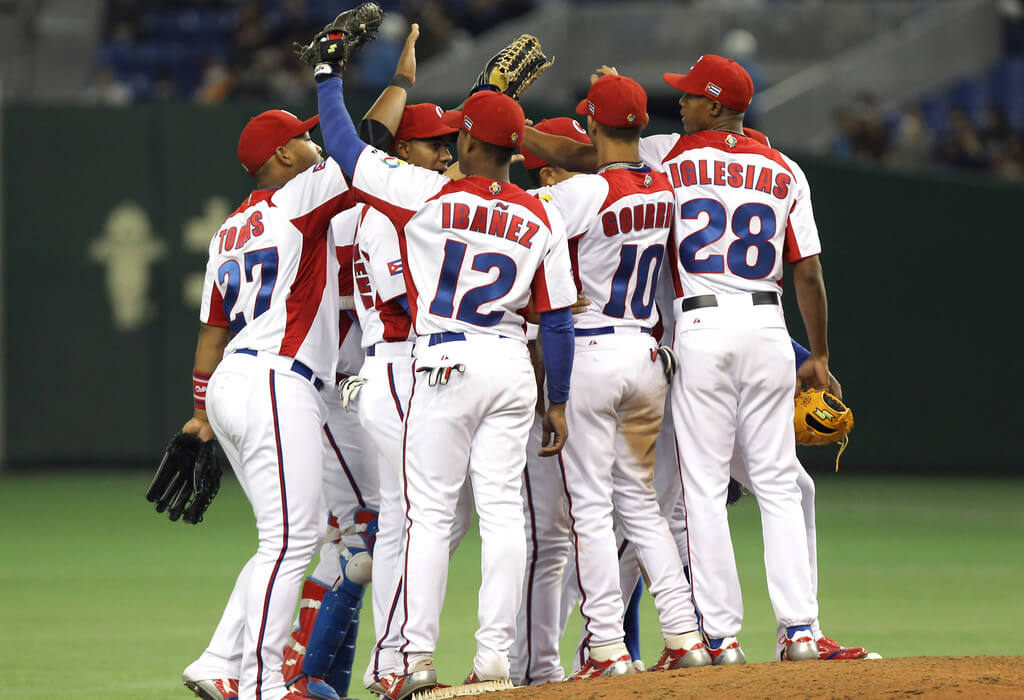 2. Ibáñez defected from Cuba in 2014, signed a minor league contract with the Rangers in 2015, and began playing in their system in 2016. Here's how he looked at the team's minor league spring camp in March of that year — no accent, no tilde: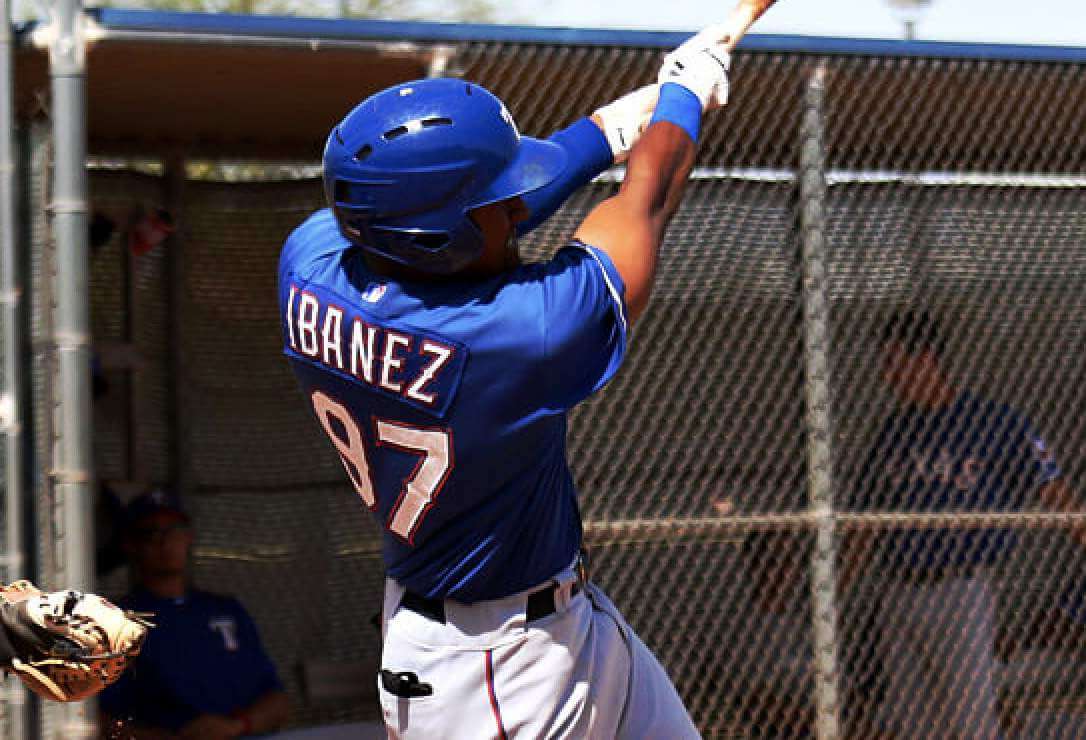 3. Ibáñez's first minor league assignment in 2016 was with the Hickory Crawdads, who went NNOB.
4. Ibáñez spent the rest of 2016 and all of 2017 with the Frisco RoughRiders, where he had no accent and no tilde: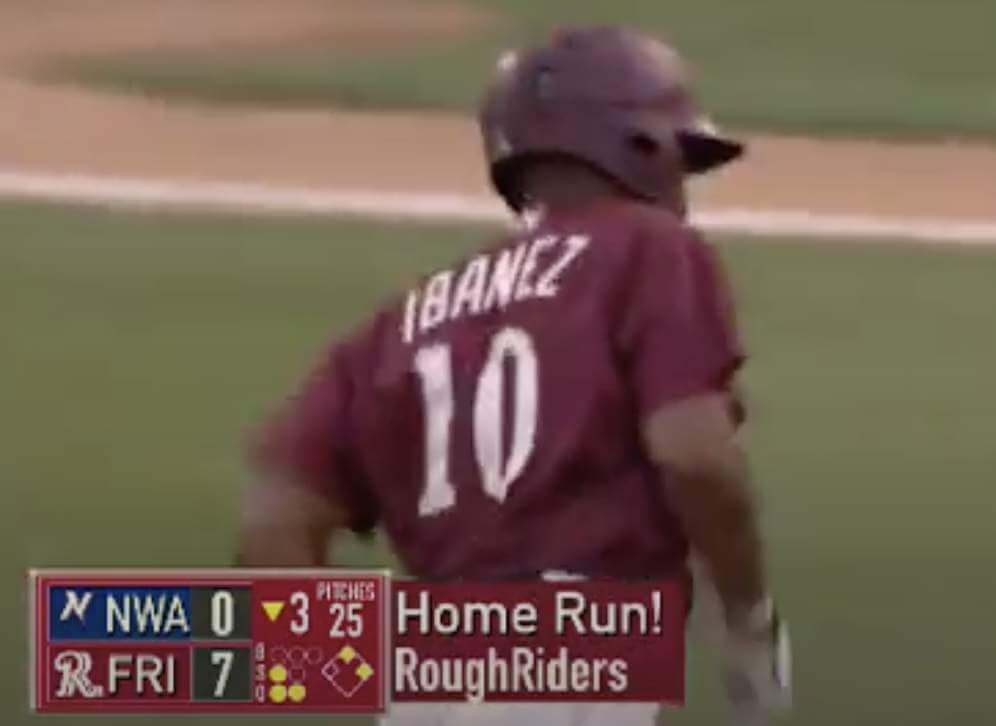 5. In 2018, Ibáñez was promoted to the Triple-A Round Rock Express. He once again had no accent and no tilde: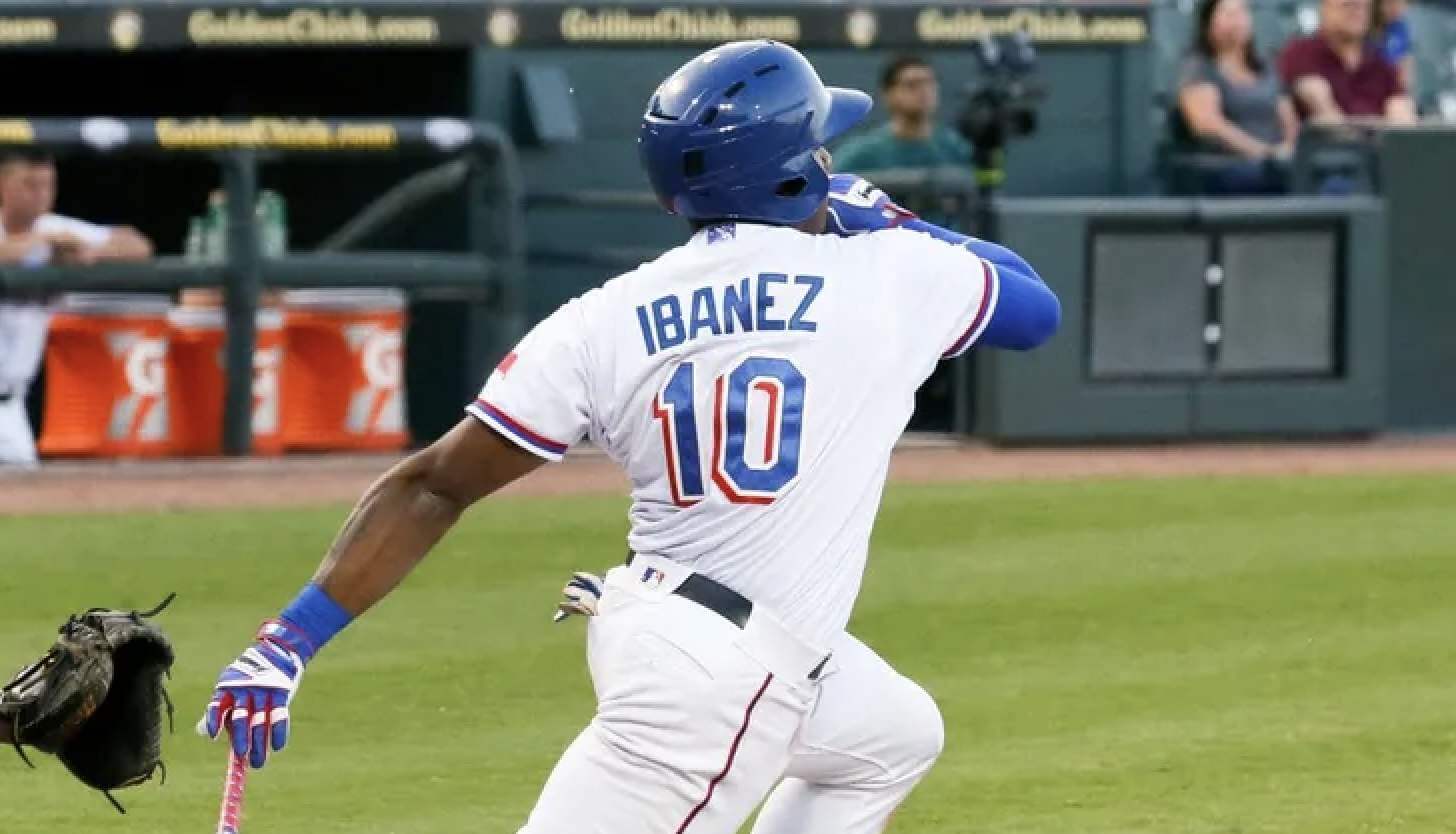 6. In 2019, Ibáñez was a non-roster invitee to the Rangers' big league spring training camp. Again, no accent and no tilde: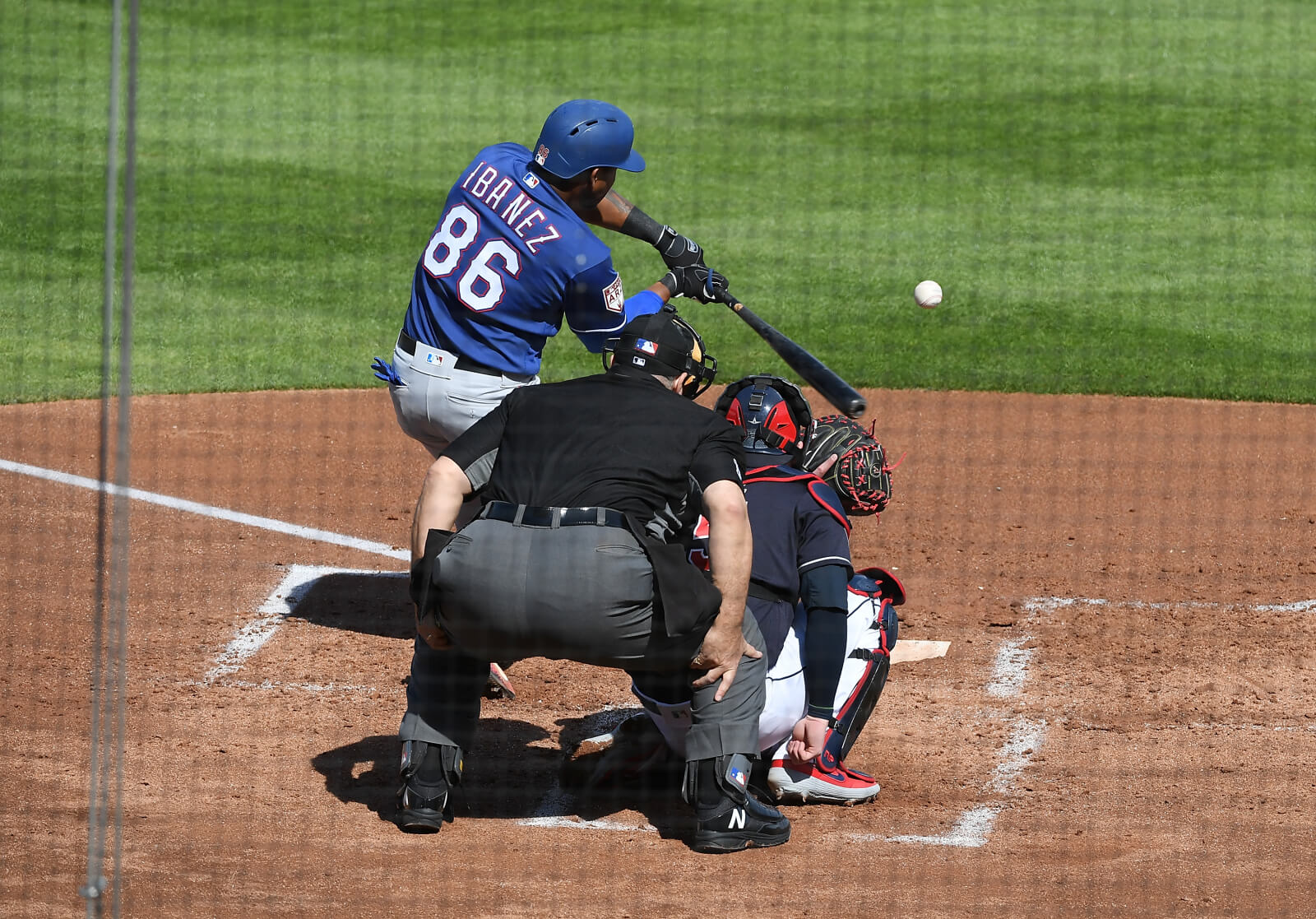 7. After failing to make the big league roster, Ibáñez spent the 2019 season with the Triple-A Nashville Sounds, who went NNOB.
8. In 2020, Ibáñez was a non-roster invitee to the Rangers summer training camp ahead of the pandemic-delayed season. For the first time in the Rangers' system, he had both an accent and a tilde:
9. Earlier this year, Ibáñez was once again a non-roster spring training invitee. And he once again had both the accent and the tilde: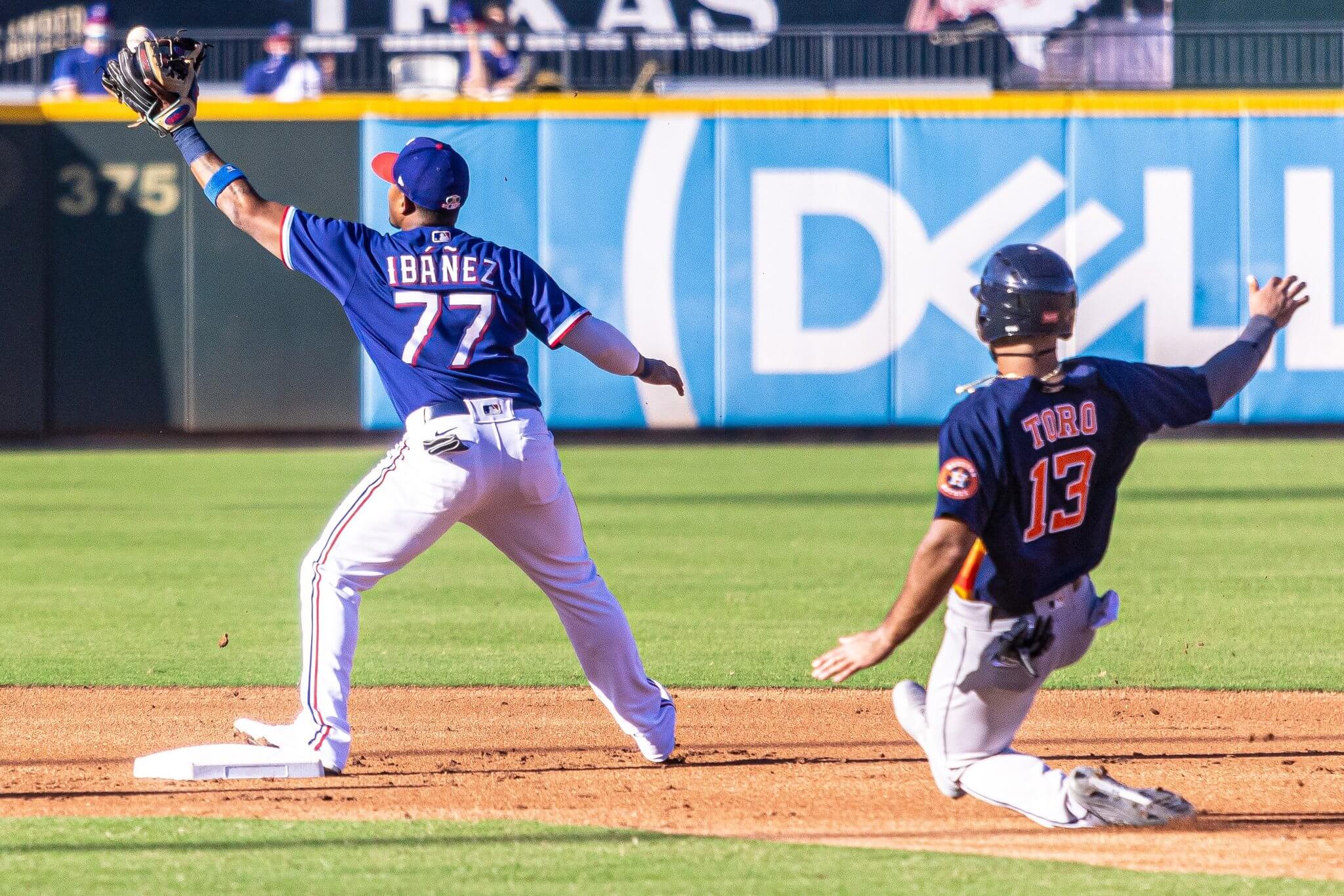 And then he kept both diacritical marks, as seen at the top of this page, when the Rangers promoted him to the bigs earlier on Tuesday.
———
So that's Ibáñez. Interesting, right? How weird it must be for a player to see his name rendered in so many different styles.
The only other two-diacritical MLBer I'm aware of is infielder Renato Núñez, who's currently in the Tigers' system. His NOB has also undergone a bit of an evolution, so let's take a look at that:
1. I won't go through Núñez's entire minor league career, but as far as I can tell, his minor league NOBs all had no diacriticals: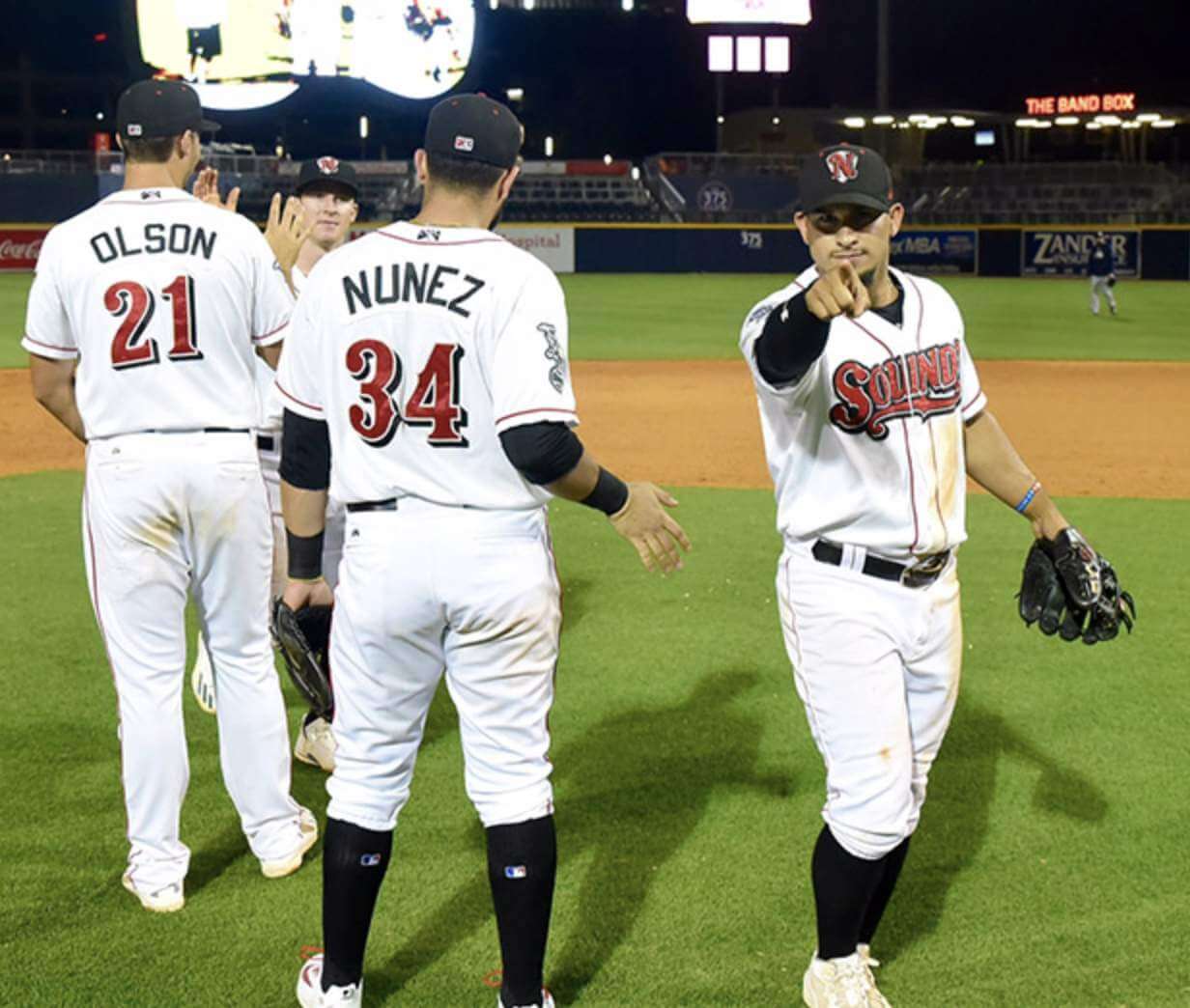 2. Núñez had cups of coffee with the A's in 2016 and '17. Oakland gave him a tilde but no accent: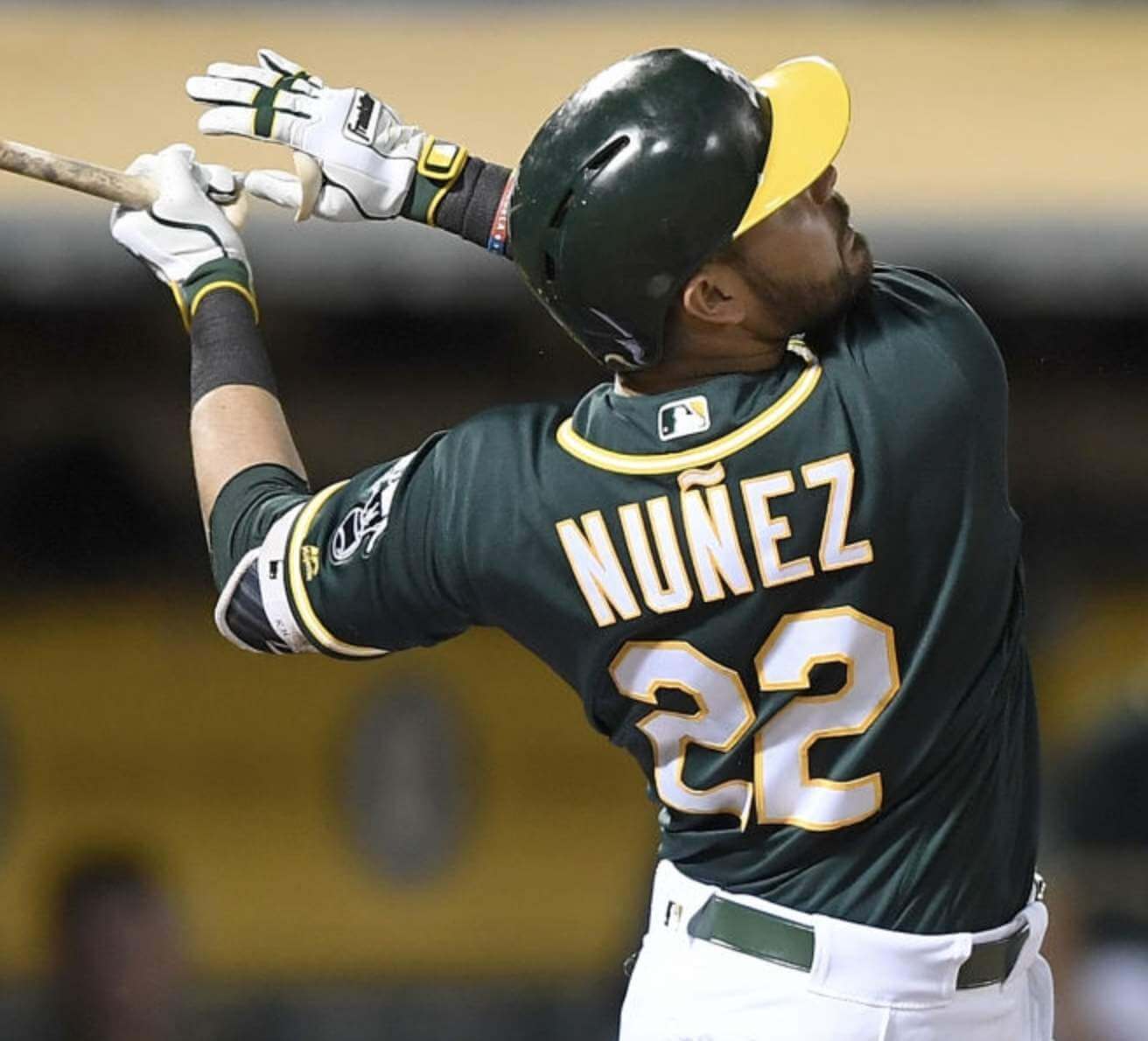 3. In 2018, Núñez was claimed off waivers by the Rangers. They gave him both the accent and the tilde, just as they would later do for Ibáñez: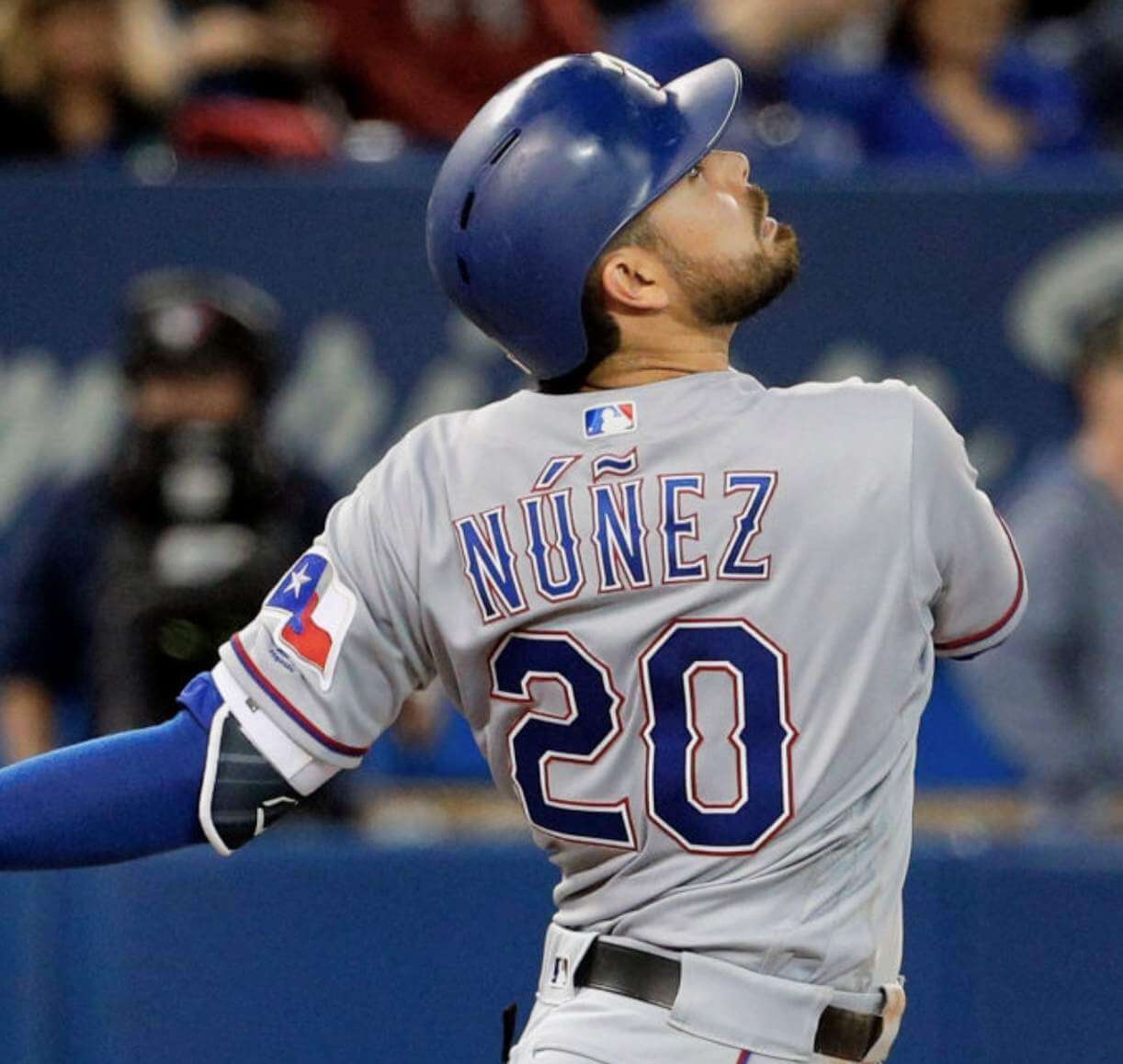 4. In mid-May of 2018, Núñez was released by the Rangers and claimed by the Orioles, who outrighted him to the minors. The O's called him up in July and gave him the full accent/tilde treatment: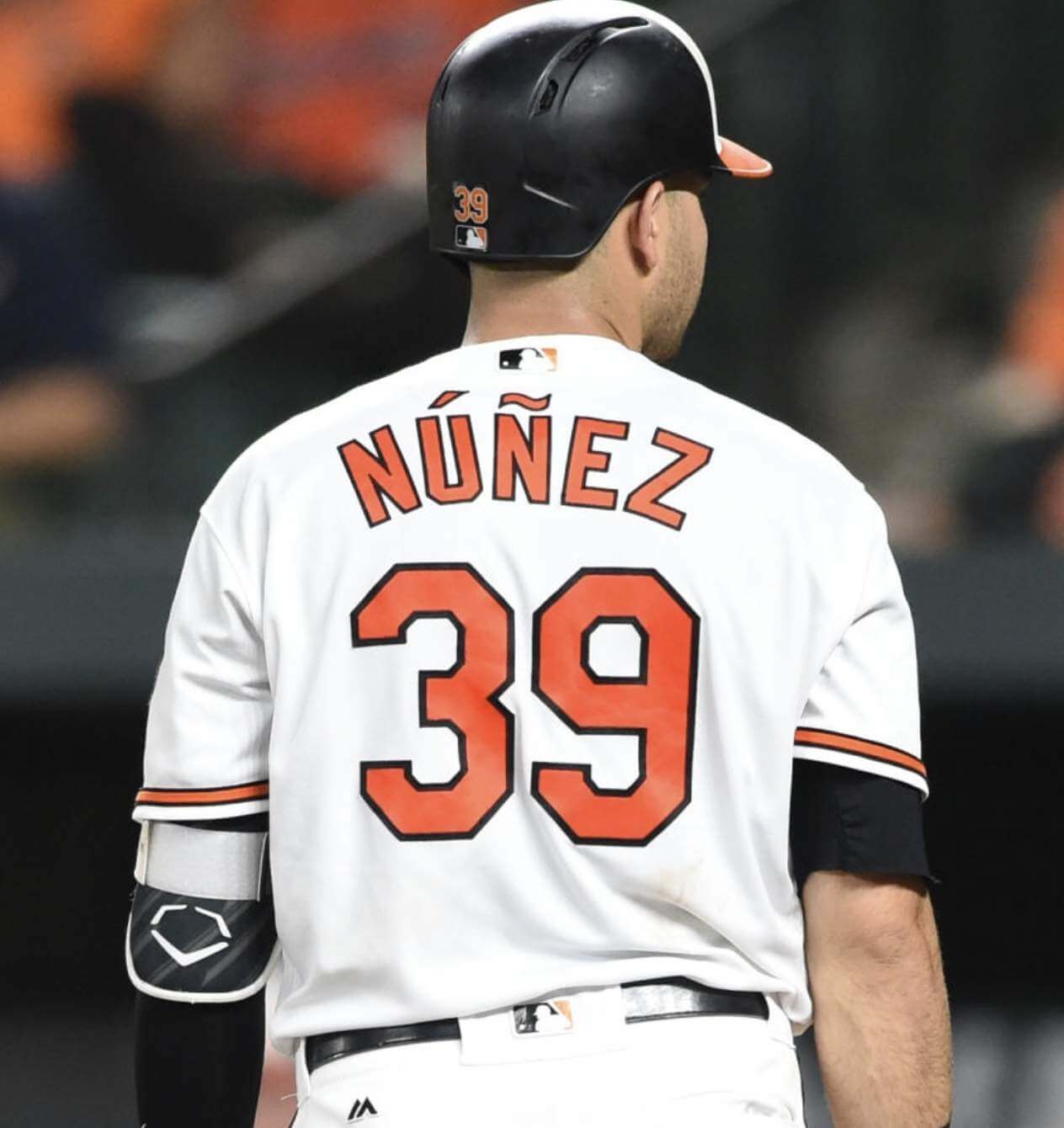 5. Núñez was released last winter and signed a minor league contract with the Tigers, who called him up to the bigs on April 11 and gave him both the accent and the tilde: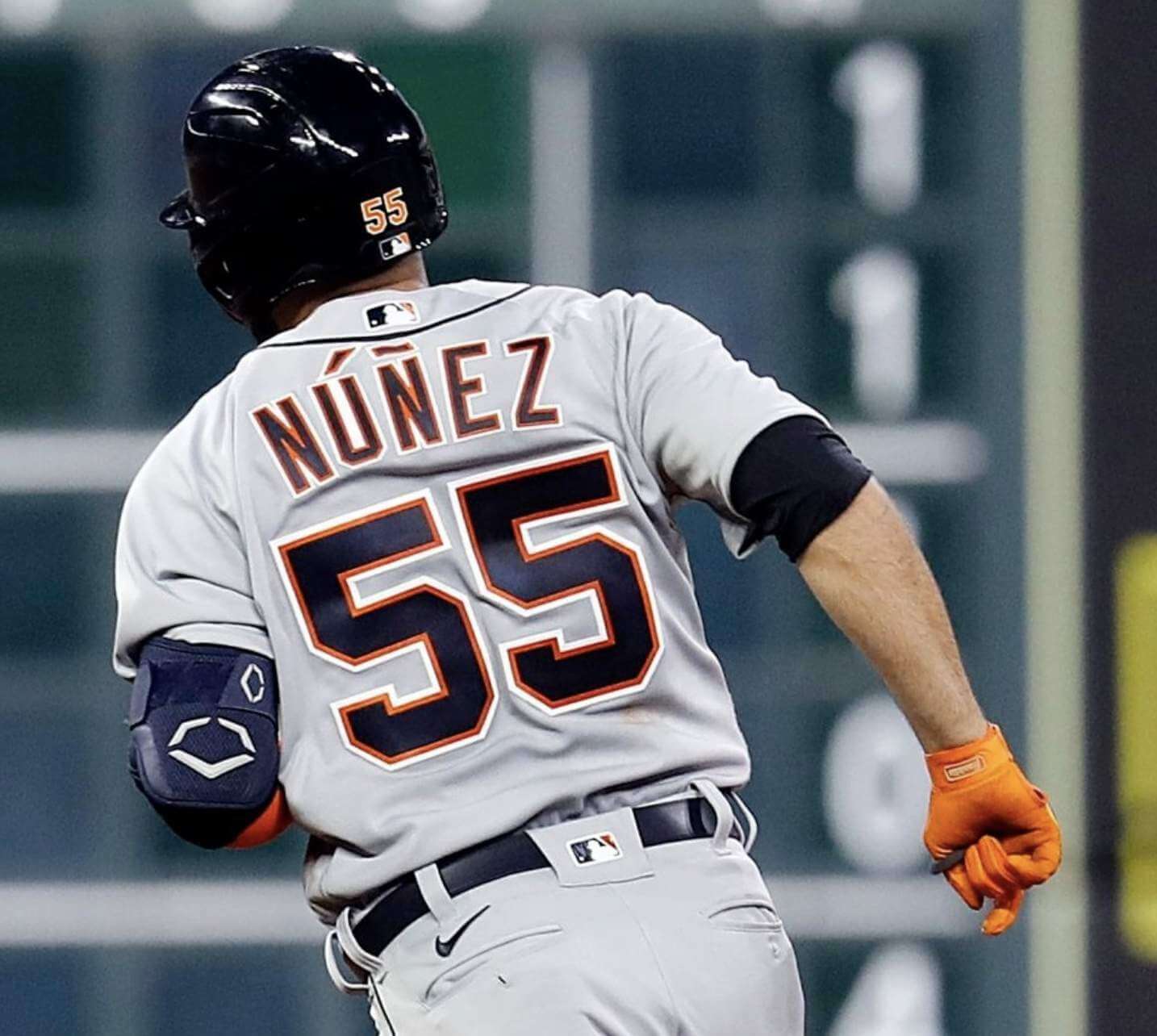 Núñez has since been outrighted to Detroit's alternate training site.
———
Tildes have been part of MLB NOBs since at least the 1980s, but accents are a more recent phenomenon. As I wrote in an ESPN column five years ago, in 2016 MLB issued a memo that began, "With the goal of recognizing and celebrating the diverse culture of Major League Baseball, we respectfully request that all 30 clubs have a formalized process in place to ask every MLB player on their roster if he would like any diacritics (e.g., accent, tilde, etc.) added to his name on his jersey." Accents have proliferated since then, but Ibáñez and Núñez are the only players — at least that I know of — to have both marks. (Is there someone I'm forgetting? Let me know.)
I don't think we've yet seen an umlaut, cedilla, grave, or circumflex on a big league diamond, but I assume they'll all make their MLB debuts at some point. For now, though, Ibáñez leads the league in diacriticals.
(Major thanks to Cliff Corcoran for bringing Ibáñez's big league debut, and his NOB, to my attention.)
• • • • •
• • • • •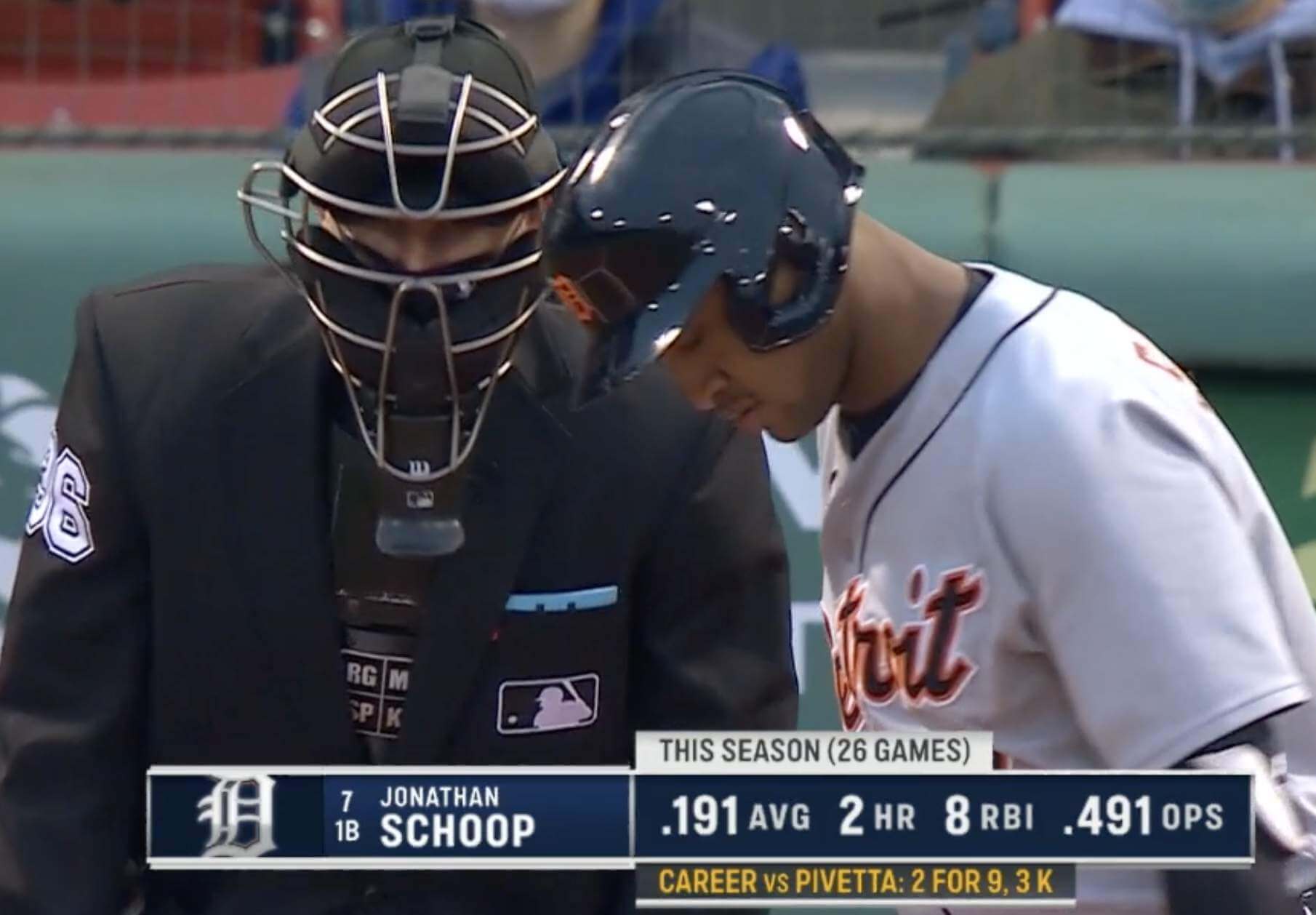 Click to enlarge
C'mon, blue (continued): Welcome back to Ump Patch Watch, where we obsessively cover the adornments on MLB umpires' sleeves — or elsewhere. That was the situation on Tuesday night in Boston, where Ryan Blakney was working the plate for the Tigers/Bosox game and appeared to have four memorial patches on his chest protector.
Reader Kevin McLaughlin, who noticed the patches, did a bit of digging and discovered that they were originally worn as sleeve memorials in 2017: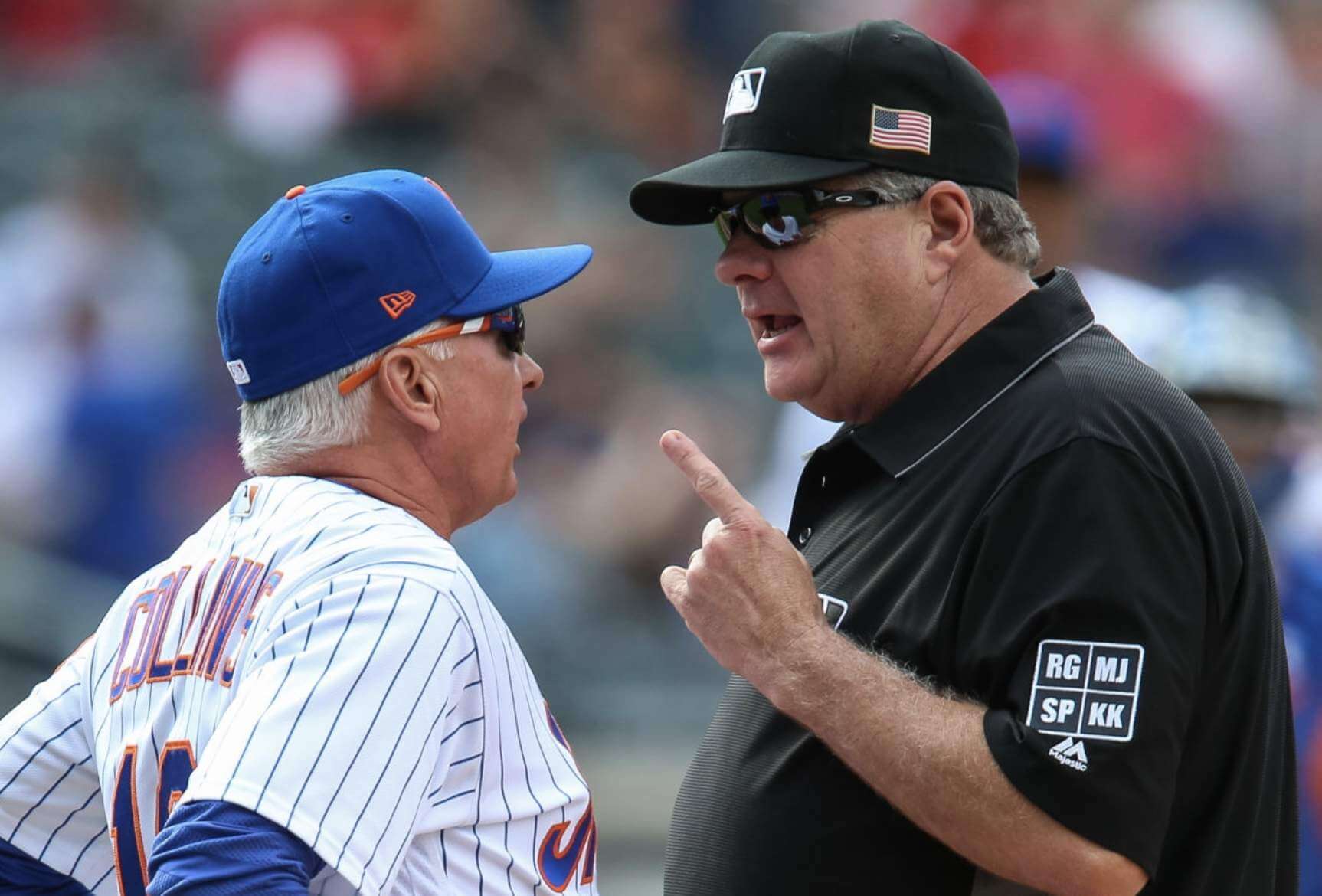 The four umpires represented on the patches are Russ Goetz (RG), Mark Johnson (MJ), Steve Palermo (SP), and Ken Kaiser (KK). Blakney apparently felt so strongly about those four patches that he transferred them from his jersey to his chest protector. Of course, his chest gear might also have other patches that we can't see because they're covered up by his jacket. (That would actually be pretty cool — imagine if he's been saving all the memorial patches from his umpiring career and transferring them to his chest protector when their sleeve terms are up. Something to investigate further!)
That wraps up this edition of Ump Patch Watch, as we continue to document the apparently bottomless subject of umpire flair.
(Big thanks to Kevin McLaughlin, who deserves all the credit for this one.)
• • • • •
• • • • •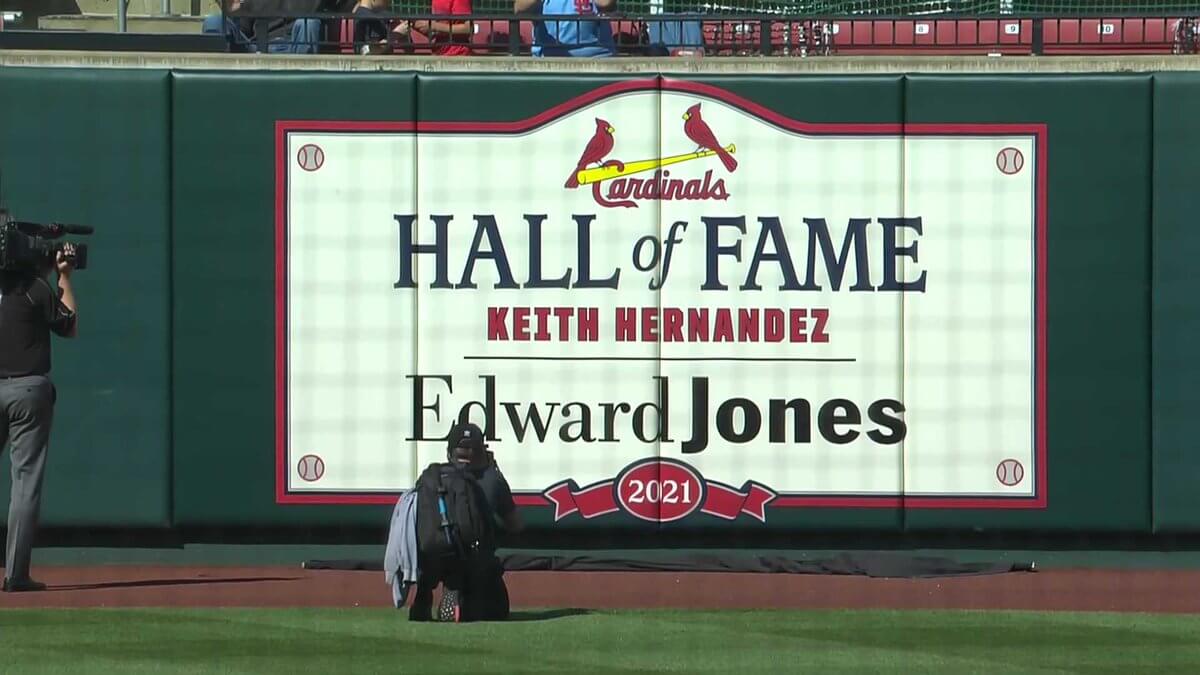 Click to enlarge
Oh, for fuck's sake: You could be forgiven for thinking that the Cardinals inducted someone named Ed Jones into their team hall of fame yesterday. Actually, it was Keith Hernandez, but the massive ad for a St. Louis-based investment firm made a mockery of the "honor."
The Cards generally Get It™, but this is an embarrassment.
(Thanks to all who shared.)
• • • • •
• • • • •
The Ticker
By Paul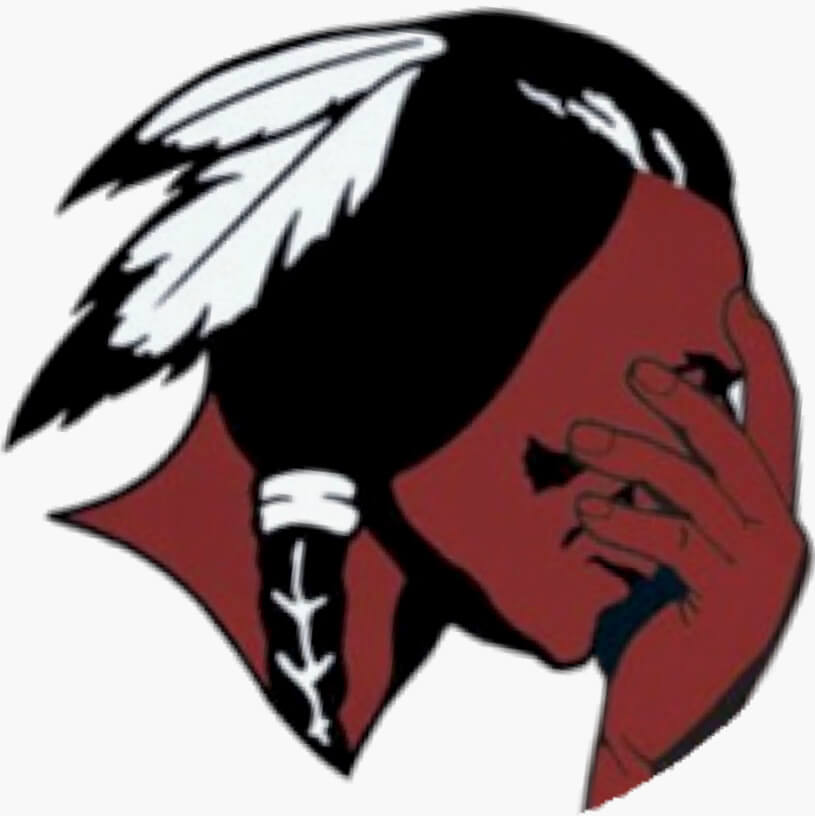 Indigenous Appropriation News: Roseburg High School in Oregon will keep calling its teams the Indians (from Ted Taylor). … Shawnee Mission North High School in Kansas is changing its team name from "Indians" to "Bison" (from Matt Staus). … Algonquin Regional High School in Massachusetts will no longer call its teams the Tomahawks (from Paul Friedmann). … The school board in Susquehanna Township, Pa., has voted to retire the local high school's "Indians" team name. … The rest of these are from Kary Klismet: Wasilla High School in Alaska has worked with the Knik Tribe to update but not eliminate the Native-themed imagery used in conjunction with its "Warriors" team name. … Here's an interesting article about how a New Mexico school dropped its "Redskins" team name while another school in the same district has held onto "Indians." … The San Diego State University Senate has passed a resolution calling on the school's administration to drop the university's "Aztecs" team name.

Baseball News: The Triple-A Buffalo Bisons are playing in Trenton, N.J., this year, and are wearing Trenton uniforms with Bisons batting helmets. … Starting on May 19, the Mets and Yankees will have separate seating sections for vaccinated and unvaccinated fans. Fans will also be able to get vaccinated at the ballpark and will be rewarded with a free ticket to a future game. … The St. Paul Saints' latest live pig mascot is named Space Ham. … A Maryland brewery has released a very handsomely packaged Orioles-themed beer (from Andrew Cosentino). … Giants SS Brandon Crawford wore a Lou Seal headband yesterday. Lou Seal is the team's costumed mascot (from Joe Farris). … The Rocket City Trash Pandas have been a big merch hit without ever having played a game (from John Cerone). … The Corpus Christi Hooks' alternate identity, the Honey Butter Chicken Biscuits, made its on-field debut yesterday (thanks to all who shared). … Former Pirates and Orioles pitching coach Ray Miller died on Tuesday. Key uni-related passage from this obituary: "One thing that stood out to [Pirates pitcher/broadcaster Bob] Walk was Mr. Miller's many superstitions. He would always sit on a wooden stool and knock on it during various parts of the game. He also drew little symbols under the bill of his cap, which he occasionally used to try and put a hex on opposing players. For whoever was starting that day, he would always rub up a pair of baseballs and stick them in that pitcher's glove" (from Jerry Wolper). … The Frisco RoughRiders' look last night was really, uh, something. … Angels manager Joe Maddon wore Cardinals-style striped socks last night (from Jason Reyes).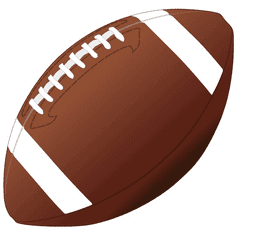 Football News: The Giants are the first NFL team to have an official cryptocurrency partner (from Alan Kreit). … New uni number assignments for the Ravens' 2021 draft class (from Andrew Cosentino). … New centennial logo for Texas A&M's 12th man (from @spadilly).

Hockey News: The Canucks are moving their AHL affiliate from Utica, N.Y., to Abbotsford, British Columbia. No word yet on what the relocated team will be called (from Wade Heidt). … Recently acquired Maple Leafs G David Rittich's new pads are a homage to former Leafs G Felix Potvin (from Wade Heidt). … Also from Wade: New mask for Blue Jackets G prospect Daniil Tarasov. … Whoa, check out this amazing old shot of entertainer Tiny Tim wearing a Maple Leafs jersey on the ice! (Nice one from Alan Kreit.) … Capitals RW TJ Oshie's father died earlier this week. He was known as "Coach Osh," so the team has added a memorial "Coach" helmet decal for him (from Brandon Weir). … NBC Sports has a new NHL scorebug design.

Basketball News: New court design for Transylvania University in Kentucky (from Kyle Sutton). … The Suns' Gorilla has signed what appears to be the first apparel endorsement deal for a costumed mascot (from Kary Klismet). … Here's a weird one: Check out this old shot of the ABA's Kentucky Colonels and Pittsburgh Condors apparently going white vs. white. I'm thinking Pittsburgh was probably wearing gold, even though it doesn't look that way in the photo (from Kenny Kaplan). … @SanBrunoJess spotted a Celtics-themed jet at SFO.

Soccer News: New stadium name for the USL Championship's Sacramento Republic (from @Zimfroit). … For the first time since the 2007-08 season, Real Madrid paired black socks with a white kit yesterday (thanks to all who shared). … According to this page, the upcoming final between Chelsea and Manchester City will be the first European Cup/Champions League final between two clubs that wear blue as their home shirt color. … New home kit for Forward Madison (thanks to all who shared). … Musician Ed Sheeran is the new shirt advertiser for English club Ipswich Town (from Colm Heaney and our own Jamie Rathjen). … New stadium name for Coventry City (from James Gilbert).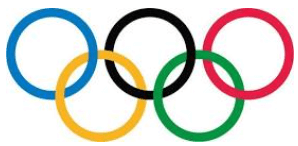 Olympics News: At least one of the shirts for the Great Britain women's soccer team has been released (thanks, Jamie).


Grab Bag: New uniforms for the Central Coast (Australia) Volunteer Rescue Association, whose white jumpsuits are being replaced by green jackets (from Kenneth Traisman). … Colorado Congresswoman Lauren Boebert owns a restaurant called Shooters Grill. But she let the trademark on the restaurant's logo lapse, so now a group opposing her re-election has acquired the rights to the logo and is auctioning off an NFT of it, with the proceeds going to anti-Boebert campaign efforts. … Officials at the G7 talks in London have been wearing G7-branded masks (from Ayden Maher). … Here's a look at all the paint schemes for NASCAR's upcoming Throwback Weekend at Darlington Raceway, plus an article explaining the significance of those schemes (both from Kary Klismet). … Also from Kary: Two high schools whose teams were previously called "Rebels" have chosen new team names: Walpole (Mass.) High School will be the Timberwolves, and the Turner County (Ga.) school district will be the Titans. … From our own Jamie Rathjen: "In Germany's Handball-Bundesliga, SG Flensburg-Handewitt drew and lost first place on Wednesday because one of their players had his shirt ripped in the last minute. The referee restarted play while he was getting a new shirt, so he ran back on with his shirt partially on and in the confusion conceded the tying seven-meter throw (the equivalent of a penalty in soccer)." … A Naval Postgraduate School student has invented and patented a more durable uniform nametag for the Navy working uniform (from Timmy Donahue).
• • • • •
• • • • •