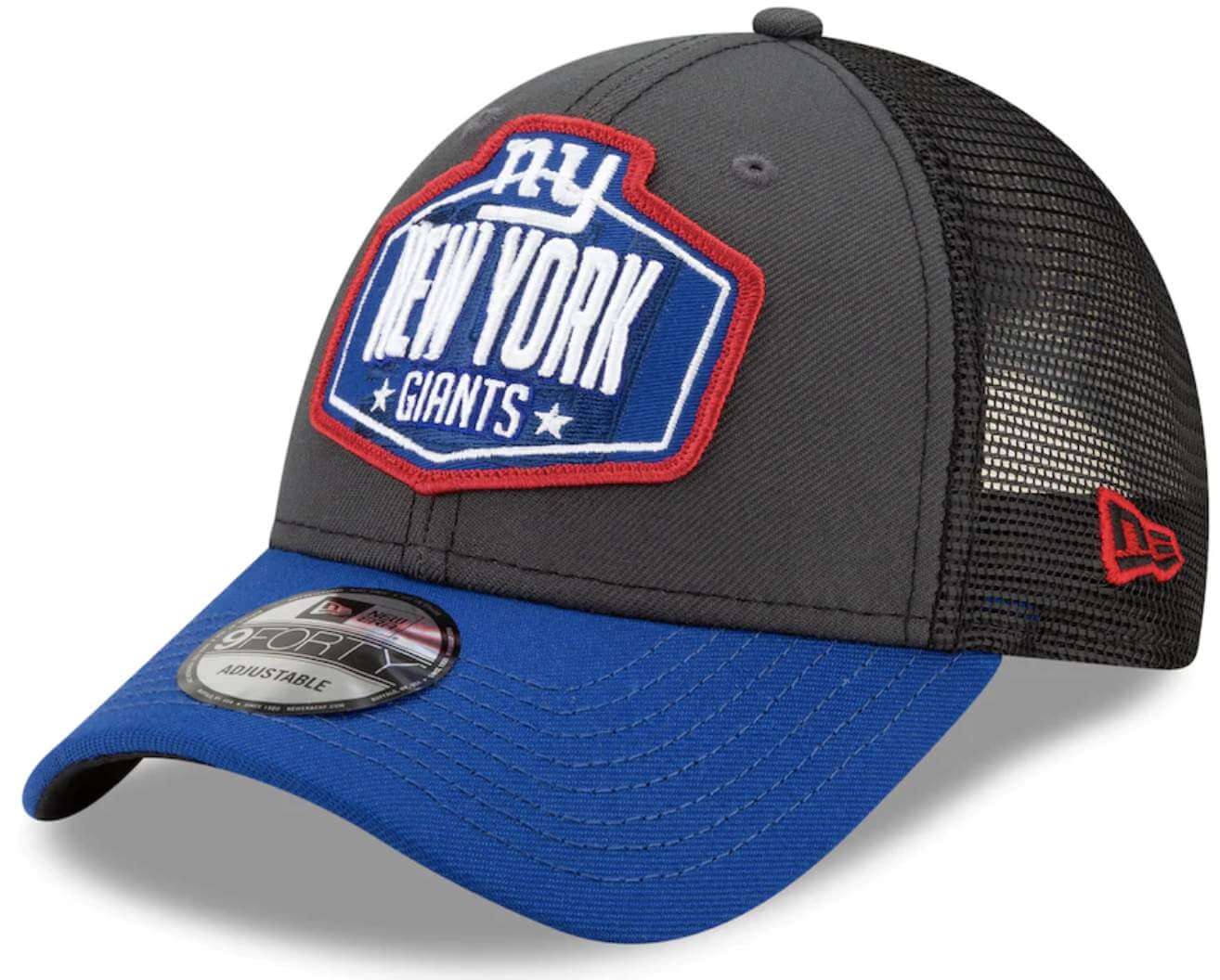 The 2021 NFL draft begins tonight. Personally, I'm not into the draft as a live event — I'm happy reading the post-draft analysis of which teams did well, which did poorly, and so on.
But of course I realize that lots of people, including many of you who are reading this, are into the draft as a live event. And that has spurred its own little industry and economy, the chief component of which is the NFL draft cap.
Since I'm not that into the draft, I've also never cared about draft caps. But I'm sort of fascinated by them as a phenomenon, because I never would have guessed that they would become a thing (one of countless things whose popularity I never would have anticipated, like bottled water, sports bars, and a lot more). So earlier this week I invited readers who buy and wear draft caps to tell me why they like them so much. I got a wide variety of responses, but the two things that came up most frequently were these:
1. Draft caps tend to emphasize the team's city/state/region more than other NFL caps.
2. As reader Thomas Gaines put it (and several others said something similar), "What I like about them is that they're the first team-issued part of the uniform given to the player. It's always the hat followed by the jersey when they walk up to the stage."
Interesting! I didn't know either of those things. Enjoy your caps, and enjoy the draft tonight if you'll be watching.
(My thanks to everyone who responded to my cap inquiry — much appreciated.)
• • • • •
• • • • •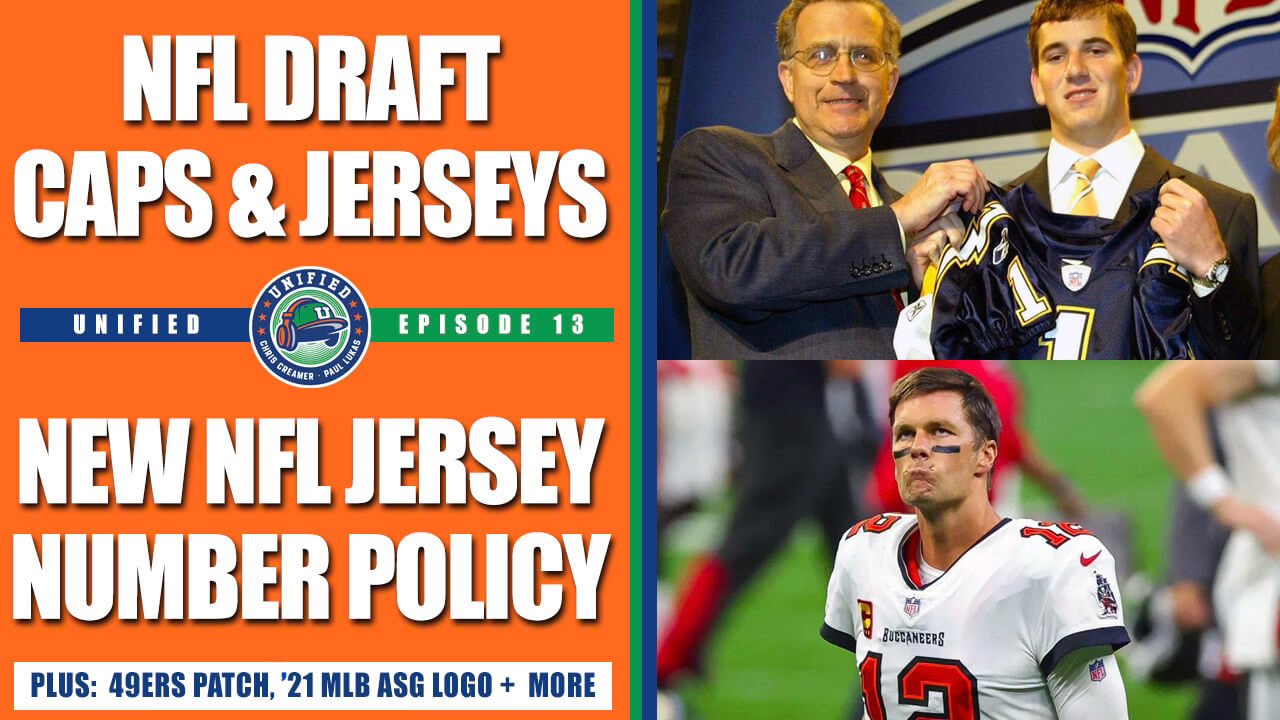 New podcast episode: With the NFL Draft taking place this week, Chris and I have an (almost) all-NFL episode, including discussions of why Tom Brady doesn't like the league's new uni-numbering rules, the 49ers' new 75th-anniversary patch, and the role of jerseys and caps at the draft. Plus the Question of the Week and more.
As always, you can listen to us on Apple, Google, Stitcher, TuneIn, and Spotify (as of this morning, it hadn't yet populated on a couple of those services, but it will do so shortly), or just use the player below:
The show notes for this episode, which include photos of many of the things we discussed, are here. Those photos (and some additional ones) also appear in the video version of the episode, which you can see here:
Please consider supporting this episode's advertisers, Streaker Sports (get 20% off any order with checkout code UNIFIED), Homefield Apparel (15% off with checkout code UNIFIED), and AcedOut (20% off with checkout code UNIFIED).
Enjoy the episode, and thanks for listening.
• • • • •
• • • • •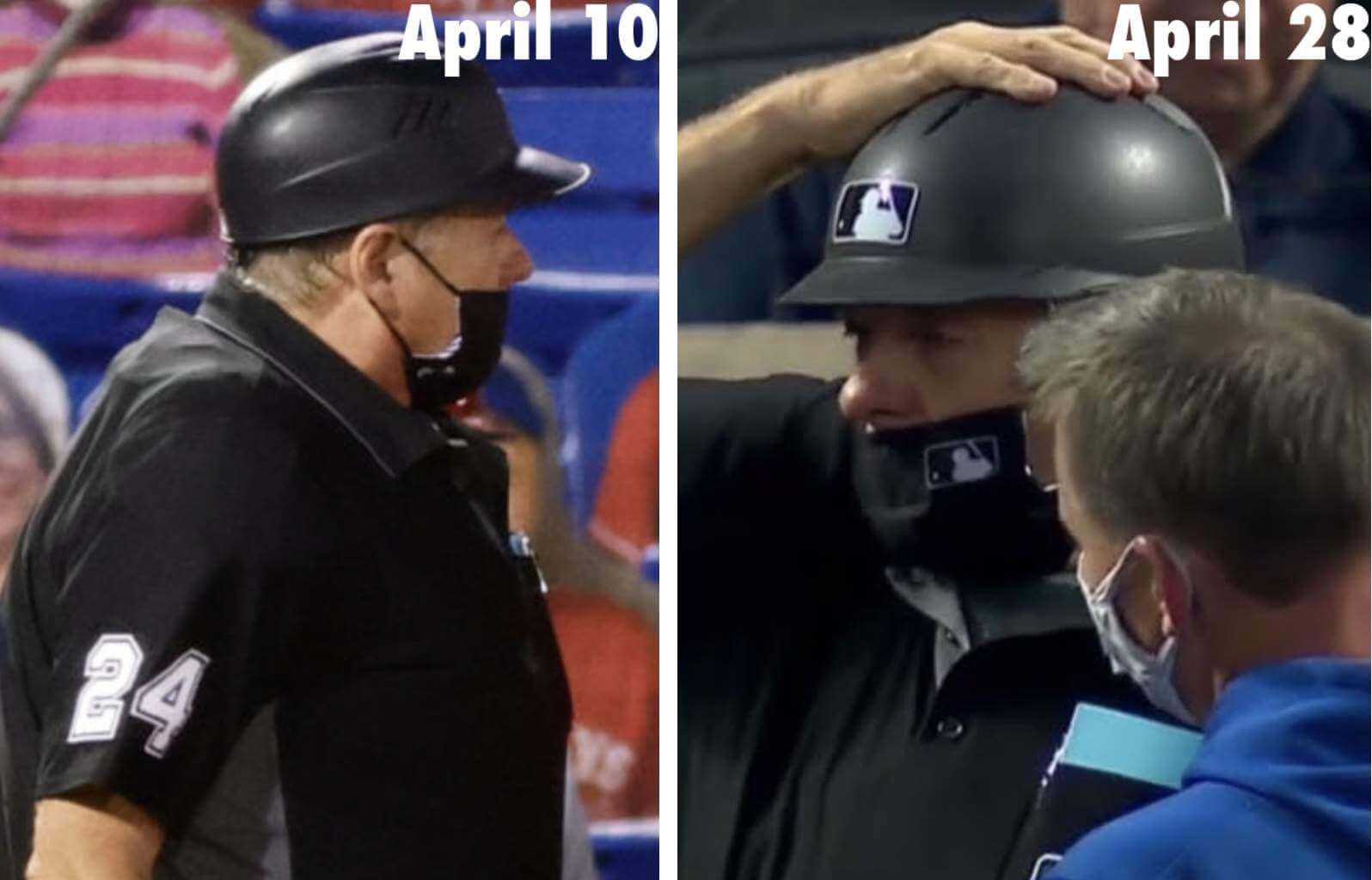 Click to enlarge
The long and the short of it: Lots of readers have noticed that some MLB umpires have begun wearing helmets, instead of soft caps, while working the plate. But last night I noticed that ump Jerry Layne had made an adjustment to his headgear. Earlier in the season (above left), he wore a standard-brimmed helmet, similar to what the base coaches wear. But last night he had a helmet with a truncated brim to better accommodate his mask (above right), much like the short-brimmed caps that many plate umps wear.
• • • • •
• • • • •
The Ticker
By Paul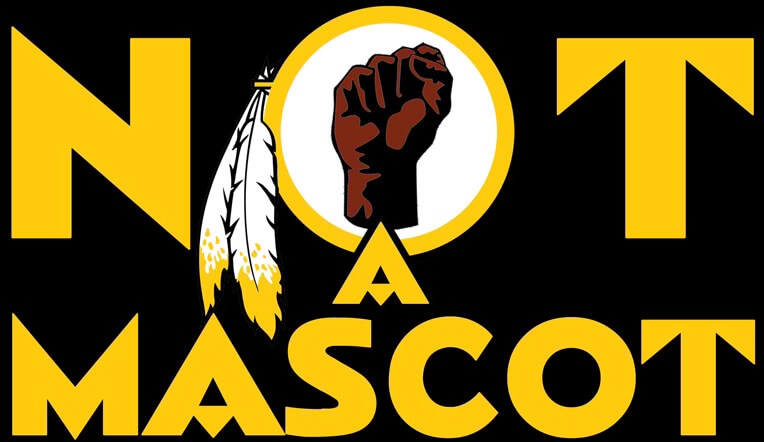 Indigenous Appropriation News: In response to many requests and inquiries, this section has a new name and icon. Thanks for all the feedback. … Good article on how the town of Piqua, Ohio, is clinging to its "Indians" high school team name and associated imagery (from Jason Reed). … In a non-binding ballot question, residents of Wakefield, Mass., have voted to keep the local high school's controversial Native American iconography. A school committee had previously voted to eliminate the Native logo but keep the school's "Warriors" team name. … With public schools in the state of Washington no longer permitted to use Native-based team names, the Spokane school board is inviting the public to weigh in on a new identity for North Central High School, which is retiring "Indians" (from Kary Klismet). … The school board in Bellefonte, Pa., has voted to change the local high school's team name from "Red Raiders" to "Raiders" (from Jonathan Judeich).

Baseball News: In an apparent first, 15 Boston high schools will have their 2021 graduation ceremonies at Fenway Park. … Man, the Mariners really need to do something about that NOB font (from John Scukenac).

NFL News: A mannequin being prepped for tonight's draft appears to be dressed in the now-obsolete Bengals uniform (from @DawgsThai). … Projected top draft pick Trevor Lawrence has inked an endorsement deal with Adidas. … The Panthers are changing their field surface from grass to synthetic turf (from James Gilbert). … NFL teams reimagined as album covers? Sure, why not (from Andrew Cosentino). … Check it out: a Chargers-themed surfboard! (Thanks, Brinke.) … Expected draftees who didn't attend last night's event in person were sent all 32 teams' draft caps, just to have all their potential bases covered.

College Football News: It was reported earlier this month that all Boston College sports teams except football would be moving from Under Armour to New Balance. It was expected that the football team would go with Adidas, and that deal is now official. Interestingly, the NB deal for the other sports is for 10 years, but the football/Adidas deal is for three years.

Hockey News: Notable blue and red striping on the top and bottom of the boards at the World Under-18 Hockey Championships in Texas. "Gives the boards a red, white, and blue look," says Wade Heidt. … Blue Jackets C Alexandre Texier has had a bunch of unusual tape jobs on his stick lately (from Andreas Papadopoulos). … The Rangers sent some personalized jerseys to players on the NBA's New York Knicks. The two teams have the same owner and arena (from Alan Kreit). … The Athletic has a (paywalled) story on the Lightning's Stanley Cup rings, described as the "most elaborate, expensive and unique" championship rings ever made (from Kary Klismet). … The Austin Ice Bats — a team name originally used for a minor league team from 1996-2008 — are returning as a Tier III junior team (from Ignacio Salazar). … Looks like a Wild player — not sure who — had a helmet with a different shade of green last night (from Casey Levene). … The Canadiens' used their pregame jerseys last night to promote their annual radio-thon, which benefits youth charities (from Moe Khan).

NBA News: Cross-posted from the hockey section: Knicks players received personalized jerseys from the NHL's New York Rangers. The two teams have the same owner and arena (from Alan Kreit). … Heat C Dewayne Dedmon's NOB was misspelled as "Dedman" last night (thanks to all who shared). … Meanwhile, Dedmon's teammate Jimmy Butler had some issues with one of the numerals of his uni number.

Soccer News: If you look closely, you can see that Notts County women's player Nya Chambers — shown scoring a goal in this video — is wearing regular eyeglasses on the pitch (from Graham Clayton). … New stadium in the works for Queensboro FC, an expansion team based in NYC and set to debut in the USL Championship in 2022 (from Kary Klismet). … Real Salt Lake has repainted some of its stadium seats from white to blue so it can project virtual ads on them. In a particularly gross move, fans wearing white shirts will be given a blue T-shirt and told to wear it. No word on whether the shirts will say, "Real Salt Lake made a pile of money for turning me into a virtual billboard and all I got was this lousy T-shirt" (thanks, Jamie).

Grab Bag: Apple fans are unhappy about some tweaks that the company has made to its classic rainbow logo. … Walmart thinks a new logo from Kanye West looks too similar to the Walmart logo. … Microsoft Office is getting a new default font (from Jon Vieira and Jason Hillyer). … New mascot and logo for North Central Michigan College (from Brandon Weir). … New logo and slogan for Bismarck, N.D. (from Timmy Donahue). … The rest of these are from Kary Klismet: Saddleback College in California is inviting the public to vote on the three team names it's chosen as finalists to replace "Gauchos," which it retired earlier this year. … The University of Missouri-Kansas City has installed a kangaroo mascot sculpture on campus. … The school district in Killeen, Texas, has revealed new team names and logos for its four elementary schools. … English rugby union club Wasps has a new kit deal with Hummel for all its teams, including its Netball Superleague team, Wasps Netball. "Previously, the men's team had Under Armour, the women's team had a company called Samurai, and the netball team had Mizuno," says Jamie.
• • • • •
• • • • •
• • • • •
Our latest raffle winners are Phil Fleckenstein and Dan Netser, each of whom has won a Uni Watch membership card. Congrats to them, and thanks to the anonymous donor who sponsored this one. — Paul