The WNBA yesterday announced a series of measures to celebrate the league's upcoming 25th season, which will begin later this year (the schedule hasn't yet been released). The program's primary visual initiative is a new logo, shown at right, which will appear on jerseys, courts, and game balls.
Some thoughts:
• As is always the case, I wish they'd waited one more year and celebrated their 25th anniversary, instead of their 25th season. (Interestingly, we are currently in the midst of the NBA's 75th season, but they're waiting until the 2021-22 season to celebrate their 75th anniversary.)
• I'm fairly certain this is the first time I've ever seen Roman numerals and tally marks combined in a logo (or, probably, anywhere else).
• Most importantly: I hate seeing tally marks with the five-tally diagonal stroke going downhill from right to left! I much prefer to see them going from left to right: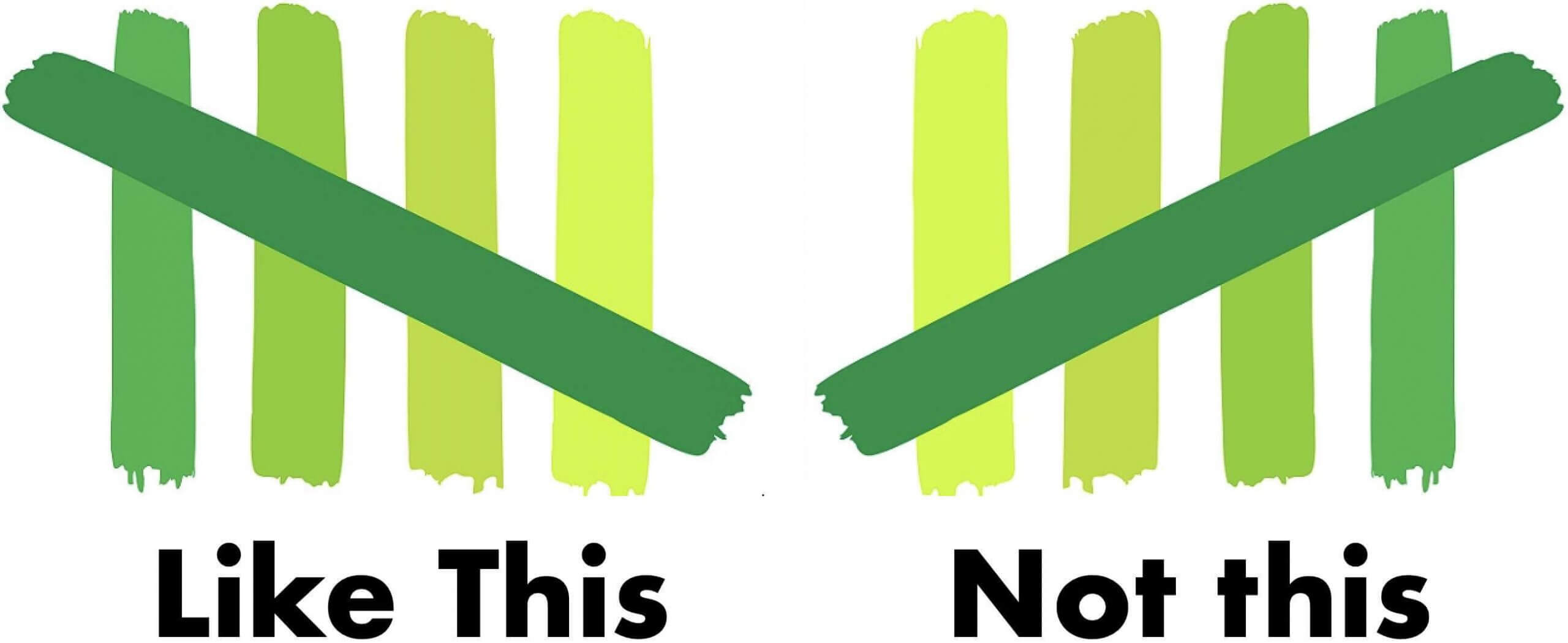 I've always done it the way that's shown on the left. I realize some people do it the other way, but that way has always looked wrong to me. By the same token, I assume that people who do it that way probably think my way looks wrong. And that's the problem with using something like tally marks for a logo: No matter which option you choose, there's a decent chance that a sizable portion of your audience is going to think it looks wrong, which means you've failed before you've even started.
The WNBA will also have a new basketball this season, as they're switching from Spalding balls to Wilson (the NBA will be making that same manufacturer change for 2021-22):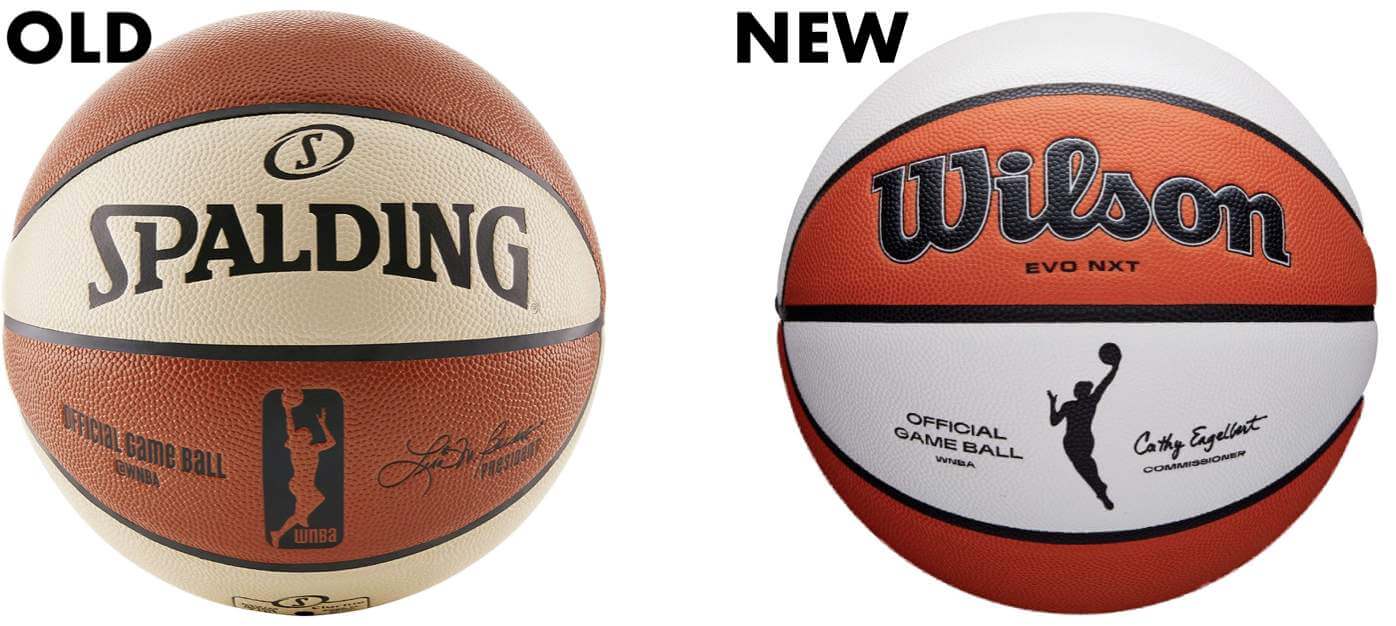 The league says the 25th-season celebration will also include "new uniforms" but has not yet provided any additional information about that.
• • • • •
• • • • •



Click to enlarge
ITEM! New Uni Watch hockey jerseys, socks, and stirrups: As you may recall, I've previously teamed up with Adelph Wear — the sportswear brand run run by longtime Uni Watch reader Nathan Haas — to produce a series of Uni Watch hockey jerseys featuring Rangers-style diagonal lettering running across the front. The response to those was great (thank you!), but many of you said you'd prefer a more traditional design with a standard crest on the front. As you can see above, we've responded to those requests with a new line of jerseys, each featuring the winged stirrup front and center.
As was the case with the previous jerseys, these are available in your choice of "fan cut" or a roomier "game cut" (for fitting over pads), and you can customize them with your choice of number and NOB. I thought it would be fun to do contrasting NOBs, like the Flyers', so that's the style we've opted for.
These jerseys are available here, and you can save 5% if you order any two different designs (but not two of the same design, sorry).
But wait — there's more! We're also offering Uni Watch Crew Socks (the design is based on the new white hockey jersey) and Uni Watch Stirrups (click to enlarge):
We're taking pre-orders on these jerseys, socks, and stirrups from now through the end of the month, with the finished product shipping out around the end of April. You can place your orders here.
• • • • •
• • • • •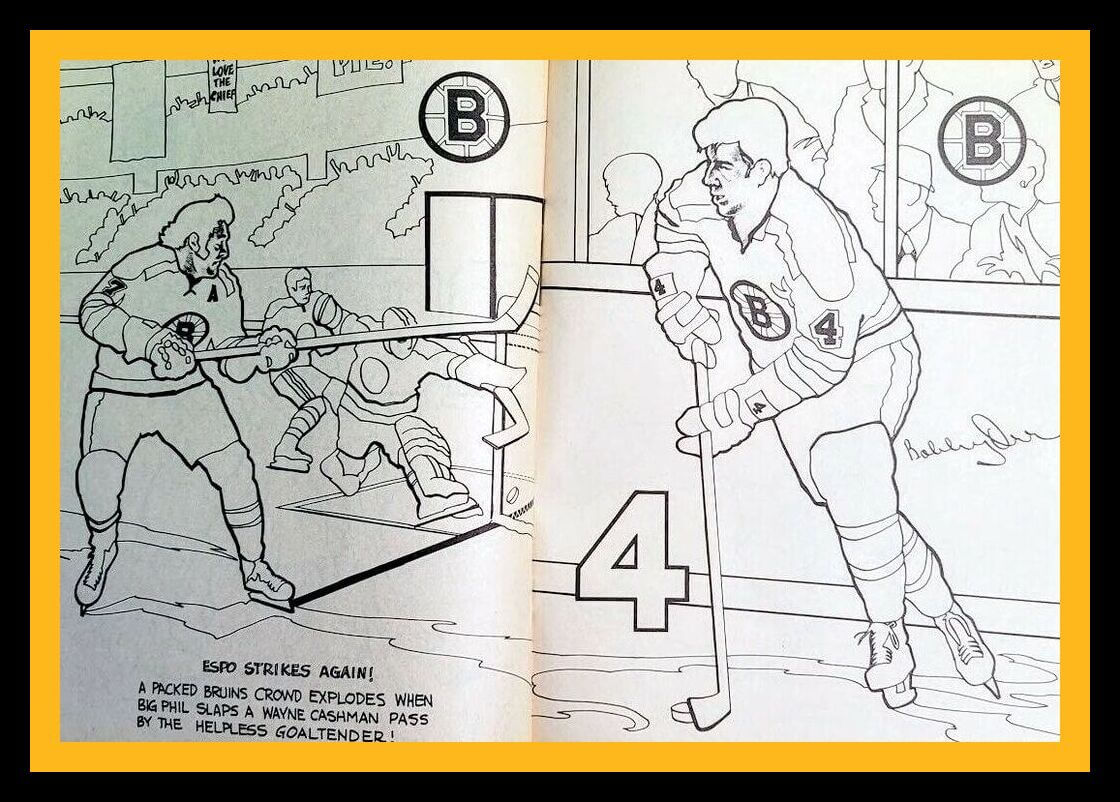 Click to enlarge
Collctor's Corner
By Brinke Guthrie
Follow @brinkeguthrie
Leading off this week with a terrific Boston Bruins coloring book. "A Full 32 Pages of Hockey Fun!" The book includes "Color-By-Number Pop Posters" and "Full-Length Pictures Of All Your Favorites!" They got Espo's hair right, too.
Now for the rest of the week:
 • I had this 1967 book, Bart Starr. Got it from Scholastic Book Services. Every month, just fill out the form, hand it to your teacher along with a couple of bucks, and a box with your name on it arrives at your school a week or two later. Our old-school version of Amazon!  (Also: Here's the photo the book's cover art was based on.) 
 • Getcha red-hots hee-yeh! This 1930s Pittsburgh Pirates program features not-so-subtle ads on the front cover.
 • Nice logos shown on this 1970s NFL drinking glass.
 • The classic mid- to late-1960s NFL single-bar helmet rendition is shown on this set of Minnesota Vikings stickers, a Kraft promo item.
 • In 1983, Steve Garvey of the San Diego Padres peered up at you from your McDonald's tray on this tray liner. "Make Every Hit Count for Ronald McDonald House"!
 • Take a look at this 1961 Topps baseball stamp album. Rather generic box art, but it does come with 160 stamps "neatly affixed." (And the "Property of _________" space is still available for someone's name to be entered!)
 • Yankees fans proudly wore this "Beat Dem Bums" button while watching their Bombers beat the Brooklyn Dodgers in the 1947 World Series.
 • Complex artwork on this 1968 Detroit Lions poster.
 • "Look Kids!" A bag of 10 MLB American League adhesive-backed pennants. Just 49 cents! I'm sure mom loved peeling those off your jacket after she overlooked them and ran it through the washer/dryer.
 • Here's a set of five 1960s Louisville Slugger mini-bats for the A's, Twins, White Sox, Yankees, and Tigers, in a shadowbox-style frame.
• And from reader Niel Scobie, check out this cool 1920s New York Americans jacket!
Got an item to include on Collector's Corner? Tweet submissions to @brinkeguthrie.
• • • • •
• • • • •
The Ticker
By Alex Hider

Baseball News: Cubs 3B Kris Bryant was wearing nifty striped socks the other day (from Bryan Redemske). …  Neal Dorfman caught that the Orioles advertised a new batting practice cap with an orange brim on their Instagram story on Sunday. However, the link the post sent viewers to a page with only all-black caps. Could a new design be coming? … One of the proposed new identities for the Cleveland MLB team is "Municipals." Now a Cleveland brewery is releasing a Municipals-branded beer (from @manyweirddays). … The Tulsa Drillers, the Dodgers' Double-A affiliate, are adding a patch to mark the centennial of the Tulsa Race Massacre. Interesting that the patch has the word "Riot" crossed out and replaced by "Massacre" — has any other commemorative patch design ever featured a cross-out? (From Phil and Dan Bewley.) … Speaking of the Drillers, they've commissioned a mural of Jackie Robinson on Tulsa's Black Wall Street (from W. Ryan Wilbanks and Sam McKinley). … Wichita's new minor league stadium, completed last year, will finally host its first event on April 10 — a college game between Wichita State and Houston (from @PhillyPartTwo).

Pro Football News: Eagles S Jalen Mills, known for his team-colored green hair, has reportedly agreed to a deal with the Patriots. Will he change his hair to red or blue in New England? (From Sam McKinley.) … Speaking of the Patriots, the @PatsTimeMachine Twitter feed tweets Pats news as it happened in 2001 — and uses period-appropriate graphics when announcing transactions (from our own Anthony Emerson). … LT Donald Penn signed a one-day contract with Las Vegas so he could retire as a Raider yesterday, and he signed the contract wearing a custom T-shirt with his face on the team logo (from @DarthTaffeta). … Drew Brees announced he was joining NBC as an analyst yesterday and sat for an interview with Hoda Kotb, who wore a Brees Saints jersey (from Brinke). … When the Hawaiians debuted in the WFL in 1974, they originally wanted to call their shade of gold "Kona Gold" — until they found out that that's a strain of marijuana (from Phillip Tutor). … An Instagram post by Calgary Stampeders QB Bo Levi Mitchell may give some new insight into a potential new helmet design for the team. The helmet Mitchell is wearing has center stripes — which would be a change — and has the team's 75th-anniversary logo on one side. That logo was slated to be used last season — which didn't happen. Wade Heidt notes that the logo could easily be amended to represent 75 seasons instead. … U.S. customs officials in Kansas City have confiscated half a million dollars' worth of counterfeit merchandise, including bogus Patrick Mahomes jerseys.

Hockey News: New mask for Canucks G Thatcher Demko (from Wade Heidt). … Also from Wade: Terry Smith, the man who created the Sharks' logo, has designed a pregame jersey promoting racial equality that the team will wear Saturday. … The Hockey Writers blog has ranked all 20 logos of the teams in the Ontario Hockey League and the top five Bruins uniforms of all time (from Kary Klismet). … Panthers D Keith Yandle recently played his 1,000th game, so the team gave him a commemorative golf cart with logos of the other two teams he's played for, the Rangers and Coyotes. However, they used Arizona's throwback logo — which Yandle never wore during his time in Arizona (from Cole Posluns). … Here's a look inside UBS Arena, the soon-to-be completed home of the Islanders (from Andreas Papadopoulos). … Also from Andreas: How do you get Canadians to wear Covid masks? Make hockey jokes! That's what Prime Minister Justin Trudeau did yesterday when he put a surgical mask on an old Ken Dryden goalie mask. … Some of you may have seen this old Sporting News cover featuring Bobby Hull with a football-style facemask, but it's always worth seeing again (from Patrick Cooleybeck). …  Mariucci Arena, the home of the Minnesota Golden Gophers, has new signage to celebrate the team's 100th season (from Ray Wroblewski). … Timmy Steffes recently found out a friend's grandfather played with the Canadiens in the 1950s, and sent along a photo of his jacket. Very reminiscent of the jacket Todd Morss recently DIY'd himself, no?

Basketball News: Nike will be outfitting the most teams — 48 — in the upcoming NCAA Tournament. Adidas and Under Armour are outfitting 10 teams apiece. … More on the tourney: ESPN has a guide to every tourney team's colors and mascot (from Kary Klismet). … The Indianapolis Children's Museum outfitted its enormous dinosaur sculptures with masks, basketballs and whistles in honor of March Madness. But Derek Linn says most refs use Fox 40 Classic whistles these days, while the dinosaurs were outfitted with pea whistles that "went out of style" years ago. … Check out the warm-ups for 1976 North Miami Beach High School (Florida) boy's basketball team. "They always reminded me of the Harlem Globetrotters," says Francisco Monteagudo, who served as the team's manager.

Soccer News: The Swedish women's team KIF Örebro has a new crest and changed its colors to red and "dark grey" instead of red and blue (from our own Jamie Rathjen). … FC St. Pauli wore an anti-racism message in place of their jersey ad yesterday (from Ed Żelaski). … It's not often you see a midfield logo on a soccer pitch, but Charlotte FC currently currently has one at their future home, Bank of America Stadium (from James Gilbert).

Grab Bag: This is a rundown of all the recent logo updates of major car manufacturers (from Kary Klismet). … Here's a website called Scoreboard Pressure, which "celebrates the variety of scoreboards and sports grounds across Australia." The same people behind that site also have an Instagram account devoted to abandoned Australian cricket pitches (from Naomie Hatherley). … Police in Weymouth, Mass., are selling patches in support of a local boy who's battling cancer (from Timmy Donahue). … The Philadelphia Fire Department celebrated its 150th anniversary yesterday with a commemorative logo (from @Bilder_CEM). … The Calgary Curling Bubble hosted the Brier last week and is hosting the Canadian Mixed Doubles Curling Championship this week — which required a new ice design (from Wade Heidt). … PTI's Tony Kornheiser decorated his office to celebrate St. Paddy's Day but mixed some four-leaf clovers in with the shamrock decorations (from Jeff Pollock). … The Supreme Court of Canada has unveiled a new coat of arms, flag and badge (from Andreas Papadopoulos). … Here's the fire suit Brad Keselowski will wear at the Folds of Honor QuikTrip 500 on Sunday (from Jakob Fox).
• • • • •
• • • • •
• • • • •
Our latest raffle winner is UK reader Ben Humphries, who's won himself a Uni Watch membership card. Congrats to him, and thanks to Jacob Olson for sponsoring this one. We'll have another raffle (not for a membership card!) tomorrow. — Paul