Allow me to re-introduce myself. #SFGiants pic.twitter.com/sI7hIdxGc3

— SFGiants (@SFGiants) February 23, 2021
We've known for several months now that the Giants would be wearing NOBs on their home jerseys in 2021 — the first time they've done so since moving into their current ballpark in 2000. Yesterday they gave us our first peek at how that will look by posting a promotional video on their social media channels (see above).
Ordinarily, this would merit a Ticker mention or, at most, a sub-lede. But as I watched the video yesterday afternoon, I was struck by something: The radial arching on the NOBs shown in the video is bad. Like, really bad.
Some quick background: The idea behind radial arching is that the base of the letters should form a curve, like this (for this and all photos that follow, you can click to enlarge):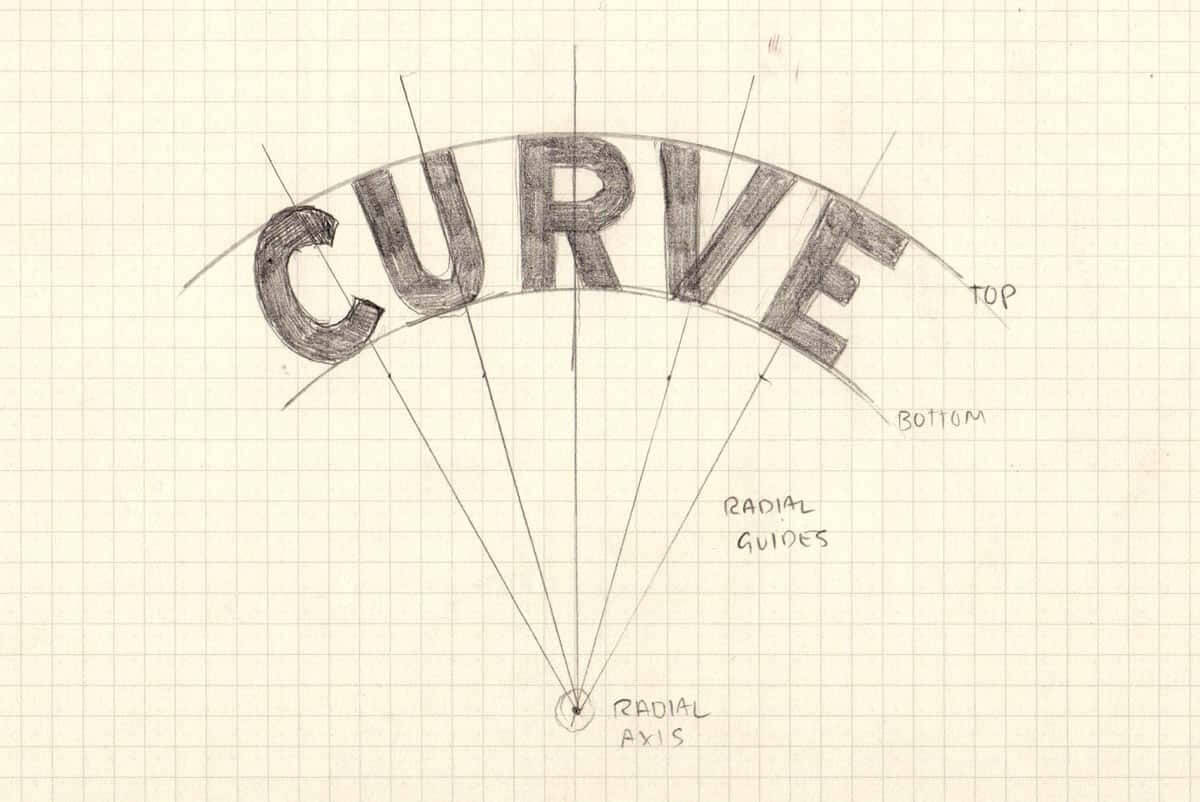 Sporting goods shops and professional stitchers often achieve that curvature by using a template, like so: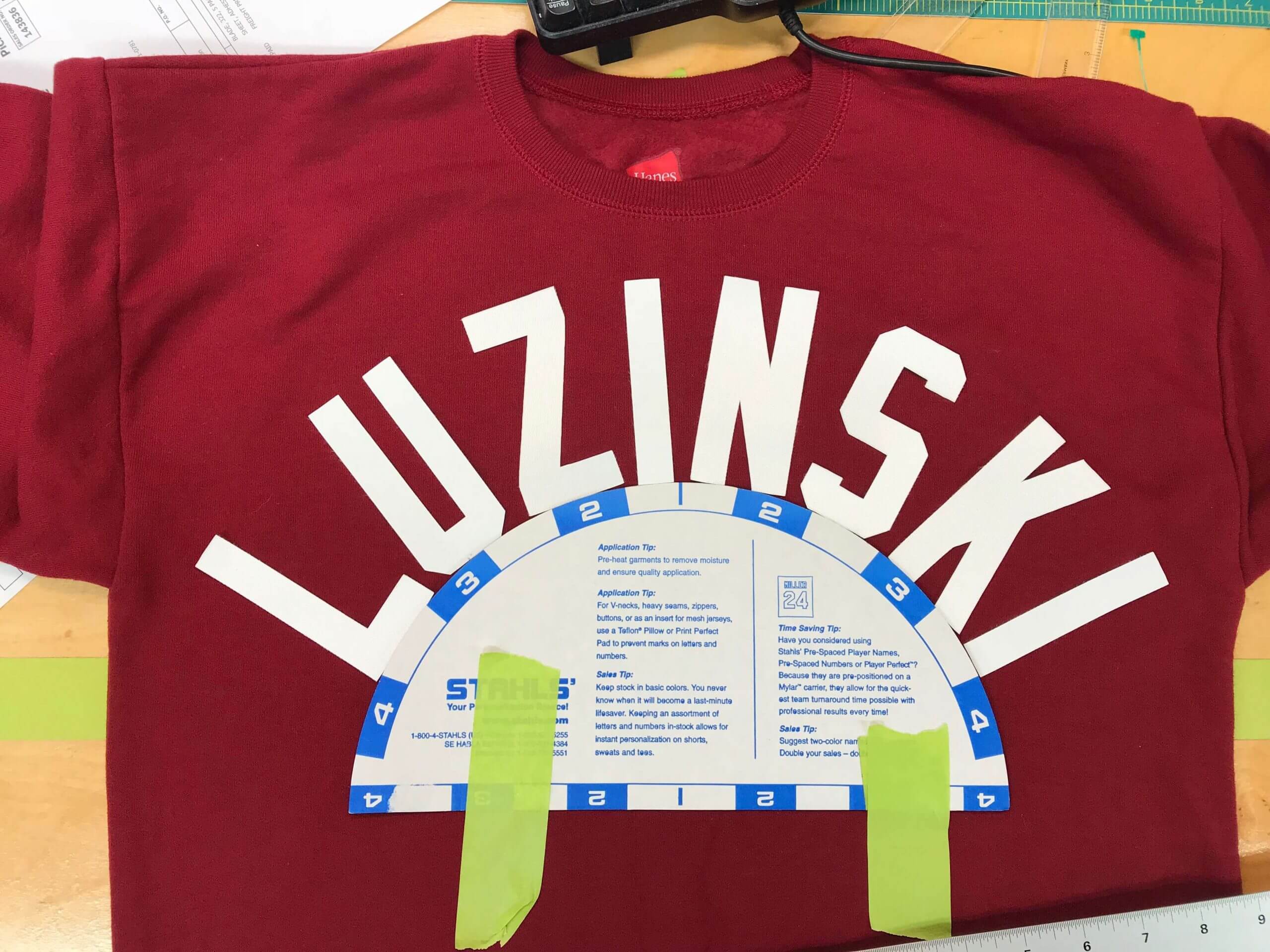 Simple enough, right? Here are some video clips showing this type of template in use:
I don't know if the NOBs in the Giants' video were sewn on by Nike or by someone connected to the team. Either way, it's fairly obvious that they didn't use a template like the ones in those videos, or any other method that might achieve a pleasing radial arch. Check out, for example, what they did to poor Buster Posey's name: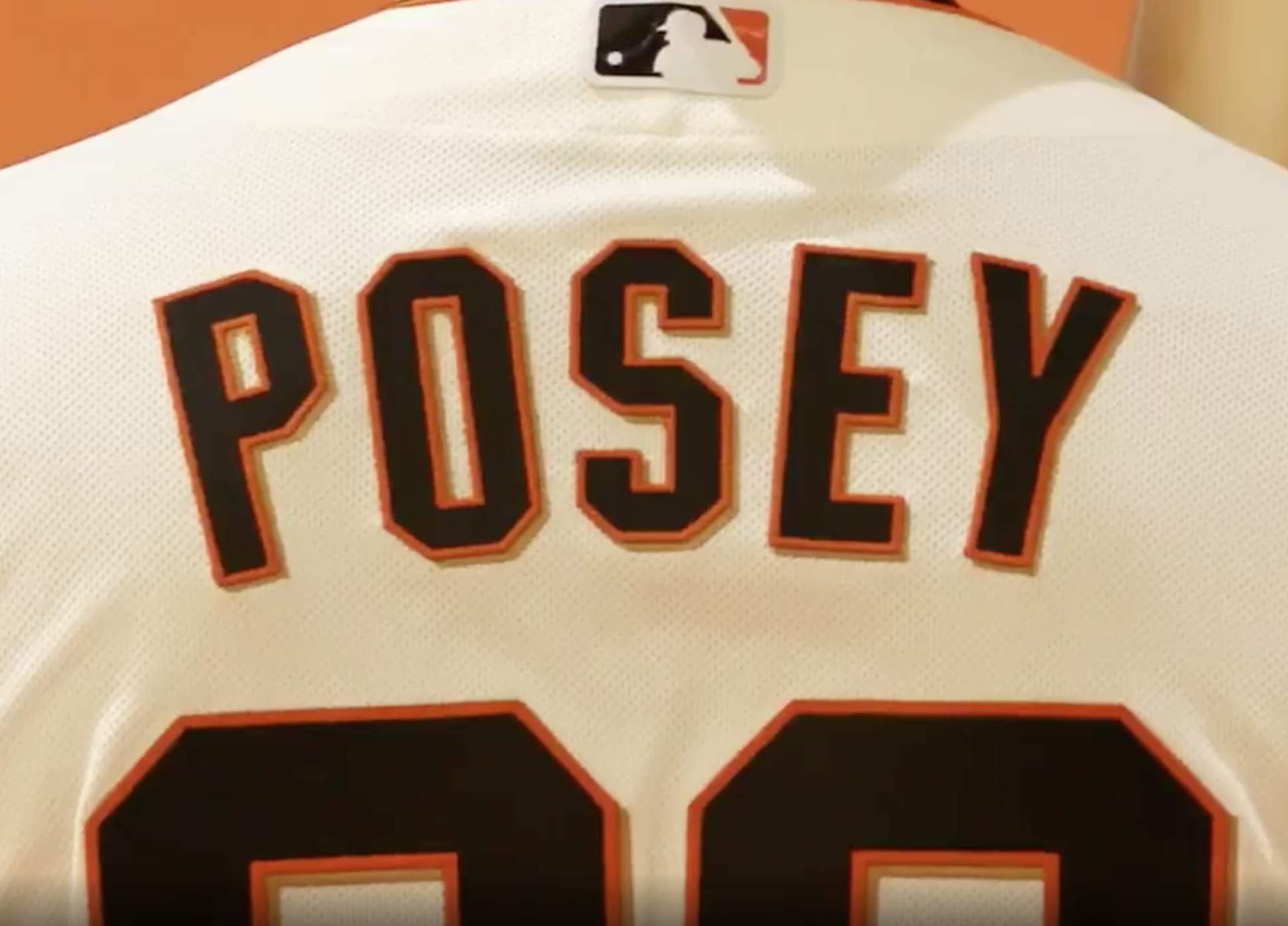 Ugh — what a disaster. The "P" is much higher than the "O," the "Y" is higher than the "E," the letters are more flared than arched, and the whole thing feels clunky. It would be easy to make various jokes here ("Hey, of course they don't know how to do NOBs, they're way out of practice!"), but the Giants have had NOBs on their road uniforms all along, so it's not as though this is something new for them.
And that's just the tip of the iceberg. There are 16 NOBs crammed into that Giants video besides Posey's. Most of them fly by too quickly to get a good look at them, but some screen shots reveal that most of them are astonishingly shoddy.
Just to be fair, let's start with one that's actually pretty good: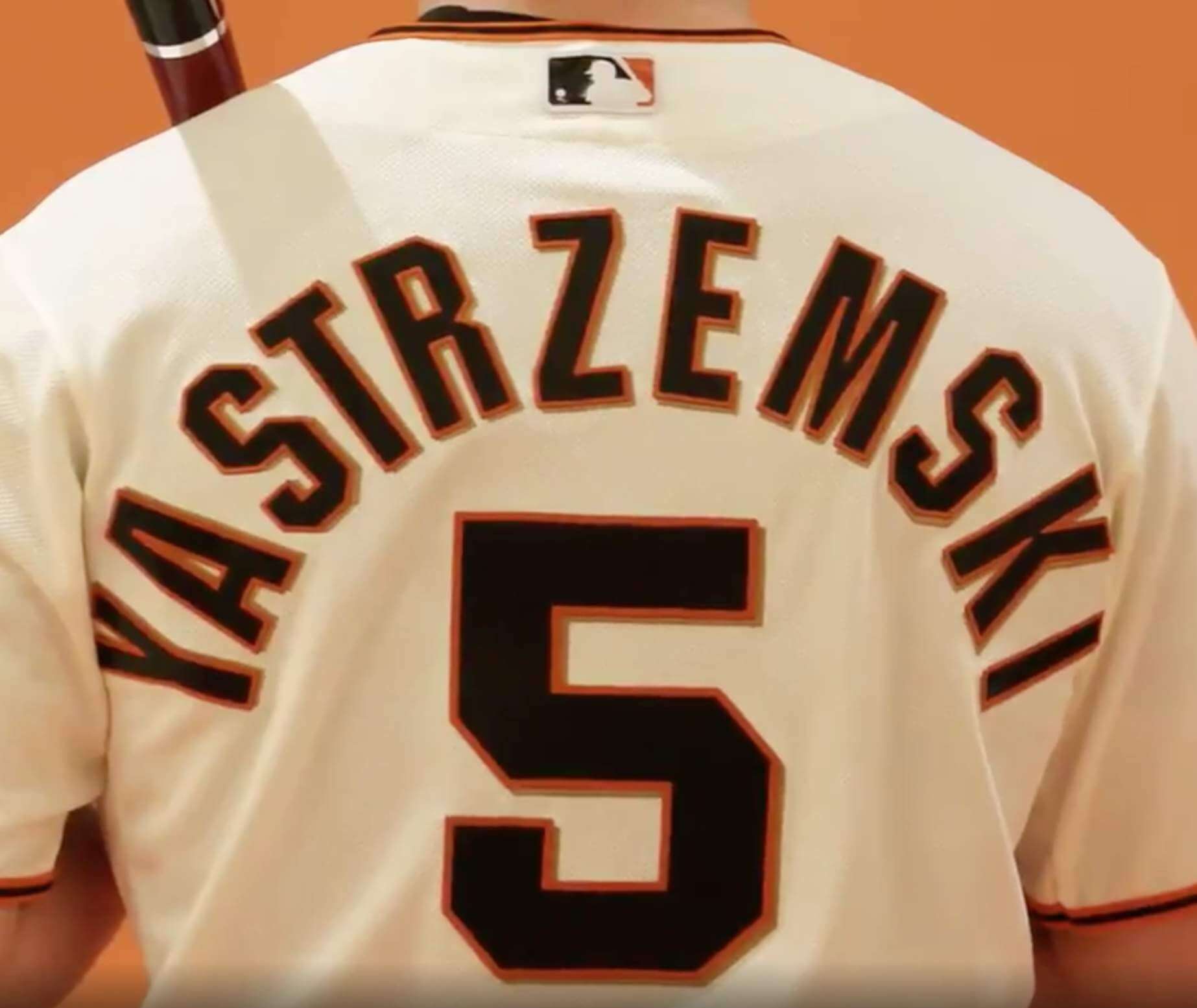 That's not bad, right? Nice curvature, decent treatment of a lengthy, challenging name.
Here's another one that's pretty decent, or at least acceptable: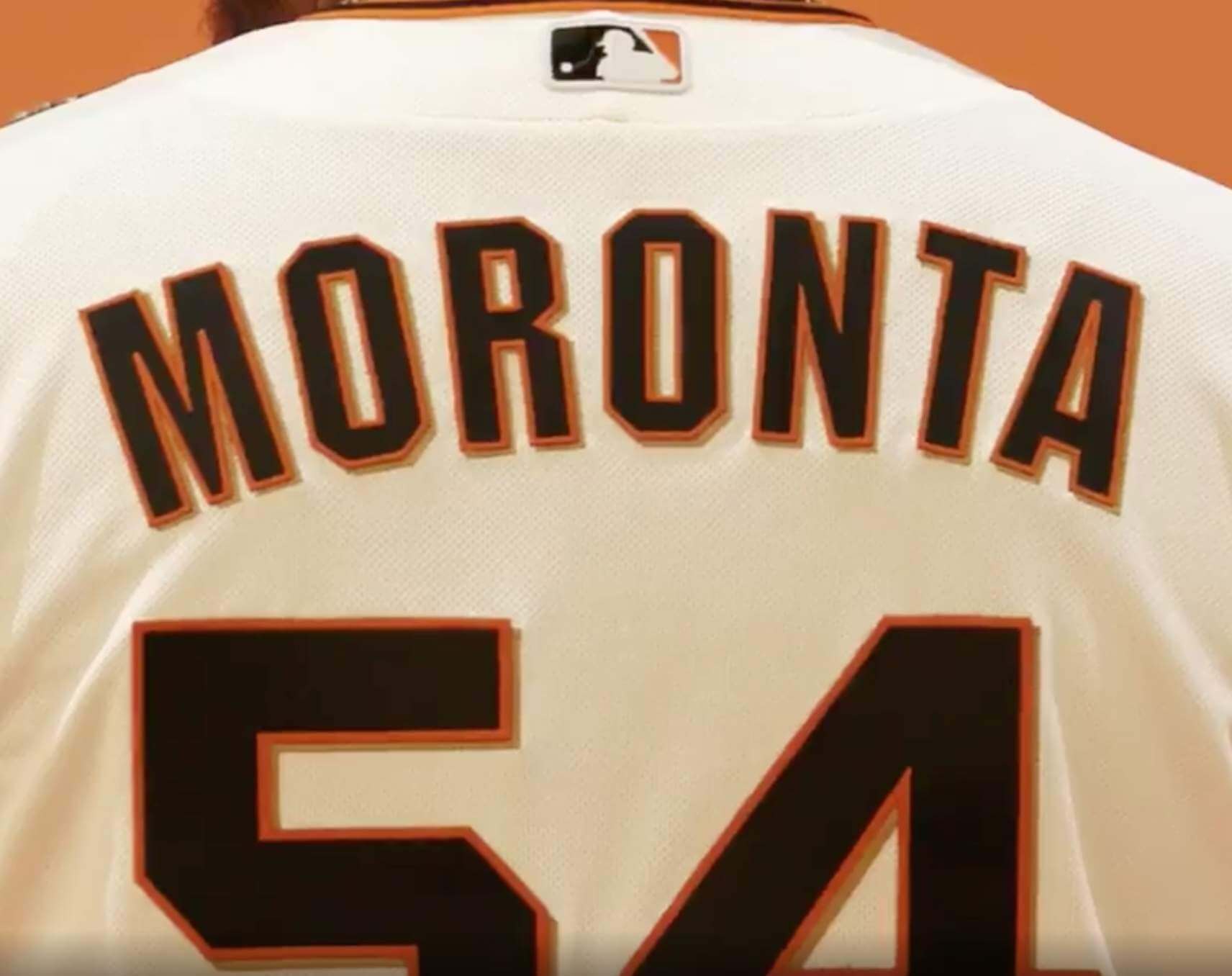 Unfortunately, it's mostly downhill from there. Consider, for example, this one, for second baseman Donavan Solano:
Yikes! Just try to draw a consistent curve along the bottoms of those letters. What a mess!
And if you think that's bad (which you most assuredly do!), check out this one, for catcher Curt Casali: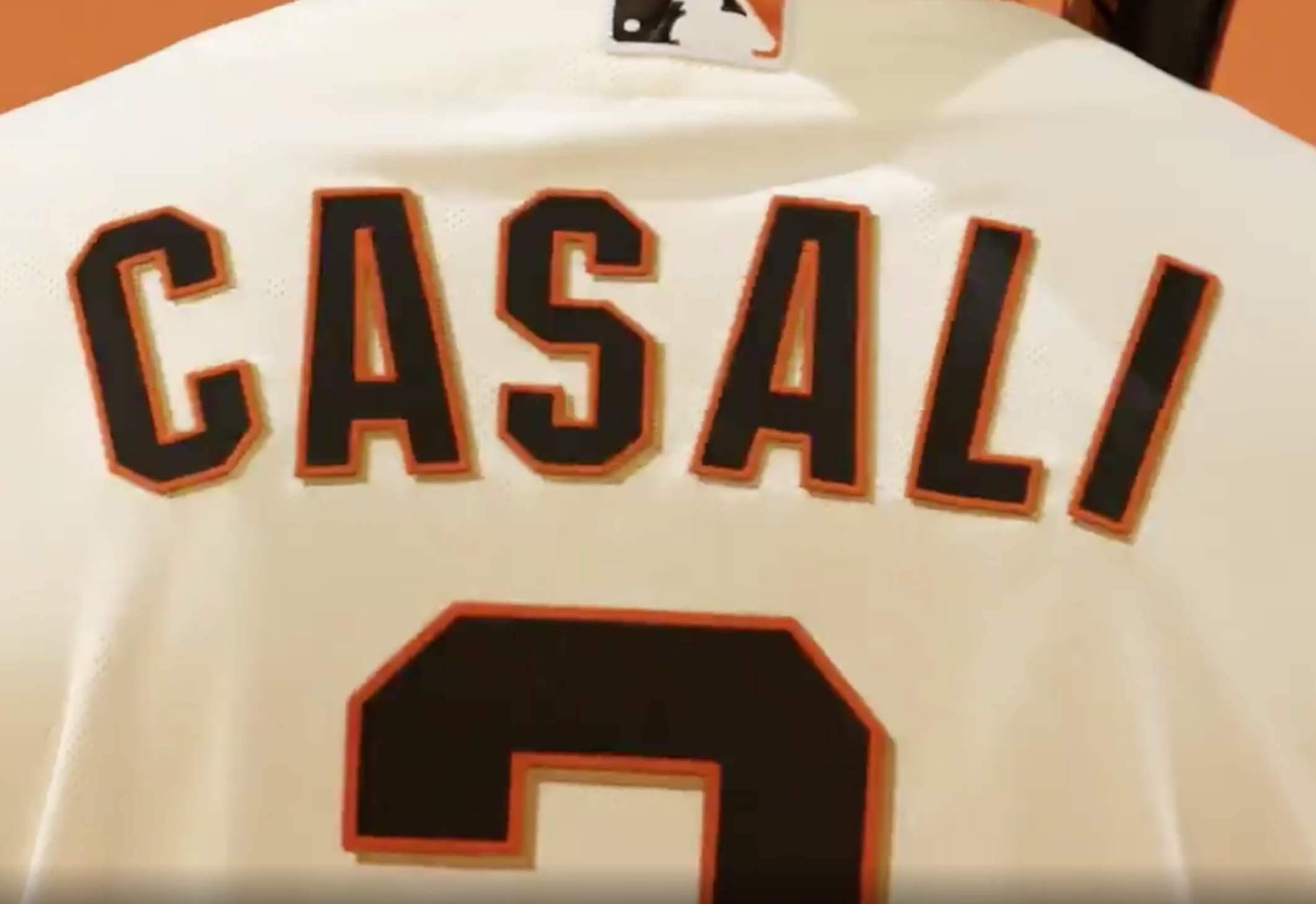 You'd think a four-letter name would be simple enough. But you'd be wrong, at least judging by the NOB for pitcher Logan Webb: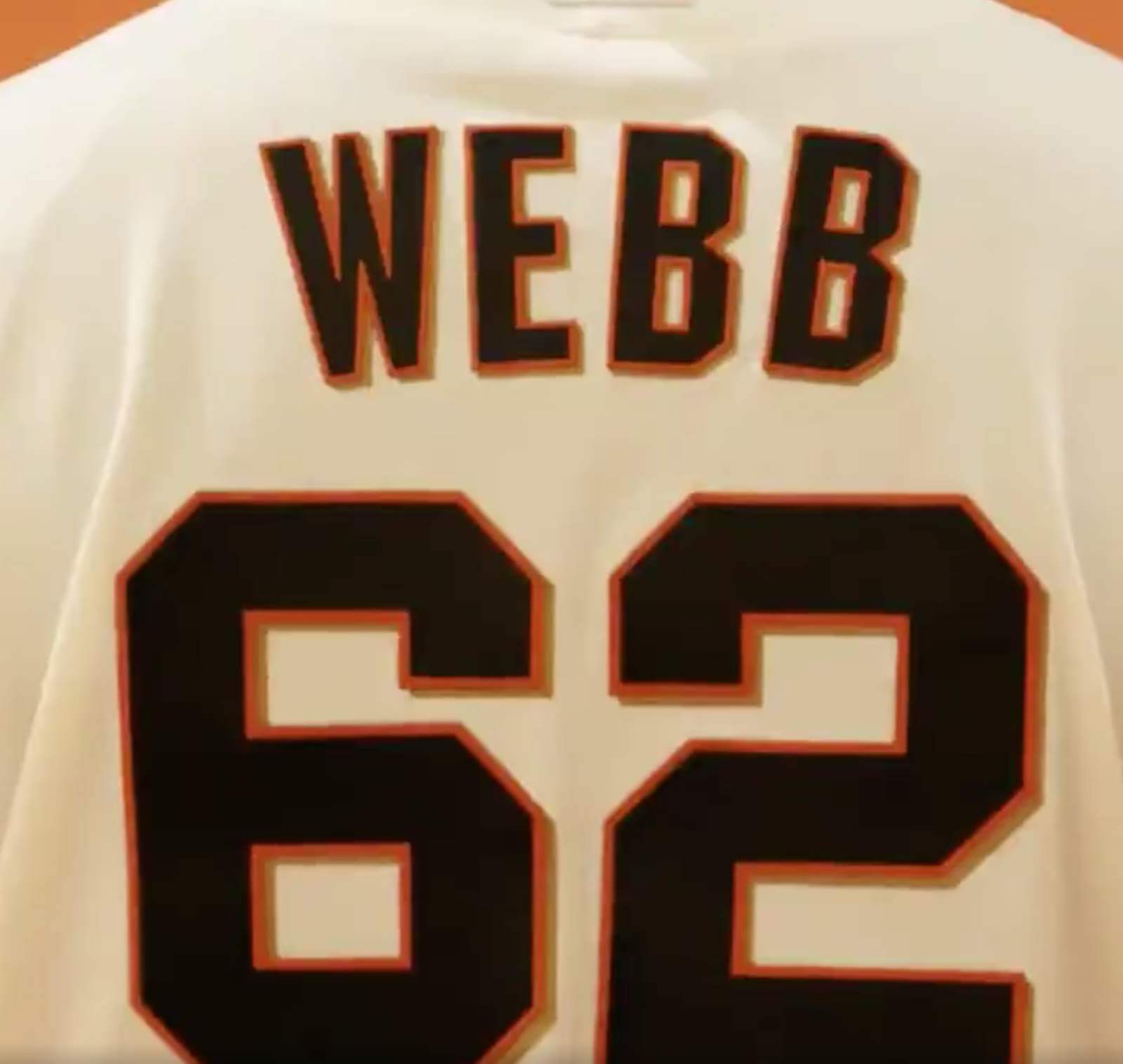 Look at that second "B" — are you fucking kidding me?
You might also think that "Bart" would be a simple name for a San Francisco team, since it's also the name of the city's mass transit system. But again, you'd be wrong: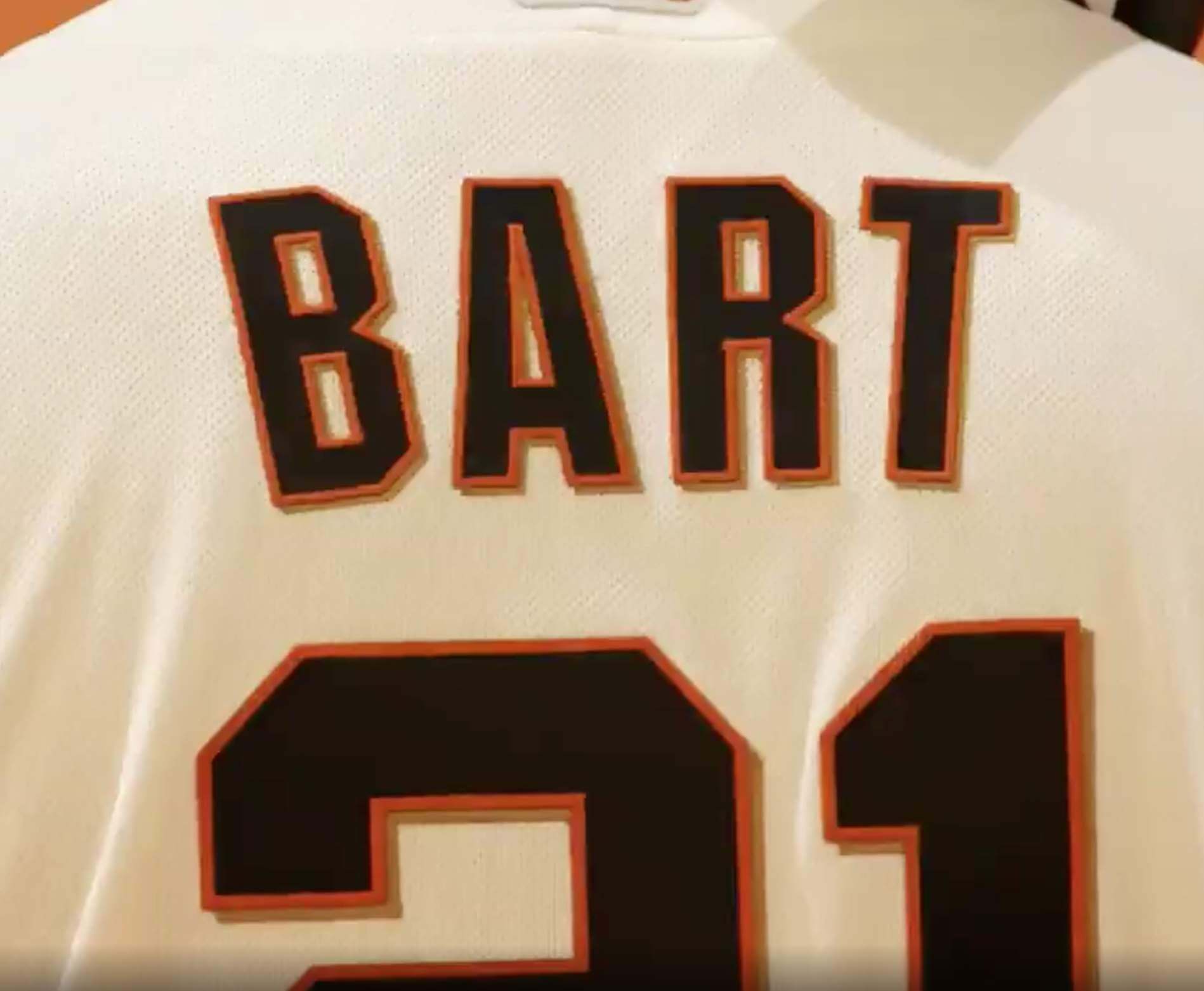 Kevin Gausman's treatment starts out promisingly, but then it goes off the rails at the end: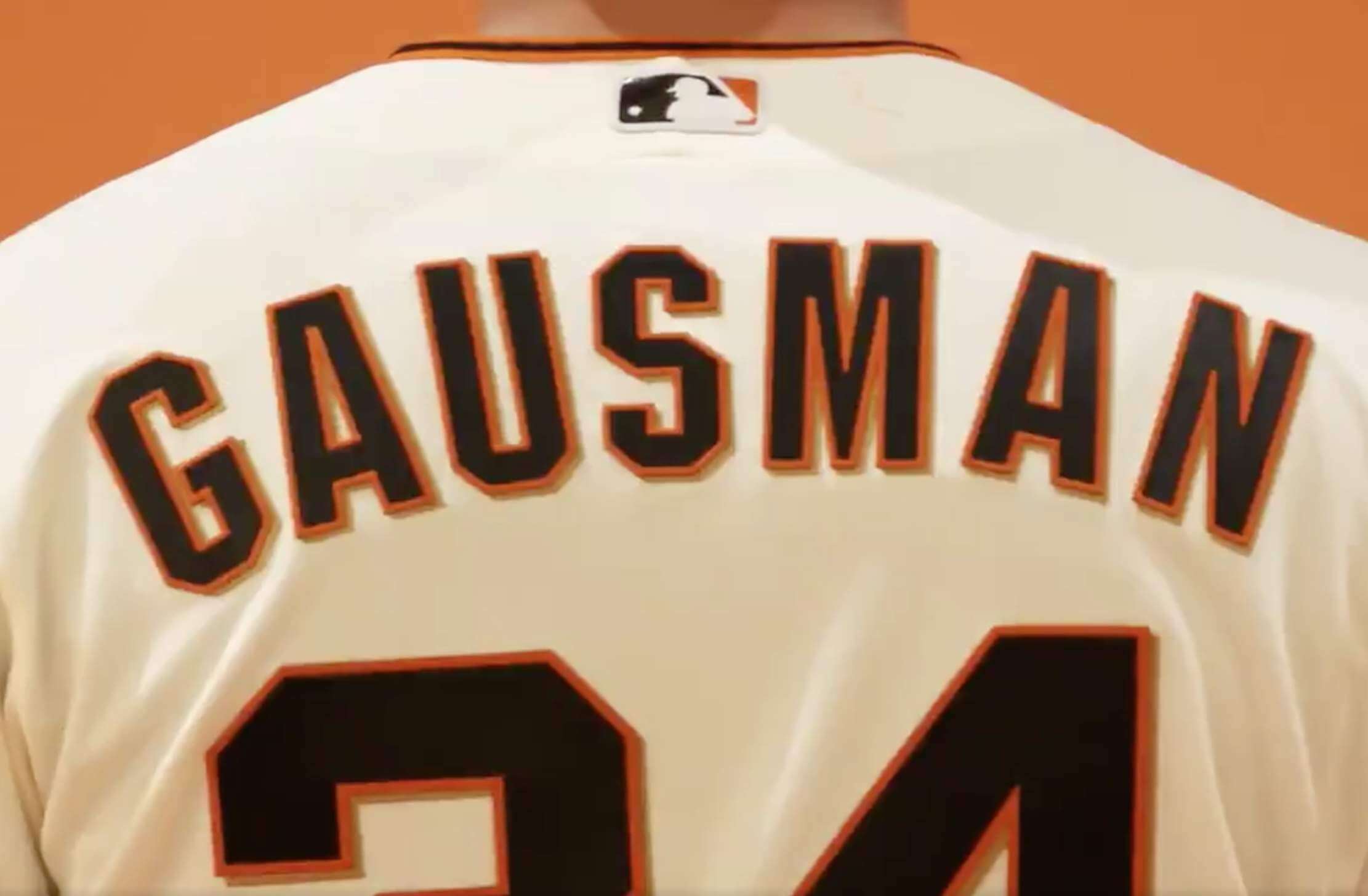 Similarly, Brandon Crawford's is okay, or at least okay-ish, until the final letter ruins everything: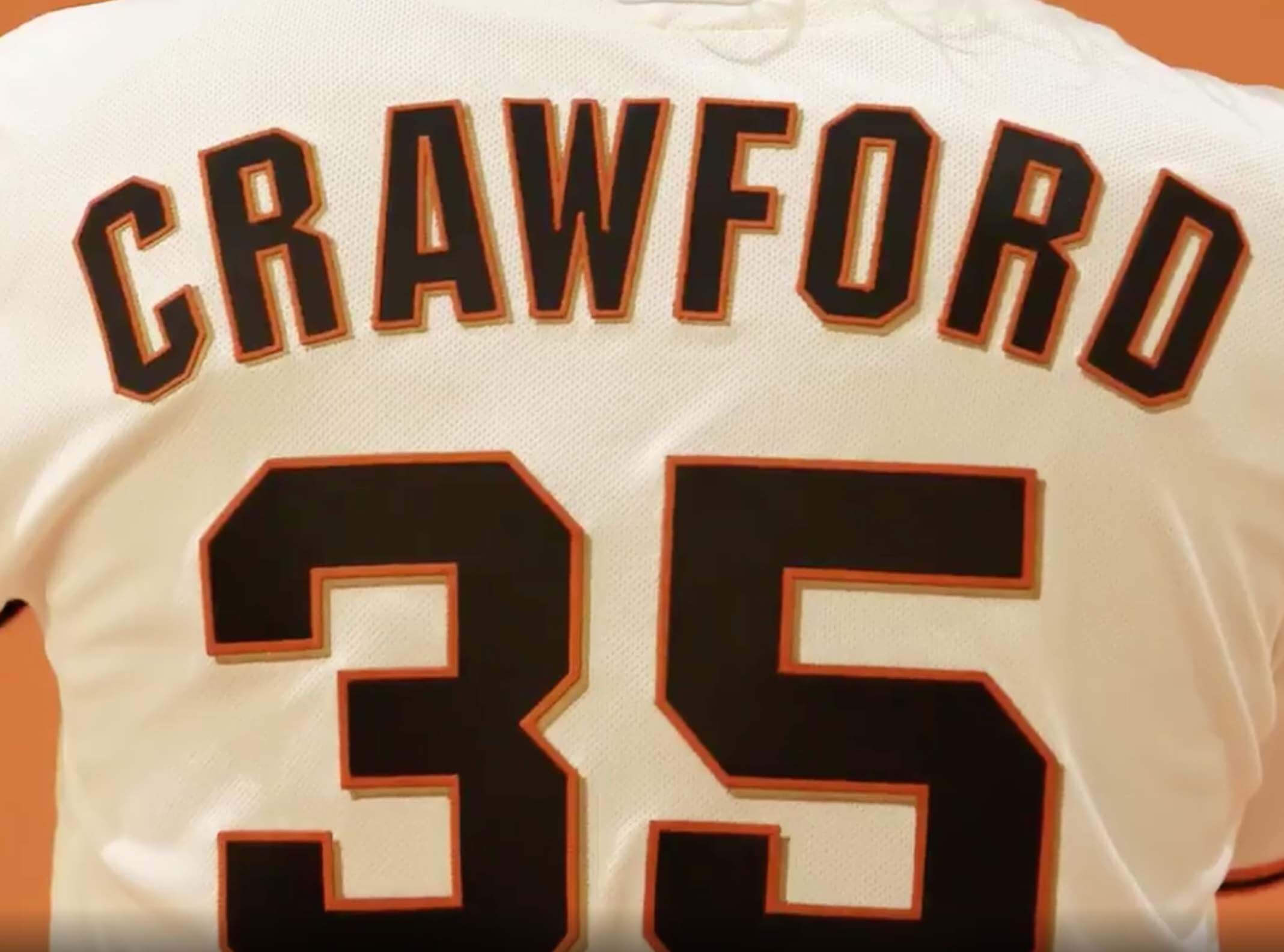 ———
And so on. I don't mean to pick on the Giants (a team I generally like, and whose uniforms I've long admired). I'm just puzzled by how an MLB team could go public with such slipshod work. And it's not as though the NOBs are just a background element here — they're the whole
point of the video!
I wasn't aware of this being a chronic Giants issue until now. Has the problem been hiding in plain sight all along and we all just missed it? In an attempt to answer that question, I looked up some photos from a September 2020 road game. While the curvature isn't as steep as I might prefer, the letters generally look fine: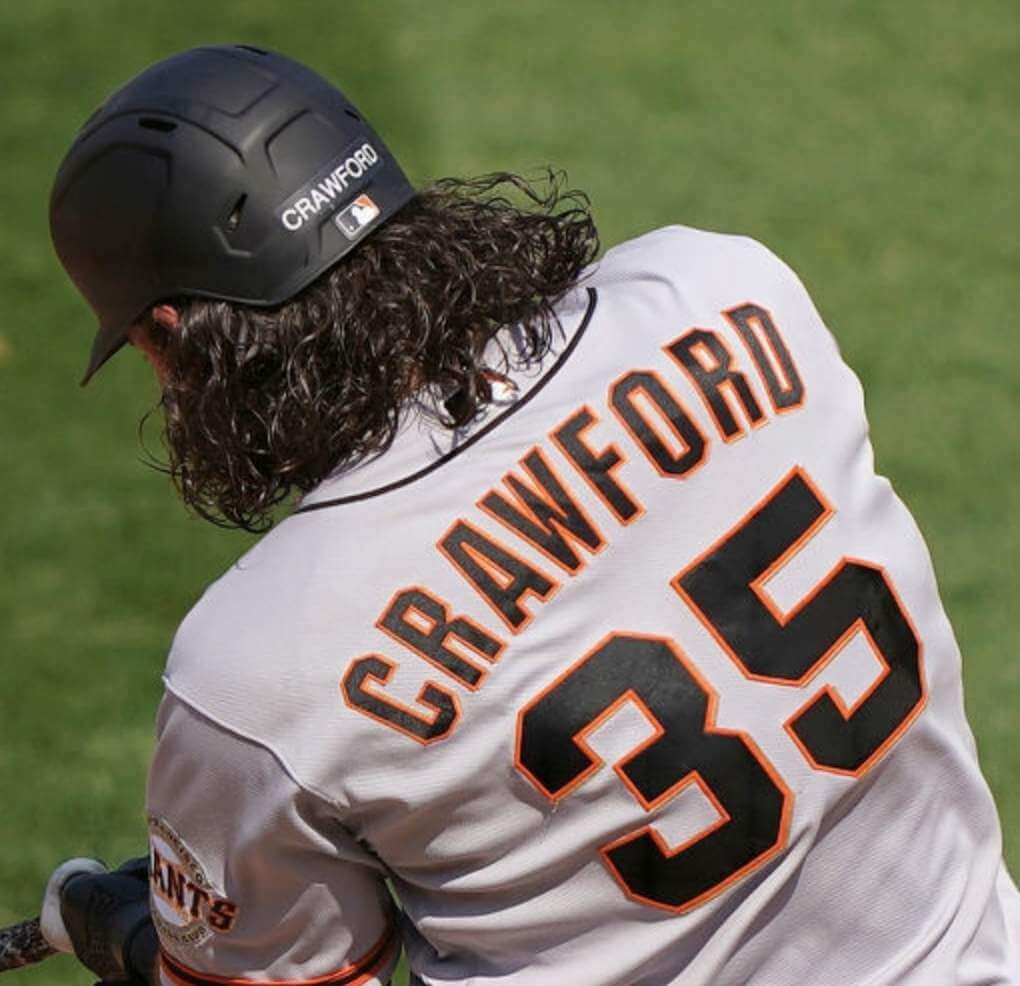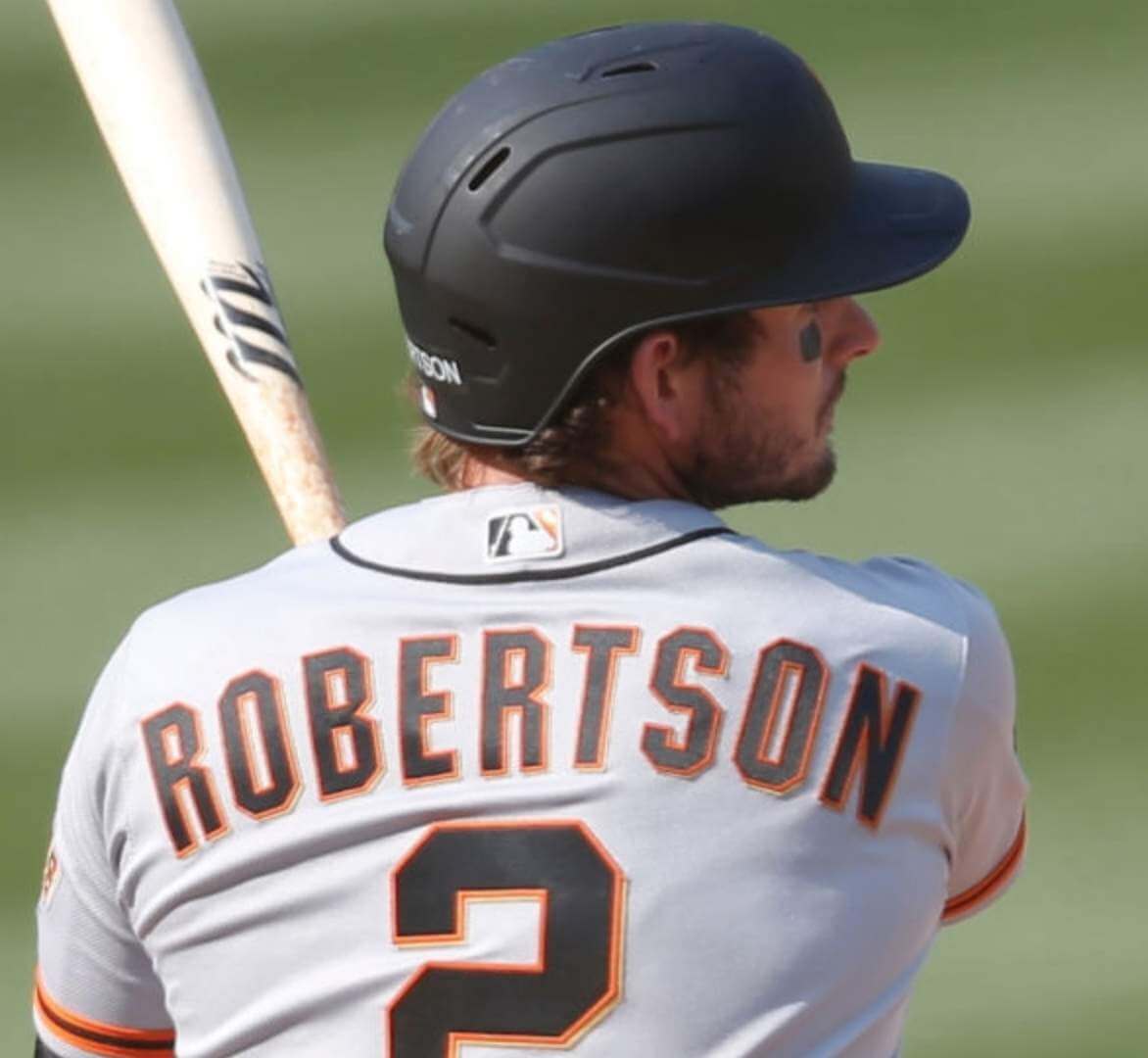 Embed from Getty Images
So the problem appears to have been unique to yesterday's video, not a larger systemic issue.
I was going to conclude by saying something like, "The Giants should know as well as anyone that it's not that hard to get a pleasing radial arch — all they have to do is look at the front of the jersey." But the video concludes with a front-view shot that's almost as bad as the NOBs: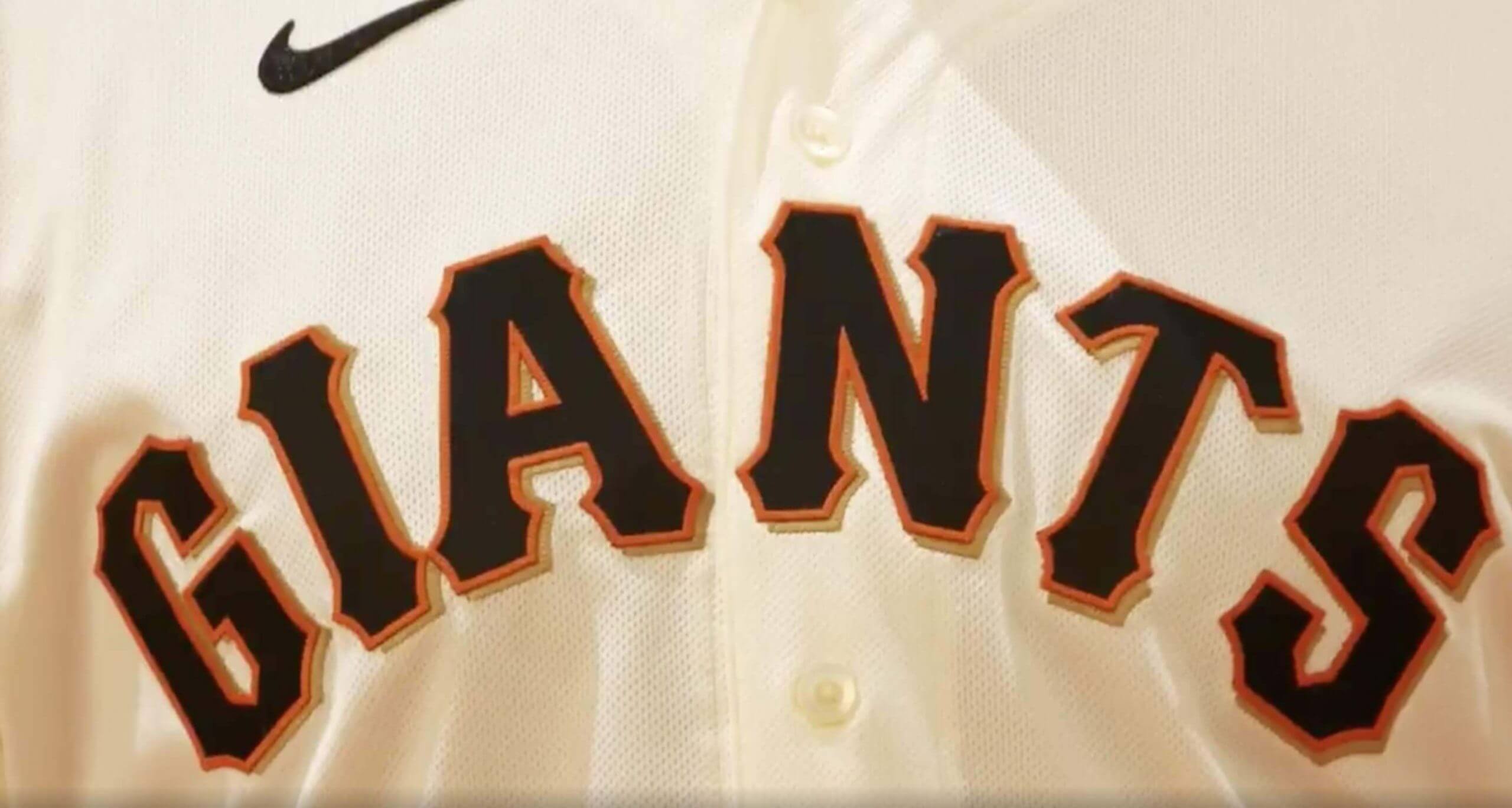 Ay yi yi — look at that "N"!
Well, it's still spring training. Let's hope the Giants whip their lettering game into shape in time for Opening Day.
(My thanks to Bill Henderson for the template photo, and to Bryan Redemske, Andy Davis, and @ayyyynick for the template videos.)
• • • • •
• • • • •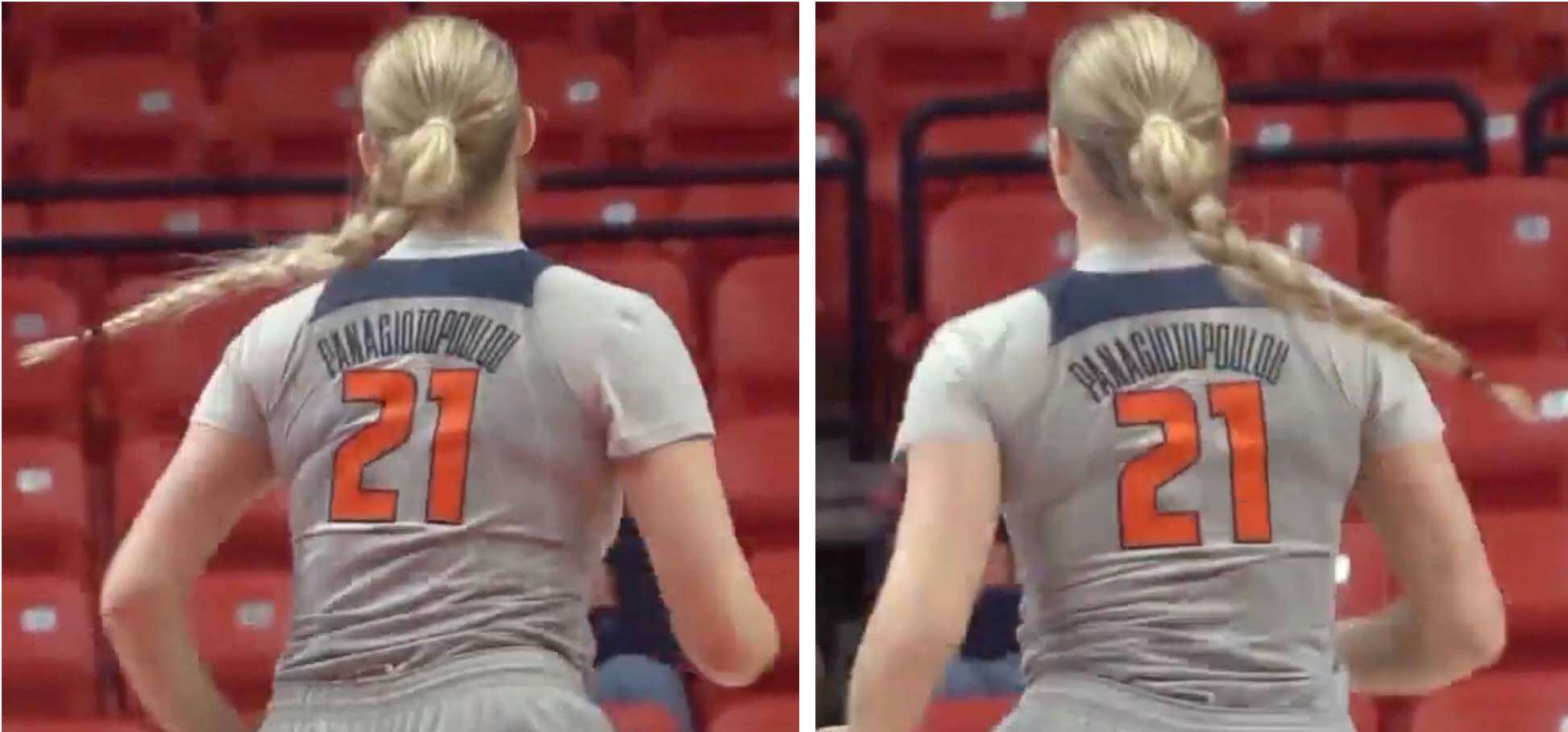 Click to enlarge
Speaking of NOBs: Meet Nancy Panagiotopoulou, a forward on the Illinois women's basketball team. As you can probably guess from her surname, she's from Greece. And as you can see, they've gone with some seriously compressed typography (and some very nice radial arching!) for her 15-letter NOB.
But wait! It could've been even worse — or better, depending on your point of view — because her full name is actually Nancy Panagiotopoulou Andritsopoulou! But they've omitted the "Andritsopoulou" from of her jersey. (Perhaps someone familiar with Greek naming protocols could tell us more about this..?)
Wondering how to pronounce "Panagiotopoulou"? Watch this video.
Still more NOB news: As you may recall, Mariners infielder Dee Gordon announced last September that he was changing his NOB to Strange-Gordon, in honor of his late mother. (His legal surname has always been "Strange-Gordon," but he initially decided to go with "Gordon" as his professional name after a minor league P.A. announcer botched his name.) The 14-letter NOB, plus the hyphen, plus-plus the Mariners' three-color NOB lettering, plus-plus-plus Strange-Gordon's slender frame, combined to create one of history's all-time clunkiest-looking NOB treatments: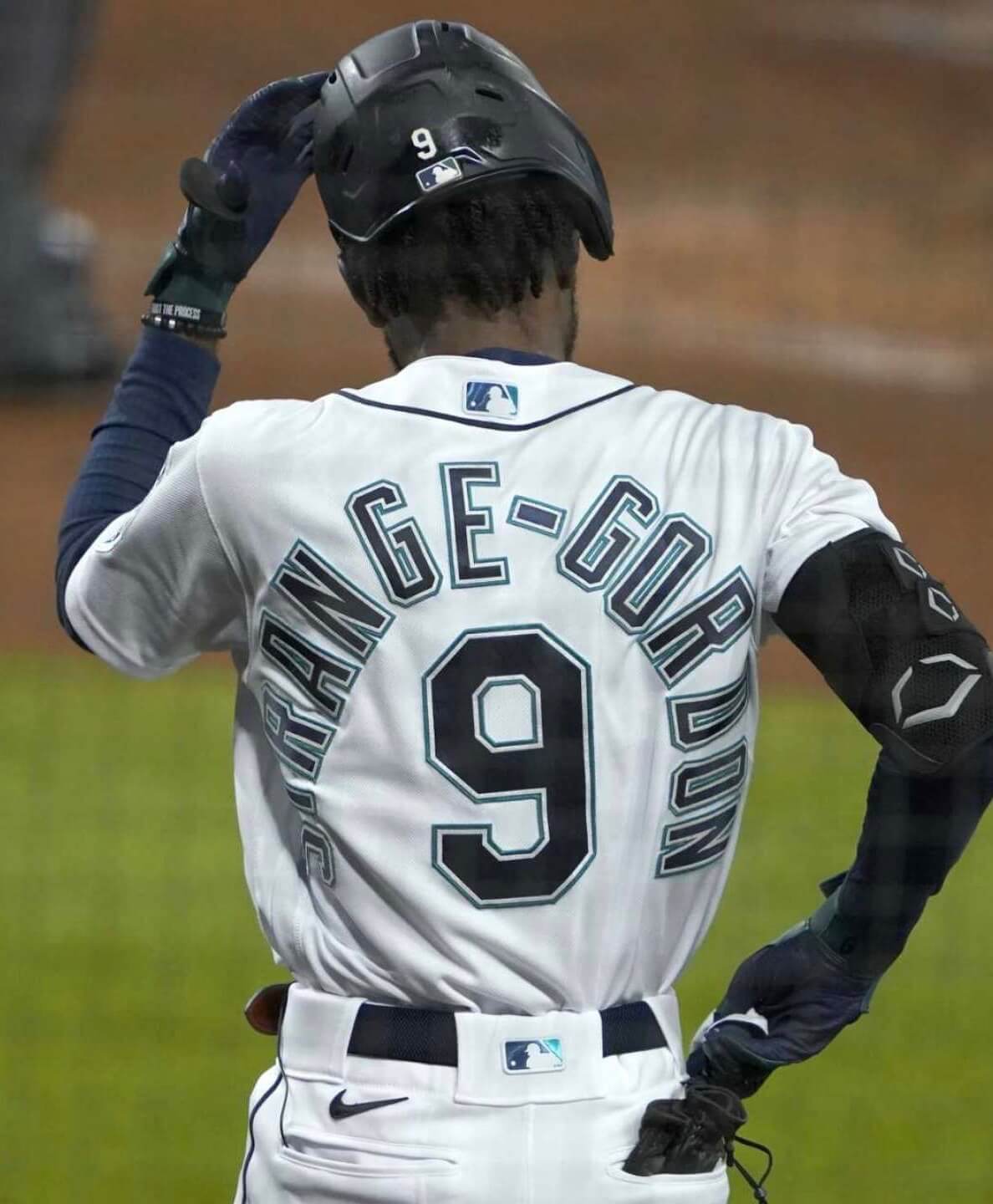 The good news is that Strange-Gordon became a free agent after the 2020 season, so we won't have to see that Mariners treatment of his NOB anymore. The bad news is that he signed with the Reds, whose NOB lettering isn't much better than Seattle's: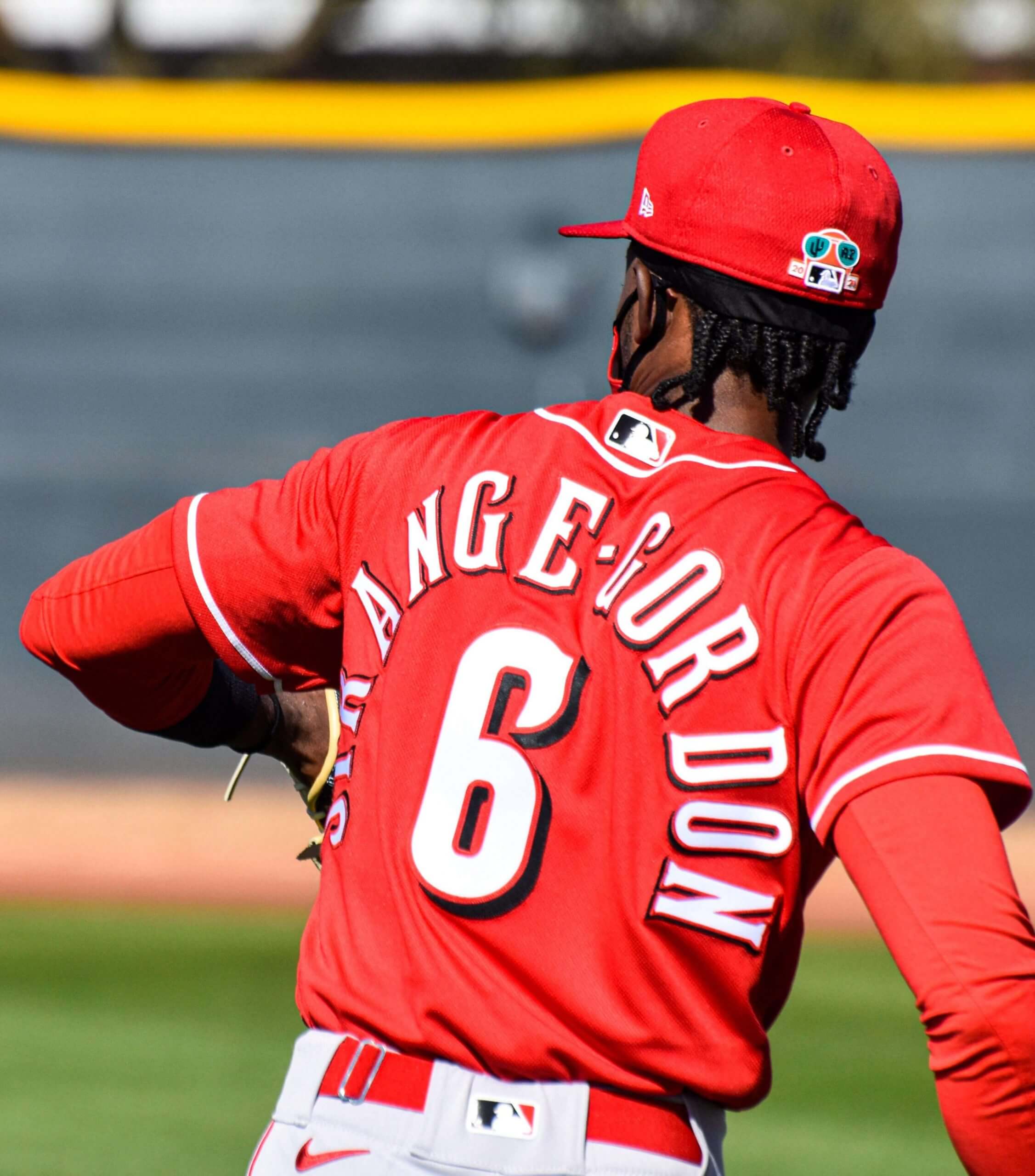 Maybe the Mariners and Reds could learn something from Illinois, eh?
(My thanks to Josh Claywell, Mike Nessen, and Jason Scherer for their contributions to this section.)
• • • • •
• • • • •
This was mentioned to me this morning, but Vandy showed Kumar Rocker throwing a slider and a cutter yesterday. In the video below the second pitch is identified as a "cutter" at 91 mph. The first is an 84 mph slider. Another interesting wrinkle to yesterday's starts. pic.twitter.com/AFcQ4bm62g

— Ralph Lifshitz (@ProspectJesus) February 23, 2021
Finally, something that isn't about NOBs: Check out the video clip above, which shows Vanderbilt wearing mono-black a few days ago. Since the backstop is also black, pitcher Kumar Rocker and his catcher were hard to discern. It all gives new meaning to the term "camouflage uniform."
A similar situation unfolded yesterday for Texas State, which also went mono-black against a dark backdrop. There's presumably a batter in there somewhere:
B2 | Get runners in scoring position on a balk#EatEmUp #ComebackStrong pic.twitter.com/IYe3XlkwbV

— TxStateBaseball (@TxStateBaseball) February 23, 2021
(My thanks to Trevor Lytle and Colton McWilliams for these two items.)
• • • • •
• • • • •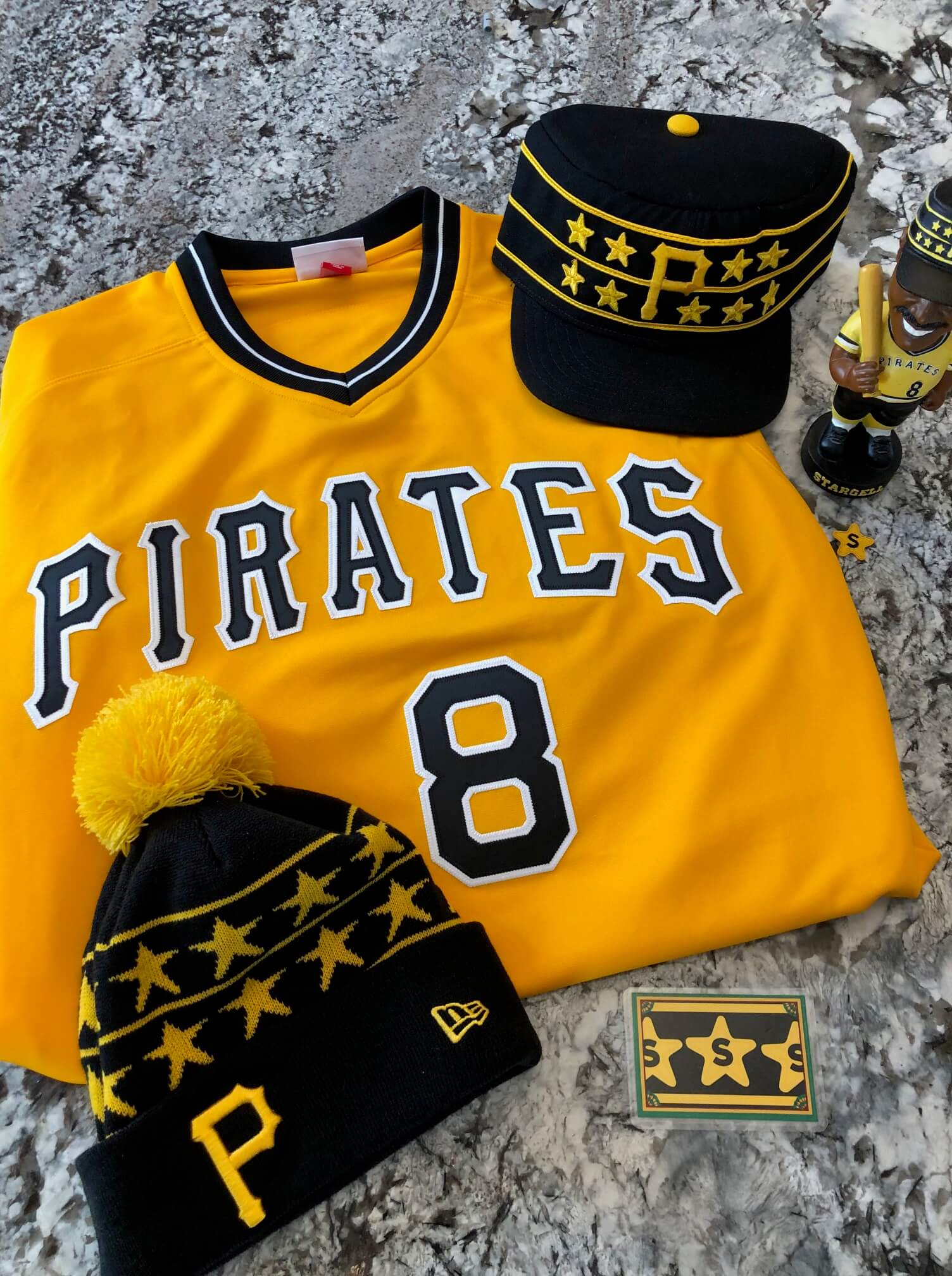 Click to enlarge
The remove-ment expands to knitwear As you can see above, Uni Watch reader Brian Pidgeon really likes Stargell stars. What he does not like, however, is the annoying New Era maker's mark, especially the one on his new Stargell-style knit winter hat. But he knew just what to do: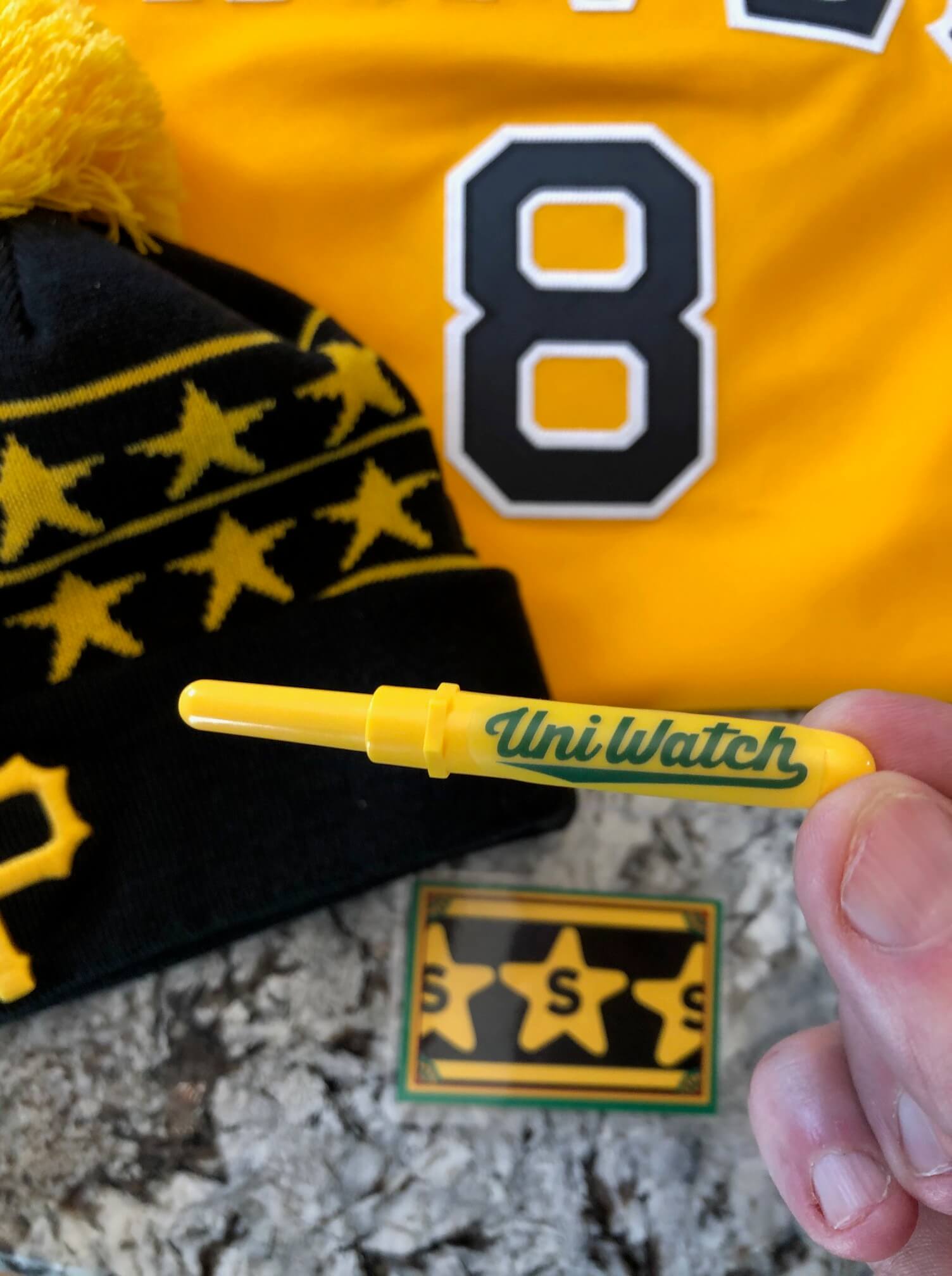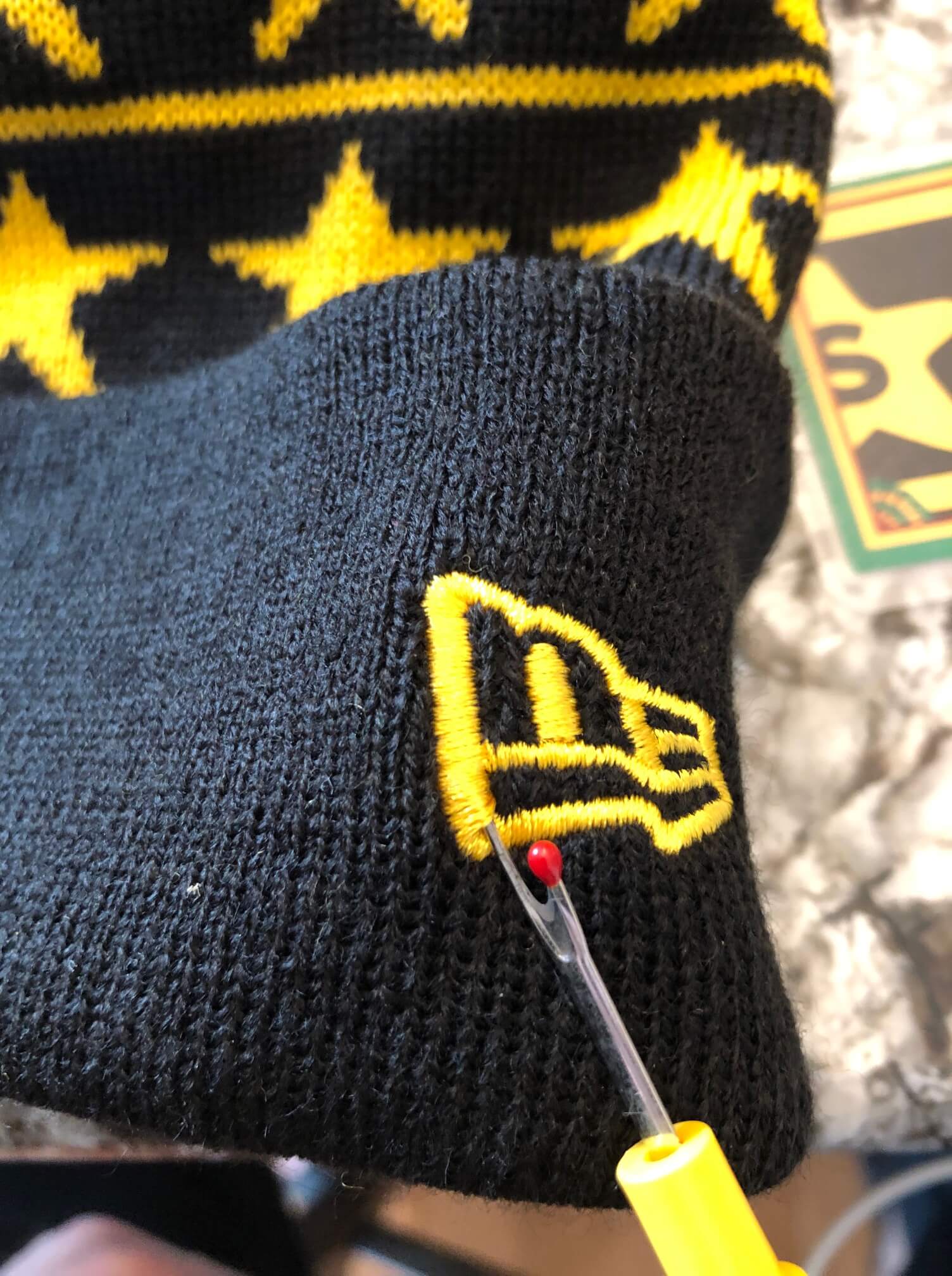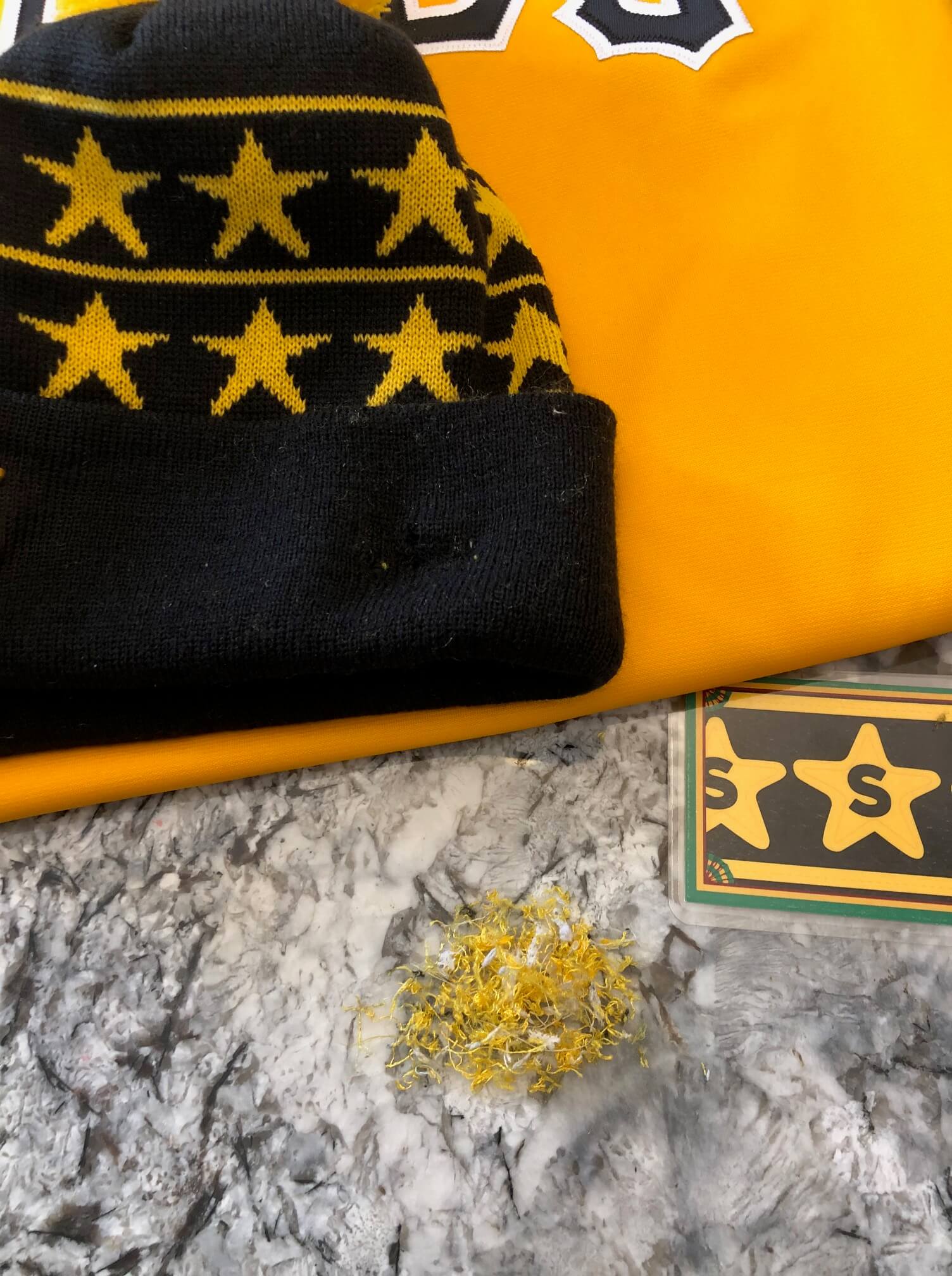 "It's the first time I've tried it on a knit hat," says Brian. "The fabric is tough to work with without getting snags, and I ended up with a few holes. But since it's dark fabric, you can't really see it even when I put it on. Even with the holes, it looks much better now!"
Nicely done, Brian. Congrats on breaking this new ground in the remove-ment. #NoEra
• • • • •
• • • • •
The Ticker
By Lloyd Alaban

Baseball News: Mets P Taijuan Walker confirmed that he's wearing No. 99, instead of his preferred double-zero, because the Mets' mascot, Mr. Met, wears No. 00 (from multiple readers). … Some cap inconsistencies in Cubs camp (from Phillip Tutor). … Phillies RF Bryce Harper showed up to practice yesterday in very Philadelphia-themed attire. His shirt says "Clearwooder," a reference — in a Philly accent — to the city of Clearwater, Fla., where the Phils spend spring training. His toque says "Jawn," which is a placeholder word for anyone or anything in Philly slang (from @PhillyPartTwo). … Blue Jays SS Bo Bichette wore custom cleats with "BO FLOW" on them for practice yesterday (from Ryan, who didn't give his last name). … Twins DH/RF Nelson Cruz wore teammate Miguel Sanó's pants at practice yesterday. Sanó is much taller and bigger than Cruz, which made for some entertaining photos (from @bivlo). … A priest in St. Paul, Minn., is auctioning off his baseball card collection — valued at an estimated $25,000 — for charity (from Anthony Nuccio).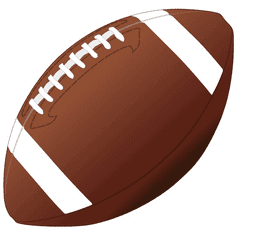 Football News: UNC freshmen have received their uni numbers (from James Gilbert). … @PaperStadiums's latest creation is a model of Notre Dame Stadium, complete with Touchdown Jesus (from our own Brinke Guthrie). … Mark Whipple made smartphone wallpapers showing every helmet Pitt has ever worn (from Sebastian Smelko).

Hockey News: With the debut of the Capitals' ЯR uniforms last night, F Alex Ovechkin has now worn 10 different Caps uniforms in his career (from Casey, who didn't give his last name). … Lightning G Andrei Vasilevskiy's new mask changes colors based on the temperature (from John Muir). … This is very cool: A Hurricanes fan is keeping track of the team's record by knitting a scarf with different colors based on different game outcomes (from @Benji_91).

Basketball News: Although next month's NBA All-Star Game is taking place in Atlanta, rather than in Indiana as was originally planned, the league is still selling Pacers-themed All-Star merch, presumably because there wasn't enough time to get new merch in the retail pipeline (from Alex Ladd). … Syracuse women's is going mono-pink on Sunday (from Jakob Fox). … Color vs. color for St. John's and Villanova men's last night (from James Ballow). … K-State wore their mismatched purple/lavender throwbacks last night.

Soccer News: Everton cleared an initial hurdle of government approval to build a new stadium over the next few years. Here are some renderings. Their current home, Goodison Park, has one of the last surviving stands designed by Archibald Leitch, who worked on several English and Scottish stadiums in the early 1900s (from our own Jamie Rathjen). … Also from Jamie: The Portland Thorns and Timbers have a new ad deal. … Speaking of the Timbers, here's a detailed look at their new kit (from @ThatRodneyGuy). … The logo for Chicago House AC of the National Independent Soccer Association has been revealed (from multiple readers). … Broadcaster beIN Sports is taking legal action against Turkish side Fenerbahçe after the club wore shirts that disparaged the network. Here's a closer look at the shirts (from Greg Franklin).

Grab Bag: Here's a piece on religious headwear and sports (from @mikeobs). … The New England Black Wolves of the National Lacrosse League are relocating to Albany, N.Y. (from Wade Heidt). … Also from Wade: Calgary's curling bubble has a logo. … The Ottawa police chief has banned officers from wearing "thin blue line" and other patches (from Timmy Donahue). … Here are the newest AFL Women's Indigenous designs: This picture shows all eight Victorian teams. The two on the far left (Western Bulldogs and North Melbourne) and the far right (St. Kilda and Richmond) are new, the four in the center have already been revealed. Separately, here's Gold Coast (from our own Jamie Rathjen).
• • • • •
• • • • •