Surprise development last night in Las Vegas, as the Golden Knights came out in metallic gold helmets — a move that, to my knowledge, was not announced in advance.
There's some precedent for metallic NHL helmets. A year ago (almost to the day!), the Kings wore silver buckets for their Stadium Series game against the Avalanche. The Golden Knights' AHL affiliate, the Henderson Silver Knights, have also worn silver lids this season. But while the silver lids often looked tarnished or dirty depending on how the light hit them, Vegas's gold helmets really popped last night, creating a visual effect that was a bit like Notre Dame's gold football helmets (for all photos, you can click to enlarge):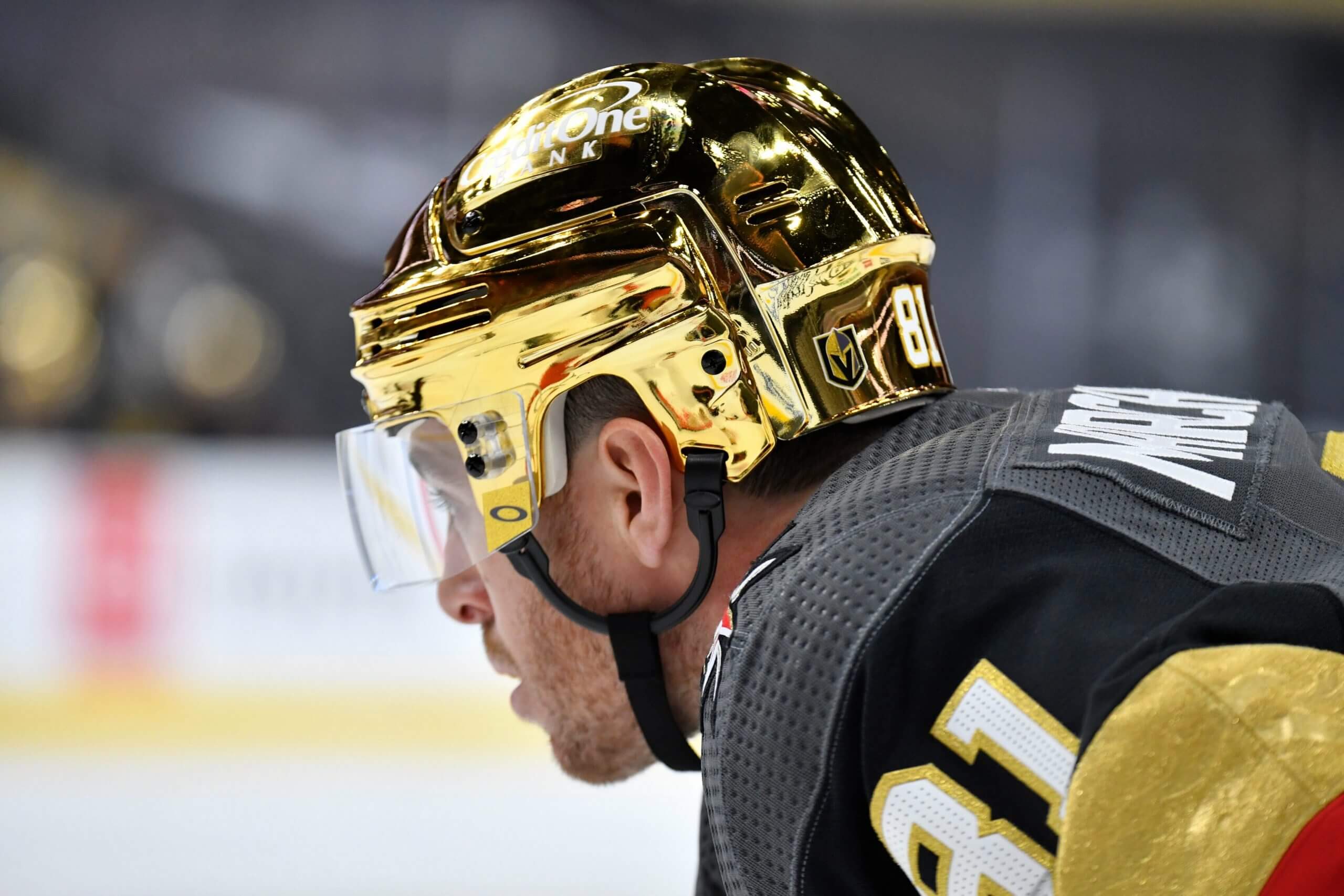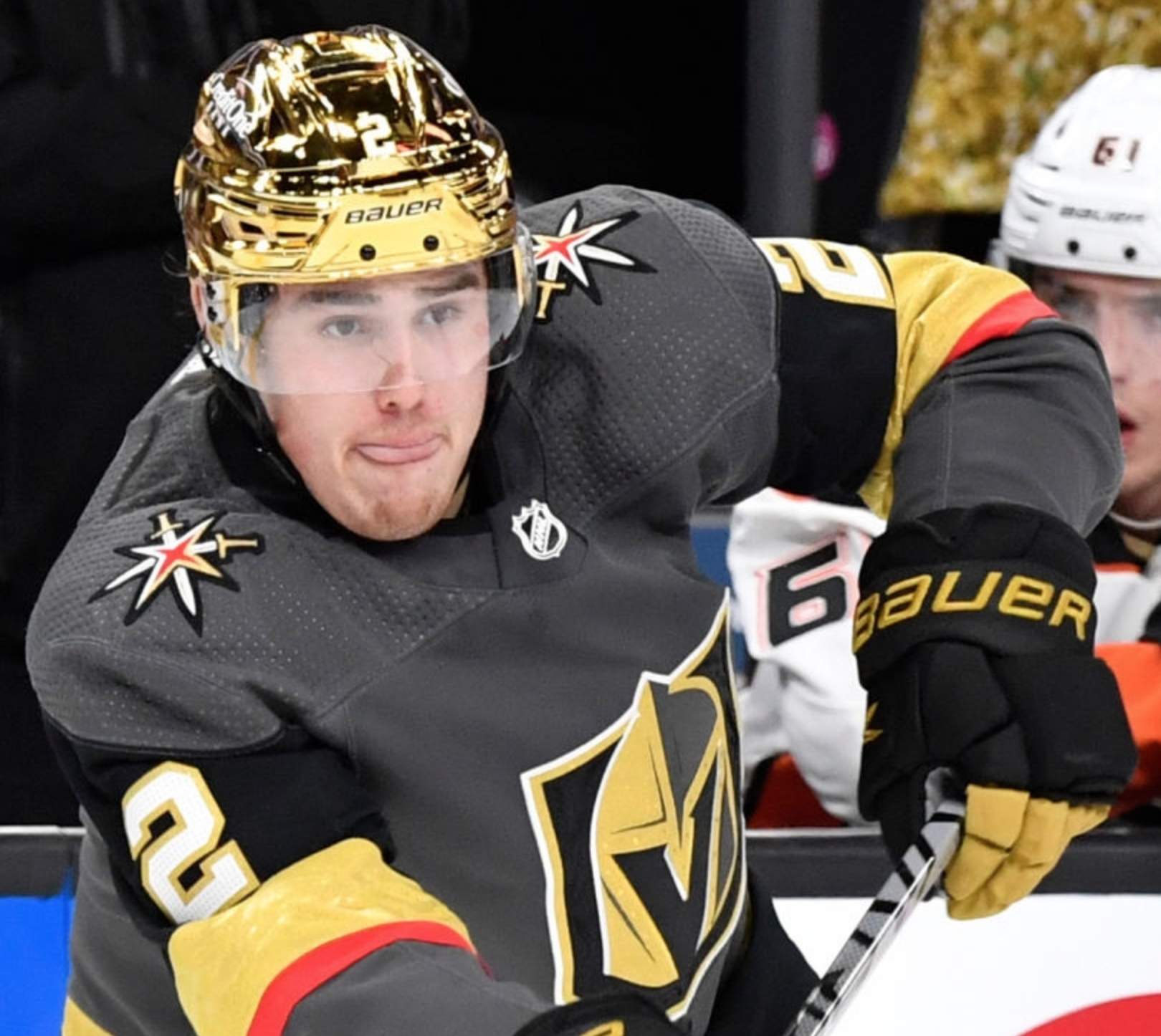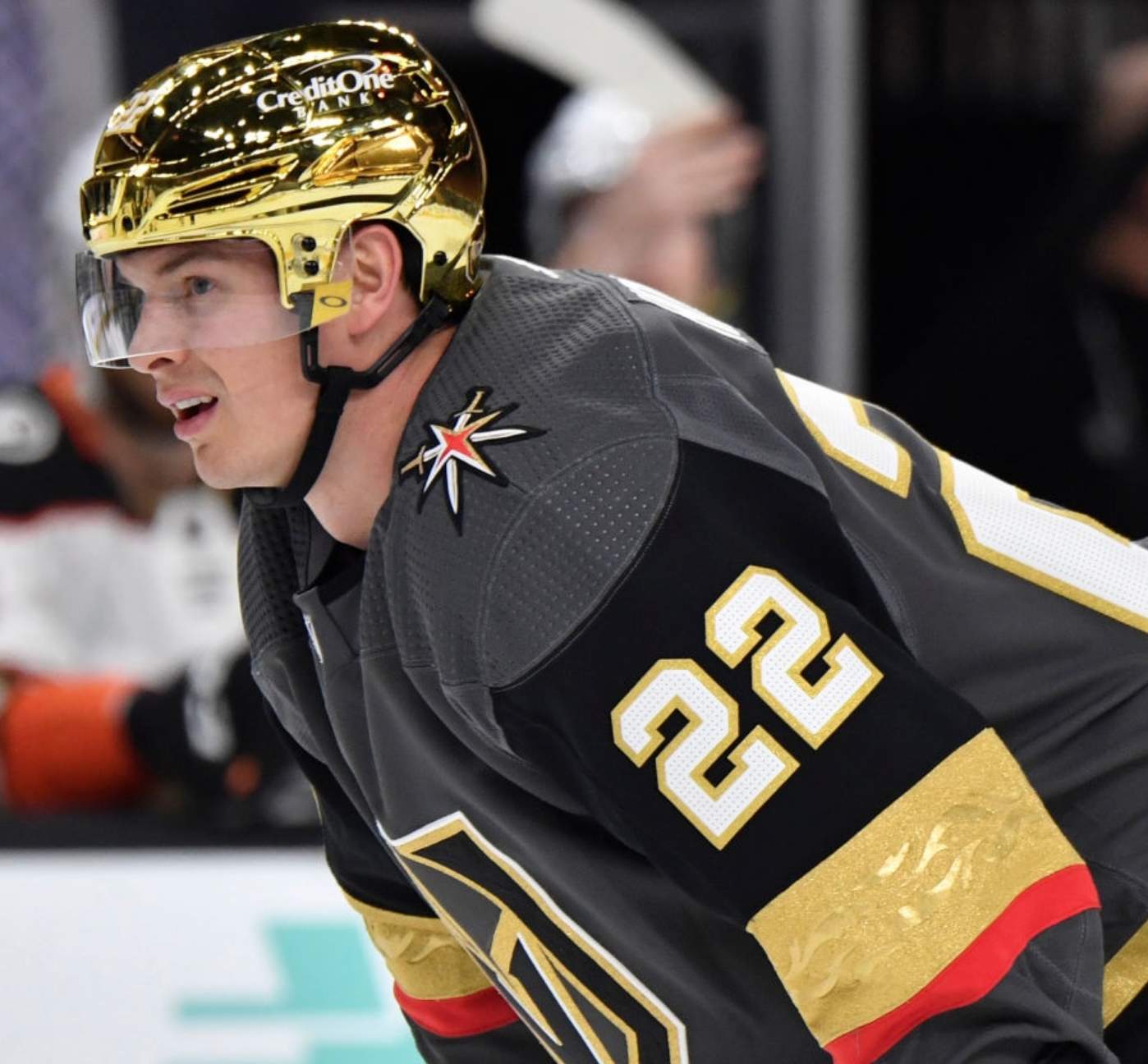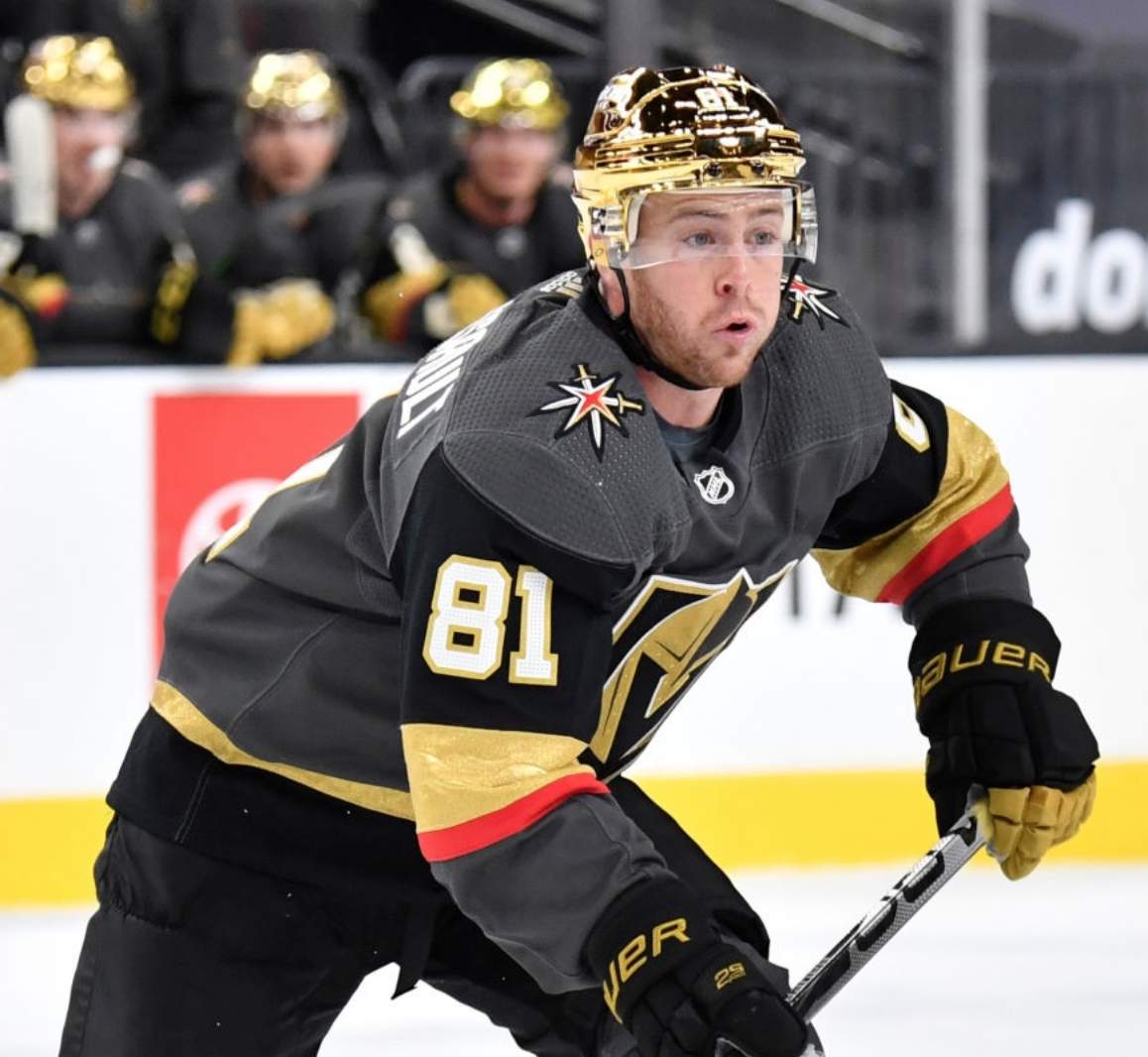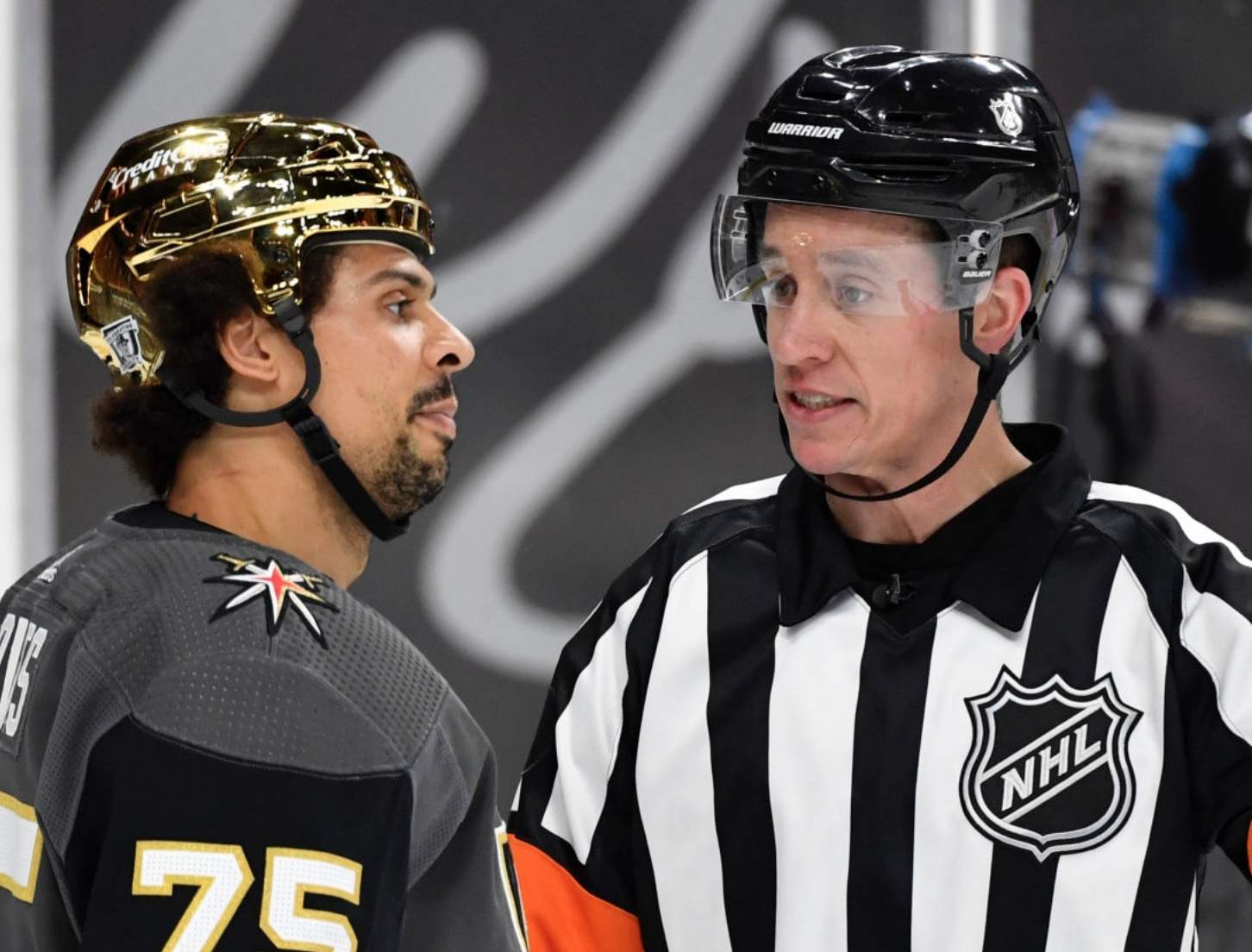 There are lots of additional photos here, and here are some video highlights so you can see how the helmets looked in action (if the embed below doesn't work for you, look here):
This was a fun idea, and I wish I could totally get behind it, but I don't love the way it turned out. The helmets don't match the shade of gold used on the team's uniforms. Moreover, they don't match the feel of the uniforms, because the Golden Knights' unis (which I generally like) are based on muted colors — the dark grey, the Vegas gold. The bright, shiny lids feel like a stylistic mismatch, at least to me.
The helmets weren't the only uni-notable aspect of that game. The Golden Knights also wore Chinese New Year pregame jerseys, complete with Chinese-lettered NOBs: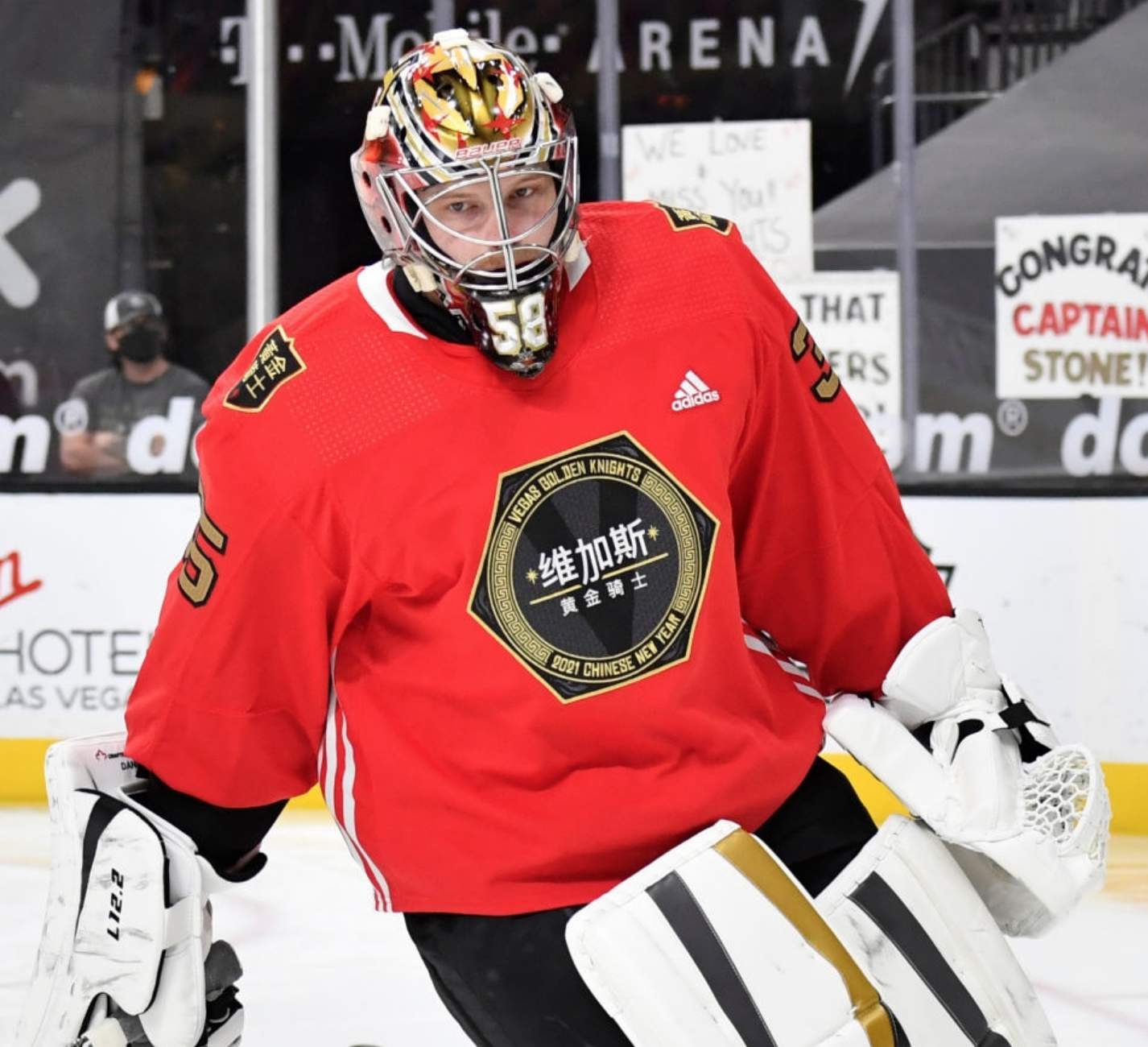 • • • • •
• • • • •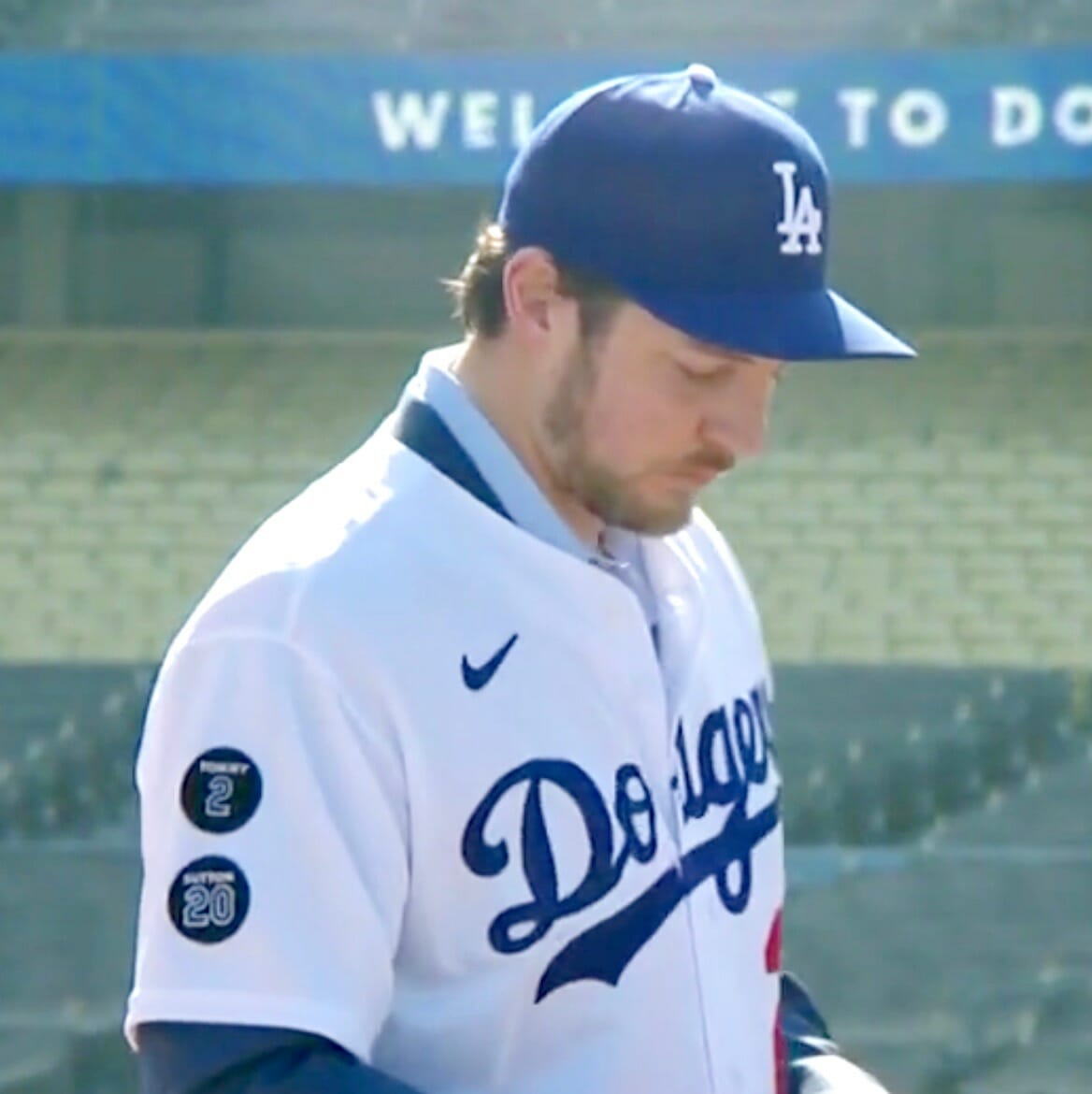 Click to enlarge
In memoriam: The Dodgers introduced newly acquired pitcher Trevor Bauer yesterday, and in so doing also revealed their new memorial patches for Tommy Lasorda and Don Sutton.
Interestingly, Lasorda's patch features his first name while Sutton's has his surname. I understand the thinking behind using the more intimate, familiar name for Lasorda, but it's still a bit odd to see the two identically styled patches positioned next to each other with differing name protocols.
The patch design matches the one that the Dodgers used for their Don Newcombe patch in 2019. That one had "Newk," so the Dodgers have now used three different name formats for this patch series — nickname, first name, and surname (click to enlarge):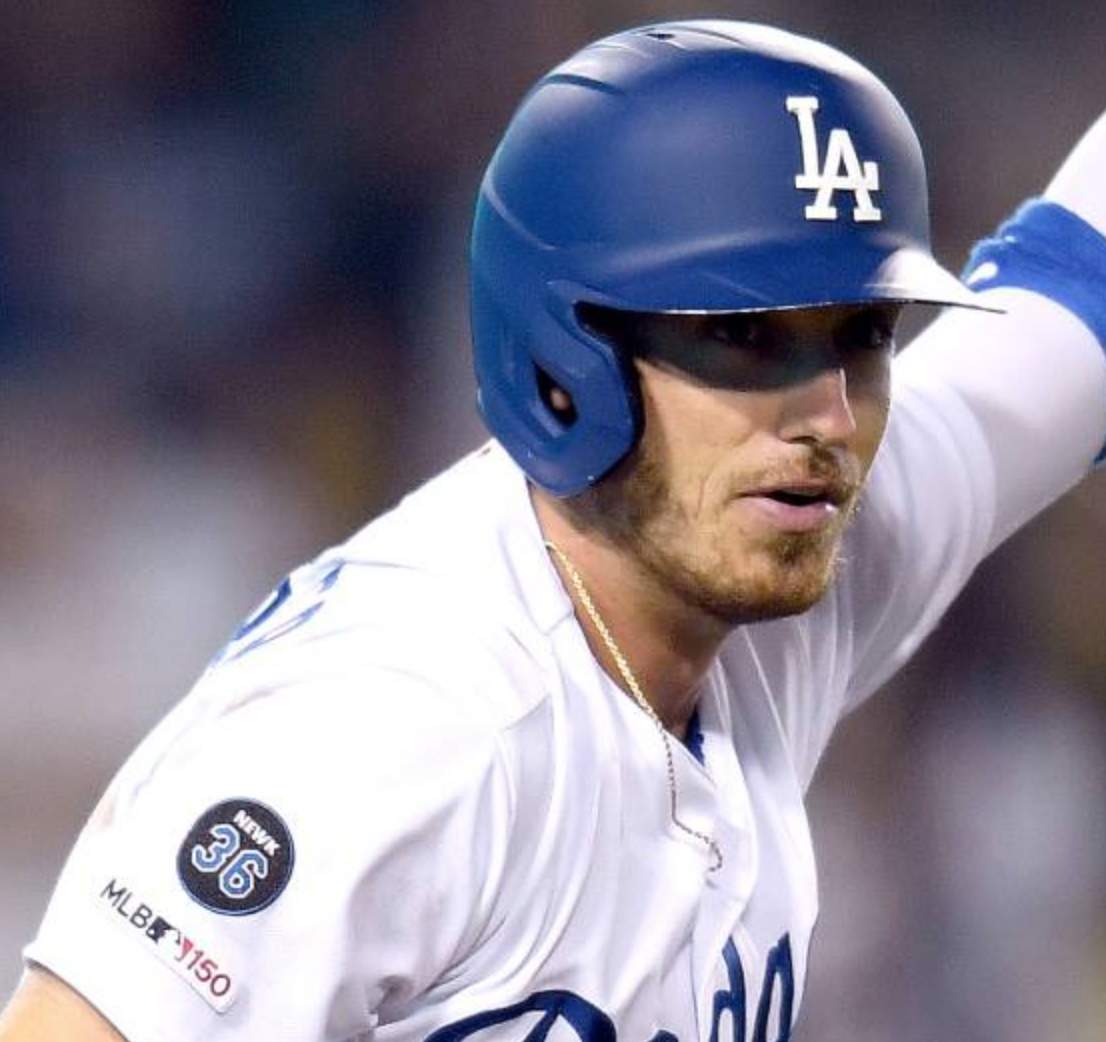 You can see some other memorial patches from Dodgers history here.
It'll be interesting to see if the Dodgers wear a World Series championship patch on Opening Day (or even all season long, as the Nats did last season). They already have the "LA" patch on the other sleeve, so between that and the two memorial patches, there wouldn't seem to be much room for a championship patch. And what happens if, as is likely, they once again make the postseason, which normally entails yet another patch?
One other note: Prior to signing with the Dodgers, Bauer was with three other MLB teams and wore a different uni number ending in 7 for each of them — No. 17 with the Diamondbacks, No. 47 with Cleveland, and No. 27 with the Reds. I was hoping he'd go with yet another 7-ending number in L.A. — 37 and 57 are both unclaimed on the current roster — but he's going with 27 again, the same number he wore last year in Cincinnati (click to enlarge):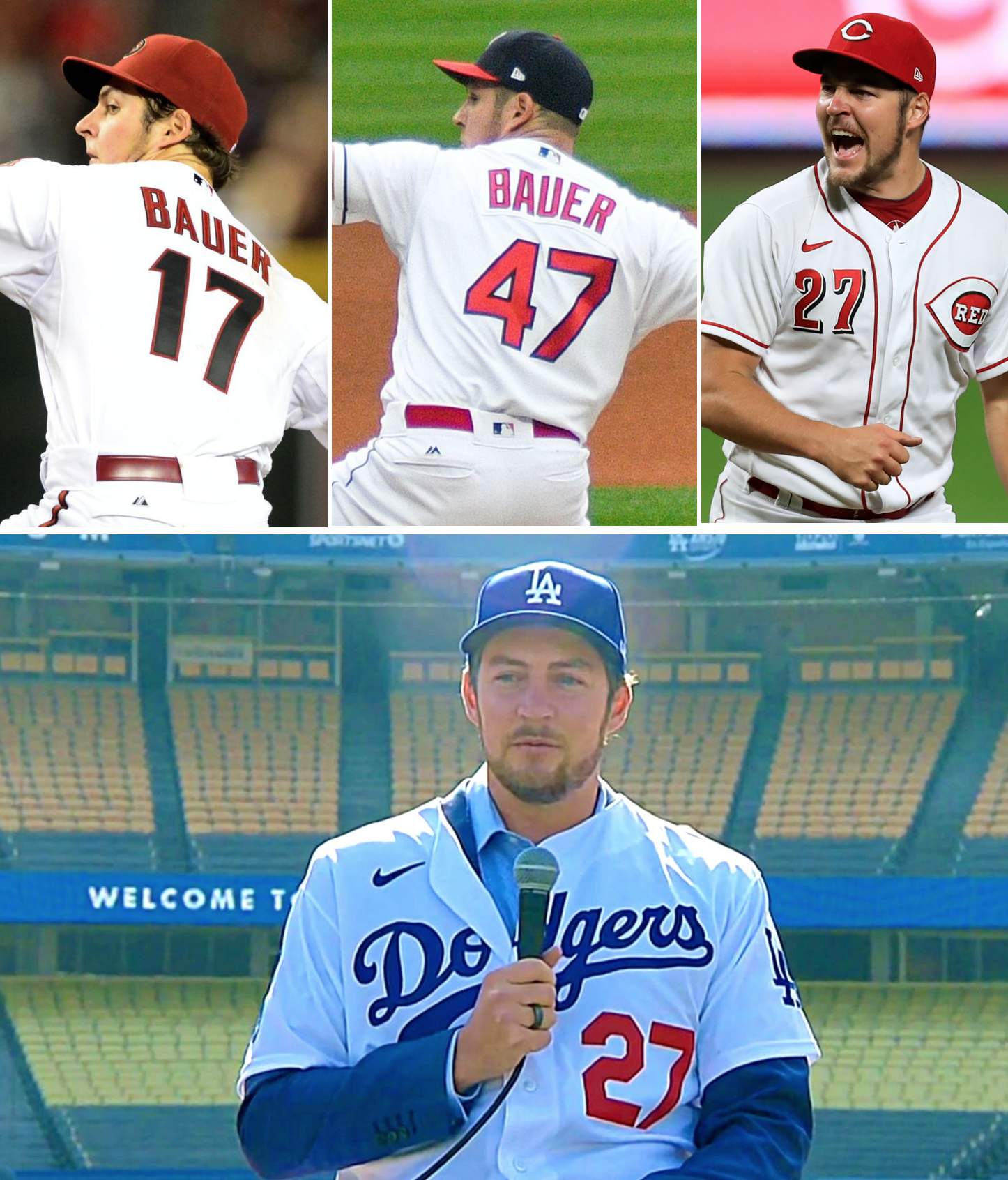 It's funny how the mere sight of Bauer wearing a No. 27 Dodgers jersey immediately makes me think of Kevin Brown, even though Brown last played for the Dodgers nearly two decades ago. It's weird how certain things get ingrained in our minds.
(My thanks to Jakob Fox, who brought the new Lasorda and Sutton patches to my attention.)
• • • • •
• • • • •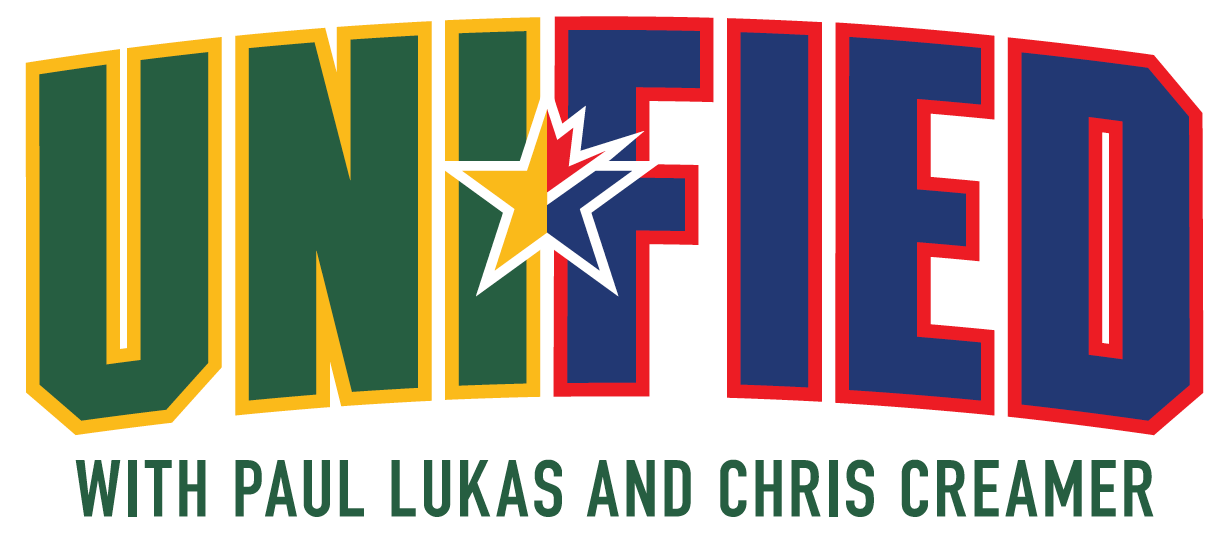 Podcast reminder: The second episode of Unified, my new podcast collaboration with SportsLogos.net founder Chris Creamer, is now available. This episode begins with a quick Super Bowl recap and then segues into a discussion of the Browns' new 75th-anniversary logo, which evolves into a deeeeep discussion about the do's and don'ts of anniversary patches. You can listen to it, and subscribe to future installments, on Apple, Google, Stitcher, TuneIn, and Spotify, or just use the player below:
The show notes, which include photos of most of the patches and other things we discussed, are available here.
You can also check out the video version of the episode here:
Thanks for listening!
• • • • •
• • • • •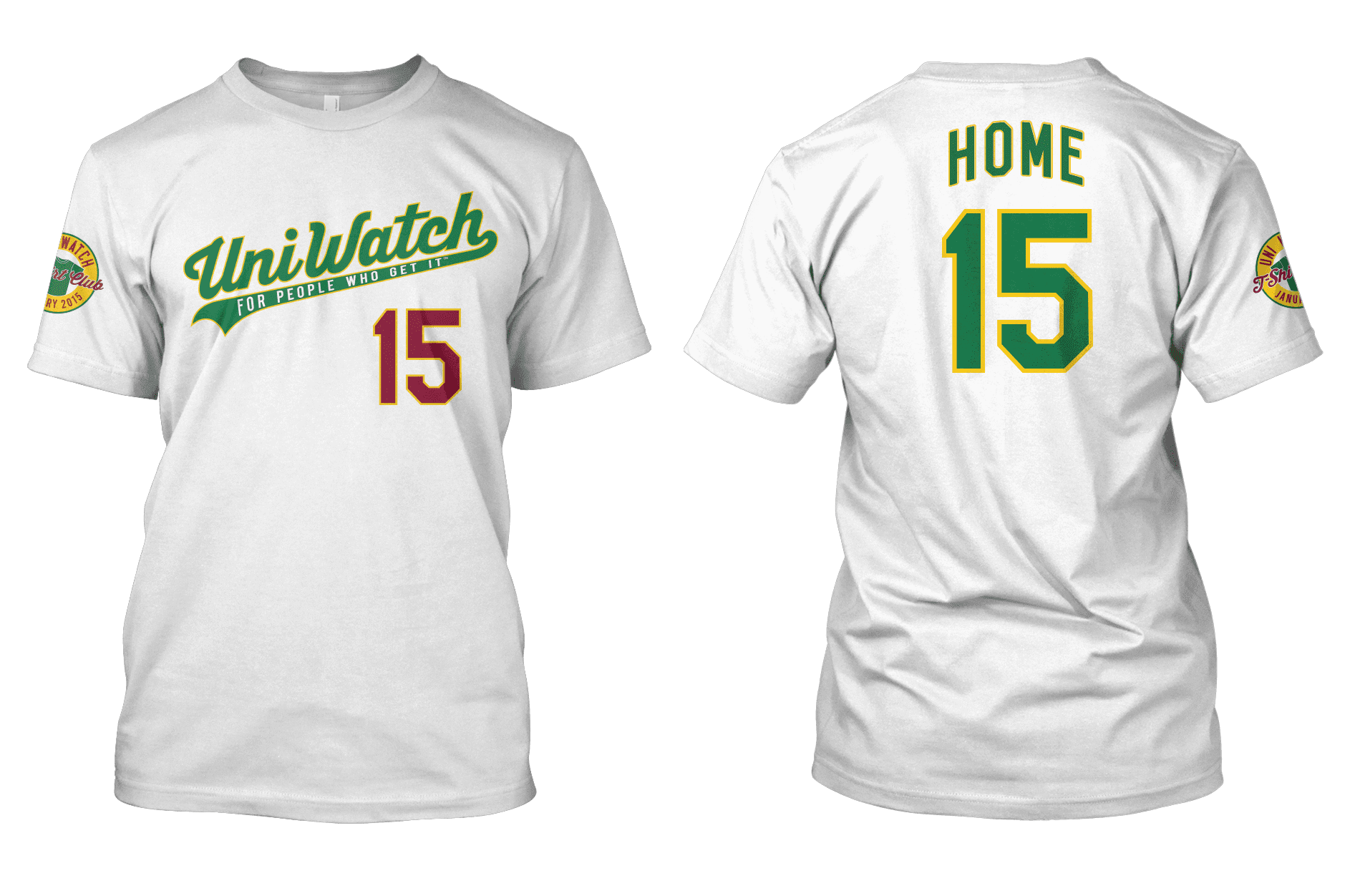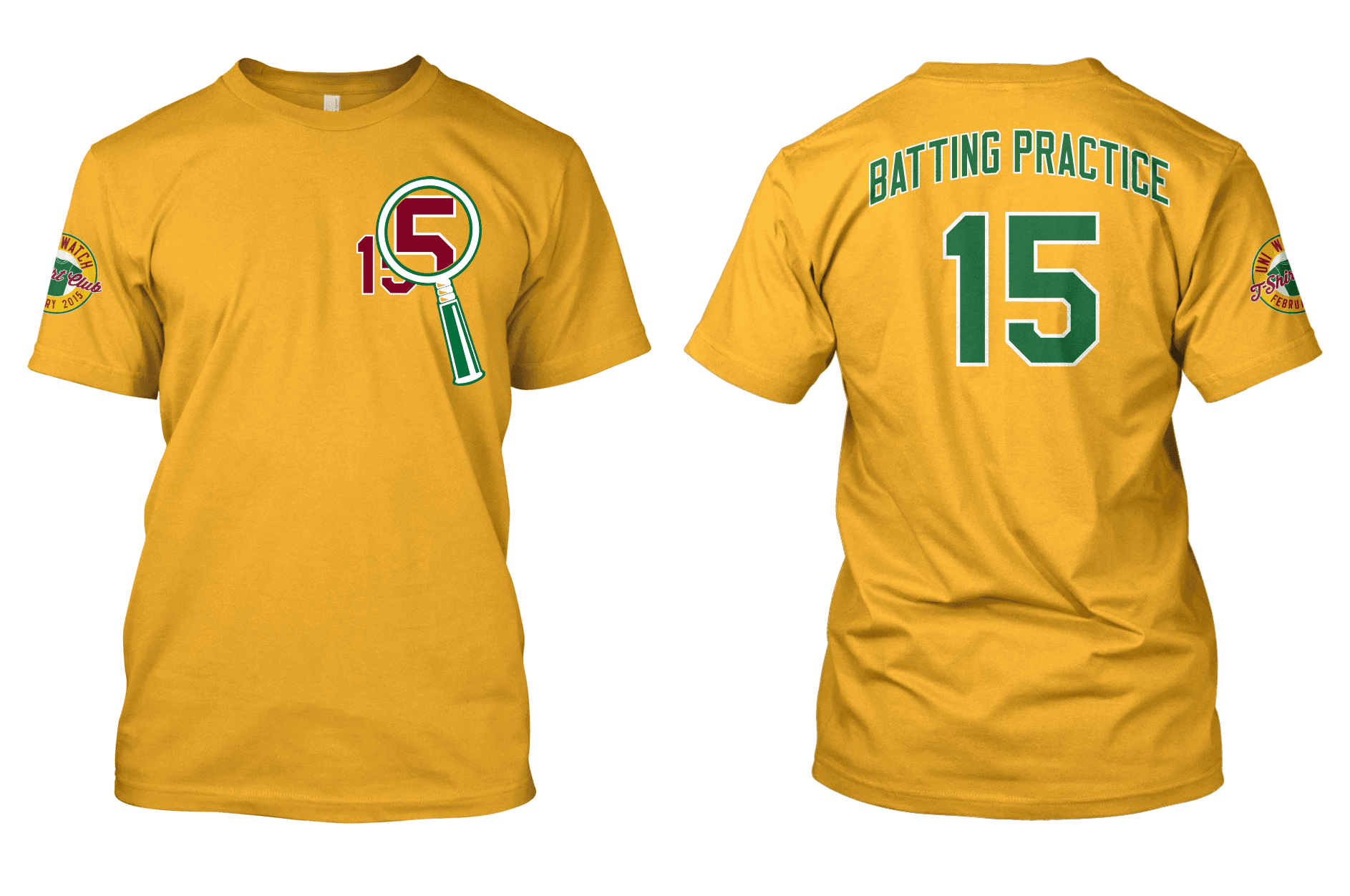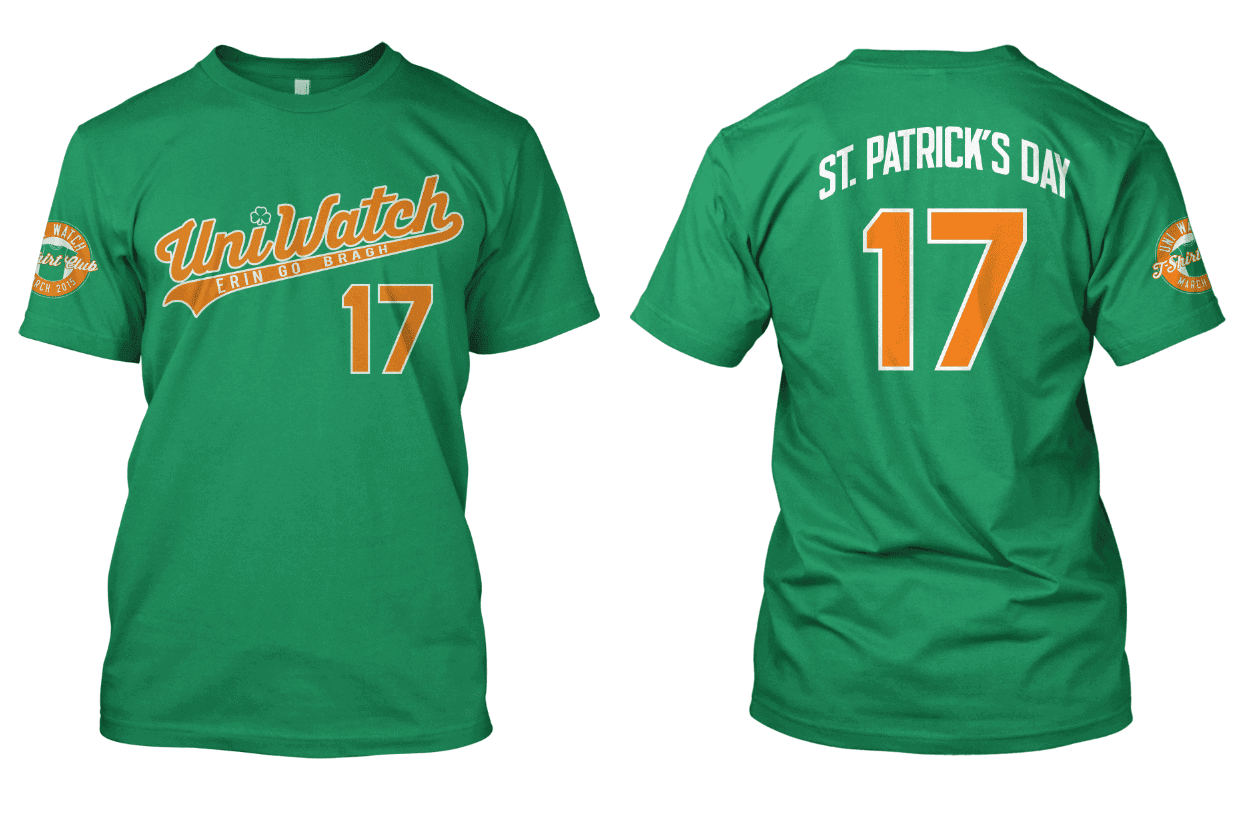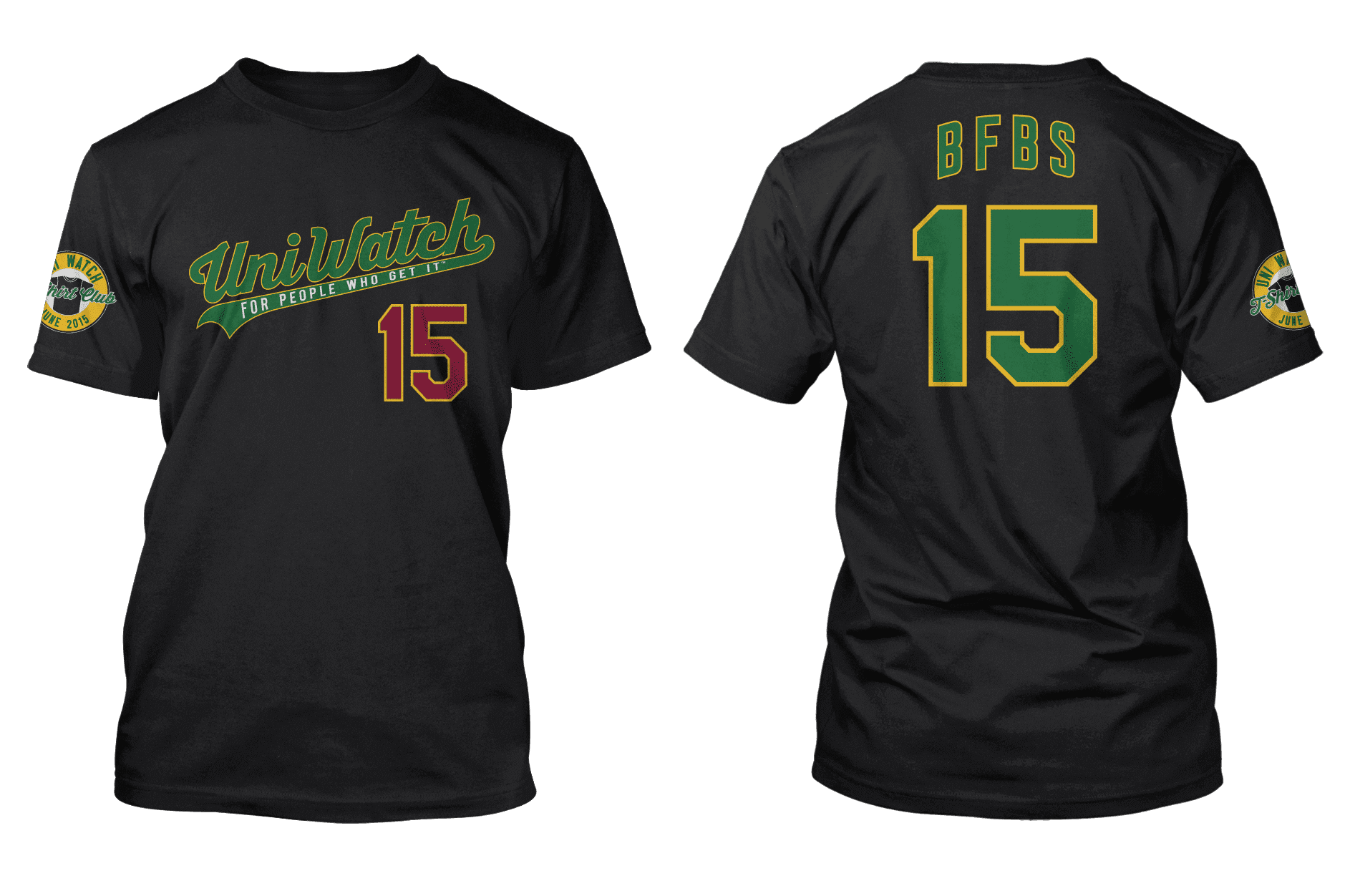 Click to enlarge
ITEM! New raffle: Remember the Uni Watch T-Shirt Club from 2015? Reader Morgan Doninger has four of those shirts — the designs shown above — in size Large. All four have been worn once or twice at most (and, in the case of the case of the BFBS shirt, not at all), and Morgan assures me that they're like new. He's generously offered to let me raffle them off, so that's what we're going to do today.
This will be a one-day raffle, with each of the four shirts going to a separate winner. To enter, send an email with your address and your preferred shirt (or multiple shirts in order of preference) to the raffle in-box by 8pm Eastern tonight. One entry per person. I'll announce the four winners on Monday. Big thanks to Morgan for making this one possible!
• • • • •
• • • • •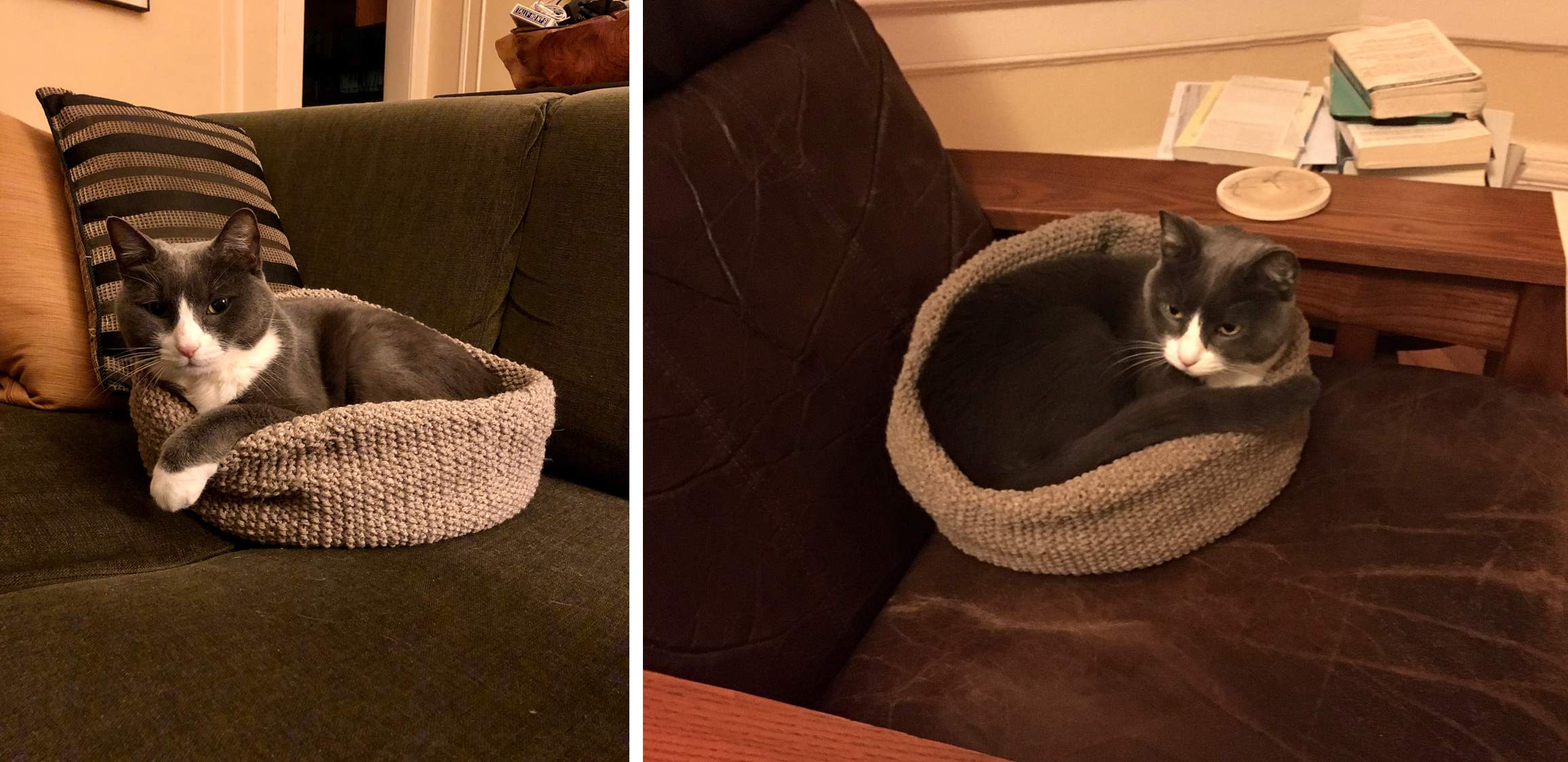 Click to enlarge
Awwww: The Tugboat Captain recently knitted a swell little cat bed for Uni Watch girl mascot President Caitlin. She was a little hesitant at first, but now she's warming up to it. It's perfectly Caitlin-sized!
• • • • •
• • • • •
The Ticker
By Anthony Emerson


Baseball News: Here's a good look at the back patches for this year's spring training caps. … Niko Goutakolis notes that Mr. Met still wears a Majestic jersey and that his cap doesn't have the New Era logo creep. … New Red Sox OF Franchy Cordero, who was acquired on Wednesday in a three-team trade, will wear No. 19. … New unis for Mizzou softball (from Bill Hippe). … Renderings have been revealed of UCLA's planned improvements to Jackie Robinson Stadium (from Kary Klismet). … Also from Kary: Plans have been approved to revitalize historic Hinchliffe Stadium, one of the last Negro Leagues ballparks still standing. Paul wrote about Hinchliffe for ESPN back in 2010. … It appears members of the Kansas City chapter of the neo-fascist group the Proud Boys have co-opted the Royals' logo for their challenge coins. … Also posted in the NFL section: The demolition of Jack Murphy Stadium has begun (from James Gilbert).

NFL News: It appears the Bucs brought both of their Lombardi Trophies to their victory parade — as you can see, Matt Joyce (former Rays player) is holding a Lombardi Trophy engraved with "Super Bowl XXXVII" in the left photo while Tom Brady is holding an as-yet unengraved trophy on the right. The Patriots typically brought all of their Lombardis to their victory parades (good spot by Wayne Edward Koehler). … It appears Paul Brown Stadium in Cincinnati will be adding a Ring of Honor around the stadium (from Kary Klismet). … Cross-posted from the baseball section: The demolition of Jack Murphy Stadium has begun (from James Gilbert).

Hockey News: The NHL and the Bruins have postponed the retirement of Willie O'Ree's No. 22 to next year, so fans can be in attendance and so the retirement can take place on the exact anniversary of his debut. The number's already been taken out of circulation, with C Craig Smith switching from 22 to 12 before this season (from multiple readers). … Players for the WHL's Red Deer Rebels will be living at the team's arena this season — literally (from multiple readers). … Habs organist Diane Bibaud has her own sweater. She's number, uh, treble clef in your program (from Moe Khan). … New flag desecration unis for the South Carolina Stingrays of the ECHL.

Hoops News: As a Mainer, I can't help but be embarrassed that I never heard of Maine's Continental Basketball Association team, the Lumberjacks, who played in Bangor from 1978 to 1983 and wore Sonics-derived uniforms. … Budweiser is teaming up with a number of NBA teams to release a series of cans featuring retro NBA logos (from Jason Hillyer). … With electric vehicles poised to replace gas-powered engines, Physicist Neil deGrasse Tyson wonders if the Detroit Pistons may need to change their name, perhaps to the Batteries (from Russell G. Flynn). … From reader Brett Alan: "Northwestern G Boo Buie wore his teammate Ty Berry's jersey — including Berry's NOB — in Wednesday night's game against Indiana. Berry missed the game due to the death of his father."

Soccer News: Red Bull Salzburg's new American midfielder Brenden Aaronson is wearing a kit with "Rauch" as the primary advertiser, instead of Red Bull worn by his teammates. Odd. I did some brief Googling and couldn't find any explanation for why he wears a different ad, but did discover Aaronson has been wearing it for his entire (one-month) tenure with the club. Red Bull Salzburg also had Rauch as its primary advertiser in the past (from Hunter Gringas). … NWSL side North Carolina Courage have unveiled their new home kit (from James Gilbert). … New crest for Sprata Praha (from Ed Żelaski).

Grab Bag: Valparaiso University is retiring its "Crusaders" team name and logo (from multiple readers). … Turner County (Ga.) High has voted to retire its "Rebels" identity (from Kary Klismet). … Here are more new kits from the Netball Superleague (thanks, Jamie). … Also from Jamie: Temple field hockey has new kits. … Darren Rovell noted that the the Trump campaign's MAGA caps look mighty similar to the caps worn by Buster Douglas and his crew when he upset Mike Tyson in 1990. Trump attended that fight with Don King. … San Antonio College, which discontinued use of its "Rangers" name last year, is having a contest to choose a new identity (from Kary Klismet). … Also from Kary: Waste Management is introducing new employee uniforms made out of recycled material.
• • • • •
• • • • •
• • • • •
That's it for this week. Stay safe, enjoy Phil's weekend content, maybe check out our podcast if you haven't already, and remember, it's now less than a week until pitchers and catchers. — Paul