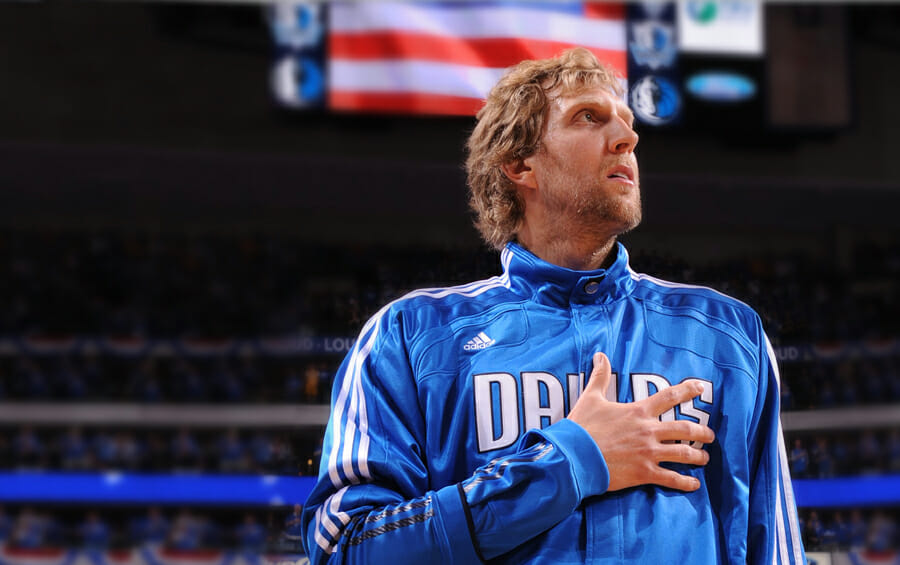 In a move that appears to be unprecedented in modern North American sports, the Dallas Mavericks have stopped playing the national anthem prior to home games.
The move was first reported last night by The Athletic, whose Mavs beat reporter, Tim Cato, said team owner Mark Cuban had confirmed the move to him. Here's the most pertinent passage from Cato's paywalled story:
None of the 13 preseason and regular-season games played at the [Mavs' arena] this season have featured the anthem before the game, including Monday's game against the Minnesota Timberwolves, the first played with a limited amount of fans in attendance.

The Mavericks did not publicize the anthem's removal, and The Athletic was the first media organization to reach out about the change after noticing its absence on Monday. Multiple team employees described only noticing the anthem's removal on their own, as it was also not announced or explained internally.
If you don't have access to The Athletic, you can learn more in these stories from Yahoo Sports, ESPN, and The Dallas Morning News.
Interestingly, this isn't the first time the Mavericks have eschewed the anthem. According to the DMN report, the Mavs played "God Bless America" prior to games, rather than "The Star Spangled Banner," for the team's first 16 seasons (1980-1996), although that was prior to Cuban's ownership.
Other sports team owners have occasionally tried to scale back the anthem's prominence. According to James Charlton's book The Baseball Chronology, Chicago Cubs owner P.K. Wrigley ordered that the anthem be played only on holidays like Memorial Day and the Fourth of July because he felt that playing the song for every game effectively trivialized it. Kansas City Royals owner Ewing Kauffman cited a similar rationale in 1972, when he ordered that the anthem be played only "on Sundays and special occasions," because it "was not receiving the respect it deserved." Public reaction, however, was highly negative, and Kauffman quickly relented.
Will there be a flood of negative reaction this time too? As news of the Mavs' move unfolded on social media last night, I was surprised by how much of the reaction I saw was positive. Obviously, insert all the usual caveats here about social media being a highly imperfect barometer, blah-blah-blah, but there are clearly a lot of people out there — more than I would have guessed — who are ready for this move.
As for me, I've long favored removing the anthem from pregame activities — not because I dislike the song, but because (a) I see no reason to entangle sporting events with politics, and (b) the anthem isn't played before movies, plays, concerts, or other entertainment events, so why do it for sports? Similarly, (c) other workers don't have to stand for the anthem at the start of their workday, so why should athletes? Toss in (d) the way the song has become a culture-wars flashpoint in the post-Kaepernick era and the choice seems obvious: Save it for the Olympics and other international competitions, but stop using it as a routine thing. Here's hoping other teams and leagues follow Cuban's lead.
(I can already hear a few people saying, "The anthem isn't about politics — it's about patriotism." But whether you choose to acknowledge it or not, patriotism is an intensely political subject. In fact, as should be fairly apparent at this juncture in American history, the question of what does or doesn't qualify as patriotic, and which stories get told to answer that question, and who gets to write and tell those stories, are arguably the most purely political issues faced by any society.)
The most interesting thing about all this, at least to me, is that Cuban and the Mavs didn't tell anyone, didn't make any announcement, didn't issue a press release or even a tweet. They just made a simple change to their pregame program and carried on with the business of playing basketball. And it took nearly two months before anyone even noticed.
Update, 2:15pm Eastern: The NBA has now issued a statement saying that all teams, including the Mavs, will play the anthem.
• • • • •
• • • • •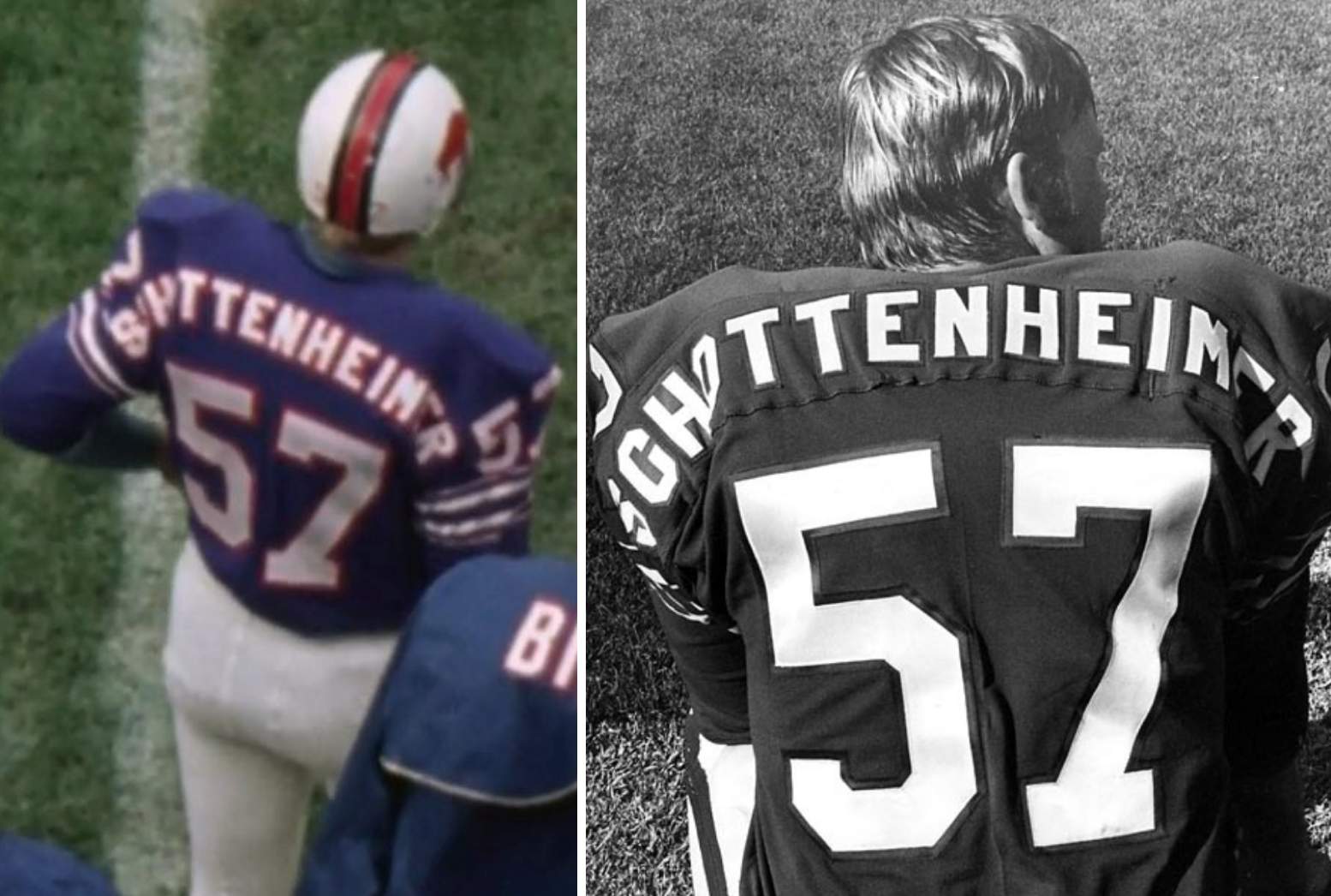 Click to enlarge
Great 'plate: Marty Schottenheimer died yesterday. Although best known as an NFL coach, he also played for the Bills and Patriots in the 1960s, and was uni-notable for his prodigious shoulder-to-shoulder nameplate. R.I.P.
• • • • •
• • • • •

UNI watch: It is surely one of life's rich ironies — or at least one of my life's rich ironies — that the school whose name reduces to my favorite acronym is also a school that wears purple, creating a textbook case of cognitive dissonance in my cranium. In this case, the acronym wins out — it's too good to deny, in any color.
Anyway: UNI has unveiled a new brand identity. Additional info here. Go UNI!
• • • • •
• • • • •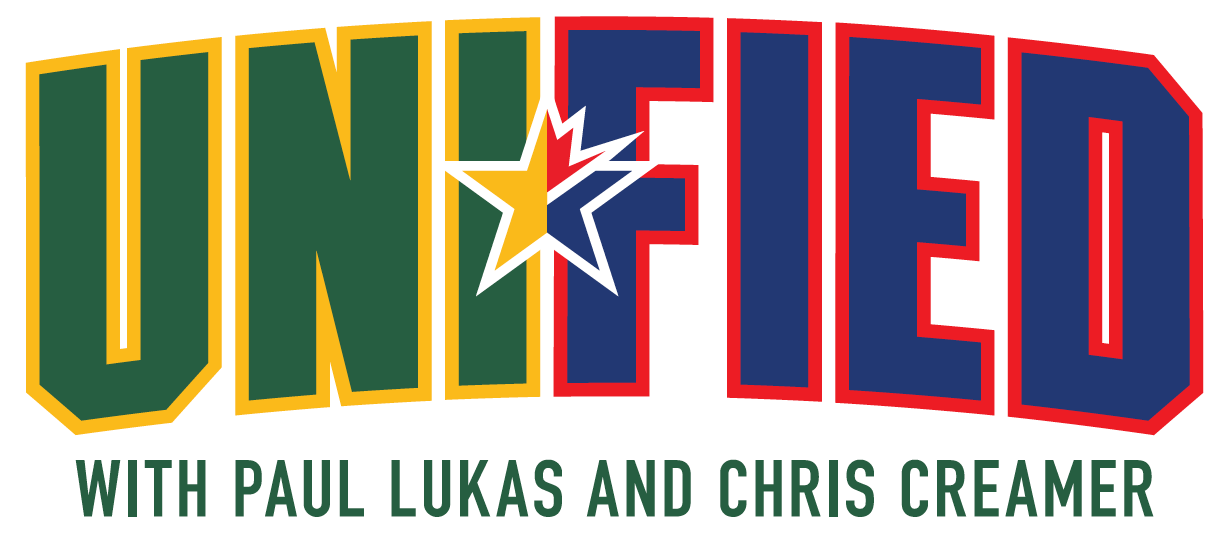 Podcast update: Chris Creamer and I recorded the second episode of Unified yesterday. The audio and video are now being edited by our new producer, Chris Fraterrigo, and we hope to have the episode available for you tomorrow.
Also, Unified got a nice shout-out in The New York Post from baseball columnist (and former Uni Watch interview subject) Ken Davidoff. It's down toward the end of this column.
If you haven't already checked out our first episode, you can listen to it, and subscribe to future installments, on Apple, Google, Stitcher, TuneIn, and Spotify, or just use the player below:
You can also check out the video version of the episode, which is on Chris's YouTube channel:
You can also check out the show notes on the podcast's new website, plus you can follow us on Twitter.
• • • • •
• • • • •
The Ticker
By Lloyd Alaban

Baseball News: Remember that great vintage St. Louis Browns letterhead that Paul recently featured on the site? Reader Jimmy Lonetti liked it so much that he used it as the basis for a new logo for his glove repair business. … The pandemic has left tons of unused giveaway merch, like bobbleheads and puzzles, sitting in boxes (from Mike Chamernik). … The Purdue and Northwestern football teams will play at Wrigley Field in November (from Kurt Esposito). … Valhalla High School in suburban San Diego has a cool periodic table of elements-themed Padres graphic — a fun idea, although they cheated a bit, because there's no "D" in the real periodic table (from @greeneyes_scott).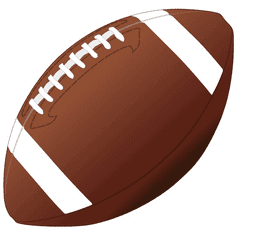 Football News: Here's next year's Super Bowl logo, and here's what it looks like on an NFL football (from multiple readers). …  A news chopper flew over a Super Bowl-themed backyard (from Steve Sher). … Former Giants QB Eli Manning received hockey sweaters from the New York metro area's three NHL teams: the New York Rangers, New York Islanders, and New Jersey Devils (from Brandon Wheatkings). … Cross-listed from the baseball section: Purdue and Northwestern will play at Wrigley Field, home of MLB's Chicago Cubs, in November (from multiple readers). … Here's a rare-for-its-era cross-sport gesture: When Ohio State coach Woody Hayes died on March, 12, 1987, the OSU basketball team wore a memorial shoulder band for him the following day (from Mike Knapp). … Mike Greenaway was watching an old episode of The A-Team that featured Mr T, Joe Namath, and Jim Brown in L.A. Express uniforms.

Hockey News: The Canucks officially unveiled their Lunar New Year warm-up jerseys (from multiple readers). … The Kings wore Black History Month warm-up jerseys last night (from Jakob Fox). … ЯR unis last night for the Golden Knights (from Brian Catlett). … Cross-listed from the football section: Former New York Giants QB Eli Manning received hockey sweaters from the New York metro area's three NHL teams: the Rangers, Islanders, and Devils (from Brandon Wheatkings).

Basketball News: Here are the latest uni number updates from Etienne Catalan. … Check out the "B" logo in this old photo of Bullets G Gene Shue. It looks a lot like the Nets' current logo (from Dave Holland). … Cross-listed from the football section: In a rare-for-its-era cross-sport gesture, after Ohio State football coach Woody Hayes died on March 12, 1987, the OSU hoops team wore a memorial shoulder band for him the following day (from Mike Knapp). … Wisconsin women's is going mono-pink against Ohio State tonight (from John, who didn't give his last name). … Pink accents last night for UConn women's (from our own Jamie Rathjen). … Anyone know what these big black squares are on Duke's jerseys?  Maybe bio-trackers? (From John Choe.)

Soccer News: Sixteen years ago yesterday, three Nike-outfitted men's national teams — the Netherlands, Portugal, and Russia — wore black-and-white halved shirts, black shorts, and white socks as part of an anti-racism campaign (from our own Jamie Rathjen).

Grab Bag: Tennis player Serena Williams wore a one-legged catsuit in honor of her idol, Olympic sprinter Florence Griffith Joyner, at her first match at the Australian Open on Monday (form our own Brinke Guthrie). … Leeds Rhinos' rugby league team has a third shirt this season in honor of former player Rob Burrow, who has Lou Gehrig's disease (from our own Jamie Rathjen). … Also from Jamie: Leeds Rhinos now has an expansion team, Leeds Rhinos Netball, in the U.K.'s Netball Superleague, which starts play this year. Here are their first kits. … Rugby players regularly tape their ears to protect them. But taped-up ears are a problem if you want to wear a Covid mask on the bench. Prop Wyn Jones wore a modified mask for Wales to solve this problem (from Greg Schwanbeck). … Fox has updated its NASCAR score bug (from Jackson Kinney). … The Aunt Jemima brand will now be known as the Pearl Milling Company (from Timmy Donahue). … Also from Timmy: The U.S. Army Special Operations School has dropped its "III" logo due to its similarities to the logo of the Three Percenters, a right-wing extremist group. Since the 1990s, the symbol has been part of the unofficial logo of Trauma 3, an 18-month SpecOps medical course focused on tactical combat casualty care.
• • • • •
• • • • •
Click to enlarge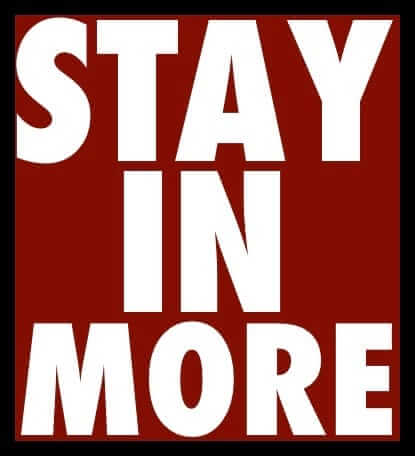 What Paul did last night: Usually we have Pandemic Porch Cocktails™ before dinner. But yesterday was the Tugboat Captain's birthday, so we had a big Chinese feast and then went outside for some bubbly and birthday cheesecake topped with a sparkler — nice.
As always, you can see the full set of PPC™ photos — now 330 of them — here.