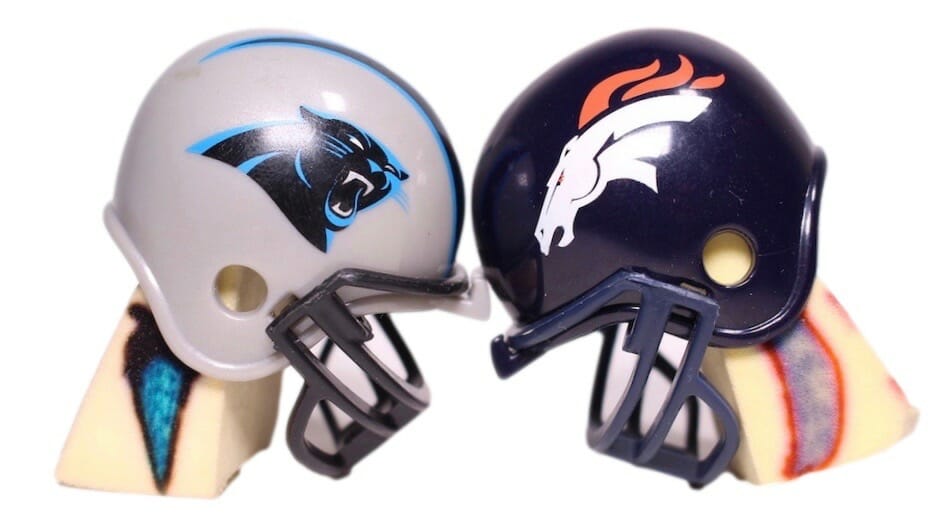 For all photos, click to enlarge
Back in December I received a note from Uni Watch reader Drew Tornquist, as follows:
When I was a kid, I used to make tiny NFL players out of those triangular prism shaped foam makeup-remover sponges. Sometime in my childhood, I realized that the sponges fit perfectly in my collection of gumball helmets. 

That unlikely combination gave me hours of childhood entertainment. I basically made them from kindergarten to about middle school age (I'm 23 now). As you can see, toward the end I became pretty focused on the uni-related details.  

Maybe my weird childhood DIY project can inspire some parents out there, or just relieve someone's quarantine boredom. All you need are some Sharpies, makeup removers, and mini-helmets!
There are few things I like more than a child turning his boundless imagination toward uniforms, so I loved this project right from the get-go. Gumball helmets and makeup sponges seemed like the most improbable pairing imaginable, but they looked great in the photos that Drew sent along! He had hand-drawn uni numbers and pant striping onto his little "players," and some of them even had faces drawn on them: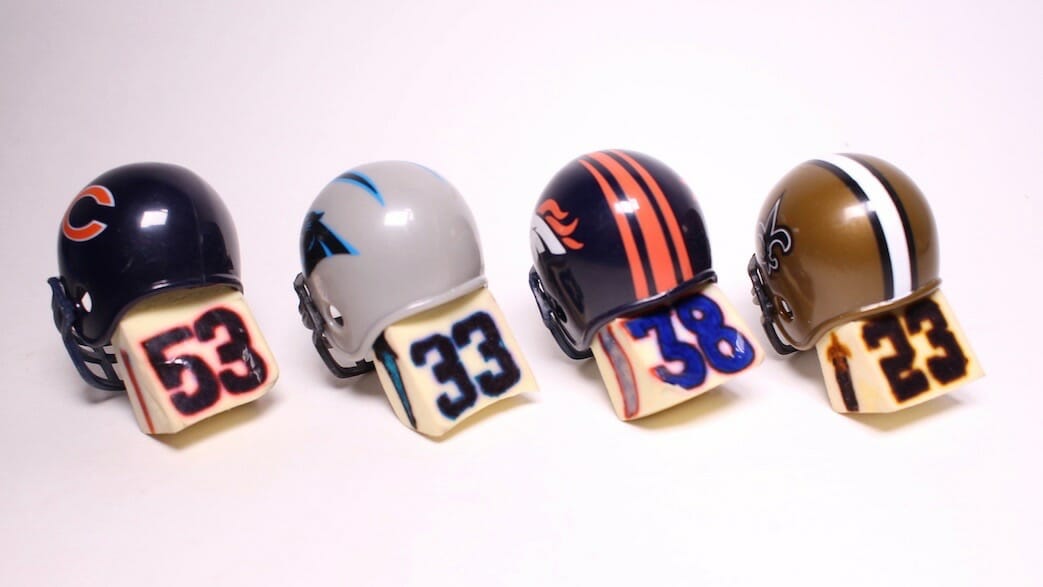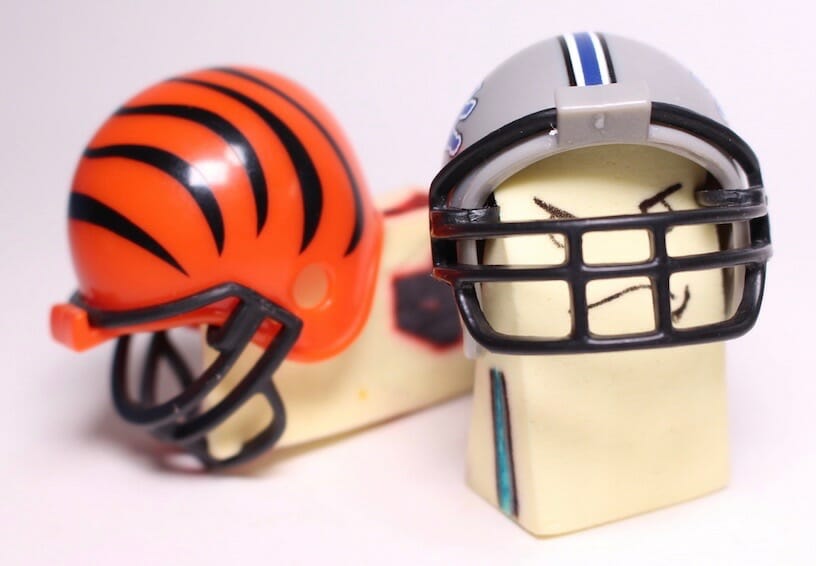 I wanted to know more, so I sent Drew a list of follow-up questions. Instead of just answering them, he wrote an entire blog entry that included all the info I had asked about. Here it is:
The Sponge Bowl
By Drew Tornquist
I don't exactly remember when I started collecting gumball helmets, but I first became interested in the NFL at about kindergarten age, so I assume it was sometime around then. The real credit goes to my awesome mom, who would buy the helmets for me from a gumball machine at our local grocery store. That's how my gumball helmet league began.
Our house was never showroom-clean. "Lived in" is how I always referred to it. That gave me lots of opportunities to incorporate random items from around the house into my imagination. Sadly, I don't specifically remember that "eureka" moment when I discovered the makeup sponge, but I'm guessing that it went something like this: I took a break from looking at my gumball helmets to run to the bathroom, where I found a makeup sponge that was left behind on the counter and promptly drew a smiley-face on it. Then I probably brought it back to my helmet collection and found that the sponge nested perfectly into the helmets, creating a little wedge-shaped player.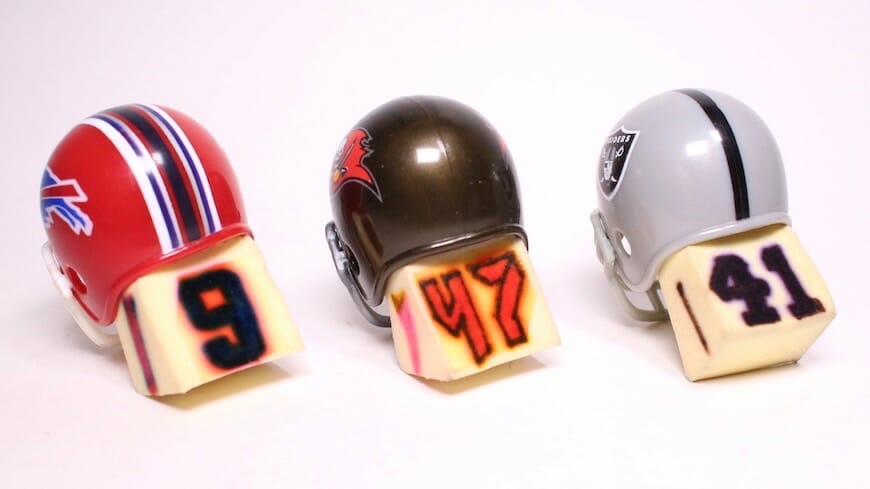 I started drawing numbers on the back pretty soon after that. I mean, I needed to tell the players apart while they had their helmets on, right?
My parents loved this idea, and while I don't remember their initial reaction, they both supported me once I got started, my mom especially. She would occasionally bring me packs of makeup sponges from the store, asking if they would fit inside my football helmets. I think she bought more of them for me than she did for herself.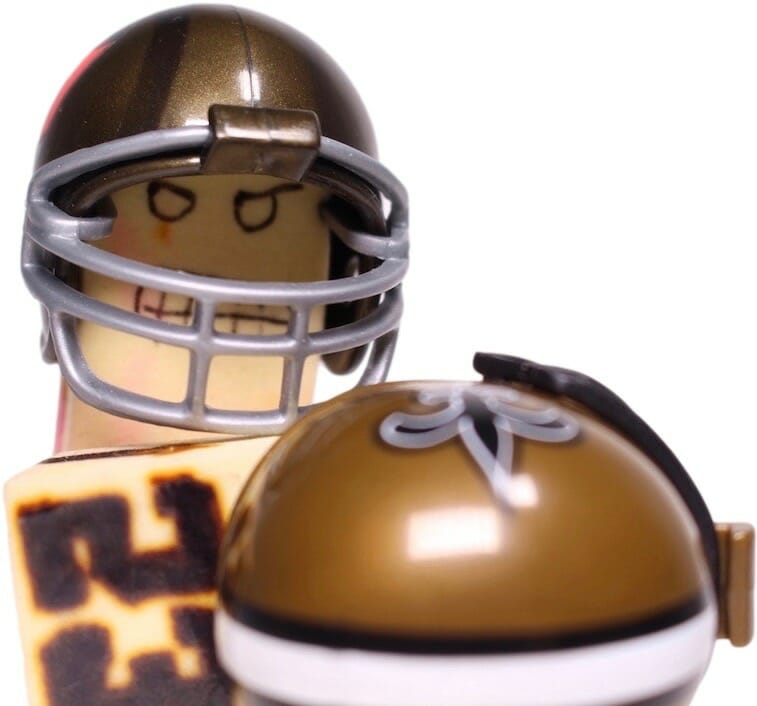 The first players I created weren't very detailed. They just had hand-drawn numbers on the back and faces on the front. I wouldn't add specific number fonts, colors, or pant striping until later on.
By the time I was in middle school, hours of play had turned the old sponges a bit grimy and yellow, plus many of the gumball facemasks had broken and some of the helmets' logos had rubbed off. But then the NFL started selling full sets of all 32 gumball helmets — I remember being so excited when I saw that full helmet set on the shelves at the mall. I immediately thought back to the makeup sponges and all the possibilities now that I could have every team without having to depend on the randomness of the gumball machine. I was ready to reignite the project.
I had always enjoyed making pretend football games and football plays with the sponge players, but one thing had been missing: unpredictability. I didn't like knowing who was going to win.
By this time, I was a bit more organized about my toys. I would invent games and cohesive running storylines to go along with my imagination. With my shiny new helmet collection in hand, I was able to apply that approach to my makeup sponge football players.
To add that element of unpredictability, I created a game that decided the winner independently. Here's how it went:
• At the beginning of each possession, I flipped a coin. If the offense won, they scored.
• The first team to three touchdowns would be the winner.
• I left the rest up to my imagination. (I used the players to act out all the plays)
It was a fun little format that allowed me to use my imagination but also incorporated the intensity and unpredictability of football.
I would simulate entire "seasons" of this game. As the seasons got bigger, so did the stats. I kept stats on players, like touchdowns and turnovers. I looked up old NFL schedules to make a full season of games, and I even came up with a dice-rolling method that adjusted the odds based on the difference in record of the teams playing. This was also when I became more particular about the uniform details of each team, precisely drawing out pant striping and number fonts based on reference pictures of each team.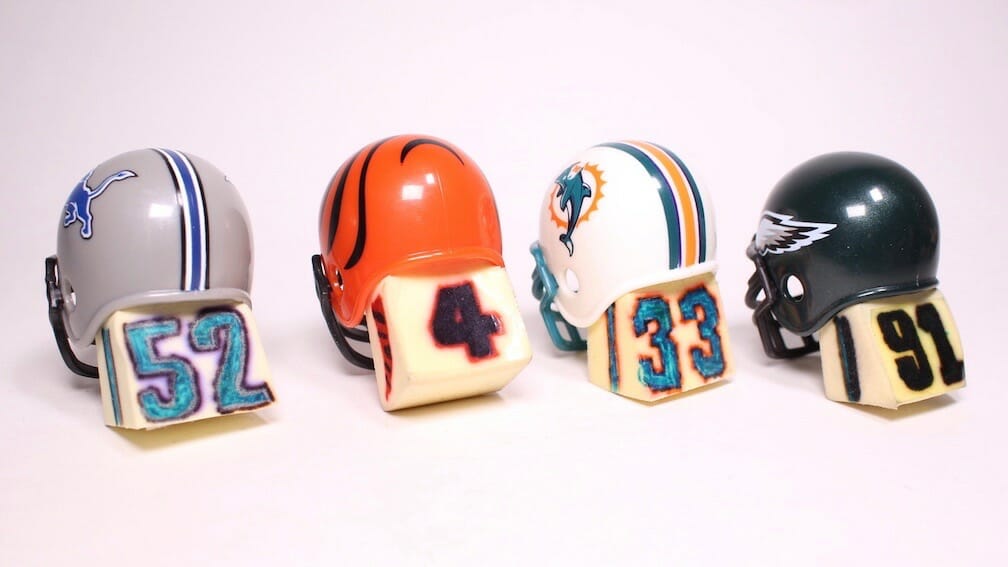 This was a solitary pursuit. I was blessed to have great friends as a kid (many of whom I am still close to), but I didn't really share this game with any of them. It was kind of my own private thing that I did to escape the stresses of adolescence, plus it felt like my own personal football league. Middle school was also an awkward time, and I think I was honestly a bit embarrassed that I preferred my mini-helmet game over Madden.
I kept on playing until early in high school. Looking back on it now as an adult, the whole thing was really awesome and creative.
The Craft
Since the sponges were white, I always based my designs on the teams' white uniforms. I figured coloring in an entire sponge would be a bit messy and possibly a waste of ink. Plus the helmets were so much larger than the players' "bodies" that it was easy to tell the difference between two teams, even if they were both wearing white.
Early on, all my hand-rendered numbers looked more or less the same for every team. Eventually I started matching the teams' specific number fonts and pant striping, but I never added in NOBs or front numbers, especially since I didn't base my players on real NFL players. I always just referred to the players by their numbers.
The hardest teams to render properly were the ones with unique number fonts, like the Seahawks, Lions, Vikings, Patriots, and Buccaneers. Numbers with multiple outline colors, as worn by the 2009-2018 Lions and the 2000-2020 Patriots, were particularly tricky — after all the coloring, the numbers usually came out looking too thick. I actually did pretty well with the Vikings, but I remember being confused about why the first and second digits didn't match.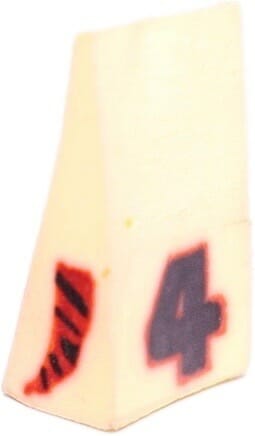 Teams like the Panthers, Saints, and Chargers, who had logos on their pants striping, were also challenging. Makeup sponges don't provide the smoothest drawing surface!
For the record, I think the best-looking sponge player I ever made was a No. 4 Bengals player. I really nailed those pants stripes, and single-digit numbers always looked better on the sponges. The Bengals have never looked so good in real life!
Tips
Makeup sponges come in a surprising variety of sizes. In my experience, sponges around 1″ x 1.75″ x 0.75″ fit the mini-helmets best.
Depending on how aggressively you play with them, the sponges can show slight signs of yellowing, age, and general nastiness over time, but for the most part they hold up quite well. I still have all of my originals somewhere at my mom's house.
As you can see in some of the pictures, the Sharpied numerals on the sponges can start to bleed as they rub against the helmets. I solved this problem by putting a clear piece of scotch tape over the numerals.
———
Paul here. That is one doozy of a DIY project, am I right? But wait — there's more! At my request, Drew has made a video tutorial, showing how he makes his little players:
Love it! Please join me in thanking Drew for sharing this project with us.
• • • • •
• • • • •
ITEM! Podcast now ready to go: I'm super-excited to announce that the first episode of Unified — the new podcast that I'm doing with SportsLogos.net founder Chris Creamer — is now available for your enjoyment. You can watch the video version (embedded above) or listen to the audio-only version — and subscribe to future episodes — on Apple, Google, Stitcher, TuneIn, and Spotify, or just use the player below:
If you have a favorite podcast-subscription service that we aren't yet using, let me know and I'll try to get the show added to that service.
A few other notes:
• The show now has its own website, where you can see the show notes for the first episode.
• As I mentioned yesterday, we hope to have a recurring segment in which we take questions from our listeners. If you'd like to submit a question for next week's episode, you can do so by replying to this tweet. (And if you haven't already followed the show on Twitter, you can do so at @unifiedcast.)
• We'd like to make a little coin off this project, but we'd prefer not to read ad scripts for products or services we don't know or care about, so we're looking for advertisers who Get It™. Those could be sports-related companies or non-sports companies — as long as they're good people with a solid product or service that we can can feel good about touting on our show. If you think that might be you, give me a shout and we'll talk.
• • • • •
• • • • •
90s goalkeepers as birds 🧵

David Seaman/Rainbow Lorikeet (📷 Mat Gilfedder) pic.twitter.com/kHIKV8FxXK

— Dan Baldassarre (@evornithology) February 2, 2021
Birds of a feather: Spectacular thread on Twitter yesterday, comparing 1990s soccer goalie kits to birds. The example shown above is just the tip of the iceberg — click on the tweet to see the entire thread. You won't be sorry!
(Thanks to all who shared this one.)
• • • • •
• • • • •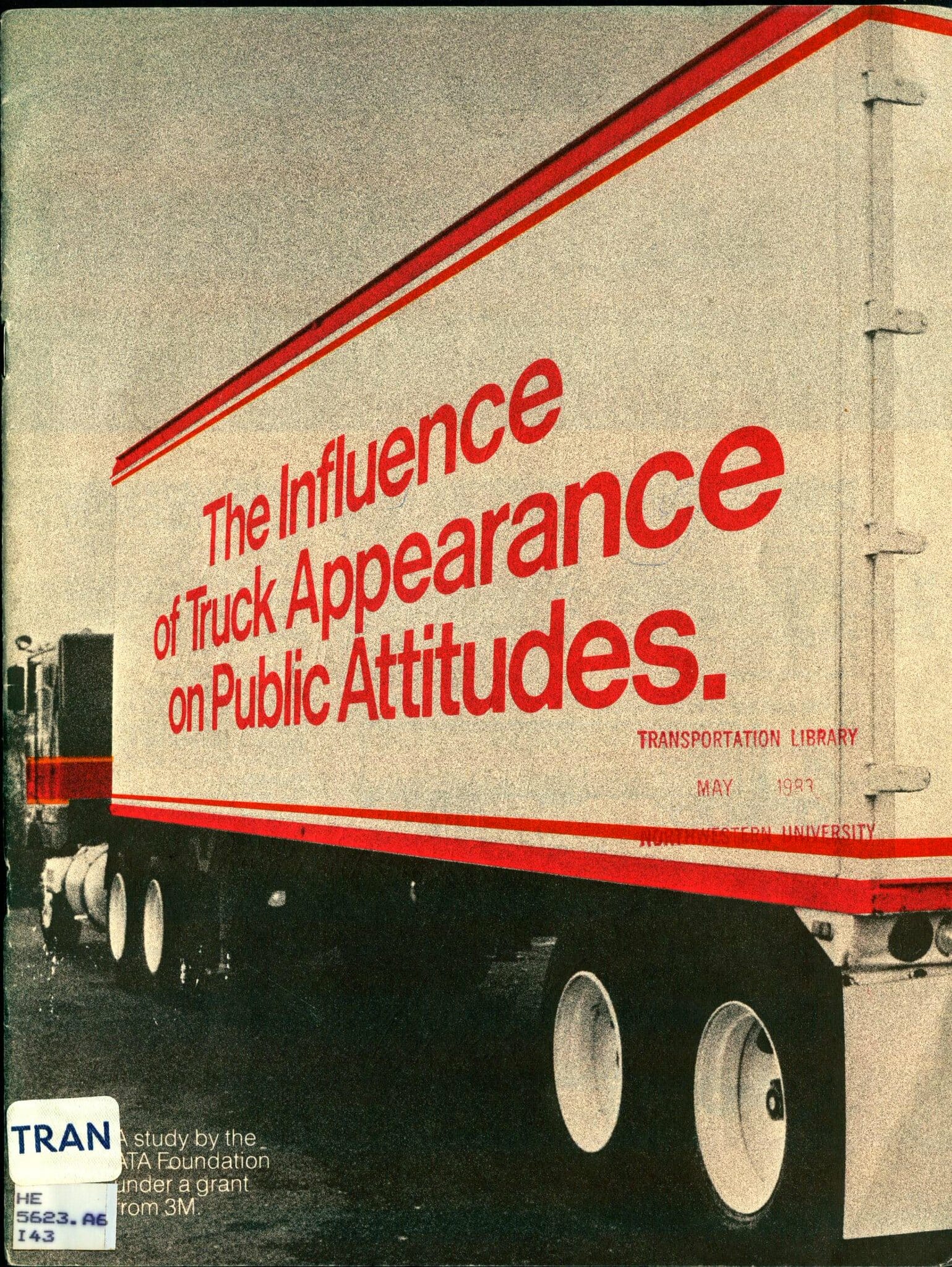 Click to enlarge
Too good for the Ticker: I'm not sure which I like better about the report shown above — the topic or the cover design. Both are so good!
That's one of a few dozen interesting reports, mostly from the mid-1900s, found in this Twitter thread. Some of them have interesting titles (Problems of the Carless, New Developments in Meat and Meat-Packaging Technology, Transporting Watermelons in Bulk and Bins by Truck), others don't. But all of them have great cover designs. Highly, highly recommended.
(Huge thanks to longtime reader Jimmy Lonetti for this one.)
• • • • •
• • • • •
Just like @UPS our guys delivered on time! Great team win! @EricPMusselman @AnthonyRuta @patack32 @riley_hall5 pic.twitter.com/jBp9zxEKcy

— Michael Musselman (@michaelmuss_13) February 3, 2021
Oh for fuck's sake: In a nauseating mixture of blue collar cosplay and, I'm guessing, some sort of paid sponsorship advertising, Arkansas coach Eric Musselman and his staff actually dressed up as UPS delivery workers prior to Tuesday night's game. I hope Musselman mentioned that UPS drivers have a strong union and a great compensation package — unlike, say, college basketball players — but somehow I doubt it.
My own UPS guy, Ricky, could not be reached for comment because he was busy working instead of dressing up like a fucking basketball coach.
(My thanks to Mike Chamernik and @seanfoulsean for this one.)
• • • • •
• • • • •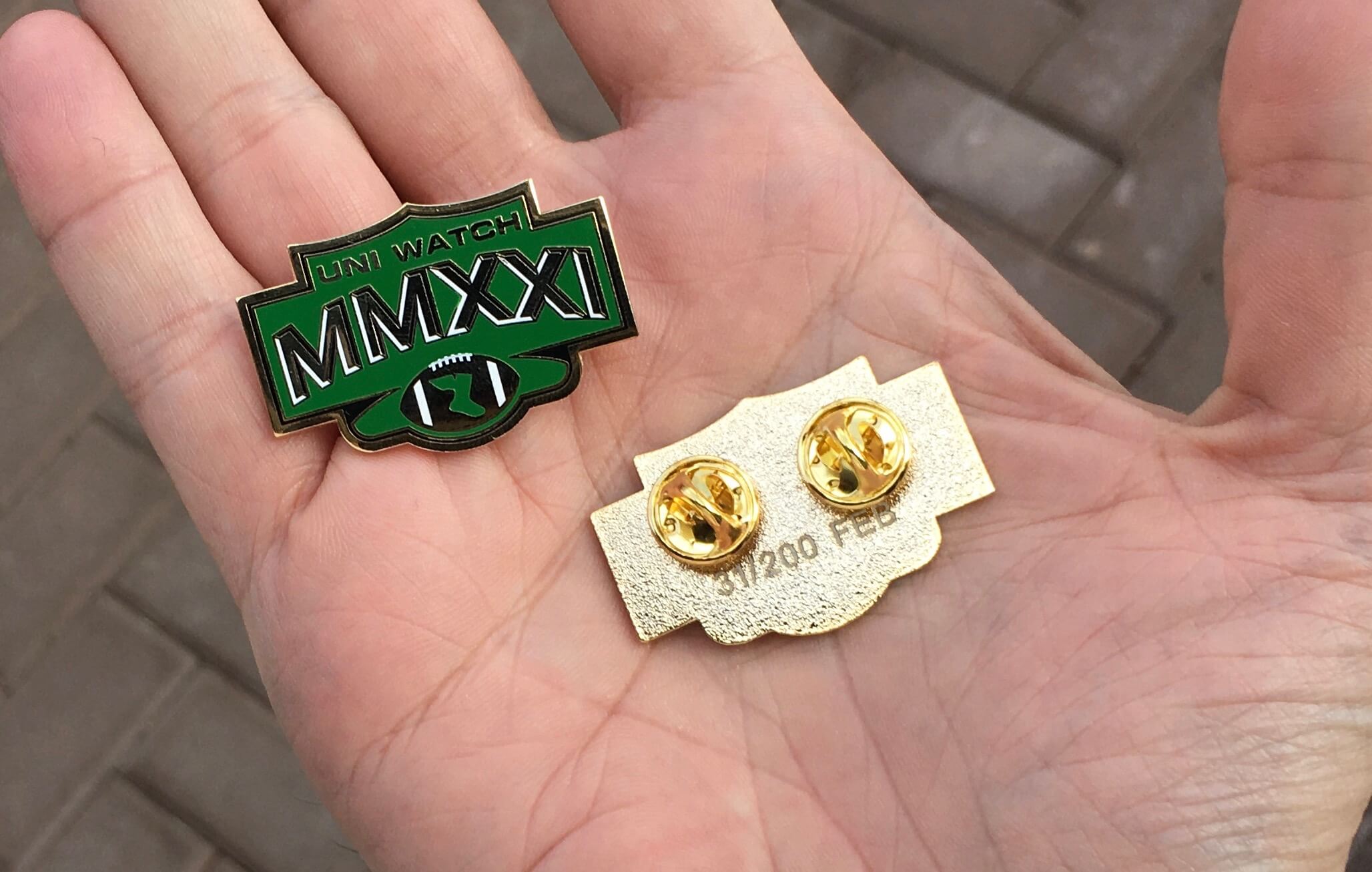 Click to enlarge
Pin Club reminder: In case you missed it on Monday, the Uni Watch Pin Club's design for February is now available. It's a shout-out to the Super Bowl, with the year 2021 rendered in Roman numerals.
Again, the pin is available here. My thanks, as always, for your consideration.
• • • • •
• • • • •
The Ticker
By Paul

'Skins Watch: All of these are from Kary Klismet: Here's a story about the ongoing debate about the use of Native American mascots among high schools in North Carolina. … Cincinnati Country Day School has changed its team name from "Indians" to "Nighthawks." … Bellefonte Area School District in Pennsylvania has scheduled a meeting to discuss its high school's use of Native American imagery and its "Red Raiders" name. … Looks like the Cleveland Indians' impending name change is already being reflected on the team's merch. … Two schools in North Carolina aren't yet ready to give up their Native-based team identities (from Matthew Moss).

Baseball News: From Kary Klismet: "This lengthy but fascinating article takes an in-depth look at multiple design ideas that were almost incorporated into Dodger Stadium, including a monorail, moving sidewalks, and a giant bat/ball sculpture, but didn't make it into the final plans." … Also from Kary: "The great Stadium Journey website has an article exploring the memorials to old Metropolitan Stadium that can be found in Minnesota's Mall of America, which now occupies the site." … One more from Kary: A Rangers blog has assessed the team's best and worst uniforms. … Here's some Braves merch that shows their 150th-anniversary patch. Atlanta is also hosting this season's All-Star Game and also-also has Henry Aaron's and Phil Niekro's deaths to memorialize, all of which could lead to a serious patch-o-rama situation. … Reprinted from yesterday's comments: New advertised stadium name for the Single-A West Michigan Whitecaps (from John Chapman). … The Elizabethtown Twins are the latest Appalachian League team to get a new identity. They'll now be known as the Elizabethtown River Riders (from Jerred Chandler). … For reasons that aren't entirely clear, at least to me, rock star Elton John wore a Yankees blazer for a photo promoting the UK's National HIV Test Week (from Sean Huffman).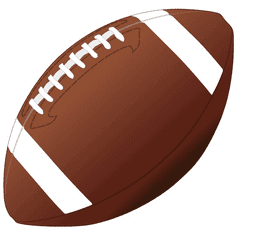 Football News: Helmet brand Vicis, now under new ownership, has launched a new helmet model (from Kary Klismet). … Also from Kary: Last summer we Ticked a story about a segregated Black high school team in Georgia that finally received its state championship rings 51 years after winning the title. Now the surviving members of the team have been given individual championship trophies by a benefactor who has also offered to pay for their rings. … This is pretty funny: Check out the difference between Tom Brady's first and most recent video game appearances (from our own Anthony Emerson). … Although the Rams have agreed to trade for QB Matthew Stafford, fans can't buy his jersey until the trade becomes official on March 17. … The Jets are sponsoring a new girls' flag football program in New Jersey. You can see a bunch of the jerseys in this video (from Dave Landesberg). … The NFL is ending its licensing deal with Under Armour, so there'll be no more UA logo on on-field shoes or gloves. It's the latest in a long series of problems for the troubled company.

Hockey News: Did you know you can still buy Cooperalls, or at least something very similar to them? They're available here (from Brandon Weir). … Here are the pads and mask that Blues G Jordan Binnington will wear with the team's ЯR uniforms (from Wade Heidt). … In a related item, the Rangers are the latest team to release their ЯR schedule (from @tierknala). … The Canadiens' awesome ЯR uniforms will make their on-ice debut tonight. … The Kings' old Rogie Vachon-era crown logo had some inconsistencies that have led to some throwback glitches. … New chrome helmets for the OHL's Erie Otters (from Wade Heidt).

Soccer News: New secondary kit, created with a lot of fan input, for the Philadelphia Union (thanks to all who shared).


Grab Bag: YouTube will have a different logo each week of February for Black History Month. … In a move that seems at least a century or so overdue, a U.S. Navy task force has recommended that ship names honoring the Confederacy should be changed (from R. Scott Rogers). … In similarly inexplicable situation, a committee in Pensacola, Fla., has recommended that the Confederate flag be removed from the city's police badges (from Timmy Donahue). … Here's a profile of the designer who created the new White House logo. … Williams College has a pretty intense brand identity style guide (from Paul Friedmann). … Here's a great example of sports imagery being used to teach basic principles of civics. … The Indian fashion website Myntra has revised its new logo after the original version was deemed to resemble a naked woman with her legs spread. … Sad to hear that the gorgeous Domino Sugar neon sign in Baltimore is coming down (from Craig Maki). … Longtime reader and all-around swell guy Gordon Blau was rummaging around in his closet and found his old Taco Bell uniform from the late 1970s. "Sadly, I'm no longer close to fitting in it," he says. … New bicentennial badge for the sheriff's office in Bartholomew County, Ind. (from Timmy Donahue). … The Irish county Cork's Gaelic football and hurling teams have new kits (from our own Jamie Rathjen). … The rest of these are from Kary Klismet: Lone Star Middle School in Texas, which changed its name from Robert E. Lee Middle School in December, has now changed its team name as well, switching from "Rebels" to "Texans." … Saddleback College in California is dropping "Gauchos" as its team name because of its negative connotations for Latin Americans. … France's men's and women's national field hockey teams have new uniforms after signing an apparel deal with French clothing brand Le Coq Sportif. … New helmet for Chaz Mostert of Australia's Supercars Championship touring car circuit. … New uniforms for the Clinton, Ark., police department. … A nine-year-old Florida girl wore a Chick-fil-A uniform for "Everyday Heroes Day" at her school and was made an honorary employee.
• • • • •
• • • • •