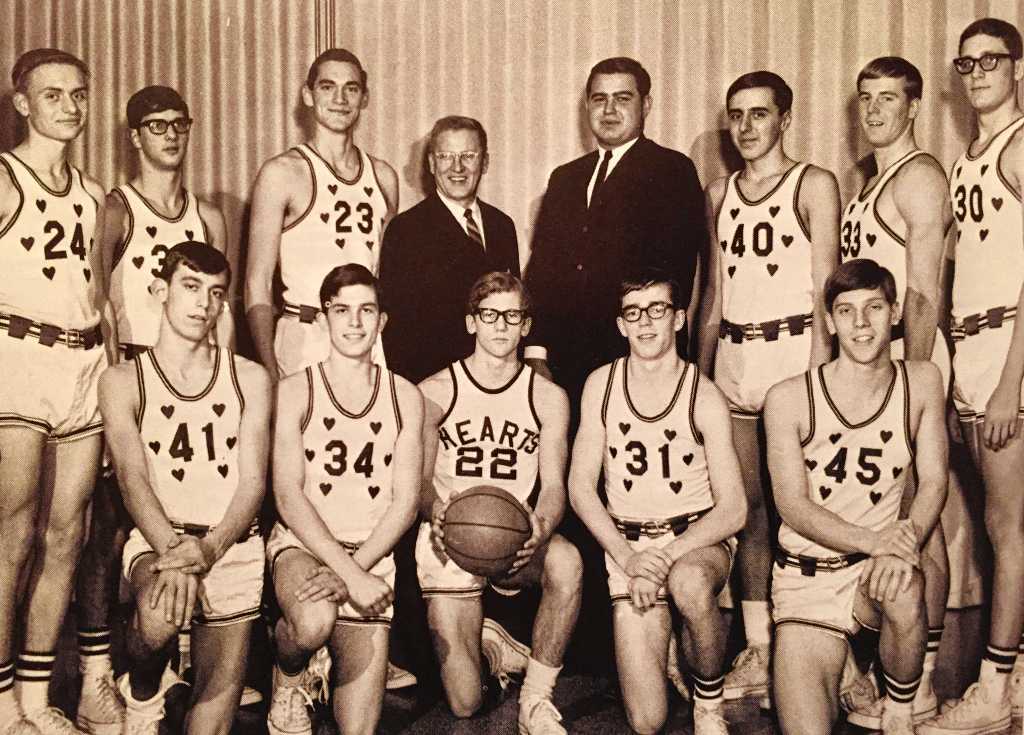 Click to enlarge
Derek Perras, who tweets as @retro_70s, has been posting some great high school basketball photos lately, including this fantastic photo of the 1967-68 Sacred Heart team from Syracuse, N.Y. Love those heart-trimmed jerseys!
You say you want to see that uni in color? Here you go: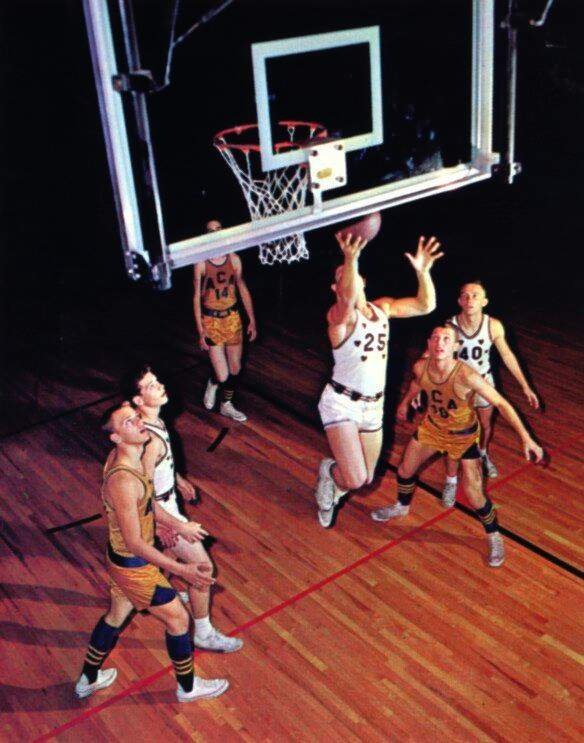 Note that the opposing team is wearing stirrups, but without the usual white crew socks over them!
One of Sacred Heart's main rivals was St. Patrick's, who wore this fantastic uniform in 1942 (click to enlarge):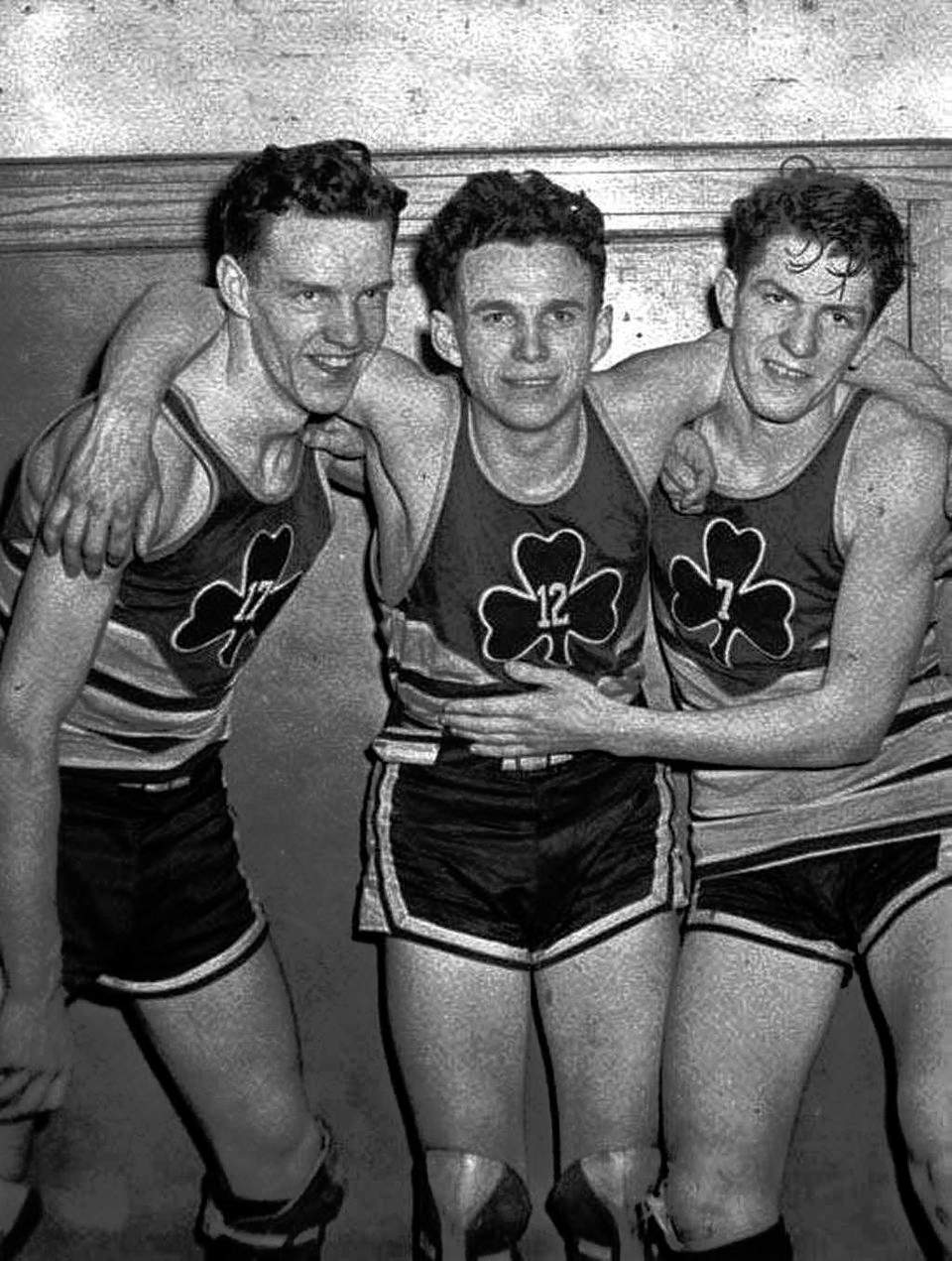 Here's another St. Patrick's uni, this time from the 1960s (click to enlarge):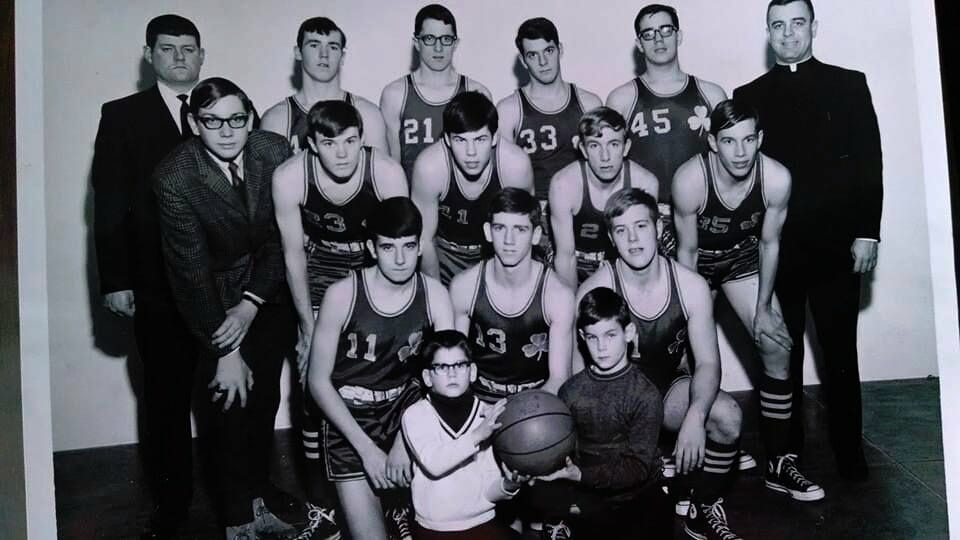 Now here's the payoff: In 2015, two Syracuse schools — Christian Brothers Academy and Bishop Ludden — played each other while wearing Sacred Heart and St. Patrick's throwbacks (click to enlarge):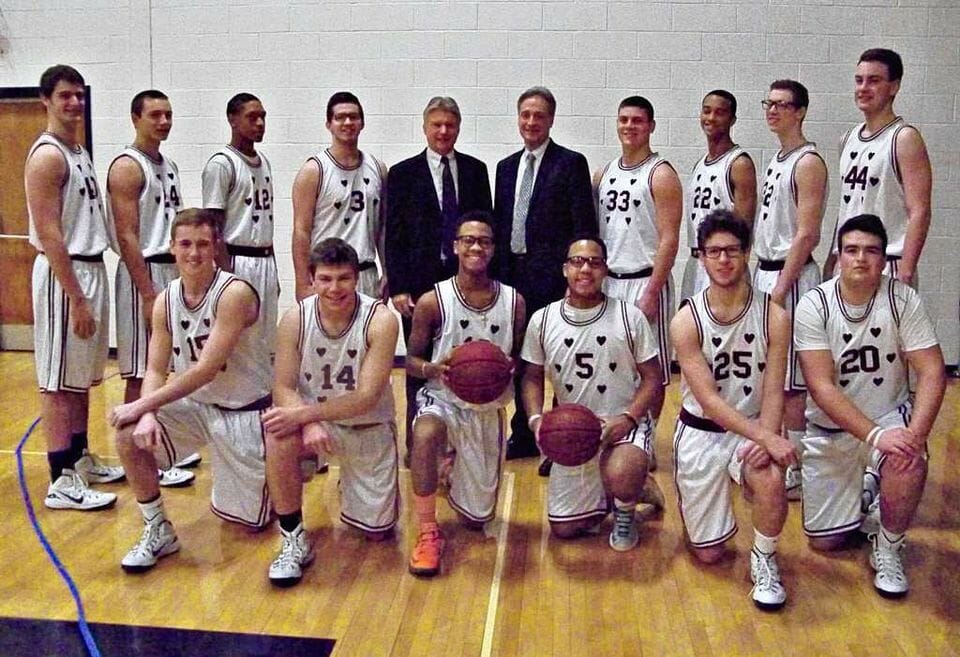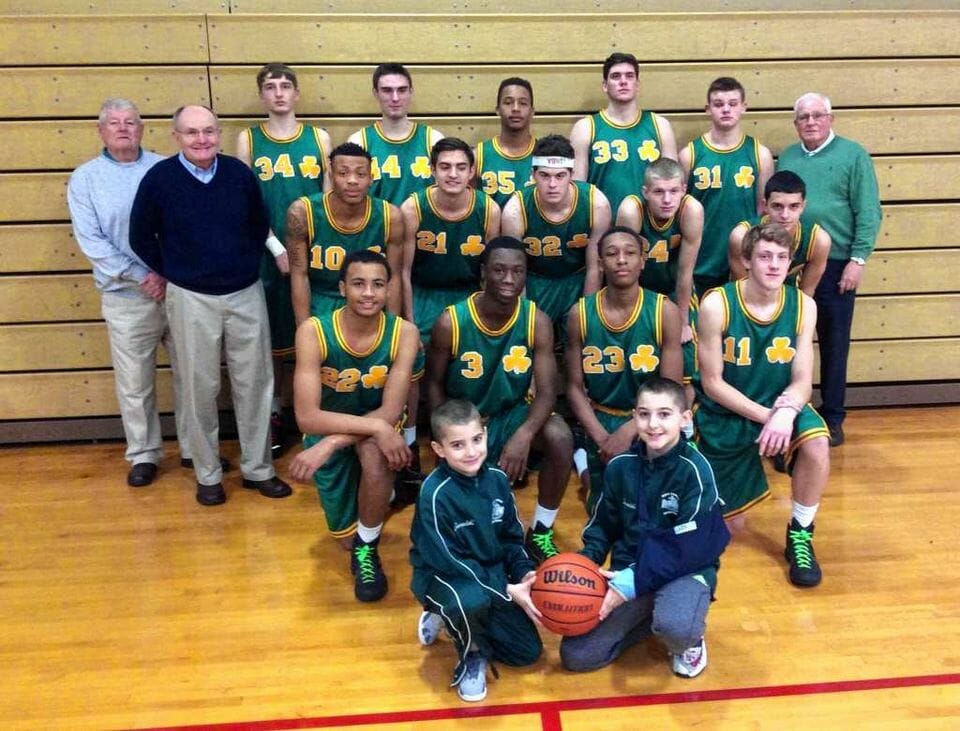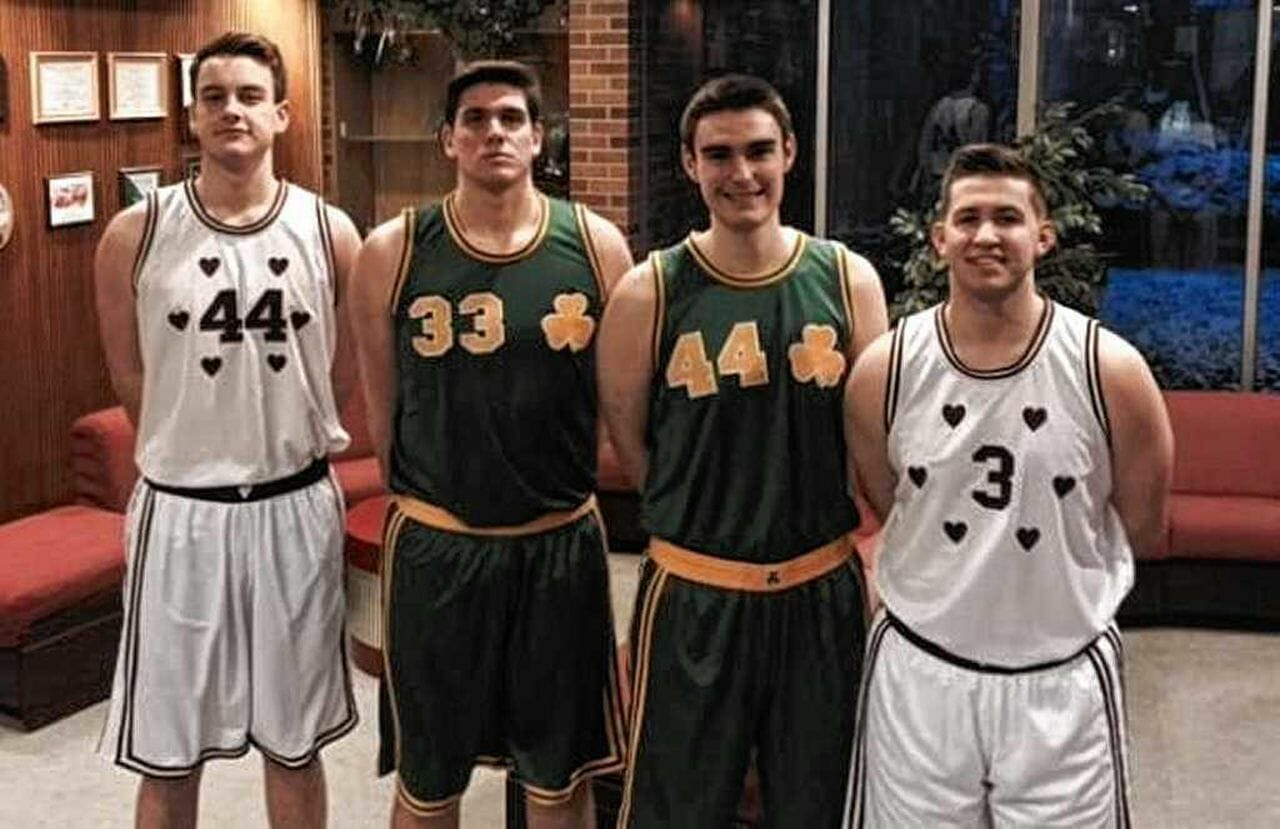 Shifting gears, here's a really interesting uniform worn by the 1942 Luverne High School squad in Minnesota: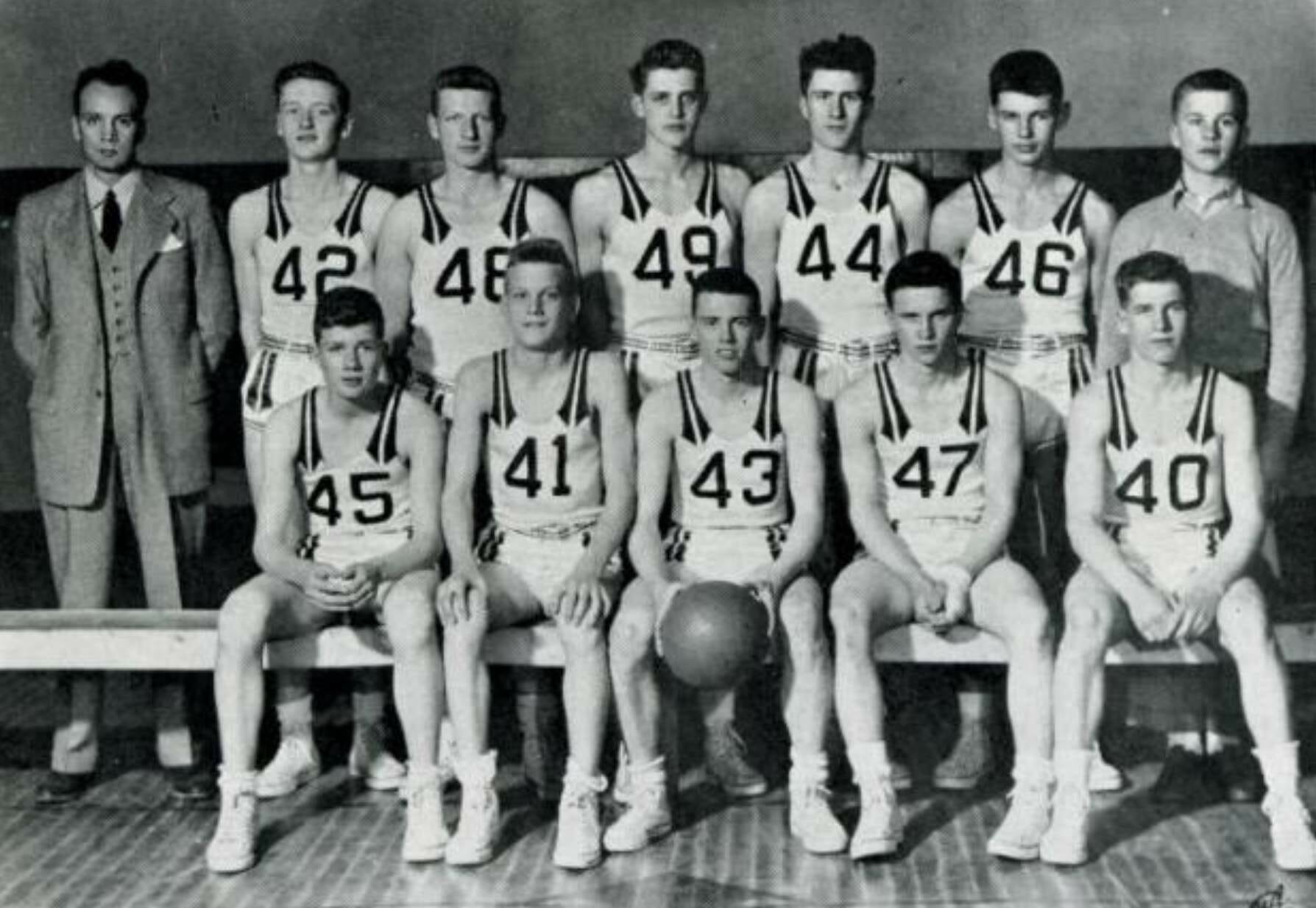 I don't think I've ever seen anything quite like those shoulder straps. It looks like they have neckties draped over their shoulders! Also: All of the uni numbers are in the 40s.
You want more? Sure you do! Here's a great shot of the 1968 George Washington High School Continentals, from Indianapolis. That's future NBAer George McGinnis wearing No. 45: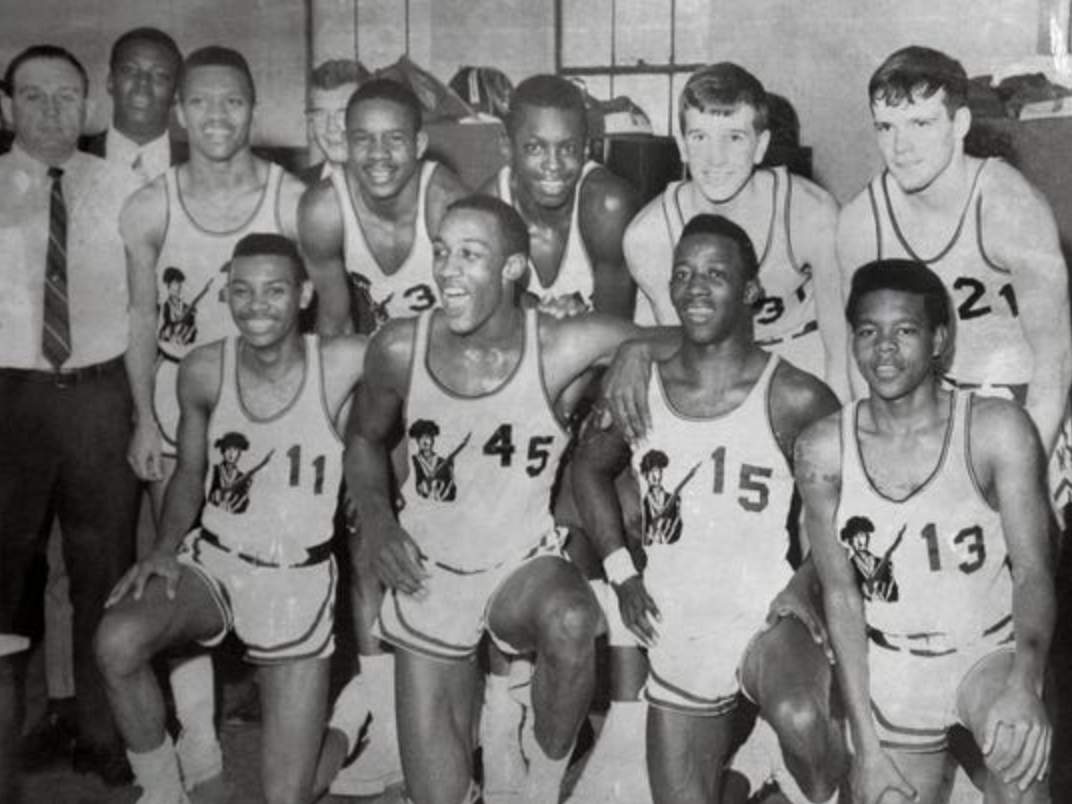 Derek has also been posting even older stuff, like this (dig the suit-clad ref!):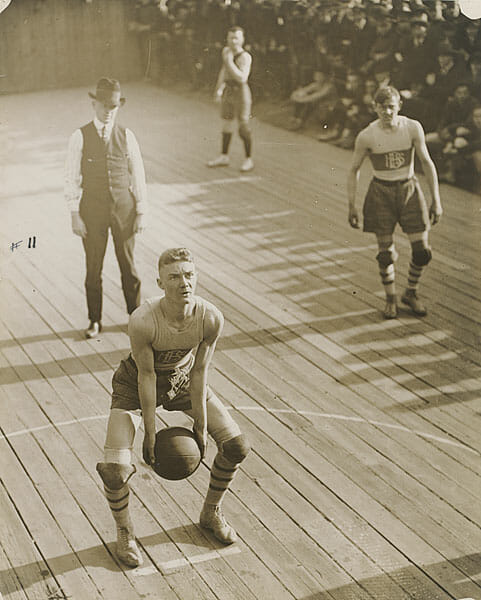 As you'd expect from an account called @retro_70s, there's also a lot of 1970s stuff (and '80s, too), but it's the old photos I've really been going to school on. I encourage you to follow Derek's Twitter account, and I'm sure we'll be featuring more of his finds here on Uni Watch.
• • • • •
• • • • •
• • • • •
• • • • •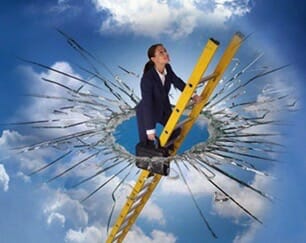 Glass ceiling about to be shattered: As you may be aware, an American woman is about to make history by reaching an exalted position that no other woman has previously attained. She won't be quite at the tip-top position, but she'll be close — and that will have to do, at least for now (although a woman's ascension to the top spot is long overdue and will hopefully happen soon).
I am referring to, of course, yesterday's news that NFL official Sarah Thomas will be part of the officiating crew for next month's Super Bowl, where she'll serve as the down judge. And thanks to a cap change that she made this season, that also means she'll be the first Super Bowl official to be sporting a ponytail:
NFL line judge Sarah Thomas used to have to tuck her hair under her cap (left). This year she's wearing a snap-back cap, so her ponytail can stick out (right). (h/t Matthew Wolfram) pic.twitter.com/3fEvicX4Z8

— Paul Lukas (@UniWatch) October 18, 2020
Congrats to her, and here's hoping she serves as an inspiration to lots of girls and women.
• • • • •
• • • • •
For people who Get It @UniWatch pic.twitter.com/EbwMmkxWb8

— Tom Pope (@twpope) January 20, 2021
Addition by subtraction: Over the past year or so, lots of people have asked me if a seam ripper can be used to remove the maker's mark from an MLB jersey, just like on an MLB cap. And for a year I've been saying, "It should work, but I haven't seen anyone who's actually done it, so I can't say for sure."
But now, thanks to reader Tom Pope (see above), I can finally say, "Yes, it works!" Nice job, buddy.
I asked Tom if he had any pointers or advice to offer, and he said he simply followed the procedure spelled out in this Reddit post from four months ago (which I hadn't been aware of, or else I would've mentioned it here sooner!).
Okay, people — you know what to do.
• • • • •
• • • • •
Too good for the Ticker: When you think of Lawrence Taylor playing for the Giants, you think of him wearing No. 56. But did you know he wore No. 98 — his college number — for preseason games of his rookie year, 1981? It's true! And you can see a rare example of it in the video embedded above.
(Big thanks to Robert Gaudelli for this one.)
• • • • •
• • • • •
The Ticker
By Lloyd Alaban

Baseball News: Reader Ryan Keberly found this koozie logo mistake between the Tigers' and Detroit Lions' logos at a Detroit-area Kroger. … New uniforms for Virginia (from our own Jamie Rathjen). … Motocross racer Chase Sexton wore an Astros tequila sunrise-inspired uniform for a race in Houston last night (from John Flory).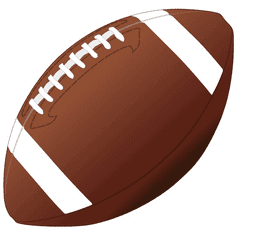 Football News: The Lions now have ads on birthday announcements. Gross (from multiple readers). … Cross-listed from the baseball section: Reader Ryan Keberly found this koozie logo mistake between the Lions' and the Detroit Tigers' logos at a Detroit-area Kroger. … We know about the NFL's "My Cause My Cleats" program, where players pick a charity that's important to them and represent that organization on their cleats. Did you know that the Cowboys' cheerleaders do something similar with their boots? (From Chris Cruz.) … Here's a uniform history for the Winnipeg Blue Bombers of the CFL (from Wade Heidt).

Hockey News: The NHL is pausing its use of tracking pucks due to performance issues. … Here is the Capitals' Reverse Retro uniform schedule (from multiple readers). … Although the Avalanche changed their road uniform's black pants and gloves to blue, they kept the black numbers and NOBs, which now stand out as mismatched from the rest of the uniform (from several readers).

Basketball News: Here's a look at the Jazz's yellow-jersey curse. … Purdue and Ohio State men's went grey vs. black last night.


Soccer News: The NWSL's Racing Louisville is hosting a new four-team tournament, the International Women's Cup, in August. It already has its own logo (from our own Jamie Rathjen). … FC Lviv is asking fans to vote on its new crest.

Grab Bag: Cross-listed from the baseball section: Motocross racer Chase Sexton wore an Astros tequila sunrise-inspired uniform for a race in Houston last night (from John Flory). … A Washington sports fan collects memorabilia from the city's worst sports moments (from Chris Wautel and Nate Rathjen).
• • • • •
• • • • •