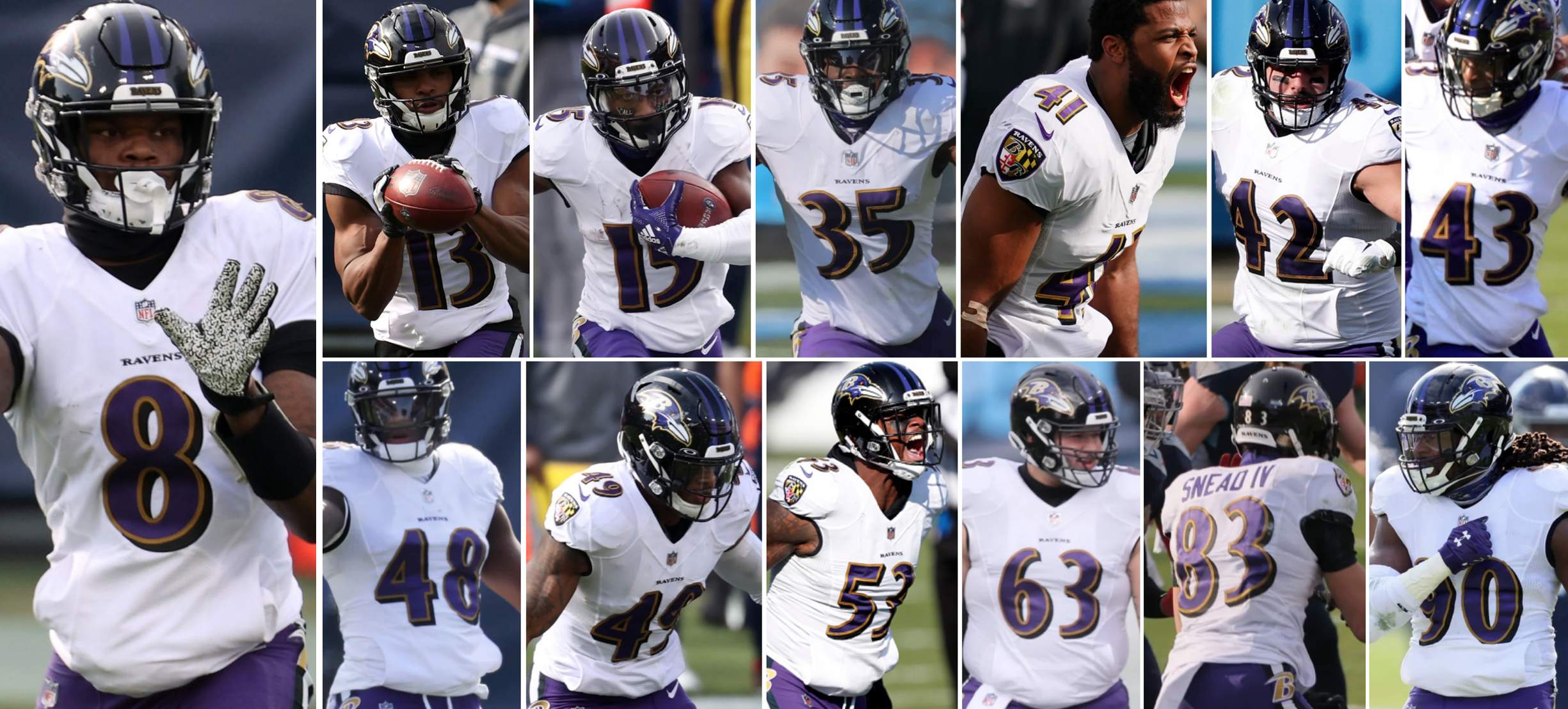 Click to enlarge
Good morning! Greetings from Uni Watch HQ, where all three inhabitants continue to be safe and well (although one inhabitant may have to go to the vet if she keeps sneezing). Hope things are good at your home as well.
As the 2019 NFL season moved into the cold-weather months, I mentioned a few times that the Ravens were leading the league in sewn-in jersey pockets. The same thing has been true this winter — I counted 13 Baltimore players wearing pocket-equipped jerseys during yesterday's Wild Card playoff game (and there were probably more that I missed). They're shown in uni-numerical order above.
Looking ahead, the Ravens' next playoff game will be this Saturday night in Buffalo, so there's some major pocket potential there. I'll be contacting the team today to ask if I can speak to their equipment manager about the pocket — it's an interesting quirk!
In other news from yesterday's playoff games:
• In that Ravens game, the Titans went mono-navy: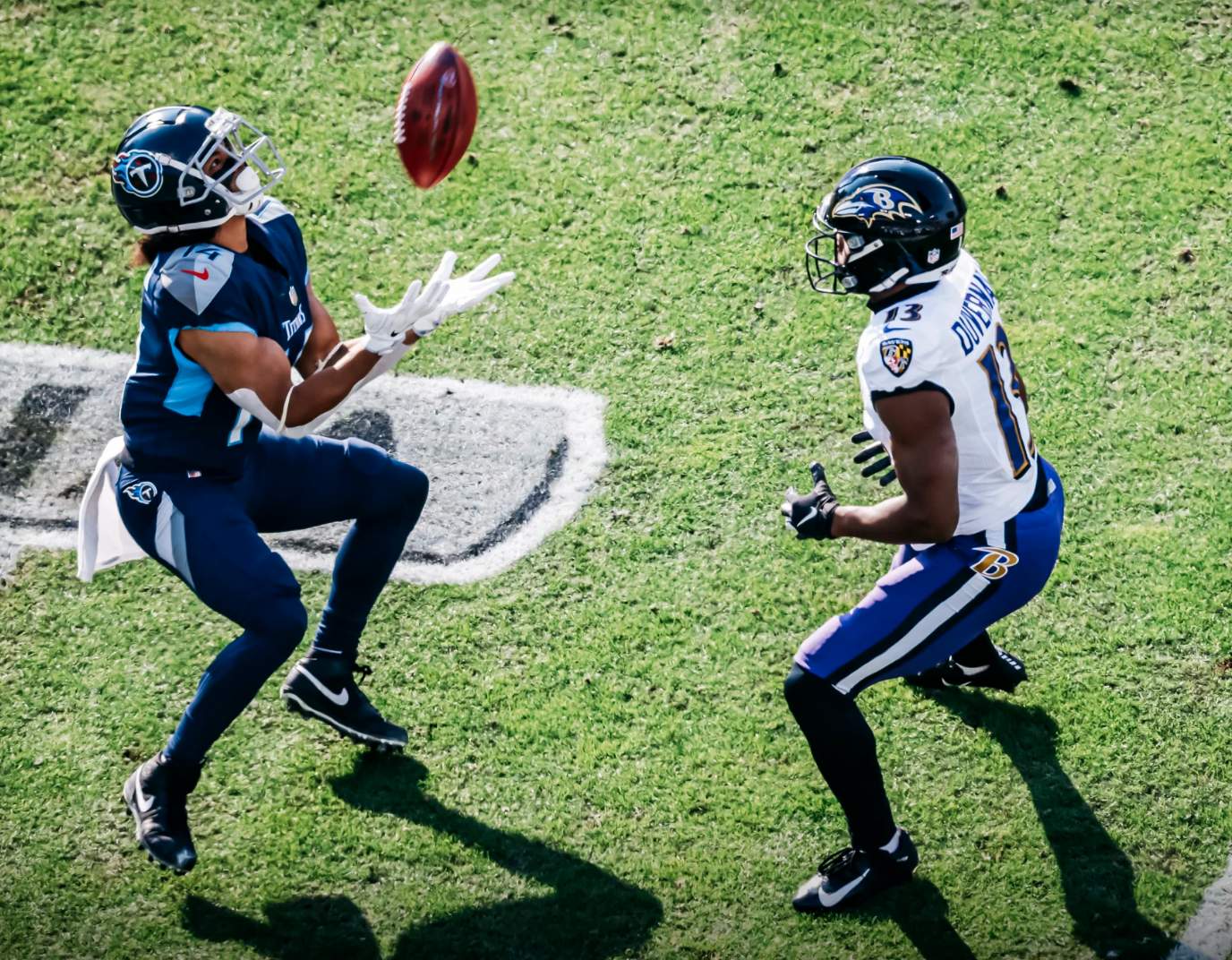 • Titans cornerback Malcolm Butler was missing the center stripe on his helmet: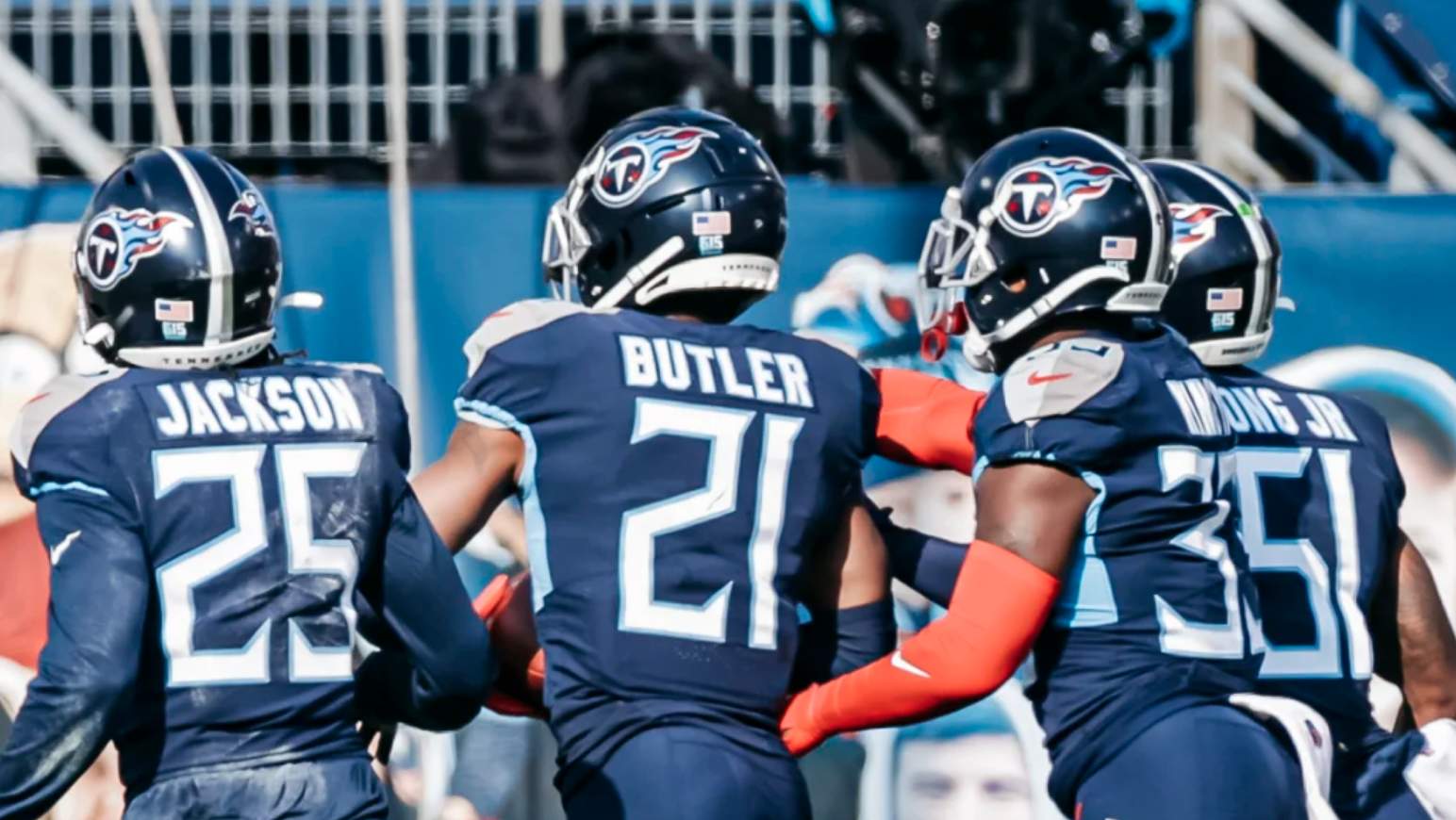 • As we've seen with several other teams over the years, the Browns didn't wear captaincy patches during the regular season but have added them for the postseason:
• The maker's mark on Browns defensive back M.J. Stewart Jr.'s pants was backwards: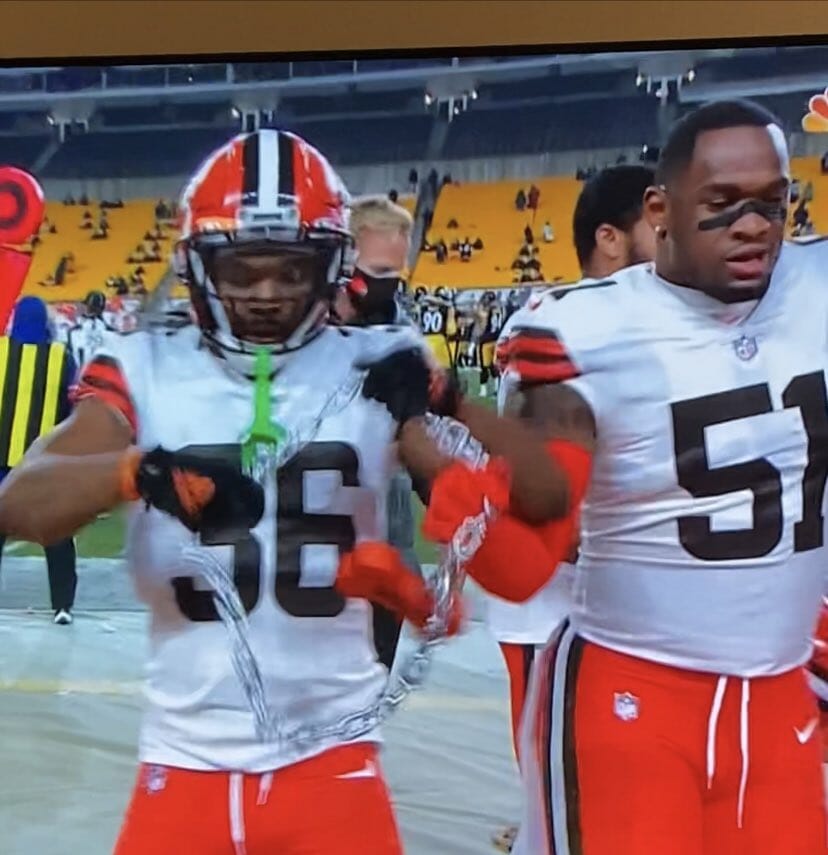 • The Steelers put a gigantic Terrible Towel Tarp over the seats behind one of their end zones: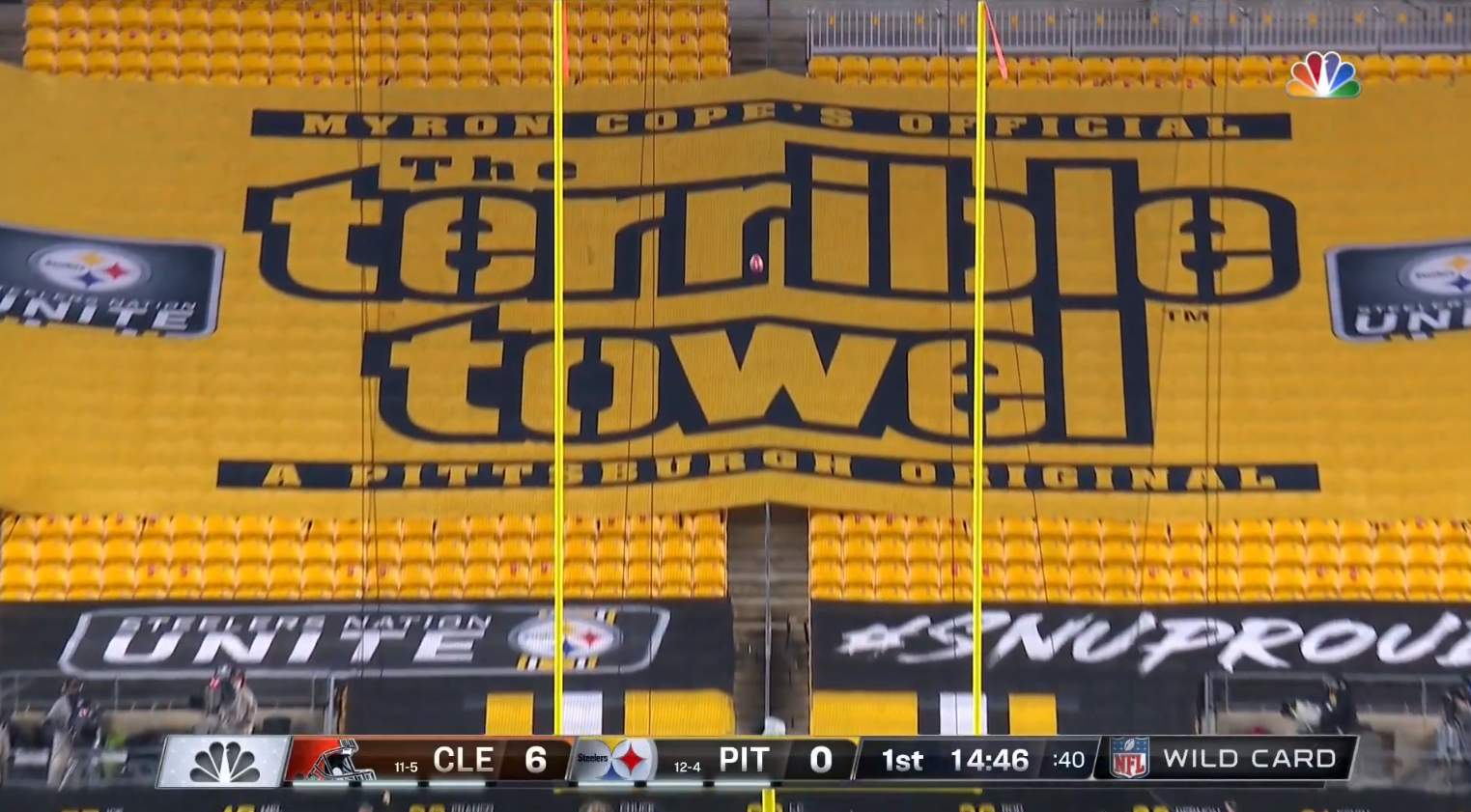 • And following up on an item that Phil had in yesterday's Ticker: In Saturday's Rams/Seahawks game, Rams quarterback Jared Goff was wearing a strap-on hand-warmer pouch that was navy, but with the team's current logo: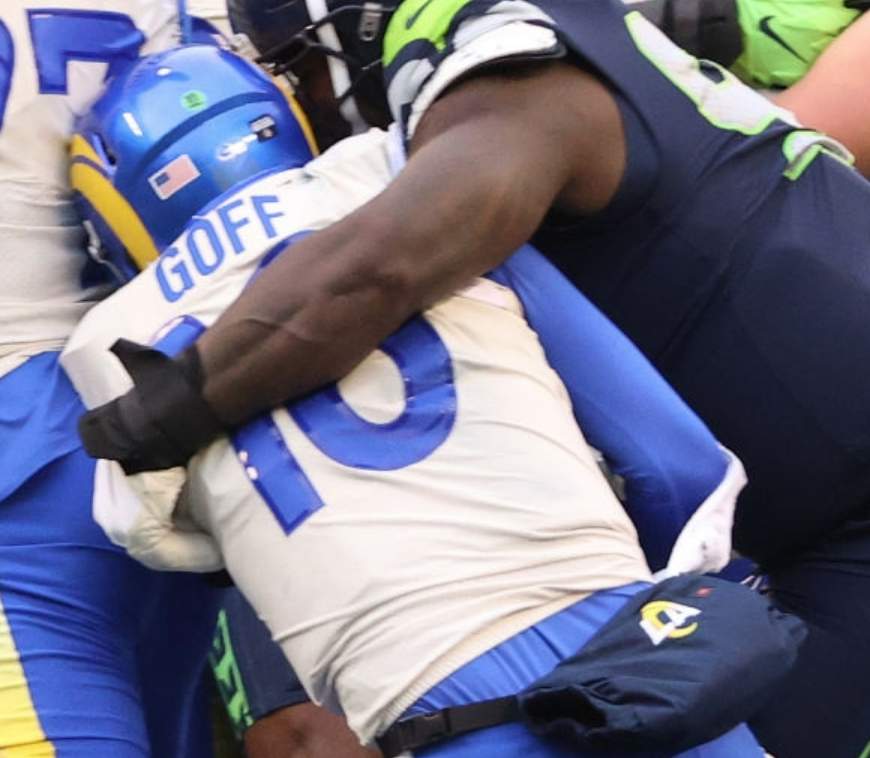 Navy isn't a current Rams color, so it's odd that they'd have a navy accessory.
Update: Mea culpa — turns out that navy is a current Rams color: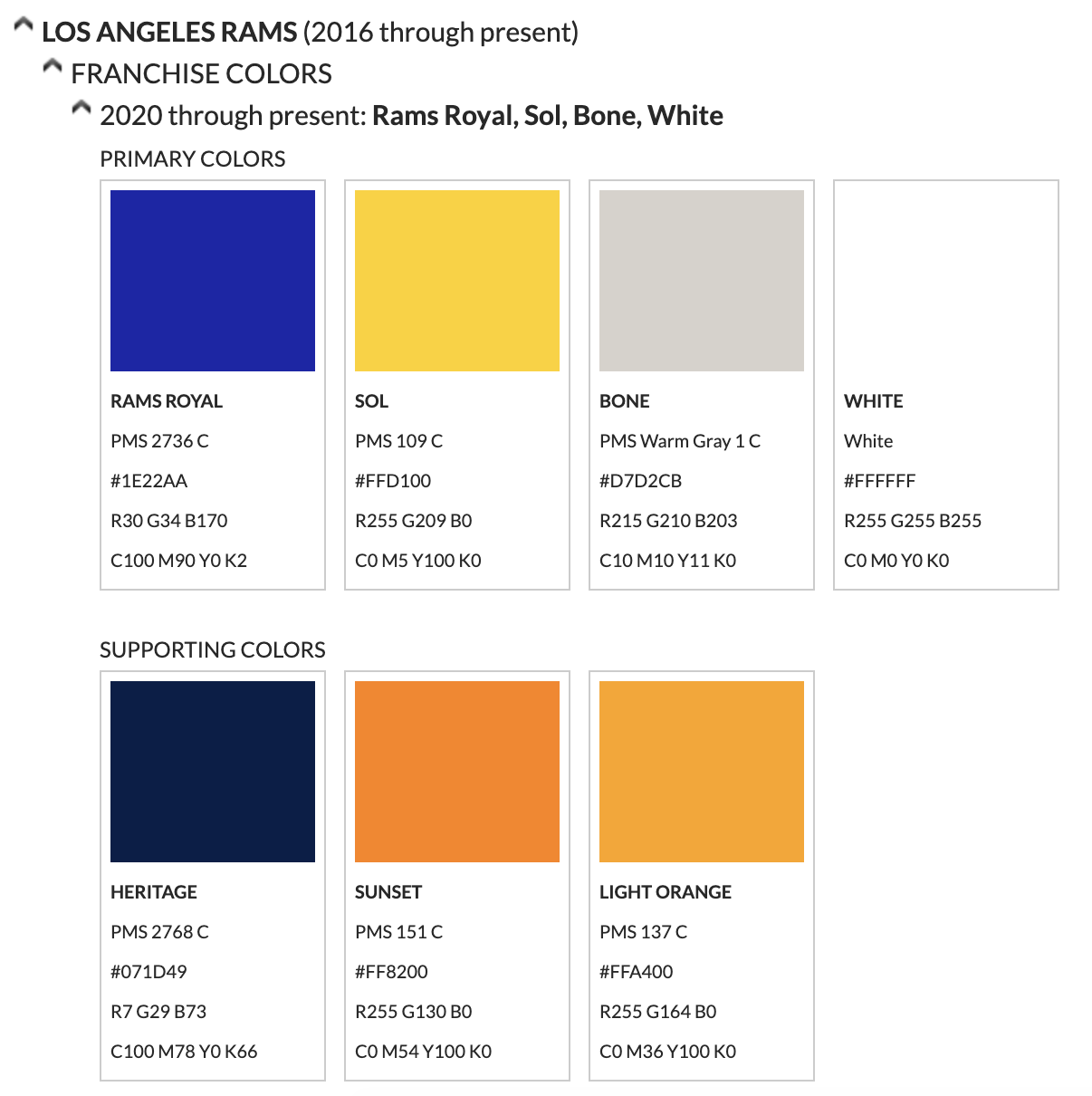 (Thanks to @thedandee, @AAcoolG, Mike Chamernik, Andrew DeFrank, and our own Alex Hider for their contributions.)
• • • • •
• • • • •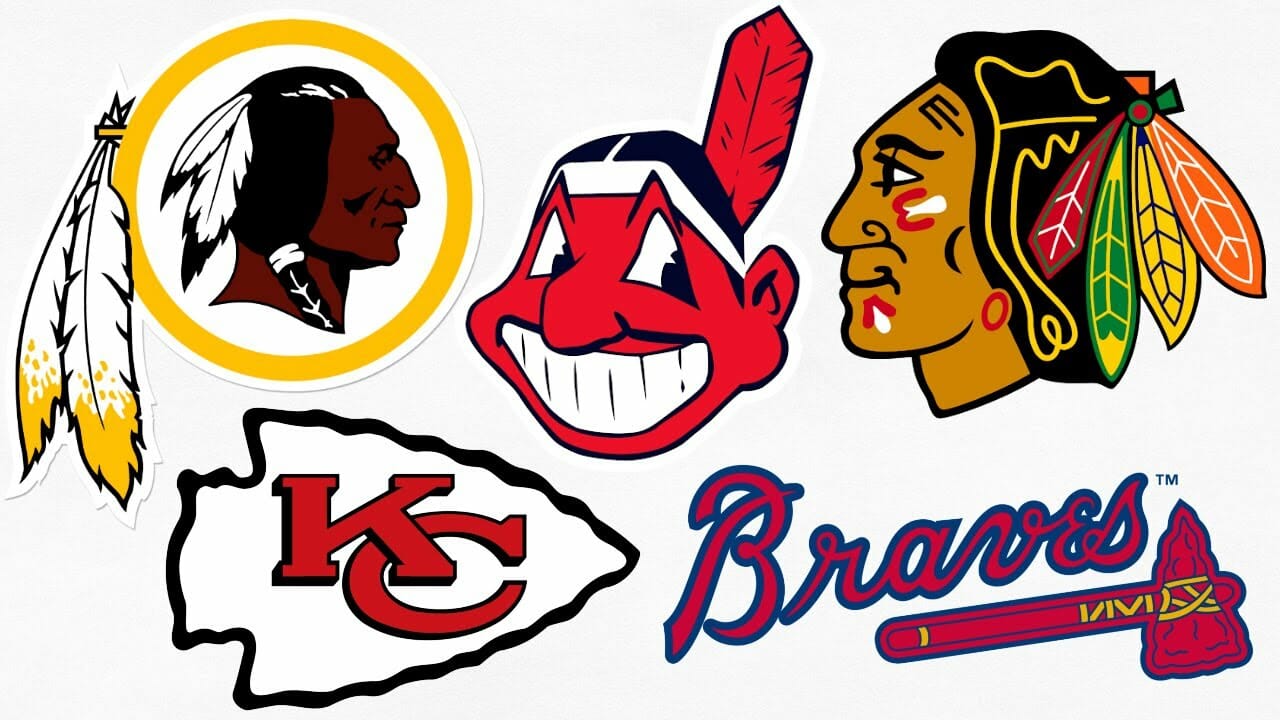 ITEM! Native imagery discussion: I'll be one of the panelists tonight on Conversations in Color, a weekly Wisconsin radio program about race. We'll be discussing the use of Native American iconography by sports teams. The segment will air tonight from 8:30-10pm Eastern, and a livestreaming link (which I think will include video, not just audio) will be available on the show's Facebook page. Feel free to check it out.
• • • • •
• • • • •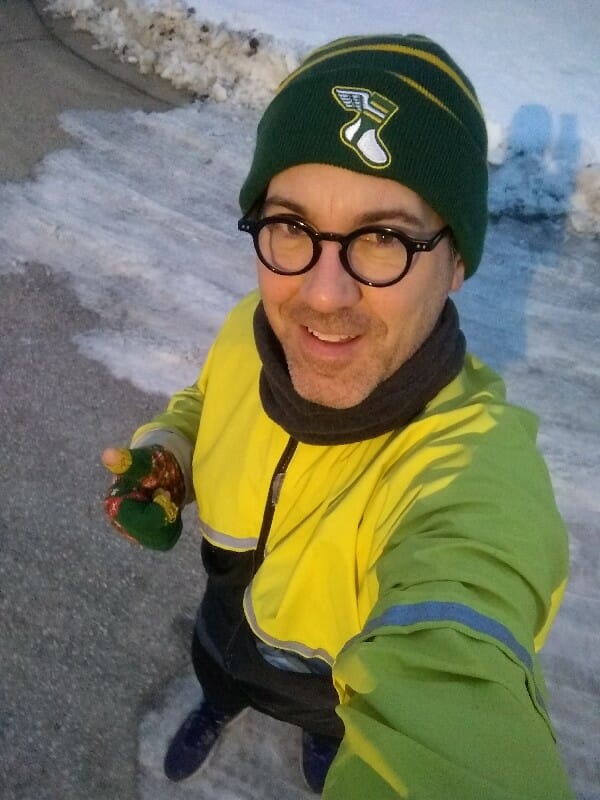 Toque-y doke: Who was that wearing a Uni Watch toque while out for a morning run the other day in chilly Ontario? None other than the great Sean Kane, known to our comm-uni-ty as the guy who paints museum-quality artwork on baseball gloves. Honored to have you repping Uni Watch, Sean!
If you want a hat like Sean's, you can get one here.
• • • • •
• • • • •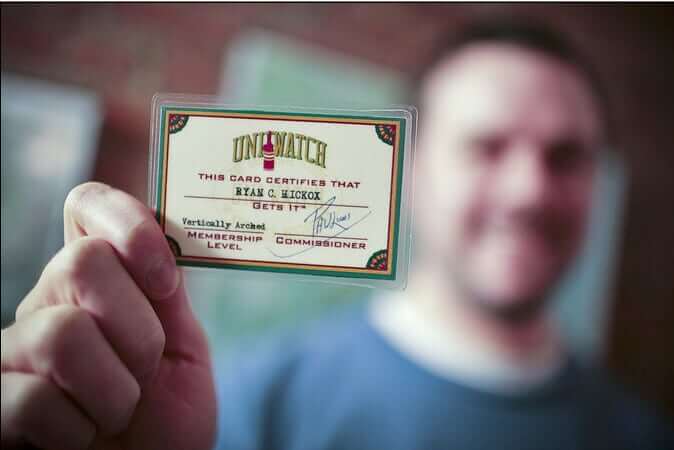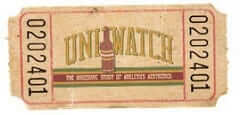 ITEM! Another membership raffle: The winner of last Friday's raffle is Derek Hempel, who's won himself a Uni Watch membership card (and has requested a 1990s Milwaukee Admirals theme). Derek has also generously paid it forward by purchasing another membership for me to raffle off, so that's what we're going to do today.
This will be a one-day raffle. To enter, send an email to the raffle in-box by 8pm Eastern tonight. I'll announce the winner tomorrow. Big thanks to Derek for sponsoring this one!
• • • • •
• • • • •
The Ticker
By Jamie Rathjen

Baseball News:The Dodgers are already memorializing former manager Tommy Lasorda by painting his No. 2 on the pitcher's mound and in center field and putting a large red No. 2 by their retired numbers display (from Kary Klismet). … The blog Threads of Our Game, which documents pre-1900 uniforms, successfully identified a four-day period during which a photo of four 1897 Boston Beaneaters players could have been taken, using only two of the players' temporary lacks of facial hair and details from their uniforms.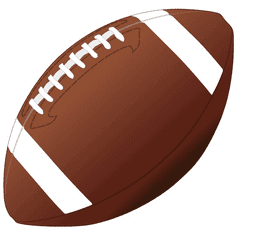 Football News: Several readers were watching the Nickelodeon broadcast of the Saints/Bears game, which sounds like it was delightfully silly, as it should be. … Nickelodeon's halftime show featured Minecraft-style highlights, but Bears LB Manti Te'o just had "Random" in normal case as his NOB (from Mike Chamernik). … Reader Brad Phillips has two Cowboys items from the 1983 NFC championship game: DE Harvey Martin had two rivets, or screws, or something on the side of his helmet, while RB Tony Dorsett had paint coming off his helmet. … A Colorado high school near the New Mexico border started a six-man football team a few years ago, but their field is so hard and dirty because of the climate that opponents don't want to play on it. They're now trying to raise money for an artificial field (from Tyler Maun).

Hockey News: Items from NHL intrasquad games include that the Red Wings don't have their preseason NOBs (from Mike Chamernik), the Blackhawks had blank boards (from Eric Lovejoy), and the Canadiens had several things going on (from James Beattie). … The NWHL's Toronto Six, who are starting life in the league's bubble in Lake Placid, N.Y., have an inaugural-season logo.

Basketball News: Nebraska's men's team debuted throwbacks yesterday (from John Muir). … Loyola (Chicago)'s men's team debuted black alternates (from Phil Santos). … Virginia Tech's men's team wore grey at home (from Andrew Cosentino). … South Carolina women's coach Dawn Staley wore the now-famous orange WNBA hoodie, which gained stature when NBA players and other celebrities wore it in the summer, during her game yesterday (from Christian Dashiell).

Soccer News: The first six items are from the third round of the FA Cup: The SB Nation Tottenham Hotspur blog, Cartilage Free Captain, raised enough money to be the shorts ad for Spurs' eighth-tier opponents Marine. … Tottenham center-back Joe Rodon also ripped his baselayer sleeve (from James Beattie). … Meanwhile, Marine got a set of extra Spurs shirts as a souvenir because as in other sports no shirt-swapping is allowed (also from @mrmichael21) … Covid-affected Derby County had to use a squad entirely of academy players against sixth-tier Chorley and numbered them using the traditional 1-11 for starters and 12 upwards for subsitutes, instead of the high numbers Aston Villa used in the same situation on Friday. … You may have seen the new sleeve patch already, but the colors are reversed for the holders, currently Arsenal. … Morecambe's shirt ad for FA Cup games this season was donated to charity (from Ted Kerwin). … The Scottish Cup doesn't have a title advertiser anymore, so it has a new logo this season. … English women's team London City Lionesses spontaneously got a new kit a few weeks ago, in the middle of their season, with the previous one just having been released in August.

Grab Bag: Australia's men's Test cricket team wore pink numbers, NOBs, and accents for a match ending today. … English rugby union club Saracens have a new shirt and stadium ad (from Adam Ingle). … Virginia's men's lacrosse team switched to Warrior as its helmet provider. … The PGA announced that the 2022 PGA Championship, which was slated to be played at Trump National Golf Club in New Jersey and would have been the first major championship to be played at a Trump property, will not be played there after all.
• • • • •
• • • • •
Click to enlarge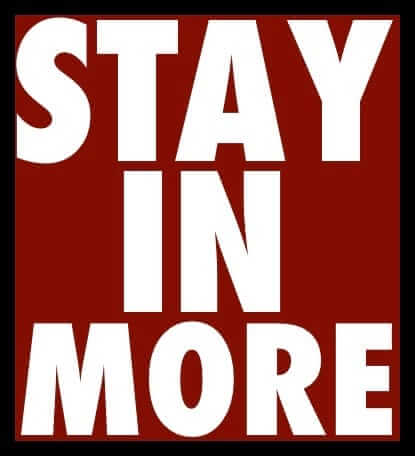 What Paul did last night: Yesterday was a sad milestone, as we convened at porch o'clock for the 300th consecutive day. It seems fairly obvious that we will have at least 100 more, maybe even 200, before we can achieve our stated goal of once again sitting safely at the bar at one of our favorite watering holes. Sigh.
After cocktail hour, I made a rare trip to Manhattan to go ice skating with some friends. I think Uni Watch readers will appreciate the sweater I wore, which has strong echoes of the Canucks' old Flying V design (that's my friend Michael standing next to me):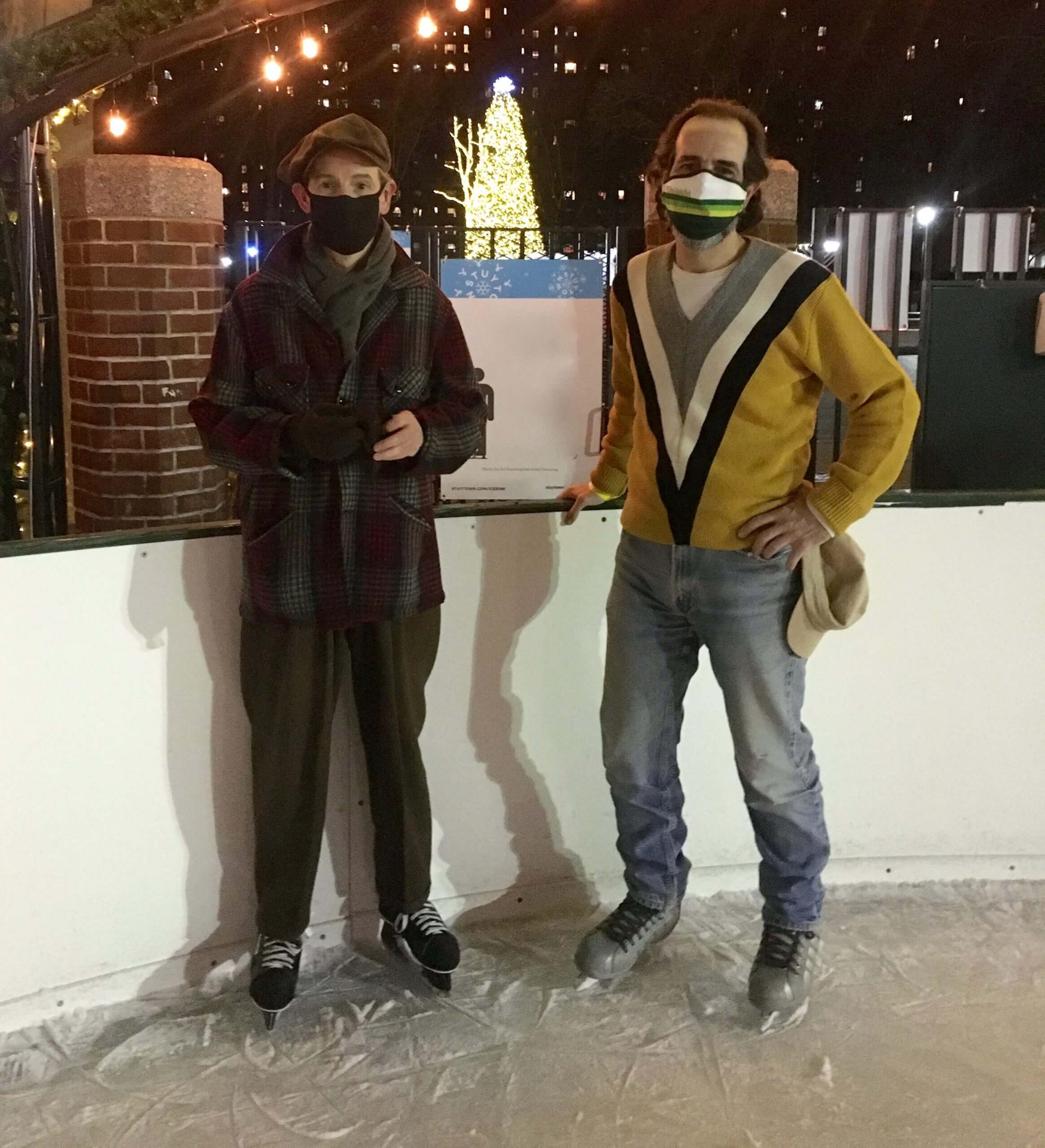 You may be asking yourself, "Can Paul actually skate?" And the answer is "Yes, he can." The house I grew up in was just a few hundred yards from a pond, and I had access to lots of sizes of hand-me-down skates because of my two older brothers, so I played lots of pond hockey and am generally pretty comfortable on the ice:
• • • • •
Tomorrow: The annual Uni Watch NHL Season Preview.