Longtime reader/pal Jim Vilk was recently watching the 1972 Liberty Bowl on YouTube and noticed that the game featured an unusually large number of uni-notable details (plus it was a good-looking uni matchup), so we're going to take a look at that today. You can see the first part of the broadcast embedded above, and I'll provide links to the remaining segments at the end of this post.
Just to set the stage: This game took place at Memphis Memorial Stadium on Dec. 18, 1972. The two teams were Iowa State and Georgia Tech. Interestingly, ISU went 5-5-1 that year, and Tech went 6-4-1 — even back then, mediocre teams made it to bowl games!
As for the uniforms and other visual aspects of the game, there are plenty of early-'70s details that were commonplace at the time but look strange to us now: two-bar facemasks, hip pads, straight-on placekickers, wide receivers setting up in three-point stances, and so on. But there were also lots of things beyond those period trappings — things that make this a particularly robust game for uni-watchers. For example:
1. Iowa State wore TNOB — that's team name on back. That would be interesting enough on its own, but they also had inconsistent TNOB fonts (for most of these screen shots, you can click to enlarge):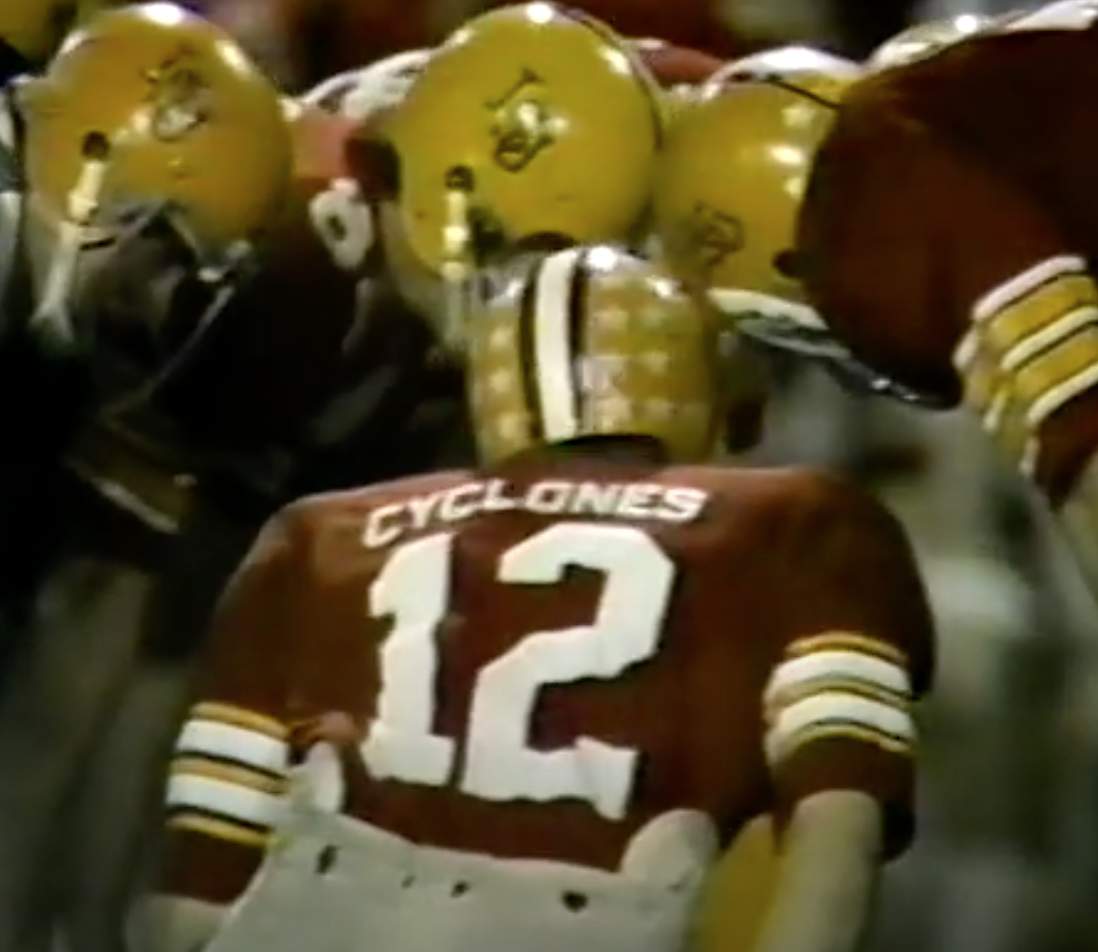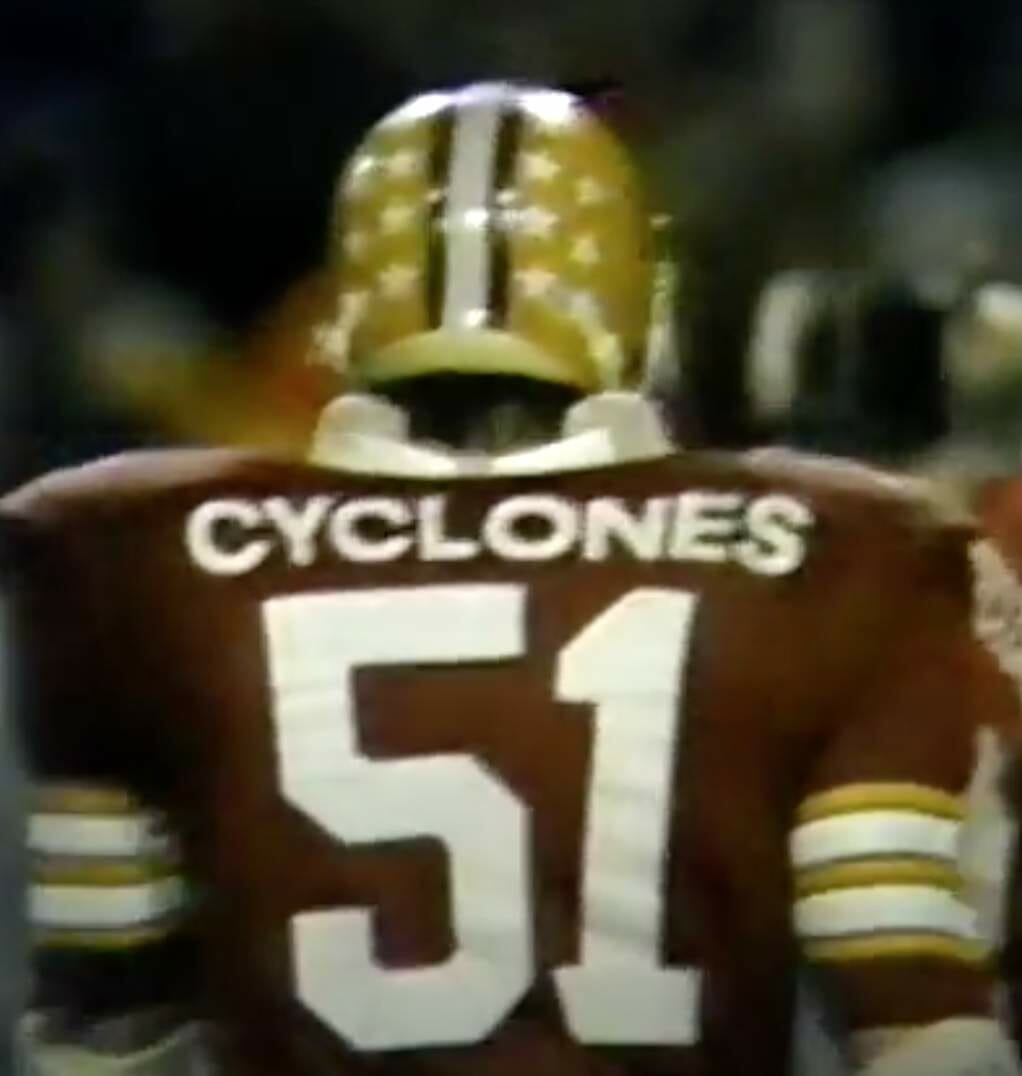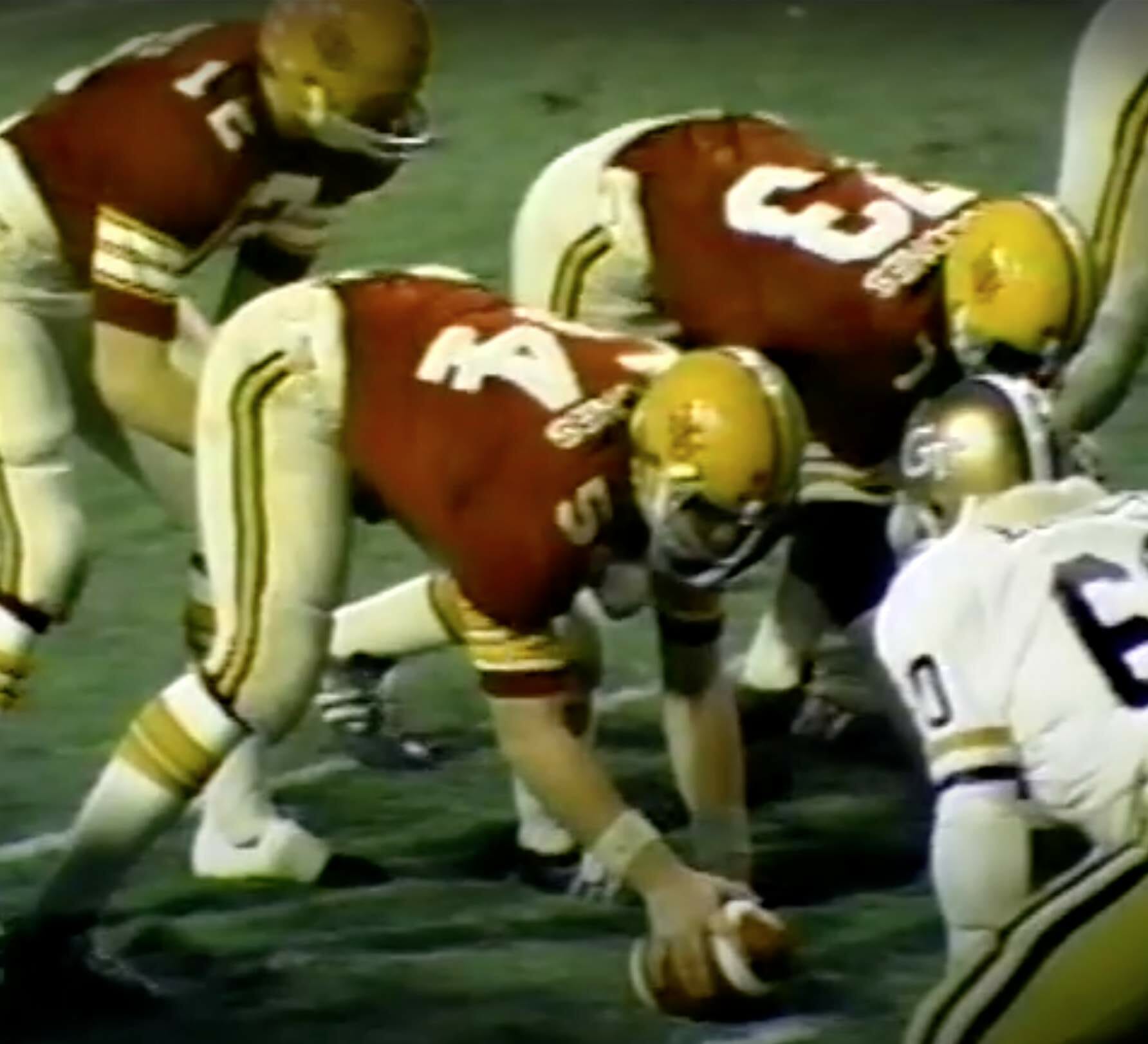 2. During the pregame remarks, broadcasters Chris Schenkel and Bud Wilkinson mentioned that Georgia Tech's Black players planned to wear black armbands in support of star quarterback Eddie McAshan, who had been suspended from the team for missing practices prior to Tech's game against Georgia. McAshan in turn said he skipped the practices to protest the denial of his request for extra tickets for his family, which he said was racially motivated.
Here's Schenkel and Wilkinson discussing the situation prior to the game:
And here's an AP wire story about the situation, which appeared in newspapers around the country on the day before the game:

As noted in the article, Tech had only five active Black players at the time, so it's not easy to spot the black armbands during the game, but here's a shot of running back Greg Horne wearing one, plus you can see his teammates' sleeve stripes for comparison: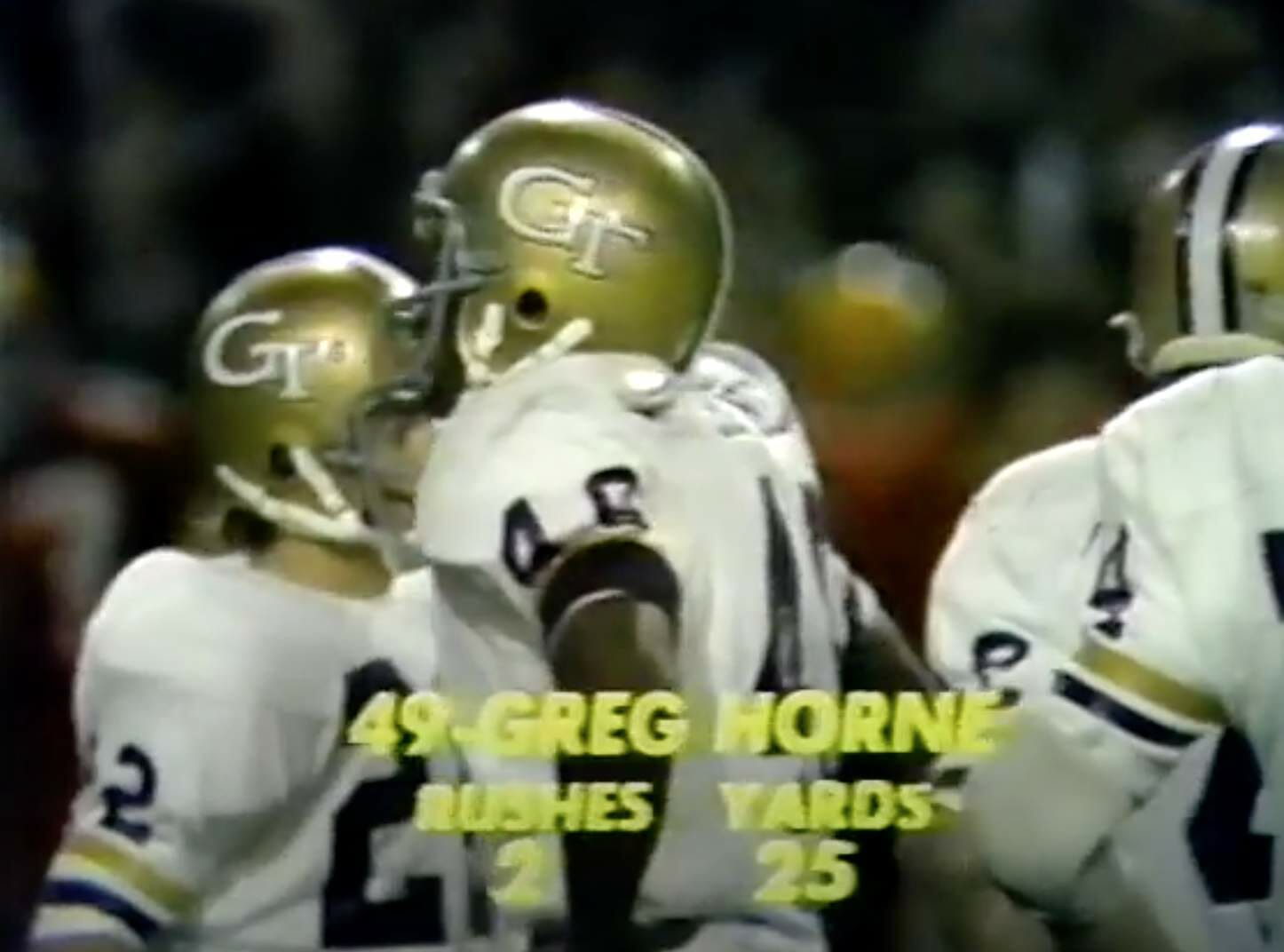 3. There were several interesting things about the officials' uniforms. First, they wore the Liberty Bowl logo on the backs of their jerseys: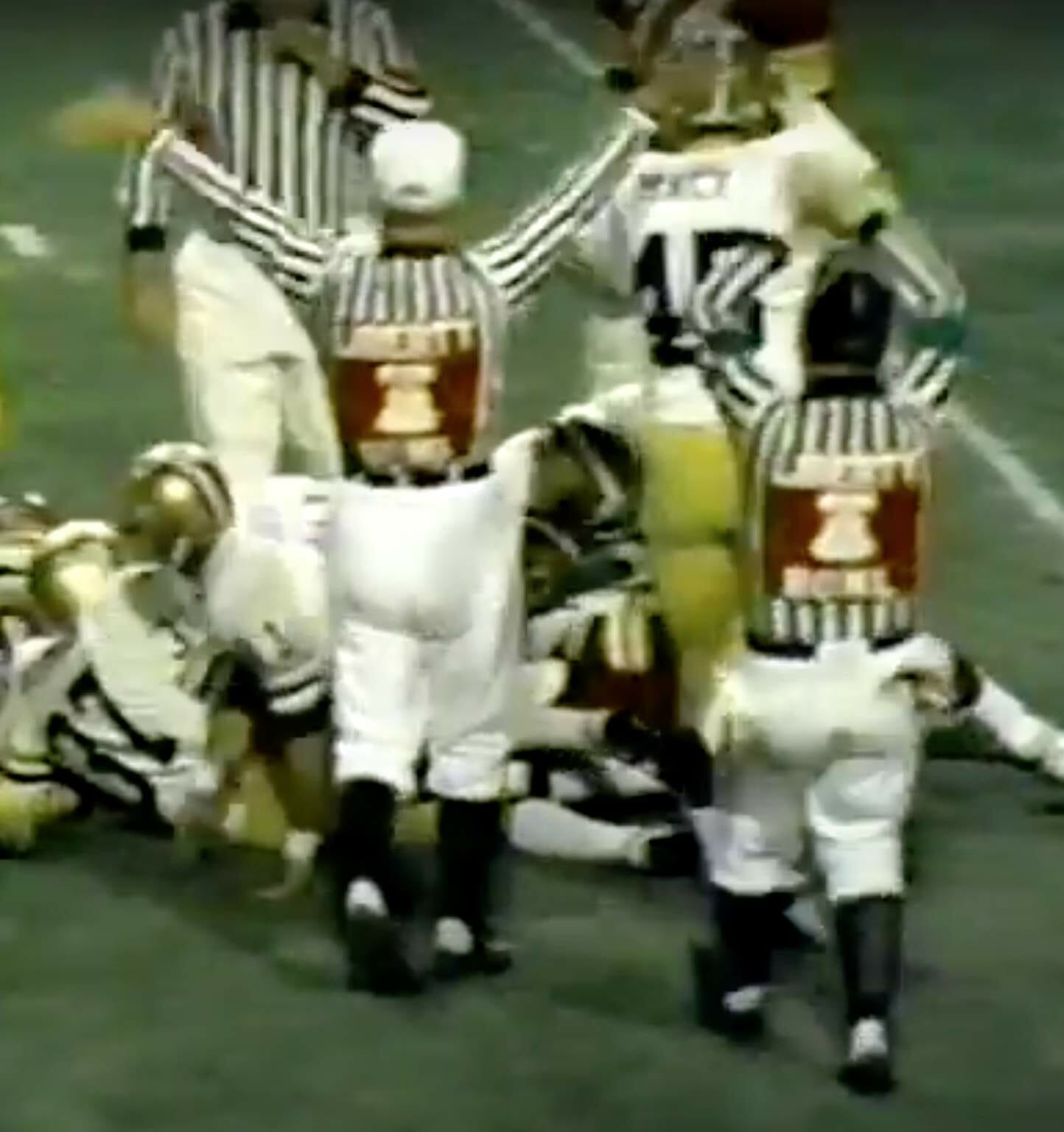 Second, you can see in that last photo that the officials were wearing stirrups, which was standard for football zebras at the time. But the interesting thing is that one guy had higher-cut stirrups than the others, creating a lack of hosiery uniformity, just like on the baseball diamond: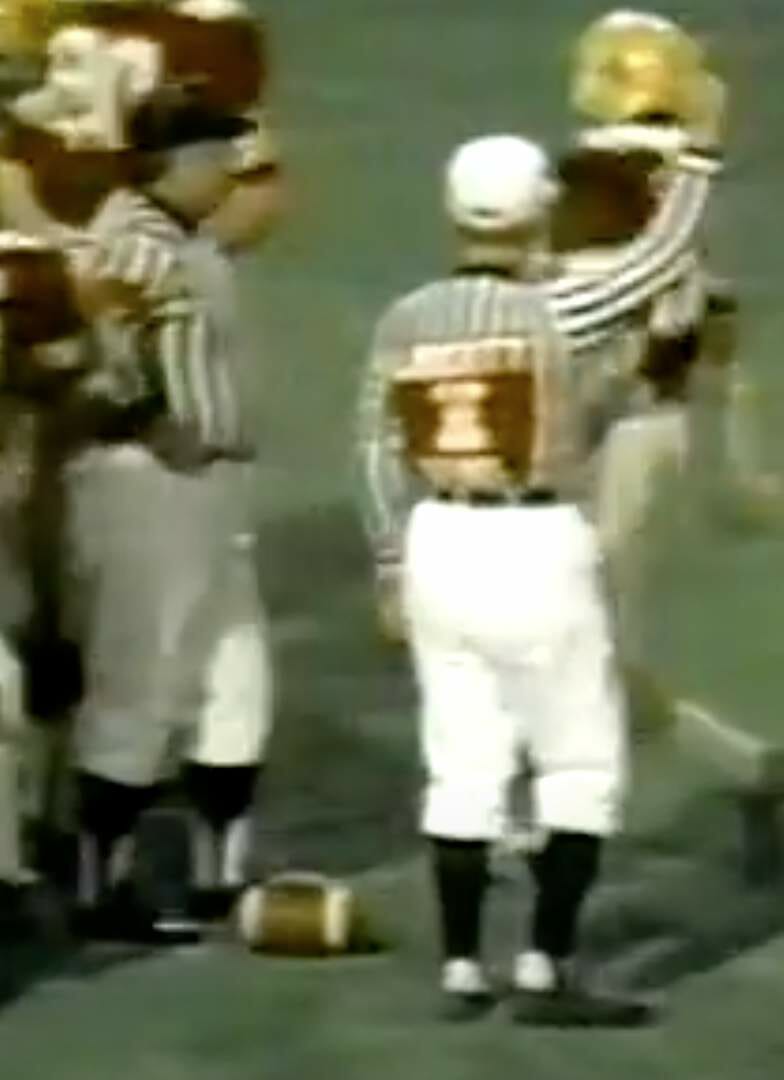 Finally, if you look again at those last two photos, you can see that one of the officials in the first shot had green armbands and the guy with the higher-cut stirrups had red armbands (much like a hockey referee). There were also at least two members of the crew with no armbands, as you can see in this group shot, which shows the full variety of sleeve stylings: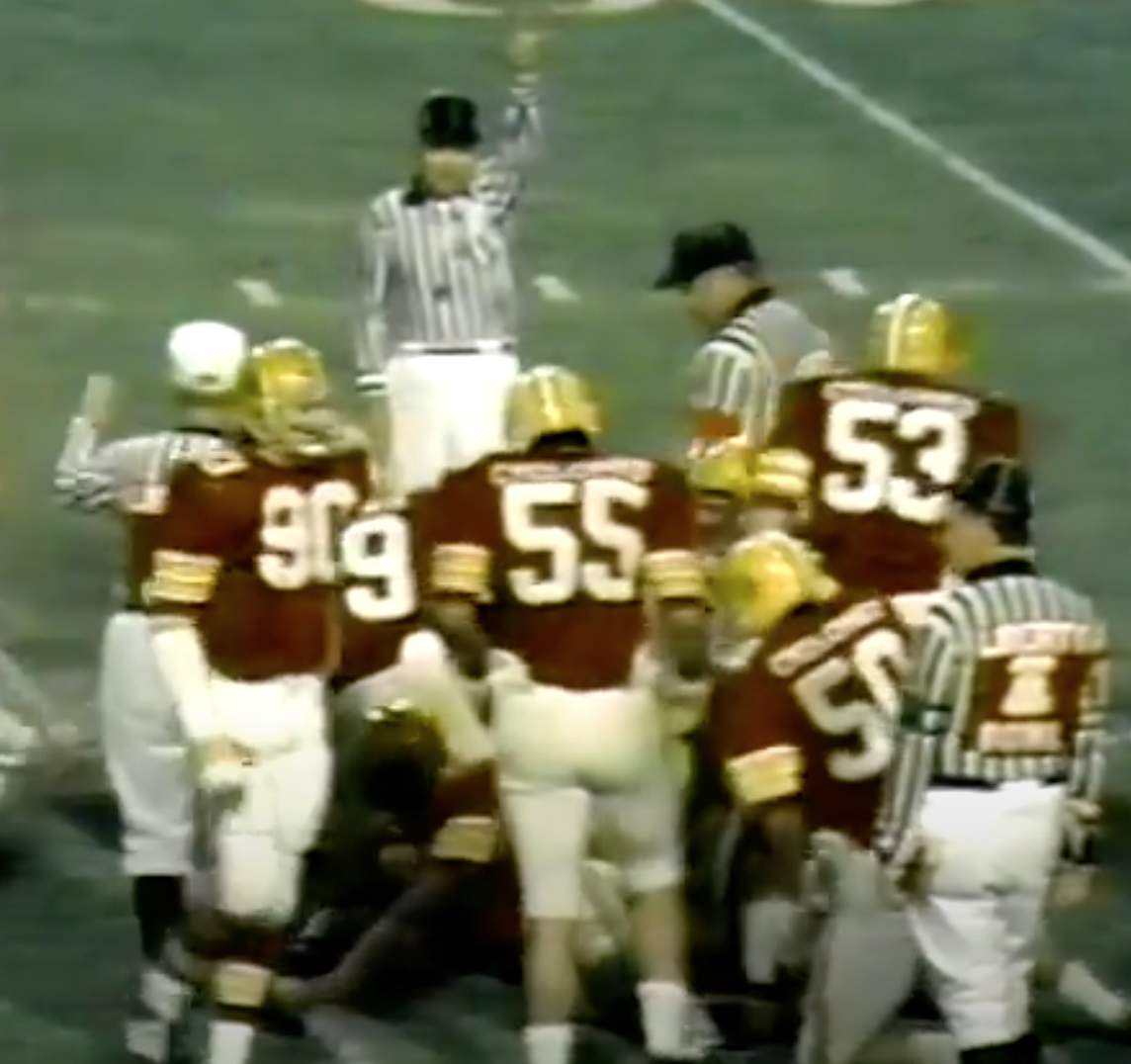 I assume the armbands were to designate certain positions (side judge, field judge, etc.), but I don't know which color signified which position, nor did I realize that college officials wore these armbands in the early 1970s. Maybe it was just for the bowl game, because their rear-jersey numbers and/or position letters were covered up by the game logo..? If anyone knows more about this, please feel free to enlighten us in today's comments.
That's a lot of uni-notability for a single game (and I'm not even counting the many amazing commercials!). If you want to watch it yourself, here's where you can find Part One, Part Two, Part Three, Part Four, and Part Five, along with a short highlight clip.
(Big thanks to Jim Vilk, who deserves most of the credit for this post.)
• • • • •
• • • • •
The Olynyk Klynyk was in session tonight 😤

19 Pts / 5 threes / 8 Rebs pic.twitter.com/raCaPYjJQp

— Miami HEAT (@MiamiHEAT) January 5, 2021
Failing gradient: The Heat debuted their ViceVersa uniforms last night. I'm on record as having a grudging respect for the audacity of the ViceVersa concept, but I was surprised by how bad their court looked last night. As you can see in the video embedded above, the blue-to-pink gradient in the lane wasn't a gradient at all — it was three distinct colored sections. Or as one Twitter-er observed, it looked more like Neapolitan ice cream.
Interestingly, the court mock-up that the team released prior to the season did have a gradient: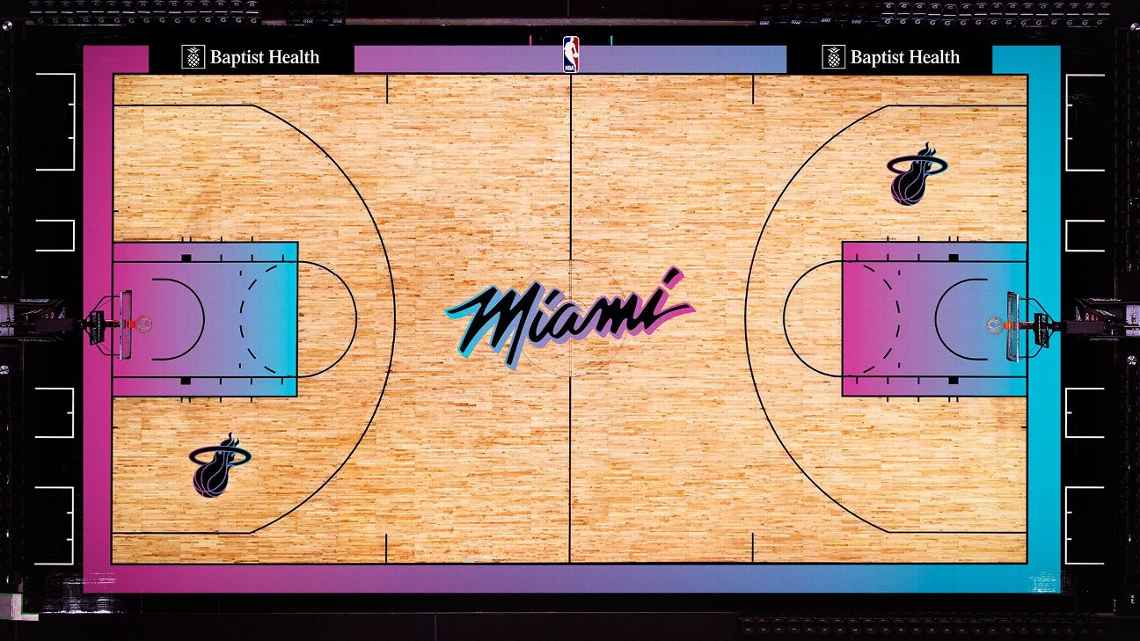 Odd that they didn't stick with that original concept, which looked much better.
• • • • •
• • • • •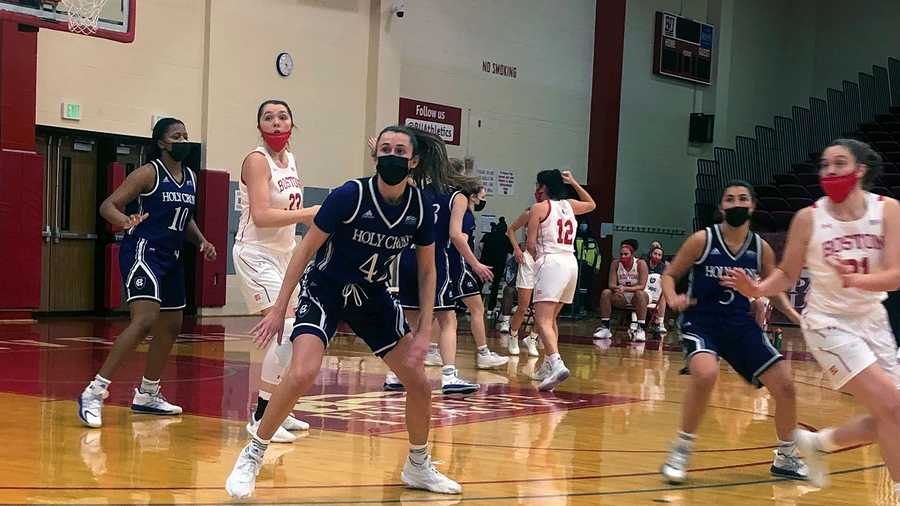 Click to enlarge
Covid chronicles, continued: Boston University, whose men's and women's basketball seasons began yesterday, is requiring all of its players to wear masks on the court both at home and on the road, and is also requiring visiting teams to do likewise when playing at BU. So with the women's team hosting Holy Cross yesterday, all players on both squads were masked up.
Here's a highlight clip, so you can see how it looked in action:
The men's team also played Holy Cross yesterday, but on the road. So the BU players masked up, while the HC players did not: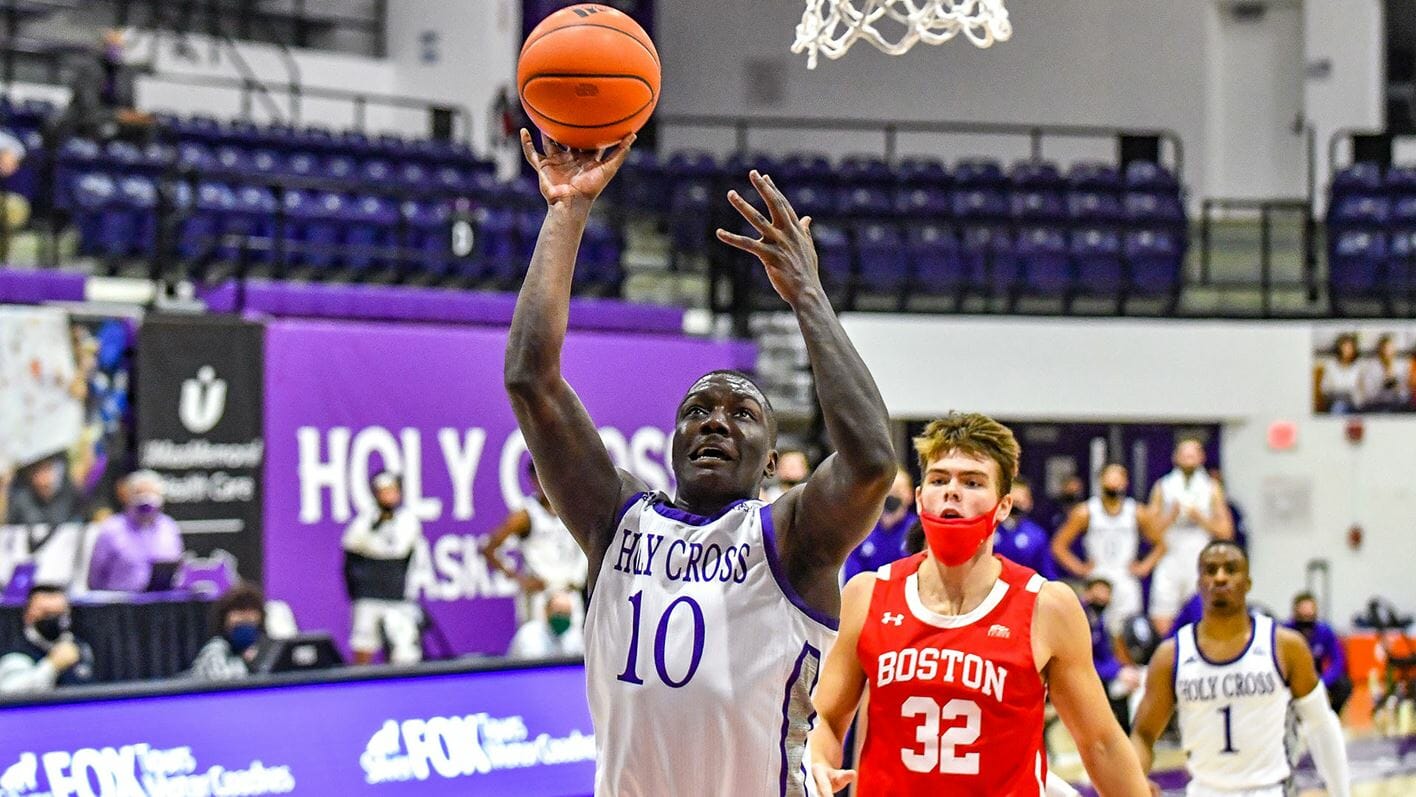 The situation will be reversed today, as the BU women's team travels to Holy Cross (so presumably only the BU team will be masked) and the men's team hosts Holy Cross (so both teams will be masked).
(Thanks to Timmy Donahue and our own Jamie Rathjen for this one.)
• • • • •
• • • • •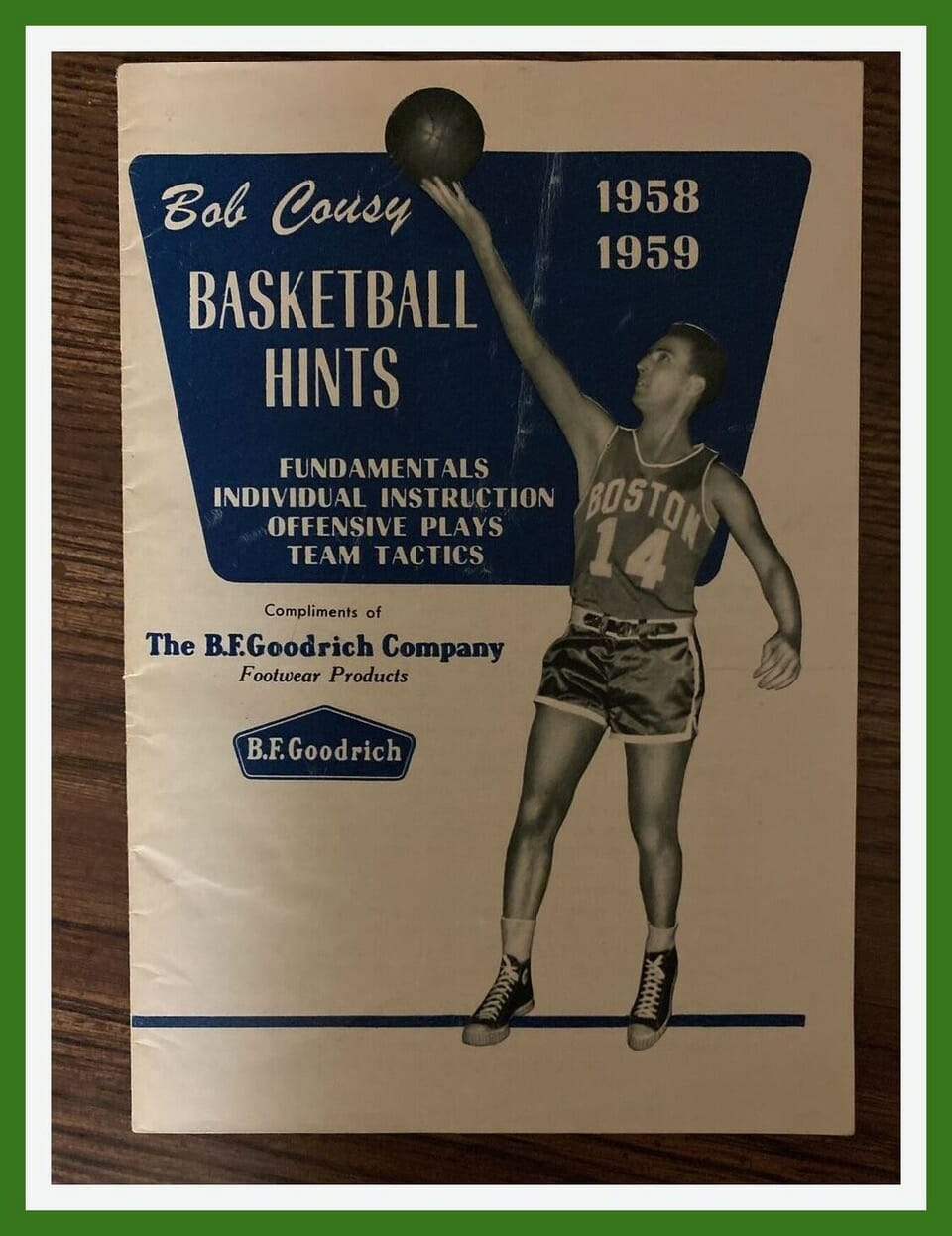 Collector's Corner
By Brinke Guthrie
Follow @brinkeguthrie    
Back in the day, here's how you learned from the best! Check out this 1958-59 Basketball Hints booklet from Celtics legend Bob Cousy and B.F.Goodrich, who made his "P.F." high-tops. This booklet includes "Fundamentals, Individual Instruction, Offensive Plays, and Team Tactics."
And something I never knew until now: The "P.F." in "P.F. Flyers" stands for "Posture Foundation."
Now for the rest of this week's picks:
• The 1935 edition of Charlie White's Little Red Book of Base Ball kept you up to speed on the baseball diamond. This was the "Only Publication Containing the Authentic Figures of Every Department of Professional Base Ball."
• Here's an interesting jacket on Etsy. It's a 1960s "NFL Football Jacket" from a company called Sport Chief. On the outside, it looks like a blank varsity jacket. But the interior has NFL tagging, and the lining features a pattern of NFL team logos. Unusual! Anyone have any insights on this one?
• Next we have a 1950s-60s Detroit Tigers ashtray shaped like a baseball diamond. The seller notes that "the batter's boxes and first and third base are the cigarette holders, as illustrated in last photo."
• Here's another Tigers auction, this time for a copy of the Tiger Tales newsletter from June 1963.
• Rayduhz fans will know it's time to win, baby, with this Los Angeles-era Raiders alarm clock.
• Nice design on this 1976-77 Quebec Nordiques game program. Look how the hockey stick blade forms the cross on the "Q"!
• This menu for Mickey Mantle's restaurant has a nice understated Yankees elegance to it, wouldn't you say?
• Staying with the Yankees, this is a great example of the classic Starter Diamond Collection jacket. Perfect shape, worn just once.
• We've all seen the baseball helmet sundae cups. Here we have the same type of thing for NHL teams, with a hockey puck dish. This looks like a Canada-only Dairy Queen promo. (Note that the listing says you have to buy a decal sheet of NHL team colors to decorate them! Then you'd also have to buy a standings board to display them.)
• And here we have a set of four NFL Rubber Stamps — two for the Rams, and one each for the Packers and Raiders.
• • • • •
• • • • •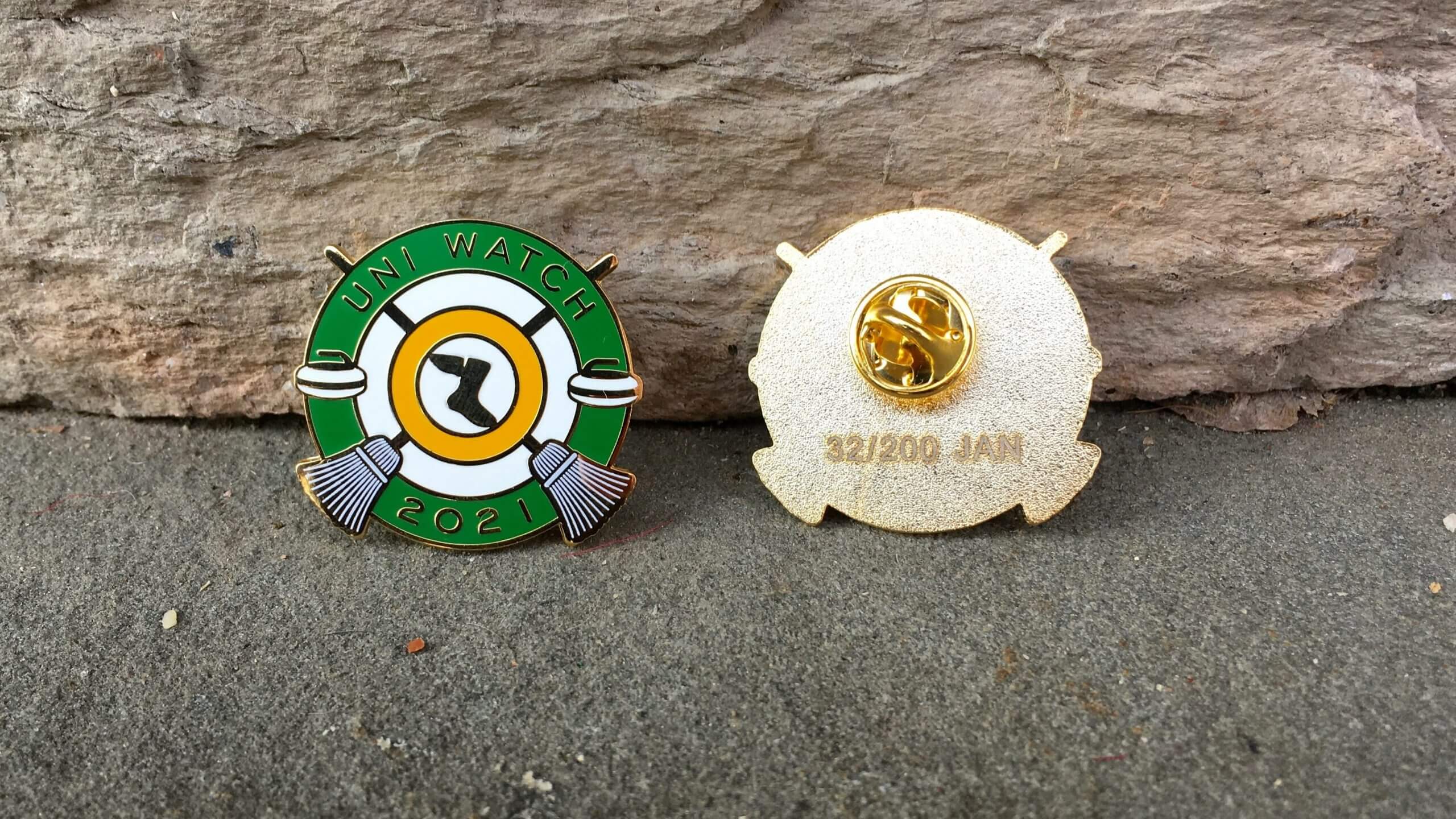 Click to enlarge
Pin Club reminder: In case you missed it over the holiday weekend, the Uni Watch Pin Club's first pin of 2021 is now available. We're going with a curling theme this time around — highly appropriate, since curling has a rich history of decorative pins. Hurry hard!
This is a numbered edition of 200 pins. As of this morning, there are 77 remaining. You can order yours here while supplies last.
Also: All of our remaining 2020 pins have been reduced in price from $13.99 to $9.99. In case you've forgotten what they look like, here's a group shot (click to enlarge):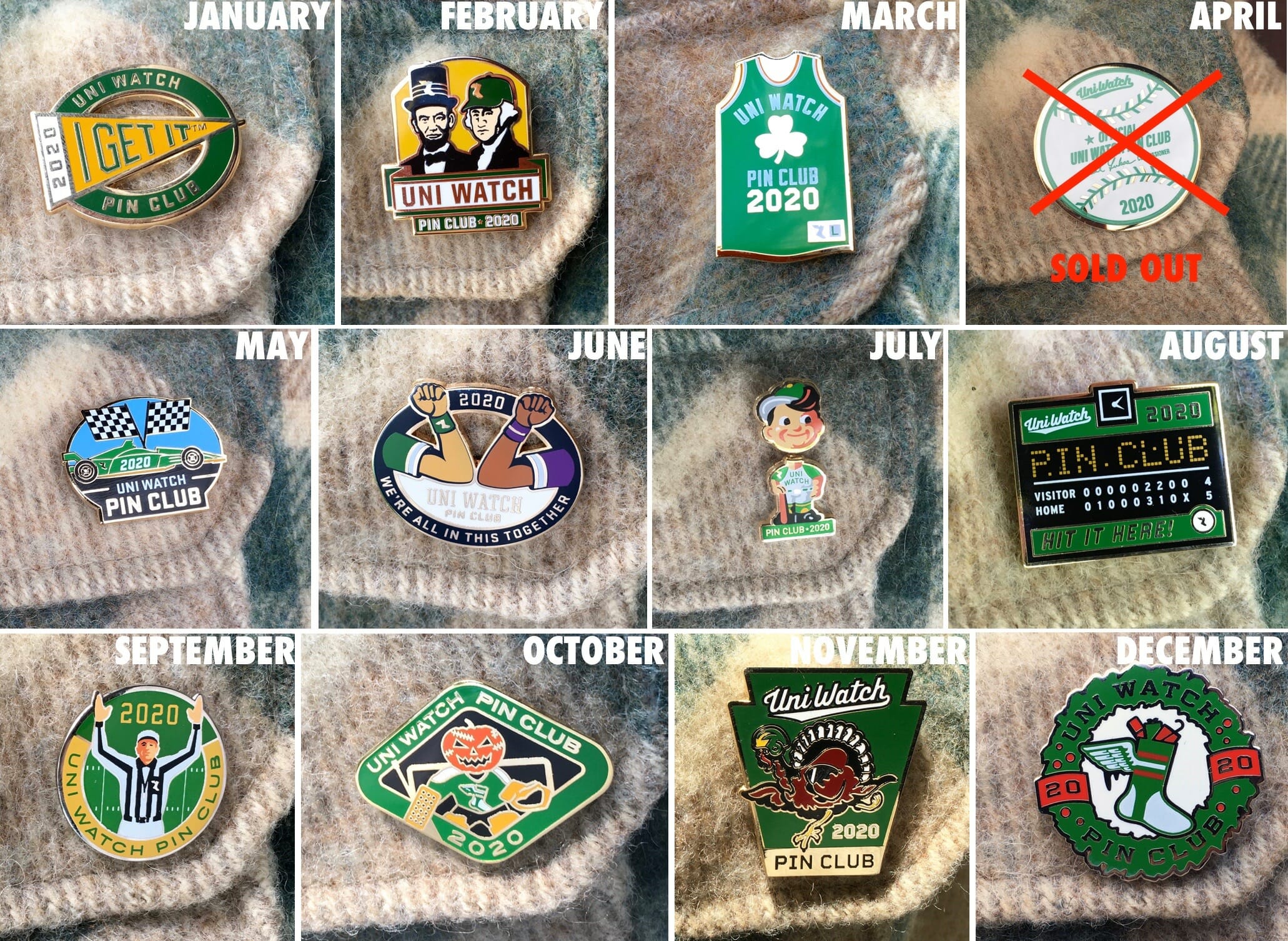 If you need to get caught up on any of those, here are the links for January, February, March, May, June, July, August, September, October, November, and December, along with the 2020 Press Pin.
My thanks, as always, for your consideration and support.
• • • • •
• • • • •
The Ticker
By Alex Hider

Baseball News: Here's an interview with the man who created the new logo for the Ottawa Titans of the Frontier League (from @BallparkHunter). … Logo change apparently in the works for the Korean team Kia Tigers (from David Raglin and Jeremy Brahm).

NFL News: With the regular season in the books, it appears that teams wearing white slightly outperformed teams in color. … Winds at Mile High Stadium on Sunday made it seem as if the cardboard cutout Broncos fans were doing the wave (from Kary Klismet). … Staying in Denver, the Broncos' live horse mascot wore a headdress with "21" on it to celebrate the New Year on Sunday (also from Kary Klismet). … Bills WR Isaiah McKenzie II was wearing leg warmer-style socks during Sunday's game (from Kris Russell). … Jags WR DJ Chark Jr. is among the few players who wore the plastic Covid face shield during games (from Franklin Canterbury). … I never knew this: Shortly after moving to Baltimore in 1996, the Ravens presented first round draft pick Jonathan Ogden with a jacket, because their jerseys weren't yet ready. It also appears that their logo wasn't ready for the draft either (from Alan and @texastrevor). … The Titans Uni Tracker has been updated.

College/High School Football News: Northwestern's student newspaper took a look at some of the uni combos the Wildcats have worn since signing on with Under Armour in 2012 (from Kary Klismet). … Auburn Uniform Database guru Clint Richardson takes a look at how the Tigers' new coach could alter the team's on-field look. … Stripes galore on these 1947 unis for Easley High School in South Carolina (from Ronnie Poore).

Hockey News: Lots of NHL teams announced their new helmet entitlement partners helmet advertisers yesterday. We're not going to list them here, but Paul will account for all of them in his annual NHL Season Preview next week. … New mask for Jets G Connor Hellebuyck (from Wade Heidt). … We have an IRL look at the Coyotes' 25th-anniversary patch (from Robert). … A photographer working in front of the glass at a Swedish Hockey League game wasn't taking any chances — he wore an old-school goalie mask as he snapped photos of the action (also from Wade Heidt). … ESPN has an in-depth look at Arizona State's equipment manager, who had to pack for a 36-day road trip earlier this season (from Paul Nitti). … Matthew Brooks spotted an unidentified New York Knicks player wearing a sweatshirt with a Devils logo on the bench during yesterday's game.

Basketball News: This Reddit post takes an in-depth look at Nets PG Kyrie Irving's sock situation (from @itstheshorts and Eric Bangeman). … New Grizzlies G Tim Frazier will wear No. 10 (from Etienne Catalan). … Never seen a basketball uniform quite like the diagonal stripes used by the boys' team at Easley High School in South Carolina in 1947. That same year, the school's girls' team wore sleeves and point collars with a mix of numbers and logos on the front of the shirt (from Ronnie Poore). … Speaking of wild old uniforms, check out the fish-themed jerseys for the Astoria High School (Oregon) freshmen in the 1930s. That's quite a catch! (From @retro_70s.) … Cross-listed from the hockey section: Matthew Brooks spotted an unidentified Knicks player wearing a sweatshirt with a New Jersey Devils logo on the bench during yesterday's game.

College Hoops: The NCAA made it official yesterday: All March Madness games will be played in Indiana this year, with the games divvied up between Indianapolis, Indiana University, and Purdue University (from Kary Klismet).

Soccer News: Gross: Reports indicate that MLS will allow teams to sell advertising on masks this upcoming season (from Ryan Maquiñana). … Marcelino, the new coach for Spanish team Athletic Club, didn't bother to take the tag off his cap prior to his introductory press conference on Monday (from Ryan Maquiñana).

Grab Bag: Belgian cyclist Wout van Aert will continue to ride a Bianchi bicycle for the current cyclo-cross season, even though his team is now being sponsored by rival bike manufacturer Cervélo. But while Bianchi bikes are typically finished in celeste blue paint, van Aert has repainted his bike black and yellow and removed the maker's marks (from Jim Shemaria). … Here's a full history of the Mazda logo. … The crew of The Silence of the Lambs tested out several mask styles before ultimately landing on the one worn by Anthony Hopkins's Hannibal Lecter character (from Stephen Langdon). … Pro golfer Jon Rahm is switching from Taylor Made to Callaway. "Plenty of guys make equipment moves this time of year, but it's a little unusual for a player so highly ranked to switch," says Benji Boyter. "Having said that, he did play Callaway equipment in college." … The Lacrosse Flash blog drew up some concepts for a Reverse Retro-style jersey program for the National Lacrosse League (from @PhillyPartTwo). … The rest of these are from Kary Klismet: Tennessee State University has updated its athletics logos. … USA Today's latest piece in a series about controversial high school team names centers on the Robstown High School (Texas) Cotton Pickers.
• • • • •
• • • • •
• • • • •