For all photos, click to enlarge
The photo shown above is one of several images that were tweeted yesterday afternoon by the generally reliable @SunsUniTracker account, which got them from an anonymous source. It shows what appears to be a mash-up jersey incorporating elements from throughout the Suns' uniform history.
Here's a look at the back, plus two views of the shorts: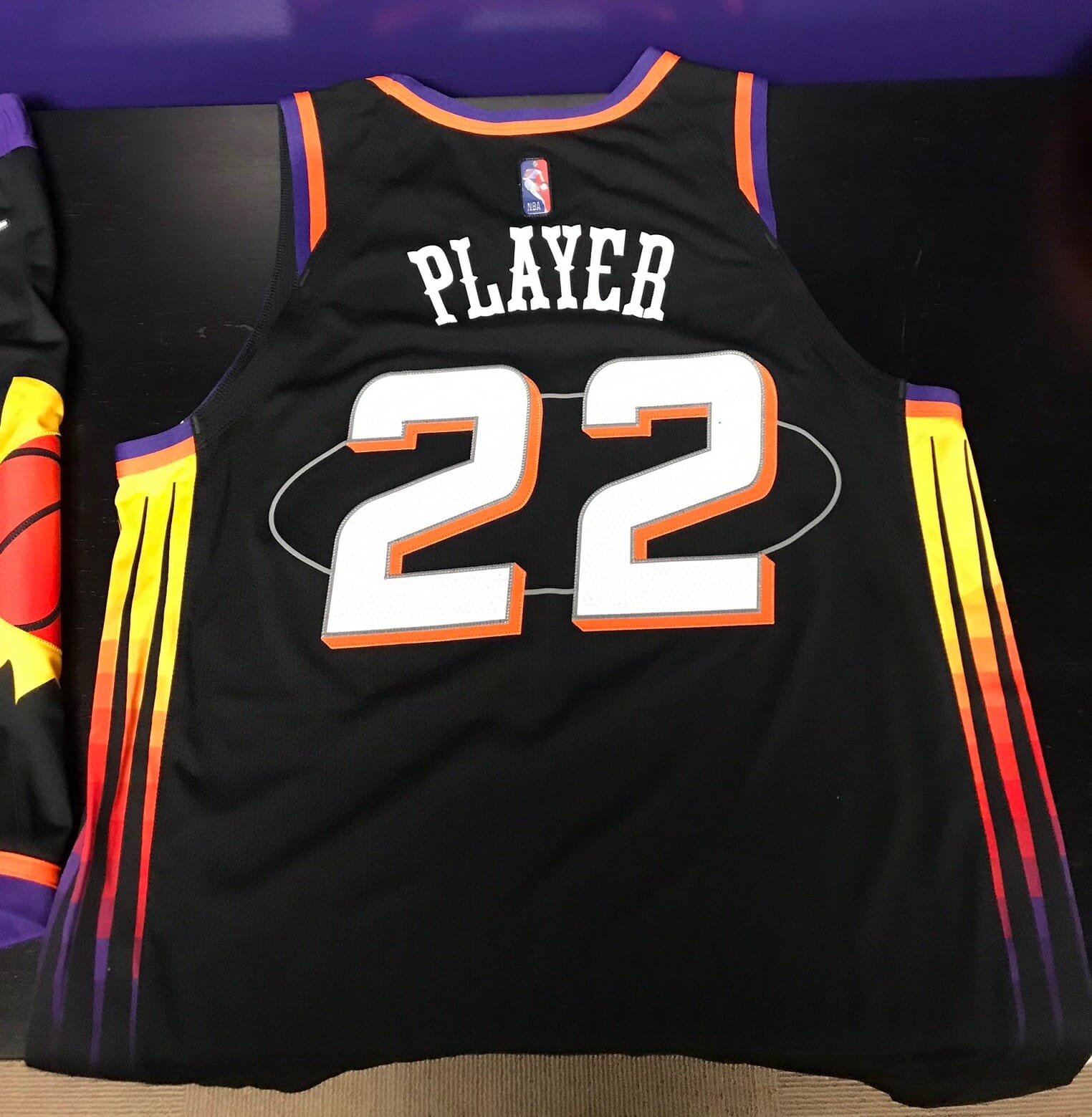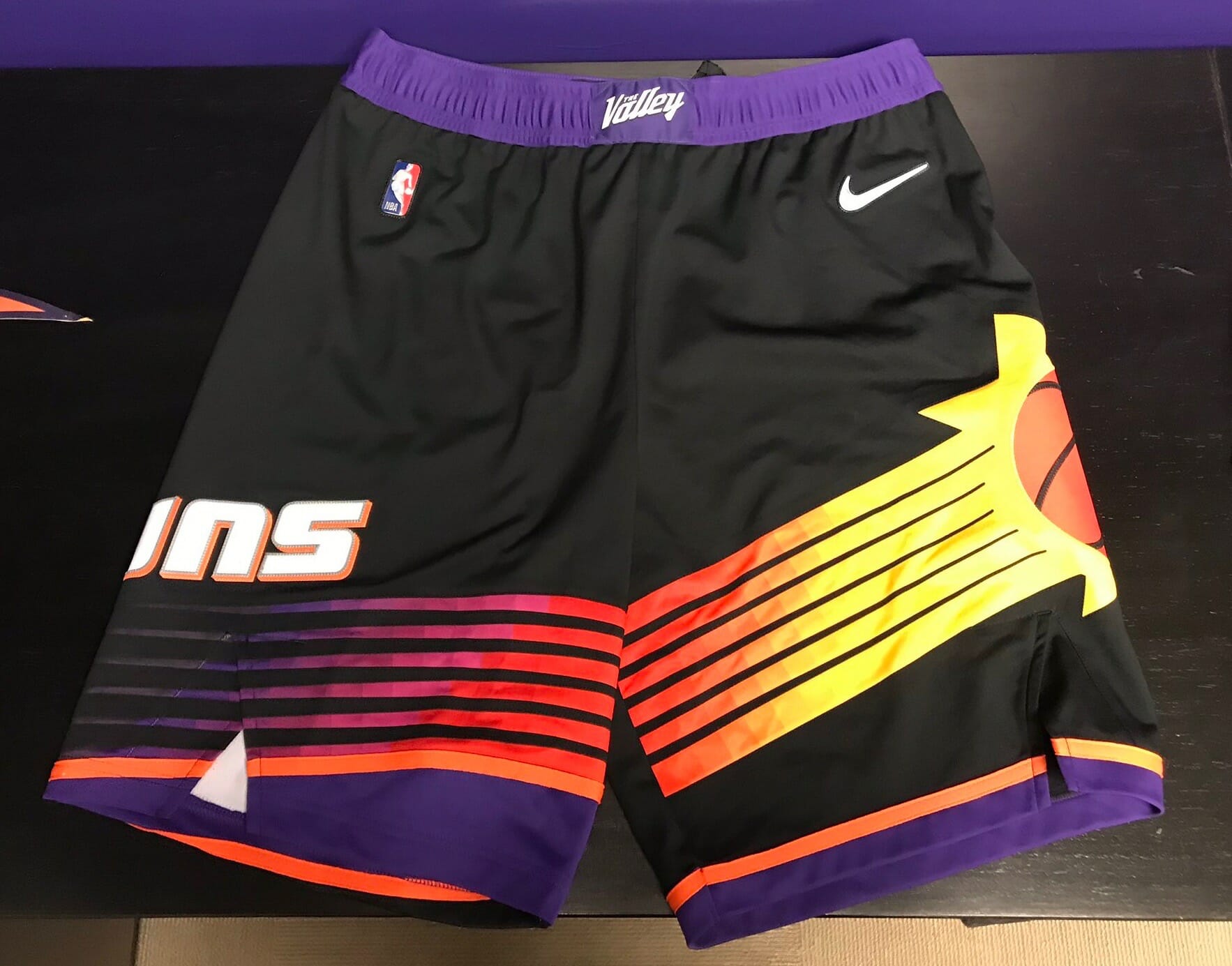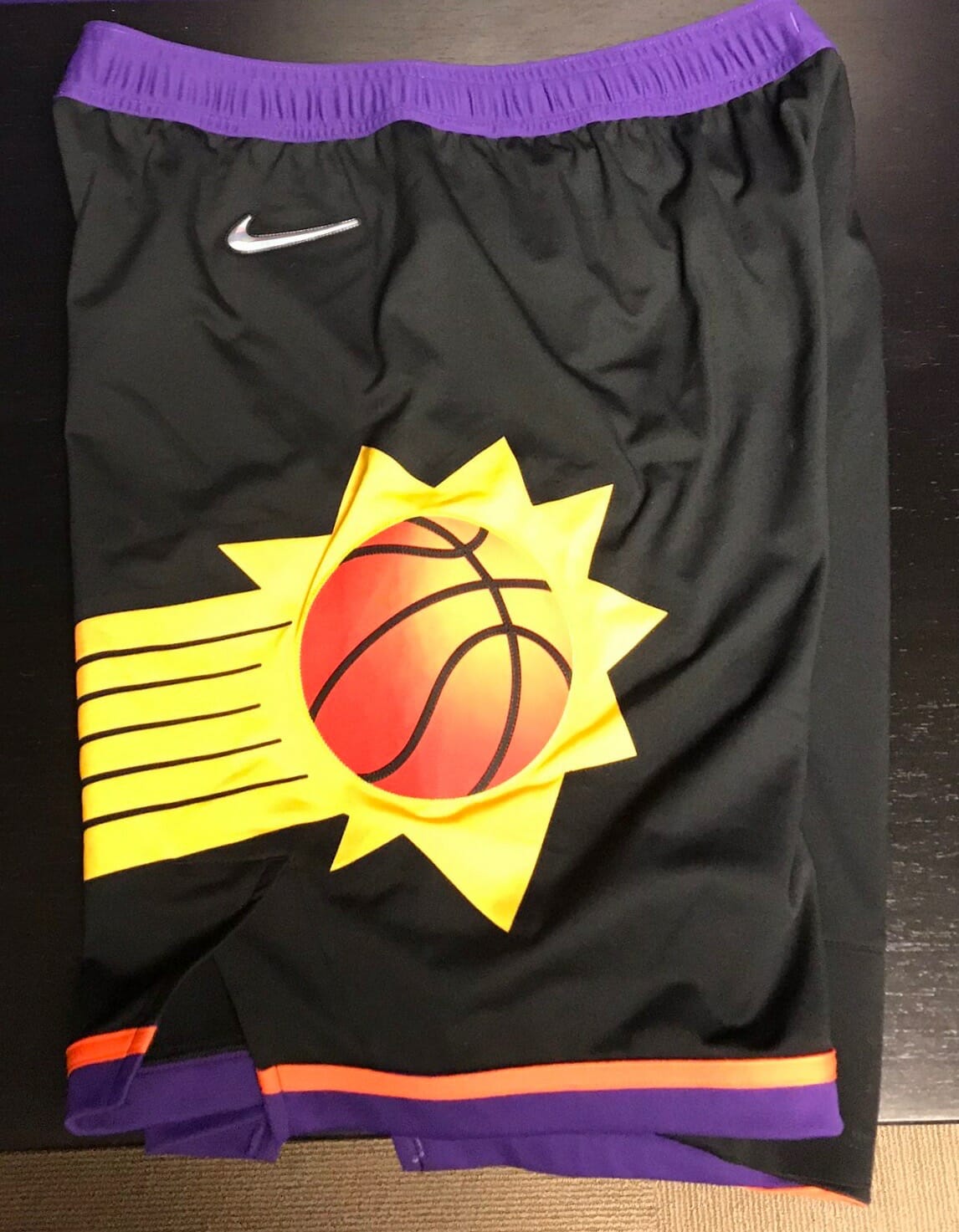 The design has so much razzle-dazzle that it's easy to overlook the most interesting details, which are the maker's marks and the NBA logos, both of which appear to have been rendered in a diamond/crystal pattern:
Why are those two details so interesting? Because next season will mark the NBA's 75th anniversary — the diamond anniversary, get it?
Moreover, the jersey has No. 21 on the front and No. 22 on the back, suggesting that it's for the 2021-22 season. Which is next season. Which is the 75th-anniversary season. Which is the diamond anniversary.
I think we can all see where this is heading.
So is this leak legit? @SunsUniTracker tells me that after he tweeted these photos yesterday, he heard from several additional sources who confirmed to him that the NBA is indeed planning a series of mash-up uniforms for next season, most likely as the league-wide theme for next year's City alternates.
Of course, that's just hearsay from my vantage point, so I checked yesterday with several sources of my own (including Igor Coelho, the guy who leaked most of the City alternates in October and November) but so far have not been able to independently verify this leak's legitimacy. I'll keep trying, but in any case it appears that the league and Nike are at least exploring this mash-up idea for next season.
Obviously, the last thing the NBA needs is more uniforms (more on that in a minute). But I have to admit, I kinda love the idea of a uniform based on previous uniforms. Very uni-meta! A lot of the designs will probably be train wrecks (plus I'm not sure what you do for teams like the Celtics and Bulls, whose uniforms have barely changed over the years and therefore don't give you much to work with), but I bet they'll be fun train wrecks.
In short: I don't yet know if this leak is the real deal — but I hope it is.
• • • • •
• • • • •
Click to enlarge
Quantity over quality: As I mentioned toward the end of today's lede, the last thing the NBA needs is more uniforms. To put that statement in perspective, consider this: We are about to begin the fourth season of the NBA being outfitted by Nike. The graphic above, created by Casey Vitelli, shows what Casey says is every jersey that NBA teams have worn during those four seasons (including the new designs for the upcoming season, which obviously haven't yet been worn but have been revealed). It really shows how bonkers the NBA uni situation has become in a very short time.
You can also see the jerseys for each individual team in this Twitter thread.
But to repeat: I'm still hoping that mash-up uni program is the real deal.
• • • • •
• • • • •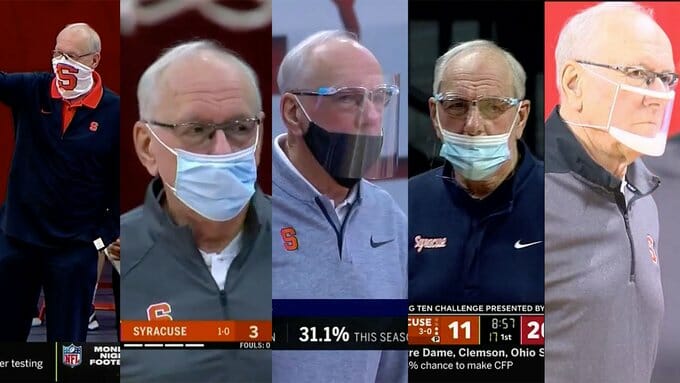 Click to slightly enlarge
Sign of the times: Here's a stat we wouldn't have had in any year prior to this one: Syracuse basketball coach Jim Boeheim is the presumptive NCAA leader in mask designs this season, having worn five different ones in the team's first five games.
(My thanks to Michael Hochman for this one.)
• • • • •
• • • • •
October 16, 1966#FinsUp #BroncosCountry
The Miami Dolphins win their first game.
Coach George Wilson and his son, starting QB George Wilson Jr. pic.twitter.com/6TJnOAG7ko

— Old Time Football 🏈 (@Ol_TimeFootball) December 12, 2020
Too good for the Ticker (football version): The video above shows the intro for the AFL Game of the week (which I believe was broadcast by NBC, although the footage doesn't specify the network). The first 28 seconds feature highlights from an AFL All-Star Game, presumably from the previous season. Not sure I've ever seen video of that before!
The rest of the video clip is worthwhile, too. Great stuff!
(My thanks to @tierknala for this one.)
• • • • •
• • • • •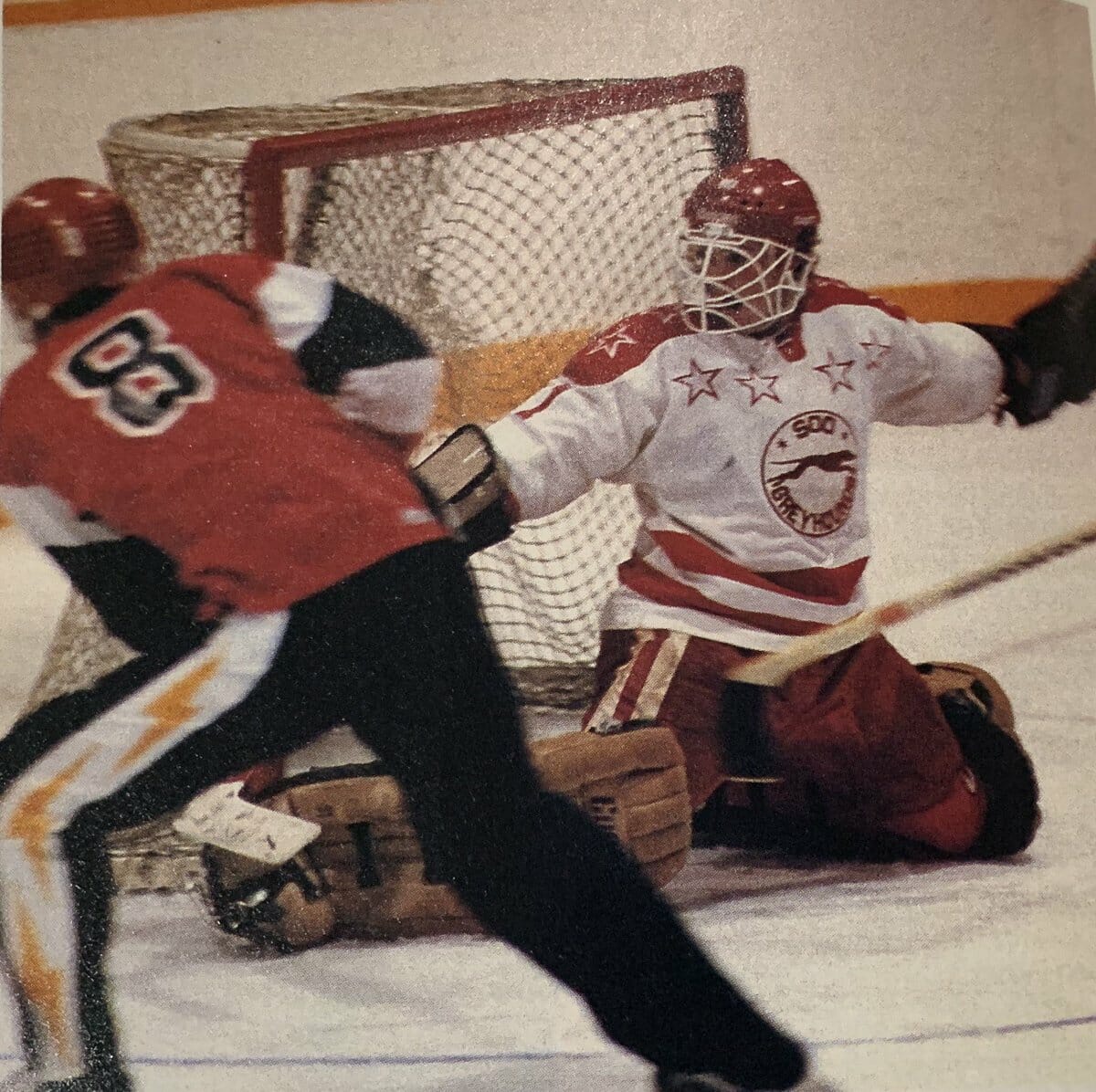 Click to enlarge
Too good for the Ticker (hockey version): What's better than Cooperalls? Cooperalls with lightning bolts on the sides! That's what the OHL's Guelph Platers wore in the late 1980s. And the goalie's Soo Greyhounds jersey is pretty great too!
(Big thanks to Wade Heidt for this one.)
• • • • •
• • • • •
The Ticker
By Paul

'Skins Watch: How will longtime Washington Football Team fans feel about the loss of their old team name? A look at the situation at Miami of Ohio, which changed its team name from "Redskins" to "RedHawks" in 1997, provides a clue (WaPo link) (thanks, Jamie). … The teams at Glastonbury High School in Connecticut, which were previously called the Tomahawks, are now called the Guardians (from David Hirx). … Vancouver Canucks goalie Braden Holtby has apologized following criticism that his new mask design misappropriated First Nations art (from Moe Khan and Wade Heidt). … Pocatello High School in Idaho is changing its team name from "Indians" to "Thunder" (from @bivlo). … A professor of Indigenous history at the University of Manitoba in Canada says the NHL's Vancouver Canucks should retire their orca logo because the design style is cultural appropriation, but a Salish chief says there's no need for that (from Wade Heidt and Moe Khan). … Fresno High School in California has decided to keep "Warriors" as its team name but will drop the Native American imagery previously associated with it (from Kary Klismet). … Also from Kary: Good article in The New Republic about how Native-themed mascots took a big hit in 2020. … Yet another from Kary: While teams and organizations are cutting back on the use of Native imagery, the Sabattus Police Department in Maine has unveiled a new uniform patch featuring a stylized image of the Native American chief who's the town's namesake.

Working Class Wannabes™: VMI baseball coach Jonathan Hadra says one of his new assistant coach hires "brings a blue collar type work ethic to the program." … A new Notre Dame football commit says he likes offensive line coach Jeff Quinn because "he's a blue-collar person." … Mississippi State RB Erroll Thompson says he'll cherish his time at State because of "the grit here, the blue collar mentality." … An article about a high school basketball game in Florida says that when these two particular schools face each other, "it is usually a knock-down, drag-'em-out, blue-collar affair." Right, because everyone knows that blue collar workers routinely engage in fistfights. … An article about San Jose Sharks captains says Joe Pavelski, who was the team's captain from 2015-19, "embodied the hard-working, blue-collar attitude the team seemed to want." … The Appalachian State women's basketball team is giving out "Hard Hat Awards" (from Timmy Donahue).

Baseball News: I still call it the Oakland Coliseum (from Timmy Donahue). … Ooooh, great footage of Giants P Christy Mathewson warming up at the Polo Grounds while wearing the team's 1906 "World's Champions" uni — and with a train going by in the background! (From Bruce Menard.) … A player in the Dominican Winter League has a triple-digit number! … New stars/stripes jersey for Campbellsville High School in Kentucky.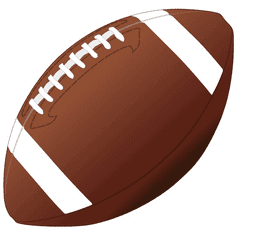 Pro Football News: New logo for the Flood City Thunder, a semi-pro team in Pennsylvania (from Timmy Donahue). … The CFL's Toronto Argonauts' new helmets, in addition to having a new primary logo, do not have a center stripe. "The previous helmets had a light-blue stripe," notes Wade Heidt. … Here's a 1960 shot of Washington DL John Paluck with a cross added to the front of his helmet (good spot by Joe Brooks).

College Football News: For every player who signed a letter of intent yesterday with SMU, the school posted a video of that player's nameplate being sewn onto a jersey (from Timmy Donahue).

Hockey News: The Sabres are apparently bringing back last season's 50th-anniversary uniform for this season. … NHL throwback jerseys are becoming a hot thing in streetwear fashion (WSJ/paywalled). … A man was arrested after stealing Sioux Falls Stampede uniforms from the team's locker room and then giving them out to fans at a game. … New mask for Blues G Jordan Binnington (from Wade Heidt). … New logos for the National Women's Hockey Players' Association (from OlegKvasha).

Basketball News: In order to better promote international-born players Deni Avdija and Rui Hachimura, the Wizards have official Twitter accounts in both Hebrew and Japanese, respectively (from Mike Chamernik). … Cavs PF/C Larry Nance Jr. is asking fans to send him T-shirts and caps with the logos of local Cleveland businesses, which he will then wear when arriving at the arena for each game, plus he'll auction off his game-worn jersey from each game and match the auction proceeds with a donation to the business he was repping that day (thanks to all who shared). … SMU women's went BFBS at home yesterday, forcing ECU to wear white on the road.

Soccer News: Here's a story about the guy who designed some of soccer's wackiest theme kits. … Tuesday was the 30th anniversary of an English Division One game between Manchester City and Tottenham Hotspur where City had to change at home in order to be visible in fog (thanks, Jamie). … New home shirt for Irish club Bohemian (from Ed Zelaski). … Qatar has unveiled images of the newly-finished Al Rayyan Stadium, one of seven new stadiums being built for the 2022 World Cup (from Kary Klismet). … Everton MF André Gomes's NOB had a grave accent instead of an acute accent yesterday (from @dale_roots).

Grab Bag: Police say a suspect in Everett, Wash., porch pirate thefts used an Amazon uniform to pass as a delivery driver (from Timmy Donahue). … New cycling jerseys for the Trek-Segafredo men's and women's teams and AG2R La Mondiale. … An Air Force staff sergeant is turning old Air Force uniforms into holiday wreaths. … More Japanese high schools are going with genderless uniforms to meet the needs of LGBT students. … On top of everything else, 2020 may go down as the year that ruined logo design. … New logo and seal on the way for Arlington County, Va. (from William Yurasko) … An LGBTQ-owned clothing brand has denounced the domestic terrorist group the Proud Boys for wearing the company's kilts as a de facto uniform (from Kary Klismet). … Nice story here: Wade Ford designed these tickets for various games that he attended with his son. " It started when we took him to a Falcons/Saints game as an early Christmas present one year," says Wade. "The tickets were the print-at-home kind, and we didn't want to give him just a sheet of paper, so I started making these every time we go to a game." … The U.S. Army has created its own Covid mask, which will be issued to new soldiers in 2021 (from Germán Cabrejo). … A viral tweet is providing countless people with a new "can't un-see it" take on the KFC logo.
• • • • •
• • • • •
Click to enlarge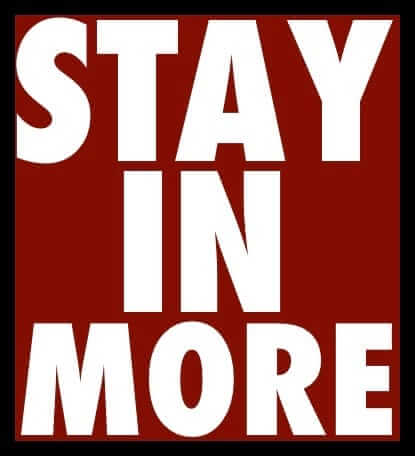 What Paul did last night: We had our first winter storm of the season yesterday, which resulted in the first-ever snow edition of Pandemic Porch Cocktails™. As you can see, the storm was still in its early stages when we sat down, although it got a lot more serious as the night went on. We woke up this morning to about eight inches.
Instead of our usual libations, we decided that the snow provided the perfect juncture for me to make my annual batch of Irish cream for the holidays. After all these years, most of you know the drill: a pint of Irish whisky; a pint of heavy cream; a can of sweetened condensed milk; a tablespoon of chocolate syrup; a teaspoon of vanilla extract; a quarter-teaspoon of almond extract; and a teaspoon of instant espresso powder dissolved in two tablespoons of hot water. Combine, mix well, serve over ice, and thank me later.
It turned out to be the ideal cocktail for a snowy day: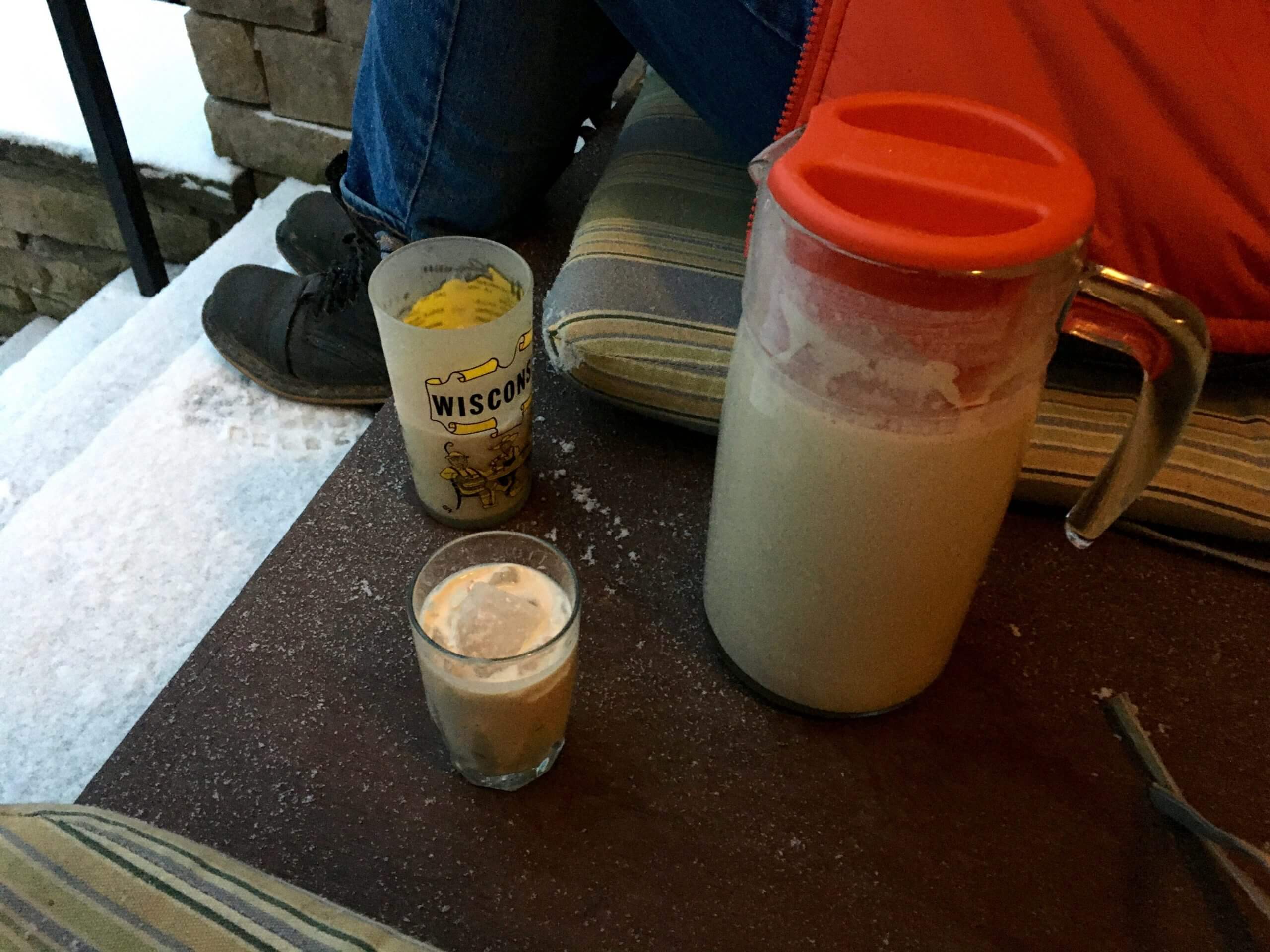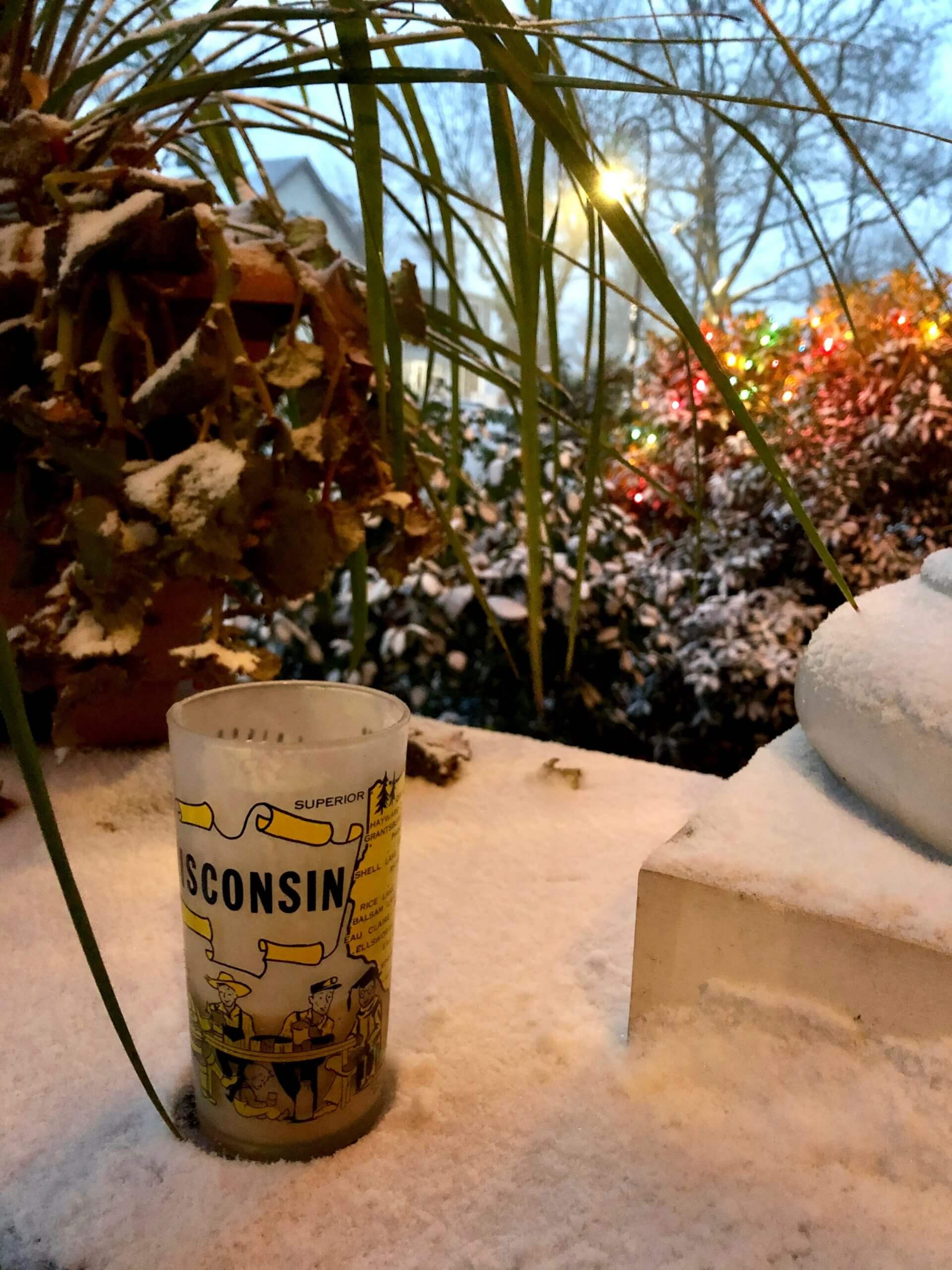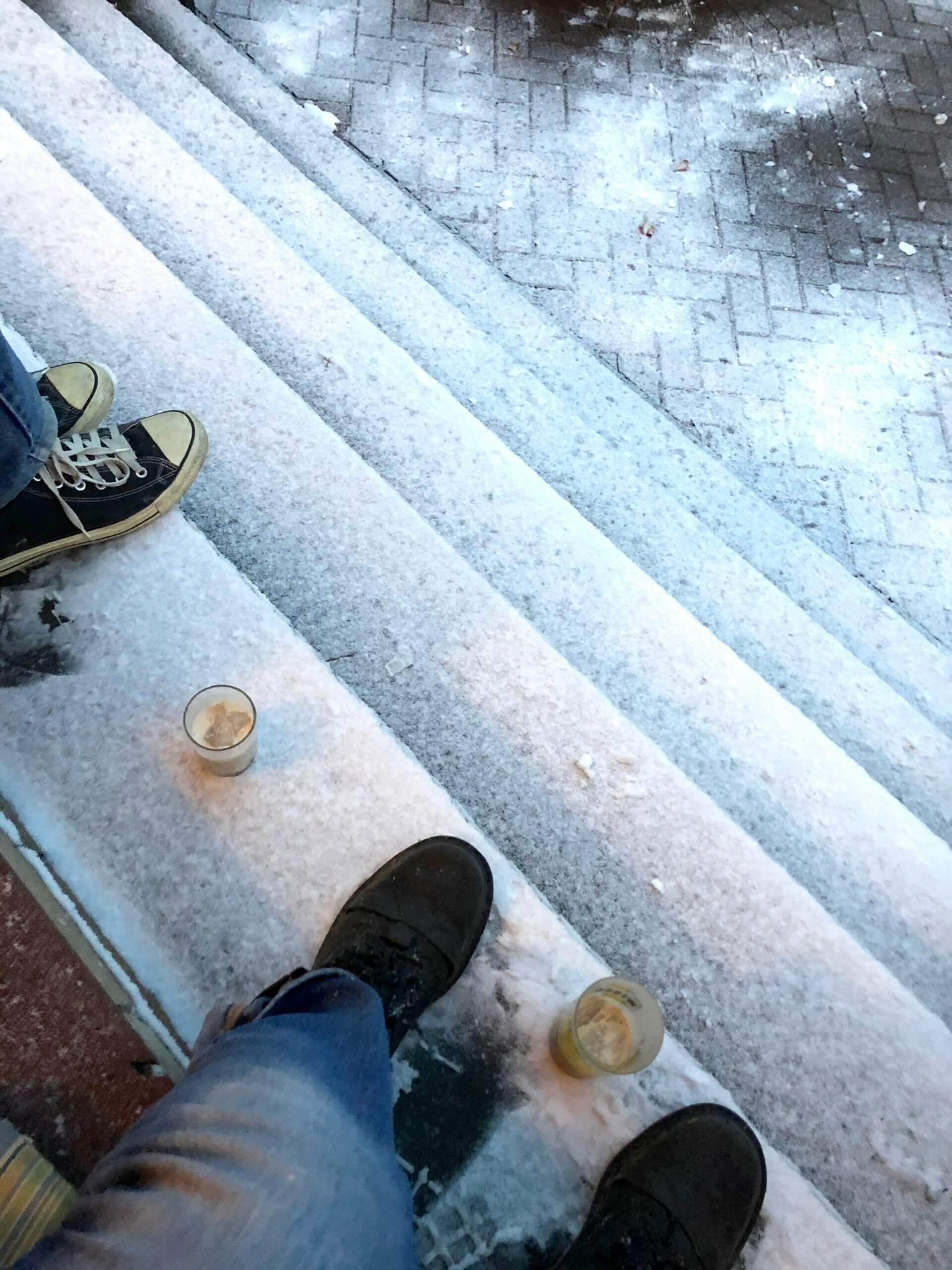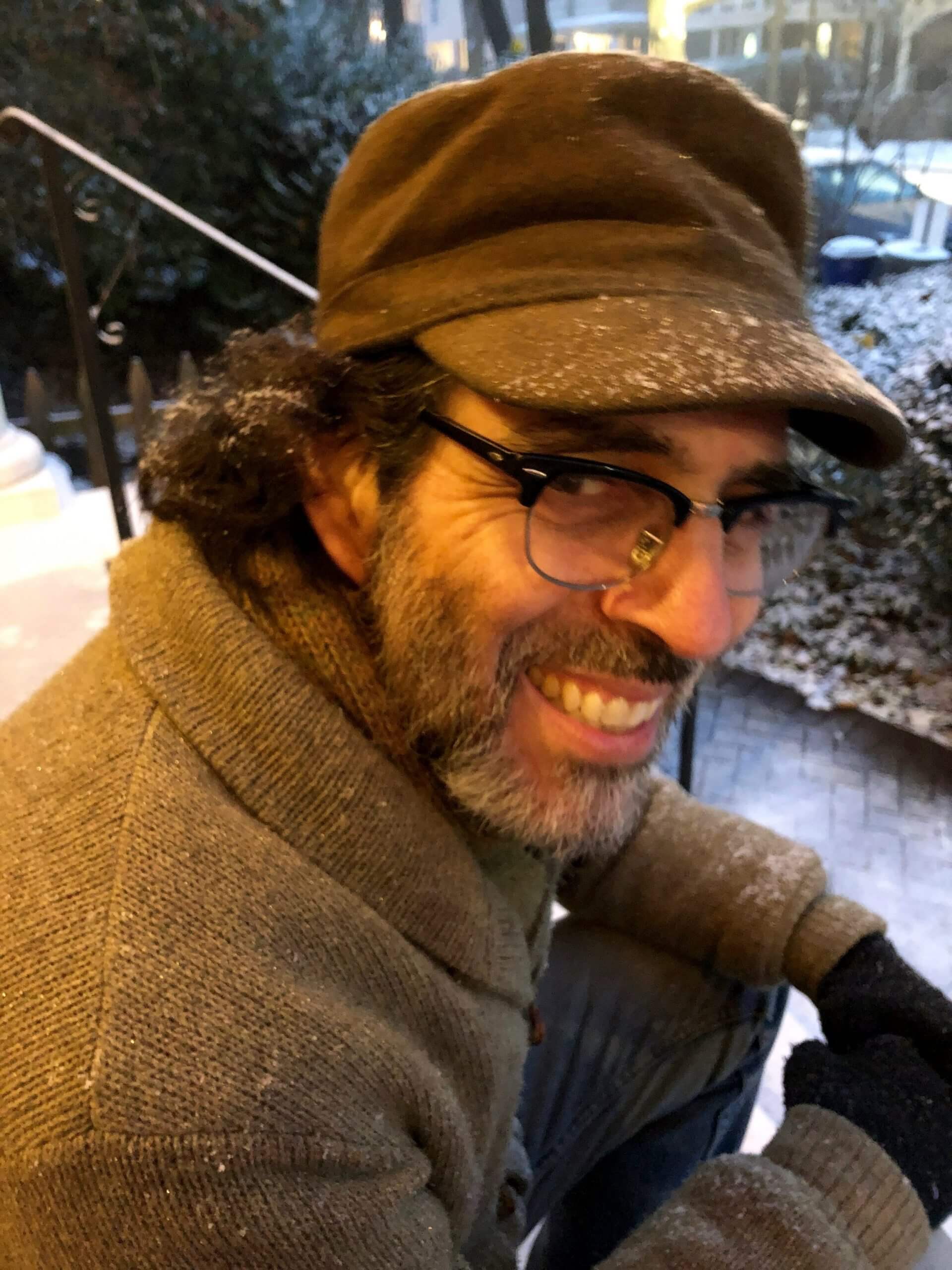 Afterward, we went inside and roasted a chicken, which seemed like the right meal for a cold, snowy day: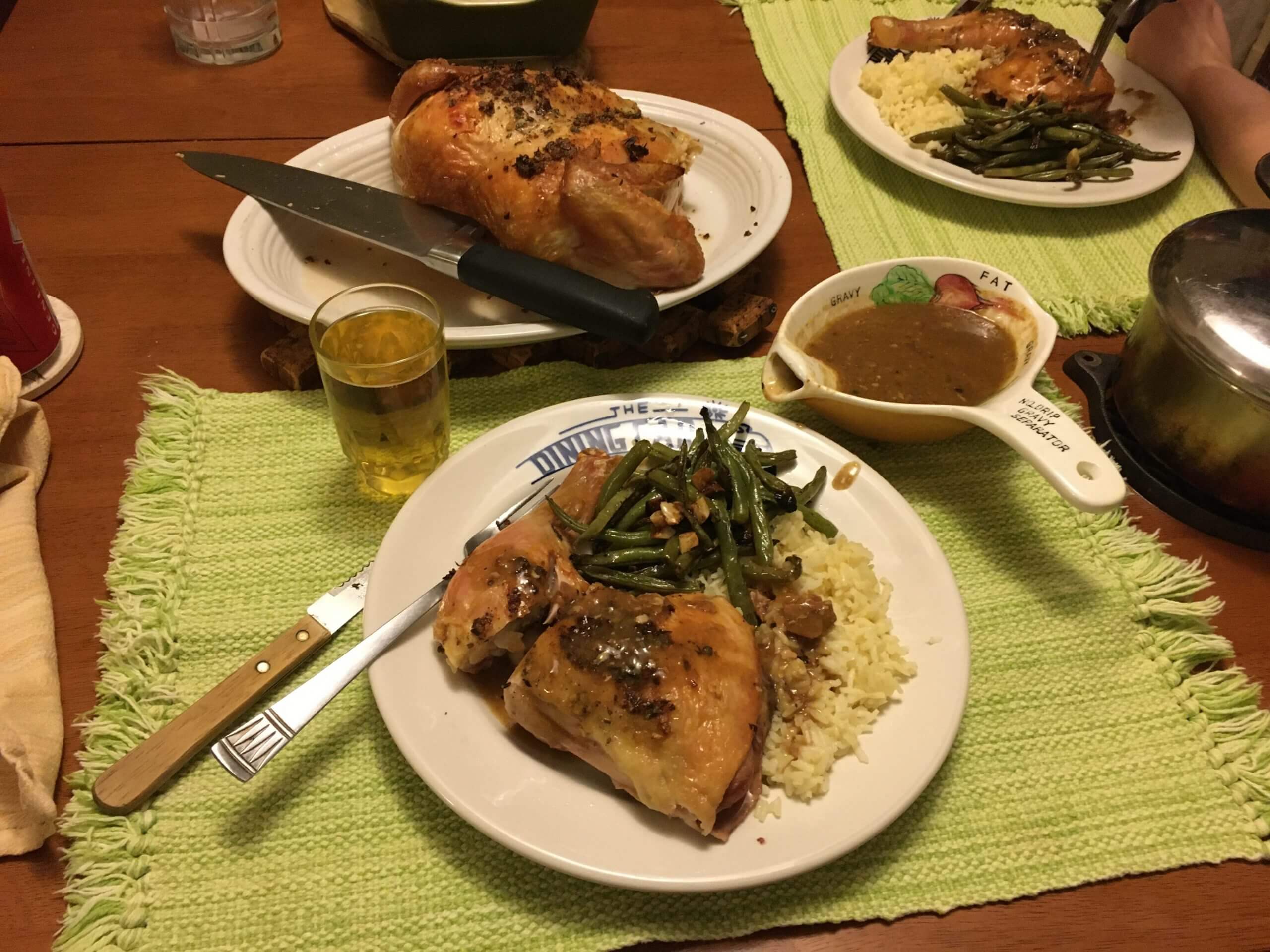 As always, you can see the full set of daily Pandemic Porch Cocktails™ photos — now 275 of them — here.
• • • • •
Tomorrow: The annual year-end raffle! Let's hope there's no breaking uni news to conflict with it.