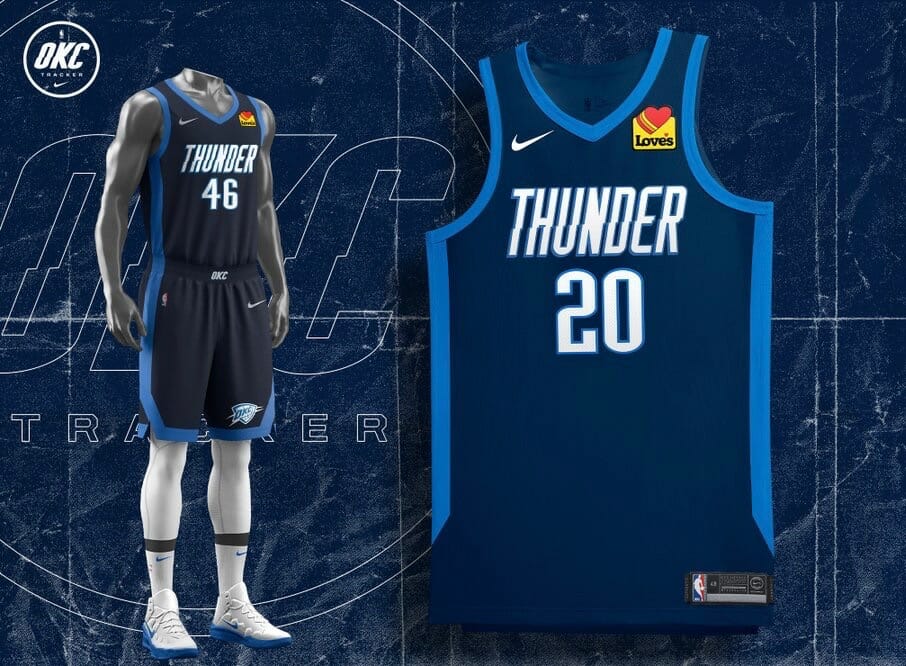 For all photos, click to enlarge
Major scoop last night from Justin Peabody, who runs the Thunder-centric @OKCTracker Twitter account. He says he was poking around yesterday on the NBA's LockerVision site, which lists all of the game-by-game uniform matchups, and somehow cracked the code to unlock this season's Earned uniforms (including the Thunder's, shown above). Peabody's Twitter reporting has always been extremely reputable, and another source of mine was able to confirm the legitimacy of one of the Earned leaks, so I'm fairly certain all of these are the real deal.
First, a quick refresher course: The Earned uniforms debuted in the 2018-19 season as some extra retail slop a bonus uniform for teams that made the playoffs the previous season (essentially a participation trophy, considering that more than half of the league's 30 teams qualify for the postseason each year). Then they scrapped the Earned program last season, but they're reviving it this season.
We got a hint about this season's Earned program two weeks ago from Heat executive Michael McCullough, who told The Miami Herald:
The Earned Edition campaign really kind of flows from Nike. They talk to the teams about what the possibilities are. This year's Earned uniform, what they wanted every team to do … is really kind of take one of your existing team colors and play with that, basically. Make it hyper this or really play up this aspect of your team colors.
With that in mind, here are the Earned uniforms for the 16 teams that made it to the playoffs last season, plus some v-e-r-y preliminary assessments: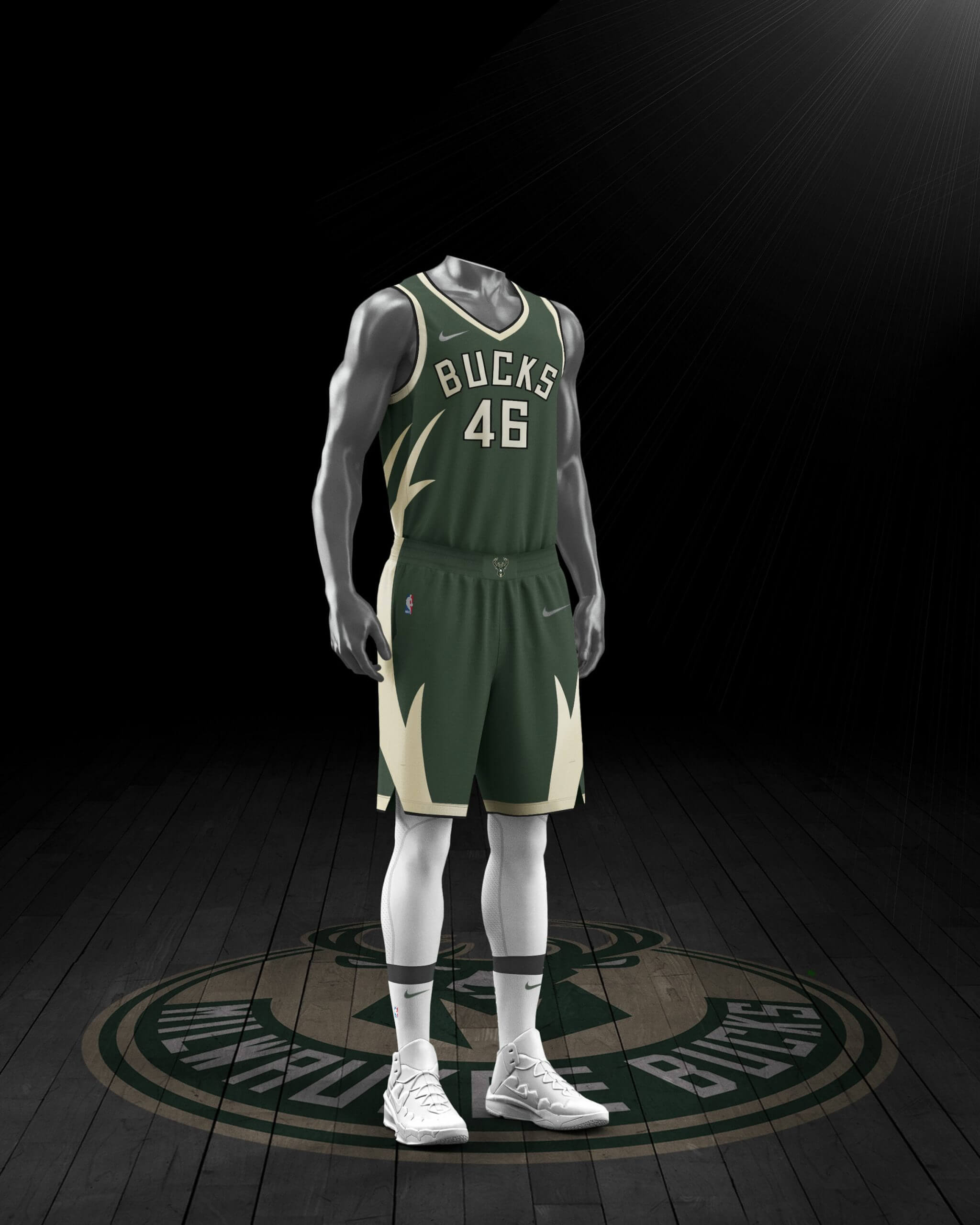 Bucks

Love the colors, not a fan of the antlers, but maybe they'll look better on the court than in the mock-up.
———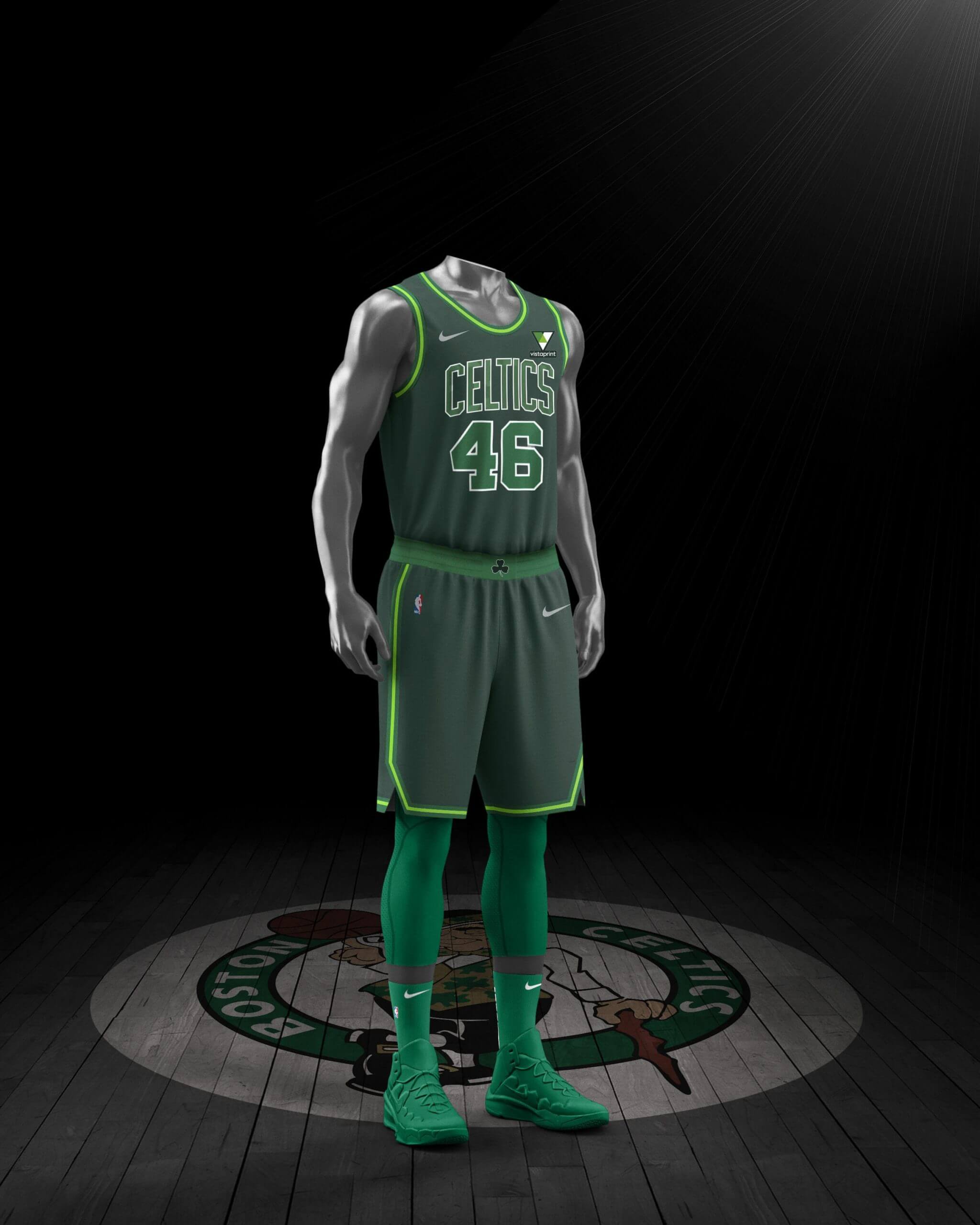 Celtics

Green has been my very favorite color ever for my entire life, so I feel extremely qualified to say what I'm about to say: That's way too much green.
———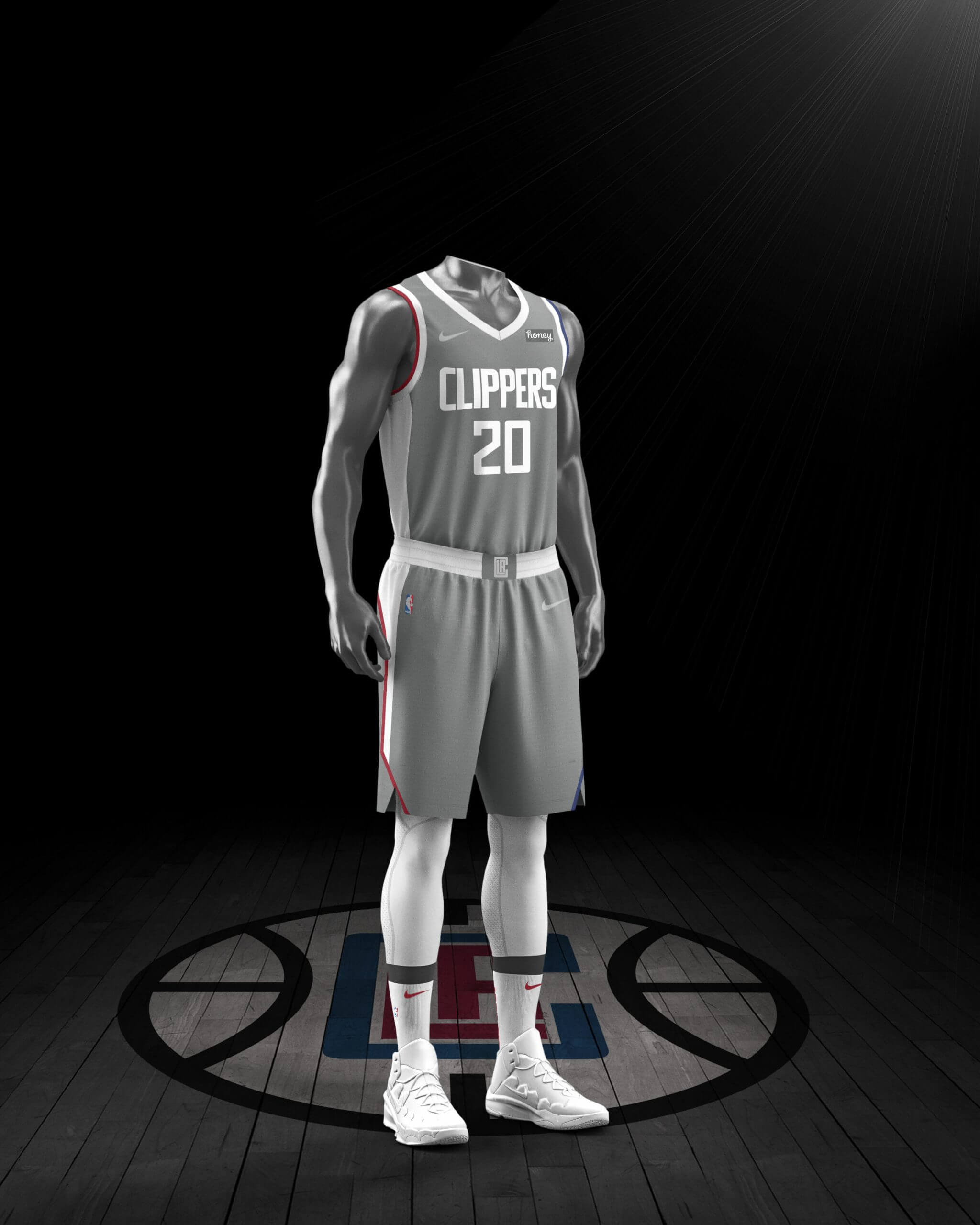 Clippers

I will never understand why any non-baseball team would want to wear grey. I will also never understand most of the uniform choices made by this team.
———
Heat

It's almost startling to see the Heat come out with a non-Vice uniform. I dig that base color — looking forward to seeing this one on the court.
———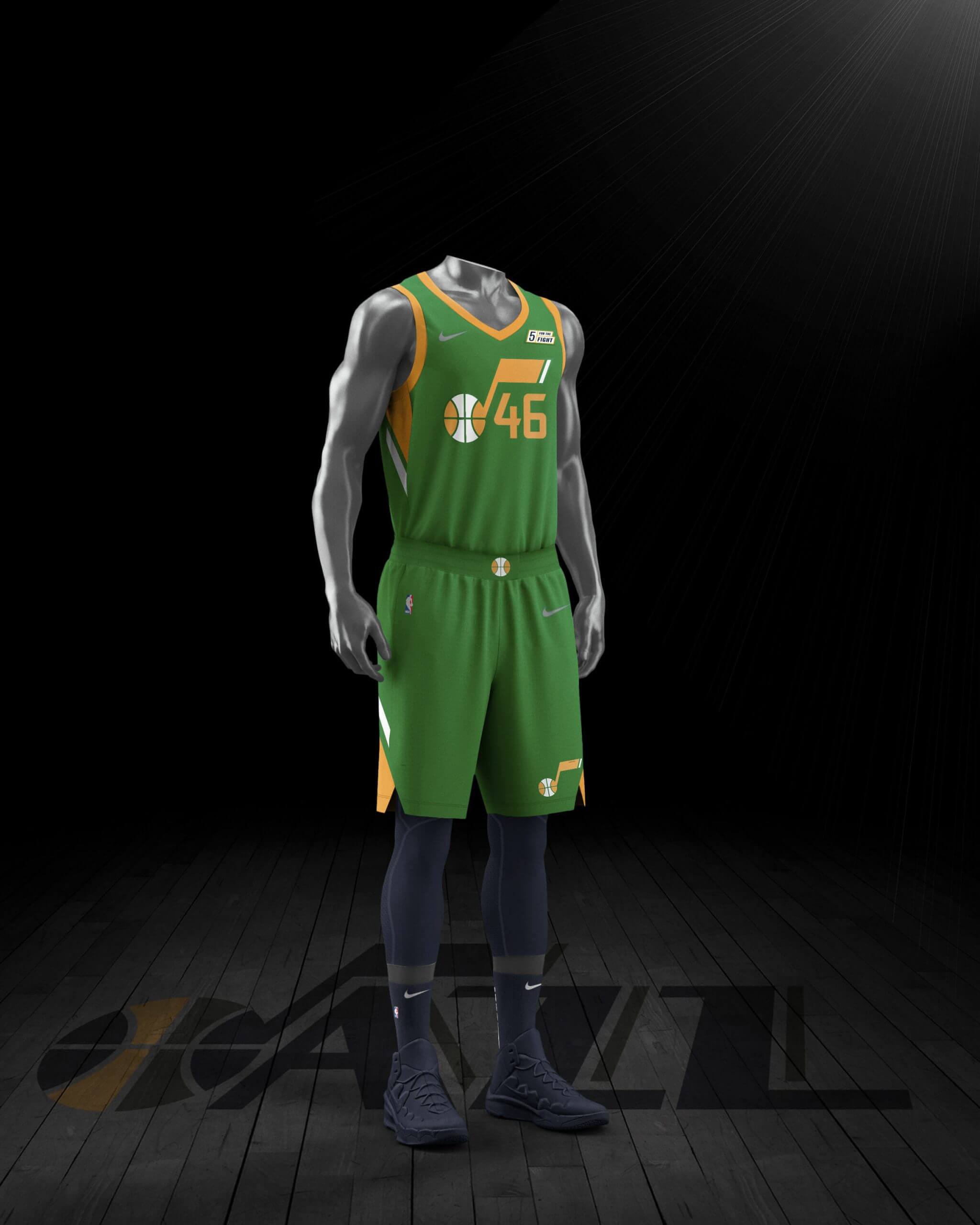 Jazz

Oo-la-la! Have I mentioned that my favorite color is green? Love it!
———
Lakers

Nothing special, nothing awful — just another BFBS Lakers uniform. Yawn.
———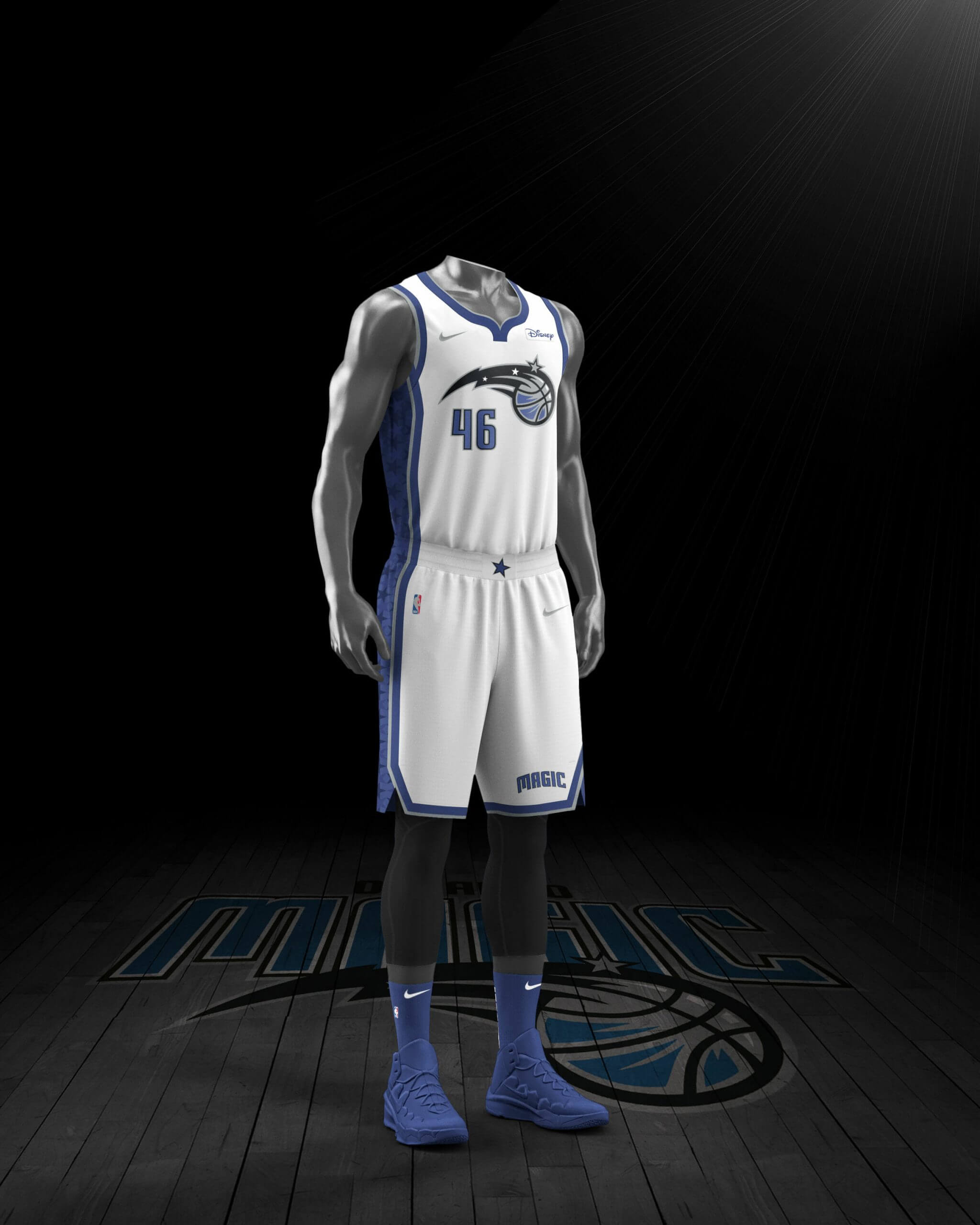 Magic

The rare white Earned uni. I'm fine with the chest mark, but the off-center uni number doesn't work.
———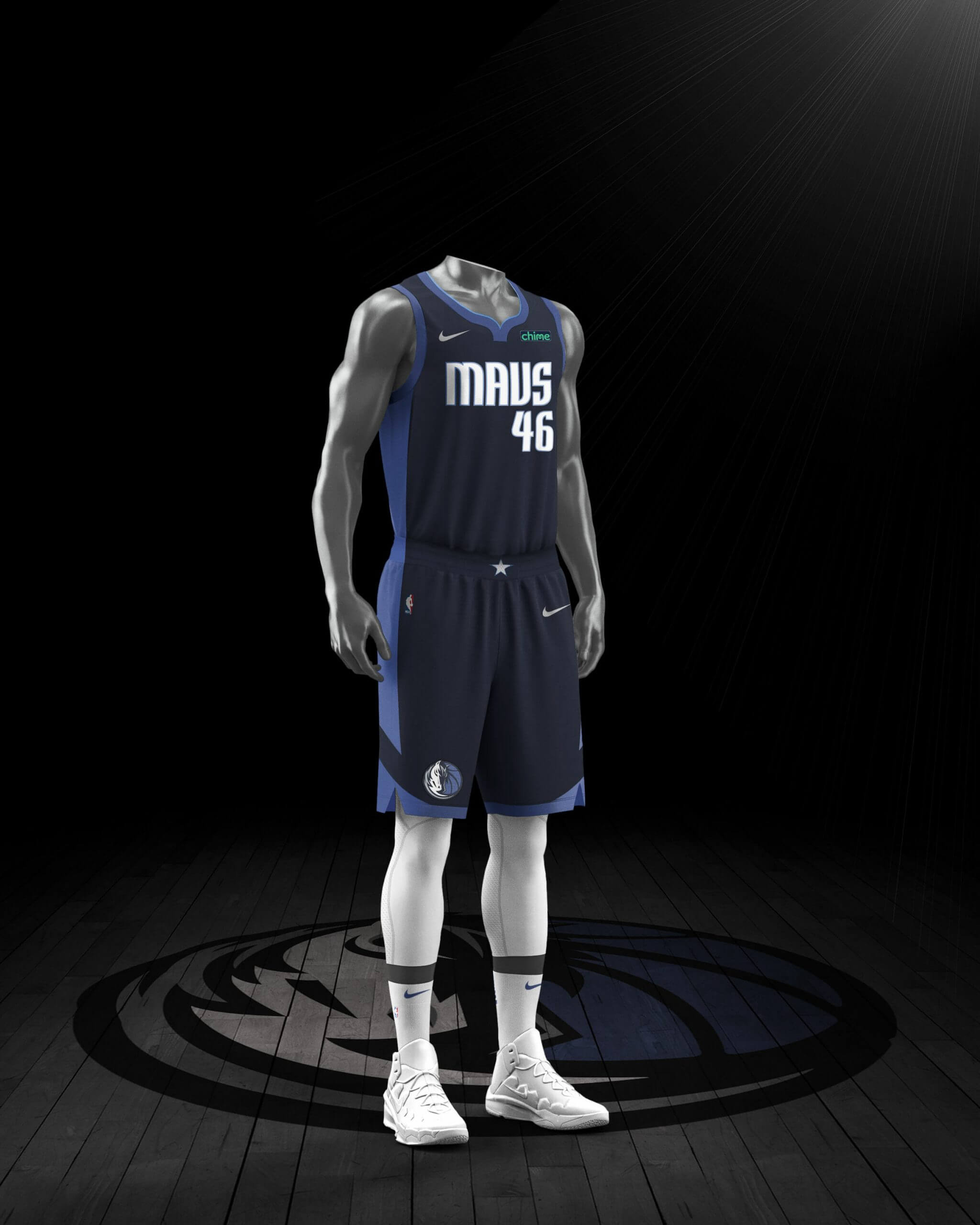 Mavericks

Shouldn't they wear this, like, all the time?
———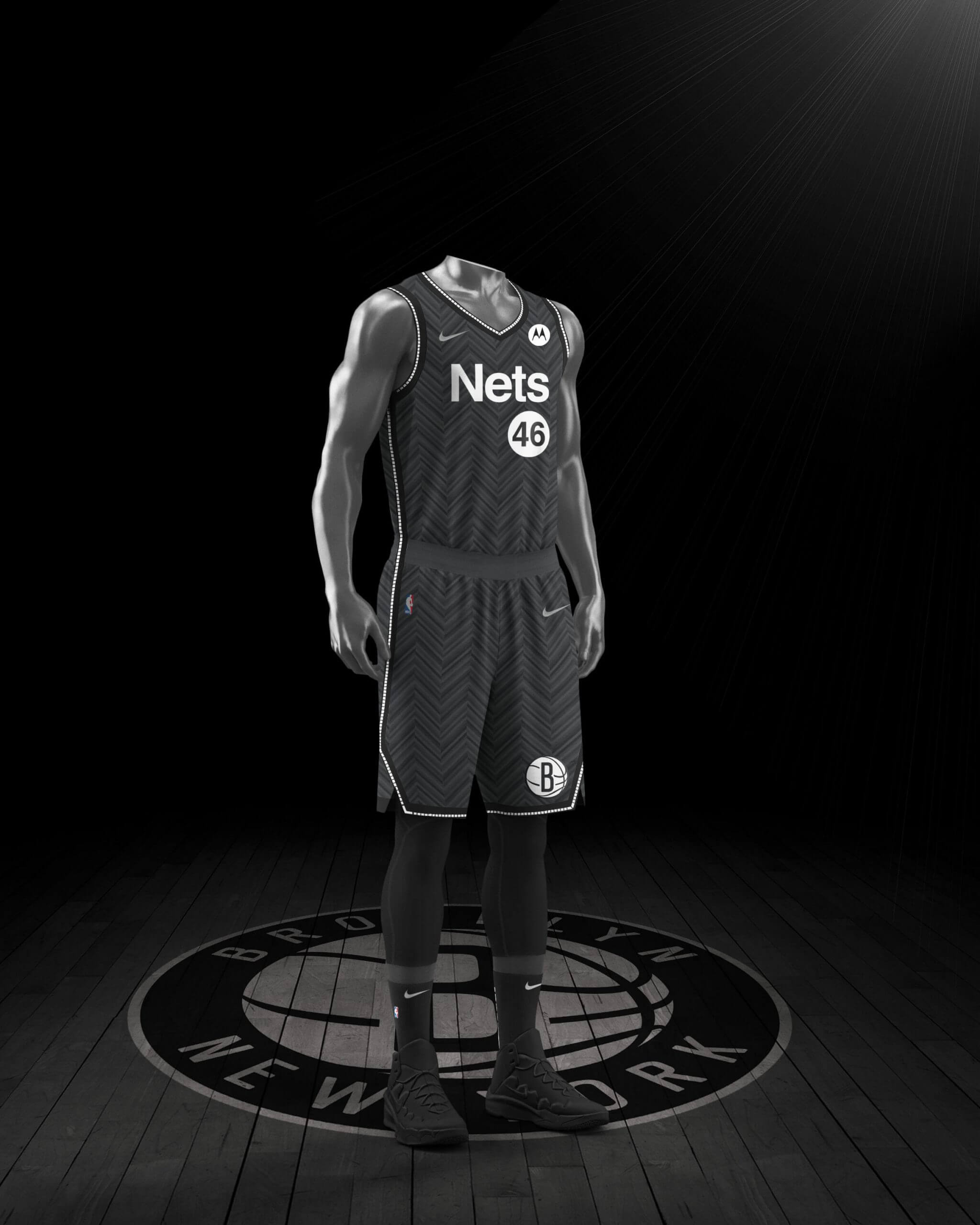 Nets

The typography appears to be based on the New Jersey Nets' logo from the 1980s, or maybe New York subway signage. Either way, I like it, at least in theory, although the herringbone fabric pattern (based on the team's court design) will probably be annoying in real life.
———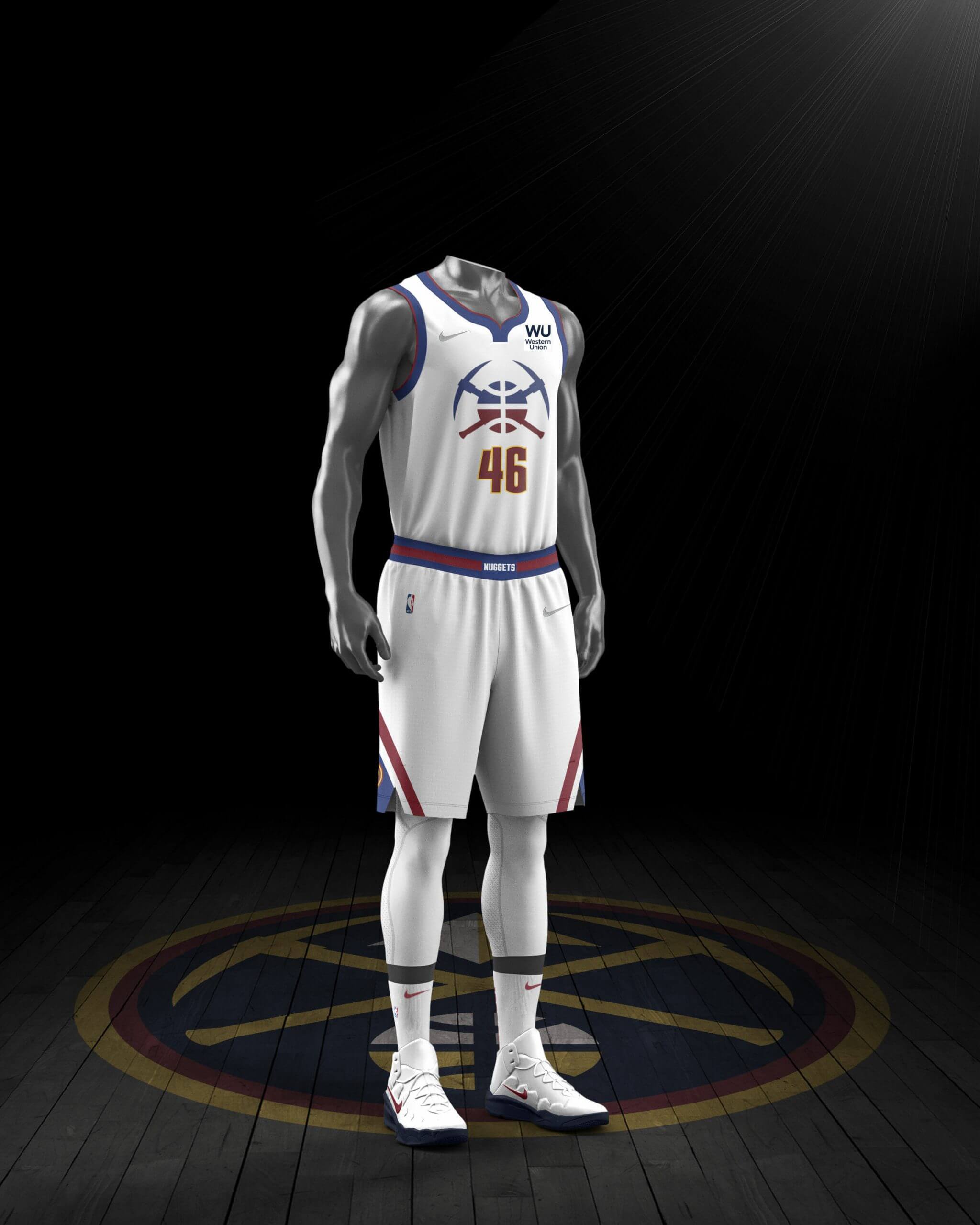 Nuggets

I like this one too, although I'd probably like it even more if the chest graphics were all blue, instead of gradating from blue to red.
———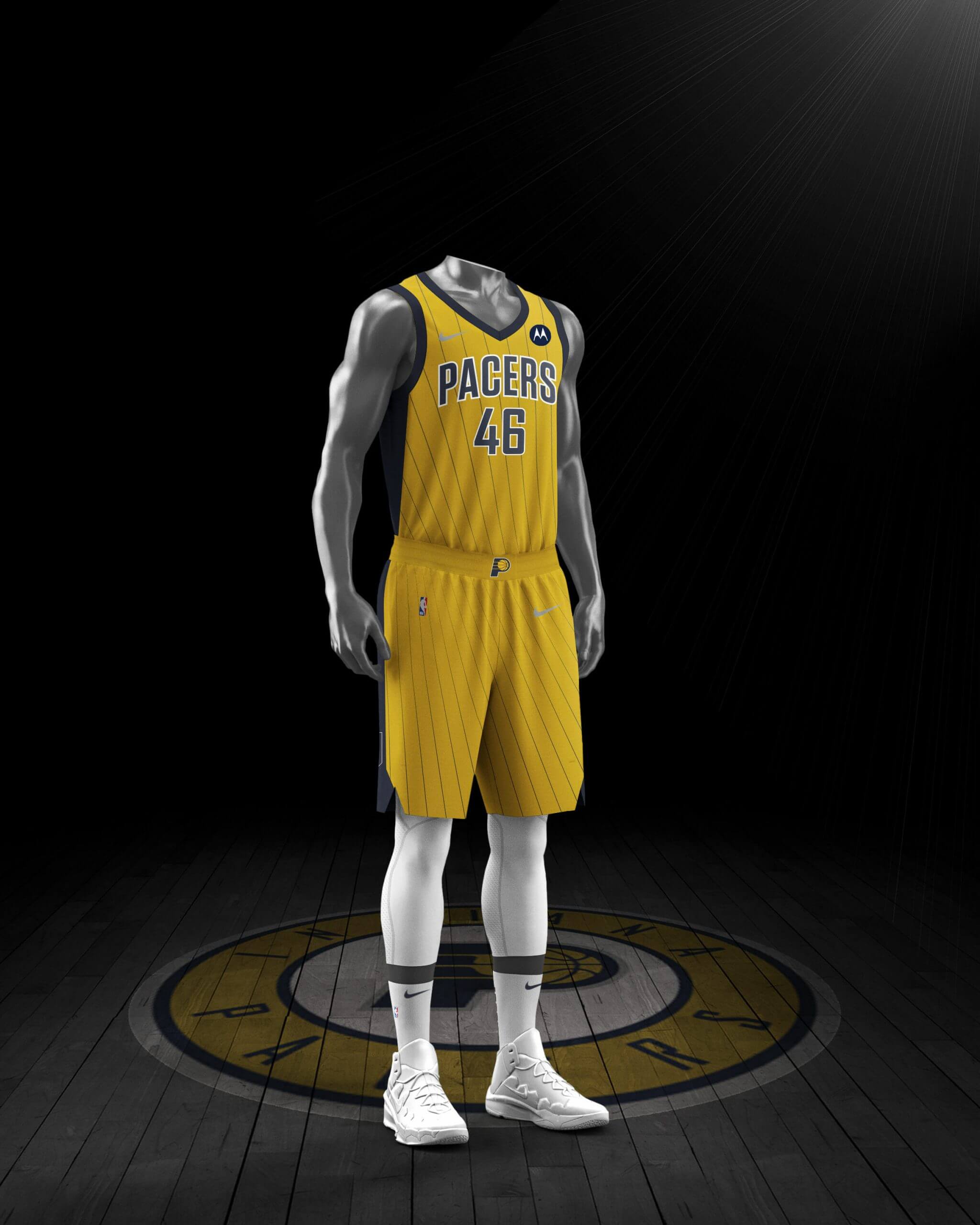 Pacers

There are now so many uniforms floating around that my first reaction upon seeing this one was, "Wait, don't they already wear this?" It's basically a color-reversed version of their new City alternate. Not bad, but unremarkable.
———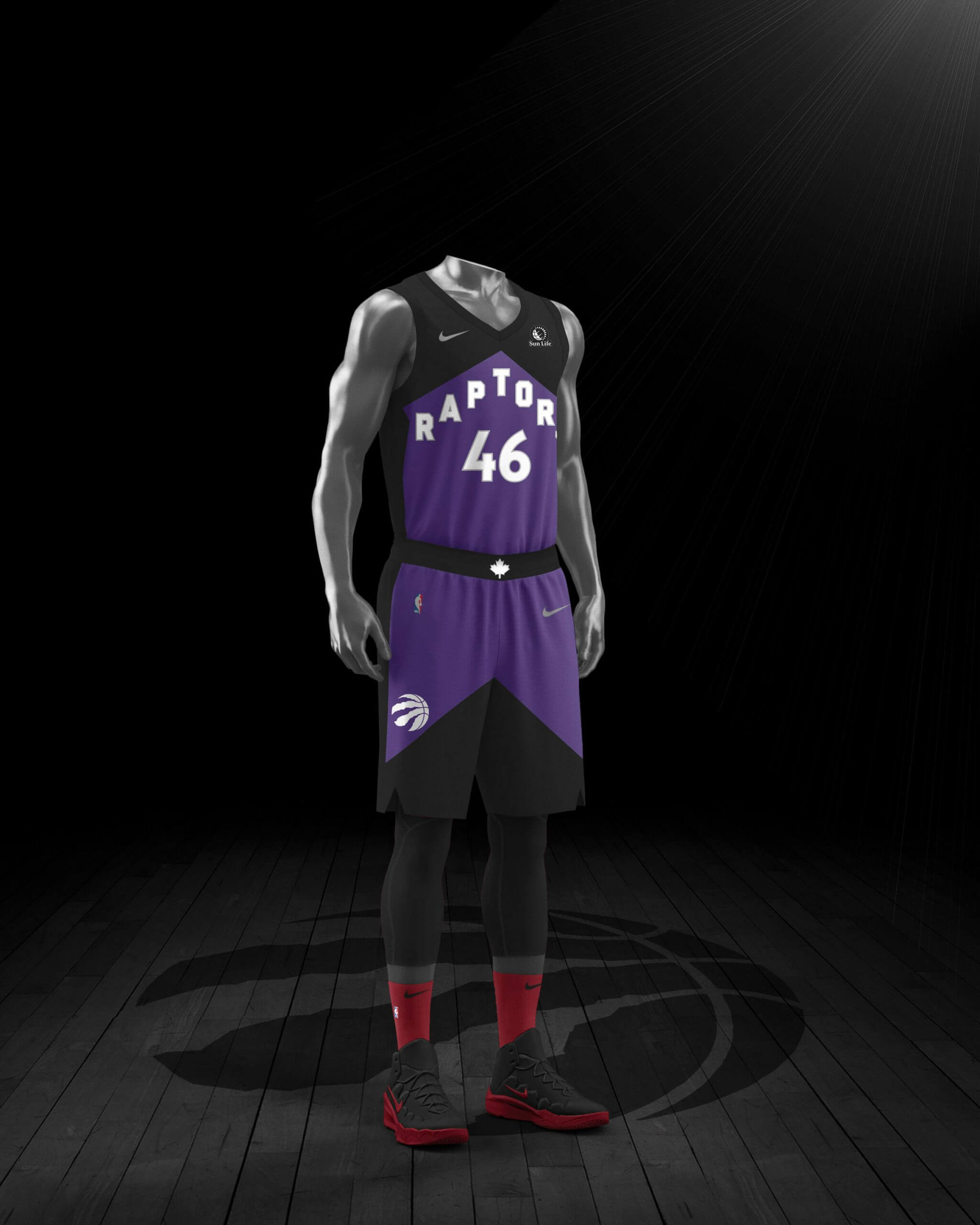 Raptors

I'll admit it: I like the purple arrow effect. That sentence will self-destruct shortly and then I'll deny that I ever wrote it.
———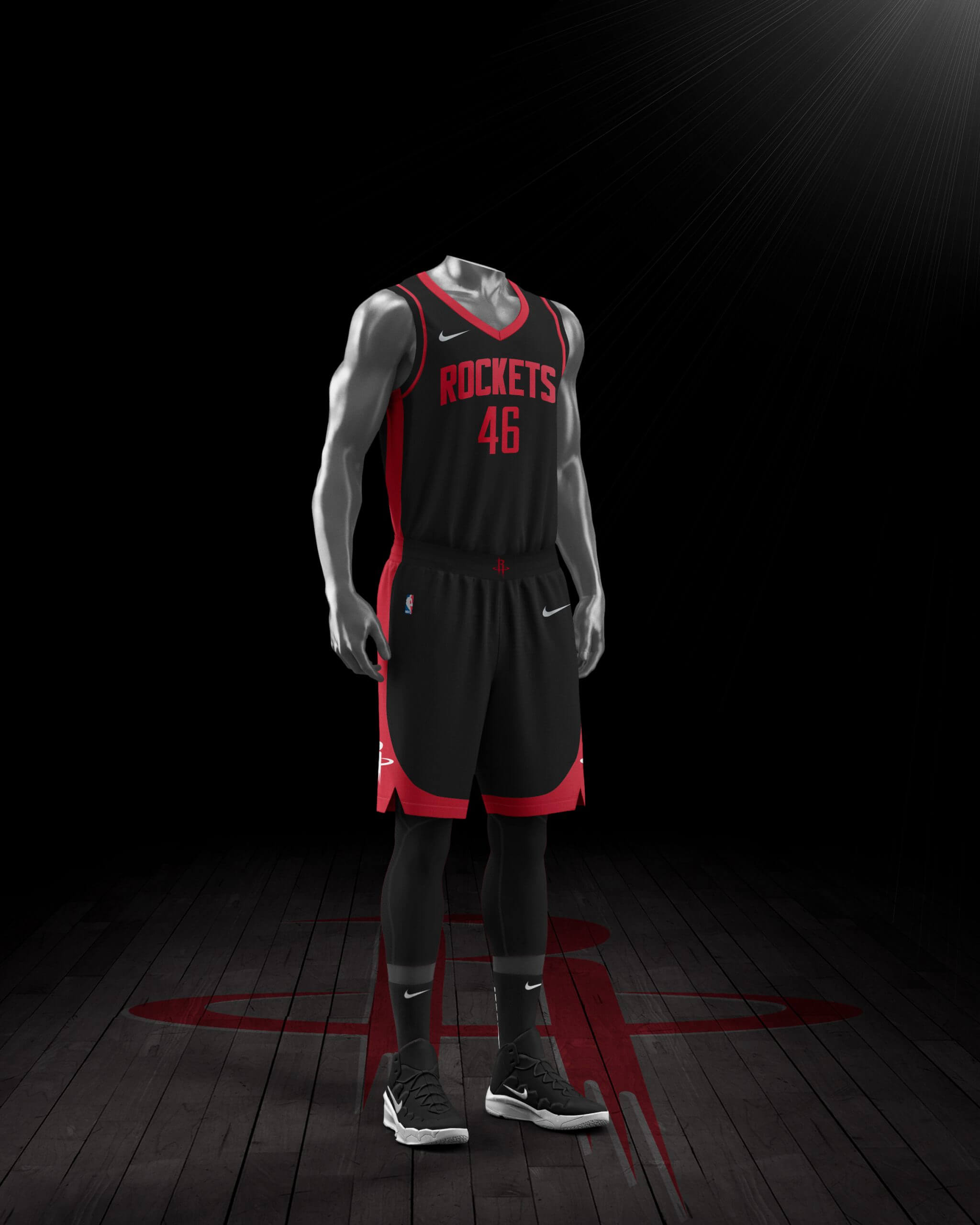 Rockets

Zzzzzzzzzzzz…..
———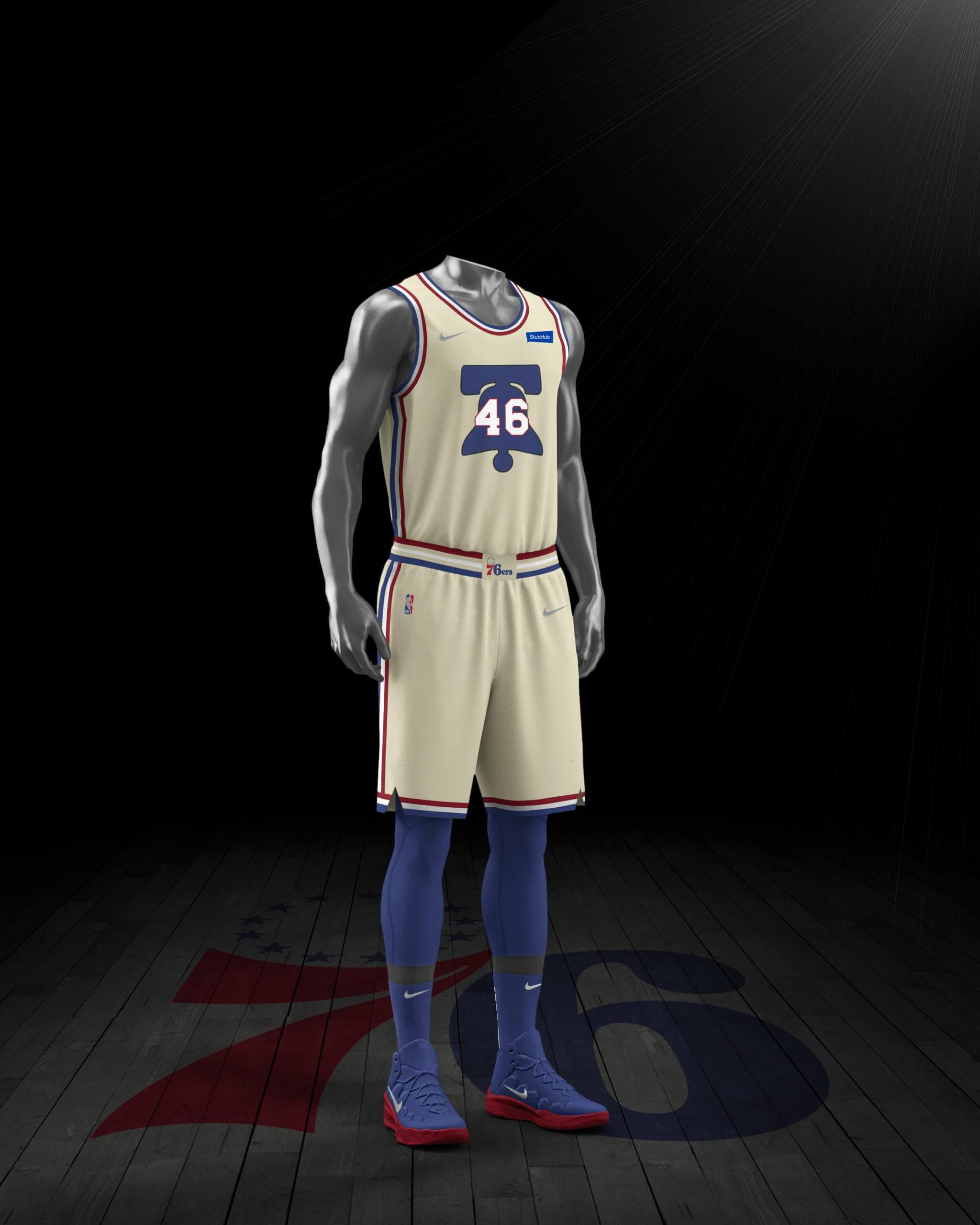 76ers

I like this quite a bit, as long as the base color is a light cream like their 2017-18 City design (as opposed to the sort of curdled color in the mock-up).
———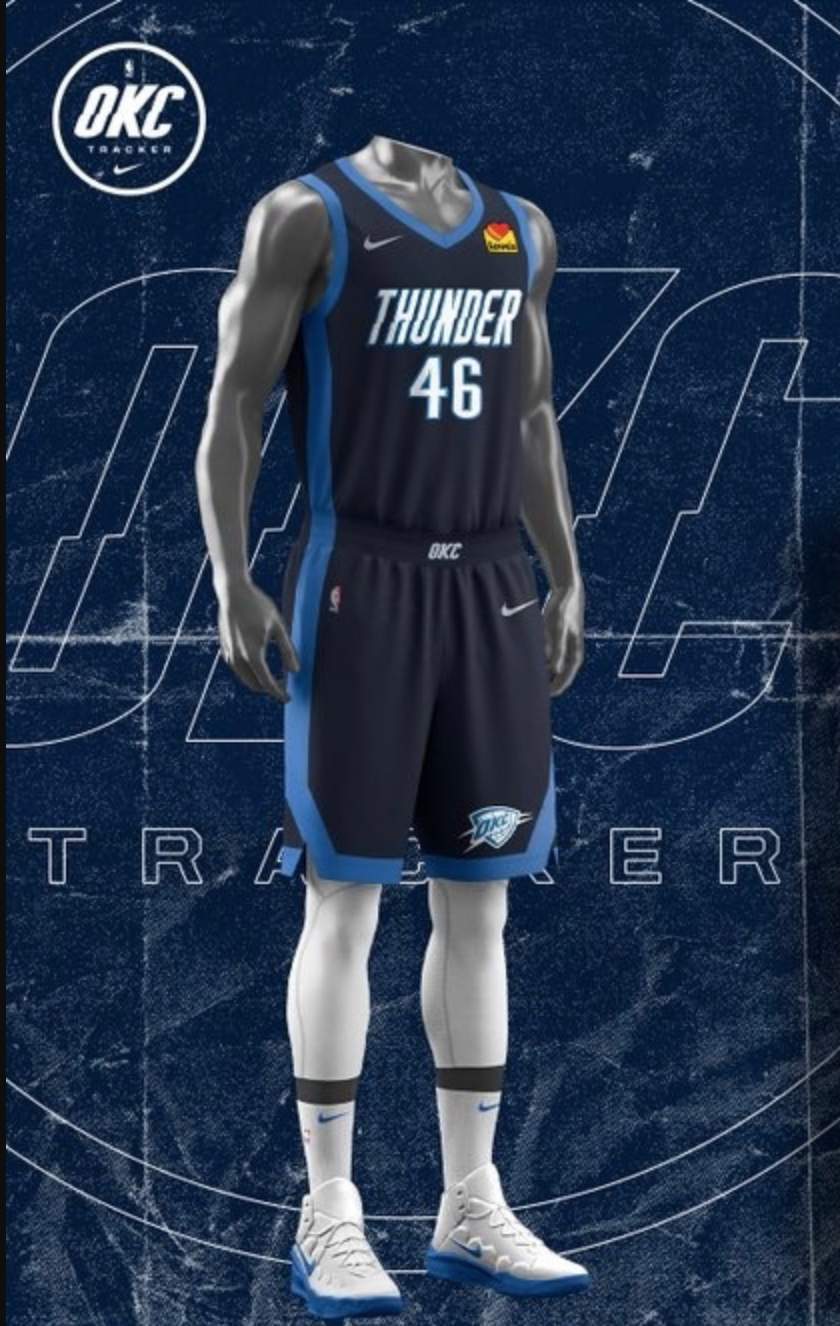 Thunder

Is it just me, or might this actually be their best uniform? Eh, it's probably just me.
———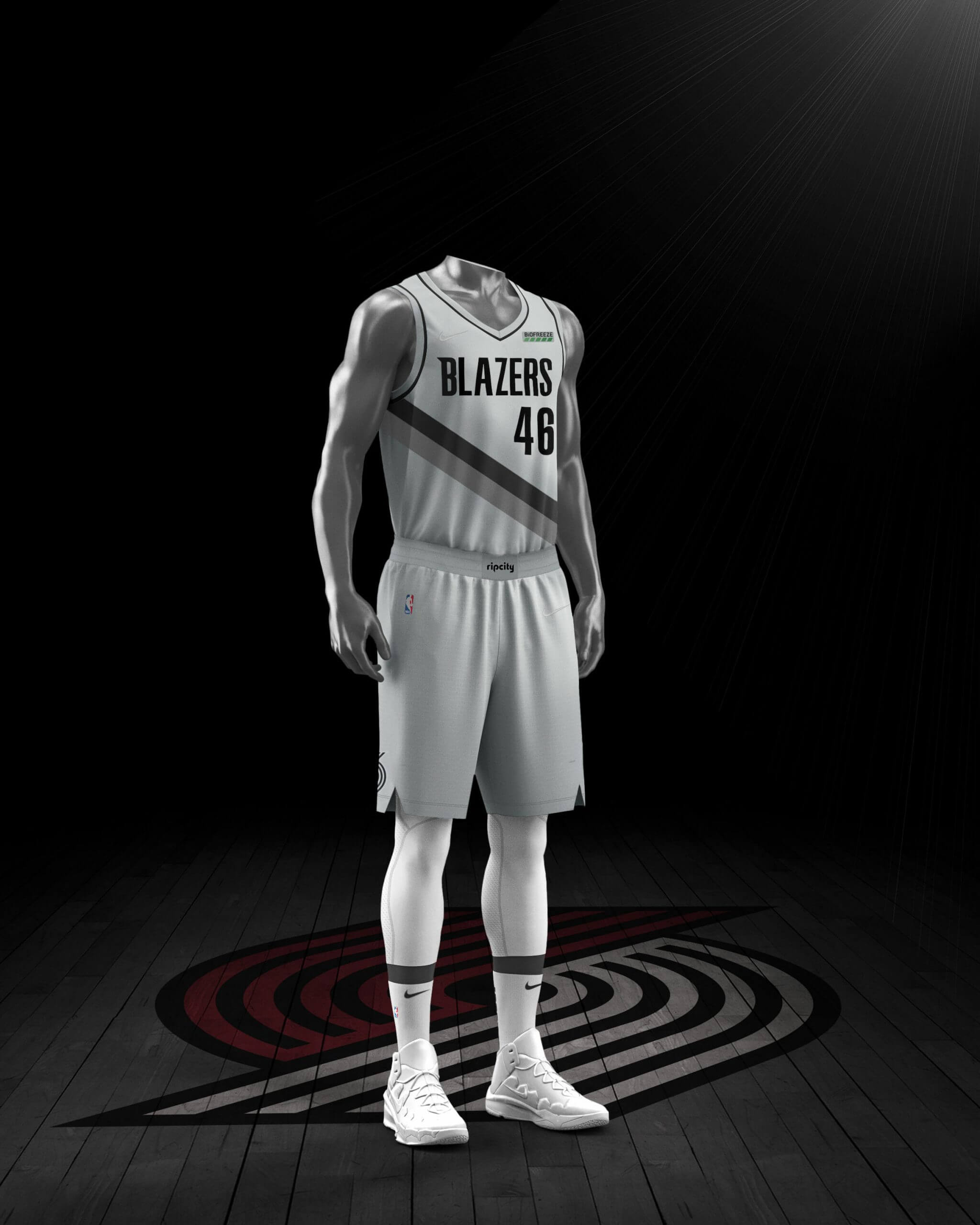 Trail Blazers

What will they call this color — silver? Steel? Fog? Factory? Sorry, guys, it's still grey, and it still looks like shit.
———
So those are the designs for the 16 teams that made the playoffs. Interestingly, Peabody was also able to find apparent Earned designs for two teams that made it to the Orlando bubble but did not advance to the playoffs — the Spurs and Suns: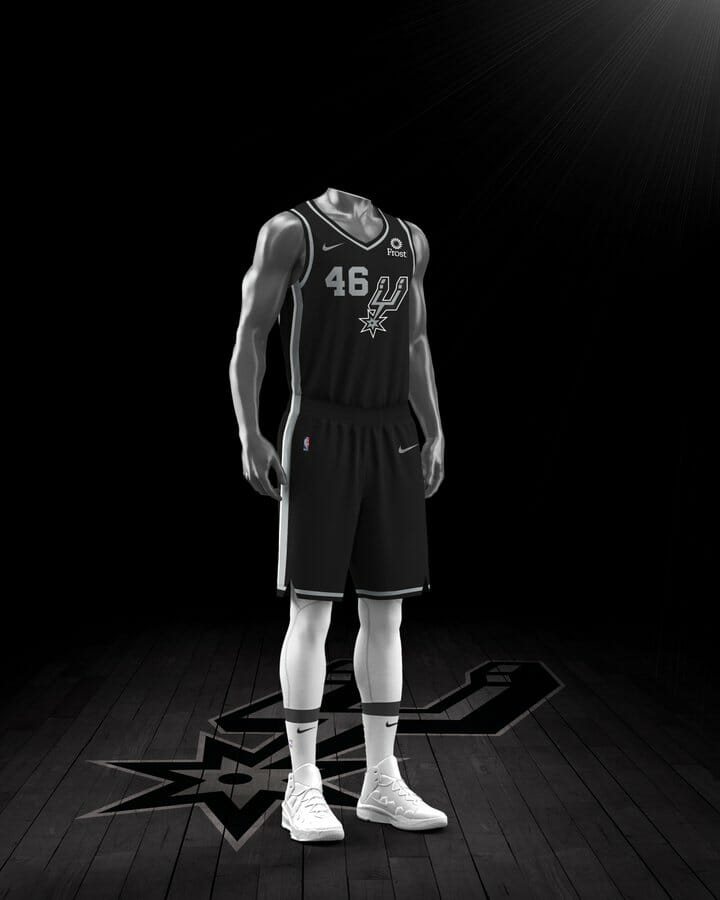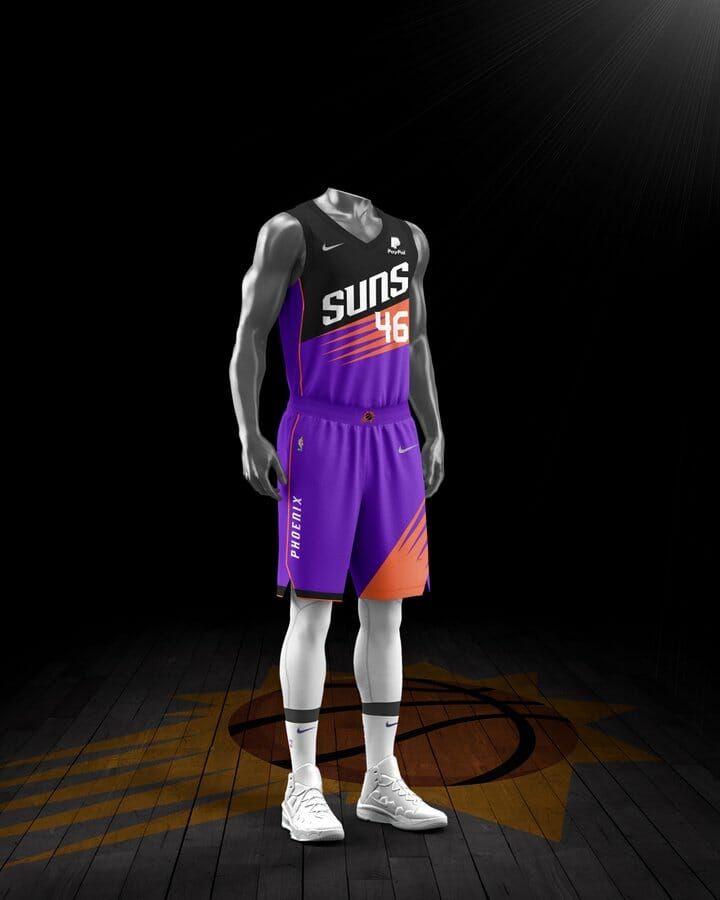 "Not sure if those were uploaded in error or if those teams will be rewarded for getting to the bubble," says Peabody. "Haven't been able to find any for the other non-playoff bubble teams, though."
Update, 9:30am Wednesday: Twitter-er Casey Vitelli says he found one additional Earned design for a non-playoff team — the Warriors: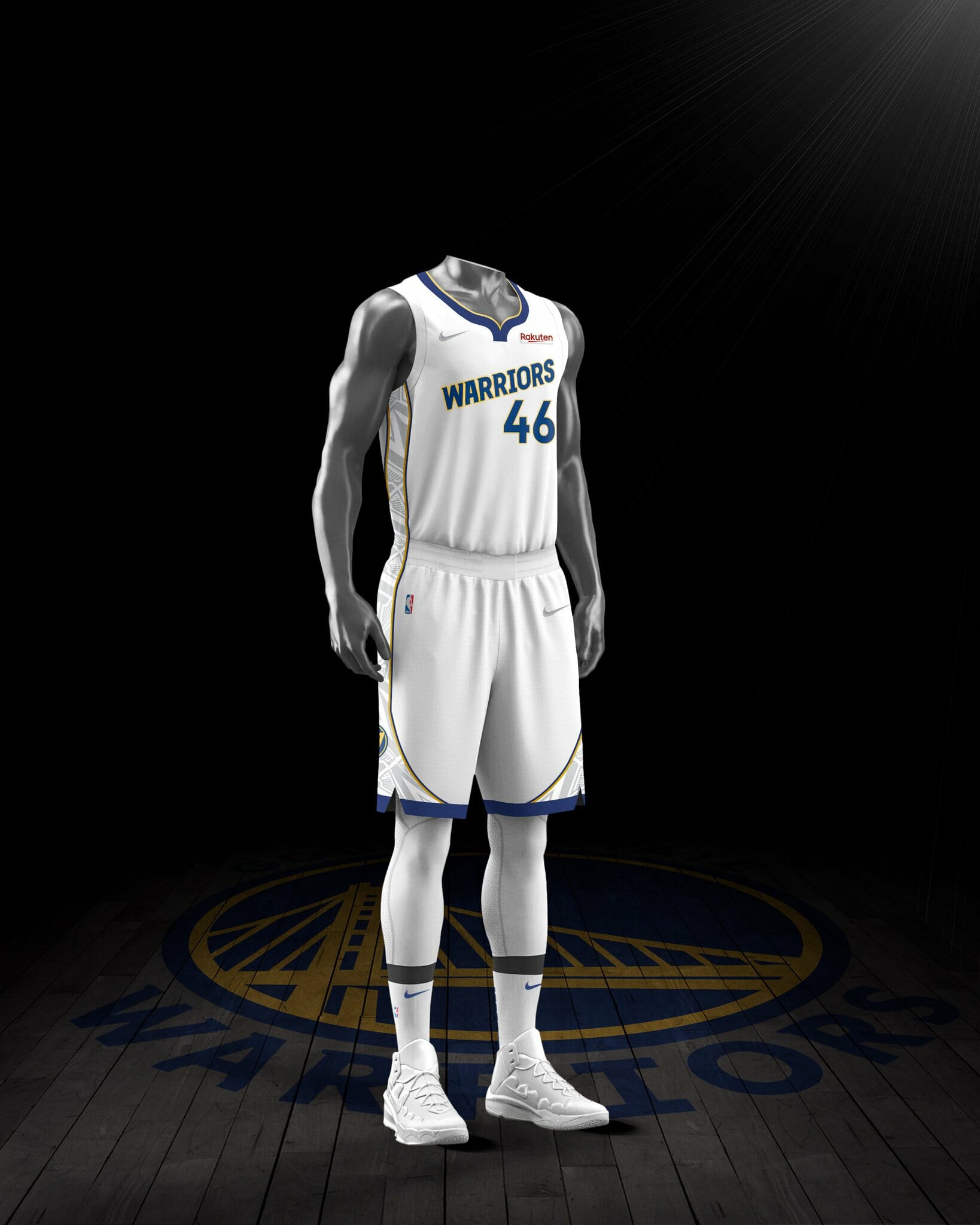 Overall: While the "Earned" concept is somewhere between laughable and contemptible, and while there's certainly no need for any of these uniforms to exist, a decent number of them nonetheless justify their existence. Taken as a whole, they're better than I expected.
And here's a little detail I didn't notice at first, until Peabody brought it to my attention: The maker's marks on all of these uniforms appear to be silver — except on the Lakers' uniform, where they're gold, presumably because the Lakers are the reigning champs. This is apparently Nike's latest attempt to create a uni-based caste system: first class (gold maker's mark), business class (silver), and steerage (no uni at all). Gross.
It's not yet clear when these uniforms will be officially revealed, much less when they'll start to be worn. Stay tuned.
• • • • •
• • • • •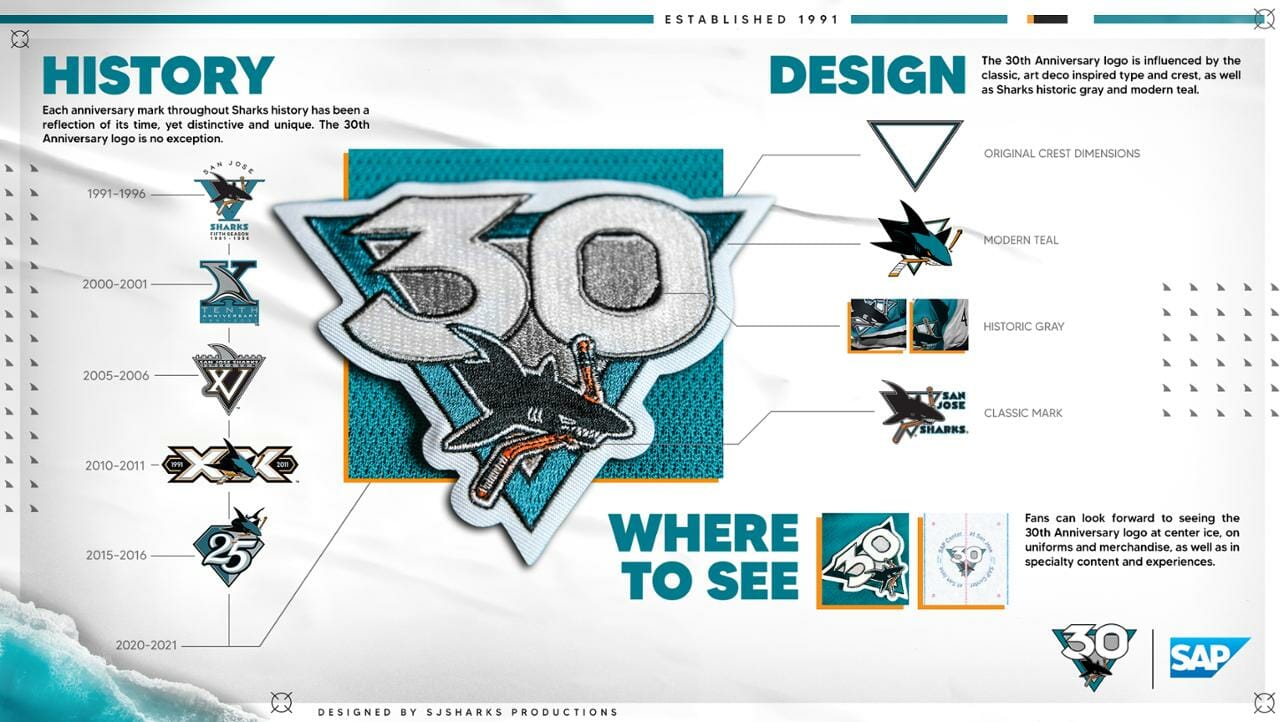 Click to enlarge
Meanwhile, over on the ice: The Sharks kicked off their 30th-season celebration yesterday, beginning with a new "anniversary" logo (actually an ordinal logo) that will appear both as a jersey patch and at center ice. The logo announcement included the graphic shown above, which I'm fairly certain is the most detailed presentation I've ever seen for an anniversary or ordinal mark.
There's a slight bullshit quotient (instead of "Original Crest Dimensions," I think they meant proportions — in other words, um, a triangle), but not too bad. I like how they showed their progression of previous patches, and they definitely get bonus points for showing an actual embroidered patch instead of just the digital version.
In addition, the Sharks will have a retro uniform this season (not quite a true throwback):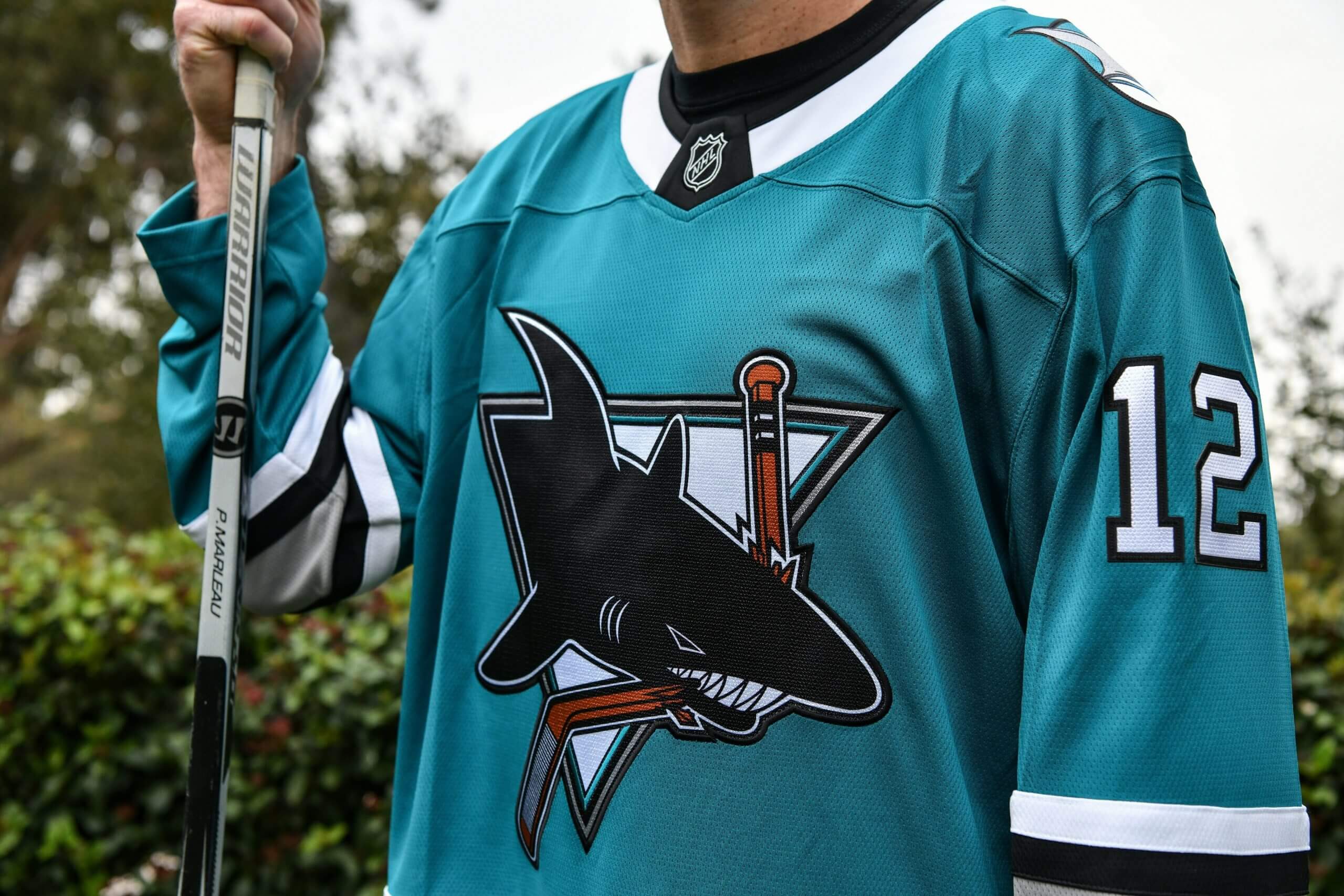 There's more info on all of this here.
• • • • •
• • • • •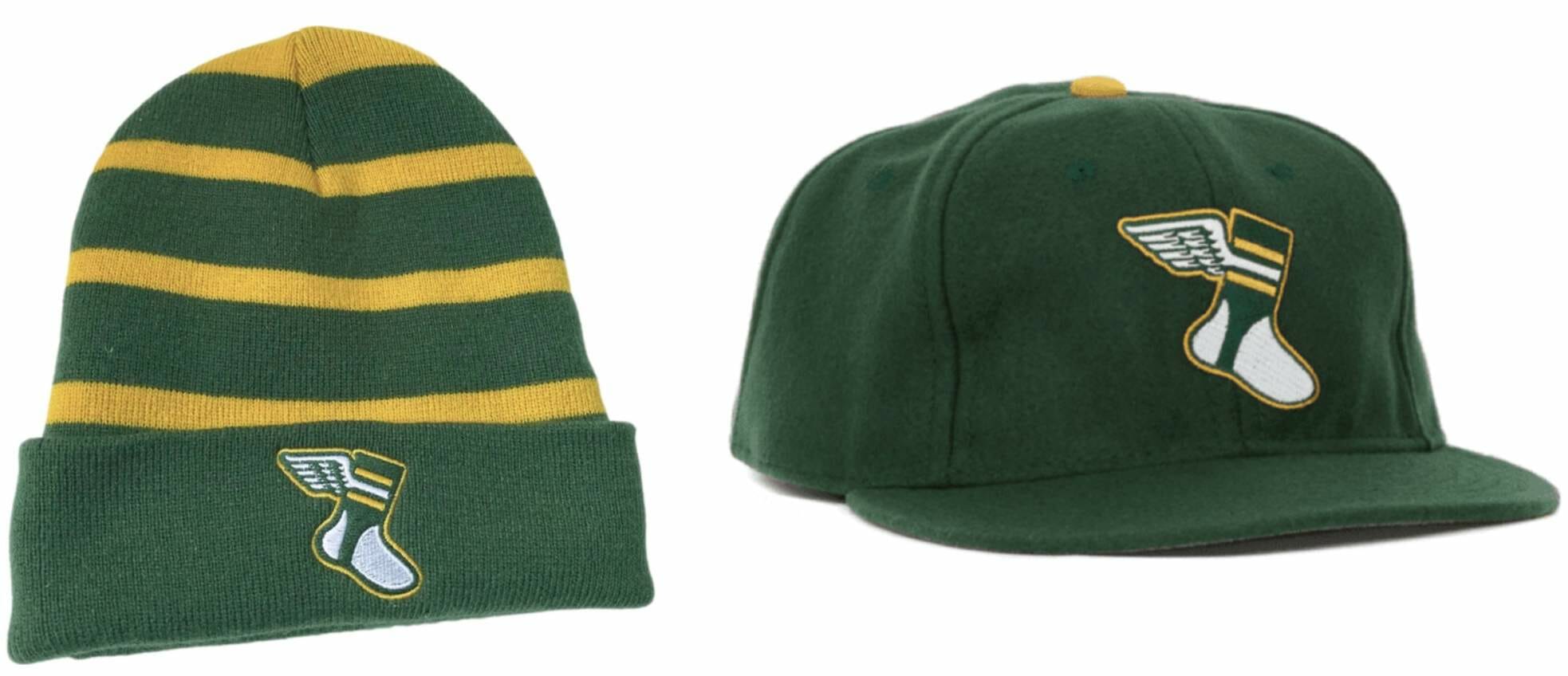 Headstrong: Need some headwear to keep your noggin toasty warm as the winter storms roll in? Uni Watch has you covered, literally, with two different options — our striped toque and our classic ballcap (made in the USA, all fitted sizes available along with adjustable/strapback). Go on, use your head!
• • • • •
• • • • •
The Ticker
By Lloyd Alaban

Baseball News: New uniforms for Liberty High School in California (from Kary Klismet).



NFL News: Have the Broncos slightly tweaked their throwback "D" logo? Looks like negative space within the "D" has been changed from navy to white (from multiple readers). … Nickelodeon will be simulcasting CBS's NFL Wild Card game next month. … Pro and college receivers have been getting in their reps during the pandemic with the help of a new robotic quarterback.

College Football News: The Texas 1A-4A championships at AT&T Stadium Wednesday through Friday will be played on a Big 12 Championship-marked field instead of a Cowboys-marked one (from Chris Mycoskie). … Mizzou head coach Eliah Drinkwitz wore a Coca-Cola-themed hoodie with his name on it for a recent press conference. He's apparently a big Diet Coke fan (from Matt Dunn).

Hockey News: New mask for Devils G Corey Crawford (from Mike Chamernik). … New mask for Blues G Joel Hofer. … Here are the mask and pads that Coyotes G Antti Raanta will wear this season (from @OlegKvasha). … New sweaters for the Lehigh Valley Phantoms, affiliate of the Flyers (from Robert Caplette). … The Knoxville Ice Bears gave a sneak peek of their new sweaters (from Chris Mayor). … Boston University is adding two memorial patches — one for former coach Jack Kelley and one for former player Travis Roy (from Nick Bove and Brandon Weir).

Basketball News: New court for Bellarmine (from Kary Klismet). … Etienne Catalan has the latest NBA uni number assignments on his Twitter feed.

Soccer News: Montreal Impact DF Luis Binks ripped off his CONCACAF Champions League sleeve patch before a corner kick last night (from Moe Khan). … New kits for Mexican side Toluca (from multiple readers). … During this weekend's Scottish Cup final, every player will wear No. 26 on their shorts in memory of Marius Žaliūkas, a former center-back who won the Scottish Cup with Hearts in 2012 and passed away recently (from our own Jamie Rathjen). … Also from Jamie: New shirt ad for English club Lewes, for both its women's and men's teams. … New uniforms for Incheon United of Korea's K League (from Kary Klismet). … Also from Kary: Swiss Super League team Lausanne-Sport has a new stadium. … One more form Kary: Here are a few photos of Luxumbourg's nearly-completed new national stadium. … New 125th-anniversary shirt for Eintracht Braunschweig (from Ed Zelaski). … New shirts for Shimizu S-Pulse (from Jeremy Brahm and Ed Zelaski). … Here's a visual history of Germany's 1991 green jersey (from David Petroff).

Grab Bag: New logo for Whittier Elementary School in West Valley, Utah (from Kary Klismet). … New uniforms for Italy's Carabinieri (from Timmy Donahue). … Also from Timmy: Space Force service members will receive a lapel pin and badge to affix on their Air Force dress uniforms, to help distinguish themselves from airmen.
• • • • •
• • • • •