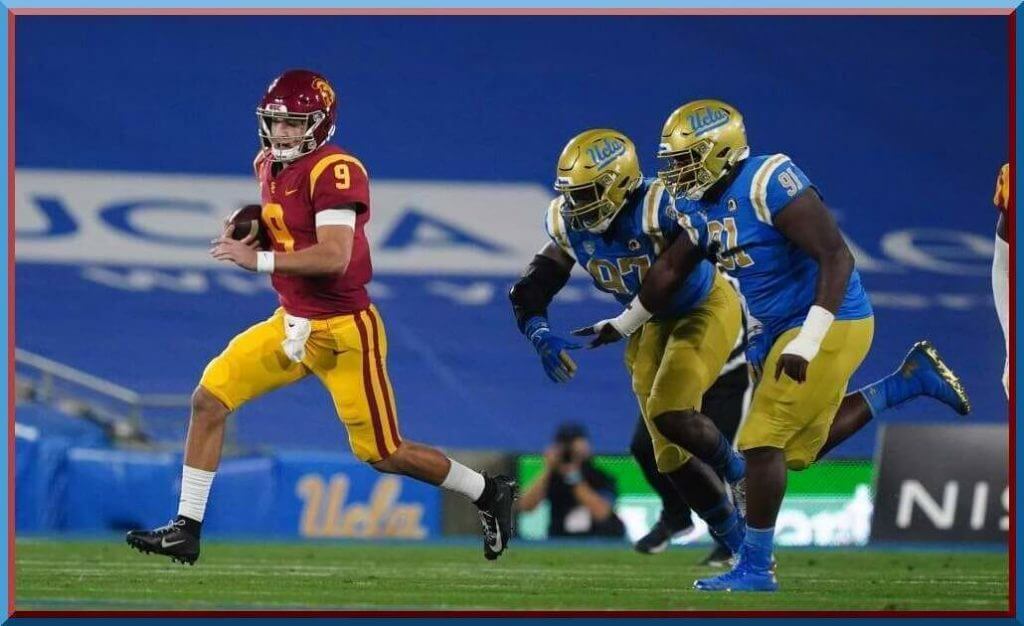 By Phil Hecken & The SMUW Crew
Follow @PhilHecken

There was a big day of NCAA Football yesterday, with several really good looking games, (including an epic snow game AND color palette special), but to me, nothing beats the granddaddy of the uni matchups, the traditional USC vs. UCLA color-vs-color tilt. Even in this god-forsaken, COVID-19-ridden, terrible, awful, horrible year, at least we still have this game to let us know that, for about three hours a college football season, all is right in the uni-world.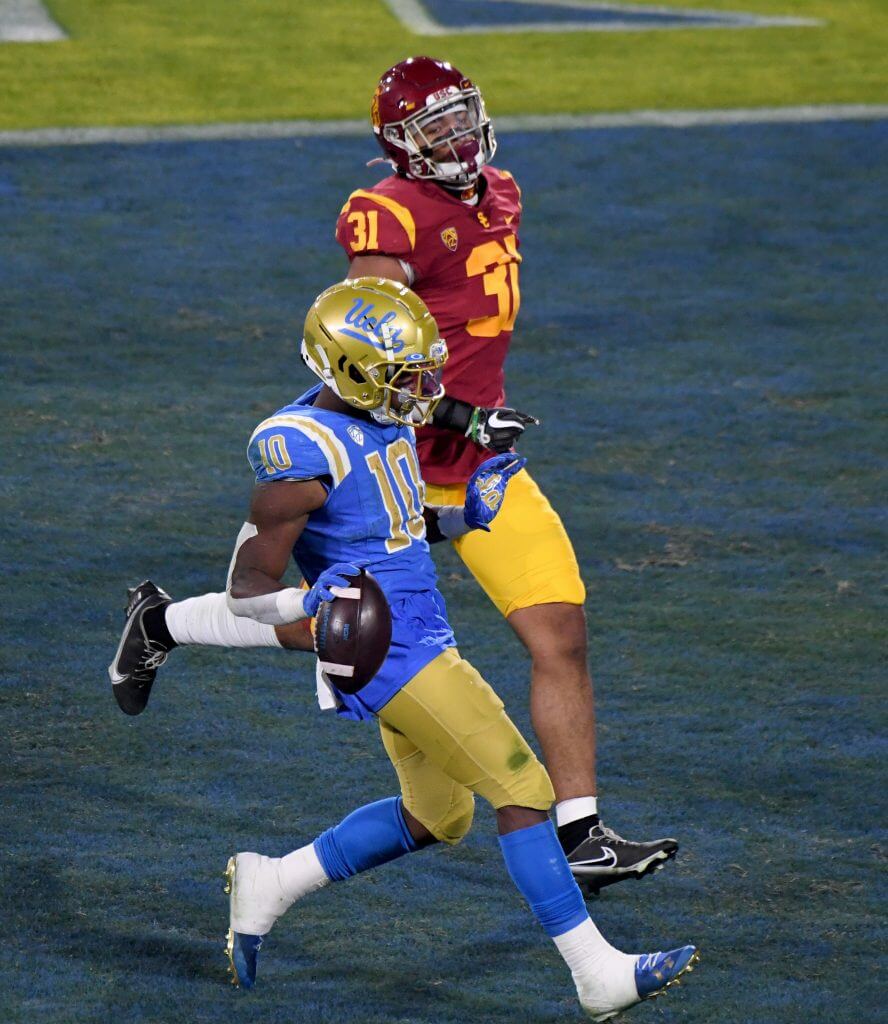 Not everyone likes a color vs. color game, and not every color vs. color game is good. But this matchup, made possible over a decade ago when the NCAA permitted color vs. color matchups (they had occurred in days of yore, and even as recently as a few decades ago) again, has always been one of the best.
Yesterday's game was made more awesome by being an exciting and close game (USC won it in the final minute), but sadly, COVID restrictions meant both an empty stadium and in place of fans, ads encircled the field.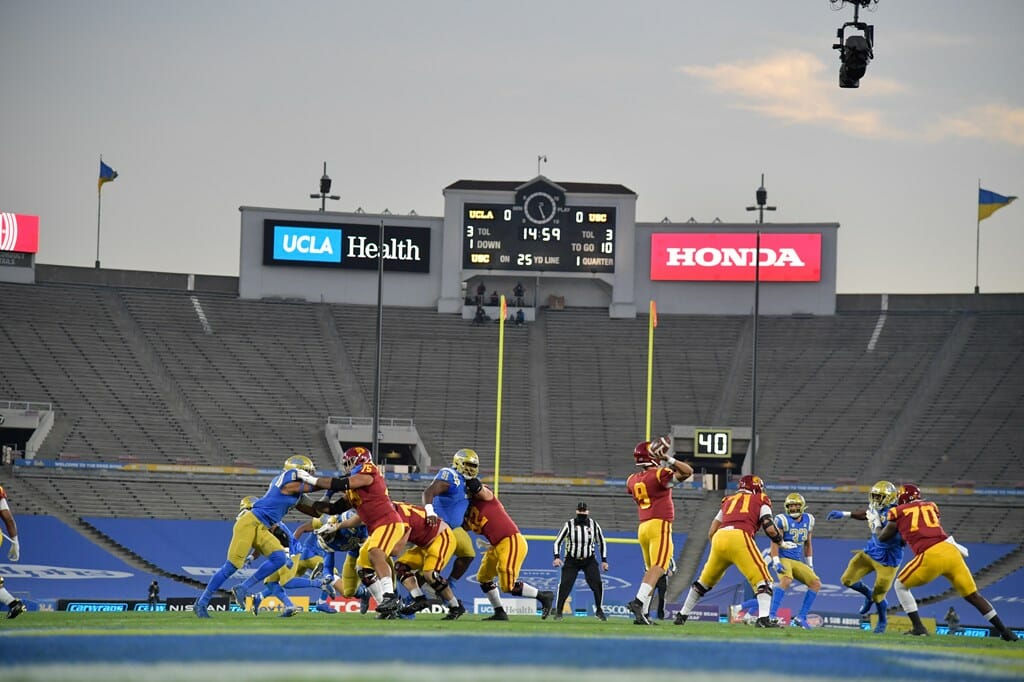 The normally gorgeous SoCal sunset that provides such a beautiful backdrop to this game (and the Rose Bowl on New Year's Day), looked almost apocalyptic when contrasted with the empty and ad-laden seats.
On a day when several big ("THE Game", the "Oaken Bucket") games were canceled, at least this one was able to be played, even against the backdrop of the COVID nightmare. Having USC/UCLA AND Army/Navy on the same day will (hopefully) never happen again, but at least we got these two in.
Now, here's TJ, who'll have a real nice Army/Navy wrap, plus the rest of your…
• • •
Sunday Morning Uni Watch
by Terry Duroncelet, Jr.
A moment of silence for THE vs. OF.
From Friday:
• Apparently in the State of Arizona, contrast DOESN'T matter. Who thought this was a good idea?
From Saturday:
• I normally go into stasis during the Army/Navy game, but this season's special circumstances had other plans, so here I am talking about the Midshipmen vs. the Wolfhounds Black Knights. As one would expect, this uniform matchup was a nice amalgamation of pure aesthetic fun, and a lore-rich history lesson. An always-welcome disruptor to how other schools choose to pander.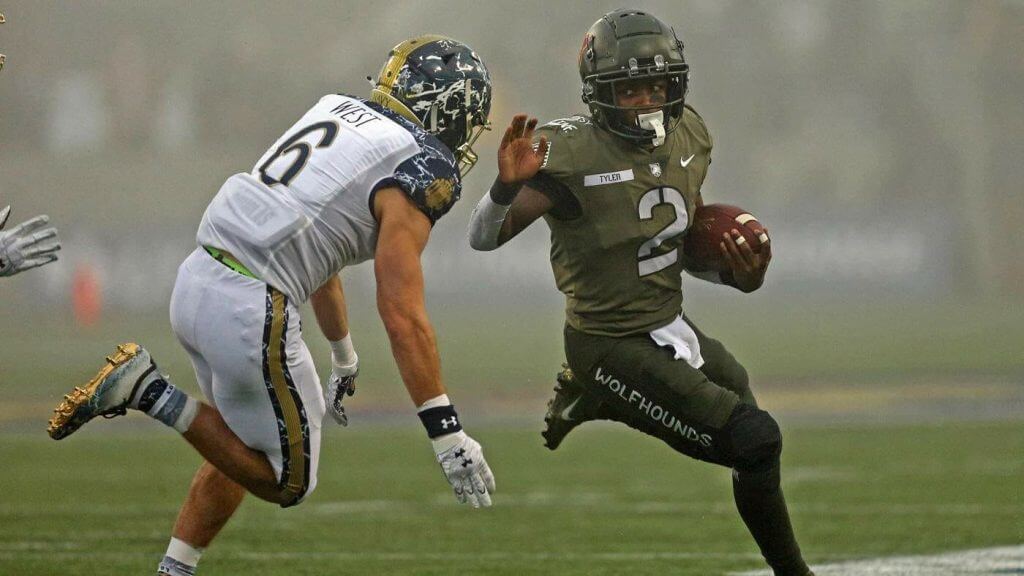 Navy always goes above-and-beyond with damn-near every white-based uni they've worn in the last few years (although 2012 will always be my favorite):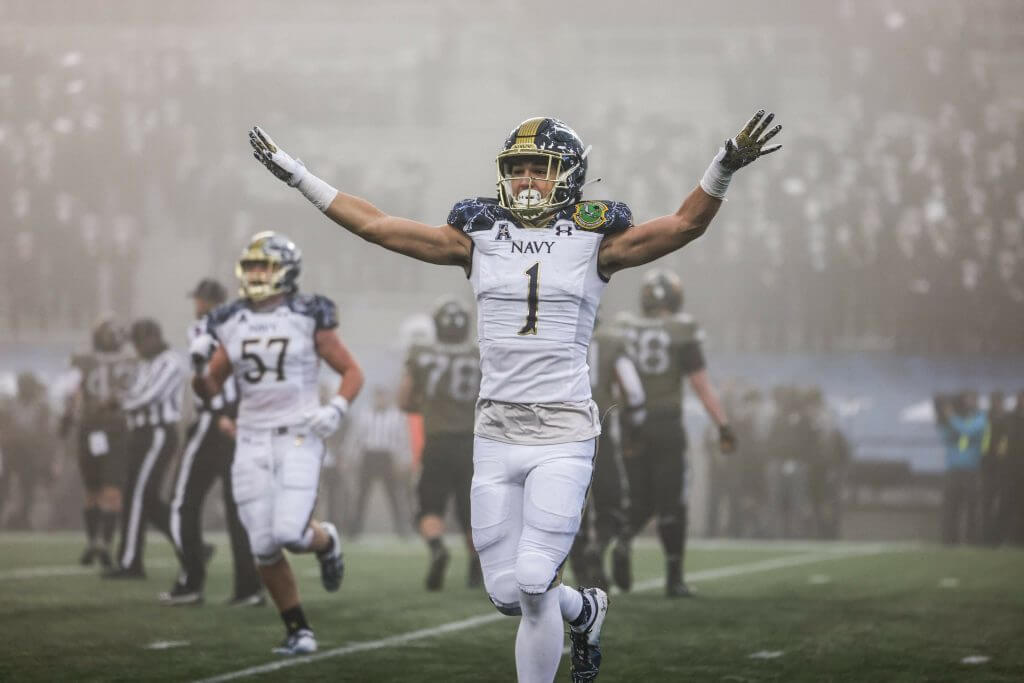 And how about the gameday weather? Beavs/Ducks 2020 Part 2: Electric Boogaloo, anyone?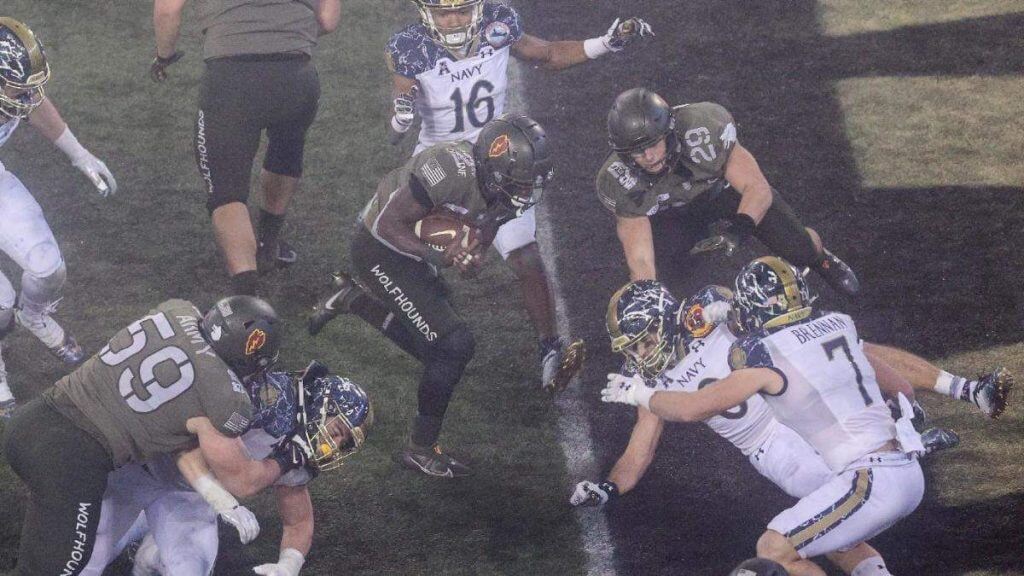 However, there was one… surprising element that confuses me, as well as others: if you notice on the right shoulder cap of Army, the U.S. flag is shown with the star field facing the back-left: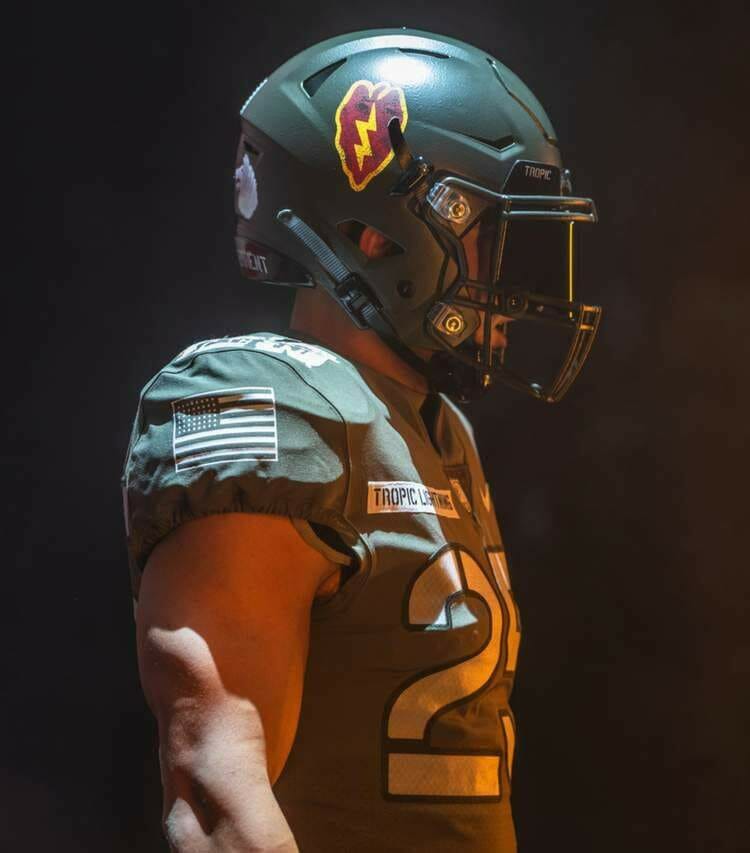 *Technically*, if we're adhering to current Flag Code, it should be facing the front-right, as said by Zach Schaefer: "According to Army Regulation 670-1: "The American flag patch is to be worn, right or left shoulder, so that the star field faces forward, or to the flag's own right. When worn in this manner, the flag is facing to the observer's right, and gives the effect of the flag flying in the breeze as the wearer moves forward."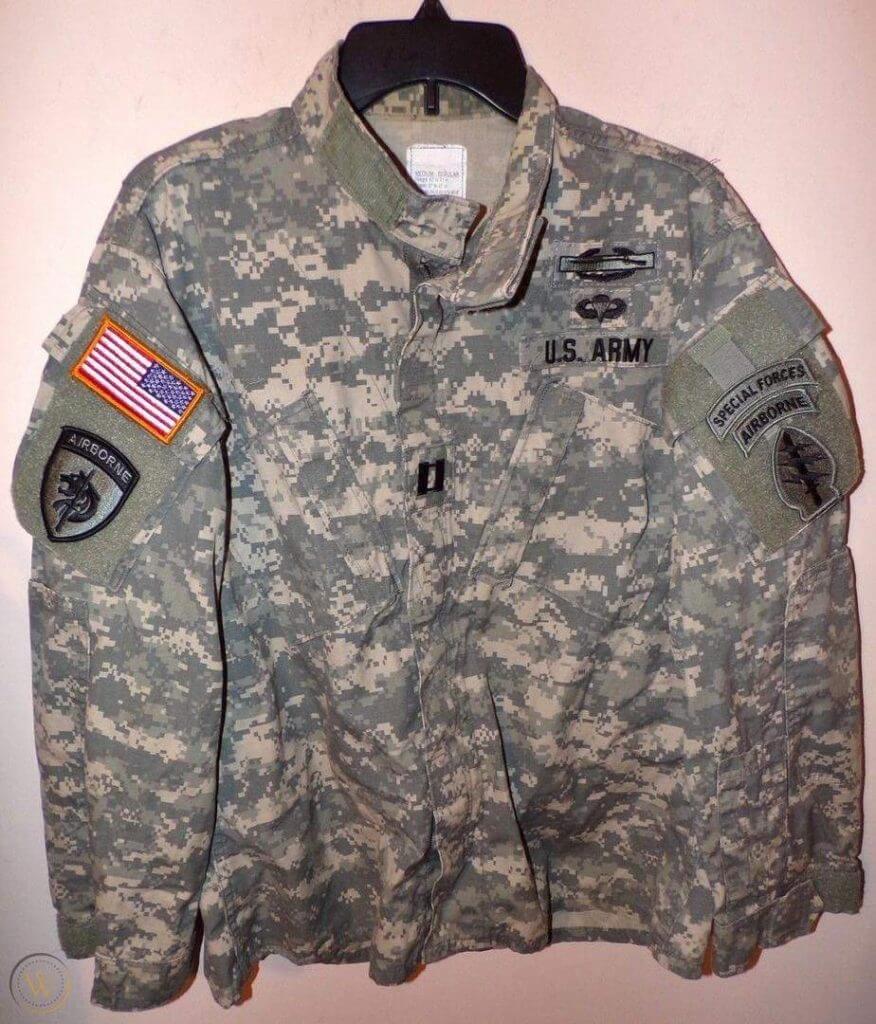 With that being said, I don't know if this was intentional and part of how the 27th wore their ACU's back in 1950, so I'm not going to rush in and call this a gaffe without all of the facts. Regardless of the flag orientation, the game was a nice touch of normalcy to an otherwise tumultuous year (my brain went extra-smooth trying to spell and read that word), even though Navy unfortunately ended up laying a goose egg (dad served in the Marines, so I'm biased). And so ends my first (and probably only) 2 cents on TOGIT*** [***'cause… ya know… 2020]. Phil did an amazing job (as always) of breaking down both uniforms yesterday, and if you missed his piece (or need/want a refresher), take a look here. And now, back to your regularly-scheduled chatterboxing.
~~~
• Contrast Matters: The Flavor is Immaculate Edition. More of this, PLEASE. And the OKST helmets were PERFECT.
• Michigan State wore Gruff Sparty on their helmets against Penn State.
• Northwestern wore their fantastic gothic unis against Illinois.
• In what I'm calling the Pac 10+ Bowl, Colorado faced off against Utah, the two very schools responsible for the number change within the *former* Pac 10. There was contrast-galore, and perfect football weather to boot! The first thing that came to mind when I tuned in was the Buffs' days in the Big XII playing against Nebraska (and funny enough, they met up last year).
• Maryland wore throwback uniforms against Rutgers.
• We all know that letting your emotions get the better of you can make you throw a fit, but apparently, they can make you throw a shoe, as well. (and before you ask: yes, that penalty-induced first down proved to be fatal for Florida) H/T to Mike Chamernik.
• Even though NO TEAM that doesn't have black in their school colors has any business wearing black… I don't completely hate what Miami wore. I mean, I DO hate it, but it's not the worst I've seen.
• Speaking of Floridan teams in black garb, Florida State decided to go completely feral against Duke. It's like they woke up late to work, didn't wash their clothes last night, and had to slap something together in 5 seconds.
• Louisville got into the Xmas spirit by wearing all-red (with white helmet decals) against Wake Forest.
• Vanderbilt wore their sweet 'Vandy' skyline helmets against Tennessee.
• Toledo wore throwbacks against Central Michigan.
• Contrast has never Mattered more than in this game. This is peak Mountain West content. Also, it's always nice seeing Boise State in the Sooner Killer combo, especially when the color yield is as fruitful as this.
• • •
Thanks, TJ! OK, now on to the rest of your SMUW…


5 & 1 — Guest Pickers Edition #2
Last weekend we had our first set of 5 & 1 guest pickers (Douggie Keklak and Harrison Hamm), and this weekend we have our the second two (Gretchen Atwood and Eric Bangeman). Please let them know how they did in the comments section below.
Depending on how things go, one or more of these four may return for the Conference Championships and/or Bowl games, so please be kind but constructive in your thoughts on their picks. Remember, this is largely a matter of opinion (I frequently didn't agree with other 5 & 1 pickers, but they probably wouldn't necessarily agree with my picks either — plus you guys don't want to see Alabama/SEC teams and the Ducks every week!)
First up today is Eric Bangeman, with his 5 & 1:
• • •
5 & 1 by Eric Bangeman
In a normal year, this week's 5&1 would probably consist of Army-Navy plus a handful of FCS or Division II playoff teams. After all, the second Saturday of December isn't usually prime college football territory. But this is not a normal year. Army-Navy was played at West Point instead of Philadelphia and everything below FBS is idle this fall. So welcome to your Week Oh-My-God-Will-2020-Just-Be-Over-Already 5&1.
__________
Honorable mention: Coastal Carolina vs. Troy, Northern Illinois vs Eastern Michigan, North Texas vs. UTEP
__________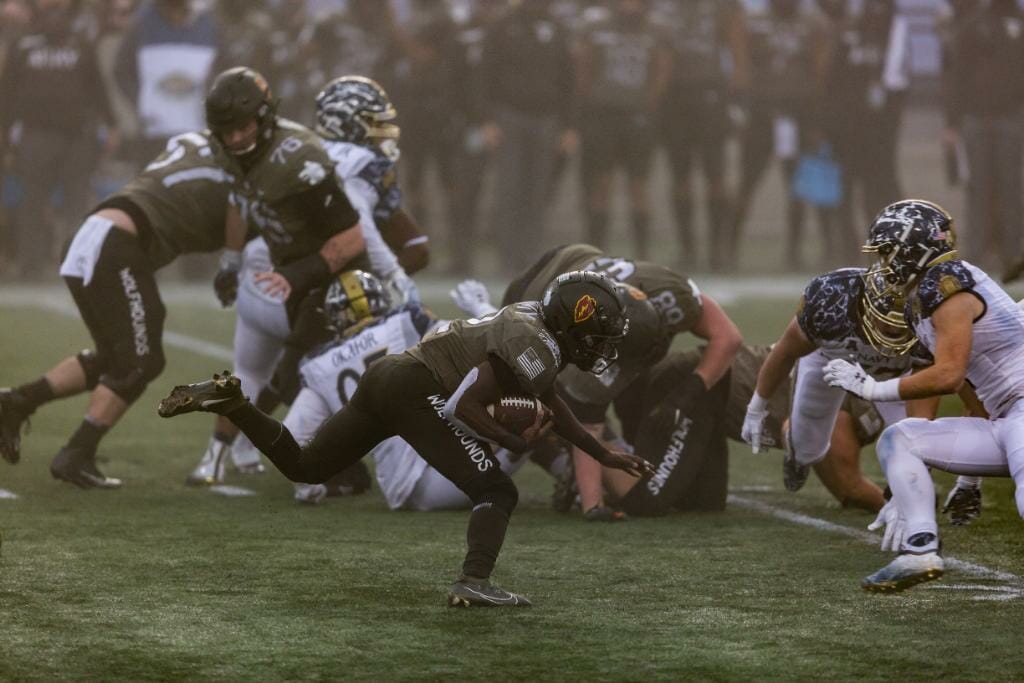 5. Army-Navy

Even though the game's most storied rivalry did not have the D1-FBS stage to itself, the nation's oldest service academies still managed to stand out with their uniforms. Phil covered the unis in detail yesterday, so I won't recap here. Army's 27th Infantry Regiment-inspired getup exceeded expectations and Navy looked… unique (and good)… in their marbled helmets. Throw in some foggy conditions and you've got yourself visuals that line up with the tradition.
__________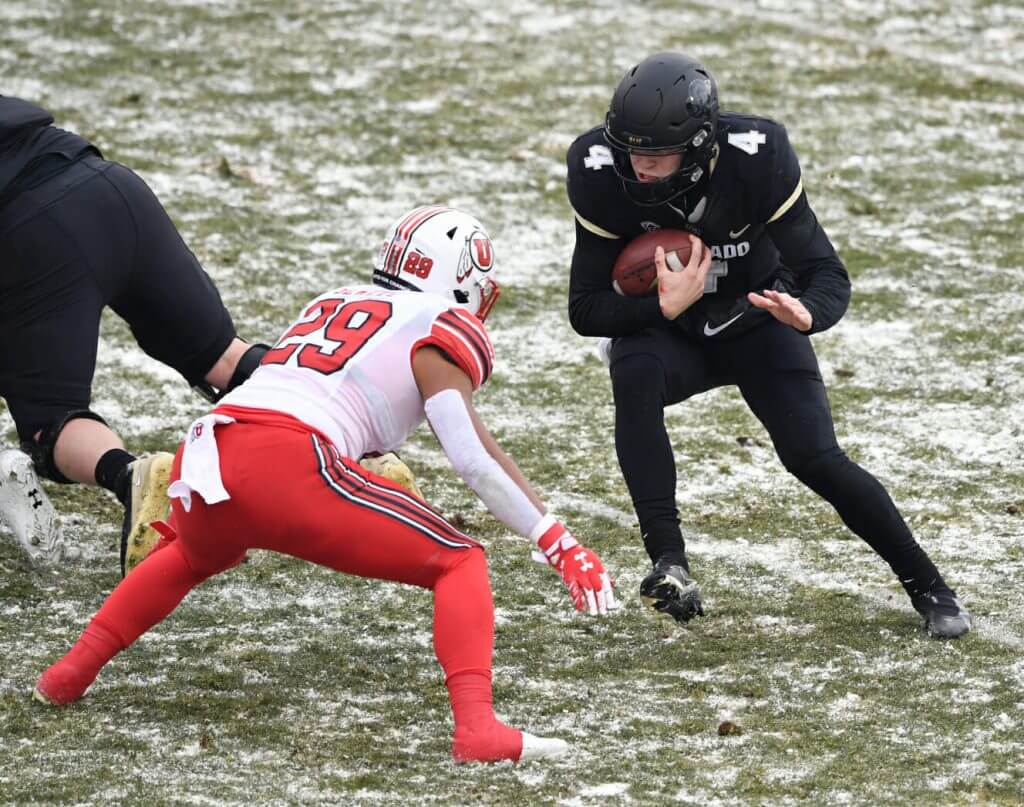 4. Utah vs. Colorado

In a different week, this one coulda been a contender for the top spot, but CU's sartorial choices prevented that. Had they matched their black jerseys with gold helmets and pants, this would have been the finest-looking game of the week. Instead they went mono-black, while the Utes went red-white-red. Even with the suboptimal uni choice by the Buffs, the sight of the two teams playing on a snow-dappled Folsom Field was beautiful to behold.
__________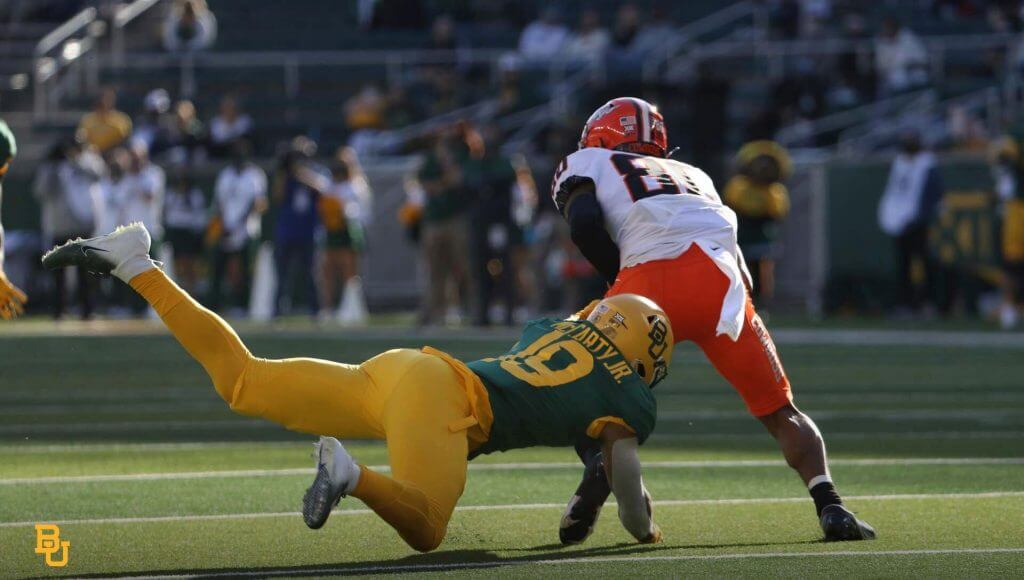 3. Oklahoma State vs. Baylor

A couple of weeks ago, Baylor looked like they were angling for a stadium naming right's deal with French's Mustard. Not so this week, as the Bears came to play in their finest-looking duds. Yellow on top, yellow on bottom, and green in between is a winning look. Unlike most teams with a multitude of uni options, Oklahoma State almost always manages to come correct. Orange helmets with the old-school "Cowboys" in cursive paired with white jerseys and orange pants. When you look this good, we can overlook the TNOP.
__________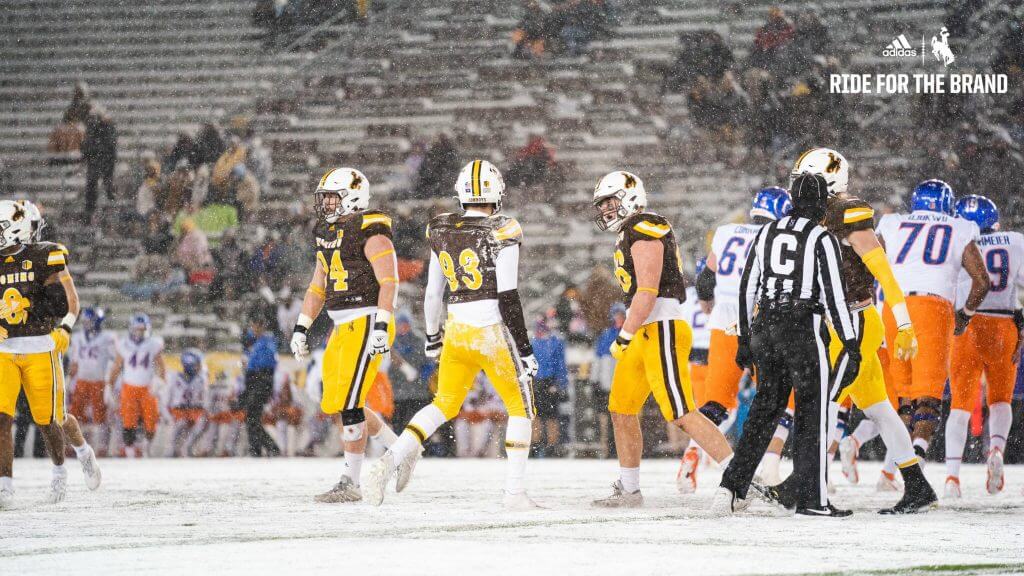 2. Boise State vs. Wyoming

Given Boise State's panoply of uniform options, it's refreshing to see the Broncos come out in something traditional looking. In this case, that's blue lids, white jerseys, and orange pants. With the disappearance of real sleeves on modern football uniforms, the diagonal blue and orange jersey stripes are a welcome flash of color. Wyoming's underrated white-brown-yellow getup—that helmet is one of the best in all of football—provided a great contrast to Boise State. The fact that the game was played on a snowy mountain evening would have made it a top pick on just about any other week…
__________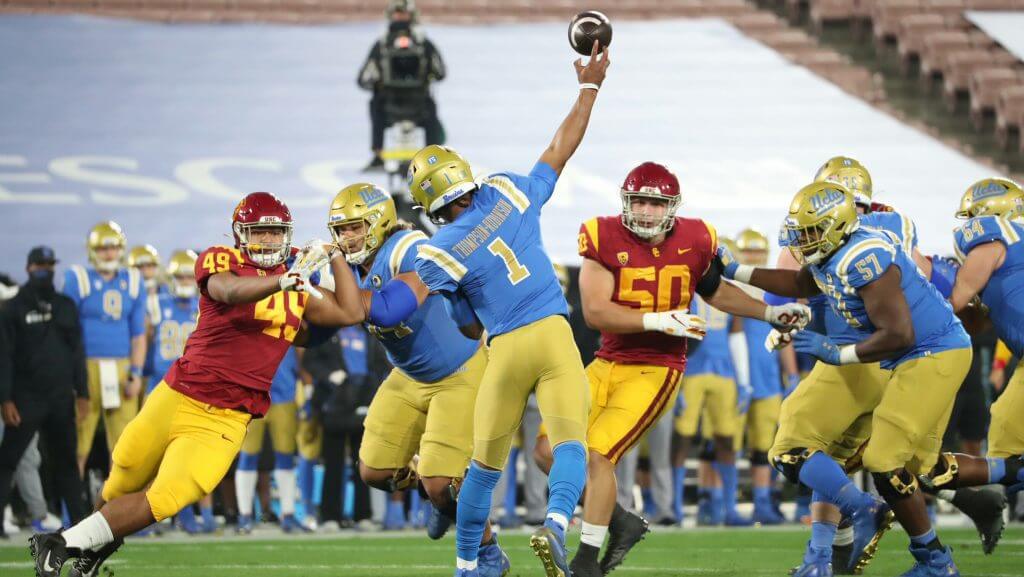 1. USC vs. UCLA

… but not this tone. This pick is a no-brainer. Ever since the NCAA showed a rare flash of good sense in 2009, allowing visiting teams to wear jerseys of any contrasting color instead of white, the annual USC-UCLA tilt has ranked high on the list of great-looking matchups. Since dropping Adidas in favor of Under Armour, UCLA has had true UCLA stripes (hopefully Nike/Jordan knows how to make them). USC's cardinal and yellow (technically USC gold) is one of the all-time classic college football unis. This matchup looked much the same 50 years ago. A small bit of stability in an utterly insane year.
__________
&1 North Carolina vs. Miami

BFBS is bad enough, but when you take a school like Miami, which has such a well-defined and easily recognized look, it's just plain wrong. I could maybe see Oregon State wearing those black and orange jerseys, and the sleeves are a mess. It's always a shame when the Tar Heels make their predominant color anything other than Carolina blue. This one could have looked so much better.
• • •
Thanks, Eric. Next up is Gretchen Atwood
5 & 1 by Gretchen Atwood
__________
Two weeks ago it was Indiana's camo PJs and last week it was a swath of GFGS so I was curious what this week would bring. It became clear midday that the 5&1 was going to be difficult because many matchups were between teams who looked bad-to-hideous (Florida State) but where their opponents looked decent, or even good (Duke).
But a few stood out, more for creating a visually interesting combo than for each uni itself being really good. Let's get into those.
__________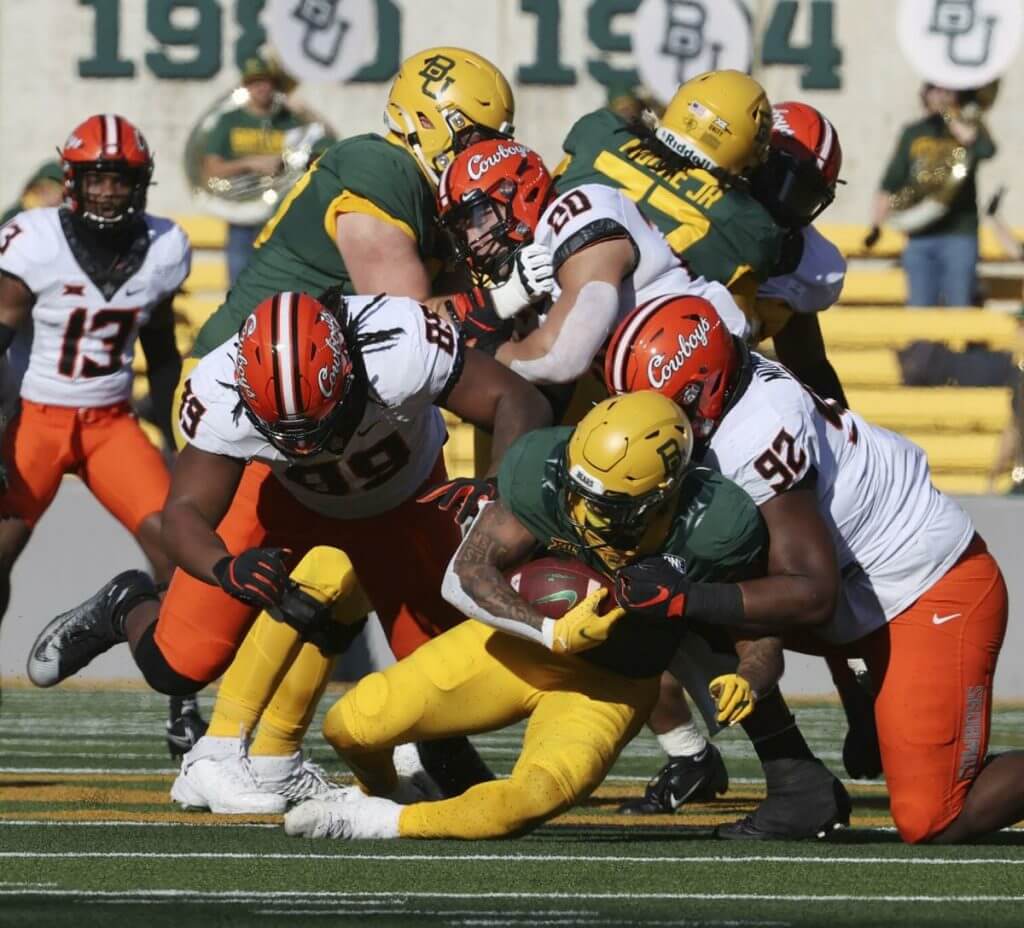 #5 OSU vs Baylor

I still am not sure if I like this combo or not. It definitely had contrast and both schools, who have been known for some of the more garish options in the past years, went with more more traditional uniforms in this one. I especially like OSU's orange lids with the script "Cowboys" on it. Normally I hate the thick contrasting necks but with both teams sporting them, they looked better.
Points off for looking like Oregon State vs Oregon and for the hideous notched jersey fonts (Though even those kinda complement each other)
__________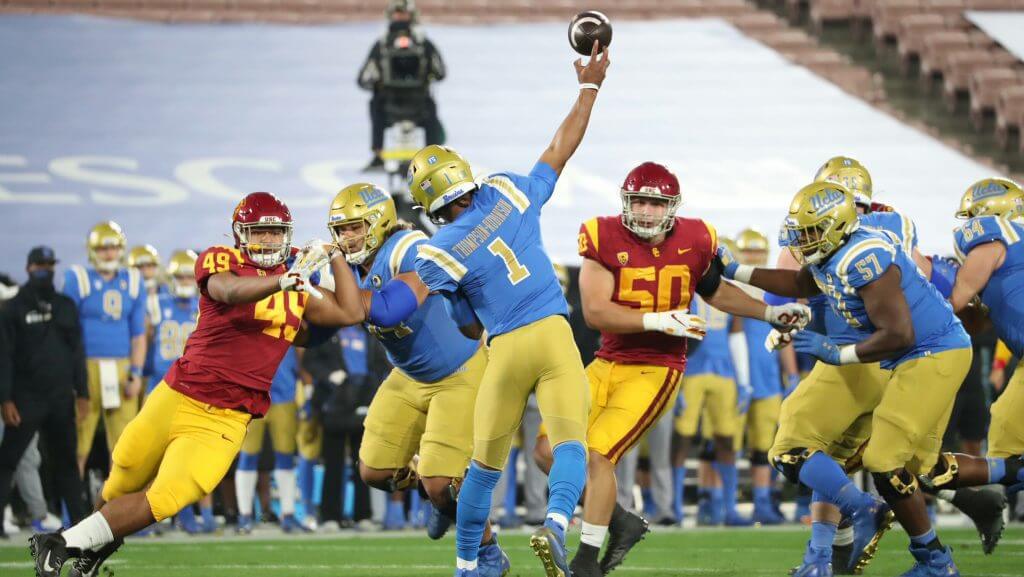 #4 USC vs UCLA

I do love this matchup, especially the helmet contrast and striping contrast. Them both wearing (obviously slightly differently colored) gold pants make it not top 3 for me, though.
__________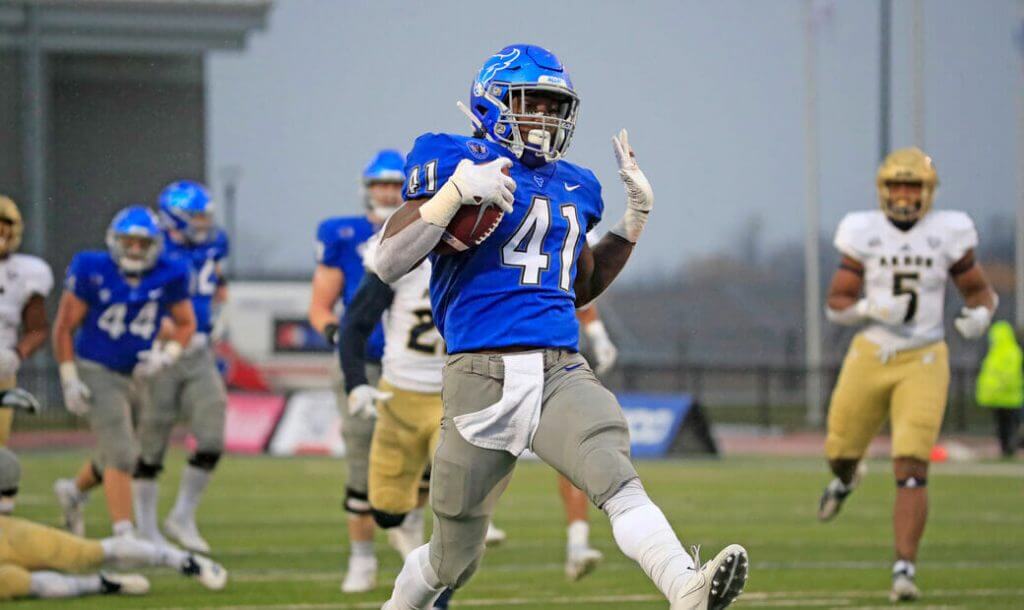 #3 Akron vs Buffalo

Buffalo's bright blue jersey and helmets contrasted nicely with the white and gold of Akron. But the gray pants were a problem. Few teams can pull that off well, and when teams do they usually go lighter or darker than the mid-tone gray the Bulls were sporting.
__________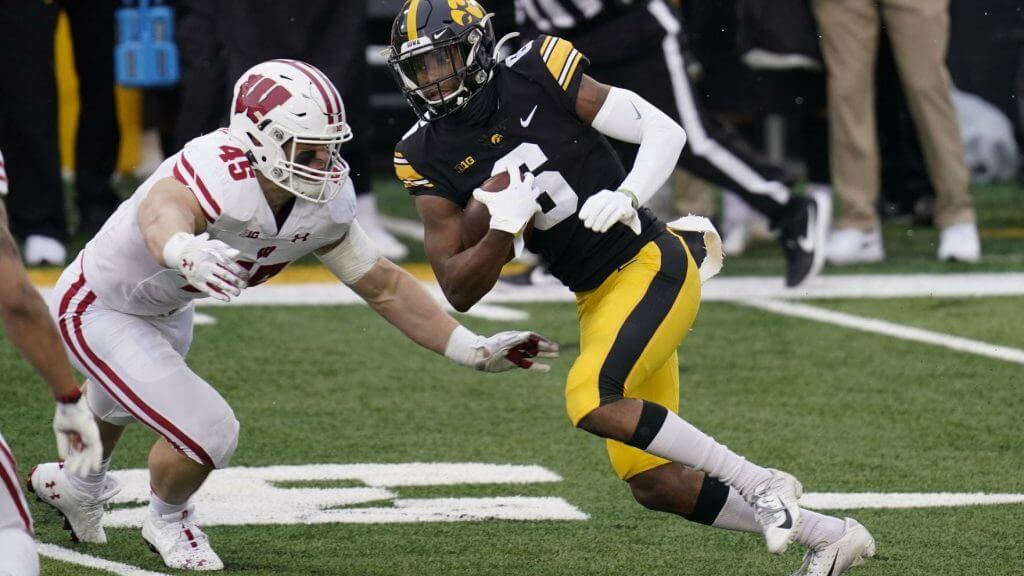 #2 Wisconsin vs Iowa

Nice contrast of color and pattern in this one. Light and dark, different but equally effective shoulder, pant, and helmet stripes on each.
__________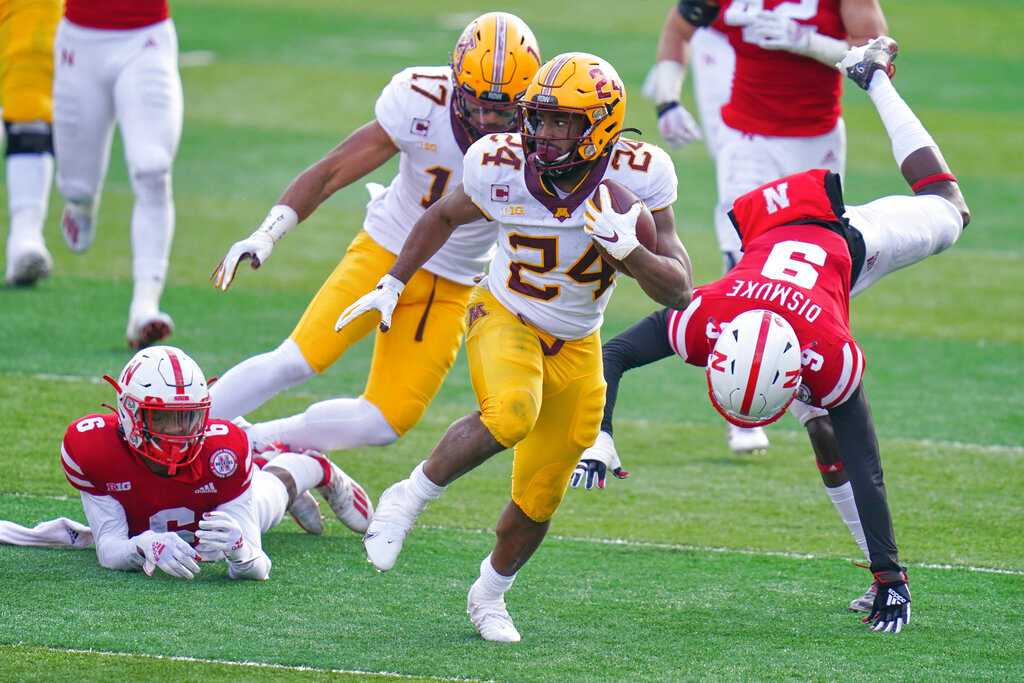 #1 Minnesota vs Nebraska

I liked this one way more than I expected too. The color contrast was nice and I like the simplicity of the classic plain N on the Nebraska helmet and the outlined M on the Golden Gophers' lids.
__________
&1
This was the hardest to choose. There was the battle of ridiculous jersey fonts in the Land of Lincoln, with Northwestern looking more like a Hogwarts football team and Illinois doing their best to make dark blue and orange look bad together. Then there was the battle of bad shoulder stripes with Boise State and Wyoming. Individually they both looked pretty good but this was definitely a case of the whole being less than the sum of its parts.
But you really can't beat the hideousness of Miami's all-black unis matched up with the dark and light blue combo of UNC where the argyle pattern is emphasized. Woof!
• • •
And thank you Gretchen! OK, readers — please thank Eric & Gretchen for their efforts and let them know what you think of their selections!


NCAA Uni Tracking
Uni Watch will again track the uniform combinations worn by the "Power 5" conferences. All of the 2019 trackers are back!
We've got Rex Henry (tracking the ACC), Dennis Bolt (tracking the PAC-12), Kyle Acker (tracking the Big XII), and Ethan Dimitroff (tracking the B1G AND the SEC). Rex, Dennis, and Kyle and are all returning from 2015, and Ethan is back after joining the NCAA Uni Tracking a couple seasons ago. Ethan continues his dual role of tracking both the B1G and the SEC.
We started the year off with three conferences (SEC, B1G, PAC-12) not playing at all, but now all five of the Power 5 have returned to play.
Here are the Uni Trackers for the Power 5 Conferences (I've left all the previous tracker info in their usual slots, even if the conferences aren't playing. In case you want to click on any of the links):
+ + + + + + + + + +
Rex is up first today (ACC):
• • •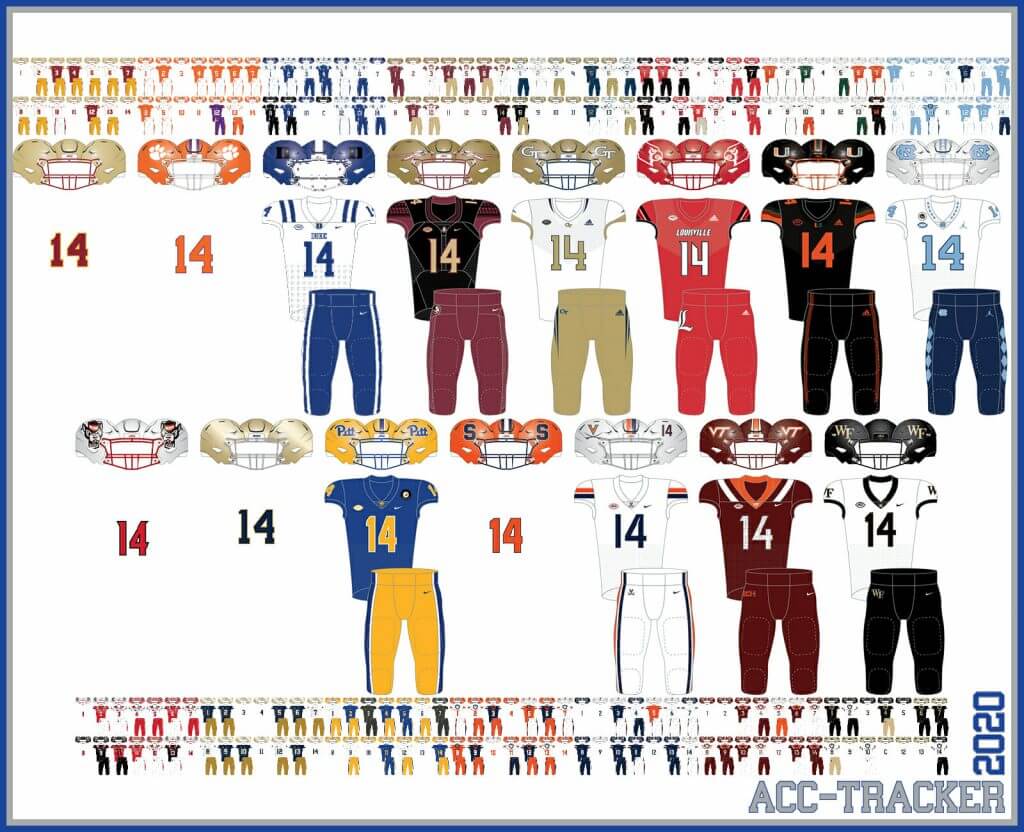 ACC

More Here.
Follow Rex on Twitter here.
• • •
And now, here's Dennis with the PAC-12: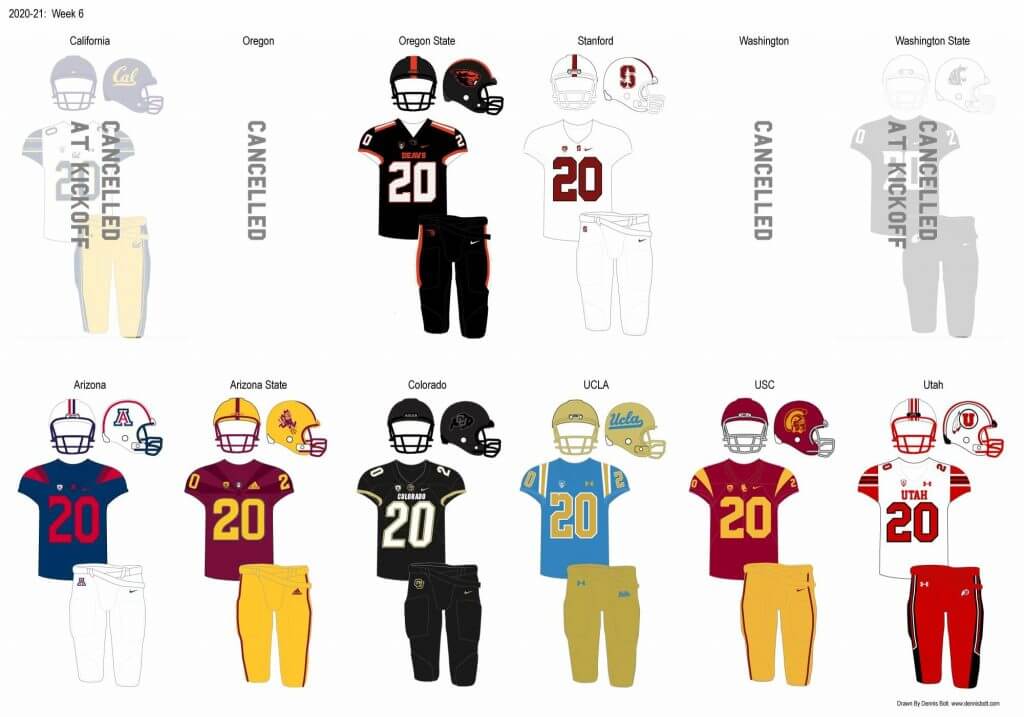 PAC-12

More here.
Follow Dennis on Twitter here.
• • •
And here is Ethan, with the SEC: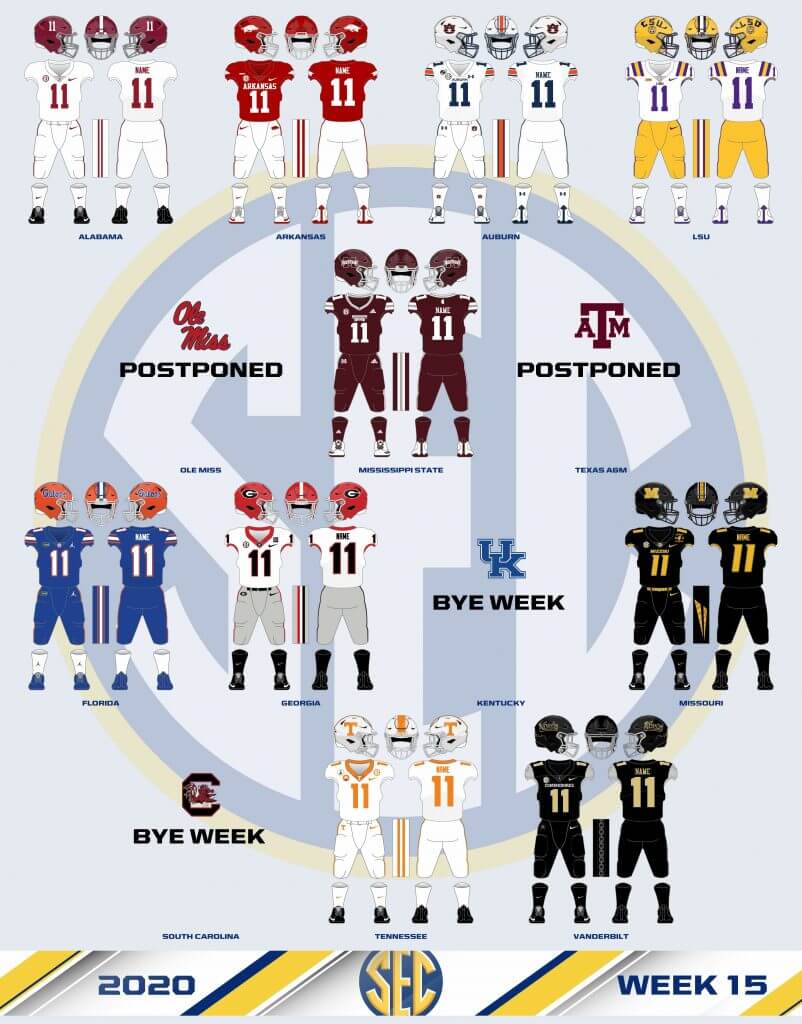 SEC

And be sure to check out Ethan's WVU Mountaineer Tracker.
Follow Ethan on Twitter here.
• • •
And here is Kyle with the Big XII: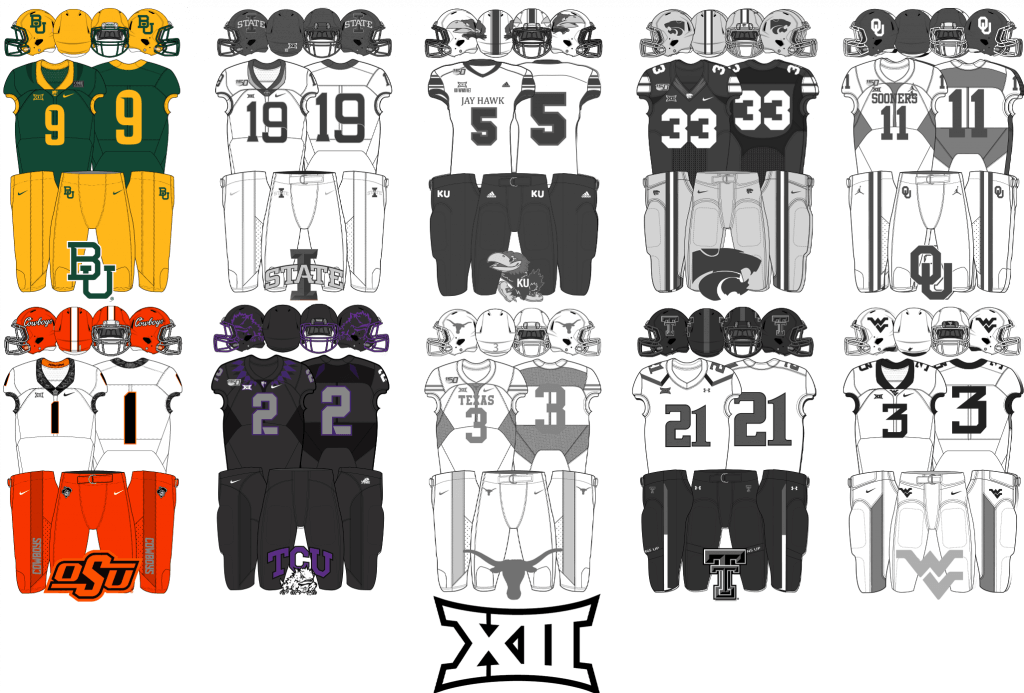 Big XII

Follow Kyle on Twitter here.
• • •
And here's Ethan with the B1G: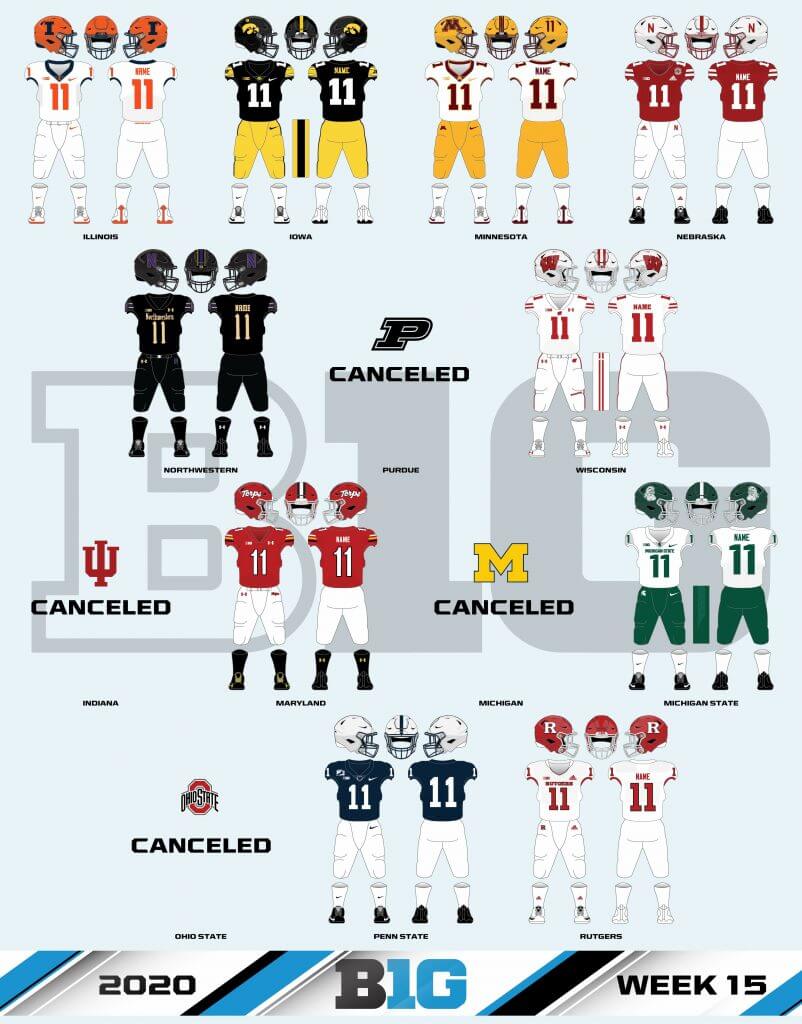 B1G



Ducks NON-Tracking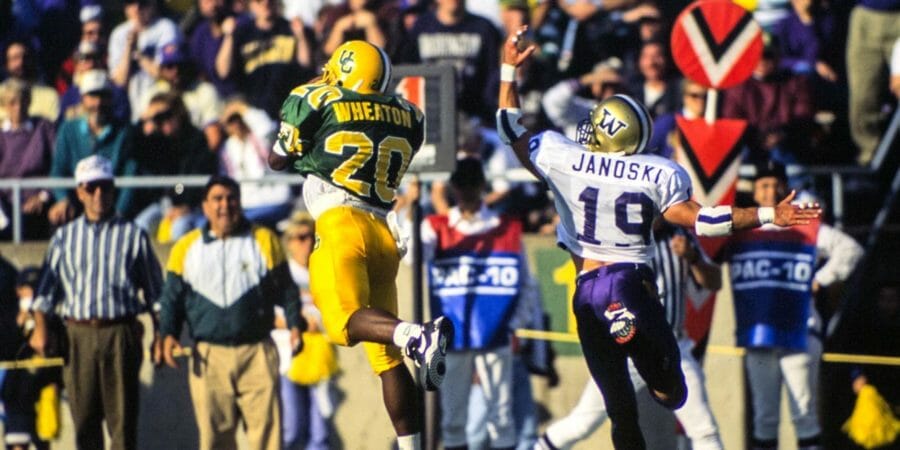 When the PAC-12 finally got underway in November, hopes were high that the Oregon Ducks might repeat as winners of the Conference, and possibly even squeak into a playoff spot. After starting 3-0, this seemed like a distinct possibility. But two losses later (to OSU in the Civil War rivalry game, and to Cal) left them reeling, hoping for a shot at a title game chance with a win over Washington yesterday. The only problem is, the game was canceled due to COVID, and it looks like Washington will now face USC for the PAC-12 Championship next Friday. Had the teams played, a UO victory might have given the Ducks that shot. It remains to be seen if UW will even be able to field a team, but that pretty much is 2020 in a nutshell.
Since there was no game yesterday, Duck Tracker Dennis Bolt (who's been prolific lately!) decided to look back at his favorite UO-UW uniform moments of the last 30 years. Check out his blog post here! It's another nice short read, and I think you'll all enjoy it.


Uni Watch News Ticker
By Phil

Baseball News: Sad news yesterday, as Charley Pride passed away from COVID-19. So why is this in the Baseball section? Ignacio Salazar writes, "Country Legend Charley Pride passed away today in Dallas, TX. Today, I learned he played in the Negro Leagues and the minors." … SNY used an old Majestic jersey to announce the New York Mets' signing of catcher James McCann's (from Josh Claywell). Just makes you hate the MOTB on the front of jerseys even more now. … Yomiuri Giants unveiled the 2021 jersey Friday. The jersey supplier changed in Mizuno from Under Armour. And the cap supplier changed in New Era (from BigDaddy45).

NFL News: So whose is the original logo? Jason Ricles writes, "Was out to eat yesterday where a retired navy pilot ran the place. He of course had a bunch of logos related to the military. I spotted this interesting one of the Navy Helicopter Anti- Submarine Light (HSL)-60 jaguars logo. They are located in Jacksonville but if I am not mistaken looks like they just straight up used the Jaguars logo. However if the Jaguars came after them I think that would not be such a good look." Anyone know whether the Navy or Jax had it first? … But do real cardinals have yellow feet???: Jason Mastin writes, "I was watching some highlights with my 16 year old son a few days back and "Hail Murray" happened to be in the rotation…he said to me, "I didn't notice it before, but Kyler Murray is actually dressed like a Cardinal; like a real Cardinal. Look at his cleats." … We laughed and agreed it's the best the team could look with that poor a uniform set." … The Buffalo Bills will break out their color rash red uniforms tonight against the Stillers. … Meanwhile, the Saints will be wearing white jerseys and pants against the Iggles. … Big merch mishap here (from Jingle All the Way = Best Christmas Movie-Declarer). … Whoa: "Cincinnati Enquirer columnist calls for selling advertising on NFL helmets in 1972″ (from James Gilbert). … Timmy Donahue tweets, "The thing I find most interesting about this post is the bins on the wall which hold the team's Captaincy patches separated by color and number of stars. Even the camo ones have their own bins." He adds, "Looks like red 'C' is on color rush uniforms and red background regular white jersey."

College Football News: Here's a pretty funny, tongue-in-cheek, article about Navy's uniforms and how they have a tradition of "dicking [the Marine Corps] over" whenever possible, as set out in a naval administrative message released in 1923 (LOL). From D. Hempel. … Initial Help? "Spotted at the Oregon Health & Science University hospital," says Lincoln Dirks. ""MDSU" might mean Medical Department State University?" Lincoln notes these are "Early UO Uniforms." … Scroll down a bit in this article to the section that says "Huskies Dark Matter" — clearly the reader Gets It™!

Hockey News: Check out this podcast where the speaker goes on an epic rant against ads on NHL uniforms. I'm not sure if he's a Uni Watcher or not, but he most certainly has our proclivities. … Tweeter Rob Caplette isn't sure if there was an announcement on these, but check out the Wilkes-Barre/Scranton Penguins alternate sweaters. … Vancouver Canucks goalie Braden Holtby is apologizing after the artwork on his new custom-painted mask was criticized for appropriating First Nations art (from Ted Arnold).

NBA News: GOAT Magic Johnson wore #15 for the 1992 Dream Team, but was that his original number? Emily Perez writes, "Wondering if Magic Johnson is wearing a #10 or #16 jersey on the left judging by the corner of the number." Here's a different look — sure doesn't look like a 15. … Finerific spotted this blood jersey(?): "So here's a 12/11/87 picture of Kareem's skyhook over Parish. Look in the foreground. That's James Worthy wearing 00 and NNOB. Looked up the game and found highlights." Anyone know the story behind this?

College Hoops News: Reader and frequent ticker contributor Kary Klismet writes, "As whimsical in some ways as this t-shirt commemorating Louisville's 1986 national championship is, what with its Wild West shootout motif and all, there's no way it would get made today. It's not so much the cowboy Cardinal with the smoking six shooter as it is, you know, the bullet-riddled corpses of the 'slain' opponents."

Soccer News: Looks like a throwback shirt coming to celebrate Widzew's 110th anniversary (from Ed Żelaski).
.
.

Grab Bag: Charles Leclerc has paid tribute to outgoing Ferrari F1 teammate Sebastian Vettel with a special helmet livery for this weekend's season-ending Abu Dhabi GP. … The new Springboks jersey for the Lions 2021 series has been released.


And finally… that's all for today. Big thanks to the entire SMUW crew and to guest pickers Eric & Gretchen. Please let them know how you liked their picks in the comments below.
Peace,
PH