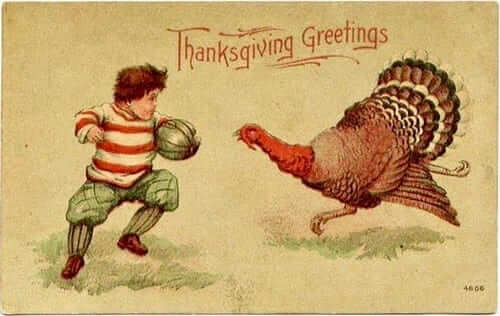 Hi there. Obviously, for most of us this will be a Thanksgiving unlike any other. I won't be getting together with any of my family members or any of my friends today (well, except maybe on a video call). First time that's been the case since I had the chickenpox in 2009.
But while this year's Thanksgiving circumstances may be less than ideal, I find that I'm appreciating the spirit of this particular holiday more than ever. As many people on social media have said, "This isn't a time when you get what you want. It's a time to appreciate what you have."
And what I happen to have is a whole lot to be thankful for. Along with the obvious things — health, shelter, a wonderful partner, a completely awesome cat, etc. — I'm also incredibly thankful for Uni Watch, and to all of you who form the larger Uni Watch comm-uni-ty.
Back in March, as the scope of the pandemic was becoming clear and the sports world was shutting down, I asked what you wanted Uni Watch to be during this bizarre extended moment. The most common response was something along the lines of, "Please, if you can manage it, just keep Uni Watch going, so I can have at least one normal thing to rely on every day." I've tried to take that responsibility seriously, and along the way many of you have told me how much the site has meant to you this year, which is an incredibly humbling thing to hear. Thank you.
Along the way, I found that maintaining Uni Watch on a daily basis was exactly what I needed as well. It kept me in a rhythm, gave me a sense of purpose, and kept me in touch with so many of you. And although the sports world was shut down for months, there was plenty of news to cover — unveilings, the renaming of the 'Skins, and a lot more. I'm not sorry that the sports world started up again, but those four months or so when everything was shut down were surprisingly rewarding in terms of creating Uni Watch content and getting feedback from you folks. I'm proud of how we all weathered that storm, and I'm truly thankful for the role that Uni Watch — including all of you — has played in my life this year.
In the spirit of the holiday, I'd like to take a minute to give thanks to all the people who continue to make Uni Watch possible, including Ticker assistants Lloyd Alaban, Anthony Emerson, Alex Hider, and Jamie Rathjen; "Collector's Corner" columnist and Facebook editor Brinke Guthrie; membership card designer Scott M.X. Turner; merch designers/collaborators Todd Radom, Bryan Molloy, and Nathan Haas; weekend contributors Terry Duroncelet Jr., Michael Malinowski, Rex Henry, Dennis Bolt, Kyle Acker, Ethan Dimitroff, Jim Vilk, and Robert Marshall; webmaster John Ekdahl; proofreader Jerry Wolper; Photoshopper Nic Schultz; cap fulfillment manager Mark LaFountain; and, especially, deputy editor Phil Hecken, the world's hardest-working bench coach.
Big thanks also to Zac Neubauer, who provided the vintage postcard image that I've been featuring on these Thanksgiving posts for more than a decade now.
I realize this will be a hard day for many people, especially if you're by yourself and/or if you've lost loved ones during the course of this terrible year. As I've been saying all along, we're all in this together, so please accept a virtual hug from me if you're feeling blue. The storm isn't yet over, but the vaccine news is promising, so here's hoping we're all enjoying a more conventional Thanksgiving a year from now.
Everyone stay safe, stay well, and stay in touch, and thanks again for making Uni Watch a special place. Peace. — Paul