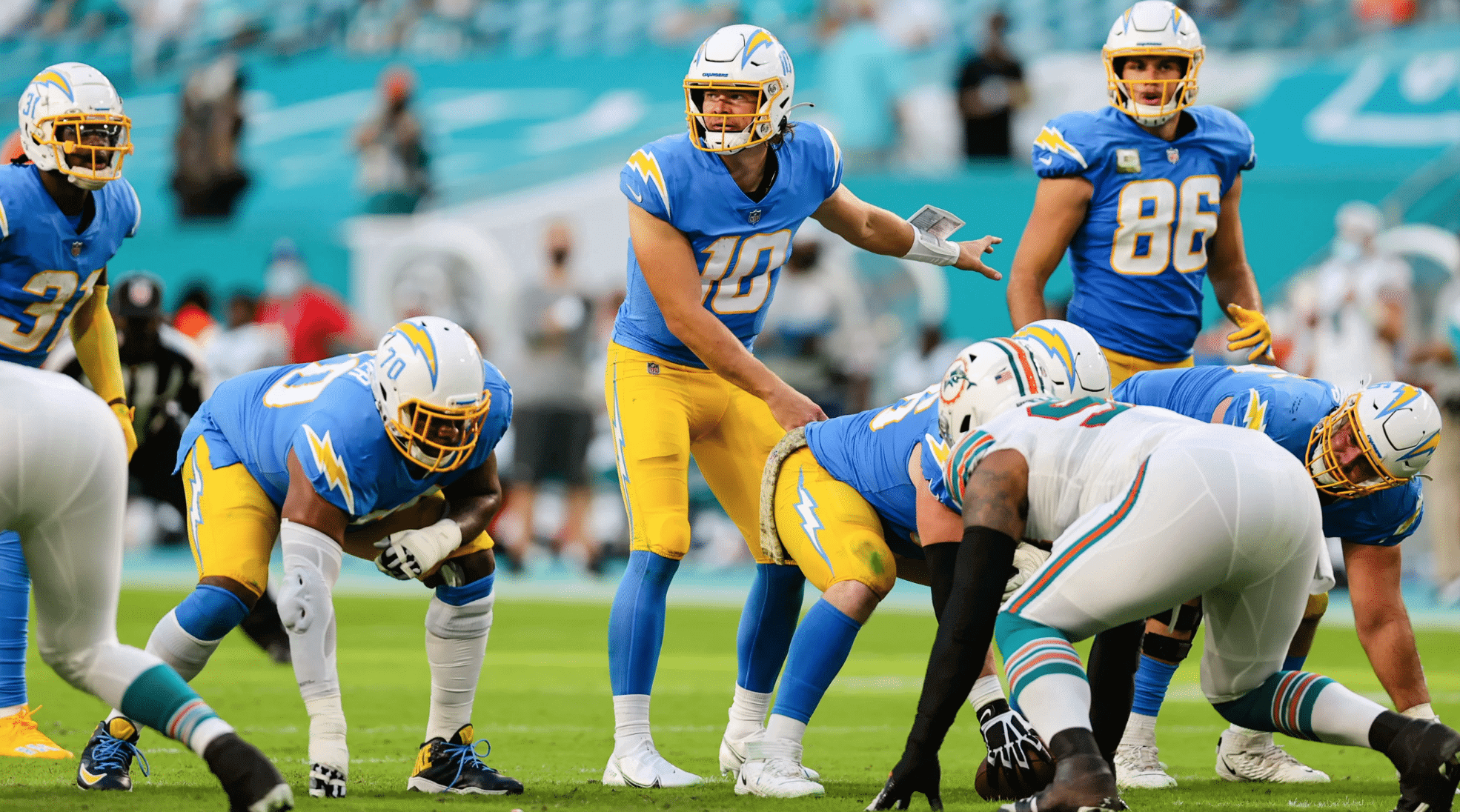 For all photos, click to enlarge
Good morning, and greetings from Uni Watch HQ, where all three inhabitants continue to be safe and healthy (and where one inhabitant no longer has fleas, I'm happy to report).
Now then: A feast for the eyes yesterday in Miami, as the Chargers (finally!) wore their powder blue jerseys over their yellow pants for the first time this season, while the Dolphins wore their white throwbacks at home. Here's some footage showing how it looked in action:
Already know @mikegesicki getting hype for his boy Durham 🤩

📺 @NFLonCBS pic.twitter.com/9lqWG4o7lZ

— Miami Dolphins (@MiamiDolphins) November 15, 2020
Nuh uh ❌ @Iamxavienhoward

📺 @NFLonCBS pic.twitter.com/BWMSifbp6e

— Miami Dolphins (@MiamiDolphins) November 15, 2020
What a treat! Lots of additional photos here, here, and here.
In other news from around the league yesterday:
• The Packers, having already failed for several weeks to add a uniform memorial for Herb Adderley, also opted not to add one for Paul Hornung, who died last week. Very strange.
• The Titans went mono-navy: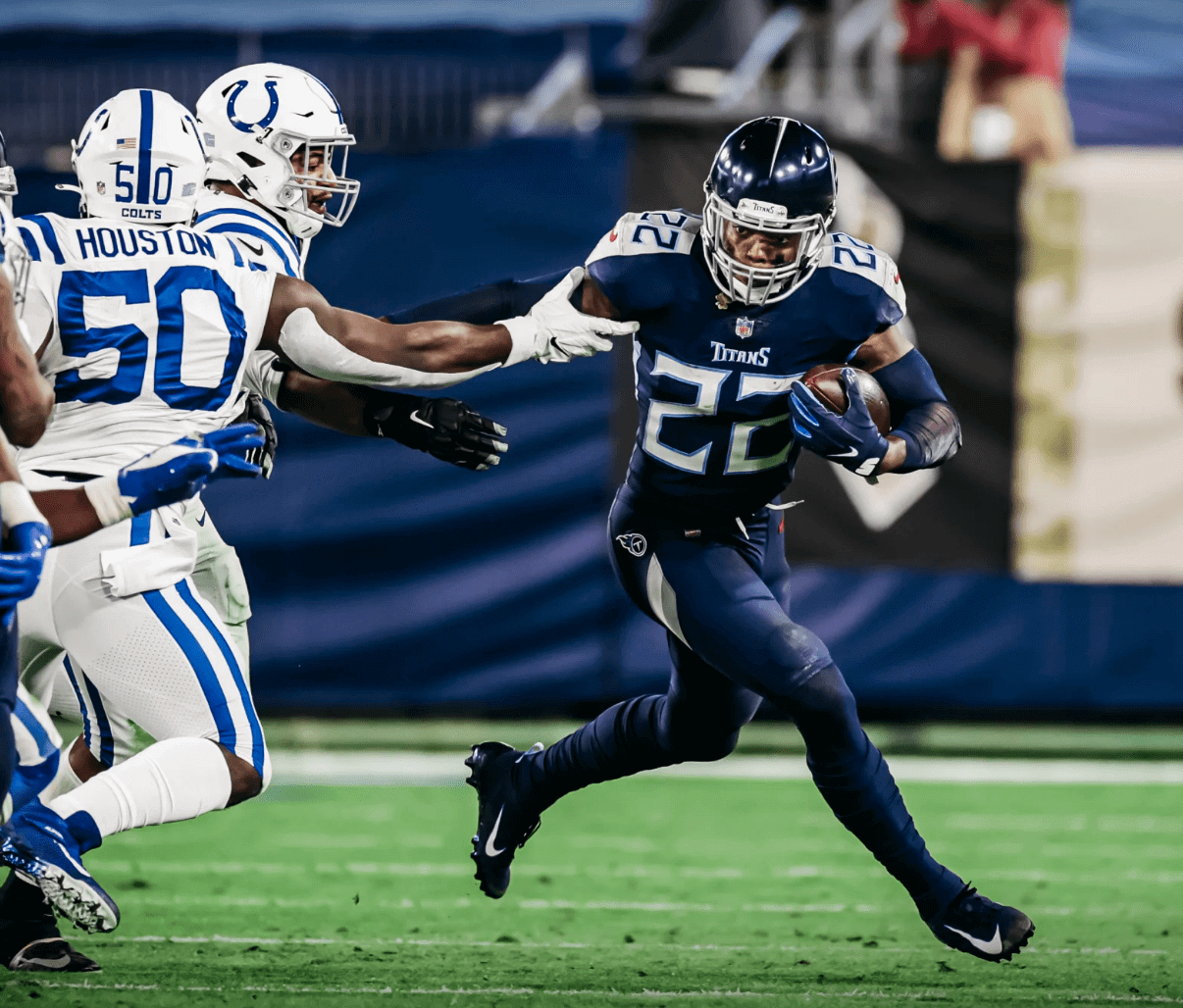 • The Rams went blue-over-dishwater for the first time, and it looked so fucking stupid:
For fuck's sake, get a set of white pants already, or just stick with the yellow pants. This look is beyond idiotic.
• The Cardinals went blood-clot:
Considering how that game turned out, they may never wear anything else!
• Speaking of, that game-winning Hail Mary play by the Cardinals featured gloves with at least three different makers' marks trying to catch the ball: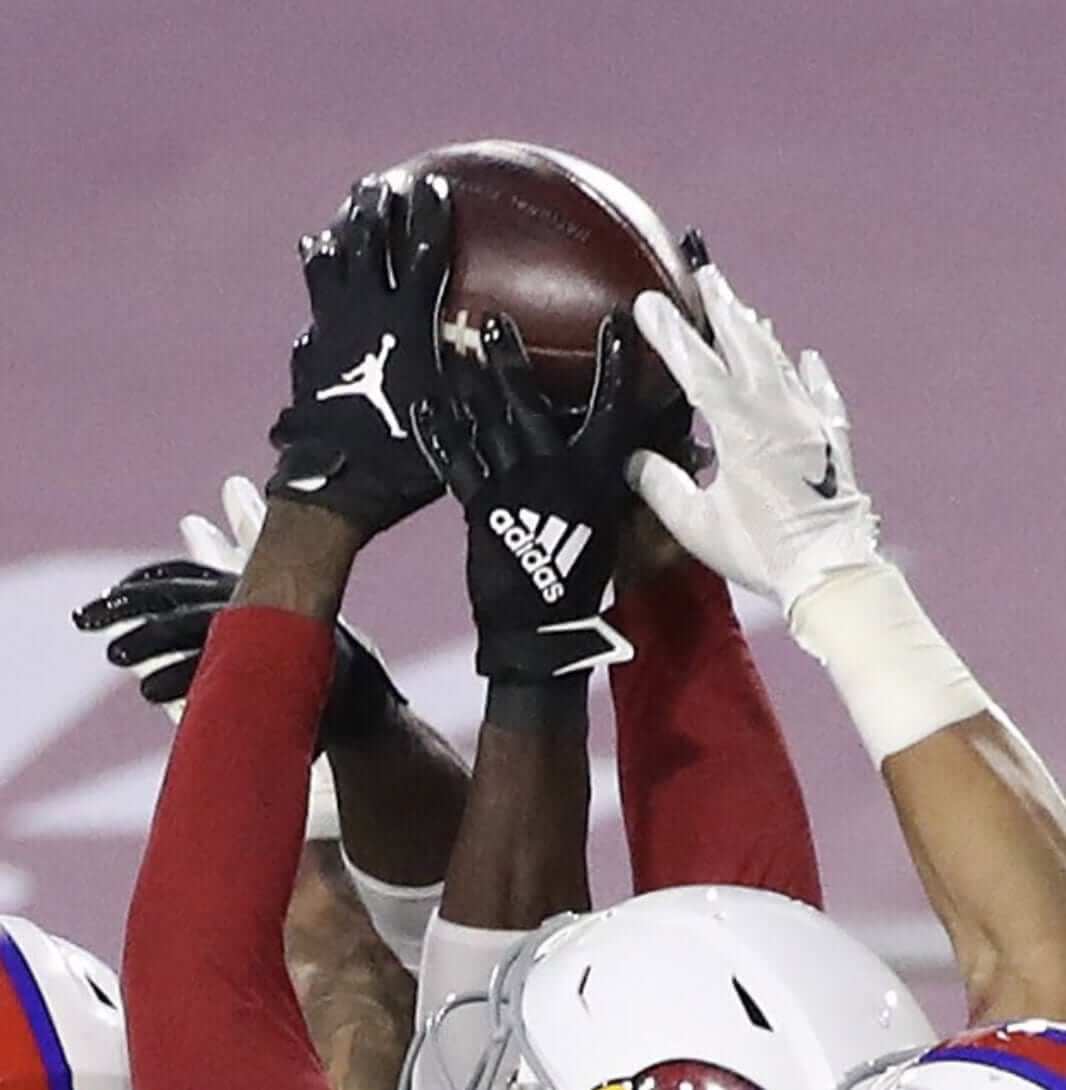 • Saints linebacker Demario Davis's captaincy patch came partially loose and was flapping about as he celebrated a sack:
You can run, but you can't hide from @demario__davis❌#NFLRedWolves x #WolvesUp

— Arkansas State Football (@AStateFB) November 15, 2020
• Here we are in mid-November and the Patriots still — still! — have players wearing last year's number and/or NOB fonts. Center David Andrews had the wrong font for both his number and NOB: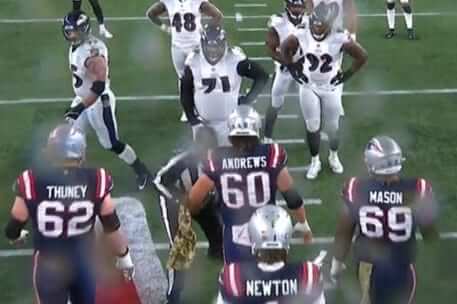 And defensive back Miles Bryant — who wasn't even on the team last year! — had the proper NOB font but last year's number font: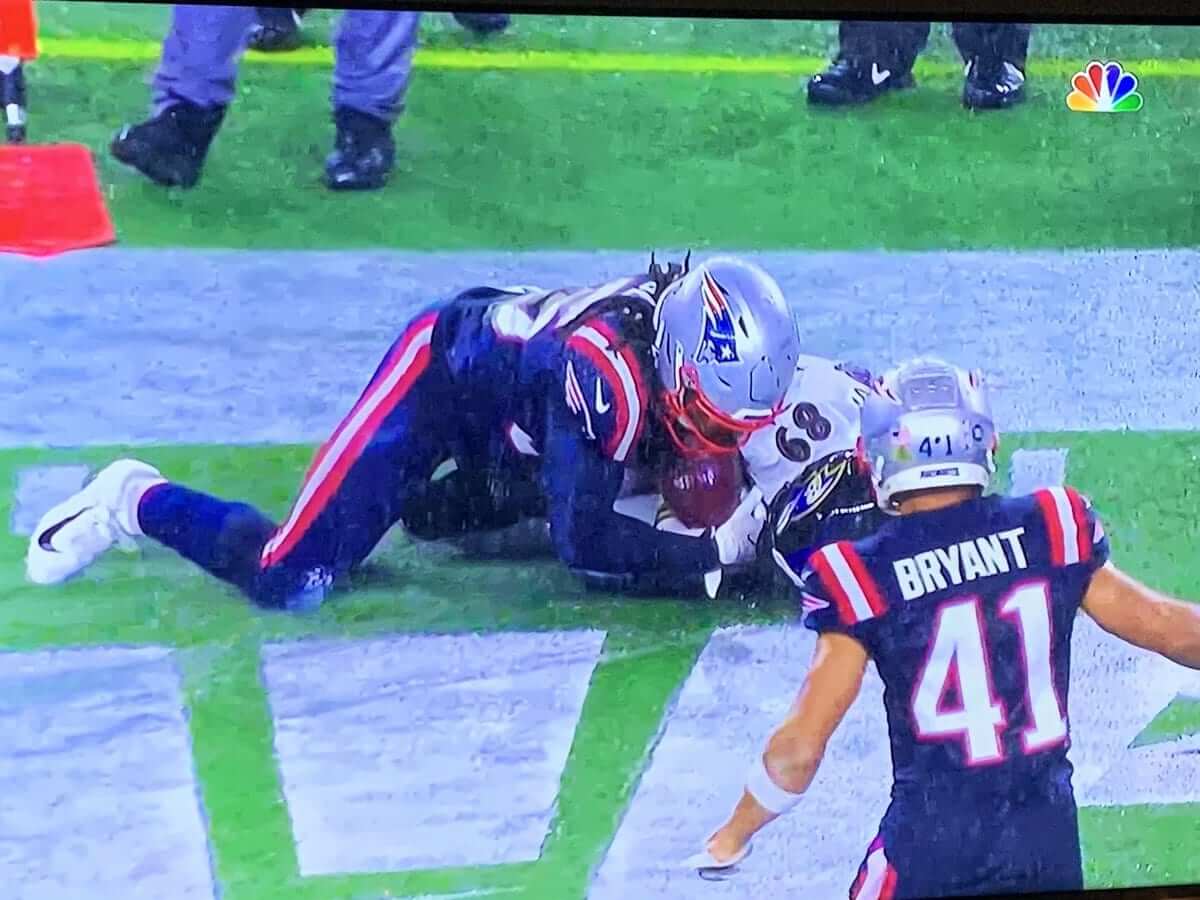 • In that same game, Patriots defensive lineman Carl Davis had his sideline mask dangling from his chinstrap during at least one play in the second quarter: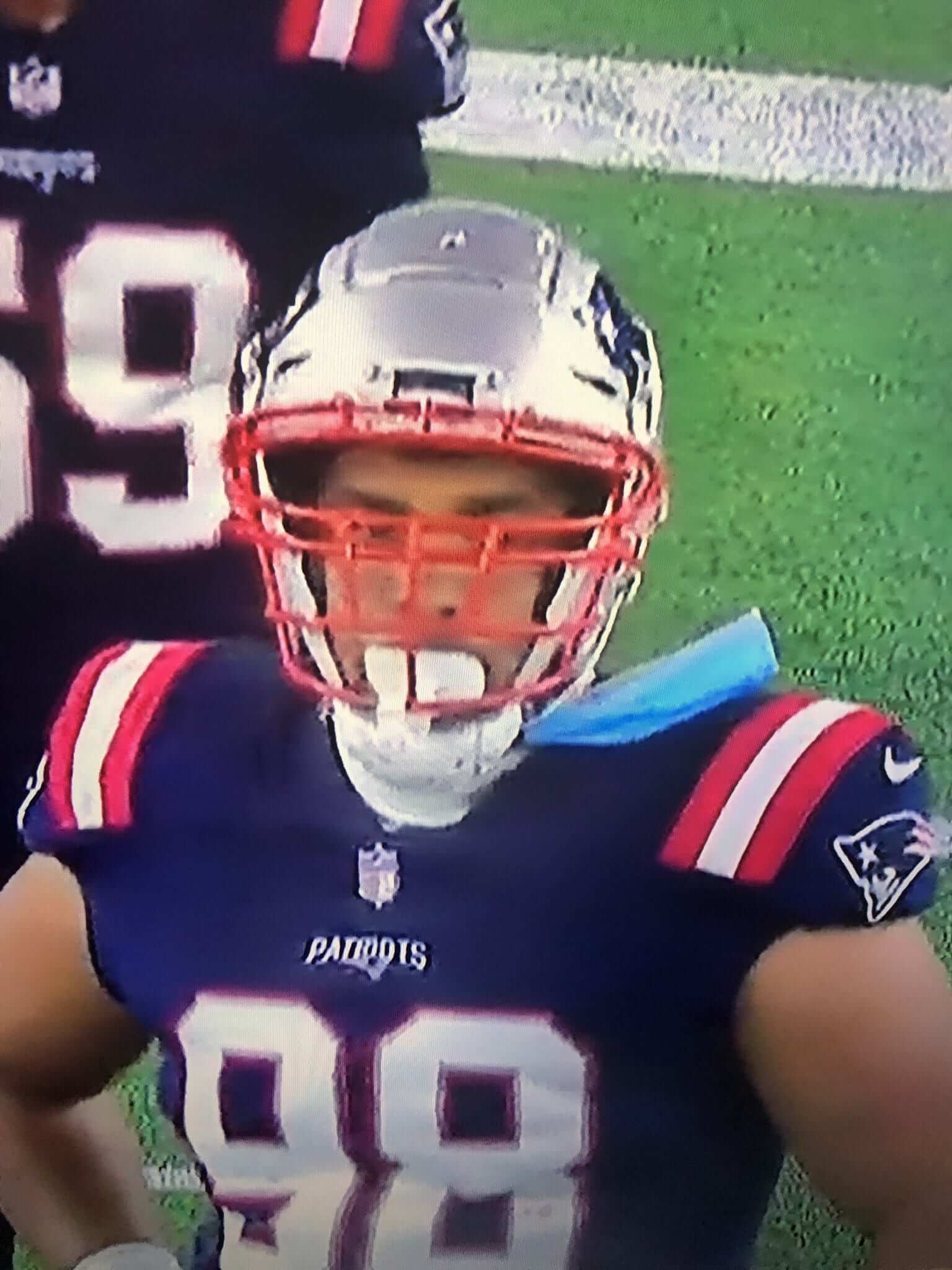 He did not do that for the entire game, however.
• Speaking of the Pats, here's a video of their midfield logo being removed after last night's game:
📹 Wanna see a sped-up video of the crew at @GilletteStadium erase the #Patriots logo at midfield to get ready for the #NERevs soccer game this week? #WBZ pic.twitter.com/AVIwznRoJs

— Joe Giza (@JoeGiza) November 16, 2020
• The aforementioned Dolphins were the only team that wore white at home.
(My thanks to Ryan Bowman, Joe Giza, Thomas Roddy, Steve Tilders, Cody Zimmerman, @WTHelmets, and our own Brinke Guthrie for their contributions.)
• • • • •
• • • • •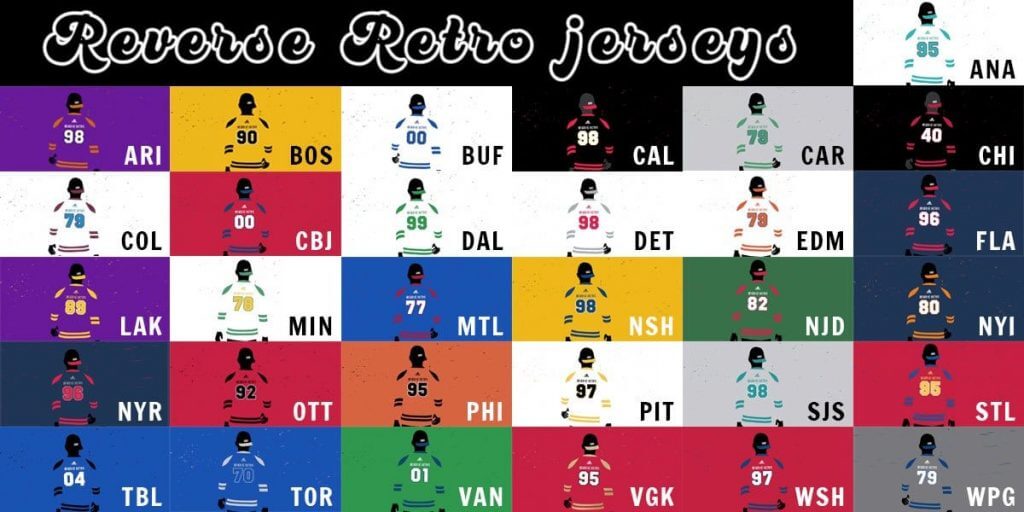 Happy NHL Reverse Retro Day: After a few weeks of teases, NHL teams will officially unveil their Reverse Retro jersey designs this morning. I'll add a link here when everything goes public, and I'll have full coverage of all 31 designs tomorrow.
Update: You can now see all 31 RR jerseys here.
• • • • •
• • • • •
Click to enlarge
Too good for the Ticker: Two of my Very Favorite Things — mid-century Delta blues and baseball uniforms — come together in this amazing 1950s photo, which shows (from left) B.B. King, Howlin' Wolf, Muddy Waters, and Ivory Joe Hunter with members of the WDIA-sponsored Little League team. WDIA, based in Memphis, was America's first all-black-programmed radio station, and the four bluesmen in the photo were all in heavy rotation at the time. Amazing shot!
(Super-duper thanks to @TheBigJamesG for this one.)
• • • • •
• • • • •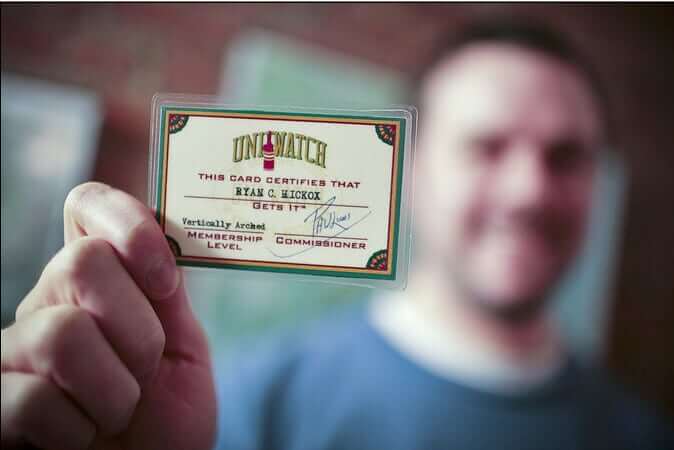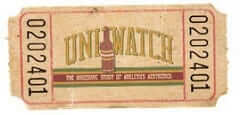 ITEM! Another membership raffle: Reader David Staples has generously purchased two Uni Watch memberships for me to raffle off, so that's what we're going to do today.
This will be a one-day raffle. No entry restrictions. To enter, send an email to the raffle address by 8pm Eastern tonight. One entry per person. I'll announce the two winners tomorrow. Big thanks to David for doing this!
• • • • •
• • • • •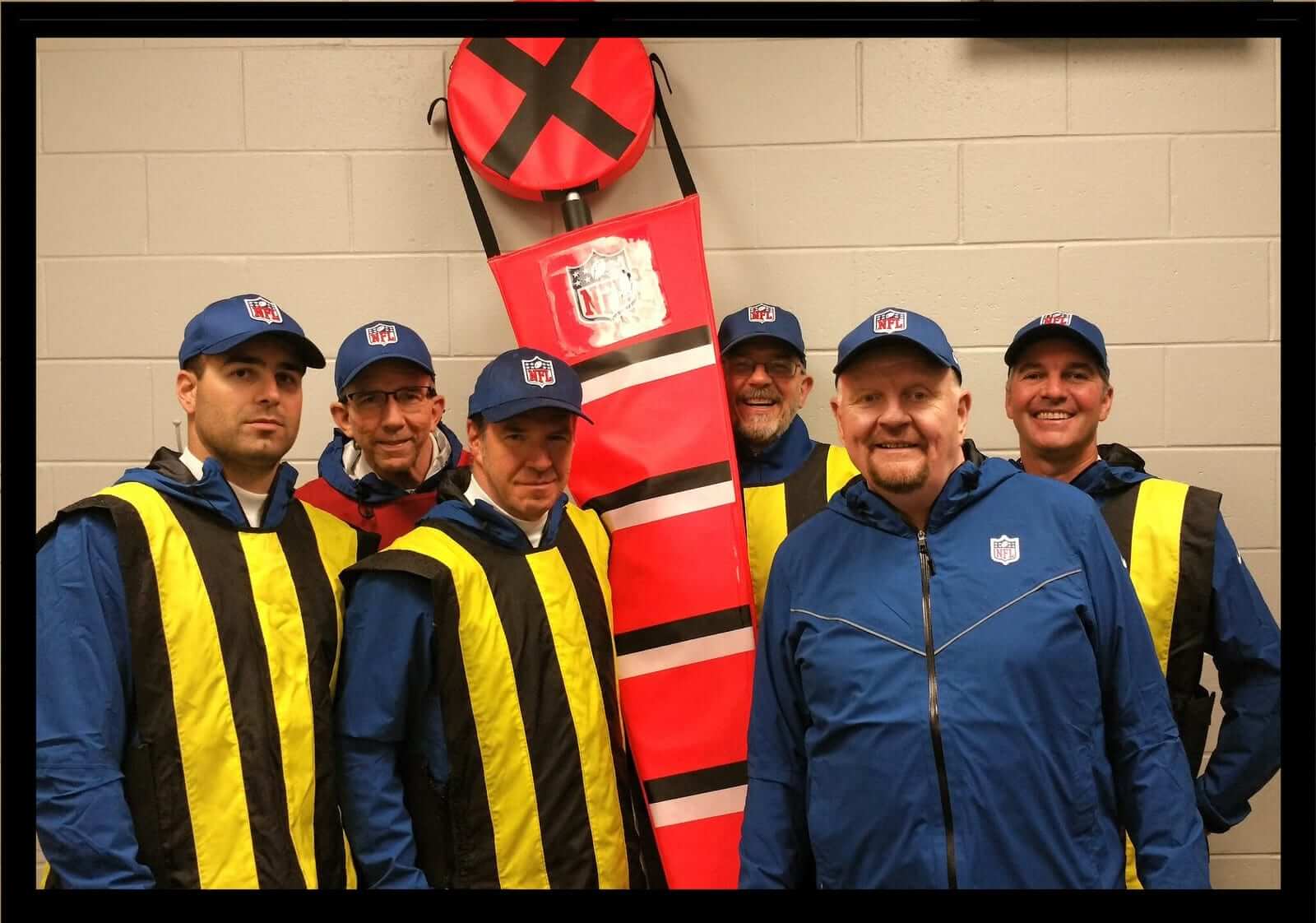 Click to enlarge
A death in the Uni Watch family: Back in the fall of 2016, a guy named Tom Quinn got in touch with me. He said he was the head of the New York Giants' game-day chain crew (he's second from the right in the photo shown above) and thought it would be fun to have me write about him.
I don't often get people approaching me and saying, "Hey, I think I'm a story!" But I agreed that it was a fun idea, so I got in touch with the Giants and asked if I could spend a game shadowing Quinn on the sidelines. They basically said, "There's too many moving parts to get the NFL to approve that for this season. Maybe next year." So I tried again in 2017 and was told the same thing. And then I tried yet again in 2018 and was finally told, "The NFL won't allow a reporter on the sidelines like that. But you can interview Quinn about his job if you want." So that December I drove to the Giants' stadium in New Jersey, finally met Quinn in person after two years of emails and phone calls, and spent an afternoon interviewing him, which resulted in an ESPN piece that turned out really well.
Along the way, Tom Quinn and I became friends. He turned out to be, somewhat improbably, a big indie-rock fan (I'm gonna go out on a limb and say there probably isn't any other NFL chain crew member who's seriously into the New Zealand band the Chills), so we talked a lot about music, and he had a day job doing deliveries for a butcher, so we also talked a lot about meat. In the summer of 2019, Mary and I attended a big party at his New Jersey home, where we met his wife and kids. Great people all around — it was a really fun day.
In recent years, Tom developed interstitial lung disease, although it didn't seem to be inhibiting him that much during my interactions with him. As the start of this year's NFL season approached, I asked him if he'd be running the chain crew as usual in 2020. He responded, "My breathing problem has gotten much worse. Now on oxygen. Giants don't know yet but I am out, maybe for good."
I learned over the weekend that Tom passed away on Nov. 11. He would have turned 63 this week — way, way too young. He was a really good guy and good friend. He'll be missed. R.I.P.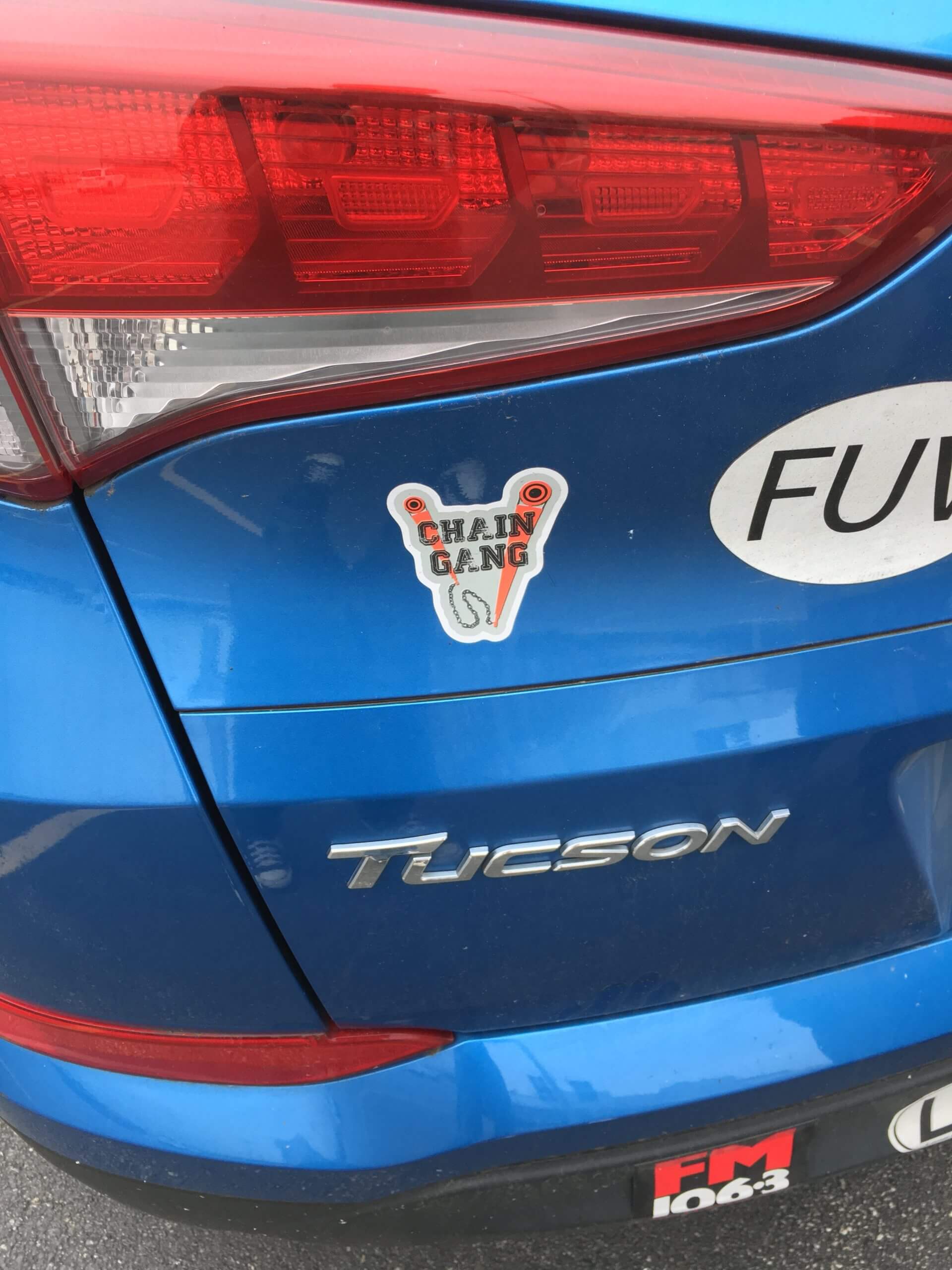 • • • • •
• • • • •
The Ticker
By Jamie Rathjen

Baseball News: Former Reds C Johnny Bench had some memorabilia from his career auctioned off, including from his World Series wins and his 1970 National League MVP award (from Jason Hillyer).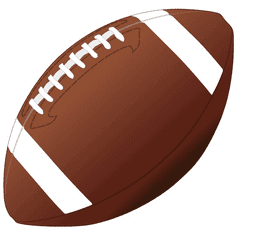 Football News: This year's Fiesta Bowl has a 50th-anniversary logo (from Josh Miller). … Reader Jon Solomonson found some NFL memorabilia at a Florida antiques store, including a recent autographed Pro Bowl helmet and a series of autographed Dolphins helmets. … This 1962 news article goes over some changes made to Nebraska's uniforms that year. But elsewhere in the article there's an interesting historical footnote — it mentions then-coach Bob Devaney moving the Nebraska bench to Memorial Stadium's east sideline. This weekend's Nebraska/Penn State game was apparently, according to an AP recap, the first time since 1962 that Nebraska moved back to the west sideline, with no reason given (from Brian Hansen).

Hockey News: The QMJHL's Moncton Wildcats wore pink jerseys on Saturday (from Wade Heidt). … The next two are also from Wade: A Canucks blog picked the best player to wear each jersey number for the team. … Sabres goalie Linus Ullmark has new pads. … In 1981, Rangers winger Don Maloney scored a hat trick and later wore one of the hats thrown on the ice for an interview (from Steven Schapansky). … Tim Hortons is fundraising for Hockey Canada's initiative to get girls and women into the sport with an ice hockey-playing Barbie doll (from Mike Chamernik).

Basketball News: A girls' youth team named the Nuggets is having some fun with their NOBs (from Jason Criss).



Soccer News: German 2. Bundesliga club St. Pauli is to begin to manufacture its kits in-house, because no company meets its standards for sustainability and fair trade (from Ed Żelaski). … England's men's team wore black armbands on short notice for an away game in memory of former goalie Ray Clemence, who passed away yesterday, which makes me wonder if they always carry some armbands around, just in case. … Wales's men's team created a set of red clash shorts in 2016 by reusing the ones from their previous kit and changing the color of the Adidas stripes. … Something not seen that often outside of the U.S. is a pro team sharing a stadium with another team in a different sport when the seasons for both overlap. The English club Coventry United shares with rugby union's Coventry R.F.C., and the pitch is still lined for both sports even though only Coventry United's teams have been permitted to play since the pandemic started.

Grab Bag: The Montréal news site La Presse had some of its writers each pick a best-looking uniform (from @DanBert3). … England's and Scotland's men's rugby union teams wore poppies as armbands and sleeve patches, respectively, this weekend. England's women's team did not, but wore paper poppies on their warmup jackets. … A Japanese publisher has a very ingenious dog with an exclamation mark for a nose as a mascot (from Jeremy Brahm). … The city of Alexandria, Va., how has its own official sock (from William Yurasko).
• • • • •
• • • • •
Click to enlarge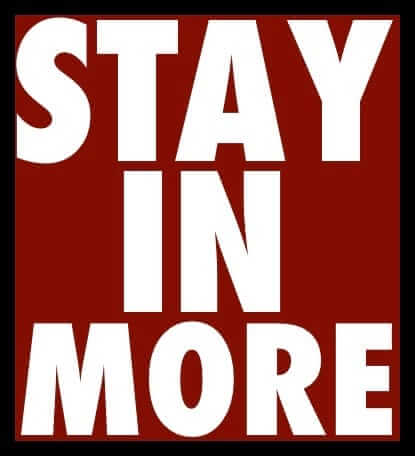 What Paul did last night: Slightly chaotic scene on the porch yesterday, as two friends and their four-year-old came over, which led to much scattering of crayons, coloring books, a scooter, and so on. We also had to rearrange the usual seating arrangement, which among other things resulted in the first Pandemic Porch Cocktails™ photo not to include the Tugboat Captain. Oh, and there was also a dachshund, which was fun!
As always, you can see the full set of daily Pandemic Porch Cocktails™ photos — now more than of them — here.
• • • • •
Please join me in wishing the happiest of birthdays to "Collector's Corner" columnist Brinke Guthrie — a good friend and an even better guy. Enjoy your special day, big fella! — Paul