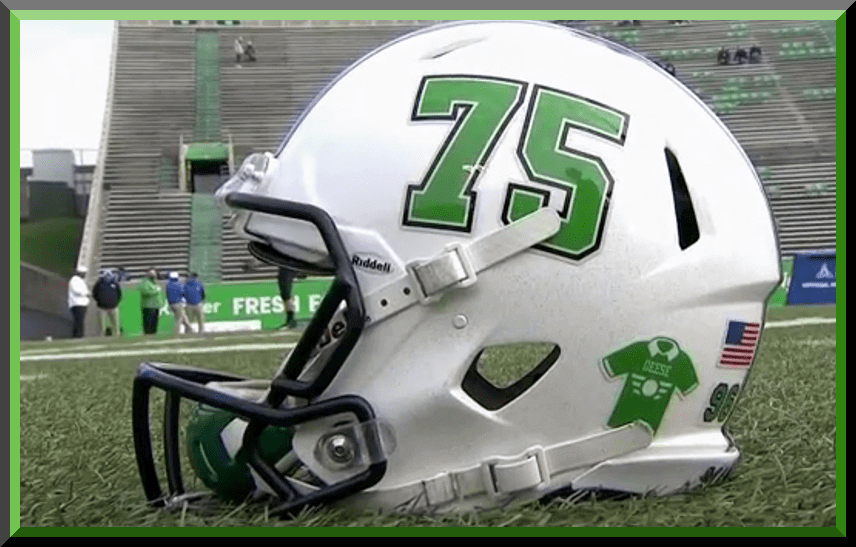 By Phil Hecken and the SMUW Crew
Follow @PhilHecken

Normally I don't condone teams going mono-black, even if black is technically a school color. And I usually dislike any white helmeted team who goes mono-black, as the effect is particularly jarring.
But yesterday's game featuring Marshall gets a complete pass. Why? Well, you may recognize the helmet featured in today's splash. It is the helmet the Thundering Herd wear when they are memorializing the victims of Southern Airways Flight 932, which crashed 50 years ago yesterday, the anniversary of one of the worst sports disasters in U.S. history. You may have heard about it. The crash claimed 75 lives (hence the helmet decal), including most of the football team. It devastated the University, and there is a remembrance every year. For several seasons, the team has been wearing the "75" decal to mark the tragic events, but yesterday's game and memorials had special meaning, as it was the 50th Anniversary of the tragedy.
So, in remembrance of the horrific events and victims, the team wore their special helmets and solid black jerseys and pants yesterday. It wasn't a great look, but sometimes that's not the most important thing.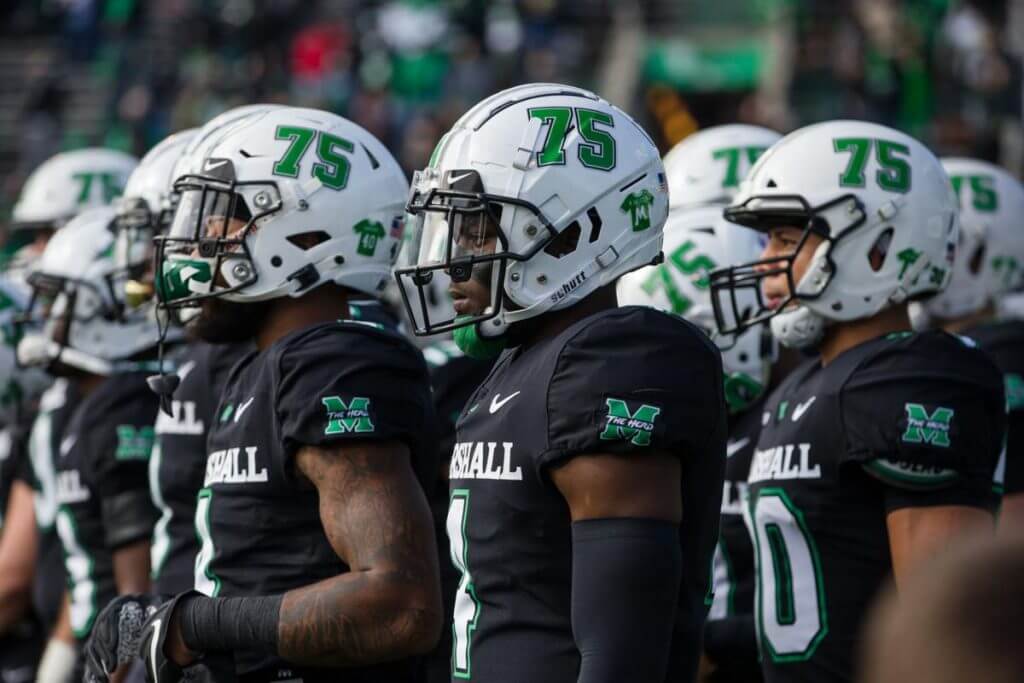 As you can see, every player had a "75" decal on the left side of their helmet (the opposite side had the Marshall "M" logo).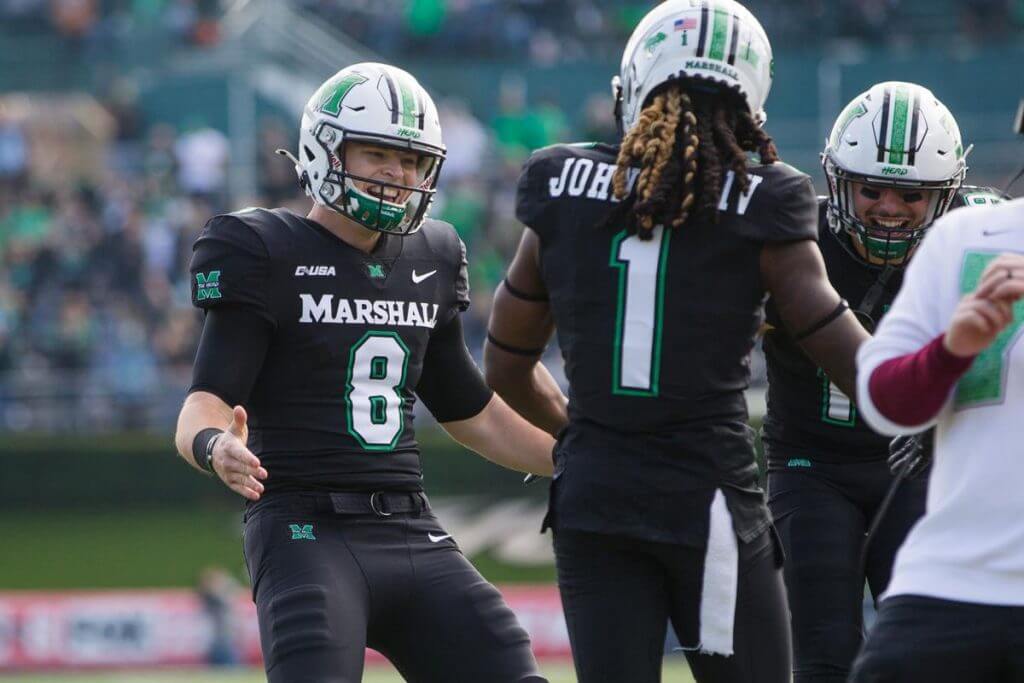 ,
For good measure, Marshall won the game — that's not the most important thing however. But it probably didn't hurt.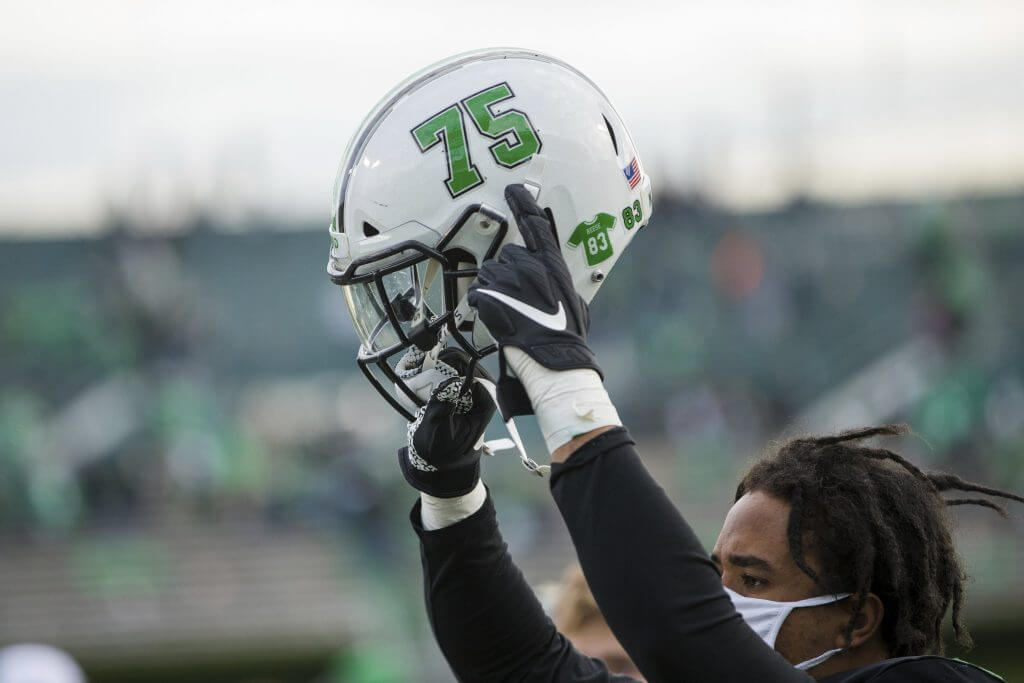 Here's TJ with the rest of your…
• • •
Sunday Morning Uni Watch
by Terry Duroncelet, Jr.
How are we literally… LIT-RUHLLY halfway through the month already??? Time is an illusion. Let's talk about throwbacks and flags on the field (and not the yellow kind)
From Tuesday:
• Kent State channeled their inner Chargers AND G.I. Joe'd it up at the same time (albeit the camo is faint)! Now that's what I call a two-for-one "special".
From Friday:
• Something that I noticed in the Iowa/Minnesota tilt is that Junior OL Mark Kallenberger of the Hawkeyes (sorry guys, no M*A*S*H or FMA references this time around) has his John Hayden Fry memorial on the left sleeve (he's #71), while the others have it on the right.
From Saturday:
• West Virginia, Appalachian State, and Ole Miss wore S&S decals over the weekend, but I'm more than sure that there are plenty more that I missed.
• It was subtle, but UCF wore nose bumpers reflecting each branch of the U.S. Armed Forces (I believe the previous photo showed the bumper for the Marine Corps).
• Speaking of Ole Miss, they wore the light blue tops against South Carolina. I have but one thing to say.
• Moving to North Carolina, they wore some sweet throwbacks against Wake Forest. Those block shadow numbers (not drop shadow) are what sold it for me.
• Keeping on the Wayback Machine way-back-in-the-day train, Purdue wore what I'm considering to be fauxbacks to Drew Brees's days as a Boilermaker (more specifically, the 2000 Big Ten Championship team that would go on to play in the 2001 Rose Bowl game against Washington). The one element pushing it into fauxback territory being the neck logo; it's the tiny modern-day forward-facing train (better look here), as opposed to the large cartoon-style oncoming perspective version used from 1996-2011 that was present on the Brees-era togs (reveal vid here).
• Michigan State wore simple block 'S' decals on the right side of the helmet (with nothing on the left) in their game against Indiana. This was in honor of George Perles, who played and coached at MSU for a combined 25 years, if math serves correctly. 1954-1956 as a player, 1959-1970 as a DL coach, and 1983-1994 as a head coach, with yesterday's helmet treatment serving as a nod to the 83-93 run. Perles passed away earlier this past January at the age of 85.
• Michigan and Wisconsin… P E R F E C T I O N.
• In this bout between some fightin' Catholics, Boston College wore their Red Bandana uniforms. For those who might have never seen much of BC, and are wondering why choose a bandana of all design elements, it's part of their annual Red Bandana Game that they do in honor and memory of Welles Crowther, a former Boston College Lacrosse player who saved many people during the September 11th plane crash, which unfortunately cost him his own life. With that being said, in the past, they typically regulated the bandana elements to gloves, helmet stripes, etc., so it's nice to see them expand it to the actual uniform.
• Color-vs-color between Kentucky and Vanderbilt.
• Rutgers vs. Syracuse kinda gave me SEC vibes with all of these saturated colors. I like it.
• Speaking of orange, Florida broke theirs out against Arkansas. Honestly, I like the Razorbacks' road unis more than their home ones.
• • •
Thanks, TJ! OK, now on to the rest of your SMUW…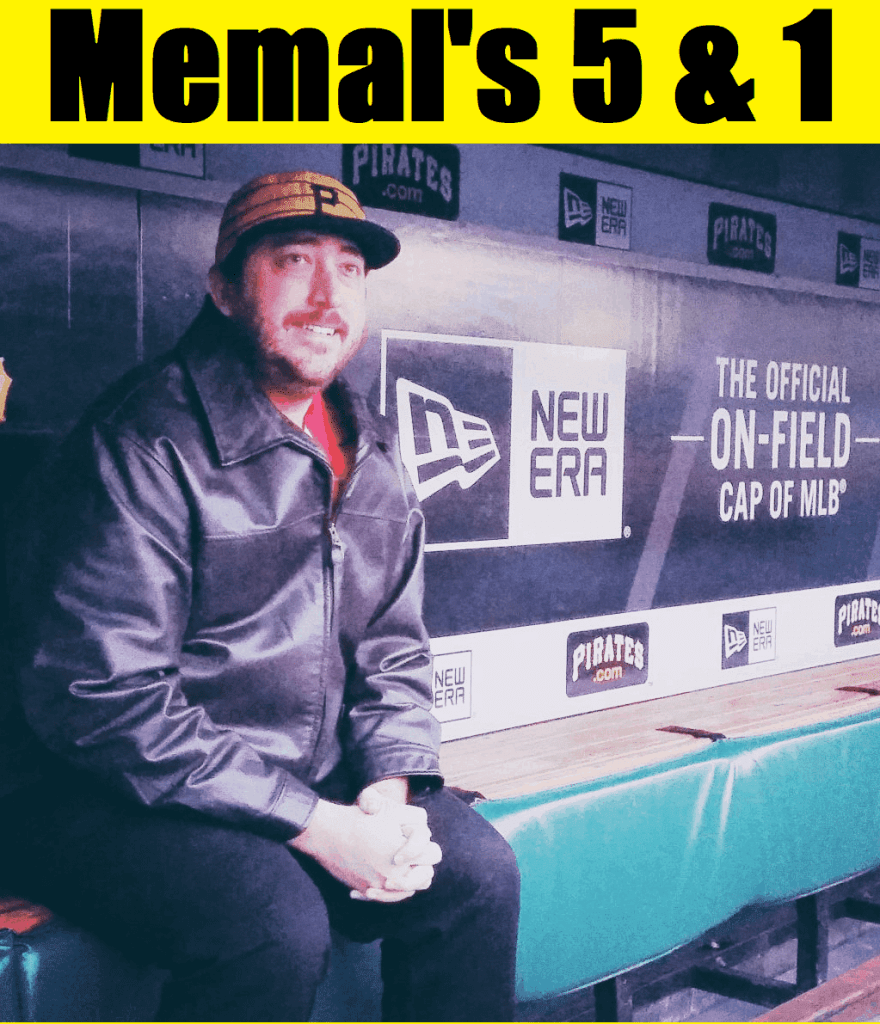 Memal's 5 & 1
Following in the footsteps of the original "5 & 1," Jim Vilk, Catherine Ryan after him, and finally Joe Ringham, in 2019 we introduced a new "5 & 1" (five good looking and one stinker) uni-vs-uni matchups — Michael "Memal" Malinowski. Like Joe, Catherine & Jim, Memal will pick HIS 5 best looking/1 awful matchup, and occasionally have some honorable mentions (both good and bad). You may agree and you may disagree — these are, after all, just opinions and everyone has one. Feel free to let him know what you think in the comments section.
Here's Memal
• • •
It was an interesting schedule of games Saturday as there were some teams playing to keep pace in the heat of conference races, some teams just getting on the field for the second time this year, and then there were 30 teams who stayed home as their games were either postponed or cancelled. On behalf of all Those Who Get It in the Uni-verse, I wish the players on those 30 teams well and hope they get a chance to see their dreams of playing college football realized to its full potential. They at least had an opportunity for distraction from their circumstances in some outstanding looking games!
__________
Honorable mention: Wisconsin @ Michigan
__________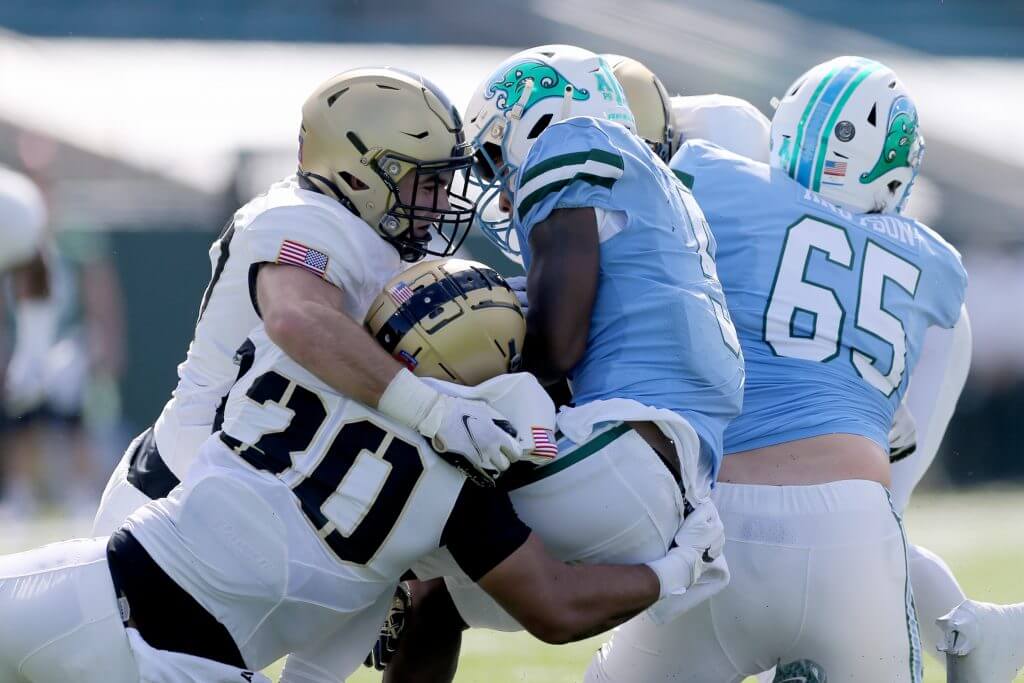 5. Army @ Tulane

Not only do I like the uniform choices by these teams for this contest, I love the contrast of identities between them. The Black Knights in their uniform NOB and simple uniform set from New York traveled down south to New Orleans to meet the Green Wave in their sky blue uniforms and cartoon helmet logo character. I admit I'm projecting a bit, but I enjoyed just about everything I saw from this game.
__________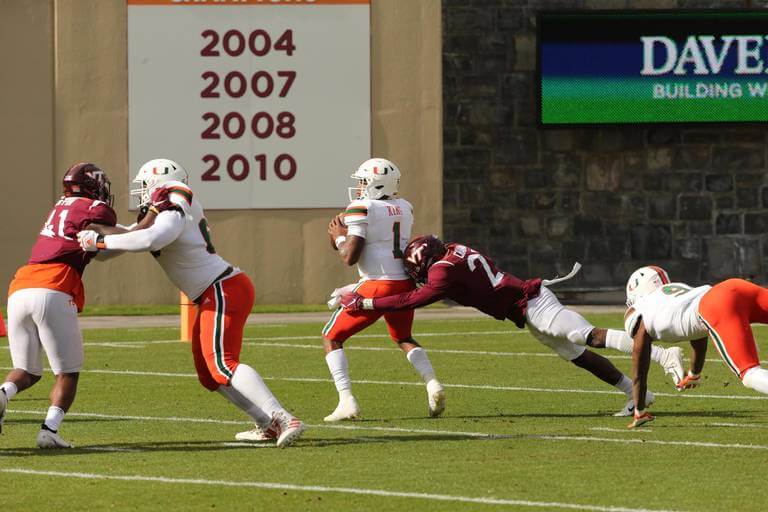 4. Miami (FL) @ Virginia Tech

It almost looked like a Big East game in Blacksburg as the Hokies went maroon/maroon/white against the Hurricanes in white and orange pants. Is it just me, or does Miami's number and NOB font look a little too small for their uniforms?
__________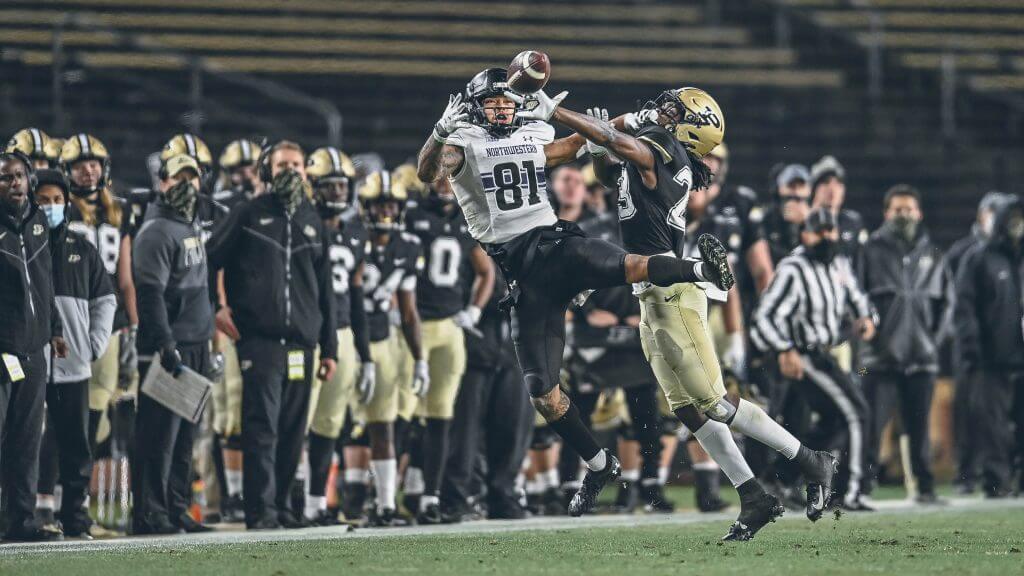 3. Northwestern @ Purdue

Sometimes I feel there's too much a particular color in a uni matchup, but in this instance I love how much black there was on the field between these teams. On top of all the black uniform elements, the game was played on a dark dreary day in West Lafayette in front of dark empty stands and I can't help feeling it's a shame it wasn't played two weeks ago on Halloween!
__________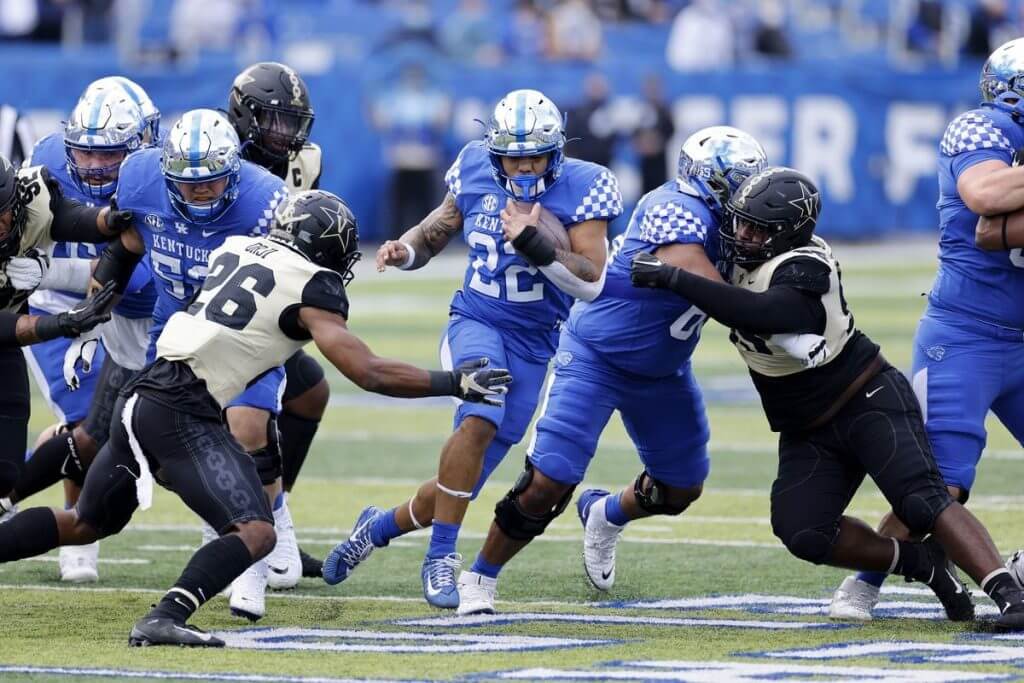 2. Vanderbilt @ Kentucky

Between the chain pattern on the helmets and pants of the Commodores and the racing silk sleeve pattern and chrome helmets worn by the Wildcats there was a lot to absorb in this game. Sometimes a lot of uniform elements can look tacky, but in this color-on-color matchup it succeeded!
__________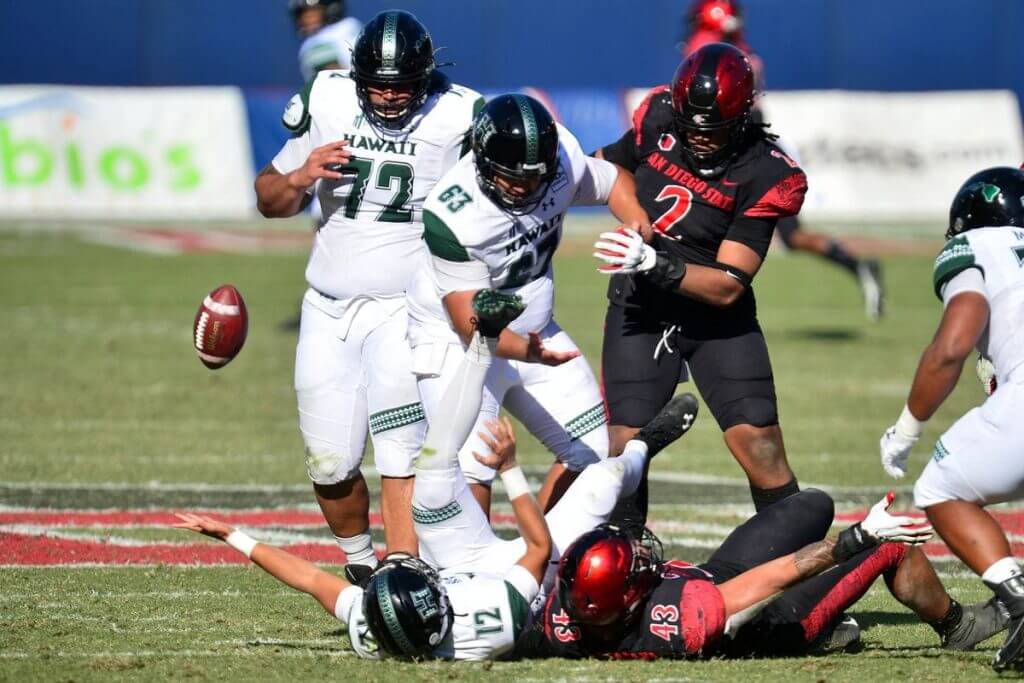 1. Hawaii @ San Diego State

I like unique stripe patterns and this game featured a pair of teams with two of the most unique patterns in all of football. The helmet choices also helped make this a visually stunning matchup. The Rainbow Warriors sported two different helmet decals, their standard H logo on the right side and an outline of the state of Hawaii on the left, and the Aztecs wore a bold black stripe and the Aztec calendar in place of a team logo.
__________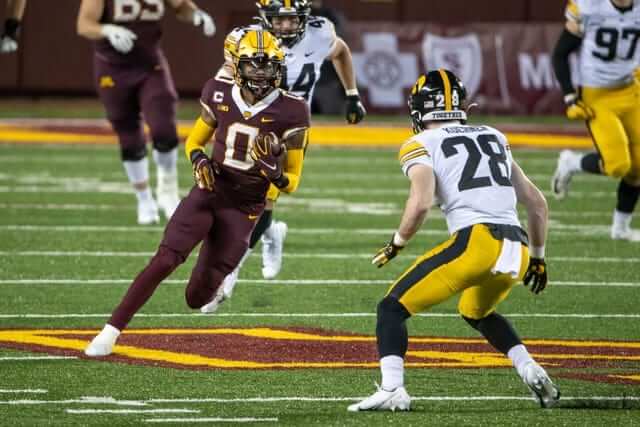 &1 Iowa @ Minnesota

Despite only one team wearing it, this game looked to have too much maroon. The Gophers sported two or three too many decals on their helmets that when met with the different shade of gold by the Hawkeyes created a visual dissonance that made this a difficult uni matchup to look at.
• • •
Thanks, Memal! OK readers? What say you? Agree or disagree with Memal's selections? Let him know in the comments below.


NCAA Uni Tracking
Uni Watch will again track the uniform combinations worn by the "Power 5" conferences. All of the 2019 trackers are back! Unfortunately, not all of the conferences are back. Here's how the trackers would track, if all the schools were playing:
We've got Rex Henry (tracking the ACC), Dennis Bolt (tracking the PAC-12), Kyle Acker (tracking the Big XII), and Ethan Dimitroff (tracking the B1G AND the SEC). Rex, Dennis, and Kyle and are all returning from 2015, and Ethan is back after joining the NCAA Uni Tracking a couple seasons ago. Ethan continues his dual role of tracking both the B1G and the SEC.
We started the year off with three conferences (SEC, B1G, PAC-12) not playing at all, but now all five of the Power 5 have returned to play.
Here are the Uni Trackers for the Power 5 Conferences (I've left all the previous tracker info in their usual slots, even if the conferences aren't playing. In case you want to click on any of the links):
+ + + + + + + + + +
Rex is up first today (ACC):
• • •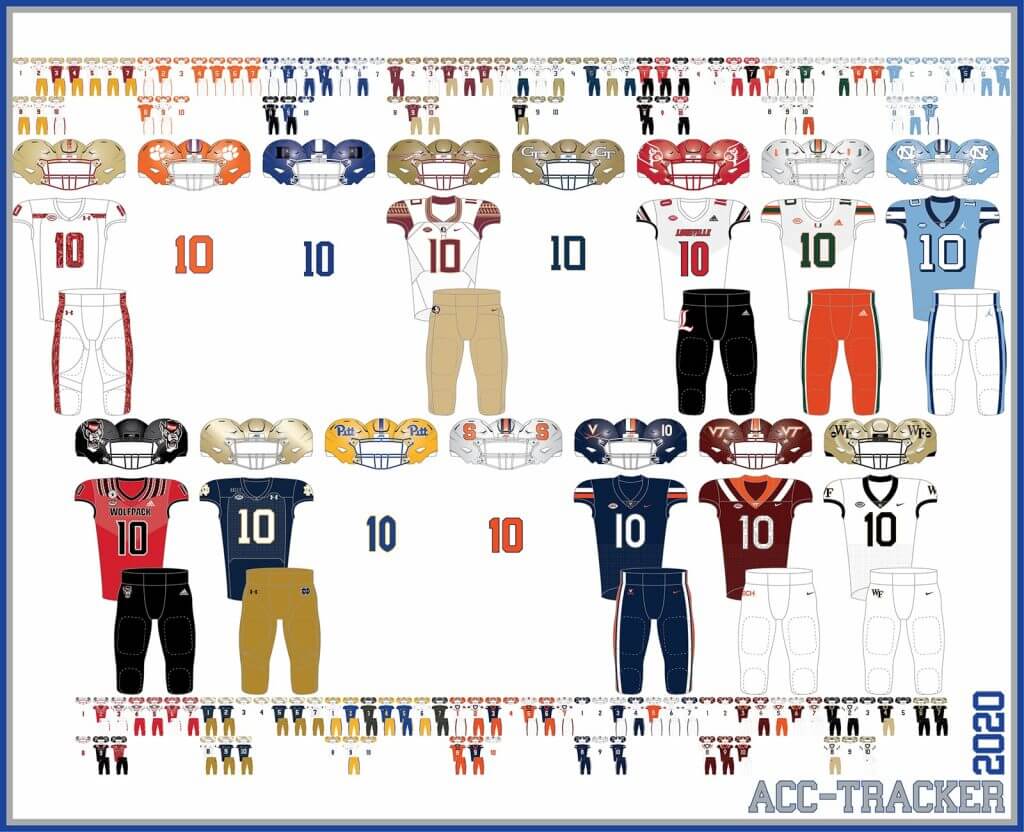 ACC

More Here.
Follow Rex on Twitter here.
• • •
And now, here's Dennis with the PAC-12: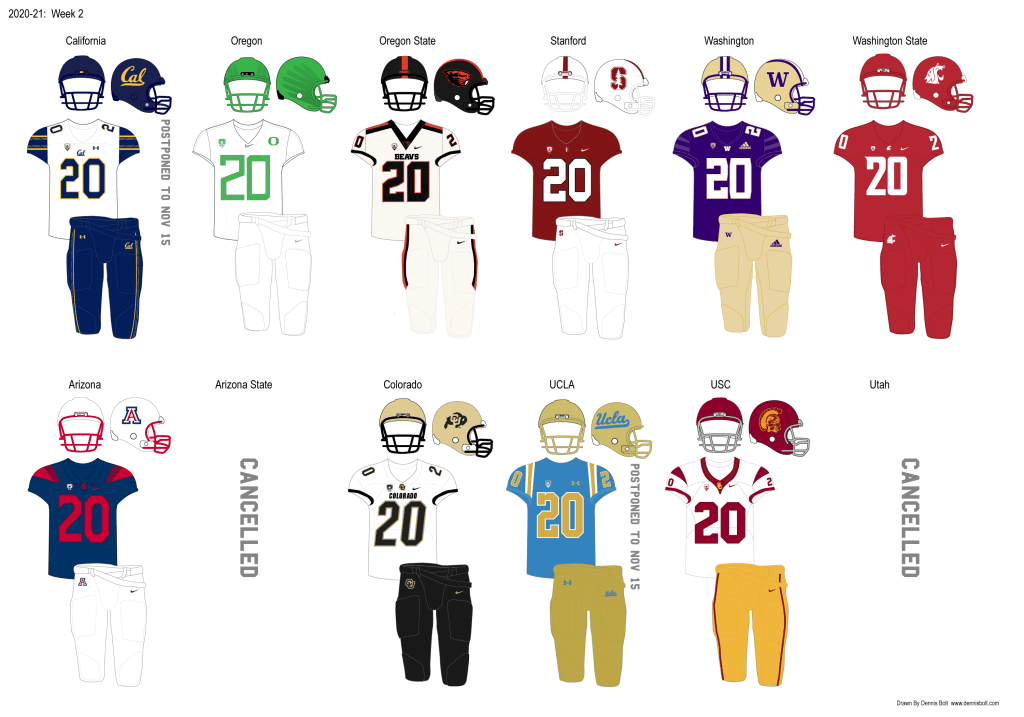 PAC-12

More here.
Follow Dennis on Twitter here.
• • •
And here is Ethan, with the SEC: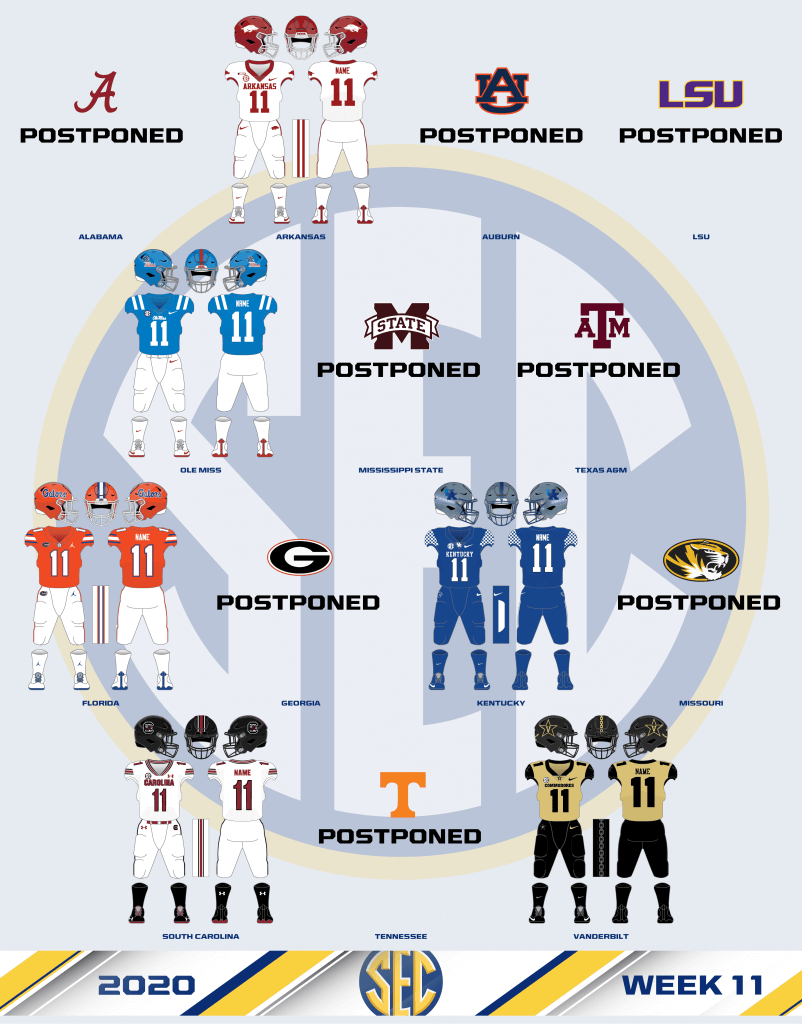 SEC

And be sure to check out Ethan's WVU Mountaineer Tracker.
Follow Ethan on Twitter here.
• • •
And here is Kyle with the Big XII: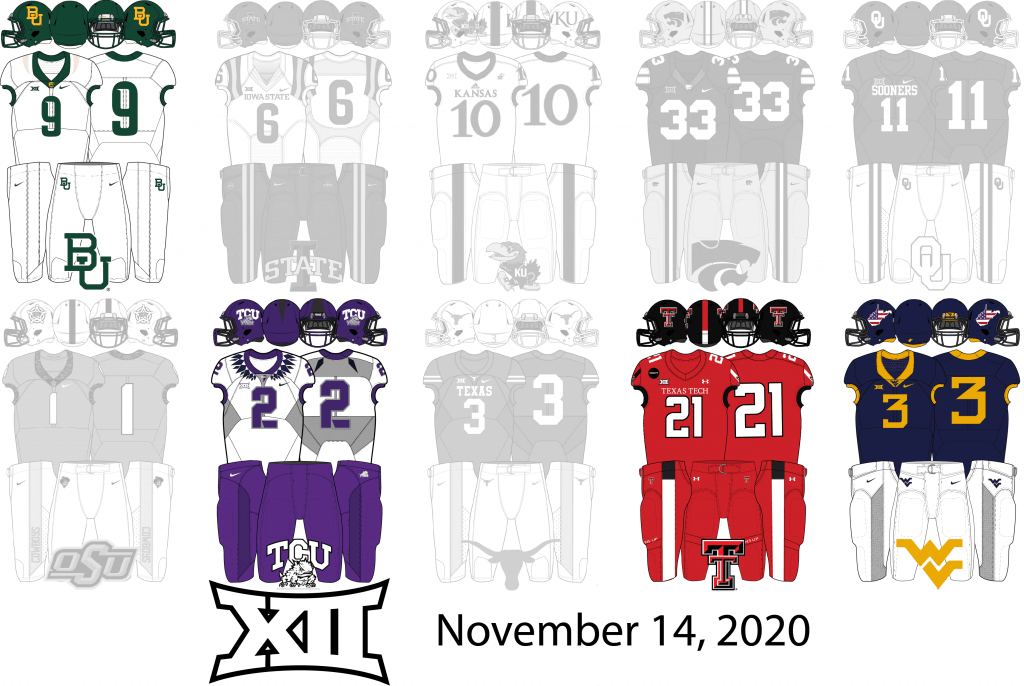 Big XII

Follow Kyle on Twitter here.
• • •
And here's Ethan with the B1G: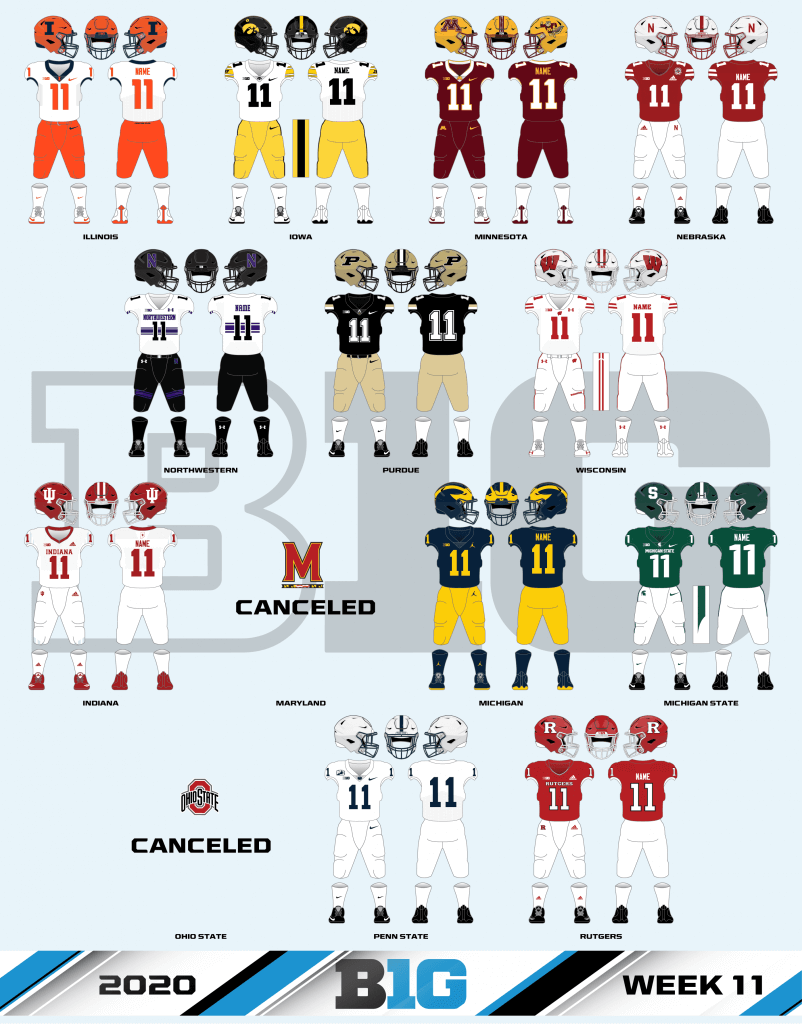 B1G




Welcome to the 2020 Oregon Ducks Uni Tracker. This little project was originally begun way back in 2008-09 by Michael Princip, who retired after several seasons, whereupon the project was continued by Tim E. O'Brien. He, too, retired from the tracking, but the project has been ably kept up by the man who also tracks the Pac12, Dennis Bolt.
Here's this week's Uniform Combo for the Ducks (you can click to enlarge):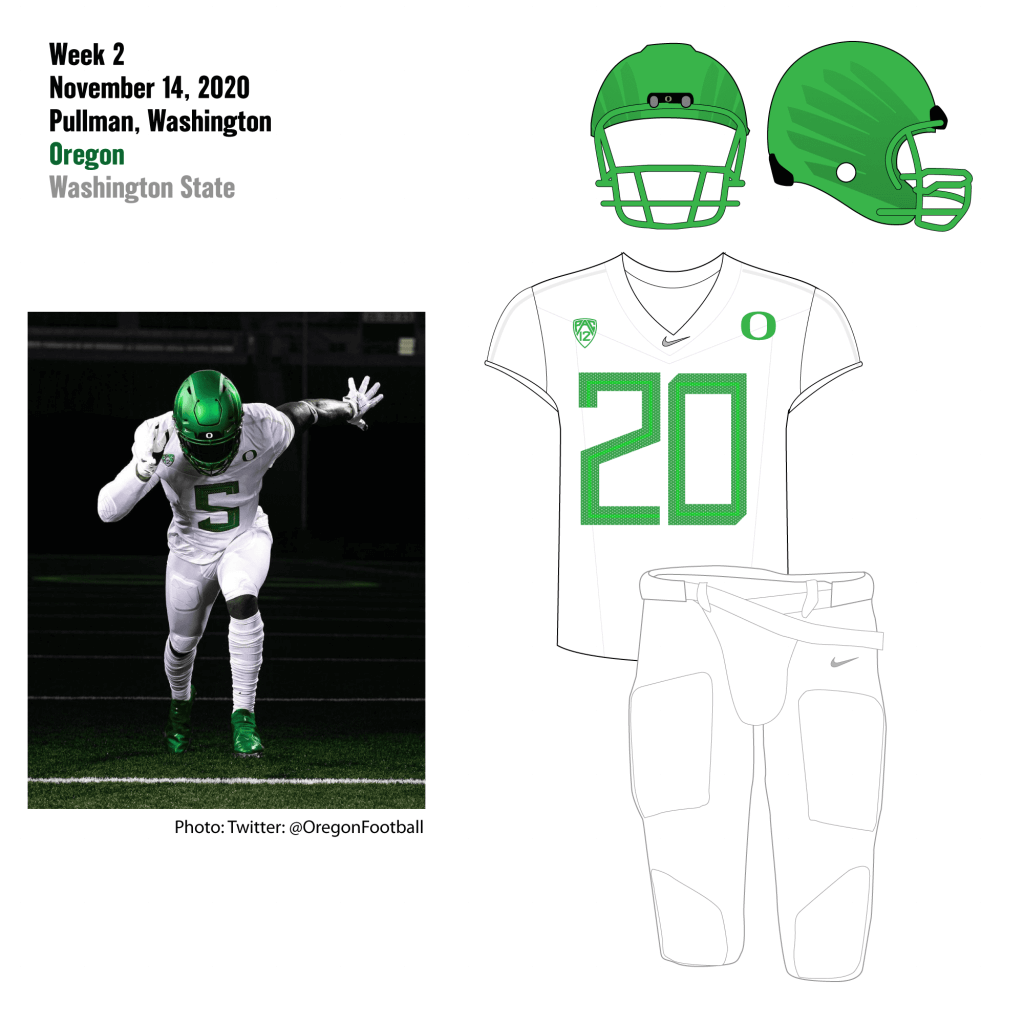 You can read about this uniform, and MUCH MORE, by checking out the Duck Tracker here!
Thanks Dennis!


Uni Watch News Ticker
By Phil

NFL News: The Rams have worn three different uniform combinations already this season, and they'll debut a fourth on Sunday against the Seahawks. What will that be? Royal over bone. … The Buffalo Bills will go white over royal against the Cardinals today, who are expected to wear red jerseys (and either white or red pants). … Helmet striping observation: "On the back cover of the book, Sports Illustrated: The Football Book, Larry Csonka of the Miami Dolphins is pictured," writes Kurt Rozek. "He looks odd without that horseshoe-shaped nose guard, but the helmet striping really jumps out to me. I've never seen the Dolphins without spacing between the helmet stripes. And the striping seems like it's bubbling or peeling. I checked in the Dolphins' uniform database and found no years in which they had fused helmet stripes. I just found this to be odd." … Today the New Orleans Saints will be dressing in mono-black vs. the 49ers. … The NFL remains intent on finishing the season without using a bubble but will consider various scenarios for the playoffs (WaPo link). … Intersting logo on this Houston Texans snapback (from Daniel Barrera) Full listing here.

College/High School Football News: "This was in a Facebook group from my hometown," writes Robert Turning. "Look at the number font/placement. I can't decide if it's cool or half-assed: 1932 Wooster (OH) High football team." … WHOOPS! That's not NC State's logo (good spot by James Gilbert). … The author of this article thinks the Sooners have one of the most iconic looks in NCAAFB.

Hockey News: As we all anxiously await the "reverse retro" unveilings (TPFIC), here's a pretty good article on the history of the Dallas Stars uniforms. … Speaking of the RR jerseys — here's some more teasers for the Avs. … Need a laugh? "I have on great authority that the Flyers are cashing in on the NBA trend and releasing this as a City Edition uniform," says Dennis Dugan. "Seems legit!" … Also teasing their RR jerseys are the St. Louis Blues.

NBA News: Are fan jerseys giving free agency clues? "Saw this Millsap Mavs jersey (accessed in Australia). Seems odd as he never played for them," writes Heath Morrell. "I was just about to press send and looked it up online and saw this just came in." … After years of San Antonio Spurs fans begging the team to release Fiesta-themed jerseys, those calls were answered, and everyone is pretty pumped about it. … On the flip side of the coin, New Orleans Pelicans fans aren't too thrilled with their new "City" alts. … This article ranks the top 5 new NBA uniforms. … ICYMI: Paul interviewed 76ers Prexy Chris Heck last week, and some of his comments some of his comments weren't particularly well-received in the city of brother love.

College/High School Hoops News: Thaden School in Bentonville, Arkansas has a gym sponsor. Submitter Chris Mattox says, "Not surprised because of the location, but just depressed by the corporate douchebagery." [I didn't want to change Chris' words, but that should be "gym advertiser" — PH] … Georgia Tech have unveiled new hoops uniforms.

Soccer News: New home, away and third jerseys for the Milwaukee Torrent, "Milwaukee's only pro outdoor men soccer team" (from Ryan Wozniak). I'm actually kinda digging that third kit!

Grab Bag: As the WBBL ("Womens Big Bash League") prepares for First Nations Festival of Cricket, check out some of the indigenous kits the clubs will be wearing. … Tiger Woods' caddy Joe Lacava was rocking a NY Rangers shirt under his bib at the Masters (from LevityNYC).


And finally… that's it for today. Thanks, as always to the whole SMUW crew. Everyone have a great (or at least good, it is 2020 afterall) week, and I'll catch you back here next weekend.
Peace,
PH