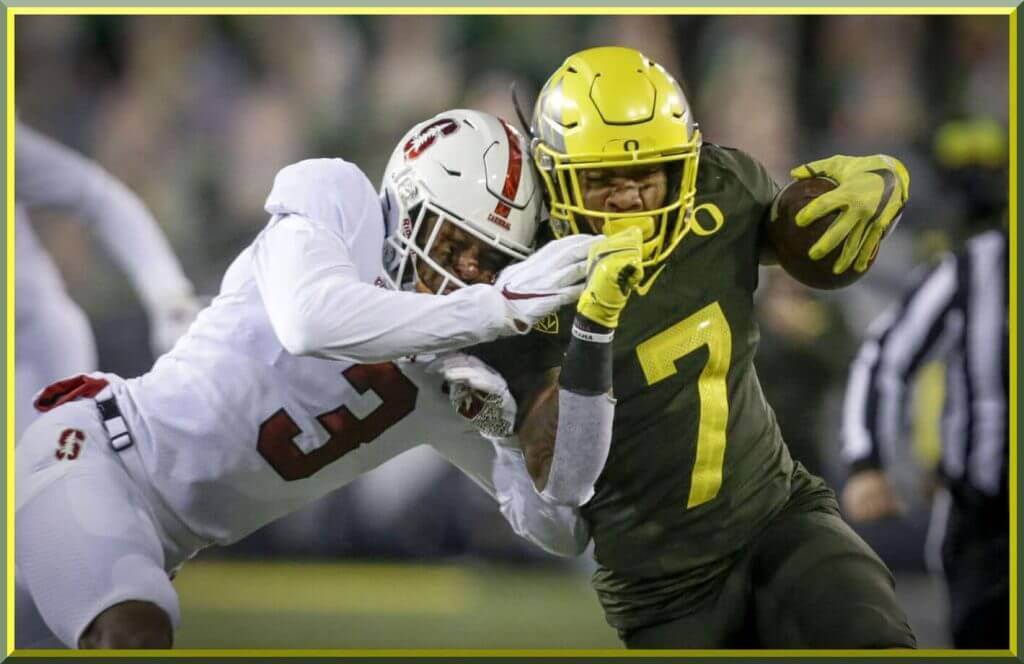 By Phil Hecken & the SMUW Crew
Follow @PhilHecken

Our long national nightmare is over!
We'd been waiting a while for this moment. We could feel it was coming. We knew it HAD to happen. And yet, it felt like an eternity for it to finally actually for real be confirmed yesterday.
Of course, I'm speaking of the PAC-12's return to play for the 2020 season, becoming the final piece of the Power 5 teams to finally take the field of play in the Age of Coronavirus. A new day has dawned. All is right, once again, with the world.
It wasn't quite without hiccups — both the Utah/Arizona and Washington/Cal games were cancelled, but the rest of the Conference managed to get in their games. Best of all (for me, anyway), it meant your defending Rose Bowl Champions, the Oregon Ducks, played their first game of the season. In the Granddaddy, the Ducks went full Nightmare — that's not hyperbole; the name of the "green" the team wore is called "Nightmare Green." Yesterday, they broke out the nightmare jerseys and pants, but topped it with yellow helmets. As many of you know, I've had a love/hate relationship with the Ducks for more than a decade, and while "nightmare" is better than the BFBS uniforms worn in the past, these aren't great. I mean green is a school color, but nightmare is pretty close to BFBS. Still, I'd rather the Ducks play in this shade than not at all.
The long national nightmare is over, at long last. But Oregon's nightmare green has just begun.
Here's TJ with your…
• • •
Sunday Morning Uni Watch
by Terry Duroncelet, Jr.
With more conferences back up and running, as well as other recent events, I only have one thing to say…
From Friday:
• Looks like Boise State missed the BFBS-on-Halloween memo by one week. Meanwhile, BYU looked c l e a n in all-white.
• Looks like NC State missed the BFBS-on-Halloween memo by one week. Meanwhile, Miami looked c l e a n in all-white. Wait a minute…
From Saturday:
• It may not be color-vs-color, but I'll take it!
• You can't erase the ghosts of your past. From Frank Mercogliano: "You can still see the ghosted Hawai'i number font from last year under this year's number font, which is more traditional."
• Oklahoma State's helmets from their game against Kansas State were *chef's kiss* (closer look).
• My kingdom for this game to be color-vs-color…
• I couldn't find any game pics, but Blaise D'Sylva noted that Georgia Southern wore 'GATA' on the right side of their helmets.
• Marshall wore camo decals against UMass on Saturday.
• Northwestern wore S&S decals against Nebraska.
• I still maintain to this day that Michigan State has one of the better all-white looks in college football.
• Contrast Matte– you know the drill by now.
• While we're on the subject: Notre Dame vs Clemson… N I C E.
• Loved Minnesota's helmets in their game against Illinois.
• Mississippi State wore some sweet throwback uniforms in their Homecoming game against Vanderbilt, with a nice video on the history of said uni. Recommended. Also recommended: the entire photo gallery.
That'll do it for Week 10. I don't have much of an outro, but with the MAC and PAC (12) back in action, things are starting to look normal again, whatever "normal" means at this current juncture. At any rate, I'll see you next week!
• • •
Thanks, TJ! OK, now on to the rest of your SMUW.


Memal's COMRADE MARSHALL'S…
5 & 1
Wait…what?
Yes the hed above is correct — Memal contacted me late yesterday afternoon to let me know he's really been under the weather and won't be able to do today's 5 & 1. Fortunately, once again, the inimitable Robert P. Marshall, III — Comrade Marshall to many of us — again was able to pinch hit in Memal's absence.
Robert's not much for words, but here's his substitute 5 & 1:
Robert actually sent me a 1 & 5 (one good and five bad), that I had earlier mistaken for a 5 & 1 (the traditional way). I've now corrected this oversight to read as Comrade had intended. So the list now reads as your five worst looking matchups, and the final one is yesterday's BEST matchup.
To anyone who read this list earlier as a traditional 5 & 1, my apologies, and apologies to Comrade Marshall as well.
__________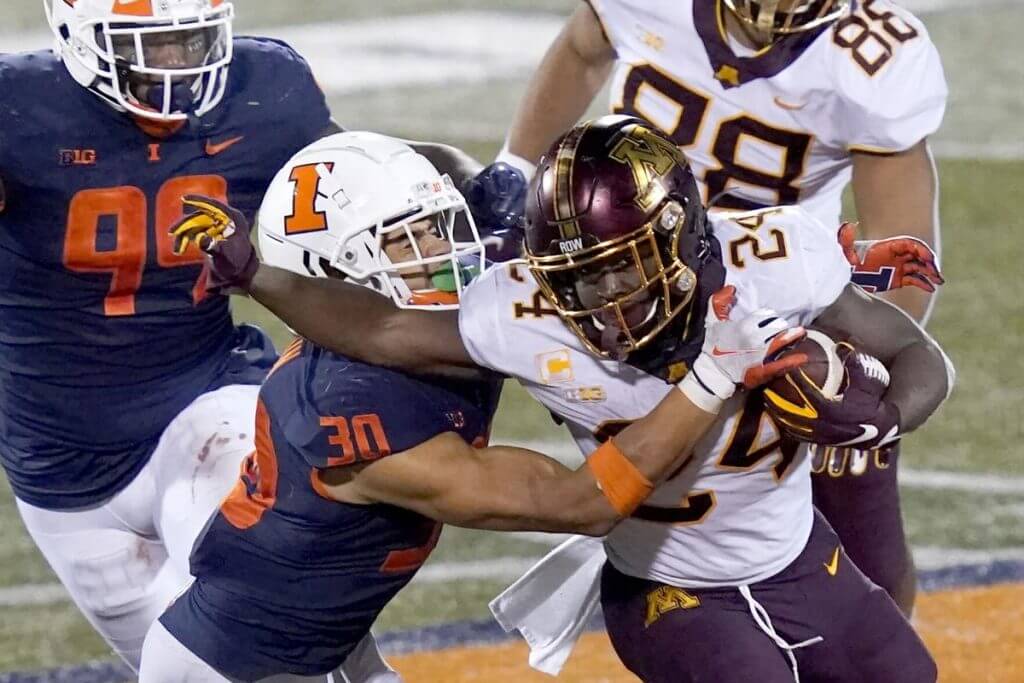 #5 BAD Minnesota-Illinois

2 teams, 6 elements, only one stripe, and it is barely visible. Sears catalog uniforms had more bells and whistles.
__________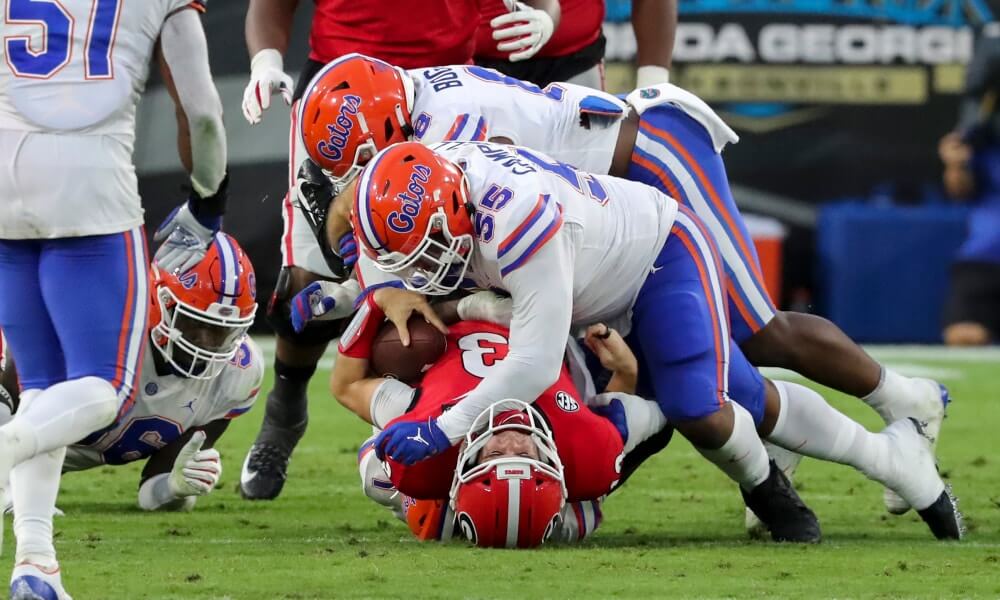 #4 BAD Florida-Georgia

I never like this matchup, it's the helmets being so close, there is always to much white and light grey. I'm sure the SHWM will love it, but Florida needs an overhaul, and the Bulldogs are plain and simple over rated.
__________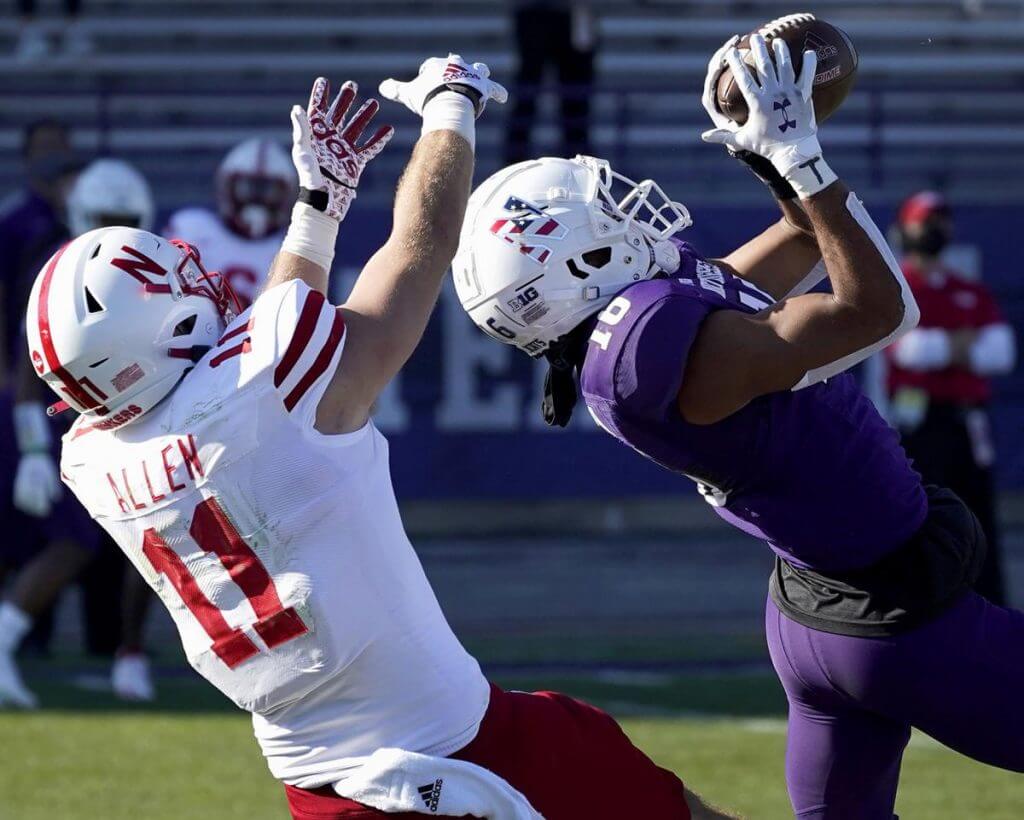 #3 BAD Northwestern-Nebraska

So purdy in the fall light with the red and purple, but a bad week for Northwestern to wear a white lid against a team that is always going to wear a white lid. Nice thinkin' there Wildcats.
__________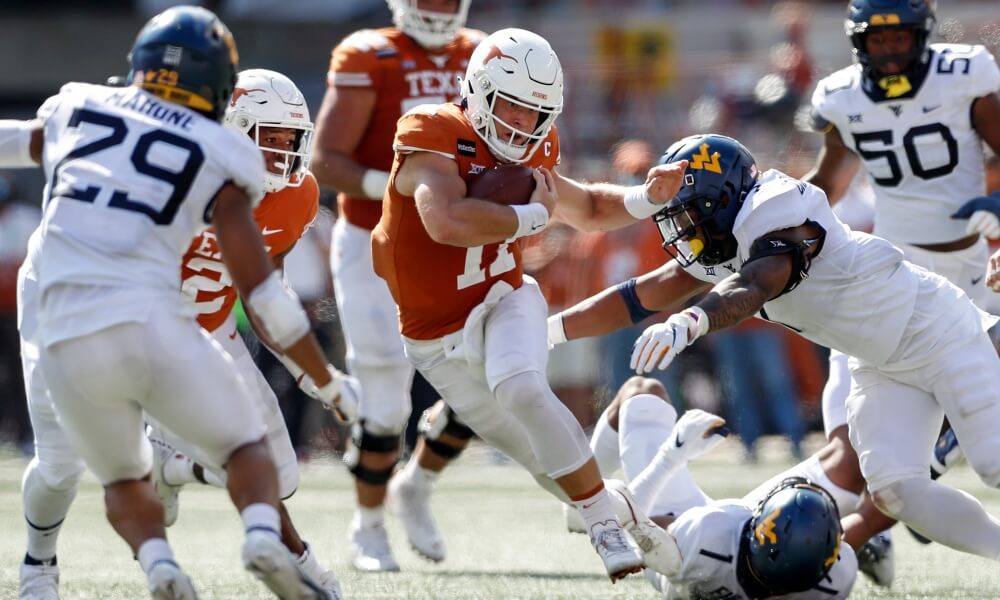 #2 BAD Texas-WVU

In baseball we would hit the ceiling if both teams wore white slacks. Would it have killed WVU to wear gold knickers? You do have them right?
__________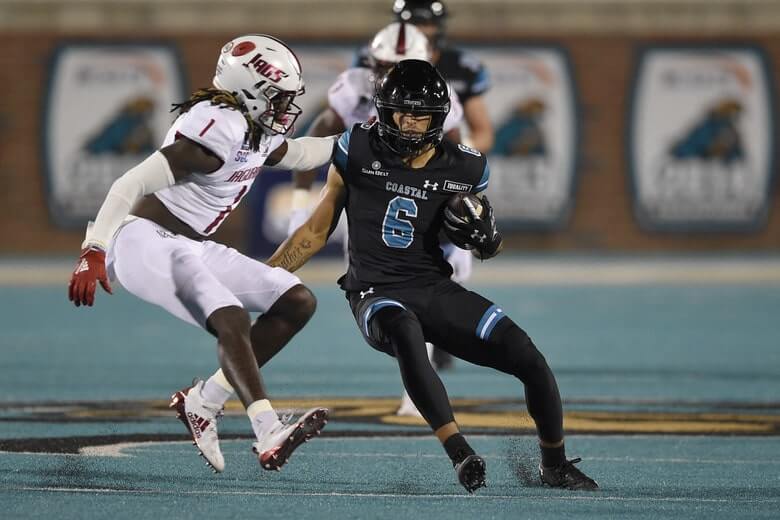 #1 BAD South Alabama-Coastal Carolina

Is there anything to like here in the least?
__________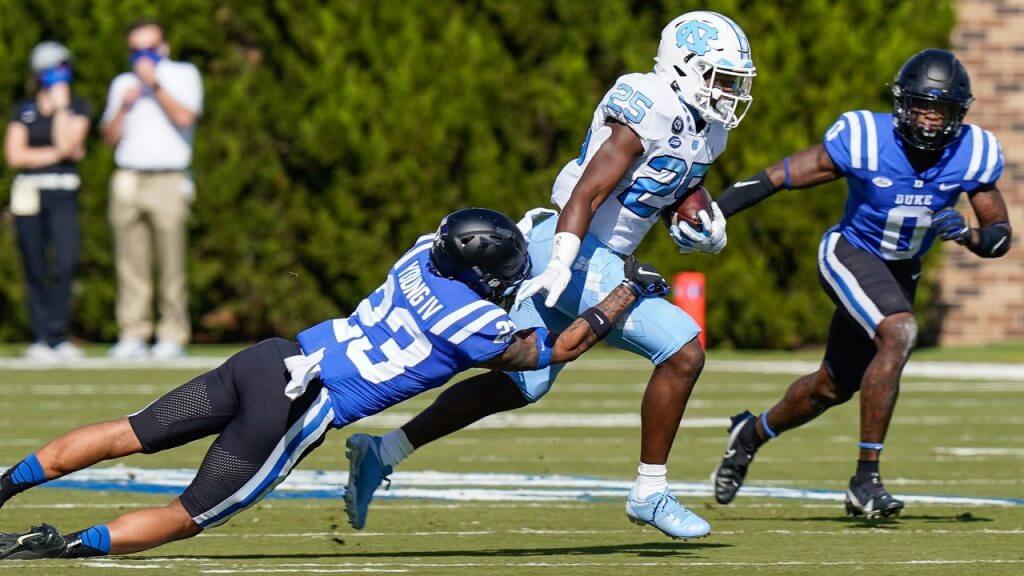 & 1 GOOD: Duke-UNC

I would rather a blue cap, but UNC looks great. and Duke has been using black for long enough that it is a school color, and it is needed here to make the game look right. If you take the black away, how many white or light colors would you have? Everything but the Duke jersey, it would have been gnarly.
• • •
Thanks, Comrade. That was an interesting take!


NCAA Uni Tracking
Uni Watch will again track the uniform combinations worn by the "Power 5" conferences. All of the 2019 trackers are back! Unfortunately, not all of the conferences are back. Here's how the trackers would track, if all the schools were playing:
We've got Rex Henry (tracking the ACC), Dennis Bolt (tracking the PAC-12), Kyle Acker (tracking the Big XII), and Ethan Dimitroff (tracking the B1G AND the SEC). Rex, Dennis, and Kyle and are all returning from 2015, and Ethan is back after joining the NCAA Uni Tracking a couple seasons ago. Ethan continues his dual role of tracking both the B1G and the SEC.
We started the year off with three conferences (SEC, B1G, PAC-12) not playing at all, but now all five of the Power 5 have returned to play.
Here are the Uni Trackers for the Power 5 Conferences (I've left all the previous tracker info in their usual slots, even if the conferences aren't playing. In case you want to click on any of the links):
+ + + + + + + + + +
Rex is up first today (ACC):
• • •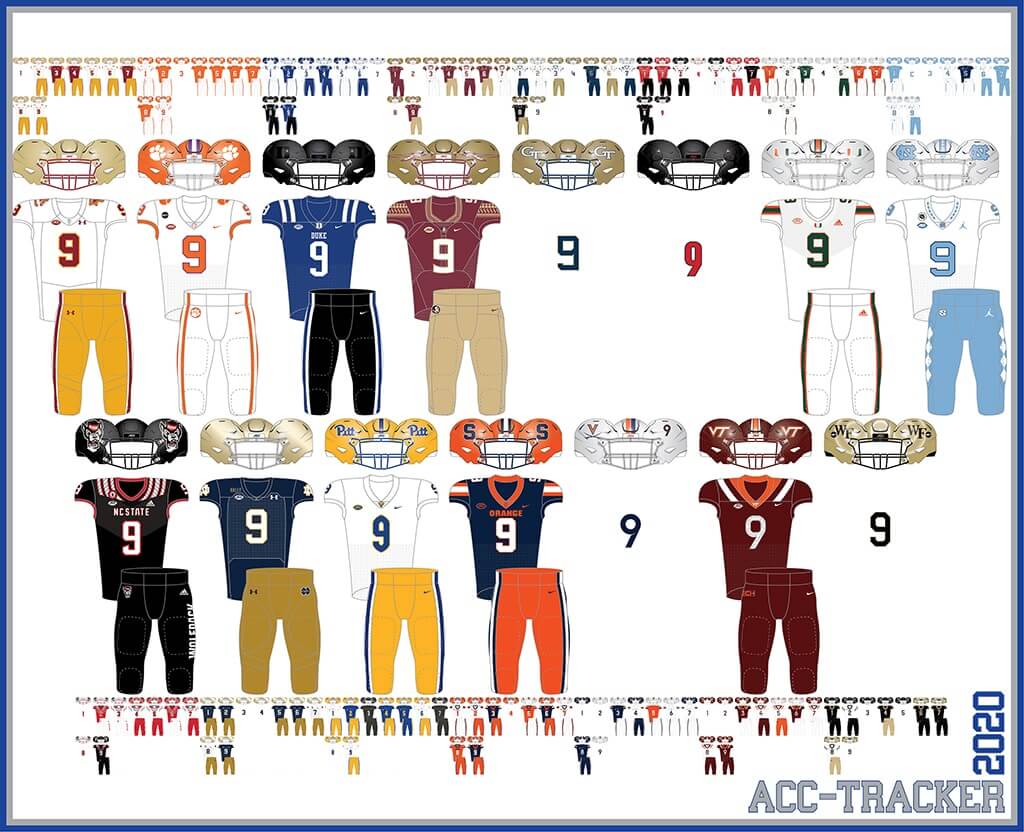 ACC

More Here.
Follow Rex on Twitter here.
• • •
And now, here's Dennis with the PAC-12: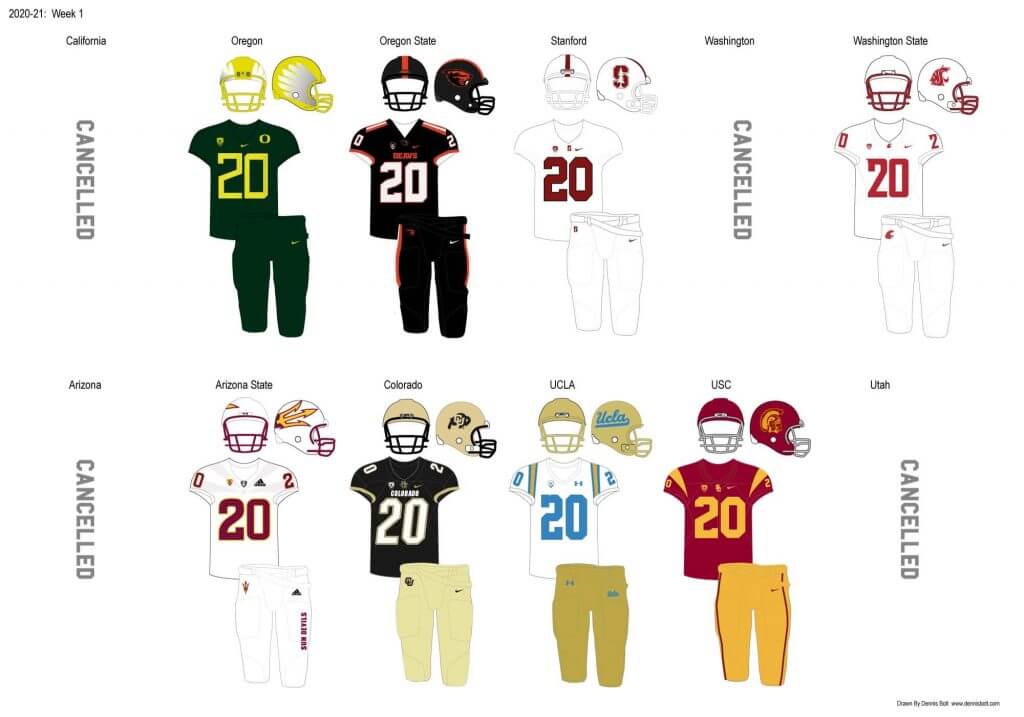 PAC-12

More here.
Follow Dennis on Twitter here.
• • •
And here is Ethan, with the SEC:
SEC

And be sure to check out Ethan's WVU Mountaineer Tracker.
Follow Ethan on Twitter here.
• • •
And here is Kyle with the Big XII: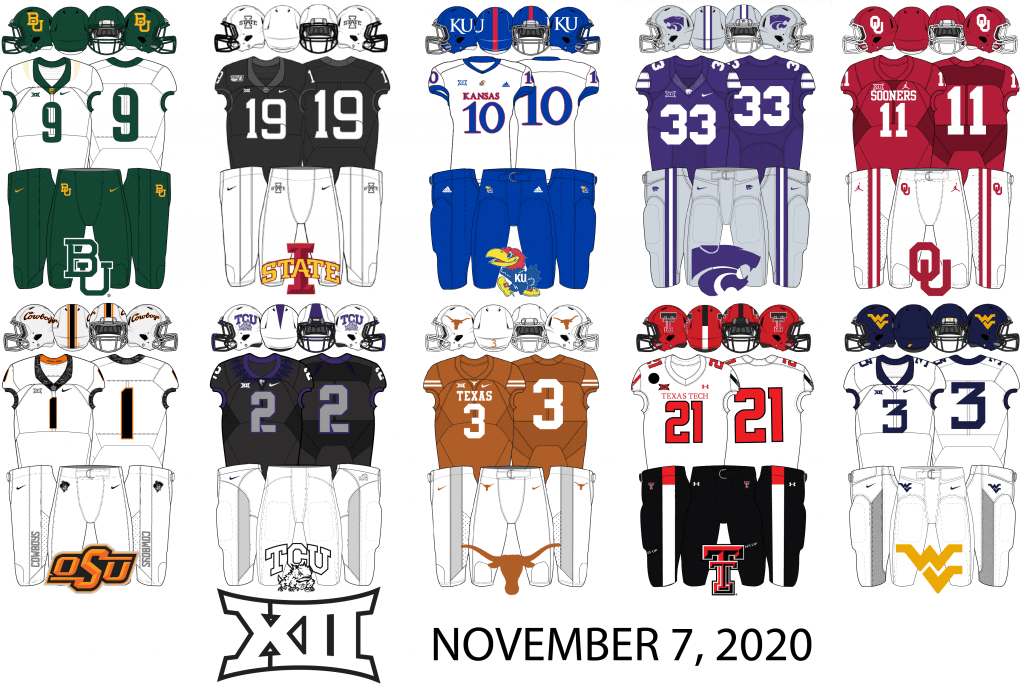 Big XII

Follow Kyle on Twitter here.
• • •
And here's Ethan with the B1G: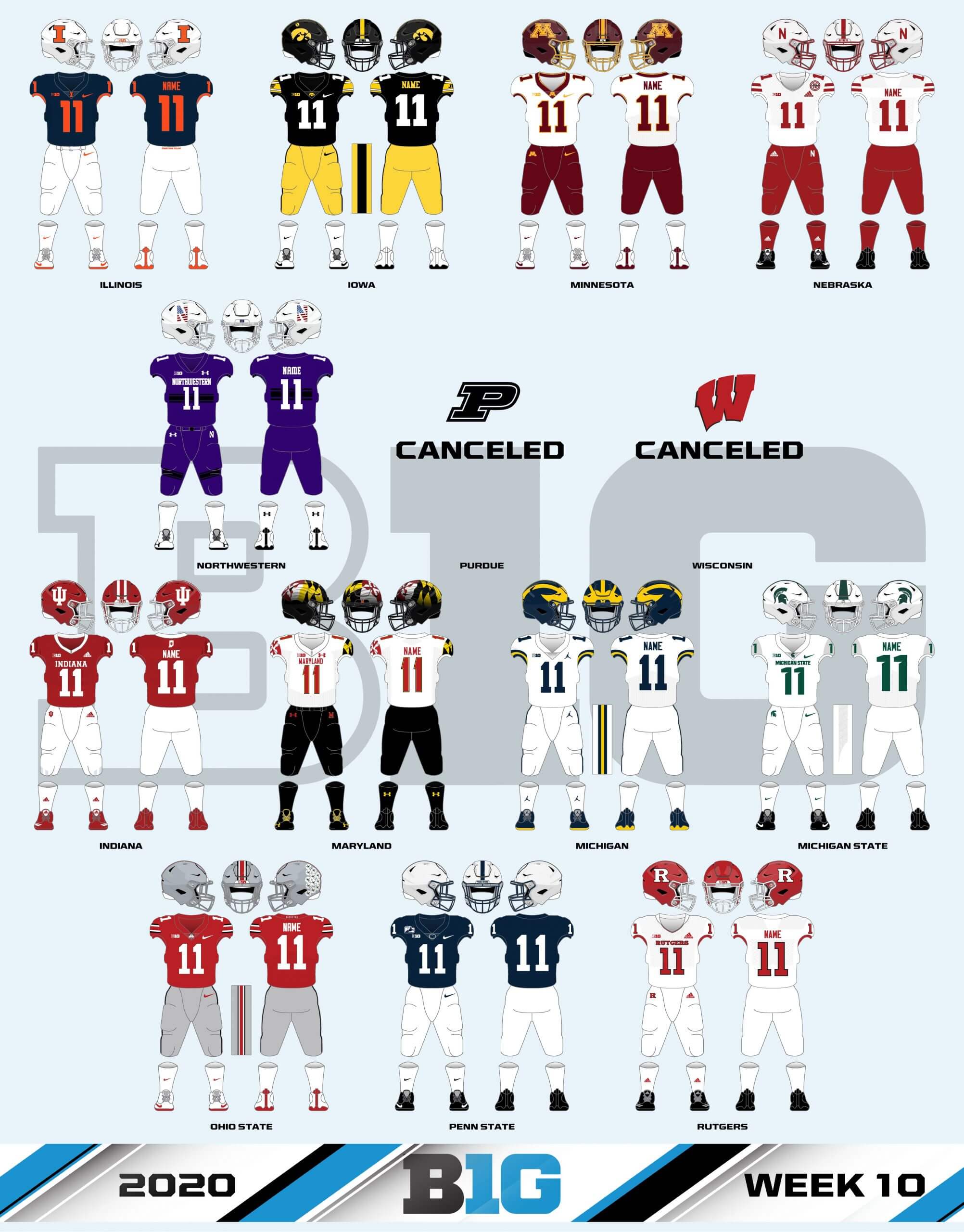 B1G




Welcome to the 2020 Oregon Ducks Uni Tracker. This little project was originally begun way back in 2008-09 by Michael Princip, who retired after several seasons, whereupon the project was continued by Tim E. O'Brien. He, too, retired from the tracking, but the project has been ably kept up by the man who also tracks the Pac12, Dennis Bolt.
Here's this week's Uniform Combo for the Ducks (you can click to enlarge):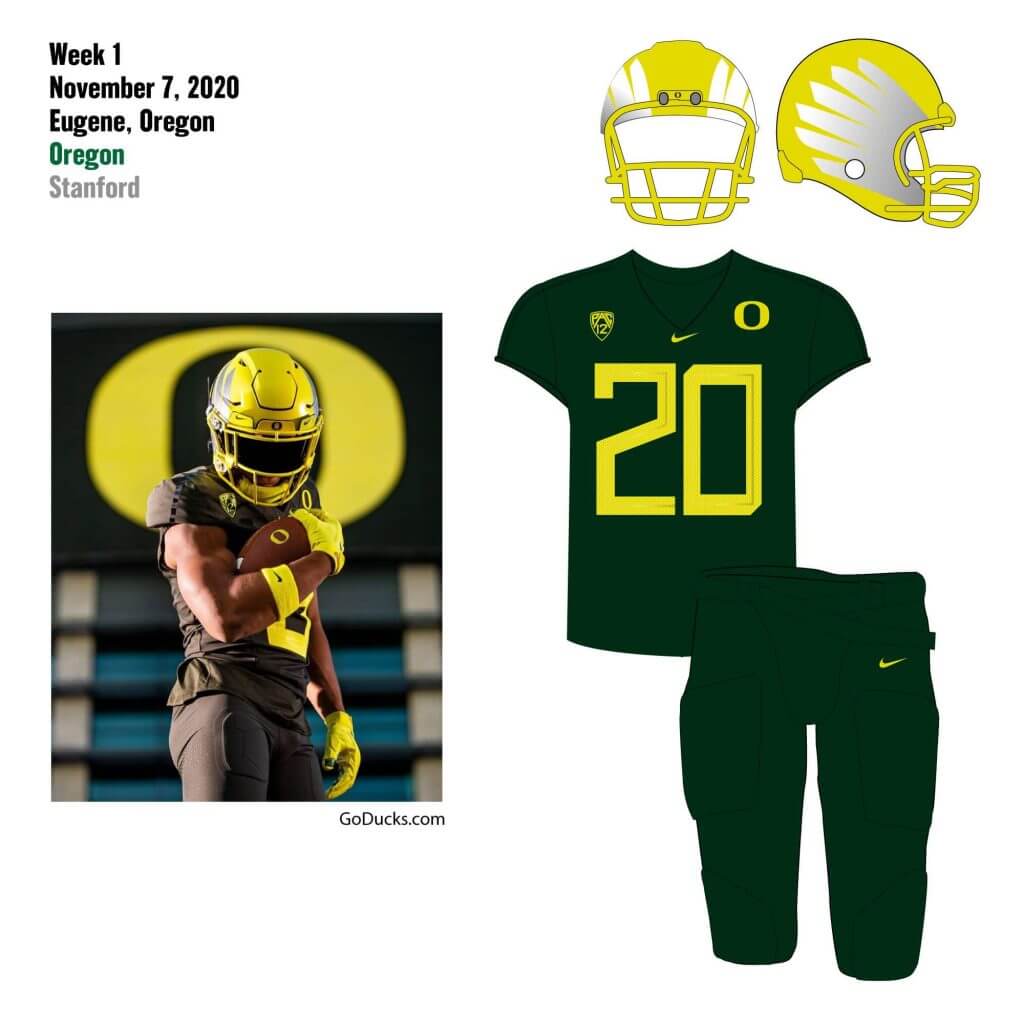 You can read about this uniform, and MUCH MORE, by checking out the Duck Tracker here!
Thanks Dennis!


Uni Watch News Ticker
By Phil

Baseball News: It's a little bit difficult to see in this old press clipping, but during a Congressional Baseball game (sorry, the year isn't identified, but we can narrow it down by uni-style), then-Senator and current President-elect Joe Biden wore number 46. Of course, once he's officially sworn in, Biden will be the 46th President of the United States (from Pete Clark).

NFL News: ICYMI: The Los Angeles Rams plan to introduce a new uniform each of the next two seasons, and if they had their way (and the NFL would allow it), they'd like to release a new uni every year (from Brian Spiess). … The New Orleans Saints, who lost for the first time in two years wearing their gorgeous "throwbacks" against the Raiders, will attempt to right the ship this weekend by wearing the throwbacks again vs. the Bucs. … Earlier this week Paul noted that two players wearing #1 as QB's will face each other in what we think is an NFL first. Here are some other best matchups featuring QB's wearing the same number. … The Bills will go mono-blue against the Seahawks, who may go mono-gray who will go white over dishwater. … "The ESPN app is using an old NFL shield logo as part of a photo illustration about coronavirus," says Geoff Poole. "Easy mistake to make, I mean it's only been 15 years or so since that shield has been used." … Good spot by Taylor Brandine who noticed Monday night the New York Giants wore their throwback uniform and their captaincy patches were red. Previously, they had been blue. … You've heard of game worn jerseys, but how about a game worn polo shirt? And of all people it's former Dolphins offensive coordinator Chris Foerster's polo shirt (from Texas Trev).

Hockey News: There was a notable color vs. color game Friday night in the BCHL when the Trail Smoke Eaters visited the Cranbrook Bucks. Orange vs. Green! Submitter Wade Heidt adds, "Don't see that often." … New pads for Capitals goalie Henrik Lundqvist (from Mike Chamernik).

NBA News: The Golden State Warriors' decision to pay homage to their Oakland roots earned the stamp of approval from their former player Matt Barnes. The now-retired wingman recently credited the Dubs organization for honoring the "We Believe" era, of which Barnes was part. … ICYMI: Ben Simmons and Allen Iverson have teased the new Sixers unis.

Soccer News: Austin FC, who are joining Major League Soccer for their inaugural season in 2021, have released a video teaser for their new kit.

Grab Bag: Interesting article here from Jeremy Brahm Did you know that Holyoke, MA, is the home of volleyball? I didn't (Jeremy did), but an inaccurate Holyoke police patch has brought new attention to it.


And finally… thanks to the SMUW Crew (and welcome back Dennis!), as always, for their efforts, and especially to Comrade Marshall for pinching in for Memal on the 5 & 1 at the very last minute. Feel better Memal!
Everyone have a good week, and I'll catch you again next Saturday.
Peace,
PH