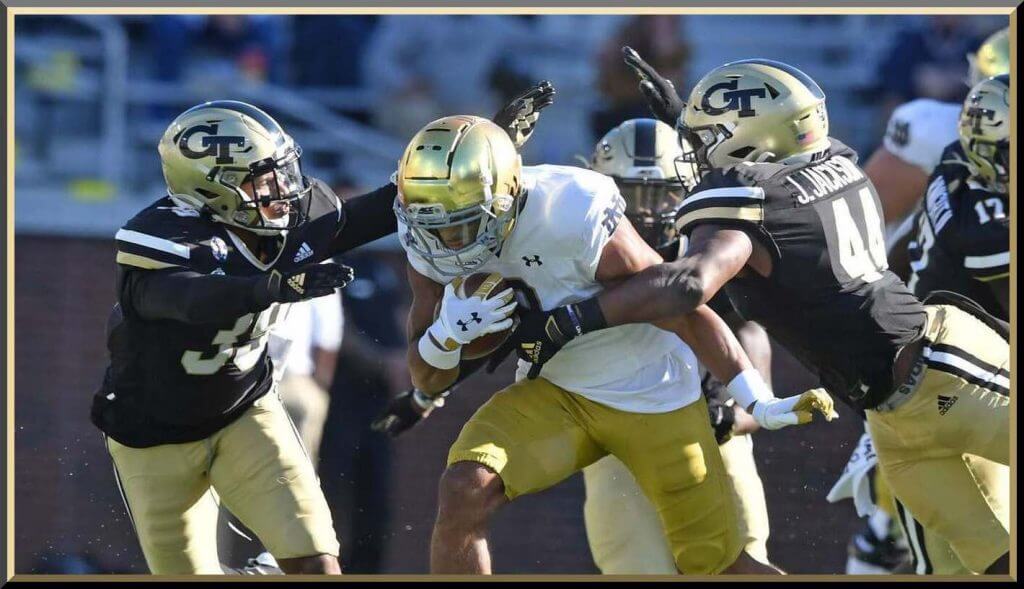 By Phil Hecken and the SMUW Crew
Follow @PhilHecken

We had a throwback game down in Atlanta yesterday, as the Georgia Institute of Technology Yellow Jackets honored its famed 1980s Black Watch defense, by wearing special throwback black jerseys with gold helmets and pants. The unis approximated what the Ramblin' Wreck wore for home games under head coach Bill Curry from 1980-86. You can read more about those unis and teams here.
I have vague memories of these unis — I was in my teens during those years, and my pop refused to pay up for cable, so I may have seen them once or twice on TV, and a couple times in magazines. But I think they look great: Gold helmet, with a black stripe and black interlocking "GT", black jersey with white and gold stripes — nice block numbers and letters, and gold pants with a black/white/black stripe.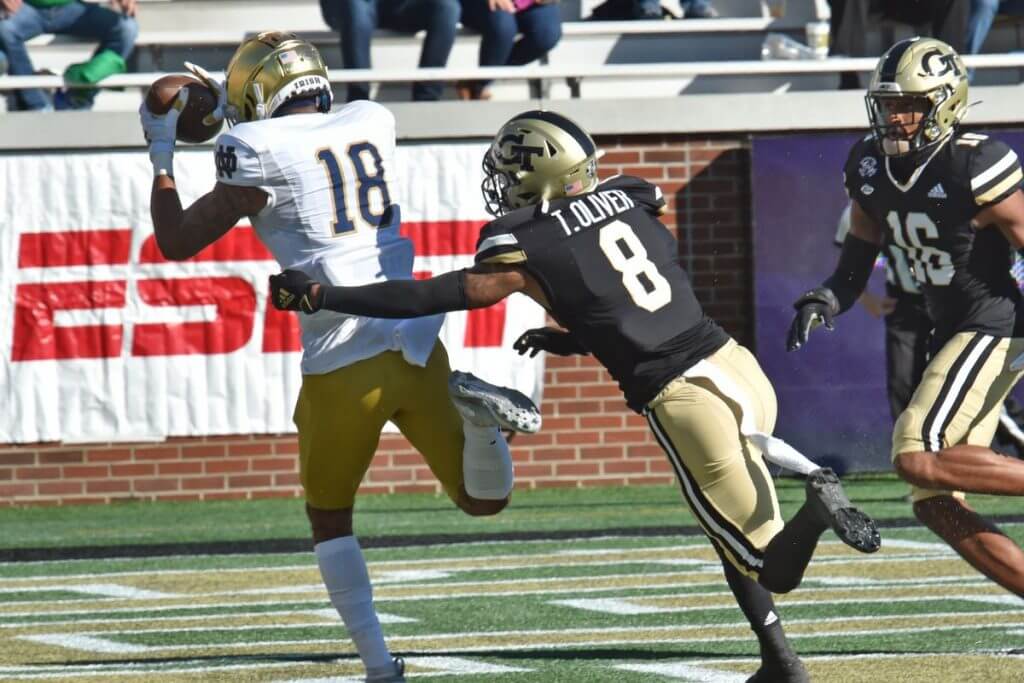 Here's a good look at the helmet — in addition to the black stripe and GT, the cage was also black: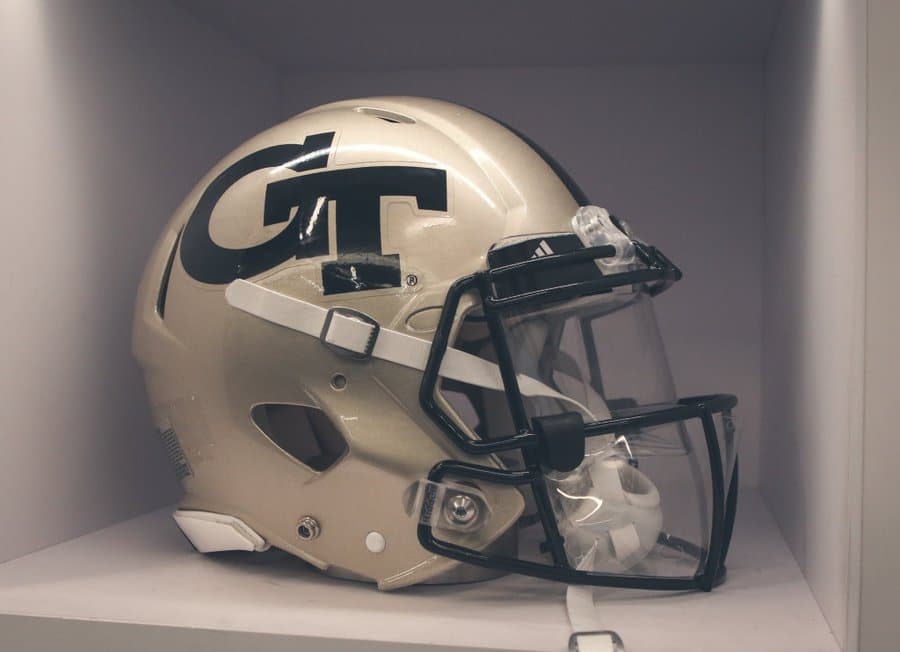 The great Blaise D'Sylva notes GT has quite the helmet history.
I know COVID has thrown everything into a tizzy this season, so I'm not going to criticize GT's timing in breaking this uni out. I do question whether teams sometimes don't look at scheduling — because, contrast-wise, Notre Dame (their opponents yesterday) might have been one of the worst teams to break these out against.
I had actually forgotten GT was throwing back yesterday, and I happened upon the game as I was flipping through channels. When I stopped on the game, I saw a long shot (not this particular one, but similar):
9️⃣3️⃣ yards to the 🏠

Longest fumble return in @GeorgiaTechFB history! #ACCFootball

📺 https://t.co/ieMxN6MsOQ pic.twitter.com/TCFn99VCTL

— ACC Football (@ACCFootball) October 31, 2020
If you know GT, you probably are aware they often wear white at home, and well, Notre Dame's dark navy jersey looks quite similar to the one GT wore yesterday (at least in a long shot). So when I watched the first play or two, I actually thought GT was Notre Dame and vice versa. Both teams wear gold helmets and pants (in similar tones), and until I got a close up, I actually mixed up the teams. Once I realized GT was in throwbacks all was right with the world. It would have been better if GT had worn these against a team that had some different colors!
You can get a closer up look at the unis in the hype video GT produced prior to the game:
⚫️ 🔥 ⚫️ 🔥 ⚫️#4the404 /// #teamadidas pic.twitter.com/J0flZJr2Jh

— Georgia Tech Football (@GeorgiaTechFB) October 31, 2020
And with that, I'll now turn the rest of this section over to TJ, who will bring you the rest of your…
• • •
Sunday Morning Uni Watch
by Terry Duroncelet, Jr.
Not gonna lie, time constraints got the better of me last week, and my portion of the column turned out… BAD, in my opinion. Case in-point: I neglected to mention South Florida's rather Beetlejuiceian unis from last Friday! But hopefully, today's column fixes all of that.
From Thursday:
• Georgia Southern wore camo decals against South Alabama, although they were hard to see from afar (I guess that's the point??).
• When it comes to "bony" road uniforms, these Rams showed these Rams how it's done on Thursday night against Fresno State.
From Friday:
• Huh. So you can apparently bleach decals. How 'bout that.
• Sweet socks sighting in the Wyoming/Hawai'i tilt.
From Saturday:
• Not exactly the look that they should've gone with, but decent for Skeleton Christmas.
• Memphis and Cincinnati looked outstanding on Saturday.
• At the very-least to me, it seems like there was an abnormally-large number of teams going all-white, on a day that normally calls for, well, the opposite of that. I'm omitting all nonargument teams from this list (like Texas, for example), but these teams included (but almost certainly not limited to): Northwestern, UAB, Rice, TCU, Mizzou, North Carolina, Temple, and probably many others that I missed.
• Contrast Matters: Role Reversal Edition. My brain genuinely defaulted to all-blue Air Force being Boise State for about two seconds, and then quickly realized that the Broncos are in white/white/orange. Oh, and the lack of the blue turf thing, I guess.
• Great contrast between Purdue and Illinois yesterday. The only real reason that I'm mentioning this game…
• …is because I would've died laughing if Syracuse wore this in their game against Wake Forest (which was the same day as Purdue vs. Illinois). Alas, they instead chose to live up to their team name.
• Consistency "fades" into obscurity, thanks to Troy's varying helmet models (god, I hate myself for writing that line). H/T to Johnny Memphis on Twitter.
• Vanderbilt wore black/gold/black at home against mono-white Ole Miss yesterday.
• I'm very thankful for Blaise D'Sylva's diligence, because it was impossible to find decent pictures of Rice's helmets. Blaise is on it, however.
• It's rare these days when Louisville's perpetual costumes are sung with high praises around these parts, but given the special occasion yesterday, I can get behind this look.
• Who won the helmet tilt: Mizzou, or Florida? Either way, both teams looked stellar, especially Florida in the fauxbacks. Of course, there was one ugly tidbit, and it wasn't the unis.
• Color-vs-color action between San José State and New Mexico.
• From Kentucky Football Tracker's Twitter: "Drake Jackson will wear number 65 today to honor UK O-Line coach John Schlarman in his fight with cancer.". Also from that same game: who had "Alcoholic beverage company makes hand sanitizer for college football team" on their 2020 Is On Some Other Shit bingo card?
• Duke knows how to get into the spirit of things.
• BYU wore white at home against Western Kentucky.
And with that, that ends Weeks 9, as well as October's slew of games. Hope you all enjoyed my indulgence of the BFBS, hope you all had a fun and safe Halloween, and I'll see you next week. (immediately turns on the hottest water possible in the shower to wash the sin of BFBS away)
• • •
Thanks TJ! Ok — now for the rest of today's SMUW…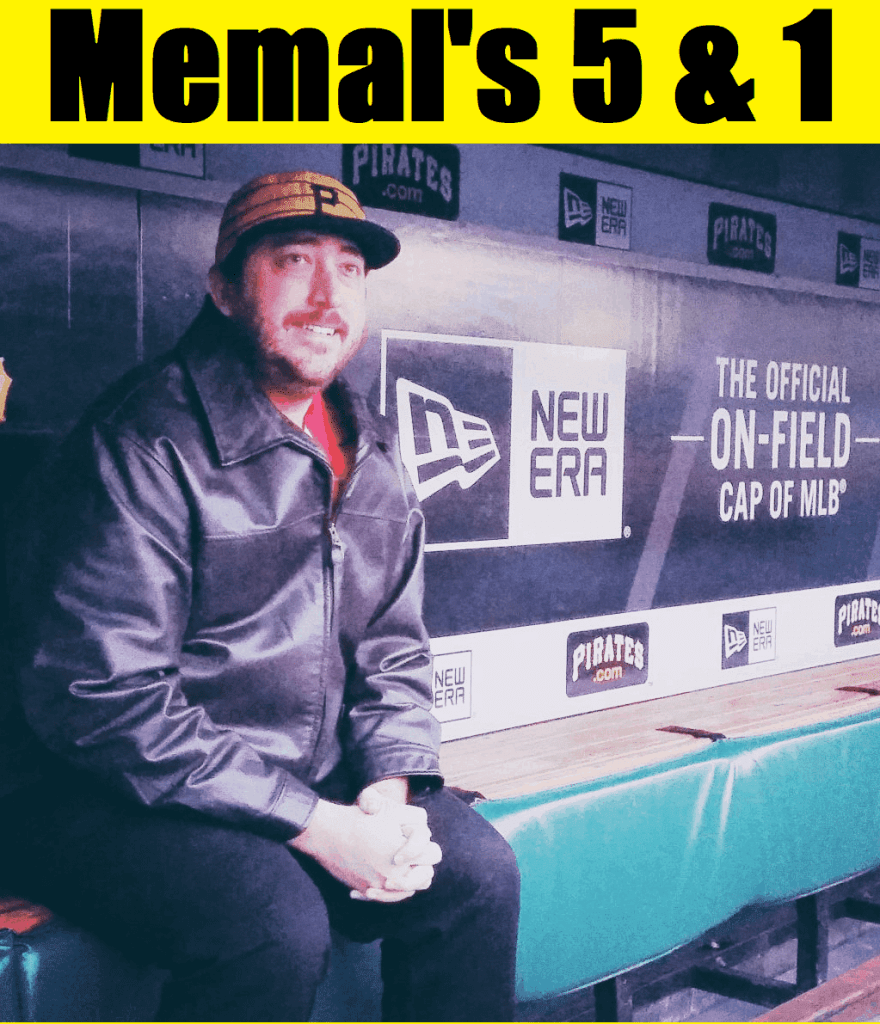 Memal's 5 & 1
Following in the footsteps of the original "5 & 1," Jim Vilk, Catherine Ryan after him, and finally Joe Ringham, in 2019 we introduced a new "5 & 1" (five good looking and one stinker) uni-vs-uni matchups — Michael "Memal" Malinowski. Like Joe, Catherine & Jim, Memal will pick HIS 5 best looking/1 awful matchup, and occasionally have some honorable mentions (both good and bad). You may agree and you may disagree — these are, after all, just opinions and everyone has one. Feel free to let him know what you think in the comments section.
Here's Memal
• • •
I prep for this piece throughout the week by making notes as to anything special or interesting going on that weekend as it's announced before Saturday. Friday I notified the amount of times I typed BFBS next to a game and wondered, What's up with all these teams going that way this weekend? Then I got on a Zoom call for work and saw half the people were dressed up in a costume and realized, "Oh yeah! It's Halloween Saturday!" So, I think the holiday helped me forget my usual bias against BFBS, which, when paired with another weekend jam packed full of terrific looking games, made this by far the toughest list to assemble this season.
__________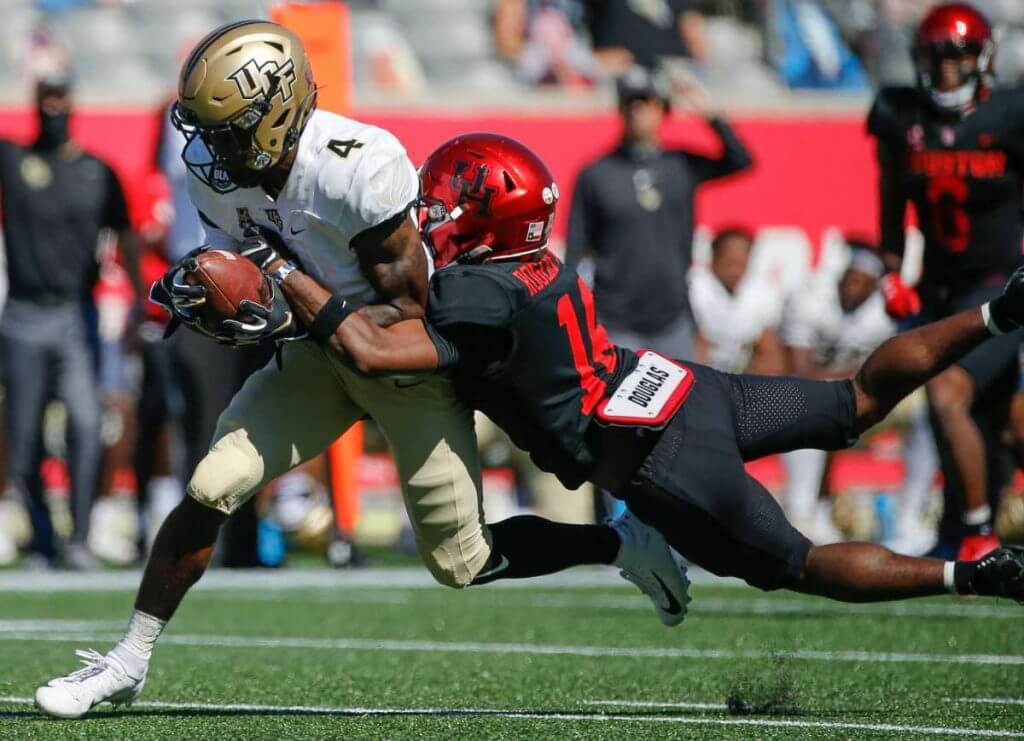 5. UCF @ Houston

I think the Golden Knights look best whenever they wear gold helmets and pants. That combination provided a brilliant contrast for the Cougars BFBS set. I always like it when teams update their helmet logo to the BFBS look as well.
__________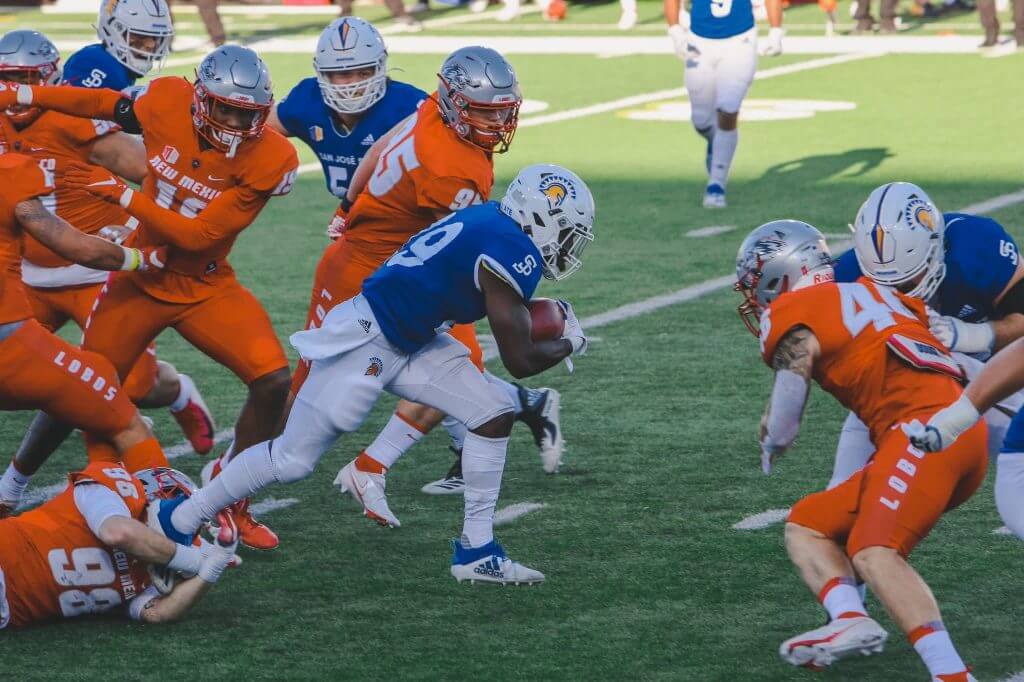 4. New Mexico @ San Jose State

This matchup made the list due to being a bold and bright color on color matchup that featured two of my favorite helmet designs. Their simple uniform elements, while nice, kept me from putting this any higher.
__________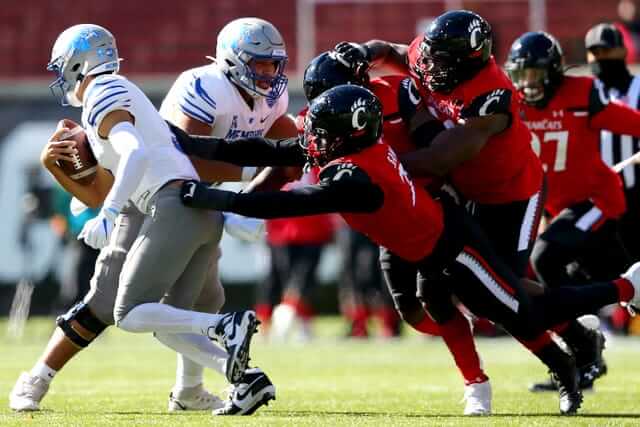 3. Memphis @ Cincinnati

The gray helmet and pants look the Tigers have been sporting lately is really growing on me. I think they could throw some blue tiger stripes on the helmet like they have on the sleeves and it'd look just as good. The Bearcats provided a terrific contrast with their black/red/black combo, a set I'd like to see them sport more often.
__________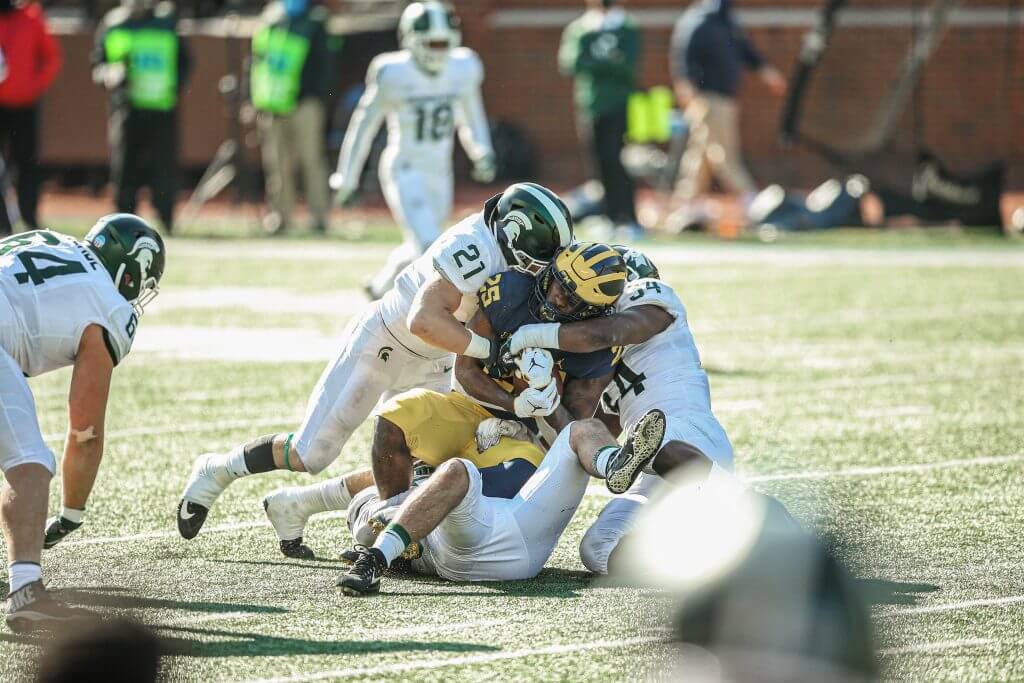 2. Michigan State @ Michigan

A beautiful fall day, two old rivals, and a rivalry trophy on the line is what set this game above from the other traditional looking matchups. That they stuck with their regular home and away uni sets put this game in the top 5.
__________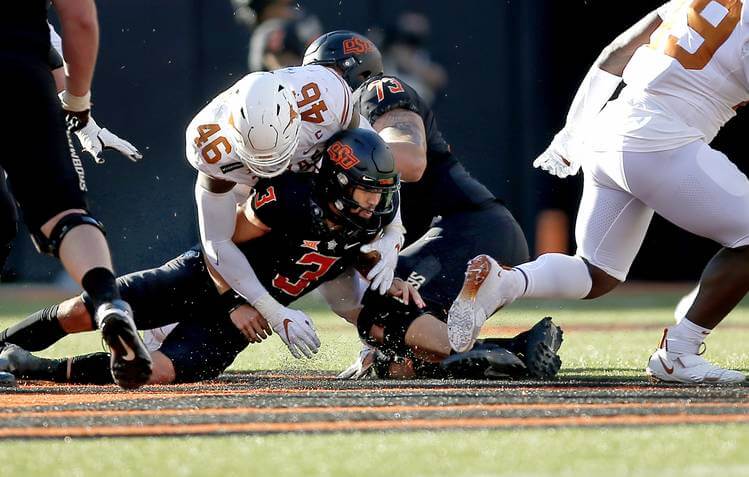 1. Texas @ Oklahoma State

Two BFBS from me in one week?!?! It must be Halloween! The Cowboys wore my favorite BFBS uni set Saturday. The Longhorns burnt orange and white helped the Ok State's orange really pop! Helping push it to the top was how exciting a finish this game was as well.
__________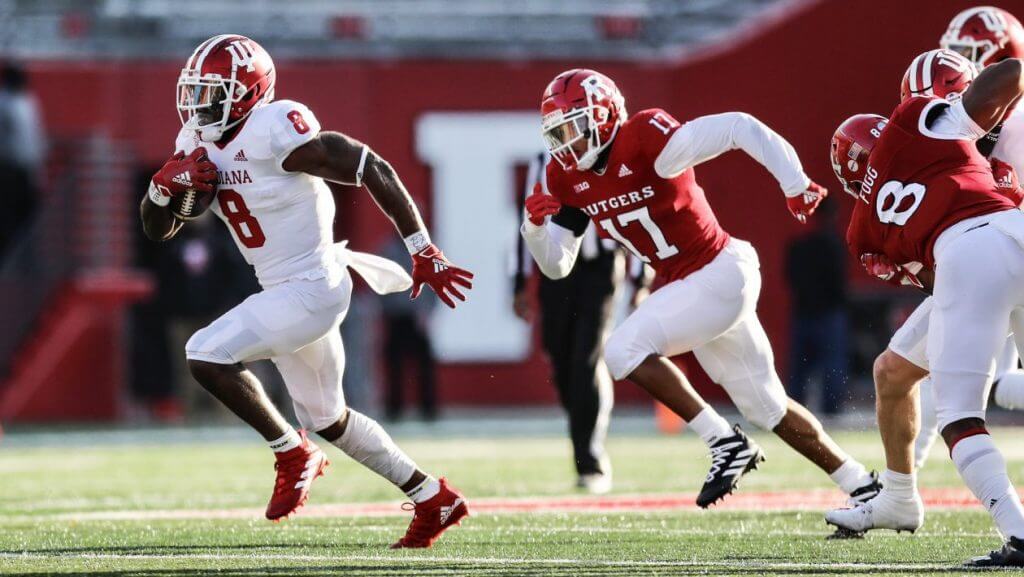 &1 Indiana at Rutgers

This scrimmage-looking matchup featured two of four Big 10 teams with red and white primary colors. It was so visually bland if I were to use a spice to describe the way this looked on the field it would be flour. Another case of not bad uniform sets, just a brutal pair to look at on the field together.
• • •
Thanks, Memal! OK readers? What say you? Agree or disagree with Memal's selections? Let him know in the comments below.


NCAA Uni Tracking
Uni Watch will again track the uniform combinations worn by the "Power 5" conferences. All of the 2019 trackers are back! Unfortunately, not all of the conferences are back. Here's how the trackers would track, if all the schools were playing:
We've got Rex Henry (tracking the ACC), Dennis Bolt (tracking the PAC-12), Kyle Acker (tracking the Big XII), and Ethan Dimitroff (tracking the B1G AND the SEC). Rex, Dennis, and Kyle and are all returning from 2015, and Ethan is back after joining the NCAA Uni Tracking a couple seasons ago. Ethan continues his dual role of tracking both the B1G and the SEC.
But this year the B1G and PAC-12 aren't playing at all. So we won't have tracking for them this season. UPDATE: The B1G has begun play and the PAC-12 expects to begin play in next weekend.
Here are the Uni Trackers for the Power 5 Conferences (I've left all the previous tracker info in their usual slots, even if the conferences aren't playing. In case you want to click on any of the links):
+ + + + + + + + + +
Rex is up first today (ACC):
• • •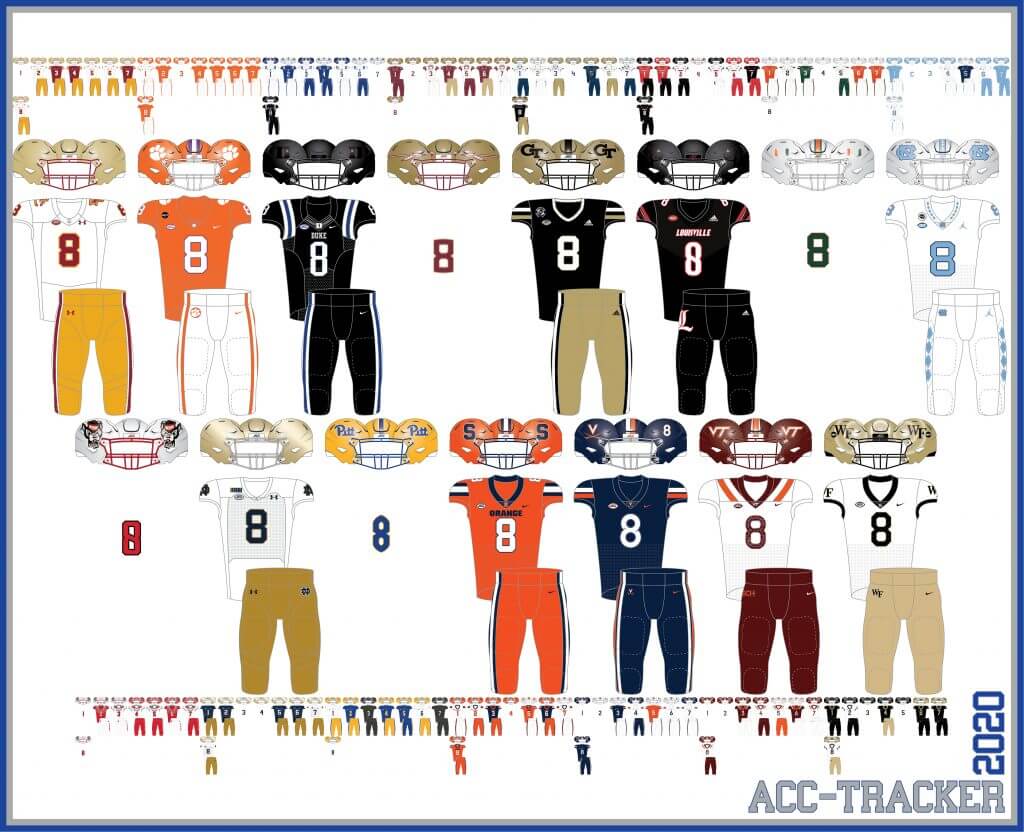 ACC

More Here.
Follow Rex on Twitter here.
• • •
And now, here's Dennis with the PAC-12: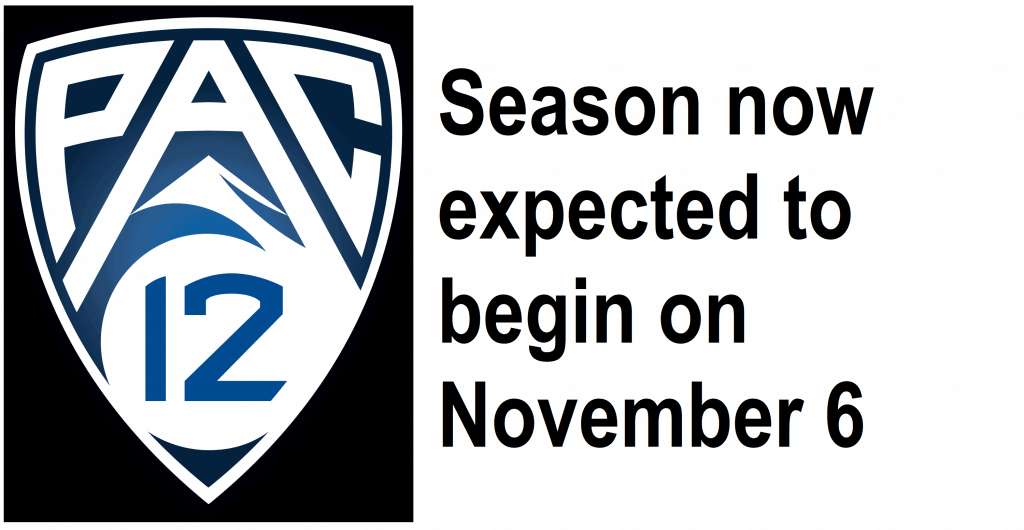 PAC-12

More here.
Follow Dennis on Twitter here.
• • •
And here is Ethan, with the SEC: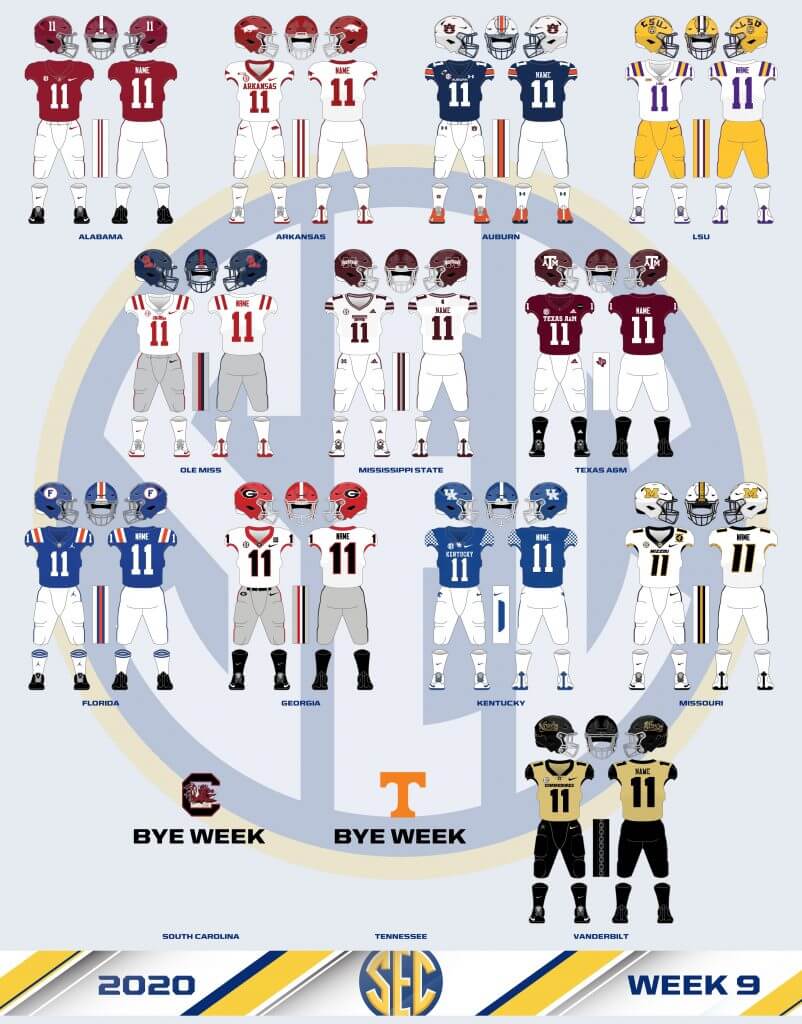 SEC

And be sure to check out Ethan's WVU Mountaineer Tracker.
Follow Ethan on Twitter here.
• • •
And here is Kyle with the Big XII:
Big XII

Follow Kyle on Twitter here.
• • •
And here's Ethan with the B1G: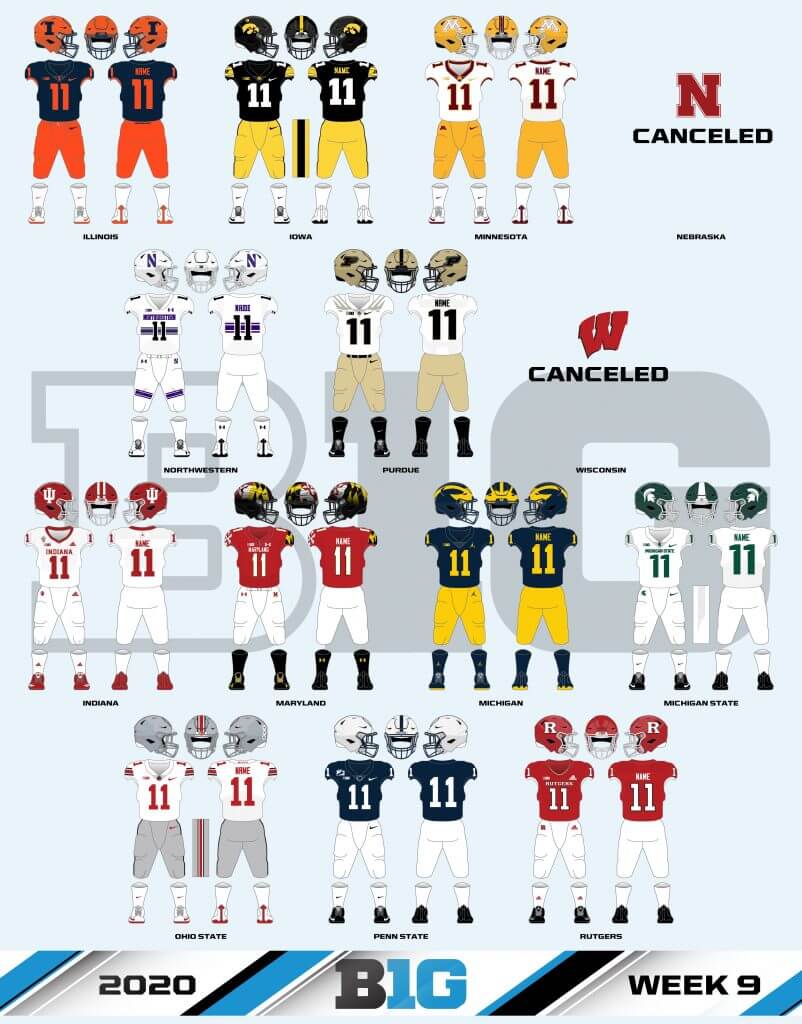 B1G



More NBA Jersey (and pant!) Leaks
Following up on the past three days of uni leaks for the NBA (mostly for the "City" uniform), we have some more that came out yesterday, once again from @camisasdanba.
I'll just post the tweets and translations and add a teeny bit of commentary where necessary:
Knicks
Outra imagem do uniforme dos Knicks. Agora a parte de trás da camisa para completar a análise.

Essa jersey não foi muito bem recebida pelos leitores do perfil.

Siga @camisasdanba para mais informações como essa. 🔥 https://t.co/5hsKfOcrMq pic.twitter.com/EDV0GTIiih

— Camisas da NBA (@camisasdanba) October 31, 2020
This one needs no translation — it's simply a look at the back of the Knicks uni which was leaked yesterday.
Rockets
🚨 UMA PISTA DE HOUSTON

O Houston Rockets terá um uniforme alternativo predominantemente azul.

Não consigo garantir se é o short City Edition ou outro uniforme alternativo, nem indicar o tema do uniforme, mas a cor azul certamente vai chamar atenção! pic.twitter.com/WPf2ZVU172

— Camisas da NBA (@camisasdanba) October 31, 2020
The tweet reads: "The Houston Rockets will have a predominantly blue alternate uniform. I can't guarantee if it is the short City Edition or another alternative uniform, nor indicate the theme of the uniform, but the blue color will certainly attract attention!"
This one could be interesting, if legit. We wouldn't normally ever associate the Rockets with a powder/light/columbia blue, but here we go. It is something they have a history with though.
Wizards
Outros detalhes do novo uniforme alternativo do Washington Wizards.

Talvez ninguém esteja encantado com essa City Edition, mas a composição de cores me agrada.

A tipografia do número dos Wizards complementa bem e o detalhe na cintura do short ficou bonito. https://t.co/TVnBfJ4T9S pic.twitter.com/AGCMdaqh7a

— Camisas da NBA (@camisasdanba) October 31, 2020
Once again, we saw this jersey front yesterday, but here's a look at the back AND the shorts. Here's what the tweet says: "Other details of the new Washington Wizards alternative uniform. Maybe no one is delighted with this City Edition, but I like the color composition. The typography of the number of Wizards complements well and the detail at the waist of the shorts was beautiful."
I'm not a fan of the GFGS look, but overall this isn't the worst thing the Wizards have ever worn.
Grizzlies
🚨 ALERTA DE CLASSIC EDITION

A comemoração pelos 25 anos dos Grizzlies continua. A franquia vai usar mais um uniforme clássico.

Trago aqui a primeira imagem da versão final da camisa.

É o mesmo desenho do primeiro uniforme usado após a realocação de Vancouver para Memphis. pic.twitter.com/TG8VMK6sI3

— Camisas da NBA (@camisasdanba) October 31, 2020
If this one looks familiar, that's because it is. The tweet reads: "The celebration for the 25 years of the Grizzlies continues. The franchise will wear another classic uniform. I bring here the first image of the final version of the shirt. It is the same design as the first uniform used after the relocation from Vancouver to Memphis."
Spurs
Mais detalhes do uniforme City Edition do San Antonio Spurs.

O verso da camisa todo preto e detalhes coloridos no short. É a primeira vez que um uniforme de jogo dos Spurs terá as "Fiesta Colors".

O elástico da cintura parece ter um detalhe escondido ou inacabado nessa imagem. https://t.co/9PRkqnQKUD pic.twitter.com/vGAtvhIM8t

— Camisas da NBA (@camisasdanba) October 31, 2020
We saw the jersey with the fiesta colors yesterday. This shows the back AND the shorts that will be worn together. The tweet notes, "The back of the shirt is all black and colorful details on the shorts. It is the first time that a Spurs game uniform will feature "Fiesta Colors". The waist elastic seems to have a hidden or unfinished detail in this image."
Pistons

🚨 VAZOU!

Aqui estão as primeiras imagens do novo uniforme alternativo do DETROIT PISTONS, provável parte da coleção City Edition.

"Motor City" continua sendo o tema. As faixas do centro foram deslocadas para o painel lateral.

A principal novidade é o logo em forma circular. pic.twitter.com/B14DM7S3w7

— Camisas da NBA (@camisasdanba) October 31, 2020
I don't hate this one, although I'm not in love with the rondel-esque "Motor City Detroit, Michigan" wordmark/logo encircling the number. It's … different. From the tweet: ""Motor City" remains the theme. The center strips have been moved to the side panel. The main novelty is the logo in circular shape."
Warriors

Aqui está uma imagem do verso da camisa City Edition do GOLDEN STATE WARRIORS.

Podemos perceber que a faixa amarela da lateral é, na verdade, uma faixa dupla.

Gosto muito da fonte dos números das novas camisas dos Warriors. https://t.co/aCjB6K8Mwo pic.twitter.com/t9kBig6JcN

— Camisas da NBA (@camisasdanba) October 31, 2020
Again, we saw this jersey yesterday, but this is our first look at the back. Not much new here except, "We can see that the yellow stripe on the side is actually a double stripe.
Raptors

Trago também o verso da camisa do Toronto Raptors.

Um uniforme discreto, mas com a combinação de cores que sua torcida já reconhece e aprova.

Sempre falo isso, mas vou repetir: adoro o formato do número dos Raptors. Um dos melhores da NBA. https://t.co/Ffx63j3FMD pic.twitter.com/FlZo79vBqL

— Camisas da NBA (@camisasdanba) October 31, 2020
Yesterday I mistakenly thought we'd seen this jersey before (turns out it was a very similar one). The one from yesterday is actually new, and this is how the back looks. If you're going to create a jersey using the black/gold OVO colors, I donno, maybe make it different enough from the previous year's?


Uni Watch News Ticker
By Phil

Baseball News: I know, I know, we just finished the World Series (and I'm honestly, but pleasantly, surprised MLB got their season in), and it's not quite hot stove time, but there's still some baseball "news": Here's a ranking of the Top 5 unis jerseys of the Toronto Blue Jays.


NFL & College Football News: Believe it or not, the Tampa Bay Bucs still have not worn their new red jerseys this season. That all changes Monday night against the Giants. … The Giants, meanwhile, will counter with their Color Rash throwbacks, featuring white jerseys over pants and "GIANTS" on the helmet. … The Rams will again wear their royal over gold unis against Miami today. It's their best combo (in a "tallest midget" kinda way, as JTH is fond of saying). … During Friday's practice, the Ravens wore Jerseys with NickNOBs in preparation for their game against the undefeated Stillers. … The Pats will go white over blue at Buffalo while the Bills will be blue over white. … Check the Panthers' NFL stadium marked up for new MLS' U17 match (from James Gilbert). … Oops: Also from James Gilbert "Nebraska couldn't play Chattanooga today, but maybe Newbraska could have."

Hockey News: Here are the new jerseys for the Alberta Junior Hockey League's Blackfalds Bulldogs. The new team begins play in 2021-22 (from Wade Heidt). … Since yesterday was Halloween, here is a story about NHL goalie mask designs that are linked to Halloween and horror films (from Wade Heidt, again). … Longtime NYR Henrik Lundqvist may be a Capital now but he hasn't quite let go of his Rangers breezers. … In the spirit of Halloween-past, check out this photo of Chris Hickey on Halloween circa 1980. Chris adds: "That's a Tom Bladon jersey I borrowed from an older brother-nice, right? Ok, so the costume has some flaws in execution, but my sister totally nailed the black eye makeup job." … The Rapid City Rush will be one of just 13 teams in North America playing professional hockey in the final months of 2020. Yesterday, they unveiled new unis.


NBA & College Hoops News: On October 15th, the Toronto Raptors unveiled three new unis for the 2020-21 season. This article gives suggestions for two more unis they can add, since every team needs at least five unis. … Here's a look at all the confirmed new uniforms for NBA teams this year (including some of the confirmed "City" alternates). … "For a while the UNC basketball team was also called the White Phantoms. And NC State was called the Red Terrors," says James Gilbert.


And finally… that'll do it for this week. Thanks to the SMUW crew again for all their efforts.
Anything big happening this week? No? OK, good. 2020 can only get better from here, right?
Everyone have a safe and hopefully good week. Assuming the world doesn't end sometime this week, Dennis will return with his PAC-12 tracking (and oh yeah, the PAC-12 should begin play too), and I'll catch you back here next Saturday.
Peace,
PH