Last night's World Series game had lots of uni-notable details, beginning with the fact that the Rays wore their road greys for the first time in the 2020 postseason (in fact, for the first time since Sept. 21), setting up a traditional white-vs.-grey uniform matchup. Somewhat incredibly, it was first white/grey Series game since 2018's Game Two, when the Red Sox hosted the Dodgers at Fenway. (There were no white/grey games last season, because the Nationals wore navy for all seven games.)
In other notes from last night's game:
• Rays starter Blake Snell became the first pitcher with a single-digit uni number to appear in a World Series game since Julio Urías of the Dodgers in 2018, and the first American League pitcher to do so since Cleveland reliever Jeff Juden in 1997.
Blake Snell is bringing it. pic.twitter.com/YuMT0suDqe

— MLB (@MLB) October 22, 2020
I was hoping Urías, who's still with the Dodgers, would get into the game as well (ideally while Snell was still in the game), so that the game would feature single-digitized pitchers for both teams, something that I'm not sure has ever happened before in the World Series. Unfortunately, that didn't happen, but I'm still hoping it happens in Snell's next start (likely to be Game Six).
• Looks like Rays third baseman Joey Wendle had some repairs made to his pants: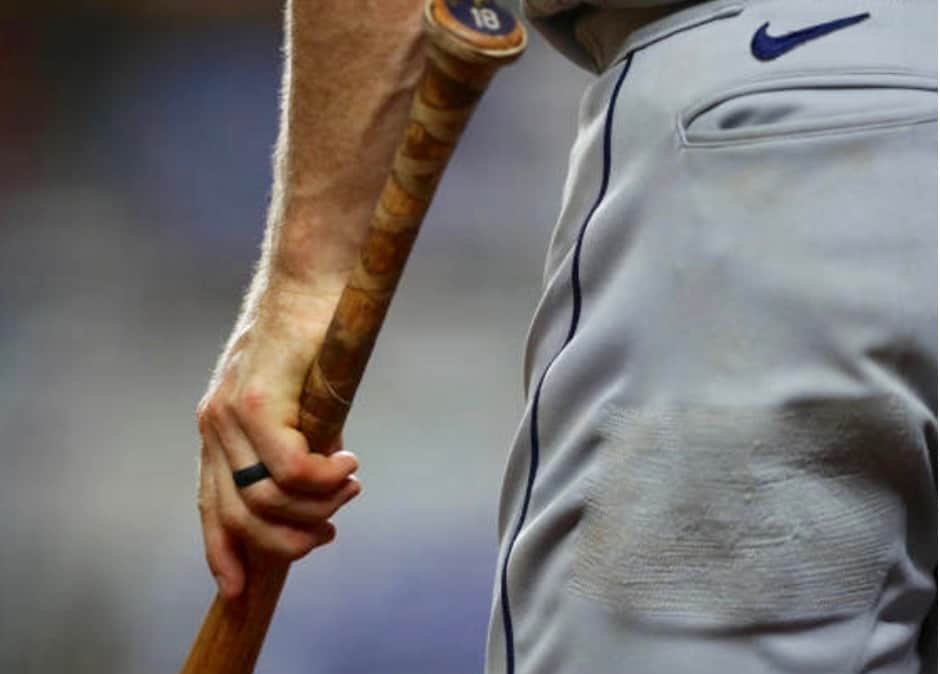 I'm a little surprised they didn't just get him a new pair of pants. It's the World Series, after all! I don't mean that as a criticism — we all treat too many things as disposable, so I'm glad they just patched the damage. But it's not what I would have expected.
• We all know by now that Dodgers pitcher Clayton Kershaw wears the same filthy, sweat-stained cap all season long. Or at least he does on the mound — he appeared to be wearing a brand-new cap in the dugout last night.
• MLB umpires have been wearing three separate left-sleeve memorial patches all season long (for umps Eric Cooper, Chuck Meriweather, and Rick Reed). With the addition of the World Series patch, the umps' left sleeves are looking very crowded (click to enlarge):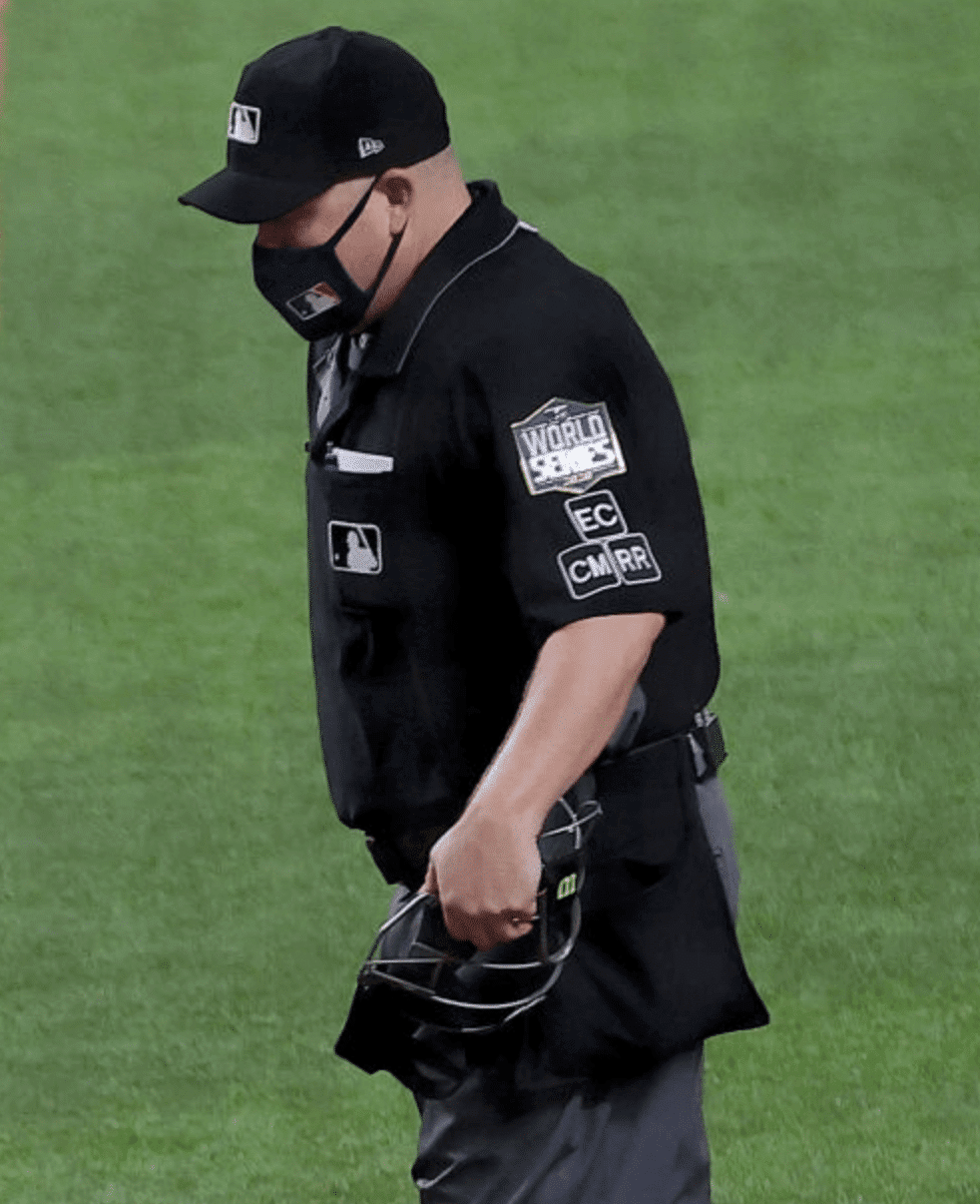 I was thinking they might add another memorial patch last night for former ump Derryl Cousins, who died on Monday, but they didn't do that (at least not yet).
• As someone mentioned in the comments the other day — I think maybe R. Scott Rogers? — it's interesting to see how the differences in the teams' respective chest insignias results in the Rays' maker's mark sitting much higher than the Dodgers':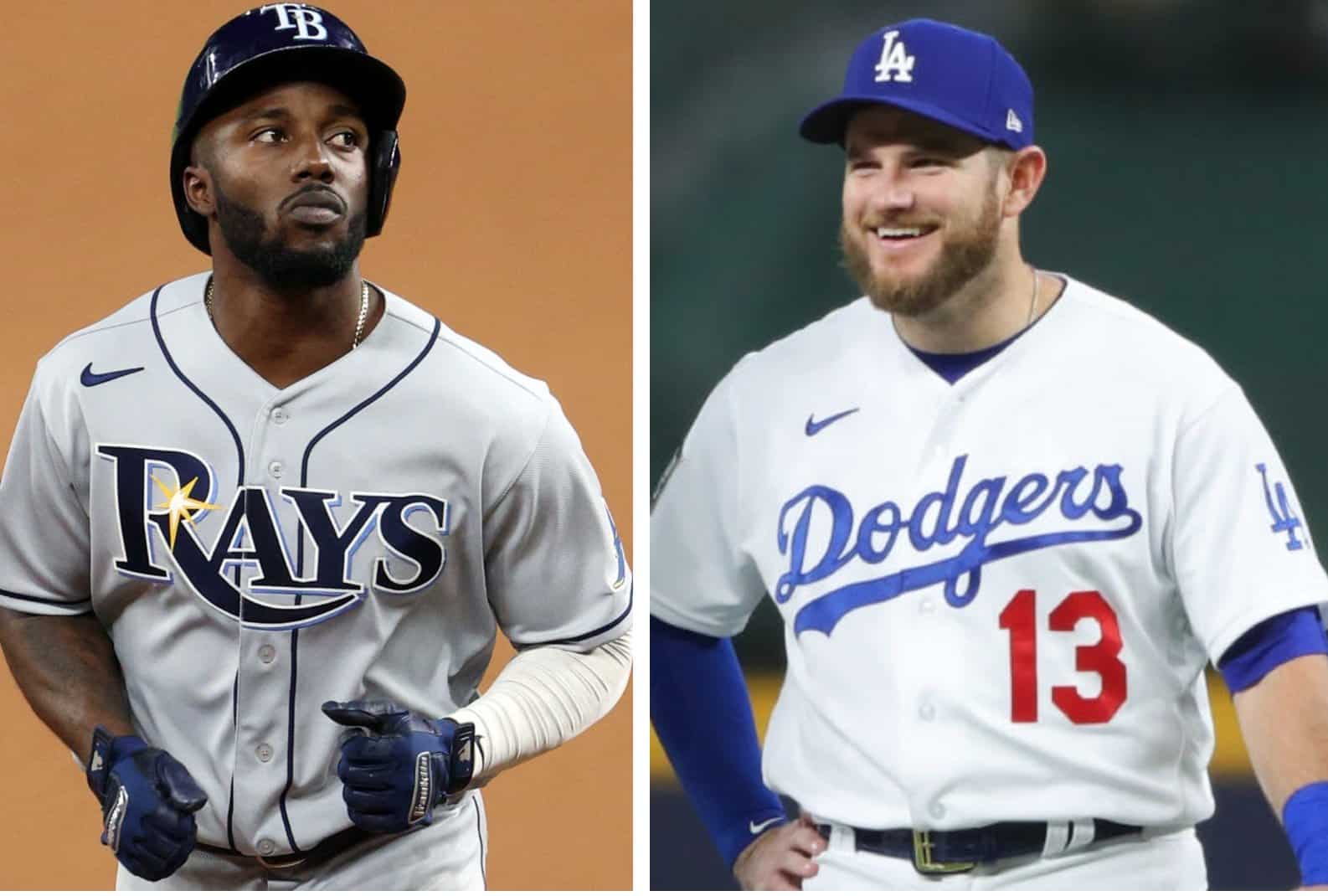 • The small live crowd included former NBA player Magic Johnson, who wore a Dodgers mask: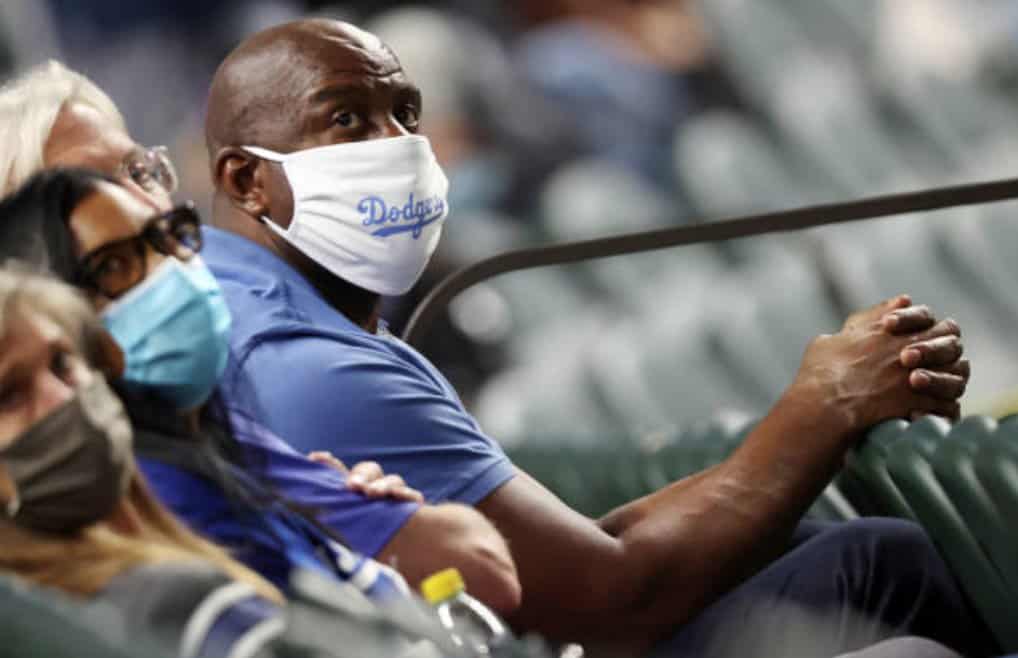 Update: Reader/commenter Keith A. informs me that Johnson is actually a part-owner of the Dodgers, which makes his presence a bit less remarkable.
Game Three is tomorrow night, with the Rays getting to be the home team for the first time. Will they wear white? I have my doubts, but we'll find out soon enough.
(My thanks to Neal Dorfman for identifying when the Rays last wore their road greys.)
• • • • •
• • • • •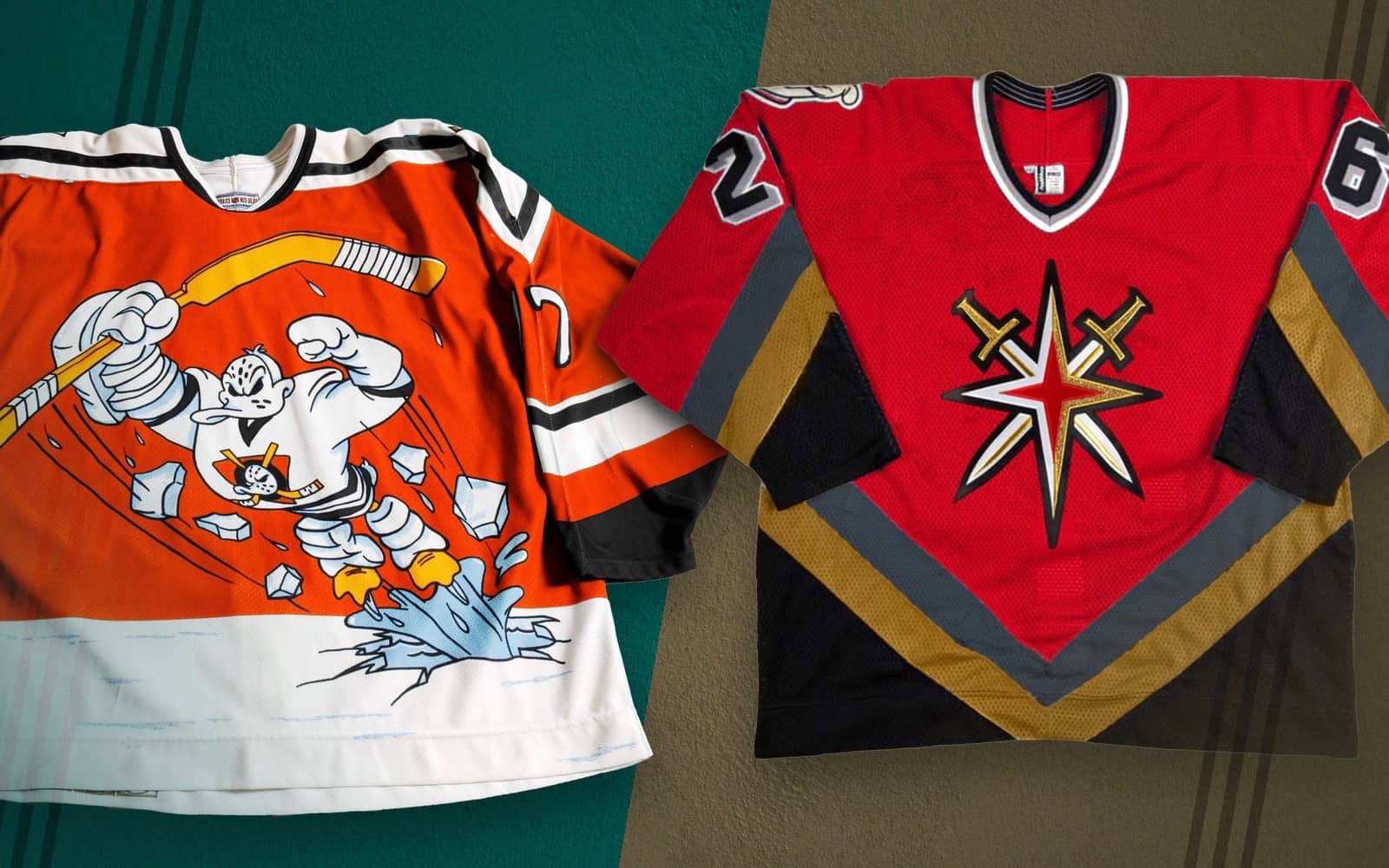 Photo via Icethetics; click to enlarge
More NHL leaks: The NHL "reverse retro" alternate jersey leaks keep coming. The latest designs to be circulating are for the Ducks (bringing back Wild Wing!) and Golden Knights (a real stinker), and Chris Smith of Icethetics says "there are reasons to believe they're accurate." He's much more plugged in on this situation than I am, so read his full report here.
And then there's this — I have no idea how legit it is (Icethetics hasn't written about it, and it doesn't seem to fit the "reverse" color-swapping theme), and I usually don't like to post unconfirmed items, but this is so good that it clearly should happen:
#LEAK: My friend that works for #SapCenter just sent me pictures of the new Adidas San Jose #Sharks 30th anniversary jersey throwback for next season, a tribute to the California Golden Seals @UniWatch @SanJoseSharks @sportslogosnet @TealTownUSA #NHL #SanJoseSharks #Hockey pic.twitter.com/m1njtAPIno

— mark reeva (@soaka_supa) October 22, 2020
• • • • •
• • • • •

Click to enlarge
That's the ticket: Reader Nathan Fitzgerald lives in Australia but is a big MLB fan. "It's become a yearly tradition to celebrate the World Series by having my Fantasy Baseball League group over," he says. "Here's the ticket I designed for this year as an invitation, based on the 1964 World Series tickets."
So cool! Nathan also sent along the ticket/invitation designs he created for the previous two years (click to enlarge):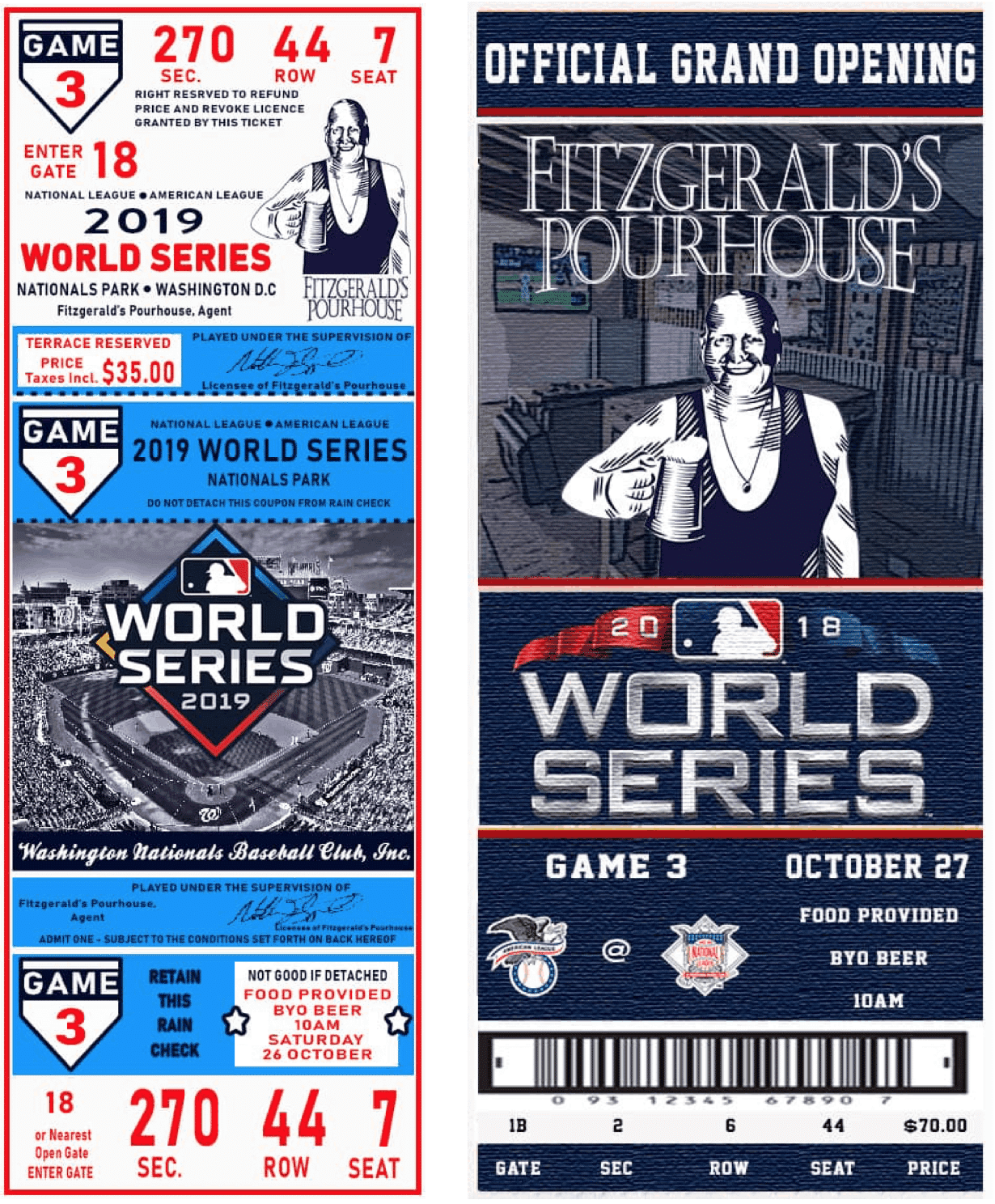 What a fun little project! Also, imagine living in a country right now where you can safely have people over to watch the World Series (or for anything else). Sigh.
• • • • •
• • • • •

Click to enlarge
Too good for the Ticker: Everything looks better with googly eyes, am I right? Twitter-er @KC_Goddess29 took that simple truism and applied it to NFL team logos, with silly but entertaining results. You can see the full set in this Twitter thread — recommended.
(My thanks to @ArnoldPugg for bringing this one to my attention.)
• • • • •
• • • • •
The Ticker
By Paul

'Skins Watch: The Swedish hockey club Frölunda is soliciting public input on a new logo after scrapping its Native American-themed imagery (from Kary Klismet). … Also from Kary: The school board in Bucyrus, Ohio, is considering whether the local high school should stop calling its teams the Redmen. … Rutland High School in Vermont is scrapping its arrowhead logo and will no longer call its teams the Raiders (from Joe Merrill).

Working Class Wannabes™: A high school football coach in Indiana refers to his team as "black and blue collar." … An article about a high school football player in Utah uses the terms "blue-collar play," "blue-collar mentality," and "blue-collar mindset." Bingo! … An article about the Glenville State football team begins, "There is nothing more blue-collar in football than the work in the trenches by the offensive line. And in the world of college football, there is nothing more blue-collar than playing offensive line for Hall of Fame coach Rick Trickett." … An article about the Oklahoma State football team says, "I can see more high profile players being recruited but never at the expense of the backbone of well evaluated and blue collar developing players that have built the program to its current state." … A preview of last Thursday's Saints/Chargers game said that the Saints' defense " has done blue-collar work against the run recently." … A high school football coach in Georgia, referring to one of his players, says, " He attacks every day like it's a work day. He's a blue-collar type of guy." … USC football coach Clay Helton, talking about his freshman offensive linemen, says, "They are just a shut up and work bunch, a blue-collar bunch, and just work hard." Bingo! … LSU basketball coach Will Wade, talking about this year's squad, says, "[T]hey enjoy working and it's a blue collar group which is more my type of crew. These guys are working all day." … Alabama basketball coach Nate Oats says, "These first three days [of practice] we are really trying to get an identity set — defense, blue-collar, hard-nosed, toughness, a lot of defensive drills, rebounding drills, a lot of tougher stuff." … UMass football coach Walt Bell says, "The vision of what we want this program to be is a very large, very long, very blue collar, run-heavy and physical football team." … An article about Arizona Cardinals LB Dennis Gardeck says he "won't change his blue-collar approach just because he had a few highlight-reel plays." … A high school football coach in Florida says, "We're just who we are. We're North Fort Myers. That's what we do. A blue-collar team that plays hard. The Stanford of Lee County." … Illinois football offensive lineman Kendrick Green says, "We're trying to be a group that comes to work every day. That's just something we really take pride in, that blue collar mentality, man." … Auburn football coach Gus Malzahn says his goal is "just getting back to playing good, hard-nosed, blue-collar, physical Auburn football." … An article about an Oklahoma high school basketball team says they got off to a fast start last year thanks in part to "blue-collar bludgeoning on the boards."

Baseball News: Agent Scott Boras thinks the World Series should always be at a neutral site (NYT link), which sounds like a truly terrible idea. … Oh man, gotta love this Phillies-style Wiffle Ball jersey design! … The latest episode of the great design podcast 99% Invisible is about sign-stealing. … The Single-A Lakewood BlueClaws are changing their name to the Jersey Shore BlueClaws (thanks to all who shared). … In 1999, D-backs P Randy Johnson ended up wearing a Giants cap during a benches-clearing brawl between the two teams (from @Finerific and @ejmaroun).

NFL News: Rough-looking NFL weekend on tap, as the Falcons will wear that awful gradient uniform and the Eagles will go mono-black. … Moe Khan was listening when Bucs coach Bruce Arians appeared yesterday on Dan Patrick's radio show. "He said it will be a while before they can bring back their classic creamsicle uniform," says Moe. "Hopefully next year if they loosen up the NFL helmet rules." … Looks like newly acquired Chiefs RB Le'Veon Bell will keep wearing his familiar No. 26 with KC. … Here's an article on what Bucs QB Tom Brady's various jerseys over the years have meant to him (from soon-to-be birthday boy Nicklaus Wallmeyer).

College Football News: BYU will go mono-blue this weekend. … Purdue is adding a rear-helmet memorial decal for former athletic director Morgan Burke, who passed away in June (from Tommy Schorer). … New rivalry alternates this week for NC State (from Rex Henry). … ESPN has an article and a podcast episode about the 2010 fight between the costumed mascots for Ohio University and Ohio State (from Andrew Cosentino). … The Texas Longhorn Band won't play "The Eyes of Texas" this weekend, after several band members said they'd refuse to play the song, which has ties to blackface minstrelsy.

Hockey News: The Coyotes are auctioning off three very cool-looking Dia de los Muertos goalie masks to commemorate Hispanic Heritage Month (from Wade Heidt).


Basketball News: Interesting article about an artist who makes art out of deflated basketballs (NYT link). … One of Kobe Bryant's 2008 NBA Finals jerseys is now on display at the Smithsonian's African American Museum. … Check out this Trail Blazers-themed "Vote" sign!

Soccer News: Fans — especially those watching games via streaming platforms — aren't happy about the J-League's new league-wide typeface (from Greg Franklin). … The NWSL's Los Angeles expansion team confirmed that its name will be Angel City FC and released a placeholder logo (thanks, Jamie). … Australian side Lake Macquarie City FC has a new logo (from Kary Klismet). … Also from Kary: New stadium is in the works for FC Blau-Weiss Linz, a soccer team in Austria's Second League. … New Remembrance Day shirt for fifth-tier English side Hartlepool United (from Ed Zelaski). … Liverpool-themed cupcakes? Sure, why not (from Jeremy Brahm). … Mexican side Club Tijuana wore a Day of the Dead jersey with a bone/skeleton-themed number font last night (from Matthew Reichbach).

Grab Bag: Rawlings Sporting Goods has acquired competitor Easton. … Rock band AC/DC has released an interactive program that lets fans see their initials in the style of the band's familiar logo, much like one of our Uni Rock shirts. … Here's a short video about the design of the "I Voted" sticker in Clark County, Nev. … New 95th-anniversary logo for the Grand Ole Opry (from John Cerone). … New alternates for Pitt volleyball (from @CantankerousRex). .. Here are the IndyCar liveries for this weekend's race in Tampa. "Must be some sort of record for number of pink-themed cars in a race (four out of 24)," says Tim Dunn.
• • • • •
• • • • •
• • • • •
Our latest raffle winner is Ian McLarty, who's won himself a Uni Watch membership card. Congrats to him, and my repeated thanks to Nicholas Bartel for sponsoring this one. — Paul