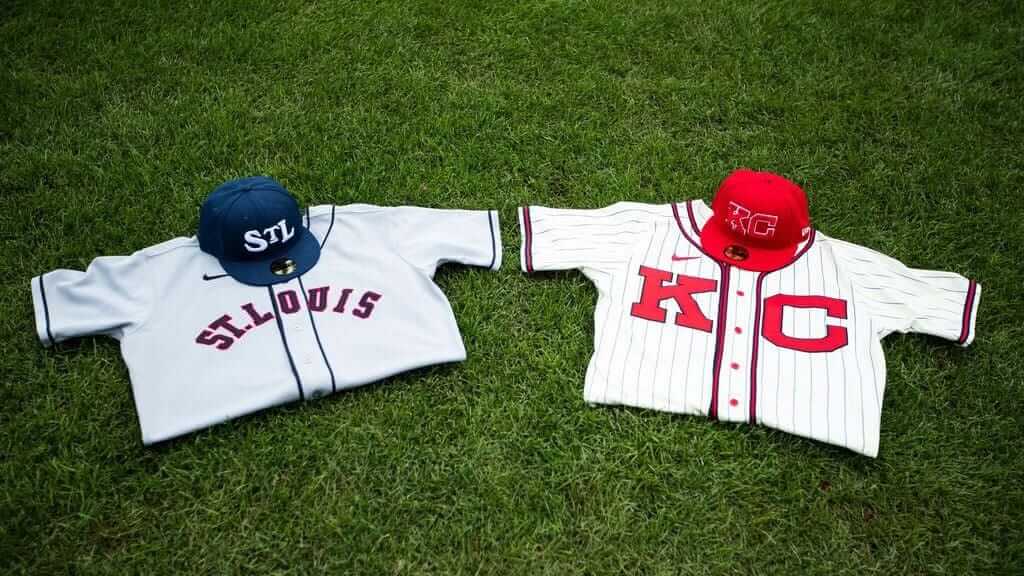 For most photos, click to enlarge
When the truncated MLB season got under way in late July, many of the uni-based promotions that had been on the original schedule (throwbacks, holiday uniforms, etc.) had already been scuttled. I didn't think they'd bother to reschedule them, in part because I figured they'd try to keep things simple during the pandemic, and also because a major reason to have a uni-based promotion to begin with is so you can attract more fans to the ballpark, which is obviously a moot issue this year.
Happily, I was wrong, as there have been a handful of throwback games. One of them took place last night, as the Royals and Cardinals wore Negro Leagues uniforms for a very nice-looking game in KC.
The Royals dressed up as the 1945 Kansas City Monarchs. The jersey featured giant "KC" chest lettering, navy pinstripes, red buttons (a nice touch), a sun collar (ditto), and a very annoying maker's mark (eww):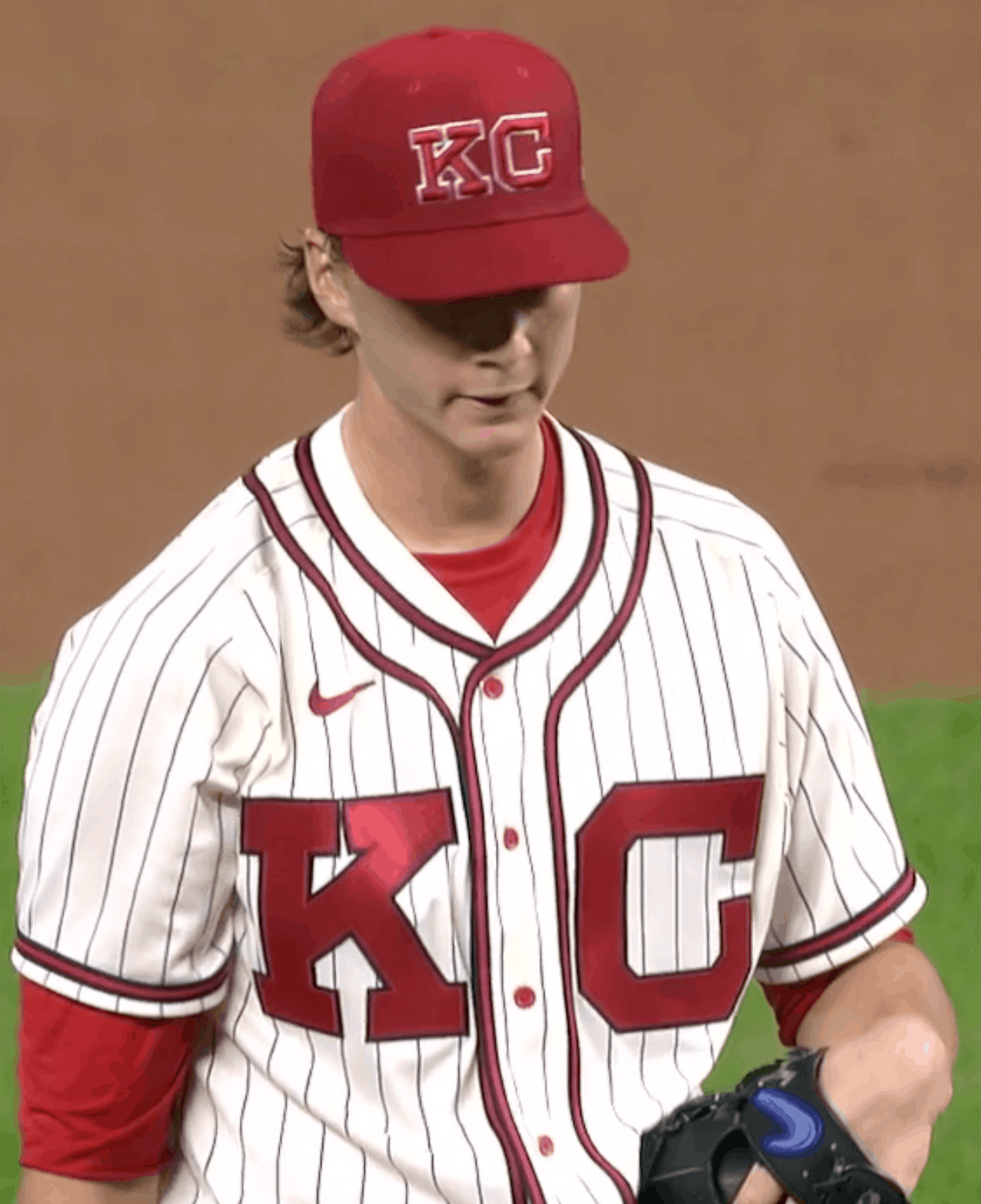 On the plus side, the back of the jersey did not include the MLB logo, resulting in a nice, clean look: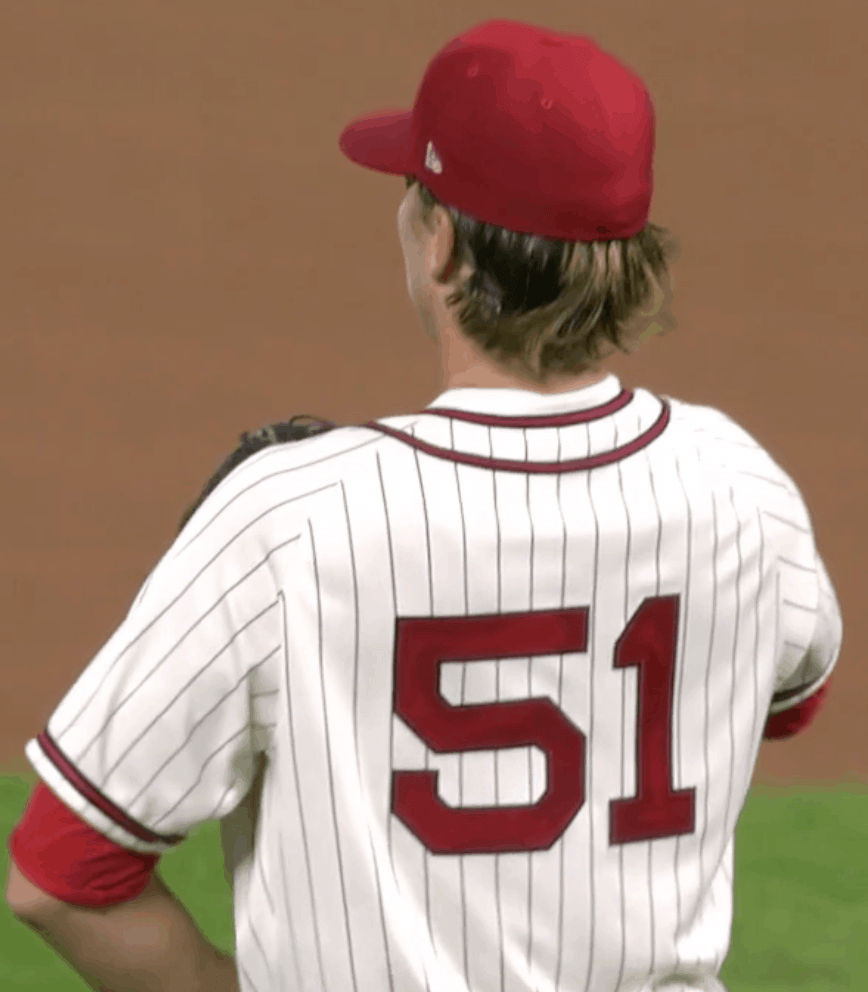 There were no batting helmets in 1945, so the Royals got a bit creative and went with a matte shell and a 3D cream-colored "KC" logo: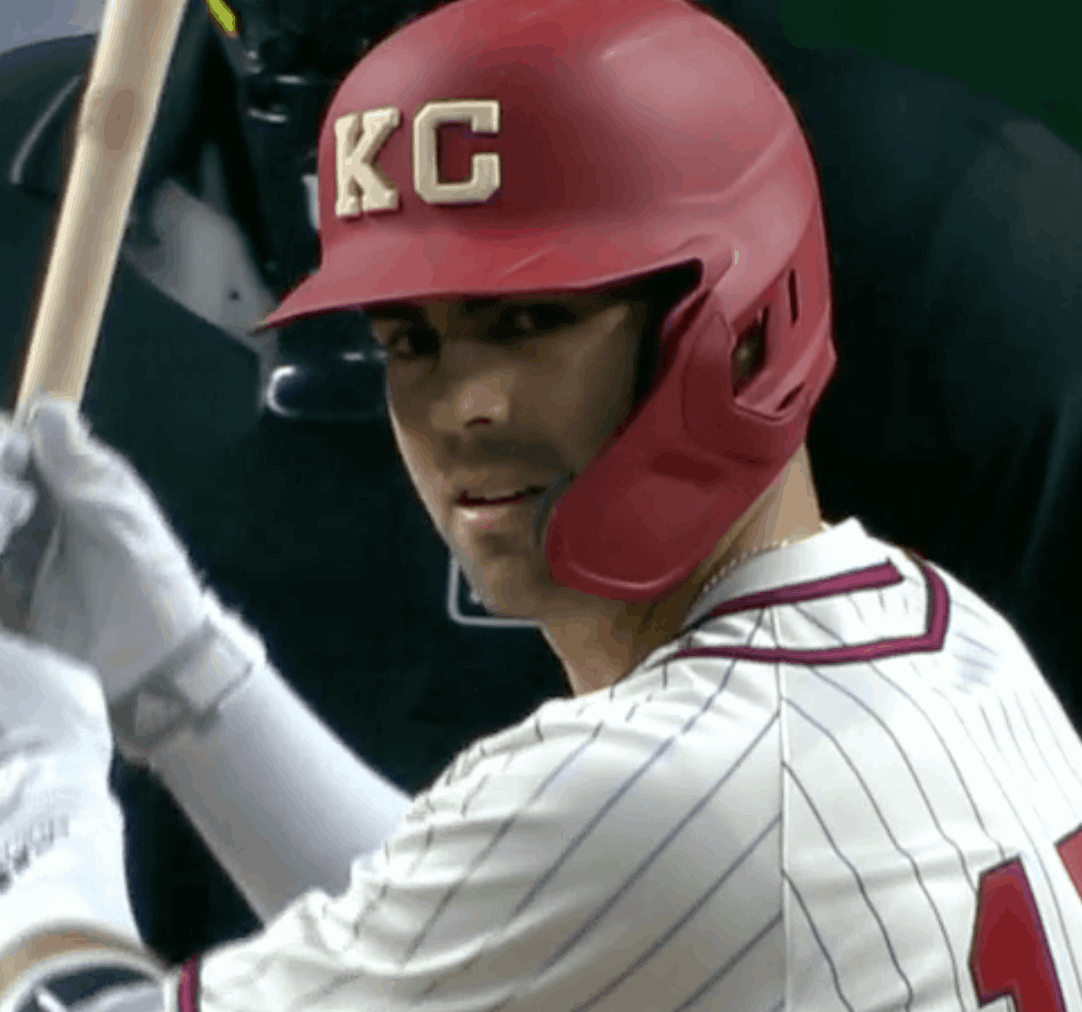 I'm not 100% positive, but I think this might be the first 3D MLB helmet logo we've seen that's two separate pieces (instead of one solid logo or one set of connected/interlocking letters). Twice as much work for the equipment staff!
The real kicker for this uniform is that the Monarchs wore uni numbers on their upper-left thigh (just as the Astros and White Sox would do decades later). Such a hoot to see that element on the field last night: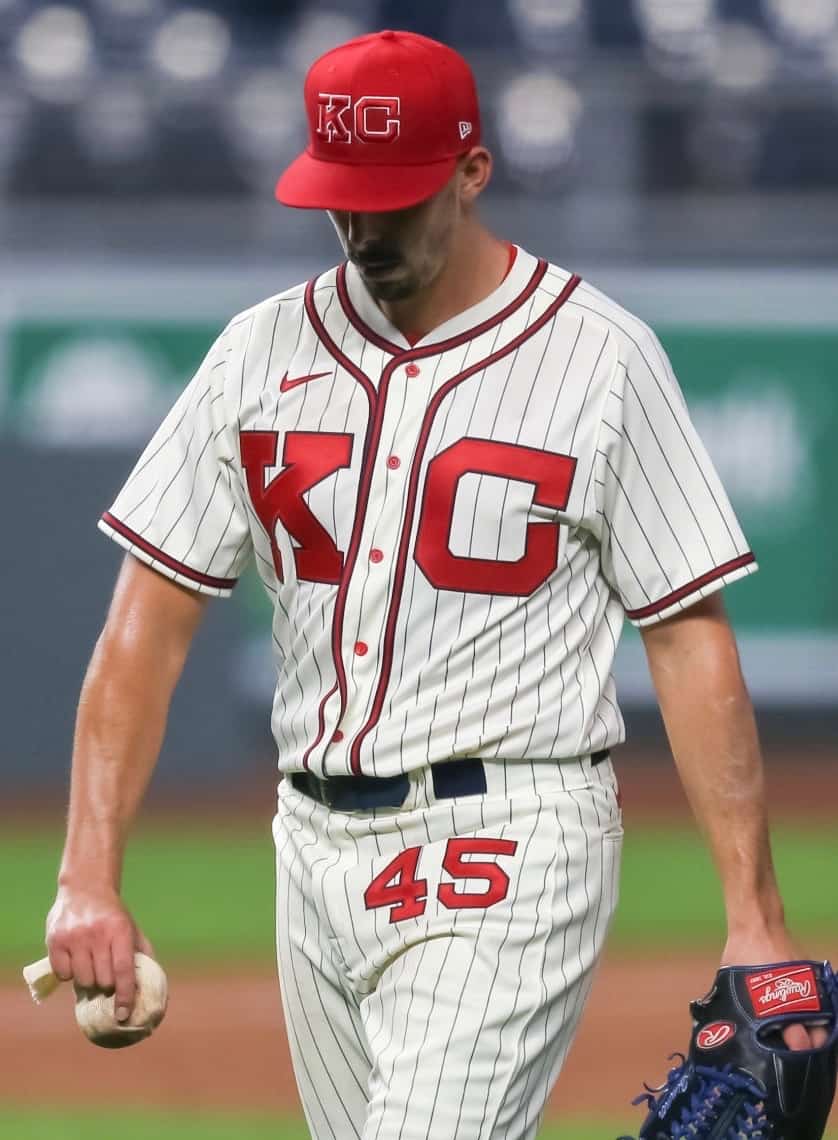 All in all, a very nice retro uniform. Of course, certain concessions to modernity were necessary:
According to Bill Henderson's uniform guide, the Royals dressed up as the '45 Monarchs once before, in 2004, but that throwback didn't have the sun collar, the red buttons, or the pant numbers (although they did put a belt loop at 12 o'clock — a very authentic old-timey detail).
How cool would it be if the Royals wore this uniform in the postseason? Unfortunately, they've had a lousy season and won't be playing in October.
As for the Cardinals: They dressed up last night as the 1930 St. Louis Stars. Their uniform featured a very cool "StL" cap and a very simple grey jersey with no space between "St." and "Louis":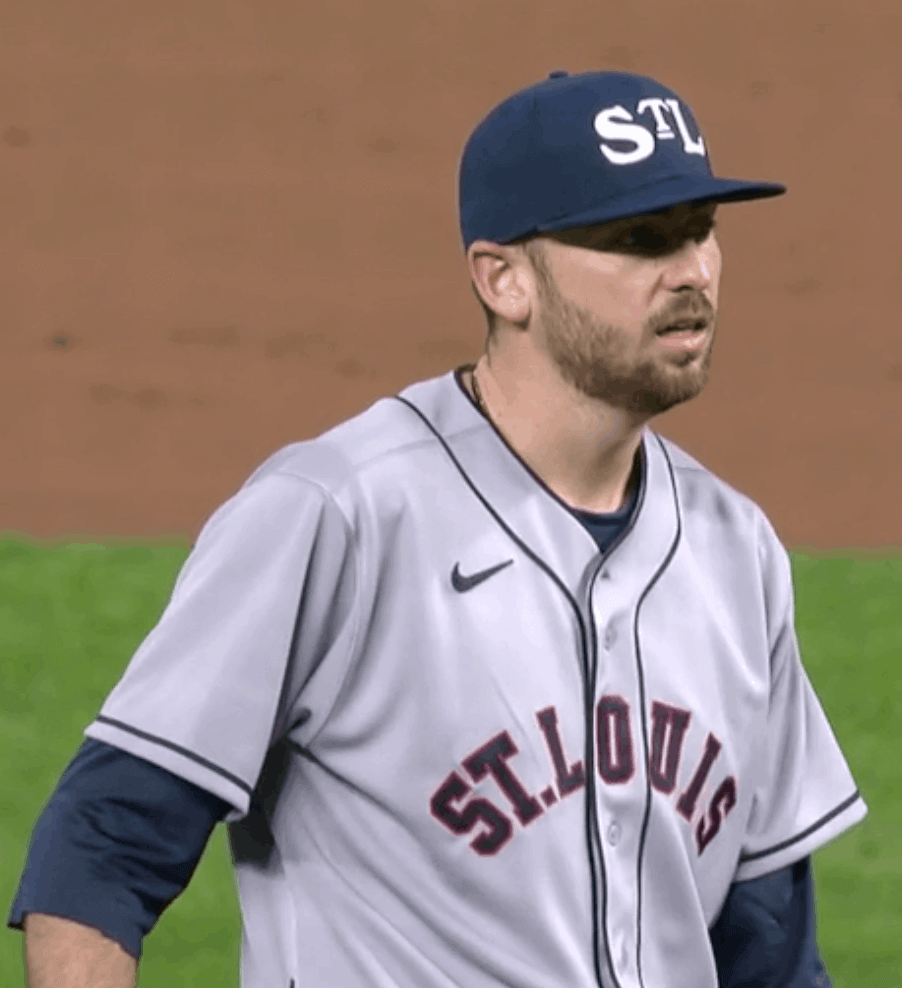 Note that the headspoon piping was included on the front edge of the placket and around the edge of the collar. That's an unusual detail — most headspooned jerseys don't have that extra line of piping.
Just like the Royals, no MLB logo on the back: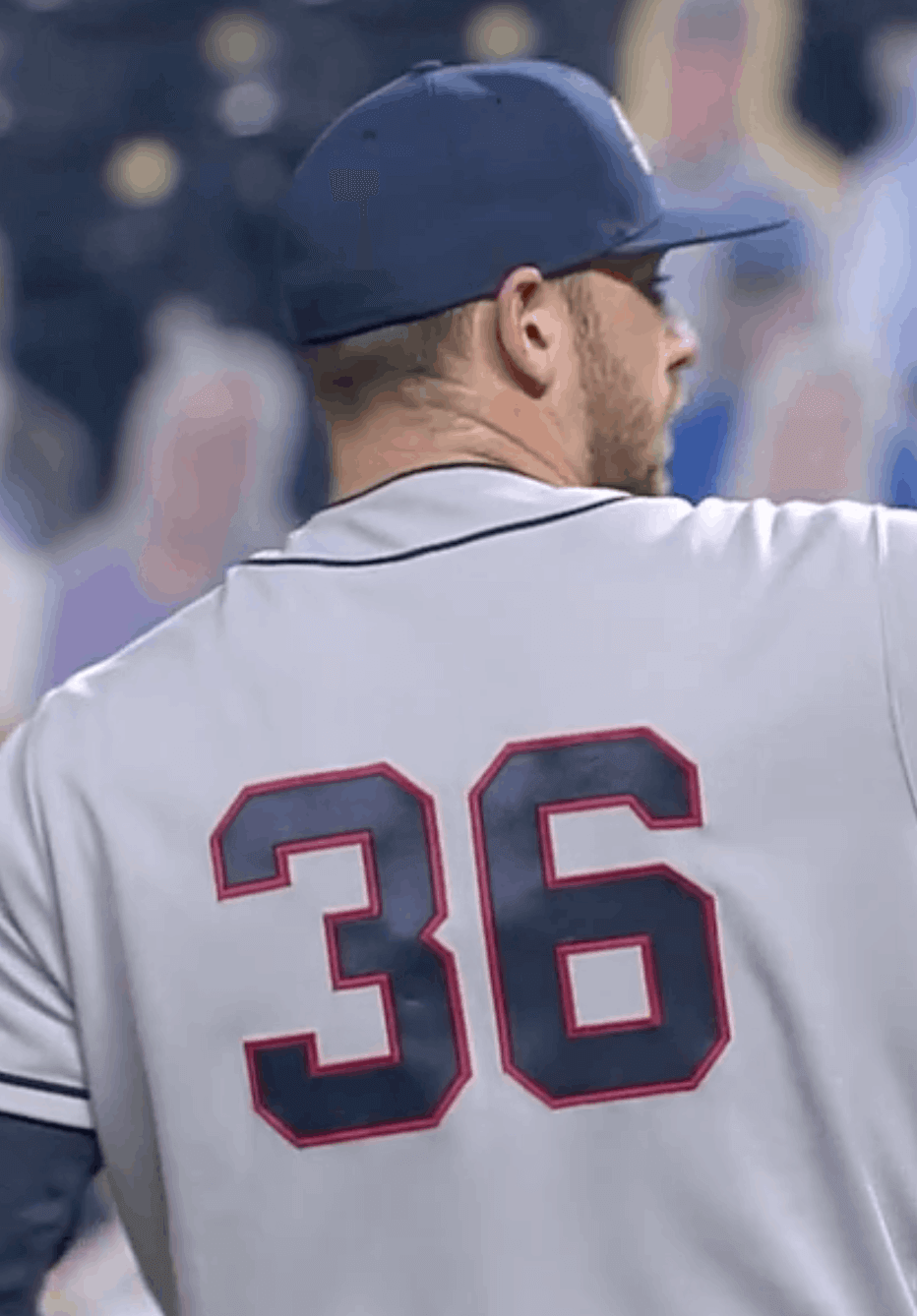 Very few Royals went high-cuffed, but quite a few of the Cardinals did. They wore socks that looked very Braves-ish: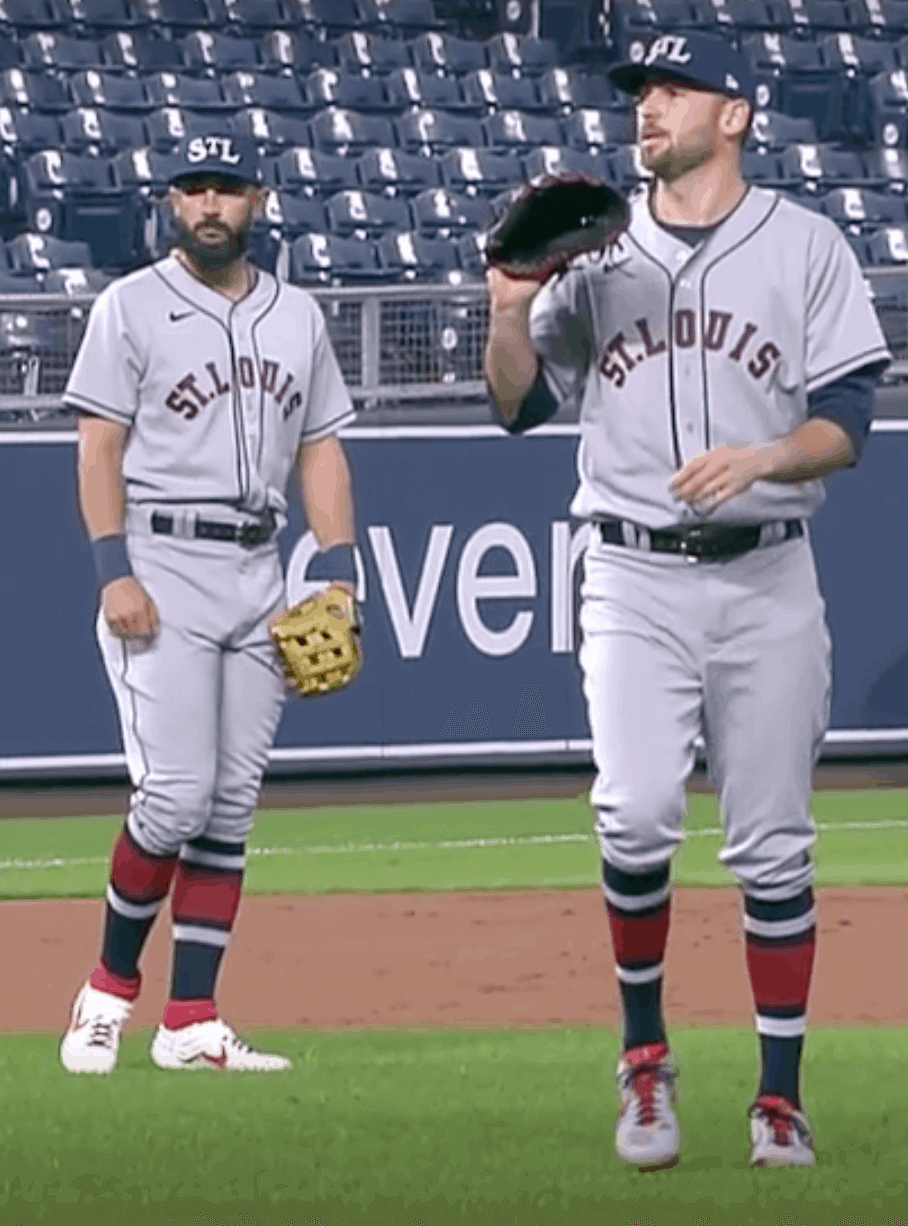 No throwback batting helmets for the helmets for the Cards, unfortunately: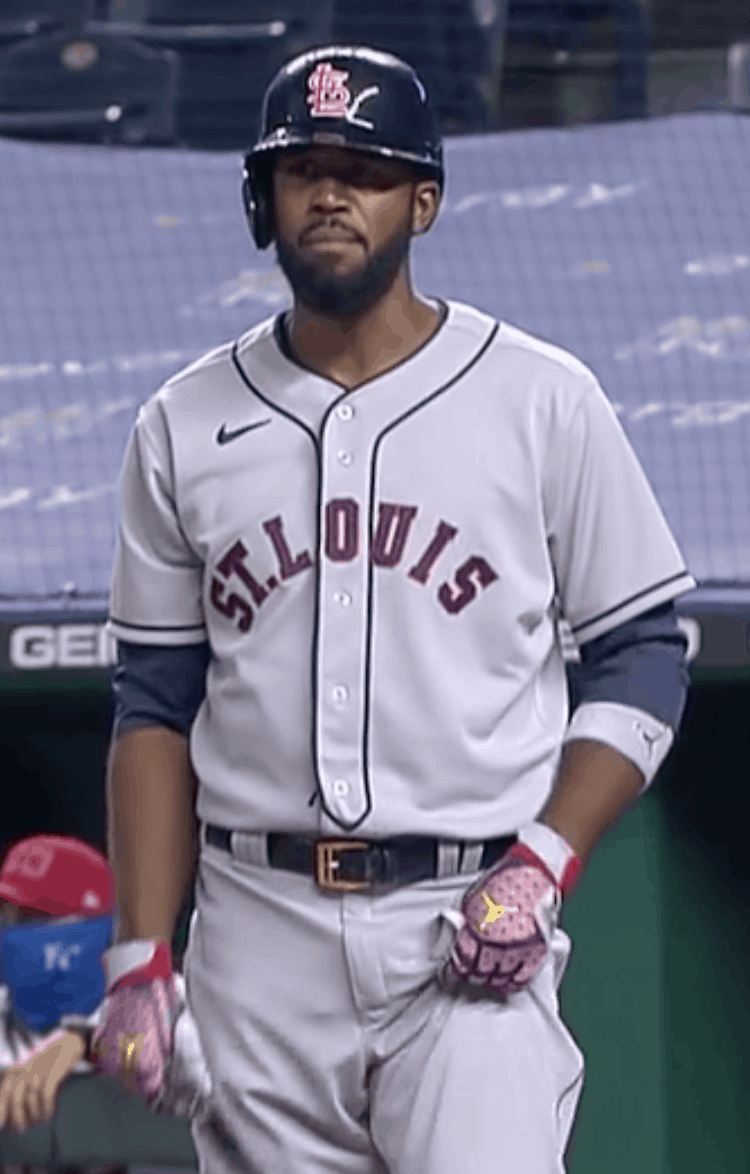 If you look at that photo, you can see why they included that extra line of piping on the edge of the front jersey flap: The headspoon actually terminates in a little point, instead of just having the usual two lines of piping disappearing down the shirttails. That's my favorite detail of this uniform. Here's another look: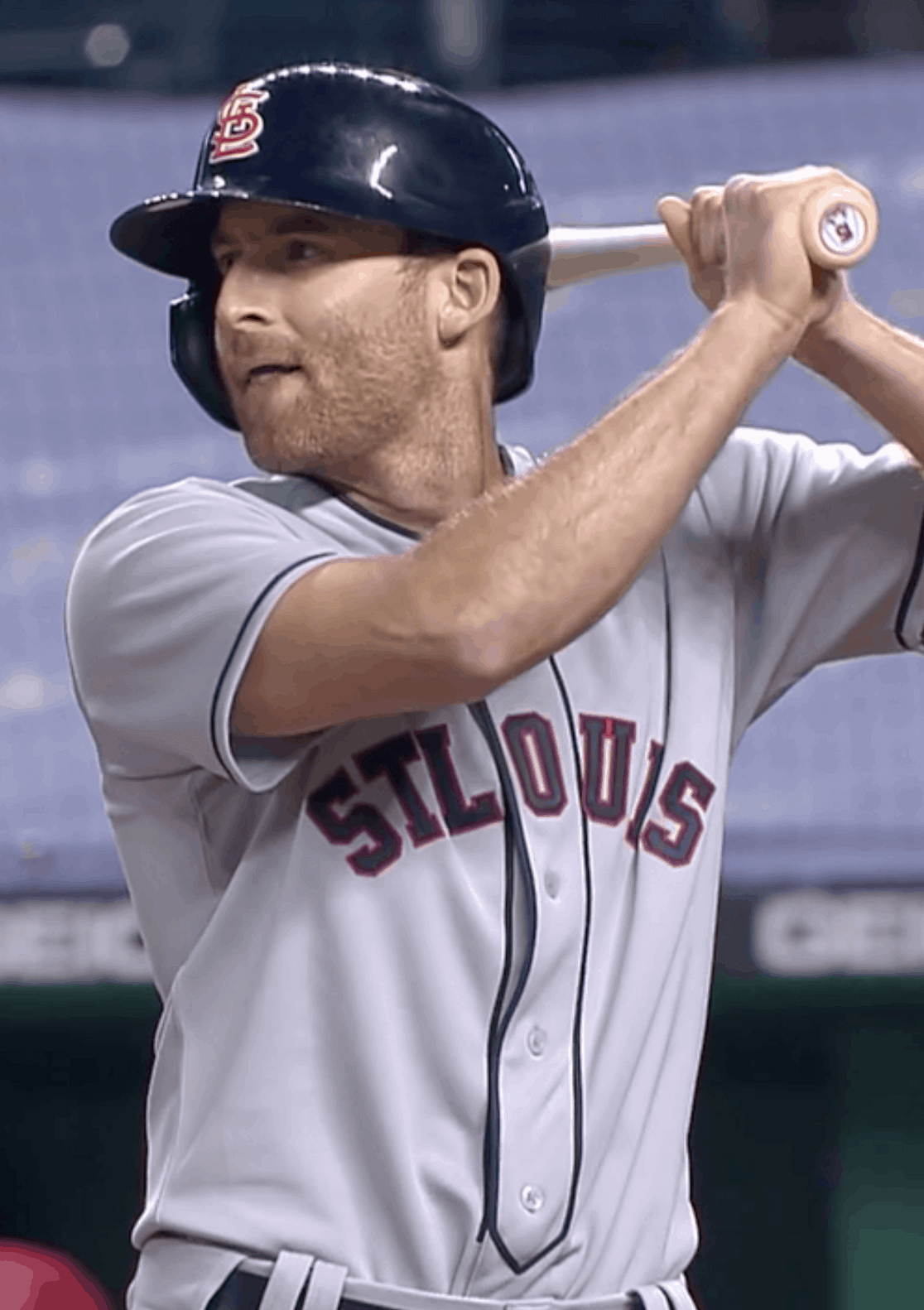 This appears to be the first time that the Cardinals have dressed up as the 1930 Stars. But the Henderson guide indicates that they wore throwback road greys based on the 1928 Stars in 2003, 2006, and 2007, and it's essentially the same uniform. As you can see in those links, those uniforms were made by the manufacturer AIS, and the headspoon point was situated much higher on the jersey.
• • • • •
• • • • •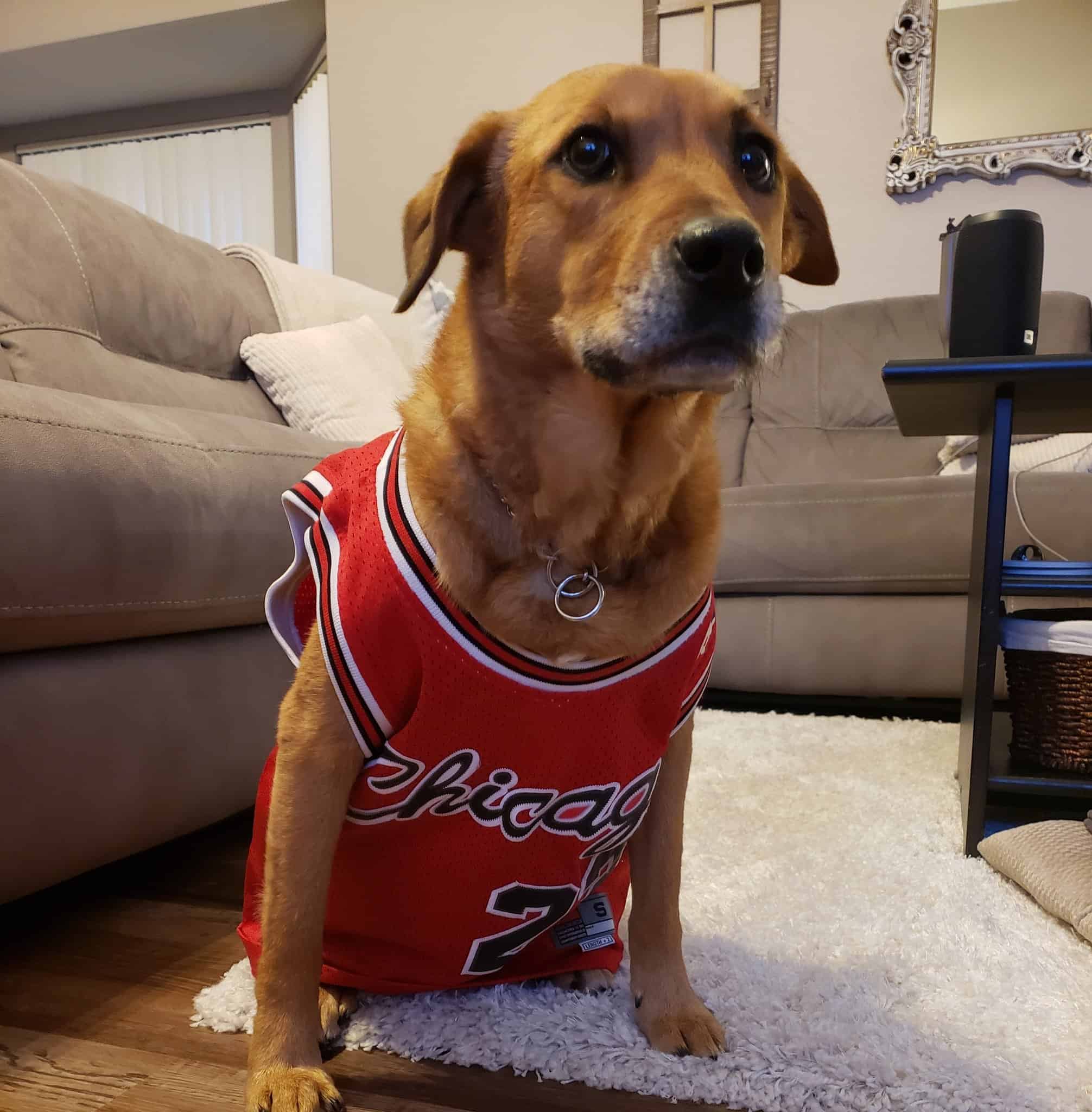 Click to for maximum cuteness
Awwww: Meet Mia, who's apparently a big Chicago Bulls fan. She's part of a great Twitter thread featuring lots of pets wearing jerseys — just the thing to bring a smile to your face, even (or especially) in these trying times. You can check out the full thread here.
• • • • •
• • • • •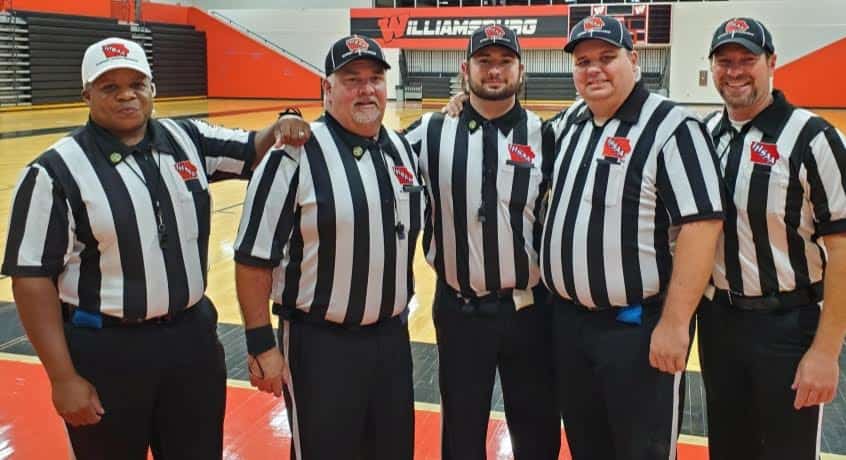 Click to enlarge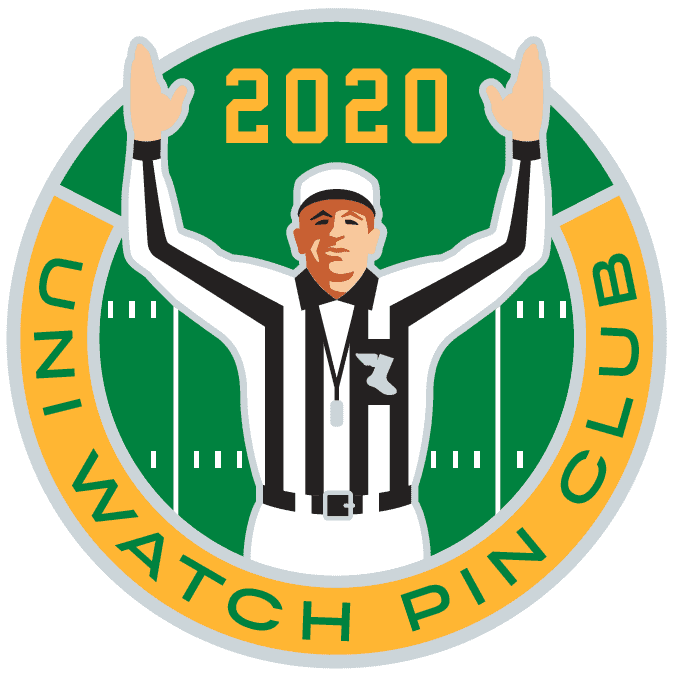 ITEM! Uni Watch Pin Club makes the big time: Got a really great note yesterday from reader Aaron Telecky, as follows:
When my brother (who is a sometime Uni Watch reader — I'm working on him!) saw this month's referee-themed pin, he immediately asked me to order one for each of the guys on his Iowa high school football officiating crew. Prior to their game last Friday night, they donned the pins on their uniform collars for a group picture that I thought you might enjoy seeing. I forgot to ask whether they wore them for the game, but either way he said that when he presented them to his fellow refs, they were really impressed with the pins and proud to wear them. Who knows, maybe you'll end up with a few new readers through it!

My brother, Kyle Telecky, is the one at far right. The rest of the crew, from left to right, is John Morgan (captain), Mike Pond, Dylan Pond, and Joel Murphy.
How great is that? You can see the pins on the guys' collars! Todd Radom and I have both gotten a big kick out of this — thanks so much, Aaron, and please thank Kyle for us as well!
If you want to wear the same pin as genuine Iowa high school football officials, it's available here.
• • • • •
• • • • •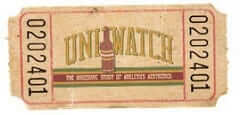 ITEM! Color Remix raffle: Reader Ron Heerlyn has generously covered the cost for me to raffle off one of our new Color Remix T-shirts, so that's what we're going to do today. The winner will get to choose any of the four designs shown above.
This will be a one-day raffle. USA mailing address only — sorry. To enter, send an email with your mailing address, choice of shirt, and size, to the raffle address by 8pm Eastern tonight. One entry per person. I'll announce the winner tomorrow. (And if you want to purchase any of these shirts, they're available in the Uni Watch Shop, plus the corresponding four caps are available here.)
Meanwhile, our latest raffle winner is Ridgeway Burns, who's won himself a Uni Watch membership card. As you may recall from yesterday's post, the sponsor of this raffle, Collin Lehman, had specified that the raffle should be open only to essential workers. Here's Ridgeway's description of his work:
I'm a librarian at the Hinsdale Public Library in Illinois. I've been working using the library's 3D printer to make PPE for the local hospital and have been delivering books to patrons via bike. The library has also been open to the public since July.

We're big into branding. Check out the lead picture in this NYT article my library was featured in — I'm the librarian wearing the library-logo helmet. We also have hats (but no full unis, to my dismay).
Is that awesome or what? Here's a larger version of the photo, showing Ridgeway with his book-delivery cart (click to enlarge):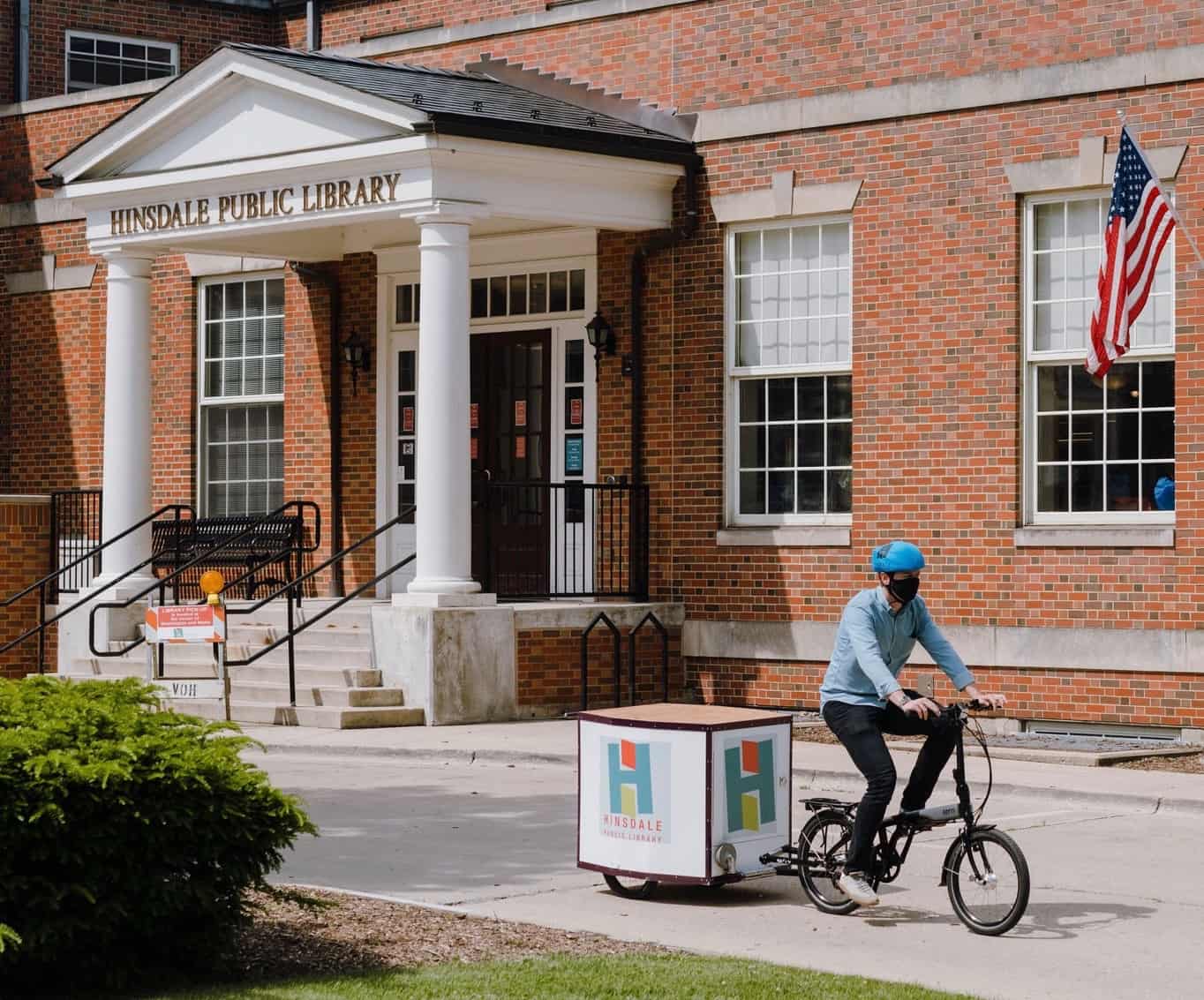 Congrats to Ridgeway (and also big thanks for the important work he does), and thanks again to Collin Lehman for sponsoring that one.
• • • • •
• • • • •

Click to enlarge
Theoretical menu update reminder: In case you didn't see it on Monday, the menu of theoretical T-shirts has a new addition — Ribs.
Wouldn't it be fun — just, you know, hypothetically — if these shirt actually existed and were available for purchase? If you agree, shoot me a note and we'll have a theoretical discussion.
• • • • •
• • • • •
The Ticker
By Lloyd Alaban

Baseball News: Twins 3B Josh Donaldson gave his teammates plush Twins bathrobes, complete with numbers and NOBs, prior to last night's game. Some players wore them in the dugout (from multiple readers). … Mets OF Guillermo Heredia wore a Pirates-logo glove last night. Heredia played part of this season for the Pirates before being picked up by the Mets (from Kevin Ross). … Speaking of the Mets, P Jacob deGrom will honor late P Tom Seaver this week by wearing Seaver-themed cleats (from our own Brinke Guthrie). … A page on the online retailer Eastbay is selling 2018 Dodgers World Series champions caps and 2019 Astros World Series champions caps. Both teams lost their respective World Series matchups in those years (from Cody Van Ryn). … The Old North State League announced a new team in Reidsville, N.C., named the Reidsville Luckies. The team identity borrows the name of the original Luckies that played from 1935 to 1940 and again from 1947 to 1955. The name "Luckies" is a reference to the Lucky Strike cigarettes, and the new team's logo is loosely based on the cigarette brand's logo (from Logan Booker). … Reader Brandon Weir came across a display about a U.S. Army baseball team that played at Fort Mackinac, Mich., while visiting the fort. The gift shop there sells shirts with the former team's logo on it. … A Chunichi Dragons pitcher wore the wrong cap last night. … Here's a thread about players whose baseball cards show them wearing windbreakers under their jerseys. … Here's how the MLB Postseason logo patch looks on the Padres' caps.

NFL News: The Jaguars will go mono-teal for the first time in team history tomorrow night (from multiple readers). … Left over from Sunday: The Colts still have their old wordmark in their end zones, despite having changed their wordmark in the offseason (from @coledrinkswater). … Retired TE Vernon Davis wore a bedazzled Broncos-themed jacket during his performance on Dancing With the Stars last night. Davis played one season of his 14-year NFL career with the Broncos (from Griffin Smith). … Reader Tony Kellogg's friend Adam and Adam's father George are big Steelers fans. Adam and George are painting a Steelers-themed mural near George's home in Edinboro, Pa. The new mural is replacing one that they made together in the 1990s. The father/son duo is raising funds to help complete it.

College Football News: We previously reported that Ole Miss will wear powder blue over white this Saturday. Now the grounds crew has painted the end zones and field markings to match (from Griffin Smith). … Oklahoma State will wear 1987 throwbacks to honor alum and former RB Thurman Thomas (from multiple readers). … UTSA has quietly unveiled new uniforms (from Jacob Gibb). … South Carolina will wear a helmet decal this season honoring Dolores "Dodie" Anderson, a fan who passed away in July at 92 (from Jason Rapp).

Hockey News: The masks and pads the University of Minnesota men's team is wearing to advertise their NHL prospects have the Minneapolis skyline on them (from Frank T.). … Boston's Logan Airport hangs banners in one of its terminals for the Boston sports teams that have won championships. They just added the NWHL's Pride, who weren't there even though they won the Isobel Cup in 2016. They also got a banner for being the best team in 2019-20, but the Isobel Cup wasn't awarded that year (from our own Jamie Rathjen).
.

Soccer News: Here's a thread showing Formula One liveries redesigned as soccer kits (from Mark Robbins).

Grab Bag: Google is teasing a new logo for Gmail. … A legal battle is brewing over the origin and ownership of Nirvana's famous smiley face logo (from Timmy Donahue). … New logo for the Conservative Party of Canada (from Ted Arnold). … Coca-Cola is pulling out as the title sponsor advertiser for the National Hot Rod Association Drag Racing Series. … New logo for the magazine The Nation. … Cross-listed from the soccer section: Here's a thread of Formula One liveries redesigned as soccer kits (from Mark Robbins). … Following complaints of racial stereotyping, Uncle Ben's rice is getting a new product name and logo (from Timmy Donahue).
• • • • •
• • • • •