Good morning! Greetings from Uni Watch HQ, where all three inhabitants continue to be safe and well, and where I'm happy to bring you the first Monday Morning Uni Watch of the 2020 NFL season.
And as MMUWs go, this one is a doozy, because yesterday was an unusually uni-eventful day around the league. That's in large part because there were no preseason games this year, so a lot of things that we would normally have seen in August ended up staying under wraps until the start of the regular season. Also, some teams inexplicably waited until yesterday to announce and unveil patches, decals, and so on, so things that would normally have been included in my NFL Season Preview column instead ended up being announced just hours before yesterday's kickoff.
Moreover, the lack of preseason games meant yesterday was our first chance to see all of this season's new uniform designs on the field. As you can see above, the Chargers looked particularly sharp (although they had the advantage of standing out against the Bengals' laughably bad mono-black costumes). I've been saying for decades that they should bring back the yellow pants, and the results were every bit as excellent as I had hoped for. You can see more photos from that game here and here.
Not every team debuting new uniforms was so lucky. Up in Foxboro, there was some weird shit going on with the Patriots' new unis. As you know, their new navy jerseys are similar to last year's Color Rash jerseys, but with a new number font and new NOB font. On the field yesterday, however, some players appeared to be wearing the old Rash jerseys instead of the new primary jerseys. Here, for example, is a shot showing cornerback Jason McCourty (No. 30) in the new jersey and teammate Joejuan Williams (No. 33) in the old Rash jersey (for this and most other photos in this section, you can click to enlarge):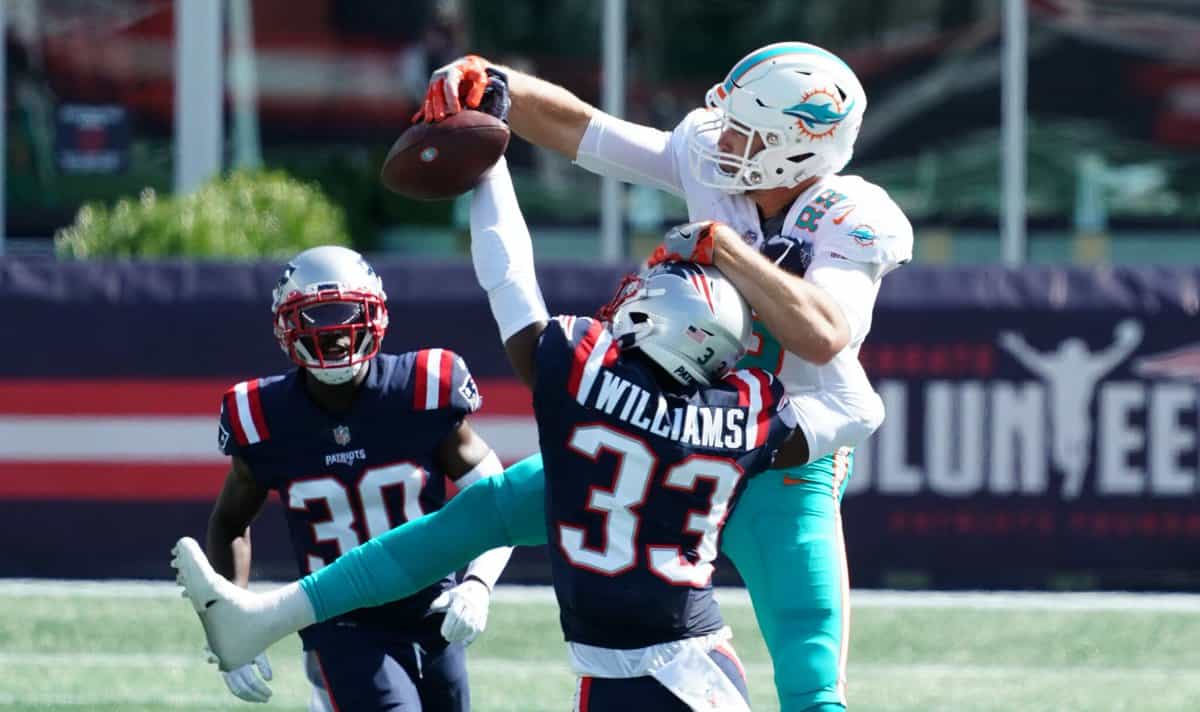 Even stranger, offensive lineman Jermaine Eluemunor had the old Rash number font — but paired with the new NOB font! Dig: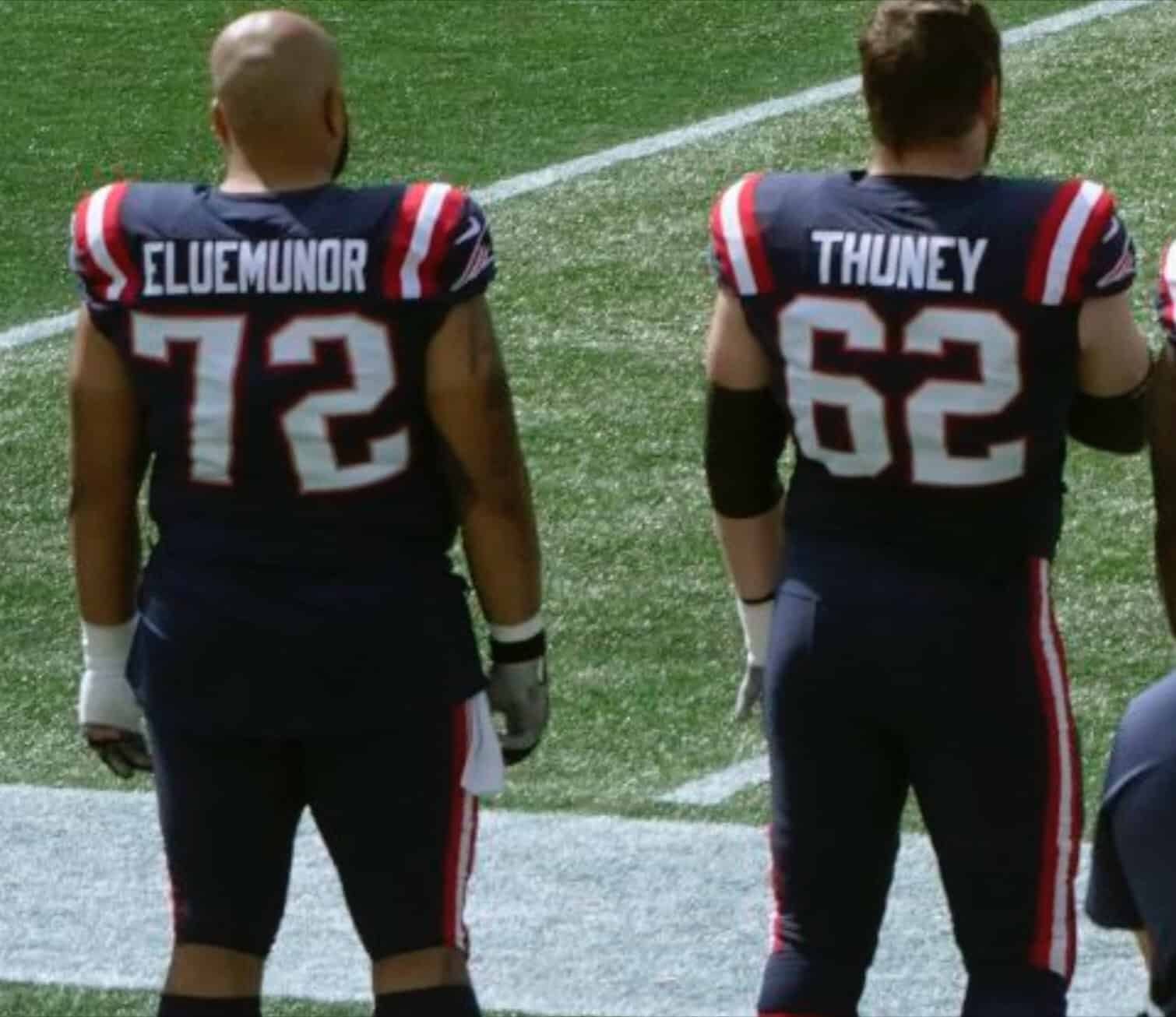 Similarly, running back J.J. Taylor had the correct number font but the old, incorrect NOB font! Check this out: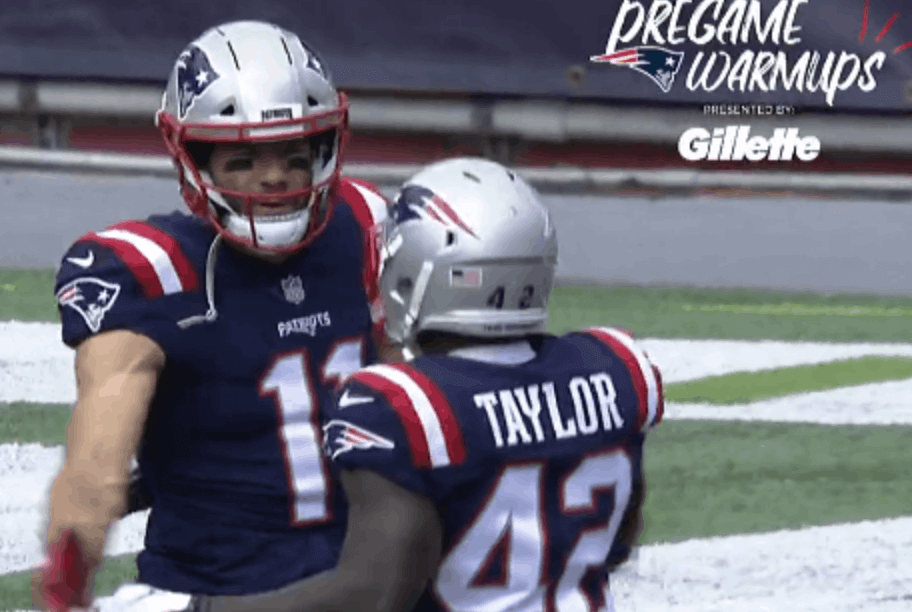 What a mess! You can see more photos from that game here.
And then there were the Rams, who debuted their bone dishwater uniforms, which were every bit as awful as the unveiling led us to expect: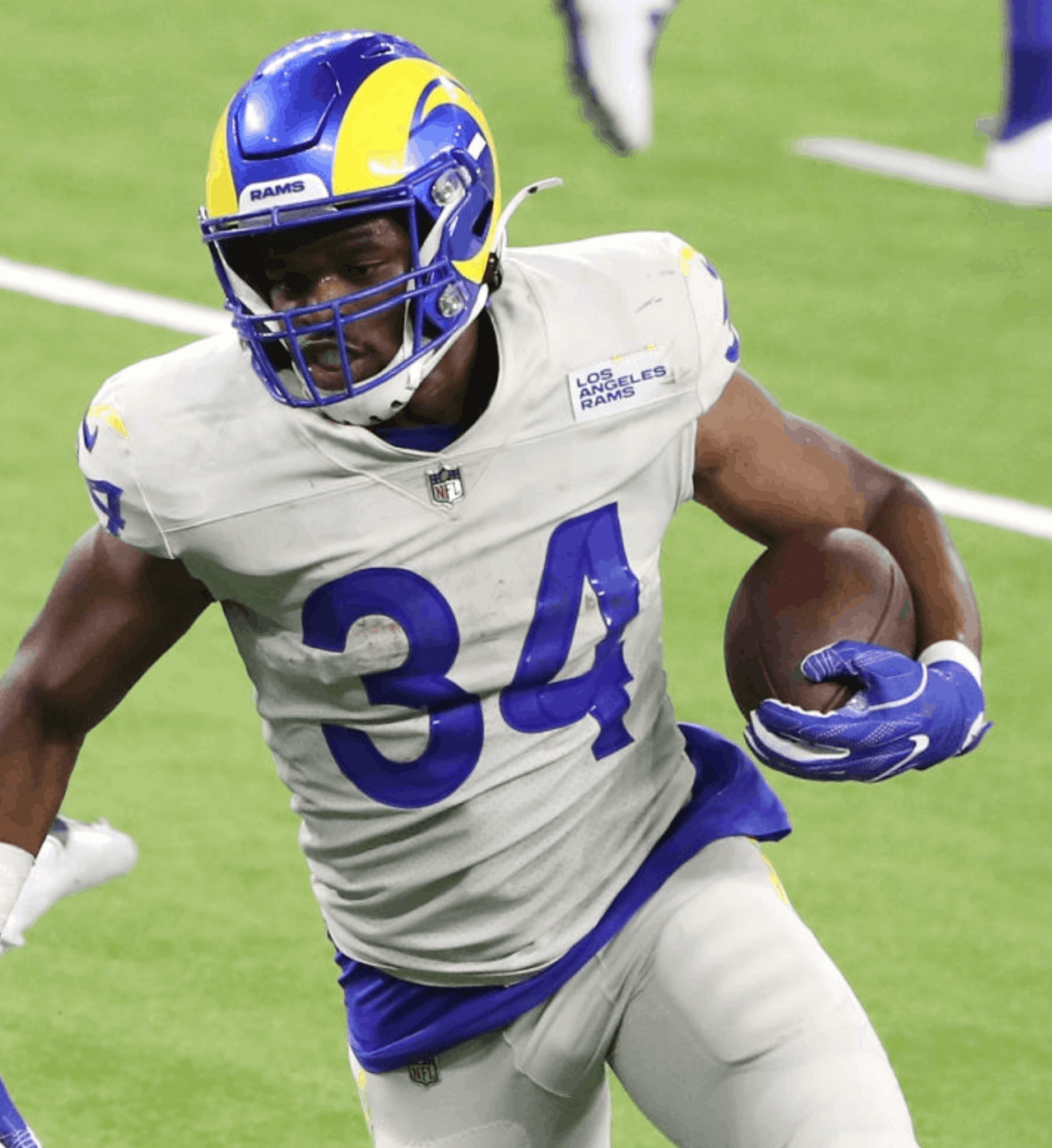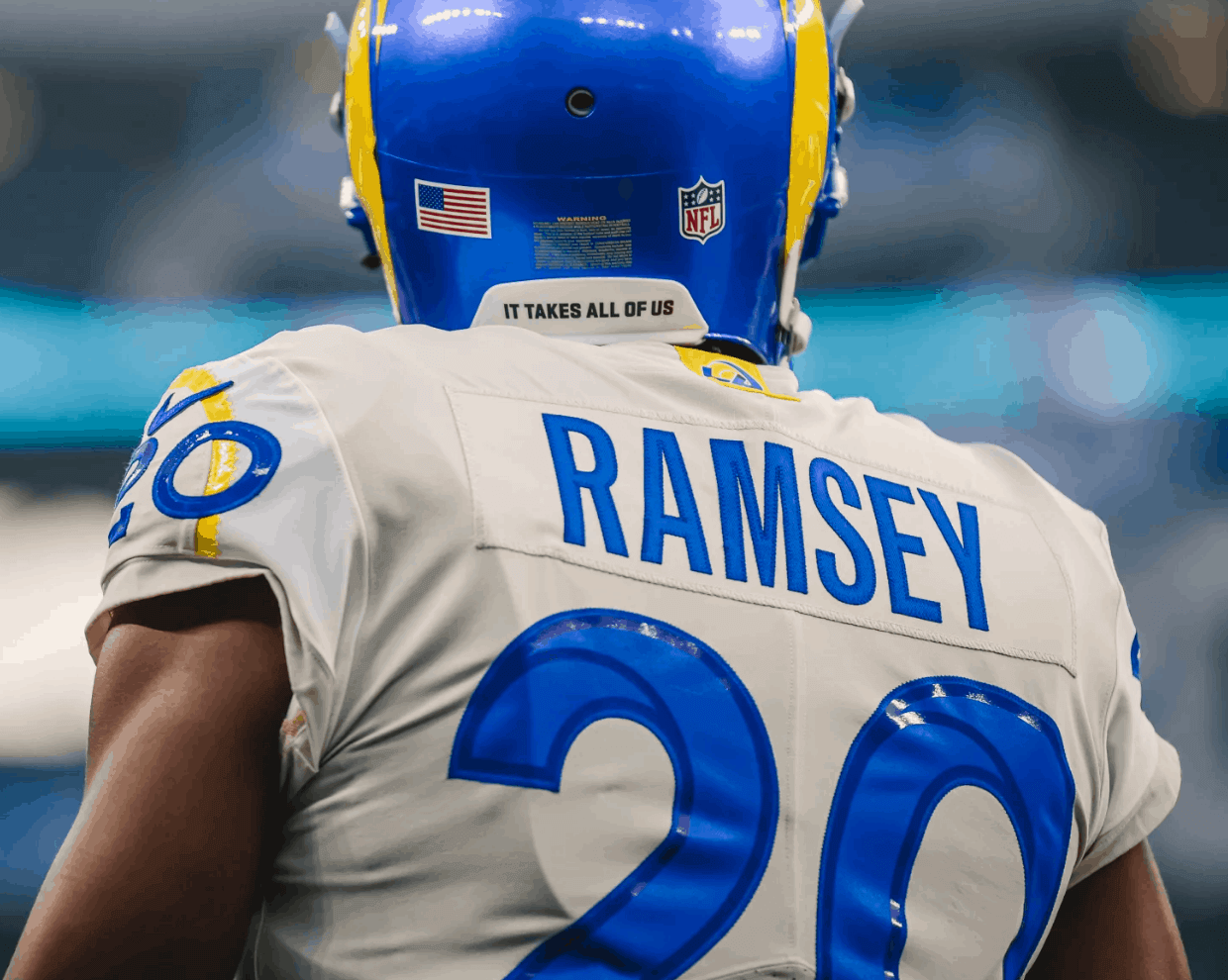 What a mistake. You can see additional pics from that game here, and here are additional photo galleries showing our first on-field looks at the new Browns, Bucs, Colts, Falcons, and Washington uniforms.
In other news from around the league yesterday:
• In my NFL Season Preview column, I reported that the Packers would have a memorial helmet decal for Willie Davis this year but that they wouldn't announce or unveil it until "shortly before the season opener." They ended up waiting until yesterday morning, but here it is: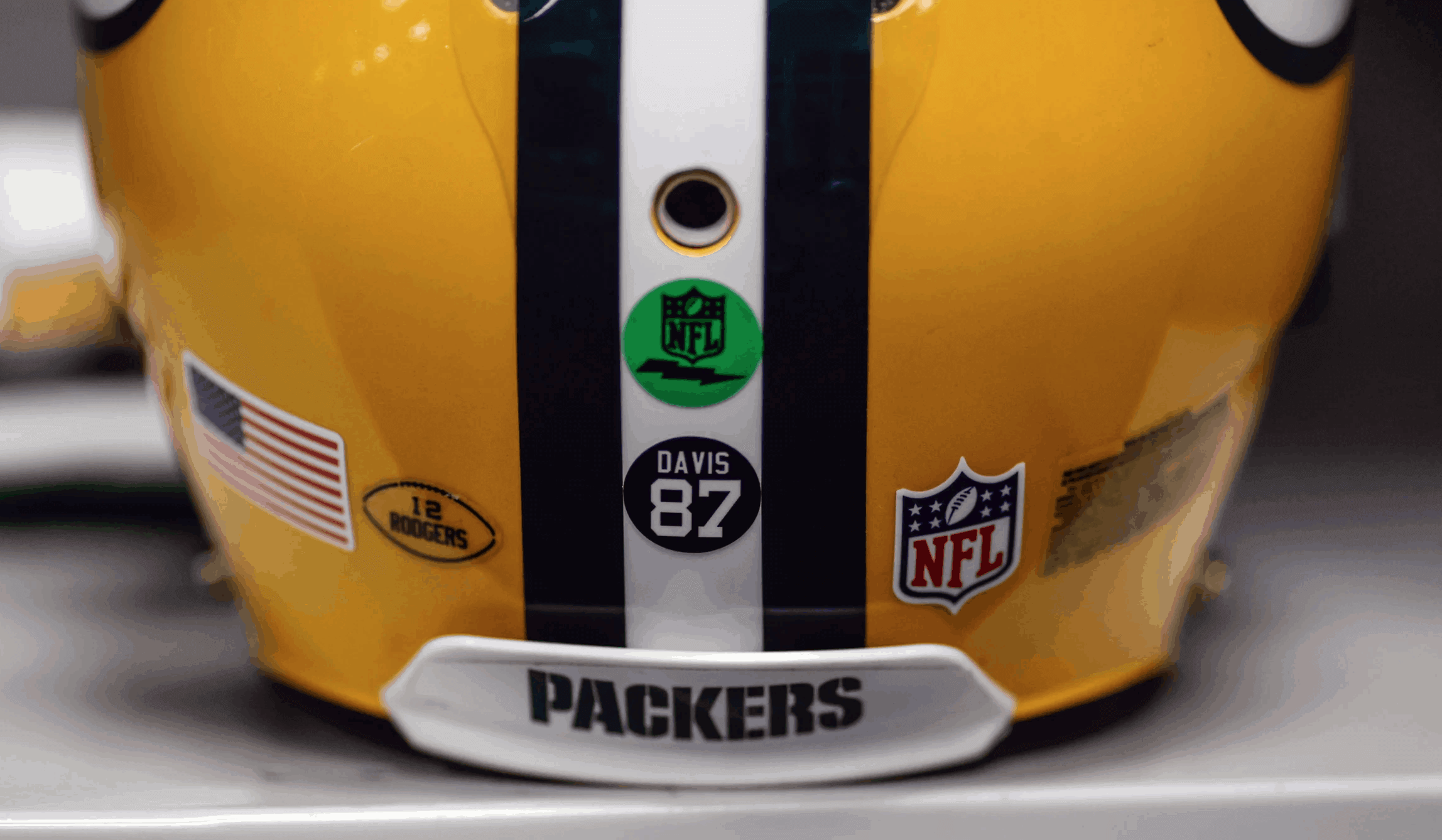 Note that the decal design matches the design of the Bart Starr decal they used last year.
• In another late-breaking uni memorial, but one that I don't think anyone had any inkling of beforehand, the Jets announced yesterday morning that they've added a season-long memorial patch for Betty Wold Johnson, the mother of team owner Woody Johnson and team CEO Christopher Johnson: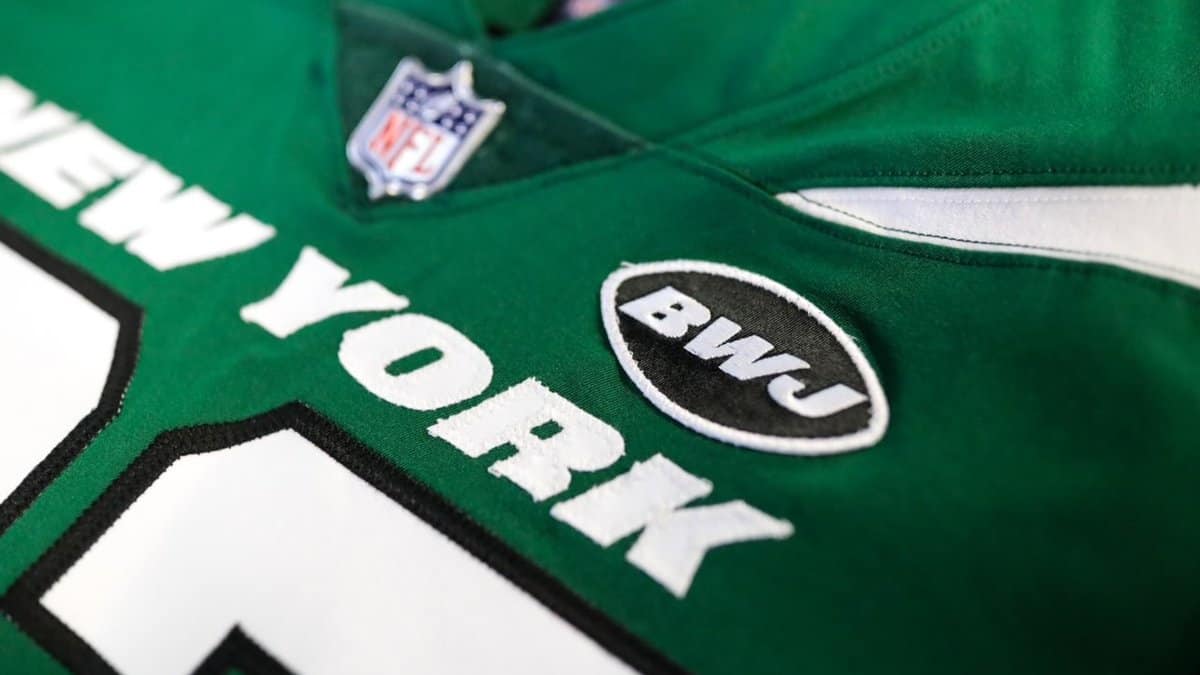 • In yet another late-breaking memorial, the Falcons saluted their hometown Congressman, the late John Lewis, by naming him as an honorary captain and also wearing wristbands with his initials. Their opponents, the Seahawks, also wore the wristbands, which featured the logos of both teams — a nice cross-team gesture for an American hero: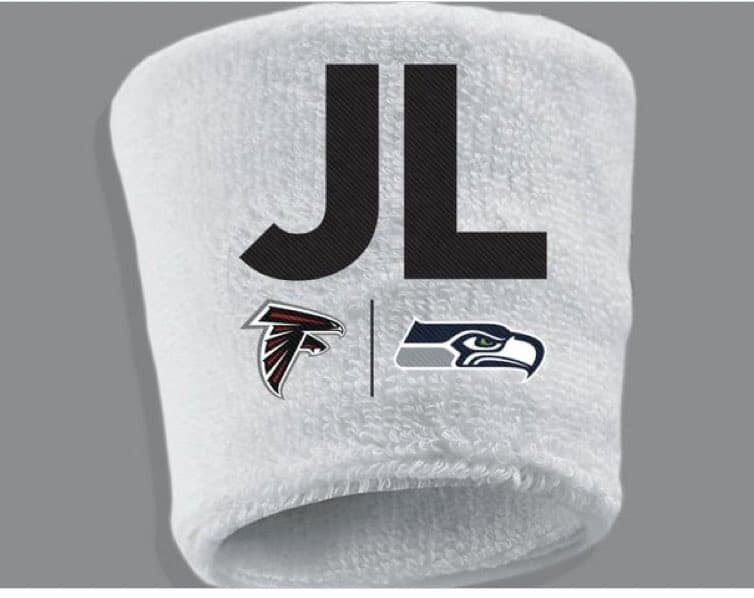 • And in still another new memorial (although this one was announced on Friday, not on Sunday), Washington has added a season-long "49" patch for Bobby Mitchell, whose number is also being retired:
• Speaking of Washington, linebacker Jon Bostic was the first to suffer a malfunction with the team's new helmet numerals: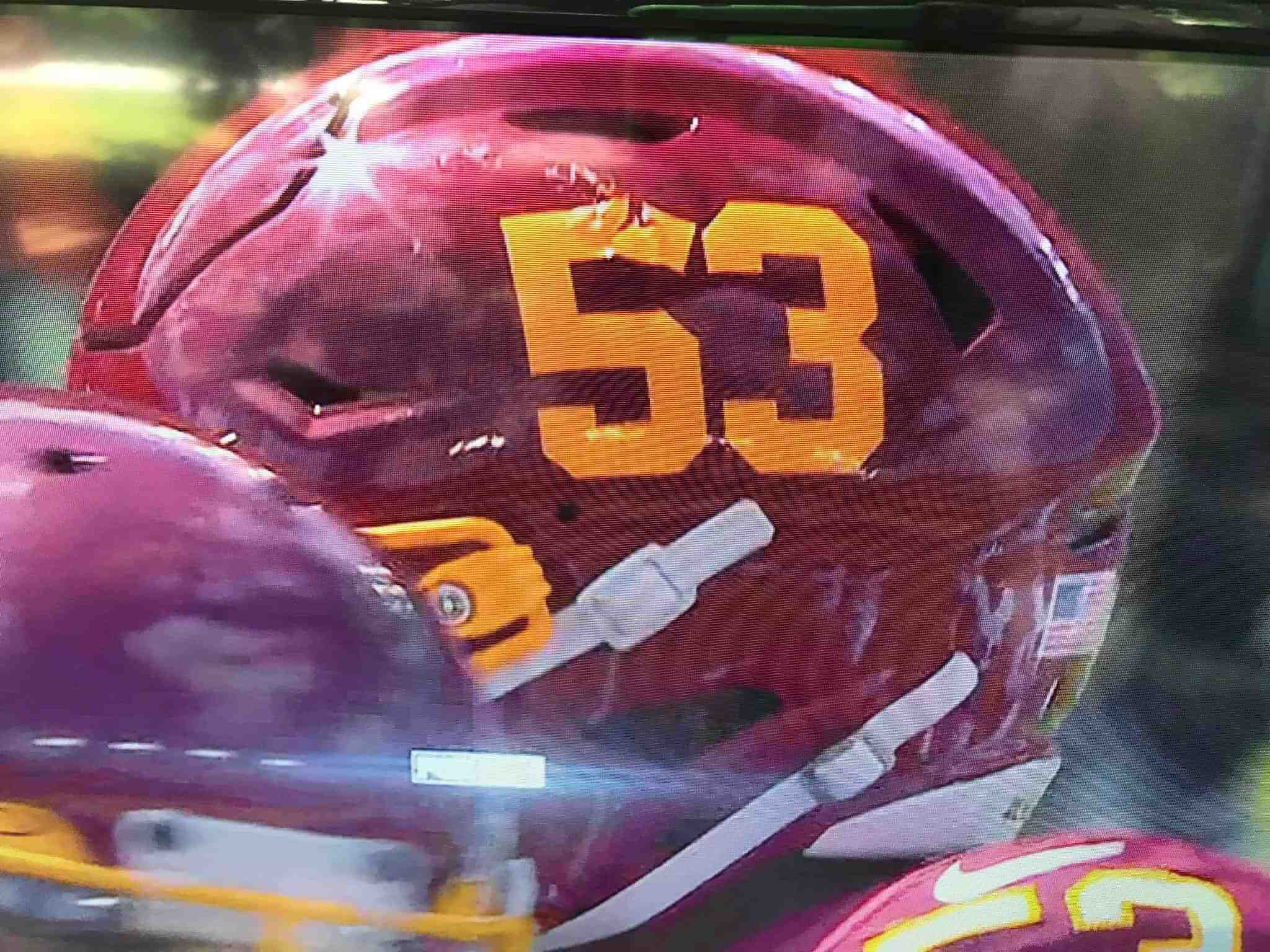 • In a terrible season-opening move, the Lions opted to go mono-blue:
• Bengals running back Joe Mixon wore a rear-helmet decal in support of his agent's cancer-stricken son:
#Bengals RB Joe Mixon is wearing a ribbon on his helmet today in honor of Gavin Schaffer, the son of his his agent Peter. Gavin is battling Hodgkin's lymphoma and doing well enough to continue playing lacrosse. Hence the sticks in the logo. pic.twitter.com/oR5GOBSalN

— Mike Garafolo (@MikeGarafolo) September 13, 2020
That's a nice gesture, and I'm plenty familiar with the ravages of Hodgkin's lymphoma (my brother died of it), but a uniform memorial for your agent's son? That seems like a bit much.
• New Bucs quarterback Tom Brady and new Colts quarterback Philip Rivers both wore captaincy patches with four gold stars and a gold "C" (that's the format for players who've been captains for their teams for at least five seasons), even though this is their first year with their respective teams (and also, somewhat incredibly, the first time in Brady's career that he's ever worn a captaincy patch!):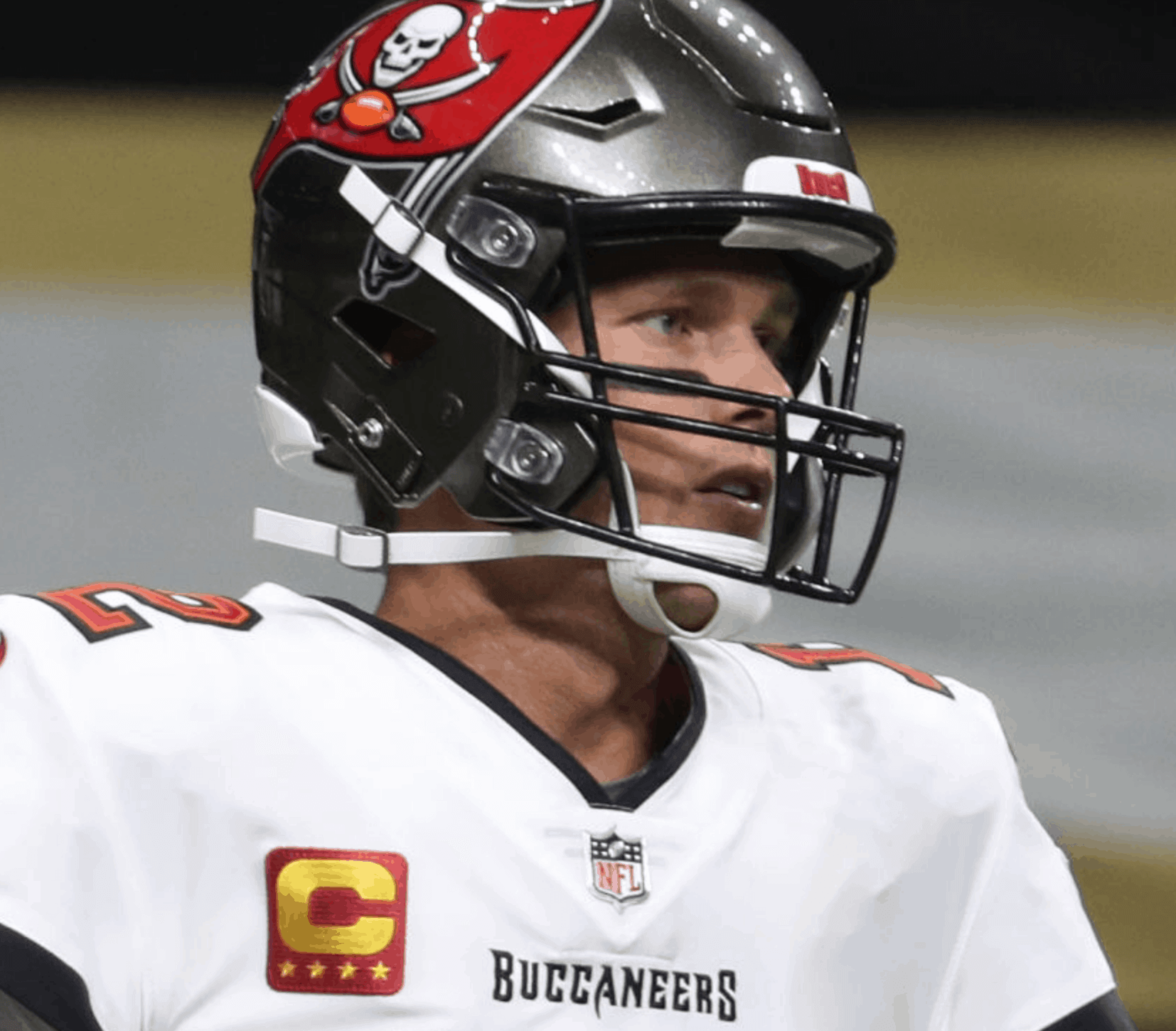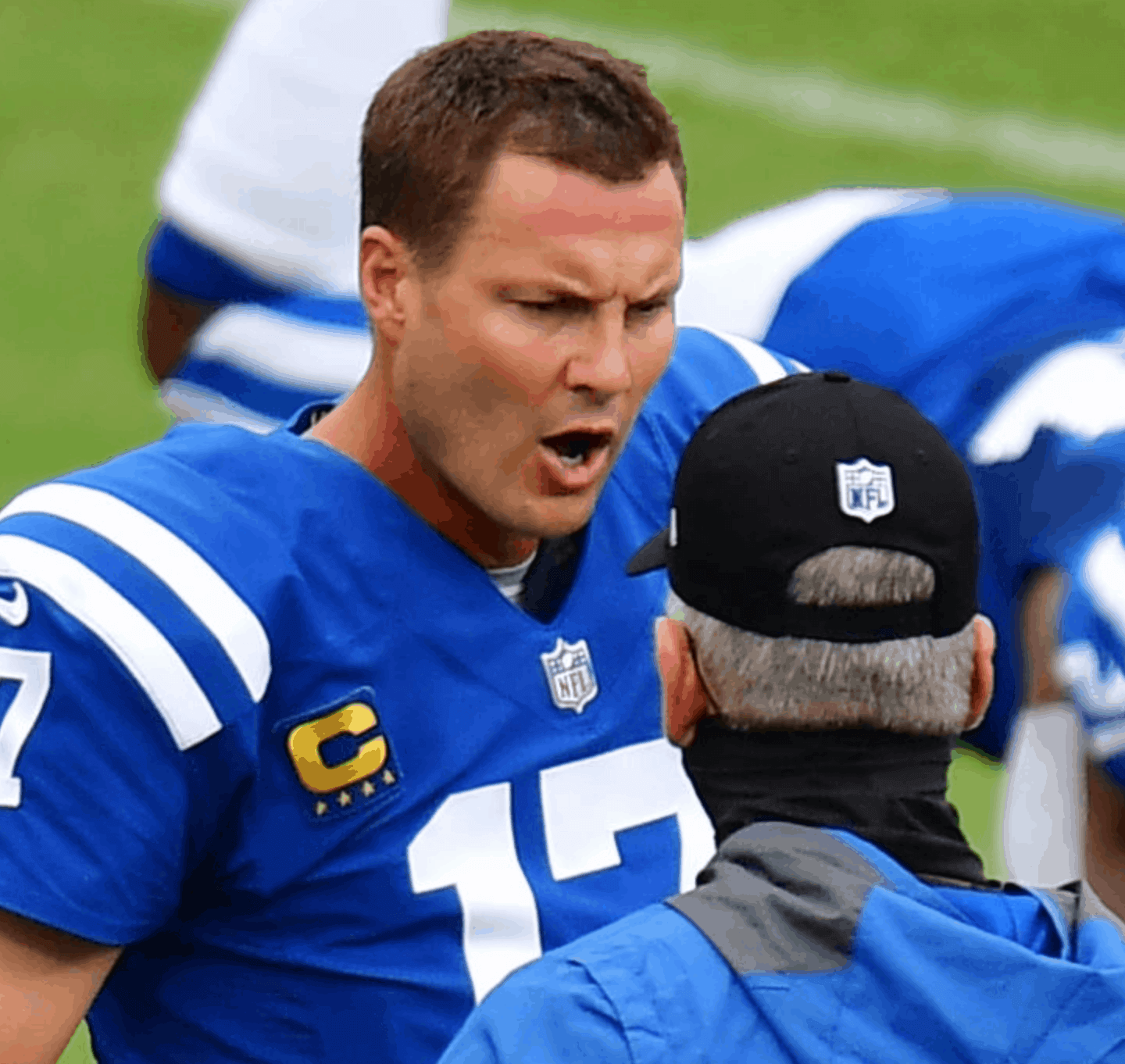 This isn't the first time we've seen teams playing fast and loose with the captaincy stars, of course, but it's not supposed to work that way. The NFL should really get rid of the stars (or just get rid of the patches altogether).
• Circling back to the Patriots, coach Bill Belichick wore the name "Fritz Pollard" on his visor. Pollard was the NFL's first Black head coach (additional info here):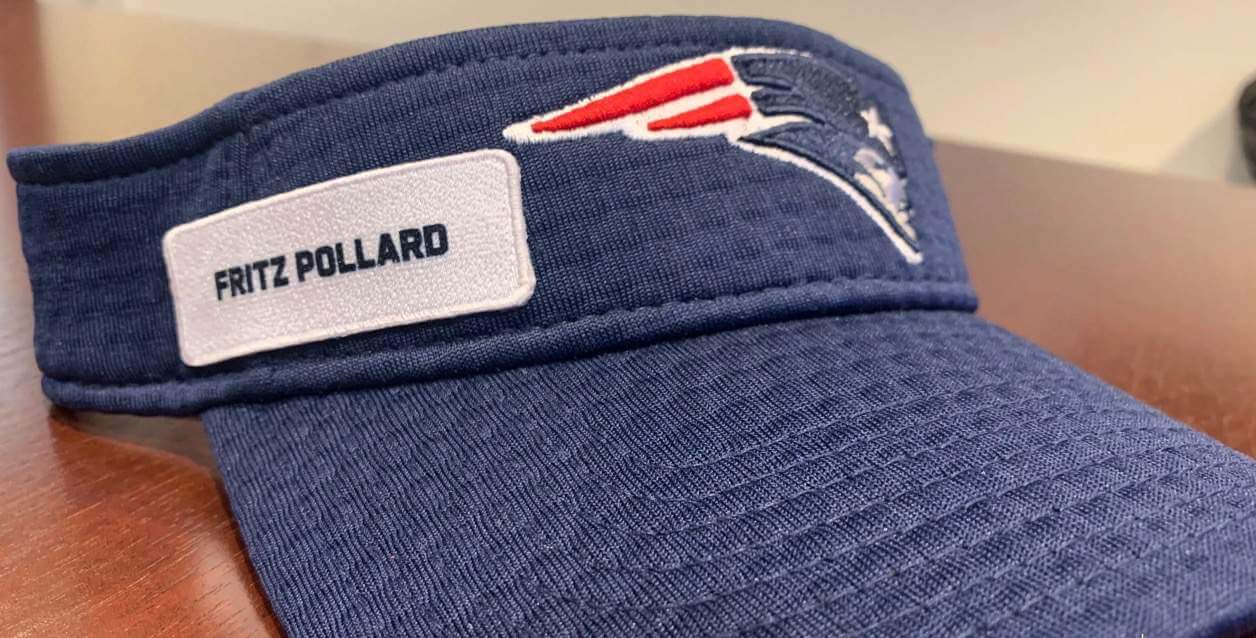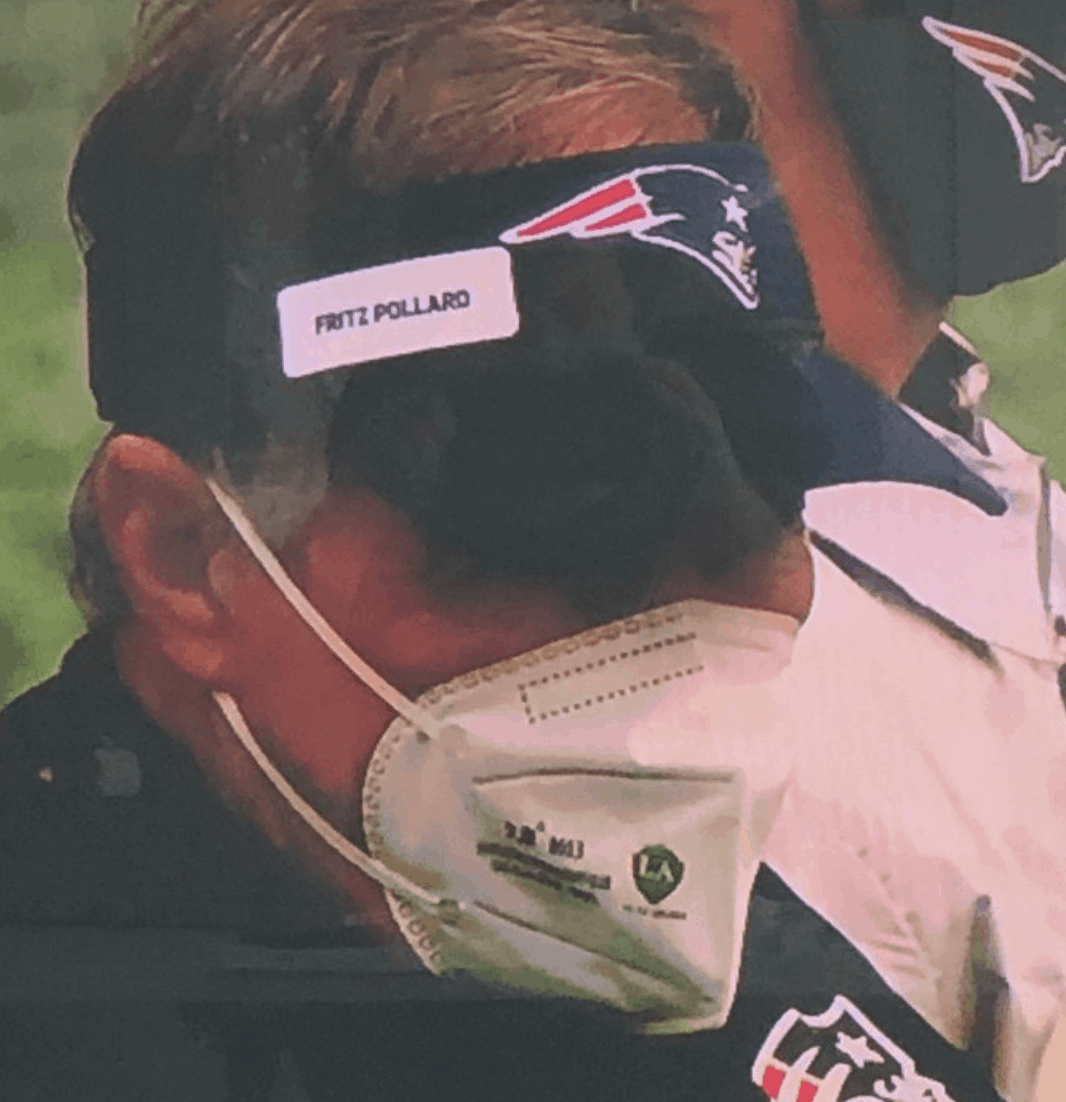 • One more Pats item: They've changed the number font for their yard lines. Here's a comparison — old version on top, new on bottom: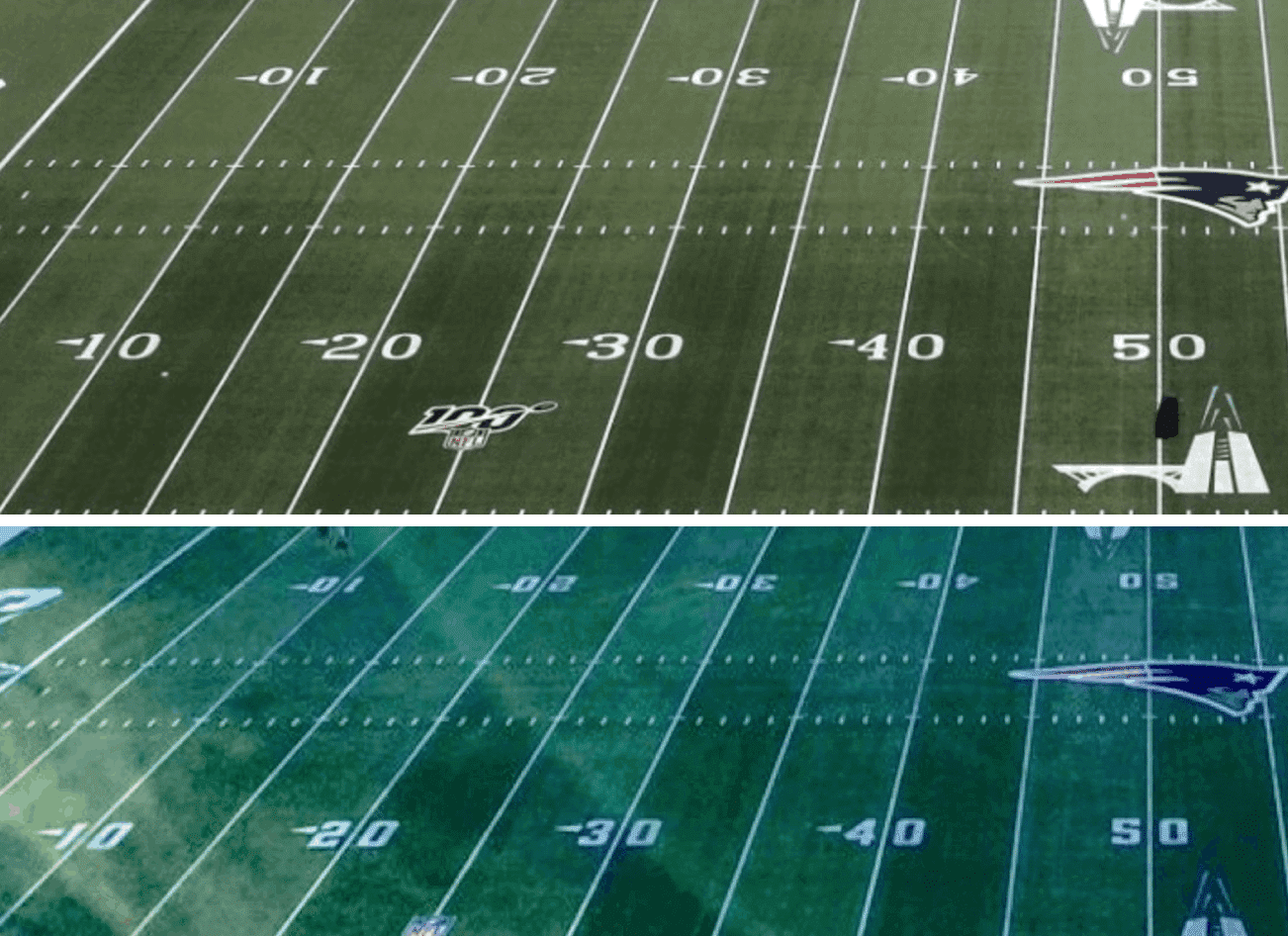 • Players wore a variety of social justice messaging on their pregame gear: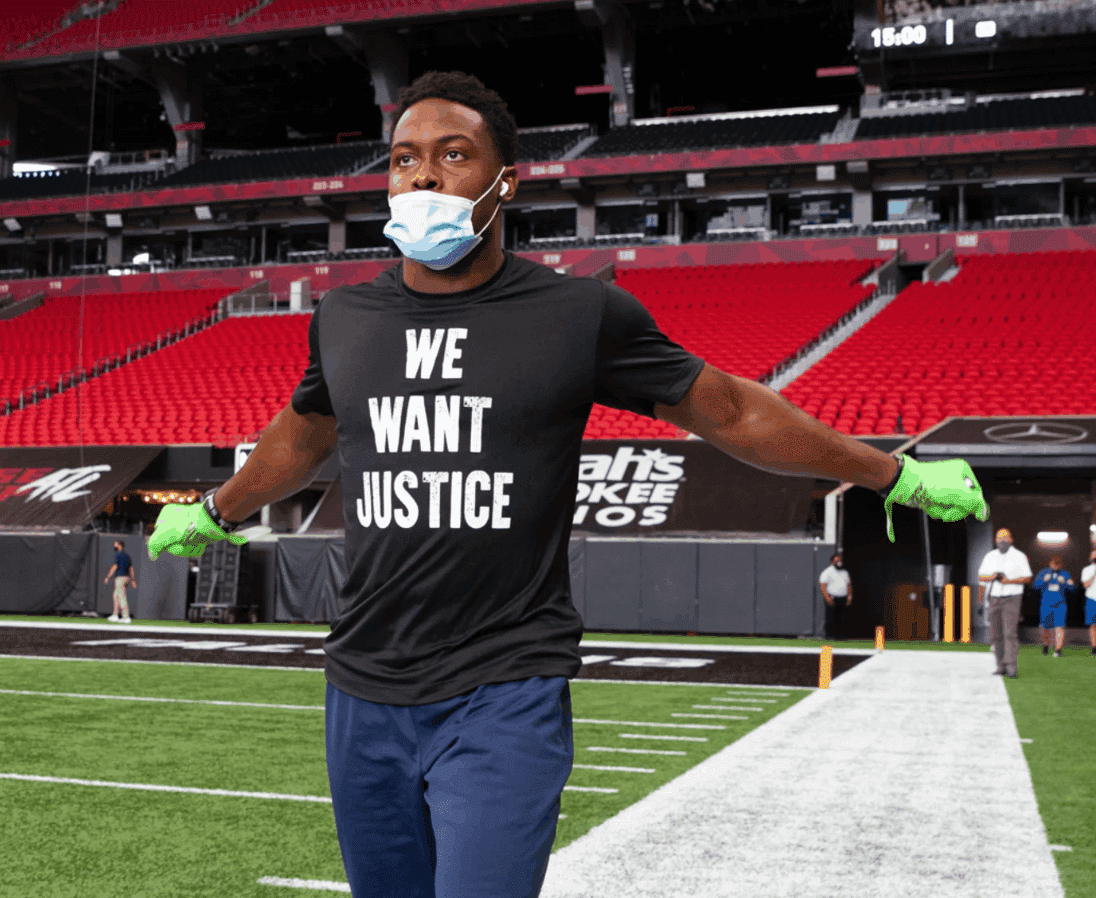 Injustice against one of us is injustice against all of us. pic.twitter.com/KKtXnpRGrm

— New England Patriots (@Patriots) September 13, 2020
— New York Jets (@nyjets) September 13, 2020
• The Ravens saluted Mo Gaba, a 14-year-old Ravens superfan who died of cancer in July, by adjusting their end zone lettering to highlight the letters "MO," plus they filled an entire seating section with cutouts of him (additional info here):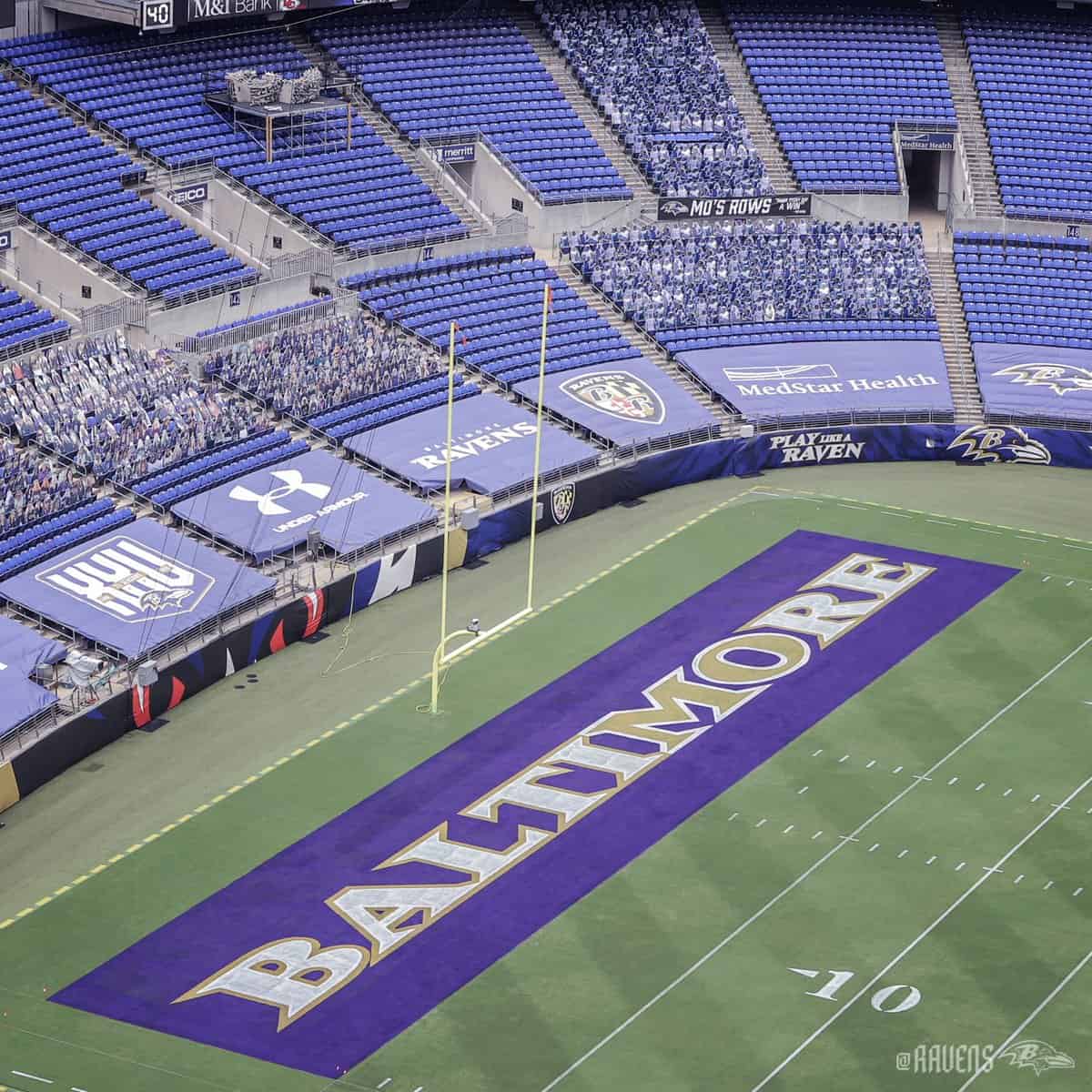 Mo's Rows 💜 pic.twitter.com/akpRpo6Gft

— Baltimore Ravens (@Ravens) September 11, 2020
• The Panthers have changed their end zone design. Here's a comparison — old version on top, new on bottom: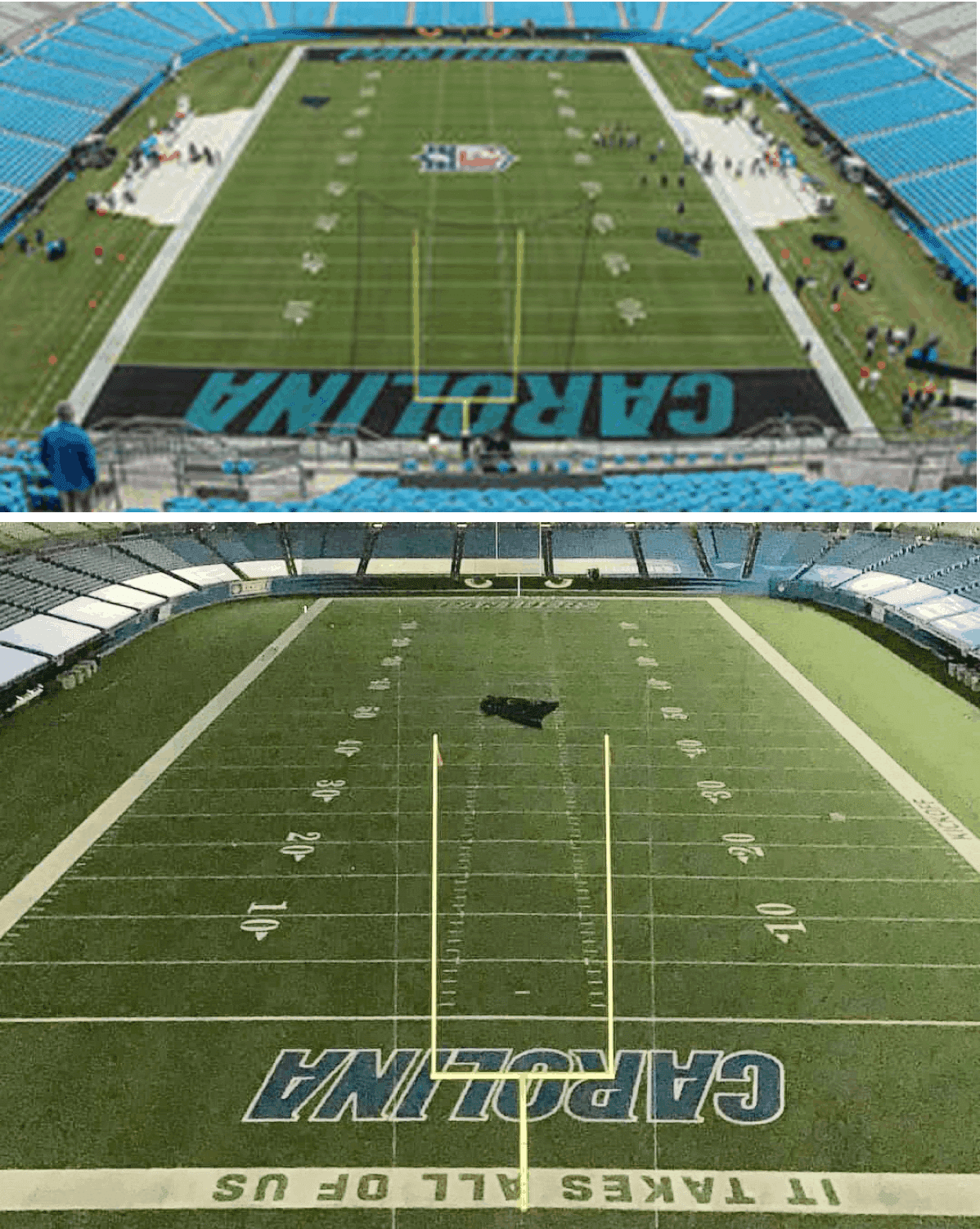 • The officials wore masks, and many of them wore "End Racism" patches on their caps: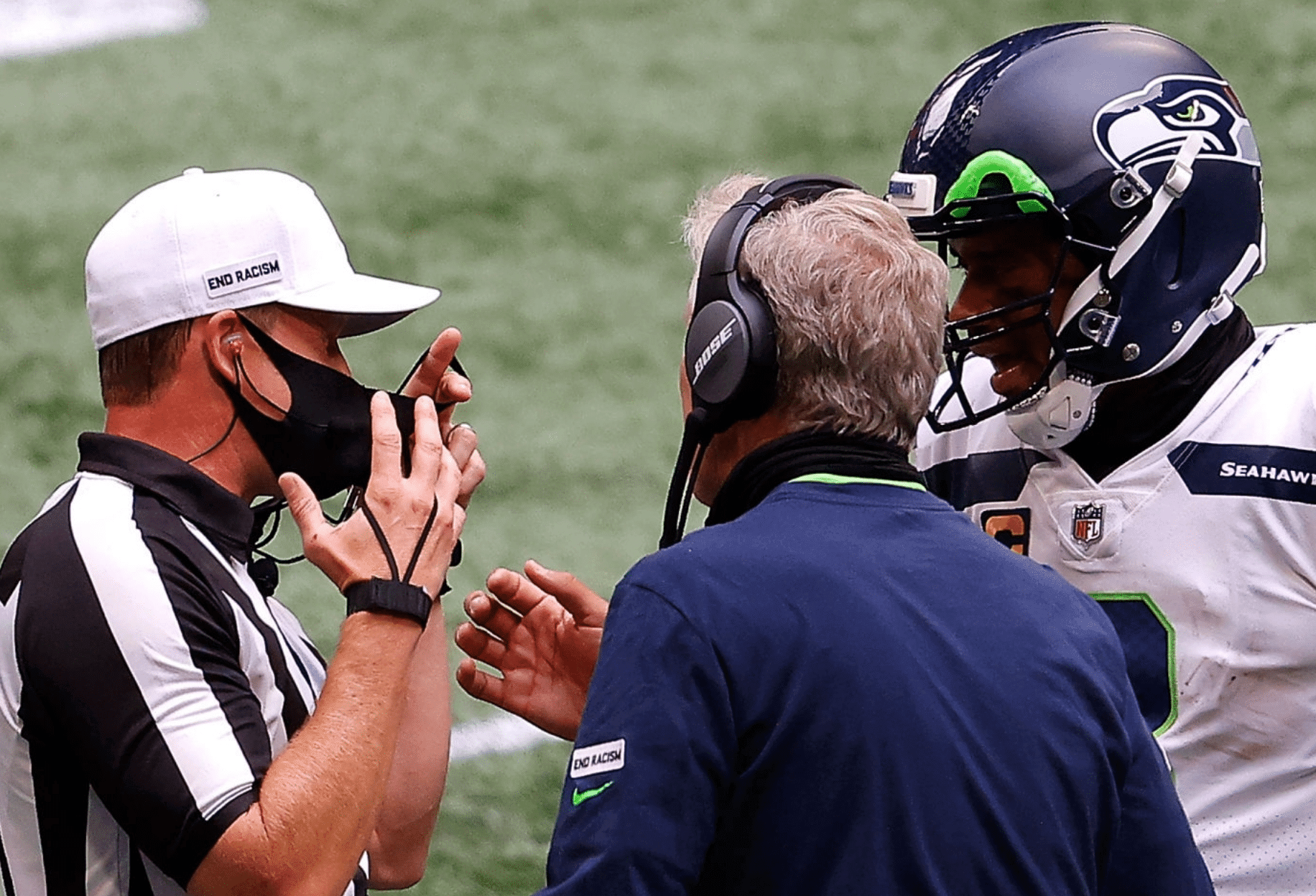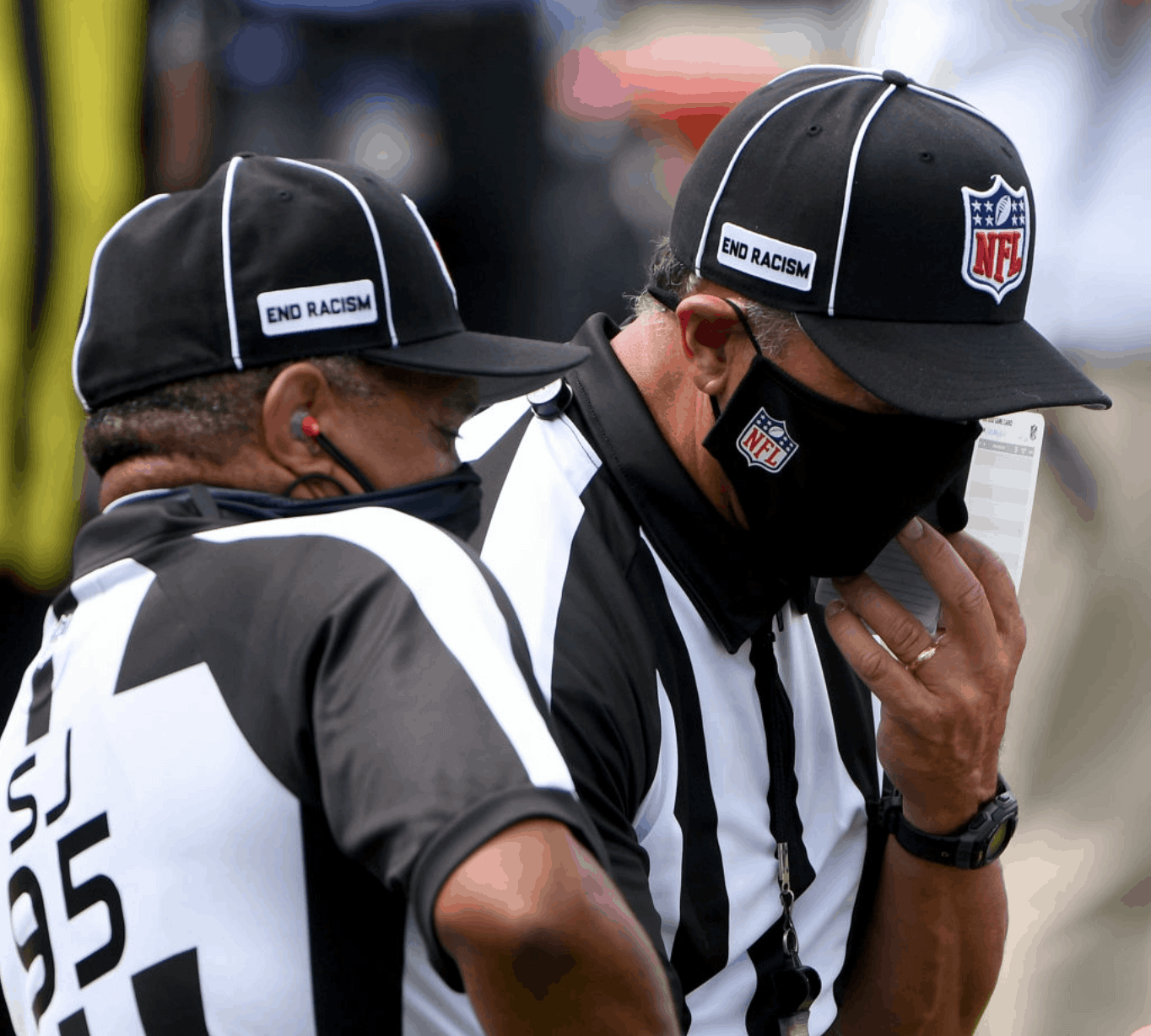 • Here's a good rundown of how various teams handled the national anthem.
• There were apparently some issues with the phony crowd noise.
• Four teams wore white at home: the Bills, Jaguars, Panthers, and Ravens (plus we could sorta-kinda include the Rams).
(My thanks to all contributors, including Jeff Ash, Ryan Bugaj, Gabe Cornwall, our own Anthony Emerson, Marcus Hall, Lance Harris, Will Hughes, Matt Monitto, @skinsunis, Mike Sullivan, and Dan Zappulla.)
• • • • •
• • • • •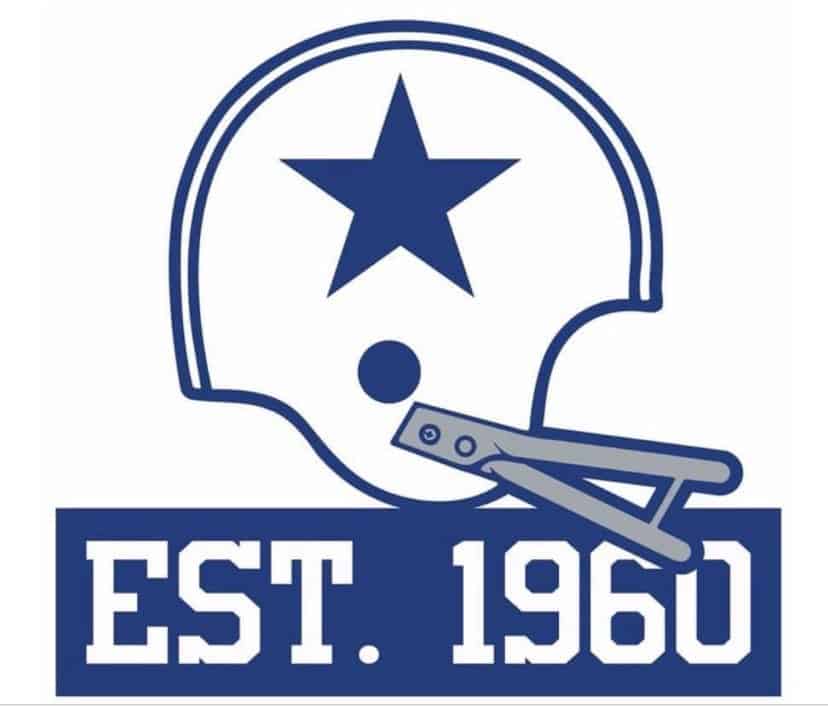 Uni Watch, Est. 1999: I've mentioned several times how interesting it is that the Cowboys chose to put "Est. 1960," rather than "1960-2020," on their 60th-anniversary logo (which they're also wearing as a jersey patch). What I didn't realize until now was that this is part of a larger trend that extends throughout the world of trademarks and logo design.
According to a great new article by James Bowie, "Est." and its variants are now appearing in trademarks 17 times more frequently than in 1980. Here's a chart that shows the trend (click to enlarge):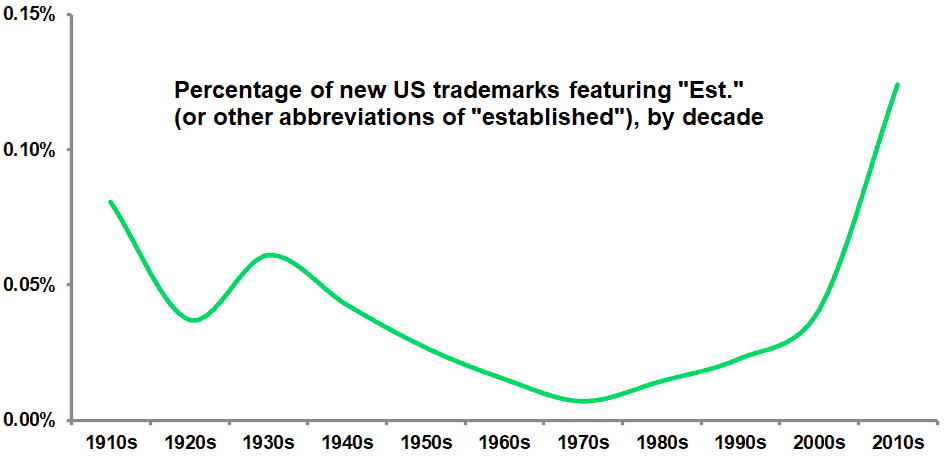 As you can see, the use of "Est." bottomed out in the 1970s, presumably because being associated with "the establishment" in any manner was considered out of step with the countercultural times. As for "Est."'s current resurgence, Bowie provides some good analysis — recommended reading.
Unfortunately, the article doesn't mention the Cowboys' anniversary logo. It'll be interesting to see if any other teams follow Dallas's lead with their own upcoming anniversary patches.
Update: Reader/commenter LI Matt notes that this trend has also hit the Washington Football Team's new end zones, which include "Est. 1932"!
(Thanks to my buddy Rob Walker for this one.)
• • • • •
• • • • •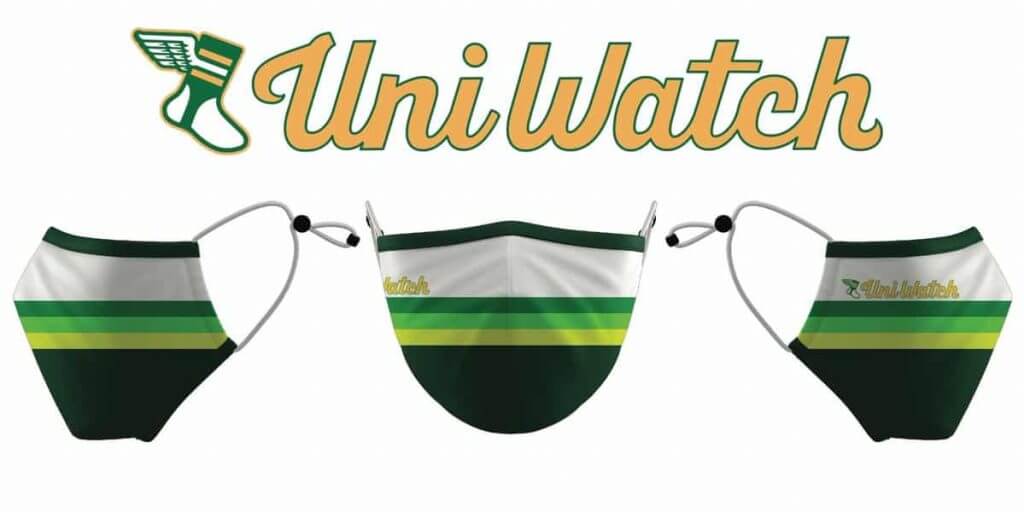 ITEM! Another mask raffle: Although our Uni Watch Tequila Sunrise Masks are sold out, reader Jeff Link has two extras — both in the M/L size — that he's generously letting me raffle off, so that's what we're going to do today.
This will be a one-day raffle. USA addresses only, sorry. To enter, send an email with your mailing address to the raffle address by 8pm Eastern tonight. I'll announce the two winners tomorrow.
Meanwhile, the winner of last Friday's raffle is Dan Matkowsky, who's won himself a Uni Watch membership card. Congrats to him, and thanks to reader Chris Meisse for sponsoring that one.
• • • • •
• • • • •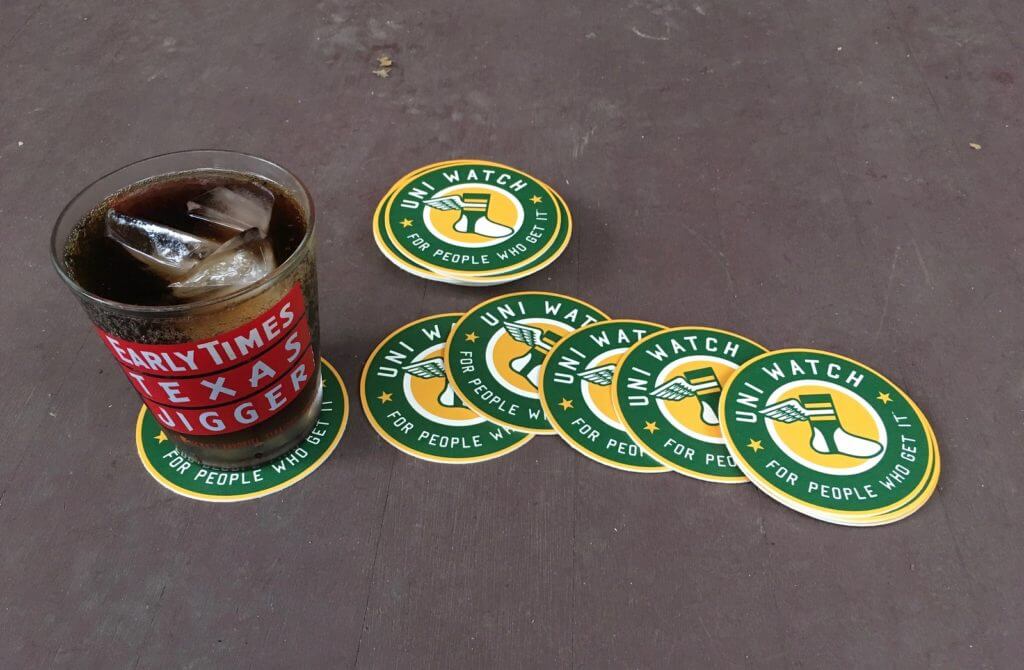 Click to enlarge
Coasters reminder: In case you missed it on Friday, I once again have a few sets of Uni Watch Coasters available. As of this morning, just six sets left now down to four sets — these won't last long, so move fast if you want a set. Full details here.
• • • • •
• • • • •
The Ticker
By Jamie Rathjen

Baseball News: Interesting stat from Twitter-er @attorney_troy: The Cubs' no-hitter yesterday was their fourth in a row for which they wore their blue alternate jerseys.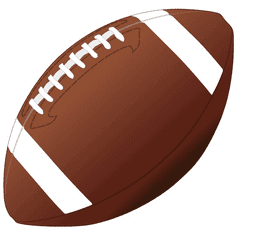 Football News: Washington owner Dan Snyder said he could possibly keep the "Washington Football Team" name (thanks, Brinke). … Some websites and apps have not yet updated Washington's logo, including theScore and Twitter (from Scott Gilliland and @KKane_27). … Meanwhile, Fox ads still use pictures of Tom Brady in the Bucs' old uniform (from Matt Brooks). … A commercial that aired yesterday features a truck with 49ers logos and flags, including the infamous one-day logo (from Mike Fudge). … Clemson RB Travis Etienne is apparently on his 12th helmet model since starting college (from Austin Pendergist).

Hockey News: A longtime AHL linesman has commissioned a very cool-looking Hershey Bears pinball machine (from William Yurasko).



Soccer News: Germany's VfL Wolfsburg wore a 75th-anniversary shirt and shorts on Saturday — the actual anniversary of the club's founding — but not matching socks, resulting in two different shades of green. … The Netherlands' Vitesse replaced their ad with a message thanking healthcare workers. … New kits for English League Two's Salford City and the Spanish third-tier team FC Andorra. … The USL Championship's Loudoun United added a patch for the rest of this season thanking healthcare workers (from my brother Nate Rathjen). … NWSL teams playing this weekend wore a variety of messages on their warm-up shirts, either the names of Black victims of police violence or associated phrases of support. … English women's team Durham moved to their own stadium, Maiden Castle, named after a nearby fort. … Liverpool's new second kit made its competitive debut in the Women's Championship with plain cyan shorts, which don't match the pattern on the shorts and socks.

Grab Bag: The first two items are from the Australian Football League: Melbourne wore a one-off guernsey including the names of fans who donated to a club fundraising campaign to offset the financial impact of the pandemic. The design originates from one worn in preseason, where AFL teams sometimes experiment with their looks, in the late '90s. … Sydney also wore throwbacks from their time as South Melbourne. … New shirts for the Polish men's volleyball team MKS Będzin (from Jeremy Brahm). … The Pringles cannister is apparently one of the hardest individual items to recycle, so it's being redesigned (thanks, Brinke). … Some New Mexico teenagers designed the badge for a NASA mission that's taking New Mexico chile peppers to space (from Timmy Donahue).
• • • • •
• • • • •