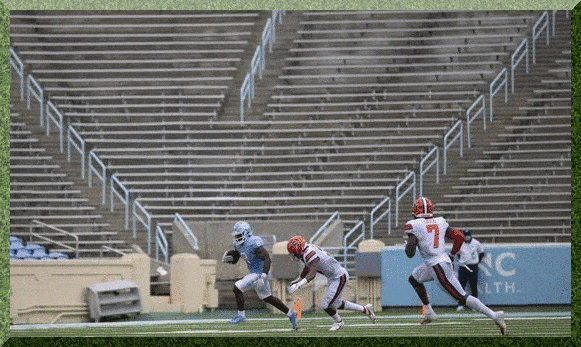 By Phil Hecken and the SMUW Crew
Follow @PhilHecken

College Football is back! (OK, yes, I know it started like a week ago, but this was the first weekend with some of the Power 5 conferences playing). I'm also pleased to announce the entire SMUW Crew: Terry Duroncelet, Jr., Michael Malinowski, Rex Henry, Dennis Bolt, Ethan Dimitroff and Kyle Acker return for another season, and there's a new feature, "What They Should Have Worn" (by Logan Patterson) makes its debut! Since we obviously won't have nearly as many games as in prior seasons, due to the COVID-19 pandemic, that doesn't mean we'll have any less quality coverage! In fact, periodically some (or all) of the SMUW crew will contribute an additional section, or factoid, or "best of" tracking throughout the season (for as long as it lasts — and I do hope we get a "full" season this fall.
Today's splash photo is probably somewhat jarring — teams playing in an empty stadium — but it's going to be the new normal for many teams this season. Yes, some teams are playing in front of live fans (at reduced capacity), but there are many teams who are playing in empty stadia. Even those stadia with fans won't be filling them very fully. I watched a bit of FSU/GT yesterday (which had live crowds) in the Doak. I believe the stadium holds close to 80,000 when full, but only 15,000 fans were allowed in. It didn't look or feel the same. But it's still football, and here at Uni Watch we're more concerned with what the teams are wearing on the field than whether or not there are any fannies in the seats.
So welcome back, college football fans! SMUW is here. We've got a LOT to get to today, so as always, I'm going to turn the remainder of the lede over to my buddy and the guy who brings you the main action, Terry "TJ" Duroncelet, Jr. Here's TJ with your…
• • •
Sunday Morning Uni Watch
By Terry Duroncelet, Jr.
///BEFORE WE BEGIN, I want to address something from earlier in the year///
So, when I covered Wyoming in their Arizona Bowl game against the Georgia State Panthers back in January, I accidentally called Wyoming the "Cowgirls" instead of the "Cowboys". What had happened was I was verifying the University's full name on Wikipedia (for those who don't know, during bowl season, I reference each school by their full names, such as LSU's full name being 'Louisiana State University and Agricultural and Mechanical College' [yes that's real]), and I saw that depending on the rigid gender groupings, their athletics teams are either called the Cowboys or Cowgirls. At that time, my brain was fried from a plethora of things (and 2020 was just getting warmed up, mind you), and what I believe happened was my brain went into autopilot while doing the final writeup of the 2019 season, and typed 'Cowgirls' in place of 'Cowboys', and I didn't catch the error until it was too late. So yeah, smooth-brained moment of the year for me. Let it be known: this was completely unintentional, and no ill-will was directed towards the CowBOYS. That being said, I know explanation does not equal justification, so… eyah. Oops.
///Now that my last braincell has cleared the air on that gaff, let's get on with the show///
Hello, and welcome! I must admit, it's a little… alien, to see how the games are being held. Knowing that there won't be a THE v OF this year, having half a mind to cuss the crowd out for caring more about sportsball than human lives, but then remembering that the crowd noise is artificial… it's a weird mix of feeling nothing, and also the foreign nature that comes with things like the Uncanny Valley, and Liminal Spaces (*ahem*, not that Liminal, as much as I love Exivious). This entire year has been perhaps the most mentally and emotionally-exhausting of my life, especially as a person of color. But needless to say… it's good to be back, albeit a tad disconjointed. But to borrow a phrase from a certain wrecker of ships once said many years ago: let's make a silk purse out of a sow's ear.
From Saturday, Sept. 5th:
• Army and Middle Tennessee looked outstanding. Even in the middle of a pandemic, Contrast Matters.
• SMU wore their Dallas unis against Texas State. SMU's everyday unis are a staple look. That said, I– I'm gonna be honest here, I kinda like their Dallas unis a little more. just a little. Perhaps make some adjustments to the decal, and substitute the 'Dallas' wordmark with a similar cursive 'SMU', and you got the perfect successor to an already-solid look.
• North Texas wore their new white retro unis against Houston Baptist. They're nice, but honestly, this was a great contemporary uni that could've stood to stick around for a bit longer. On the other side of the ball, LSU helmet fanatics Houston Baptist wore 'BROTHERS' patches, one of MA-NY BLM-related patches to hit the college landscape.
From Monday, Sept. 7th:
• GOD, I love BYU in royal. And even though this isn't Navy at their strongest looks-wise, this was still a great-looking game… from a uniform standpoint, at least.
From Saturday, Sept. 12th:
• Texas wore patches that read "WeAreOne" against UTEP.
• Clemson wore BLM decals on the back of their helmets against Wake Forest, who did much of the same.
• As I'm sure you've seen all over Twitter, one of the many things people have been doing to lift Black voices is promoting Black artists. North Carolina did just that, by having Senior linebacker Tomon Fox design the patch. Here it is in their game against Syracuse.
• Where there's a Tar Heel, there's a Blue Devil. Duke swapped the white 'D' decals on their helmets for black ones in their game against Notre Dame. Speaking of which… this is a sight. Notre Dame, with a conference patch? In MY 2020– you know what, I retract that statement, let's move on. (yes, I know why they're playing in the ACC this season)
• Though I'm still getting used to the pickaxe C (and the facepalm-worthy joke that literally writes itself, in classic 2015-2019 Cleveland Browns fashion), Charlotte's new unis are actually pretty nice.
• [literally everyone]: "Can we have ONE! good thing to happen in 2020?"
[West Virginia's uniforms against EKU]: "NO."
• And finally, we have possibly my favorite racial justice patch, the leather strip motif that Iowa State is wearing for Jack Trice, the school's first African-American athlete, and namesake for their stadium, the only D-1 stadium named after an African-American (he died from being trampled several times in a game against Minnesota).
• In the Coastal Carolina vs. Kansas tilt, not only are some (if not all) Chanticleers wearing the older (and IMO, better) Sun Belt Conference logo, but as you can see, there's a goof in the spelling of Jayhawks QB Thomas MacVittie's name (it's missing the second 'i' near the end).
Oof, I am rustier than I thought. Not much coverage on my end, and honestly, between working wild hours at work, plus just how everything's been shuffled in ways we never thought possible, this is probably (definitely) not my best work. BUT! despite that, I will ease myself in, and next week should be more of what I feel is a proper running start. But until then, hope your day goes well, please stay safe and protect yourself, and others, and I'll see you neck week.
• • •
Thanks, TJ. I think we're all rusty — 2020 has a way of doing that. And this was a fine start. We'll get 'em again next week!
OK on to the rest of your SMUW…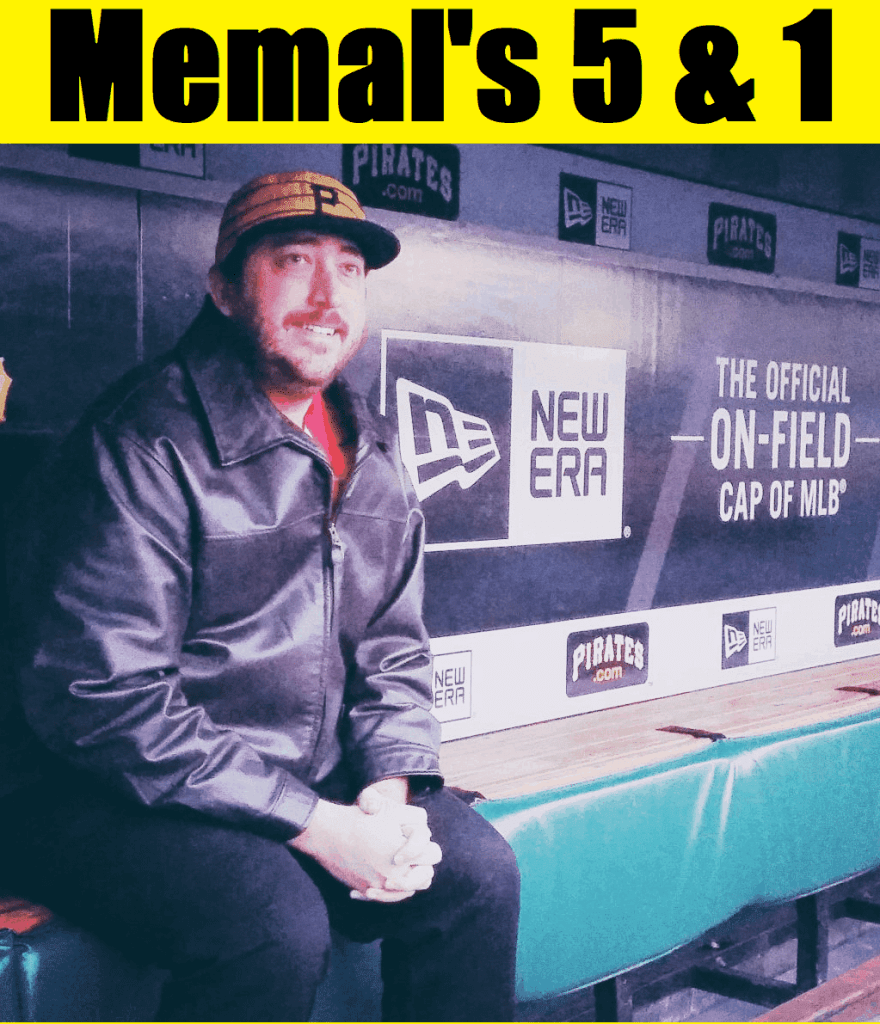 Memal's 5 & 1
Following in the footsteps of the original "5 & 1," Jim Vilk, Catherine Ryan after him, and finally Joe Ringham, in 2019 we introduced a new "5 & 1" (five good looking and one stinker) uni-vs-uni matchups — Michael "Memal" Malinowski. Like Joe, Catherine & Jim, Memal will pick HIS 5 best looking/1 awful matchup, and occasionally have some honorable mentions (both good and bad). You may agree and you may disagree — these are, after all, just opinions and everyone has one. Feel free to let him know what you think in the comments section.
Here's Memal
• • •
A lot has happened since the LSU Tigers lifted the College Football Playoff National Championship Trophy on the floor of the Superdome in January. At times it seemed as though we were not going to have a college football season. For some schools that is the case, while others are going to be participating in a season with little to no tailgating, stadiums at a fraction of capacity, and the ever present threat of a complete cancellation hanging above everything like the sword of Damocles.
Packed stadiums cheering as marching bands play fight songs is what makes college football my favorite sport to watch, so I'll be fascinated to see how everything looks, sounds, and feels this year. That being said, I am proud to present another season of the most subjective feature of SMUW to those in the uni-verse!
__________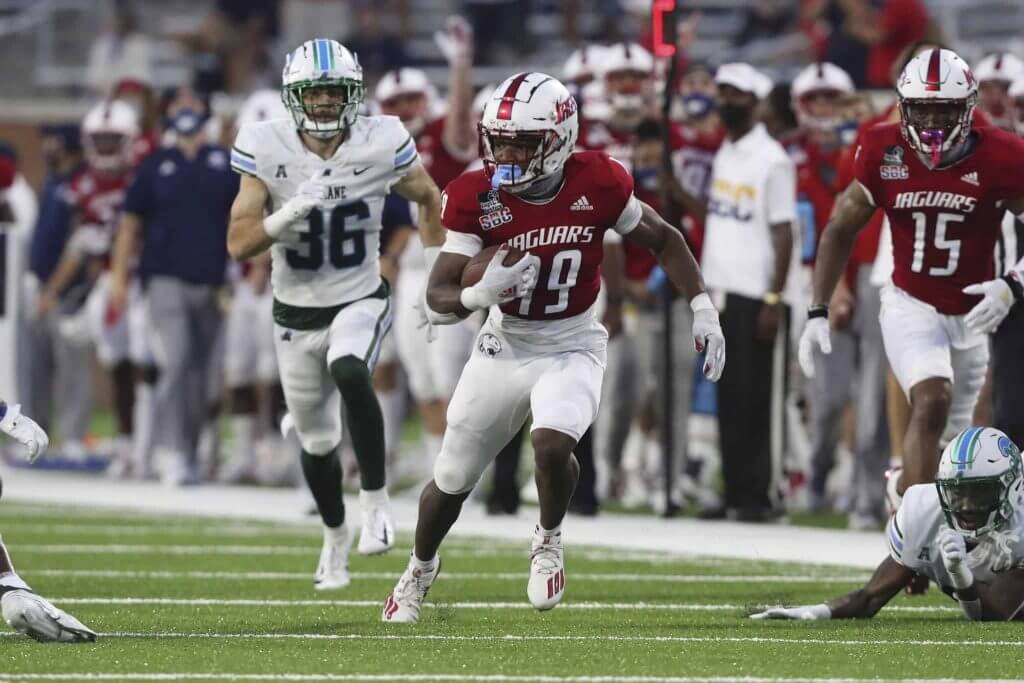 5. Tulane @ South Alabama

IMHO the Green Wave were one of the best looking teams last season and they started strong again with an all white stormtrooper look topped with a chrome Wave mascot decal. The Jaguars were also a team I made sure to pull up every week, because their simple uniforms with stylish numbers and short helmet stripe looked sharp every week.
__________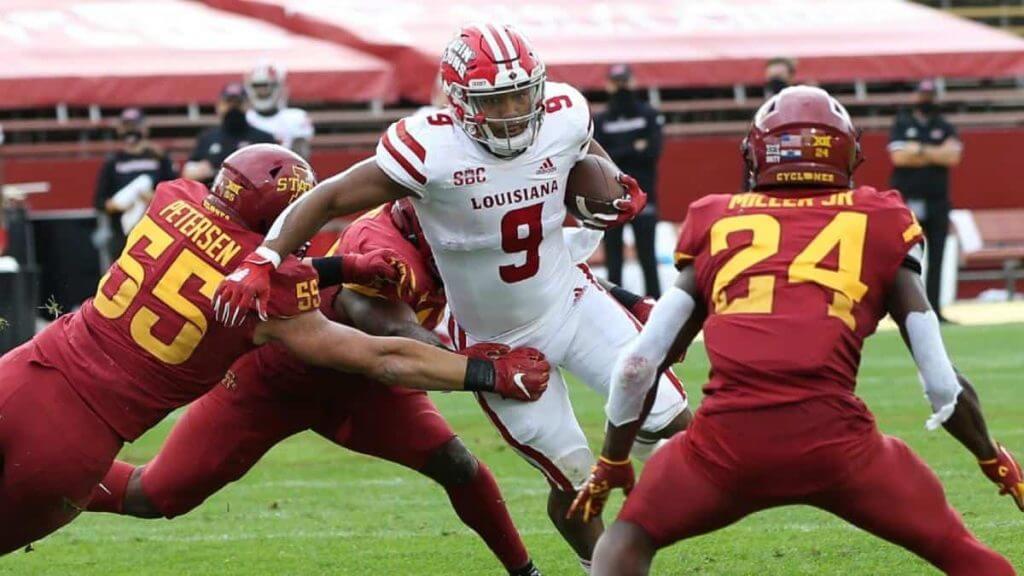 4. University of Louisiana @ Iowa State

This game had the potential of looking like an inter-squad scrimmage due to their red color schemes. However, the Raging Cajuns red/white/white combo and double stripe pattern provided a welcome contrast against Iowa State's plain mono-red look. This game gets extra credit due to the simple and original Jack Trice memorial patch the Cyclones wore. I also enjoyed how the stadium lights made their chrome helmet decals pop!
__________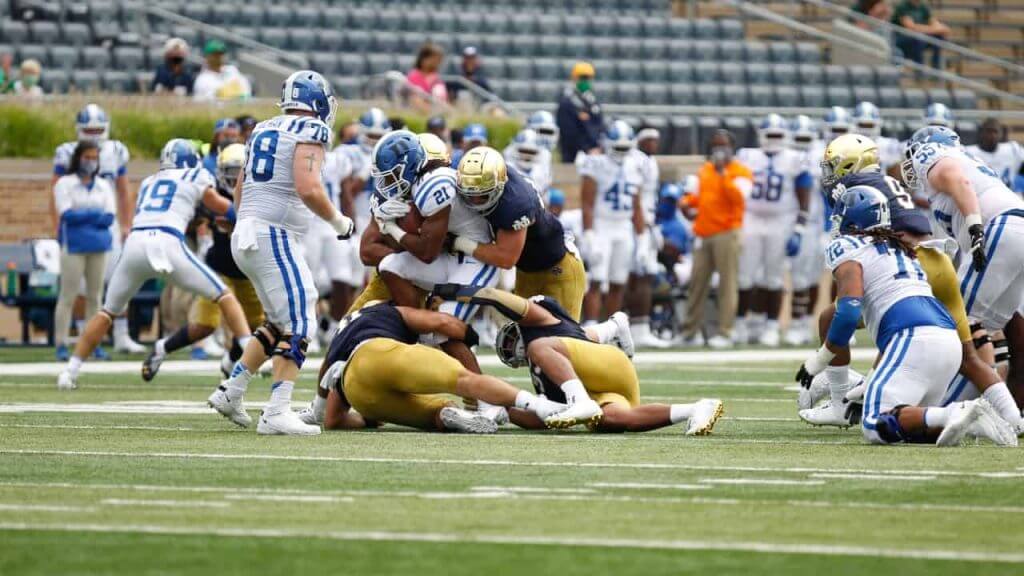 3. Duke @ Notre Dame

This game had an old school look to it I wasn't expecting to see. Between the Irish wearing their standard plain gold/blue/gold uniforms and the Blue Devils with their Indianapolis Colt-like stripe pattern this game would have had a timeless look to it had the stands been filled to their normal capacity. Nonetheless, a very good looking game for Notre Dame's first conference game in their history.
__________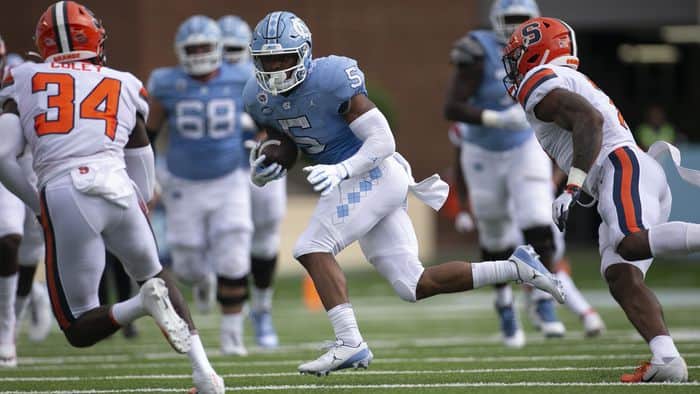 2. Syracuse @ North Carolina

The Orange packed their orange/white/white for their trip to Chapel Hill where they met the home team Tar Heels in their white/blue/white. Extra credit for the contrast between the solid stripes of Syracuse against North Carolina's argyle patterns and how nearly all the photos had the solid Carolina Blue seats in the background instead of just empty steel bleachers.
__________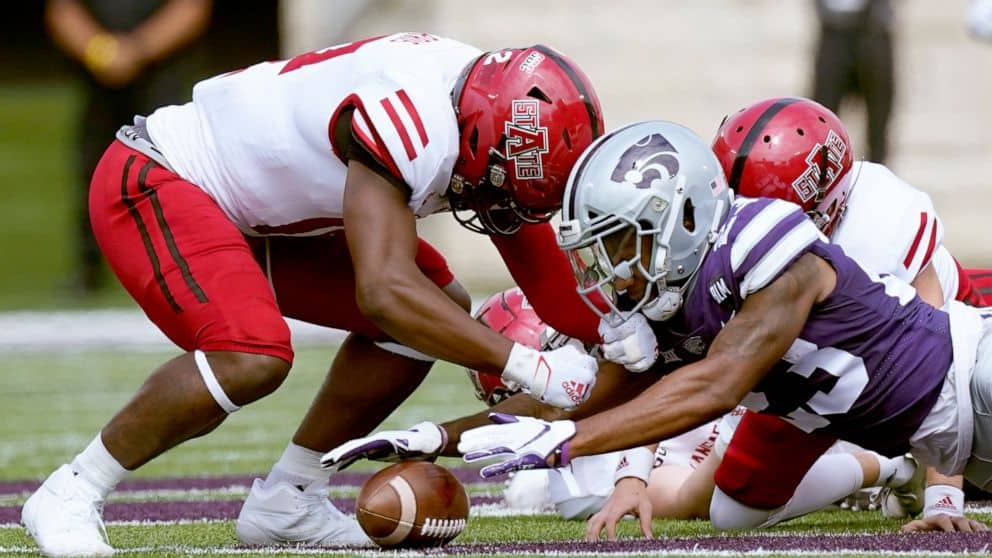 1. Arkansas State @ Kansas State

This was the first game I turned on today. I was pleased to see Kansas State in their traditional home purple jerseys and silver pants, but I was more pleased by how sharp the Red Wolves unis looked. With simple stripes, numbers, and a sharp shade of red, Arkansas State provided a sharp contrast to the Wildcats.
__________
And since somebody has to be the sacrificial lamb…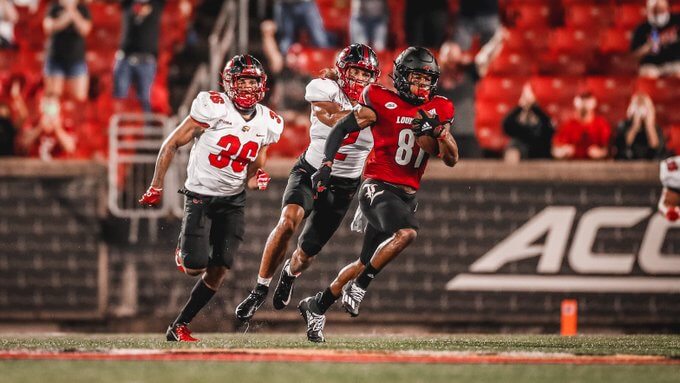 &1 Western Kentucky @ Louisville

Unlike the #4 game this week, this game very much looked like a scrimmage. Though the Hilltoppers wore chrome helmets, we've seen the Cardinals in their own set often enough that it was easy while watching the game to temporarily forget which team was which.
• • •
Thanks, Memal! OK readers? What say you? Agree or disagree with Memal's selections? Let him know in the comments below.


NCAA Uni Tracking
Uni Watch will again track the uniform combinations worn by the "Power 5" conferences. All of the 2019 trackers are back! Unfortunately, not all of the conferences are back. Here's how the trackers would track, if all the schools were playing:
We've got Rex Henry (tracking the ACC), Dennis Bolt (tracking the PAC-12), Kyle Acker (tracking the Big XII), and Ethan Dimitroff (tracking the B1G AND the SEC). Rex, Dennis, and Kyle and are all returning from 2015, and Ethan is back after joining the NCAA Uni Tracking a couple seasons ago. Ethan continues his dual role of tracking both the B1G and the SEC.
But this year the B1G and PAC-12 aren't playing at all. So we won't have tracking for them this season.
Here are the Uni Trackers for the Power 5 Conferences (I've left all the previous tracker info in their usual slots, even if the conferences aren't playing. In case you want to click on any of the links):
+ + + + + + + + + +
Rex is up first today (ACC):
• • •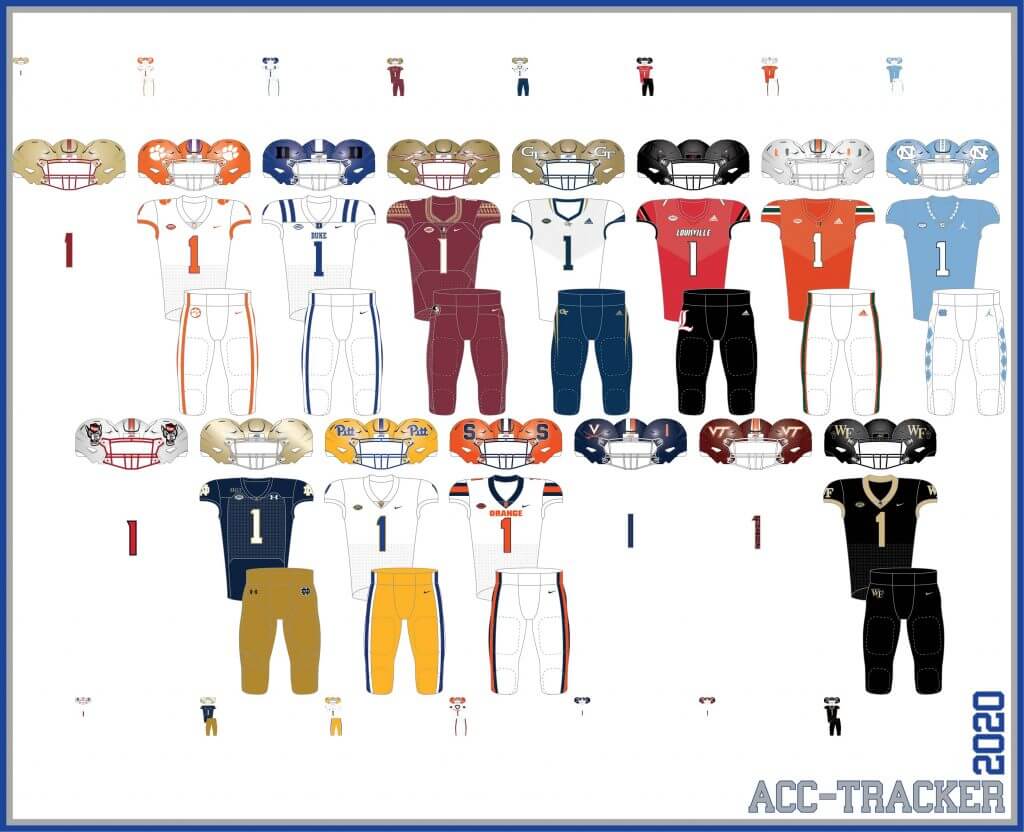 ACC

More Here.
Follow Rex on Twitter here.
• • •
And now, here's Dennis with the PAC-12: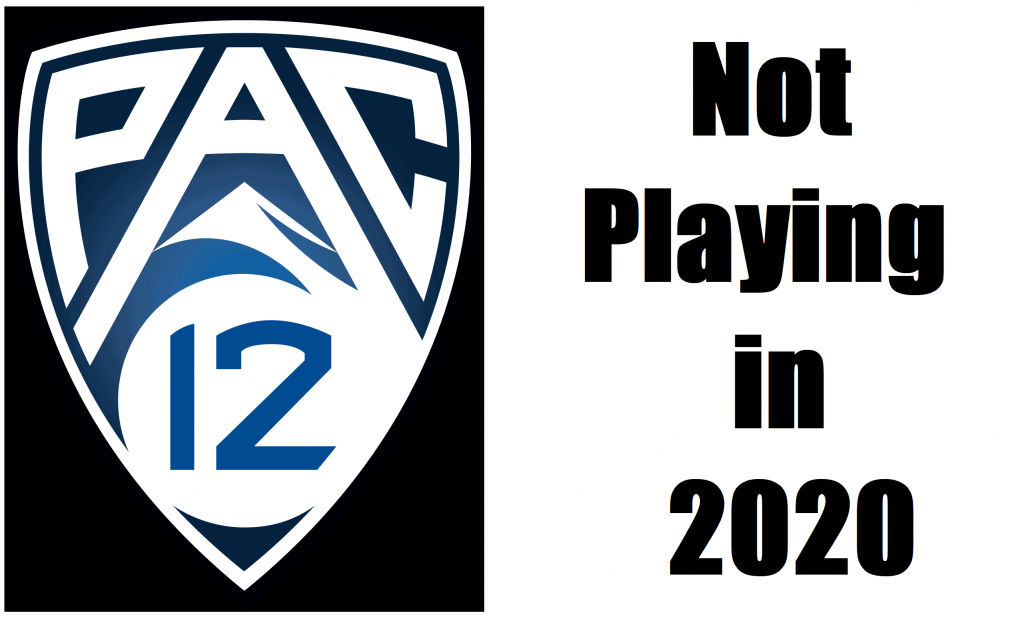 PAC-12

More here.
Follow Dennis on Twitter here.
• • •
And here is Ethan, with the SEC: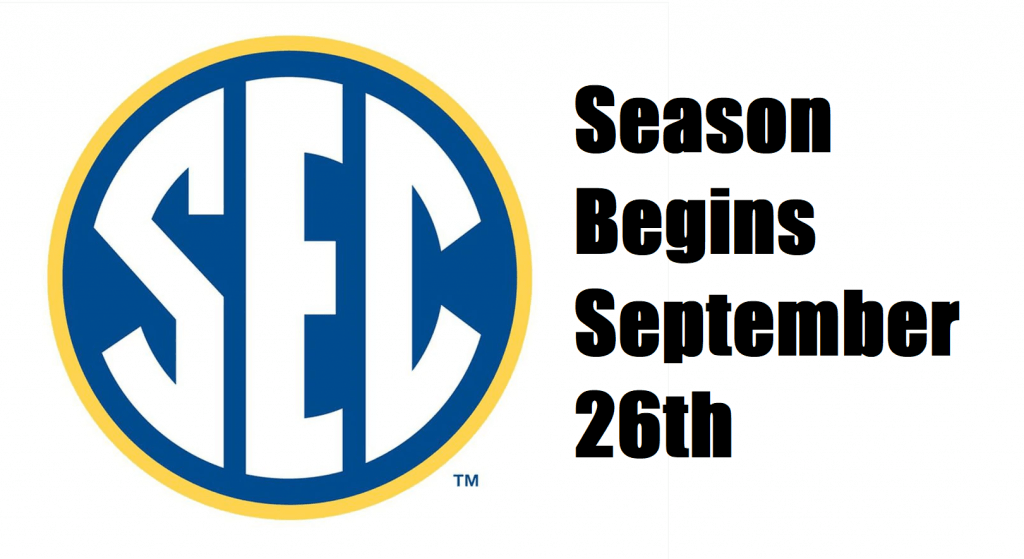 SEC

And be sure to check out Ethan's WVU Mountaineer Tracker.
Follow Ethan on Twitter here.
• • •
And here is Kyle with the Big XII: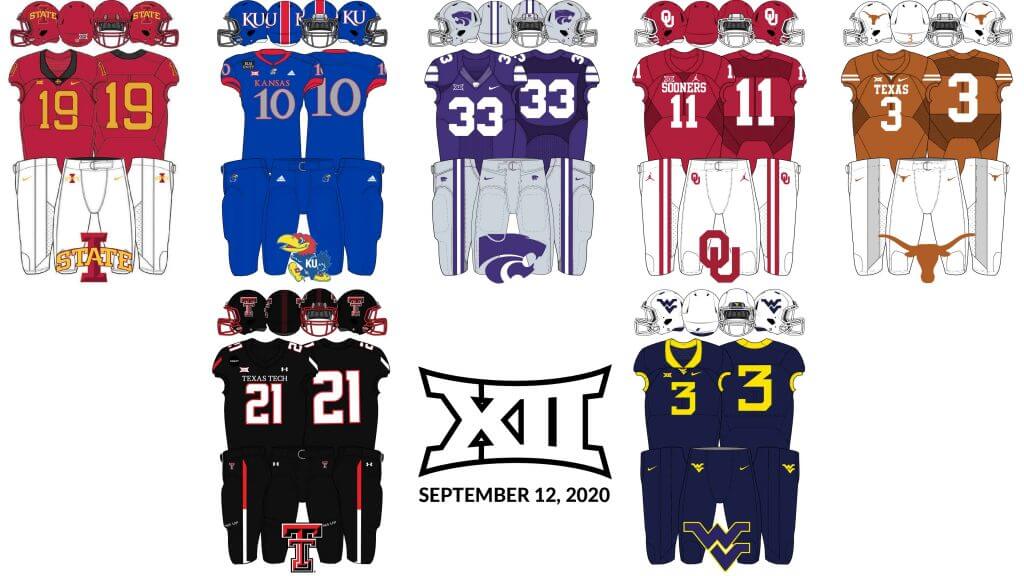 Big XII

Follow Kyle on Twitter here.
• • •
And here's Ethan with the B1G: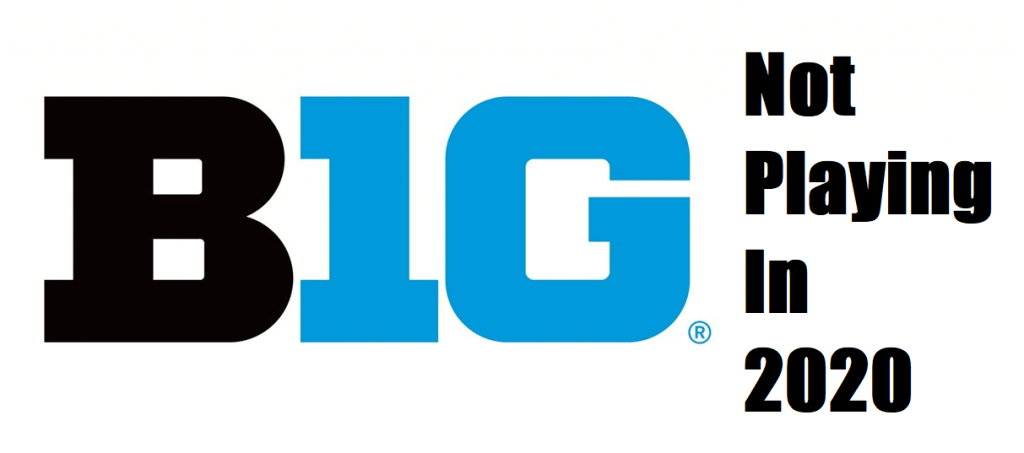 B1G



Meet The SMUW Crew!
I can't believe I haven't done this before, because the entire crew has been doing this for a number of years (some longer than others), and I never really gave them their proper due. So with the NCAAFB fielding a much smaller number of teams this year (and several conferences not playing at all, including the PAC and B1G, and the SEC getting a late start), I thought now would be as good a time as any to introduce you folks to the guys who contribute every Sunday during College Football Season to the Sunday Morning Uni Watch.
Today, we're going to meet one of the guys who does tracking (but won't this year, unfortunately), Dennis Bolt. Dennis has been doing the PAC tracking since I started it a few years back, and he also doubles as our Duck Tracker (a long tradition on UW, starting with Michael Princip and continued by Tim O'Brien, before Dennis took over several years ago). While Dennis won't be tracking this season, he's going to be contributing to the SMUW in other ways (which you'll see shortly).
So please everyone, here's your official introduction to Dennis, along with his photo and bio: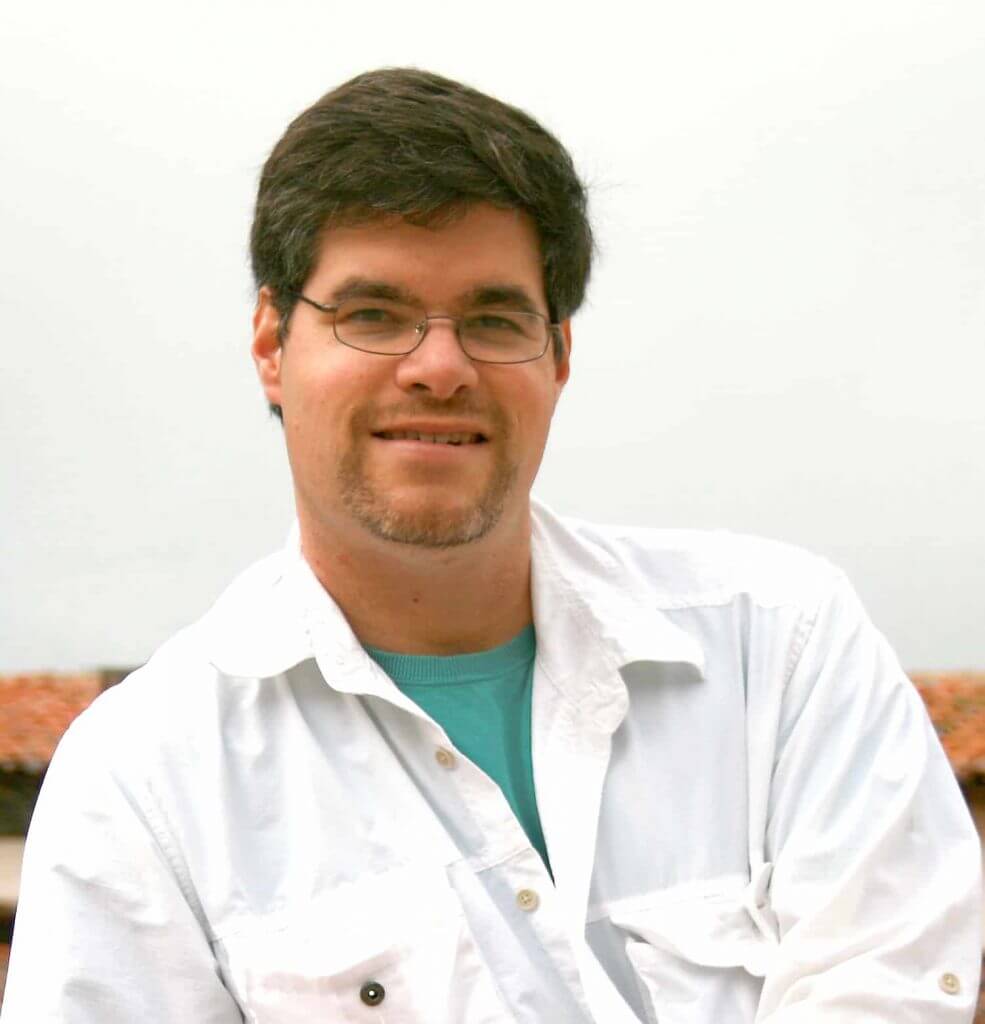 Name:Dennis Bolt
Age:46
Hometown: Sebastopol, CA

I am a freelance graphic artist specializing in editorial design, marketing design, infographics, maps, illustration and photography. I have a degree in Architecture from the University of Oregon but decided to go into graphic design instead. My very first paid graphic job using Adobe Illustrator was in the early 1990s when I worked for the college newspaper, The Oregon Daily Emerald. It was a fall Duck Football preview and I had to draw helmets for each opponent and other explainers. From then on I was hooked on graphics and Duck football. I'd followed the various Duck Trackers and Uni Watch, and took over Ducktracker before tackling the full Pac-12.

I spend my free time with my wife and three boys ranging in age from 12-19. We live among the apple orchards in Sebastopol, California (Sonoma County wine country north of San Francisco). My non-artistic interests run the gamut from the Oregon Ducks to James Bond. I also groove on the history and science of design, which manifests itself in my love of flags and maps, which goes well with my journalistic bent.
—————–

My Uni Watch websites:
http://pac12uniwatch.blogspot.com/
http://ducktracker2.blogspot.com/

Most of my social media is personal and not really of general interst but here are my websites ec.
www.dennisbolt.com
https://www.facebook.com/DennisBoltStudio
https://www.linkedin.com/in/dennisbolt/
https://twitter.com/dennisbolt
Thanks, Dennis.
In the coming weeks, we'll meet all the SMUW contributors!


What They Should Have Worn
I'm pleased to present you a new feature on SMUW (which previewed yesterday). Today Logan Patterson will take a look at the FSU/Georgia Tech tilt played in Tallahassee yesterday. The 'noles went mono-red (and sporting white numbers — new for 2020), vs. the Jackets who went gold/white/blue. Logan has some ideas on how to make this a better looking matchup. Here he is:
__________
What They Should Have Worn – Florida State vs. GT (Sept. 12, 2020)
By Logan Patterson
Florida State and Georgia Tech faced off for the first time since 2015 in what would come to be remembered as the memorable "Miracle on Techwood Drive". The Seminoles came out in a gold/garnet/garnet combo, while the Jackets donned a gold/white/blue look. I've mostly enjoyed both of these teams' newest refreshes. Florida State's tribal sleeve pattern is a great element, and I'm thrilled that Georgia Tech isn't wearing Russell anymore. But there's a few things I'd change for both of them. Let's start with the 'Noles.
Honestly, I think Florida State has a good look going for them. About the only thing I think would improve their look would be to ditch the patterned collar. That had been a staple element from 1998-2013, but it's a bit busy with the new shoulder pattern. The Seminoles seem to have sorted out their garnet tones too, which were a bit too purple when their new look premiered back in 2014.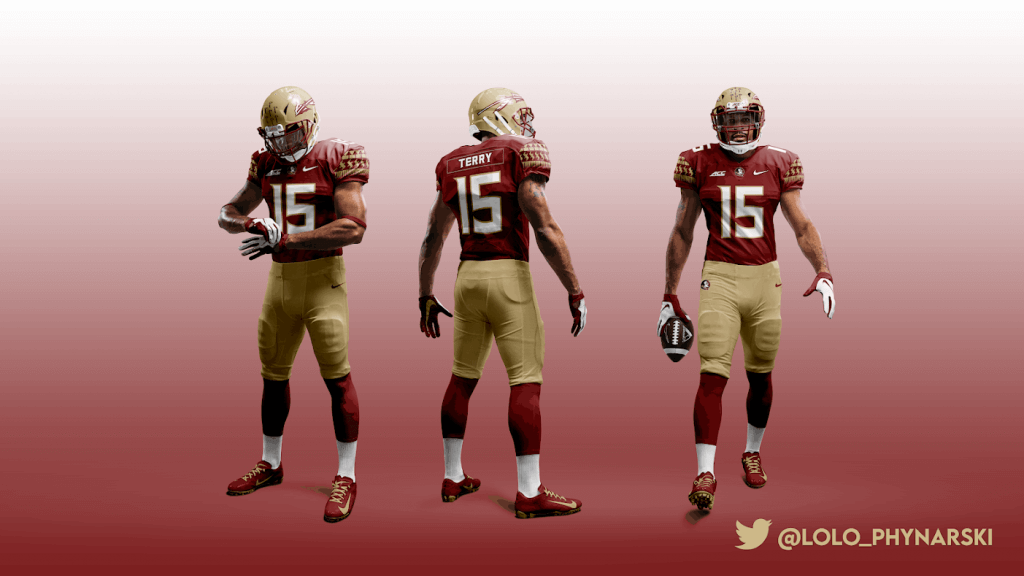 For the visiting Yellow Jackets, I would like to see a few more changes. My favorite look Tech has worn in recent years was the throwbacks worn during the Chan Gailey years, and that's my main inspiration for this redesign.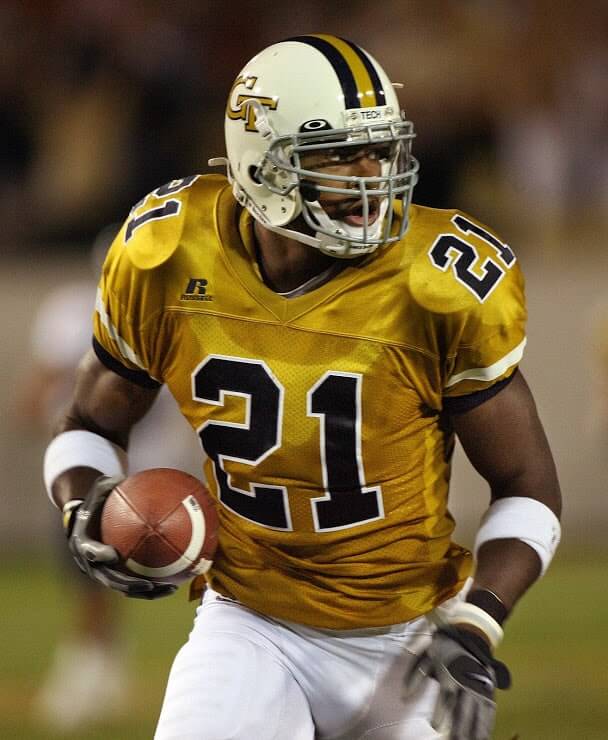 The "stinger stripes" in their newest look are kind of light and forgettable, so a bolder stripe looks better. I've used the new pallete Adidas developed, using their "tech gold metallic" hex code rather than standard "tech gold". It's a bit richer and looks better as a jersey color. For this week, an all-white get up would have looked great against the classic FSU combo.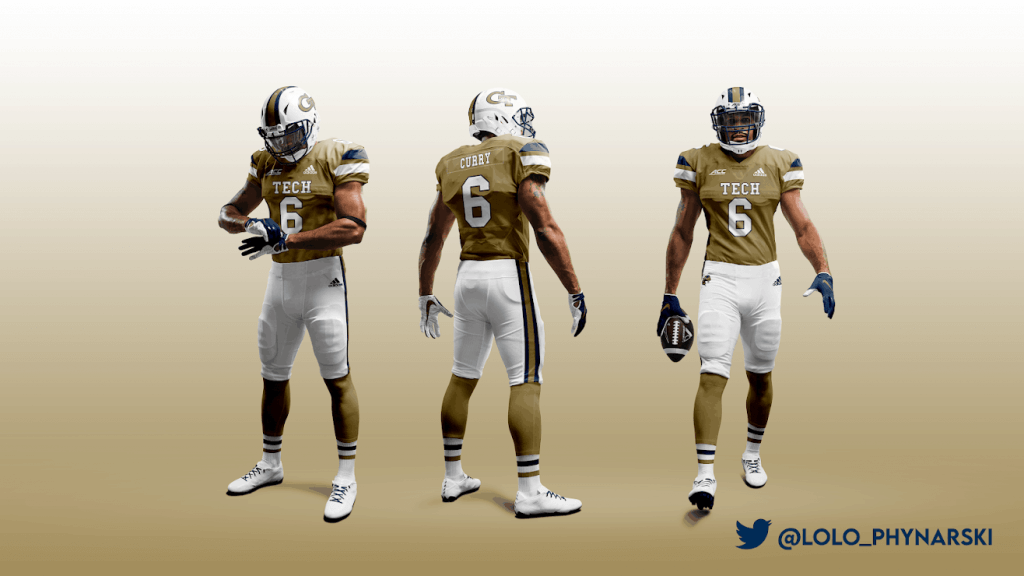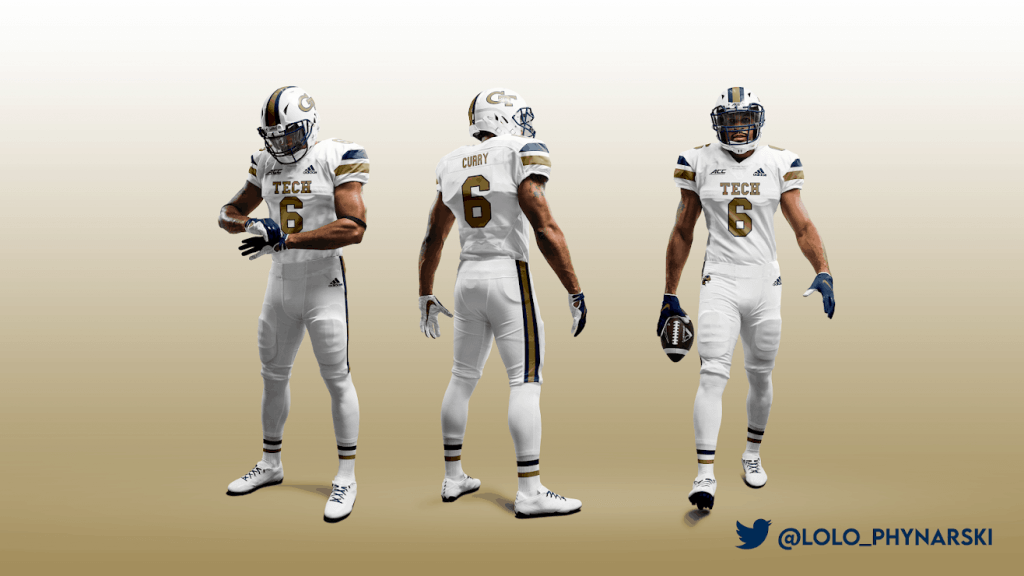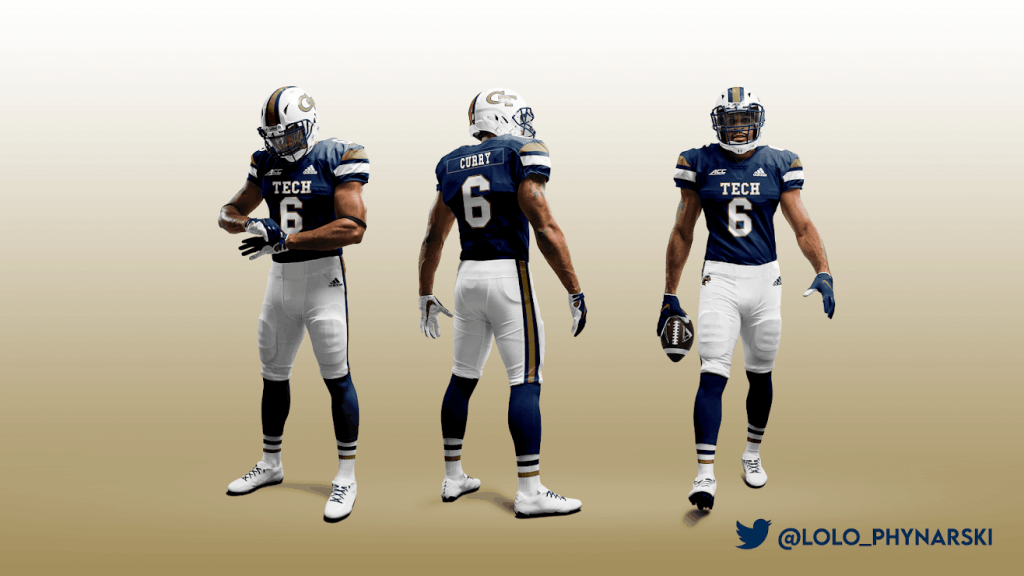 Also, both teams could stand to just use the standard ACC lettermark on the chest instead of the football wrapped version teams wear now. It's clunky, and football shaped logos are corny.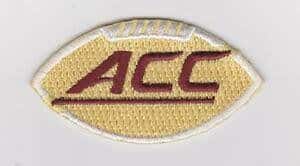 Here's what they should have worn.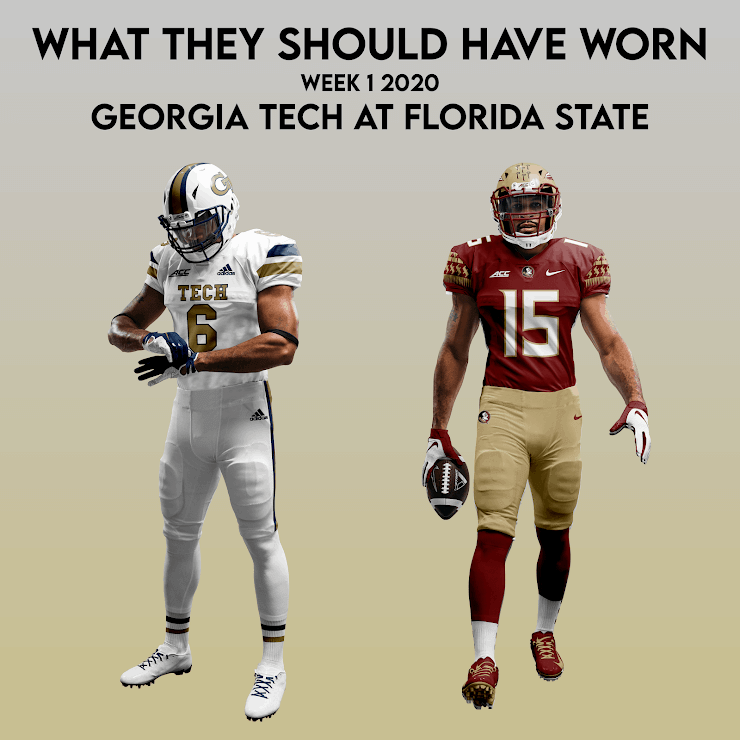 __________
Thanks, Logan. You can follow Logan on twitter @lylo_phynarski.


Oregon vs. Ohio State Recent History
Since Dennis isn't doing any tracking this season, he'll occasionally be contributing some articles for our reading pleasure. Today, he looks back at two teams who don't play each other often (and neither will play anyone this year), Ohio State and Oregon. Here's Dennis:
UO vs. OSU, Recent History
by Dennis Bolt
This weekend would have been the game-of-the-year for Oregon: highly-ranked Ohio State coming into Autzen Stadium—for the first time since 1967—to play highly-ranked Oregon.
The previous nine meetings between the Ducks and Buckeyes have all been Duck losses, with the last two being quite memorable. The 0-9 record is the worst overall mark against any Oregon opponent. Pre-pandemic, this matchup would have been the marquis matchup of this college football weekend, but both the Pac-12 and Big-10 announced postponing football this fall.
Looking back at the most recent uniform meetings of these two teams: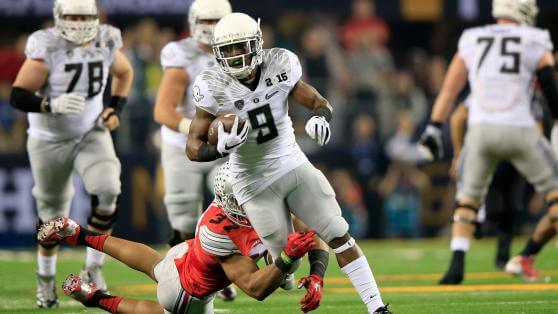 Jan 12, 2015: CFP National Championship Game
Arlington, TX—Oregon 20, Ohio State 42
The Ducks followed a recent uniform trend by wearing NO green or yellow, and opting for white/black/silver combination, while the Buckeyes went silver, scarlet, gray It seems odd to me that Oregon would actually use silver in their uniform, since tOSU has that as a school color!
__________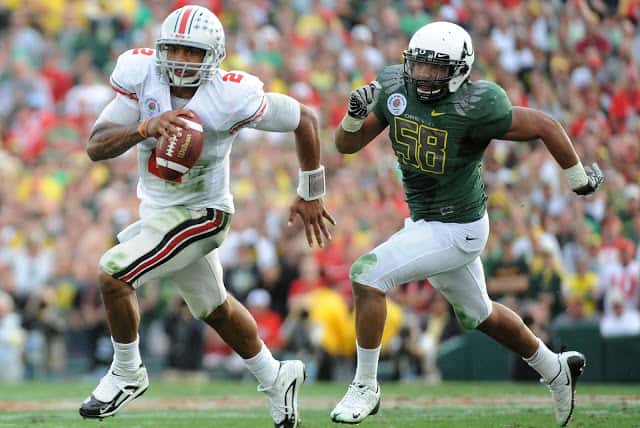 Jan 1, 2010: Rose Bowl
Pasadena, CA Oregon 17, Ohio State 26
This game saw a slightly more team-color combo of white/green/white. But still, Oregon was not known for white helmets at that time, so this felt off-brand in 2009-2010. The only other time in the 2009 season they wore white helmets was Chip Kelly's first game: the Boise State "Legarrette Blunt punch" loss! They wore white helmets only about a dozen times in the previous decade. An interesting note is that this is one of the few times Oregon has been the "home" team against Ohio State.
__________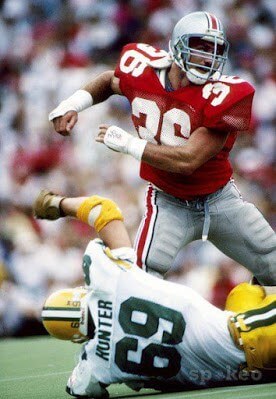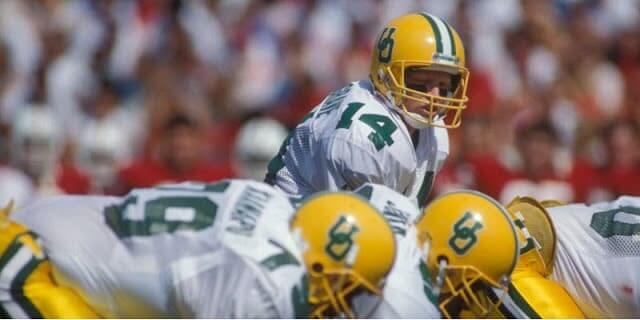 Sept. 19, 1987
Columbus, OH Ohio State 24, Oregon 14
The Ducks wore their usual road set from the 1980s: Yellow/White/Yellow. Helmets would have interlocking block-style UO.
__________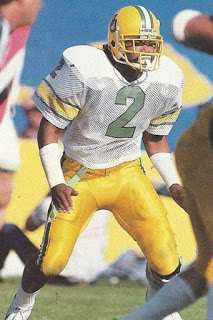 Sept. 10, 1983
Columbus, OH Ohio State 31, Oregon 6
__________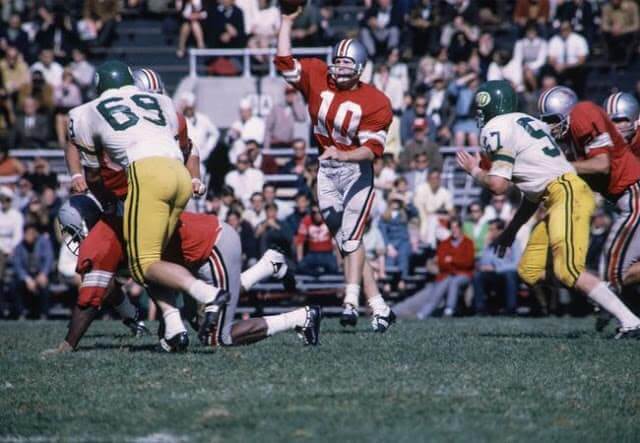 Oct. 5, 1968
Columbus, OH Ohio State 21, Oregon 6
This beautiful matchup had tOSU in its usual scarlet and gray, and the Ducks in a nice Green/White/Yellow combo. The helmets had UO in an oval/football shape and no center strip. The pant stripe has grown since 1958.
__________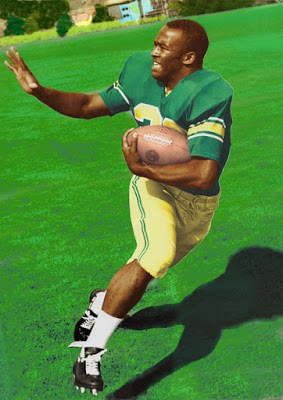 Oct. 7, 1967
Eugene, OR Ohio State 30, Oregon 0
I can't find any color photos of home uniforms for 1967 or 1962, but colorized home jersey gives you an idea of that game. The rounded interlocking UO on helmet was new in 1967.
Nov. 17, 1962
Columbus, OH Ohio State 26, Oregon 7
I can't find any color photos of road uniforms for 1962, so see above. 1962 helmets would look similar to the 1961 helmets below.
__________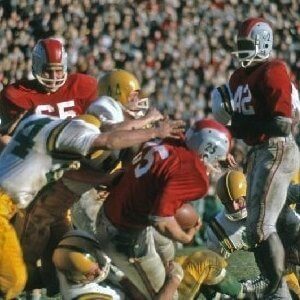 Nov. 18, 1961
Columbus, OH Ohio State 22, Oregon 12
Pretty much the same as usual, except tOSU is using a really wide red "stripe" on their helmet.
__________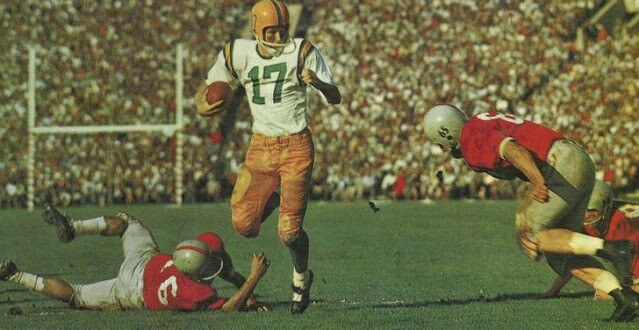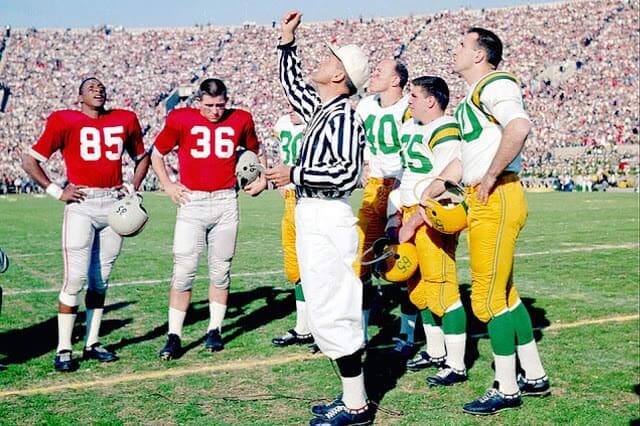 Jan. 1, 1958, Rose Bowl
Pasadena, CA Ohio State 10, Oregon 7
Both teams looked very traditional, with the Webfoots donning Yellow/White/Yellow.
__________
Read more about the matchups over the years by visiting these good sites:
https://www.sbnation.com/college-football/2015/1/5/7490359/ohio-state-oregon-series-history-results-2015-playoff-championship
https://www.offtackleempire.com/2009/12/16/1202939/ohio-state-oregon-a-series-history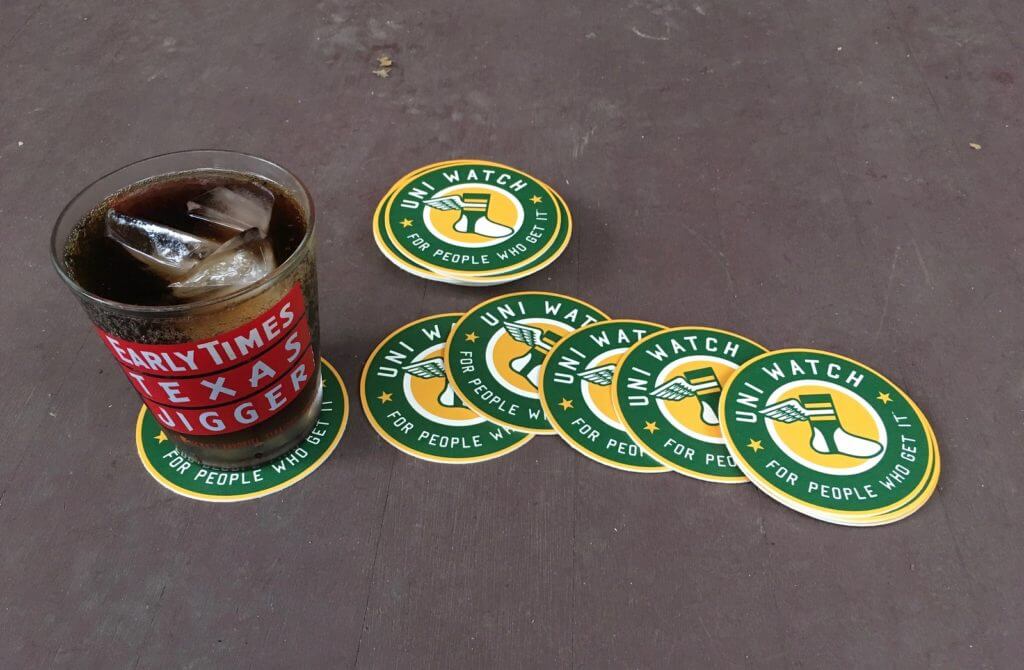 Click to enlarge
And now a few quick words from Paul: Hi! In case you missed it on Friday, I once again have a few sets of Uni Watch Coasters available. These won't last long, so move fast if you want a set. Full details here.
Also, a few days we launched our new Uni Watch Color Remix T-shirts. Here are the first four designs: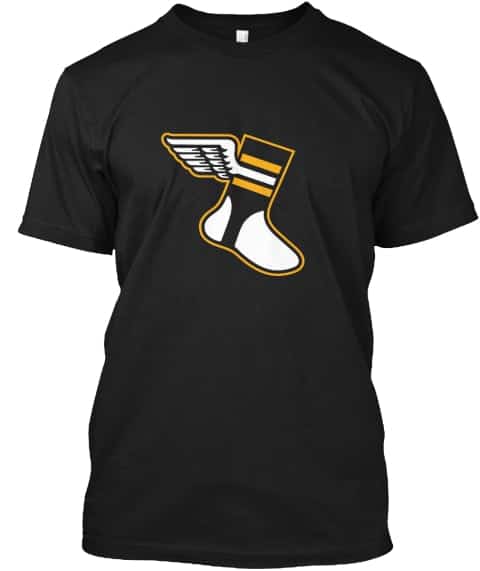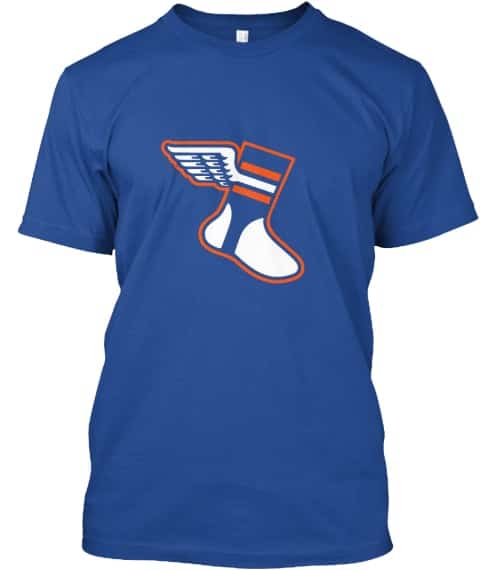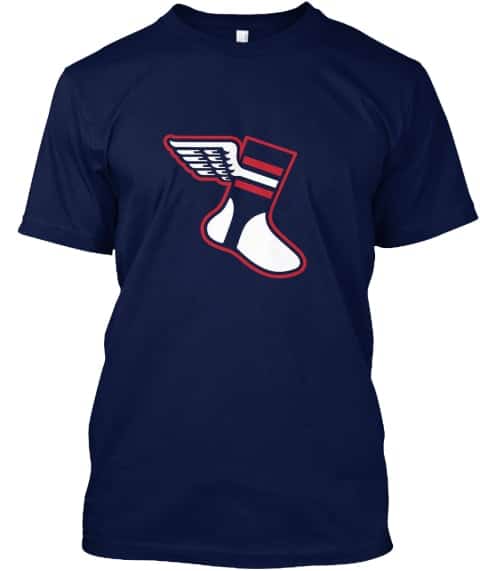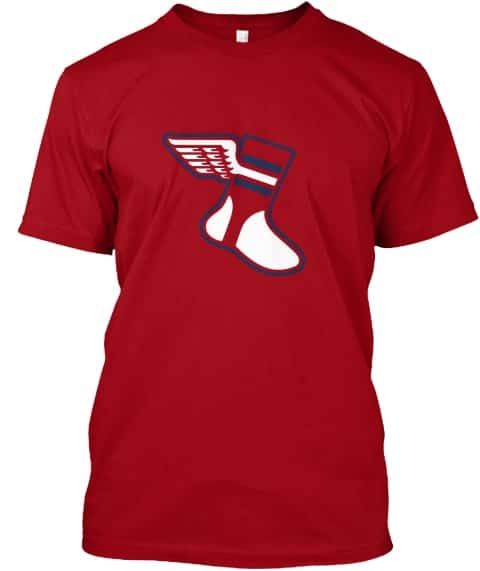 Not bad, right? Here's where you can order the black/yellow, royal/orange, navy/red, and red/navy versions.
We'll have matching caps next week, and more color combos each month. There's some additional info here if you want to know more.
Okay — now back to Phil!


Uni Watch News Ticker
By Phil

Baseball News: Check out this newspaper article from the day after the Pirates wore Branch Rickey-inspired batting helmets for the 1st time, plastic caps w/a foam layer around the head band. Rickey made them mandatory the following year (from Jerry Wolper). … ICYMI on Friday, Miguel Sano wearing multiple hat patches. 60th anniversary patch in standard spot. 9-11 patch above the New Era flag (from Jenkins). … The Kansas City Royals Alex Gordon wore a message on his cap yesterday (via Paul). … "You see chains/necklaces all the time in baseball. Not very often you see a Star of David necklace," writes Nik Streng. … Check out Khris Davis with a crooked A's logo on his batting helmet on Friday 9/11 followed y A's equipment manager Steve Vucincich's Tweet of correcting it on 9/12 (from Richard Paloma).

NFL News: The Buffalo Bills will be going mono-white today against the Jets, who will likely be wearing green jerseys (as opposed to their BFBS alternates). … Today the Washington Football Team will be honoring an 11-year-old killed in SE DC during season opener, with his name on several players' helmet bumpers. … To the surprise of absolutely no one, the Saints will open their season mono-black today. … Pittsburgh Native, Philadelphia Eagles RB Miles Sanders will honor Antwon Rose II on his helmet today. … 38 Atlanta Falcons players will wear a decal on their helmet of a victim of social injustice, or phrase in support of SJ. … "New Browns logo?" asks Joesph Giordano. "Saw this interesting Browns logo on their sweatsuits. Looks like a B with the orange and brown stripes in the middle." … The Atlanta Falcons have named late civil rights icon John Lewis their honorary captain against the Seattle Seahawks (from Timmy Donahue). … ICYMI, here's a look at the Rams jersey sked, but it doesn't list the pants they'll be paired with (from Jakob Fox). … Here's what the Denver Broncos will be wearing for their helmet SJ messages. … "I recently purchased a bunch of vintage mini NFL helmets that were often found in bubblegum machines at the front of stores," writes Kurt Rozek. "My New England Patriots and Kansas City Chiefs helmets came with reversed stickers for the left side of the helmets. This would work for helmets such as the Vikings, Lions or Seahawks, but not for helmets with names, initials, or a guy who's supposed to be snapping the ball with his right hand." … How awesome is the NFL app? Very. (from Matt Shevin). … The Seattle Seahawks have released their 2020 jersey schedule (via Paul).

College/High School Football News: On Friday, Salem HS (Indiana) honored the military with National Guard themes unis on 9/11, a US flag on one arm, Indiana on the other, and "Go Guard" on the back (from Duane Davis). … From Friday night in Lincoln, Nebraska.The Pius X HS football team paid tribute to Lincoln Police Department Investigator Mario Herrera. He passed away this week after succumbing to wounds suffered in the line of duty. His daughter is a student at Pius so the Thunderbolts, in your preferred colors, let the family know they were in their thoughts. The other decal is worn in honor of the state's athletics trainers, in appreciation for all they do for our student/athletes (from Brett Baker). … Fox Sports has a new score bug for College Football (from Chicago Gump). Apparently it's been used before.

Hockey News: Looks like Austria ICE Hockey League referees and linesmen appear to be using last season's shirts with Erste Bank logos (they were league's title sponsor up until this year, now Bet-At-Home). From Sam. … "Have noticed a game clock embedded into the corner boards opposite benches, not visible on normal broadcast angle. I like it. Introduced this playoffs?" asks Alex Kinkopf

NBA News: It's not a big deal ("this is practice!) and they already have ads on their real uniforms, but his news came down last evening: the NBA has approved the plan for team to sell ads on practice jerseys. … LeBron James supported Colin Kaepernick by sporting his jersey as he arrived for the Lakers game with the Rockets on Saturday night.

Soccer News: Check out mascot Movi (Kobe beef cow (moo) and first two letters of Vissel, victory and vessel) wearing a mask (from Jeremy Brahm). Wonder if Jimmer Vilk (who in a very small circle is also known as MoVi) knows about this. … Looks like Liverpool have ended their sleeve ad deal with Western Union; the club are wearing two #PL sleeve badges instead of one PL badge and a WU ad (from Josh Hinton). … New away shirt for Venezia Football Club of Serie B (from David Tra). … NYCFC got a new look for their jerseys this week.

Grab Bag: Moderna Volleyball has a new look for 2020-21 (from Jeremy Brahm). … So, here's a brief history of cargo pants, "the military's greatest fashion contribution" (from Timmy Donahue). … "Who knew that wookies liked cricket?" asks Shawn Hairston. Check out this incredible Lego model of the Melbourne Cricket Ground. … Speaking of Cricket Grounds, check out the Sydney mascot (from E P Conrad). … This is great: Naming rights update: New promenade at West Hartford park to be named after Parks & Rec character Leslie Knope. Michael Schur, co-creator of the show who grew up behind the park, secured naming rights when he donated $10k (from Timmy Donahue). … 2020 US Open Women's Champion Naomi Osaka wore a Kobe Bryant jersey after her victory yesterday (from Brinke).


And finally… *phew*. That was a big 'un! Big thanks to everyone on the SMUW crew for all their efforts today. It's great to have college football back.
I'm just gonna ride off into the …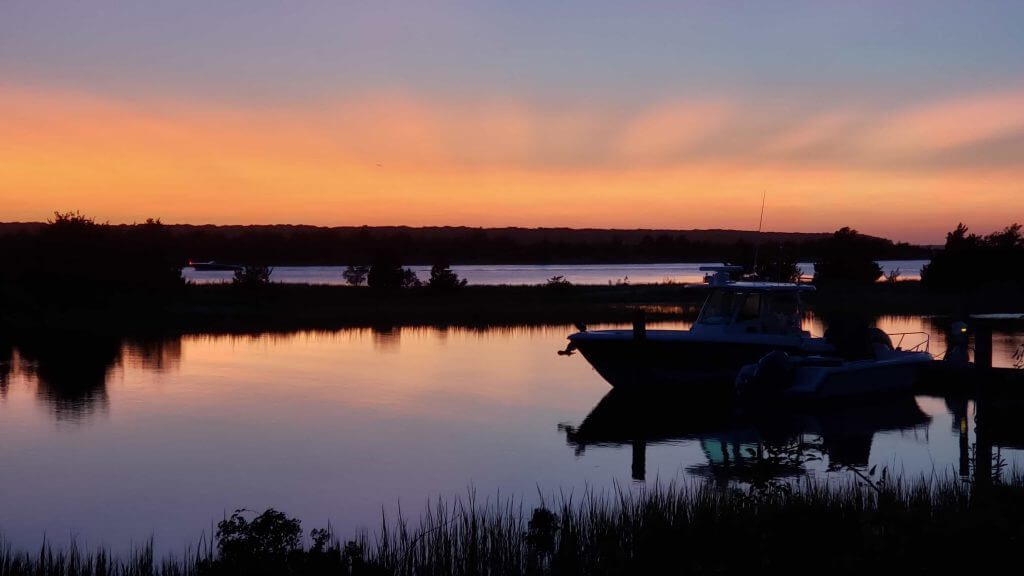 (from yesterday evening. I love the way the light appears in the gloaming. Check out the streaks of light on the clouds!)
Everyone have a great week and I'll catch you next weekend.
Peace,
PH