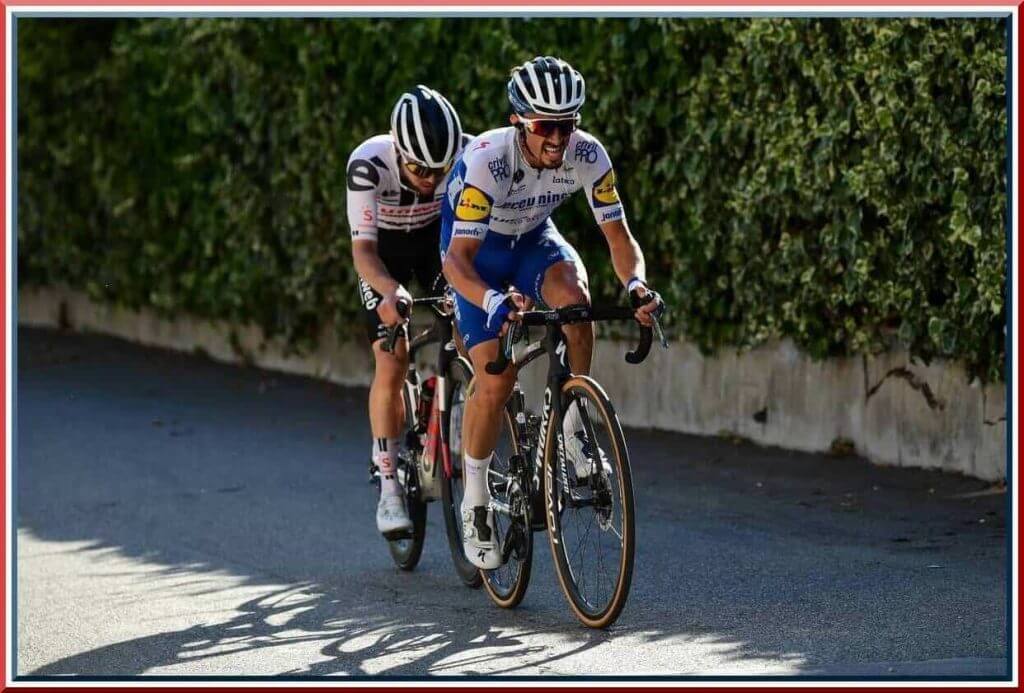 [Editor's Note: Paul is on his annual August break from site. Deputy editor Phil Hecken is in charge from now through the end of the month, although Paul may be popping up here occasionally.]
By Phil Hecken, with Andrew Schmidt
Follow @PhilHecken

Greetings everyone — how you guys had a good weekend (or as good as can be expected, these days). For my final weekday article this month (Paul returns tomorrow!), I have a couple pieces pertinent to sporting events (and apparel) that are actually on-going. The Tour de France began on Saturday — having been originally scheduled to start on June 27th, it was a casualty of COVID, but was rescheduled and is now underway. It will conclude on September 20th. Since the race is now underway (some of you may have watched it, or are planning to), reader Andrew Schmidt will discuss cycling jerseys, which is quite pertinent to the race currently taking place over in France. That will be followed by another sporting event which begins today — and is being played as scheduled, albeit spectator-less — the US Open. My doubles partner Brinke Guthrie will do the honors for that one.
So, let's get started, beginning with the cycling jerseys…
• • • • •
Cycling jerseys
by Andrew Schmidt
I find cycling jerseys to be some of the most fun and interesting in the world of sports. Cycling is, in my opinion, one of the few sports that does sponsored advertised jerseys well. Advertisers tend to use flashy colors and eye catching colors in order to catch eyes and just maybe get them some money back on the massive investment that it takes to sponsor even the smallest continental team that will never compete outside of US borders. What can get lost in this cavalcade of colors however, is the wealth of information that you can gather from looking just a little more closely at a rider's jersey. A rider's jersey is a walking resume informing the viewer of not just what team said rider is with but also their highest accomplishments. From Tour de France general classification leader to long ago national champion, a cyclist's jersey allows them to wear their hearts and mantles on their chest and sleeves.
Before I get going too far, it is important to note that the stage races and one day races professional riders do are split into three disciplines. The first and most common is a "road race" where all riders begin together and finish together, and is also known as a "bunch start" race. The second is the "time trial" in which riders cover a set, normally shorter course, one by one in set increments. The third and least common is the "team time trial" where each team sets off incrementally. National titles, European, and world titles are available in the road race and time trial while no such distinction is currently honored in the team time trial. Additionally, only accomplishments in the discipline being contested on a given day are reflected on the rider's jerseys.
Starting at the "lowest" level, (as if you could ever call a professional athlete's level low) is what is known as "trade kit." This is the standard jersey with the sponsor's color-way of choice. The chest and sleeves will match for every rider who is on the team but hasn't won a world, European, national, or who isn't leading a classification in the current race.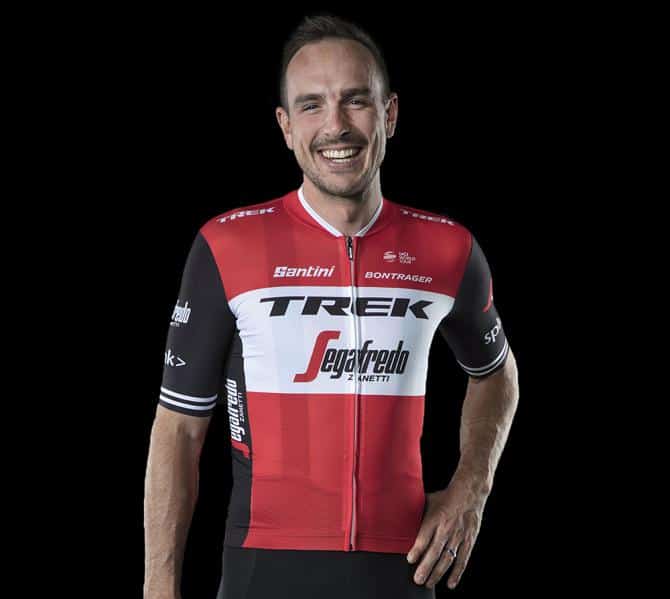 The next level up is for riders who have won either a national or world championship in the past. These riders have earned the right to have either a rainbow band for a world championship or their country's colors for a national title on their sleeves and collar for the rest of their careers or lives depending on your personal opinion. However, their jerseys will still match the trade kit in all other areas.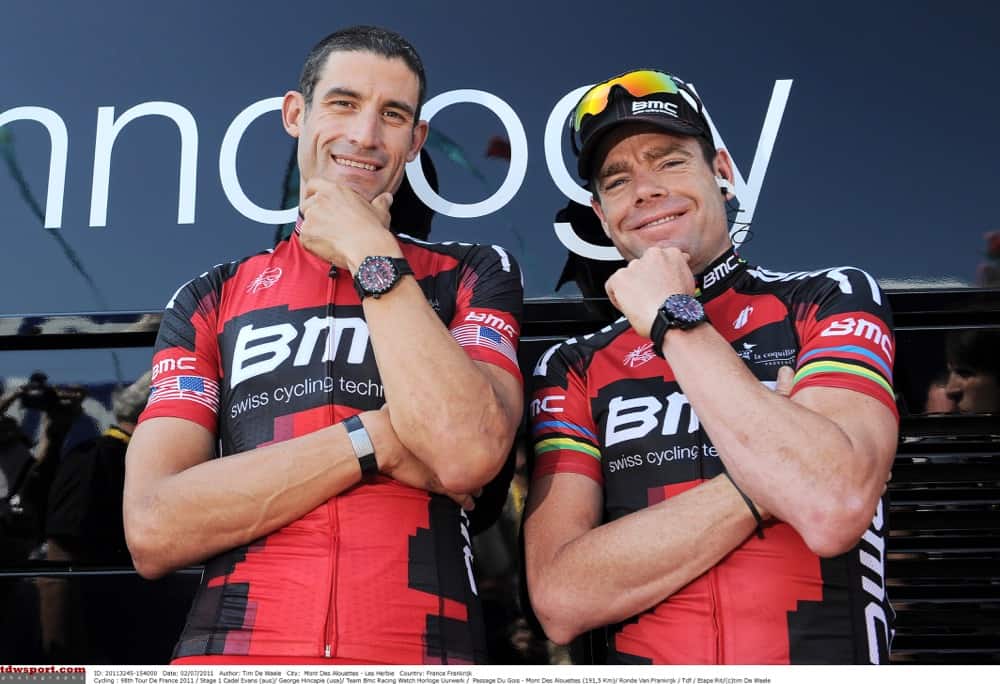 Now, finally getting truly away from the trade kit, are the jerseys for current world or national champions. In addition to having the corresponding sleeves and collars, current champions earn the right to proudly wear the rainbow or country bands across their chests. In addition, the color of the jerseys are often altered to better feature the bands with the world champion adorning a plain white jersey with title sponsor in black, making the rainbow bands pop and shine. The jersey of the European champion follows the same rules as the world champion, even though the blue band and stars don't quite stand out as much. There is quite some variation for national champion jerseys from the brash American Stars and Stripes to the understated German black, red, and yellow bands. In a truly unicorn combination, a rider can have a national champion jersey with world champion bands. One additional fun note to add is that a rider who doesn't wear his or her world champion jersey can face fines up to 5000 Swiss Francs, which are worth roughly the same as US dollars.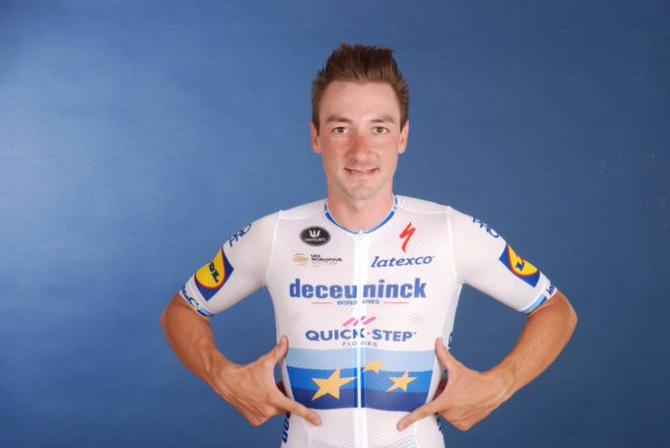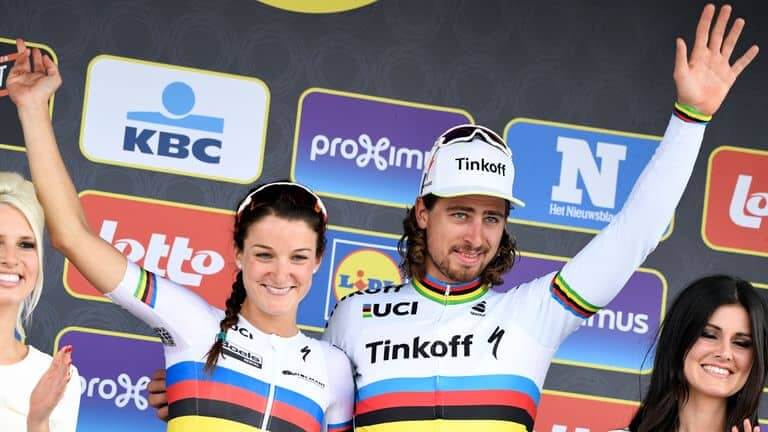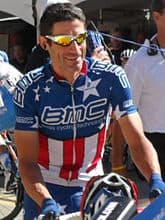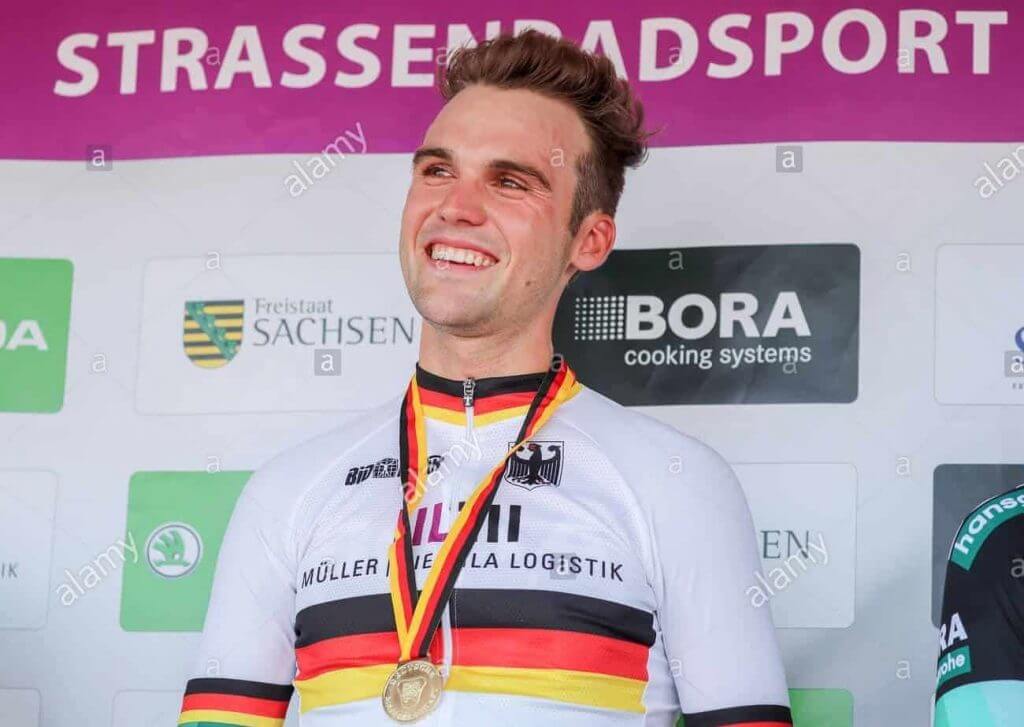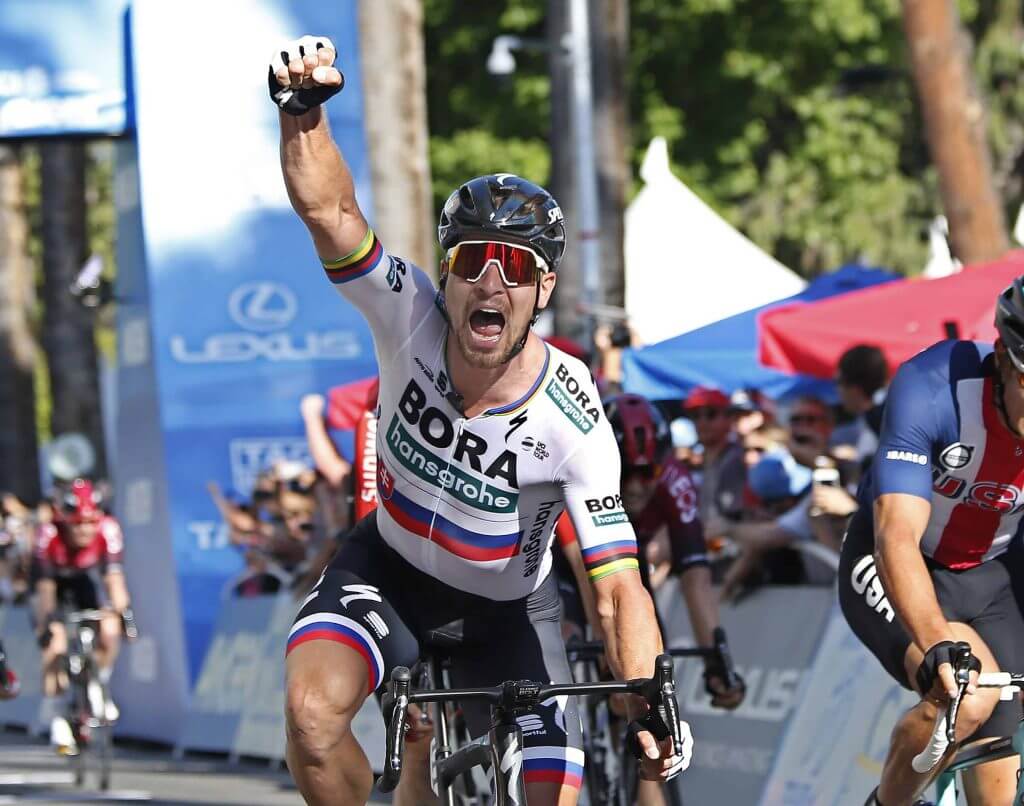 Once at stage races, riders can win leaders jerseys in various classifications that take precedence, even over world champion jerseys. Most races will have leaders jerseys for "general classification," who is leading the race overall, sprint points, king of the mountain, and best young rider. In the most famous instance of these, the Tour de France has a yellow jersey for the leader, green jersey for the sprints, red polka dot for mountain leader and white for best young rider.
Cycling's eccentricities don't stop with jerseys. A few quirks can be found on race bib numbers. Race numbers are required to be pinned to the back of the jersey oriented correctly, except unlucky number 13. To combat the unlucky number, the rider assigned it is allowed to and superstitiously supposed to wear one of the two bib numbers upside down. A number of European stage races give yellow bib numbers to the team winning the team competition. Finally, my favorite quirk is the "combativity award" given daily in the Tour de France. After each stage, the race jury awards a red bib number to the most aggressive rider on that day's stage that he gets to wear during the following stage.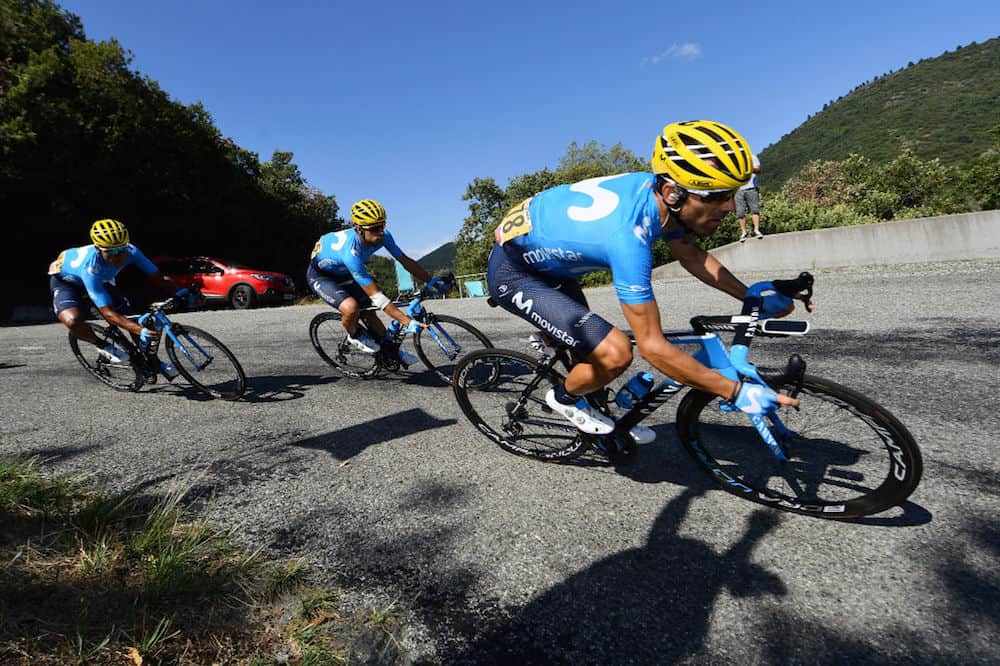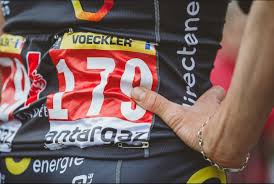 So that's my completely non-comprehensive overview of road cycling jerseys to the best of my knowledge and understanding. For as much as I can appreciate the clean and immaculate traditional sports uniforms like the ones that Paul and Phil love, there's something about the loud colors and wide ranging diversity of the the pro-cycling peloton and cycling jerseys on the whole that just pulls me in. There's just something about a sport where an 80 year-old can show up to even the most casual event sporting championship bands that are cool on a level that even Bill Russell and his handfuls of rings can't match.
• • • • •
Thanks, Andrew! Although never a big cycling fan, I did watch the TdF years ago when Lance Armstrong was on his run (and before all the … ahem … doping scandals). This was a really nice rundown for those of us who are casual observers — it definitely helps to understand what's what!
• • • • •
• • • • •
Brinke's US Open Preview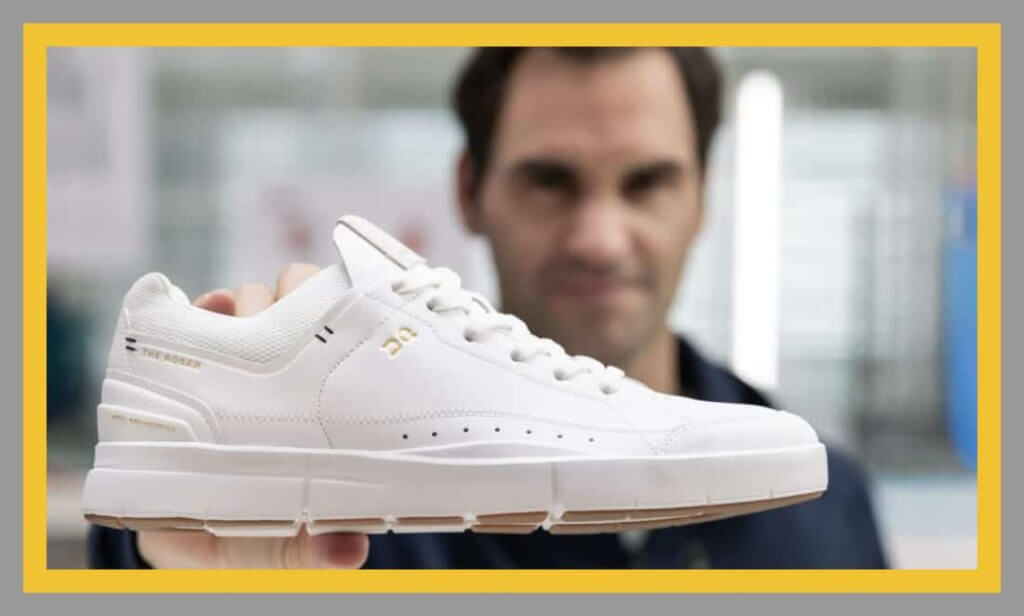 By Brinke Guthrie
Today is the start of the 2020 US Open, featuring a depleted player field and no fans. As a result, there isn't as much hoopla surrounding new tennis gear as there normally is surrounding Grand Slam events. My two favorite players are passing on the event; Roger Federer (on medical rehab) and Simona Halep, and others have bagged it like defending champions Rafa Nadal and Bianca Andreescu, and WTA #1 ranked Ashleigh Barty, so my level of interest won't be at the usual fanatical level. But on with the show!
• Speaking of The Goat, he has become an investor in On, the popular Swiss running shoe company. As you might expect, they're slowly branching out to tennis styles. They've just fully rolled out their Federer shoe called The Roger Centre Court following a soft launch last month. It's a clean, minimalist look as you would expect from a Swiss company, right? (It says "Swiss Engineering" on the side, just to reinforce that point.) He won't wear these on court- this is a casual shoe, like the adidas Stan Smith. Expect a true high-performance model down the road- he still wears RF logo Nike shoes on court, but has no deal with them.
• Nike has released a retro Challenge Court line, once made famous by Andre Agassi. I wore this stuff, I will admit it! More on that here.
• Five years back, Nike came up with a terrific shoe for Federer based on the Air Jordan. This time, they've created a Rafa Nafal/Tiger Woods sneaker. One shoe tongue shows Nadal's bull logo, and the other has the Woods TW logo. Nadal was going to wear these at the Open, but he is skipping the event, no?
• Ralph Lauren will put the names of New York City frontline healthcare workers on the back of the ballperson uniforms, something they've supplied since 2005. Funny, I've never seen "ballkids" (let's call 'em what they are) look like those guys. They're all mid 20s models!
• Andy Murray wears a veddy British line called Castore, and has his own signature gear called "AMC," which stands for "Andy Murray Castore," not the movie chain. Launching late last year, it has a nice, crisp look. Make sure you have a lotta cash when you buy this stuff. Freakishly expensive.
• Fila athletes will wear the line's Heritage Collection. Fila says this look is "paying tribute to classic Fila style in a color palette of navy, white and Chinese red accentuated by horizontal stripes." Fila gets a lot of exposure in pro tennis, particularly on the WTA side, with four of the top seven pros sporting the classic "F box" logo. Oh, and Fila player Diego Schwartzman's tie-dye Grateful Dead Fila shirt is killer.
• • • • •
• • • • •
ICYMI: BC Unveils New Red Bandanna Uni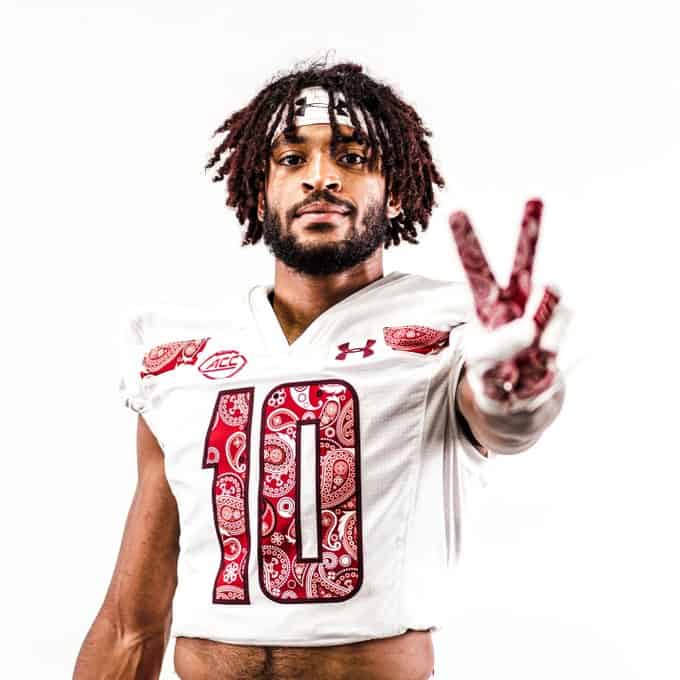 After unveiling a new "throwback" (more like a fauxback) uniform last week, on Friday, BC announced another new uni — this time a special uniform to be worn during their annual "Welles Crowther Red Bandanna" game. The game is annual Boston College tradition that honors the memory of fallen hero Welles Crowther, A BC alumnus. Crowther lost his life on 9/11 while rescuing other people stuck in the south tower of the World Trade Center. Since 2014 the team has worn "red bandanna" uniforms — a tribute to Crowther who famously wore a red bandanna while rescuing people on that fateful day.
For previous games, the team regular uniforms with red bandanna effects, such as the helmet stripe, gloves and shoes. This year, they've turned it up a notch.
The new set unveiled on Friday uses the red bandanna stripe more prominently, this time on the numbers (outlined in black) and partially across the chest at the pads. The team did not put the bandanna stripe on the helmet. The pants will also have the bandanna stripe: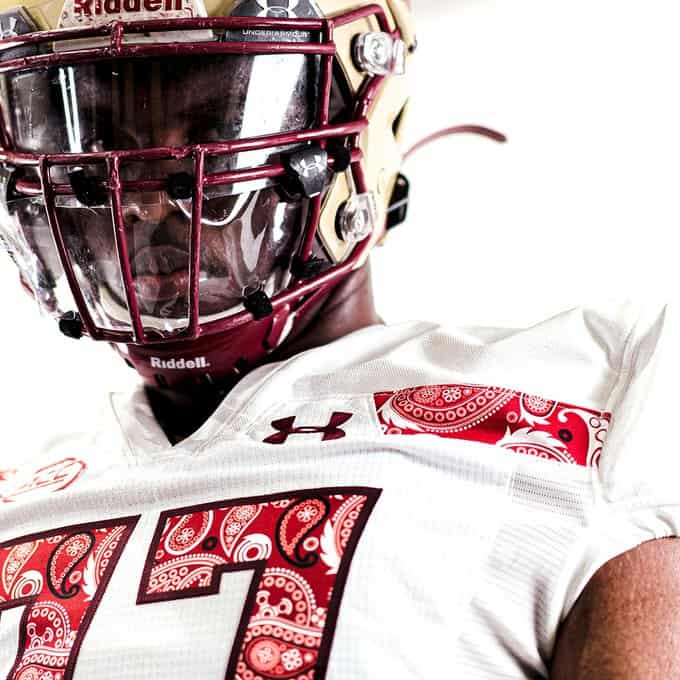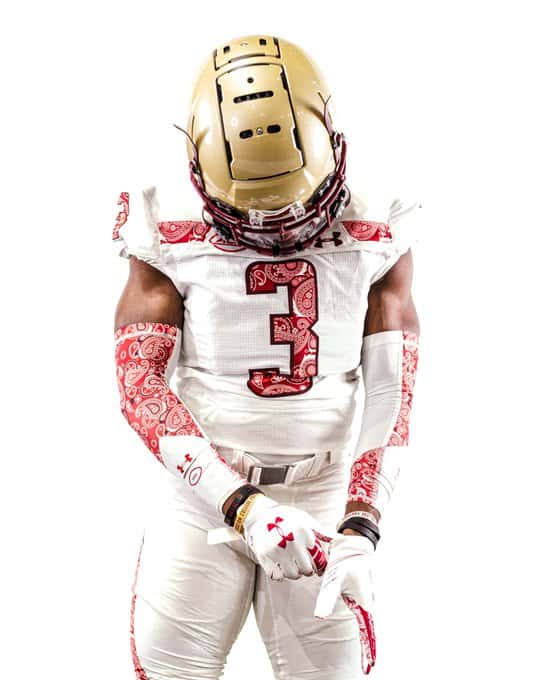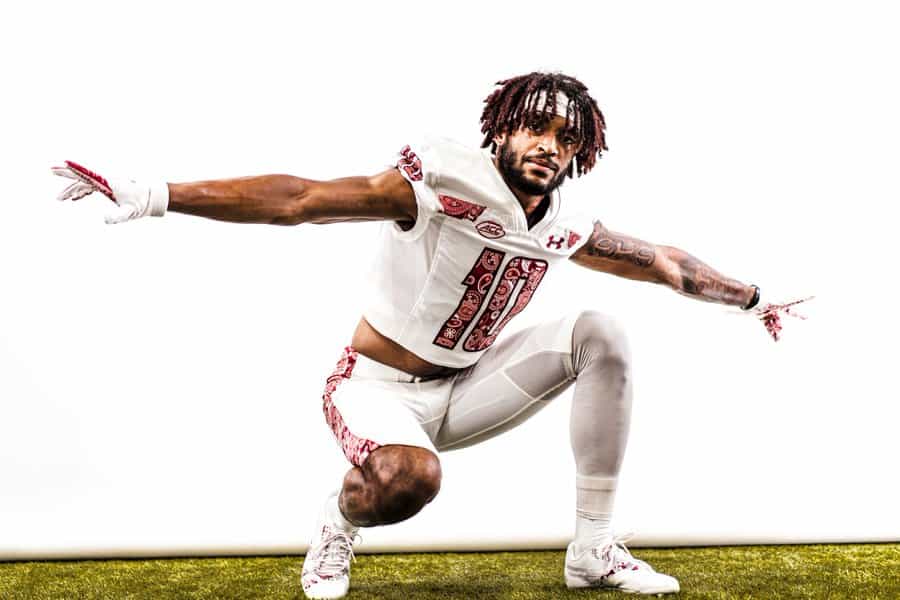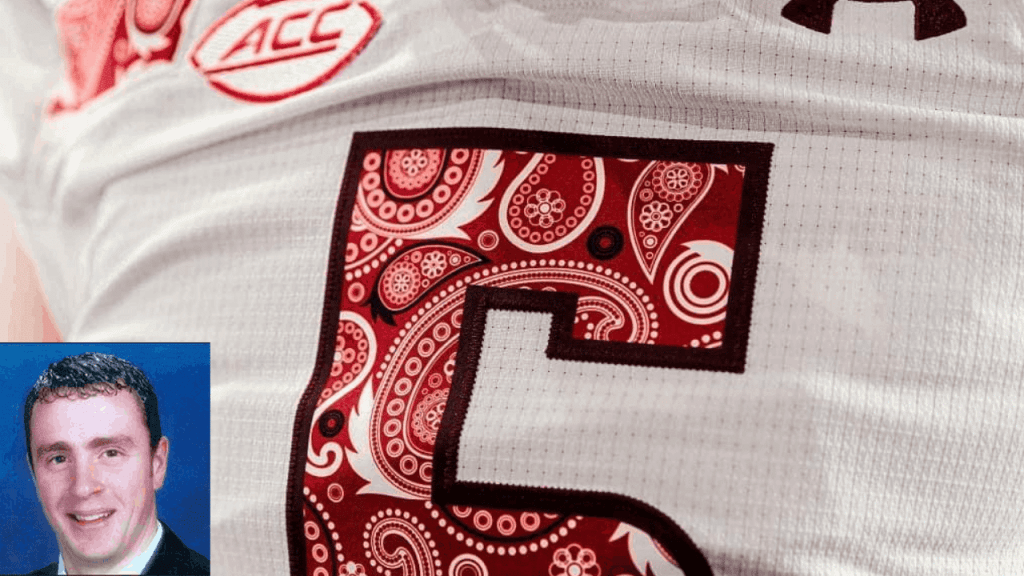 The team also unveiled the new unis in a hype video:
For a game that means more pic.twitter.com/Vdl4Gm2IOe

— BC Football (@BCFootball) August 28, 2020
That video shows all the uniforms the team will wear thoughout the season, including the home, away, "retro" and "throwback," as well as the new "red bandanna." Unless I missed it, the team did not announce which game will be the "red bandanna" game — their schedule pre-COVID didn't have the game designated, and with that in a jumble now anyway, we'll just have to see when the team wears the new unis. If they make it that far…
• • • • •
• • • • •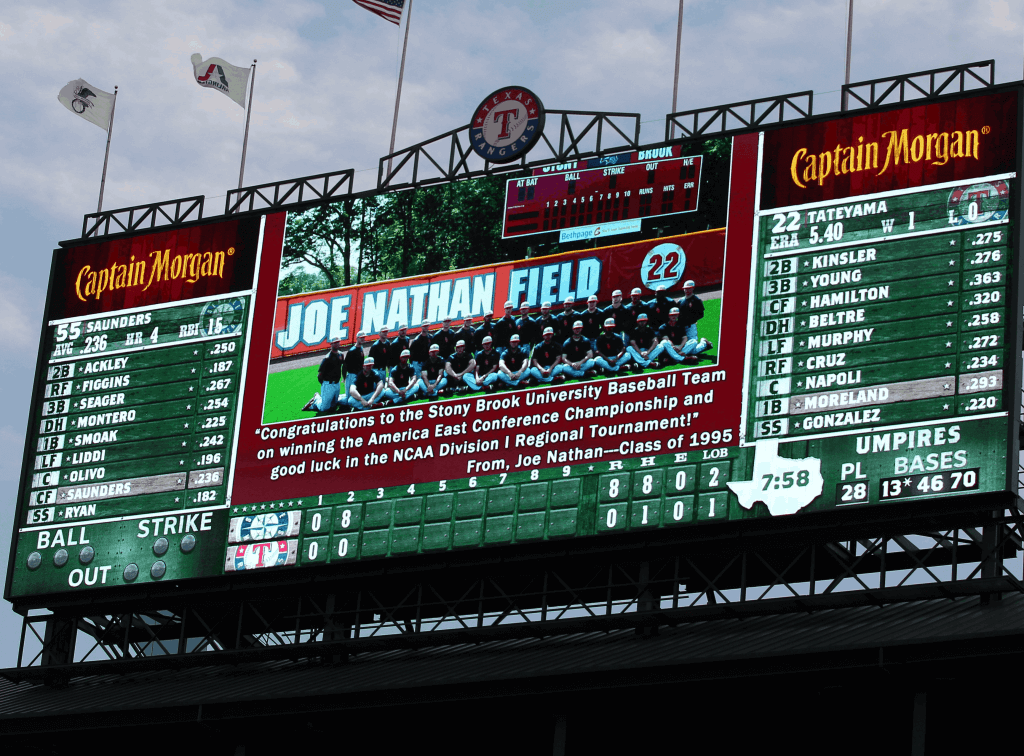 Guess The Game…
from the scoreboard
Today's scoreboard comes from Robert Andrews.
The premise of the game (GTGFTS) is simple: I'll post a scoreboard and you guys simply identify the game depicted. In the past, I don't know if I've ever completely stumped you (some are easier than others).
Here's the Scoreboard. In the comments below, try to identify the game (date & location, as well as final score). If anything noteworthy occurred during the game, please add that in (and if you were AT the game, well bonus points for you!):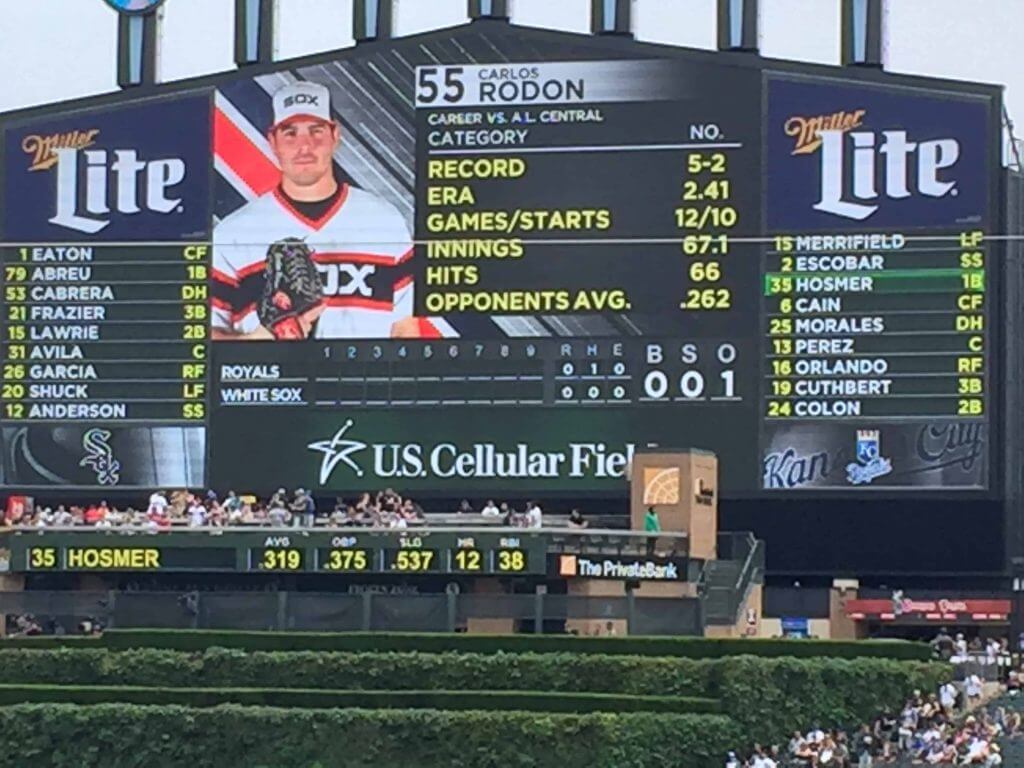 Please continue sending these in! You're welcome to send me any scoreboard photos (with answers please), and I'll keep running them.
• • • • •
• • • • •
The Ticker
By Jamie Rathjen

Baseball and Softball News: Multiple MLB teams continued wearing part or all of their Jackie Robinson Day uniforms this weekend, including the Mariners, Cubs, Reds, Indians, Cardinals, Dodgers, Rangers, Mets, Yankees, Twins, and Tigers (thanks to all who sent those in). … Yankees P Brooks Kriske wore the Jackie Robinson cap yesterday, even though the team went back to their regular uniforms (from Scott Cummings). … Brewers equipment manager Jason Shawger tells us that he also added the Jackie Robinson patch as a decal on the team's helmets. … This year's Jackie Robinson Day socks were half-black and half-blue, with Robinson's signature at the top of the blue half (from Matthew Wolfram). … An organization called Athletes Unlimited is creating short-term pro leagues for sports it considers underrepresented in the U.S., starting with softball, which opened this weekend. The four teams' uniforms are all variations on a theme.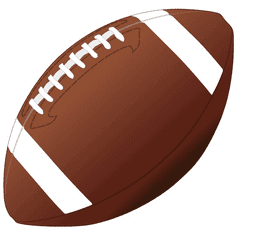 Football News: The Rams are planning to wear white at home in the first game of the season (from Jakob Fox). … The Cowboys wore blank jerseys in a scrimmage yesterday (from multiple readers). … The CFL's Saskatchewan Roughriders have a 110th-anniversary logo, even though they're not playing this year (from Wade Heidt). … Virginia LB Zane Zandier said the reason he chose No. 0 was because he'd be one of the first players to wear it. … Kary Klismet sent us a database of college and high school stadiums, though it seems more complete for some states than others. … The rest of these are also from Kary: Two Spokane-area high schools share a new sports stadium, with one school's logo in each end zone of the football field. … A high school in Tuscarawas County, Ohio, and NAIA Montana State-Northern each opened new stadiums. … A hobbyist who builds models of college football stadiums finished Tennessee's Neyland Stadium.

Hockey News: The KHL's Spartak Moscow have new uniforms (from Conan Smeeth). … Also in the KHL, Torpedo Nizhny Novgorod have a "1221" shoulder patch, referencing the year of the city's founding (from Andrew Buehler). … Islanders coach Barry Trotz was wearing a Ravens shirt during his press conference yesterday, the apparent result of knowing some people who know some people (from @OlegKvasha).

Basketball News: The Trail Blazers all wore black headbands on Saturday in memory of former F Clifford Robinson (from Mike Chamernik). … Miami-Dade County, Fla., owns the Heat's arena and has to pay the team an additional $2 million because it hasn't yet found a new naming-rights advertiser after the previous agreement expired (from Timmy Donahue). … This clip of Chadwick Boseman playing for his high school team, T.L. Hanna in Anderson, S.C., features his team wearing three-color shorts (from Andy Shain).

Soccer News: Clubs with new kits or shirts include Austria's Austria Wien; England's Brentford, Brighton and Hove Albion, Blackburn Rovers, and Manchester City (the last from Will Hughes); Poland's Chrobry Głogów, GKS Katowice, Legia Warszawa, and Widzew Łódź (those from Ed Żelaski); and Ukraine's Mariupol (also from Ed). … Everton's women's team appears to be starting the season without an ad. That explains, but isn't a good reason, why the women were conspicuously absent from the club's kit reveals, including the new third kit. … The English Championship's Norwich City had a variety of public-service workers reveal their new shirts. … England's FA Cup has a new logo, and that article also mentions that the cup's sleeve patch is to indicate the number of times a team has won the cup, like in European competitions, with the current holders also getting their own patch. … French team Nice wore warm-up shirts in support of cycling's Ineos Grenadiers on Saturday, the first day of the Tour de France, which started in the city. Nice are also owned by Ineos. … One of the first pro women's sporting events in the U.K. since March, the Community Shield between Chelsea and Manchester City, saw both teams kneel, and Women's Super League players intend to continue to do so.

Grab Bag: The Irish Rugby Football Union and its kit manufacturer, Canterbury, was criticized for using models instead of members of Ireland's women's team to reveal Ireland's new kits last week alongside members of the men's team. Canterbury later publicly apologized. … Staying in rugby union, Pro14's Ospreys also added a National Health Service patch similar to the one used in the English Football League, with "Thank You" written in Welsh. … Cycling's Team Ineos revealed a new kit and changed their name to "Ineos Grenadiers" for the start of the Tour de France.
• • • • •
• • • • •
And finally… today's my last day doing the weekday UW articles, and thanks to so many of you (too many to mention, but you know who you are) sending in pieces, the dearth of uni news was filled with a cornucopia of fantastic reader submissions. Some of you even sent in two pieces. It turns out I had so many submissions, I couldn't even get to them all (although I tried). For those who have sent me something that has yet to run, my apologies, and I assure you I will get to your efforts when I return to the weekends! I still have several "in the bank" as it were, and it doesn't look like we'll be returning to "normal" anytime soon, so the content is greatly appreciated. Normally I spend this month doing the Griffins jersey contest and reporting on every new NBA uni, plus a few colleges, but all of that has been out the window for the most part. So, thanks again to everyone — submitters, readers, and commenters, for hanging tough this month. I also want to thank our tickerers — Alex, Lloyd, Jamie and Anthony — for their stellar jobs this month as well. And of course, thanks to Paul for entrusting me with the ship, taking the first week, and for making occasional appearances throughout the past three weeks. I'm sure I speak for us all when I say I'm happy to be turning the keys back over to him. (Sorry about the dent in the fender, but I did fill up the tank!)
I hope everyone enjoyed the content. You guys as a community rose up and made it a fantastic month! Thank you all!
I've often said that sometimes the better sunset photos are actually those taken in the gloaming just past sundown. That was Saturday evening, after we'd had pouring rains and high humidity for a good chunk of the day. Notice how calm the water is.
Now compare it to the ideal sunset we had last night, on a windy but cloudless day. That seems like a good way to go out. Let me ride off right now into the …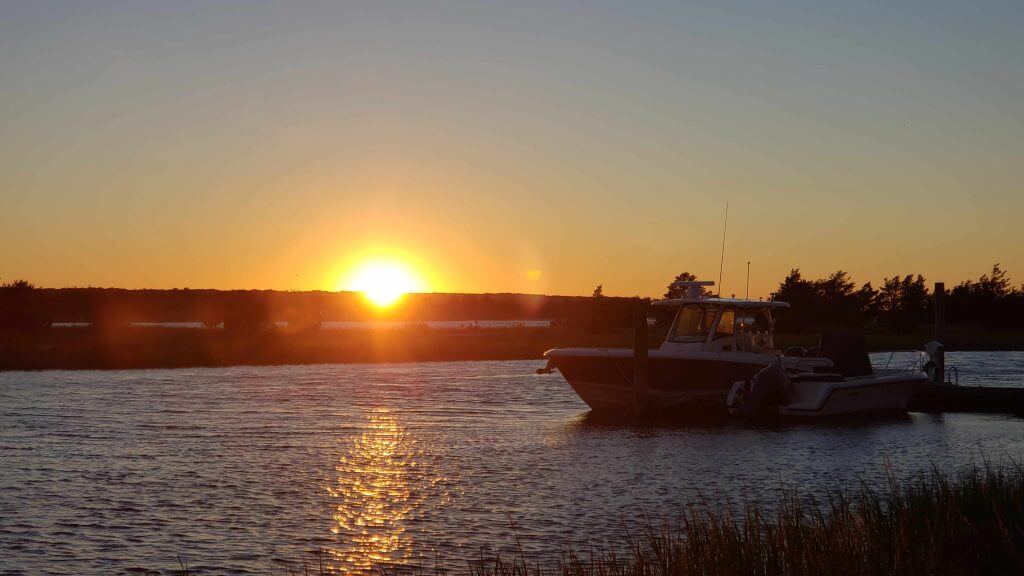 Peace,
PH