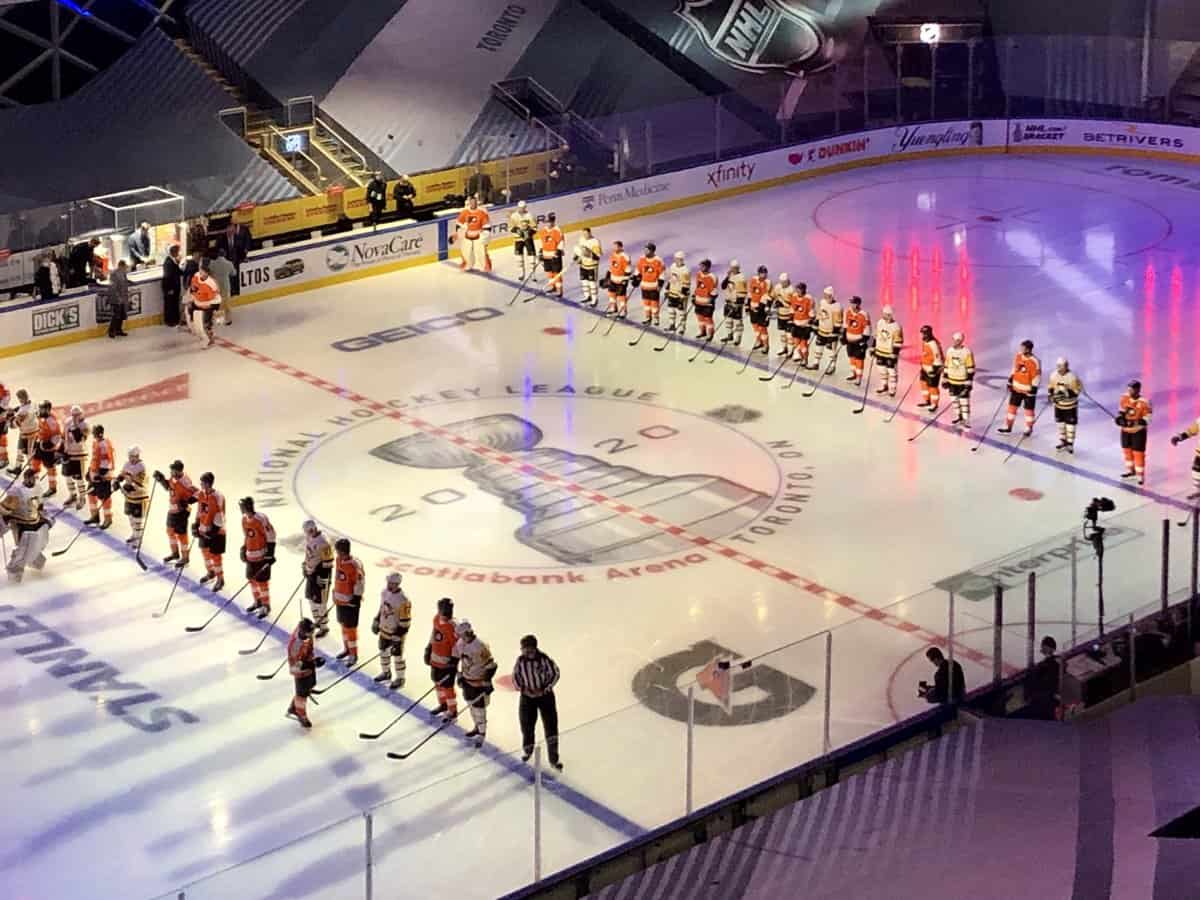 Click to enlarge
The NHL took the first step toward resuming its season last night, as several teams participated in preseason scrimmages, and there were lots of notable visual details, beginning with Flyers and Penguins players commingling along the blue lines for the national anthem, which made for a striking visual (shown above). Here's another view: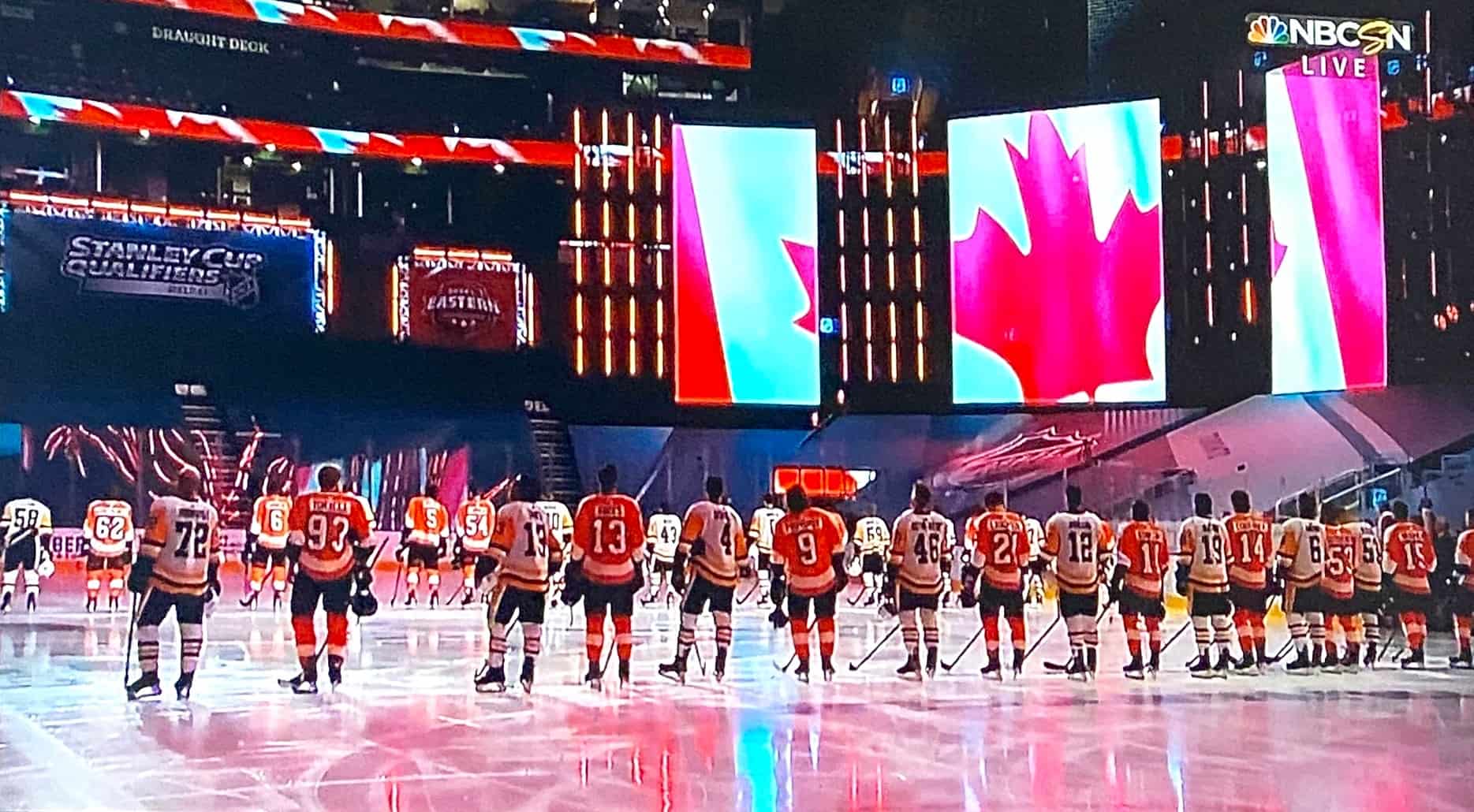 Flyers center Sean Couturier said, "It was something for equality and justice, (anti-)racism. It was to respect people, your opponent. We're a pretty big rival, but at least it shows the way that we have respect for each other, the same as in life." Pens captain Sidney Crosby added, "We felt, both teams, that it was important to show unity given what's gone on and just wanted to be part of the solution moving forward."
The Maple Leafs and Canadiens did the same thing:
Speaking of the Leafs: With one of the bubble sites being in Toronto, the Maple Leafs found themselves, for the first time in team history, as the visiting team in their own arena, being "hosted" by the Canadiens. But that meant the Leafs got to wear their white uniforms, which is what they should be wearing at home all the time anyway:
In other NHL developments:
• Oilers defenseman Ethan Bear honored his Indigenous heritage by wearing his surname in Cree syllabics, instead of his standard NOB: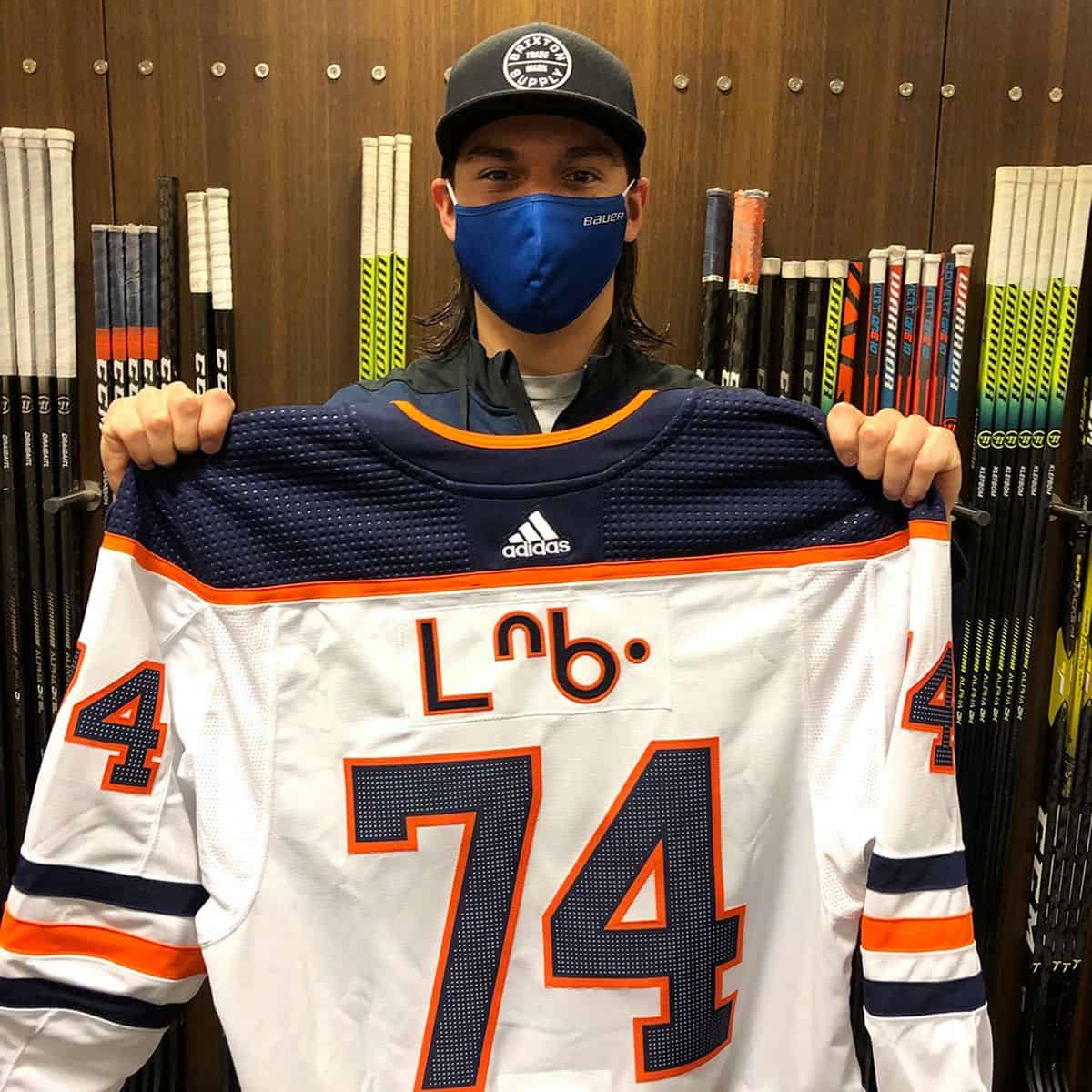 Ethan Bear wearing his name in Cree syllabics with pride. #StanleyCup Exhibition Game

🇨🇦: https://t.co/8ZQhNSdUvL @Sportsnet pic.twitter.com/E7yWT8oR4Y

— NHL (@NHL) July 29, 2020
• For the Oilers/Flames game, the teams did not intermingle for the anthem, so that wasn't a universal practice:
• With former Jets star Dale Hawerchuk recently suffering a cancer relapse, the Jets have added helmet decals in his honor:
The Jets didn't play last night, so that decal hasn't yet been worn in a game, but it will presumably be worn for tonight's Jets/Canucks scrimmage.
There are some additional NHL notes in the Ticker. If there were other uni-notable details from last night's NHL action, feel free to share them in today's comments.
• • • • •
• • • • •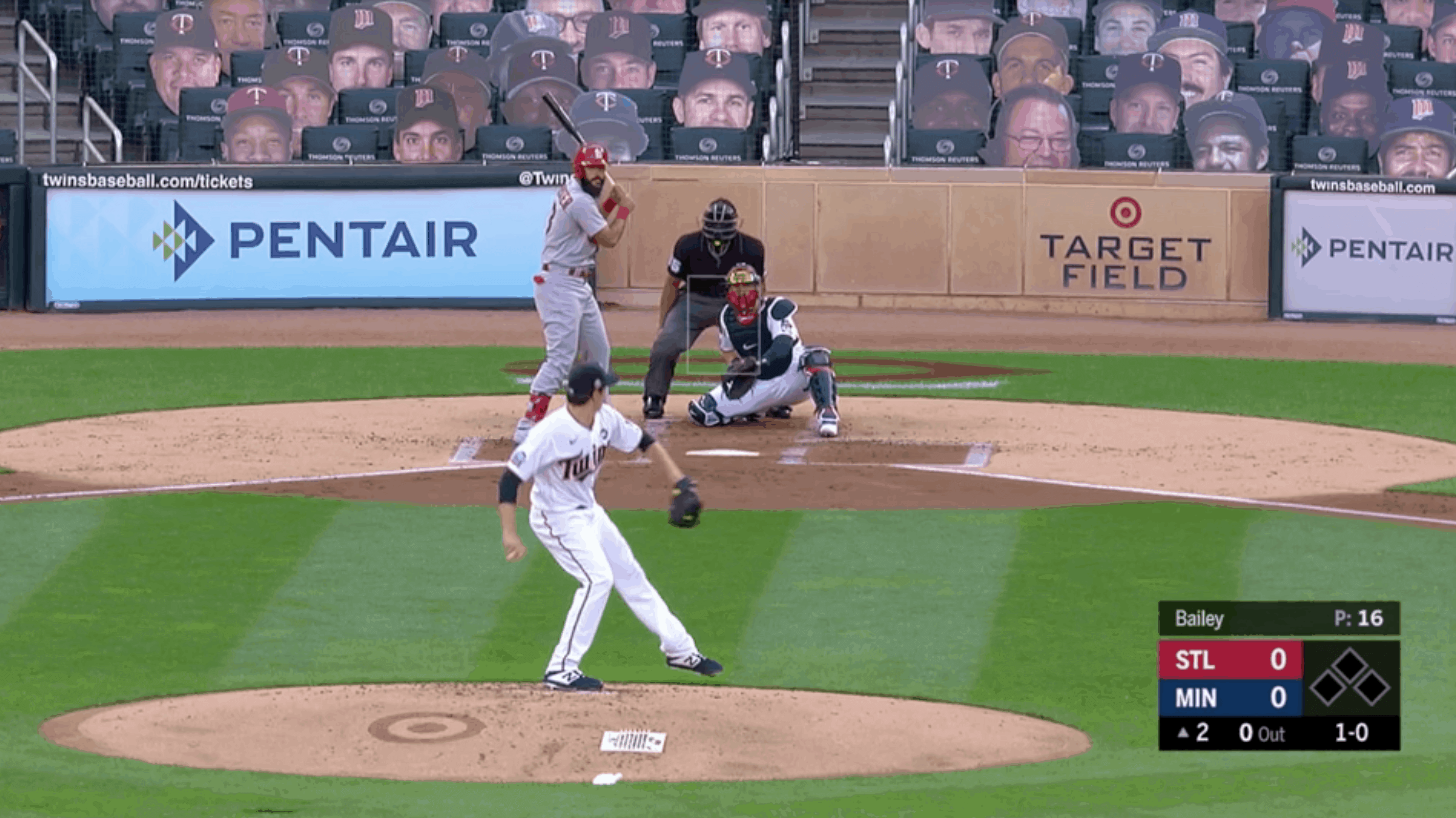 Click to enlarge
The latest bit of 2020 weirdness: We've seen some teams using cardboard cutouts of fans in their seats, and other teams that have left the seats empty. But the Twins, who had their home opener yesterday, are doing something different: They've put oversized cutouts of former Twins stars' faces in the seats behind home plate. They're so big that it looks like they're all peering over the seat in front of them, which is a little bit creepy!
Speaking of the Twins, they added an "RC" memorial patch for Ryan Costello, a prospect who died last November. I believe this was a one-game patch for the home opener and will not be worn again:
(My thanks to @JaxonJackrabbit for letting me know about the creepy cutouts.)
• • • • •
• • • • •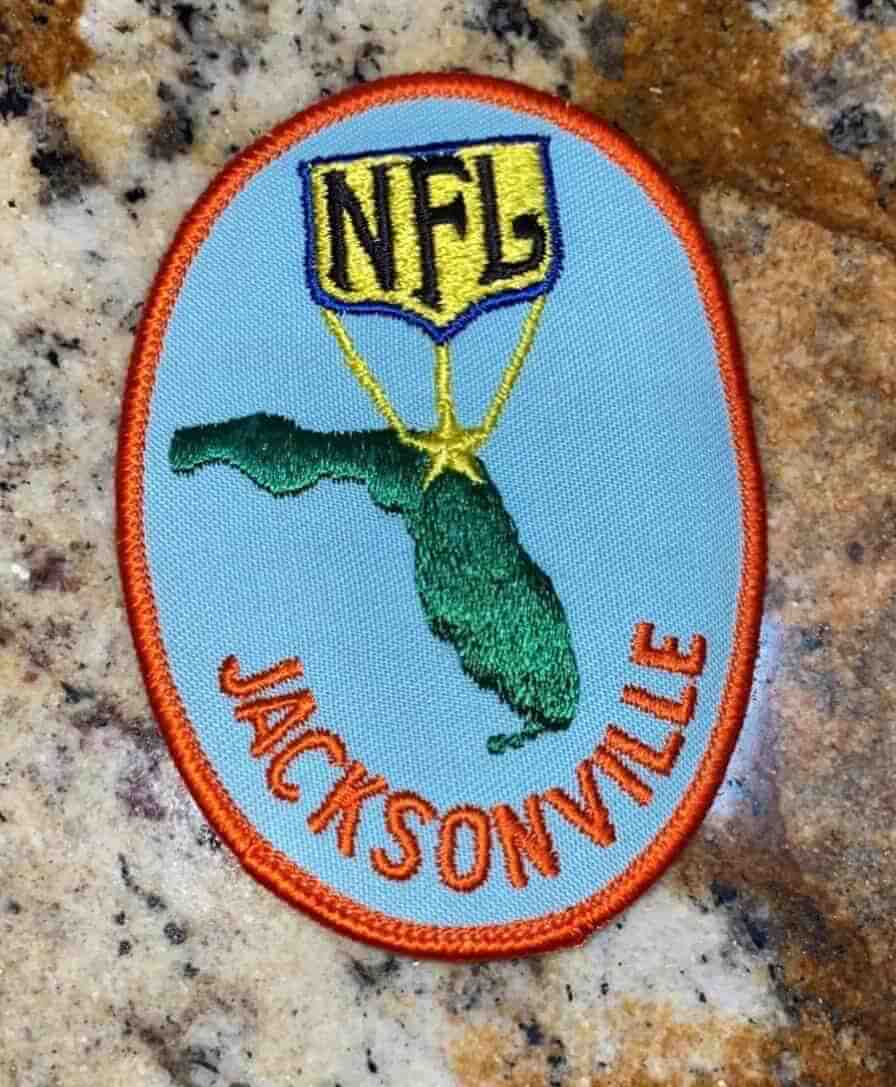 Jax patch: Ever seen this patch or logo before? I never had, until a reader who prefers to remain nameless shared it with me. Here's his story:
Before Jacksonville was awarded an NFL franchise in 1993, there were numerous attempts to get a team to move to there. In 1979, the city formed a sports commission. My grandfather applied for the job because he had a history in sports and was relatively interested in it. Not only was he appointed to the commission, but two years later he was named chairman.

He has so many neat stories about going to NFL owner's meetings and how numerous teams tried to move to Jacksonville — the Saints, Colts, Cardinals, Falcons (nobody really knew about that one — my grandpa told me it was because they wanted a new stadium in Atlanta, so they flirted with other cities).

The thing that I thought you might find interesting was a logo that was developed by the sports commission in the early 1980s.
These patches were given to team owners when they met with the commission. Very few were made.
Wow — that's a pretty unique piece of memorabilia! Great story, great patch.
• • • • •
• • • • •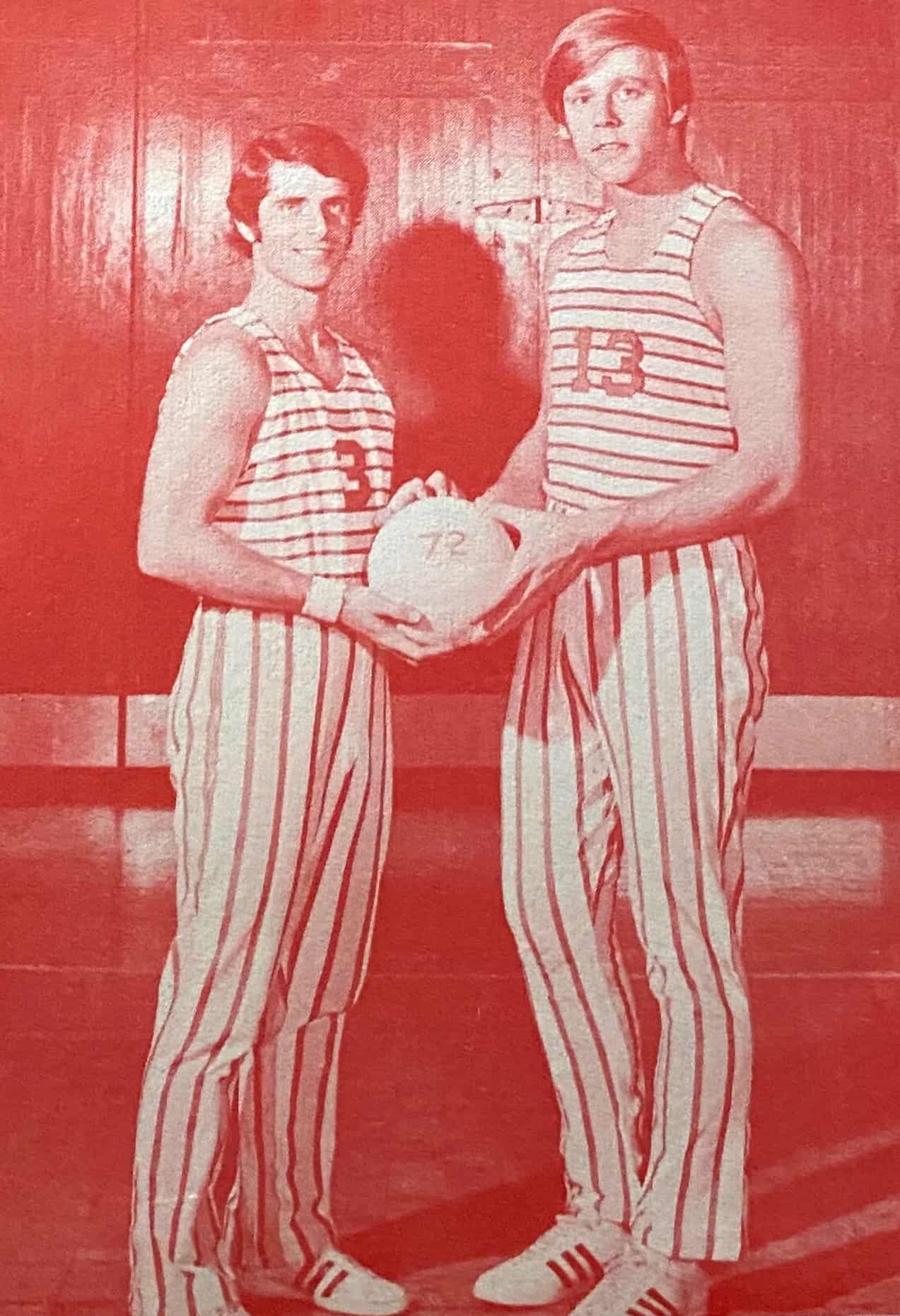 Click to enlarge
Too good for the Ticker: The Ohio State men's volleyball Twitter account posted this 1972 photo yesterday. Not sure if those are game uniforms, warm-ups, or a mix of both. In any case, they're certainly a sight to behold.
(My thanks to @MattMacKC for this one.)
• • • • •
• • • • •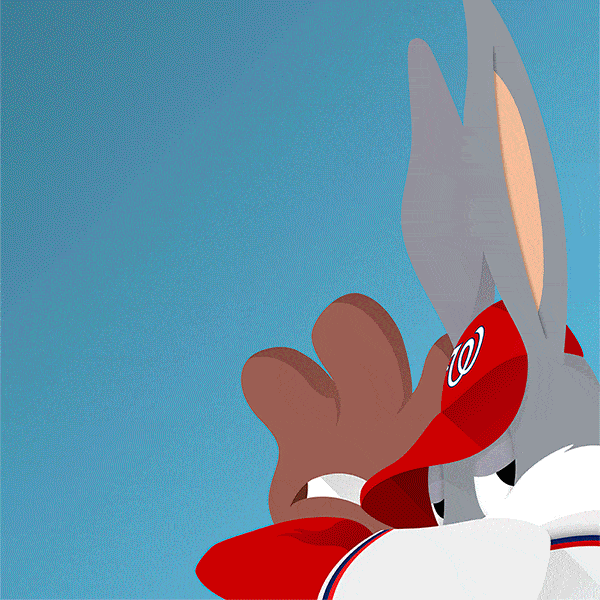 ITEM! Super-cool Bugs Bunny raffle: This week is Bugs Bunny's 80th birthday, and the great sports illustrator S. Preston is celebrating with a series of 11″ x 17″ prints. As you can see above, there are 30 separate designs — each one showing Bugs decked out in a different MLB uniforms — and one lucky Uni Watch reader is going to win the design of his choice.
This will be a one-day raffle, open to readers in the USA and Canada. To enter, send an email with your mailing address and preferred team design to the raffle address by 8pm Eastern tonight. I'll announce the winner tomorrow. Big thanks to S. Preston for making this one possible!
• • • • •
• • • • •
Key ring update/reminder: When I was thinking of making these Uni Watch Key Rings, I wasn't sure how popular they'd be or how many to have manufactured. I eventually decided to make 200 of them — that seemed like enough to last awhile, but not so many that I'd be left with too many unsold items.
Two days after the launch, more than 100 of the key rings have already sold (thank you!). So if you want one, move fast — full details here.
• • • • •
• • • • •
Click to enlarge
A win-win: Kevin Clark — who, when he's not reading Uni Watch, works as the New Jersey Devils P.A. announcer — recently had his Uni Watch basketball jersey tailored. He wanted to make it shorter so he could wear it untucked — and when he picked it up, he found that the tailor had used the trimmed material to make a one-of-a-kind Uni Watch mask! How cool is that?
Stay safe, Kevin, and here's hoping I can join you for a Devils game sometime this winter.
• • • • •
• • • • •
Click to enlarge
A different kind of uniform: The Tugboat Captain has kept a vegetable garden in a neighbor's backyard for several years now. Unfortunately, this year she's been stung, harassed, and generally terrorized by a hive of bumblebees in the dirt below her green beans. (I didn't even know bees could have an underground hive, but it turns out they can.) But rather than let the bees win, she's purchased herself a beekeeper's suit! It arrived yesterday and she plans to use it for the first time this morning. How cool is that?!
Bonus: Now she looks sort of like an astronaut.
• • • • •
• • • • •
The Ticker
By Lloyd Alaban

Baseball News: Here's what's happening to home run balls that land in empty stadiums (from Mike Chamernik). … Giants IF Wilmer Flores wore an orange belt instead of the usual black belt last night against the Padres (from Ben Mejia). … Also from that game: Padres IF Jurickson Profar was using the bat of Diamondbacks IF/OF Ketel Marte (from Steven Wine). … Home plate umpire Larry Vanover, who was working the Reds/Cubs game, wore a lower-face shield in his mask. Several umpires have been wearing these (from Wes Muniz). … After reaching first base last night, Rockies SS Trevor Story pulled out a mask from his back pocket and wore it with the MLB logo upside-down (from Douglas Whichard). … Red Sox manager Ron Roenicke went with a neck gaiter and a mask last night in Boston as his team took on the Mets (from Timmy Donahue). … The Atlantic League of Professional Baseball is expanding to Gastonia, N.C. … Here's a peek at the tablet that the Nationals are using to pipe in fake crowd noise (from Max Weintraub). … The Angels chose to place tarps with their logo on them in the lower bowl of their stadium, instead of ads or cutouts (from Jakob Fox). … James Griffin put together an entertaining blog post about his collection of Yankees Starting Lineup figurines.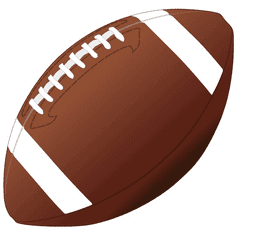 Football News: Tennessee, which had been wearing plain white pants in recent years, is bringing back the pants striping this season (from @aspangler01). … Speaking of the Volunteers, a sportswriter has tracked all the uniform changes they've had since 2010 (from Kary Klismet). … UNC's offense got their uni numbers yesterday (from James Gilbert). … Louisville freshmen got their numbers too (from M. Brinston Berry). … Texas WR Tarik Black will be be the first Longhorn to wear No. 0 (from Timmy Donahue). … Eastern Washington has installed new red turf (from Matt Rashford). … The new Indoor Football League team in Columbus, Ohio, will be named the Wilddogs. Here's a look at their uniforms (from Julian Orlando and Sean Golden). … Ignacio Salazar came across this Oilers-themed motorcycle.

Hockey News: Oilers G Mikko Koskinen's mask backplate honors his late teammate, F Colby Cave. Cave died in April (from Jakob Fox). … The Penguins, like all Eastern Conference teams, are playing in Toronto. Still weird to see Pittsburgh-based ads in the arena where the Maple Leafs play. Here's a closer look (from Andrew Cress and Giles Ferrell). … The Rangers have uni-numbered masks on them. … The NHL has Stanley Cup-branded hand sanitizer and sanitizing wipes for the Stanley Cup Qualifiers (from Moe Khan).

Basketball News: Some Raptors have taken to wearing Black Lives Matter-themed masks made by a local artist (from Andreas Papadopoulos). … Timberwolves PG D'Angelo Russell wore custom Way of Wade (Dwyane Wade's shoe brand) shoes last night honoring the late Kobe Bryant (from Griffin Smith). … Here's a time-lapse video of the installation of Georgia Southern's new court (from Preston Feiler). … The Pelicans and Jazz are planning to kneel together around a "Black Lives Matter" sign during the national anthem prior to tomorrow night's season-resumption opener.

Soccer News: From Josh Hinton: Wolverhampton has officially released its new home shirt, confirming previous leaks. … New home shirt for AC Milan. … Scottish Premiership players are to be allowed to kneel when the season starts this weekend, and they'll also receive warm-up shirts from the charity Show Racism the Red Card (from our own Jamie Rathjen). … Wisla Krakow has ended their kit deal with Adidas, so the club put together a video of all the Adidas kits they've ever worn (from Ed Zelaski). … Also from Ed: Logo mishap in the Polish II Liga promotion playoff: Laczy Nas Pilka used the logo of SMS Rzeszów instead of Resovia Rzeszów's logo. … A designer has mocked up what a potential New Orleans NWSL team could look like (from Addison Walton). … New second kit for Scottish League One team Partick Thistle (Jamie Rathjen again).

Grab Bag: The Australian Football League's Collingwood also fields a netball team and the team's reserves in the top two Australian leagues, and released a new kit for those teams (from our own Jamie Rathjen). … New look for the University of Charleston athletics (from Jeremy Brahm). … Here's an in-depth look at why the University of Mississippi continues to use the "Ole Miss" nickname despite its documented ties to antebellum pro-slavery culture (from Kary Klismet). … Also from Kary: Skateboarder Tony Hawk gave a tour of skateboarding's most famous venues. … One more from Kary: Boise's police department has asked its officers not to display the "Thin Blue Line" flag. … A U.S. Navy sailor received a temporary waiver to grow a four-inch beard for religious reasons. He is now pushing the Navy to grant career-long waivers instead of requiring a sailor to get an exemption at each new duty station (from Timmy Donahue). … Nike has scrapped plans to build a manufacturing plant in Phoenix, due to pandemic concerns (from Timmy Donahue).
• • • • •
[adrotate group="2″]
• • • • •
Click to enlarge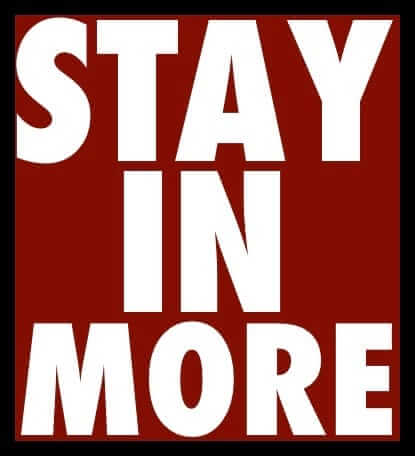 What Paul did last night: During the pandemic, the Tugboat Captain and I have spent the majority of most days in the same room. We're often buried in our respective laptops and we'll sometimes go a long stretch without talking, but there's still a sense of shared space, shared experience.
Yesterday, though, I spent nearly three hours on two separate visits to the post office (don't ask), another two hours in the back room Xacto-ing and laminating membership cards, another hour or so packing key rings, and then it was time for my bike ride. So when we convened on the porch, we'd barely seen each other all day. Nothing wrong with that, but it was atypical. And that's how I heard myself uttering one of our society's most banal platitudes:
"How was your day?"
As always, you can see the full set of daily Pandemic Porch Cocktails™ photos here.