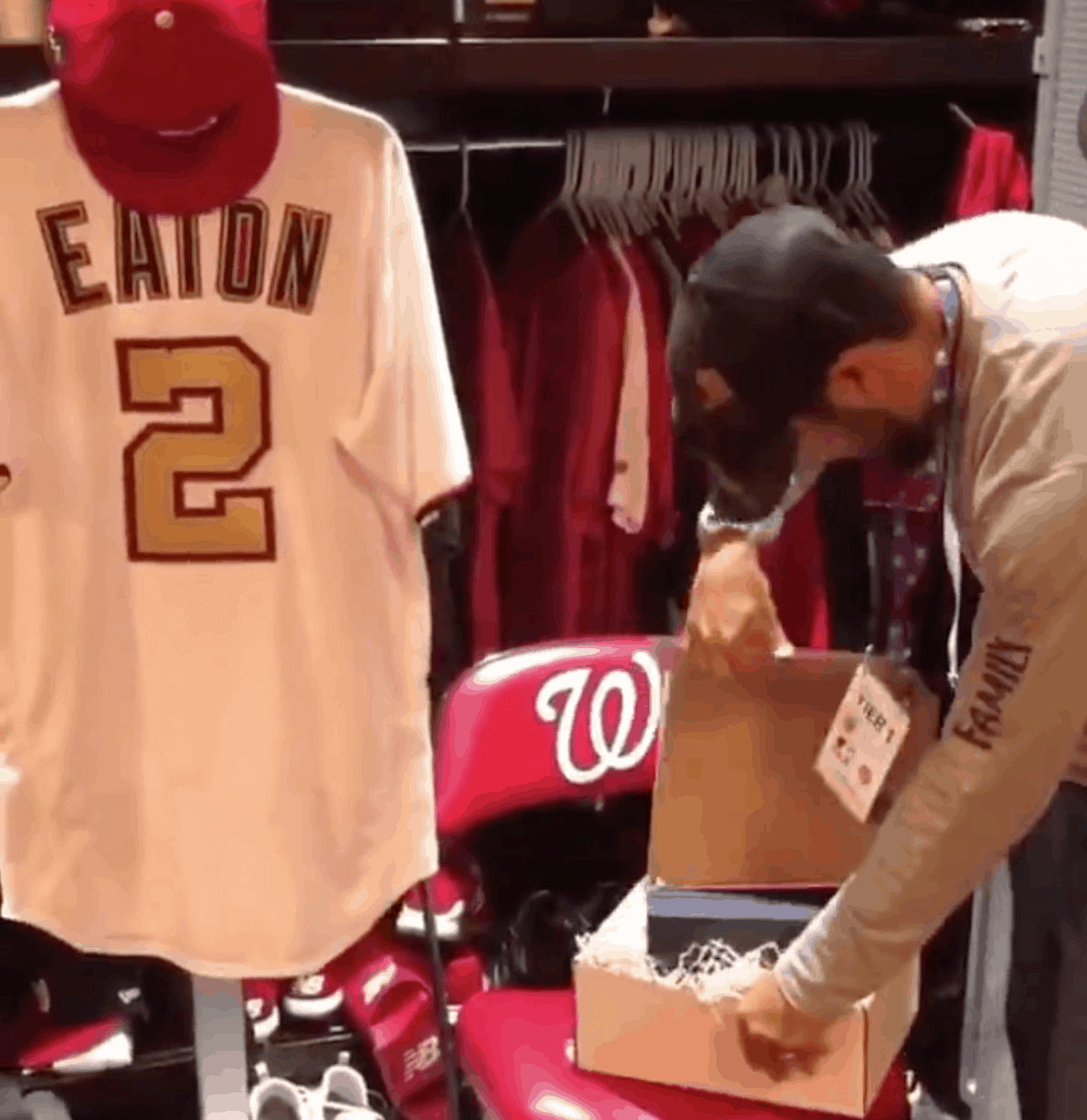 Just as the world was about to go kablooey back in early March, people were starting to ask me if the Nationals, like most other defending World Series champs in recent years, would wear gold-trimmed uniforms for their home opener. I assumed the answer would be yes (teams have tended not to make the official announcement until just a few days before the regular season starts), and they hinted at it, but we never got to find out for sure.
But the cat pretty much came out of the bag yesterday, as several Nats players Instagrammed photos or videos showing the gold threads, along with their newly received World Series rings.
That's outfielder Adam Eaton in the shot at the top of today post, which provides a good look at the back of the jersey. Can't say I'm a big fan of the gold number, which looks a bit garish to me. But the gold-trimmed front script, as shown in this shot from pitcher Javy Guerra, is really nice:
That's the thing about gold, at least for me: It works way better as a trim color (think original Jacksonville Jaguars unis, for example) than as a main color.
Catcher Raudy Read showed the two sleeve patches (the gold star above the team logo patch apparently signifies the team's first championship), along with a good view of the cap patch: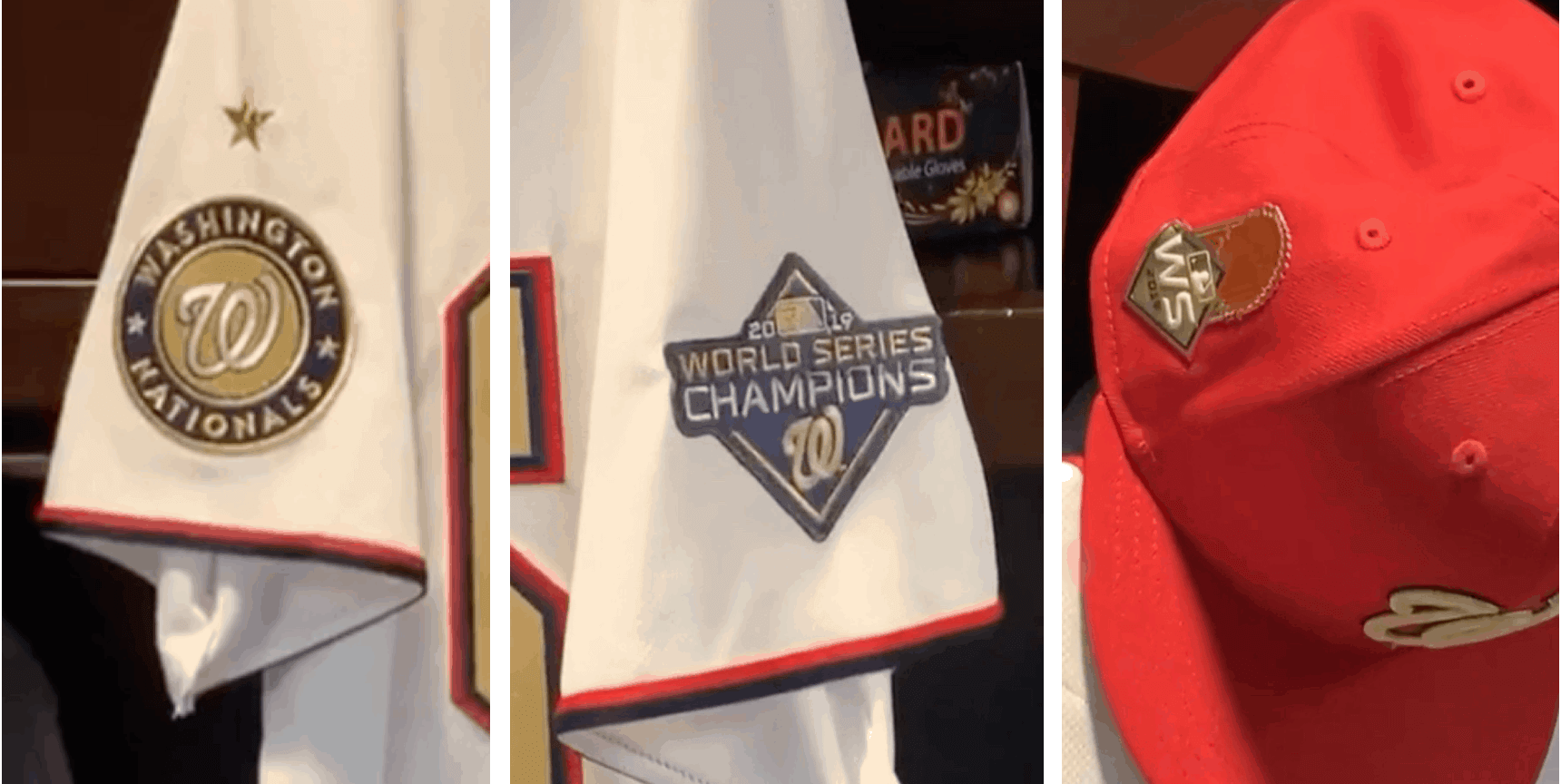 Regarding that championship patch, SportsLogos.net is reporting that the Nats will wear that all season long (but in their standard color scheme, not in gold).
And here's a video clip from pitcher Erick Fedde, providing a good look at the cap's gold squatchee (!) and gold front logo:
While the Nats haven't yet officially announced or even acknowledged these uniforms, it seems fairly obvious that they'll be wearing them for their season opener on July 23, when they host the Yankees (assuming that game actually takes place, which still isn't a certainty). And that seems like a good thing — Opening Day is still Opening Day, after all, even if it takes place in late July, and maintaining an annual uniform ritual is a good way to re-establish some sense of normalcy.
Speaking of that annual ritual: Want to learn more about MLB's recent tradition of reigning champs opening the season in gold? I provided a good backgrounder on that in this 2016 ESPN piece.
• • • • •
• • • • •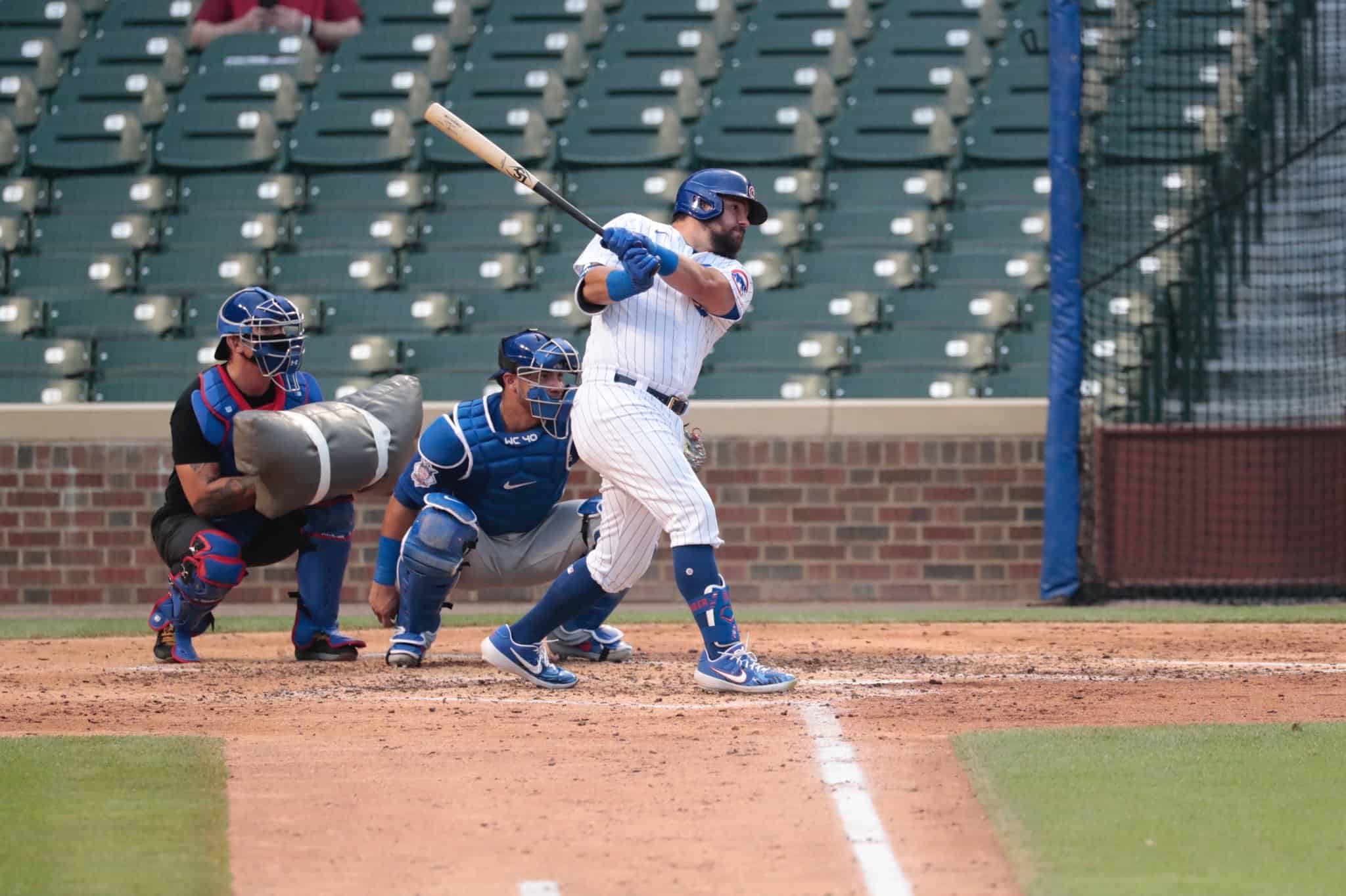 Click to enlarge
Too good for the Ticker: The Cubs held an intrasquad scrimmage yesterday at Wrigley, with the plate umpiring chores handled by the team's mental skills coordinator, John Baker. Baker, who's a former MLB catcher, suited up in the standard tools of ignorance but also added an odd accessory: a pillow taken from a chair.
I wanted to know more, so I contacted Baker. He wrote back: "The arms were the only exposed part I was worried about, so we made a shield out of the pillow from the chair in the cage and kept my hands and fingers behind it." Creative!
(Big thanks to Phillip Santos for letting me know about this one.)
• • • • •
• • • • •
Pin reminder: In case you missed it yesterday, the Uni Watch Pin Club's July design — a bobblehead pin whose head actually bobbles! — is now available.
This one is a limited/numbered edition of 500. Here's a closer look:
Again, the July pin is available here. Need to get caught up? Here are our January, February, March, May, and June pins. (Sorry, April sold out!) If you order multiple pins and get hit with multiple shipping charges, contact me and I should be able to arrange a partial shipping refund for you.
• • • • •
• • • • •
ITEM! Masks available again: The new batch of 300 Uni Watch masks also went on sale yesterday. As of this morning, a bit less than half of them are left. Just like with the first batch, the price is only $6. Teespring will keep $2 as a warehousing/fulfillment fee, and I'll donate the remaining $4 to charity — this time to Feeding America.
You can order here. Since these are very popular and we have a limited number of them, please try to order no more than one or two, so other people can have a chance. Thanks!
Update: Masks now sold out!
• • • • •
• • • • •
Caps reminder: After a long period of cap-benightedness, we're now suddenly cap-plentiful. All fitted sizes of the Uni Watch Classic Cap (shown at left in the photo above) are once again available, and our cotton "gold circle" strapback cap is back for another round of orders as well.
My thanks, as always, for your consideration!
• • • • •
• • • • •
Short work break results in new form of abstract expressionism: We've both been working our asses off lately, so we decided to take yesterday afternoon off and head to the beach. Among the things we brought:
• A few beers
• Paper towels to hide the beers
• M&M's
If only the galleries and museums were still open, I feel like this could be the start of something big.
• • • • •
• • • • •
The Ticker
By Anthony Emerson


Baseball News: Reader Chris Hollman's father played in the 1957 Hearst Sandlot Classic, so Chris shared photos of his flannel, zippered jersey and stirrups, which include, according to Chris, "a piece of a dish rag sewn in. My Dad thought the stirrups sat too low, so he had one of the guys from the clubhouse cut them and sew in the dish rag so more of his socks were showing, as seen in the picture with DiMaggio and Mantle." That's Chris's dad, second from the left. … Check this out: a 1905 patent for a two-handed catcher's mitt, with a glove on one side and a strap on the other for the throwing hand (from Jimmy Lonetti). … Red Sox P Chris Mazza really Gets It™ (from multiple readers). … Someone in the Cubs dugout c. 2002 had "BC" on his back instead of a number. I'm guessing "bullpen catcher"? (From @DatDudeStu.) … Asics is selling a new bat with an inflatable core! (From Jeremy Brahm.)

NFL News: Postgame jersey swaps, which have gained popularity in the NFL over the last few years, will be prohibited during the 2020 NFL season (from Mike Chamernik and Kary Klismet). … Also from Kary: CBS Sports has published a list of the best players to wear each uniform number. … Pats WR N'Keal Harry wore a logo-less Pats helmet while working out with new QB Cam Newton (from Kevin Rice).

NBA News: All Mavericks players will wear "Equality" as their social justice NOB when the NBA season resumes, and players Luka Dončić, Kristaps Porziņģis, JJ Barea, Maxi Kleber, and Boban Marjanović will wear "Equality" spelled out in their respective native languages of Slovene, Latvian, Spanish, German, and Serbian. Marjanović's could be rendered in Cyrillic, as Serbian uses both the Cyrillic and Latin alphabets (from Timmy Donahue and Mike Chamernik). … Also from Mike: Sixers C Joel Embiid wore a full protective suit during the team's flight to Orlando. … NBA players are receiving team-branded fast-pass bracelets in Orlando. … The uniforms for the expansion Ottawa BlackJacks of the Canadian Elite Basketball League have been unveiled (from Wade Heidt).

College/High School Hoops News: New court for Central Michigan (from Shane Brown). … Alabama also has a new court (from Griffin T. Smith).

Soccer News: Instead of their usual NOBs, Philadelphia Union players each wore the name of a Black person killed by police during their first match in the MLS Is Back tournament yesterday. They also wore shin pads depicting raised fists, along with the hashtag "#EndRacism," and entered the pitch wearing Black Lives Matter T-shirts. Captain Alejandro Bedoya will also be wearing a new captain's armband for the tournament, designed by the players and featuring the names of Black people killed by police. … Union also have a new sleeve advertisement. … DC United has added an extra shorts ad (thanks, Jamie). … Also from Jamie: the NWSL's OL Reign are making their final Challenge Cup group stage game into a pride game and wearing rainbow numbers. … The Charlotte MLS expansion team will unveil its name and colors on July 22 (from Griffin T. Smith). … English third tier Ipswich Town has unveiled their new away kit, which uses Primeblue technology and is made from Parley Ocean plastic (from Gabriel Hurl). … Here's a hugely entertaining BBC article about the United States' "fictitious" soccer clubs (from Ryan Keberly and Scott Rogers). … Celtic's new home kit, which had previoiusly leaked, has now been unveiled (from Ed Zelaski).

Grab Bag: The Australian Football League's Brisbane Lions have unveiled their indigenous-designed guernsey, to be worn sometime in the future. The AFL is only scheduling games week-by-week at this point, so the game where the Lions will wear it hasn't been announced yet (thanks, Jamie and @JeffChrz). … The European Union's space program is soliciting public submissions for a new logo (from Kary Klismet). … Kansas City's multi-purpose downtown arena has changed cell carriers and gotten a new advertised name. Hopefully Vegas isn't jealous (from @TwinsFan54321). … Delaware County Community College has unveiled its new athletics logo (from Stephen William Babb). … ESPN included the black, red, and white camo pattern from boxer Fred Wilson Jr.'s trunks on the scorebug. … Central Clarion, a co-op team involving three high schools from Clarion, Pa., has unveiled its logo and team name, the Wildcats (from Kary Klismet).
• • • • •
[adrotate group="2″]
• • • • •
Click to enlarge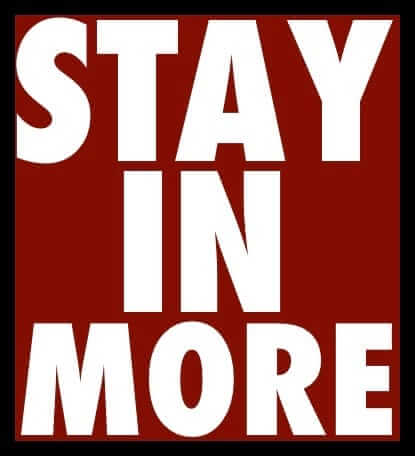 What Paul did last night: After hanging out at the beach (see earlier note in today's post), we made a stop on our way home at one of our favorite eateries: the venerable Brennan & Carr, which has been serving hot roast beef sandwiches to Brooklynites since 1938. They're not serving indoors, of course (no restaurants in NYC are, and we wouldn't partake even if they were), but they have a takeout window, so we got some sandwiches. It was another half-hour drive or so to get back home, and we figured the hot, jus-soaked sandwiches might not travel so well, so we enjoyed them in the comfortably shady parking lot of the bank located next to the restaurant:
I can honestly say it was one of the best meals I've had since the pandemic hit. A much-needed taste of Brooklyn.
Afterward, we drove home and had a quick nightcap on the porch, where we discussed how weird it is that people spend so much time and money covering their bodies in clothing, jewelry, clothing, makeup, clothing, accessories, and clothing, and then basically go naked at the beach. Bodies are so fascinating.
As always, you can see the full set of daily Pandemic Porch Cocktails™ photos, dating back to mid-March, here.