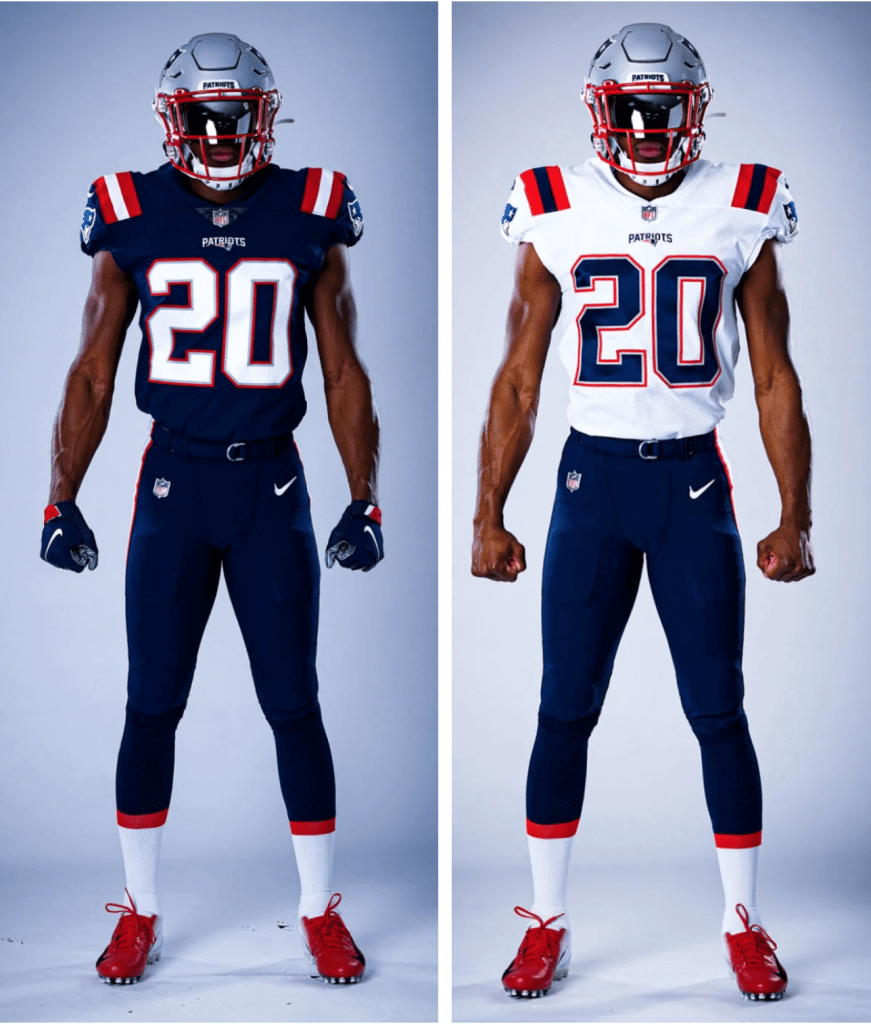 Click to enlarge
Good morning! Greetings from Uni Watch HQ, where all three inhabitants continue to be safe, healthy, and mostly sane (and where one inhabitant has a birthday coming up, but more about that later).
We knew that the Patriots were going to reveal their new uniforms today, but we didn't know exactly when, because they hadn't announced an unveiling time. It turns out that they did it at 8am Eastern, just as I was about to post today's blog entry (here's some additional info and photos). I want some time to look at all the details and gather my thoughts, so I'll have full coverage on these designs tomorrow.
But today I want to go off-uni and tell you about an interesting experience I had yesterday. Last month I mentioned that the Tugboat Captain and I had planned to visit a friend in Texas on March 13-17 but ended up not going because of, well, you know. One thing we had planned to do there was eat a lot of barbecue. Ever since, I've had this serious unscratched 'cue itch smack-dab in the middle of my brain, tongue, and stomach. The itch was finally starting to fade until this past Friday night, when we found ourselves watching several episodes of the reality cooking show BBQ Pitmasters. It's not a very good show (formulaic, repetitive, with too much manufactured drama), but the 'cue looked sooooo good. And that's when I decided that I would bike into Manhattan on Sunday and get us some barbecue.
This was no small decision. I hadn't left our immediate neighborhood in over a month, and I usually dislike biking in Manhattan because of the traffic. But I figured there wouldn't be much traffic this time around, plus I was curious to see how other parts of the city looked, plus-plus it was nice to have some sort of purpose or narrative for the day that went beyond our apartment, plus-plus-plus I really wanted some barbecue. So off I went.
My goal was to go to the excellent 'cuery Mighty Quinn (Tom Shieber, if you're reading this, that's where I got the barbecue we ate while watching the 2013 MLB All-Star Game), which is located in the East Village — about an hour's bike ride from Uni Watch HQ (the starting point on the route shown below is just a random spot in our neighborhood, not our actual address; for this and all subsequent images, click to enlarge):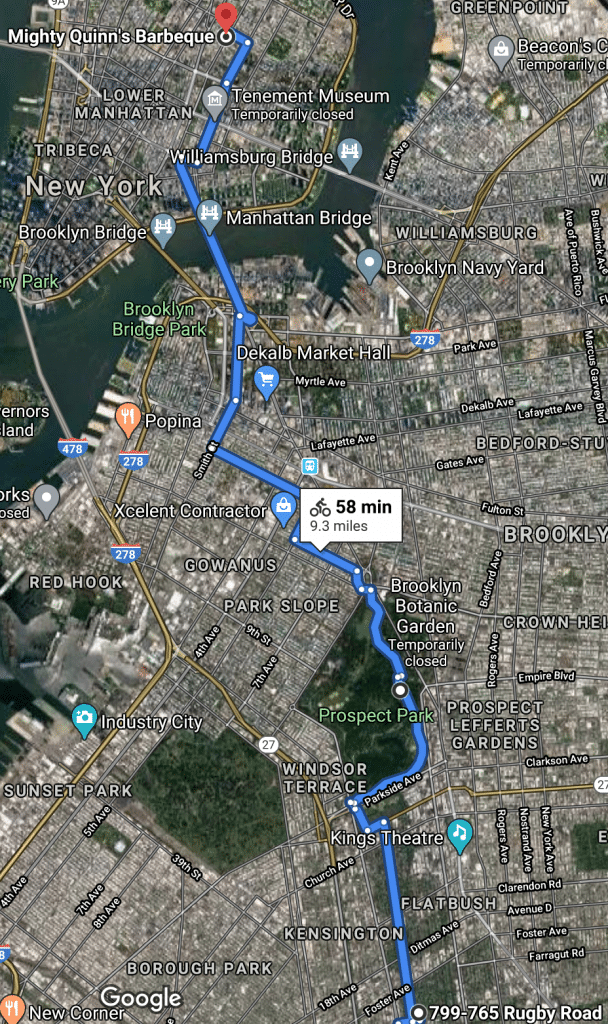 I ordered the food on their website for a 3pm pickup (some ribs, burnt ends, pulled pork, wings, sausage, mac and cheese, broccoli salad). The cloth masks I wear while biking tend to get sweaty after an hour or so, which decreases their effectiveness, so I brought two — one for the ride in and the other one for the ride back.
I left the house at 2pm. Up through Prospect Park, down through my old neighborhood, right past the old Uni Watch HQ, and on toward the Manhattan Bridge, which I hadn't biked over in several years. I was wondering how crowded the narrow bike lines on the bridge would be. Medium-crowded, as it turned out:
I'd also been wondering how much boat traffic there would be on the East River. Usually there's a lot: barges, pleasure boats, tour boats, etc. — it's very much part of the New York landscape. Yesterday, though, it was almost completely empty. My camera focused on chain link fence instead of the water, but you can still get the idea:
The bridge deposited me in Chinatown, where I went slightly east and then began making my way north. Chinatown is usually abuzz with activity, but all the businesses on Allen St. — the road I was taking north — were shut down:
As I crossed into the East Village, Allen St. became 1st Ave. I've walked, driven, and biked on this street countless times in my life, and it's always been jam-packed with cars. But yesterday I could've biked right down the center lane if I'd wanted to:
I got to Mighty Quinn right at 3pm. Like a lot of NYC eateries, they've remained open for pickups and deliveries, but the restaurant itself is empty:
Unfortunately, they were out of sausage, so I had them swap in some additional wings and ribs. They packed my order in paper shopping bags, but I've found that paper bags are tricky on the bike, because the folded corners are more apt to get caught in the spokes. So I brought along some plastic shopping bags (much better for biking because they conform to the shape of the contents and don't leave any sharp corners), transferred the 'cue to those, and hung them from my handlebars:
The Tugboat Captain was nervous about my trip, so I texted her to let her know I'd picked up the food and was heading home. She wrote back, "Don't forget to take selfies!" It was a good reminder, because I almost never take selfies, but it seemed appropriate in this case, so here we go:
Yes, I know, my mask isn't covering my chin. I had just put it on, and I adjusted it after that photo to get it just right.
As I biked back toward the Manhattan Bridge, I witnessed a bizarre scene at the corner of Christie and Delancey Sts. Two guys in hazmat suits were interviewing and filming a wheelchair-bound amputee panhandler and his partner.
It was all a bit surreal. I asked the hazmat guy on the left (from a safe distance) what was going on, and he explained that they were in the middle of a years-long documentary film project about NYC's homeless population. Wow.
The rest of the ride home was uneventful, and I'm happy to report that the barbecue handled the trip just fine (more on that later in today's post). But I'm still processing the rush of emotions and thoughts that the trip prompted.
After a month of being cooped up at home, it was, frankly, exciting to be out and about. But it was also confusing. Although nearly all the businesses were shut down, a decent number of people were out walking and biking because it was a nice, sunny Sunday. So it wasn't quite a ghost town — it was more like the business version of a neutron bomb had gone off, destroying the commerce but sparing the people.
Some people I passed were smiling and laughing. There's nothing wrong with that, of course — on the contrary, good for them! — but it just seemed weird, like it didn't quite compute.
And then there was that crazy street corner scene with the panhandler. When I told the Captain about it later, she said, "Should those filmmaker guys really have those suits and face shields? Shouldn't medical personnel have those?" I countered that journalists who've been reporting from hospitals in recent weeks are presumably given PPE and that these filmmakers are essentially performing the same function, helping with the essential work of telling the story of the pandemic. We agreed that it's a complicated issue.
So that was my day. Thanks for letting me tell you about it. We'll get back to standard uni-related content tomorrow.
• • • • •
• • • • •
Uni Watch Haiku: I didn't publish a haiku yesterday, and I thought lots of people — okay, a few people — would say, "Hey, where's the haiku?" But exactly nobody said that.
But if you were thinking that would dissuade me from haiku-ing, think again! Here's the latest:
Curls of yellow paint
Changed football's look forever
Thank you, Fred Gehrke
And there's more where that came from.
• • • • •
• • • • •
Click to enlarge
Meet the Uni Watch Team — Jamie Rathjen: Since September of 2017, the Tickers that you read on Mondays (including today's!) have been compiled and written by Jamie Rathjen. Jamie is super-dependable and has a super-precise mind that notices every little detail — perfect for Uni Watch. He's also extremely knowledgeable about soccer, a sport I know next to nothing about, so he's helped boost our coverage in that area — not just in the Ticker but also with the occasional lede and sub-lede.
As you can tell from the shirt he's wearing in the photo shown above, Jamie is a proud UVA grad. Here's how he describes his work space:
I have two monitors at my regular job, so I replicated that setup at home on my desk using my laptop a spare TV, and an HDMI cable borrowed from elsewhere in the house. You can see my sim-racing wheel below the TV:
As for sports memorabilia, I have this year's edition of the Capitals' puppy calendar, which this month features Braden Holtby and the team puppy, Captain, as well as a miniature version of the Capitals' Stanley Cup banner, which I got from attending the banner-raising:
———
Thanks, Jamie. I should add that I had the pleasure of meeting Jamie, along with his twin brother, Nate, last summer, when they came up for the Uni Watch 20th-anniversary party here in Brooklyn. Wonderful people — I hope I'll get to hang with them again sooner than later. Stay safe, guys.
• • • • •
• • • • •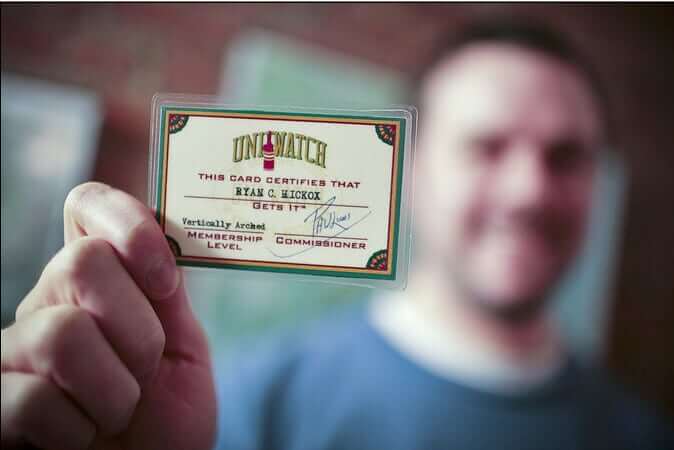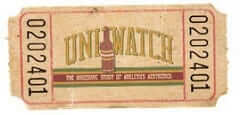 ITEM! A very special membership raffle: I recently received a note from a reader who wishes to remain anonymous, as follows:
Months ago, I purchased tickets to see my Cubs play the Cardinals in London. As everyone knows by this point, MLB cancelled the game. My wife and I are very fortunate, since we are being paid through all this unpleasantness (I'm a teacher and she works for the federal government), so I feel like I should do something more with the money that will be refunded to me for the game tickets.

We are going to give half of the money to a Covid 19-related charity, and with the other half I would like to donate 10 Uni Watch Membership Cards to be raffled. However, I was hoping we can bring a little joy to those who are being the true heroes right now by working in the public while most of us are at home. From health care workers and truck drivers to first responders and the guy working in a liquor store, all these people are risking a lot to try and keep our way of life as normal as possible.
How great is that?
So here's how we're going to handle this: This raffle will be open only to people who are currently working out in the field, so to speak. In addition to the people our anonymous benefactor mentioned, that includes grocery workers, food deliverers, pharmacists, postal workers, sanitation workers, transit workers, kitchen workers, and so on, all of whom are the real heroes of this crisis. Basically, if you're working around lots of other people, this raffle is for you; if not, it's not.
Obviously, there's no way for me to enforce that restriction, but I have enough faith in the Uni Watch comm-uni-ty to believe that we can do this on the honor system. I mean, really, who would cheat on something like this, especially when we have so many other membership raffles that are open to everyone?
So: This will be a three-day raffle. To enter, send an email to the raffle address by 8pm Eastern on Wednesday, April 22. One entry per person. I'll announce the 10 winners on Thursday. Big thanks to the anonymous reader who sponsored this raffle.
• • • • •
• • • • •

Inventory update: Here's the status of various Uni Watch products:
• If you want a Uni Watch Classic Cap, I have sizes 7 and 7-7/8. All other fitted sizes are sold out, and so are the adjustables. I've ordered more of everything, but Ebbets Field Flannels' factory is shut down until further notice, so I don't know when those orders will be filled. If you'd like to be notified when I'm restocked, email me.
• Uni Watch seam rippers are completely sold out. I ordered new inventory more than a month ago, but it's coming from China, so who knows when it'll arrive. If you'd like to be notified when I'm restocked, email me.
• I'm down to seven two remaining Uni Watch gumball helmets. These will not be restocked — when they're gone, they're gone.
• Teespring continues to function normally, so everything in the Uni Watch Shop and the Naming Wrongs Shop remains available, including January, February, and March designs from the Uni Watch Pin Club (April is sold out and, like all the Pin Club editions, will not be restocked). You can still save 15% off by using the checkout code COMMUNITY.
• And of course there are no inventory issues with Uni Watch membership cards. You can also support Uni Watch by making a donation.
Thanks for everything, people — your support is greatly appreciated.
• • • • •
[adrotate group="2″]
• • • • •
The Ticker
By Jamie Rathjen

Baseball News: The Korean Baseball Organization's LG Twins added a 30th-anniversary patch (from Jeremy Brahm). … Oklahoma softball was supposed to wear batting helmet decals yesterday for the 25th anniversary of the Oklahoma City bombing. Although they aren't playing, they still posted a photo of the decal (from Sam McKinley). … The tech website ZDNet collected photographs of MLB stadiums to be used as Zoom backgrounds, if you're so inclined (from Kary Klismet). … More from Kary: an Ohio architect makes prints of digitally-recreated images of old baseball stadiums. … We've Ticked this before, but not for a few years: 1B George Scott, pictured here with the Red Sox, was one of several players to wear a helmet while fielding (from Michael Miller).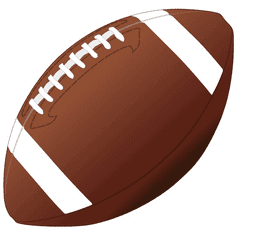 Football News: Reader John F. sent us a USA Today ranking of NFL uniforms, which they'll have to update this week. As usual, you'll probably disagree with it. … Larry Morris was watching a show about the 1984 NFL draft and noticed a Bengals helmet phone with an odd facemask, which he says is almost like a lacrosse facemask.

Hockey News: Reader David Firestone has more about a Ticker item we had last Thursday about the Rangers' jersey numbers missing their block shadows in a 1991 preseason game. "During a period in the early 1990s, the Rangers would use cheap replica jerseys for the new players, as opposed to the standard ones," he says. "These were made of cheap material, and the numbers and letters were heat pressed, as opposed to sewn." David actually has some nameplates from Rob Kenny, a winger with the AHL's Binghamton Rangers in the early '90s who David says tried out but never made the NHL. … A Blues fan has a "fan cave" that looks like a rink, but it has various logos and ads on the "boards," which seems odd, even if a podcast hosted by two former Blues players apparently does segments from the fan cave (from Wade Heidt).

Basketball News: Warriors co-owner Peter Guber is auctioning off his 2015 championship ring for coronavirus relief (from Kary Klismet). … NBA numerologist Etienne Catalan is back with a new No. 4 for Grizzlies PF Jontay Porter, who signed with the team right before the world stopped.

Soccer News: Spain's Athletic Bilbao apparently came out with a commeorative logo for the postponed Copa del Rey final, which is to be a Basque derby between Athletic and Real Sociedad for the first time (from Ryan Maquiñana). … FC Barcelona's YouTube channel accidentally posted a video with a picture of next season's Manchester United first shirt, before replacing it with one using this season's (thanks, Anthony). … German 2. Bundesliga team VfL Bochum released a black shirt that is supposed to be worn for their next home game, whenever that is, though soccer might resume in Germany sooner than other countries. … New first shirt for Indonesia, and the national association also introduced a 90th-anniversary logo. … This is apparently Chile's next second shirt (from Josh Hinton). … England's National Football Museum is the latest place to hold a greatest-shirt poll, with 20 choices. I'd vote for the Crystal Palace sash or the France sailor-hoops ones, since none of my favorites are represented (from Alex Evans). … U.S. Soccer is apparently the next place to hold a greatest-shirt poll, starting today. … The UEFA Youth Tournament, the modern equivalent of which is the Under-19 Championship, was held in Scotland in 1970, and from the pictures included with this article about the tournament it looks like participating teams wore UEFA's logo on their shirts instead of their own crests.

Grab Bag: The U. of Iowa posted a picture of the first Hawkeye field hockey team from 1975, which is worth it for the black and gold striped sticks alone. … Great Britain and Scotland field hockey international Alan Forsyth is raffling off some old shirts and other equipment for coronavirus relief. … The website 1000 Logos is a database that focuses on logos for companies and governmental and non-governmental organizations, but also has some sports teams (from Kary Klismet).
• • • • •
[adrotate group="2″]
• • • • •
Click to enlarge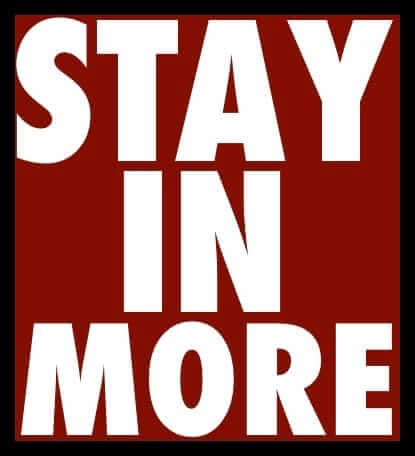 What Paul did last night: Bud for me yesterday, and an IPA for the Tugboat Captain. I told her about my adventure in Manhattan (I had invited her to join me but she's a nervous street biker and wanted no part of it), plus we talked a bit about our families and saw a bird that may have been a nuthatch, which I mention mainly because "nuthatch" is such a good word.
And then it was time to go inside and eat barbecue. Here's what I brought home (clockwise from top left: mac and cheese; pulled pork; spareribs; more ribs; chicken wings; broccoli salad; and burnt ends):
It tasted as good as it looked. And since I intentionally bought way too much, we'll have several days' worth of leftovers. Not as good as our trip to Texas probably would have been, but not a bad consolation prize.