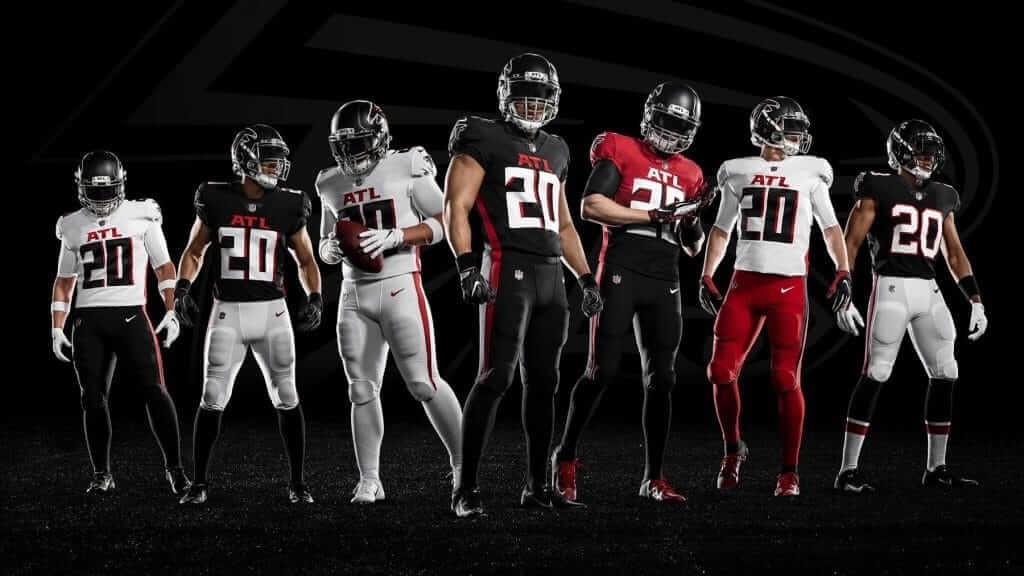 Click to enlarge
At about 7:30am yesterday, I posted yesterday's blog post, which was about the Bucs' Tuesday unveiling and the purported Falcons leaks that had been circulating. At 9am, the Falcons — who had been slated to unveil next week — shifted into "Ah, fuck it" mode and revealed their new set (lots of additional photos here).
So the bad news was that yesterday's daily post was already up before the surprise unveiling. The good news is that I've had a full day to write the entry you're about to read, so it's a lot more complete that it would have been if I'd written something on the fly.
Before we get to assessing the uniforms' pros and cons, here's some basic factual info:
• As you can see above, there are lots of mix-and-match options, including a throwback (easy to spot at far-right because it's the only one that looks like an NFL uniform). The team's press release says there are eight different combos, including the throwback, but the photo shows only seven. I asked a team official what the eighth combo would be and was told, "Black top with red pants." If you need help visualizing that, it would be something like this: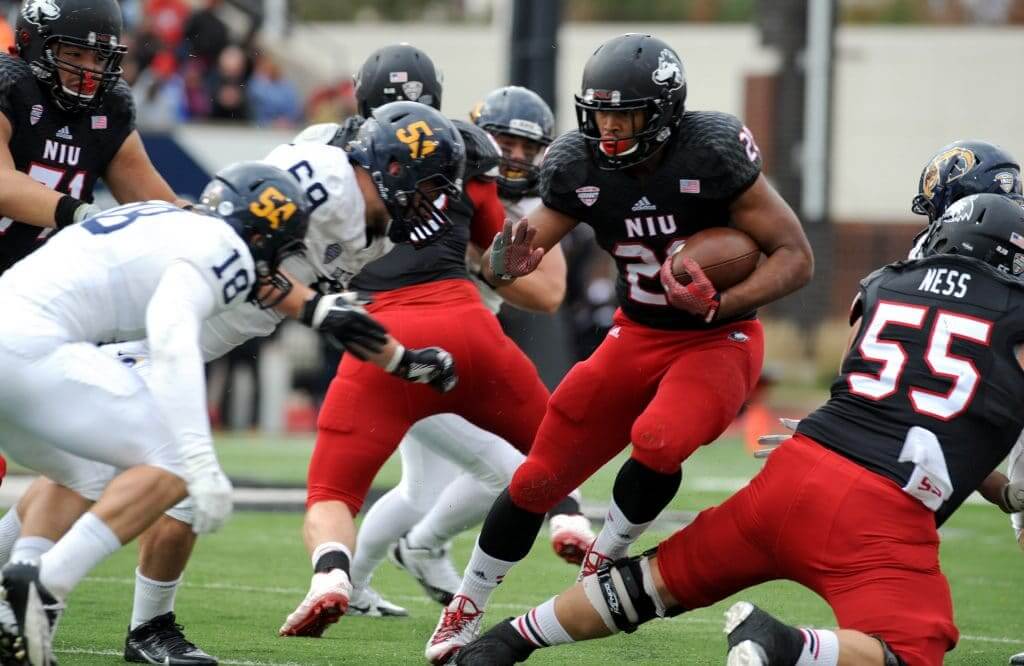 • The various combos notwithstanding, the press release says this: "The new official Falcons home look will feature black jerseys and black pants with the away look going white on white." So those are presumably the two looks we'll see most often.
• As the leaked photos indicated, the new helmet has a satin matte shell and a chrome mask. What wasn't so apparent from the leaks, however, is that the side logo is now larger — "nearly 30 percent larger," according to the press release. It also has a chrome outline. Here's a side-by-side comparison — old helmet on the left, new on the right — followed by a closer look at the new design (click to enlarge):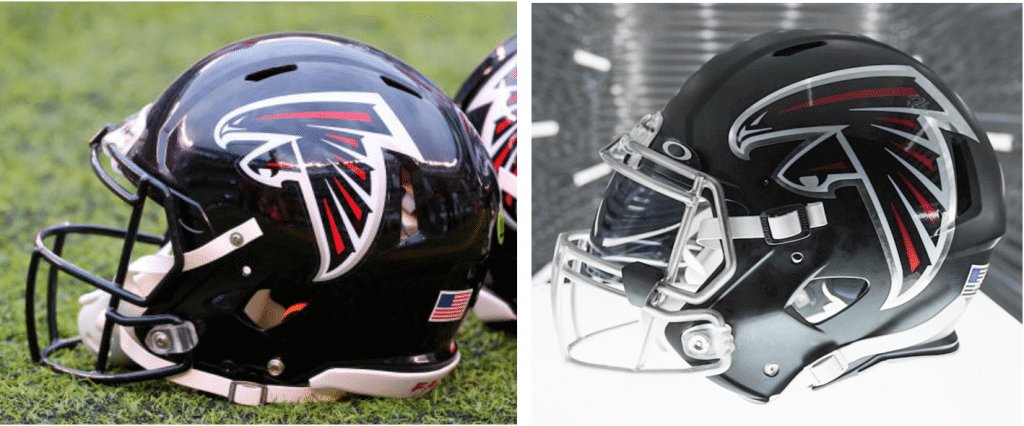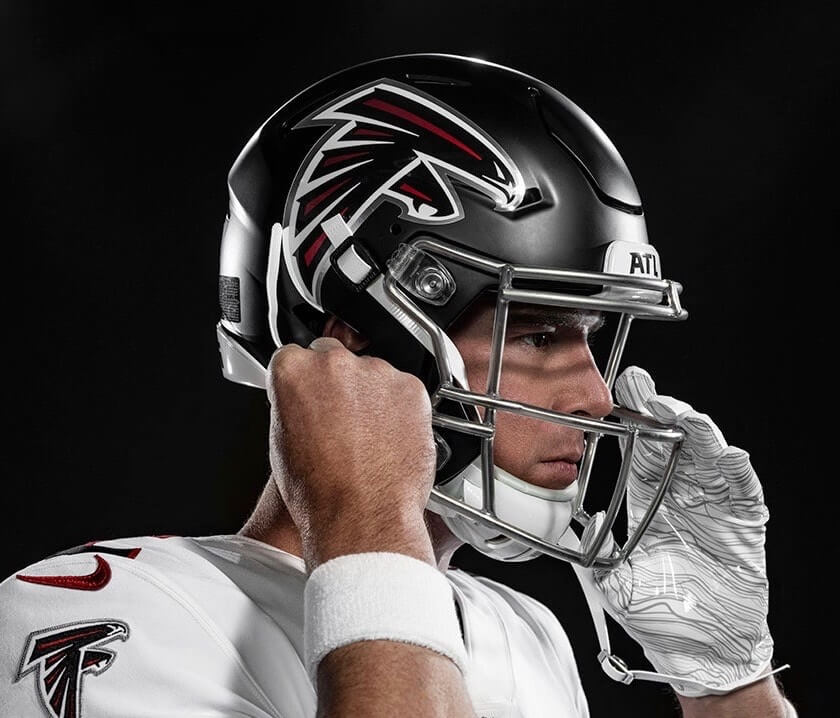 • As you can see, they didn't even go through the pretense of having socks for the non-throwback uniforms. That's disappointing, but it's also an accurate reflection of where the league is at these days in terms of hosiery, as most players just wear tights anyway, regardless of the official sock specs.
• They are referring to the gradient uni simply as a "gradient alternate," not as a Color Rush design, although I assume it will essentially function like a CR uni. In other words, I don't think they're going to add a mono CR uni on top of what they've already unveiled.
• A team official says that if the one-shell rule is lifted in 2021, they'll add a red throwback to the mix.
Okay, those are the basics. Now then: How bad is this uniform set? Let us count the ways:
1. The Jersey Side Panels
Here it is, the year 2020, nearly a quarter-century after Nike brought its wretched side panels to the NFL via the Broncos' 1997 uniforms. That look was never good and is now horribly dated to boot — that's why we all cringe when we see the Patriots' side panels, or the Bengals' side panels, or any fucking team with side panels. It's a miserable look. True, the Falcons' new panels are thinner, but it still looks like dreck, and it'll look even worse on the field because we all know that players in a game don't keep their jersey stripes and pants stripes perfectly aligned like they do during a photo shoot: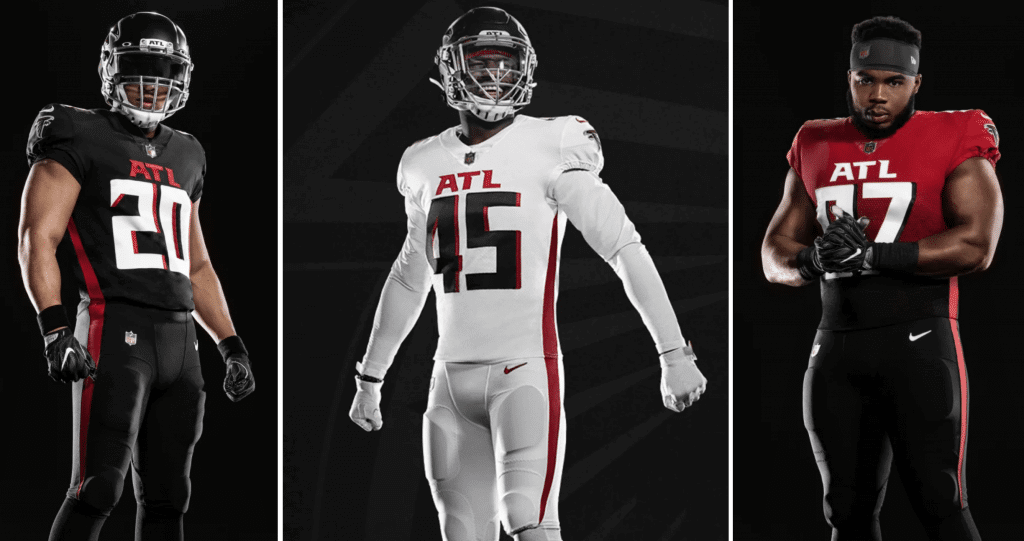 In addition, it appears that the side panels on the white jersey won't match the color of the piping on the red pants, which defeats the whole point: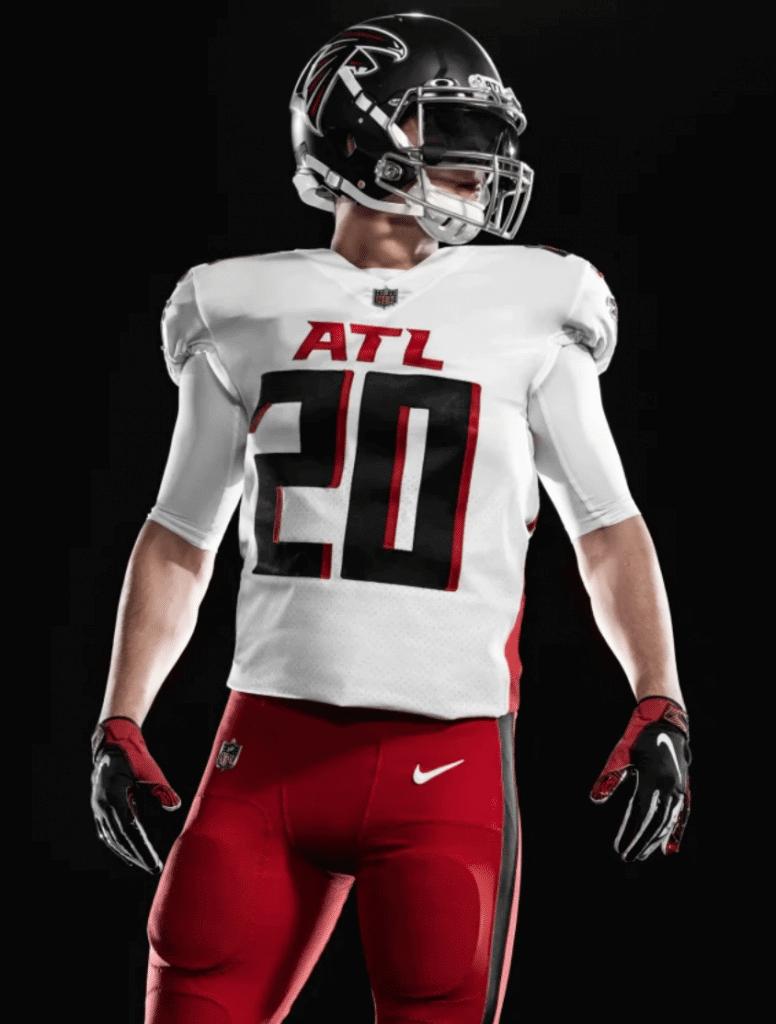 The same problem will occur with the black-over-red combo.
2. The Number Font
Cartoonishly bold and filled with needless little beaks and talons (oooh, very falcon-like!), this is classic Nike typography — long on style but not built to last. It's nowhere near as bad as Tampa Bay's alarm clock font, of course, but that's about the best thing I can say about it. And as I mentioned yesterday, I really dislike it when drop or block shadows go directly to the right, instead of down and to the right, because you only get the three-dimensional effect along one axis instead of two. (I feel the same way about the Lakers' current block shadows, which go straight down instead of the original down and to the right.)
3. The Chest Mark
Oooh, they're repping the ATL — edgy! It makes the whole package look XFL/arena/high school (take your pick). As reader Brad Susany put it in an email to me yesterday, why not just put "Hotlanta" on there and get it over with?
4. The Gradient Alternate
Look, I get it: They've gone full-on superhero video game with this set. That's the whole point — it's why they're wearing mono-black at home and mono-white on the road, to create that bodysuit/costume effect. But even by those standards, the gradient thing is laughably bad, an instant classic destined to be included on lots of "Worst Uniforms Ever" lists (maybe before it even takes the field!). Thankfully, it'll be worn only once or twice per season, which seems like exactly once or twice too many. I mean, look at this shit (click to enlarge):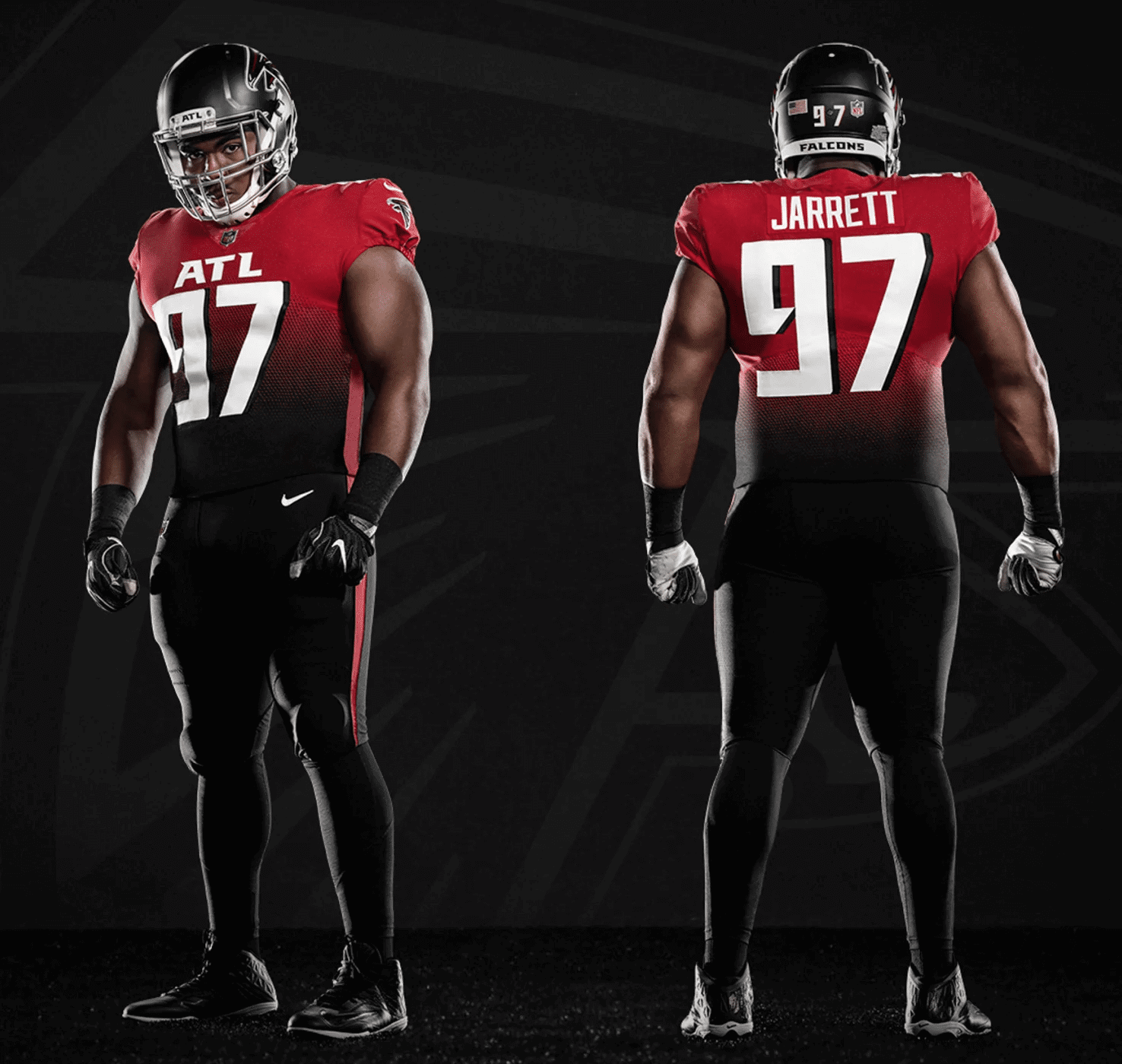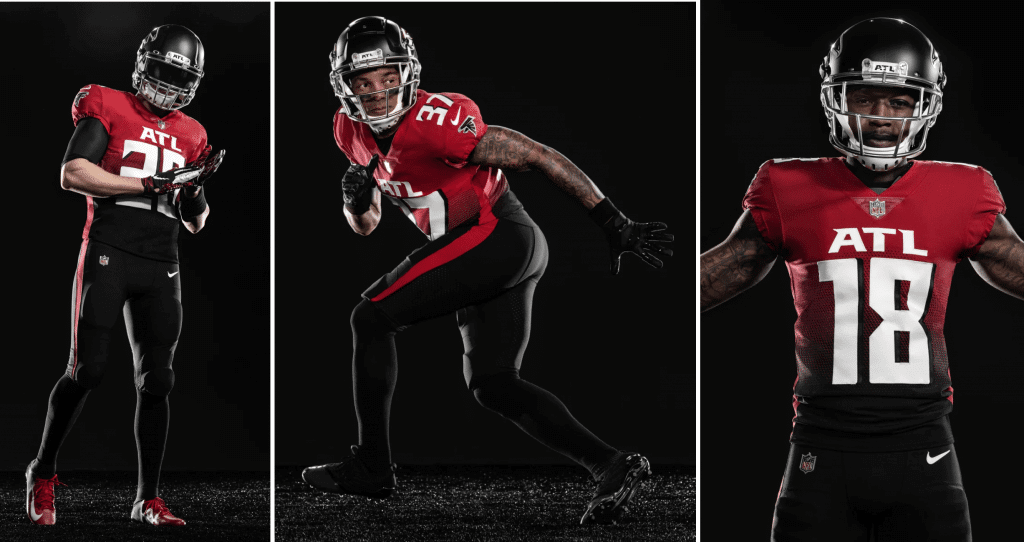 I guess you could say this uniform neatly symbolizes the Falcons' longstanding flip-flopping between black and red (maybe the Texas Rangers should do something similar!), but that's about the best I can say for it.
Also, as lots of folks have pointed out, this design resembles, well, several other designs that you wouldn't really want your new uni to resemble: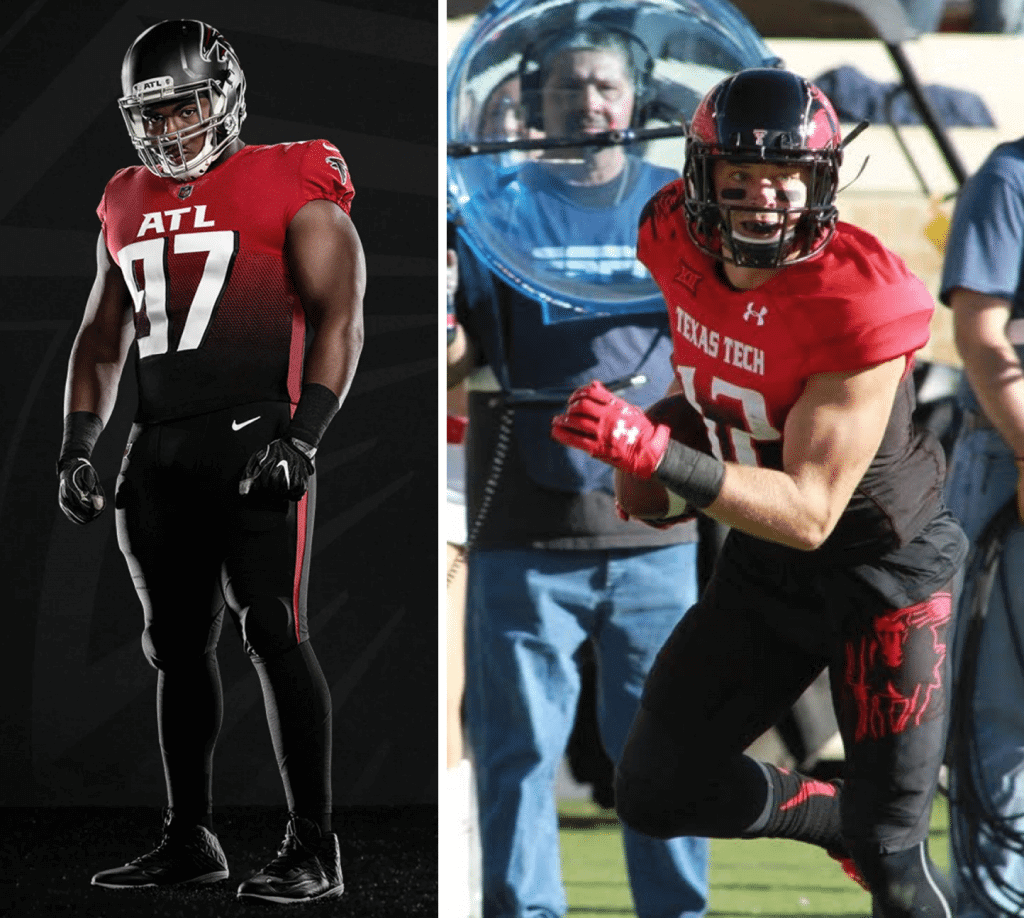 Thought these looked familiar @PardonMyTake @UniWatch pic.twitter.com/yifJOsjT6e

— Kevin Sprague (@Kev_Sprague) April 8, 2020
Who did it better? https://t.co/rmTQbTtiIj pic.twitter.com/fQQxpoaBsd

— Football Kit Watch (@Kit_Watch) April 8, 2020
Obviously, the whole point of this design is to be polarizing. Classicists like me are supposed to hate it (and I'm dutifully doing my part); kids who've never heard of Steve Bartkowski are supposed to think it's dope, or fire, or whatever. And that divide is supposed to weed out all the squares or some such. That's not a bad approach for certain things (art, for example), but polarization is a really unfortunate route to take in sports, because the whole point is to unite, to bring fans together across generations. But that's never been Nike's approach to anything.
Do I have any good things to say about this set? Yes:
• They got rid of the clown sleeves. That's a big plus. (Now we just need to get the Cardinals to do likewise.)
• Chrome facemasks are a newfangled trend that I kinda like, depending on the team. I think they look fine here. (I thought the same about the Bucs' outgoing masks, for what that's worth. In fact, the chrome masks were about the only thing I liked about that Bucs uni set, and I wish they'd kept them instead of going back to black.)
• The throwback is very nice.
• We can already start marking our calendars for the Falcons' next uniform unveiling, which should be coming in the spring of 2025 or '26.
Think I'm being hard on the Falcons? That's nothing compared to what another NFL team had to say yesterday:
https://t.co/p3KLugxW1o pic.twitter.com/KJAzCARsUT

— Carolina Panthers (@Panthers) April 8, 2020
Finally, there's this: With the Hawks having the worst uniforms in the NBA, the Braves still mired in Native American iconography, and now this new Falcons set, Atlanta is a seriously bad-looking pro sports town right now. To all our friends and readers down there — Marty Buccafusco, Jason Von Stein, and many others — you have my deepest sympathies. At least there's still Georgia Tech.
• • • • •
• • • • •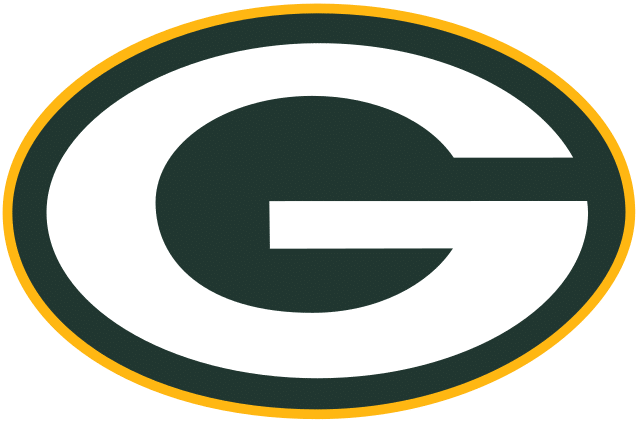 And in still more NFL news…: Last November, Packers team prexy Mark Murphy said that Green Bay would have "a new historic third jersey" — i.e., a throwback — for 2020. There's been zero news about it since then, and apparently for good reason: It's not happening.
That news comes from reader Jimmy Johnson, who was curious about when the new throwback jerseys might be available, so he contacted the Packers Pro Shop. Yesterday morning he received this response: "[U]nfortunately, the organization will not have a classic or throwback jersey for the upcoming 2020 season but plan[s] to have one available for the 2021 season."
Now, that could mean that the Packers just pushed back the 2020 throwback plan for some reason. Or it could be another hint that the one-shell rule will be lifted in 2021.
• • • • •
• • • • •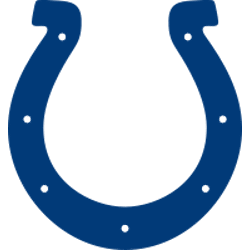 EXCLUSIVE — even more NFL news: I now know what the Colts' upcoming uni changes will be. I can't tell you what they are, but I can assure you that they are teeny-tiny. Most fans won't even notice (although seasoned uni-watchers will, of course).
I don't know when they'll officially announce these teeny-tiny changes, but I think we can safely assume that it'll be before the start of the draft, which is slated to begin on April 23.
Looking ahead:
• The Browns are scheduled to unveil their new uniforms next Wednesday — April 15 (although, as we've just seen with the Falcons, leaks and other factors can sometimes affect unveiling dates).
• The Chargers are scheduled to unveil their next uniforms the Tuesday after that — April 21 (ditto).
• We still don't have a date for whatever the Patriots are up to.
• The Rams will unveil their new uniforms sometime in May.
• • • • •
[adrotate group="2″]
• • • • •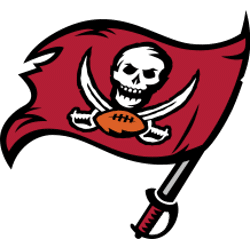 CORRECTION: Depending on when you read yesterday's entry, you may have seen me question the Buccaneers for apparently doing a photo shoot in either late March or early April that showed players Chris Godwin, Davonte David, and Devin White not observing proper social distancing practices. I based that on the sight of Godwin wearing No. 14 in the photos, a number that he took on March 31 after surrendering his old No. 12 to Tom Brady.
Yesterday afternoon I heard from a Bucs spokesman, who explained that the photo shoot took place in early March — before social distancing became a common thing across the country — and that Godwin's number had been Photoshopped from 12 to 14 in all of the pics. I had actually considered that possibility, but I looked closely at a bunch of the photos and thought they looked real. In other words, the Bucs did such a good Photoshop job that they fooled me!
But that's an explanation, not a justification. I should have contacted the Bucs to make sure. My apologies to them, and also my thanks for setting me straight.
• • • • •
• • • • •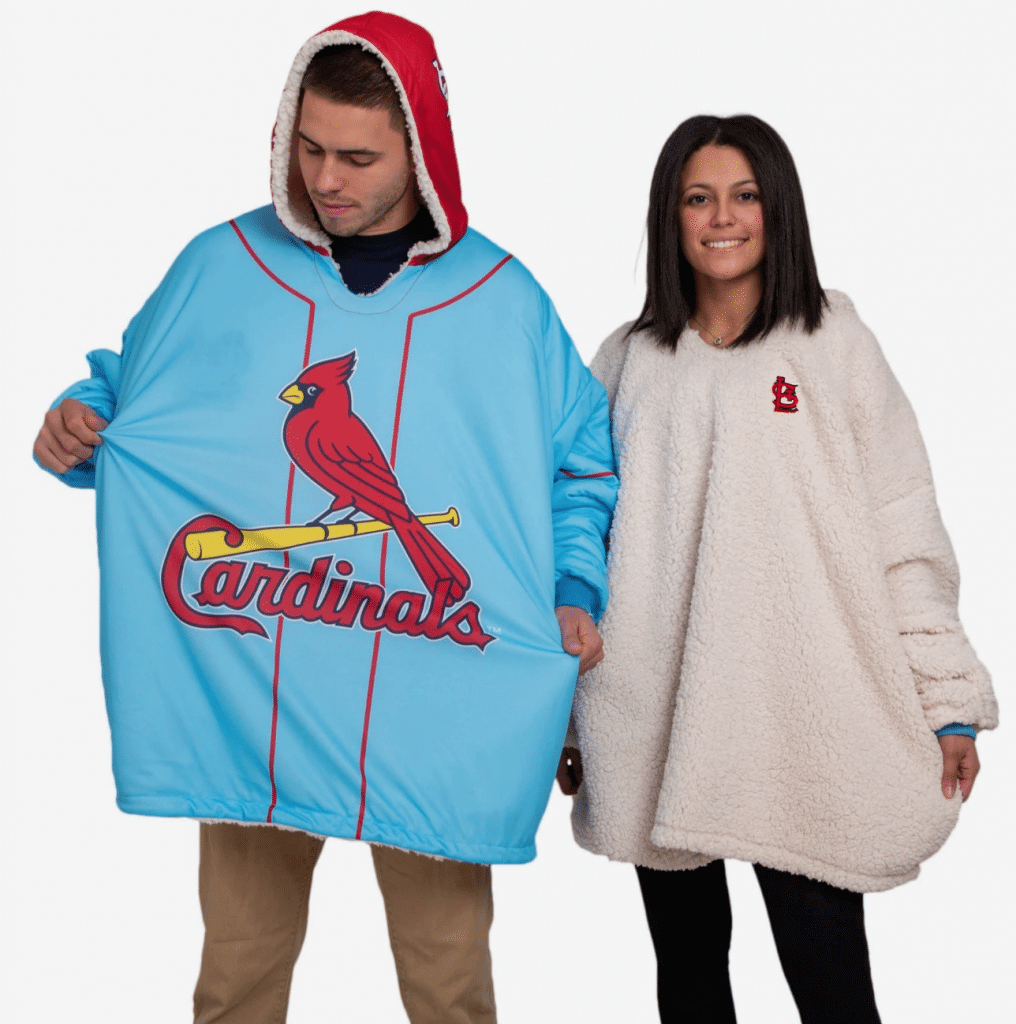 Click to enlarge
ITEM! New FOCO raffle: The folks at FOCO recently let me raffle off one of their oversized reversible NHL hoodies. Now they have the same product for six MLB teams and are once again allowing me to raffle off one of them to a lucky Uni Watch reader.
This will be a one-day raffle. To enter, send an email with your mailing address and team choice (Cards, Yanks, Nats, Cubs, Bosox, or Dodgers) to the raffle address by 8pm Eastern tonight. I'll announce the winner tomorrow. Good luck, and thanks to FOCO for sponsoring this one.
Meanwhile, the winner of the Vintage Brand raffle is Adam Strohm. Congrats to him, and my continued thanks to VB for sponsoring these monthly raffles.
• • • • •
• • • • •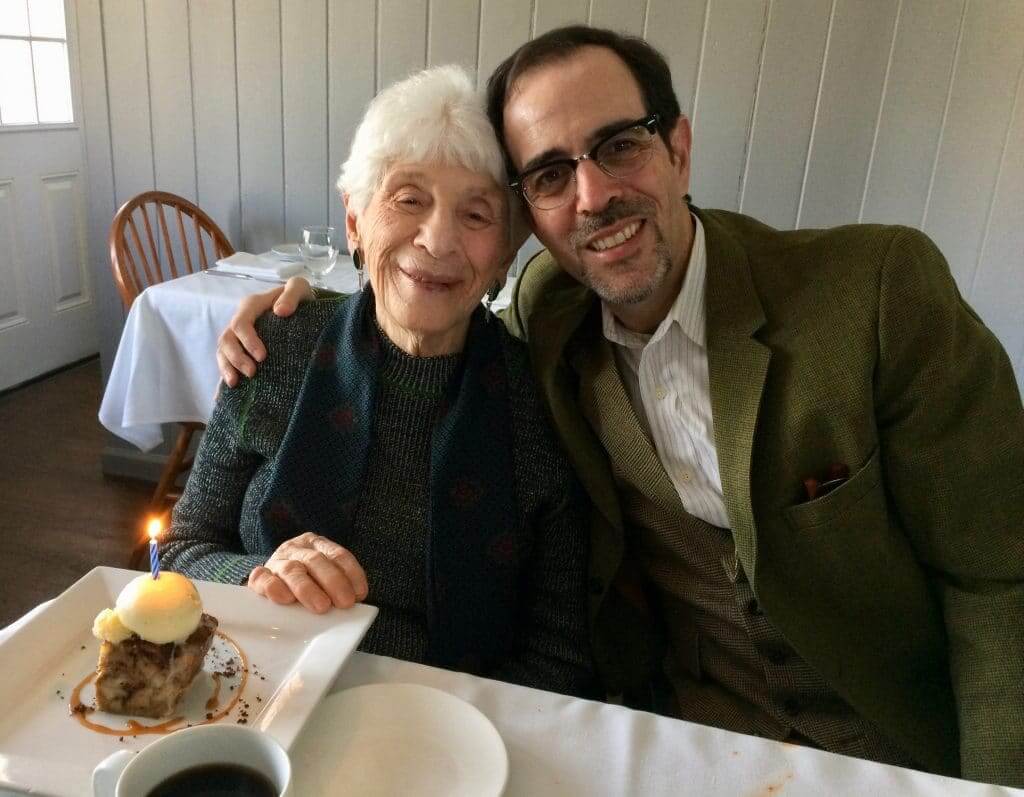 Happy birthday to my biggest fan: My mom turns 96 today. Normally, our family would be taking her out for the occasion (the photo above is from her birthday in 2018), but obviously that won't be happening this year.
Mom was born in 1924, so she's lived through the Great Depression, the rise of fascism and World War II, McCarthyism, Jim Crow, Vietnam, Watergate, Sept. 11, and more. She says the pandemic feels worse than any of those things, which breaks my heart. I hate that she has to experience all of this during this phase of her life. One reason I want her to stay healthy and alive — aside from, you know, the obvious reasons — is so she can see better days than the ones we're experiencing now.
Mom is in assisted living these days. They've been on lockdown since last month — no visitors. Mom has always been flummoxed by technology, so she doesn't have a computer or even a cell phone, but I've arranged for the staff where she lives to provide her with an iPad today so she can do a video chat with my brother, the Tugboat Captain, and me. I think she'll like that.
Happy birthday, Mom — looking forward to celebrating it in person again in the years ahead.
• • • • •
• • • • •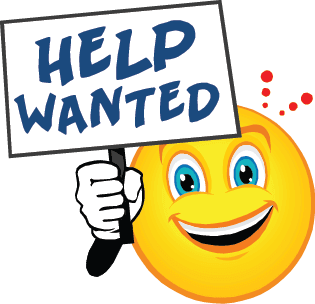 Help wanted: Looking for some busywork to alleviate the boredom of sheltering in place? Tired of calculating your family's toilet paper consumption rate against your available supply? Need a distraction to keep you from throttling your kids?
If so, I may have just the thing for you. I'm about to start a uni-related project that entails some fairly monotonous groundwork and could use some assistance. It would probably be more fun for someone who's a baseball fan, but that's certainly not a requirement.
If you're interested, shoot me a note. Thanks in advance. I now have more than enough volunteers — thanks! If I need more help, I'll run this item again.
• • • • •
• • • • •
The Ticker
By Paul

'Skins Watch: The latest episode of the TV show Brockmire had a coalition of Native American tribes buy the Cleveland Indians and change the team's name to the Cleveland Colonizers. "They added a new logo that they described as a 'cartoon white man licking the blood off a bayonet,'" says Mike Hersh. "The uniforms have the same theme, although they were inconsistent about sleeve numbers." You can see a video clip here.

Baseball News: Fun note from reader Ted Arnold: "For the past week or so The Globe and Mail has run a computer-simulated tournament between four of the greatest Canadian-based MLB teams using Strat-O-Matic software. In the first round, the 1993 Blue Jays defeated the 1985 Jays, while the 1994 Expos defeated their 1981 brethren. Game One of the championship was in Wednesday's paper. It's a fun read with lots of good quotes and Canadian anecdotal content added in." … A Cubs fan is nearly halfway toward his goal of amassing a million Cubs trading cards (from Mike Chamernik). … A 1922 Lou Gehrig bat was auctioned off this week for more than $1 million. … A DC-area brewery has come out with a Nats-themed beer called Curly W (WaPo link) (from Tom Turner). … Here's a video of former MLB greats Pete Rose and Nolan Ryan interviewing each other, in which Rose asks the audience about how Ryan looked "in that Houston outfit with that orange shit," and then Ryan responds by saying that "that clown uniform" was his first thought when he signed with the 'Stros (from Scott Unes).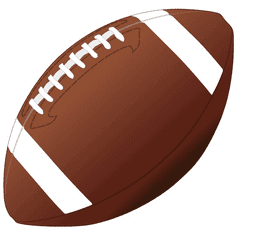 Football News: A Ravens blogger thinks the team's shield logo should be used more. … High schools across the country are turning on their football stadium lights as a way to recognize their students who won't be returning in person to finish out the school year (from Kary Klismet). … A Masters golf tourney-themed football helmet? Sure, why not (from Scott Cummings). … Here's our best look yet at that new Sun Belt Conference logo (from Don Hammack).

Hockey News: Here's an article on six weird hockey skate designs, including one that Wade Heidt himself had never seen before! … Also from Wade (and also from Ted Arnold): Hockey gear brand CCM is donating (not manufacturing) half a million surgical masks to healthcare workers. … Reader Kevin Vautour wrote a little book report on a three-volume set called The Trail of the Stanley Cup, which features lots of great old jersey mock-ups.

NBA News: The Mavs apparently have new uniforms in the works. … Kareem Abdul-Jabbar, who famously wore goggles during most of his NBA career, is donating 900 pairs of safety goggles to UCLA Health to help fight the pandemic (from Mike Chamernik). … As you've probably seen, lots of sports teams are offering fans the chance to make custom jersey-based digital wallpapers. One such team is the Rockets, and one of their fans got the team's social media people to tweet a Nazi-themed wallpaper design before it was quickly taken down.

Soccer News: Here's what four of MLS's newer teams might have looked like if they'd been part of the league when it debuted in 1996 (from Wade Heidt). … New kit for Scottish Championship side Dundee, which will have white sleeves for the first time in 20 years (from our own Jamie Rathjen). … Also from Jamie: "The NWSL's Sky Blue FC is holding a design-a-scarf contest. More importantly, they're using it to hint at a new color scheme that primarily uses a paler blue and black. The shade of blue they used before was closer to azure, while this is closer to powder blue. SBFC, for having a color in their name, actually have an erratic color history — they surprisingly wore dark blue last season with no prior warning, and they wore at least three different orange or orange/white shirts from 2009 to 2013." … Germany's Bundesliga is preparing to resume games, without live crowds, in early May (NYT link).

Grab Bag: Temple, which has been outfitted by Under Armour in recent years, is switching to Nike (from many readers). … Really good article about how statues of competitive runners around the country have been adorned with symbolic masks (NYT link) during the pandemic. … New logo for the African Handball Confederation (from Chris Corbaz). … A Baltimore brewery has a 12-pack package deisgn based on the Maryland flag (from Andrew Cosentino). … A 17-year-old kid who created one of the first coronavirus tracking sites — who has excellent taste in sweater colors — was approached by companies who wanted to advertise on his site, including one that offered him $8 million. He turned them down (h/t Gil Neumann III). … Pro video game streamers may have the world's most virus-proof job (NYT link). … Cross-listed from the football section: A Masters golf tourney-themed football helmet? Sure, why not (from Scott Cummings). … New logo for the UK civil liberties organization Liberty. … Soooo many great uniforms, from many sports, in this article about Montana's early sports history (big thanks to Doug Brei — say hi to Maddie for me, Doug!).
• • • • •
[adrotate group="2″]
• • • • •
Click to enlarge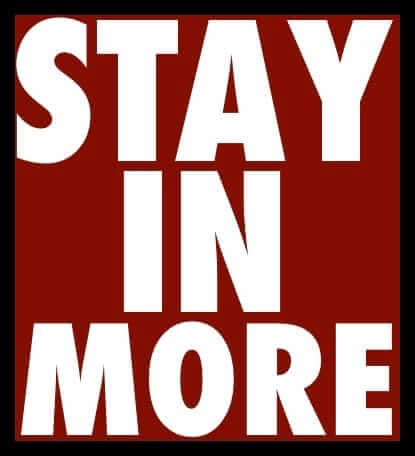 What Paul did last night: Lovely time on the porch yesterday. We started a bit earlier than usual, because the Tugboat Captain had a class to attend (virtually, of course) at 5:30pm. Bud Copper for me, vodka soda for her. I mentioned how Passover would start at sundown, and how this will be the first Passover in my memory — and possibly in my life — that doesn't feature Streit's matzos in my home, because we haven't been able to get to the supermarket and I pretty much forgot about matzos when we arranged some grocery deliveries a few weeks ago. Now I'm sure it's too late.
And then I told her a matzo story from my youth that I've told many times before (including once here on this website), and she humored me by listening to it once more. Maybe you'll humor me as well:
And then it was time for her class. We usually go back inside together, but this time I lingered on the porch for a bit and thought about stuff.
Stay safe, everyone. See you back here tomorrow. — Paul