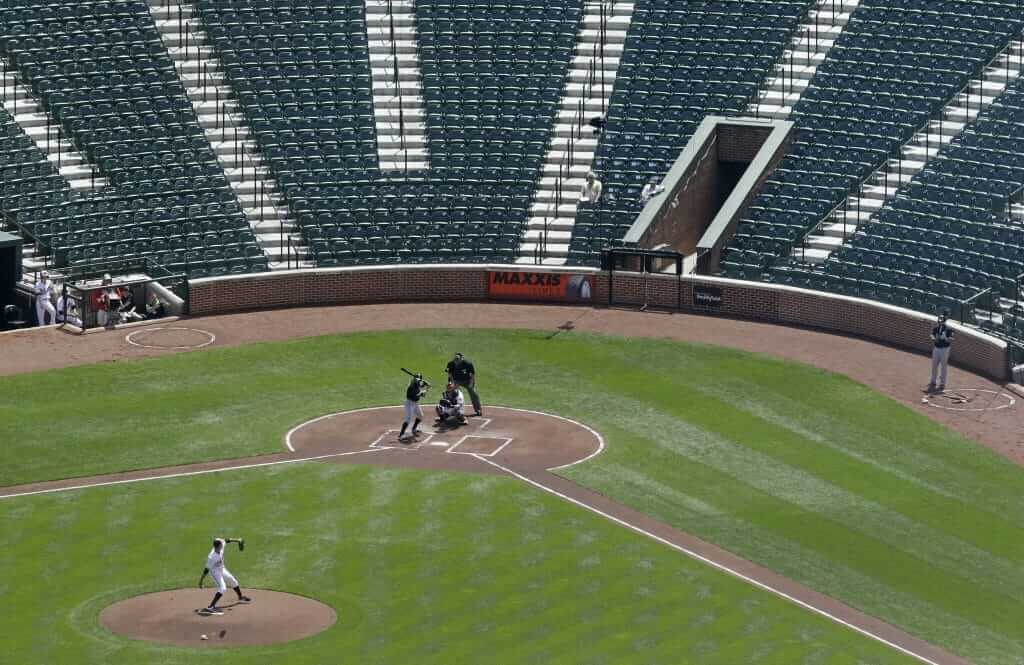 Click to enlarge
As the coronavirus pandemic continues to wreak havoc around the world, there are increasing signs that sporting events taking place in empty arenas and stadiums — something we've already seen in Japan and Italy — could soon be coming to North America. Consider:
• ESPN reported on Saturday that the NBA has sent a memo to its teams, advising them to begin preparing for the possibility of closing their gates to fans and having games take place in empty arenas with nothing but "essential staff."
• Some games in the NCAA's Division III basketball tourney have already taken place in empty gyms, and the men's and women's MAC tournament, which begins today, will be closed to the general public, all of which could be a preview of a fan-free March Madness.
• The NBA, NHL, MLB, and MLS have banned non-essential personnel from their locker rooms, which could be a first step toward playing in empty buildings.
• Washington Gov. Jay Inslee today will announce a ban on gatherings of more than 250 people in the Seattle metro area. Depending on how long the ban lasts, that could force scheduled XFL, MLS, and MLB games to take place without fans in attendance.
In short: A key visual component of a sporting event that we typically take as a given — the live audience — soon may not be a given after all.
(There are also events that have been cancelled or postponed, but that's a different issue. Today I'm focusing specifically on the possibility of games taking place in empty buildings.)
The NBA memo reportedly said "members of the media" could also be barred from these crowd-free games. It's not clear whether that would include TV and radio broadcast crews, but I'd have to think that those people would still be on hand. It's one thing to have a game without an audience, but it's another to have a game that nobody can see or hear about, right? That would be like the proverbial tree falling in the forest.
So unless we're advised otherwise, let's assume for now that there's a decent chance we could soon see televised games in the NBA, and potentially in other leagues, with no crowds. Television, of course, is how most of us experience most sporting events, so how might the sights and sounds of a televised game without a live audience differ from a traditional game broadcast?
The most obvious issue is that a game taking place in an empty stadium or arena just looks weird. So that would take a bit of getting used to.
The next thing is how the lack of an audience might affect the performance of the players, who are used to an aural backdrop of cheers, boos, and crowd-related white noise. In a perfect world, an athlete would perform at the same level regardless of the setting, but that's not always the case. When asked last Friday night about the possibility of playing in an empty arena, Lakers star LeBron James said, "Nah, that's impossible. I ain't playing. If I ain't got the fans in the crowd, that's what I play for. I play for my teammates, I play for the fans. That's what it's all about. If I show up to an arena, and there ain't no fans there? I ain't playing. So, they could do what they want to do."
It's clear that James was speaking more emotionally than rationally, and yesterday he walked back that statement. But his initial response indicates how playing in front of a crowd can become part of a player's mindset, and how the lack of a crowd could conceivably affect the quality of play.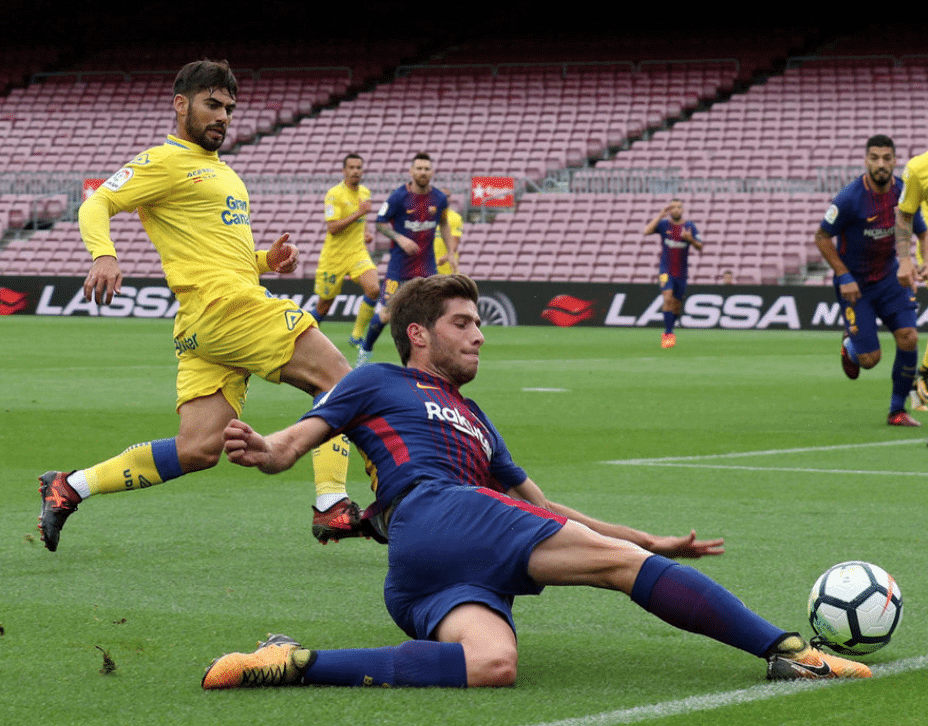 And players aren't the only ones who feed off of the crowd. Broadcasters typically sync their rhythms, cadences, and tone to correspond with the audience's response. So a fan-free game would likely be a challenge for them as well.
Player and broadcaster performance notwithstanding, how else might TV game broadcast in a crowd-free facility with only "essential staff" differ from a traditional broadcast? Here are some implications that I thought of:
• First and foremost: We would not hear any applause or boos. That might sound familiar to anyone who's made a specialty of watching the first games of twi-night doubleheaders, but for everyone else it would be very strange.
• Home-crowd ritual chants that are usually audible during a game broadcast, like "Let's Go Mets!" or the Braves' warpath chant, would no longer take place. Neither, presumably, would the canned audio bursts designed to prompt the crowd's response ("Everybody clap your hands!").
• Players often do certain things to acknowledge the fans. A baseball pitcher walking to the dugout after being removed from a game, for example, will sometimes tip his cap; a batter who hits a clutch home run may briefly step out of the dugout for a curtain call; and the three stars of an NHL game will briefly loop onto the ice and often raise their sticks toward the crowd. But those gestures won't make sense if there's no crowd, so players will presumably stop making them.
• Similarly, players sometimes wave their arms to encourage the crowd to yell louder (or, in the case of football quarterbacks, sometimes gesture for quiet so their signals can be heard by their teammates). Nobody will be doing that in an empty facility.
• National anthems would presumably have to be presented via recordings, since live performers would not be considered "essential staff." Also, certain crowd-specific aspects of the anthem, like when the home crowd all yells "Oh!" or when the applause starts during the last few lines of the song, would no longer take place during the broadcast.
• There would be no cheerleaders or dancers.
• There would be no costumed mascots. (Actually, the Japanese baseball team Chunichi Dragons for some reason had their mascot on hand at a recent empty-stadium preseason game, but that seems like an anomaly.)
• The broadcast would not be able to focus on celebrities in the crowd, or on fans wearing crazy outfits or engaging in "wacky" behavior.
• Pregame rituals like baseball's first pitch or hockey's celebrity puck drop would presumably no longer take place, since the participants would be deemed non-essential.
• NBA game broadcasts routinely show the home crowd behind the basket trying to distract a visiting player at the free-throw line. In an empty arena, there would presumably be no reason to show that camera angle. (Or maybe they'd make a point of showing it, to demonstrate the contrast between a regular game and a fan-free game. But either way, the experience would be very different from what we're used to seeing.)
• You can usually hear the P.A. announcer during a TV game broadcast. But if there's no live audience, there's no need for a P.A. announcer.
• TV broadcasts tend to periodically show the stadium or arena scoreboard. But if there's no crowd, would the scoreboard even be operating? Or would they keep it running just so the TV crew could show it from time to time?
• For many years, Yankee Stadium has featured a whistle sound after a visiting player strikes out. That's an "audio logo" ad for the appliance/electronics retailer P.C. Richard. You can sometimes hear it in the background of a TV game broadcast, but it seems more geared for the live crowd. Would they still bother with it in an empty stadium?
(Of course, there are also lots of crowd-related things that take place between innings, at halftime, or during commercial breaks that would also be eliminated from a crowd-free game: the kiss cam, the T-shirt cannon, "Make a basket from half-court and win some cash," "Shoot the puck through the slot and win a car," "Guess which cap the ball is under," and so on. But that stuff doesn't usually appear on TV to begin with, so its absence would have no effect on the game broadcast.)
I'm sure there's a lot more that hasn't occurred to me. If you can think of other ways that a TV game broadcast would be affected by the lack of a live crowd, feel free to post them in today's comments.
Meanwhile, it's worth noting that there's some recent-ish precedent for crowdless games. In 2015, security concerns due to civil unrest in Baltimore in the wake of the Freddie Gray's death led the Orioles to bar fans from their April 29 game against the White Sox, so the teams played in an empty ballpark. (The photo at the top of this blog post is from that game.) The situation was a bit different from the current scenario, because I don't think there was any limitation on "non-essential staff," but it was still really weird. Here are some video clips:
If you want to see the entire game broadcast, it's available here.
It's interesting to see how events in the "real world" can affect athletics aesthetics. But the pandemic is a serious public health crisis, and its effect on the optics of sports is probably the least of our concerns in the big picture. As the world seems more topsy-turvy by the day, here's hoping that all Uni Watch readers and their families stay safe and healthy.
Update: The Golden State Warriors will reportedly play its home games in an empty arena until further notice. And so it begins.
• • • • •
• • • • •
Click to enlarge
Too good for the Ticker: I love all the Uni Watch pins we've been releasing lately. But I'm happy to concede that they have nothing on this awesome vintage curling pin that DIY genius Wafflebored recently spotted at an antiques shop. What a beauty!!
• • • • •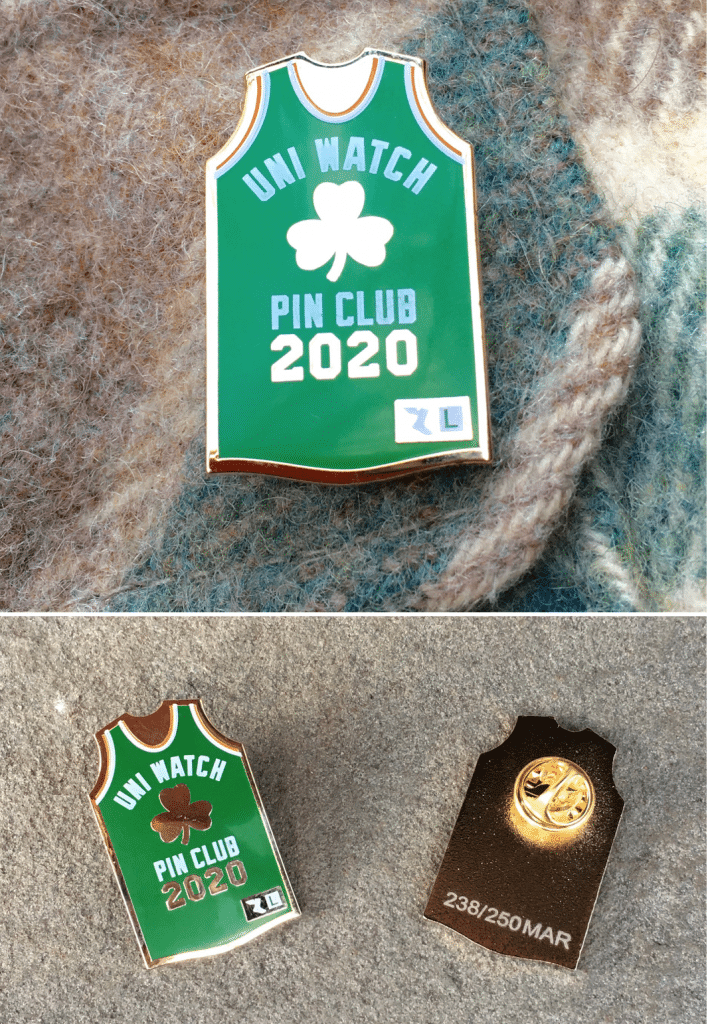 • • • • •
Pin Club reminder: In case you missed it last week, the March design for the Uni Watch Pin Club is now available. It features a basketball jersey (for March Madness) with a shamrock and orange/white trim (for St. Patrick's Day), and a winged stirrup jock tag (for Uni Watch!). This one is a numbered edition of 250, and more than half of them are already gone. You know what to do.
If you need to get caught up, the January and February pins are still available until they sell out, and we also have our basic winged stirrup logo pin. And remember, card-carrying Uni Watch members get a 15% discount on these pins (and on everything else in the Uni Watch Shop).
My thanks, as always, for considering our products.
• • • • •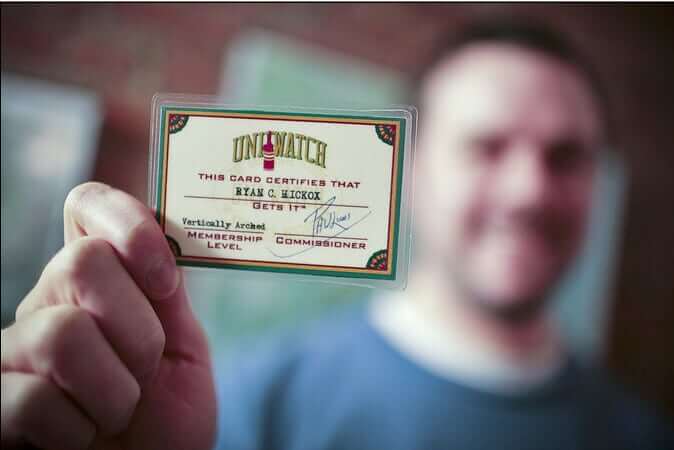 • • • • •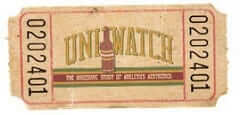 ITEM! Another membership raffle: Reader Kary Klismet recently won one of our raffles and has generously chosen to pay it forward by purchasing a Uni Watch membership for me to raffle off, so that's what we're going to do today.
This will be a one-day raffle. To enter, send an email to the raffle address by 8pm Eastern tonight. One entry per person. I'll announce the winner tomorrow. Big thanks to Kary for sponsoring this one!
• • • • •
• • • • •
The Ticker
By Lloyd Alaban

Baseball News: The Yankees wore their regular home pinstripes, instead of BP jerseys, for their spring training game on Sunday, something they usually do only for their spring training home opener (from multiple readers). … Clemson always wears their cream-colored unis for midweek home games. … Speaking of Clemson, here's an uni tracker for them. … New retro Phillies-themed Yuengling packaging (from Michael Barkann). … New alternate logo, cap, and jersey for Binghamton Rumble Ponies (from Timmy Donahue). … Rob Matuga's parking pass for the Tigers spring training game he attended yesterday was emblazoned with the club's 2012 AL Champions logo. … New 10th-anniversary logo for the Joliet Slammers of the Frontier League (from Chuck Geri).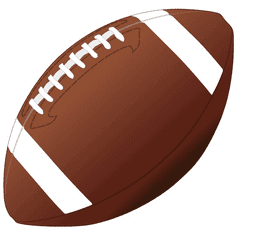 Football News: Rams COO Kevin Demoff took the criticisms of the team's newly leaked logo in stride (from our own Phil Hecken). … Two Nebraska football players were added to the school's basketball team for the B1G Tourney: QB Noah Vedral, who wears No. 16 for football will wear No. 2 on the hoops team, and OL Brant Banks, who wears No. 69 for football, will wear No. 32 (from Timmy Donahue).

Hockey News: The Capitals will wear these green warmups next week to celebrate St. Patrick's Day (from our own Phil Hecken). … The Coyotes have struck a new advertising deal for their practice sweaters with Dutch Bros Coffee (from @TeebzHBIC). … Reader Chris Mizzoni found this post of a Stanley Cup replica made entirely of early 1970s hockey cards.

NBA News: Fans attending last night's Rockets game received this throwback cap celebrating the team's 1994 and 1995 championships (from multiple readers). … NBA legend Charles Barkley is selling some of his memorabilia to help build affordable housing in his native Alabama. … Bobbleheads have become NBA's mini status symbol (from Mike Chamernik).

College Hoops News: Louisville revealed their March Madness jerseys. … Robert Morris men's had nameplates, instead of direct-sewn NOB lettering, on their jerseys last night (from Timmy Donahue). … Cross-listed from the college football section: Two Nebraska football players were added to the school's basketball team for the B1G Tourney: Noah Vedral, who wears No. 16 for football will wear No. 2, and Brant Banks, who wears No. 69 for football, will wear No. 32 (also from Timmy). … Here's how Illinois men's have fared in their different uni sets (from multiple readers).  … The NCAA will not allow gambling data to be displayed on upcoming March Madness broadcasts.

Soccer News: New shirts for the Richmond Kickers of USL League One (from Ed Zelaski). … For more soccer updates from yesterday, check out Ed Żelaski's Twitter feed.

Grab Bag: The Ottawa Aces will become the second Canadian-based team to compete in the English rugby league system. They will begin play in 2021 in the third tier. Their colors are black and red, common with Ottawa teams (from Wade Heidt). … Miami University (Ohio) wants a Montana school district to stop poaching the univesity's logo (from our own Alex Hider). … The Blue Angels — that's the U.S. Navy's flight demonstration squadron — teased the livery for their new transport plane (from Wolfie Browender). … New Era logo creep has made it to MAGA caps. That is probably a custom embroidery job on a blank red New Era cap, not a mass-production cap (from our own Scott M.X. Turner). … Here's a history of the Bitcoin logo. … Donald Dell is the sports agent who's gotten so many of his clients to sign lucrative brand deals (from James Gilbert). … Bedford, Mass., is the latest town whose police department will be selling puzzle-themed patches for autism awareness (from Timmy Donahue). … Here's a good analysis of how Under Armour screwed up their business plan by emphasizing performance over lifestyle. … Agent Provocateur, a British lingerie company, has released a new ad campaign featuring female athletes competing in push-up bras and garter belts (NYT link).