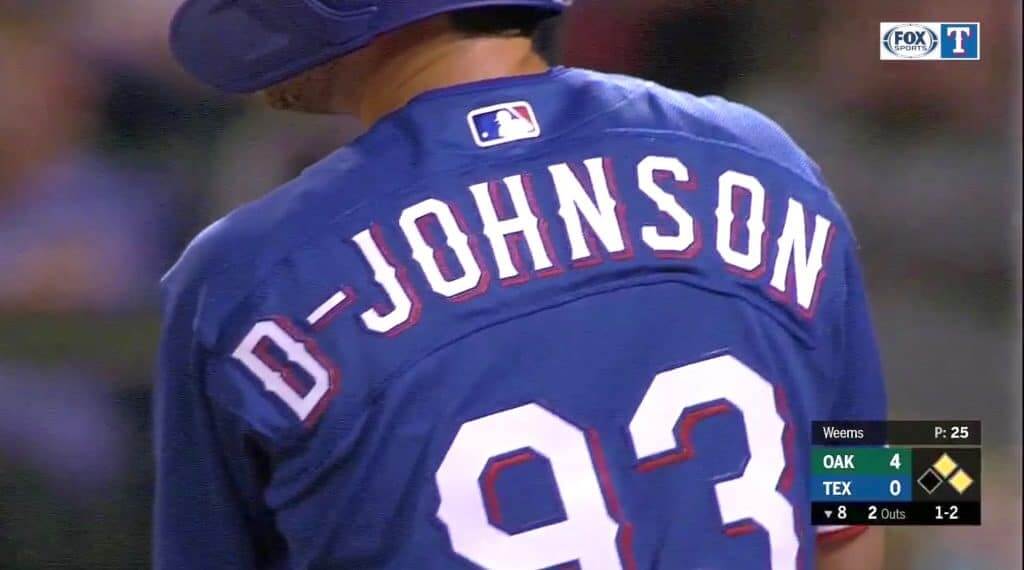 Click to enlarge
How do you fit shortstop prospect Tyler Depreta-Johnson's unwieldy surname on the back of his spring training jersey? If you're the Texas Rangers, you don't even try — you just go with "D-Johnson."
Or at least that's what the Rangers have chosen to do this year. Last year, however, as you may recall (we covered it briefly here on Uni Watch), they managed to fit Depreta-Johnson's entire name on there. These shots are all from spring training of 2019: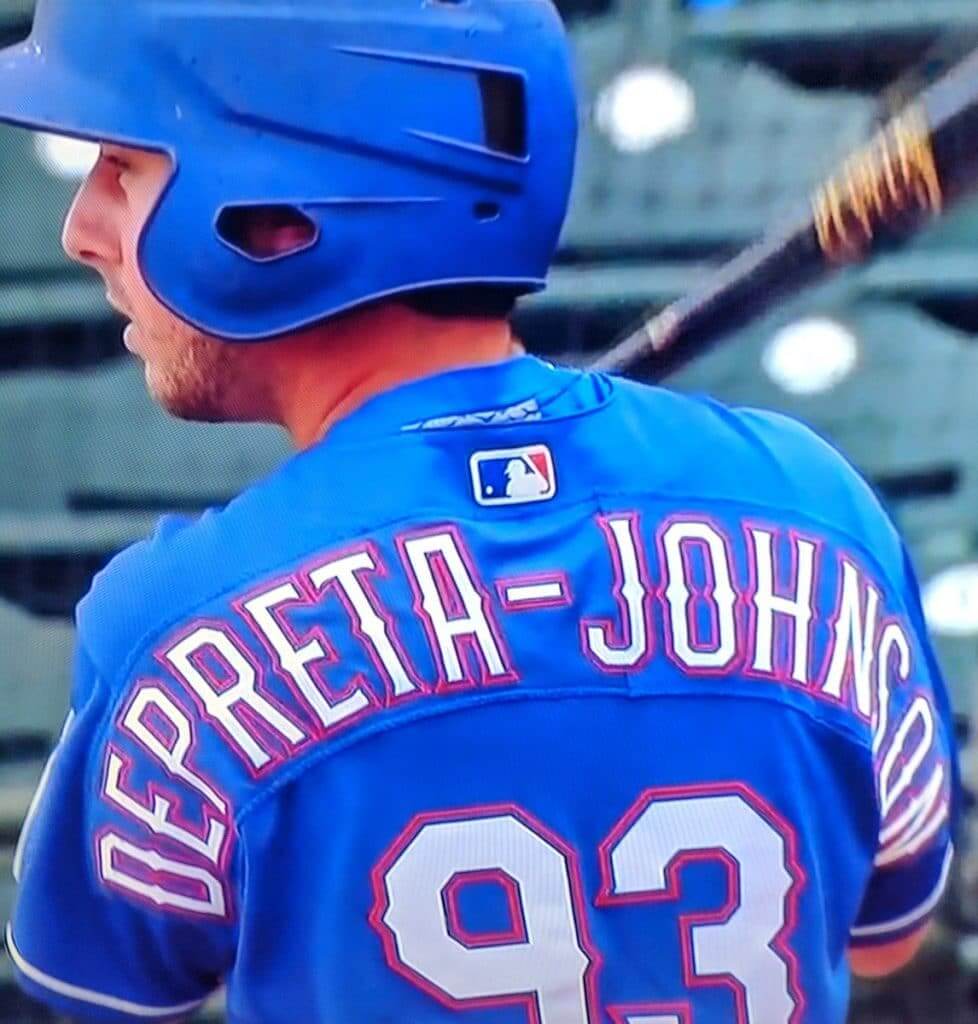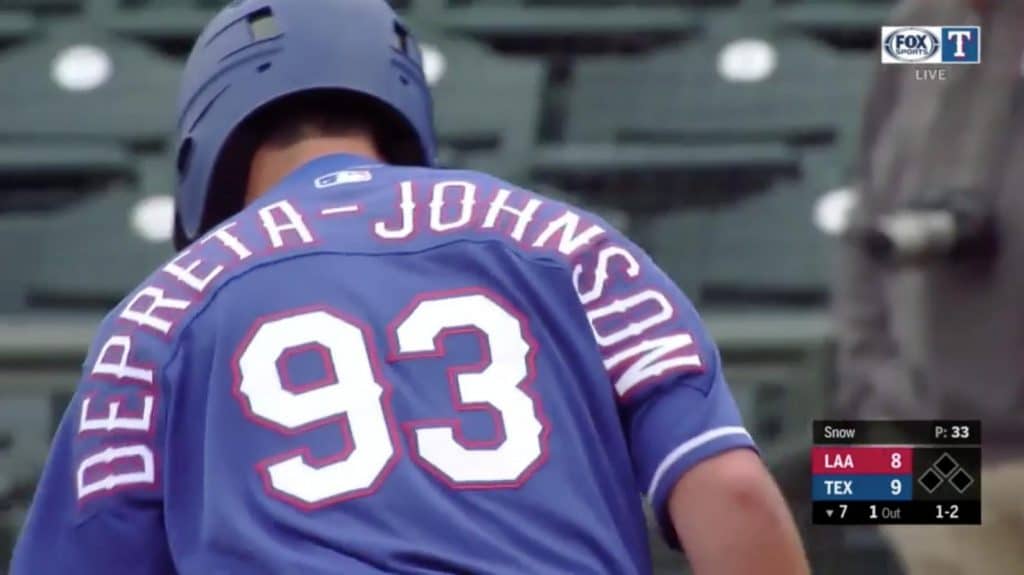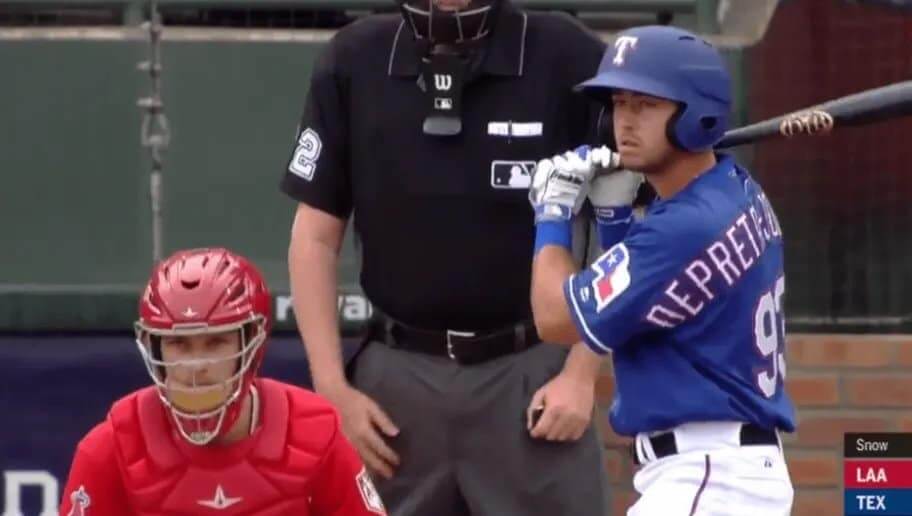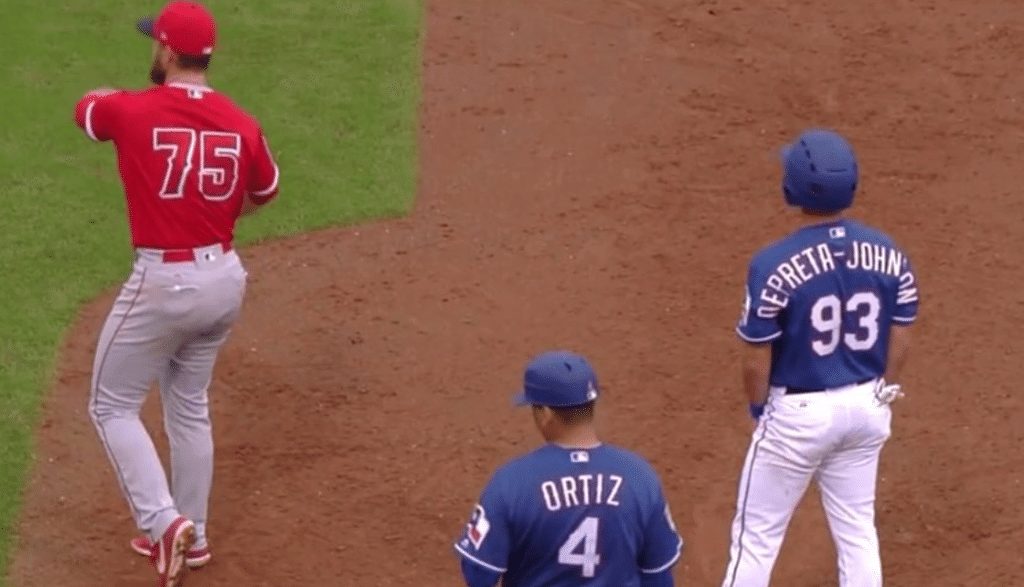 If you look closely at the first one of the 2019 photos, you can see that the nameplate is actually two separate strips of fabric, with the seam running underneath the "J." That's the only time I've ever seen that!
The Rangers have some experience with long NOBs. Jarrod Saltalamacchia played for them from 2007 to 2010, his famously long surname looking extra-awkward in the team's clunky NOB font. But they didn't extend Salty's NOB onto his sleeves like they did for Depreta-Johnson. They just used a really steep radial arch: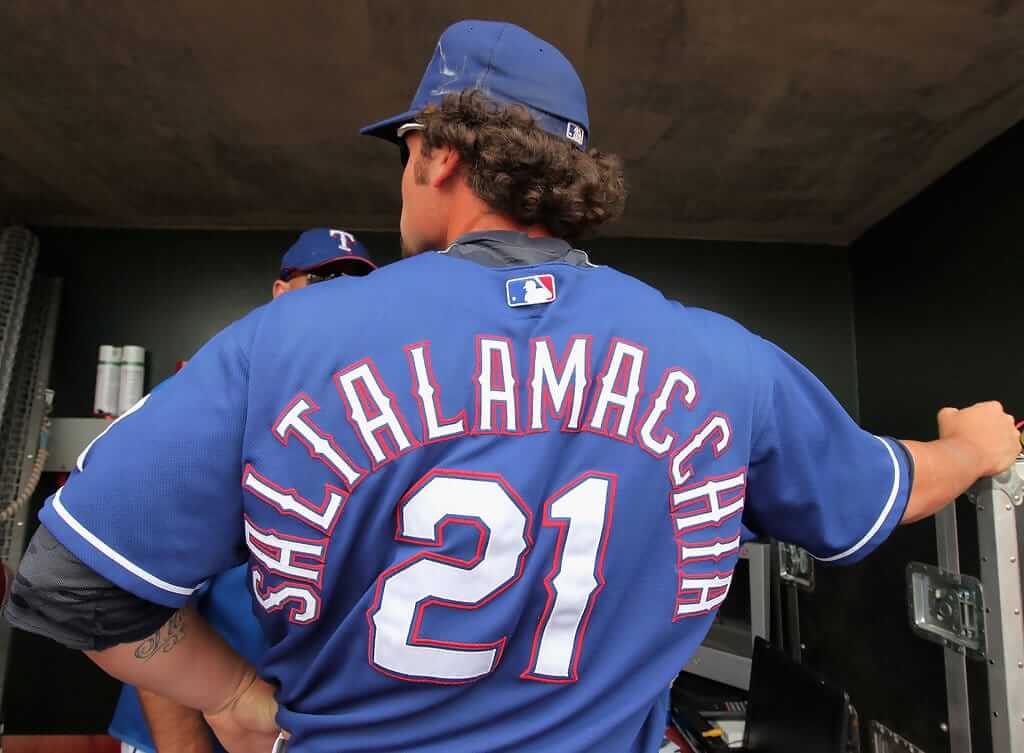 Depreta-Johnson has played for several minor league teams, but they all appear to have been NNOB, so we can't see how his name was handled by other clubs. Too bad.
Meanwhile, Depreta-Johnson is the latest athlete whose hyphenated surname raises questions about NOB length records. He has no chance to make the Rangers' final spring roster cut, but if he ever makes it to the bigs with a fully spelled-out NOB, his 14-letter surname would match Salty's, plus he has the hyphen so his NOB would be 15 characters. Would that count as a new record? Should hyphenated names be a whole separate category? (I'd say yes, but I know some folks may disagree.) And what if he makes it to the bigs and they give him "D-Johnson" — would it even matter that he has long name, or does it only matter to us if the full name appears on his jersey?
In any case, Depreta-Johnson's name definitely makes him a prospect to keep an eye on. I'm rooting for him to make it the majors someday, just so we can revisit all these issues.
(My thanks to Twitter-er @InGodsCountryOK for alerting me to Depreta-Johnson's abbreviated NOB.)
• • • • •
• • • • •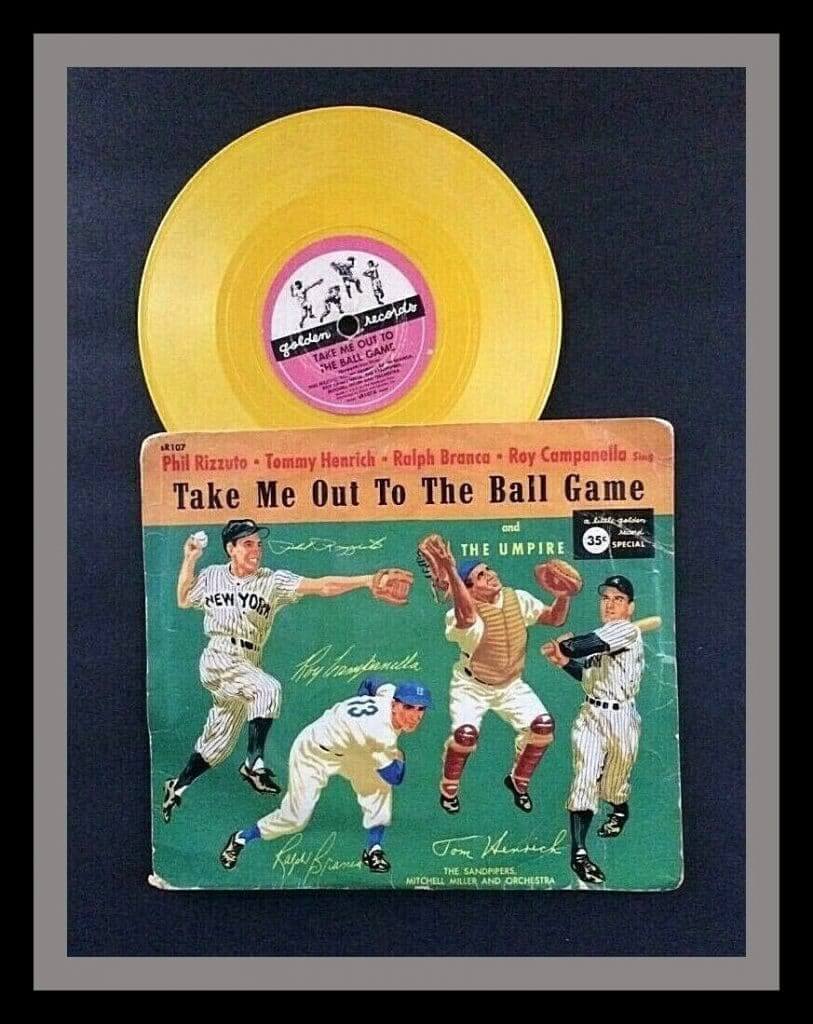 Click to enlarge
Collector's Corner
By Brinke Guthrie
Follow @brinkeguthrie
The 1908 song "Take Me Out to the Ball Game" is certainly the most famous baseball song ever recorded, and it's also the title of this 1952 78-rpm record featuring big-leaguers Phil Rizzuto, Ralph Branca, Roy Campanella, and Tommy Henrich on vocals. Singing along with the stars are the Sandpipers, all conducted by Mitch Miller. Just 35 cents!
(Note that Rizzuto and Henrich are shown wearing the Yankees' home pinstripes, but with "New York" on the chest!)
Now for the rest of this week's picks:
• Ever seen this type of key ring? This was a BMW promo item for the New York Rangers. The little circular BMW logo in the middle spins around. I had one of these type key rings and I used to spin that thing all the time. It's addictive!
• Never seen one of these before: This 1960s Oakland Raiders window sticker is a variant of the classic helmet decal. It says "The Oakland" above the usual "Raiders."
• Never seen this one before, either — a 1970s Cincinnati Reds plush doll wearing No. 00. Definitely needs some cleaning up, but still fun to look at.
• Here's a print ad for the Adidas Americana, the official shoe of the ABA back in the early 1970s. Had a pair of these myself and loved 'em, even if the white mesh got dingy pretty quick.
• Look at these NBA bed sheets from the 1970s. Notice that some official team logos are used for some clubs, while plain team names are used for others.
• You too can be a member of the Jr. Seahawks Club when you tote around this autographed Seahawks gym bag.
• This 1950s-'60s-era Chicago White Sox popcorn megaphone ("Watch the Fighting White Sox") features an elf-like mascot character who could be a distant relative to Brownie in Cleveland.
• White Castle was the sponsor of this Detroit Tigers school binder of unknown vintage.
• NHL Action Players is the title of this 96-page "word and picture album of NHL players and teams" from 1974. Brought your way by Loblaws, the Canadian supermarket chain. Similar in design and format to the 1972 NFL/Sunoco stamp album from 1972.
• The logo registration is off just a bit on this 1970s Steelers milk mug, but I like it like that! Gives it a quaint feel. Sponsored by 11 Alive, WIIC-TV in Pittsburgh.
• • • • •
• • • • •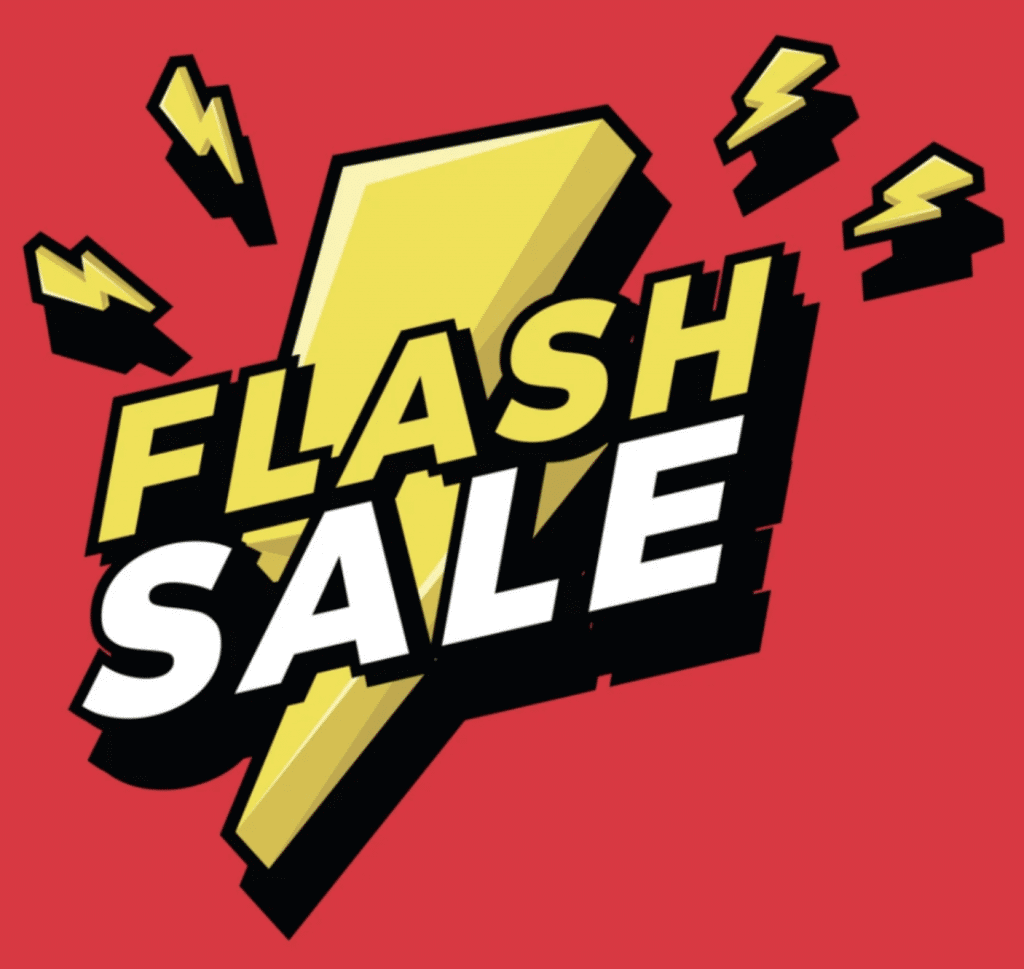 ITEM! One-day sale: Teespring is running one of its periodic flash sales. Up until midnight Eastern today, you can get 10% off by using the checkout code MARCHFLASH. You'll save some coin and Uni Watch will still get our full cut — a win-win.
This discount applies to everything in the Uni Watch Shop and the Naming Wrongs Shop. That includes the latest Uni Watch Pin Club design, which is already more than halfway toward being sold out, so move fast.
Also, as I've done in the past, I'm matching Teespring's sale by taking 10% off the Uni Watch Classic Cap. For today only, it will be priced at $35.99, instead of the usual $39.99.
My thanks, as always, for considering our products.
• • • • •
• • • • •
The Ticker
By Alex Hider

Baseball News: Lots of number shenanigans in the Yankees' game yesterday: OF Rosell Herrera, normally No. 12, wore No. 17 — which is manager Aaron Boone's number. Third base coach Phil Nevin (normally No. 88) wore prospect Ezequiel Duran's No. 60. Anyone know what was going on there? (From Bryan Prouse.) … The A's and Phillies will wear throwbacks when the two teams square off in Philadelphia on June 12-14. The Phillies will wear this cap, indicating they'll likely be wearing 1915-1920 era uniforms (from Phil). … The Mets will have a jersey giveaway for their 16th annual Taiwan Day on Aug. 29 (from Phil). … Marucci, one of the largest makers of MLB bats, has been sold (paywalled) to a holdings company. … Hey, that's why they have spring training: On Sunday, a Twins catcher and the plate umpire both threw balls simultaneously to P Tyler Duffey, who bailed out. Whoops! …  The Padres have a throwback cap section at their team store, broken down and labeled by year (from Jonah La Margo). … Over on SportsLogos.net, there's a great profile of author/illustrator Anika Orrock, whose new book, The Incredible Women of the All-American Girls Professional Baseball League, comes out today (from Mike Chamernik). … A brewery in St. Louis is releasing a Stan Musial beer in honor of what would have been his 100th birthday this year (from Kary Klismet). … Longtime Astro IF (and current team broadcaster) Geoff Blum had his No. 11 retired by his high school alma mater, Chino High in California (from Timmy Donahue). … The Great Lakes Loons, the Dodgers' Single-A affiliate, will wear Star Wars uniforms on July 18 (from Alex Dewitt). … The father of MLBers Hunter and Braden Bishop has a Giants/Mariners frankenjersey for his sons' teams (from Joe Farris).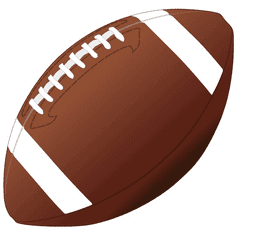 Pro Football News:  Chiefs WR Sammy Watkins had his number retired by his high school alma mater, South Fort Myers High in Florida and was also inducted into the school's Hall of Fame. As part of the ceremony, he was given a red jacket (from Timmy Donahue). … The XFL's Tampa Bay Vipers wore white jerseys with green pants for the first time on Sunday (from Wade Heidt). … Also from Wade: The CFL's Calgary Stampeders appeared to tease new jerseys on Twitter yesterday. The neckline on their jerseys is typically black. … New helmets for the Frisco Fighters of the Indoor Football League (from Chris Mycoskie). … Also from the IFL: New uniforms for the Iowa Barnstormers (from Nate Dorton).

College Football News: Reader Steven Woj notes that this Rutgers recruit was lacking a maker's mark on his jersey when he dressed up in uniform during a recent visit. Rutgers signed a short six-year deal with Adidas in 2017, and at the time, many industry insiders expected the school to renegotiate the deal. Could a change be coming? … New year, new uni numbers for some Oklahoma Sooners (from Sam McKinley)

Hockey News: NHL linesman Derek Amell worked his 1,500th game on Saturday in Pittsburgh, so the Pens and visiting Caps presented him with No. 1500 jerseys before the game. "I suppose an official can't be honored only by the home team," says Jerry Wolper . … The Chicoutimi Sagueneens of the QMJHL wore late-'70s/early-'80s throwbacks on Sunday, and the coaches played along with orange jackets (from Wade Heidt). … It's an annual tradition: Here's the video featuring this year's Minnesota high school hockey tournament hairstyles (from JM Fisher).

Basketball News: Saginaw High School in Michigan is poaching the Pacers' current uni design (from @btownmoose). … Texas retired No. 24 for legendary women's basketball great Clarissa Davis on Sunday (from Timmy Donahue). … The Hawks' scoreboard showed a hand-drawn version of the visiting Hornets' logo last night. "They run a skit during timeouts sometimes where a player attempts to draw the opposing team's logo. Hilarity ensues, then the Hawks keep the drawing up as the logo for the opposing team for awhile," explains Bryant Singleton. … Here's Oklahoma's record so far this season broken down by uniform (from Sam McKinley).

Soccer News: Actor Andy Samberg wore a Megan Rapinoe USWNT jersey on last week's episode of Brooklyn Nine-Nine (from Max Weintraub). … The Nashville SC kit tracker for the team's inaugural season has been updated through week 2. … Celtic FC's new away kits may have just leaked (from Ed Żelaski). … LA Galaxy wore memorial patches for Kobe Bryant last weekend (from Josh Hinton). … For more soccer updates from yesterday, check out Ed Żelaski's Twitter feed. … Scotland's new away kit has been officially released, confirming earlier leaks (from several readers). … Here's a look at the Portland Thorns' practice kit.

Grab Bag: The lighting of the 2020 Olympic flame in Greece on Thursday will be held without spectators due to the coronavirus outbreak. … In a related item, the Paris-Nice cycling race will not have spectators at the start or finish (from our own Jamie Rathjen). … For decades, cartographers have been hiding secret illustrations in Switzerland's official maps. … Here's a good piece about the custom helmet wraps some Air Force fighter pilots wear to mark their squadron (from @FormerDirtDart)