For all images, click to enlarge
I've written a fair amount over the years about uniform catalogs, but I haven't written so much about single-page uniform ads that have run in magazines. I recently stumbled upon an eBay seller who's offering quite a few vintage uni ads, so we're going to look at some of those today.
We'll start with the one shown above, a 1954 ad from Yankiboy, which was a big name in the youth uni biz at the time. Look how they depicted the kids with super-billowy uniform pants and super-spindly lower legs — an odd choice.
Also, note that the word "uniform" does not appear anywhere in the ad. Instead, the unis are consistently referred to as "suits." That was fairly common in uniform ads and catalogs in the early 1900s, but not so common in 1954!
Also of note: These flannel uniforms — er, suits — are cotton, not wool.
Here's another Yankiboy ad, this time from 1953:
The illustrations are more photo-realistic for this one. Again, what we see here are cotton "suits." Also: "New Selling Extra! Every suit is made with zippered fly, and tunnel loops." I guess the pants had previously been button-fly..?
Here's an interesting 1954 ad from another manufacturer, Empire:
The notable thing here is that Empire was offering "exact replicas of major league baseball uniforms." Interestingly, the ad lists seven teams' designs as "authentic duplication[s]" (Giants, Dodgers, Yankees, Cubs, Braves, Senators, and Tigers) and five others as "licensed and officially approved" (Reds, Indians, Phillies, Cardinals, and Pirates). It's not clear exactly what the difference is between those two classifications, nor why the four remaining MLB teams at that time are left out of the mix (White Sox, Red Sox, A's, Orioles).
I had no idea such a thing was available in 1954. At first I thought these replica uniforms (no "suits" here!) could only be purchased as full team sets, but the ad says they're good for "Christmas and Birthday Giving," which suggests that they could be purchased one at a time — just like licensed merch today. Who knew?
Next up is a 1949 ad from Sackman Brothers (Yankiboy's parent company):
This is a weird one. The ad describes the uni as "an authentic replica of the famous outfit worn by the idolized 'King of Swat.'" Now, for one thing, Babe Ruth never wore a uniform like the one shown in the ad, at least that I'm aware of. And he was the Sultan of Swat, not the King!
It's worth noting that Ruth died in 1948, and this ad is from 1949. A bit of profiteering off the Babe's demise, perhaps..?
Here's another one from 1949, this time from a company called Major Sportswear:
Obviously, this ad isn't as visually pleasing. I only included it here because the no-frills ad design seems to fit with the promise of "Rock-Bottom prices." It all has a "You get what you pay for" feel to it, no? Bonus points for showing the stirrups, though.
You may be wondering which magazines these ads appeared in. Unfortunately, I don't know — the eBay seller doesn't list the original source publications. But all of these ads are targeted at sporting goods retailers, not consumers, so they presumably ran in trade magazines.
Another thing worth noting: All of the uni manufacturers were headquartered in New York. There are definitely no businesses like that still in NYC, I assure you!
Also worth noting: All of the kids shown in these ads are white, even though Jackie Robinson had already made his MLB debut by the time these ads were published (and, obviously, African Americans had been playing baseball in the Negro Leagues for many decades prior to that). That got me wondering: When did Little League integrate? Some quick research reveals that the first all-black Little League teams were chartered in 1953, and the first game in the South between an all-white team and an all-black team was in 1955 (there's a recent Netflix documentary about that game), but it's not clear when the first integrated Little League team appeared. Anyone..?
While we're at it, here's an ad from 1924. It's really a sneaker ad, not a uni ad, and this one was aimed at consumers, not retailers, but it still fits in stylistically with the other ads I've shown you:
That's some nice-looking footwear! I've seen lots of basketball-themed ads for sneaker designs like this one, but not baseball — interesitng.
Finally, here are two items from that same seller — a 1919 ad for oats and a 1937 Boys' Life cover. Neither one is a uni ad, but they both feature very uni-centric images:
All of these came from an eBay seller called advertisingshop, which specializes in vintage single-page ads. You can see their full range of offerings here.
• • • • •
• • • • •
Perfect achievement: I've written several times of the years about Holler House, the Milwaukee tavern whose basement houses America's oldest pair of league-sanctioned bowling lanes (which I've had the pleasure of bowling on several times myself). Holler House's longtime owner, Marcy Skowronski, recently passed away, but the place is still going strong — so strong that someone recently tossed a perfect game! It was the first 300 game there in 86 years! Lots of nice footage of the lanes in the video report above.
(Big thanks to Uni Watch Wisconsin bureau chief Jeff Ash for this one.)
• • • • •
• • • • •
A day @NationalGallery with my Mum and older bro and a watercolour of a #Rembrandt painting of a Franciscan Friar for #TheSaint. All from under the brim of my glorious @UniWatch 'lid'. pic.twitter.com/5DD3LIkQKb

— Andy Brown (@andybisanartist) March 6, 2020
Fancy-shmancy: I like to think that our Uni Watch Classic Cap is, in its own little way, a work of art. But yesterday it was in the company of real works of art, as reader Andy Brown wore his cap for a visit to the National Gallery in London. Looking sharp, Andy!
• • • • •
• • • • •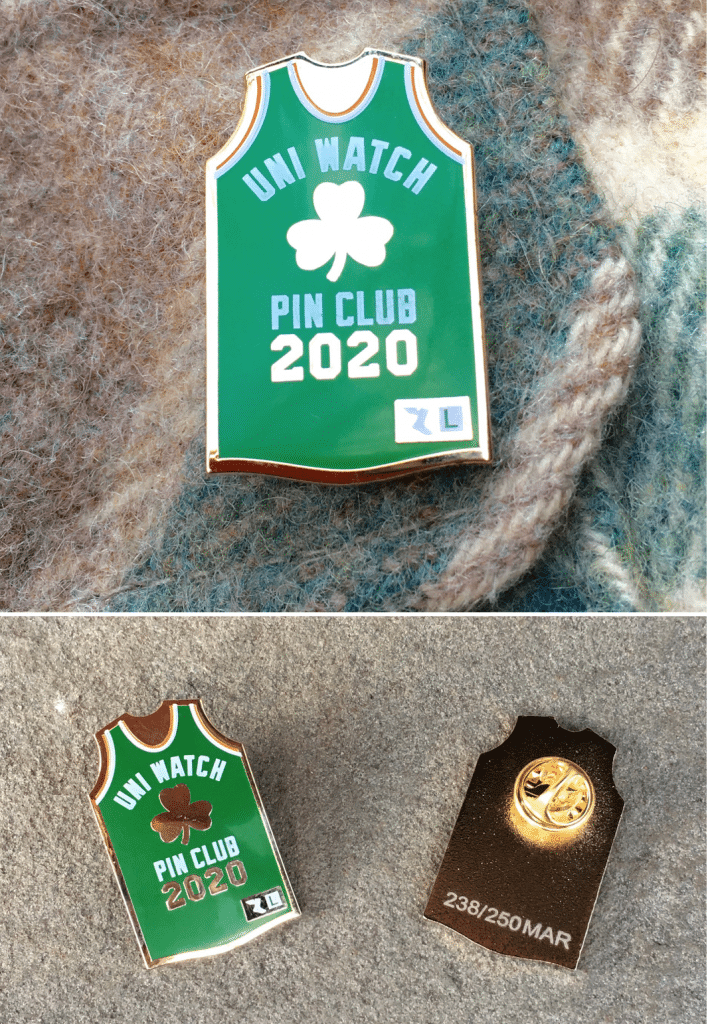 Pin Club reminder: In case you missed it on Thursday, the March design for the Uni Watch Pin Club is now available. It features a basketball jersey (for March Madness) with a shamrock and orange/white trim (for St. Patrick's Day), along with a winged stirrup jock tag (for Uni Watch!). This one is a numbered edition of 250, and we've already sold nearly 100 of them, so move fast!
If you need to get caught up, the January and February pins are still available until they sell out, and we also have our basic winged stirrup logo pin. And remember, card-carrying Uni Watch members get a 15% discount on these pins (and on everything else in the Uni Watch Shop).
My thanks, as always, for considering our products.
• • • • •
• • • • •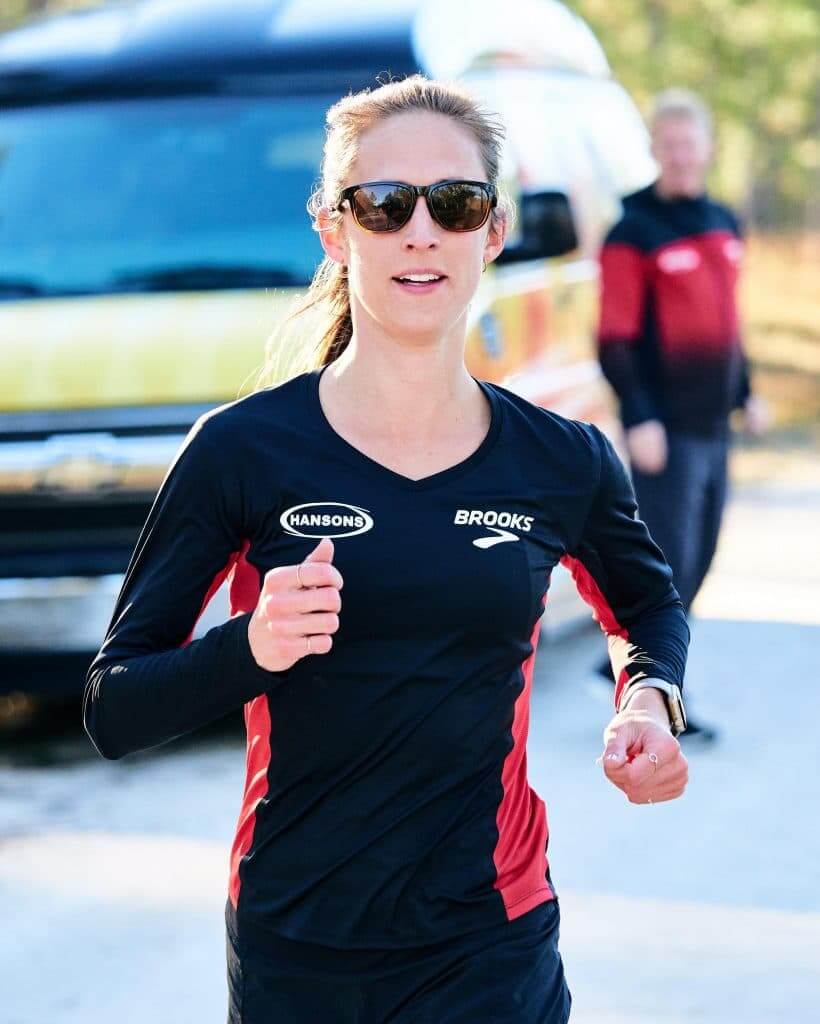 Oh, for fuck's sake: Meet Anne-Marie Blaney, a pro distance runner who competed in last weekend's U.S. Olympic Marathon Trials in Atlanta. (She did not make the cut.) In an article published on the eve of that event, she said, "I am working hard in races. I'm [a] blue-collar runner. I'm in it for the long run."
Stop. Just stop. When a fucking Olympic-caliber marathoner is calling herself a "blue-collar runner" because she's "in it for the long run" — which is, you know, the fucking definition of being a fucking marathoner — then you know this blue-collar bullshit hasn't just jumped the shark, it's pole-vaulted the giant squid.
Oh, and for good measure, Yankees manager Aaron Boone just praised outfielder Brett Gardner — a man who will make $12.5 million this season, with a $20 million option for 2021 — for having "kind of just a blue-collar way about him that I think helps kind of set the tone."
Just stop. Stop pretending that getting up at 5am to work out makes you a factory worker. Stop pretending that grunting in the weight room makes you a roofer. Stop pretending that hustling after a loose ball makes you a mechanic. Stop pretending that legging out a double while sporting two-day stubble and sweating a lot makes you a bricklayer. And while you're at it, stop pretending that factory workers, roofers, mechanics, and bricklayers walk around with some sort of halo over their heads — they don't, at least no more than anyone else.
Just stop. Stop trying so desperately to give yourself an air of authenticity. The whole thing is insulting and embarrassing.
Update: Well, this segment prompted a lot more response than I anticipated. The most interesting and informative comment came from reader Mike Styczen, who explained something I wasn't aware of: There's a longstanding trope in the running world — and a corresponding critique/controversy regarding that trope — of "yuppie runners" vs. "blue-collar runners." All very interesting, and it does potentially put Planey's comments in a mitigating context. Check out Mike's comment here.
(My thanks to Timmy Donahue for this one.)
• • • • •
• • • • •
The Ticker
By Anthony Emerson

Baseball News: More Photoshop errors from the MLB Shop, which depicted Reds P Trevor Bauer with Angels uni numbers and Padres C Francisco Mejía with an incorrect helmet logo (from Austin Elmore and @padreider). … Some umpires are still wearing Majestic jerseys for spring training games. I wonder if we'll see this in the regular season (from @UntillTheNight). … The Single-A Vermont Lake Monsters are encouraging Little League teams to call themselves the Lake Monsters and will even sell them Lake Monsters youth uniforms (from Jon Rathbun).

Hockey News: The Rangers used rainbow stick tape for LGBTQ Pride Night last night (from Alan Kreit). … The ECHL's Toledo Walleye have unveiled two gorgeous new unis for next season. The new unis will use "ice film" to give the illusion of more depth on the chest and shoulder logos. More looks here and here. … Someone created "Colour Rush" hockey jersey concepts (from Josh Claywell and Noah Sidel). … The AHL's Ontario Reign will wear green sweaters on March 14 for a St. Patrick's Day promotion (from Jakob Fox). … The OHL's Ottawa 67's G Cedrick Andree recently held a contest to design his new mask. There were over 50 submissions. Here's some shots of the winning design in-game (from Wade Heidt). … St. Thomas Academy, a Catholic military high school in the Twin Cities, has a cross where captaincy letters typically go. The team moves the "C" or "A" to the right shoulder. Also: faux Cooperalls! (From Patrick Lenertz.)

NBA News: The Rockets have have constructed a jersey wall at their arena, featuring many jerseys from the team's history (from Ignacio Salazar). … After the Grizzlies wore their 1990s Vancouver throwbacks the other night against the Nets, they posted a final-score tweet that used the old New Jersey Nets logo, rather than the current Brooklyn Nets logo (from @GoatJerseys). … Also posted in the soccer section: Real Madrid winger Eden Hazard and Mavs F Luka Dončić swapped jerseys recently. Dončić played for Real Madrid's basketball team before coming to the NBA (from Scott M. Trembly).

College Hoops News: Northwestern has unveiled their "By the Players" uniform, which will be worn during their final regular season game tomorrow. Seniors Tino Malnati, Pat Spencer, and A.J. Turner helped Under Armour design the uni (from Jack Long). … Here's a great c. 1980 Zenith magazine ad featuring then-Notre Dame coach Digger Phelps with a shovel icon on his sleeve — so Digger could dig, dig? (From Michael Hay.)

Soccer News: More USL Championship kits were released yesterday: Loudoun United, Portland Timbers 2, Philadelphia Union 2, Orange County SC home and Saint Louis FC away (from Nate Rathjen and Derek Madden). … Speaking of the USL Championship, we already knew the Las Vegas Lights were planning to wear 17 different fan-designed jerseys this season. Now it turns out that for one of them, the fan/designer will have to pay the team for the design to be used, with the "honor" going to the highest bidder. Tom Sawyer would be proud. … Cross-listed from the NBA section: Real Madrid winger Eden Hazard and Dallas Mavericks F Luka Dončić swapped jerseys recently. Dončić played for Real Madrid's basketball team before coming to the NBA (from Scott M. Trembly).

Grab Bag: The Reveille, LSU's student newspaper, has a great article about how LSU's gymnastics team designs its leotards (from Kenneth Hilliard). … China Eastern Airlines has introduced uniform-matching flight attendants' masks to try to lessen the risk of coronavirus transmission (from Bryan Beban). … Jalopnik has critiqued BMW's new logo (from Canon Young). … The Graphic Artists' Guild — the trade union for graphic designers and artists — tweeted a fascinating video of how art was prepared for printing prior to the computer era (from James Gilbert). … I imagine Peyton Manning's legal team might want to contact the owner of this painting company in Detroit (from Ryan Keberly).
• • • • •
Our latest raffle winner is Zachary Gold, who's won himself a Uni Watch membership card. Congrats to him, and repeated thanks to Sam Hozman for sponsoring this one. Everyone have a great weekend and I'll see you next week. — Paul