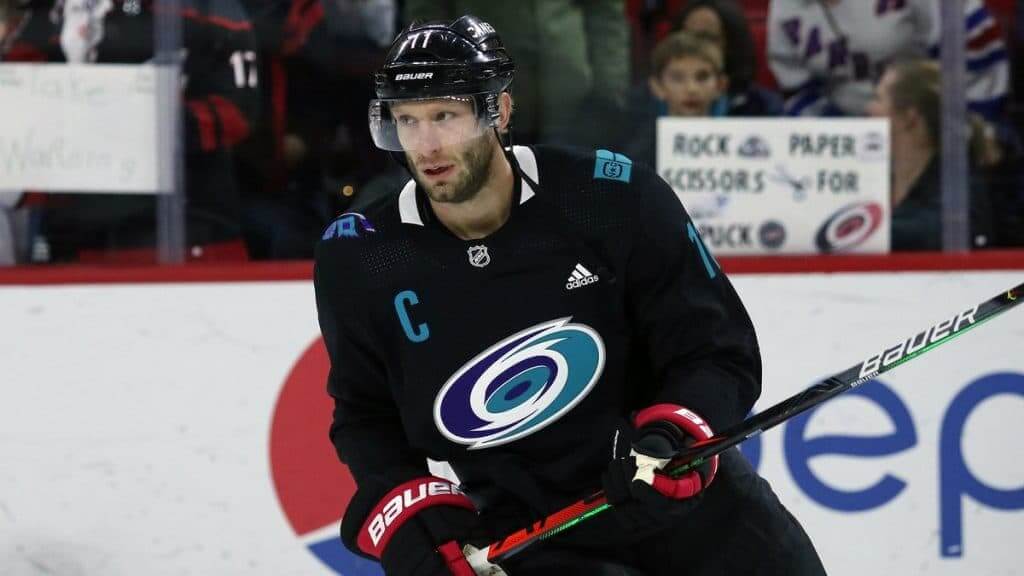 Click to enlarge
Paul here, making a rare weekend appearance while Phil takes the weekend off so he can participate in a curling tournament. (Hope you win, buddy!)
So: Cross-sport uni promotions are getting more and more common. The latest example took place last night in Raleigh, as the Carolina Hurricanes held a Hornets Night promotion, complete with Hornets-colored jerseys for pregame activities. Here's how they looked as the team came onto the ice:
Hornets Night!!

Hurricanes Live is underway on FSCR#LetsGoCanes | #TeamCarolinas pic.twitter.com/iS4OdEFXPz

— FOX Sports Carolinas (@CanesOnFSCR) February 21, 2020
The Hornets logo also appeared on pregame pucks: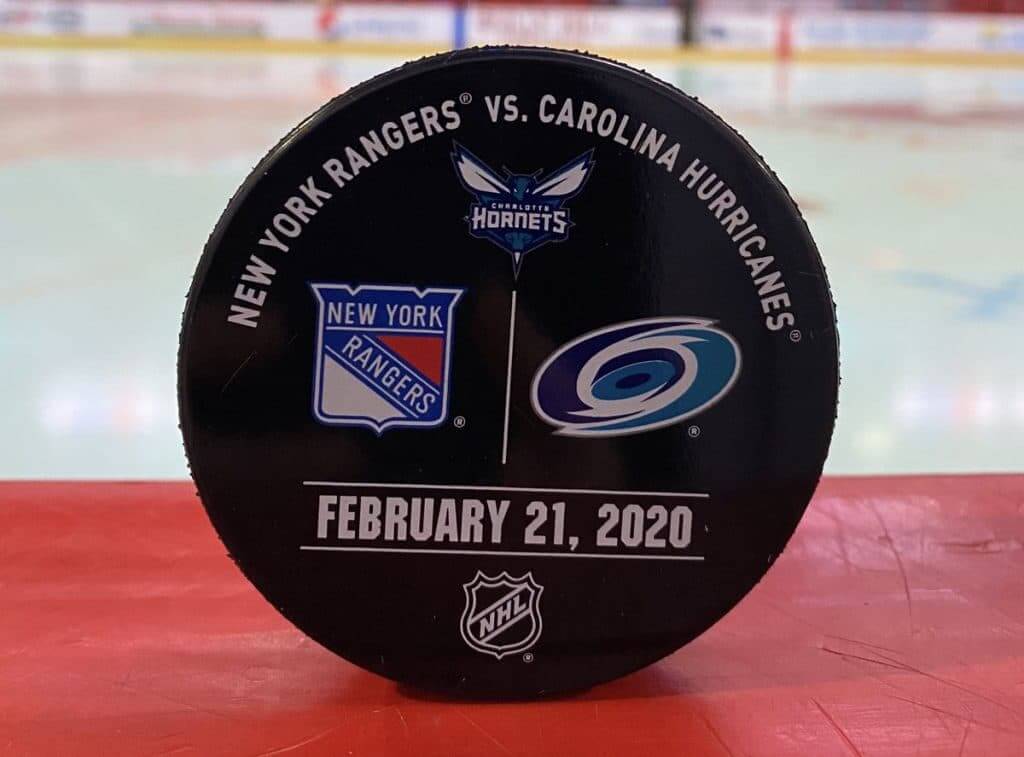 The 'Canes also imagined how it might look if the Hornets returned the favor:
If the @hornets wore #Canes jerseys 👀#LetsGoCanes x #AllFly pic.twitter.com/AtYD7PETjM

— Carolina Hurricanes (@Canes) February 20, 2020
• • • • •
• • • • •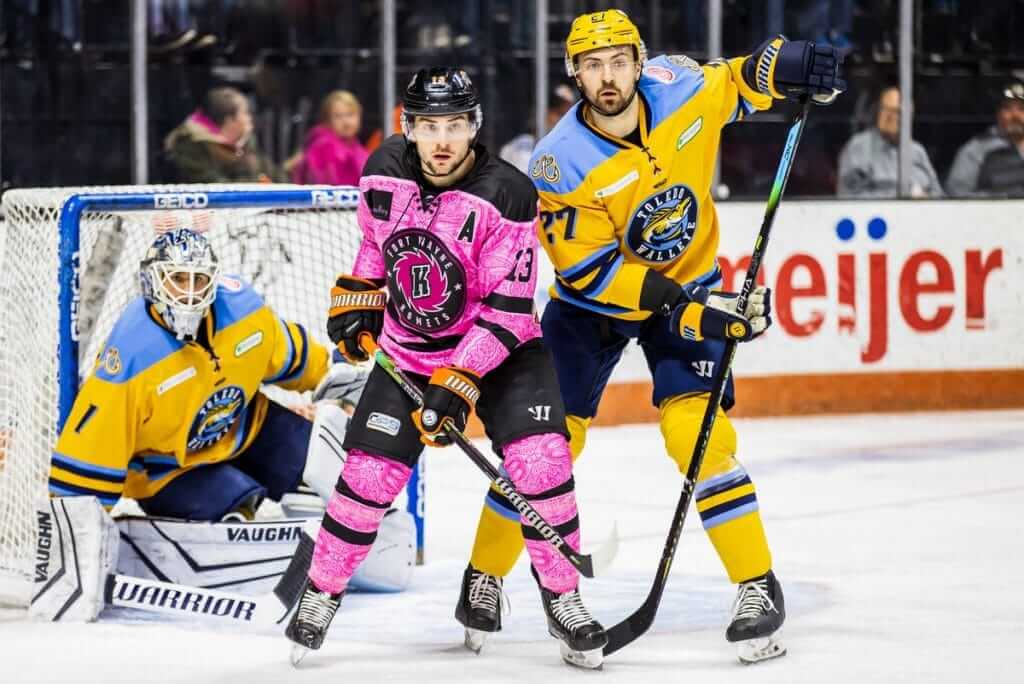 Click to enlarge
Get out the sunglasses: There's color vs. color, and then there's really color vs. color. That was the situation last night in the ECHL, as the Fort Wayne Komets wore pink while hosting the yellow-clad Toledo Walleye. Yikes!
Here's how it looked in action:
.@jwkhockey6 gets behind the Fort Wayne defense, but his breakaway attempt is turned aside.#GoWalleye pic.twitter.com/jbtdxOiomj

— Toledo Walleye (@ToledoWalleye) February 22, 2020
.@jwkhockey6 breaks the scoreless tie 5:05 into the second period! #GoWalleye

🍏: Berschbach, Winquist pic.twitter.com/Ve5aNMj09B

— Toledo Walleye (@ToledoWalleye) February 22, 2020
And if you think that was bright, check out what the Oregon and Cal women's basketball teams were wearing last night: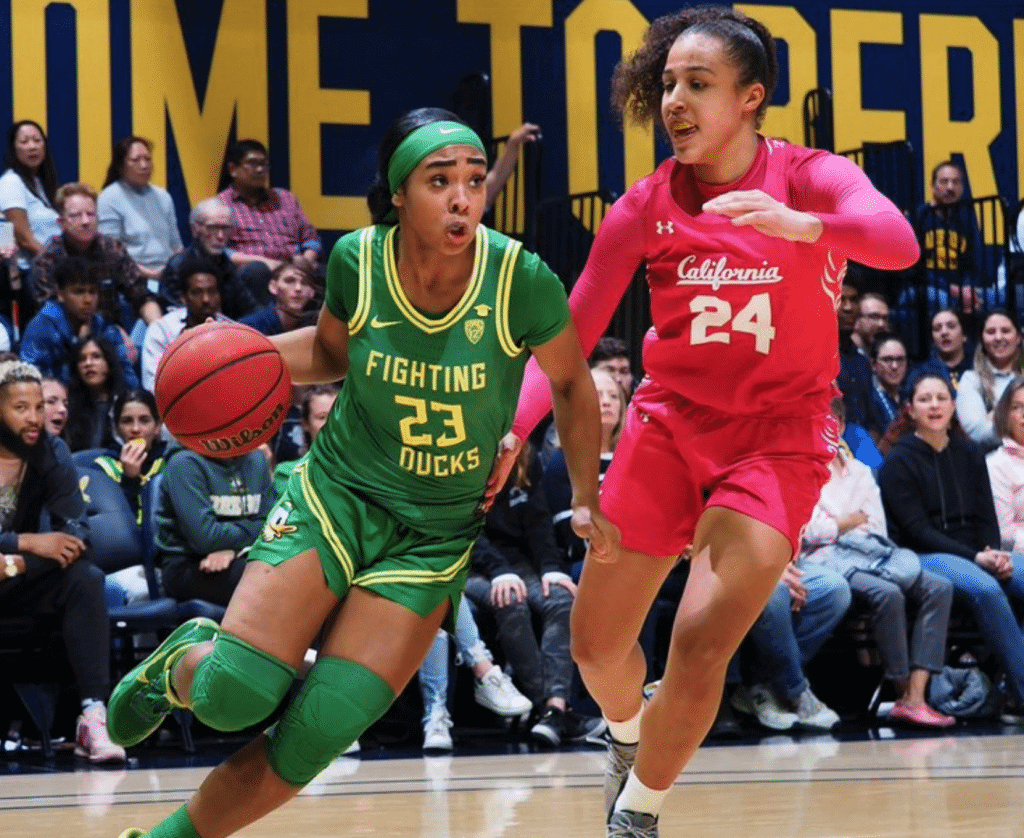 Okay, this is getting out of hand…@ErinnSB21 is now 8-of-9 from deep for 24 points, and we're less than three minutes into the third… 😱🔥#GoDucks | @Pac12Network pic.twitter.com/IA4KtcQzfJ

— Oregon Women's Basketball (@OregonWBB) February 22, 2020
Oh my, this offensive board by @sabrina_i20 😳💪

Ducks lead 23-17 with under a minute to go in the first. #GoDucks | @Pac12Network pic.twitter.com/3Lpb1GYtWh

— Oregon Women's Basketball (@OregonWBB) February 22, 2020
I don't know about you, but I'll be glad when Pinkuary is over!
• • • • •
• • • • •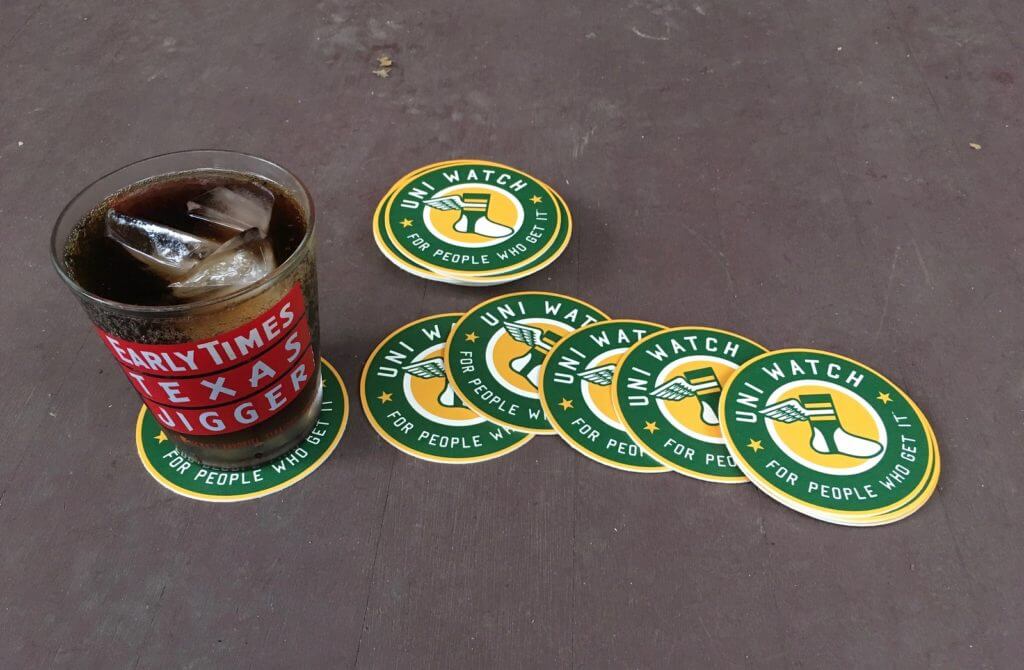 Click to enlarge
Coasters reminder: In case you missed it on Thursday, I have a small supply of these great-looking Uni Watch coasters. I'm selling them in groups of three coasters for $9 with free shipping. I've already sold through more than half of them in the past two days, so get 'em while they last!
• • • • •
• • • • •
The Ticker
By Anthony Emerson

Baseball News: Dodgers P David Price has almost always removed his squatchee — or as he calls it, "the ouch button" — since his rookie season back in 2008. However, he hasn't removed it from his spring training caps so far this month (from @UntillTheNight). … Reds strength and conditioning coach Sean Marohnis has a Reds football helmet that he wears for drills. Here it is on the man himself. "The 'stitching' stripe is a nice touch," writes Joanna Zweip (also from a whole bunch of other readers) . … The Phillies will unveil a "new-look Phanatic" on Sunday (from Frank McGuigan). … The Shift motocross team wore special Padres-inspired helmets and firesuits for their riders at an event in Petco Park a few weeks ago (from John Flory). … Dave (who didn't give his last name) found this old-school Tigers pin at a vintage shop in Hamilton, Ont. Anyone recognize the logo? … The Empire League, an independent league, is expanding to six teams with the Georgia Rhinos (from John Cerone). … Nice stirrups for Delaware State softball (from Brian Weingartz). … Here's a really good, thoughtful interview with the Pennsylvania Little League commish who decided not to use the Astros' team name this season.

Hockey News: The Islanders wore "'27′" patches for John Tonelli's number retirement last night. The team also all wore Tonelli jerseys during pregame activities (from @cannolifactory). … We now have confirmation that the Golden Knights will have a gold third sweater next season. It will be released sometime this summer (from Wade Heidt). … Robert Morris women wore these nice throwbacks last evening (from Nathan Hogue and Oleg Kvasha).

NBA News: NBA TV tweeted an awesome graphic of every Dwyane Wade jersey in history ahead of tonight's Wade number retirement ceremony in Miami (from Qumar Zaman). … NBA uni number guru Etienne Catalan had graphics for a whole bunch of new numbers yesterday: Reggie Jackson of the Clippers' No. 1, the Pistons' Derrick Walton Jr.'s No. 12, the DeMarre Carroll of the Rockets' No. 9 and the Grizzlies' Dusty Hannahs' No. 5. … The Undefeated has a nice article about how the NBA has mourned Kobe Bryant through sneakers (from Mike Chamernik).

College Hoops News: Utah will retire Wat Misaka's No. 21 next season. Misaka was the first person of color to play in the NBA, and helped Utah to the 1944 NCAA Championship (from Timmy Donahue). … Last night's Buffalo/Kent State game had two things you don't often see on a basketball court: one team with nameplates and the other with vertically arched NOBs (great observation by Timmy Donahue).

Soccer News: NYCFC had some patch issues during their CONCACAF Champions League match against San Carlos (from Steven Brown). … Land-Grant Brewing is producing a line of can designs that look like the most iconic shirts in Columbus Crew history (from John Flory and Jared Sloan). … New logo for FC BATE Borisov out of Belarus (from Ed Żelaski).

Grab Bag: The Japanese Olympic Committee has revealed their podium jackets for Tokyo 2020 (from Jeremy Brahm). … Popular Mechanics has conducted some research on the effectiveness of military helmets in preventing traumatic brain injuries (from Scott Rogers). … Randolph Union High School in Vermont is changing its logo after complaints that it resembled a Ku Klux Klan member on horseback. The mascot name — the Galloping Ghost — will remain, but the illustration will be changed (from Timmy Donahue).
• • • • •
That's it for today. A lot shorter than Phil's usual weekend extravaganzas, I know, but don't worry — he'll be back next Saturday. — Paul