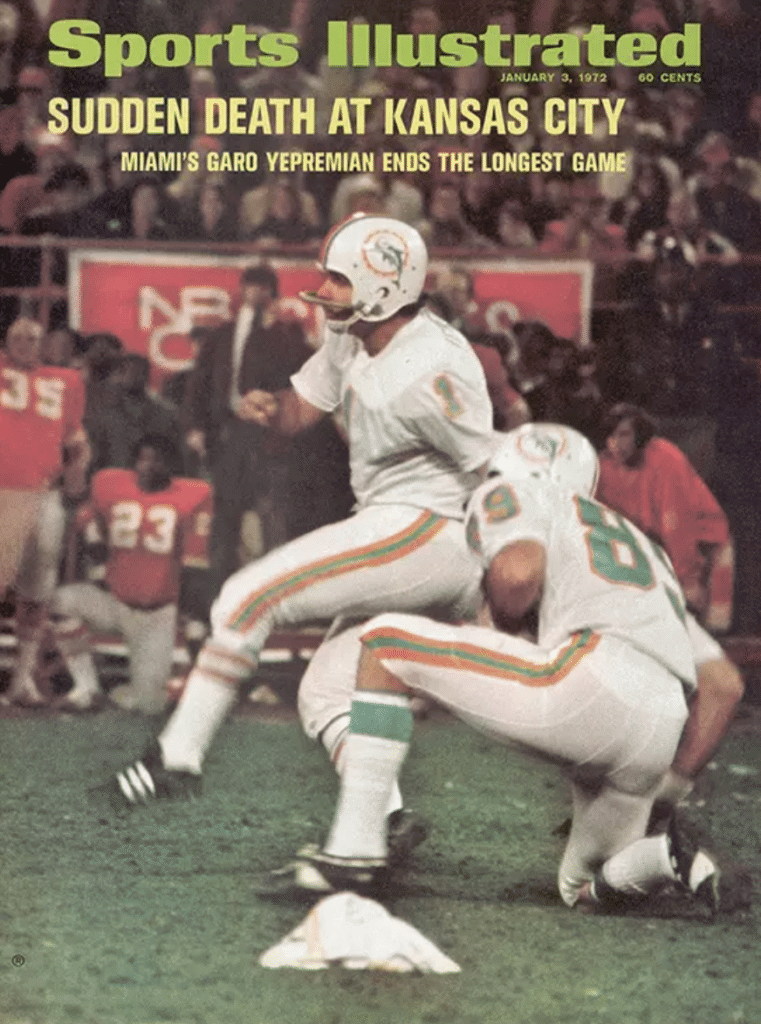 Former Dolphins placekicker Garo Yepremian is remembered primarily for three things: kicking the winning field goal in the longest NFL game ever played (above); throwing — if you can call it that — the most feeble pass in Super Bowl history; and being one of the NFL's relatively few left-footed kickers.
But Yepremian, who died in 2015 (and who, like a lot of the NFL's early soccer-style kickers, grew up as a soccer player in Europe before transitioning to American football), also had an interesting side business as, of all things, a neckwear entrepreneur — he had his own line of ties. It was actually mentioned on the back of his 1978 Topps card (click to enlarge):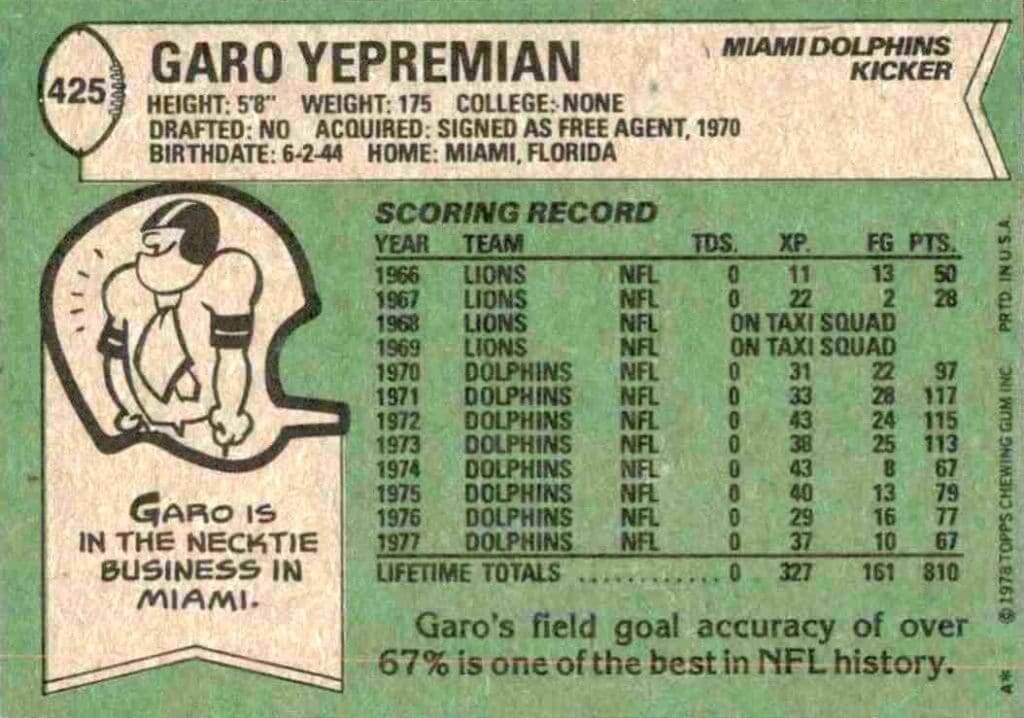 While most of the tie designs themselves weren't all that remarkable (we'll get to that in a minute), they had one of the all-time great label designs. Check this out:
Is that great or what? Longtime readers may recall that I love a good label design, and this one is definitely among the best I've ever seen. It's from a tie that's currently available on eBay and was recently brought to my attention by Helmet Addict's Mike Cline.
I love everything about that label design — the green/orange color scheme, the slogan at the top, the striped socks, the inclusion of Yepremian's No. 1 and his left-footed kicking style, the leaping dolphin, and the rudimentary goalposts. Yeah, the mono uni is a mild downer, but still — so awesome!
There was also a narrower version of the same design (click to enlarge):
That one's from this tie, the front of which has a football-themed design motif featuring helmets and goalposts (click to enlarge):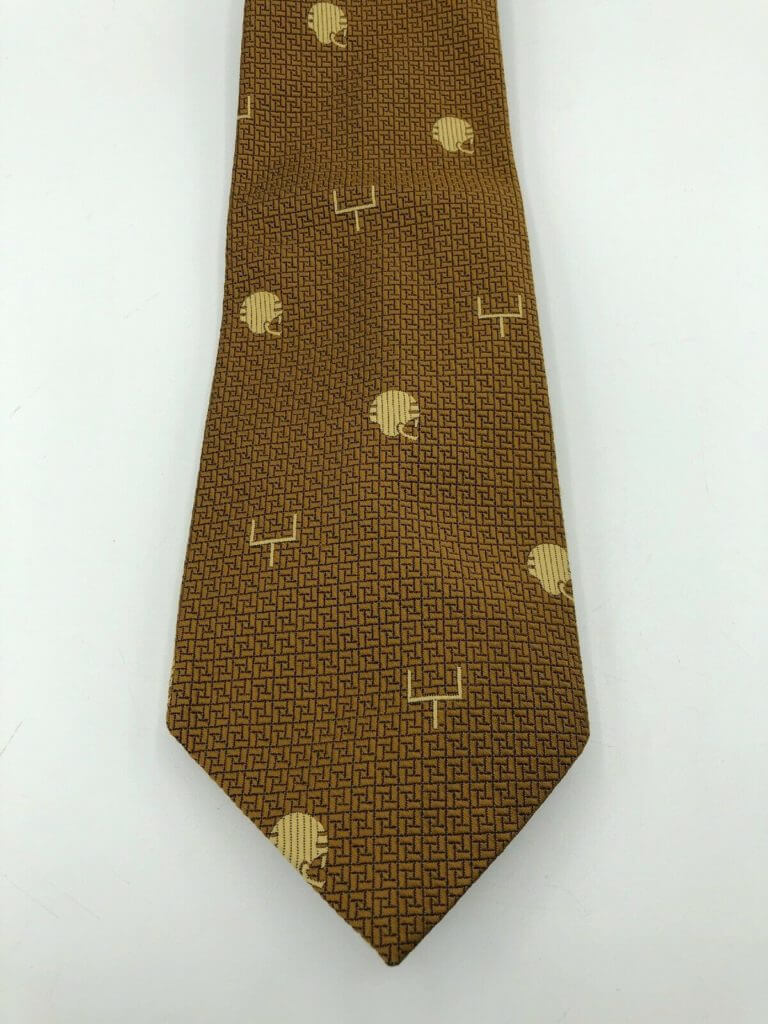 Yepremian apparently liked the goalpost motif. Here's another tie, featuring a dolphin leaping through the uprights (click to enlarge):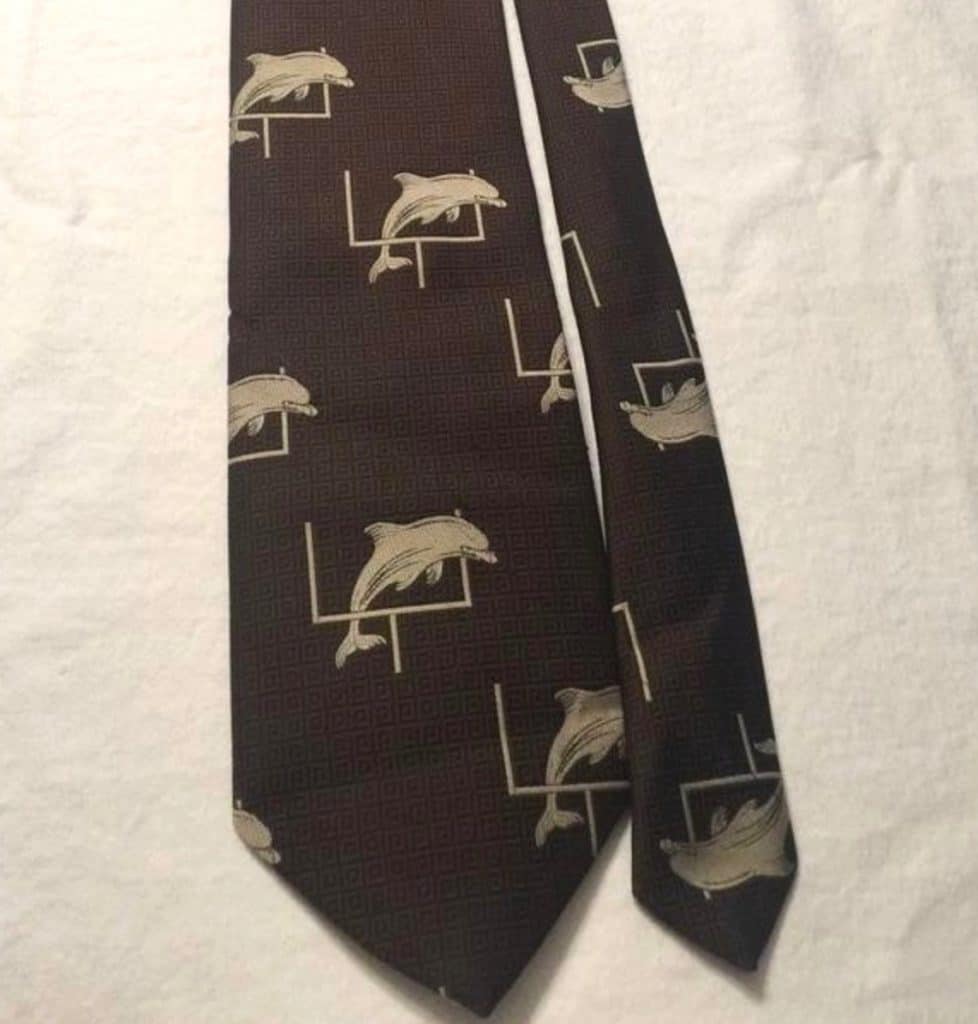 The football-themed designs were not part of Yepremian's original product line. In a 1972 New York Times article, he said, "So far, none of my ties have anything to do with football. But we're thinking about doing one that shows a goal post with either a dolphin or a football sailing over it." I guess they chose the dolphin! The article also had this photo of Yepremian's product line at the time (click to enlarge):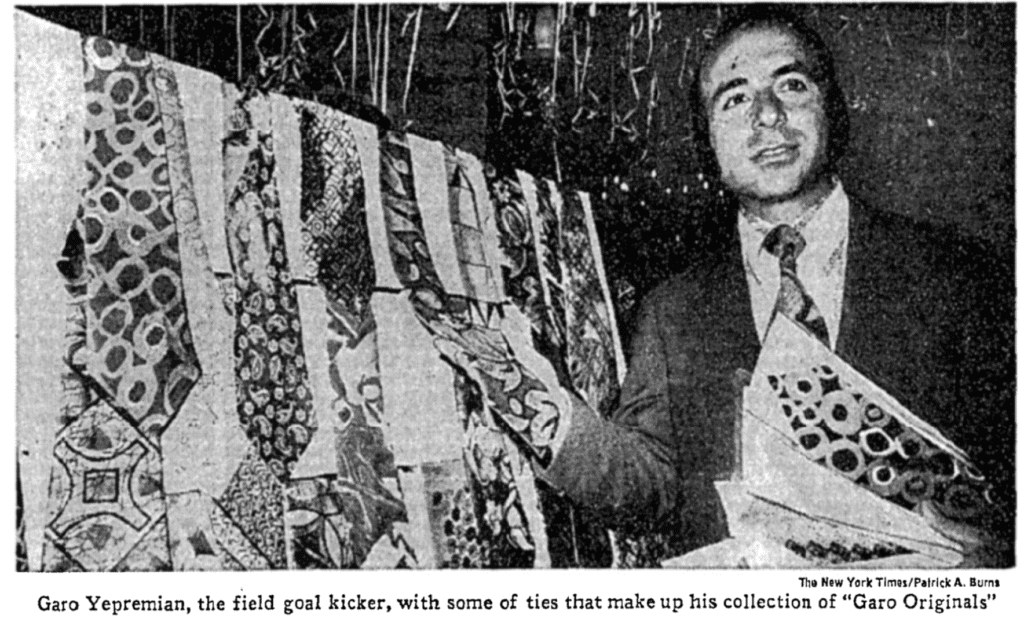 Ultimately, though, the tie designs aren't nearly as interesting as that awesome label design. Speaking of which, he apparently used two other label formats at various points: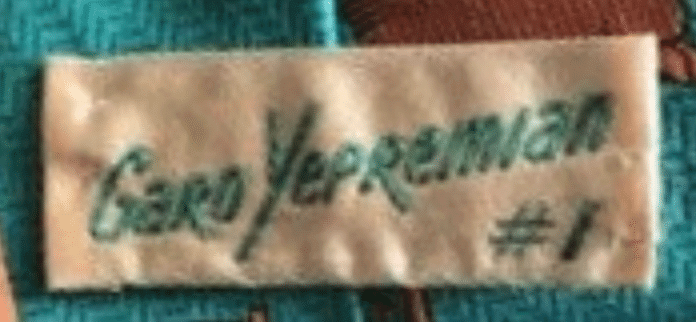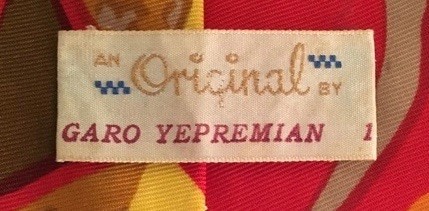 Obviously, those don't even come close to the awesomeness of the label with the little kicker guy. Which leads to an intriguing question: Who designed that label? Who designs any clothing label? It's a fascinating little niche discipline executed by talented graphic artists — all of whom are anonymous. A pity.
(Big thanks to Mike Cline for sending me down this rabbit hole, and to Kurt Rozek for reminding me about the tie reference on Yepremian's 1978 Topps card.)
• • • • •
• • • • •
Click to enlarge
Collector's Corner
By Brinke Guthrie
Follow @brinkeguthrie
This poster is called "A Groovy Glossary of Pro Football." Issued in 1969 and sold at, ah, head shops, this poster included such football terms such as "Red Dog/Blitz" and "Burning the Defensive Back." Very in keeping with the psychedelic style of that era. Find yourself a lava lamp and you're all set!
Now for the rest of this week's picks:
• Football cleats these days are super-aerodynamic and streamlined. That wasn't the case way back when, though! These are 1950s US Pro Keds football shoes worn by Notre Dame star Frank Leahy. They look like canvas basketball shoes with a cleated bottom! (I've read about current players in the NFL doing something similar. I know Niners rookie star Nick Bosa wore Air Jordan-styled Nikes this season, too.) Now, Leahy didn't play pro ball — he was a college star and then a very successful college coach. Maybe these shoes were issued due to his coaching fame. Not terribly stylish, but I guess they got the job done.
• Another Pro Keds item here: Look how low-key this Pete Maravich Keds ad is. Snuggling under the tree with his sweetie, sweater and cords outfit, and his faithful 10-speed right there. Pretty unassuming for someone nicknamed The Pistol.
• Interesting set of NFL helmet stickers here! This is a 1970s Laich Sports Products NFL Helmet Sticker Sheet. It has all the NFL teams from that era and with two different logos for the Jets. Seller says, "These stickers are for the Laich football helmets produced in the 1970s and sold as sundaes, I believe at Dairy Queen." Make mine hot fudge, if you please!
• Ever seen a football helmet facemask that looked like this? This one is called "The Spitter," for obvious reasons!
• This 1973 45-rpm record about Hank Aaron's pursuit of Babe Ruth's all-time MLB home run record is titled "Move Over Babe (Here Comes Henry)," and was recorded by former big leaguer Bill Slayback. Thanks to YouTube, you can hear it right here.
• Pete Rose is looking rather determined on the cover of this 1980 Phillies calendar.
• The Swingin' Friar is takin' a big cut on this 1996 promo mug sponsored by Sycuan Casino. It says "60th Anniversary" on there, so it must be also referring to the old Padres Pacific Coast League incarnation.
• Marathon Oil was the sponsor for this 1960s Cincinnati Royals "Guess The Attendance" promo. You fill out the box with your guess, presumably stick it in a ballot box, and then "you will be notified by phone, by the Royals, prior to the next game," if you're a winner.
• Since it makes no reference to a city, this Charger Power sticker would still be a nice fan item today! (Nice Fouts-era helmet, too.)
• This 1972 Sports Illustrated pro football board game is simply called "Pro Football." (Memo to marketing: Maybe punch up the branding for the next release.) I had a similar game, also from SI, but this is the first time I've seen this one. The sales pitch on the box front calls it the "most realistic football game ever devised." Interesting SI logo on there, too.
• • • • •
• • • • •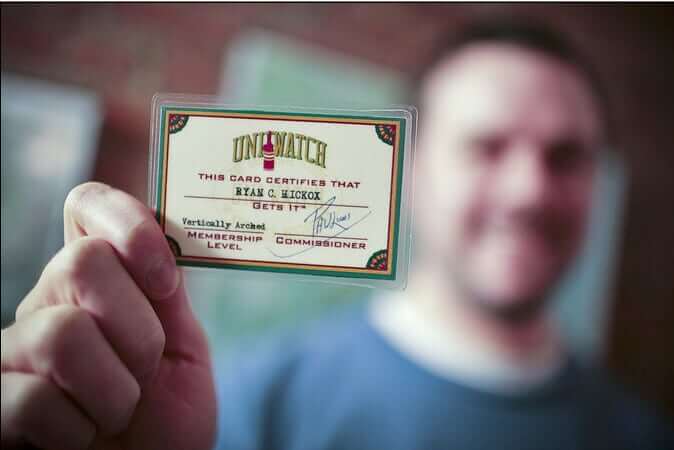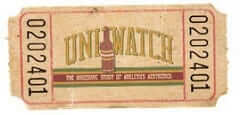 Yet another membership raffle: Reader Joal Kjarsgaard was the winner of one of our recent membership raffles (he chose a Bo Jackson-themed card design), and he's chosen to pay it forward by purchasing another membership for me to raffle off, so that's what we'll do today.
This will be a one-day raffle. To enter, send an email to the raffle address by 8pm Eastern tonight. One email per person. I'll announce the winner tomorrow.
My thanks to Joal for sponsoring this raffle. Meanwhile, if you'd like to help support Uni Watch by ordering your own custom-designed card, you can do so here.
• • • • •
• • • • •
Click to enlarge
A match made in heaven (or at least in Green Bay): I can think of few higher honors than to have one of our Uni Watch Pin Club pins for February adorning reader Wes Muniz's cheesehead hat. Looks good!
Wes isn't the only one who's been proudly displaying the February pin:
Got my next uni watch pin! @UniWatch pic.twitter.com/XxycGhC58w

— Kevin Bryant (@KevinBryant5) February 10, 2020
The February pin is available here. And if you need to get caught up, here's the January pin (we'll keep selling that one until it sells out) and our basic winged stirrup pin.
My thanks, as always, for your support of Uni Watch — much appreciated.
• • • • •
• • • • •
The Ticker
By Alex Hider

Baseball News: The Giants are reportedly scraping the bottom of the barrel when it comes to available uniform numbers. OF Billy Hamilton will wear No. 0, and first base coach Antoan Richardson will wear No. 00 (from Laren). … The Nats posted what appears to be their gold-trimmed World Series champs jersey design yesterday. It's based on the team's new white alternate jersey (from Jason Wileman and Brandon Lenk). … Speaking of the Nats, they unveiled their promo schedule (WaPo link) for the upcoming season (from Tommy Turner and JM Fisher). … Joshua Johnson notes that the Brewers' new yellow-paneled caps have inconsistent stitching. The standard cap uses yellow stitching on the front panel, while the low-profile cap uses navy stitching. … The Diamondbacks will give away a tribal-patterned jersey as a promotion for Native American Recognition Day on June 6. The jersey will not be worn on the field (from Andy Hieber). … The baseball designs for the 2020 Mexico Series and Dominican Republic Games have been released (from Eric Abneri). … The Inland Empire 66ers, the Angels' Class-A affiliate, will play as the Cherubs on May 22. … Couple of notes from Kary Klismet: Iowa unveiled new yellow jerseys at their media day, and Iowa State's softball team wears their stirrups to perfection. … New caps for Clemson (from Tony Threatt). … The O'Fallon (Missouri) Hoots of the Prospect League are holding a rename the mascot contest (from Timmy Donahue). … Here's a long thread on outstanding MiLB caps (from Marcus Hall).

NFL News: Here's a very detailed breakdown of Fox's new score bug design, which debuted during the Super Bowl. The smaller ribbon was designed for vertical viewing, so the whole graphic could be visible when viewing on mobile (from Joseph Nguyen). … ESPN created a set of illustrations showing Tom Brady in various other teams' uniforms, although they got the Colts' number font wrong (from @JayJayDean). … Chiefs OL and Montreal native Laurent Duvernay-Tardif was honored before the Canadiens' hockey game on Monday and donned a Canadiens sweater with his number. He is the first-ever Québécois to play for a winning Super Bowl team (from James Beattie). … Gross: The photos of Ravens S Chuck Clark signing a contract extension, including one shot that shows his wife and infant child, featured a Ford ad (from Marcus Hall).

College/HS Football News: The Northern Colorado Wildlife Center wants to turn Colorado State's former stadium into a wildlife rehabilitation center (from Kary Klismet). … Iowa is participating in Ridell's "Precision-Fit" program, which involves every player being custom-fitted for a new helmet (from Ryan Spaulding). … Whoops: Steve Rausch found a "Minnesota Badgers" hoodie at his local Target. … Ballard High School (Kentucky) is building a new stadium (from Kary Klismet).

Hockey News: The logo for the 2020 NHL Draft in Montreal has been unveiled (from Moe Khan and Jakob Fox). …A few notes from Wade Heidt: The Golden Knights wore Chinese New Year warmup jerseys on Sunday; the Canucks are unveiling a new exhibit at their arena this weekend that includes the sweater and locker of every player whose number has been retired in franchise history; and the Calgary Hitmen and the Lethbridge Hurricanes of the WHL went color-on-color on Sunday. … New mask for Flyers G Carter Hart (from Kurt Esposito and Moe Khan). … This time-lapse video shows Air Force's Falcon Stadium as it's prepped for the upcoming Stadium Series game between the Avs and the Kings (from Kary Klismet). … St. Lawrence University in New York debuted new home uniforms over the weekend (from @OlegKvasha). … Cross-listed from the NFL section: Kansas City Chiefs lineman and Montreal native Laurent Duvernay-Tardif was honored before the Habs hockey game on Monday and donned a Canadiens sweater with his number. He is the first-ever Québécois to play for a Super Bowl-winning team (from James Beattie). … Glove brand Warrior honored Bruins D Zdeno Chara's 1,500th game by presenting him with a pair of gold gloves emblazoned with the logos of all the NHL teams he's played for (from @OlegKvasha).

NBA News: There was a pretty awful white-on-gray matchup last night between the Pistons and Hornets (from Derek Bailey). … Never seen this before: Dr. J wore his jersey inside-out while celebrating one of the Nets' ABA championships (from Max Weintraub). … New Bucks F Marvin Williams will wear No. 20 and new Magic F James Ennis III will wear No. 11 (from Etienne Catalan). … King George Secondary School in Vancouver recently wore alternates inspired by the original Grizzlies unis (from Timmy Donahue).

College Hoops News: Michigan State confirmed yesterday that it will be wearing 2000 throwbacks to mark the 20th anniversary of their last national championship (thanks to all who shared). … The Mitchell (Ind.) High School boys' basketball team held a throwback game last weekend in their 93-year-old gym, which they haven't used in 22 years, to commemorate the 80th anniversary of the school's appearance in the state finals. Players and cheerleaders both wore throwback uniforms (from Kary Klismet). … Drake's live bulldog mascot, Griff, is passing the torch to his successor, Griff II (from Brad, who didn't give a last name). … Cynthia Jordan, director of operations for the University of South Carolina women's basketball team, wore a jacket with a sequined Gamecock on the back during the team's game against UConn on Monday night (from Andy Shain).

Soccer News: Chicago Fire's new away uniform for 2020 has leaked (from Josh Hinton). … Inter Miami, the MLS expansion club set to begin its inaugural season, lost the first round of a trademark lawsuit with Italian club Inter Milan (hard paywall) (from our own Jamie Rathjen and Josh Hinton). … Yeti Coolers will be the jersey partner advertiser for MLS expansion club Austin FC when they begin play in 2021 (thanks to all who shared). … The New England Revolution wore jerseys with last season's MLS number font during a preseason game yesterday (from @WeberKing). … New shirt advertiser for Scottish side Kilmarnock FC (from Ed Zelaski).

Grab Bag: These ice sculptures of volleyball players from the Asahikawa Winter Festival in Japan are complete with a patterned ball (from Jeremy Brahm). … Check out the NOBs for these two Philly-area quad rugby teams: One team went TNOB, the other team went with traditional NOBs (from Jonah). … The Mercedes Formula One Team will continue to include one red star on its paint scheme in honor of team chairman Niki Lauda, who died in 2019 (from Jack Wade). … Aerospace company Sierra Nevada Corporation is keeping with NASA tradition by hanging decals of mission patches on their wall. Sort of evokes a retired jersey, no? (From James Gilbert.) … Included in President Trump's new budget proposal is the proposed paint scheme for a new Air Force One (from @PhillyPartTwo). … I never knew that McDonald's includes a packing diagram on the bottom of its bags, along with the date of manufacture (from Daniel Shank Cruz). … Johns Hopkins lacrosse wore helmets with an alternate blue jay decal over the weekend (from @fifa10goat). … Here's a video breakdown of 2020 NASCAR paint schemes (from Andrew Schmidt). … The rest of these are from Timmy Donahue: Back when the NYC subway system began transitioning from tokens to swipe-cards in the 1990s, the department nearly introduced an aardvark mascot called the "Cardvaark." … Police in Albany, Ill., are ditching duty belts in favor of vests, which they believe make officers look more approachable. … Army scientists are trying to find a way for soldiers to keep their hands warm without gloves, since putting hands in pockets is forbidden.
• • • • •
The site will be undergoing some technical maintenance tonight, the upshot of which is that comments will be disabled from about 9pm Eastern through 1am Eastern. Thanks for your patience and understanding. — Paul