Click to enlarge
Well, that sucked. Can't expect to win the game if you go punt, punt, downs on three consecutive fourth quarter possessions. Still, it was a good game, the Chiefs are a likable team, and it was almost worth it just to see Chiefs owner Clark Hunt wearing a retro-style Chiefs blazer during the postgame festivities, just like the one Hank Stram wore in Super Bowl IV — a nice way of tying the past to the present.
Chiefs president Mark Donovan also wore the KC blazer: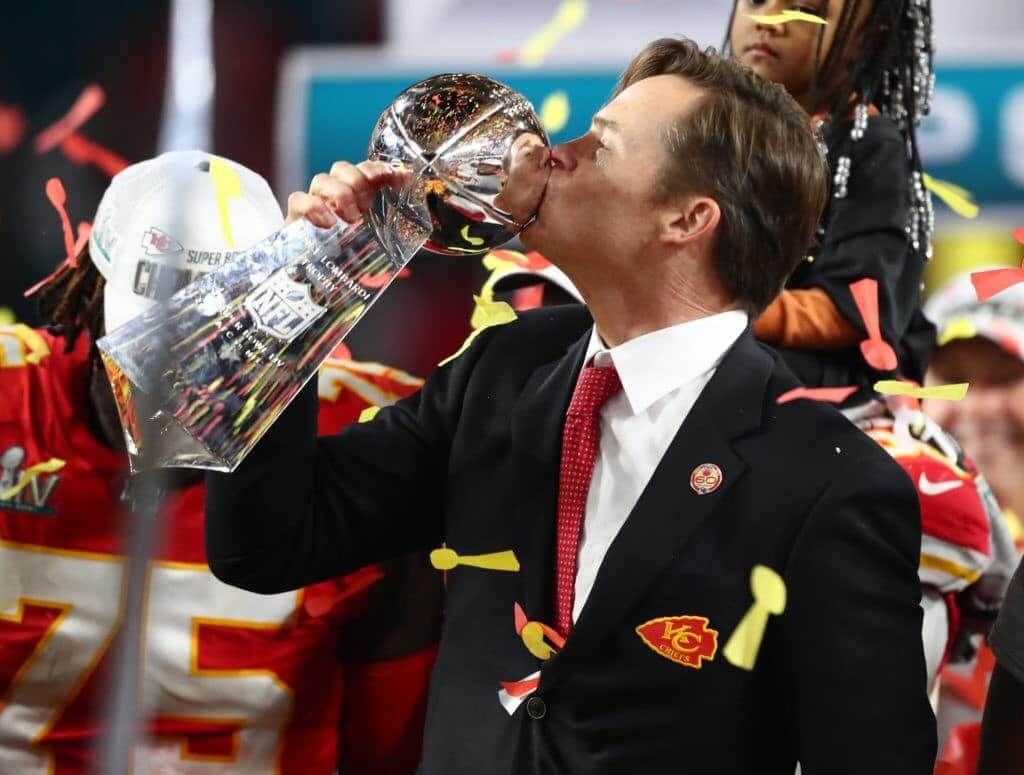 A few other notes from the game:
• 49ers wideout Emmanuel Sanders saluted Kobe Bryant on his cleats:
"I'll do whatever it takes to win. Whether it's sitting on the bench waiving a towel. Handing out cups of water to my teammates or hitting the game winning shot." – 🖤 Mamba pic.twitter.com/p1BowN840D

— Emmanuel Sanders (@ESanders_10) February 1, 2020
To my knowledge, that was the only on-field Kobe tribute. Were there any others I missed? (Update: It turns out that both teams lined up on the 24-yard lines prior to the game, which I missed because I didn't watch any of the pregame activities.)
• Another 49ers wideout, Deebo Samuel, was wearing a set of those embossed Tredcal thigh pads. The one on his right leg was his uni number, 19 — nothing unusual about that — but the one on his left leg was the Super Bowl LIV logo:
Have we ever seen a player wear the Supe logo as part of his thigh pad before? I can't recall any previous examples off the top of my head.
• The Chiefs' police escort to the stadium wore the team's helmet logo on his motorcycle helmet:
Our police escort this morning in Miami…Adorned with arrowhead on helmet!! #ChiefsKingdom #SuperBowlLIV pic.twitter.com/4WqZ3o88mY

— Dan Israel (@danisraelkc) February 2, 2020
• Fox debuted a new score bug design:
Here's a look at the new @NFLonFOX score bug. Old on left, new on right. #SBLIV #SuperBowlLIV #SuperBowl @UniWatch pic.twitter.com/JWqb89fEEr

— Joshua Hinton (@j_hinton859) February 2, 2020
• At one point in the fourth quarter, the yellow first down stripe was significantly mispositioned:
@UniWatch I can't remember ever seeing the first down graphic more "off," and this is the Super Bowl! pic.twitter.com/Ml4GsZi5wM

— Chicago Shep (@chicagoshep) February 3, 2020
Yellow line off just a bit? @UniWatch pic.twitter.com/7CFDsGLHyY

— Trey Meadows (@Trey__Meadows) February 3, 2020
• During the postgame segment, one of the audio technicians was wearing a Hartford Whalers cap! Love it:
@UniWatch Sound guy putting headphones on Chiefs players players during Primetime is wearing a Hartford Whalers cap. pic.twitter.com/Jz0f2UjPZE

— BeerByThePool (@Beerbythepool) February 3, 2020
• As usual, reader Steve Speicher DIY'd himself some Super Bowl shirseys, and this year's edition turned out really well. Here he is with his girlfriend, Anne (click to enlarge — it's worth it to see the level of detail):
And I think that's a wrap — not just for the Supe, but also for the NFL season. Congrats to the Chiefs and their fans, and thanks also to my Niners for providing a really fun ride. Looking forward to next season!
• • • • •
• • • • •
Click to enlarge
Fun in the frozen food aisle: The Tugboat Captain and I had an impromptu photo shoot at our local supermarket the other day. One of the interesting things about the word "pierogi" is that the plural can be either "pierogi" (i.e., same as the singular) or "pierogies." I've seen both versions on menus; retail versions tend to use "pierogies" on their packages, I guess to eliminate confusion and make the product seem more bountiful.
For this T-shirt design, I opted to go with "Pierogi," because it has the same number of letters as "Pirates" and adding two more letters made the design seem too busy.
If you'd like to debate the merits of this shirt design, shoot me a note.
• • • • •
• • • • •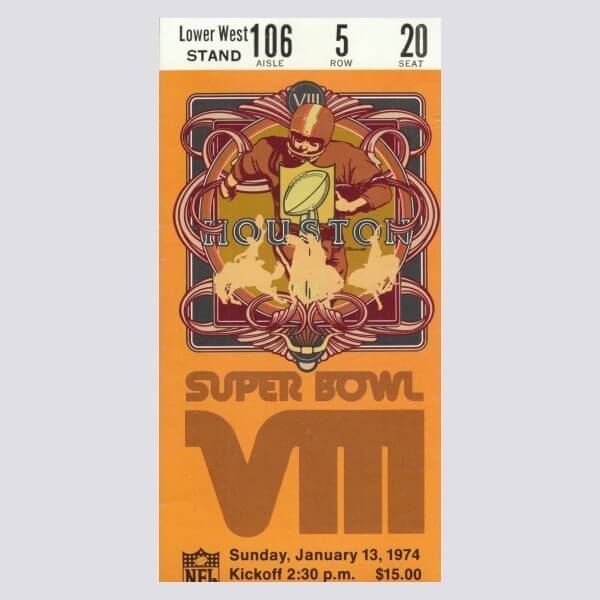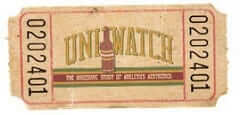 ITEM! Another Vintage Brand raffle: It's time for our monthly raffle from longtime advertiser Vintage Brand, which means a lucky Uni Watch reader will get to choose anything from the VB site (including the Super Bowl VIII poster shown above).
To enter, send an email to the raffle address by 8pm Eastern this Wednesday, Feb. 5. One entry per person. I'll announce the winner on Thursday. Good luck!
• • • • •
• • • • •
Click to enlarge
Membership update: In the foreground is what's left of reader Ellis Cunningham's Uni Watch membership card. In the background, looking adorably guilty, is Ellis's dog Coby, who decided to use the membership card as a chew toy. "We rescued him five months ago," says Ellis. "He's a great pup, even though this is the second time in a month that he's chewed up my wallet."
I told Ellis that we'll provide a complimentary duplicate card. Until then, here's hoping Coby stays out of trouble!
• • • • •
• • • • •
Click to enlarge
Hockey jersey reminder: We're continuing to take orders over the next week for the first-ever Uni Watch hockey jerseys. You can place your order here and get more info here.
• • • • •
• • • • •
The Ticker
By Jamie Rathjen

Baseball News: Here's something you might not know: The baselines at the 1965 MLB All-Star Game were a mix of red, white, and blue (from Scott Reinold). … This Little League sleeve patch comes with extra-specific placement instructions (from Frank McGuigan).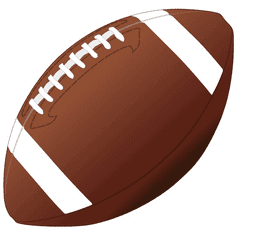 Football News: Second and 10, a project to remake the logos for the past 10 Super Bowls that have received generic logo designs, is now done (thanks, Anthony). … In honor of the Super Bowl, mini-helmet maven Blaise D'Sylva took each Supe-winning team's helmet and put the Super Bowl logo on the left side. … The National Park Service wants you to design helmets with team names based on national parks (from @OlegKvasha). … Former NFL CB Shawn Springs now is in charge of a company that makes padding for football helmets, among other things (from Tim Dunn). … A fan of the CFL's Winnipeg Blue Bombers got a tattoo of backup QB Chris Streveler, who wore a fur coat with no shirt and a cowboy hat during the team's Grey Cup celebration (from Wade Heidt).

Hockey News: Maple Leafs winger Mitch Marner tied the laces on his skate mid-play on Saturday (from Mike Chamernik). … The OHL's Peterborough Petes wore pink accents this weekend (from Wade Heidt). … Canada Post released stamps for Black History Month featuring the Coloured Hockey League, which predated the NHL and operated in Canada's maritime provinces (from Alan Kreit).

Basketball News: This article has insight on why Kobe Bryant switched to No. 24 from No. 8 (from Kary Klismet). … The left and right ends of Pelicans F Zion Williamson's purple NOB lettering disappeared into his purple jersey stripe last night. … Women's college teams that wore pink or pink accents this weekend included Delaware (from @artofscorebug), Michigan, Florida State, and Pitt. … Pitt's student section tossed purple and yellow confetti in a Kobe Bryant tribute (from Eric Abneri). … Northern Kentucky (in grey) and Milwaukee played a color-vs.-color game yesterday (from @MkeSpotter). … Minnesota's women's team wore gold at home yesterday.

Soccer News: Several hundred teams in the UK and elsewhere — more than 350 as of yesterday, including all 92 teams in the English top four tiers — have donated shirts in memory of Matlock Town midfielder Jordan Sinnott, who passed away recently. The shirts, which all have Sinnott's NOB and No. 25, are being collected by English Championship team Cardiff City to be displayed at his funeral and then donated to charity. You can see many of them on dedicated Twitter and Instagram accounts. … The new Inter Miami reserve team in USL League One is called Fort Lauderdale CF (from multiple readers). … Here's the 49ers logo reimagined in the styles of crests in several major European countries (from Guillermo Estuarto). … In 1989, Scottish team Hibernian tried wearing their white second shirts with green shorts and socks against Celtic in a matchup of green-and-white teams, but ended up changing to their green first shirts at halftime. In doing so, they demonstrated the principle that a solid color can be worn against a team that wears stripes of the same color and another color.

Grab Bag: The five New Zealand teams in Super Rugby, the southern hemisphere rugby union competition, all received blue, grey, or white shirts made from recycled plastic, like we've seen in other sports, but they weren't all worn this weekend. … One of the teams that wore those shirts, Wellington's Hurricanes, created a possible color clash with Cape Town's Stormers — it looked like a clash sometimes and clearly blue-vs.-grey other times (from multiple readers). … The Rugby Union of Russia has a new logo and a new kit for the national team (from Sy Hart). … Staying in rugby union, an unidentified France player suffered a shirt tear in yesterday's Six Nations game gainst England (from Jack Wade). … Australian Football League teams Adelaide and Port Adelaide played a charity Twenty20 cricket match for the victims of the country's bushfires. They both looked largely identical — with Port Adelaide on the left — and used the AFL number font, which is miles better than most real cricket teams' fonts. … Formula One team Racing Point is to become Aston Martin next year. … We briefly had this in the Ticker a few days ago, but it didn't have a link: A gym at the University of Texas has a display of shirts given to intramural champions (from Kary Klismet). … The police department in Kennebunkport, Maine, got new badges for the town's bicentennial (from Timmy Donahue). … If you've ever wondered what sorts of uniforms are worn in the American Cornhole League, here you go (from John Muir).
• • • • •
Comments will be disabled on the site from 2-4pm Eastern today, due to some technical maintenance issues. Sorry for the inconvenience. — Paul