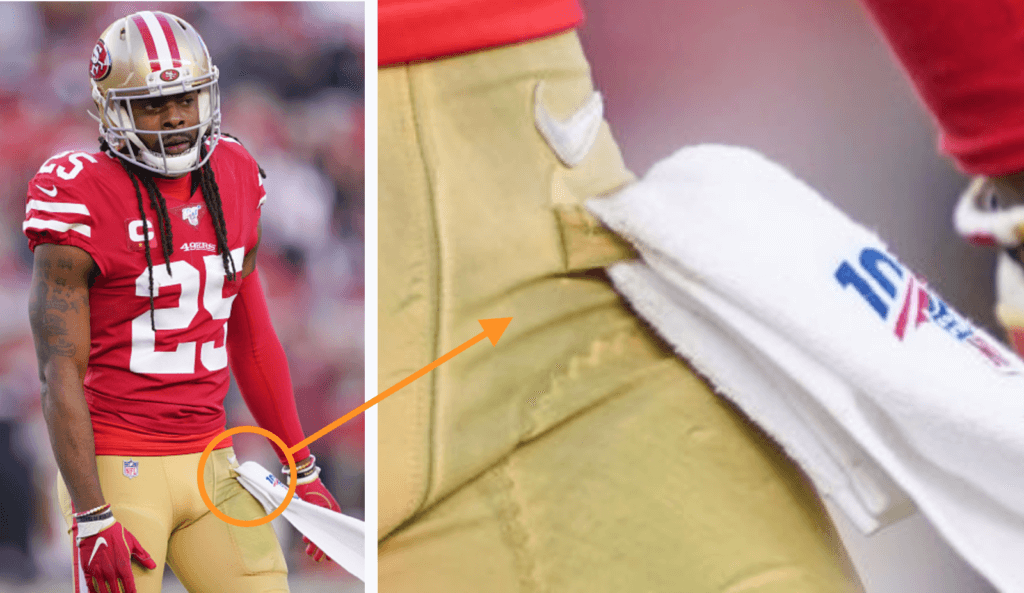 Click to enlarge
Reader/commenter RJ Nordlund noticed something really interesting during Sunday's NFC Championship Game: Unlike most players, who tuck their waistband towels, well, into their waistbands, 49ers defensive back Richard Sherman had his towel hanging from a loop of fabric that had been sewn into his pants — a really interesting little modification.
I hadn't noticed this before, so I did a bit of photo research and learned that Sherman had been doing this all season long. And the season before that … and the season before that. I ultimately determined that he's been wearing the little towel loop on his upper left thigh since 2012 — his second season in the league, when he was with the Seahawks — as you can see in this shot from Dec. 2, 2012:
You can see a larger version of that photo, which provides a slightly better view of the loop, here.
Sherman's even worn the loop twice in Super Bowls, so he's about to extend what I presume to be the all-time NFL record for most times wearing a towel loop in a title game.
It's funny to discover that Sherman's been doing this for eight seasons and none of us noticed until now! I kinda love it, because it's one of those quirky little player-specific eccentricities that make the uni-verse so endlessly interesting.
I wanted to get a better look at what the loop looks like without the towel, but I couldn't find any good game photos or even locker room photos showing that. So I searched for auctions of game-used Sherman pants — bingo: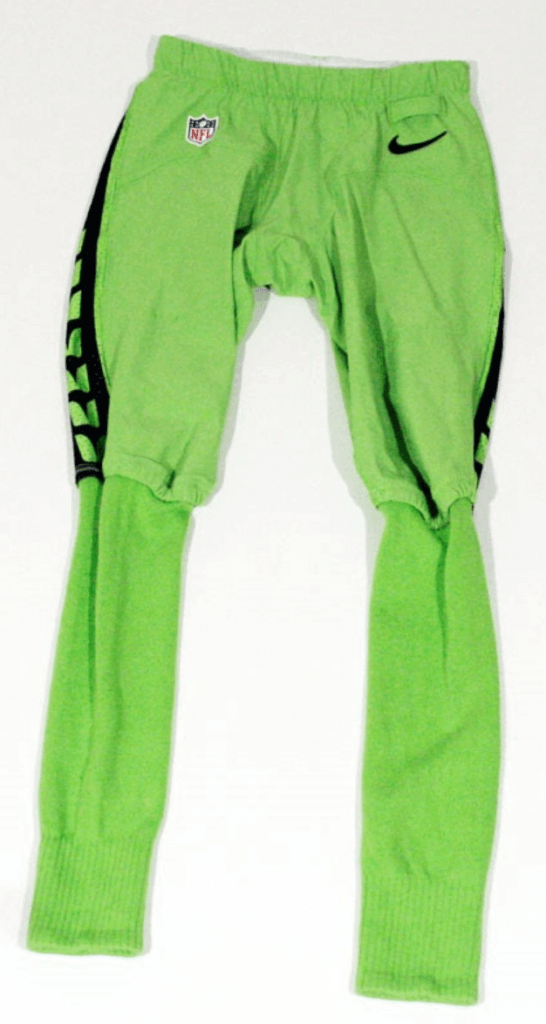 That's a pair of Sherman gamers from 2016. Interestingly, the auction listing doesn't mention anything about the loop — or about any other aspect of the pants, for that matter — but it's plainly visible. (As an aside, Sherman is apparently one of the many NFL players who have leggings sewn into their pants.)
Then I found this: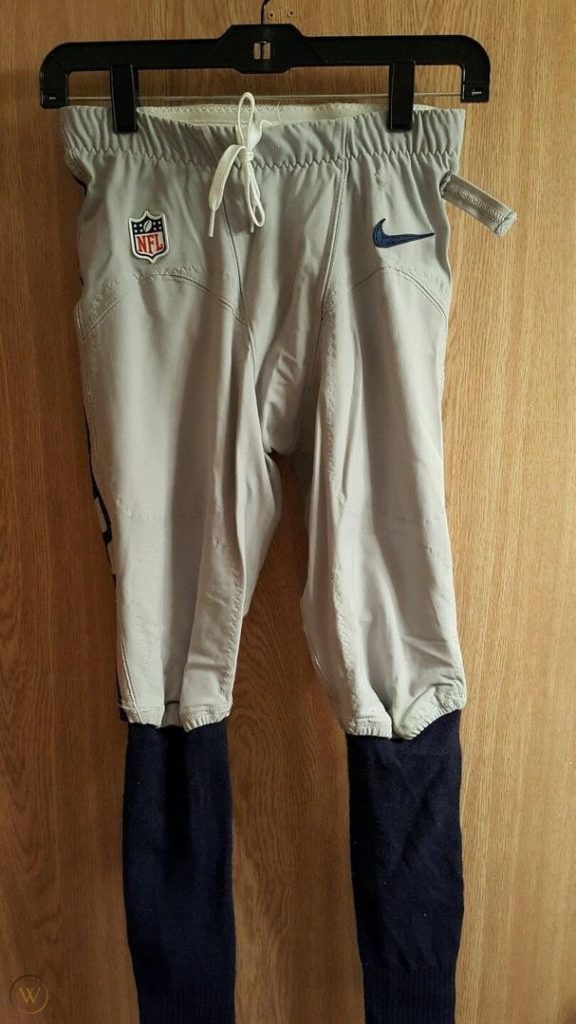 Those are from 2014. At first I thought maybe the loop was open like that because it was secured with Velcro. But the auction listing provided a close-up view, making it clear that one end of the loop had torn loose (click to enlarge):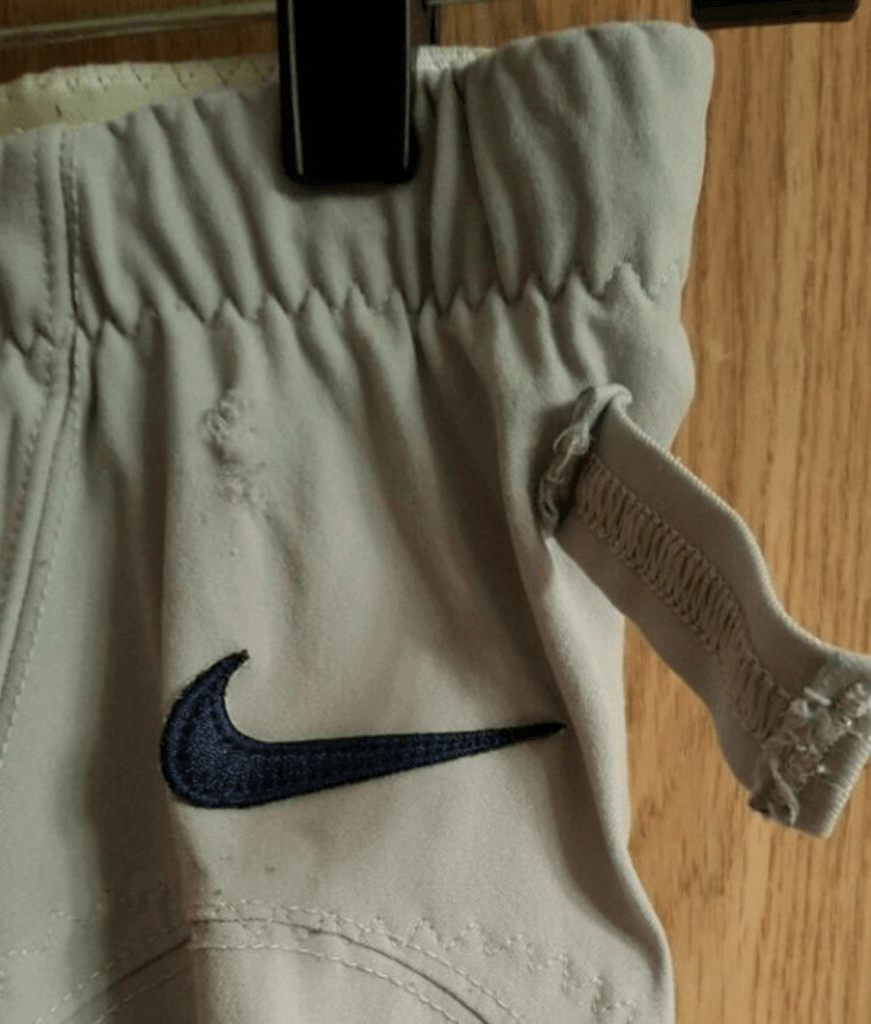 Again, no mention of the loop in the auction listing, which seems particularly odd considering (a) it's broken and (b) they provided a close-up photo of it. Maybe they didn't know what it was for..?
Note that these Seattle gamers both show the loop positioned above the Nike maker's mark, which means Sherman's towel would have served as a handy ad-blocker. But the 49ers' equipment staff is sewing the loop below the logo, so the towel is now riding a bit lower on Sherman's thigh. In fact, it appears that they may even have moved the logo upward a bit — look at the swoosh-shaped outline just above the loop: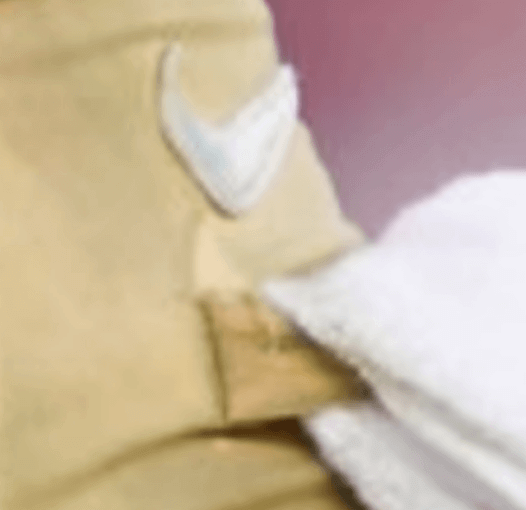 I wish we had discovered all of this during the regular season, because then I could have asked the Niners why Sherman prefers to wear his towel this way. As it stands now, their PR staff is going to be overwhelmed with Supe-related requests, so an inquiry about a loop on a player's pants is not going to receive much priority. I'll still see if I can find out more, but I'm not optimistic.
Sherman isn't the first football player to have a signature towel style. During Desmond Howard's Heisman-winning 1991 season at Michigan, he wore strips of black electrical tape on his towel (click to enlarge):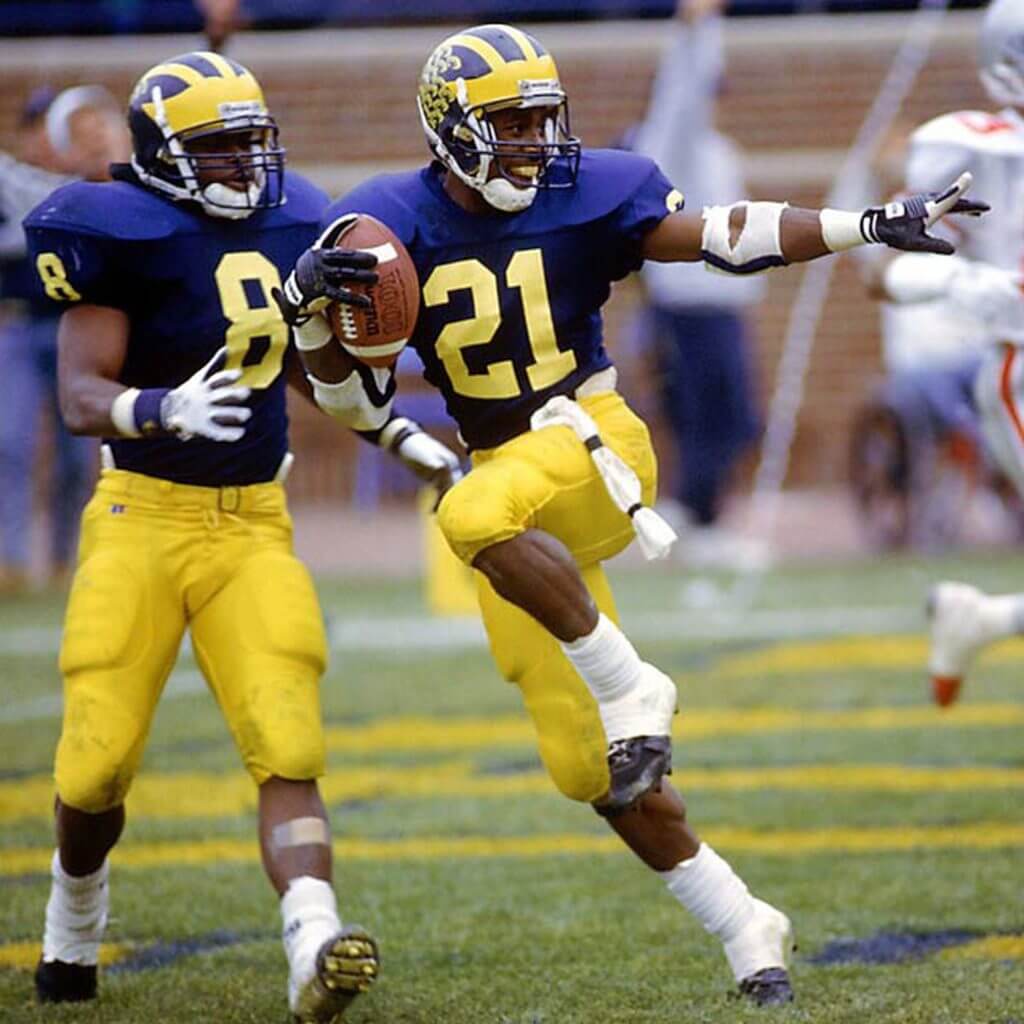 And early in Peyton Manning's career, he wore a towel that was a bit wider and longer than everyone else's: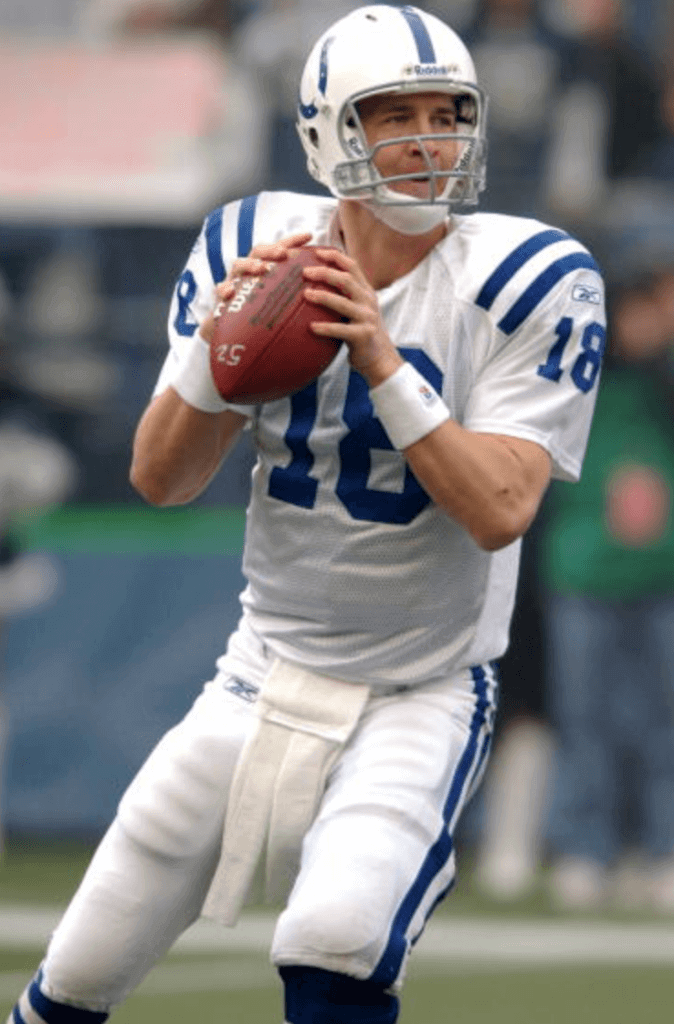 At the time, a source at Wilson, which was (and still is) the NFL's on-field towel supplier, told me, "[It's] made of microfiber [instead of cotton, like the other NFL towels at the time]. … It's super-absorbent, and it's a little larger. We sent some samples to the teams, and Manning must have liked it — he's the only one who uses it."
(Mega thanks to RJ Nordlund for the great spot that sent me down this very enjoyable rabbit hole.)
• • • • •
• • • • •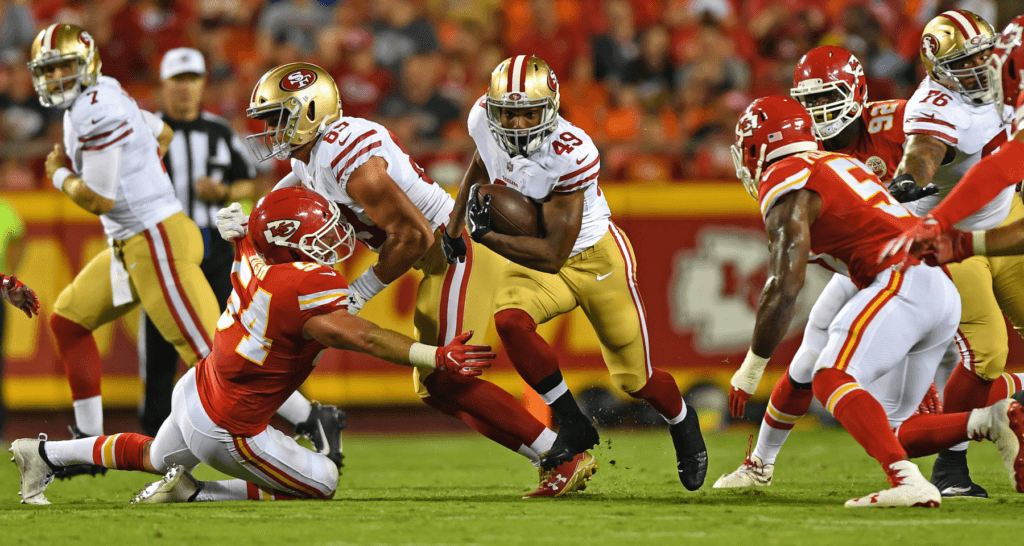 Click to enlarge
Speaking of Sherman: Sherman had been one of the players advocating for the 49ers to wear their mono-white throwbacks in the Super Bowl, but that won't be happening. Instead, they'll wear their standard white-over-gold look, and the Chiefs will wear their red jerseys — and, let's hope, their white pants. If so, the game will look like the photo shown above, which is from a 2018 game. A good-looking uni matchup!
• • • • •
• • • • •
Aforementioned Hurts helmet … I'm told the crimsons on each half are a shade different — OU's crimson is slightly brighter. pic.twitter.com/0QLYl7TDPa

— Chase Goodbread (@ChaseGoodbread) January 21, 2020
Shell game: We've all seen Franken-jerseys, but what about a Franken-helmet?
That's what Oklahoma quarterback Jalen Hurts may wear in the Senior Bowl on Sunday. Hurts played two seasons at Alabama before transferring to Oklahoma, so Riddell made him a helmet that represents both schools. As noted in the tweet above, the two shades of red are slightly different, and the facemask is also split — grey on the 'Bama side, white on the Sooners side.
The helmet was presented to Hurts yesterday at a promotional event, but ESPN is reporting that it's not yet clear whether he'll actually wear it in the game.
• • • • •
• • • • •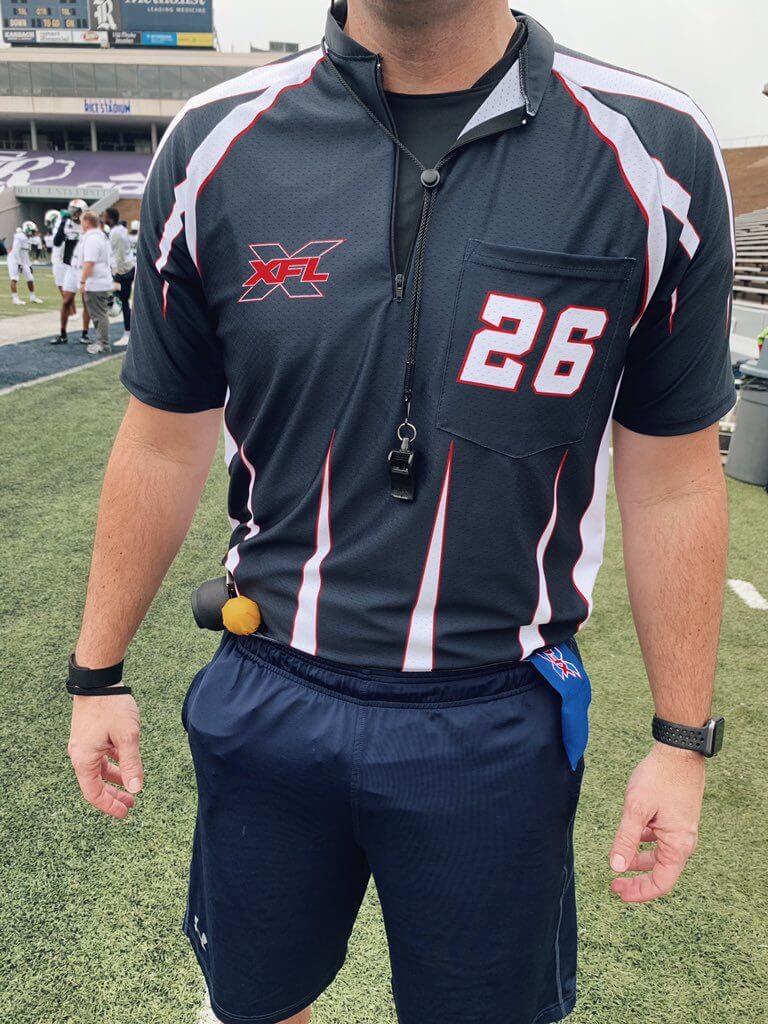 Click to enlarge
XFL zebras change their stripes: The XFL yesterday revealed the jersey design for its officials. I'm assuming the shorts that the guy's wearing in the photo will not be used on-field, but hey, ya never know.
In case you can't recall (I couldn't remember it myself until I looked up), the officiating uniforms for XFL 1.0 were very conventional. I was surprised to rediscover that — doesn't it seem like they would've tried something a bit edgier? The unis even included knickers, because the now-standard black slacks wouldn't debut in the NFL until 2006, several years after the XFL had already folded.
In other XFL news from yesterday, a scoreboard photo showed what are apparently the secondary logos for DC Defenders and the Seattle Dragons (click to slightly enlarge):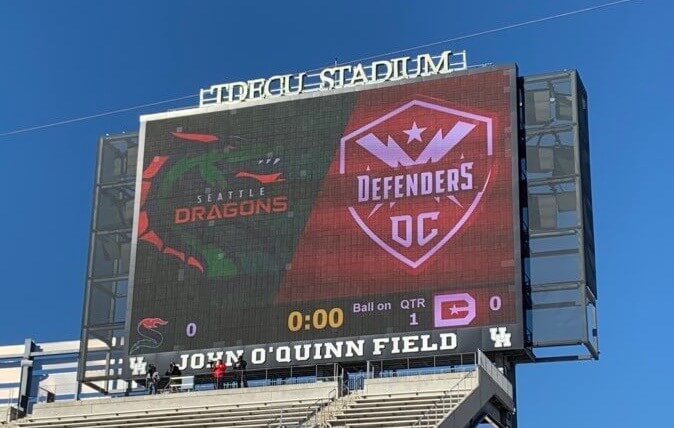 This is the part where I say we should all take a good look at this stuff while we can, because it probably won't be around for long.
• • • • •
• • • • •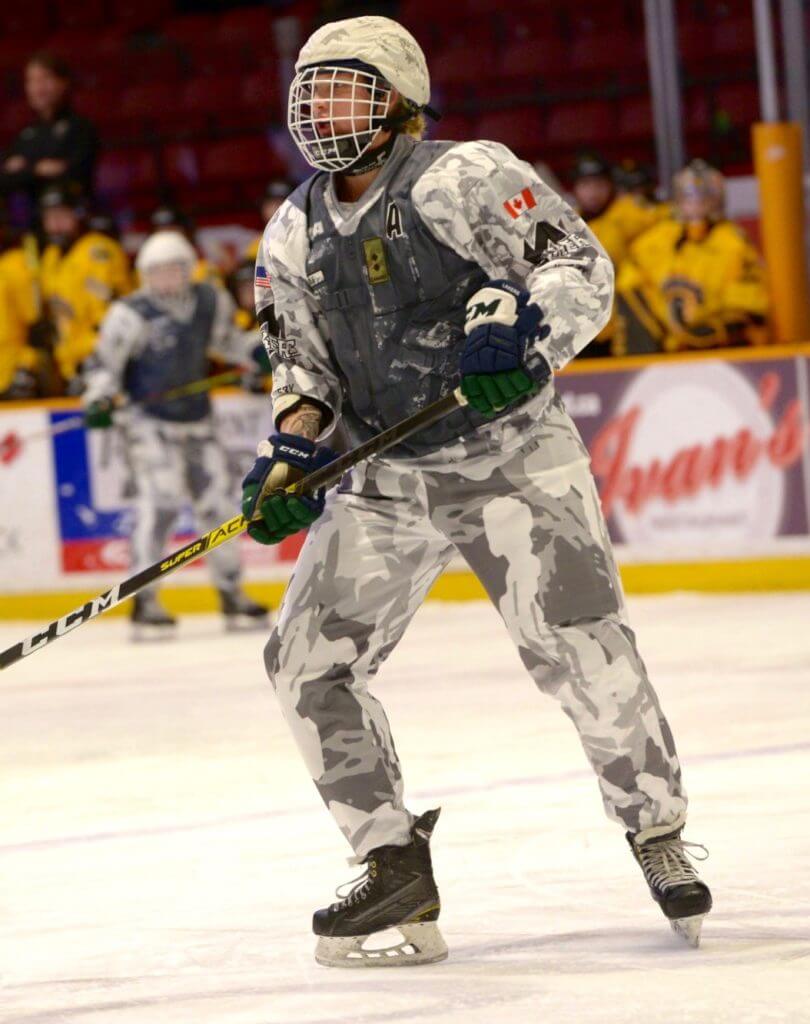 Click to enlarge
What, no cargo pockets? The women's hockey team at Nipissing University in Canada took G.I. Joke cosplay to nauseating new depths the other day, as they wore — well, you can see for yourself. Who knew Cooperalls came in camouflage? Additional photos here, if you dare.
Side note: Nipissing University may have some funny ideas about how to dress a hockey team, but they do have a pretty good logo.
(My thanks to Nipissing alum Nick Maibroda for this one.)
• • • • •
• • • • •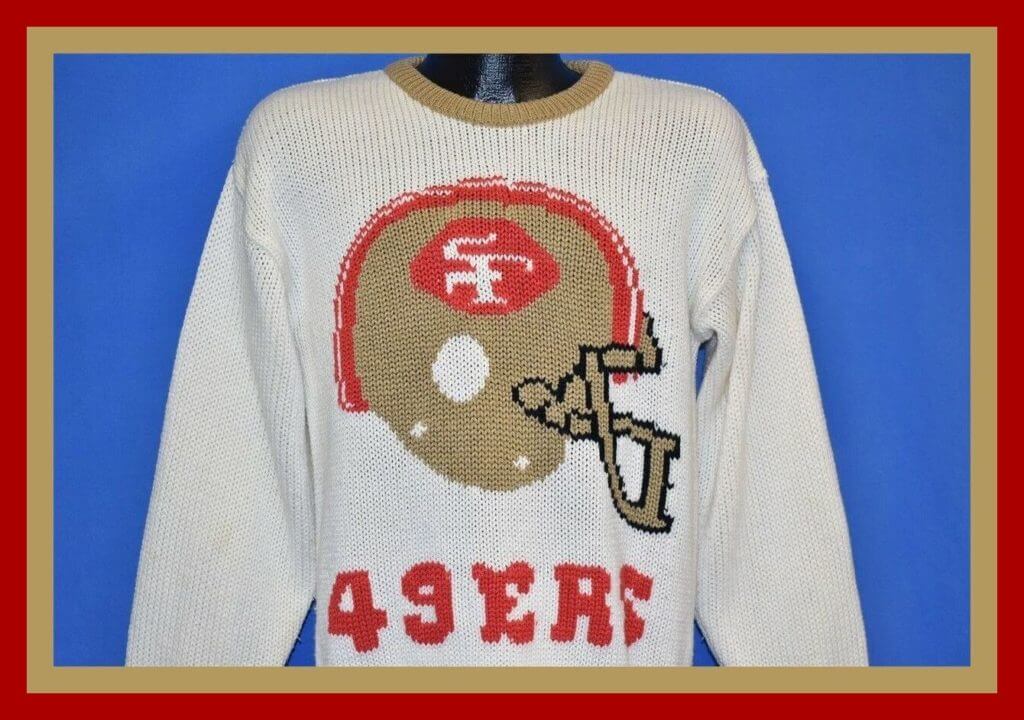 Click to enlarge
Collector's Corner
By Brinke Guthrie
Follow @brinkeguthrie
With the 49ers and Chiefs preparing to face off in the big game, let's get in the Super mood with this classic 1980s Niners sweater from Cliff Engle. The first thing I thought when I saw this was, "It looks like something from an old Atari video game."
In the interests of equal time, we'll also include something for the Chiefs: this 1984 enamel pin.
Now for the rest of this week's picks:
• Check out this 1940s Brooklyn Dodgers "National Champions" pennant! (They won the NL title in 1941, 1947, and 1949.) Presented here in traditional Dodger, er….green?
• Staying in New York for another local ball club, this time the 1969 Amazin' Mets. This is a 33 1/3 record (don't forget to punch out the center hole!) with pitcher Jerry Koosman and Series MVP Donn Clendenon on the front.
• Go get 'em, Braves! One more MLB record for you — this accounting of the Milwaukee Braves, 1957-1961. Another thriller from Miller (beer)!
• This 1994 Cleveland Indians stadium cup says, "Whole New Beginning" (for Jacobs Field). Wouldn't "A Whole New Ballgame" have been a better slogan?
• How about this 1971 Pittsburgh Pirates key ring? Look how they added the ellipsis in front of the text to balance the slogan out.
• Look at this! A set of AFC East helmet buggies in perfect condition. The striping and helmet decals are pristine — this item should go for quite a bit!
• Here's a 1978 New York Jets All-Pro Wristwatch made by Lafayette, in excellent condition.
• Proof that the NFL can (and will) license just about anything: a 1970s Miami Dolphins "Punching Action" Hand Puppet.
• Terrific artwork on this 1981 Los Angeles Rams schedule poster.
• And finally, we leave you with … Ted Williams condoms.
• • • • •
• • • • •
The Ticker
By Alex Hider

Baseball News: MLB has dumped more merch released the 2020 slate of "clubhouse hats." Calm down, Cleveland fans, that script I cap won't be worn on the field (thanks again to all who shared). … Next door to the Mets' spring training stadium is an artificial turf training field that includes a football-style gridiron with a Mets "NY" midfield logo (from JK and Todd Richard). … The Harrisburg Senators, the Double-A affiliate of the Nationals, will wear a great hat commemorating their parent club's World Series championship. It depicts George Washington spraying champagne and wearing ski goggles (thanks to all who shared). … Here's an in-depth look at the new logo for the Winston-Salem Dash, the High A affiliate of the White Sox (from Marc Viquez). … New uniforms for Ohio softball (from Trevor Wilson Patton).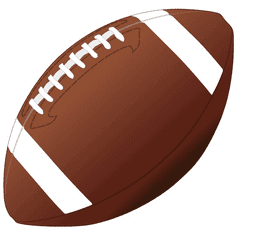 Football News: According to communications firm Edelman, 49ers coach Kyle Shanahan's signature trucker hat is apparent a hot item among fans. Most retailers have sold out of the hat, and it's currently selling for an average of $96 on eBay. At least one person paid more than $400. … Check out the Chiefs blazers worn by team owner Lamar Hunt and coach Hank Stram at Super Bowl IV. I wish there were some way we could get Andy Reid in one of those, but it seems unlikely (from Mike Malnicof). … With the Titans' loss on Sunday, the Titans' Uniform Tracker for this season is now complete. … According to this Tecmo Bowl simulation, the Chiefs will win the Super Bowl (from Jeff Taylor). …  A hockey academy in Canada is poaching the Eagles' logo (from Wade Heidt). … Uniformity, the blog about Arizona State uniforms, has published part one of the Sun Devils' year in review.

Hockey News: Via Reddit, here's a great photo of a family of Habs fans from the 1970s (from Adam Vitcavage). … The Idaho Steelheads of the ECHL wore Captain America sweaters for a Marvel promotion yesterday (from Ryan Chapman). … Cross-listed from the football section: The MEI Hockey Academy in British Columbia is poaching the Philadelphia Eagles' logo (from Wade Heidt). … Kevin Vautour sends along a shot from an episode of The Beverly Hillbillies that aired in late 1965 or early '66. Even though that was a year before the Kings came into existence, the episode includes one of the characters wearing a very Kings-esque hockey uniform.

NBA News: All NBA teams wore shooting shirts commemorating Martin Luther King Day yesterday (from Shlomo Sprung). … Someone created a mashup jersey featuring all the teams LeBron James has played for (from Jojo Girard). … The Texas Legends, the Mavs' D League affiliate, wore MLK Day uniforms yesterday (from Chris Mycoskie).

College/High School Hoops News: Most of the South Carolina women's starting lineup last night was wearing mismatched neon shoes (from @bryanwdc). … We may have mentioned this before, but West Virginia has a new court design this year (from @TwinsFan54321). … The number 13 is revered on the campus of Colgate University — so much so that the number is sublimated in the key on the basketball court (from Douglas Ford). …  The Rock Creek Christian Academy girls' basketball team covers up the Under Armour logo on their uniforms with a Maryland state flag patch. It's unclear why, but it's worth noting that states often have rules about the size of manufacturer logos on uniforms and Under Armour often violates those rules (from @KNsportsgroup). … Check out UMass wearing Marquette-style untucked jerseys in 1980 (from Jerry Wolper). … Baylor wore color at home last night, with opponent Oklahoma wearing white on the road.

Soccer News: FC Nantes of French Ligue 1 will wear a sky blue and white striped shirt next weekend in memory of Emiliano Sala. The jersey will be unveiled today. Sala, a former Nantes striker, died in a plane crash last year days after signing a contract to join Welsh club Cardiff City (from our own Jamie Rathjen). … Also from Jamie: Sixth-tier Scottish team Broxburn Athletic played in the Scottish Cup fourth round, but the commemorative printing on their shirts had the wrong month: "18th February 2020" instead of January. … Mexican club Toluca FC of top-tier Liga MX, honored the recently deceased luchador La Parka II — a fan of the team — with a memorial patch (from Mark Coale). … Japan's J1 League has a page on its website that tracks all the kit unveilings for the upcoming 2020 season (from Jeremy Brahm). … Deportivo La Coruna of the Spanish second league introduced a new jersey with horizontal stripes at the beginning of this season, and they promptly fell to the bottom of the table. Two games ago, they re-introduced jerseys with their traditional vertical stripes and haven't lost since (from @MauroGM3). … New Mexico United of the USL Championship has a new uniform sponsorship deal with Puma (from Josh Hinton). … Inter Milan will wear Lunar New Year jerseys with Chinese NOB lettering on Sunday (from Josh Hinton).

Grab Bag: The Northern Lakes Conference — a collection of eight high schools in northern Indiana — has a logo shaped like the state outline of Indiana (from Randy Joseph). … Arizona State's cheerleading uniforms have a cutout of the school's pitchfork logo on their backs (from María Canales). … Timmy Donahue notes that Fox's new show 911 Lone Star made up all of the police and fire department logos worn on the show.
• • • • •
Our latest raffle winner is Sam Hozman, who's won himself a free Uni Watch membership card. Congrats to him, and thanks again to reader Rick Cuzzetto for sponsoring this one. — Paul