Click to enlarge
Greetings one last time from Florida, where the Tugboat Captain and I have been visiting her parents (we're flying back home this afternoon). Yesterday we went kayaking and then went to the beach, where two colored warning flags were posted. The flags were part of Florida's beach safety program — yellow means "Medium Hazard" and purple means "Dangerous Marine Life." But come on — after writing about uniforms for more than two decades, I know a uni-related omen when I see one. The yellow/purple color combo obviously meant LSU was going win the college football national championship game later that night.
And sure enough, it came to pass. Congrats to LSU and their fans (including longtime Uni Watch reader Bruce Richards, whose tailgating rituals I wrote about for ESPN back in 2009).
Interestingly, ESPN's pregame package included an animation of LSU players playing in a jazz band. Lots of things were subtly wrong — the helmet striping looked too thin, the UCLA stripes were in the wrong spots — but the weirdest thing was that the jerseys included the NFL logo at the collar (click to enlarge):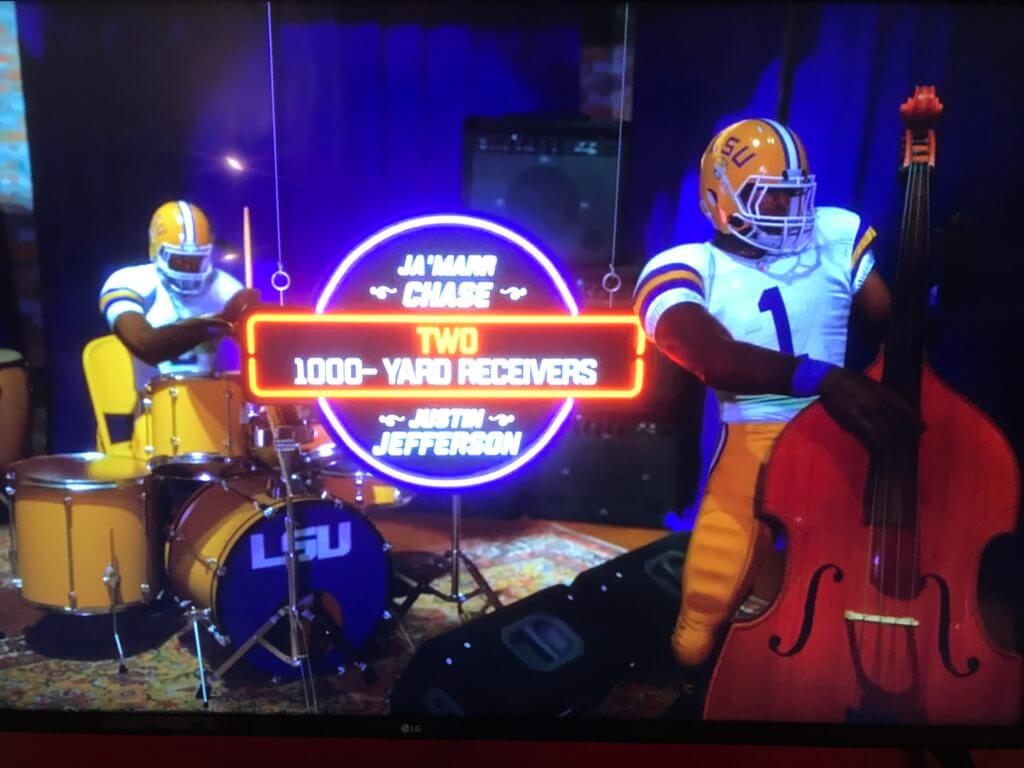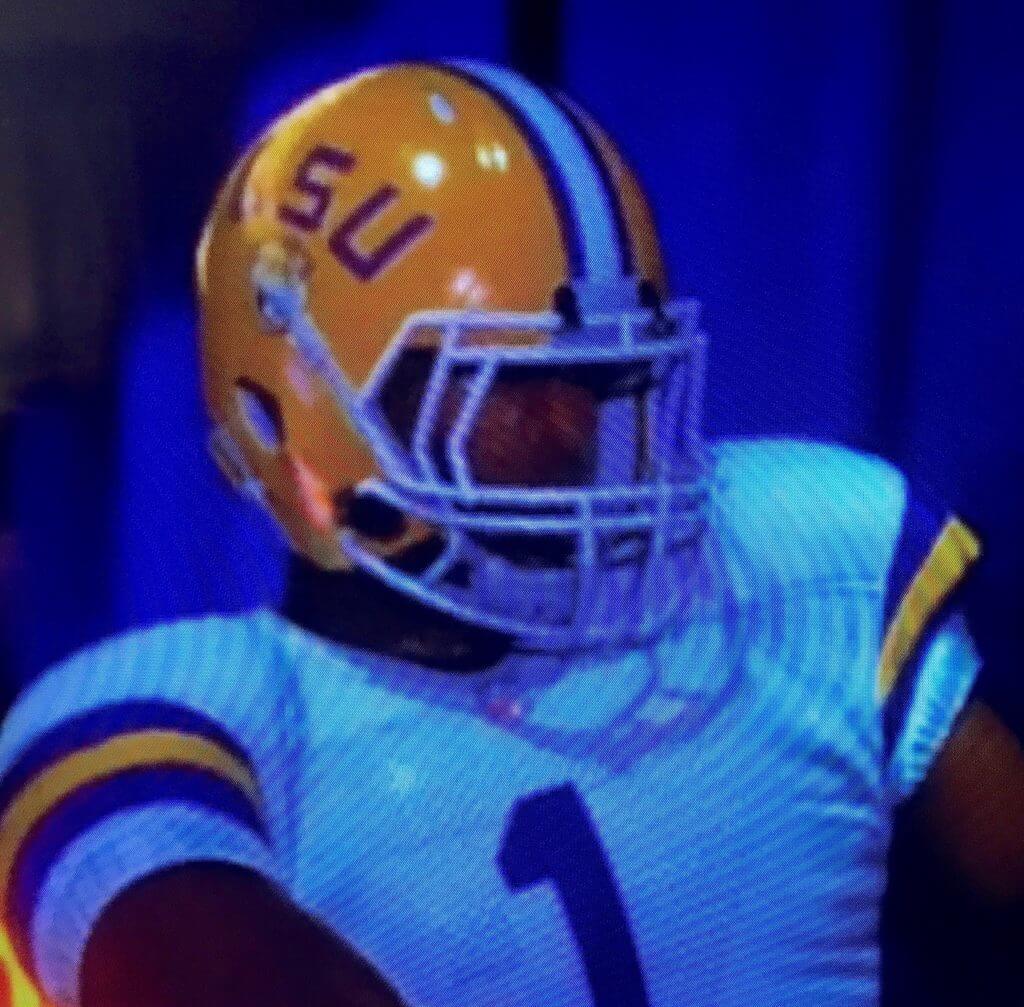 Also of note: Prior to the game last night, several Clemson players got their hair cut, and wore pawprint-branded chair cloths for the occasion (click to enlarge):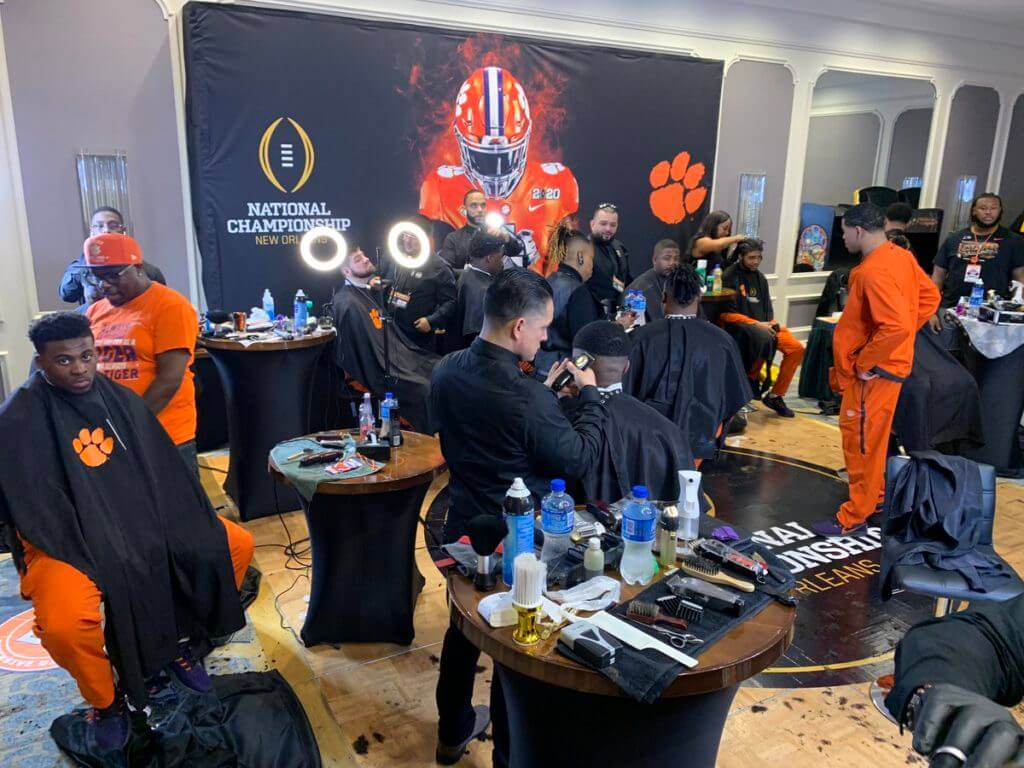 Unfortunately, there was nothing uni-notable in the game itself (at least not that I saw). So that wraps it up for the college football season. For the next few weeks, it's all about the pros. Go Niners!
(My thanks to Tyler Maun and Mark Johnson for their contributions to this section.)
• • • • •
• • • • •
Houston … something-something … problem … something: Designers around the internet seized on yesterday's news about the Astros cheating their way to the 2017 World Series. Rather conveniently, the team's name and logo are both very suitable for parody:
— ᴍᴀᴛᴛ ᴊᴀᴍᴇs (@_Matt_James_) January 13, 2020
— McNeil (@Reflog_18) January 13, 2020
They have a problem.https://t.co/llULib3Uf7 pic.twitter.com/LC2225nu55

— Triple B (@bbbprinting) January 13, 2020
There were lots more, but they were all pretty much variations on those three. I'm guessing it won't be quite so easy to do something similar with the Red Sox, right?
• • • • •
• • • • •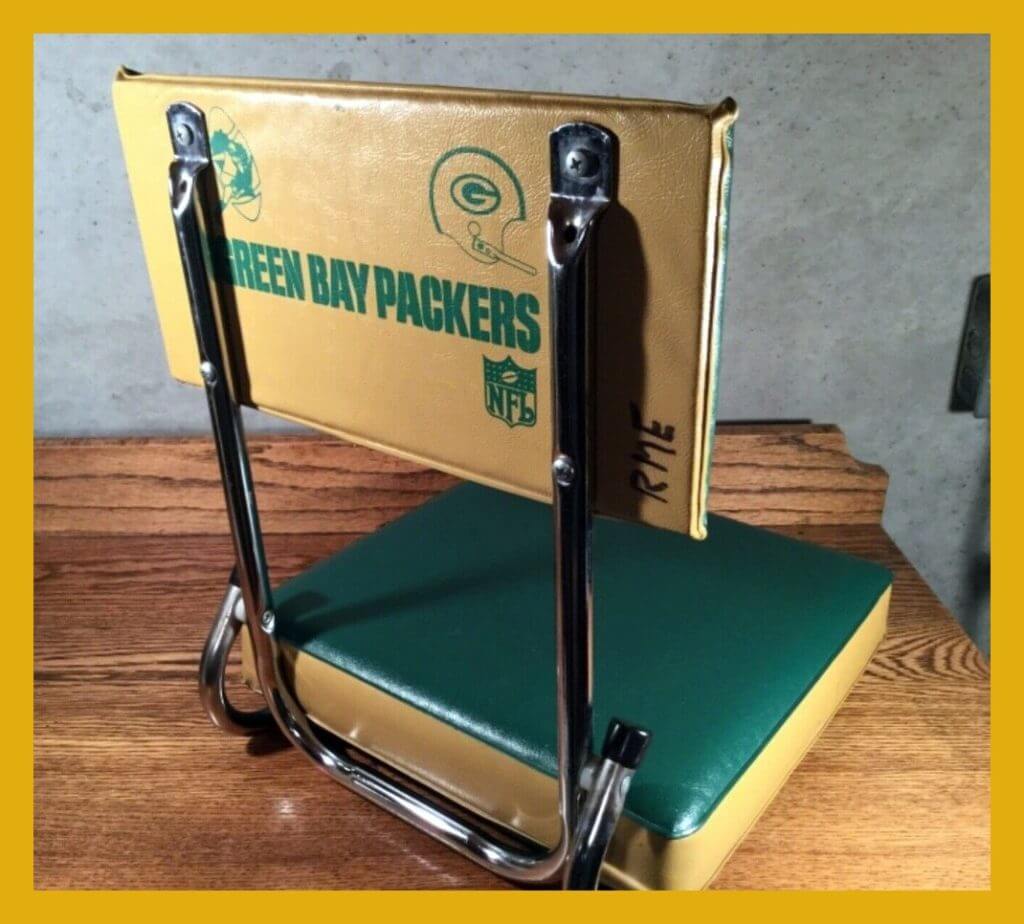 Click to enlarge
Collector's Corner
By Brinke Guthrie
Follow @brinkeguthrie
We're leading off this week with something from one of the remaining NFL playoff participants, the Green Bay Packers. This 1970s stadium seat would've made those frozen bleachers at the Frozen Tundra just a bit more comfortable … but not much! It looks to be in excellent shape — no poke holes or seam tears!
Now for the rest of this week's picks:
• Reader Jeff Wilk says, "Topps Vault recently released some original images taken for sports cards. "Rick Roberson of the Lakers with his uniform on backwards. … Steve Mix of the Sixers with his eyes closed. … Johnny Neumann of the Memphis Pros, who should've had an endorsement deal for hair care products. … and Dorie Murrey of the Baltimore Bullets wearing a rather questionable uni design."
• You don't often find 1960s NFL gumball helmets in this type of original boxing. Must be around 1965 or so, since the Browns are shown with "CB" on the box.
• This 1980 Don Baylor Slush Puppie cup states rather emphatically that California's "On the Move With a Man Called Groove."
• Collect and wear (as the tag suggests) these Official (1970s) NHL Crests, like this one for the Boston Bruins. From your friends at Voyageur Emblems of New Hamburg, Ontario.
• Nice "mod" graphics on this 1992 Chicago Bears mug!
• Speaking of mod, check out this LeRoy Neiman print of Colts great Johnny Unitas on this box of Wheaties! Looks to be from the late 1990s, judging by a coupon on the box.
• I can't say I have ever seen this type of batting helmet lamp before — have you? The seller says, "Found outside of Pittsburgh, where these were made. Looks to be a '50s or '60s fiberglass batting helmet attached to Eagle desk lamp."
• This auction is for 1970s NFL Wallpaper. I think these helmet depictions were from 1976 or '77. Was this really wallpaper? Having a zillion helmets on a white background on your walls might make you just a little dizzy!
• You get all the MLB team fonts on this 1987 beach towel.
• This mid-1970s Bills rain poncho was made by Almar Manufacturing, Inc. It also comes with that classic "Officially Licensed Product" hang tag.
• • • • •
• • • • •

Click to enlarge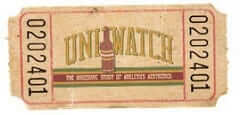 ITEM! Win yourself a free Uni Watch pennant: Reader Justo Gutierrez ended up with an extra Uni Watch pennant and has generously offered to let me raffle it off to a lucky reader.
This will be a one-day raffle. To enter, send an email with your mailing address to the raffle address by 8pm Eastern tonight. One entry per person. I'll announce the winner tomorrow. Big thanks to Justo for sponsoring this raffle!
• • • • •
• • • • •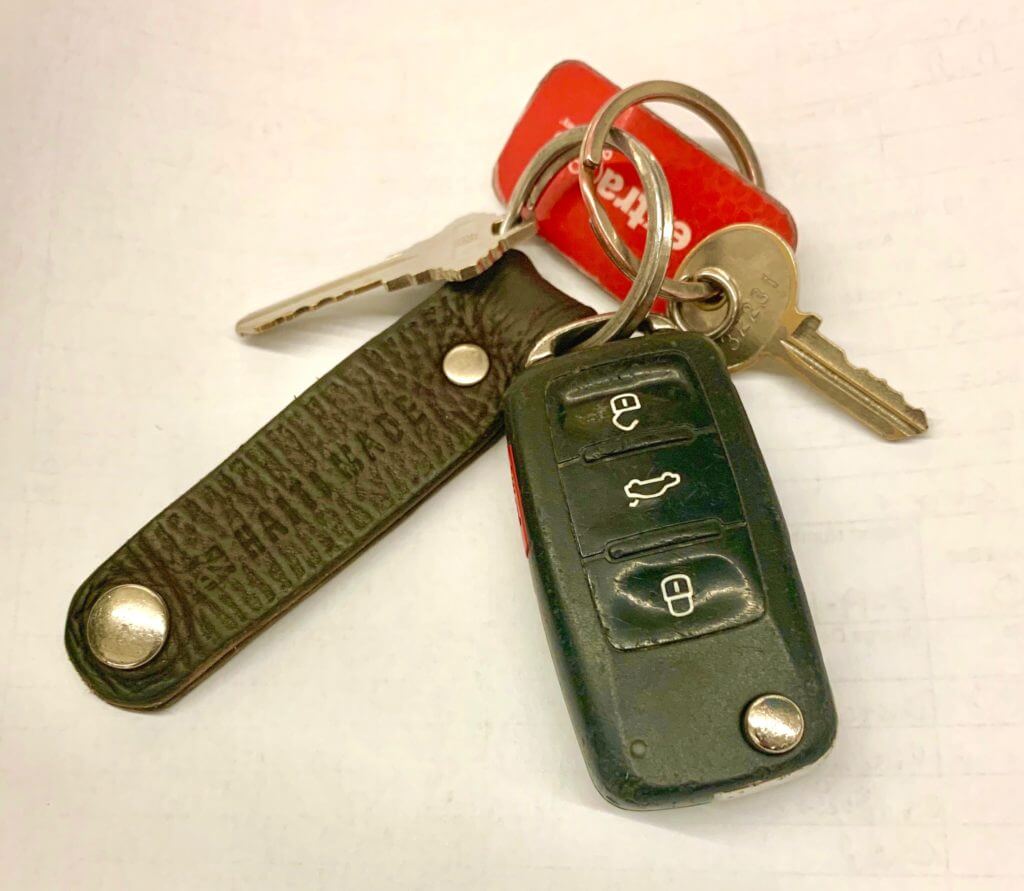 Click to enlarge
KRC update: It's been a while since we had an installment of Key Ring Chronicles, but the project is still ongoing. The latest edition is about a leather strap imprinted with the words "Haiti Made." You can check it out here.
• • • • •
• • • • •
Click to enlarge
Hole-y mackerel: While walking on the beach yesterday, we collected lots of shells with little holes in them. We later learned they were bored by moon snails. There's something extremely satisfying about how perfectly circular they are, almost like they'd been created by a power drill. Nature is pretty fucking amazing.
• • • • •
• • • • •
The Ticker
By Alex Hider

Baseball News: The Blue Jays are hinting that they'll be unveiling a new uniform on Jan. 18 — and all signs point to it being a powder blue set (thanks to all who shared). … It appears the Nats' new white jerseys will have blue NOBs despite having red numbers (from Greg Goldberg). … The Brewers' new logos are up at their spring training facility in Arizona (from Elijah Price). … The Mets' spring training field is getting a new name, and at some point the stadium will get a new address in honor of former player Mike Piazza (from Frederick Eloy Vaughn). … Pitt's panther logo is sublimated in the outfield of both their baseball and softball fields (from Jerry Wolper and Jim Vilk).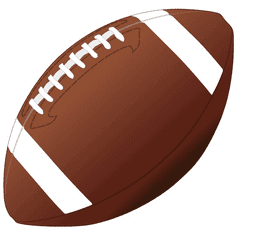 Pro Football News: Packers LB Za'Darius Smith wore a Milwaukee Bucks Eric Bledsoe jersey (unfortunately with an ad patch) ahead of his team's playoff game on Sunday (from Josh Hinton). … Investigation Discovery is running a new series on former Patriots TE Aaron Hernandez and is using a photo of him in a generic uniform in ads (from @NYCKING). … The Montreal Alouettes introduced a new part-owner, team president and general manager yesterday, and presented all three with replica jerseys with a team logo on the sleeve. According to Wade Heidt, the Alouettes wore numbers on their sleeves last season. … It appears the Saskatchewan Roughriders had different number fonts on their home and road jerseys at some point in their history (from @GameplanChicago).

College Football News: Football mini-helmet collector extraordinaire Blaise D'Sylva ranks the design worn by Navy in the 2015 Army/Navy game as his all-time favorite. … New Orleans Pelicans G Josh Hart wore an LSU jersey to the Pels' game in Detroit last night (from Josh Hinton).

Hockey News: Hurricanes C Jordan Staal, who wears No. 11, lost a numeral on his helmet last night (from Brett Finger). … Throughout the year, the Sharks have worn warmup jerseys designed by local artists as part of their "Artist Collection" series. On Sunday, they wore "Open Water" warmups, designed by Jeff McMillan (from Scott Reinold). … With the Rangers wearing blue and the Islanders wearing white last night, why did MSGN give the Rangers a red scorebug and the Islanders a blue one? (From @OlegKvasha.) … Colorado Springs City Council has given the go-ahead for Colorado College to build an on-campus arena (from Kary Klismet).

NBA News: Cross-listed from the pro football section: Green Bay Packers LB Za'Darius Smith wore a Bucks "Cream City" Eric Bledsoe jersey (unfortunately with an ad patch) ahead of the Packers' team's playoff game on Sunday (from Josh Hinton). … And from the college football section: Pelicans G Josh Hart wore an LSU football jersey to the Pels' game in Detroit last night (from Josh Hinton).

Soccer News: Real Salt Lake's home jersey has reportedly leaked (from Josh Hinton). … A player for Russian club FC Yenisey Krasnoyarsk wore Soviet Union cleats during a recent training session (from Ed Żelaski). … Also from Ed: Polish club Jagiellonia Białystok is letting fans pick its new crest. … Couple of stadium-specific notes from Kary Klismet: Lego has unveiled its first sports arena set —Manchester United's Old Trafford. Also, Club Brugge of Belgium's top league will be getting a new stadium. … New Arabic-lettered and -numbered jerseys — maybe retail-only, although it's not entirely clear — for Real Madrid (from Emily Gordon). … Update: Our own Jamie Rathjen says, "Those look like they were actually made to capitalize on last week's Spanish Super Cup in Saudi Arabia, but may not be merch. Real didn't actually wear them."

Grab Bag: New logo for Walker Valley High School in Tennessee (from Kary Klismet). … Here's a great piece that explores the lengths that some corporations will go to protect colors which they've trademarked (from Jason Hillyer). … New lacrosse helmets for Immokalee High School in Florida. … Federal government agencies release commemorative anniversary logos, just like sports teams. Who knew? The Department of Justice, for example, will use this logo to celebrate its 150th anniversary in June. "I wonder if we'll get a patch to wear on our suits when we appear in court?" says DOJ attorney Max Weintraub. … The Auschwitz Memorial called out the Hollywood news service Deadline for mirror-reversing an image. How did they know? Because under Nazi rule, Jews in Hungary were forced to wear stars on their left sides, not their right (from @walbergLines). … Need to know a font, when all you have is a photo? WhatFontIs.com might be able to help (from James Gilbert).