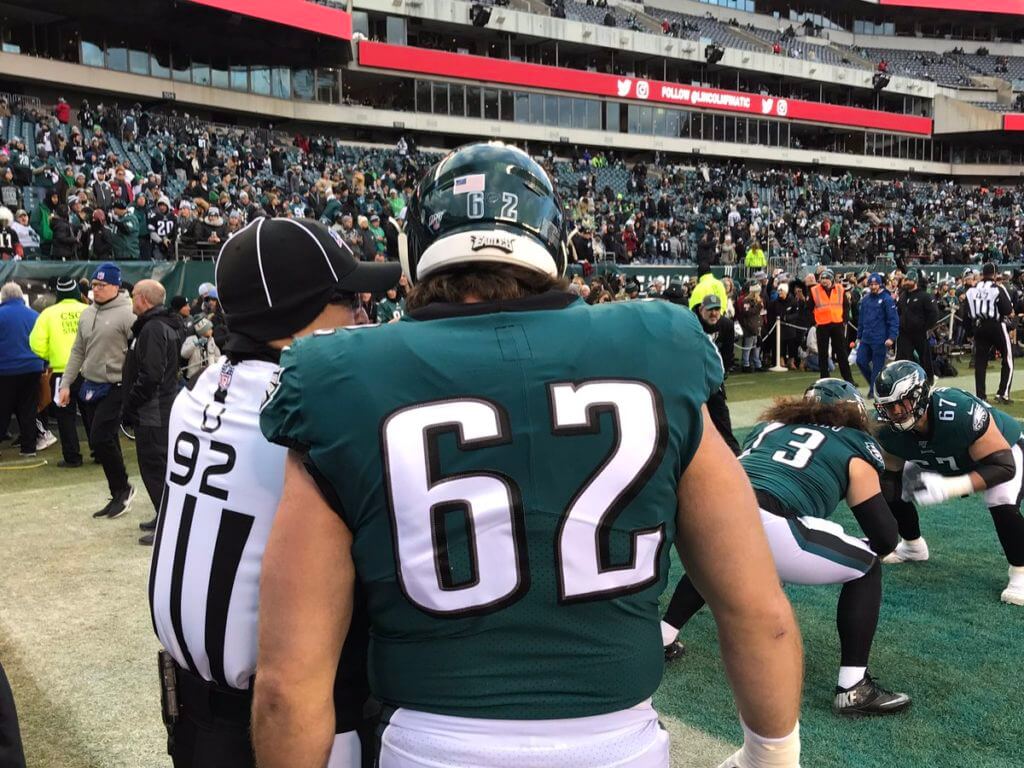 Click to enlarge
Good morning! Interesting move prior to yesterday's NFC Wild Card playoff game by Eagles center Jason Kelce, who wore an NNOB jersey for pregame warmups to symbolize the team's "no-name" underdog status. He did wear a standard nameplate once the game started.
"No-name," of course, has a strong NFL pedigree — that was the nickname for the defense on the undefeated 1972 Dolphins. But I don't think the Miami defense ever went NNOB as a solidarity or motivational move. Too bad — it would've been a cool way to live up to their nickname.
Speaking of NOBs: With Eagles backup quarterback Josh McCown pressed into action after starter Carson Wentz's injury, I was really struck by the size of the small-cap "C" on his nameplate. It's almost as big as the full capital "C":
In yesterday's other playoff game, the Saints and Vikings went mono-white vs. mono-purple: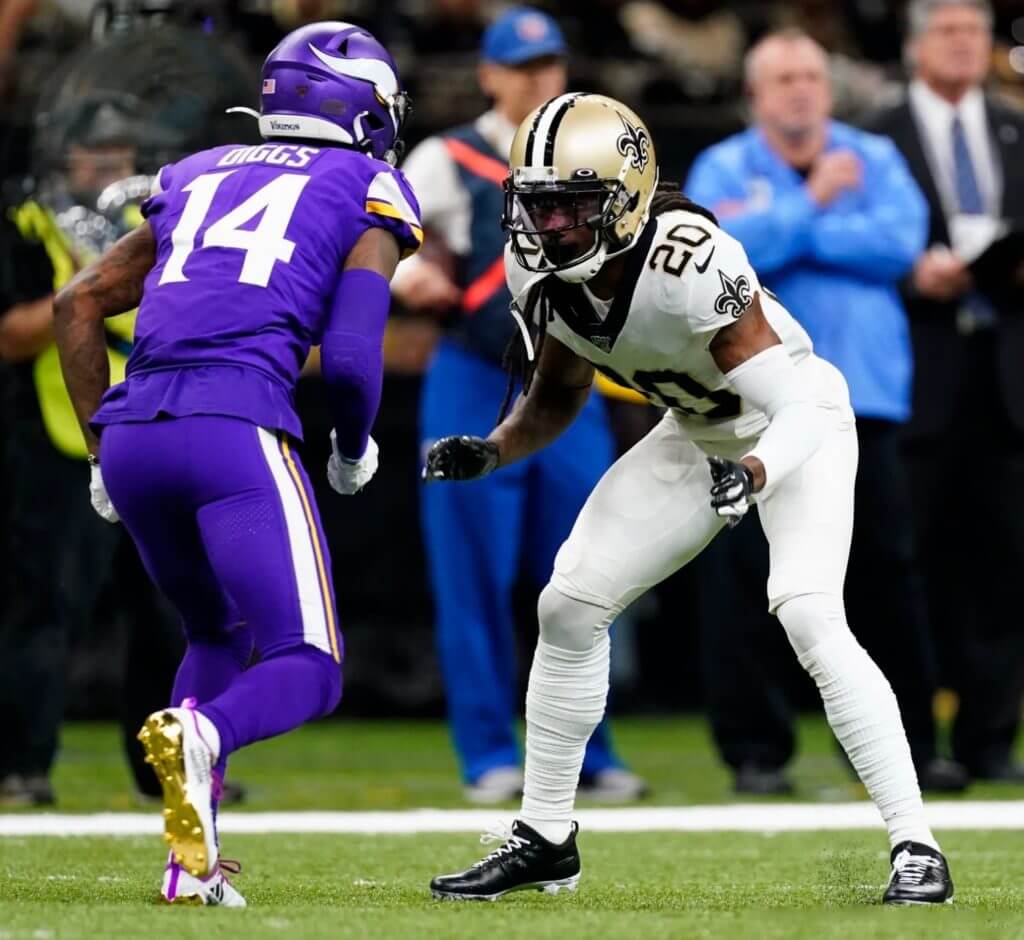 Ewwww. Several notable aspects of this matchup:
• It's not clear why the Saints chose to wear white at home, something they did only one other time this season — in a Sunday-night game against the Cowboys.
• The Saints wanted to wear their white Color Rash alternate uni instead of the conventional white jersey and the stripe-free pants, but the league reportedly said they couldn't do that because they had already worn their alternate design three times this season. That makes no sense because, as we discussed here a few weeks ago, at least two teams — the Ravens and Seahawks — wore alternates four times during the regular season. It seems like the NFL is really inconsistent about this stuff.
• It's also not clear why the Vikings chose to go mono-purple. They did wear their mono-purple alternates — the ones with the yellow numbers and trim — one prior time this season, in Week Eight (and presumably could have worn that uni again yesterday, since they only wore it once in the regular season), but they hadn't paired their primary purple jerseys and pants — the ones with the white numbers and trim — since 2013! So yesterday was an odd time to go with that look.
• The Vikings are the lowest seed in the NFC, so their route to the Super Bowl is unlikely at best. Still, with the Ravens currently favored in the AFC, it must be said: My worst nightmare — a purple-vs.-purple matchup in the big game — is still possible. One more reason to root for the 49ers when they host the Vikings this Saturday!
• • • • •
• • • • •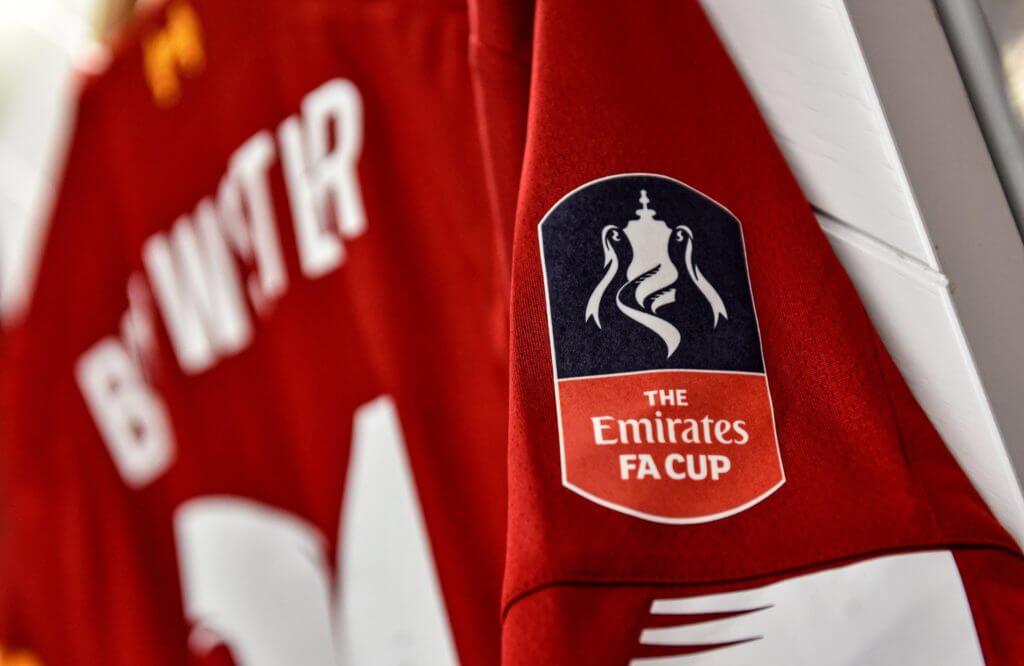 FA Cup Roundup
By Jamie Rathjen
The third round of English soccer's FA Cup, when teams from the top two tiers enter, took place over the weekend and brought its usual share of uni-related developments. Most notable was Chelsea's 1970 blue and yellow throwback, which was originally worn for the replay of the FA Cup final in that year. The Museum of Jerseys blog has an excellent new post on how the kit came to have yellow accents instead of white. It appears possible for Chelsea to continue to wear the throwback for the rest of their FA Cup games this season, but it's unclear if they plan to do so.
In other items from the third round:
• Liverpool wore the Club World Cup champions' patch, once again getting permission to do so when it otherwise wouldn't be allowed.
• Some, but not all, teams from below the Premier League wore sleeve ads.
• Manchester City didn't wear the FA Cup sleeve patch (pictured at the top of this section). They never have, as competition rules allow them to skip it because their advertiser is a competitor of the FA Cup's advertiser. Nobody is required to wear the patch until the semifinals. As with last year, it appeared that almost all other teams did wear it except Championship team Stoke City (in black) and fifth-tier Hartlepool United, whereas before that there was no real pattern as to which teams wore the patch and which didn't at this stage.
• All third-round games kicked off after a minute's delay — so kickoff times were listed as 12:31pm, 3:01pm, etc. — in order to show a short mental health awareness video.
• Fifth-tier AFC Fylde, the other nonleague team that made it to the third round, wear 2022 on their shirt sleeves, representing their goal of winning promotion to the English Football League by then (though they'd better pick it up, as they're currently fighting relegation).
• In the Women's FA Cup third round — which now takes place on the same weekend as the men's, but is not exactly equivalent because the top two tiers enter at the fourth round instead — there were two teams almost identically named: Southampton Women's FC and Southampton FC Women. The former is older; the latter is affiliated with the Premier League team, and both share red and black as colors. The women's tournament, at least at this stage, doesn't have its own sleeve patch.
(Thanks to Josh Hinton for his contributions to this section.)
• • • • •
• • • • •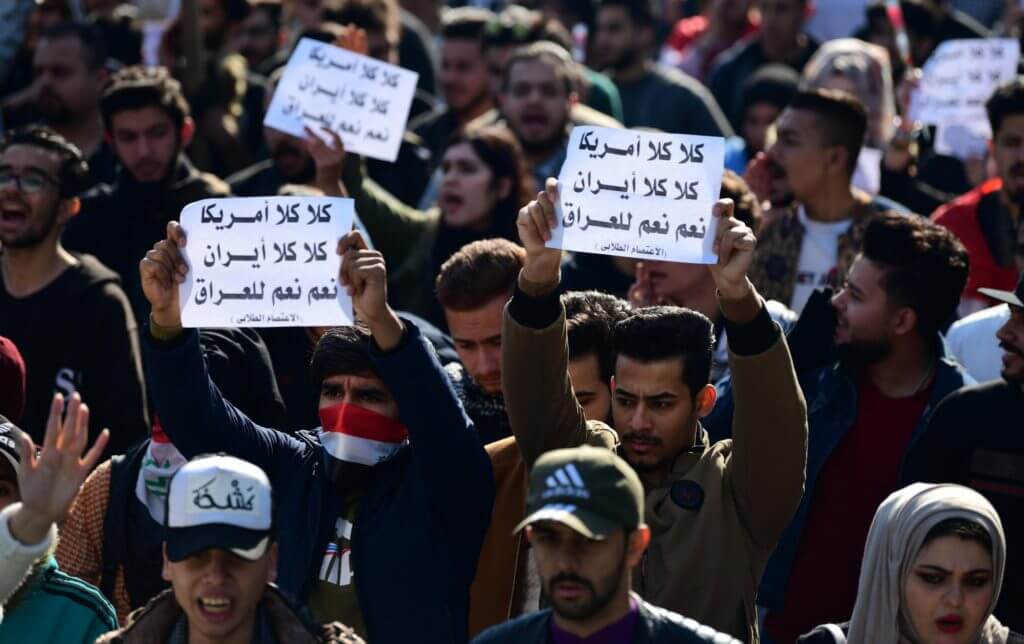 Click to enlarge
The blue jeans of headwear: I've written a lot about the worldwide ubiquity of the baseball cap, but it never ceases to blow my mind. The photo above shows Iraqi students protesting yesterday in Baghdad. Look at the two guys in the foreground — amazing!
• • • • •
• • • • •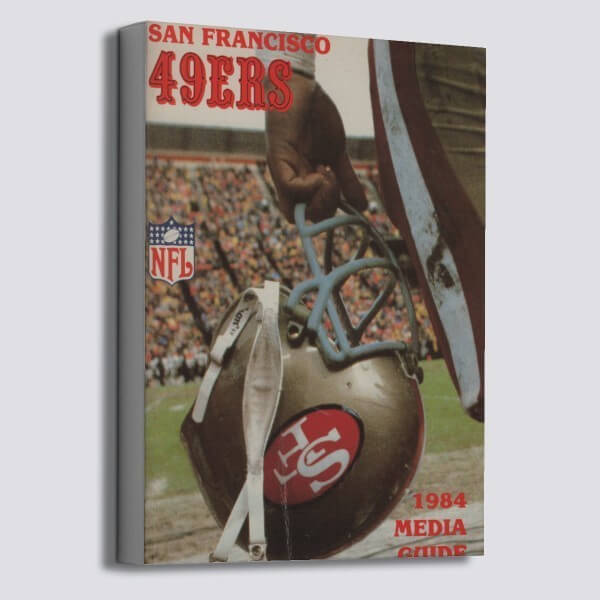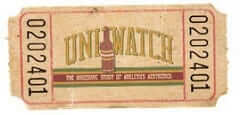 ITEM! New Vintage Brand raffle: It's time for the monthly raffle from our longtime advertiser Vintage Brand. The winner will be able to choose anything from their website (including the 49ers program canvas shown above).
To enter, send an email to the raffle address by 8pm Eastern this Wednesday, Jan. 8. One email per person. I'll announce the winner on Thursday.
Also, Vintage Brand is running a site-wide 25% sale today (the discount will be applied automatically during the checkout process), so move fast if you want to take advantage of that.
• • • • •
• • • • •
The Ticker
By Jamie Rathjen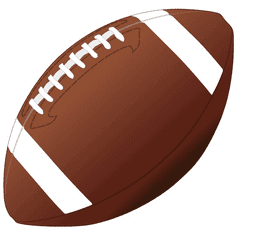 Football News: As Blaise D'Sylva nears the end of his tour through the helmets of the FBS and Ivy League, the school of the day yesterday was South Carolina.

Hockey News: The Leafs celebrated equipment manager Brian Papineau's 2500th game Saturday (from Jerry Wolper). … The Capitals and their eagle mascot, Slapshot, hosted several other bird mascots yesterday for National Bird Day (from @bryanwdc). … Canada wore black for the entire world junior championship knockout stage (from Wade Heidt). … Canada RW Raphaël Lavoie also had flag-themed skates during the final (from Jakob Fox). … Northeastern teased red alternates. The men's team usually wears white or black, but the women's team has different red jerseys (from @nvcjr1).

Basketball News: Basketball players don't wear protective cups, but Wizards F Rui Hachimura may wear one when he returns from groin surgery. "He's been out for a few weeks after getting accidentally kicked between the legs by a teammate during a game," explains Mike Chamernik. … Lakers F LeBron James's shorts were pretty short last night (from @lawrep2). … On Saturday, Marquette/Villanova was color vs. color. … Ditto for the Northeastern and Hofstra's women's teams (from Mike Brodsky).

Soccer News: Outside of the FA Cup, English League Two team Swindon Town wore their purple third kit at home, the ad on which is for an ALS foundation (from Josh Hinton). … Also from Josh: the unofficial Chagos Islands national team is having a poll for a new second shirt. … Jeremy Brahm sent us maps of the mascots of the teams in Japan's top three tiers; a few top-tier teams appear twice because they have under-23 teams in the J3 League. … A new statue of Swedish striker Zlatan Ibrahimović outside his hometown team Malmö FF's stadium, which has already been vandalized several times because of Zlatan's recent investment in Stockholm team Hammarby IF, was sawed off at the ankles, with the face covered by a Sweden shirt. … New shirts for Vietnam.

Grab Bag: Australia and New Zealand's cricket teams wore black armbands during the first day of their current Test on Friday for the victims of Australia's bushfires. On Sunday, both teams wore pink accents for a breast cancer charity run by former Australia player Glenn McGrath. … Venezuela's women's volleyball team got new shirts (from Jeremy Brahm). … The U.S. indoor field hockey teams have been competing at the Rohrmax Cup, a tournament in Vienna, wearing new kits made by Osaka Hockey, a company that also outfits Canada and seems to do minimalist designs. … Minnesota's mascot, Goldy the Gopher, wears No. 0 for football and No. 00 for basketball, but has flipped those in the past (from Timmy Donahue). … This story never seems to end: Some Delta Air Lines employees claim that the airline's newish uniforms are making them sick (from Mike Cooperman).
• • • • •
• • • • •
Click to enlarge

What Paul did last night on Saturday: On Saturday we went up to the Cooper Hewitt Design Museum to check out their exhibit on the great Bauhaus graphic designer Herbert Bayer, who did all sorts of amazing art and commercial work during his long career. The poster shown above, made to support the American war effort after he emigrated to the States, was my favorite piece in the show, even though it was less Bauhaus-y and therefore less representative than most of the other work in the exhibit.
Here are some more of my favorites:
You can see more photos from the exhibit here. The exhibit is up through April 5 — highly recommended.
On my way home, I saw a guy doing a very entertaining routine at the Union Square subway stop:
Sometimes I still really fucking love New York.