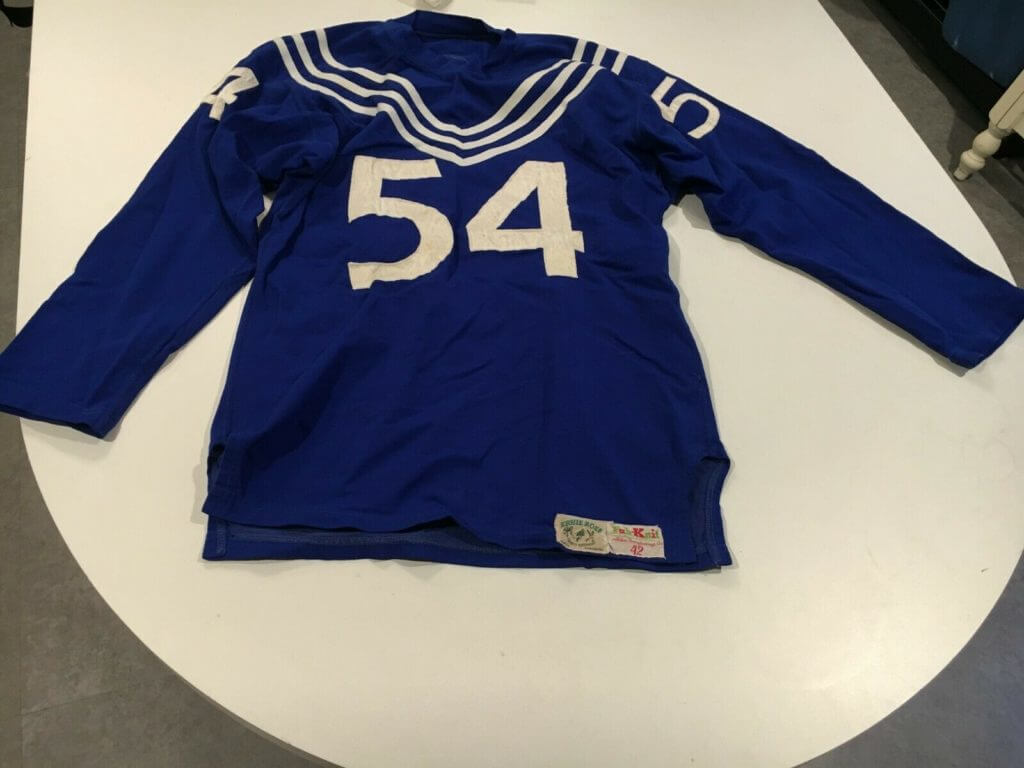 For all photos, click to enlarge
I was looking at vintage uniforms on eBay yesterday and came across this circa-1950s football jersey with an unusual stripe pattern running from the chest to the shoulders. I'd never seen anything like it! It didn't look like something I'd want to bid on, but it still seemed interesting, so I clicked on the listing. That's when I discovered what the stripes look like from that back: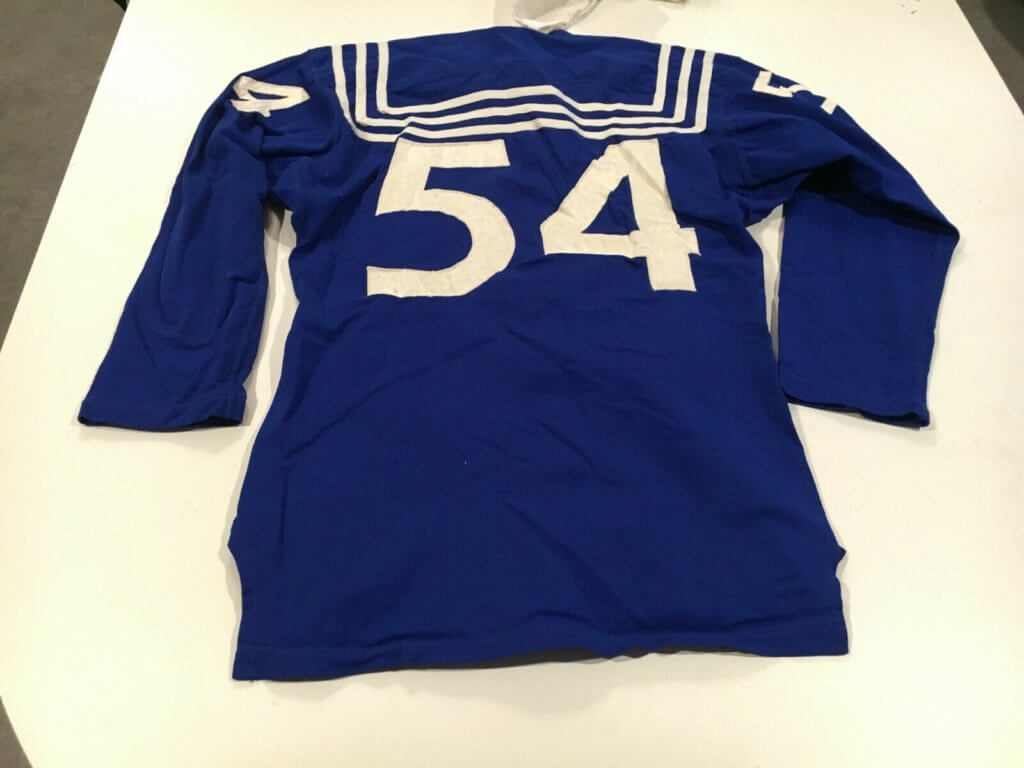 Wow! While we obviously can't know for certain, it seems pretty apparent that the intent here was to mimic the design of a sailor's uniform: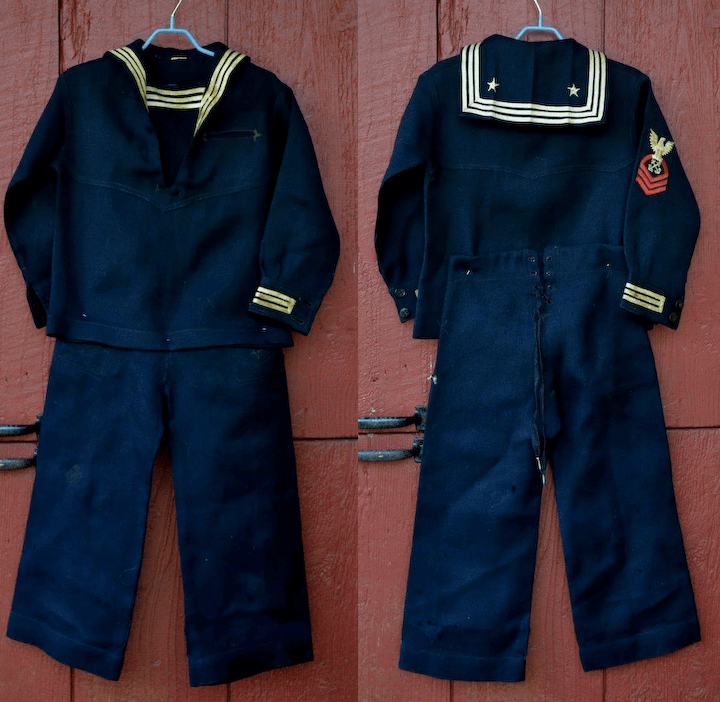 Unfortunately, the eBay listing doesn't provide any background info regarding which team or school the jersey might have been from, so I sent a note to the seller. No response yet. For now, the only clues we have are from the (very beautiful) tagging, which indicates that the jersey — and hence probably the team — was from the Pacific northwest: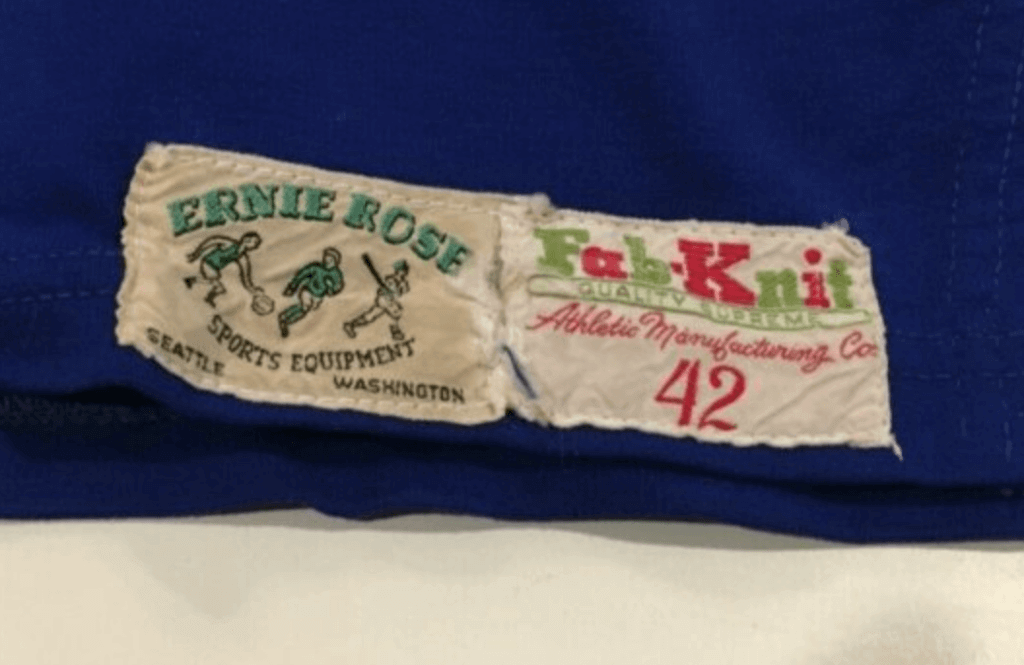 Alas, Ernie Rose Sports Equipment is no longer with us (ditto for Ernie Rose himself). And Fab-Knit, a Waco operation that presumably sold uniforms to local shops like Ernie Rose, went bust in 2015. So we can't ask either of those companies about the jersey's history.
But I'm officially intrigued. Was this jersey from some sort of naval academy? From a school whose teams had a nautically themed named like the Commodores or the Admirals? Something else? Almost seems like something Nike or Under Armour would do, doesn't it?
Meanwhile, the jersey is still up for bids through this Sunday. If you're interested, it's available here.
• • • • •
• • • • •
The Ticker
By Alex Hider

Baseball News: During the Reds' 1978 goodwill tour of Japan, Cincy players wore uniforms with Rawlings logo creep on the right thigh. Wilson had supplied the Reds' road unis that season (from Christopher Schlueter).

NFL News: With the Broncos wearing orange over white for Sunday's season finale, it was the fourth uniform combo that rookie QB Drew Lock had worn in his first five starts (from @theREALBGott). … Interesting note from Billy Rothman: Every AFC team that will play in a Wild Card game next week (Patriots, Titans, Texans and Bills) has a red/white/blue color scheme. No NFC team in the playoffs has a red/white/blue color scheme. … The NFL Shop used an outdated Titans helmet in a web graphic yesterday (from Peyton Winters). … Couple of notes from Brad Eenhuis: Vikings DT Gary Larsen once wore No. 140 during training camp prior to the 1973 season because he thought the team should go 14-0 in the upcoming year. Brad also sent along this awesome shot of the NFL helmet buggies from the 1970s. … The Jags wore eight of their nine possible uniform combinations this year. They've yet to break out an mono-teal look since adopting this current set (from Brad Gude and @BosBruinsFanMN). … 49ers QB Joe Montana once wore a T-shirt that said, "Forty Fuckin' Niners."

College Football News: Great-looking color-on-color Orange Bowl last night between Virginia and Florida — two orange-clad teams! (Thanks to all who shared.) … Speaking of the Orange Bowl, the trophy awarded last night said "2020 Champion." It's apparently standard practice for the Orange Bowl trophy to list the new year, even if the game is played in late December (from Gabe Flores). … Oregon will wear silver helmets along with dark green jerseys and pants in the Rose Bowl tomorrow, while Wisconsin will wear all white (from Troy Salinger and Johnny O). … Virginia Tech will wear white in the Belk Bowl today, while Kentucky will wear blue (thanks to all who shared). … The First Responder Bowl, played at SMU's home stadium in Dallas, had the bowl logo at midfield and team logos at the 25, but kept SMU's logo in the end zones (from Chris Mycoskie). … Redshirt freshman Virginia DL Samson Reed has not played this season and had not been given a number — until he dressed in No. 9 for last night's Orange Bowl (from our own Jamie Rathjen). … Couple of notes from Josh Hinton: Here's what the Rose Bowl field will look like tomorrow; and the Titans' wordmark was visible beneath the Music City Bowl end zones. For more bowl game coverage, head to Josh's College FootBOWL Tracker  Twitter account. … Georgia was Blaise D'Sylva's mini-helmet team of the day yesterday. … @PrideOfTheTide notes that some Alabama players wore TV numbers on their jerseys in the 70s while others didn't. The Tide scrapped TV numbers on their jerseys for good in 1974. … In 1982, players at Swarthmore College near Philadelphia removed their helmet decals to protest a school committee's decision to investigate whether the successful football program was good for the school's academic image (from Brad Eenhuis).

Hockey News: With the Predators set to wear retro uniforms for tomorrow's NHL Winter Classic, they've now added matching helmet logos (from Garrett Roberts). … Speaking of the Winter Classic, here's a good piece on how the Stars will keep the ice cool for tomorrow's game at the Cotton Bowl (from Michael Kimball). … This piece on the Bruins website breaks down every player by jersey number over the last decade (from Sean Scales). … Czech Republic G Lukas Parik was wearing a glove underneath his blocker during World Junior Championship play yesterday (from Jakob Fox). … 41 years ago yesterday, a referee during an Islanders/Flames game fractured his jaw during play, prompting a retired referee to fill in wearing his street pants and a replacement jersey (from Jerry Wolper).

Basketball News: Reader Matthew Wolfram spotted a Chicago Bulls logo lookalike in a mural on a building in Bogotá, Colombia. … Texas women's basketball will retire No. 24 for Clarissa Davis on March 8 (from Griffin T. Smith). … Xavier went GFGS last night at Villanova. …  The Presbyterian College women's team has an abnormally large Big South Conference logo on their jerseys (from Will Chitty). … Interesting question posed by Greg Fallon: If you dress a dog in a basketball jersey, should it wear the number and NOB on its back like a human? Or do you turn the jersey around so the team name is on display?

Soccer News: Per video game leaks, this is what the Netherlands will allegedly be wearing in the 2020 Euros (from Josh Hinton). … Also from Josh: Barcelona will reportedly use this shirt as a "pre-match jersey" in 2020. … The San Diego Sockers of the Major Arena Soccer League wore Darth Vader Star Wars jerseys during a recent game (from Jonathan Greene). … "Spanish team Valencia has worn five combos this season, with three coming in three Champions League away games," says our own Jamie Rathjen. "For two of the combos, the crests on the shirt and shorts didn't match, because the shirt from the second kit has a false-color orange and black crest, while the shorts from the first kit have the crest in the right colors."

Grab Bag: Reader David Petroff has quite the collection of classic tourist and sports pennants from the 1960s and '70s. … A Nevada National Guardsman has been granted a religious waiver to grow a beard because he's a Norse Pagan (from Timmy Donahue).
• • • • •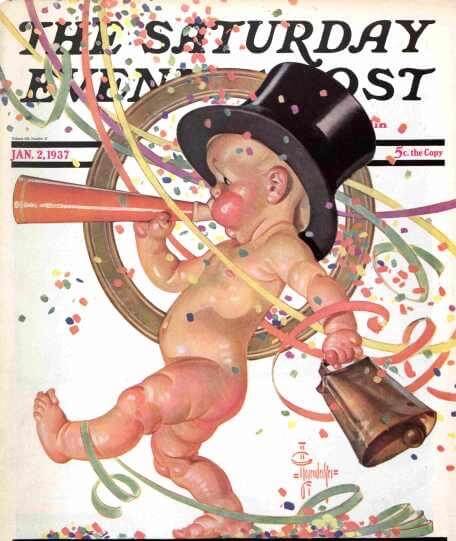 As 2019 draws to a close, I'd like to thank everyone on the Uni Watch team and also everyone who comprises the Uni Watch comm-uni-ty. While this was a tumultuous year for me on certain fronts, it was definitely not a bad year, in part because of all the support I received from you folks in the wake of all that tumult. Thanks for that — it's very Special, and it means a lot.
It was also a good year for content here on the blog, thanks in part to the great interviews I got to do with Nick Francona, the "God Bless America" guy, Hal the Hot Dog Guy, and military uniform expert Timmy Donahue, all of which were very well received and were among the best and most interesting content we've ever had on the site. Here's to more good things in 2020, yes? Yes! — Paul