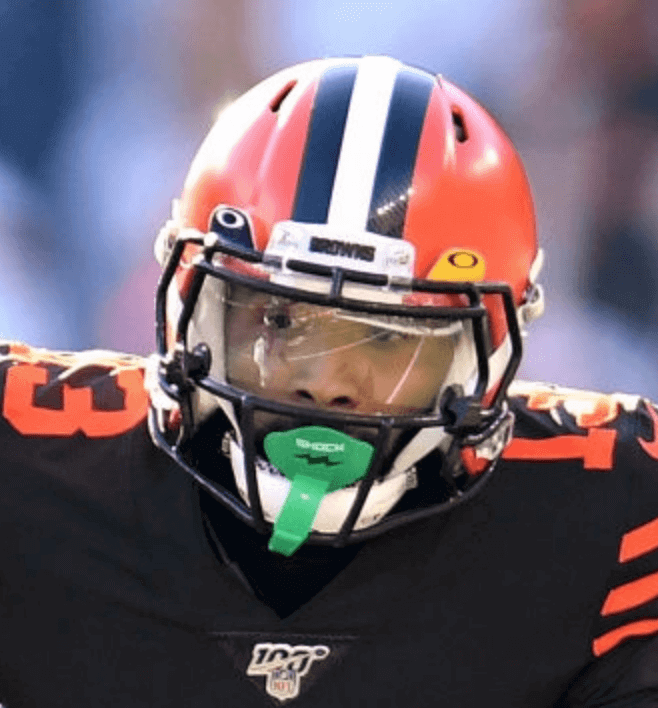 Good morning! Interesting move yesterday by Browns wideout Odell Beckham Jr., who wore purple and yellow visor tabs, presumably as a shout-out to his alma mater, LSU, which is one of the four schools that advanced to this season's College Football Playoff.
OBJ wasn't the only NFLer from a CFP-bound program wearing a show of support for his old school yesterday. Saints wide receiver Michael Thomas was wearing an Ohio State base layer:
@UniWatch not sure if anyone picked this up.

Michael Thomas is wearing his old @OhioStateFB performance gear.#Saints #NOvsTEN #NFL100 pic.twitter.com/V44wDIAkTt

— Moe Khan (@MoeKhan19) December 22, 2019
Anyone know if any alums of this season's other two CFP schools, Clemson and Oklahoma, did anything similar?
In a related item, Bears wideout Cordarrelle Patterson wore orange socks, instead of Chicago's usual dark navy, at the beginning of the Sunday-night game. Orange is a Bears color, of course, but the shade of orange Patterson was wearing seems closer to that of his alma mater, Tennessee (which is not a CFP school):
@UniWatch pic.twitter.com/LbmdKkgPXI

— (@NFL_Journal) December 23, 2019
Patterson was apparently told that the orange hose had to go, because he changed to proper socks during the first quarter.
In other news from around the league yesterday (for all photos, you can click to enlarge):
• The Jaguars wore white over turquoise. According to the Gridiron Uniform Database, this is only the third time in team history that they've worn turquoise pants (the other two times were both last year):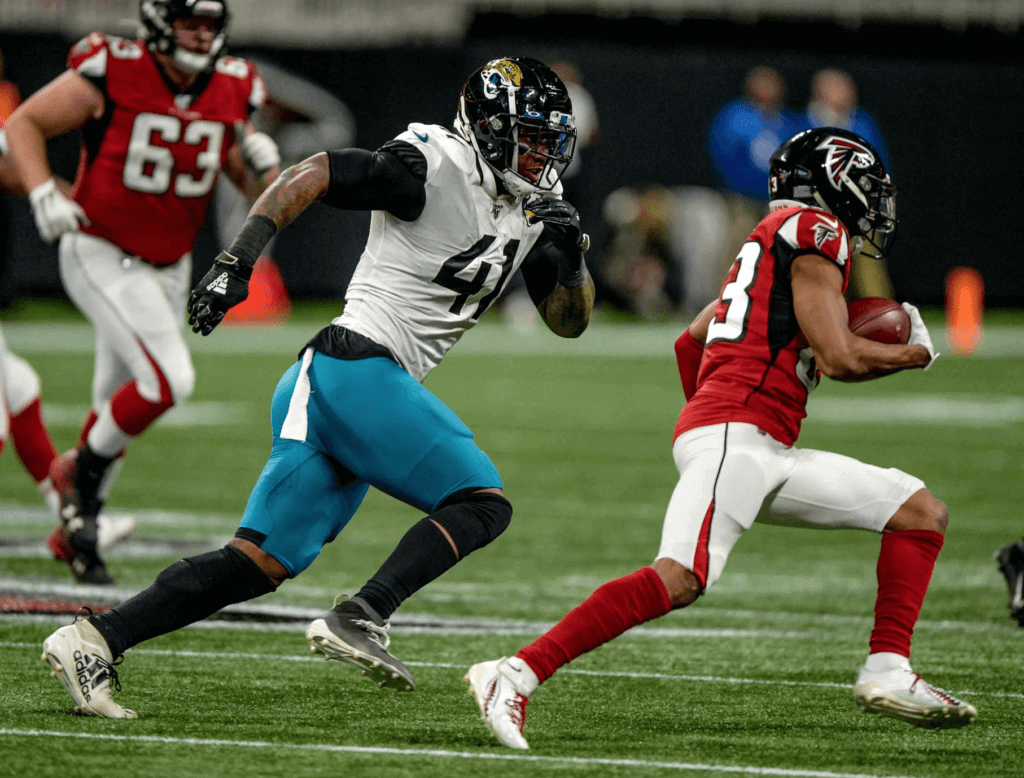 • The Titans and Saints went navy pajamas vs. white pajamas: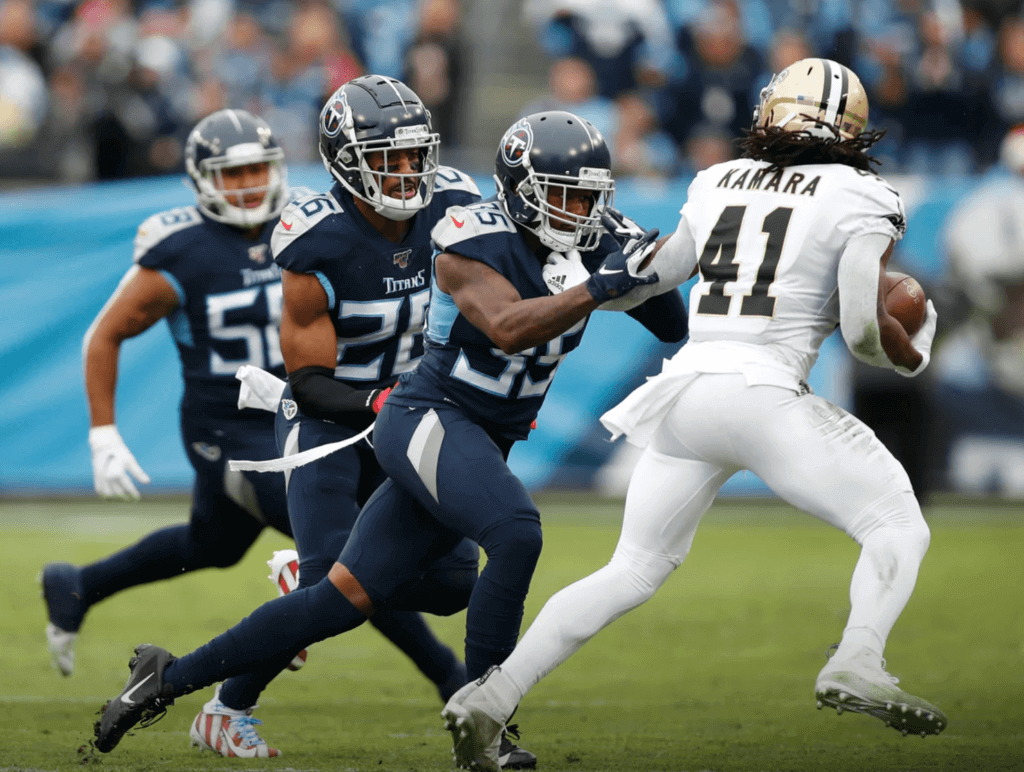 • The Browns once again went mono-turd. Make it stop!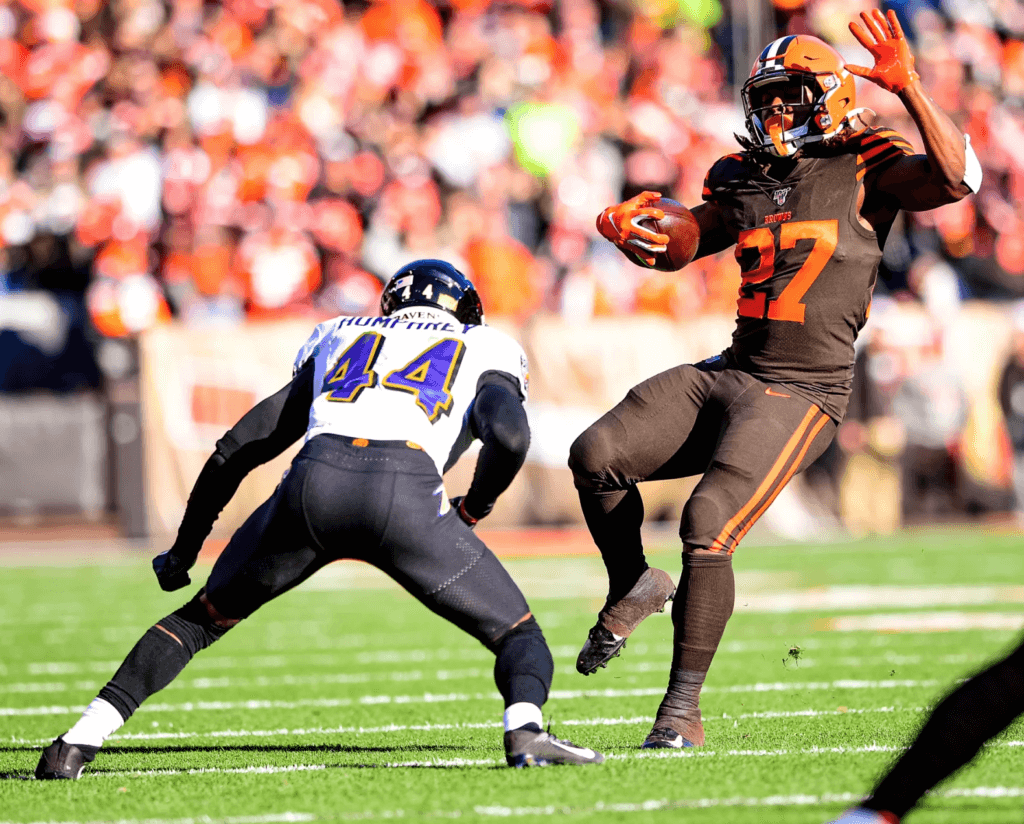 • In that same game, the Ravens continued to lead the league in sewn-in jersey pockets. I spotted 23 players wearing them — the highest total so far! Here they are in uni-numerical order: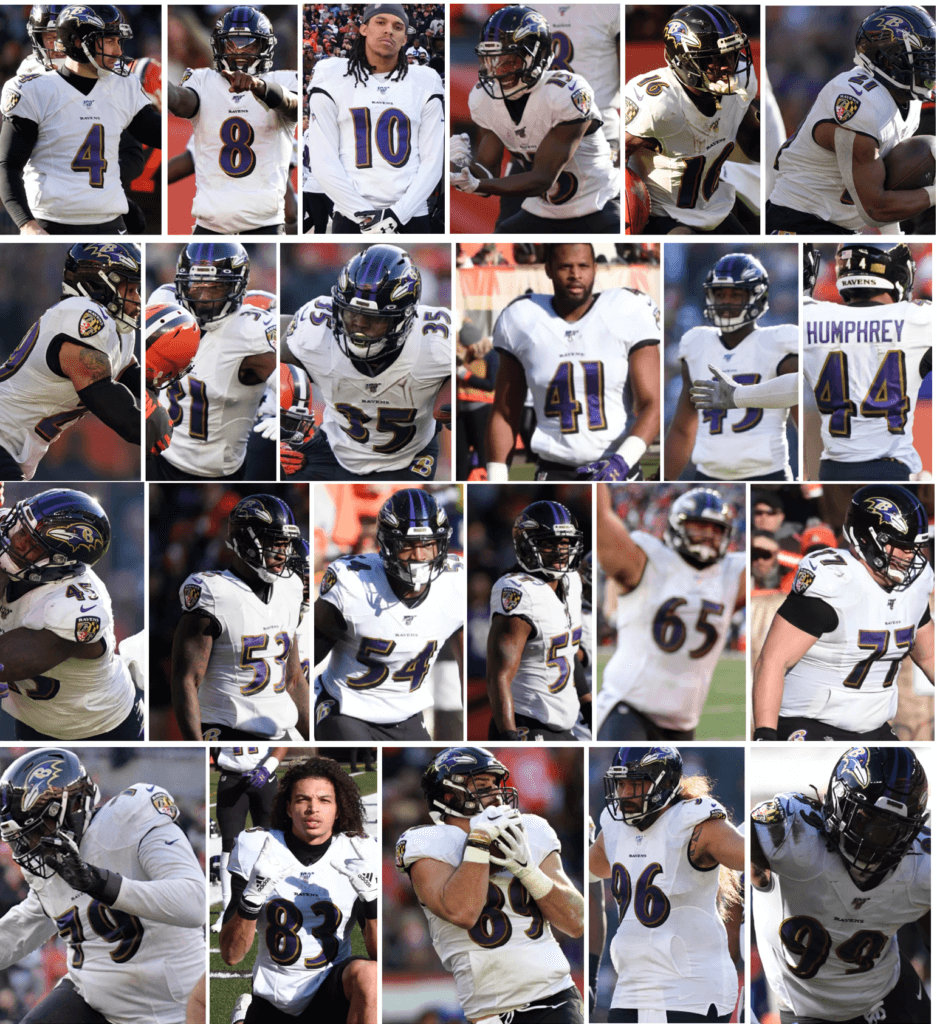 • The Jets went mono-green (and may have set a single-game record for the most untucked undershirts):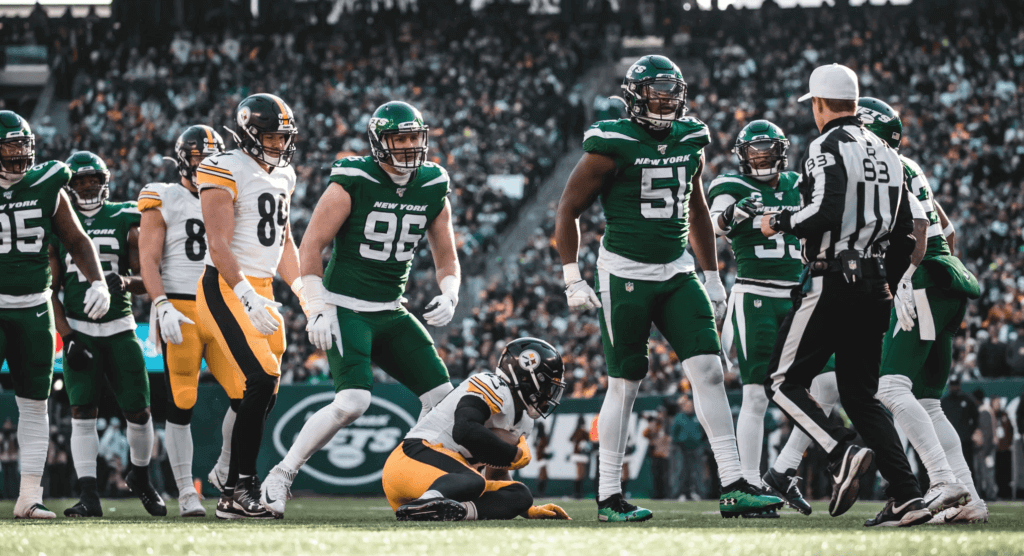 • The Broncos wore their mono-orange alternates: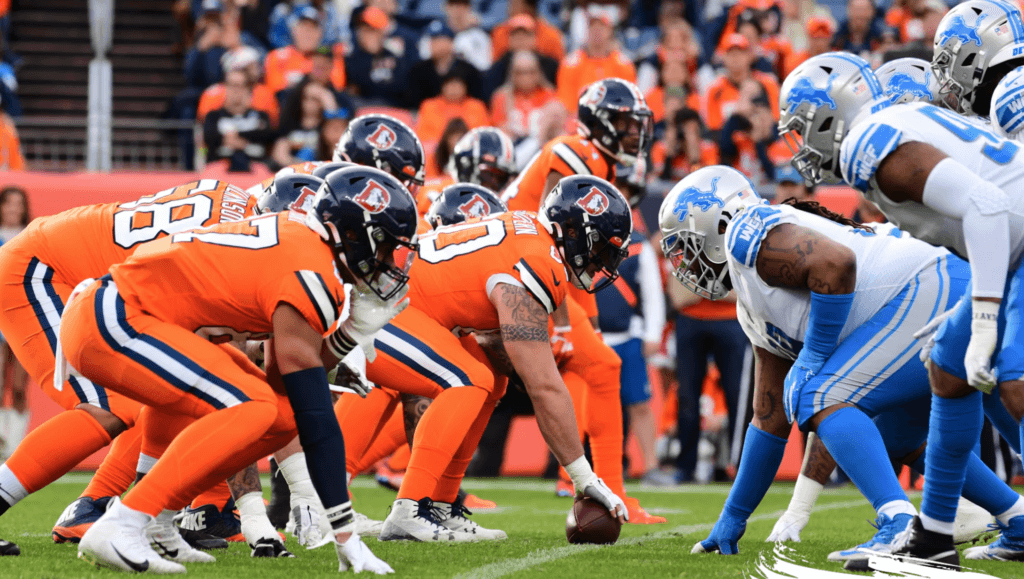 • For the second straight week, no home team wore white.
(My thanks to @R_LMN for the the OBJ visor tab item.)
• • • • •
• • • • •
Culinary Corner: The Tugboat Captain and I are not Italian but we love seafood, so we've long been intrigued by the Italian-American Christmas Eve tradition known as the Feast of the Seven Fishes.
This year we thought about making it ourselves. But it's a huge undertaking, so we immediately began thinking about how to cut corners. Does it have to be seven different fish courses, or can we combine multiple fishes into one dish, like a seafood salad? If we put out a bowl of Goldfish crackers, does that count as a fish? What if we give the cat a can of 9 Lives Seafood Platter?
The bit about the Goldfish crackers got us thinking: What if we did the feast in snack form? That seemed like a really fun idea, for we abandoned the plan to do a "real" feast and instead decided to the Snacks of the Seven Fishes for a holiday party we were invited to this past Saturday. Here's a numbered photo of what we brought, followed by a list of the seven fishes (for all photos, you can click to enlarge):
1. Goldfish crackers.
2. Fish-shaped cookies. These are the holiday cookies my mom made every year when I was growing up, but we customized them with fish-shaped cookie cutters and served them on fish-shaped plates that we got at the 99¢ store around the corner from our house. The Captain really aced it with the icing:
3. Gummy seafood salad. A mix of Swedish fish, gummy sharks, gummy lobsters, and gummy frogs, all of which we purchased at the always-awesome Economy Candy.
4. Chocolate-covered oyster crackers. There's an old-school confectionary shop in NJ that specializes in these, but the Captain wanted to make them herself, and they came out great!
5. Shrimp chips.
6. Crab chips.
7. Beer with whale shark–shaped opener. Our plan was for the seventh fish to be oyster stout — a good way to wash down the other fishes — but we looked far and wide and couldn't find anyone selling oyster stout this season. So instead we brought Negro Modelo and the awesome fish-shaped bottle opener that my upstairs neighbors brought back for me after a trip to Japan 10 years ago. That served as the seventh fish.
A really fun project!
• • • • •
• • • • •
The Ticker
By Jamie Rathjen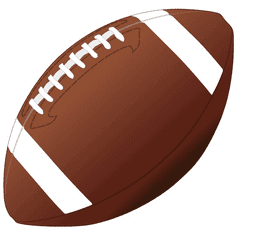 Football News: Retiring Richmond Times-Dispatch Washington NFL beat writer Paul Woody got a No. 40 jersey from the team, representing his length of service at the paper (from James Gilbert). … The school of the day from Blaise D'Sylva's helmet collections yesterday was Louisiana-Monroe. … ESPN's series on the 150th anniversary of college football had an episode on the 1971 Nebraska/Oklahoma "game of the century" and some Nebraska players were missing their shoulder stripes. We've Ticked that before, but I don't think anyone here has ever explained it (from reader bcsr3).

Hockey News: We neglected to mention that the Flames wore their 1989 throwbacks at home on Thursday, with brown pads for goalie David Rittich (from Brad Pramberg). … The Devils wore the white version of their red/green throwbacks at home as well on Friday. … Rangers C Greg McKegg was wearing teammate Filip Chytil's gloves yesterday (from Cameron Greene). … The SB Nation NHL team blogs are all picking the worst jersey for their teams, so for the Penguins it's the 1992-2002 "robo-penguin" (from Noah Kastroll). … The AHL's Charlotte Checkers are apparently revealing some kind of alternate soon (from @OlegKvasha). … Jay Weinberg, the drummer for heavy metal band Slipknot, plays hockey and got his own band-themed mask (from Wade Heidt). … More from Wade in Junior A hockey: The Alberta Junior Hockey League's Calgary Canucks wore Christmas sweater-themed jerseys with TNOB, while the British Columbia Hockey League's Surrey Eagles wore teddy bear toss jerseys.

Basketball News: Wichita State C Isaiah Poor Bear-Chandler only wears "Poor Bear" as his NOB (from Jesse Nienke). … Indiana and UCLA's women's teams played a red-vs.-blue matchup. Indiana wore red at home for ALS awareness (from @selectospeed).

Soccer News: In France, Olympique Marseille winger Dimitri Payet received a No. 200 shirt for reaching 200 appearances for the club, and was also pictured wearing a Santa hat while in full kit. … Italian team Atalanta wore green Christmas-themed shirts. … We mentioned yesterday that Liverpool received the gold Club World Cup champions' patch; however, while they can wear it in the Champions League for the next year, they can't wear it in the Premier League or the FA Cup — it appears to me because England's kit regulations forbid either midseason changes or patches for non-English competitions, or both. … Both Chelsea and Tottenham Hotspur wore black armbands for England's 1966 World Cup-winning midfielder Martin Peters, who passed away this weekend. … Scottish team St. Johnstone recently modified their crest to celebrate the 30th anniversary of their stadium, McDiarmid Park, though the modification doesn't appear on their shirts. … In the Supercoppa Italiana, which was played in Riyadh, Juventus wore Arabic-script NOBs, as we've mentioned, and Lazio wore an ad for tourism to the Lazio region, when they usually don't wear an ad (from Jason Kerepesi and Josh Hinton).

Grab Bag: The NLL's Calgary Roughnecks raised their championship banner and received championship rings (from Wade Heidt). … A match in Canberra in Australia's Twenty20 cricket league, the Big Bash League, was abandoned because smoke from local bushfires enveloped the ground.
• • • • •
Happy Hanukkah to all who are observing. — Paul