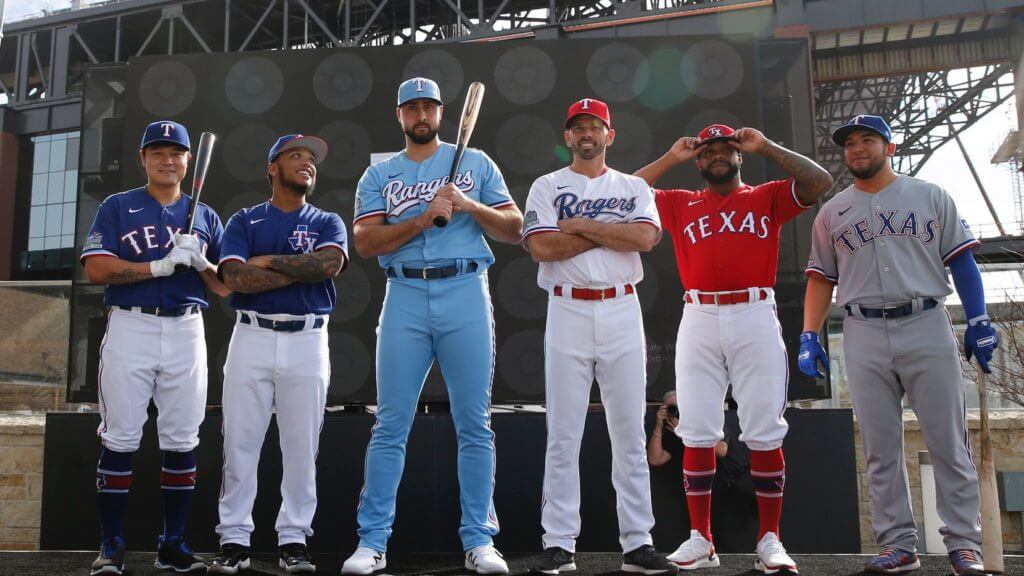 Photo by Vernon Bryant, Dallas Morning News; for all images, click to enlarge
The Rangers unveiled their new uniform set yesterday afternoon. There's a lot to cover here, so let's start with a breakdown of all the new uniform elements, followed by assessments of the new uniforms themselves:
The New Script
Two of the home uniforms will feature a new script insignia of the team's name. This will mark the first time since 2008 that the Rangers have worn the word "Rangers."
I'm all in favor of the team being the Rangers instead of the Texases, but I can't say I'm in love with this script. I don't like how the "Ran" sits flush against the tail while the "gers" floats above it, the "g" looks like it was tipping over until it bumped into the "e," the negative space inside the "a," "g," and "e" is too small so no white shows through, and the whole thing feels a bit off.
The New Rear Typography
For years now the Rangers' jersey typography has been super-clunky, thanks to a spiky font combined with two layers of color outlining. They've now addressed that on the back of the jerseys, where the numbers and NOB lettering will have one-color outlining with the second color converted to a drop shadow. The result is, well, still clunky, but definitely an improvement over what they had before. Check out these side-by-side-comparisons — in each case, it's the old version on the left, new version on the right: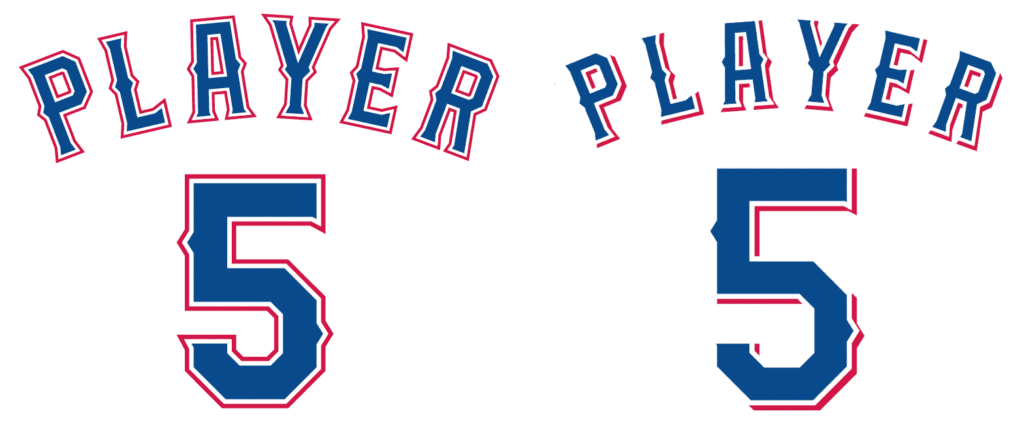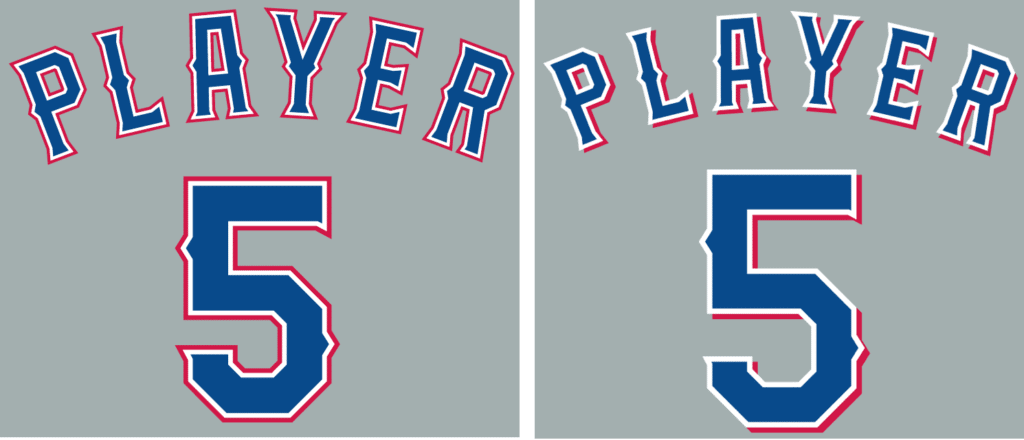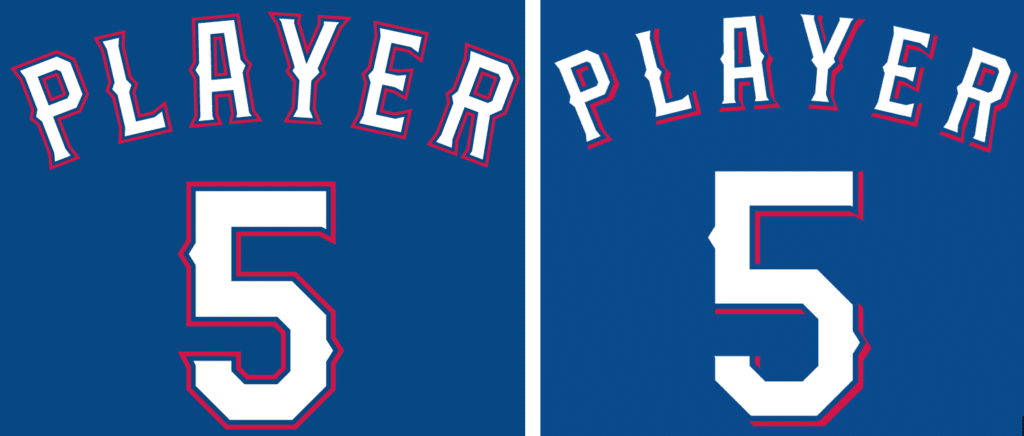 Like I said, I view it as an improvement. But here's the weird thing: For the jerseys that still have "Texas" on the front, they're not making the corresponding change to the front lettering — they're keeping the two-color outlining on the front: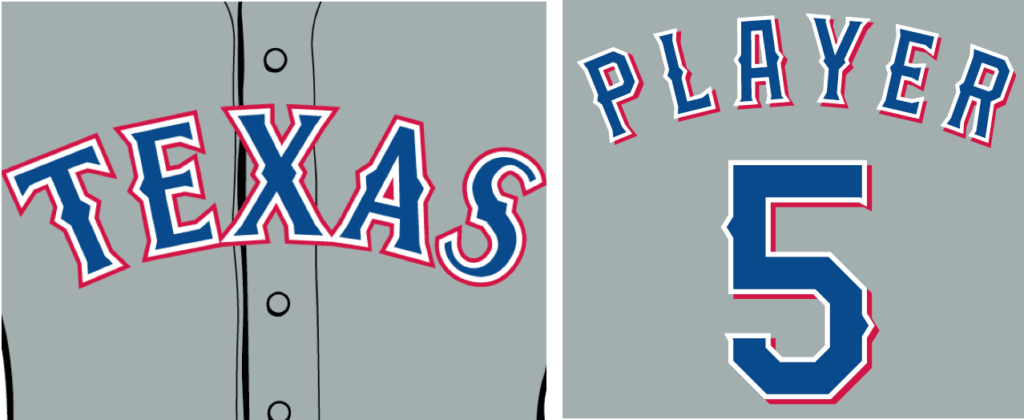 So not only are they missing an opportunity to improve the front-jersey typography, but now the front and back type styles don't match. Makes no sense.
The New Secondary Logo
There's a new "TX" secondary logo, which appears on an alternate cap and on the new spring training jersey: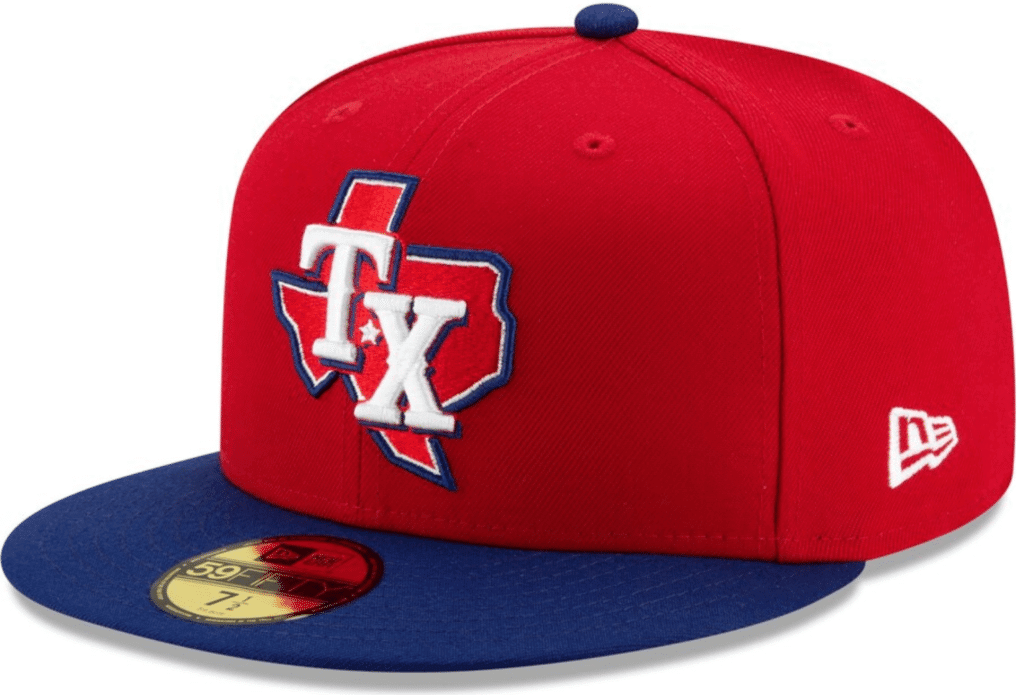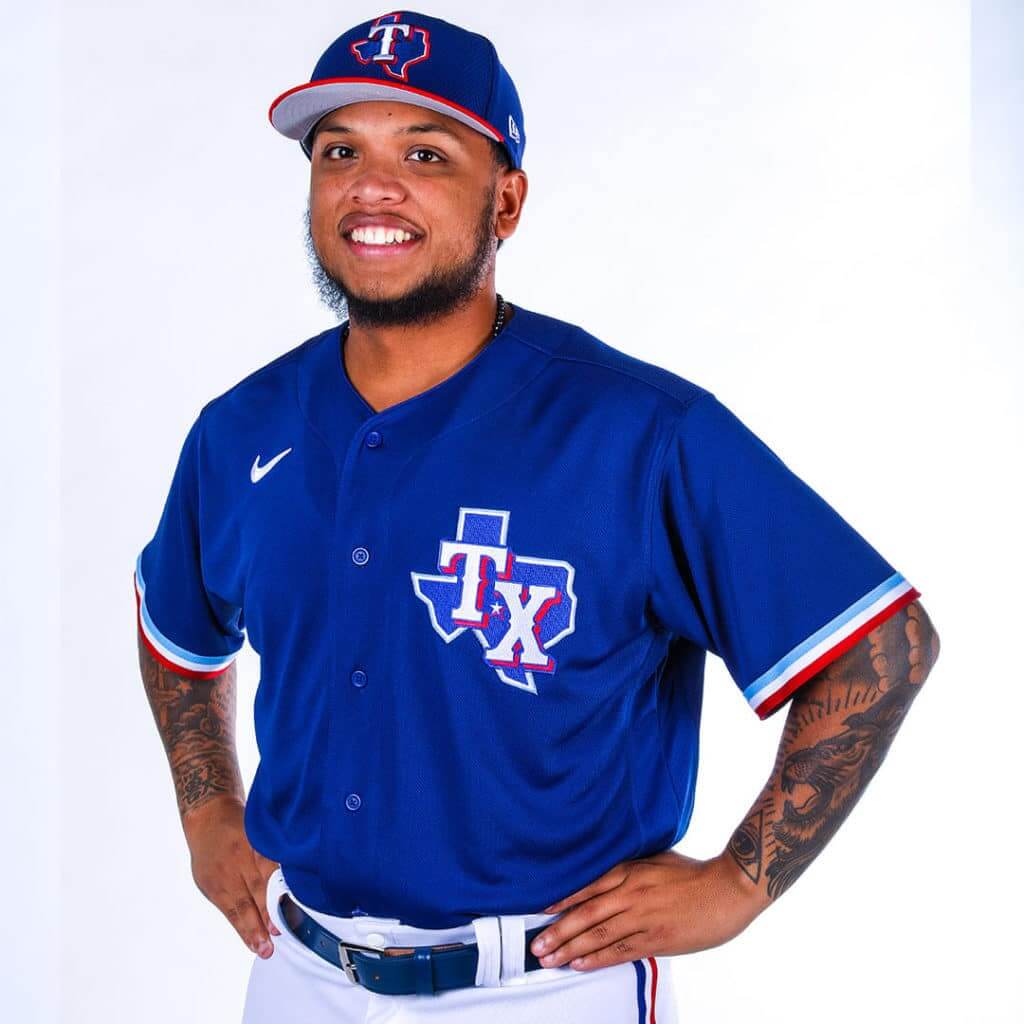 I kinda hate this logo. Too busy, too unwieldy. Not as awful on the jersey as it is on the cap, but still something that should have been left on the cutting room floor. Also: A star on a state-outline logo usually indicates the location of the team's city, but that star is nowhere near Arlington.
The Stadium Patch
A right-sleeve patch to commemorate the inaugural season of the team's new stadium will appear on all of the jerseys (including the road jerseys, which makes no sense). This logo design was revealed months ago, so it's not a surprise, but this is the first time we've seen it in patch form:
The New Flag Patch
Everything's supposed to be bigger in Texas, but Rangers players said that the team's flag patch was too large and stiff, so it's now it's gotten a bit smaller — old version on left, new on right: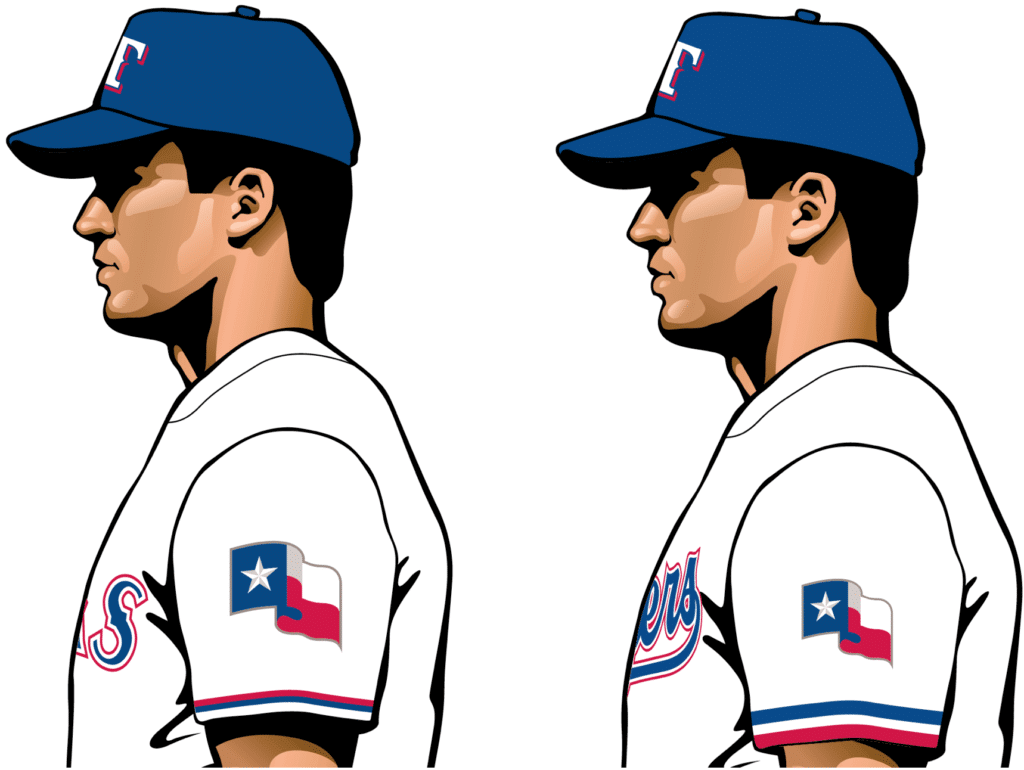 One thing they haven't fixed: If you unfurled that flag as depicted on the patch, it would be the wrong dimensions — too horizontal. Shouldn't this be, like, a capital offense in Texas?
The Sleeve and Pants Trim
As you can see in those patch images, the sleeve has new three-color trim. That appears throughout the next uni program, along with new three-color pants piping. This is supposedly a shout-out to the team's 1970s uniforms. I won't go through the ordeal of showing comparisons for every single jersey and pants color, but a side-view comparison of the home whites should give you an idea of what they've done — old version on left, new on right: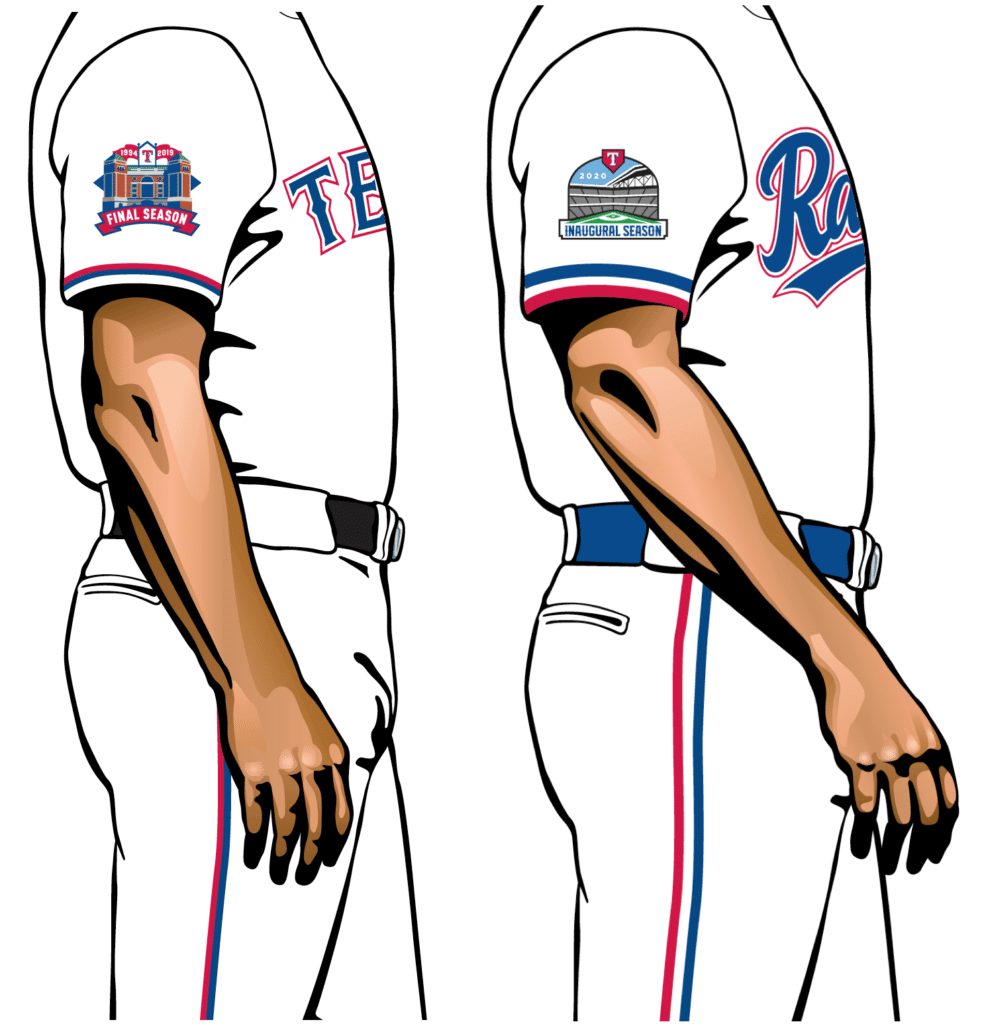 I'm okay with this on the sleeves, not a fan of it on the pants. The difference is more apparent in some of the photos I'll be showing later in this entry. (As you can see, they've also changed their belt color from black to blue, which is an upgrade — except when the belt is red, which is another issue I'll be getting to.)
Okay, so those are the big issues. Now let's look at the individual uniforms, beginning with…
The Home Whites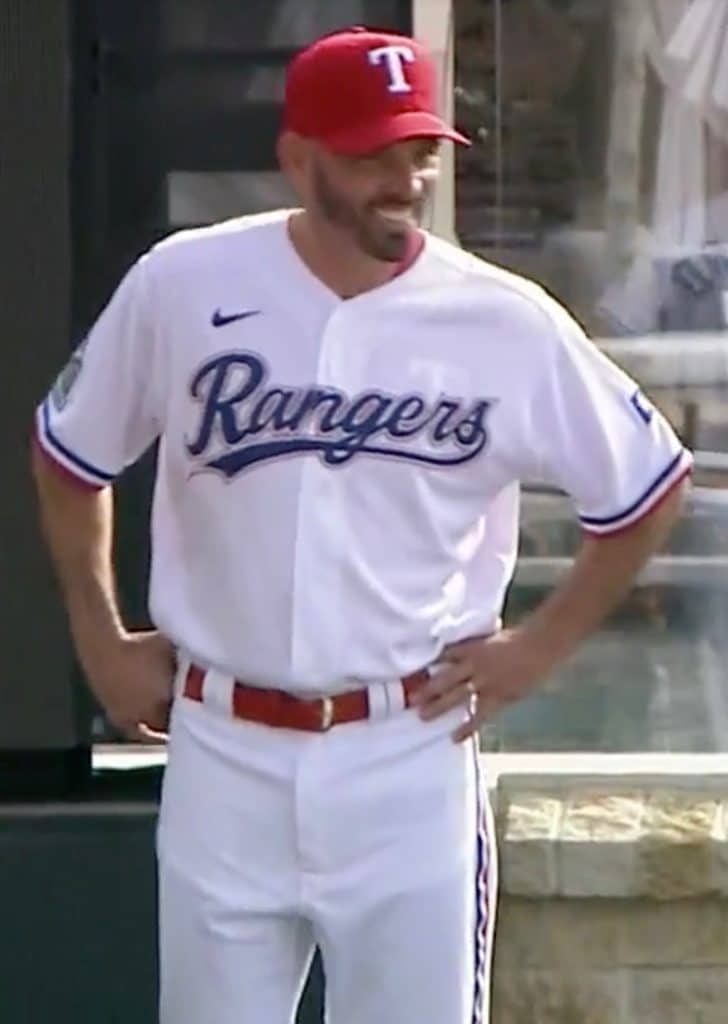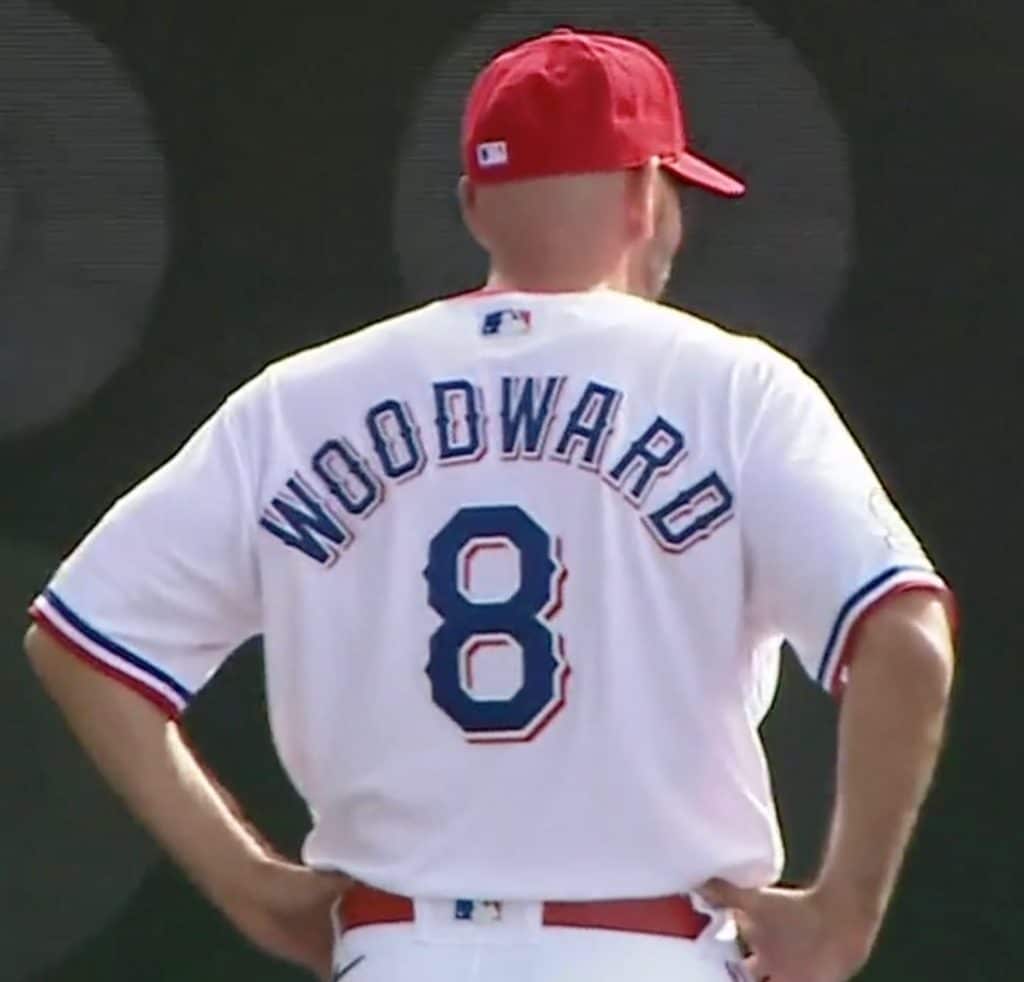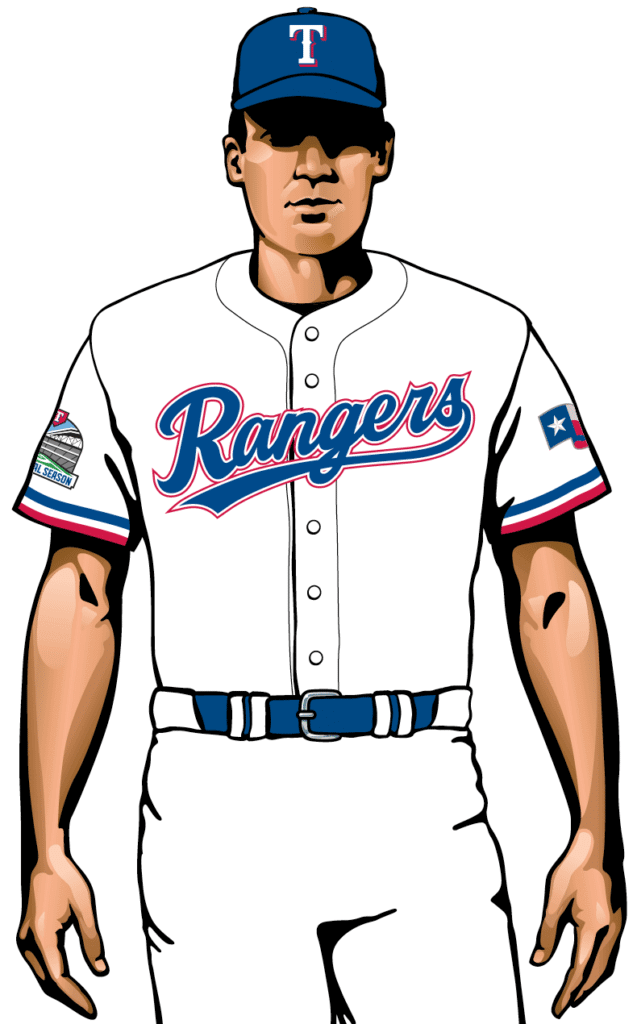 Best thing I can say about this is that they're finally wearing their team name at home, which is as it should be. But the script is weak, the front and back designs are horribly mismatched, and they still can't decide whether they're a blue team or a red team. A mess. Grade: C+
The Road Greys
This is essentially the same thing they've been wearing, but with the new sleeve trim, the new pants striping, and the new rear-jersey typography. Perfectly reasonable, if not remarkable. Grade: B
The Friday Home Alternate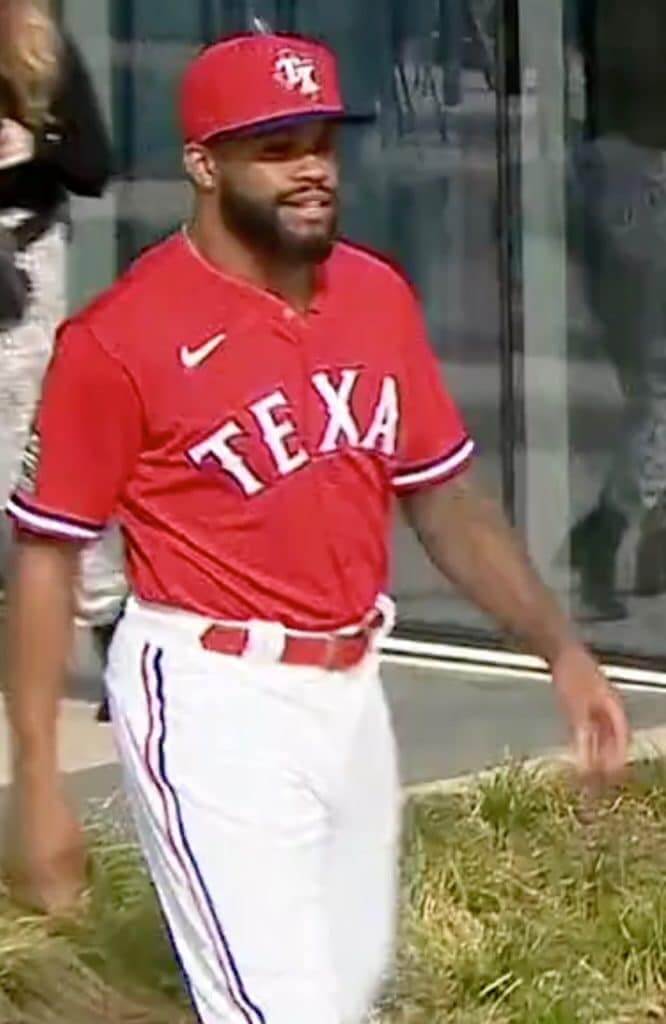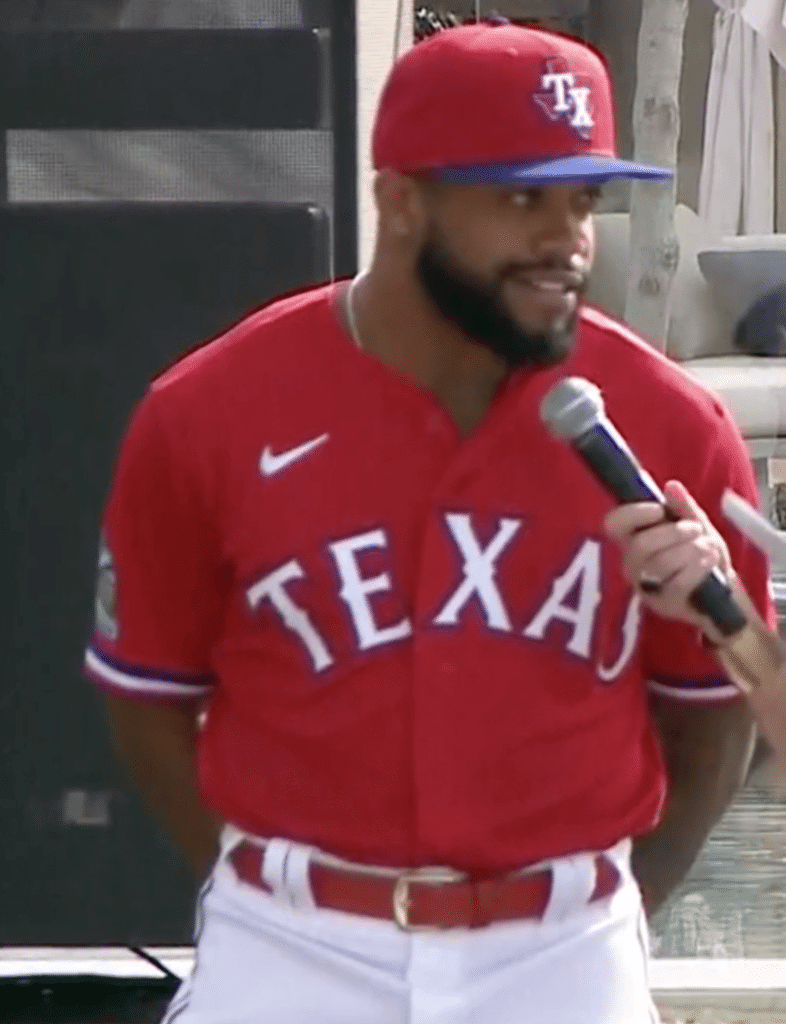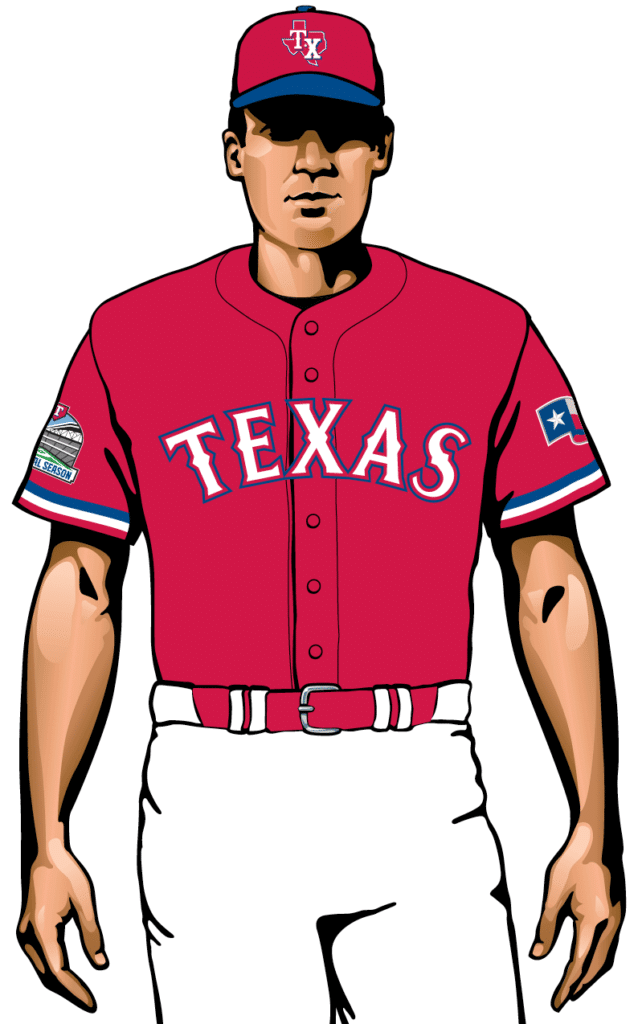 This uniform will be worn for Friday home games. I don't like the Rangers in red, I don't like that cap logo, and it's sort of hilarious that the cap for the red jersey has a blue brim, symbolizing the team's chromatic identity crisis. Grade: C-
The Sunday Home Alternate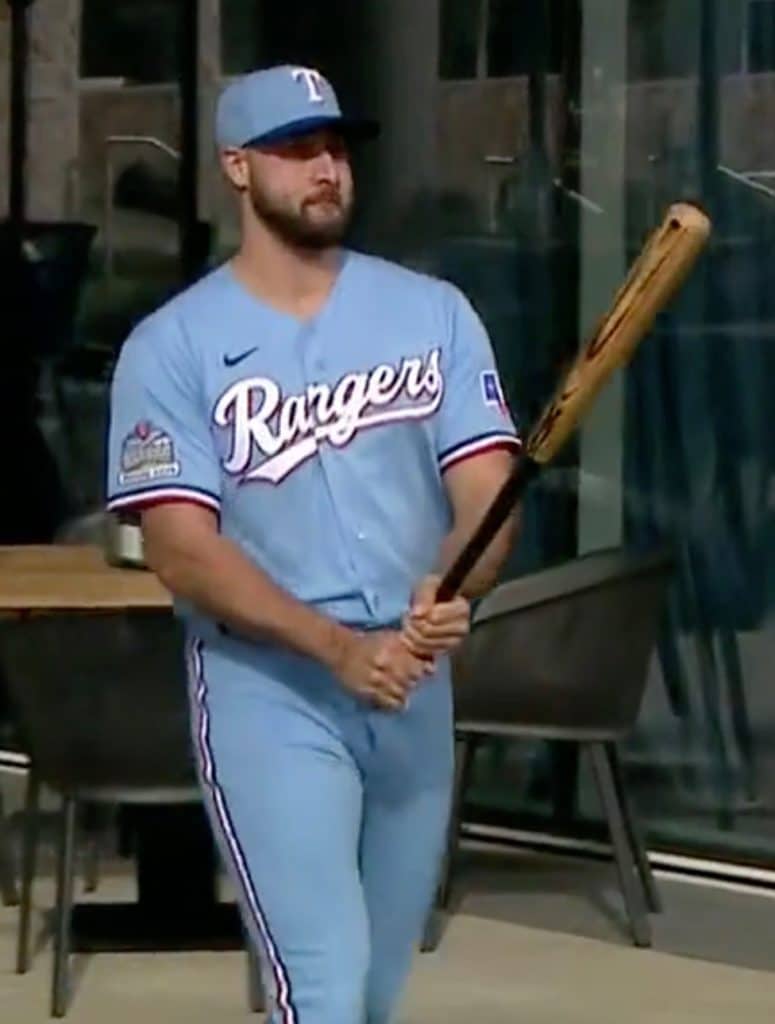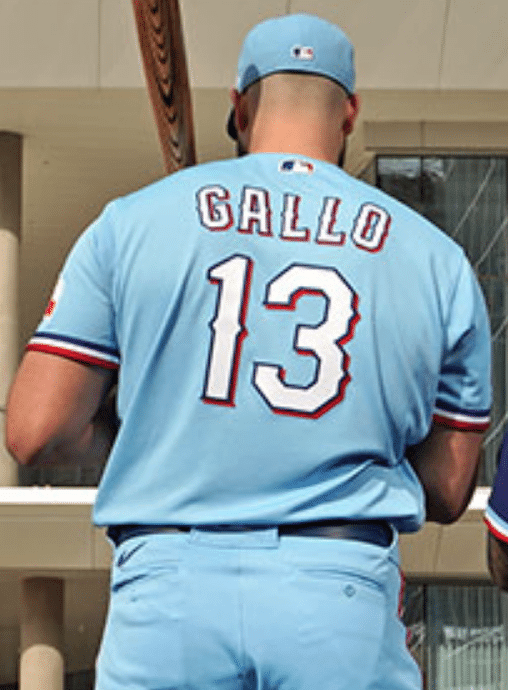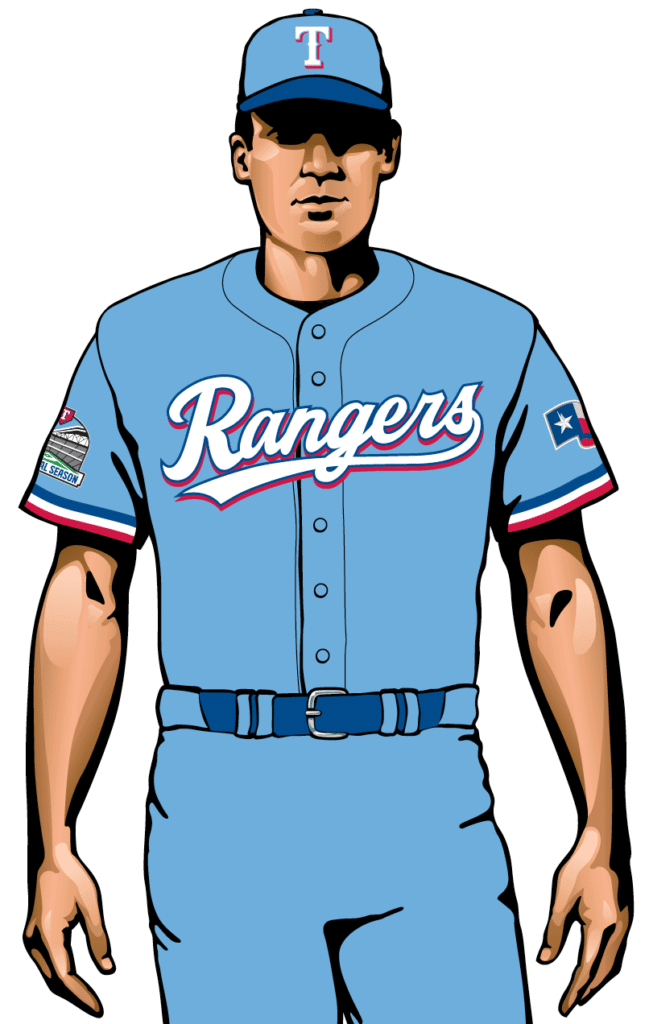 This uniform will be worn for Sunday home games. I'm not a fan of powder blue at home, and the script looks even worse on this jersey. I suppose we should be relieved that the cap brim isn't red, but a royal brim on a powder blue cap isn't exactly what I'd call progress. Also, nobody needs three different home uniforms. You've heard of addition by subtraction? This is subtraction by addition. Grade: D+
The Road Alternate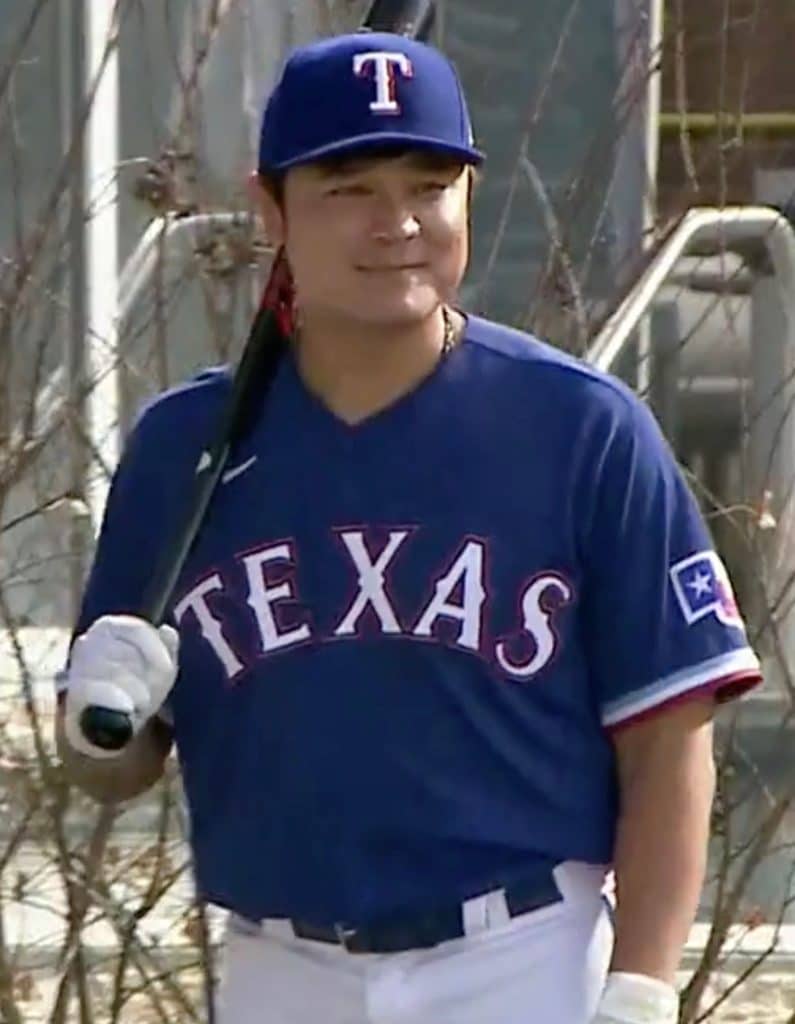 For some reason they sent out Shin-Soo Choo in a blue jersey and white pants, even though this is actually the road alternate. (They later clarified that he was supposed to have been wearing grey pants.) Much like the road greys, this is essentially the same thing they've been wearing, except for the minor adjustments to the sleeve trim, pants piping, and rear-jersey typography. No major complaints. Grade: B
———
Overall: The Rangers keep tinkering with their look, which keeps introducing more inconsistencies to a design that was never that strong to begin with. They need to blow it all up and start over. Lose the clunky font, decide whether you're a blue team or a red team, cut down on the number of uniforms, and either go classic/retro or go modern. As it stands now, this team has seriously lost its way.
Meanwhile, the Rangers also announced the dimensions of their new ballpark. Many of the measurements pay tribute to former players (additional info here):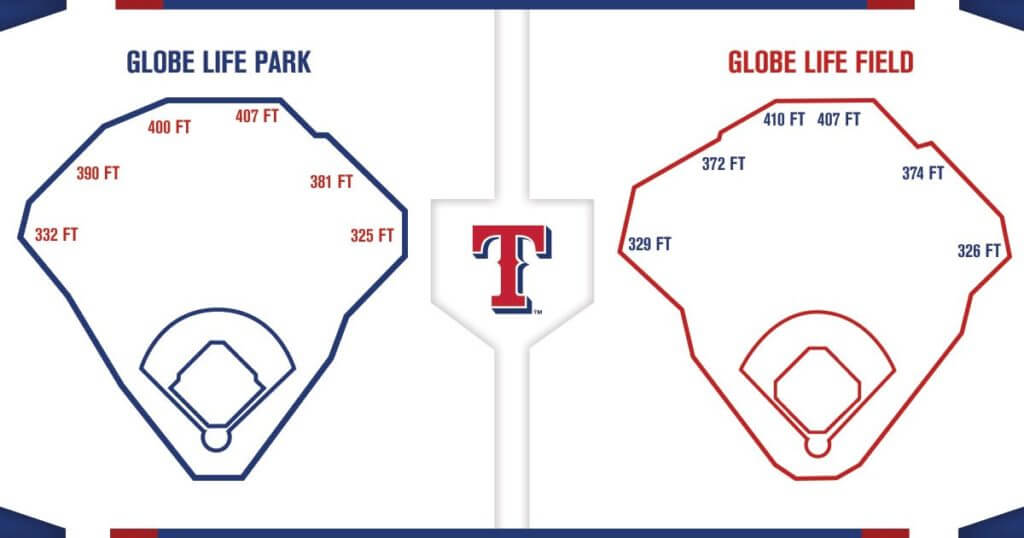 Note that the measurement listings in the first graphic incorrectly use apostrophes instead of proper "foot" symbols. Also, I love how the second graphic shows the old stadium diagram in blue and the new one in red — a perfect nutshell example of the franchise's longstanding inability to choose between those two colors.
(Big thanks to Bill Henderson for research assistance.)
• • • • •
• • • • •
Click to enlarge
Gift Guide reminder: In case you missed it on Wednesday, the annual Uni Watch Holiday Gift Guide, featuring all sorts of cool stuff (including artist Pop Chart's scratch-off stadium posters, shown above), is now available for your enjoyment over at InsideHook. My thanks to everyone who suggested items for inclusion!
• • • • •
• • • • •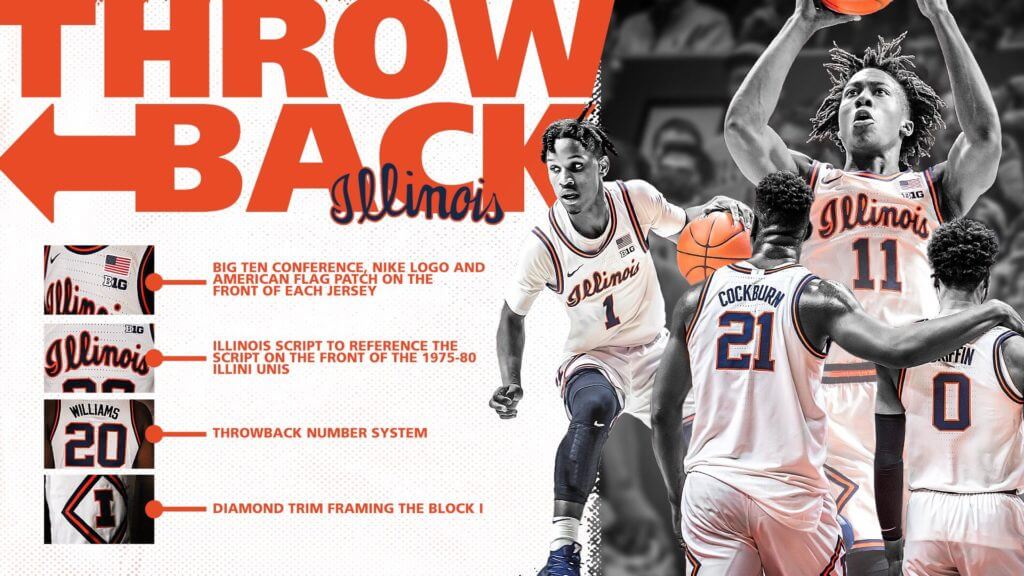 Click to enlarge
A systemic problem: Illinois used the graphic shown above to introduce new throwbacks yesterday. Leaving aside its more laughable aspects (calling out the conference logo, flag, and maker's mark as the very first item really reinforces that throwback feel, right?), I was struck by the third item on the list: "throwback number system."
What exactly is a "throwback number system" (assuming it's not, you know, Roman numerals)? For that matter, what is a non-throwback number system? Did they simply mean "throwback font"? Did they just use "system" because it sounds more sophisticated and official?
Who writes this stuff? How stupid do they think everyone else is? How do they look in the mirror?
• • • • •
• • • • •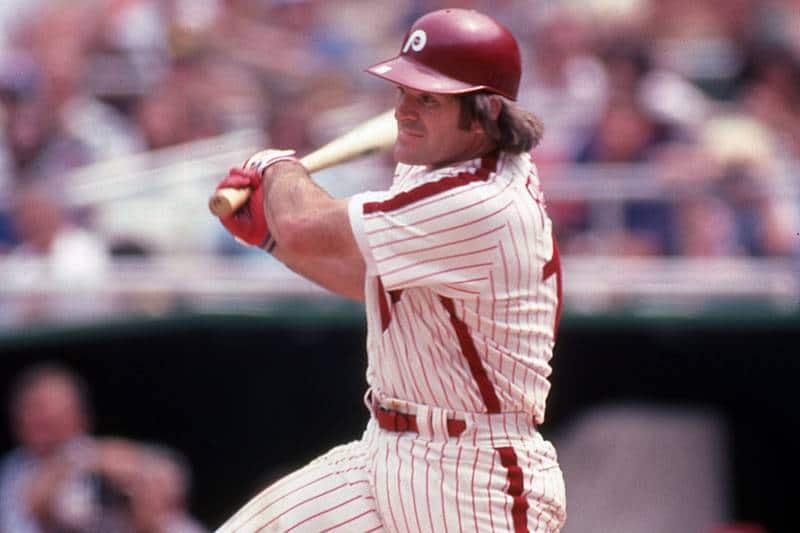 It's the little things: Reader Jason Hillyer has been reading a Pete Rose biography, and it includes some great uni-centric bits. Check this out (click to enlarge):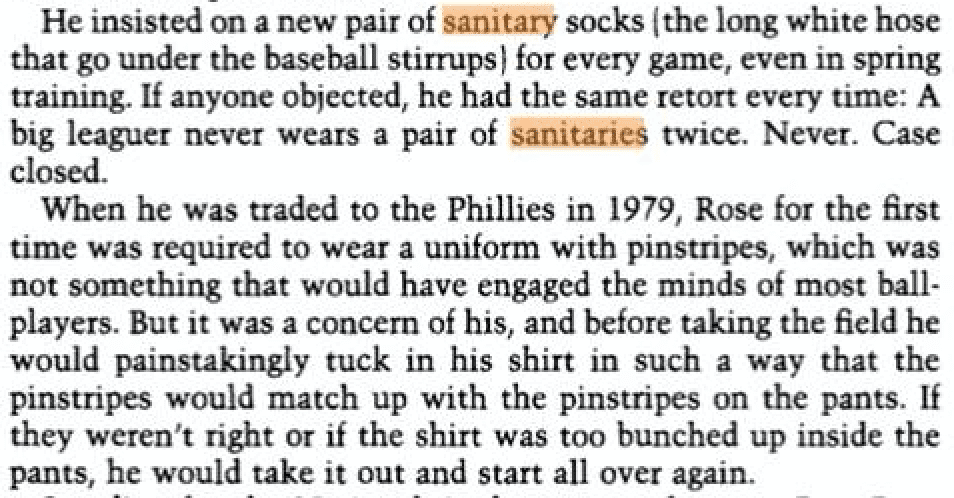 Wow. The bit about the pinstripes is so insane that I wonder if the writer somehow misinterpreted something along the way in his research. Like, maybe Rose was just picky about aligning the side piping (not pinstripes) on his jersey and pants..?
In any case, this is primo stuff. Big thanks to Jason for sharing.
• • • • •
• • • • •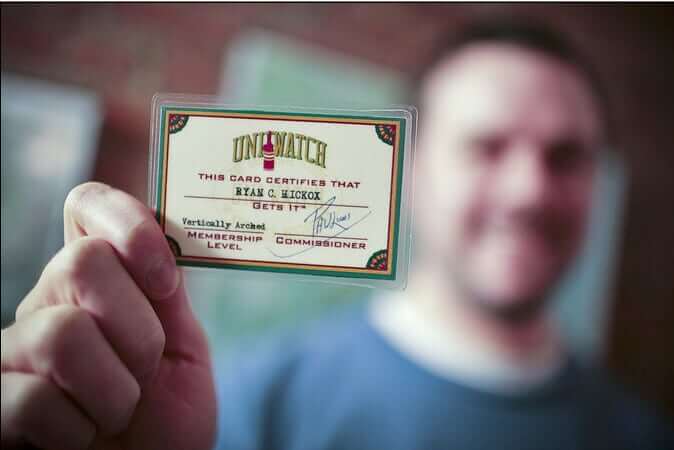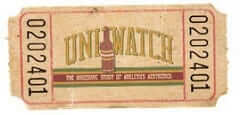 ITEM! Another membership raffle: Today we're raffling off another Uni Watch membership that's been generously donated by reader David Cline.
This will be a one-day raffle. To enter, send an email to the raffle address by 7pm Eastern tonight. One entry per person. I'll announce the winner tomorrow. Big thanks to David for making this raffle possible.
Meanwhile, the winner of our latest Vintage Brand raffle is Charles Rogers, who's won himself an item of his choice from the VB website. Congrats to him and my thanks to VB for sponsoring this raffle.
• • • • •
• • • • •
The Ticker
By Paul

Baseball News: The Pirates introduced new skipper Derek Shelton yesterday, providing our first look at the Nike maker's mark on a Buccos jersey (from several readers). … After the presser, Shelton posed for a photo with his family. He was still wearing the Nike jersey, while his family wore Majestic jerseys (from @DaddyKleinBucks). … The Royals have apparently created a logo for Raul Mondesi Jr.'s recovery from injury (from Joseph Giordano). … New logo and colors for the North Shore Navigators, a summer collegiate league team. … Another summer collegiate team, the Wareham Gatemen, is threatening to sue the Worcester Red Sox over the WooSox's new "W" logo, which the Gatemen believe is a copy of their own similar mark. … Nice shot of Padres P Chris Paddack in his new brown stirrups (from Brandon Lewis). … New uniforms for Dakota State (from Paul Vold).

NFL News: Here's a look at a bunch of the custom-painted charity cleats players will be wearing this week. … Representatives from the Archdiocese of Baltimore gave Pope Francis a Ravens jersey yesterday (thanks, Brinke). … Are the Panthers' mono-black uniforms cursed? Maybe. … The Bills will wear their mono-red alternates this weekend (from Andrew Cosentino).

College Football News: The latest school featured in Blaise D'Sylva's helmet collection is Arizona. … Purdue's field will get a new name next season (from @jffdmrly).

Hockey News: The Canadiens wore jerseys representing former captains and Hall of Famers during Tuesday night's pregame activities. Some additional pics here (from Wade Heidt). … Also from Wade: Earlier this week we Ticker-mentioned that the Canucks inducted Alex Burrows into their Ring of Honor. What we didn't mention was that the team wore throwback Burrows jerseys for pregame activities. … Speaking of the Canucks, they've decided to wear their "flying skate" throwback jerseys uniforms for an additional game this Saturday, and they'll also wear their "flying V" throwbacks for pregame activities on that same date (from Wade yet again). … G.I. Joke uniforms last night for the Maryland Black Bears (from OlegKvasha). … Whoa: Caps LW Alex Ovechkin did some sort of equipment repair on the bench last night with a blow torch. He later said he was doing it to remove a sticker from his visor (from @bryanwdc and Eric Griffin).

Basketball News: A Bucks fan did an all-time ranking of the team's uniforms. … New light-blue alternates for Villanova (from Bill McClain). … Throwbacks last night for Ohio State (from Ross Drucker). … New black uniforms for Marshall. The old black unis didn't have the white outlining (from Michael Misiti). … UNC wore Stuart Scott caricature pregame shirts two nights ago (from James Gilbert). … Pink/black throwbacks last night for Penn State (from Chris Grosse). … San Jose State wore TNOB — that's team name on back — last night.

Soccer News: Bimbo will continue to sponsor advertise on the Philadelphia Union's jerseys for four more years, but the away jersey will have one of Bimbo's sub-brands instead of a Bimbo banner (from several readers). … The USL Championship's Tulsa Roughnecks FC will now be known as FC Tulsa (from @UtahDust). … The Premier League is promoting its Rainbow Laces campaign this week, with captains wearing rainbow armbands (look here and then scroll down for additional team captains) and some players, coaches, and refs wearing rainbow shoelaces as a pro-LGBT inclusion statement (from Jakob Fox).

Grab Bag: New logo for the St. Louis Aquarium (from @theREALBgott). … U.S. Army soldiers are now permitted to wear brown fleece caps as part of their combat uniforms. … A man robbed a currency exchange in Chicago on Monday night while dressed in a police uniform. … For reasons that are unclear, at least to me, reporters at yesterday's House Judiciary Committee impeachment hearing were asked to cover the logos on their coffee cups (from @jffdmrly). … "After going down two sets to none to St. John's in the Big East Volleyball Championship, Marquette changed from their sky blue uniforms to bright yellow mid-match," says Scott Kaplan. This video doesn't mention the uni change, but you can see the different uniforms during the 0:14-21 sequence." … Interesting article about typography over the past decade (from Rob Curtin). … U.S. Army veteran Timmy Donahue spotted a lot of uniform inconsistencies and fouls in this Army Times stock photo. … Hey, remember my old Gromm•It project from a few years ago? It just got a nice entry, with lots of fun comments, on MetaFilter (big thanks to Beth Renaud for letting me know).
• • • • •
[adrotate group="2″]
• • • • •

What Paul did last night: Oh man, so much happened last night. Hmmm, where to begin?
There's this design writer/author/professor named Jessica Helfand. We've corresponded a bit over the years, in part because our work has occasionally overlapped and in part because she wrote a book about volvelles, which my then-girlfriend Kirsten was obsessed with. About a year ago Helfand wrote to me and said she was writing a new book about faces and portraits, and she asked if she could use some images of the old Manhattan Trade School report cards that had formed the basis for my Permanent Record project, because many of the report cards included little mug shots of the students. I said sure, emailed her scans of a few report cards, and then forgot about it.
A few weeks ago I received an invitation to the launch party for Helfand's new book, which is called Face: A Visual Odyssey (Face book, get it?). The party was last night at Poster House, a new museum of posters that opened six months ago in Manhattan. I'd been meaning to check out Poster House anyway, so that was a nice bonus to the party invitation.
When I arrived, I grabbed a copy of the book and figured it would take me a bit of time to hunt through its pages in order to find the bit about the report cards. Instead, to my surprise, the book's very first chapter begins with one of the report cards. So the report card actually sets the tone for everything that follows in the book — nice! (For all of these photos, you can click to enlarge.)
I eventually found Helfand, who I'd never met before in person, and introduced myself. She hugged me, thanked me for the use of the report cards, and then took off the scarf she was wearing and held it up:
How cool is that? She had turned one of the report cards into a scarf design! She gave me the scarf and insisted that I take it — a nice treat.
Since the party was taking place at the Poster House museum, I checked out the main gallery, which had an exhibit of completely amazing hand-painted movie posters from Ghana. Holy shit:
I also liked a digital display that showed a rotating series of notable posters from design history:
I wasn't expecting much in the food/drink department, because book parties and parties at museums both tend to feature rabbit food and wine. But to my surprise, last night's offerings included beer and some very rare beef skewers — alright then!
While mingling with people, I found myself chatting with a woman who was wearing a really cool green and yellow ring — my favorite color combo. I asked her if I could photograph it and she happily obliged:
On my way to the subway after the party, I stopped in at a deli to grab a soda and spotted these heaping bins of bacon on a back counter. I assume they were for this morning's breakfast sandwich rush. Whatever they were for, it's probably the most bacon I've ever seen at one time:
And then I went home and stayed up past midnight writing about the Rangers. A very good night! Hope yours was good too.