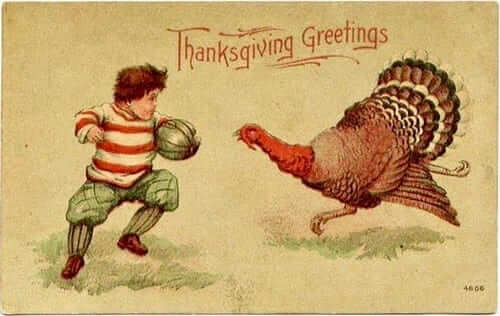 I've always liked Thanksgiving more than most other holidays. But it means a bit more to me this year, mainly because of you folks. Here's why.
As most of you know, this has been a complicated year for me. But throughout all of it, the response and support from the Uni Watch comm-uni-ty — sometimes financial, sometimes just emotional, but always sincere and heartfelt — has been tremendous, and has made a challenging period a lot more manageable than it would otherwise have been.
So many of you have told me how much Uni Watch means to you, how it's part of your daily routine, how you feel connected not just to the site and to me but also to the each other and to the larger Uni Watch project. I can't properly express to you how much that means to me. It's all very, very humbling.
Some of you have expressed concern about my future, my prospects, and so on. Don't worry — I'm okay. One reason for that is that I'm a career freelancer and know how to hustle and survive. But another reason is that you folks have provided me with so much amazing support and feedback, which has been nourishing and inspirational in all sorts of ways.
There's a word I use for things that seem particularly revelatory and remarkable. That word is Special. And in case it wasn't obvious by now, Uni Watch is Special — not because of what I put into it, but because of what we all put into it. That's definitely something to be thankful for, on Thanksgiving and on every other day.
In the spirit of the holiday, I'd like to take a minute to give thanks to all the people who continue to make Uni Watch possible, including Ticker assistants Lloyd Alaban, Anthony Emerson, Alex Hider, and Jamie Rathjen; "Collector's Corner" columnist and Facebook editor Brinke Guthrie; membership card designer Scott M.X. Turner; weekend contributors Terry Duroncelet, Jr., Michael Malinowski, Rex Henry, Dennis Bolt, Kyle Acker, and Ethan Dimitroff; webmaster John Ekdahl; proofreader Jerry Wolper; Photoshopper Nic Schultz; cap fulfillment manager Mark LaFountain; and, especially, deputy editor Phil Hecken, the world's hardest-working bench coach.
Big thanks also to Zac Neubauer, who provided the vintage postcard image that I've been featuring on these Thanksgiving posts for more than a decade now.
If you're traveling today, travel safe. If you're working today, thanks for keeping the world spinning while the rest of us take the day off.
As for me, the Tugboat Captain and I will be driving out to Long Island to spend Thanksgiving with my brother and my indestructible mom. We all have a lot to be thankful for.
Everyone have a great holiday. Peace. — Paul