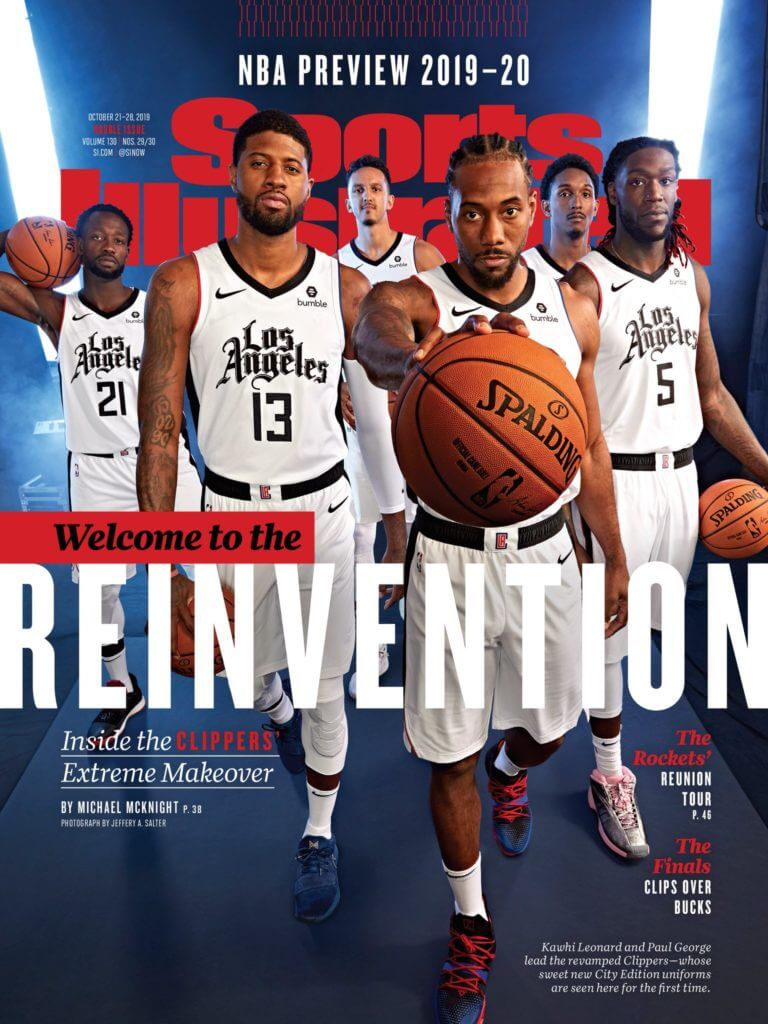 For all images, click to enlarge
As you may recall, a certain sports publication recently pink-slipped a certain uniform columnist after employing him for only seven weeks. How fascinating, then, to see that this selfsame publication yesterday used its coveted cover spot as the platform for an NBA uniform unveiling. Seems like a situation where the erstwhile uniform columnist might have come in handy, no?
I have to admit, when I saw that happen yesterday, it was a bit of salt in the wound. Like, really? You give me the heave-ho and then do a uni reveal on your cover 12 days later? Ouch. Sent a note to my former boss (who's now co-editor-in-chief), giving him a bit of shit about it. He basically said — I'm paraphrasing here — "Yeah, I know, I know. Wish we had you here to be part of the coverage."
And it gets weirder. The Gothic chest lettering, which was reportedly done by an L.A. tattoo/graffiti artist named Mr. Cartoon, looks a lot like the masthead of The Los Angeles Times. Here's a comparison — chest insignia on top, masthead on the bottom: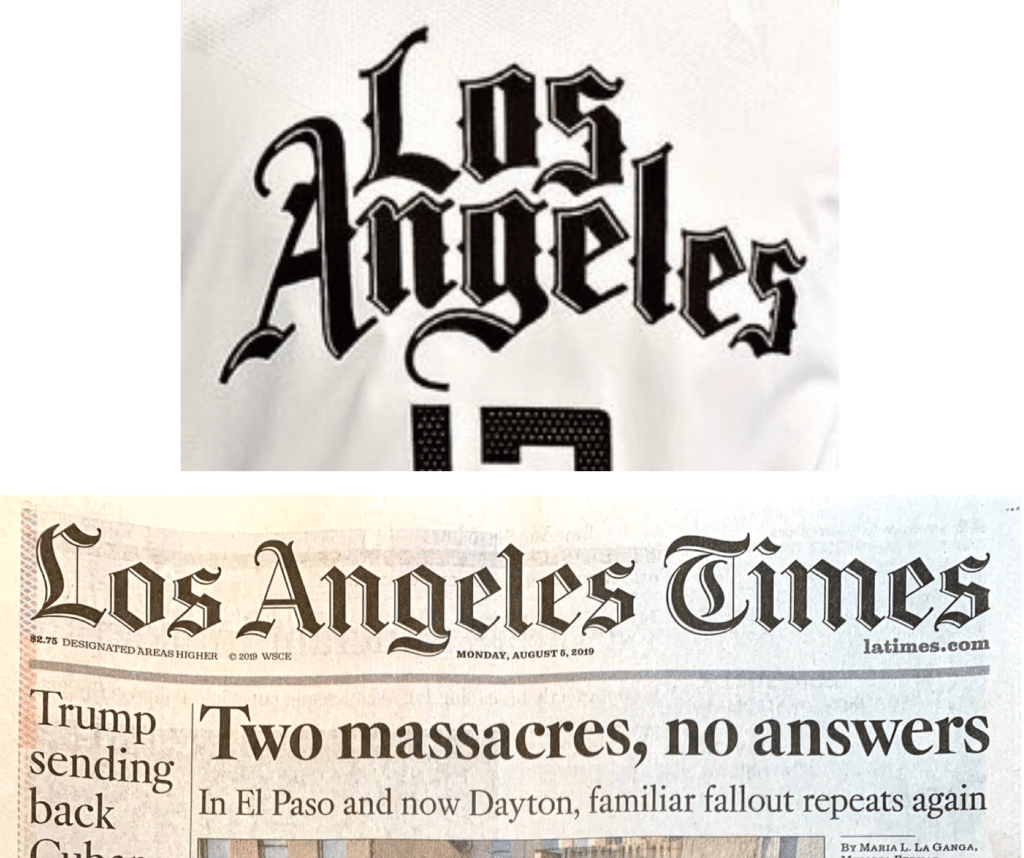 It's not an exact match (the white trim/highlights don't match up), but it's mighty similar. Yes, I realize it's probably meant to reference a certain video game logo, but come on — it's clearly closer to the Times lettering.
So let's review: A printed magazine — which is something most people no longer read — used its cover to showcase a new uniform whose chest insignia evokes the masthead of a printed newspaper — another thing people no longer read — and I wasn't around to write about it for the magazine because I lost my job, a situation brought about in large part because people no longer pay to read magazines or newspapers.
Got it?
Meanwhile: Is this the first time a Big Four team has used a magazine cover as the mechanism for a uniform unveiling? (It's almost certainly going to be the last time, because soon there will be no more magazines!) If you're aware of any previous examples, please post them in today's comments.
As for the design, it's not bad, but it could be so much better. I like the chest mark, and it's kinda refreshing to see an NBA alternate uni that's white instead of colored. But the standard number font clashes badly with the insignia, and the splashes of color on the armholes and waistband logo feel out of place with the black/white theme.
This uniform will make its on-court debut on Nov. 22 and will be paired with a new alternate court design:
In addition, the Clippers' primary court has been given a black-themed makeover, including a black version of their "LAC" logo — which makes it even odder than they used the red/blue version of that logo on the waistband of the new alternate uniform: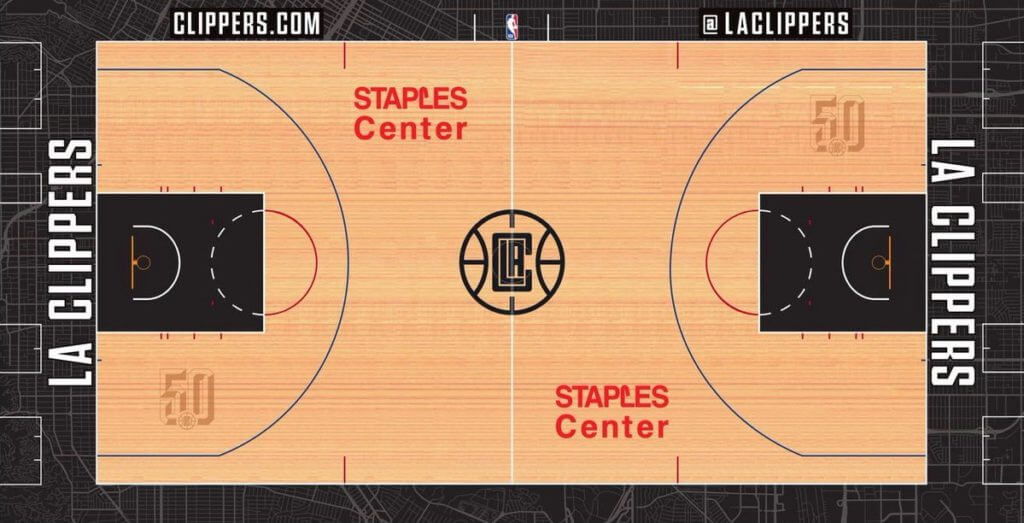 That concludes today's episode of Irony in Media. Tune in tomorrow, when we'll see an NFL team do a surprise uni unveiling on SportsCenter.
• • • • •
• • • • •
ITEM! Press pin registry now open: People are starting to receive their 2019 Uni Watch Press Pins (which, in case you missed it, launched on Friday and sold out three days later). Since we did a limited edition of 200 pins, with each pin individually numbered on the back, a few people have expressed interest in possibly trading for specific numbers, or just knowing who got which number.
With that in mind, I've created a spreadsheet document where everyone who purchased a pin can enter their name, their email address, and any notes or comments. If you scroll down through the form, you'll see that I've listed the pin I've been wearing (No. 195) and eight other pins that I'm currently saving for special occasions but am willing to trade if someone really wants or needs those numbers.
Now then:
• If you've purchased a pin and would like to enter it on this registry, feel free to do so. (Be sure to use number shown in the "Pin Number" column, not the spreadsheet's line number column. Those two columns are consistently one number apart, so it's an easy mistake to make — be careful!)
• If you're a big fan of, say, the number 73 and see that the person who has pin No. 73 is willing to trade, go ahead and email that person and see if you can strike a deal. (Obviously, shipping arrangements, postage charges, and so on are up to the two traders — work it out amongst yourselves.)
• I suppose people who missed out on purchasing a pin could also use this registry as a way to buy one ("I'll give you 20 bucks for pin No. 53!"). Personally, I find that notion less appealing — I'd rather encourage trading, not selling. But if it happens, so be it.
• Participation is completely voluntary. If you purchased a pin but would rather not enter your name on the spreadsheet, that's fine.
• I realize there are privacy issues about sharing email addresses on publicly viewable documents. If you're willing to enter your name but would rather not list your email address, that's fine. (You may also want to consider creating a new email address just for this spreadsheet. It's certainly easy enough with Gmail and many other services, and that way you won't be giving away your primary address.)
• Obviously, this will only work if everyone behaves and nobody fucks with the spreadsheet. So: Please behave and don't fuck with the spreadsheet. Thanks.
Again, the spreadsheet registry is here. Enjoy.
(My thanks to Wafflebored, who was the first to suggest this idea.)
• • • • •
• • • • •
The Ticker
By Lloyd Alaban

Baseball News: Astros 2B Jose Altuve tore his pants stealing second base during the second inning of yesterday's ALCS game (from Kary Klismet). … The Nationals are now 7-0 when wearing their navy blue tops this postseason. Think they'll keep wearing that uniform throughout the World Series? … Speaking of the Nats, SS Trea Turner wore an NC State football helmet during last night's champagne celebration. Turner went to college at NC State (from John Muir). … A cameraman at last night's NLCS game wore a catcher's helmet (from Ethan Hopkin). … Here are the uniforms for the Auckland Tuatara, the first New Zealand-based team in the Australian Baseball League (from Gareth Hooton).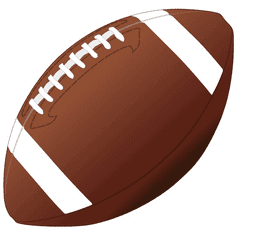 Football News: Chiefs S Tyrann Mathieu wore a thigh pad embossed with a picture of a honey badger, his nickname, on Sunday (from @DrSoup_MD). … Per Titans Uni Tracker, the Titans are going light blue over navy this Sunday. … Here's the Panthers Uni Tracker through week six. … The Broncos sent out a gameday experience survey for last Sunday's game, and it included a question about the use of their navy blue alternate jerseys (from Zeke Perez Jr). … The Museum of Jerseys blog, which is usually about soccer, rugby (union), and Gaelic games, had a guest poster choose the top four NFL uniforms of all time (from our own Jamie Rathjen). … A Packers fan group has created a sober section at Lambeau Field, complete with their own stickers (from @KroenkeOut2019). … It looks like ESPN photoshopped new Rams CB Jalen Ramsey's head onto former Rams CB Marcus Peters's body (from Jakob Fox). … Also from Jakob: The Rams posted a photoshopped photo of Ramsey wearing the team's throwback blue jersey with a missing TV number in the horn on the shoulder. They also commented that his number is TBD but Ramsey posted with a number 20 (currently used by CB Troy Hill). … One more from Jakob: The LA Kings of the NHL wore Chargers-themed warmup jerseys last night.

College Football News: Texas will wear throwbacks from their 1969 national championship season this weekend. Here's a more detailed look (from Griffin Smith). … North Dakota State is going mono-green alternates this Saturday. It's apparently the first time in NDSU history that they've worn that uni combo (from Ryan Workman). … The Navy equipment staff is in need of unit patches for its players to pick from for its Army-Navy game uniform (from Shawn Hairston). … The latest helmet collection from Blaise D'Sylva showcases FAU. … Cross-listed from the baseball section: Washington Nationals shortstop Trea Turner wore an NC State football helmet during the team's champagne celebration after winning the National League championship. Turner went to college at NC State (from John Muir).

Hockey News: Predators Winter Classic fan gear has hit the shelves, even though the uniform for that game hasn't yet been released (from Hudson Nuckolls). … Cross-listed from the football section: The Kings wore Los Angeles Chargers-themed warmup jerseyss last night (from Jakob Fox).

NBA News: A screenshot that reader Charlie Roush found from Heat SG Tyler Herro's Instagram story pretty well confirms the long-rumored existence of blue Miami Vice uniforms. … Add Hong Kong to the list of places where people have burned LeBron James jerseys.

College Hoops News: New unis for Princeton men's (from Nikhil Lal). … South Carolina men's revealed their throwbacks (from Ross Mashburn and Andy Shain). … Florida State men's has released their uniform breakdown for this season (from @VictoryCB). … New court for NC State men's (from Chad Lehman). … The NCAA has released the 2020 Women's Final Four logo (from Joey Harvey). … Here's a breakdown of what each college basketball venue is named (from James Gilbert). … New court design for Washington State (from Jeff Peterson).

Soccer News: From Josh Hinton: Manchester City is ditching the purple for next season. … PSV Eindhoven is switching to Puma for the 2020-21 season. … AS Roma's 2020-21 third shirt has leaked. … New info about Galatasaray's second shirt for 2020-21. … West Ham United has released their esports home shirt. … Japan's 2020-21 shirt has leaked. … As always, you can catch up on the latest kit news by checking out Josh's Twitter feed.

Grab Bag: The Ole Miss track and field and cross-country teams are going Pinktober (from Greg Elkin). … NASA revealed new spacesuits yesterday. Astronauts will wear them in future missions to the moon and Mars (from multiple readers). … Not to be outdone, Under Armour and Virgin Galactic, Richard Branson's space company (yes, that Virgin), are set to reveal new spacesuits today (from James Gilbert). … Here's a breakdown of the lapel pins worn in last night's Democratic presidential candidates' debate. What, no Uni Watch pin?
• • • • •
Raffle results: The three winners of the NHL/Carhartt cap raffle are Chris Ray, Peg Kelly, and Pete Mensching. Congrats to them, and thanks to all who entered.
Meanwhile: I'm heading back to the Puppy Bowl today, so I won't be checking in much on the site. Play nice while I'm away. Thanks! — Paul