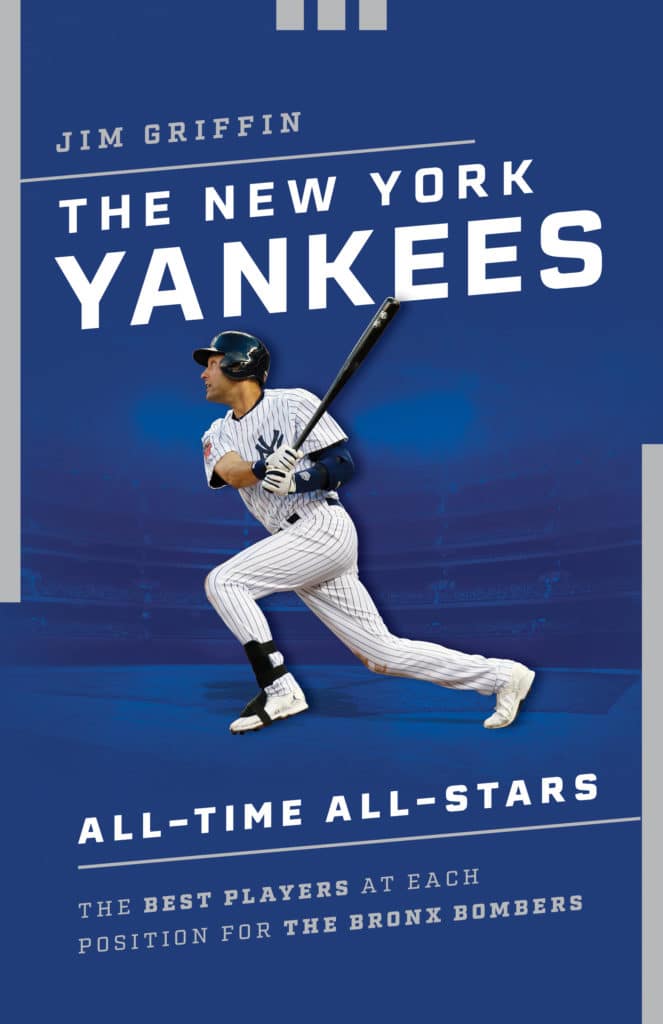 Jim Griffin recently wrote his first book — a position-by-position look at the best players in Yankees history, which was published about a month ago by Lyons Press. Along the way, he learned that, like most first-time authors, he had no say regarding the book's cover design (shown at right, click to enlarge).
But as a longtime Uni Watch reader, Jim had a lot of thoughts regarding the design that his publisher ended up going with. And while his publisher may not care what he thinks, I think the Uni Watch readership will be interested in his analysis of his own book's cover (which was done by a graphic designer named Devin Watson). Take it away, Jim:
Naturally part of me sees the design through a Uni Watch lens. For starters, they chose a shade of blue that more closely resembles that walls of the renovated, old version of Yankee Stadium than the midnight navy that the team wears. I think that was actually a good decision — if they'd gone more navy, it might entirely obscure the image of the stadium in the background.

Speaking of which: That stadium in the background is definitely not Yankee Stadium, new or old. The field in the foreground suggests that we're looking from a viewpoint behind home plate, which would in turn suggest that this stadium is entirely enclosed. A cookie-cutter stadium for a Yankees book? Not ideal.

The three small notches at the top remind me of the sponsorship deal that the Yankees struck with Adidas years ago. Specifically, the notches call to mind the bullpen awnings and banners behind the bleachers that were added to the old Yankee Stadium after that deal was made. So at least this feels like a reminder of the team's longtime home, which is good.

They used a photo of Derek Jeter on the cover. I suggested Mariano Rivera, given that he had just become the first unanimous Hall of Fame inductee, but that was roundly rejected. Anyhow, Jeter's white cleats are a dead giveaway that it's an image from an All-Star Game, and the somewhat obscured All-Star sleeve patch can help narrow it down. After some internet sleuthing, it's clear that this is a shot of Jeter's follow-through after hitting his lead-off double in his final All-Star Game in 2014 [click to enlarge]: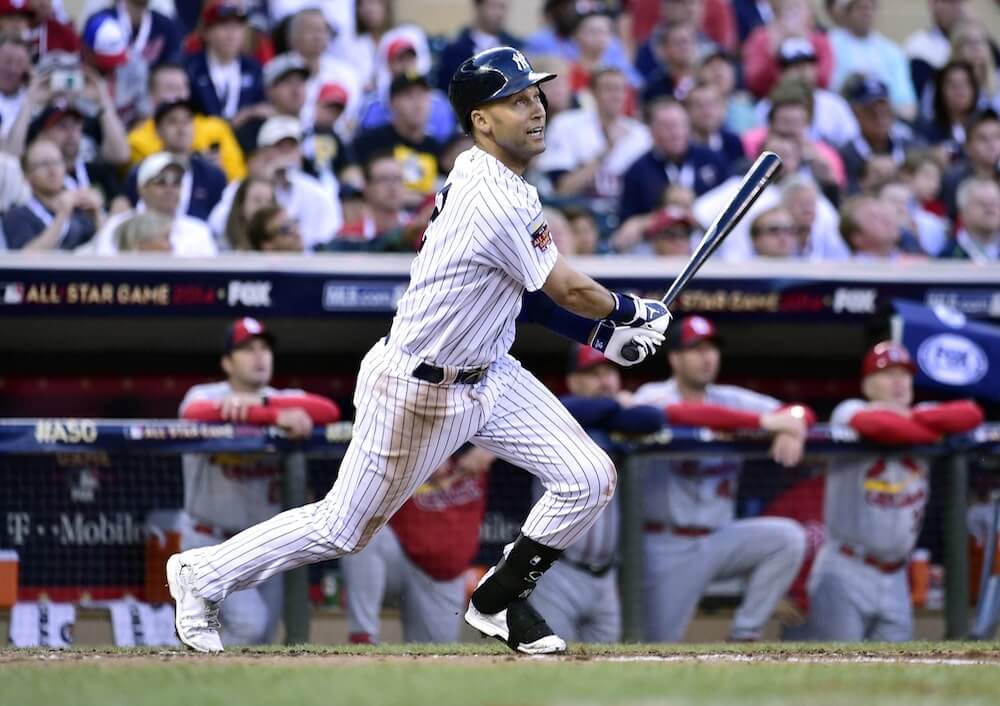 All very interesting! Jim said his book is the first in a series, with a Mets edition (written by a different author) due to be published in March. Here's the cover design for that one: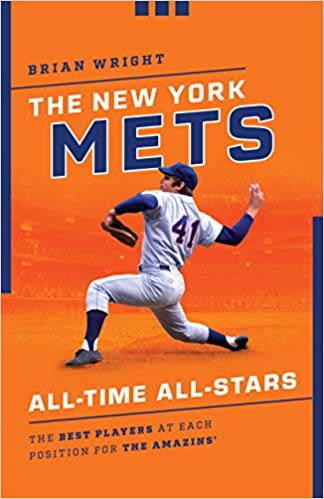 Jim asked what I thought of that design, so here are some quick thoughts:
• Too bad about the recurring design template, right down to the three notches. Makes both cover designs feel too boilerplate and unimaginative. The repeated visual motif might arguably be okay if people were going to "collect 'em all" (that way they'd all feel like variations on a common, interconnected theme), but most fans will only be interested in the book about the team that they root for, not in the whole series. Why not give each one its own distinct design treatment? Lazy and disappointing.
• That said, the stadium in the background is not the same image used for the Yankees book cover. Good! It's hard to tell at this size and resolution, but it might even be Shea Stadium.
• Putting Tom Seaver on the cover seems like a no-brainer, so no problem there. But that photo must be from very early in his career, because he usually did not wear his pants and stirrups like that. Generally speaking, he liked his pant cuffs lower and his stirrup openings higher. So the cover photo feels like a somewhat unrepresentative image of Seaver.
• Also: Instead of a rear-view shot of Seaver in a road uniform, I'd much rather see a front-view shot of the home uniform, showing the familiar Mets script. At first I thought maybe they avoided the front view because of licensing issues, but the Yankees chest logo is clearly visible on the cover of Jim's book, so why not do the same for the Mets? Disappointing.
• It looks like the tag line at the bottom of the cover says THE BEST PLAYERS AT EACH POSITION FOR THE AMAZINS'. In other words, they appear to have put an apostrophe after the S. Sigh. Reminds me of this long-ago LP. Let's hope that bit of illiteracy gets corrected before the book is published.
Having written a book and worked in book publishing, I know all about the things that can factor into (and put various restrictions on) a book cover design, so I realize the designer's hands may have been tied. Interesting to see how these turned out. Thanks to Jim for sharing all of this, and congrats to him on the publication of his first book!
I don't know about you, but this song is now stuck in my head (which is not a bad thing):
• • • • •
• • • • •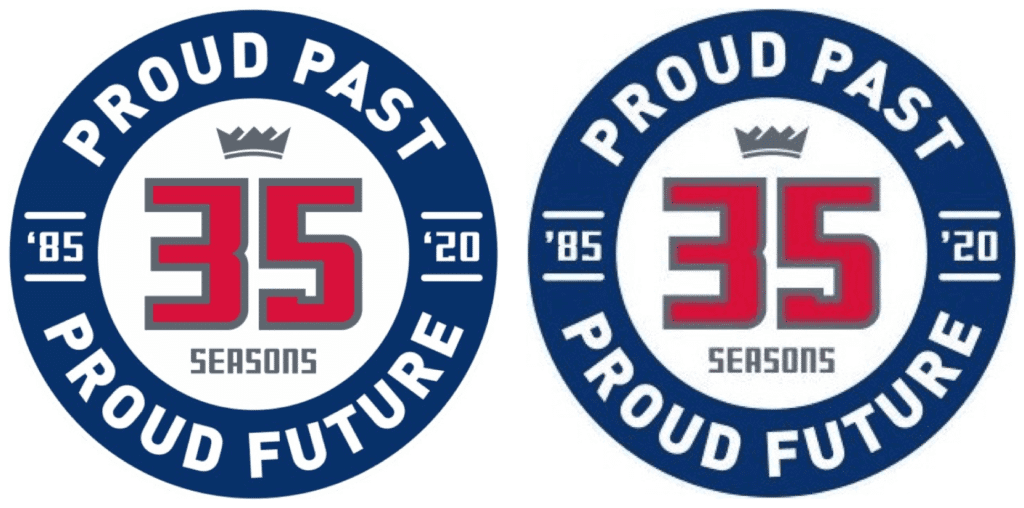 Click to enlarge
Apostrophe catastrophe update: Notice any distinction between the two Sacramento Kings 35th-season logos shown above?
The one on the left is the original version of the logo — which, as I noted in yesterday's blog post, had a double apostrophe catastrophe. The one on the right is an updated/corrected version that appeared on the team's social media channels yesterday, with properly oriented apostrophes — a small victory for grammar and literacy. Kudos to the Kings for making the fix!
Now we just have to do something about the Orioles' cap logo.
(My thanks to Zack Evans for bringing the updated logo to my attention.)
• • • • •
• • • • •
Click to enlarge
What, no Uni Watch lapel pin?: With teams now routinely posting photos of their gameday attire, Devils P.A. announcer Kevin Clark (who I got to meet back in February, and who also attended the Uni Watch 20th-anniversary party back in June) decided to do the same, at least for tonight's season opener. I love that he'll even be wearing Devils socks!
Speaking of the start of hockey season: In case you missed it earlier this week, the annual Uni Watch NHL Season Preview, with all of the new uniforms, logos, and center ice designs for 2019-20, is now available for your enjoyment.
• • • • •
• • • • •
Click for increased cuteness
Sun worshiper: Uni Watch girl mascot Caitlin usually likes to curl up in front of the other pillow. But she loves being in the sun more than anything. Li'l angel.
• • • • •
• • • • •
The Ticker
By Lloyd Alaban

Baseball News: The Nationals' bullpen cart usually has advertising space on the front of it, but it was covered up by a Nats cap logo for last night's Wild Card game. That's part of MLB's larger program of covering or changing stadium advertising in the postseason (from Tim Haller). … ESPN's Pardon the Interruption used a strange-looking Red Sox logo yesterday (from Mike Sullivan). … Dugout sweaters from the early 1900s may be coming back in style (paywalled). … The Padres' online shop includes a jersey for P Chris Paddack with his NOB misspelled (from @_pomdet). … Mets 1B Pete Alonso has donated his shoes and bat from the team's Sept. 11 game to the National September 11 Memorial & Museum (from Peter Clark). … The A's will wear their Kelly green alternates for tonight's American League Wild Card Game (from Heath Carignan). … Speaking of the Wild Cards: After the Nats beat the Brewers last night, Nats SS Trea Turner wore a bizarre getup for a postgame presser (from Max Weintraub).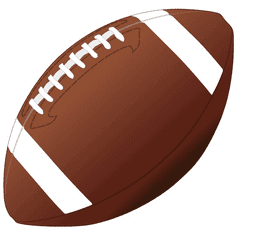 Pro Football News: Paul's MMUW entry two days ago noted that Chiefs WRs Sammy Watkins and Demarcus Robinson were both missing their Lamar Hunt/AFL jersey patches on Sunday. Sam Wescott has now discovered that the patch was also missing for LB Anthony Hitchens and K Harrison Butker. … The Seahawks will wear their snot green alternates for tomorrow's game against the Rams (from our own Phil Hecken). … The Toronto Argonauts of the CFL wore their throwback "sails" logo on their helmets for their Labour Day Classic match. It seems like that logo is staying for the rest of the season (from Wade Heidt). … Reader JC Bigornia found an interesting glitch while playing Madden NFL 20 that resulted in the Jets playing in their Namath-era helmets but in the current Bucs' uniforms. The numbers on the Bucs/Jets jerseys are also oddly spaced. … Chris Markham found this 1994 Bills QB Jim Kelly throwback jersey being sold on Fanatics with multiple inaccuracies, cross-referenced by this screenshot of Kelly from Chris. The Bills didn't wear their 35th anniversary patch with these jerseys — which were themselves throwbacks to the 1965 season — but did with their regular uniforms. The sleeve striping on the Fanatics jersey is red-white-red, while the actual 1994 throwback had white-red-white striping. The TV numbers are missing from the Fanatics jersey, and an apparent Photoshop mistake in the Fanatics listing placed the Jaguars' 1995-era alternate logo on the Fanatics jersey's right sleeve.

College and High School Football News: New BFBS unis for ECU (from Michael Grubb). … Cincinnati trolled Twitter by falsely stating they would play on a black field on Friday (from multiple readers). … Louisville will wear their Muhammad Ali-themed uniforms on Saturday against Boston College (from M. Brinston Berry). … Blaise D'Sylva's latest helmet collection is from Rutgers.

Hockey News: Here's the Blue Jackets' alternate uniform schedule (from Ben Teaford). … The Bruins will have a third uniform for this season, but it won't be the "Pooh Bear" uniform. … Canadiens D Cale Fleury earned his spot on the big club and has now picked No. 20. He wore 83 in training camp, which was the reverse of his minor league 38 (from Michael Engle). … Thanks to an extended deal between the NHL and PPG Paints, all games this season will feature pucks that change color when they're warmer than 22 degrees, the temperature at which pucks should be replaced. … New uniforms for Providence College men's (from Timothy Finnegan).

Basketball News: The NBA released the Rockets' alternate uniform schedule (from our own Phil Hecken). … The San Francisco Chronicle ranked all of the Warriors' uniforms (from Peter Hartlaub). … As usual, you can keep up with the latest news in NBA uni numbers by following Etienne Catalan's Twitter feed. … South Carolina men's teased a throwback uniform reveal (from Will Lawson). … New court for North Texas (from Chris Mycoskie). … Looks like the Mavericks used a miniature plastic replica of the ball that was supposed to be NBA's new ball in 2006 but was scrapped just months later because everyone hated it (from @TylerAtoms).

Soccer News: From Josh Hinton: Manchester City's substitutes wore the shirt of injured teammate D Aymeric Laporte during warmups yesterday. … FC Shakhtar wore their second kit yesterday in their Champions League matchup. … River Plate's number advertisers (gross) alternate between PES and PES 2020. … As usual, you can keep up with lots of other news by following Josh's Twitter feed.

Grab Bag: The car numbers for Roush-Fenway's NASCAR Cup entries will be pink for the entire month for Pinktober (from Christopher Hickey). … Here are the inaugural uniforms for the Halifax Thunderbirds of the National Lacrosse League (from Wade Heidt). … Here's an article about the different numbering/lettering systems in rugby (primarily union, but also briefly league) and how they developed into the current system of 1-8 for forwards and 9-15 for backs (from our own Jamie Rathjen). … WWE's old "scratch" logo, which was retired in 2014, is still in use on the company's dividend mailers sent out to shareholders (from @StarofSavage). … Nike is now pushing into the extended size market (from our own Brinke Guthrie). … Speaking of Nike, its CEO is allegedly involved in a doping scandal. … You can find a ton of ghost signs while walking around Boston (from Ilana Hardesty). … Cincinnati has 52 neighborhoods, and now each one has its own flag (from multiple readers).
• • • • •
[adrotate group="2″]
• • • • •
Click to enlarge

What Paul did last night: I almost never have any reason to be walking around the Upper East Side of Manhattan. So when I walked down East 63rd St. between York Ave. and First Ave. last night, it's entirely possible that I had never been on that block before. Which would explain why I didn't realize that there's a business on that block called Mr. and Mrs. Uniform!
When I got home, I learned that Mr. and Mrs. Uniform specializes in medical uniforms. Makes sense, as New York Presbyterian Hospital is right around the corner, and there are several other hospitals nearby. Interesting!