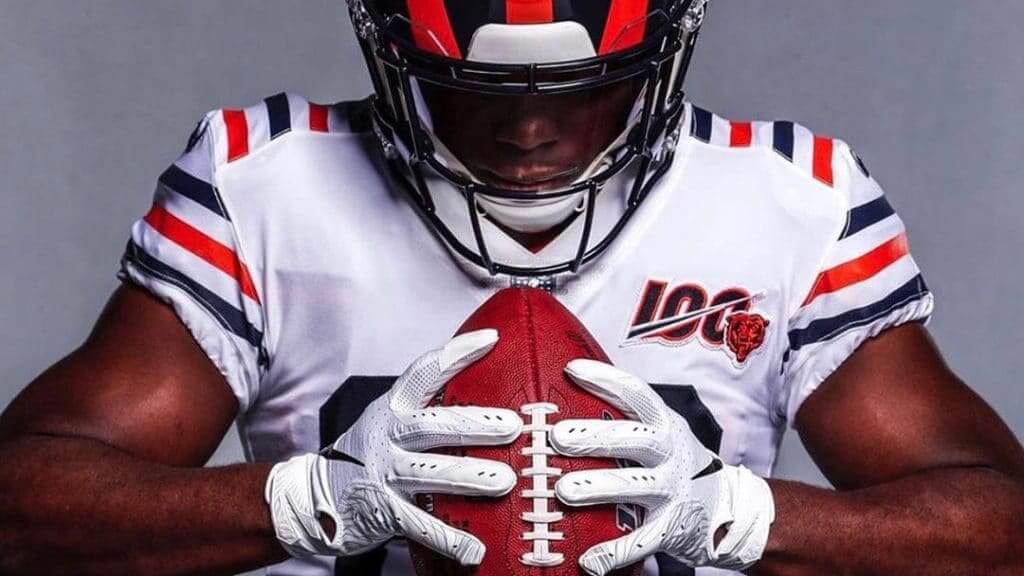 Earlier this week I mentioned that a group of Bears players and the team's chairman, George McCaskey, had posted a two-minute video statement about the uncomfortable history of the uniforms that served as the basis for this Sunday's 1936 throwbacks. (If you haven't seen it already, it's definitely worth watching. Nothing like it has ever been done before.)
I've written longer assessment of the video, and what it may mean for throwbacks in general, for SI. You can check it out here.
• • • • •
• • • • •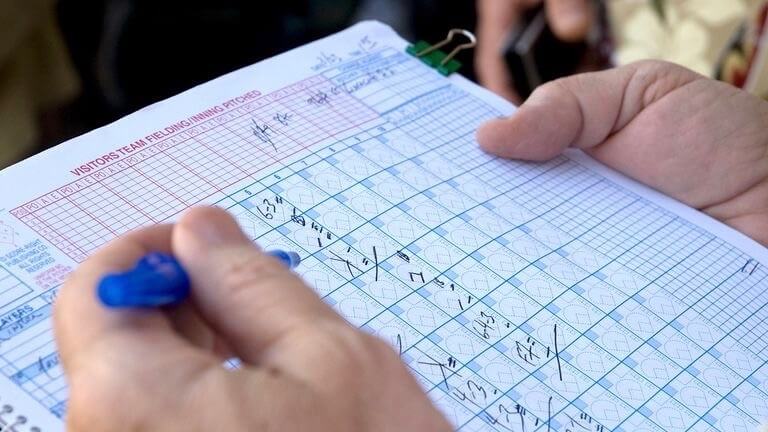 Official scorer update: Yesterday's post about MLB official scorers produced lots of robust discussion (the comments are definitely worth reading) and some new nuggets of information:
• The blog entry didn't directly say who hires or employs the scorers, but many people appear to assume that it's the individual teams. Nope — the scorers are hired/paid/etc. by MLB, not by the teams.
• In mentioning the impact that a scorer can have, I said scoring decisions can affect "who wins the batting title, whether a pitcher gets a no-hitter, whether a hitting streak continues, and, in some instances, which pitcher is credited with the victory." I should have added that scoring decisions can also affect whether a player reaches a contractual incentive threshold that could trigger an additional financial payout, and can also affect fantasy league outcomes. In short: Scorers and their decisions matter a lot.
• Here's something I didn't know: Official MLB box scores do list the official scorer (look way down at the bottom, along with the weather, the time of the game, etc.). So do the box scores on Retrosheet (harder to find — just search on "scorer"). This just reinforces my point that there's no reason broadcasters can't also mention the scorer.
• At one point in the entry I disparaged the umpiring work of Angel Hernandez. Reader/commenter Padday responded by pointing me toward this piece, which shows that Hernandez, despite his bad reputation, is basically an average umpire — not great, but not awful either. Worth reading. My apologies to Hernandez.
• • • • •
• • • • •
The Ticker
By Anthony Emerson

Baseball News: Oh man, Todd Radom found this awesome 1952 Sporting News description of every Major League uni. Lots of neat little details. Highly recommended (from @_m1key). … Peter Tulupman sent us this photo of Lou Brock. If you zoom in, it appears he had white elastic added to his stirrups to to make them higher.. … The NPB's Chunichi Dragons are selling a pendant that, for ¥50,000, can have a small portion of a loved one's cremated ashes added to it (from Jeremy Brahm). …  The new minor league team in Nevada will be called the Henderson Hoo (from John Cerone).

NFL/CFL News: ESPN has a good article about the Chargers' decision to finally embrace their powder blue unis (from Nicklaus Wallmeyer). … Frankenjerseys abound for the Reid family as they prepare for their sons, Texans S Justin and Panthers S Eric, to face off for the first time in their careers (from Scott Whitt). … The details surrounding the proposed CFL stadium in Halifax have been made public here and here (from Wade Heidt).

College Football News: South Carolina DB Shilo Sanders has switched from No. 12 to No. 21, the number that his dad, Deion, wore in the NFL (from Mike Chamernik and our own Brinke Guthrie). … Virginia Tech will go mono-white tonight against Duke (from Andrew Cosentino). … 'Cuse will go orange-blue-orange tomorrow (from Jakob Fox). … NC State is going red-white-red (from @ACC_Tracker). … UNC is going blue-blue-white tomorrow (from James Gilbert). … UNLV is going black-white-black at Wyoming. … Rice is going blue-blue-grey against Louisiana Tech (from Steve Bradley). … Penn is going with 1970s throwbacks this weekend (from Nicklaus Wallmeyer).

Hockey News: The Hurricanes were giving away cookies designed like their new road sweaters throughout Raleigh (from Scott M. Trembly and William I. Wells). … New unis for the QMJHL's Rouyn-Noranda Huskies (from Wade Heidt).

Hoops News: Details of the new Lakers "City Edition" uni have apparently leaked … Hawks PF Ray Spalding and SF Marcus Derrickson will wear No. 26 and No. 32 respectively, while Kings G/F Justin James will wear No. 10 (from Etienne Catalan). … New unis for Bowling Green men (from Matthew Daley).

Soccer News: For the first time in a long time, Inter Milan will have a new shirt advertiser — Italian tire company Pirelli had been their advertiser since 1995 (from Josh Hinton). … Also from Josh, the Welsh Premier League will be renamed the Cymru Premier. Cymru is, of course, Welsh for Wales. … You can catch the rest of Josh's daily download on his Twitter account.

Grab Bag: Delaware has added patches to their women's sports unis to honor the 50th anniversary of Blue Hen women's sports (thanks, Jamie). … USports, the Canadian collegiate athletic board, has revealed their 2019-20 championship logos (from Moe Khan). … Italian women's club volleyball team Savino Del Benne has a new kit (from Jeremy Brahm).
• • • • •
• • • • •
Click to enlarge

What Paul did last night: Did you know September is National Chicken Month? It's true! And that means last night was time for Susquehanna Industrial Tool & Die Co.'s annual chicken-themed show at Otto's Shrunken Head.
There were chicken-themed songs, chicken-themed signs, actual roast chicken to eat, and an all-around great time:
And, of course, there was also the annual crowning of the new Chicken Queen, who this time around is the lovely Natalie McMahon (a bit of poultry nepotism there, as she's bandleader Michael McMahon's sister-in-law):
Natalie's reign will last until the final Thursday of September 2020, when tradition dictates that a new Chicken Queen will be crowned.
Whatever you did last night, hope it was just as much fun as what I did (although that seems hard to imagine!).
• • • • •
For those who've been asking, yesterday afternoon my doctor removed the 11 stitches around my eye and nose that I received after Sunday's bike crash. He said the ER stitcher did a great job and that everything seems to be healing nicely. My thanks to everyone who's expressed concern. — Paul