Click to enlarge
The Warriors unveiled six, count 'em six new uniforms jerseys yesterday. Most were either already known to be in the pipeline or recently leaked, and several are subtle variations on last year's versions, but it still qualifies as a big unveiling.
Let's start with the primary white and blue designs (shown above). These are essentially the same as last season's, except that the bridge design has been tweaked, the type is now rendered in a new font, and the shade of blue is slightly darker. Those changes to the team's logo had already been announced back in June.
Another tweak can be found on the team's "The Town" alternate, which is based on the graphics found on Oakland street signs (and which they're keeping despite having moved from Oakland to San Francisco):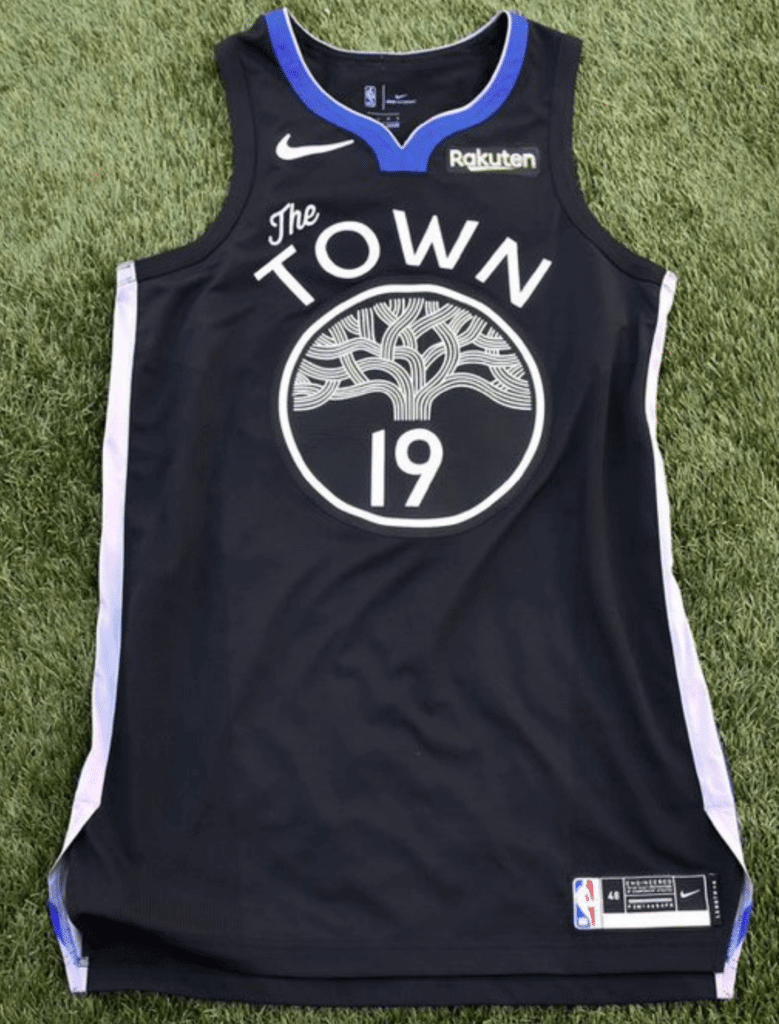 This is almost identical to last season's version. The only changes are the collar color and a new (and much improved) typeface. You can see the differences in this SportsLogos.net comparison graphic.
The one truly new design is a yellow alternate with "The Bay" (this will be the "Statement" alternate, a term I hope to use as infrequently as possible):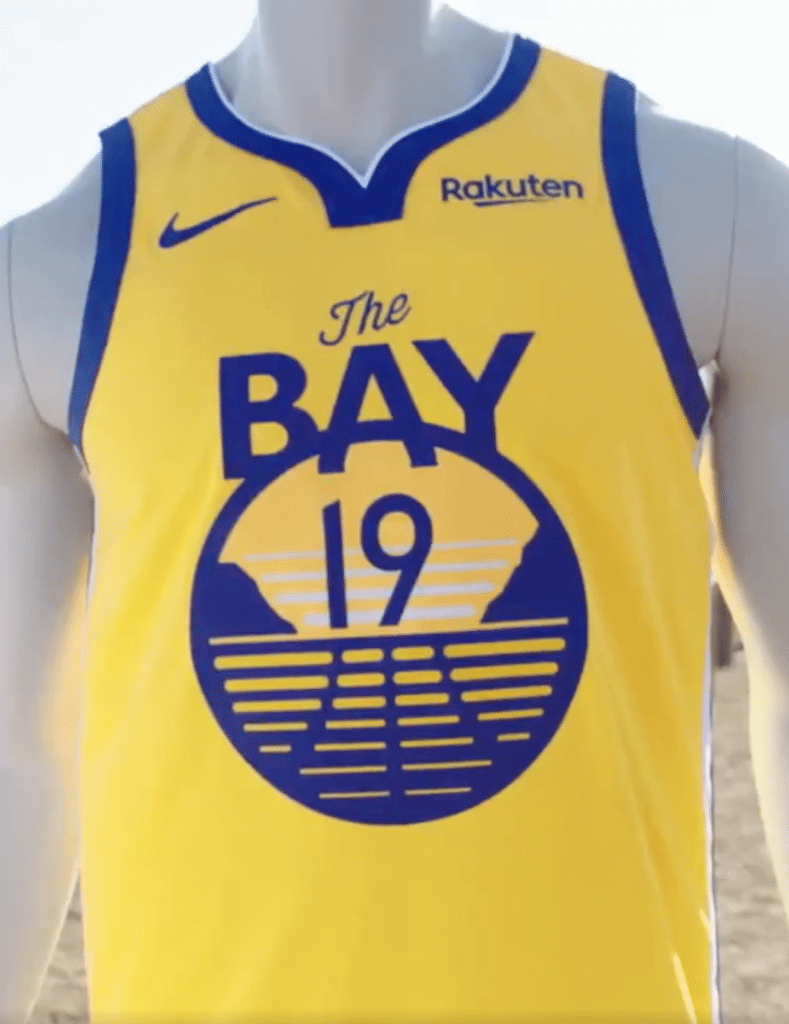 According to the team, the logo shows a "landscape of seaside cliffs overlooking water accompanied by an overhead fog, a scene reminiscent of the Golden Gate prior to construction of the Golden Gate Bridge." I wish it didn't have the three lines that make it look like a basketball. Makes the whole thing feel way too boilerplate.
In an unusual development, there will also be two throwbacks, which seems like overkill, even though I like both designs: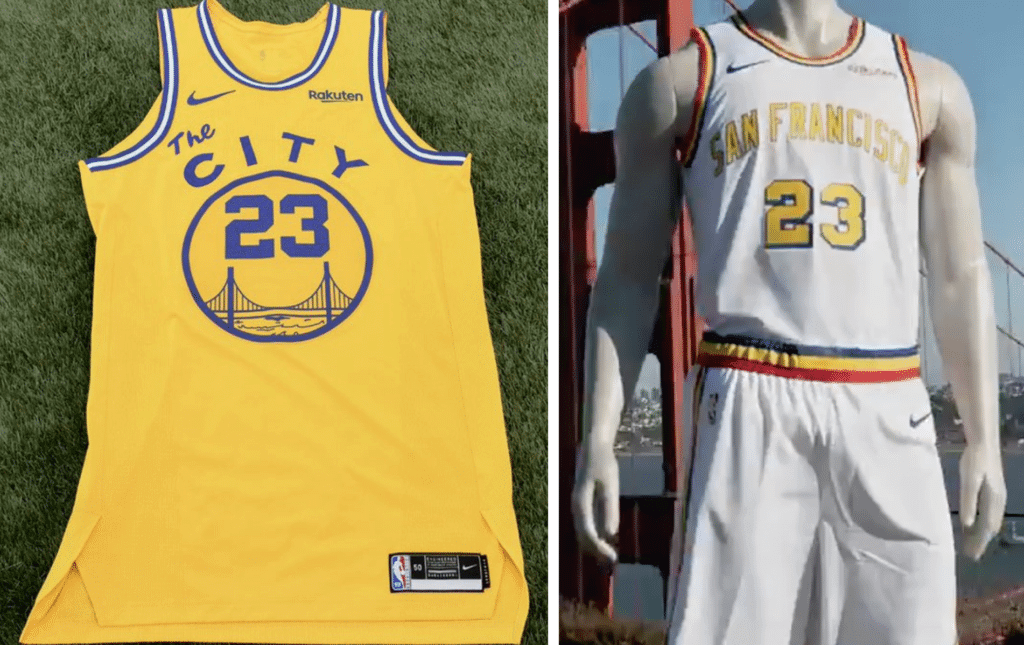 "The City," of course, is the greatest uniform in NBA history. Still, the Warriors have worn this throwback several times before, so there's nothing new here (and it seems a bit ridiculous that the team will be wearing The Town, The Bay, and The City all in the same season).
The other throwback design is from 1962, the team's first year in San Francisco after relocating from Philadelphia. The Warriors have previously worn the gold road version of this design as a throwback, but to my knowledge this is the first time they've worn the white home version. It's a nice uniform, although they appear to have taken some liberties with the typography and colors — original version on left, throwback on right: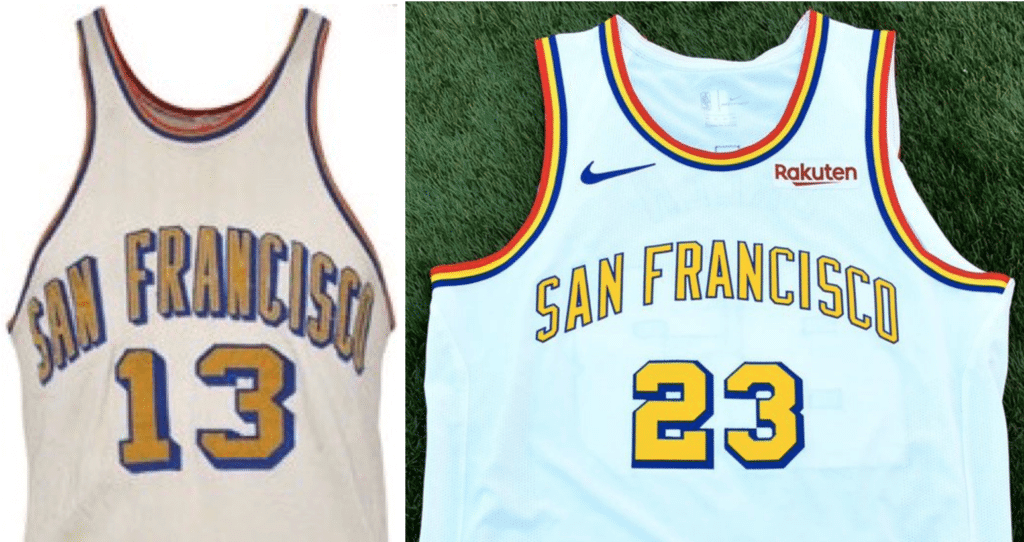 It remains to be seen when these uniforms will be worn, and how many of them will be paired with their own distinct court designs.
• • • • •
• • • • •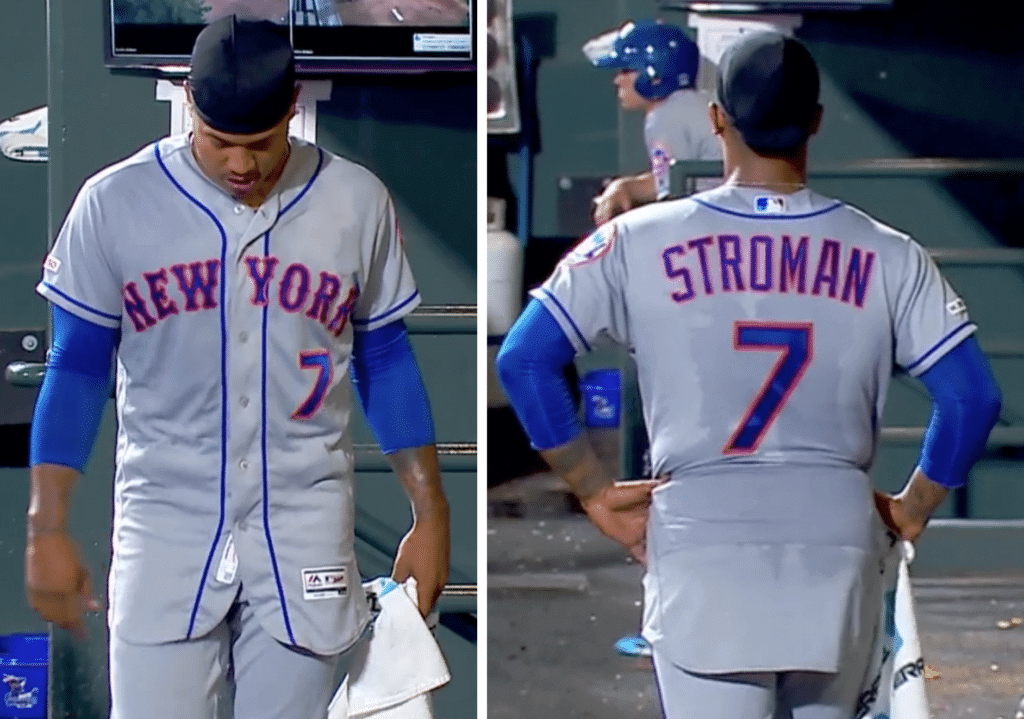 Click to enlarge
Tuck you: I finished watching last night's installment of PBS's eight-part country music documentary just in time to switch over to the Mets/Rockies game and see Mets starting pitcher Marcus Stroman going untucked in the dugout during the top of the sixth. Normally, this might suggest that his night was over, but instead he tucked his jersey back in and went out to pitch the next two innings.
The broadcasters implied, but did not outright state, that he routinely untucks his jersey between innings. I've never heard of a player doing that, so I did some quick photo research. I couldn't find any shots of Stroman going untucked in the dugout, but I did find an untucked photo of him walking to the dugout after having been removed from a game on July 24 of this year, and another untucked shot of him walking in from the bullpen prior to the start of the game on July 4: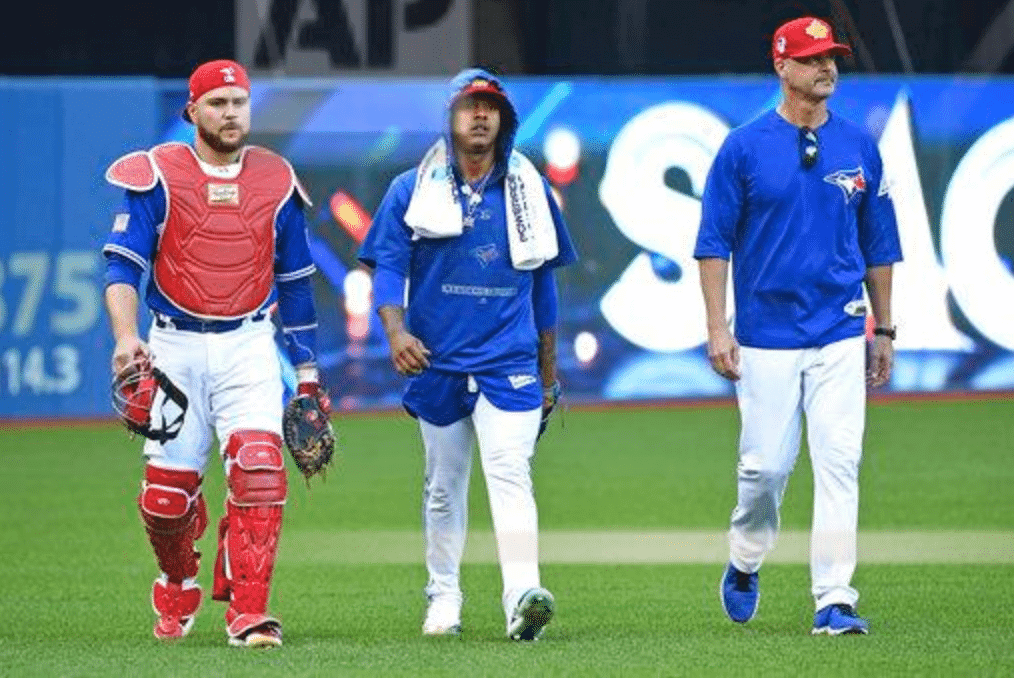 I've never seen a player doing those things either. Marcus Stroman: King of the untucked jersey (which is a pretty dubious title to have).
(Also: SNY reported Steve Gelbs reported during last night's game that Stroman Velcros his pant cuffs to his shoes. Yeesh.)
• • • • •
• • • • •
Premier League Uni Roundup — Week 5 (Sept. 14–16)
By Josh Hinton
Liverpool (red) 3-1 Newcastle (white/black)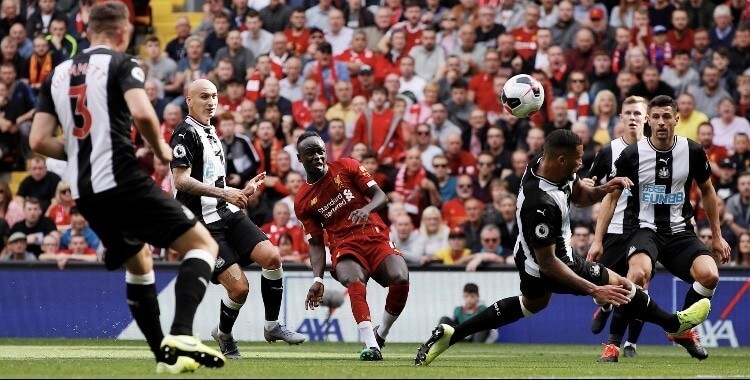 Liverpool look excellent in that lovely home strip, but Newcastle's awful look kills this matchup. 3/10
———
Brighton (blue/white) 1-1 Burnley (claret)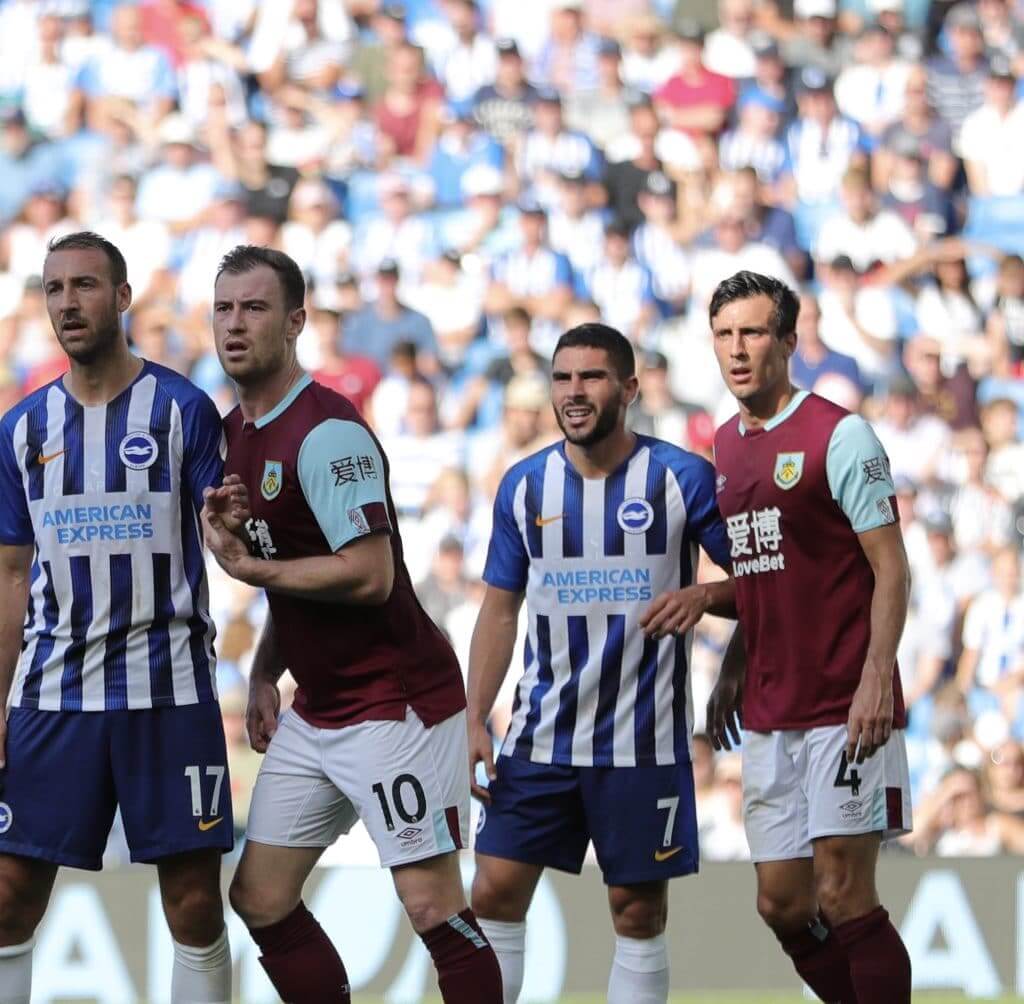 I don't mind this Burnley home kit, but Brighton's busy kit — striped, with two shade of blue, and paired with out-of-place gold — ruins this matchup. 3/10
———
Manchester United (red) 1-0 Leicester (blue)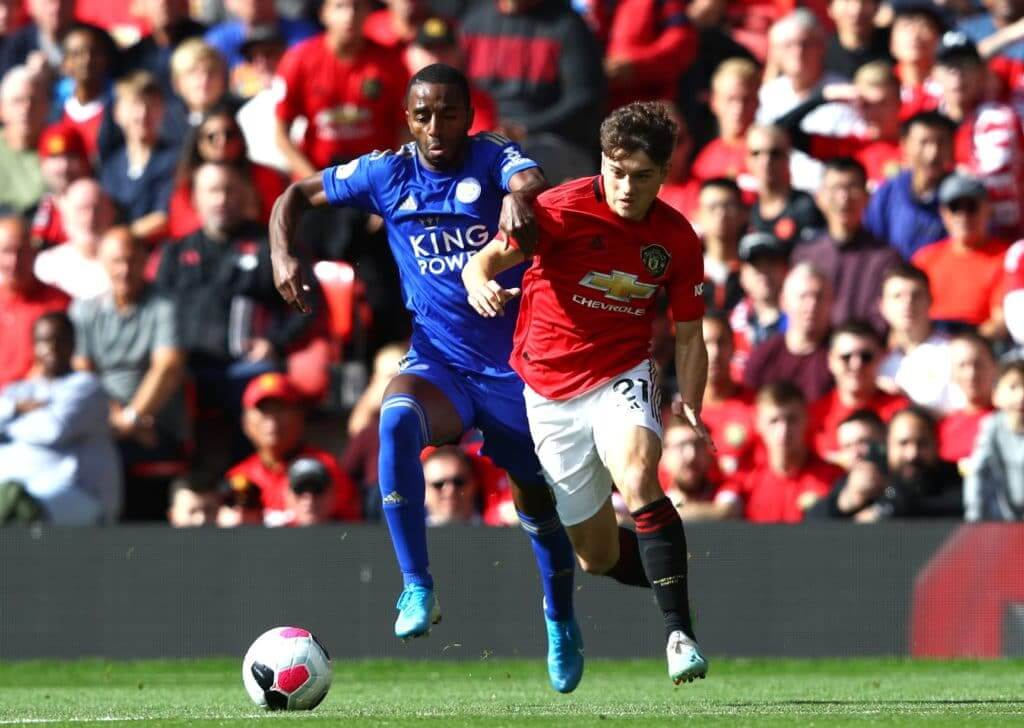 Royal blue and red, when paired properly as seen here, is absolutely beautiful! 8.5/10
———
Sheffield United (red/white) 1-0 Southampton (grey)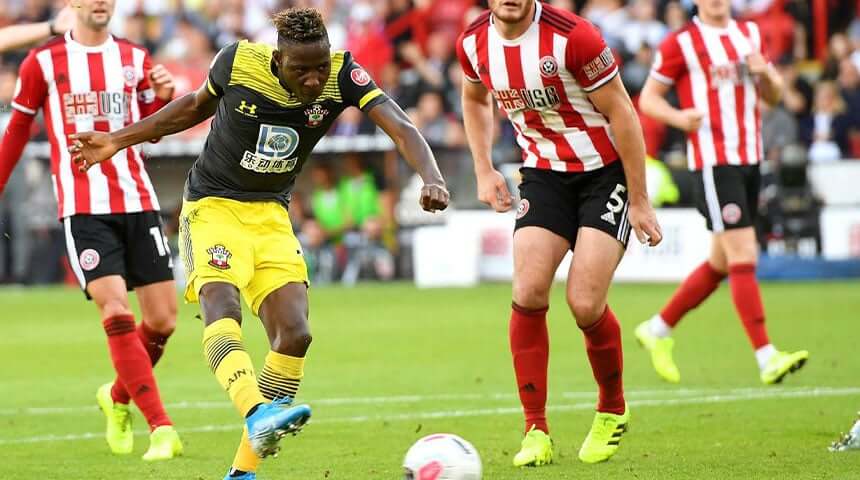 This is going to go down as one of the worst matchups of the year. Sheffield United have the worst striped kit in the league, and that awful Southampton third strip needs to go. 1/10
———
Tottenham (white) 4-0 Crystal Palace (red/blue)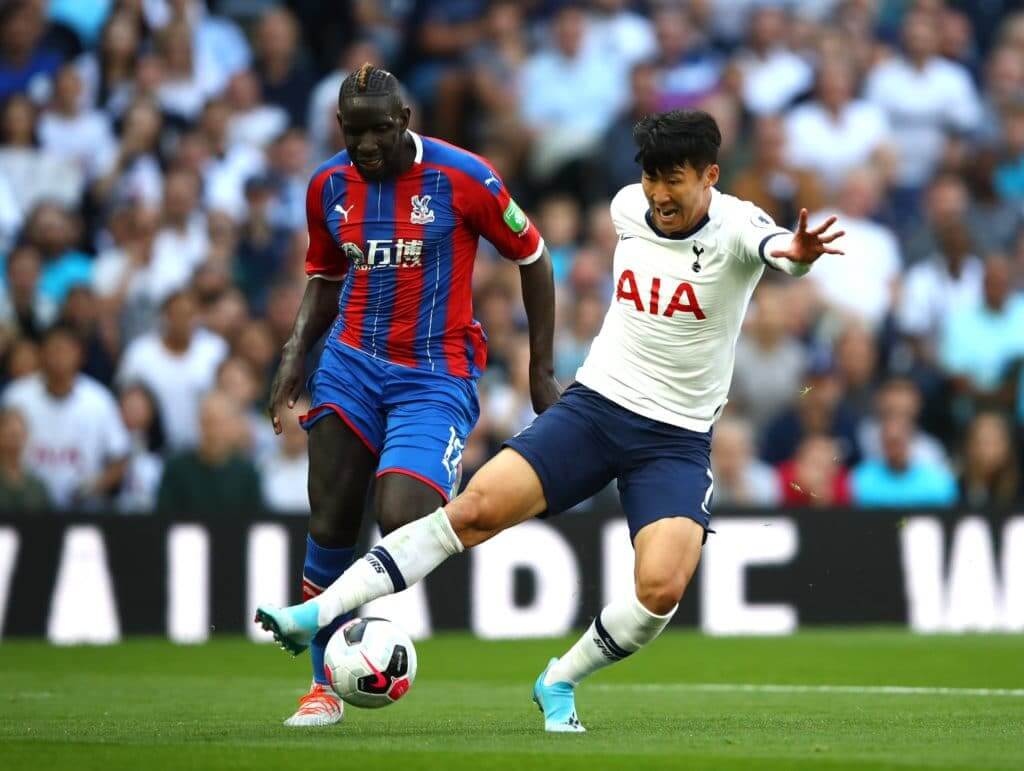 Yet another lovely matchup this week, involving some of the best home strips in the league. Would be perfect if not for Palace's green sleeve ad. 9/10
———
Wolves (old gold) 2-5 Chelsea (white)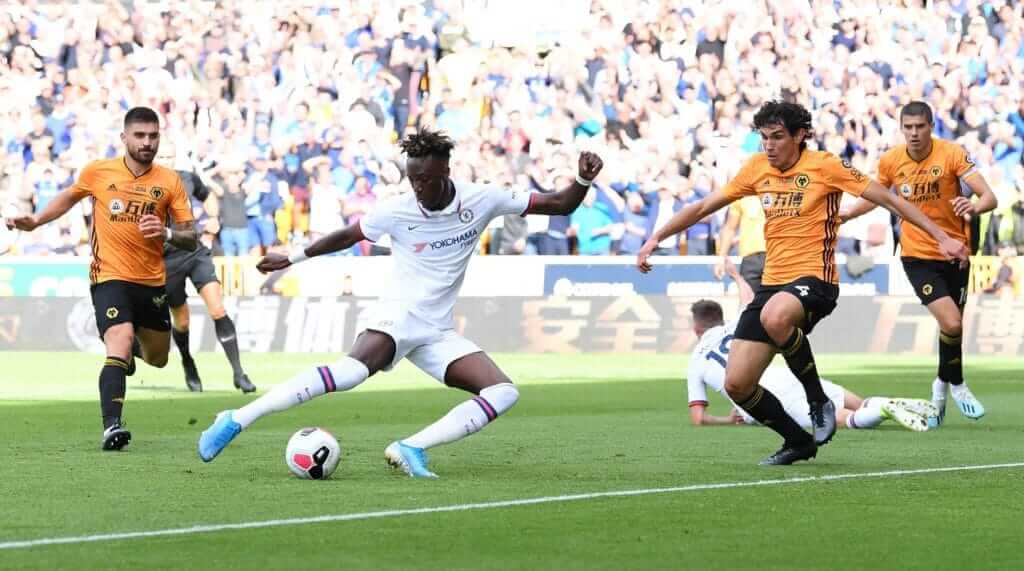 This game loses points for the Wolves' Tiro19 template and Chelsea unnecessarily sporting their change kit, but gains points for the lovely contrast and the fact that said change kit is probably the best in the league. 8/10
———
Norwich (yellow/green) 3-2 Manchester City (black)
While my beloved Manchester City was embarrassed in this game, Norwich's home kit is stunning. Would be perfect if City had worn their home strip. 8/10
———
Bournemouth (red/white) 3-1 Everton (blue)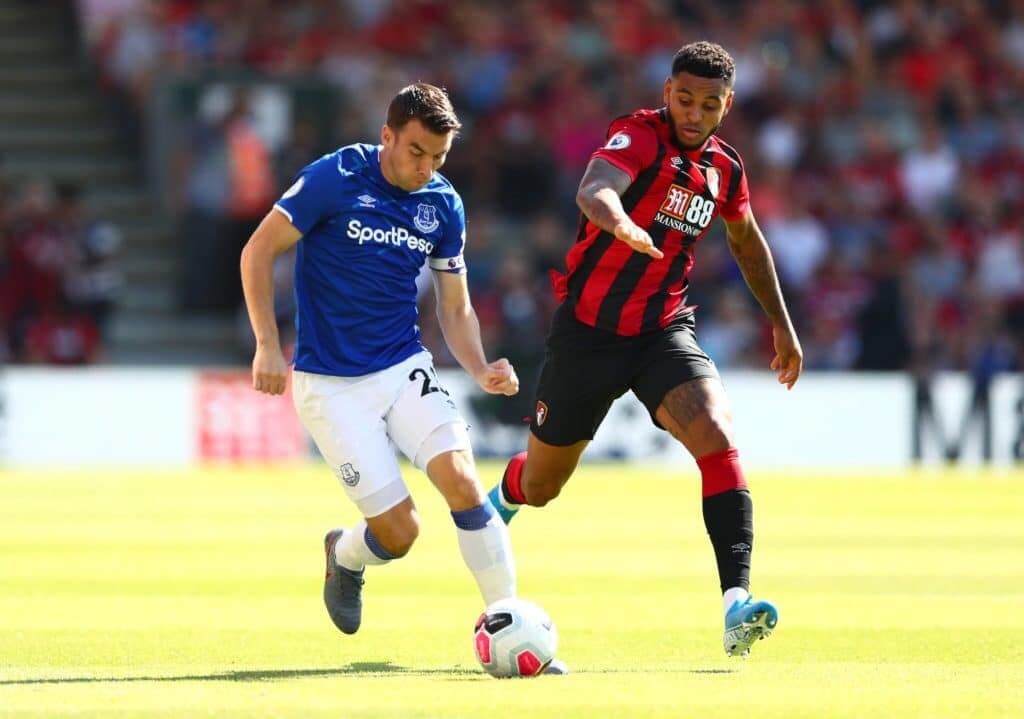 See Man United vs. Leicester — stunning. Love it when these two sides play each other in their respective home strips. 9/10
———
Watford (black/yellow) 2-2 Arsenal (red)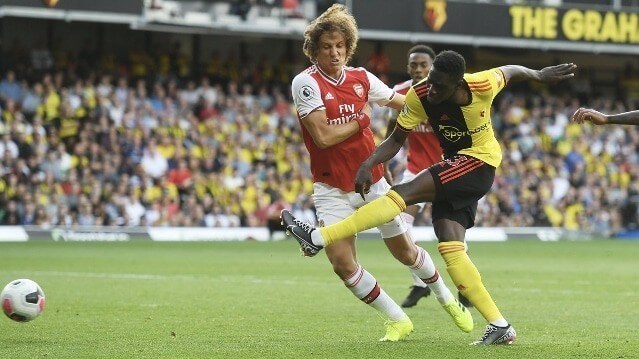 I've never been a fan of the increased use of red and black in Watford's home strip. But as seen in 2016-17, yellow, when done right, works. As for Arsenal, their home strip is one of the best in the league, but the whole matchup looked off due to the black half of the Hornets' home kit. 4/10
———
Aston Villa (claret) 0-0 West Ham (navy)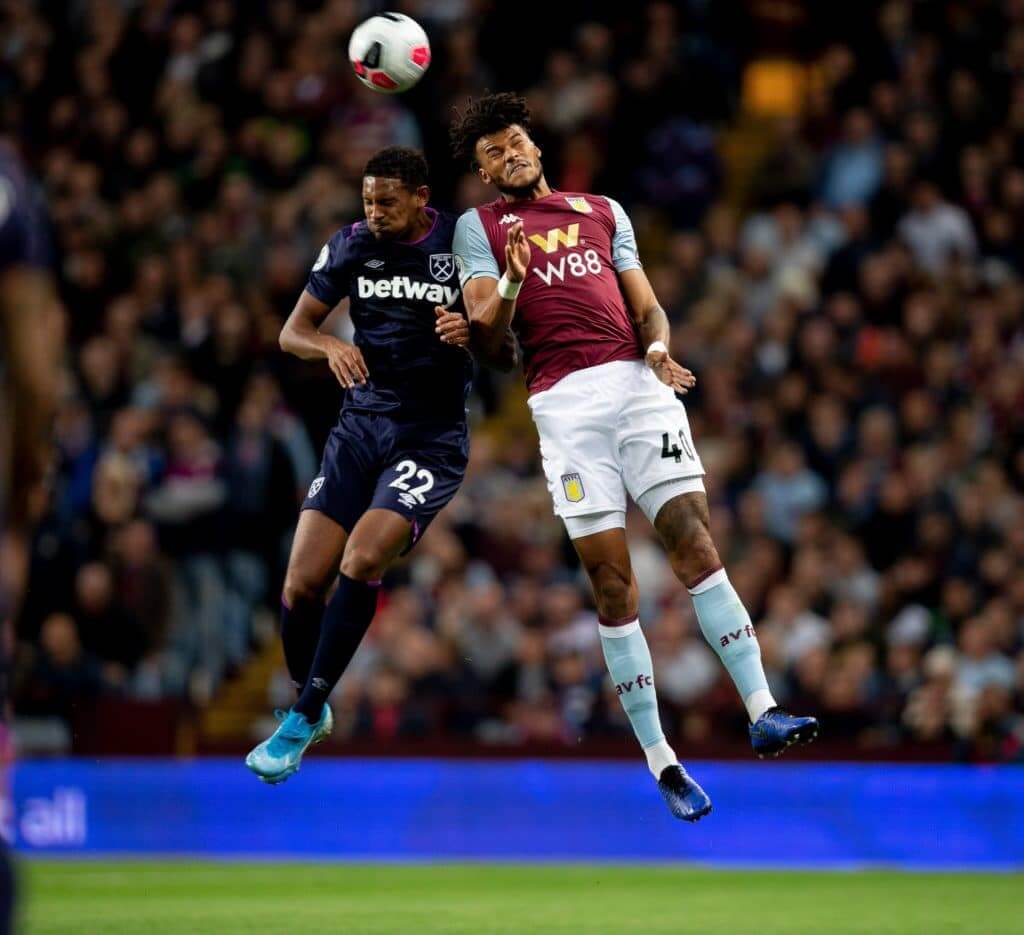 Villa are excellent in their Kappa claret kit, and West Ham sport a classy Umbro third kit. Nothing exceptional, but a solid matchup to close out the week. 7/10
• • • • •
• • • • •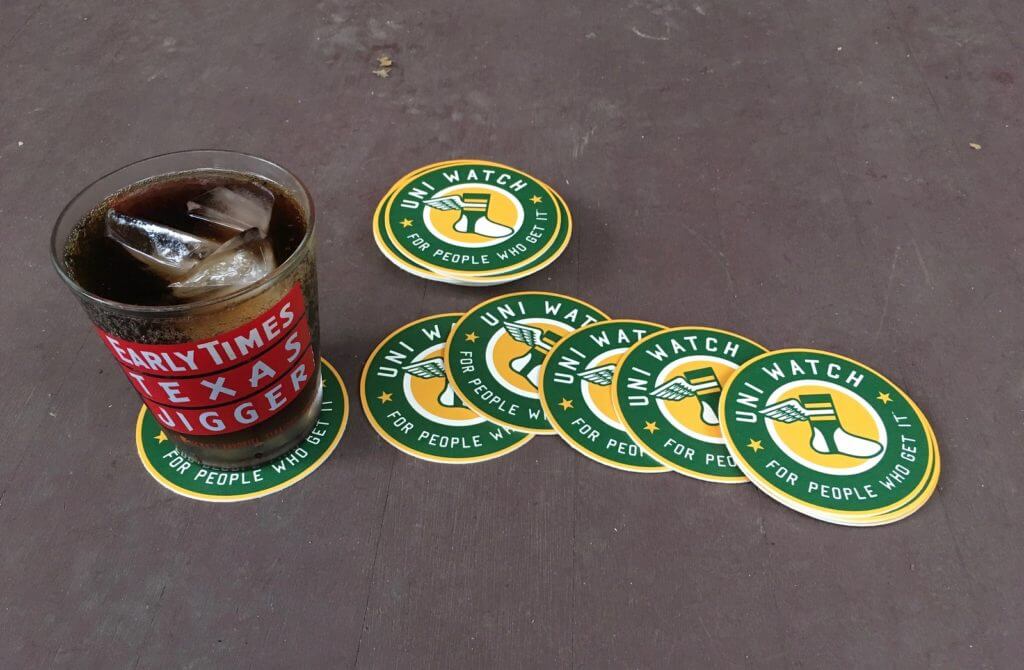 Click to enlarge
Almost sold out already: As of this morning, I have only two remaining sets of Uni Watch coasters. If you want one of them, it's three coasters for 10 bucks (or 12 bucks for non-USA orders).
To order, send me the appropriate amount via Venmo (use @Paul-Lukas-2 as the payee) or Zelle (plukas64@gmail.com). If you want to use Apple Pay or a paper check or well-concealed cash, or if you're not in the USA and can only use PayPal, get in touch and I'll give you the appropriate info.
One order per person. After paying, email me with your shipping info. Thanks!
Coasters are now SOLD OUT. I can order more, but they will be more expensive (because I had a special deal on this first set) — probably more like $12-$14 for a set of three. If that interests you, please email me. If there's enough demand, I'll go ahead and get more. Thanks!
• • • • •
• • • • •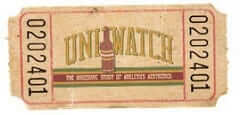 Raffle reminder: In case you missed it on Tuesday, an anonymous reader has 10 pairs of old stirrups and has generously offered to raffle them off to Uni Watch readers. You can see all 10 pairs here. Note that each pair is numbered.
To enter this raffle, Send an email to the raffle address by 10pm Eastern this Thursday, Sept. 19. In the body of the email, please indicate (a) your name and shipping address and (b) your preferred stirrup choices, in order of preference, by number. If you're only interested in one pair, just list that pair's number; if you want to list more than one, you can do that too, all the way up to 10 choices. I'll do my best to accommodate all the winners' preferences.
One email per person. I'll announce the winners on Friday. Please join me in thanking our anonymous benefactor for doing this!
• • • • •
• • • • •
The Ticker
By Lloyd Alaban

Baseball News: The Brewers wore their Cerveceros jerseys for Hispanic Heritage Night on Monday (from Mike Chamernik). … A sportswriter has an unusual request for the Twins: Make every night "Obscure Twins Jersey Night" (from Margaret Zverinova).

NFL News: The Jets are the latest pro sports team to commission a bunch of cool-looking gameday posters. Note that one of the upcoming ones will be by longtime Uni Watch ally Todd Radom. … Speaking of the Jets, it would be fair to say that radio talker Mike Francesa is not a fan of their new uniforms.

College Football News: Here's what the ACC wore in Week One (from ACC Tracker). … BYU will wear throwbacks this week (from multiple readers). … Fox Sports tweeted a graphic using Ohio State's old logo — a logo they haven't used since 2012. Here's a side-by-side of their old and current logos (from College Sport Design). … SMU gave Dallas mayor Eric Johnson a "Dallas" jersey and helmet (from Sam McKinley). … The latest helmet collection from Blaise D'Sylva is of Virginia Tech. … New interlocking "TU" helmet logo for Tulane (from Clint Richardson).

Hockey News: The Canucks have revealed a new arena banner featuring many of their uniforms from team history (from @waffleboard). … The Sabres could possibly have a new wordmark (from multiple readers). … Canada's National Junior A Championship has dropped its corporate advertiser and reverted back to its original name, the Centennial Cup (from Jim Wooley). … Last night's Sens/Leafs preseason game had blue goalposts. That's because the game was played at the ECHL's Newfoundland Growlers' rink. The ECHL uses the blue pipes (from @RyanDrifting).

Soccer News: From Josh Hinton : It's the first group stage matchday for the 2019-20 UEFA Champions League, so defending Champions League winners Liverpool debuted the customary winners' badge on their sleeve yesterday. … Interesting note regarding Liverpool's UEFA competition font: When a player, like F Mo Salah, has their first initial on the NOB, the period is raised (right photo), whereas the standard Premier League font (left photo) has it in a more standard position. Our own Jamie Rathjen says it's a practice that dates back at least to last season. … Two Chelsea UCL notes from yesterday: They are wearing the 2018-19 UEFA Europa League Winners patch on their sleeves and the Plan International charity's logo on the back of their shirts, as they often do in European competition. … Borussia Dortmund wore their NOBs at the top of their shirts yesterday. In the Bundesliga this season, their NOBs have been at the bottom (from Eric Wilson). … Both Paris Saint-Germain and Real Madrid will wear their third kits when they face off today. … For more kit-related news, including more news from yesterday's Champions League matchday, check out Josh's Twitter feed. … A graphic designer has made soccer shirts to honor typefaces (from Justin, who didn't give his last name). … New third kit for AS Roma (from Ed Zelaski).

Grab Bag: The Scotland men's national rugby team is in Japan for the upcoming Rugby World Cup. They're seen here wearing kilts in a tartan designed to honor the Japanese city of Nagasaki. The pattern is based on the regular Scottish Rugby Union tartan, but the green and purple is effectively reversed. … This panda is the new mascot for the 2022 Winter Olympics in Beijing, and this lantern child is the mascot for the 2022 Winter Paralympics, also in Beijing (from Jeremy Brahm).