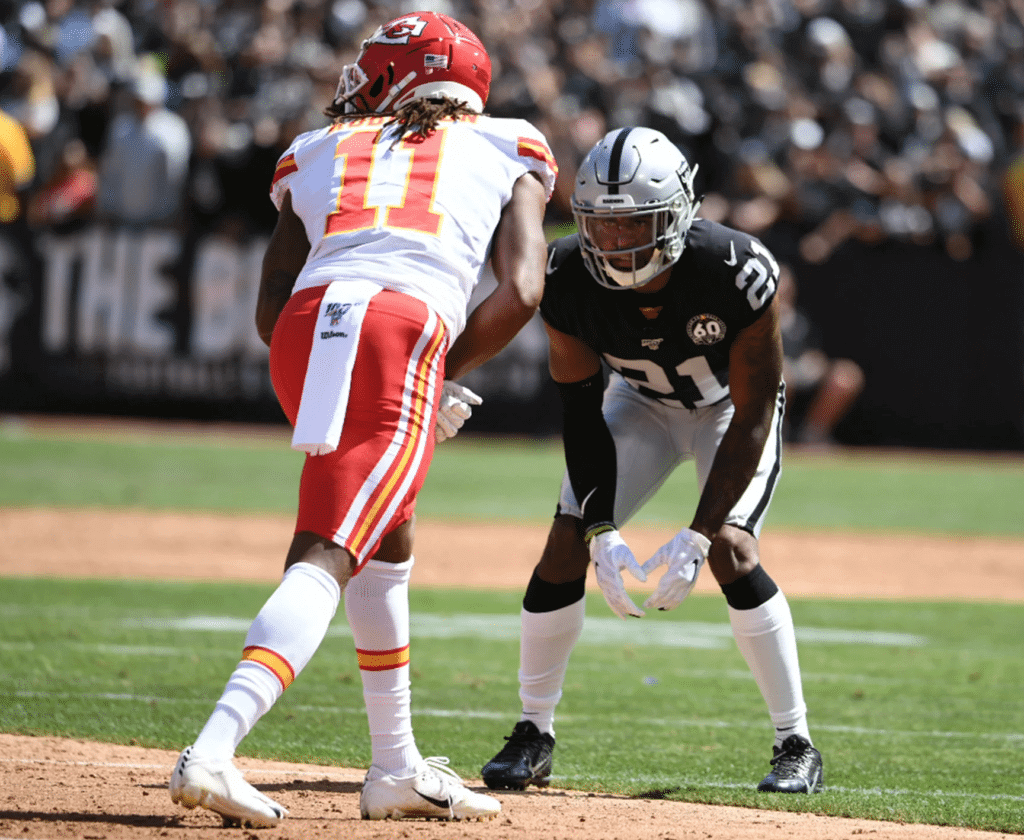 For all photos, click to enlarge
End of an era yesterday in Oakland, as the Chief and Raiders played what is likely to be the final NFL game to take place across an MLB infield. The Raiders' next game in Oakland is in November (their Week Five "home game" against the Bears is in London), so their home schedule will not overlap with the A's, even if the A's go all the way to the seventh game of this year's World Series.
I understand that players hate playing on baseball infields (the dirt surface is reportedly miserable), but I grew up watching NFL games on baseball diamonds, so I feel a little bit sad to see this phenomenon drawing to a close. Lots of additional photos here and here.
In other news from around the league yesterday:
• Surprising move yesterday in Green Bay, as several Packers wore captaincy patches — something they've previously done only in postseason games. It appears that new head coach Matt LaFleur has a different approach to this aspect of the game than his predecessor, Mike McCarthy, did.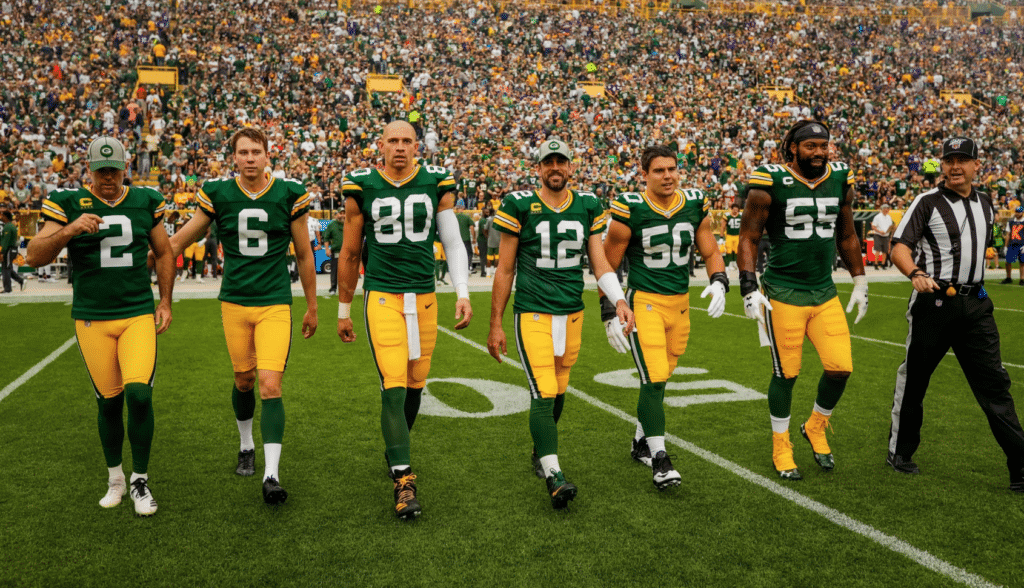 • Speaking of the Packers, quarterback Aaron Rodgers wore a play-calling wristband. According to this article, it was the first time in his career that he wore this accessory: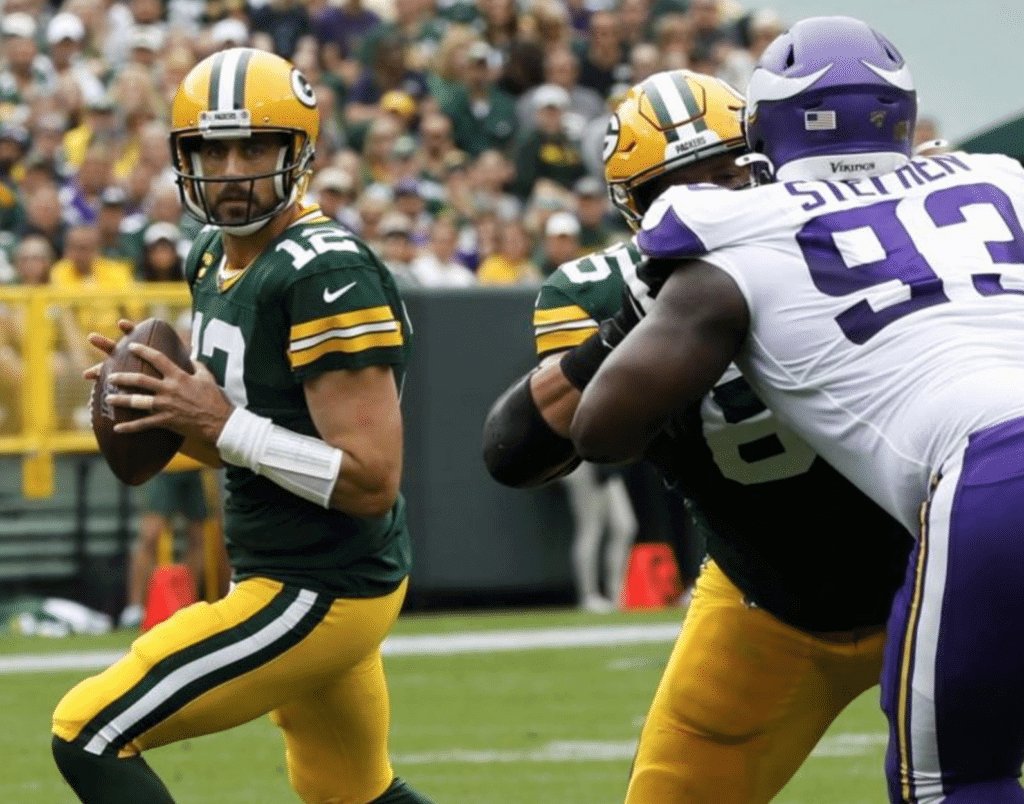 • The Dolphins wore their beautiful white throwbacks: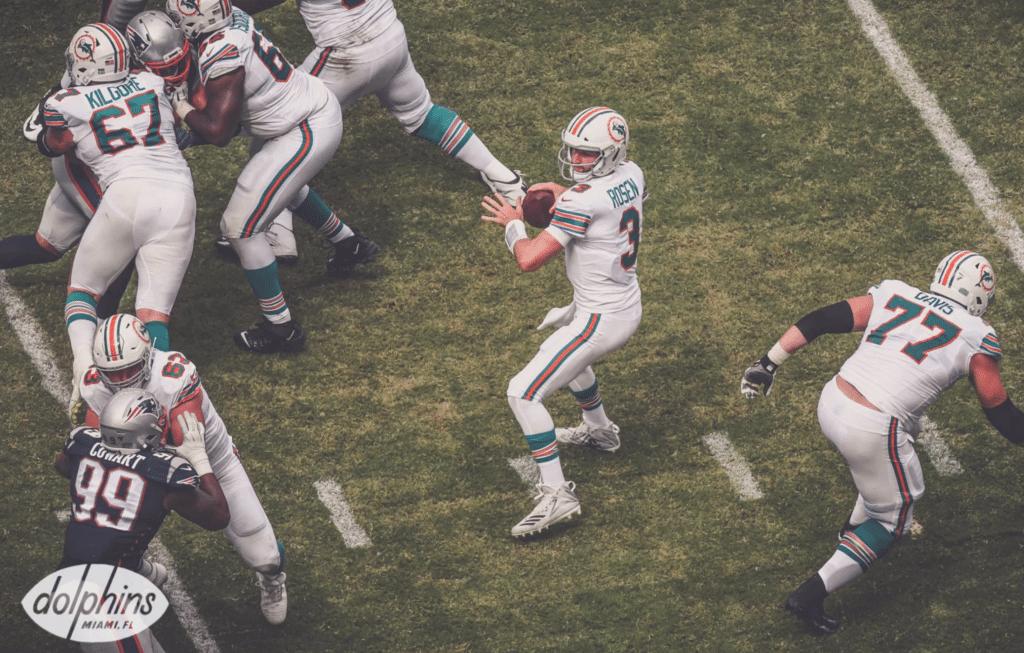 • The Bengals went mono-black: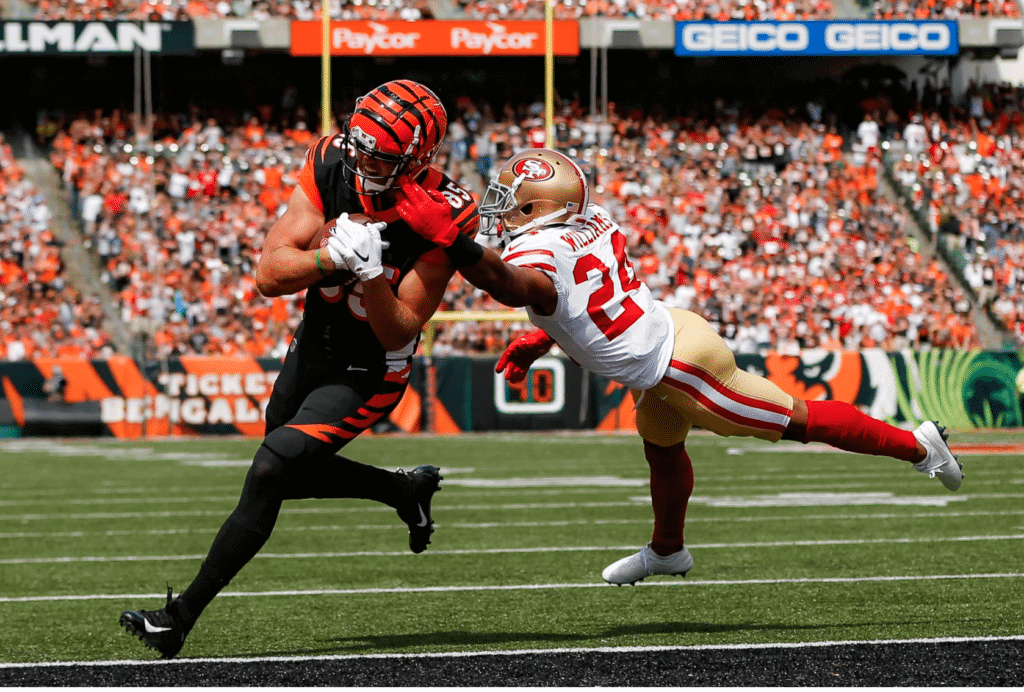 • The Ravens waited until their regular season home opener to bring back their old midfield logo (they had been using their helmet logo):
It's baaaack. 🛡️ pic.twitter.com/u3v5E3Ds1P

— Baltimore Ravens (@Ravens) September 13, 2019
• Six teams wore white at home: the aforementioned Dolphins, plus the Rams, Ravens, Texans, Titans, and Washington.
———
Meanwhile, I've once again provided my picks for the week's best- and worst-looking games over at Sports Illustrated. You can check that out here.
• • • • •
• • • • •
Click to enlarge
ITEM! Free salty snack-themed cornhole set: Probably the strangest freebie I've ever received here at Uni Watch HQ showed up a few days ago, as the folks at Frito-Lay (whose official corporate name includes a hyphen, although their logo, as you can see above, does not — odd) sent me a cornhole set, complete with two boards and six bags that look like sacks of Fritos, Cheetos, and Tostitos.
Realistically, I have no use for this — no backyard, no front yard, no alleyway — so I'm going to give it away, but with a catch: If you want it, you have to come pick it up in person. It's big (26″ x 50″ x 9″) and heavy:
You want? First person to claim it can have it, but you have to come pick it up sometime this week. Check that — already claimed! Thanks.
(Full disclosure: The cornhole set also came with several bags of chips. I'm keeping those!)
• • • • •
• • • • •
Click to enlarge
Cap update/reminder: I thought it would be good to show our two Uni Watch cap offerings side by side — two different designs, different fabrics, different price points. That's our Classic Cap on the left (wool, fitted or strapback, $42.99) and our new Gold Circle Cap on the right (cotton, strapback, $24.99).
Yes, they also have two different shades of green. That's because we don't move enough units to get a custom shade, so we have to use stock colors. (Personally, I like both of these shades of green, so I don't mind the inconsistency.) Similarly, the cotton cap wasn't available with a gold squatchee, but I'm fine with that too.
Anyway: The Classic Cap is available here, and the Gold Circle Cap is available here. My thanks, as always, for your consideration.
• • • • •
• • • • •
Click to enlarge
Wrong number: Got off the subway yesterday at a stop I don't normally use and was greeted by this quartet of derelict pay phones. I love how all four are different: One has a piece of the receiver; one has the cord but no receiver; one has no cord; and one has no phone. A variety pack!
• • • • •
• • • • •
The Ticker
By Jamie Rathjen

Baseball News: This Twitter thread has MLB's Joe Torre saying that the Yankees and Mets won't be allowed to wear New York first-responder caps on Sept. 11 in the future because the league doesn't want to determine "which tragedies qualify for special hats." He did confirm they could wear patches, though (from @Zanerzas). … Before you criticize MLB for that, a Brooklyn city councilman has already beaten you to it after the Mets weren't allowed to wear the hats last week (from @_Swift23). … Reader Mike Rosenberg is getting married in November, so he and his fiancée got yarmulkes with squatchees.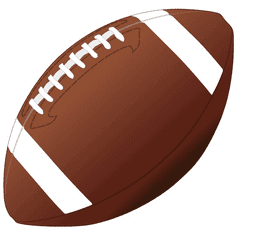 Football News: The Rams' and Chargers' new stadium already has a naming-rights advertiser (from @Cdud1970). … Syracuse retired the No. 72 jersey of LB Tim Green this weekend. Syracuse seems to distinguish between retiring jerseys and numbers, of which this was the former, meaning the number remains in circulation (from Jakob Fox). … The team of the day yesterday for Blaise D'Sylva's daily helmet collections happened to be Syracuse. … You can see Wade Heidt's Canadian college uni tracking in yesterday's comments. … You know how QBs wear red "no contact" jerseys during practices? Back in the 1960s, Chargers coach Sid Gillman had his QBs wear red crosses.

Hockey News: Some items from the start of Canada's Junior A season from Wade Heidt: The Saskatchewan Junior Hockey League's Yorkton Terriers have new uniforms that are dark grey when team colors are black and orange. … The Alberta Junior Hockey League's Calgary Canucks, whose new uniforms we had in the Ticker recently, still have royal blue helmets, even though they switched to navy blue jerseys and pants. … There was also a color-vs.-color game between the British Columbia Hockey League's Trail Smoke Eaters (orange) and the Salmon Arm Silverbacks (black). … The BCHL champions, the Prince George Spruce Kings, also got championship rings. … New mask design for Islanders G Semyon Varlamov (from John Muir).

Basketball News: New uniforms for Washington's women's team, together with the men's team, which we mentioned last week.
.
.

Soccer News: The women's team at German club 1. FC Köln wore blue wristbands on Friday for gender equality and in memory of Iran's Blue Girl, who died after self-immolating last week in protest at a prison sentence received for violating Iran's ban on women attending soccer matches. … AS Roma's women's team also wore blue armbands during warm-ups. … Blue Girl's favorite team, Esteghlal, wore warm-up shirts in memory of her. … Premier League team Wolverhampton Wanderers commemorated the 130th anniversary of their stadium, Molineux, on their shirts. The stadium's first game was on Sept. 7, 1889 (from Josh Hinton). … D.C. United midfielder Ulises Segura wore a No. 32 NNOB blood shirt, instead of his No. 8, for about half the first half yesterday, but got a new shirt at halftime. … My brother Nate Rathjen says a source at USL Championship team Loudoun United told him that the team won't wear their shirt from the league's new collection of city-themed shirts this season, but perhaps in the first game of next season. Loudoun's shirt is miles better than most of the others we've seen, but to use D.C.'s flag, instead of the flag of Loudoun County, Va., as a base doesn't make much sense and is a massive missed opportunity. … Chelsea has worn four different goalkeeper kits in six games so far this season — "and that will be five in seven games this Tuesday," says Denis Hurley.

Grab Bag: The Seattle Times interviewed Paul about the city's sports uniforms. They're also doing a Seattle uniforms bracket contest, including Washington State, which is most definitely not a Seattle school, though the paper writes about them. Meanwhle, they left out, among others, the NWSL's Reign FC, which I find unacceptable, especially because Reign FC were mentioned in passing and weren't just overlooked. … Walt Whitman HS in Bethesda, Md., has a lot of different logos going on (from Andrew Hoenig). … NASCAR driver Clint Bowyer made the space above the driver's window usually that usually reserved for the driver's name into a memorial for his grandmother (from James Gilbert). … A photo from earlier this year of Australian rules footballer Tayla Harris that went viral online and then became the basis for one of the logos for AFL Women's is now the basis for a new statue. … Not sports-related, but interesting: the Massachusetts Turnpike, which is the portion of Interstate 90 in the state, has two different logo variations and a throwback logo (from David Sperino and John Costello).
• • • • •
• • • • •

What Paul did last night yesterday afternoon: The only thing I miss about the old Uni Watch HQ is that I no longer have a backyard where I can grill. I've been going through grilling withdrawal this year, so yesterday I decided to haul a bunch of charcoal, beer, and grillables to Prospect Park, where they recently installed a set of public-use grills near the entrance closest to our house.
Marinated some chicken, invited a bunch of friends, spread out a few blankets for picnicking — perfect. Felt so good to be grilling again!
Sure beat the hell out of sitting on the sofa watching football. However you spent your Sunday, I hope it was just as good!