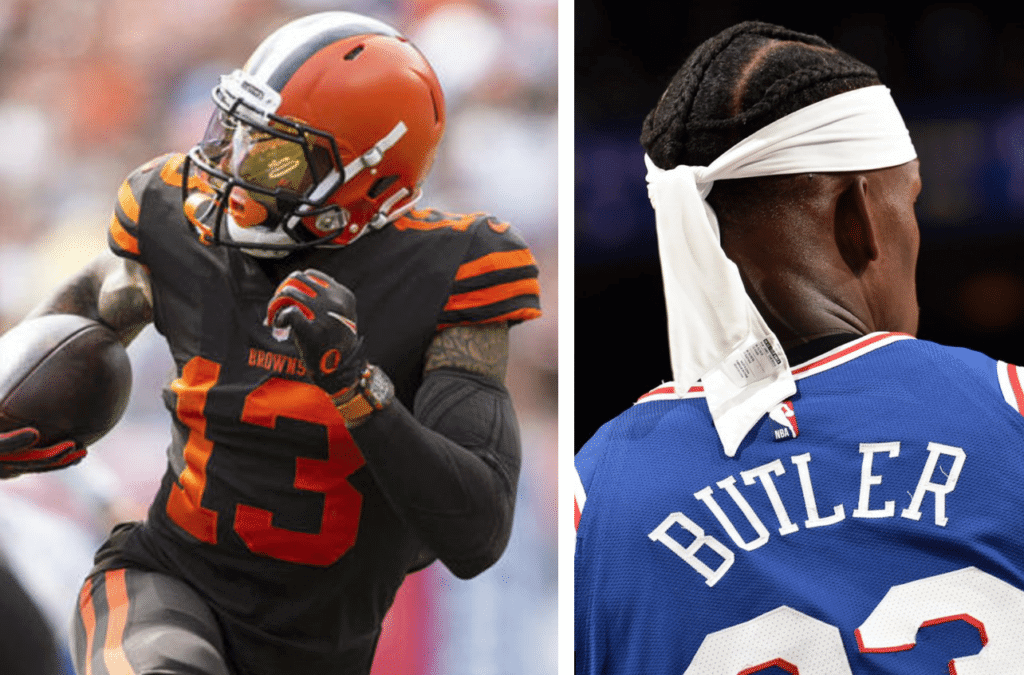 It was a tough day yesterday for unauthorized uniform accessories, as the NFL and NBA both sent their uni police squads after some rogue players, or at least some rogue gear.
Let's start in the NFL, where, as I mentioned in yesterday's MMUW roundup, Browns wideout Odell Beckham Jr. wore an expensive wristwatch during Sunday's game against the Titans. Yesterday the league told him not to do that again — not because there's an anti-jewelry rule (there isn't), but because there's a rule prohibiting hard objects.
The rule seems reasonable enough, and Beckham's "Look at me" bling stunt was asinine to begin with, so I'm glad it was shut down. Now let us never speak of it again.
Meanwhile, over in the NBA, following up on an item that was mentioned in yesterday's Ticker, ESPN's Adrian Wojnarowski confirmed that "Ninja-style" headbands — basically a bandana wrapped around the forehead with tails trailing in the back, a style that became popular among a number of players last season — will not be permitted in 2019-20:
The NBA notified teams that it won't allow players to wear "ninja-style headwear" this season, NBA spokesman Mike Bass tells ESPN. The headwear "…hasn't been through the league approval process. Teams have raised concerns regarding safety and consistency of size, length …"

— Adrian Wojnarowski (@wojespn) September 9, 2019
Bass: "When some players began wearing them last season, we didn't want to cause a disruption by intervening midseason…" NBA notified teams in May that the headwear "would not be a part of this seasons uniforms." https://t.co/23IjTaoT8v

— Adrian Wojnarowski (@wojespn) September 9, 2019
Competition Committee is discussing issue in meetings today. As Bass said, teams raised concern about size, length "how they are tied which requires a thorough review before consideration of any rule change." Among players who wore them: Jimmy Butler, Jrue Holiday, Jarrett Allen. https://t.co/Agak7SLS9V

— Adrian Wojnarowski (@wojespn) September 9, 2019
Source: The NBA's Competition Committee discussed "Ninja-style headwear" in Chicago meeting today and some members expressed concerns on safety, including looseness of headwear. Safety concern remains at center of review of concept in future. https://t.co/IVkBgwwo1d

— Adrian Wojnarowski (@wojespn) September 9, 2019
My take: The headbands are silly, but banning them is sillier. Really, "safety" is the NBA's primary concern here? What would be the danger — a bit of fabric flicking in someone's eye? I guess it's possible, but I hadn't heard any reports of players complaining.
In any case, is there anyone — anyone — who thinks that all the concerns about safety won't suddenly vanish as soon as the league strikes a licensing deal with a headband maker? What do you think the over/under is on when that deal will be announced?
Anyway, these moves raise an interesting question: What other accessories have been worn and then banned? The NBA cracking down on those Supreme compression sleeves two years ago would be a good example. What else? I'm not looking for garden-variety uni violations here (NFL socks too low, Derek Bell's uni too baggy, wrong color shoes, etc.) — I'm looking for accessories that were banned. Email additional examples to me, and/or post them in today's comments and I'll try to put together some sort of roundup. Thanks!
• • • • •
• • • • •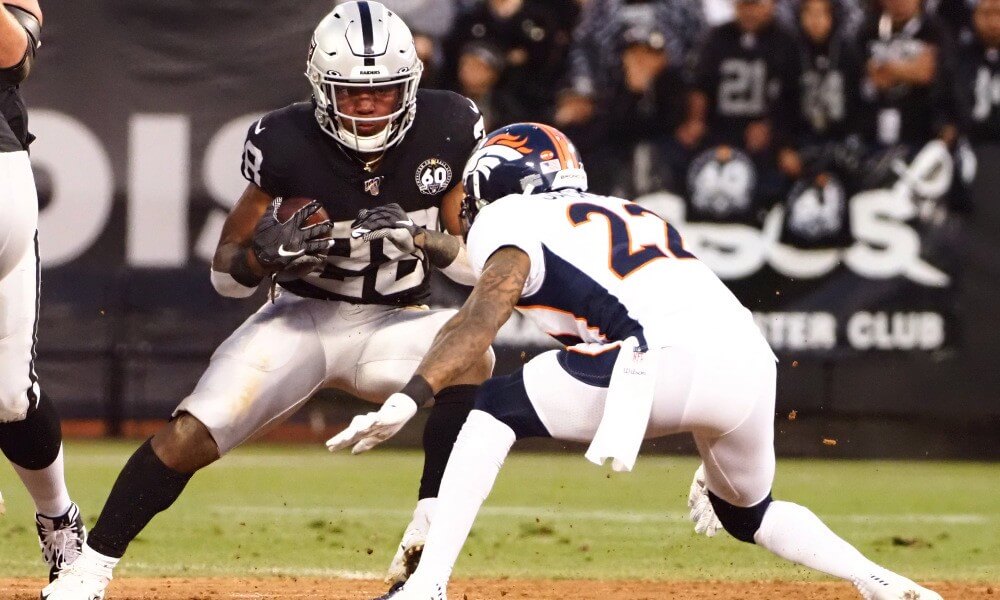 Tuesday Morning Uni Watch: Lots of uni-notable stuff from last night's Broncos/Raiders game. One thing at a time:
• Raiders defensive lineman Dan Williams had a mouthguard sticking out of a vent in his helmet — while he was simultaneously using another mouthguard in his mouth — for a good chunk of the game:
@UniWatch @PhilHecken Dan Williams has had a mouth guard stuck in the side of helmet for at least a half pic.twitter.com/qqqeedQviq

— Angus (@SportsPSD) September 10, 2019
• In another instance of an issue I mentioned in yesterday's MMUW entry, Raiders linebacker Vontaze Burfict wore two captaincy stars, even though it's his first season with the team: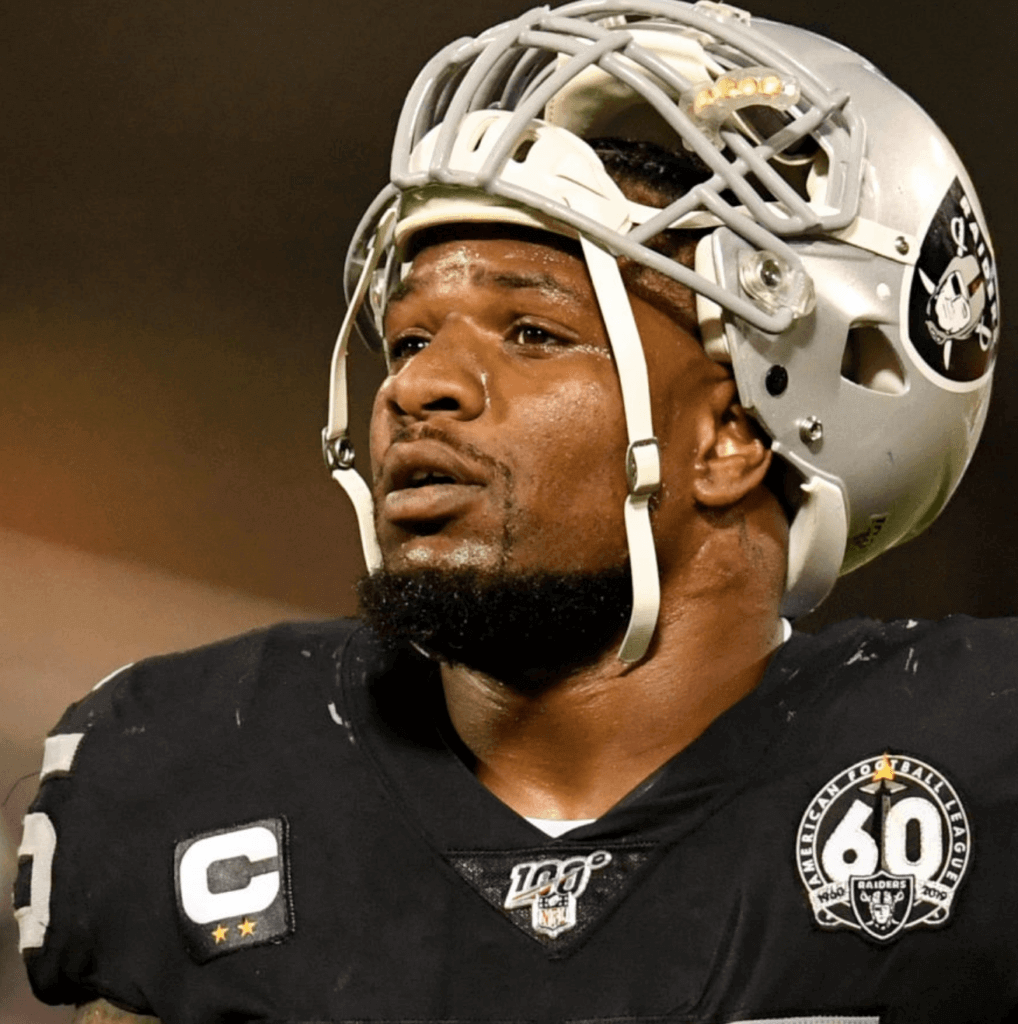 • It's not uncommon to see kickers and punters wear different-colored shoes, but Oakland placekicker Daniel Carlson's shoes are two different brands: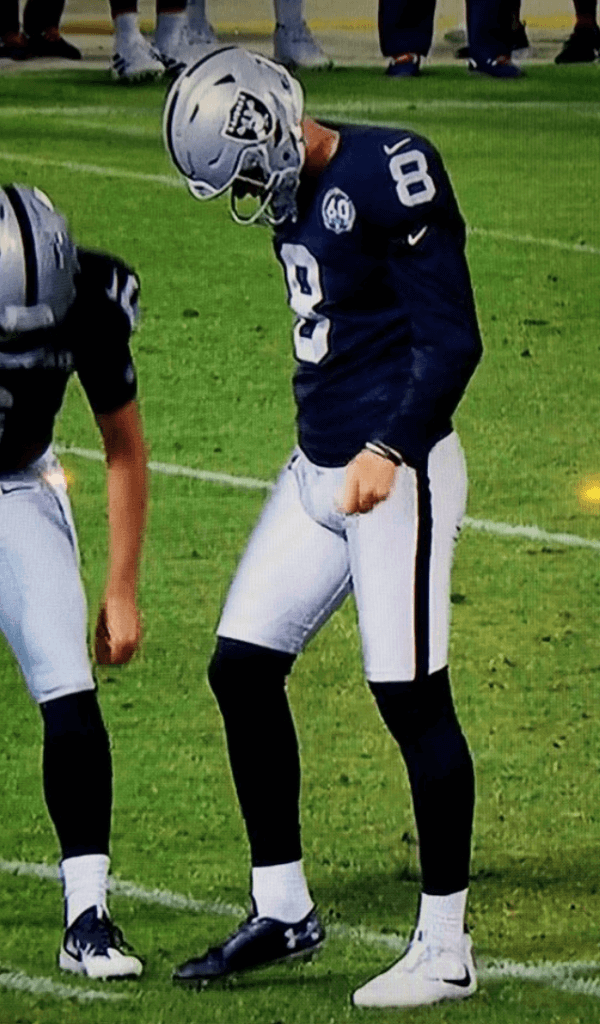 • And in the most significant news of the night, that game also offered our penultimate view of a dying breed — NFL action across a dirt infield:
@EAMaddenNFL gotta +++ on @JohnathanAbram1's Hit Power & Block Shed pic.twitter.com/gB0ha0xIGw

— Timothy 🏝 (@Timmy_Island) September 10, 2019
The Raiders are the last team to do this, and they'll be moving to Vegas next year, so this is the last season we'll get to see it. Based on this year's schedule (which, somewhat incredibly, gives them no home games for Weeks Three through Eight), their final game on a baseball diamond will be this coming Sunday. End of an era.
While we're at it: In the other Monday-night game, the Saints went mono-black. Since their pants have no side stripes, and since the new NFL hosiery rules allowed them to wear black socks without any lower white segment, the overall effect was more unitard-y than ever (click to enlarge):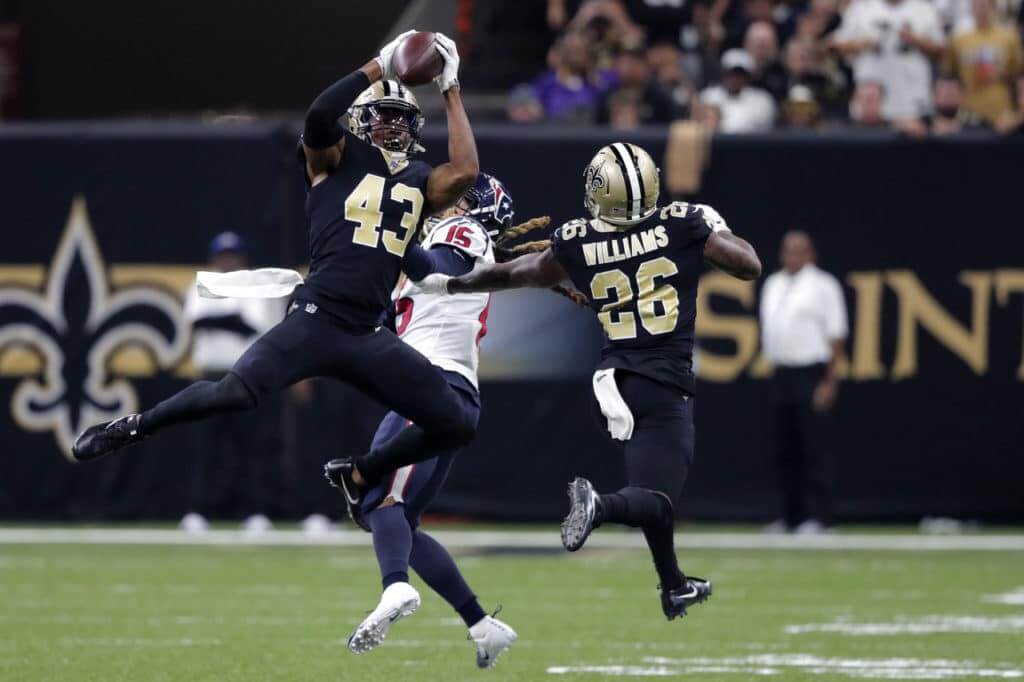 (My thanks to Donny Helnore and Jonathan Young for their contributions to this section.)
• • • • •
• • • • •
Premier League Uni Roundup — Week 4 (Aug. 31 – Sept. 1)
[Editor's Note: While I was away from the site in August, Phil worked with reader/contributor Josh Hinton on a weekly Premier League uniform roundup. I'm happy to continue that new feature on the site as we move forward. Enjoy. — Paul]
By Josh Hinton
Southampton (red/white) 1-1 Manchester United (black)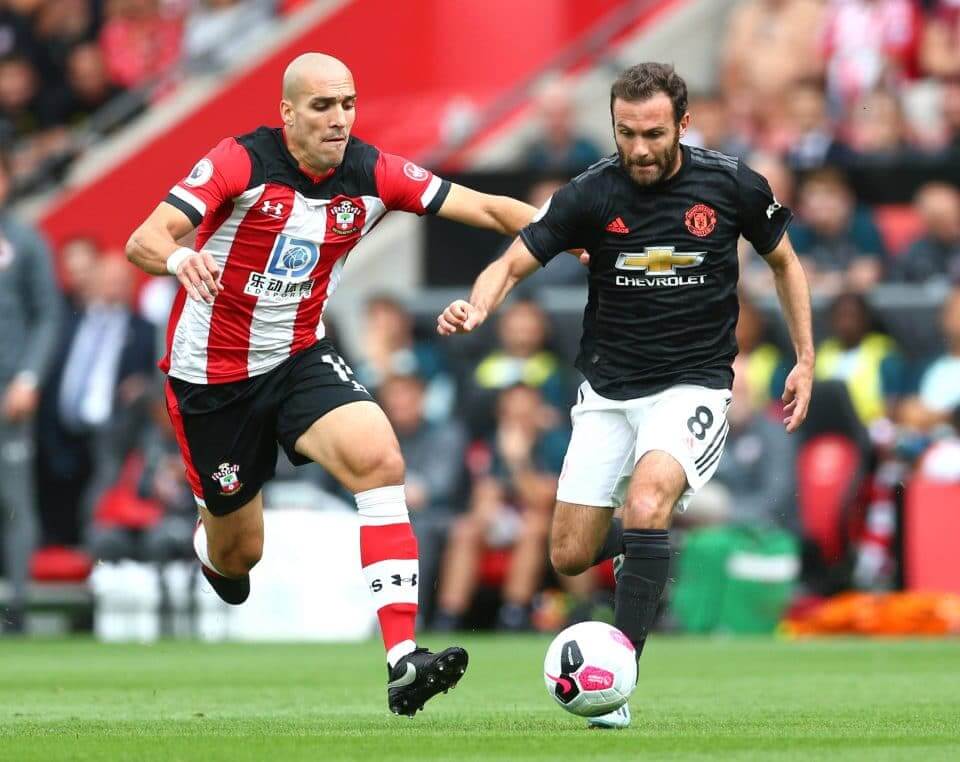 Average-looking matchup out of the St. Mary's, as United debuted their third kit (with change shorts to avoid a kit clash) while Southampton wore their traditional home strip. Would prefer a classier United kit — not a fan of the black on black stripes, gold sponsor logo, or neon red accents. 4/10
———
Chelsea (blue) 2-2 Sheffield United (white)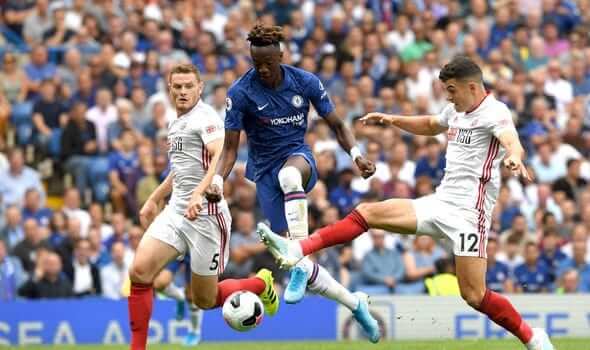 This Chelsea kit still hasn't grown on me, but I'm partial to that Blades away strip with red change socks, even though it's teamwear. 4.5/10
———
Crystal Palace (red/blue) 1-0 Aston Villa (sky blue)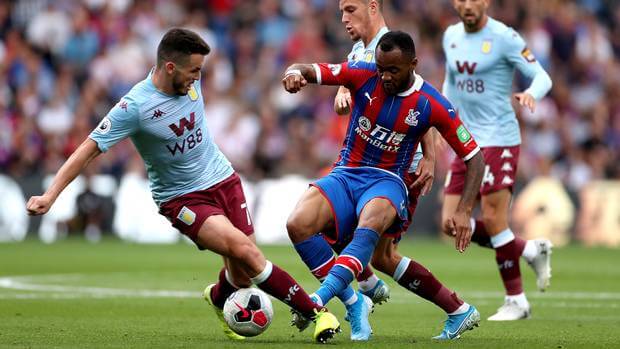 Beautiful — Villa's claret/blue perfectly complements the blue/red of Palace. 9/10
———
Leicester (blue) 3-1 Bournemouth (red/black)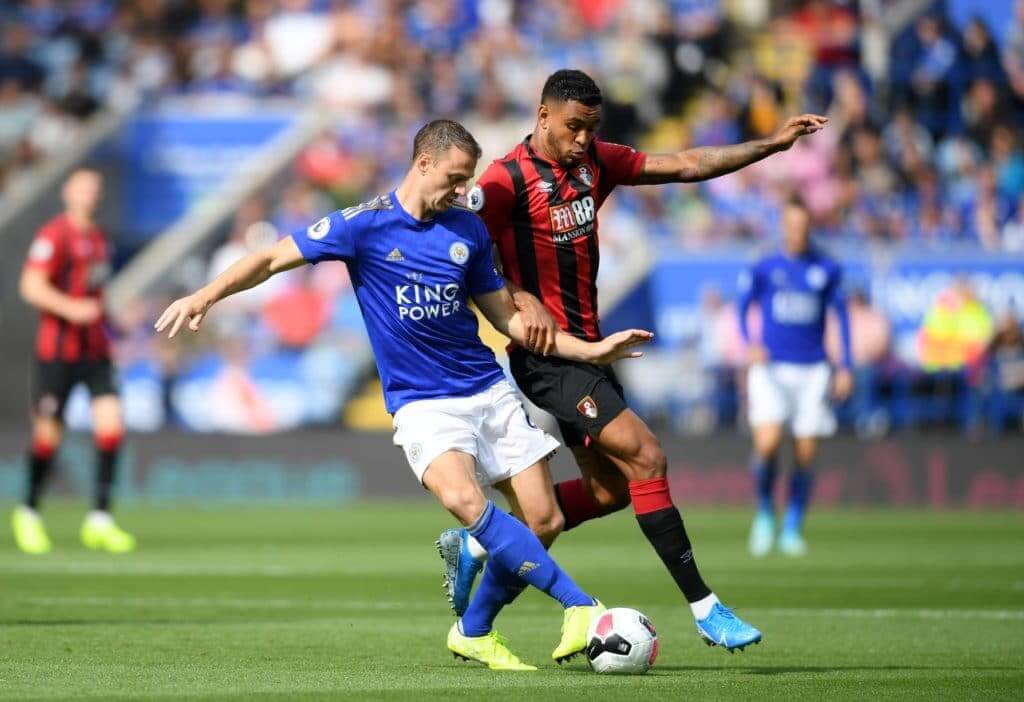 Another good blue-vs.-red/black matchup, this time between the Foxes and Cherries. Both sides sported their classy home kits, which complemented each other well. 8/10
———
Manchester City (sky blue) 4-0 Brighton (black)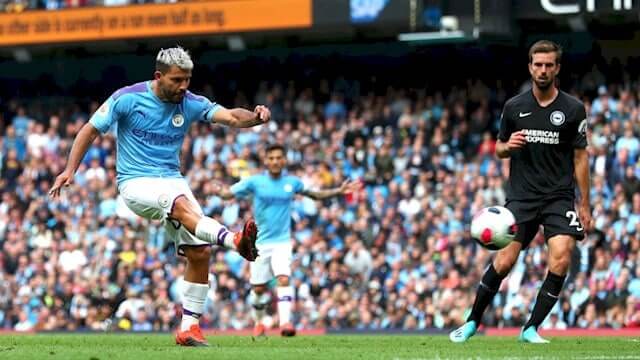 While I do love the Man City look, Brighton's dull change kit is boring. The two-tone sleeves don't help, either. 3.5/10
———
Newcastle (black/white) 1-1 Watford (green)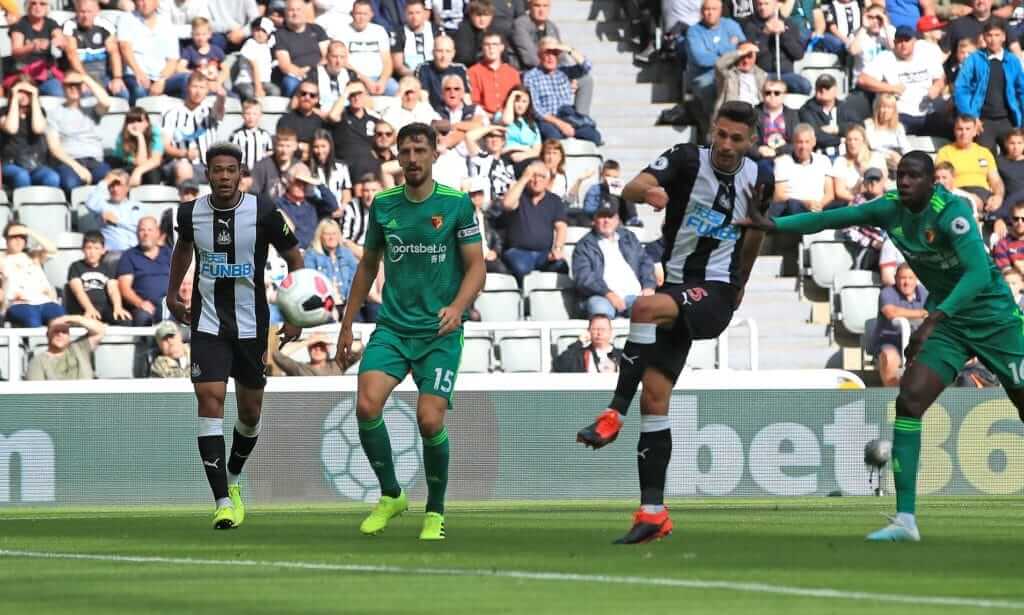 The Hornets broke out last season's away kit, because their yellow and black half-and-half home kit and navy away kit clash with the Newcastle stripes. Neither strip is particularly good. 2/10
———
West Ham (claret) 2-0 Norwich (grey)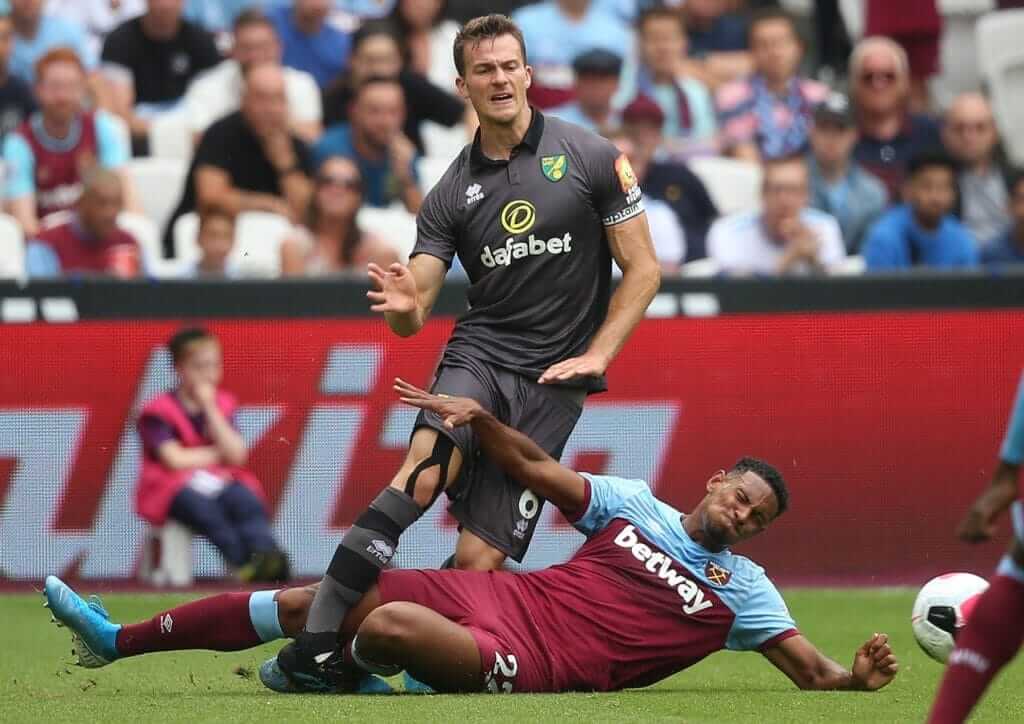 While I think this matchup looked fine, I'm interested to see how it would have been had Norwich worn their home kit. 7/10
———
Burnley (claret) 0-3 Liverpool (black)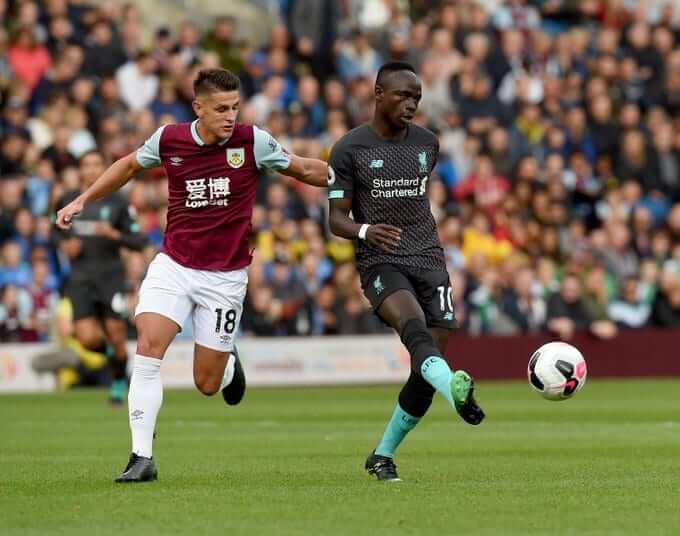 Nothing against Burnley's home strip, but this garish Liverpool third kit ruins it for me. 2.5/10
———
Everton (blue) 3-2 Wolves (old gold)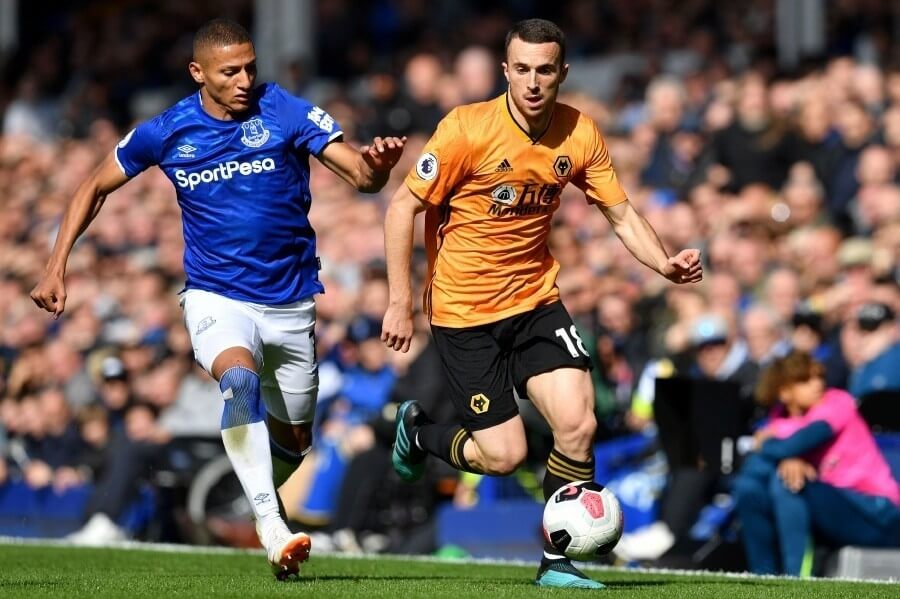 Beautiful matchup out of Goodison Park — not much else to say. 9.5/10
———
Arsenal (red) 2-2 Tottenham (white)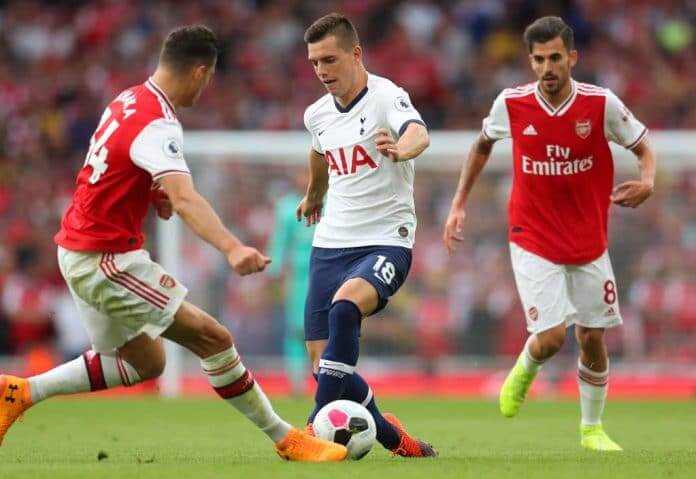 Interesting North London derby, with Tottenham debuting their navy change socks. This was one of those near-perfect matchups that the league occasionally grants us. 10/10
• • • • •
• • • • •
Collector's Corner
By Brinke Guthrie
Starting off with a nice-looking 1970s school spiral notebook with the St. Louis Football Cardinals on the front. This style of NFL graphics was popular for awhile in the mid-1970s (think of those Fleer NFL Big Signs, for instance). The seller says the first 15 pages were written on, but otherwise all clear inside. I seem to recall most of my NFL school stuff — and I had a bunch — came from Mead out of Dayton, Ohio, but this .one was made by Professional Sports Merchandisers of Plainview, N.Y.
Now for the rest of this week's picks:
•  F.R. Woods of Cooperstown, N.Y., proclaims itself to be the "House of Baseball" on the side of this early 1960s MLB megaphone. (We can place this in 1964, as the Colt .45s began play as the Astros in 1965, the Milwaukee Braves moved to Atlanta in 1966, and the K.C. Athletics moved west in 1968. At least that is what my desktop Google Assistant told me.)
• Speaking of the A's, here's a 1940s mini-pennant when they were in their original home, the City of Brotherly Love.
• Staying in Philly, how about these 1980s Philadelphia Eagles socks, featuring a helmet with no facemask.
• This Cleveland Browns golf bag is marked with "NFL Alumni." The seller says, "This bag was owned by Dick Schafrath. He gave it to my friend to put in his golf course Pro Shop. Dick Schafrath played for the Cleveland Browns from 1959 to 1971. He also won a National Championship with the Ohio State Buckeyes in 1957 and the 1964 NFL Championship." 
•  Here's a nice 1970s-1980s Atlanta Falcons ringer T-shirt, still in the bag. Can't tell what the sleeves look like based on the photos provided, but then the seller would've had to remove it!
•  Can't say I've ever seen the Denver Broncos cartoon logo shown on this button before.
•  Kind of a "watercolor" or "painting" motif on these 1970s NFL sheets by Bibb.
•  We have a 1970s Buffalo Bills bumper sticker here that simply says "Let's Get Excited!" The marketing department really earned their pay on that one, huh?
•  This 1970s Dallas Cowboys pennant caught my eye because they made the helmet blue. Interesting idea; What if they had navy helmets with a silver stripe and a silver star?
•  Packers fans will want this little 1970s keychain/squeezy flashlight thing. You used to see these everywhere! Now people just use the light on their phones.
Got an item to include on Collector's Corner? Send any submissions to uniwatchcollectorscorner@gmail.com!
• • • • •
• • • • •
Click to enlarge
ITEM! New Uni Watch cap: When we had the Uni Watch 20th-anniversary party back in June, I mentioned that Bryan Molloy, the designer who created our winged stirrup logo, showed up with new cap that showed the logo in a gold circle. That was a prototype design that he'd made for the occasion. I really liked it, so I suggested that we make it available for sale — and now, after a few tweaks, we have.
If our wool Uni Watch Classic Cap is either too expensive or too warm for you, this new cap might be more to your liking. It's made of really nice cotton twill, and we're selling it for $24.99. It's a strapback, so one size fits all.
Now, it would've been a lot smarter if we had gotten this project up and running during the summer, when the weather was hotter (sales of the wool cap over the past two months have been d-e-a-d, which I guess isn't surprising), but whatever — it's available now! And as of now, we're only planning to keep it available for a month or two, so move fast. Additional photos and ordering info here.
• • • • •
• • • • •
Raffle reminder: The folks at our longtime advertiser Vintage Brand are generously running another raffle. The lucky winner will get to choose any product from the VB website.
To enter, send an email to the raffle address by 7pm Eastern this Thursday, Sept. 12. One entry per person. I'll announce the winner on Friday.
In addition, Vintage Brand is currently giving away a $100 gift card every day to a random person on their mailing list. To sign up for their list and be eligible for this daily giveaway, look here.
• • • • •
• • • • •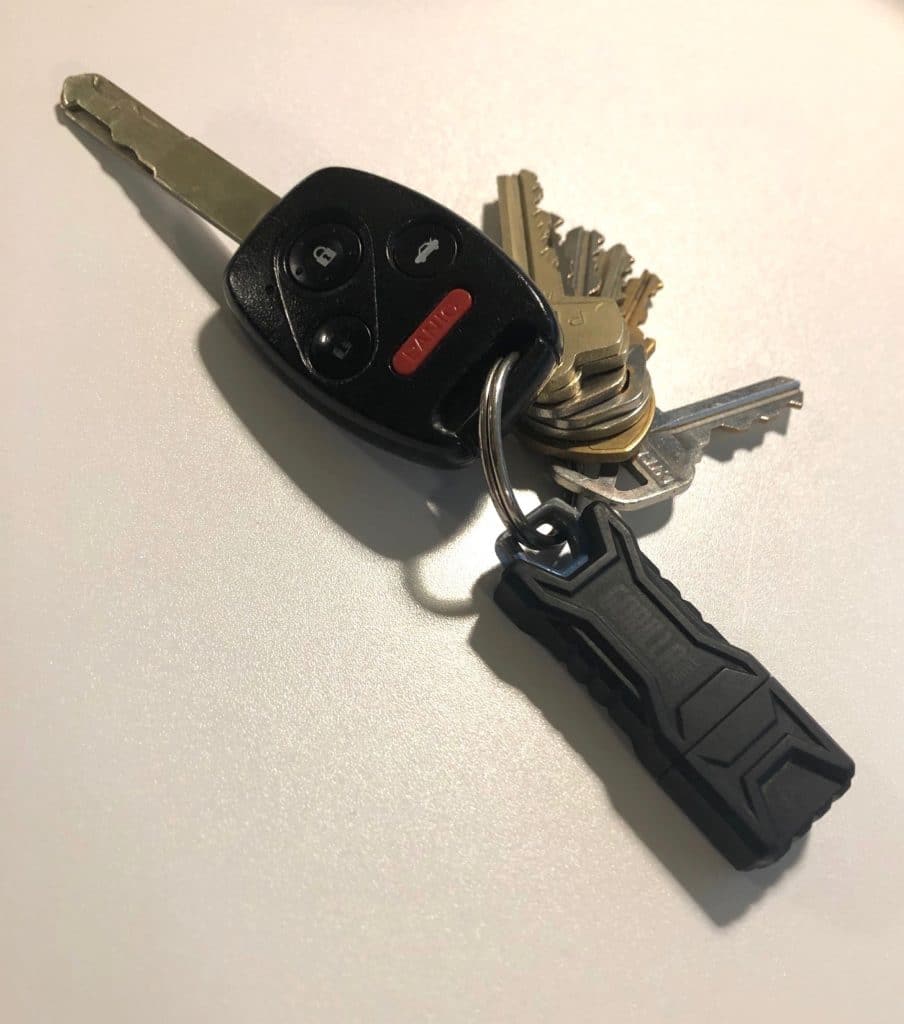 KRC update: The latest installment of Key Ring Chronicles is about an old USB flash drive. You can check it out here.
I am very much still in the market for KRC entries. If you have a special item of personal significance on your key ring, with a good story behind it, please get in touch. Thanks.
• • • • •
• • • • •
The Ticker
By Alex Hider

Baseball News: We've previously mentioned that MLB players wore yellow wristbands and ribbons to raise awareness for pediatric cancer over the weekend. But what we didn't mention was that Red Sox IF Brock Holt wore his wristbands on his shins over high socks. … Brian Weingartz notes that at least during the last game at old Comiskey Park, the foul lines did not meet batter's box. Anyone know if this was a regular thing at Comiskey, or at any other ballpark? … I know they play in the same stadium, but the A's and the Oakland Raiders logos are not interchangeable (from Vlad Trunz Jr ).

NFL News: From Sunday's action: Bengals captains Andy Dalton and Geno Adkins were wearing different-colored captaincy patches (from Bill and Brandon Curtis). … Paul Ricciardi notes that the Eagles didn't quite finish painting the "G" in one of their end zones on Sunday. … Angus O'Keefe notes that only one team — the Rams — used Oakley visor tabs that matched the color of the helmet shell (though the navy tabs stood out against yellow horns). Every other team wore clashing visor tabs, making them more noticeable. … Lots of Raiders fans are repurposing their brand-new, suddenly outdated Antonio Brown jerseys as Tim Brown jerseys (from Kary Klismet). … The chain gang and ball boys at yesterday's Jets/Bills game at the Meadowlands had their names stitched on their vests (from Prescott Rossi).

College Football News: Colorado is among the teams using the CFB150 logo as its 50-yard marker this year (from Brett Baker). … This photo offers incredible detail of the pylons used at Clemon's Memorial Stadium. Who knew the pawprint logo was an embroidered patch! (From @ClemsonUniforms). … LSU will wear white helmets and pants with their purple jerseys this weekend (from Jeremy Poursine). … Troy will wear 1994 throwback helmets on Saturday (from Ben Whitehead and @drryanbohannon). … If this graphic is any indicator, Cincinnati will wear their throwback uniforms this Saturday against Miami (OH). … In perhaps the most egregious act of corporate douchebaggery so for this season, viewers completely missed a blocked extra point in Saturday's Middle Tennessee/Tennessee State game because of a giant, stupid ad (from Lawrence Benedetto). … James Madison's new midfield logo is quite large — 30 yards wide (from Jon Solomonson). … Here's a good example of what can happen when a high school takes the lazy route and decides to poach a college team's logo (from Brad Koenig). … Georgia Tech's band has new uniforms (from James Gilbert). … South Alabama WR Devin Voisin lost his Sun Belt Conference patch on Saturday (from Clint Richardson). … The Hawaii Bowl has a new logo (from @GriffinTSmith).

Hockey News: The Hurricanes' and Lightning's prospect teams played a color-on-color matchup last night in Nashville (from Canes Uniform Tracker). … New uniforms — including an all-grey look — for the Ogden Mustangs of the Western States Hockey League. … Jerry Eisenband shared some photos of his new goalie mask, based on the X-Men character MoJo.

Basketball News: WWE was at Madison Square Garden last night, so the Knicks gave wrestler Steve Austin a jersey with the number 3:16 (from Justin Simmons). … Looks like Valparaiso will have new uniforms this season (from Joel Mathwig).

Soccer News: SS Lazio's futsal team (futsal is FIFA-sanctioned indoor soccer) has three new uniforms for 2019-2020 (from Luigi M.). … Official membership to Tottenham Hotspur comes with a side of advertising (from @PeskysPole).

Grab Bag: Here's a good piece on the state of highway sign fonts in America (from William F. Yurasko). … Cuyahoga Community College has a new costumed mascot: Stomp the Triceratops. … Nike has unveiled the uniforms for the League of Legends Pro League in China, a new video game league (from Jeremy Cooper). … Here's an evolution of the various logos used by the WWE throughout its history (from @Wilds_Lee).