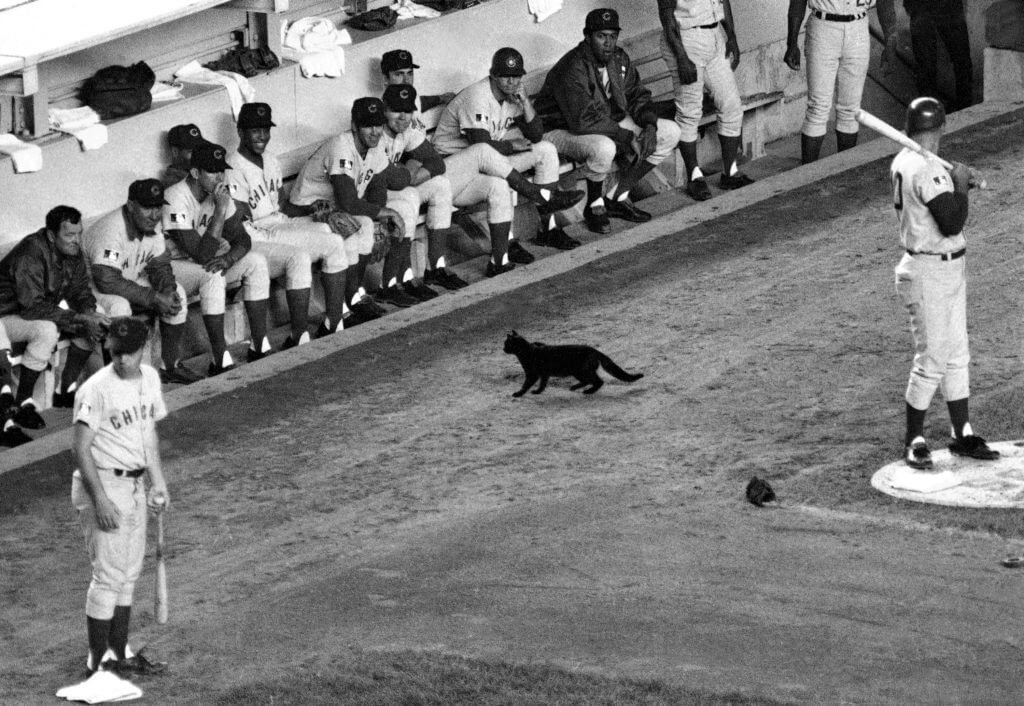 Click to enlarge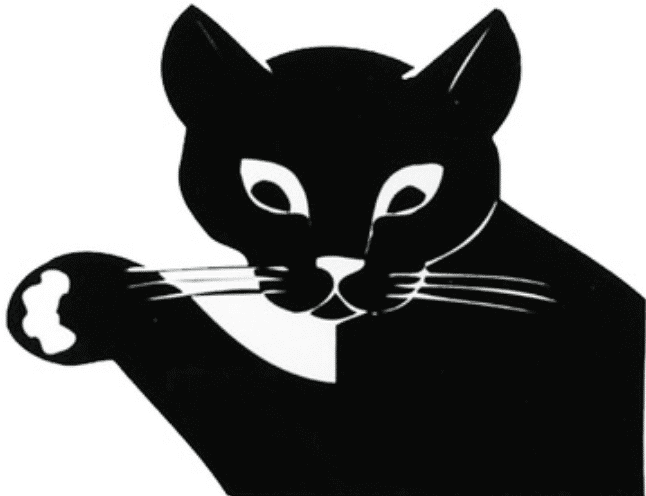 Monday is the 50th anniversary of the famous Black Cat Incident, when a black kitty jinxed the 1969 Cubs by appearing in front of their dugout during a game against the Mets at Shea Stadium.
Everyone knows that Ron Santo was in the on-deck circle when this happened, as shown in the photo above. He's the one on the right side of the photo, looking over his shoulder at the cat. But who was that other guy on the left side of the photo? Was it another player?
No — it was the batboy. And his story about the Black Cat Incident has never been told — until today. I have that as an exclusive over on Sports Illustrated, and I think you're really going to like it. You can check it out here.
• • • • •
• • • • •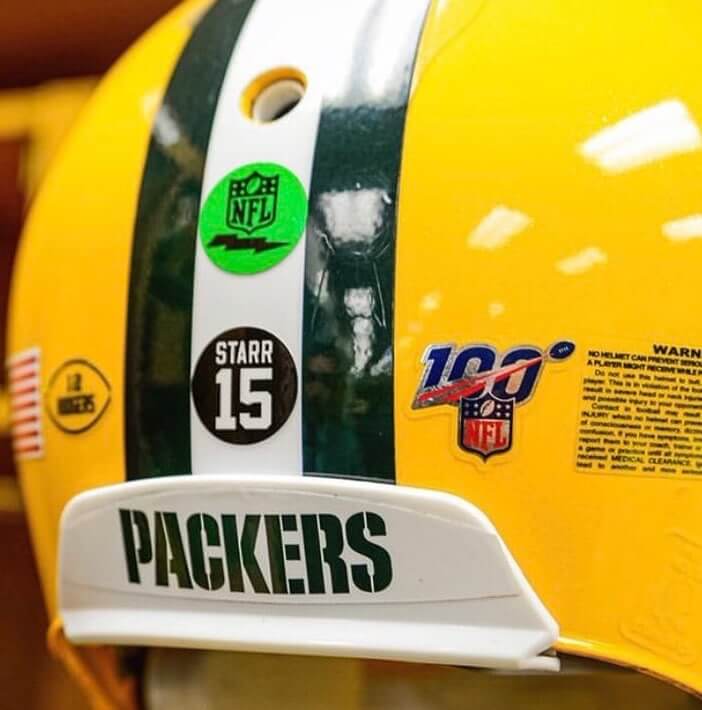 Click to enlarge
Friday Morning Uni Watch: The NFL season kicked off with last night's Packers/Bears game, and there were at least three uni-notable developments. First, as you can see above, the Packers finally revealed their Bart Starr memorial decal. They had announced that they'd have this memorial two months ago but hadn't worn it during the preseason or even shown us what it would look like.
Second, Bears kicker Eddy Piñeiro wore a tilde on his NOB, and they appear to have reduced the size of his nameplate lettering in order to make room for it: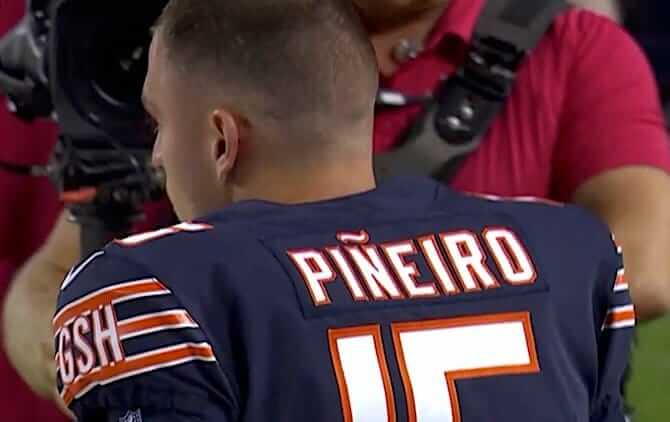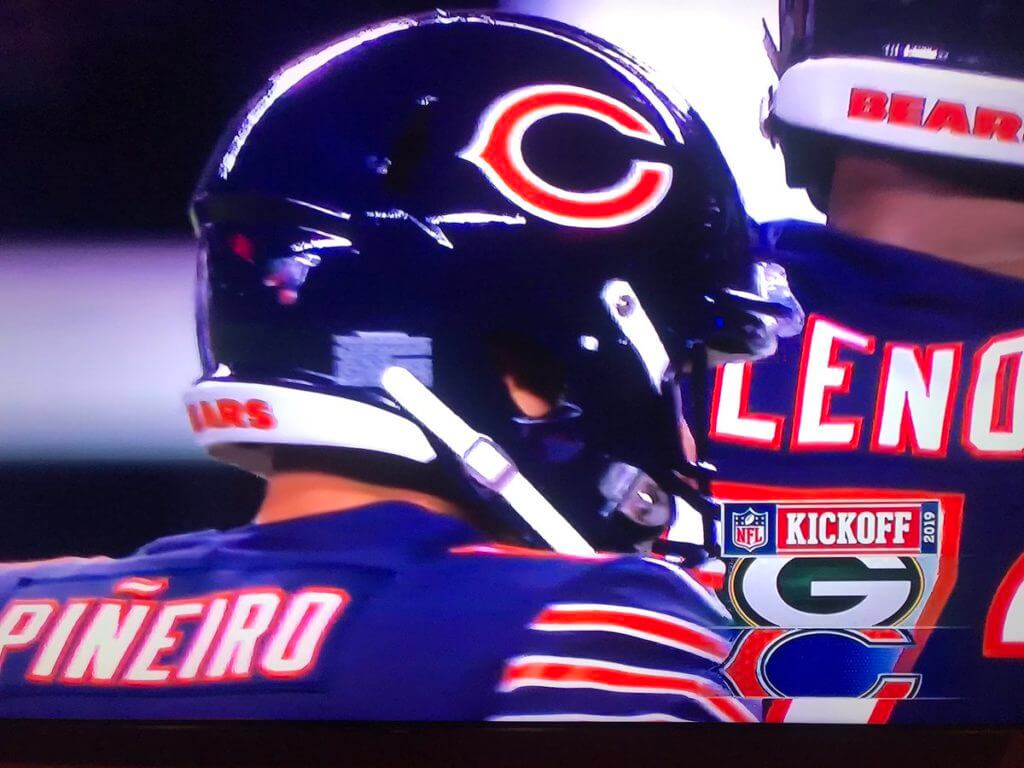 We've seen NFL players with umlauts and cedillas before, but I think Piñiero might be the league's first tilde-clad player, at least in a regular season game. Here are some near-misses:
• Packers defensive tackle Gilbert Peña wore a tilde during training camp in 2013 (and I was told that he also wore one when the Patriots acquired him later that summer, although I don't have a photo of that), but he never played in a regular season game, and maybe not even in a preseason game.
• Texans linebacker Eduardo Castañeda was given a tilde-clad jersey at a press conference in 2007 but never made it past the taxi squad.
• According to this page, Bengals offensive lineman Anthony Muñoz routinely wore a tilde in the Pro Bowl, but not in the regular season. I haven't been able to find a good rear-view shot of him from a Pro Bowl, but you can sorta-kinda convince yourself that the tilde is there in this photo from the 1989 game.
But! Did you know Muñoz played for the Buccaneers during the 1993 preseason? "He was one of various ex-Bengals that Sam Wyche tried to import to Tampa," says Tris Wykes, who worked as a low-level equipment guy for the Bucs at the time. Tris took this preseason shot of Muñoz wearing a tilde (click to enlarge):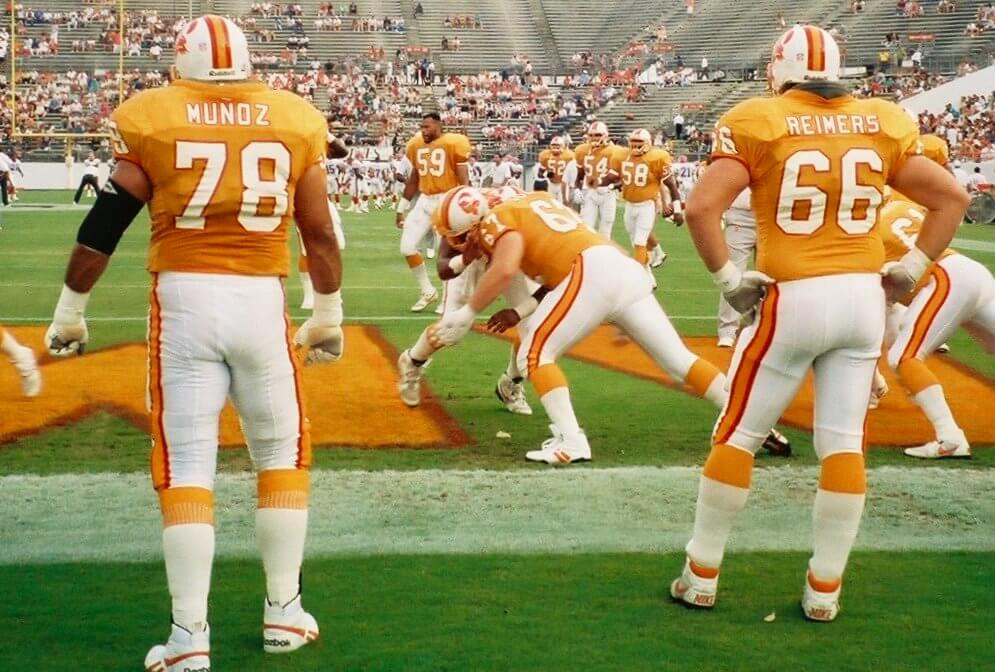 Unfortunately, Muñoz injured his shoulder later in that game and never played again, so his tilde, like the others I've listed here, never made it into a regular season game.
Does anyone know of any other NFLers who've worn a tilde, in any capacity?
Oh, and for the game's third uni-notable aspect, the NFL's sideline apparel for this game appeared to be leftover stock from MLB's Players' Weekend.
(My thanks to Matt Shevin, @MBDChicago, Donny Moore, and Ted Kerwin for their contributions to this section, and bonus thanks to Tris Wykes for the old Muñoz photo.)
• • • • •
• • • • •
TV on the radio (or is it radio on TV?): I talked NFL uniforms yesterday morning on The Dan Patrick Show. Sorry I didn't give you a heads-up in yesterday's blog post, but they gave me very short notice. The entire segment is shown in the video above — pretty much Uni Watch 101, I'd say, but I thought it went well. Enjoy.
• • • • •
• • • • •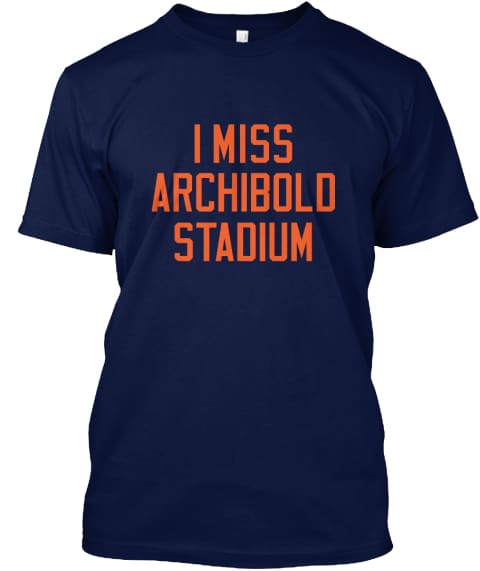 Click to enlarge
Let's try this again: In response to a few customer requests, we have new Naming Wrongs shirts for Syracuse's Archbold Stadium (spelled correctly this time; available in navy and orange) and Tottenham's White Hart Lane.
Might I also suggest, in light of the latest nonsense to emerge from Denver, that this is a good time to rediscover our Mile High shirts, available in orange and navy: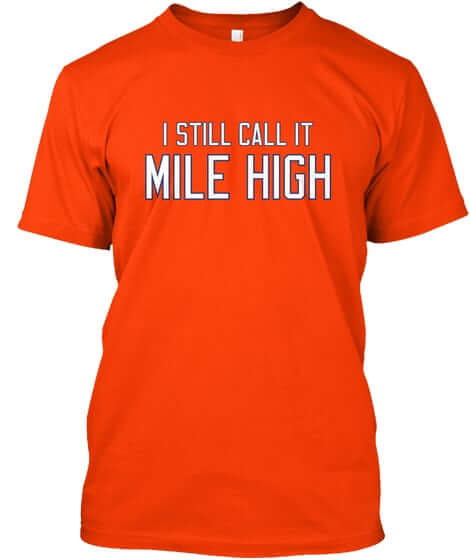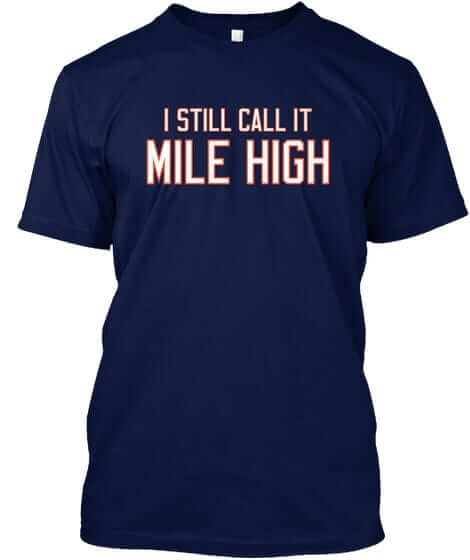 You can browse the full Naming Wrongs collection here. As always, card-carrying Uni Watch members qualify for a 15% discount (this also applies to everything in the Uni Watch shop). My thanks, as always, for considering our products, which help keep this site running.
• • • • •
• • • • •
The Ticker
By Anthony Matthew Emerson

Baseball News: While we occasionally see ballplayers using each other's bats, it's highly unusual to see a position player using a pitcher's bat. But Cubs SS Addison Russell appeared to be using Jon Lester's bat during last night's game (from @ceegality). … The White Sox printed up a jersey with the number "100" in honor of the Bears' 100th anniversary (from Griffin T. Smith). … The Potomac Nationals, who are moving south to Fredericksburg, Va., have posted a logo on their website with an "F" in the same style as their "P" logo. The use of "Fredericksburg Baseball" strongly implies that the team is dropping the "Nationals" nickname as part of their relocation (from R. Scott Rogers). … New jerseys for Appalachian State softball (from Sean Welsch). … Oh my god, check out these awesome Edmonton Oilers softball unis. Gorgeous (from Steven Schapansky).

NFL News: O'Hare Airport was ready for the NFL season opener, with concourse signage in Bears livery. … Cross-posted from the baseball section: The White Sox printed up a jersey with the number "100" for the Bears, in honor of the team's 100th anniversary (from Griffin T. Smith). … Remember when Brian Urlacher was on the '85 Bears? No? Well, then, don't buy this commemorative football (from Jerry Gaul). … A promotional image posted on the Saints' Twitter account featured RB Alvin Kamara in an outdated jersey and a helmet style he's never worn (from Cody Junot). … ESPN has an article about why Browns QB Baker Mayfield could be the "most famous no. 6 in NFL history" (from Jason Hillyer). … A Chiefs 60th-anniversary flag appears in this McDonald's commercial (from BootedNewswomen). … Packers QB Aaron Rodgers has donated 375 helmets to Chico, Ca.-area high schools (from Mike Chamernik).

College Football News: The Gators have added an awesome memorial helmet decal for Mr. Two Bits (from @GatorsUnis). … Air Force has officially released the "Air Power Legacy Series uniform," inspired by the C-17 (from Ryan Vickers). … Duquesne has new alternate all-red unis (from Ian Kondrat). … Duke is going white-blue-white this weekend (from Michael Manker). … Louisville is going white-red-white (from @ACCTracker). … Also from @ACCTracker, NC State is going white-red-white against WCU. … Another from @ACCTracker: Wake Forest is going black-white-white against Rice. … Old Dominion is going mono-white on Saturday (from @MonarchsUnis and @cusamemes).

Hockey News: Sabres G Andrew Hammond is once again going with a Hamburgler theme on his mask for this season (from Edward Snyder and Jerry Wolper). … Cross-posted from the baseball section: Oh my god, check out these awesome Edmonton Oilers softball unis. Gorgeous (from Steven Schapansky). … The Lone Star Brahmas of the NAHL will have purple goalposts next season (from Dustin Perez).

NBA News: This Giannis Antetokounmpo bobblehead has an upside-down Harley Davidson ad patch (from @guyinbrewcity). … The Australian National Basketball League's Sydney Kings have the dropshadows on their uni numbers and wordmark going in different directions. If you scroll up, you can also get a good look at every NBL team's jersey for this coming season (from Paul Forrest). … Newest uni number updates from Etienne Catalan feature two Rockets: PG Shamorie Ponds will wear No. 2, and G William McDowell-White will wear No. 5. … A six-acre corn maze in Florenceville-Bristol, N.B., is Raptors-themed (from @ohhhsourry).

College Hoops News: A gold tag has been added to the back collar of Kentucky's jerseys, like the ones on the back collar of NBA teams with titles. The tag contains the Nike Elite logo, leading Travis Coffey to believe these tags will be on the back of every Nike team in college basketball.

Soccer News: Remember back when English Championship side Huddersfield wore a shirt with a giant Paddy Power ad on it as part of a marketing campaign? The FA has fined the club £50,000 for that stunt. The article also includes a bit about how the club wanted the referee to ban the shirt before the match for extra publicity (from Ed Żelaski and our Jamie Rathjen).

Grab Bag: Unsurprisingly, even Lonzo Ball thought the Big Baller Brand sneaks were low-quality garbage (from Mike Chamernik). … The Arlington Police have new honor guard unis (from Dustin Perez). … Scotland has officially created a tartan to honor its Muslim citizens (from Mark Skog).
• • • • •
• • • • •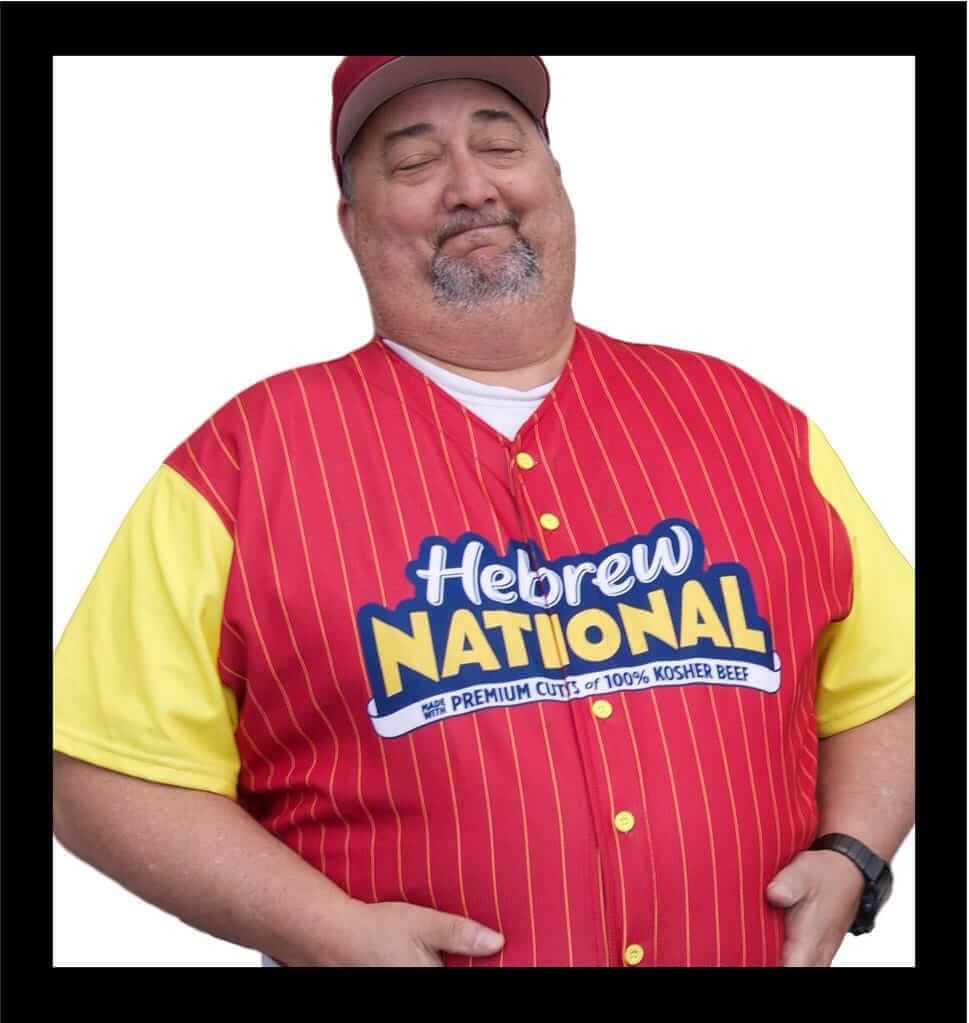 On a serious note: Back in April, I wrote about the Hebrew Nationals, an all-Jewish softball team in Albuquerque, N.M. The person I interviewed for that story was the team's captain, Scott Fliegel, who was an absolute joy to talk with — a really fun, generous-spirited guy.
Uni Watch reader Richard Hochroth informed me yesterday that Fliegel was killed in a traffic accident on Tuesday. He was 56 years old.
Although I never met Fliegel in person, this news is heartbreaking. He seemed like such a great guy. As soon as I heard what had happened, I contacted Dan Skinner at ConAgra Foods, who had set up the softball team with uniforms, bats, and so on. He hadn't heard, and he too was shattered by the news.
Please join me in donning a black armband for Fliegel. R.I.P. — Paul